This post may contain affiliate links, from which we earn an income.
How to Explore the Cevennes by Steam Train
Deep in the beautiful and wild Cevennes area of France is the small town of Saint-Jean-du-Gard. Several times a day, the steam train of the Cevennes chugs its way across the spectacular valleys of the Gardon, over viaducts and through tunnels, to and from the town of Anduze, only stopping at La Bambouseraie on the way.
The Steam Train of the Cevennes
Le train au vapour leaves on it's winding 13km journey from both Anduze and Saint-Jean-du-Gard four times a day in peak season. The first and last trips are often powered by a diesel locomotive as the steam engine 'resides' at one or the other stations. Be sure to check this prior to departing if the steam element of the journey is important to you.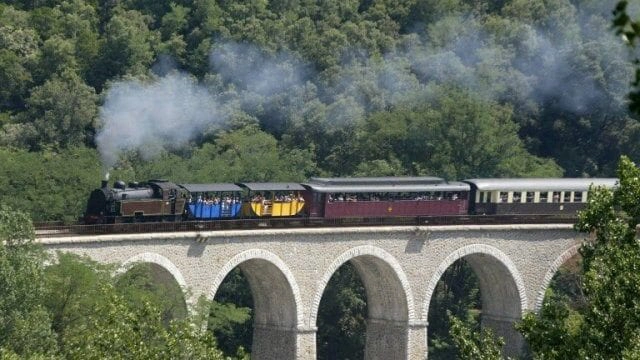 Grab a window seat in one of the old open-sided carriages, so you can hang out and get the best pictures. The train moves slowly and there is plenty of opportunity to capture the Gard river and incredible viaducts you will cross on the journey. There are a few tunnels too, don't hang out as you approach or you will be blackened by the smuts!
People swimming in the Gard and Salindrinque rivers will wave up at the train and everyone waves back in unison! If there are no swimmers, you can sometime see silver fish glinting in the sunlight. For detailed description of the route, click here.
Because we wanted to experience the whole route, we stayed on until Anduze and sat in the carriage until the train was re-loaded and then we got off at the purpose built station for La Bambouseraie, at which every train stops, on the way back!
Click here for timings and fares for this must-do trip!
Is this your first time visiting France? Get all the information you need in our France Travel Guide, including what to pack, the best time of year to go, getting there and practical tips to help you have the best trip!
La Bambouseraie
La Bambouseraie is a truly magical place. Even if you're not interested in gardening, the 100 species of bamboo here will make you gasp in awe at their sheer size and mass. For 150 years this hidden gem has been nestled into a valley in the Gardon, steadily growing upwards, as well as outwards, to it's current 35 hectares!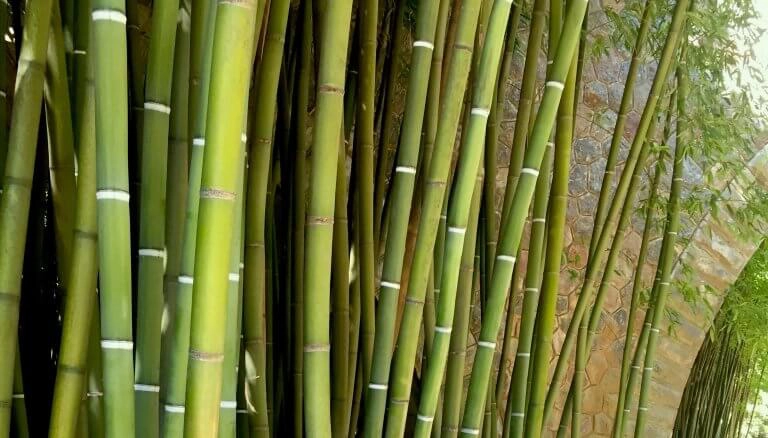 There are also giant bananas, over 40 species of Japanese Maple and a semi-formal garden here, alongside examples of different types of overseas gardens and villages, which the kids will love.
They will also love the maze here, made from a Japanese bamboo, the Semiarundinaria makinoï . The dense foliage and its short lateral leaves are perfectly adapted for hedges and your gang will have endless fun trying to spot each other and find their way out.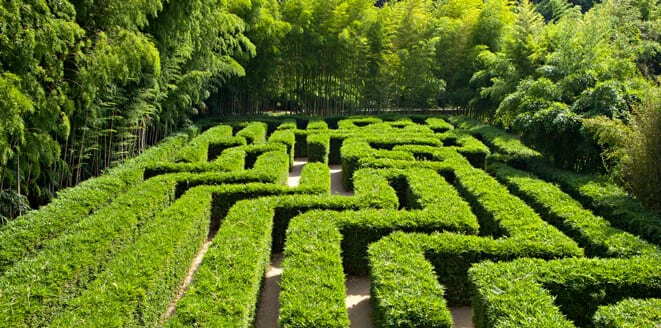 There are bags of places to enjoy your pique-nique, or grab a sandwich at one of the cafe's dotted around. La Bambouseraie is a place to be remembered, surrounded by green and shady spaces, gardener or no, you will marvel at and appreciate Mother Nature in all her glory.
It is of course entirely possible to do each activity independent of the other. La Bambouseraie is accessible by car and the steam train can be taken from both Saint-Jean-du-Gard and Anduze rail stations, both of which have ample parking. However, there is a certain magic in alighting at the specially made platform at La Bambouseraie and knowing all you have to do is wander round, admire some fine bamboo and then get back on the train again!
Are you looking for more France travel inspiration? Check out these top posts…
Ahhh, France. A country so eclectic and beguiling, it is the most visited nation on the planet. A French road trip is the best way to explore the wonderful diversity and beautiful landscapes of this country. Use our detailed guide and travel tips to find French road trip ideas in every region, and to plan your ultimate France road trip.
Love it? Pin it!