This post may contain affiliate links, from which we earn an income.
Motorhoming & Campervanning in France
Motorhome touring in France is a joy and you'll receive a warm welcome to this beautiful and eclectic country. From the Atlantic and Mediterranean coasts to the deserted and tranquil interiors and twisting crystal clear rivers, France is the perfect place to spend a holiday in your motorhome.
Whatever sort of motorhome or campervan holiday in France you're planning, you'll find lots of practical and helpful information about getting around France in a motorhome, and how to manage campervan and motorhome life there, in this ultimate guide to motorhoming in France.
We've spent months motorhome touring France and our advice and top tips for motorhome travel in France include driving, where to stay overnight and off-grid and wild camping to motorhome services and a round-up of the best motorhome destinations. You'll find all the information you need for an amazing motorhome road trip in France.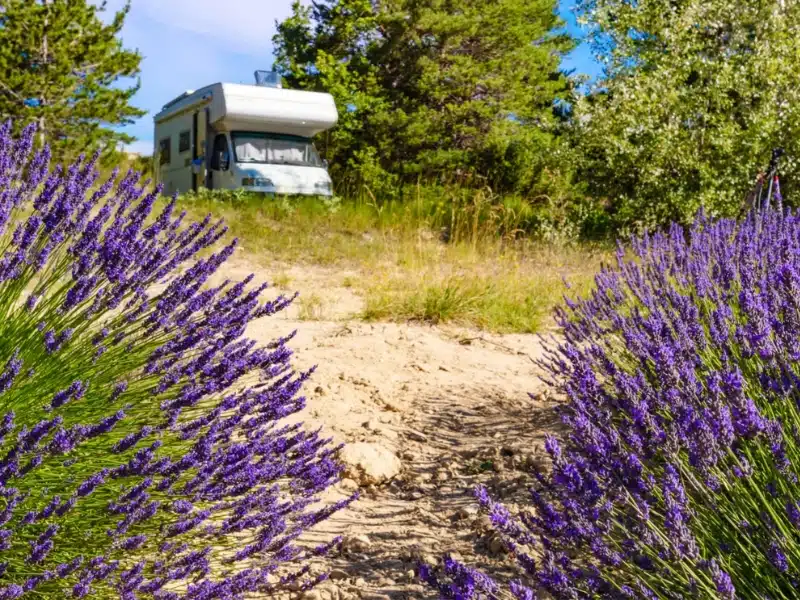 Motorhome Routes France
Motorhome Routes to France from UK
There are a number of ways of taking your own motorhome or camper to France. Which one you choose will depend on your budget, where you live in the UK and your onward journey plans once you arrive on the continent.
Use Mappy (the only mapping tool where you can fully customise vehicle size and weight) or Via Michelin to work out the cost of each driving route to France.
Cross the Channel to Calais
The Dover-Calais ferry takes around one hour 30 minutes to cross, loading can be time-consuming but you'll have time on the boat for a meal and be able to rest from driving.
The Folkestone-Calais tunnel is the quickest driving route from UK to France, as well as being the most frequent. As with the ferries, the channel tunnel queue can be horrendous in peak season and at peak times.
This is a good crossing if you're travelling with pets or are happy not to leave your van. If your motorhome is powered by LPG (just the driving bit, not the cooking or fridge!), you cannot use the tunnel.
Try a Less Travelled Route
Check out the slightly more obscure campervan travel routes which are a little longer but often cheaper and with more special offers to tempt you away from the more well-known routes. Try departing from Newhaven or arriving at Dieppe or Le Havre.
Head for North-West France
There are longer crossings from Portsmouth and Poole to Caen, and Cherbourg, ideal for the Vendee and Loire Valley, or southwest France, with options for overnight and fast catamaran sailings, and many of these ferries have pet-friendly cabins.
Taking an overnight crossing on this route is ideal if you're planning a long drive once you reach France, but the ferries are considerably more expensive and the fast crossings book up quickly.
For those in Ireland or Northern Ireland, the best routes are from Rosslare or Cork to Roscoff or Cherbourg.
Make for Northern Spain
Heading to Bilbao or Santander in northern Spain, from Portsmouth or Plymouth, works well for the south or southwest of France. You may find that the added ferry costs are covered by the savings in fuel, tolls and less driving time on your motorhome trip, making this a cost-effective option.
Fly & Hire a Motorhome or Campervan
Flying and hiring a motorhome is the best way to tour France if you don't own one. Our recommended French campervan hire company is Motorhome Republic, who have depots in Bordeaux, Lyon, Paris, Marseille, Nice and many other major French cities – perfect starting points to see all the best bits as you road trip France.
An aggregate motohome and campervan booking site, Motorhome Republic pull together all the best deals from a number of renters, to offer you a wide choice of options alongside an excellent English speaking expert motorhome Concierge Team.
You can also hire a motorhome in the UK and drive it across to France and beyond. Most hire companies allow their motorhome rentals to be taken overseas, including our recommended hirer, Spaceship Rentals. With a depot in London, top-notch customer service and all the equipment you need for an easy holiday, Spaceship offers the best deals for Europe.
Best Motorhome Routes Through France
France is a vast country and unless you have months, it's impossible to see all the best bits in one trip. Check out our guides to travelling in France where you'll be sure to find lots of ideas and inspiration, get our two week motorhome itinerary for France complete with a motorhome route map of France, or check out our French destination ideas.
If you just want to get south, then the best motorhome and campervan routes in France are as follows:
Best for the South-East of France
The A26, A6 and A7 from Calais down the east of France for the Alps, Provence and the Cote d'Azur. This is also a good route for much of the rest of Europe.
Best for the West and South West France
The A28 and A10 from Calais, Cherbourg and Caen for the Loire Valley, the Cote d'Argent and the Pyrenees.
Best for the South of France
The A1, A71 and A75 around Paris and over the Massif Central to the heart of Occitanie.
Is this your first time visiting France? Get all the information you need in our France Travel Guide, including what to pack, the best time of year to go, getting there and practical tips to help you have the best trip!
Motorhome France & Brexit
Although the UK left the EU at the beginning of 2020, because the pandemic came swiftly on its heels, many of us are still realising the repercussions and getting used to how it affects travelling in a motorhome.
You can find out all the details you need in our guide to motorhoming in European countries after Brexit. In the meantime, here are a few frequently asked questions and answers:
Do I need a visa for Europe?
Nothing changes with your passport, but from 2025, the EU will introduce the ETIAS (European Travel Information and Authorisation System), which will be an additional entry requirement for visa-exempt travellers and will involve the traveller registering their details online before travelling, mainly for security purposes.
How long can I stay in Europe?
UK citizens can only stay in the Schengen Area (a zone in Europe where countries have no internal borders and allow the free and unrestricted movement of people) for 90 days in every 180 days in the Schengen Area.
The 90 in 180 day rule works on a rolling basis and it can be difficult to work out whether you are within the rules or not, especially if you have visited the Schengen area on several occasions in the preceding 180 days. It's a good idea to use a Schengen Calculator to work things out before your campervan trip and make sure you stay within the rules.
What food can I take in my motorhome to France?
The European Commission says the following:
Can I use my mobile data in France?
It very much depends on who your mobile phone contract is with and when you started the contract. All UK providers now limit data usage in the EU in some way or another, and it's best to check with your provider to make sure you don't run up a big bill. You can find lots of information in our step-by-step guide to the best SIM cards in Europe, especially if you're planning to be away for more than a few weeks.
We have been using and recommend ConnectPls for cloud SIM connectivity in the UK and Europe. You can choose from unlimited data packs to just single days, depending on your needs. The device is no larger than a slimline smartphone, connects with up to ten devices, is charged easily with a USB and can be delivered within a few days of ordering. Use the code 'thegapdecaders' at checkout to get 50% off in the first month!

Can I take a pet to France in my motorhome?
Yes, you can take dogs, cats and ferrets to France. You'll need to book a pet friendly cabin or kennels on the ferry or travel via the tunnel. Your pet will need a microchip, a valid rabies vaccination and an animal health certificate (AHC).
It can take some time to get all the documents together and the vaccines organised, so make sure you start the process well in advance. You can find out more about travelling with pets on the Gov.UK website.
More motorhoming in France travel advice and guides;
When to Visit France in a Motorhome
December to February
France has a temperate climate like the UK and the winter months can be very cold, even in the south of the country, and rain is quite common at this time of year. But, the roads and cities will be quiet and less crowded, although not all attractions will be open. You'll probably want some form of heating if you tour France in the winter, or if you're going motorhome skiing in the Alps.
March to May
Spring is a wonderful time to visit France in a campervan, with temperatures warming up across the country. Markets increase in size, restaurants start preparing different dishes and the countryside is glorious. You'll still find the roads and cities less crowded, and campsites will start to open in April.
June to August
June and July are busier months, with perfect temperatures for travelling by motorhome and outdoor activities. June is probably the best month, as schools have yet to break up across Europe and the family rush to the coasts has not yet started. Expect it to be pretty hot and sticky in the south of the country during July and August.
August itself brings the French annual holiday when many businesses close for the duration. If you're planning on road-tripping in tourist areas, then this won't affect you too much, but campsites will need to be booked in advance.
September to November
Autumn is one of the best times to visit France, especially the south of France. It's a different place in autumn – the coast will be much quieter and you may be lucky enough to enjoy an Indian summer amongst the grape harvest and changing colours of the fall countryside.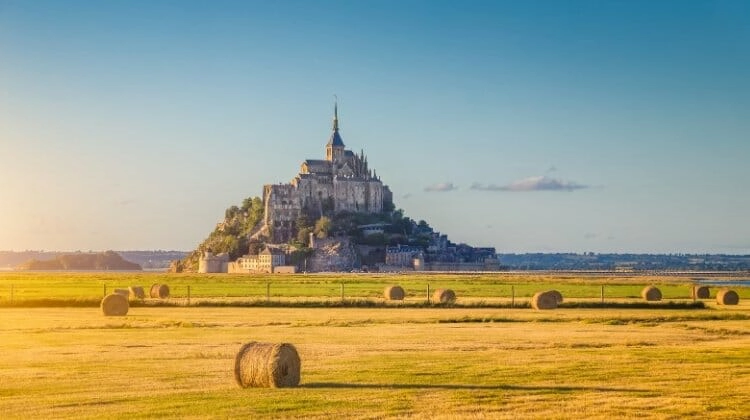 Driving a Motorhome in France
French drivers are impatient and often rude, particularly when stuck behind a motorhome! They are dreadful tailgaters and really, really dislike being overtaken.
On the other hand, French roads are generally in good condition and ideal for motorhomes, camper vans and RVs, even in mountainous areas.
And no, you don't need a right hand drive motorhome to tour France!
Follow our tips and advice for driving your motorhome in France and make sure you stick to the legal requirements when driving in France.
French Speed Limits for Motorhomes
Always observe the speed limit when campervanning in Europe. There are speed cameras just as in the UK, and the French authorities are pretty vigorous in their pursuit of Brits caught speeding and the non-payment of fines. This has not changed since Brexit as the information-sharing agreement with the DVLA continues.
Motorhomes < 3,500 kg
Motorhomes > 3,500 kg
Documents You Need to Travel & Drive in France
Make sure you have travel insurance you can trust when motorhoming France. We recommend True Traveller for their 5-star TrustPilot reviews, variety of cover options, best activities cover as standard, great prices and excellent service.
Vehicle Safety Equipment in France
Angles Morts Stickers
From 1st January 2021, all vehicles over 3,500kg are required to display infographic angles morts or blind spot stickers. Stickers must be visible on both sides and at the back of the vehicle and must be placed between 0.90m and 1.50m above the ground. Stickers must be placed in such a way that they don't cover the vehicle's regulatory plates and inscriptions, or any of the lights or signals, and don't hinder the driver's field of view.
Mountain Law II
On 1 November 2021 the Loi Montage II or 'mountain law II' came into force in 48 French mountainous departments within the Alpes, Massif Central, Jura, Pyrenees, and Vosges regions. Anyone travelling in a car or motorhome through one of these areas between 1 November and 31 March will be obliged to fit four approved winter tyres or carry at least two snow chains or socks in the vehicle.
Speed Stickers
You may have read that speed stickers with 80, 100 and 110 are required on the rear of campervans and motorhomes heavier than 3500kg. Feedback from fellow motorhomers, and our observations, suggest that few (including the French) are complying with the speed sticker requirement, and we are unaware of anyone being fined for non-compliance. If you want to attach stickers, they can be bought from most petrol stations in France.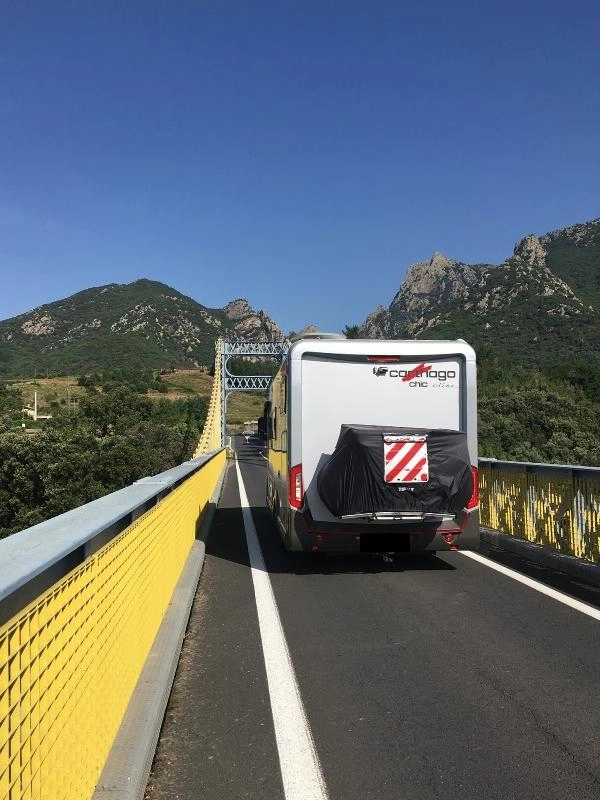 Motorhome Rules of the Road in France
Motorway Breakdowns in France
French motorways are privately managed and you're not allowed to request your own assistance company to attend to you if you break down.
If you do break down, you should use the orange emergency telephones that are situated every 2km along French motorways to call the police or the official breakdown service operating in that area. Alternatively, if no orange telephone is available, you should call the emergency services by dialling 112.
You will be towed to a safe designated area where you can make onward arrangements for your own breakdown insurer to assist you if you have it. Otherwise, the towing company will be able to provide support or signpost you.
Charges for assistance on a motorway are fixed by the government and are reviewed and revised each year. Many of the government-appointed towing services allow large insurers to pay them directly, but this is at their discretion and will depend on who your breakdown cover is with. If this is not the case, you should pay directly and then seek recompense from your insurer.
Toll Roads in France
Touring France can be hideously expensive if you only use motorway tolls, but they do allow you to travel through the country to your destination quickly. Try using this European route planner with tolls to get an idea of toll costs for your route.
The technical measurement that French toll roads use to determine whether your motorhome is Category 2 or 3 is height and weight – anything over 3m or 3,500kg is a Cat 3. Often the system will class your motorhome or RV as Cat 3. If you press the telecoms button at the booth and simply say "je suis un camping-car" (I am a camping car), the operator will change your category to 2, which will be significantly cheaper.
You may want to consider carrying an electronic toll tag, like EMovis (which also covers you in Spain and Portugal) that deducts the fees from a credit card automatically, meaning you don't have to stop at a booth or barrier.
Why not try setting your motorhome sat nav to avoid motorways and get off the beaten track across France? We've found some of our favourite places doing just that but be cautious when visiting small villages, most are not designed for large motorhomes, even though your sat nav might find a route.
Crit'Air Vignettes
France has introduced 'clean air' windscreen stickers as a legal requirement to enter low emission zones in many of its cities and their peripheries. The sticker identifies a vehicle's emissions levels and restricts access in order to improve air quality.
This six-category sticker system is designed to identify what emissions vehicles produce, and are categorised based on your vehicle's Euro emissions standard. These are known as Crit'Air stickers and you may need one for your motorhome, depending on where you are visiting.
If you intend to travel close to a city or use its ring road, it's worth getting the crit'air sticker, which costs €4.61 from the official website. The transitional period during which violations will not be fined ends on 31st December 2023. Find out more and purchase Crit'Air stickers from the official certificat-air.gouv.fr website.
Motorhome Parking in France
In France, the parking rules for campervans and motorhomes are the same as for cars, except when police have set restrictions. According to French traffic law, you may park your campervan or motorhome in parking spaces in designated parking areas and at the side of a road.
Wherever you park, you are always allowed to eat in your motorhome. Picnicking at the side of a main road, even in a car park, is not permitted though – this could even get you into trouble with the police!
Black Saturday
No, it's not a discount shopping day but the days of the year when road traffic is most dense with long traffic jams on the major routes south. This usually happens when the French school holidays start, but is exacerbated by traffic arriving from the UK too. You can find out which days are being predicted as Black Saturdays on the About France website.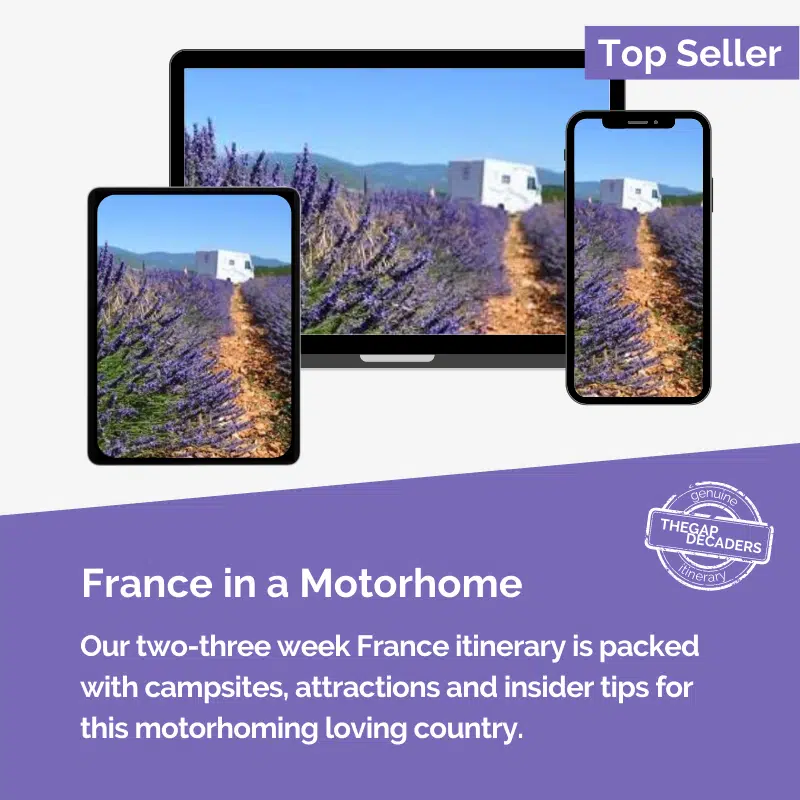 2 Week Motorhome Itinerary France
Let us do the planning for you and grab our France motorhome itinerary, packed with campsites, aires, attractions and insider tips.
Let us do the hard work for you! Get up every day knowing your trip is planned with driving routes, overnight stops and attractions marked out for you on your interactive map.
Motorhome Services in France
Motorhoming in France is so easy as the French have really embraced motorhome culture and provide great motorhome service areas in all cities and larger towns and most small towns and villages.
There are literally thousands of service points across the country, some are stand-alone, others within an aire, and more still at supermarkets and garages. Look for the motorhome dump station signage and use an app like Park4Night to find motorhome service points.
The best thing is that often the services are free, but where you find Flot Blue style services (where fresh water, black waste, and sometimes electricity are contained in a large plastic box), you will have to pay a charge or use a jeton (token) which you can buy at the site, some shops, local sports halls and the town hall (it will tell you where at the services).
It's usually worth getting a few extra jetons so you have a supply, but different services take different ones, just to make life more complicated! Many more now take a credit card and Euro coins, making life an awful lot easier.
Motorhome LPG & Gas Bottles in France
In France, as in most of Europe, LPG is known as GPL (gaz de pétrole liquéfié) and is a mix of butane and propane.
LPG for refillable systems and refillable gas bottles is available in many garages. If you're using a Safefill refillable gas bottle you may be challenged if you have to remove the bottle for filling. Both systems will need the French-Italian fill adaptor. Use the myLPG app to search for filling stations with GPL near where you are.
Gas bottles are also widely available. Butane is more common but is unsuitable for external storage and may cause problems if the temperature goes below zero. It's much better to use propane, especially if you're travelling in France in winter.
Gas bottles are available at most supermarkets and DIY stores and in many roadside garages. You'll find a variety of sizes from 6kg to 18kg. You will need a different regulator in France and possibly a new pigtail, which DIY shops sell.
Fuel in France
Filling up at the petrol station in France is not much different than in the UK, although it's usually more expensive! Diesel is called gasoil or gazole in France and unleaded is sans plomb in either 95 or 98 octane, or super unleaded which is super. 
Be mindful that almost all French service stations will take a pre-authorisation from debit cards, credit cards and pre-paid cards like Caxton. Once you complete fueling, the exact amount is taken and then the pre-authorised amount is supposed to go straight back on the card.
But often it can take 7-10 days to get the holding amount back, and in one instance, it took 28 days! If you're travelling with limited funds, we suggest using a credit card with a bit of a buffer.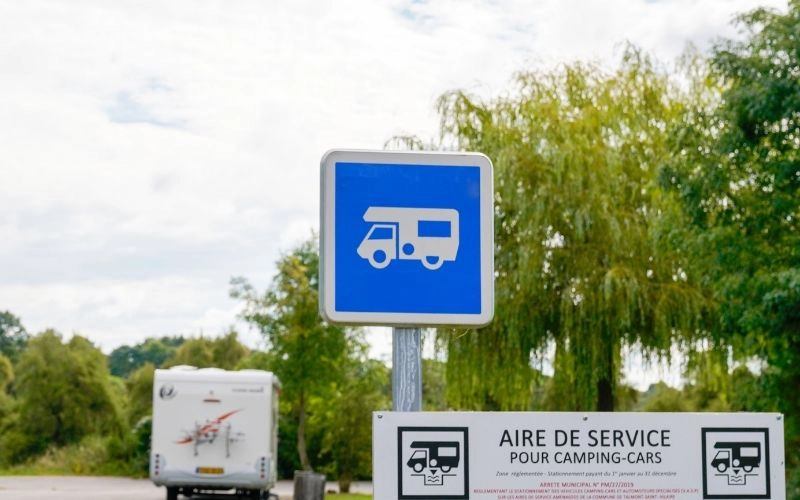 Motorhoming in France FAQs
Can you park a motorhome anywhere in France?
You can park a motorhome or campervan on the street or in a car park provided there is no sign prohibiting this. Remember that 'parking' is different to 'camping' though, and if you're free camping in France where signage forbids it, you are likely to be fined and moved on, especially if you're on the coast.
Can you stay overnight in a motorway aire in France?
Yes, you can. But we would advise against staying overnight in a French motorway aire. Motorway aires are perfect for a quick lunch stop or to use the loo, but they are notorious for theft, particularly from motorhomes, and you don't want to be broken into when you're sleeping.
What do I need to take to France in my motorhome?
You must have a valid driving license in your home country and your motorhome must be legal in the country of registration. If you're motorhoming in France from UK, this means your van must be insured (minimum 3rd party), taxed and have a valid MOT.
Where to motorhome in France?
Everywhere! France is such a diverse country, and the best places for campervan and motorhome holidays in France offer something to suit every motorhomer, whether you're planning a family holiday or a longer motorhome tour.
What are the new rules for motorhomes in France?
If you're driving a motorhome in France, the newest rules are the requirement for angles morts stickers for motorhomes over 3,500kg, which came into force in January 2021, and the Mountain Law II which requires motorhomes to fit winter tyres or carry snow chains which has been enforced since November 2021.
Motorhome Stopovers in France
Motorhome Aires in France
Municipal Aires in France
Motorhome camping car aires in France are official or designated places for motorhomes or camping-cars (what motorhomes are called in France) to park overnight, sometimes for free but usually for a small fee. The aire, or motorhome area, is usually a car park or large space where several motorhomes can park, often hard-standing or gravel and sometimes a grassy field.
Aires run by the local municipality are usually just a short walk to shops, bars and restaurants to encourage visitors, and we have found that even the most unassuming towns and villages have something of interest to explore.
Every French aire we have ever stayed at has also provided water and waste services as well. Arrangements in each aire differ; some have proper services of the Flot Blue type, while others are more rural and basic.
It's good practice, when sharing these types of facilities, to use an anti-bacterial wipe to clean the end of the fresh water hoses and handles, as they can inadvertently be contaminated with waste when all the services are used in close proximity.
Some aires also have electricity, but often there are not enough sockets for each van, so a splitter like the one on our motorhome essentials list is a good idea if you don't have a solar panel or your leisure batteries are not fully charged.
You cannot book municipal motorhome camping aires in France. It is advisable in the holidays and in popular places to try and get there early in the morning or just after lunchtime. If you arrive at 6pm expecting a place, then you will probably be disappointed.
Always have a second choice in reserve and use All the Aires France, Park4Night and other free motorhome apps to help you find alternative places to stay in your motorhome.
We always try to have a beer or do some shopping in the smaller towns and villages where municipal aires are provided, to thank the locals for having us!
Motorway Aires in France
Aires in French towns and villages are super safe, often with several other motorhomes and camper vans around. Avoid motorway aires for anything more than a quick stop to make a cuppa or use the loo.
They are notorious for theft, particularly from motorhomes and you don't want to be broken into when you're sleeping. Gassing is a myth, about which you can read more here, however, theft and break-ins are not.
Commercial Aires in France
There are a growing number of commercial aires which have barriers and are more strictly controlled but are generally very well run and sometimes have additional facilities such as showers, laundry facilities and restaurants. The largest provider is called Camping-Car Park and they run over 250 commercial aires in France. 
The first time you stay in one of their aires, you'll need to buy and load a Pass'Etapes Card (like a credit card) which you purchase from the machine at the entry barrier, (or you can order one online in advance here), which costs €5.
You need to load the card, which you can do at each place you stay, online or via their app if you know you'll be using their facilities. The average cost of a night's stay is €10-12.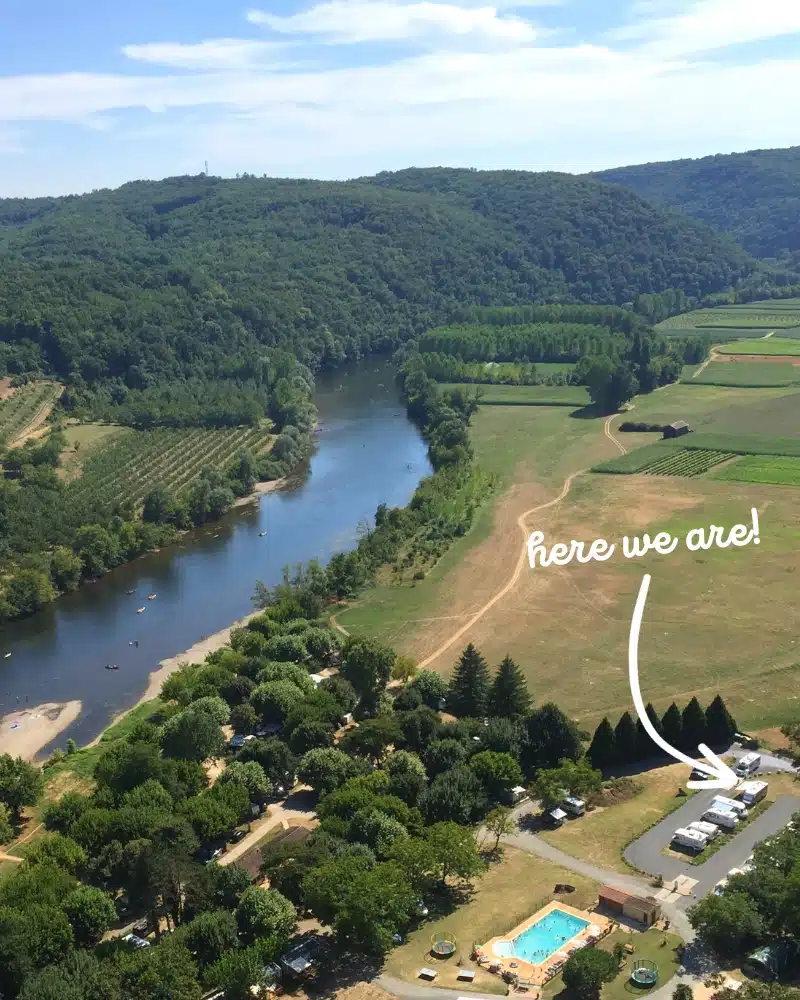 Wild & Off-Grid Camping in France
Wild camping in France for motorhomes is easy and good spots are plentiful. We use the Park4Night app to find wild camping spots across the country. It's a good idea to have a reserve option in case you arrive and don't like the look of your choice.
As a general rule, motorhome wild camping is permitted in France with the permission of the landowner or tenant and is subject to certain limitations. As long as you're not on private land or an area that is cultivated, then you won't be breaking any rules.
The main restrictions are that motorhome-free camping is not permitted on the coast, in protected natural sites, and on the perimeter of classified historic monuments and these rules are generally pretty rigorously enforced in the summer.
You might find that if you are discreet and 'park' (nothing outside or anything extending beyond the footprint of the motorhome) instead of 'camp', that out of season you will be left to get on with it, especially in off-the-beaten-track areas. Make sure you follow the rules in our general post about wild camping in Europe.
The French highway code states that motorhome owners may park beside roads and in designated parking places in the same way as other vehicles. Outside of cities and built-up areas, it is legal to park up a motorhome at the side of a quiet road, such as in an unofficial lay-by that offers a quiet place to stop for the night.
We would highly recommend additional or enhanced security for your van if you're planning on wild camping in France. You can find out more here.
If you're off to France in your motorhome or campervan, chances are you'll be thinking about wild camping. Find out all you need to know about wild camping for motorhomes in France, finding the perfect spot and staying safe here.
If you're planning a motorhome trip to France, the chances are you'll want to stay in a French aire. But what is an aire, how can you stay in them and how do you find them? We answer all your questions about motorhome aires in France here.
France Passion
A great alternative to wild camping, France Passion is a popular scheme where you can stay on farms, orchards, vineyards etc in your motorhome, campervan or RV with no charge.
There are often no services and sometimes people feel obliged to buy produce, although this is not something we have experienced.
We usually do get a few bottles of wine as it is more cost-effective than buying in supermarkets and we enjoy the tastings and gaining knowledge from the growers.
On a motorhome tour of France, this alternative to wild camping provides the perfect balance of free overnight stops along with interest in some great off-the-beaten-path French destinations.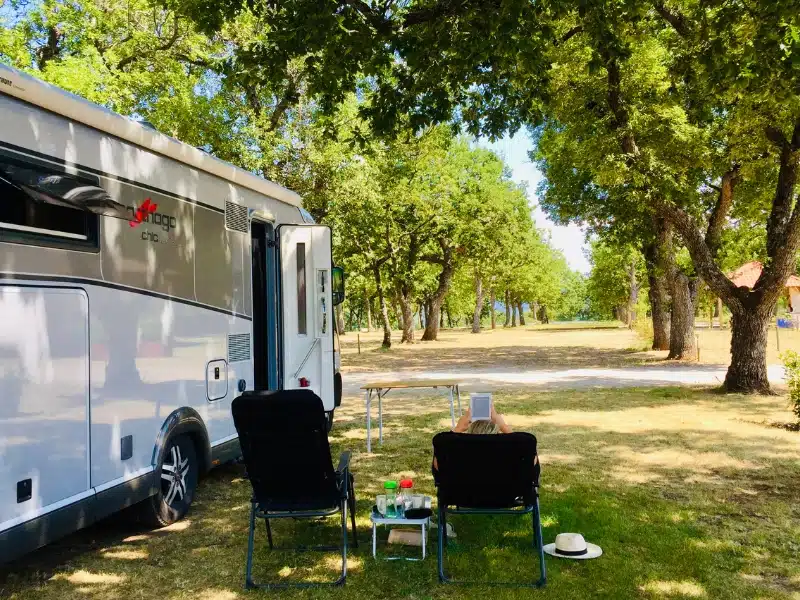 Motorhome Campsites in France
Motorhome and campervan sites in France are ten a penny and out of season you will be able to use your ACSI CampingCard to get really good rates. Find the best motorhome sites in France and book with Eurocampings for the best deals and a huge choice of over 2,700 campsites.
French campsites come in all shapes and sizes, from small and peaceful rural sites with limited services to huge resorts in popular tourist destinations, with pools, restaurants, entertainment, boules and tennis courts, and sometimes their own private beach.
In high season, motorhome sites in France can be quite expensive, often €70 plus per night. During the French summer holidays, even the best French holiday parks and best caravan sites in France will be noisy and the swimming pool will be packed with kids enjoying time out of school. If you want to stay, you'll need to book well in advance.
But, there is a certain something about French campsites in summer that we love! You can find some of the best motorhome campsites in France here.
What is ACSI?
If you want to save money when camping out of high season, you can save up to 60% a night with CampingCard ACSI. Valid in over 3,000 sites across Europe the ACSI card means you'll enjoy low cost camping and will pay for itself in just a few nights.
Be aware that some larger sites have a certain number of designated ACSI pitches, which are often on the small side and don't usually have on-pitch facilities. Once these are full, you'll have to pay full price for a pitch.
For the best experience pick smaller sites without the premium pitches and you'll be able to choose where you want to park. Just take your valid ACSI camping card into Reception and you'll get the lower rate.
France Travel Guides
Top French Destinations
Auvergne-Rhone-Alpes
A vast region, the Auvergne-Rhone-Alpes stretches from the high hills and plateau of the Massif Central in the west to the highest point of the French Alps, Mont Blanc, in the east.
Get to Dijon and set your sat nav to non-toll roads for the best scenery as you head into the region. The further south you go, the more you will notice the flora, fauna and climate taking on a Mediterranean feel.
RELATED POST – Route des Grandes Alpes: An Epic French Road Trip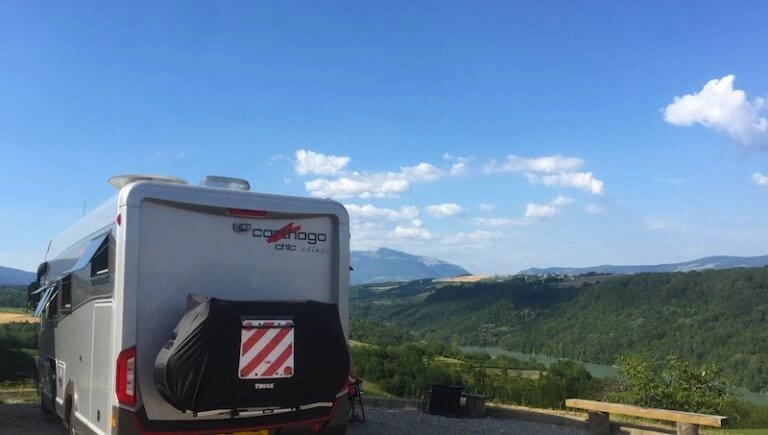 Bourgogne-France-Comte
This beautiful region of France is famous for its rich history and abundance of vineyards and is the old historic region of Burgundy, once the heartland of France.
With a mix of low agricultural lands and the fabulous mountains and lakes of the Jura, BFC is sparsely populated and sees little tourist footfall.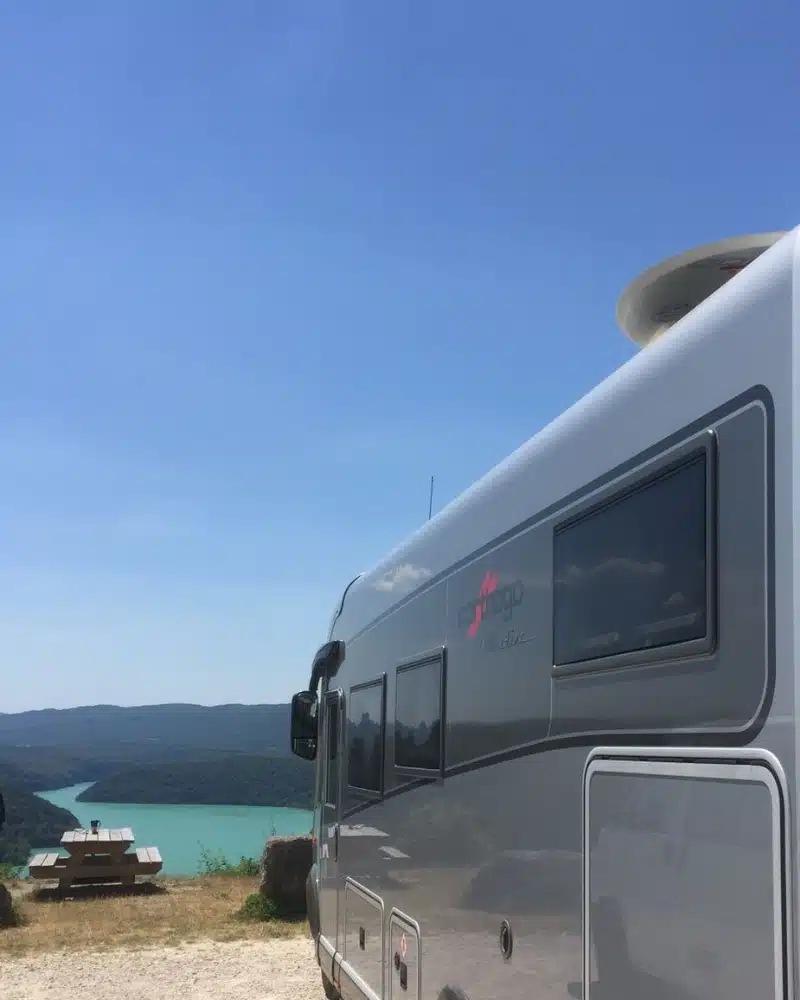 Brittany
This rugged peninsula and wild coastline of western France is a great place for a motorhome trip. With Rennes, the capital of the region, being just an hour's drive from St Malo, it is literally a hop over the channel.
Two to three hours from Cherbourg and five to six from Calais, this region makes for fantastic France campervan holidays, with a lot less driving and no ruinous toll fees.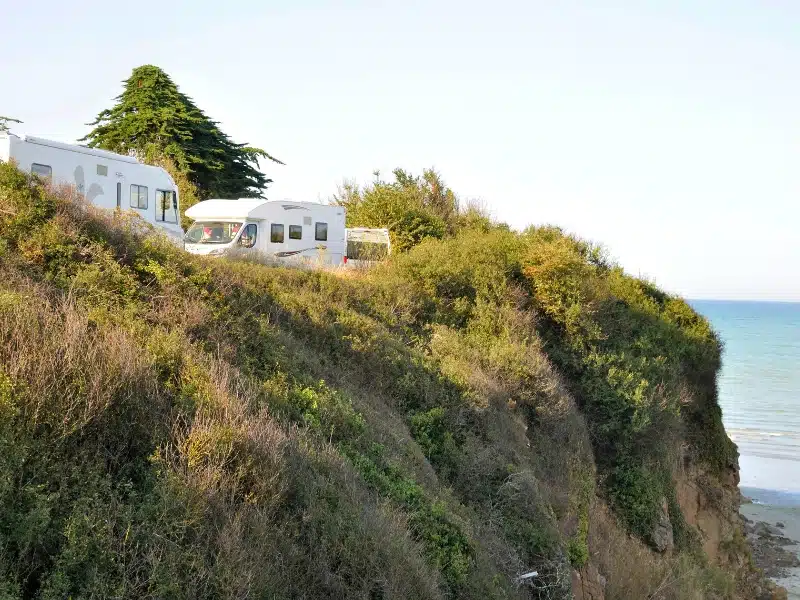 Centre-Val de Loire
Landlocked Centre-Val de Loire is located to the southwest of the French capital Paris and is all about the magnificent river Loire and its beautiful chateaux.
Just four to five hours from Calais to Orléans, and an hour less from Caen, this region is a popular holiday destination and would be ideal for a motorhome road trip along the river.
RELATED POST – 20 Best Cities In France To Visit & Fall In Love With!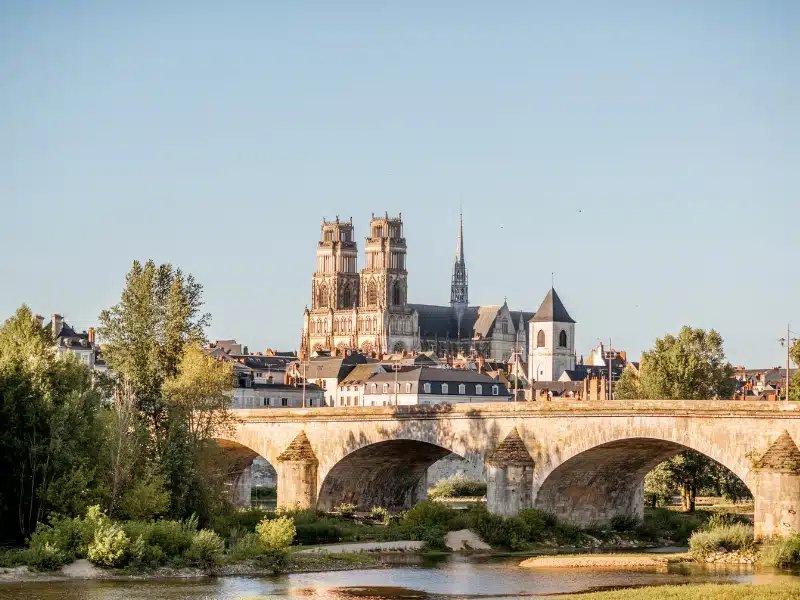 Grand Est
Grand Est is a region in eastern France full of multicultural influences which come from its borders with Germany, Belgium, Luxembourg and a small part of Switzerland.
Grand Est is a region of multicultural influences which comes from its borders with Germany, Belgium, Luxembourg and a small part of Switzerland.
It's one of the most accessible regions in France from Calais – a four hour drive will take you to the heart of the region, famous for champagne, and the gentle Vosges Mountains (shared with BFG) which are crisscrossed with fabulous hiking and cycle routes.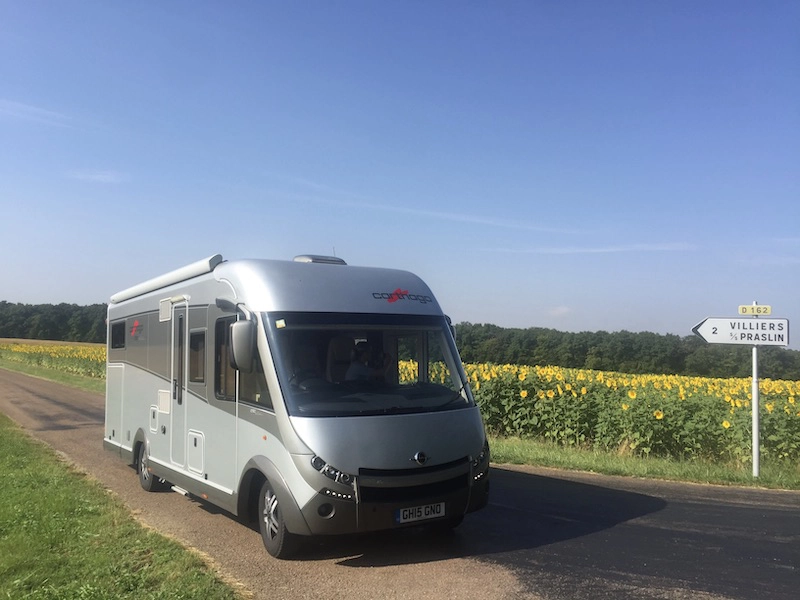 Hautes-de-France
The most northerly region of France and home to the port city of Calais, Hautes-de-France is literally on your doorstep.
The area is known for the battlefields of World War One and the incredible beaches, pretty fishing villages and elegant resort towns of the beautiful Opal Coast.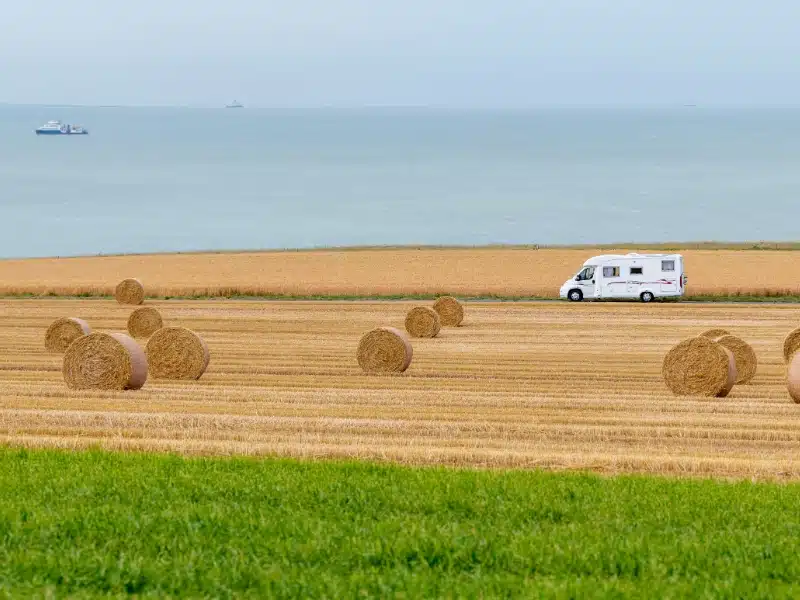 Ile-de-France
Ile-de-France is the small region surrounding the capital city of Paris and a four hour drive from Calais. The region is home to the UNESCO World Heritage fortified city of Provins, the huge forested estates surrounding Fontainebleau and Versailles, and the site of the palace of the same name.
RELATED POST – One Day Paris Itinerary – Map, Guide & Tips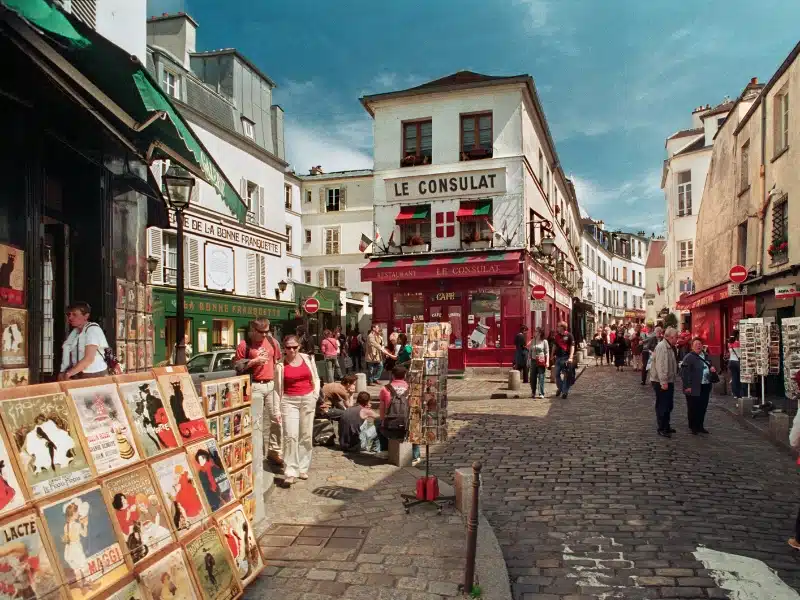 Normandy
Bordering the English Channel and easily accessible from all the ports, Normandy is a wonderful motorhome destination in France.
Le Havre is in the region itself and a perfect arrival port which is close to the attractions of Honfleur, Bayeux, Mont Saint-Michel and the D-Day beaches.
RELATED POST – Normandy Road Trip: Ultimate Seven Day Itinerary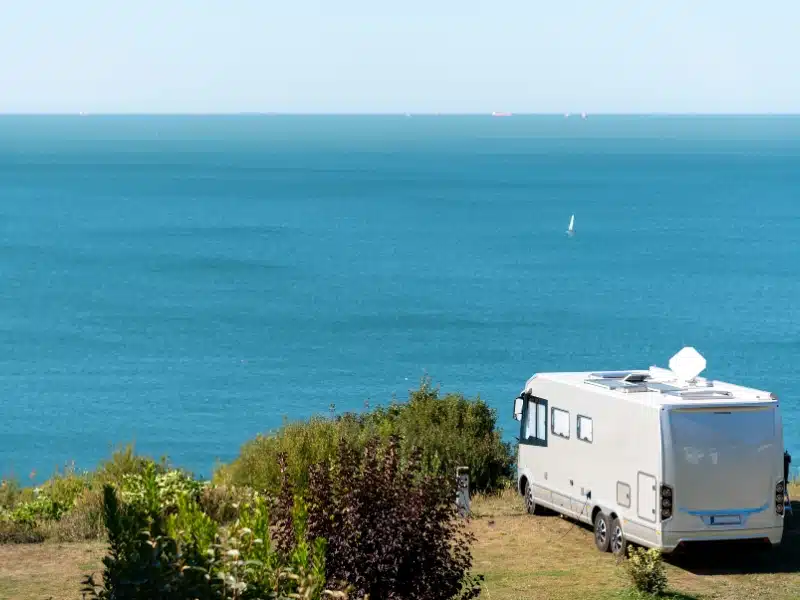 Nouvelle-Aquitaine
One of our personal favourites for France campervan holidays, Nouvelle-Aquitaine is the largest region of France and offers a long sandy coast, the Pyrenees mountains and the gently meandering Dordogne.
From the ports of Caen or Cherbourg, the capital Bordeaux is a good seven to eight hour drive, making this an ideal destination for a two or three week motorhome holiday.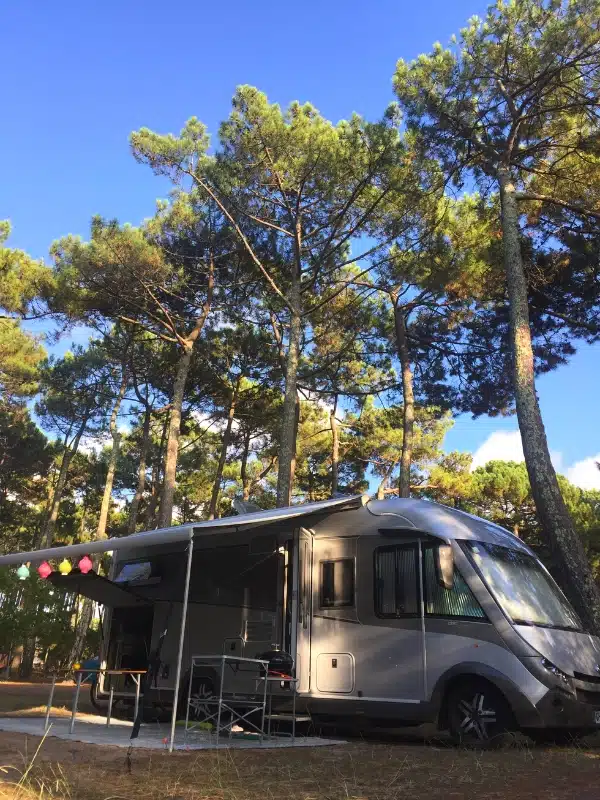 Occitanie
Occitanie (previously Languedoc) is one-half of the south of France and is a region of huge diversity, from the sun-drenched Herault, the rivers and gorges of the Lot and the Mediterranean coast to the wild beauty of the Cevennes and the majesty of the Pyrenees.
Occitanie is also home to the largest number of les plus beaux villages in France. For more information on the most beautiful villages in France, this handy guide in English covers the entire 164!
A good ten to eleven hour drive from Caen, Occitanie is a great destination for motorhome tours if you have three or four weeks to travel or plan on staying put when you arrive. We think it's worth the drive time for the atmosphere, history and beauty you will find in this region.
RELATED POST – South of France Road Trip: Route, Highlights & Tips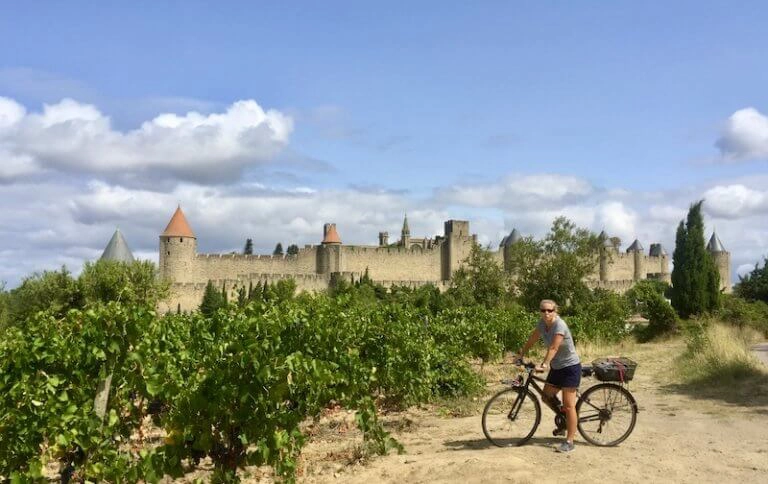 Pays de la Loire
The Pays de la Loire is a region of north-western France which adjoins the region of Centre-Val de Loire. Both regions share many characteristics but the big difference is the long Atlantic coastline known as the Vendee, enjoyed for its gentle waves, sandy beaches and quintessential seaside resorts.
Around three to four hours from Caen gets you to the heart of the region, with the Loire Valley to the east and the beaches of the Vendee to the west.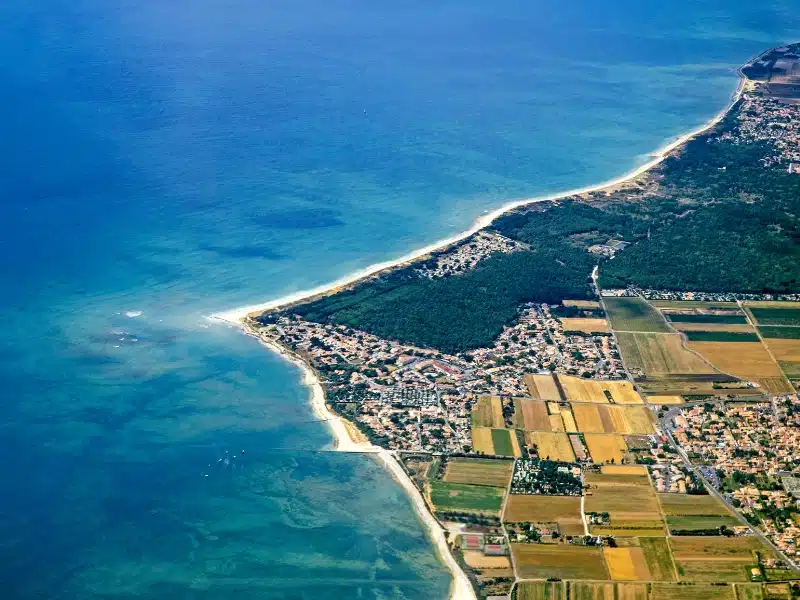 Provence-Alpes-Cote d'Azur
A favourite of many and blessed with classic French countryside, this region covers a large and diverse area from the sparkling Mediterranean Sea to the French Alps, and from the river Rhone to the Italian border.
Known as PACA, the region is the furthest in France from the UK, taking a punishing twelve to thirteen hours from Calais to Marseille. But, for the glamorous and fashionable resorts of the French Riviera, the lavender fields and whitewashed towns of Provence, and the wilderness of the Camargue, those driving hours are so worth it.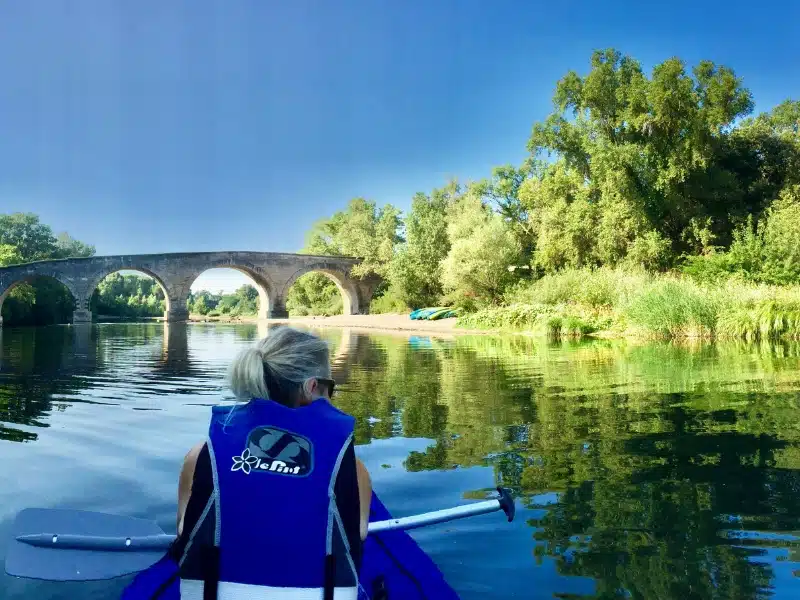 Motorhome & Campervan France Travel Ideas
French Life
Culture
Life in France is always lived to its fullest. French people generally live simply but enjoy good quality and high standards; they will always choose better foods but have just a little bit, for example. This principle is applied to much of French life. Understanding French culture is one of the most important things to know about France.
French residents do not say "sacre bleu", "zut alors" or "mon dieu"; although real words they are very outdated expressions used exclusively by the Daily Mail whenever they want to highlight a juicy French story.
French people are incredibly proud of their country and way of life; any criticism of France, or unfavourable comparison to other countries, is considered rude. We can perceive this pride as arrogance but it is really just part of who they are and their culture.
France is an incredibly cultured environment, with public spaces and buildings seeming very grand and sometimes regal. As you Tour France in your motorhome, you will see the motto "Liberté, Egalité, Fraternité" on public buildings. Egalite (equality) is considered more important than the latter two, influencing the French way of life.
French people embody romance and passion; extra-marital affairs are normal and it is the only country in the world where a crime of passion is a defence!
Everyone in France takes the time to say bonjour (hello) and au revoir (goodbye). To not make time to do so is considered incredibly discourteous.
In villages and small towns, it is likely that shops will close from 12 noon until 2pm for lunch. Shops will not be open on Sundays unless you are in a large town or at an out-of-town hypermarket.
Museums, even in Paris, are often closed on Tuesdays …who knew?
Beware of le pont (the bridge); this is a custom where when a public holiday falls on a Tuesday or Thursday (they are taken whichever day of the week they fall on, unlike the UK where it's always a Monday), then businesses and shops stay closed for the Monday or Friday. For a list of public holidays in France, click here.
As tempting as it may be, farmer's markets are a very expensive way to buy fruit and veg. Buying locally will help sustain the local farmers, but you will get a much better price at a roadside stall (or even Lidl, which buys locally and provides motorhome parking bays) of which there are many.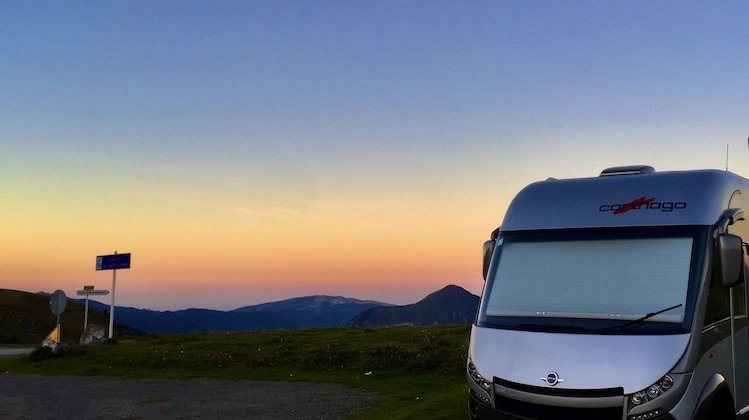 Food & Eating Out in France
Food and drink is a HUGE part of French life, I could write a separate post about it! Eating together in France, as family or friends is sacrosanct; eating is seen as intensely pleasurable …why spoil that by rushing or eating on the go?
Meal times in France are lengthy occasions, with chatter debate and laughter. Often there are three courses involved and the table will be fully set; this slows down the meal and allows diners to relax and digest their food more comfortably.
The word for breakfast is le petit déjeuner (the little lunch). In France, you dunk your croissant into a milky drink of coffee or hot chocolate – the croissant is not buttered as it is made from butter!
Breakfast or early morning is the only time to drink milky coffee. Coffee is served black and in small cups during the rest of the day, unless you ask otherwise.
Le dejeuner (lunch) is generally served from noon to 1.30pm. You will struggle to find restaurants open much after that unless you are in a city or tourist area. Lunch is a more important meal than dinner.
Le diner (dinner) service does not usually start in restaurants until 8pm.
You will eat a lot of bread in France; all towns and villages have a boulangerie (bakery), often baking up to three times a day. A baguette may only have four ingredients by law; wheat flour, water, yeast, and common salt. As there are no preservatives, the bread goes stale very quickly, hence the frequent baking. There is nothing quite like the taste of a warm baguette slathered in beurre doux (unsalted butter) and local jam, fresh from the boulangerie and eaten in your motorhome, with the door open to enjoy the view of wherever you are.
Bread will be offered at mealtimes, it is not usual to butter it but to use it to mop up sauce and juices. The only time to butter bread is at breakfast.
Some restaurants will include a service charge in the bill. If not, you may want to leave a tip although it is not necessary. Locals generally tip only the change from a euro, if there is any!
Although you may find it upsetting, la viande de cheval (horse meat) is common on French menus.
If you want to try les escargots (snails) they taste much better with a garlic and parsley sauce. Les cuisses de grenouille (frogs legs) are usually imported and no longer authentic.
Are you looking for more motorhome touring guides? Check out these top posts…
New Zealand is an absolute dream for campervan enthusiasts. The breathtaking landscapes, diverse wildlife, and incredibly friendly locals make it the perfect destination for your next campervan adventure. We'll will provide you with all the tips, tricks and insider knowledge to make your vanlife experience in New Zealand truly unforgettable. So, buckle up and get ready for an adventure of a lifetime!
Love it? Pin it!