This post may contain affiliate links, from which we earn an income.
Find the Best Wild Swimming in France
In the height of summer in the south of France, when it's 30° plus, all you want to do is find some cold water in which to immerse yourself. If the cold water is also crystal clear and bubbling along through rock pools and waterfalls, then that's even better. Top it off with a spectacular location and you've hit the wild swimming jackpot! We think these are the best wild swimming spots in southern France …enjoy!
Wild Swimming Map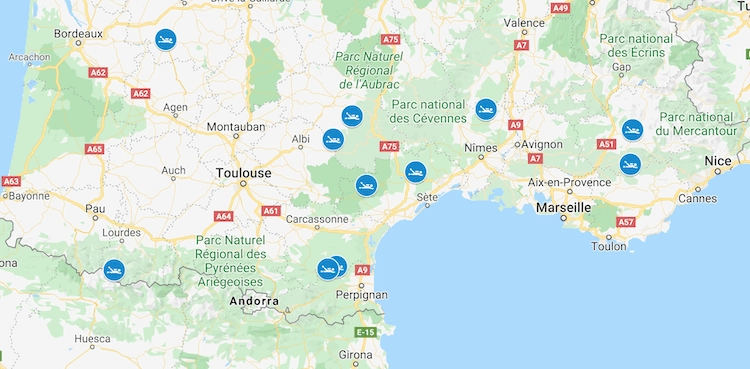 Gorges du Verdouble, Duilhac-sous-Peyrepertuse, Aude
This is a stunning slim gorge with beautiful clear water and lots of different areas for swimming and jumping. Walk around the large lake for the best spots and find a smooth rock to lay out on. Even on the hottest days, the water is cold; the best tactic is just to jump in!
You would benefit from shoes designed for slippery surfaces here. There are no facilities, the car park is €2.  It can get very busy at the weekends and  during school holidays. The best time to go on those days is after 4pm for an evening cool off.
Is this your first time visiting France? Get all the information you need in our France Travel Guide, including what to pack, the best time of year to go, getting there and practical tips to help you have the best trip!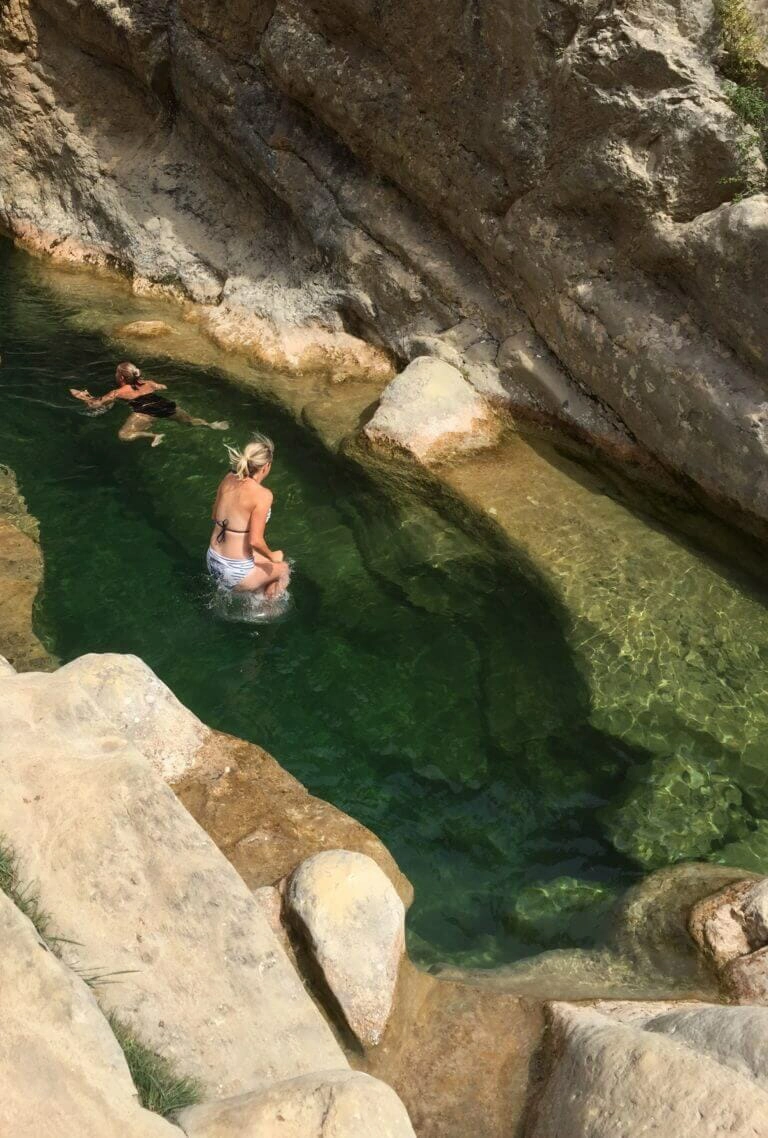 Gorge de Galamus, Saint-Paul-de-Fenouillet, Aude
A gorgeous place for a walk as well as to go wild swimming and for us probably the best wild swimming in France. The water is crystal clear and there are rock pools, waterfalls, natural slides and jacuzzis. You would benefit from shoes designed for slippery surfaces here.
The gorge is well maintained but the narrow road can get very busy. You can also go canyoning here in guided organised groups, it's suitable for those with no experience and so much fun!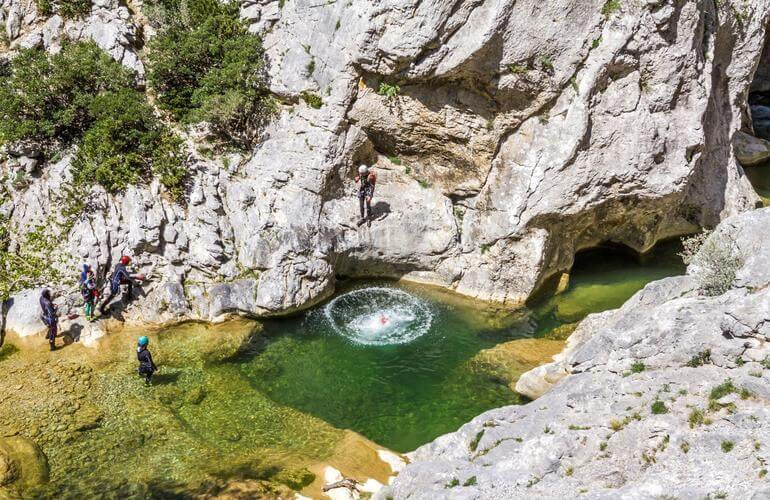 Gorges d'Heric, Mons, Hérault
You can follow the Gorge d'Heric upwards to the village of Heric for around 5km from the car park. This is a spectacular walk, all along the Gorge you can find swimming spots, pools, waterfalls and slides with the occasional small sandy beach.
The water is clear and cool, but in some places will warm nicely on a hot day. No matter how busy the gorge is, you will be able to find somewhere private for your swim.
Pont du Diable, Hérault
As the River Hérault comes rushing through its rocky narrow gorge and under the Pont du Diable (Devil's Bridge) it slows and forms a small lake before moving on to the flat plains of Hérault and eventually joining the Mediterranean Sea.
There is a well-maintained river beach here with convenient parking and access. You can hire kayaks and SUP boards or just swim. Local youths throw themselves from the rocks around the bridge, after watching for a bit, we did too! The water is clear and cool…the perfect spot for wild swimming in France.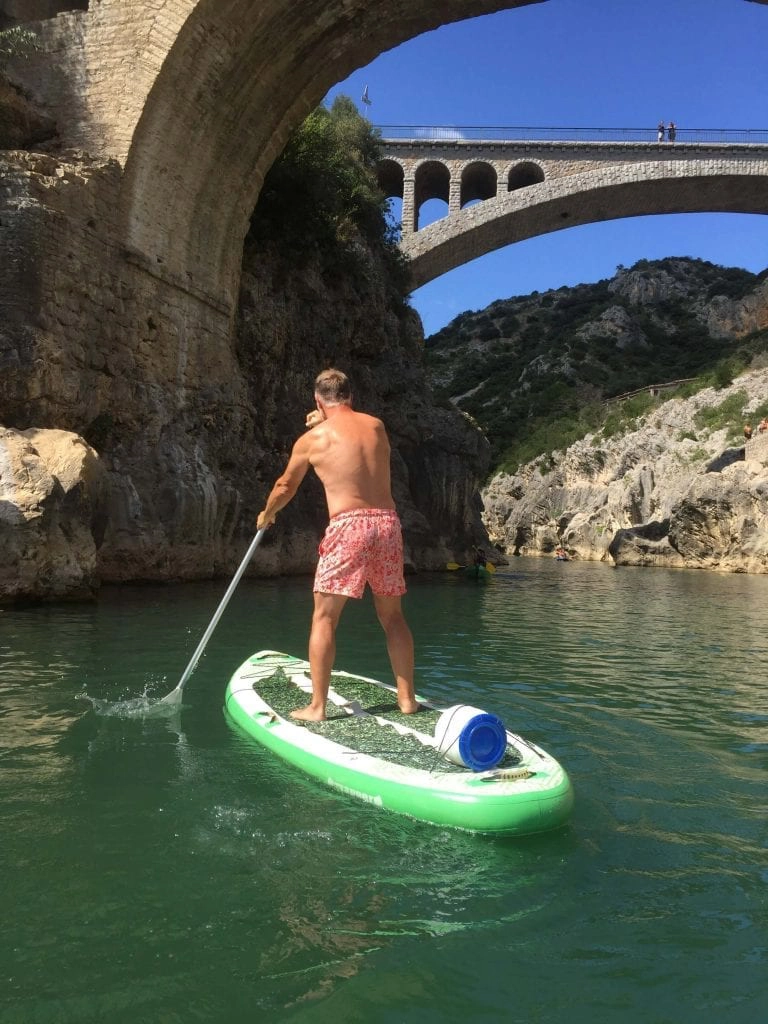 Lac de Paraloup, Salles-Curan, Aveyron
This is a super lake, calm, clear and warm. I learned to paddle board here as it's so still. This is also a great spot for kayaking and wild swimming in France and there are several campsites around the lake, as well as the main town Salles-Curan.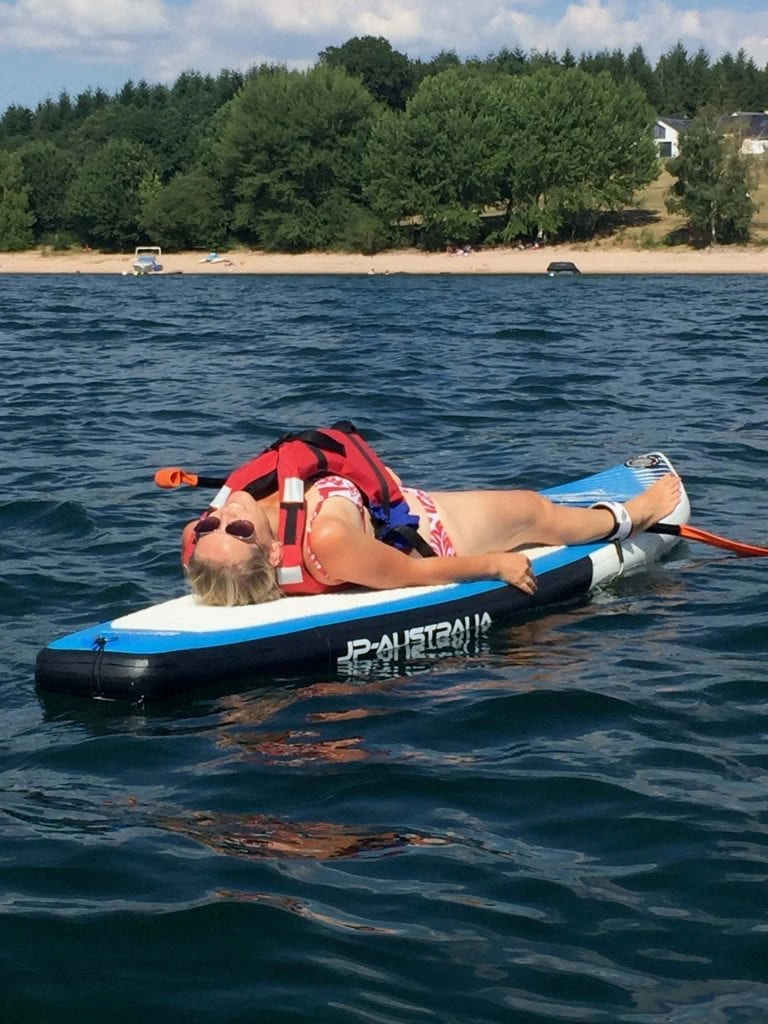 River Cèze, Montclus, Gard
Montclus is a beautiful spot, one of France's Beau Villages. The River Cèze burbles through, over rocks and through deep pools, clear and inviting. There are a number of small pebbled river beaches from which you can swim, dip and cool off on a hot day. The village can get busy in holidays and at weekends but there is plenty of provided parking.
Park Pombonne, Bergerac, Dordogne
Fantastic wild swimming lake situated in a small nature reserve in Bergerac. There is a small sandy beach, the lake is clean and has shallow as well as deeper areas. There is a cafe and facilities here as well as parking.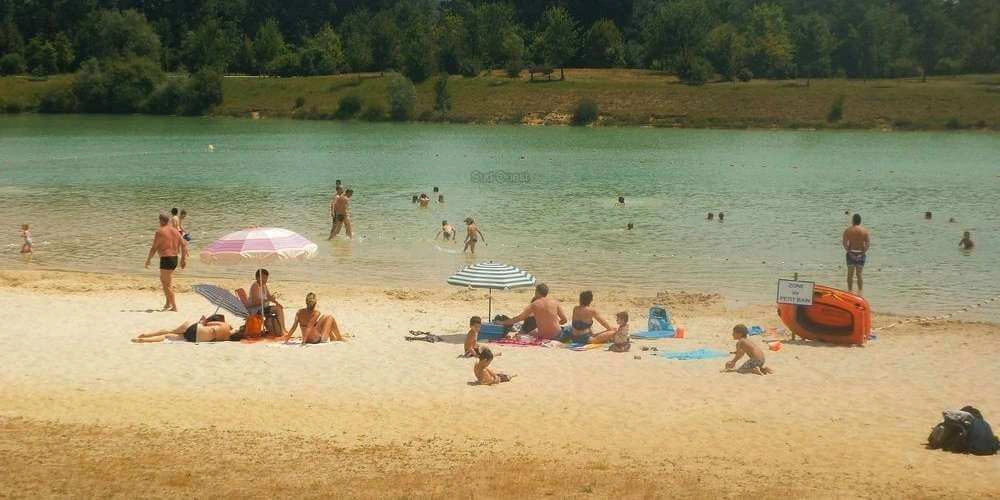 Plan d'eau des Ferreols, Digne-les-Bains, Haute Provence
Not wild swimming as such but fantastic free form swimming pool with great amenities, with no charge to use.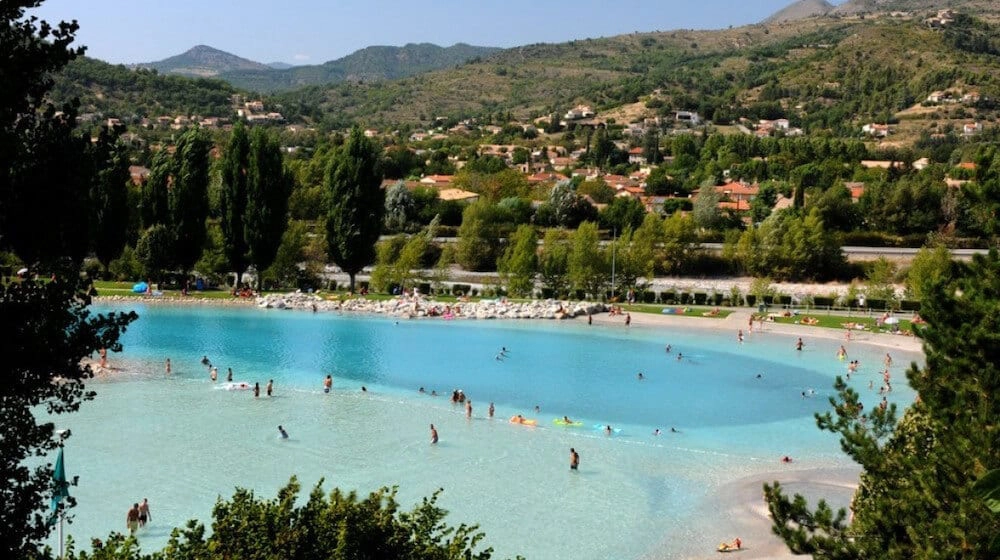 River Tarn, Cevennes
In the mountains of the Cévennes, you are in the wild and raw heart of France. The River Tarn flows through breathtaking gorges and around river beach bends providing many opportunities for wild swimming. Wild Swimming France has all the details of the best places to go in the Cévennes….we just drove until we found somewhere and jumped in; the water was lovely!
The Lac de St Croix in Provence, Var / Alpes-de-Haute-Provence
France has many artificial lakes, to store water and generate electricity and the Lac de St Croix in Provence is one of its largest. Head for St Croix and follow the signs; there are a few river beaches and places for launching your kayak or SUP here. The scenery is simply stunning and the water a gorgeous turquoise, warm and welcoming.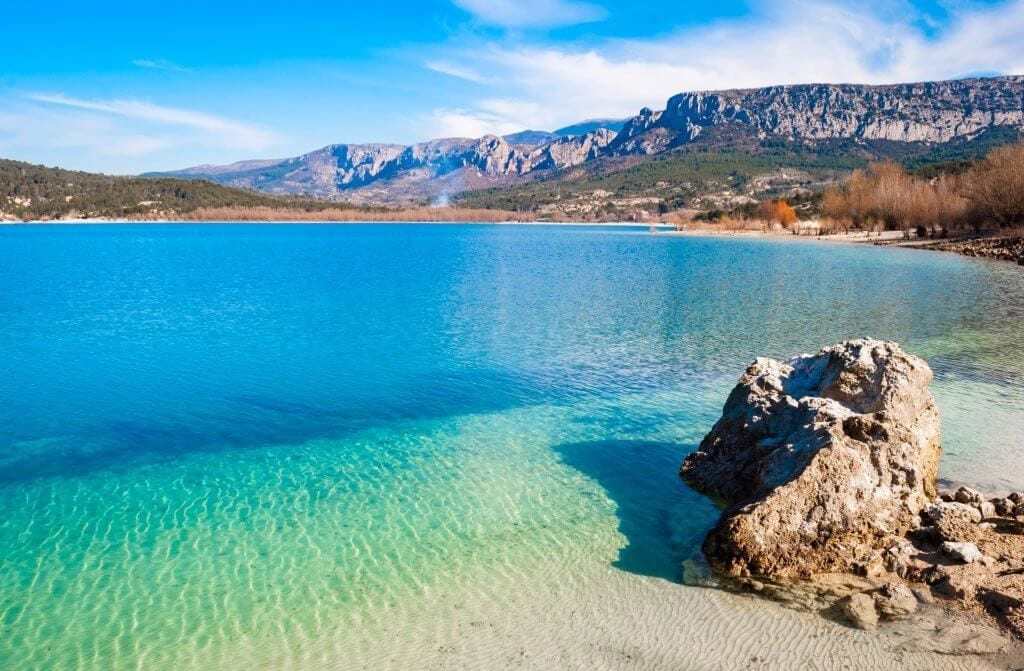 Lac de Gaube, Haute-Pyrenees
The distinctive La de Gaube is surrounded by high mountains and alpine meadows. It is hikeable or accessible by cable car and has great rocks for jumping. The colour is hard to describe, but it's stunning! It will be cold year round so make sure you are prepared!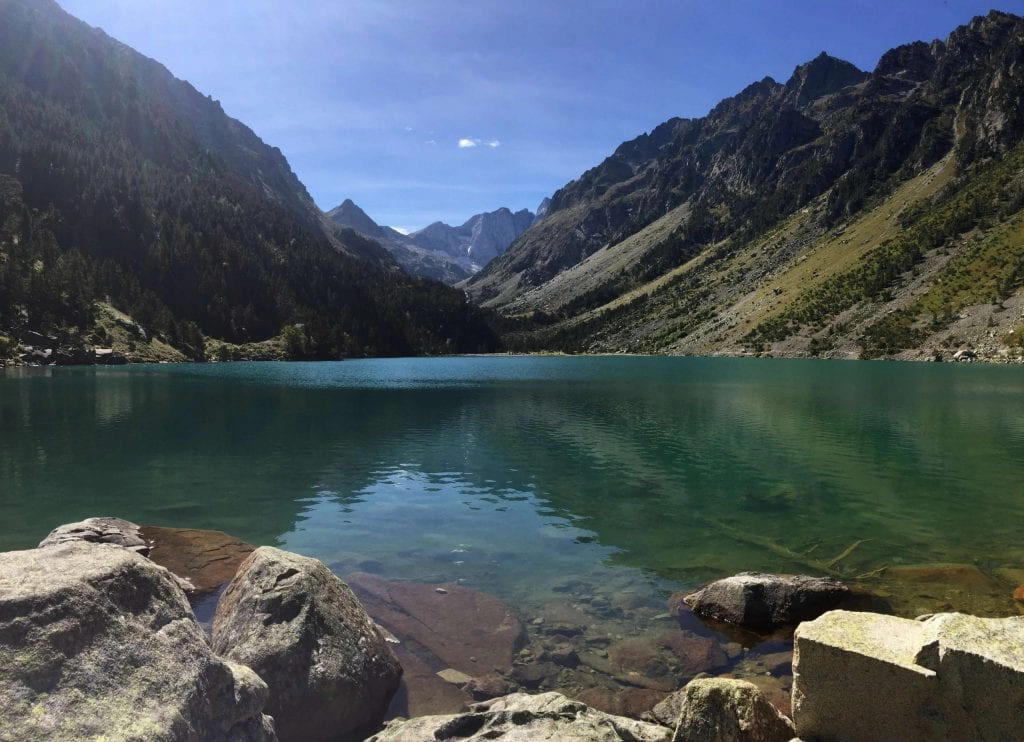 Of course, there are numerous other rivers and lakes not mentioned here. A quick Google search for 'wild swimming near me' will pull up loads of results. All you have to do is don your swimmers and jump in!
If you enjoy wild swimming and want to do something a little more adventurous, try canyoning. Canyoning is travelling in canyons using a variety of techniques that may include other outdoor activities such as walking, scrambling, climbing, jumping, abseiling and swimming. France is perfect for this sport due to the number of canyons, gorges and ravines in the country.
Looking for more French travel inspiration? Check out these top posts…
Ahhh, France. A country so eclectic and beguiling, it is the most visited nation on the planet. A French road trip is the best way to explore the wonderful diversity and beautiful landscapes of this country. Use our detailed guide and travel tips to find French road trip ideas in every region, and to plan your ultimate France road trip.
Love it? Pin it!