This post may contain affiliate links, from which we earn an income.
The beautiful region of Puglia in southern Italy is just perfect for a road trip. With rolling countryside, miles of gorgeous beaches, vibrant towns, and delicious local produce, this laid-back and unspoiled part of Italy is an awesome road trip destination.
Whether you're a sun worshipper, culture vulture, or foodie, Puglia will tick all those boxes and more. From gorgeous sun-soaked beaches and Roman ruins to whitewashed villages and historic cities, Puglia epitomizes the best of Italy without the crowds.
In our Puglia roadtrip guide, we'll share the best destinations along with a map and route, plus ideas about things to see and do along the way, and recommendations for great hotels.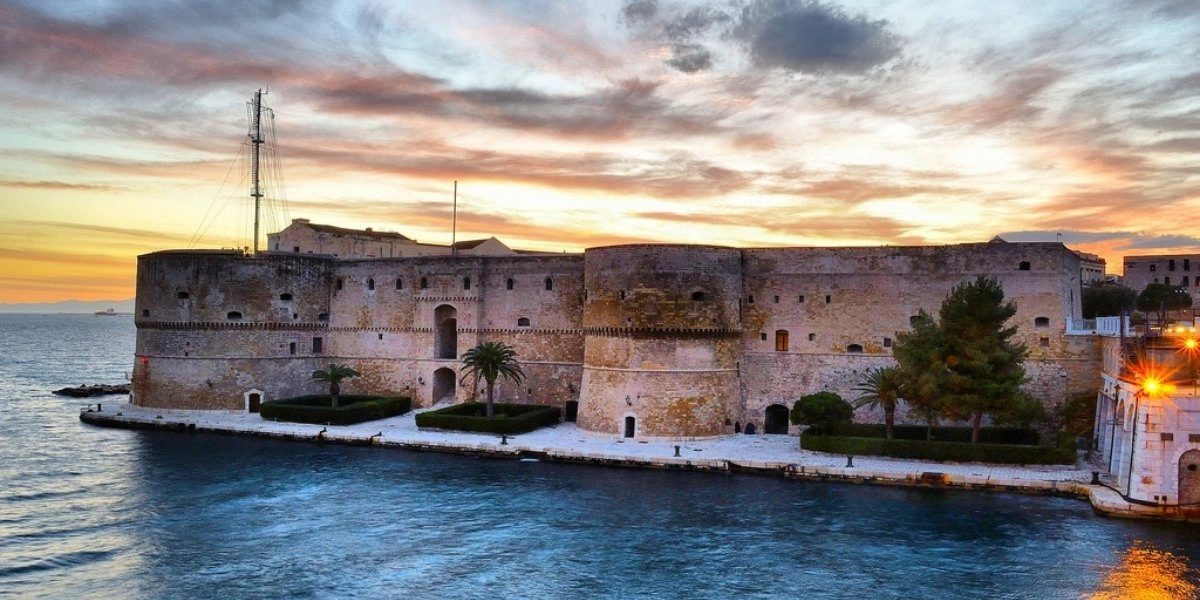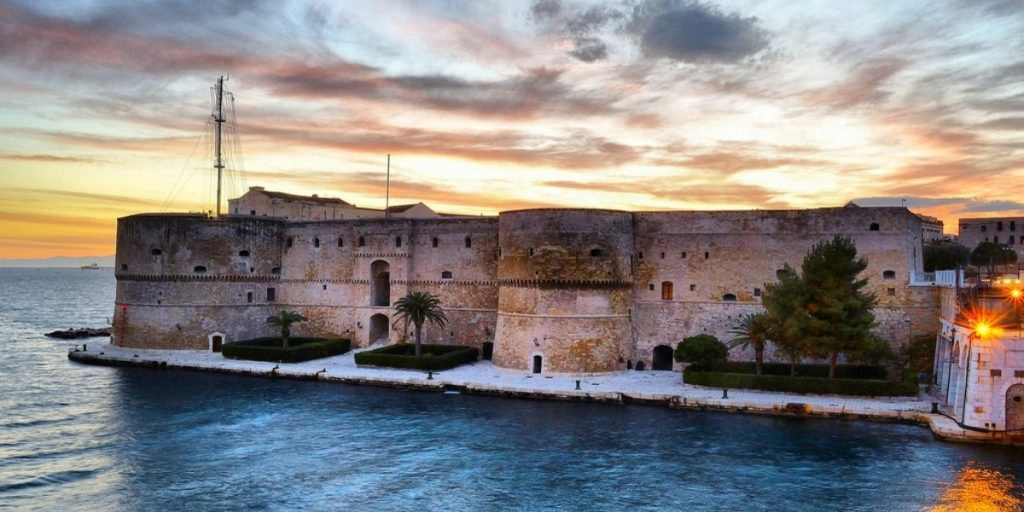 Getting to Puglia
Whether you're taking a Puglia road trip in a car, motorcycle, campervan or motorhome, self-driving is absolutely the best way to explore the spectacular heel of Italy's boot.
You can stop whenever you want, try new activities, visit places you see along the route, and have the freedom to change plans at the last minute.
RELATED POST: Driving to Italy from UK – Routes & Tips
Fly into Bari Airport to start your roadtrip in Puglia. With excellent links to all of Europe, connections from the North America, the Middle East and China are easy. We recommend booking through Skyscanner for live deals and the best prices.
Are you planning to rent a car in Puglia? As one of the largest car hire aggregator companies in the world, we recommend Rentalcars.com because they have massive purchasing power which enables them to secure the best car rental prices, which benefits you when you're planning a roadtrip in Puglia.
For a real adventure, hire a motorhome or campervan in Puglia. We recommend Motorhome Republic, an aggregate booking site who pull together all the best deals from a number of rental agencies, to offer you a wide choice of options alongside an excellent English speaking expert motorhome Concierge Team.
Use the Park4Night app to find campsites and places to stay along the route, and park for the night on a mountain pass, flower filled meadow of with a glorious view of the sea.
Best Time to Visit Puglia
The best time to visit Puglia is during the spring, early summer, and fall.
In July and August, the temperatures can reach mid 30°c inland making it hot and uncomfortable for exploring. It will be busy too, with high prices and high demand, so you'll need to book well in advance if you decide to go in the height of summer.
May, June and September are beautiful months, with temperatures in the twenties, making it the perfect time to road trip Puglia.
RELATED POST: Southern Italy: Discover the Best 33 Places To Visit
Is this your first time visiting Italy? Get all the information you need in our Italy Travel Guide, including what to pack, the best time of year to go, getting there, and practical tips to help you have the best trip!
Puglia Road Trip Map & Itinerary
Bari – Taranto – Gallipoli – Santa Maria de Leuca – Lecce – Ostuni – Alberobello – Castel del Monte
How to use this map – Use your fingers (or computer mouse) to zoom in and out. Click or touch the icons to get more info about a place, and click the arrow in the box top left to open the index. To add to your own Google Maps account, click the star next to the title of the map.
Puglia Road Trip Itinerary
This is a seven day Puglia, Italy road trip, starting in the coastal city of Taranto and ending at the fascinating Castel del Monte in Andria.
If you don't have seven days to spare then check out this 4 days in Puglia roadtrip.
Our Puglia Italy itinerary and travel guide will take you to all the best places to see and stay, and provide handy tips and facts so you get the most from your Southern Italy road trip.
Bari
Pick up your rental car at Bari airport and head east to your first stop in Taranto. Bari does have a gorgeous old town and some pretty good beaches close by, so if you have time you could stop for a day or so, especially if you're recovering from a long flight.
If you do stay, make sure to check out the local street food scene, distinctive and quite different from standard Italian fare.
Upmarket: VIS Urban Suites & Spa – Booking.com | Agoda
Mid-Range: Residence Hotel Moderno – Booking.com | Agoda
Budget: Zodiacus Residence – Booking.com | Agoda
Make sure you have travel insurance you can trust when visiting Italy. We recommend True Traveller for their 5-star TrustPilot reviews, variety of cover options, best activities cover as standard, great prices, and excellent service.
Taranto
Taranto is home of the Tarantella, Italy's lively and graceful folk dance. It was alleged that victims of the tarantula's bite could cure themselves by frenzied dancing which sweated out the poison.
The dance is characterized by light, quick steps, and a teasing flirt and only takes place privately in Taranto at 6am on 29th June, every year to celebrate the Feast of St Peter and St Paul. It is the only known place where the dance has survived.
The picturesque Città Vecchia is an island dividing the Mare Grande (big sea) from the Mare Piccolo (little sea) and was the site of the Roman citadel, Tarentum. The old town today is still laid out as it was in 967 CE.
There are now less than 1,000 people living in Città Vecchia, a city of some 200,000 residents. The Duomo, founded in 1071, has been the object of much subsequent rebuilding and includes a catacomb-like crypt with sarcophagi and painted frescoes.
Behind the Duomo is the 11th century San Domenico Maggiore with its high, double-approach Baroque staircase.
Castello Aragonese, the huge castle built by Frederick of Aragon in the 15th century, dominates the eastern corner of Città Vecchia. This is an impressive castle, steeped in local history, and currently in the middle of a large-scale restoration project.
The only way you can visit the castle is to have a guided tour, only in Italian; it is worth doing the tour to see the views from the battlements and the interesting restoration work. The tour is free of charge, you can find out more here.
Wander the streets, soak up the atmosphere and people-watch to your heart's content, then head for the lively fish market for lunch. Held in a magnificent Art Deco building, you can buy and eat the fabulous and abundant shellfish, for which Taranto is famous.
Upmarket: Histò San Pietro Sul Mar Piccolo – Booking.com | Agoda
Mid-Range: Salina Hotel – Booking.com | Agoda
Budget: Isola Blu – Booking.com | Agoda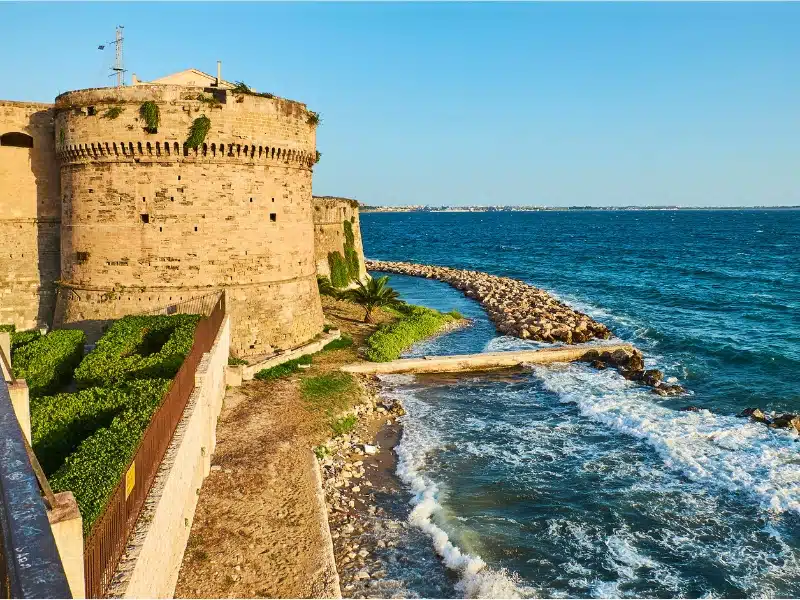 Gallipoli
Gallipoli is one of the best towns in Puglia, a charming small port town on the west coast of the heel. Head for the small island across the Ponte Papa Giovanni II and you'll find a vibrant and busy tangle of streets and alleys. There is an old-world feel here, you can easily imagine what it must have been like 50 years ago.
Head off the main arteries and into the mass of houses, churches, and small family-run restaurants to experience the real Gallipoli. Whitewashed walls, covered in bougainvillea and wisteria, with the plaster chipping off, just add to the charm.
There are numerous small churches and chapels, all with extraordinary doors, often carved from one piece of wood. Gallipoli is a photographer's dream, every alley has an angle, every corner a surprise. You could wander for a weekend in Gallipoli and never get lost – just keep going and eventually you'll get to the sea!
Head for the Basilica Cattedrale di Sant'Agata. The cathedral sits on the highest point of the island and has an incredibly ornate exterior. The interior is also ornate but where the outside is softened by the color of the stone and natural light, the inside is dark and feels a little forbidding, but the craftsmanship and dedication that goes into such buildings never fail to impress.
This coast is known for its fabulous beaches. If you want to stretch your Puglia road trip to 10 days, why not take some time to enjoy the best of Puglia's beaches on your road trip? Check out this great Puglia beaches guide, which tells you all you need to know!
Upmarket: Palazzo del Corso – Booking.com | Agoda
Mid-Range: Palazzo Presta- Booking.com | Agoda
Budget: Isola Blu – Booking.com | Agoda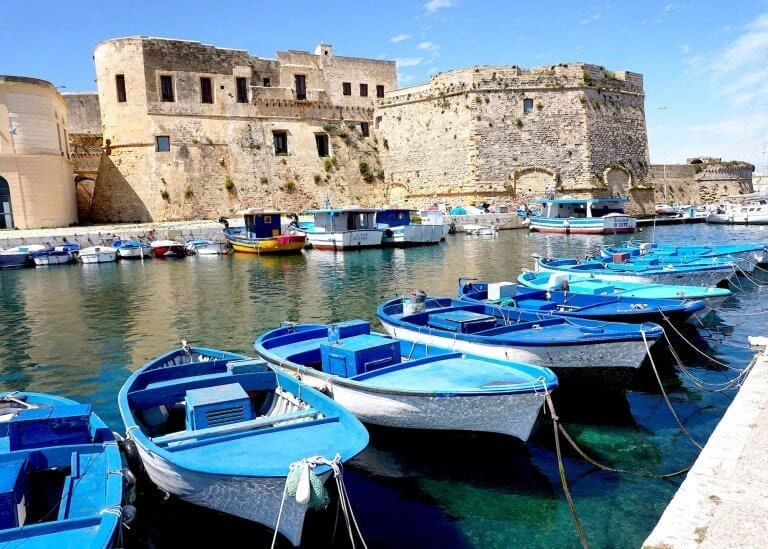 Santa Maria di Leuca
Santa Maria di Leuca, often referred to as simply Leuca is at the southernmost point of the heel and sits on a promontory between the Ionian and Adriatic seas.
The Greeks called this place Leukos, meaning 'brilliant sun', little knowing it would come to have some of the best Puglia beaches and become a must-see place on any Puglia itinerary.
Leuca was a simple local fishing village until the end of the 19th century when tourists started to visit, attracted by the crystal clear waters and beautiful scenery.
Many wealthy southern Italians made Leuca their summer residence and they build large and ornate villas which still decorate the seafront. Today, Leuca is a popular resort that has maintained an upscale feel.
Head up to the lighthouse, which is the second most important in Italy after Genova. Next to the lighthouse sits the simple yet beautiful Basilica Sanctuary of Santa Maria de Finibus Terrae (end of the land), built to commemorate the passage of St. Peter here during his journey to Italy.
The views from here are stunning and sunsets draw a big crowd, so go early and wait it out with a beer if you want the best views!
Evenings on the seafront are family orientated and busy. There are lots of food vans selling crepe, gelato, and pizza along the promenade, as well as a number of restaurants and bars.
There is a great atmosphere with families out together to enjoy the evening sun and there are usually a few surfers in the water if the waves are right. It's a great place for an evening stroll before dinner or to enjoy an Aperol Spritz overlooking the water.
Look out for the saltwater pool, when the surf is up, the waves crashing against it are mesmerizing.
Just above the port is the Cascata Monumentale Di Leuca, the last point of the Apulia Aqueduct, a project which was started in 1868 and was not finished until 1941. The Cascata, which is 300 steps high, is not operated often and there is no set timetable, but you may be lucky during the summer months and even luckier to see a night operation where it is spectacularly lit. Check at the local Tourist Office for information.
There are a lot of sea caves to the east of Leuca which can only be explored by boat and all along the sea-front you will see signs for trips. You can visit Grotta Della Poesia (Cave of Poetry) by car from Leuca or Lecca, this gorgeous and dramatic swimming hole is located in Roca Vecchia and is well worth a detour with your towel and swimmers in the boot!
Upmarket: Masseria Le Mandorle – Booking.com | Agoda
Mid-Range: Montiro Hotel- Booking.com | Agoda
Budget: Hotel Rizieri – Booking.com | Agoda
Italy Travel Ideas
Lecce
Lecce is often called the Florence of the south, due to the beautifully carved stone Pietra di Lecce, used in much of the 17th century Lecce Baroque style buildings. This is another must-see destination on your road trip of Puglia and a real hidden gem of Italy.
Head for the old town, to the west of the castle. Coming from the castle, you will arrive in the Piazza Sant'Oronzo, complete with a partially visible Roman amphitheater and a pretty dodgy 1970s clock tower which rather spoils the effect.
A central square is a great place for lunch, spending an hour or so with a tasty pizza and a glass of local wine means you can absorb the beauty of the pale Pietra di Leccastone at your leisure.
Continue west along Via Vittorio Emanuele; enjoy the shops, gelaterias, and cafes along the route before turning into the magnificent Piazza Duomo to see, you guessed it, the Duomo.
The piazza not only houses the Duomo but the Palazzo Vescovile, a 70m campanile and a seminary, built by Lo Zingarelli in the 1600s.
You will have to pay €5 to visit the Duomo…sometimes you can see too many churches, but the medieval crypt in this one is worth the entry fee. Studded with over 100 columns in serried ranks, the crypt is beautifully simple, the columns carved intricately and so differently to the fussy Baroque style in the cathedral above.
Further along Via Vittorio Emanuele, you will find paper-mâché workshops, Lecce's other claim to fame.
Other must-sees in Lecce are;
Porta Rudie, the 18th century city gate through which everyone who entered the city in ancient times would have passed.
Santa Croce, the church built between 1549-1679 has a stunning rose window by Lo Zingarelli.
Chiesa del Rosario said to be Lo Zingarello's finest work, with an ornate and detailed exterior.
The 16th century Castello which has one floor open to the public.
Take a day trip from Lecce to the beach at Torre dell Orso, a beautiful long stretch of sandy beach with clear turquoise water.
If you've had enough of churches and religious buildings, wander the back streets of the old town not forgetting to look up at the fabulous architecture.
Often you will catch a glimpse of everyday life which helps give the city context; washing hanging out to dry; residents enjoying a coffee and watching the world go by from their balcony; exotic plants grown in pots on rooftop terraces.
Upmarket: La Fiermontina Luxury Home Hotel – Booking.com | Agoda
Mid-Range: Patria Palace – Booking.com | Agoda
Budget: Hotel Aloisi – Booking.com | Agoda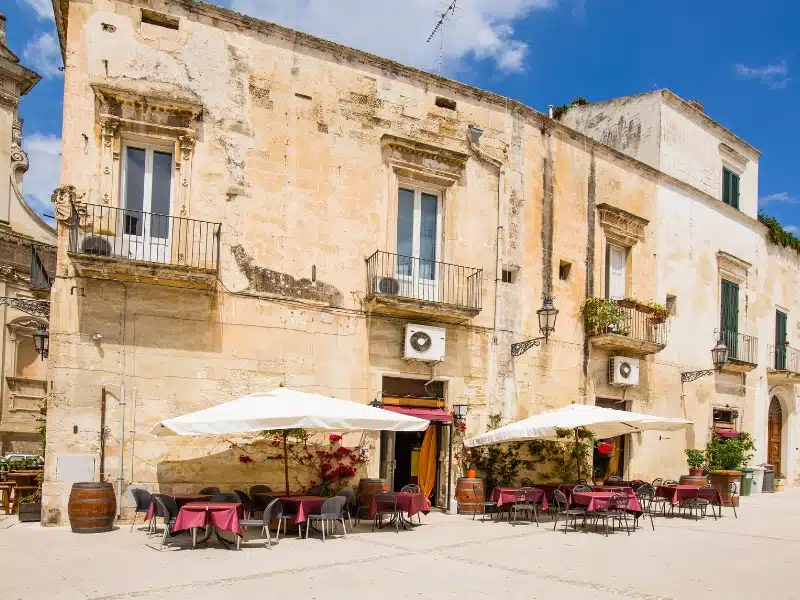 Ostuni
Built atop a hill, you will see Ostuni in the distance as you drive through the lush Valle d'Itria. The so-called La Citta Bianca (the white city) is a maze of alleys, stairs, dead ends, and glimpses of the Adriatic.
Head for the old town, the citadel at the top of the hill is still fortified by the ancient walls. This is where you will see the white walls and white-painted buildings which give the town its name.
Ostuni is one of the best places in Puglia for meandering, it's a town just begging to be wandered! Make sure you wander in the morning or late afternoon after the long lunch break, this is when the town is at its most vibrant and lively.
Consider taking a walking tour here, because of the maze-like nature of the citadel, it is easy to miss the best sights. Stop often for gelato and coffee to soak up the atmosphere.
Head up to the 15th century cathedral at the top of the citadel and then on to Corso Vittorio Emanuele II to take in the sunset over the Adriatic, one of the best we've seen.
Upmarket: Masseria Cervarolo – Booking.com | Agoda
Mid-Range: Hotel Monte Sarago – Booking.com | Agoda
Budget: Città Bianca Country Resort – Booking.com | Agoda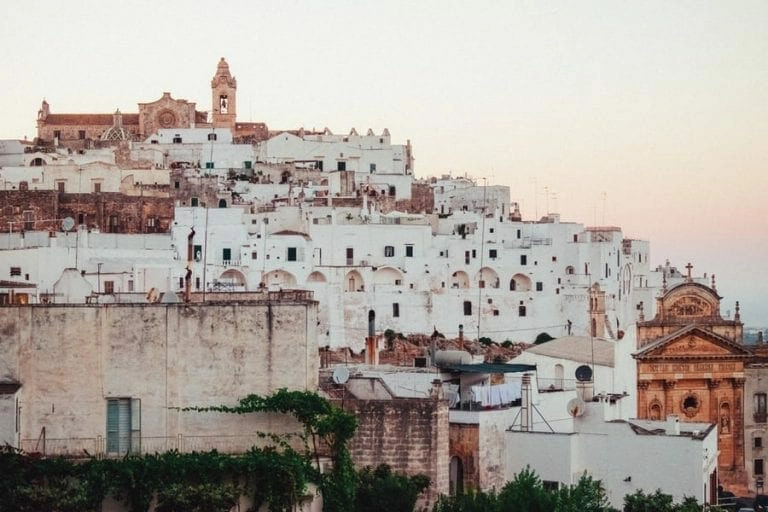 Polignano al Mare
From Ostuni the itinerary takes you inland to Alberobello, but if you have a day to spare and fancy some beach time, head to beautiful Polignano al Mare, about 40 minutes away.
Hit the chic and incredibly picturesque Lama Monachile beach and chill for the day or visit one of the craftsmen and artists who work in the town.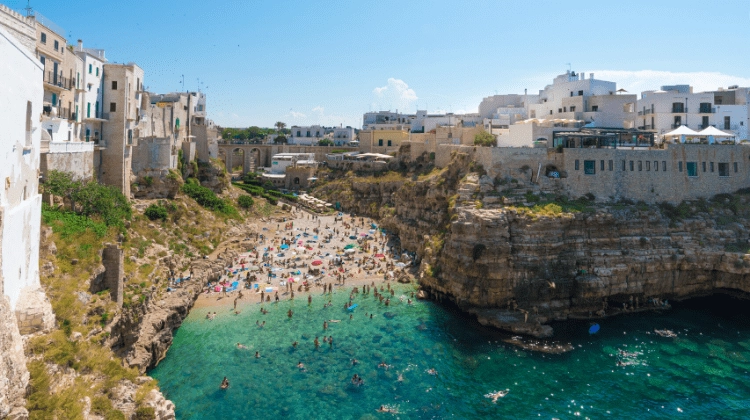 Alberobello
From Lecce, head inland towards Alberobello, one of the top things to do in Puglia, passing the pretty town of Martina Franca on the way, well worth a stop if you're not in a hurry.
The approach to Alberobello through the Itria Valley is one of the best scenic drives in Puglia, rolling countryside full of perfectly planted rows of olive trees and vines and fields full of wildflowers begging to be photographed.
Alberobello is a UNESCO World Heritage Site and home of the famous Alberobello Trulli houses; a distinctive circular building with a conical roof. Trulli are built from local limestone stacked without using mortar.
The walls and openings are generally whitewashed and the stone roof tiles often have religious, pagan or magical symbols painted on them. The origins of the Trulli are obscure although the name is also applied to ancient ground tombs found in the Roman countryside.
We found the Trulli site a little Disneyesque and much preferred the rural Trulli houses found in the Murge dei Trulli; they somehow seemed to sit better in the natural surroundings.
A walking tour is a good way of understanding the history and architecture of the Trulli houses and seeing some of the off-the-beaten-track highlights.
Head for Vino & Amore, a fabulous deli with a tasting room in the non-trulli part of town. The owner is passionate and enthusiastic about the local produce and will give you spot-on suggestions and descriptions for your lunch. Go there and eat lots of fabulous local produce and drink a glass of local wine… you won't regret it.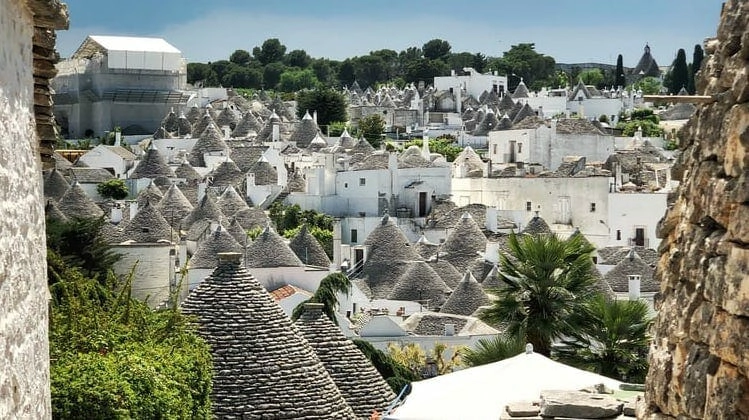 ---
A Note about Olive Trees
As you roadtrip Puglia, admiring the beautiful scenery and perfectly laid out vineyards and olive groves, spare a thought for the farmers, families and communities which are being decimated by a disease that is currently rampant in Salento and killing olive trees in their millions.
Xylella fastidiosa is considered one of the most dangerous plant bacteria in the world by the European Commission. It's carried from tree to tree by a little bug. Olive oil from an infected tree is still safe to consume, but the tree soon dries up and is no longer able to produce olives.
Everywhere we went in Salento we saw olive grove upon olive grove of dead or dying olive trees. Where you would expect to look across a carpet of silver-green leaves, now all you see are brown twigs. Many trees have been cut down and burnt to try and prevent the spread.
It is a tragic sight, knowing how generations of farmers have loved their trees like children, and that their loss will be life-changing.
You can read more about this devastating disease and its impact here.
---
Castel del Monte
The last stop on this Puglia road trip, but by no means the least. Located remotely in the endless plains near Ruvo de Puglia, getting to Castel del Monte takes you on a spectacular cross-country drive.
This remarkable castle, built by Frederick II in the mid-13th century, outclasses all his other castles. It is one of the most sophisticated secular buildings of the Middle Ages.
Frederick II had broad intellectual interests and used this castle as a hunting lodge, where he was able to retire from court life with his falcons and books.
Inside there are two floors, each with rib-vaulted rooms, some still lined with marble. The building is geometrical and octagonal in shape with a central courtyard and rooms arranged around the outside.
It is not known why such precise planning was required for the castle but it certainly makes it interesting to visit.
The walk to the castle from the car park at the bottom of the hill takes about 20 minutes. The first eight to ten minutes is on a tarmac footpath, the remainder through the tranquil woods.
Arriving in this way gives a sense of what it would have been like when in use, surrounded by woodlands with enticing glimpses of the very pale stone of the castle through the lush green trees. The 360° views of the surrounding countryside and distant Abruzzo mountains make it clear why Frederick II chose to build here.
Upmarket: Edward Rooms – Booking.com | Agoda
Mid-Range: Castello di Fagnano -Albergo Diffuso & SPA – Booking.com | Agoda
Budget: Hotel Miramonti – Booking.com | Agoda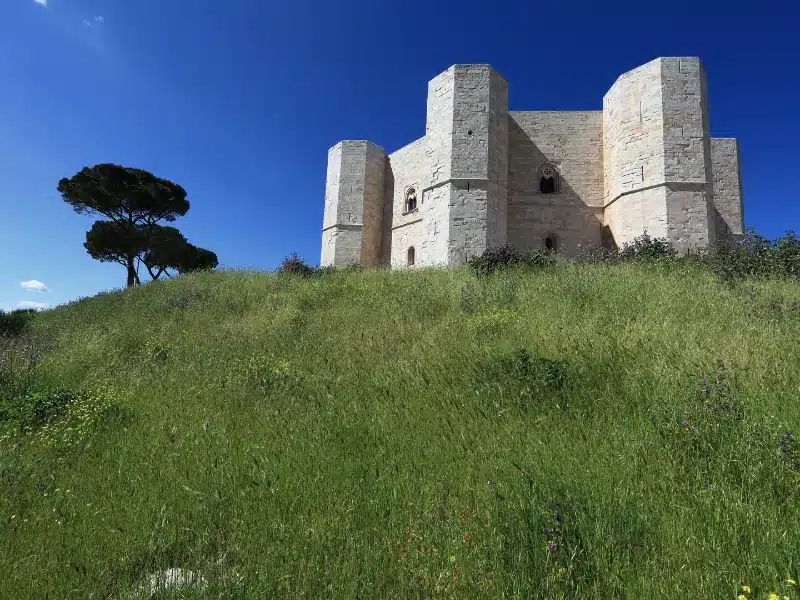 Puglia Road Trip Resources
Here are the websites and services we personally use and recommend for traveling in Italy.
Driving in Puglia
Driving in Italy for the first time can be daunting, and different from driving back home. Follow our driving tips to stay safe on the road, and have the best road trip in Puglia!
Stick to the speed limits in Italy, which are strictly enforced. Unless you see a sign indicating otherwise, the speed limits in Italy are 130km/h on highways like the autostrada (motorway) and range from 50km/h to 110km/h on other roads.
If your vehicle is over 3.5t, the limits are reduced to 100km/h and 80km/h respectively.
Mobile phones can only be used through a hands-free device.
Driving in a bike lane or bus lane is illegal.
Children under age 12 aren't allowed to ride in the front seat of cars.
Children up to age four must be harnessed in appropriate child safety seats.
Reflective vests are required and must be carried in the car so they can be put on before you exit the vehicle.
You must carry a spare tire and warning triangle.
Headlights or daytime running lights must be turned on at all times.
Autostradas are Italy's motorways and are generally toll roads. Pay using a credit card where possible, often change is not provided when you use large notes.
Car rental for travel around Puglia is easy at both Bari and Brindisi airports, on the east coast of Puglia. Bari is a 90 minute drive from the start point of Taranto, across typical Puglia countryside.
Are you looking for more road trip inspiration? Check out these top posts…
One of the best ways to explore the beautiful country of Croatia is by taking a road trip, where you can drive along winding coastal roads, visit charming towns and villages, and discover off-the-beaten-path hidden gems. In this Croatia road trip guide, we'll share some of our favorite road trip routes and destinations in Croatia, along with tips for planning your own adventure on the open road. Get ready for an unforgettable journey through one…
Love it? Pin It!