This post may contain affiliate links, from which we earn an income.
Road Trip in Andalucia – Route & Itinerary
Andalucia epitomises southern Spain; vibrant, colourful and passionate. This 10-14 day Andalucia road trip itinerary will take you to the major cities and best places to visit, bringing this gorgeous part of Spain alive.
Andalucia is Spain's most southerly region, heavy with Moorish influence, which is evident in the wonderful food and historic architecture of the mountains and coastline. Road trip Andalucia for some of Spain's most romantic cities, the passion of flamenco and its iconic pueblo blancos (white towns) set amidst stunning landscapes that you won't want to leave.
Road Trip Map – Andalucia Spain
Malaga – Marbella – Ronda – Cadiz – Jerez de la Frontera – Seville – Cordoba – Granada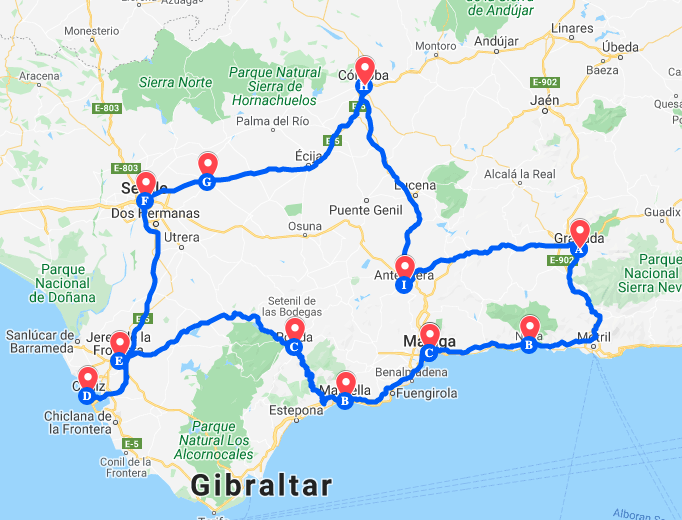 When to Visit Andalucia
Andalucia is best visited outside of the summer months. In June, July and August the temperatures are fierce and can be really uncomfortable – not the best time for a southern Spain itinerary!
Throughout the winter, the weather in southern Spain is pleasant, although it won't be quite warm enough for sea swimming. Evenings will be cooler and you'll need to pack layers if you're planning on visiting in winter. There may be snow in the Sierra Nevada mountain range.
RELATED POST – Where is Hot in January in Europe? The Top 32 Warmest Places
Spring, from March onwards, is gorgeous with temperatures warming up and wild flowers appearing everywhere – the perfect time for a Spanish road trip! If your plan is to hit the beach, this is the best time to visit , when you'll avoid the summer heat and traffic, but still have beautiful warm weather.
Fall, from September through to November is also a perfect time to visit for some of Europe's best winter sun, with the warmth from summer lingering into autumn, but the roads and cities quieter.
Southern Spain Road Trip Itinerary
1. Malaga
Malaga is the perfect place to start (and finish) your southern Spain road trip. Pick up your rental car at Malaga Airport and within an hour you'll be at your hotel or on the road.
RELATED POST – Six of the Best Road Trips in Spain to See Barcelona, Valencia & Madrid!
Malaga has lots to do and is a lively city, busy with bars, restaurants, cafes, and people! Don't be put off by the high rise buildings and bill-boards, look beyond and you will find a charming and historic city famous for its warm welcome.
Malaga comes to life on the seafront and is a popular place for Malaguenos to go for a stroll after siesta, which is a fiercely protected custom in the south of Spain. Come to the seafront after 5pm and you'll find whole families out, enjoying the sunshine and stopping for a beer and tapa along the paseo.
Head for the Pedregalejo district where you will find freshly caught grilled seafood being served from chiringuitos on the beach. In regal Malaga's old town, you'll find La Alcazaba, an ancient fortress dating back to the 700's, as well as the cathedral and several pretty churches.
A must-see is the Mercadao de Atarazana, one of the best fresh food markets in Andalucia. Make your way to El Bar de los Pueblos, opposite the market to the left as you face the main entrance, for fantastic and authentic tapas.
If you're feeling energetic after all the eating, then head into the lush hills of the Montes de Malaga to the 10th century Gibralfaro Castle, for a great view of the city, port and coastline. From the Alcazabar, it's a 30 minute uphill walk – if that's a bit too energetic, the Malaga hop-on hop-off bus also visits the castillo.
Malaga is also the perfect base for a day trip to the stunning Caminito del Rey, a once hidden gorge deep in the hinterland. It's a 50km trip to El Chorro, where the route takes you along suspended walkways through an impossibly narrow gorge – expect fantastic views, fascinating rock formations and lots of other people! Book your slot for early in the day if you can.
If you are tight for time, here is where you switch up the itinerary and take a Malaga to Seville road trip! From Seville head to Cordoba and then Granada, for a perfect Andalucia itinerary in 7 days.
Stay at the Hotel Molina Lario for its perfect location, buzzy rooftop bar and incredible cathedral views.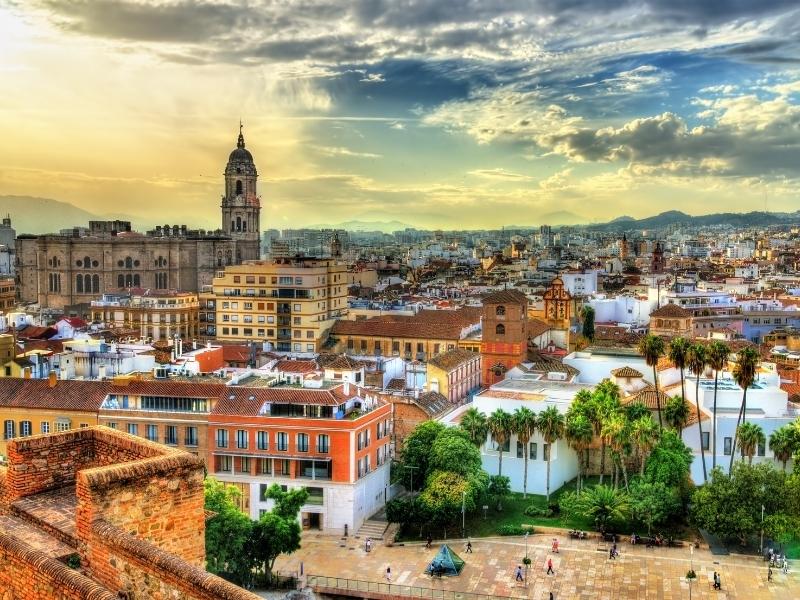 2. Marbella
In Marbella, spend a day soaking up the sun on one of the three immaculately kept beaches and enjoying a bit of people watching. The days of big celebrities here are long gone, but there is still a touch of glitz and glamour to enjoy.
Visit the charming old town and head for Plaza de los Naranjos at the centre of the casco antiguo and enjoy a coffee whilst watching the world go by. For lunch, find Taberna Casa Curro Marbella where you'll enjoy great tapas and fruity Spanish wine. There are so many unique things to do in Marbella, that you might need more than a day here!
If you have a few extra days, add to your Costa del Sol road trip by staying on the coast road and enjoying the pretty towns and beaches, until you reach Estepona. From here you can head north and explore Andalucia off the beaten track, through the stunning Natural Park Los Reales de Sierra Bermeja, to reach Ronda.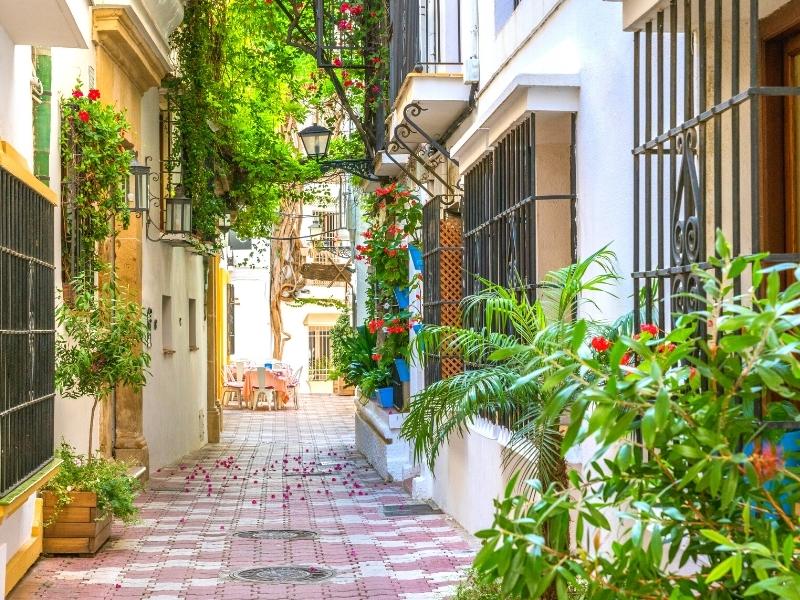 3. Ronda
The drive from Marbella to Ronda is stunning, one of the best during this road trip in Andalucia. Situated between the natural parks of the Sierra de Grazalema and the Sierra de las Nieves, Ronda sits in a bowl surrounded by dramatic mountains.
As you head to Ronda, take a detour to the blue village of Júzcar, in the Valle del Genal. The village was a pueblo blanco until 2011, when it was asked to paint iteslf blue to promote The Smurfs movie!
Ronda is divided by the huge 120m deep river gorge of El Tajo, which is spanned by the stunning arched bridge of Puente Nuevo. The bridge is best seen from the beautiful La Casa del Rey Moro, where you'll find lush and fragrant gardens and a spectacular view.
Bull-fighting is a divisive sport but a passion of the Spanish people. The bullring in Ronda is architecturally spectacular and it's interesting to learn the history of the corrida, in the well laid out and informative museum. Understanding the love and admiration Spaniards have for the matadors' courage and showmanship is key to understanding their love of bull-fighting.
From Ronda you are perfectly situated to take day trips to the iconic pueblos blancos (white towns) in the surrounding mountains, where you'll find some of the best and most beautiful of the Andalucian villages.
For a truly spectacular drive from Ronda, set your sat nav for Zahara de la Sierra and then pick up the twisting CA-9104 road to Grazalema, which climbs to the Puerto de Las Palomas (Pass of the Pigeons), at 1180m it's a spectacular drive and worth the fuel to get there! From Grazalema, pick up the A-372 across the Sierra de Grazalema National Park to Arcos de la Frontera, and from there the A-382 and E5 to Cadiz.
Stay at the Molino del Santo for its rural retreat feel and ideal location for both Ronda and the white villages.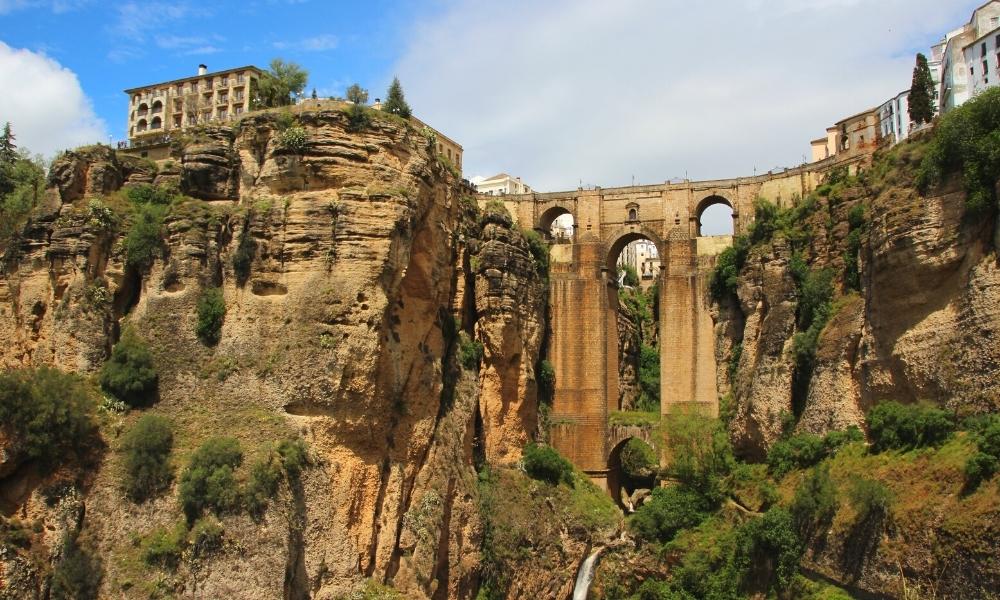 4. Cadiz
The famous faded splendour of the sea city of Cadiz is caused by the effect the sea air has on its architecture, leading to the facades of buildings crumbling and bleaching.
This imbues Cadiz with a sombreness which contradicts the true character of the city. In fact, Cadiz is known for its party vibe, especially during carnival, one of the naughtiest in Spain!
Almost completely surrounded by the waters of the Atlantic Ocean, Cadiz is a fabulous city for simply wandering and soaking up the ambiance. Narrow buildings with painted facades, twisting back streets, pretty flower filled squares and a few fabulous churches await you. End the day by watching a perfect sunset from Playa de la Caleta, situated right in the old town.
Head out for food and you'll find its all about fish! Whether you fancy picking your fish and having it cooked for you at Mercado Central de Abastos, you're looking for a plate of fabulous fresh tapas for dinner with a fino sherry or locally caught seafood, you'll find it in Cadiz.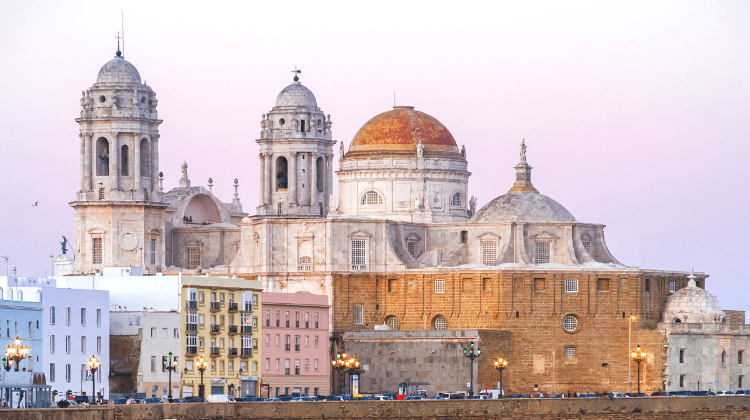 Spain Travel Ideas
5. Jerez de la Frontera
Jerez de la Frontera has been the home of sherry since the 14th century. The particular local soil, climate and grape variety combine to create this complex and often delicious drink.
Initial, a pretty standard wine is produced and then placed in an oak barrel where the magic happens! You cannot visit Jerez without visiting a bodega and taking a tour with a tasting session at the end to understand how this often misunderstood drink is created.
As well as sherry, Jerez is also famous for its flamenco tradition. Flamenco literally means 'hell-raising' and when you watch this steamy and seductive dance you'll understand why!
Considered an art form in Spain, you'll find flamenco clubs aplenty in the narrow streets of the Barrio de Santiago quarter, but don't turn up before 10pm as things don't really get going until well after that.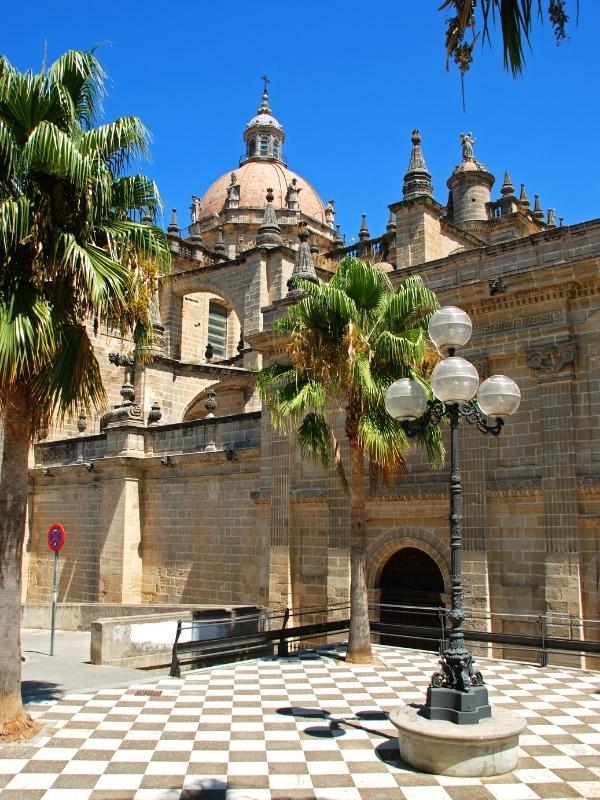 6. Seville
Seville is a glorious city and is just as you expect it to be. Hot, passionate, loud and colourful, this city is unashamedly flamboyant.
In the old town you'll find three of Seville's best attractions; Seville Cathedral in all its Gothic splendour, the imposing Giralda Tower and the stunning Alcazar. It's highly recommended to visit all three for a real taste of Seville's fascinating history.
Located right next to the old town, you'll find the narrow alleys of the Barrio Santa Cruz, the heart of Seville's lively tapas culture and offering some of the best plates in Andalucia.
Sevillanos eat their tapas standing at the bar with a small beer or sherry but why not take a seat and watch the world go by to make the most of the atmosphere on the streets around you. Go slowly though, you could easily spend a small fortune in plate after plate of delicious tapas!
In the busy shopping streets of the Centro quarter to the north, you'll find the contemporary Metropol Parasol, a huge wooden structure which is reported to be the largest in the world. This gorgeous wooden structure is shaped like a fluid parasol and shades much of the square in which it stands. At the top of the viewing platform you can admire its form and design whilst enjoying fantastic rooftop views of the Seville city centre.
For more travel tips and information check out this full day in Seville itinerary or book a bike tour of Seville with locals, it's a great way to see the city!
Stay at Case del Poeta for its perfect Santa Cruz location, live Spanish guitar gigs and stunning roof terrace views.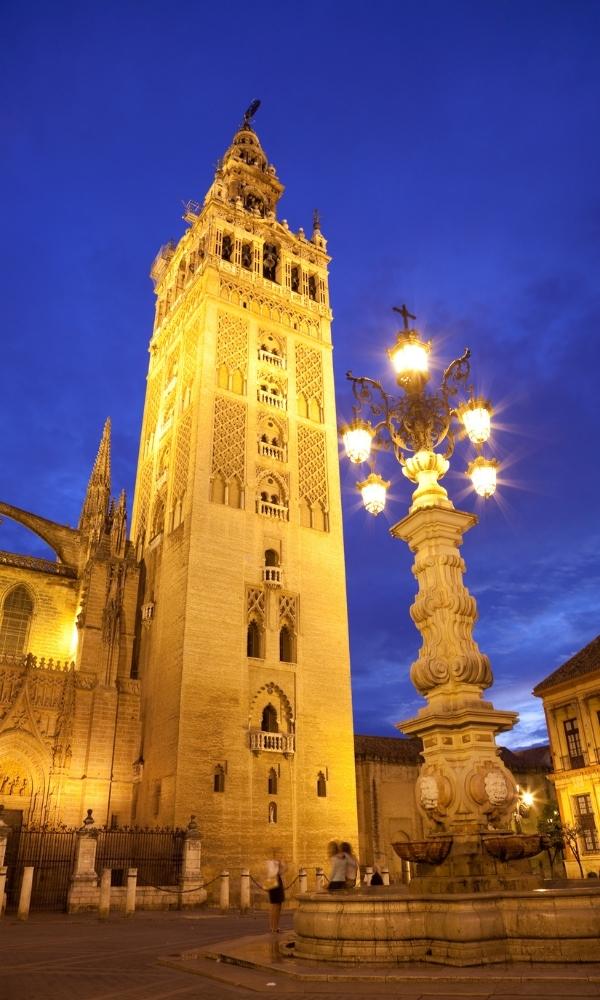 7. Carmona
Head towards Carmona, nestled in the hills and olive groves between Seville and Cordoba, and one of the oldest towns in Europe.
A short drive west of Carmona are the Roman ruins of a 1st century Amphitheatre and Roman Burial ground – the Necropolis Romana. The Necropolis was discovered and excavated in the 19th century and holds several tombs and family mausoleums from the 1st Century BC to 2 AD. There is also a small museum on site.
8. Cordoba
Rich in history and Moorish architecture, Cordoba is an intimate and atmospheric city, most famous for the ancient Mezquita (mosque-cathedral).
The Mezquita is a remarkable building, the result of a mosque built well over a thousand years ago and added to numerous times before being consecrated as a cathedral in 1248 by the reconquistadors who freed Spain from the rule of the Moors in the same year.
The result is an eclectic mix of Moorish and Renaissance architecture that blends to create a cathedral unlike any other in the world, and is the one place you must visit in Cordoba.
Take a guided tour to fully appreciate the history of this incredible building, and if you can, book a slot to climb the bell tower at sunset, the views are really spectacular.
The gardens of the Alcazar provide contrast and relief from the, at times, overwhelming Mezquita. With sparkling water, tall palms and cypress trees, this is a perfect spot to stop for an hour or so before taking a stroll across the beautiful Roman Bridge, thought to be built in the 1st or 2nd century, for a fabulous view of the old town.
Meander through the Jewish quarter where you'll find narrow lanes and pretty squares. Many of the whitewashed houses are covered in blooms from window boxes filled with colourful trailing geraniums in summer, providing the perfect images of this gorgeous city.
Stay at the Balcon de Cordoba for its stunning interiors, perfect location and to die-for rooftop views.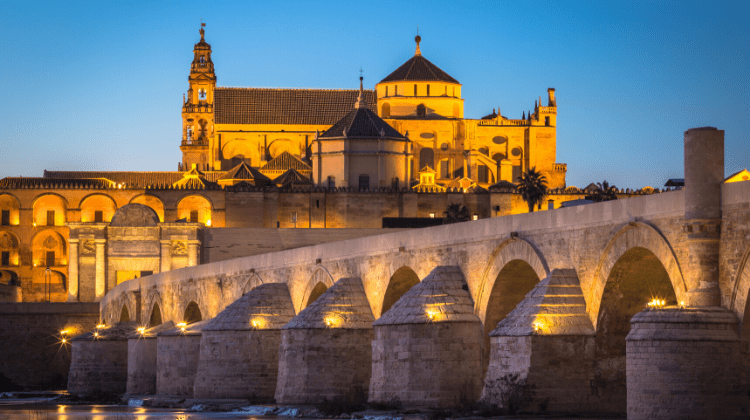 9. Antequera
Pass through Antequera, deep in the heat of Andalusia, and home to over fifty monuments and archaeological sites of extraordinary importance.
The Antequera Dolmens have been declared a UNESCO World Heritage Site in recognition of their fine quality and exceptional state of conservation. A fascinating example of megalithic construction, the Menga Dolmen is six thousand years old and is an enormous passage tomb formed by huge slabs of rock that lead to the burial chamber. The Viera Dolmens and El Romeral complete the prehistoric ensemble.
When you visit the Dolmens you can look north east to the limestone crag of Peña de los Enamorados or Lovers Rock, where legend has it that two star-crossed lovers ran away together and were chased by Moorish soldiers to the top of the rock, where, rather than renounce their love or be captured, they chose to hurl themselves over the edge holding hands.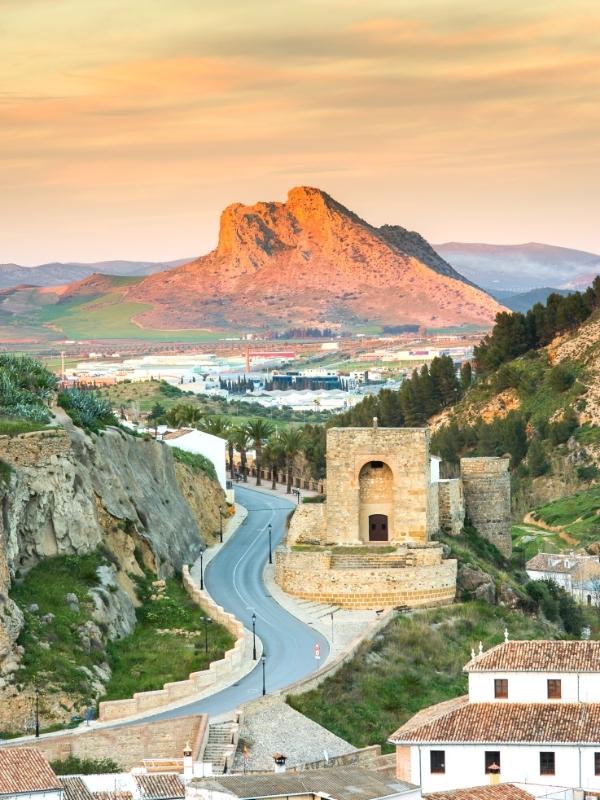 10. Granada
High in the spectacular Sierra Nevada mountains, Granada is all about the Alhambra Palace. This spectacular Moorish palace sits high on a hill overlooking the city and is the jewel in Andalucia's crown as well as being one of the most famous landmarks in Spain.
The Alhambra is simply breathtaking in its beauty, with typical Moorish symmetry and beautifully proportioned rooms full of intricate detail and tile work. The Nasrid Palaces of opulent Moorish-style courtyards, reception halls & royal quarters, and the shaded and leafy gardens with running water, secret paths and beautiful planting to excite the senses, are both must-sees.
Book your tickets and guided tour well in advance (unless you're visiting Granada in winter when everywhere will be a little quieter) as the Alhambra Palace is one of the most popular attractions in the whole of Spain. Alternatively, get a Granada Card which allows you to book Alhambra tickets in advance and also covers public transport and other important monuments in the city.
One of the best things to do in Granada is visit the medieval Albaicin, a UNESCO World Heritage Site. Wander the tangle of streets and alleys, enjoying the gift shops and boutiques.
Head for the Plaza de San Miguel Bajo, a charming tree lined square before climbing uphill beyond the city walls to the church of San Cristobal for a fantastic view of the Alhambra.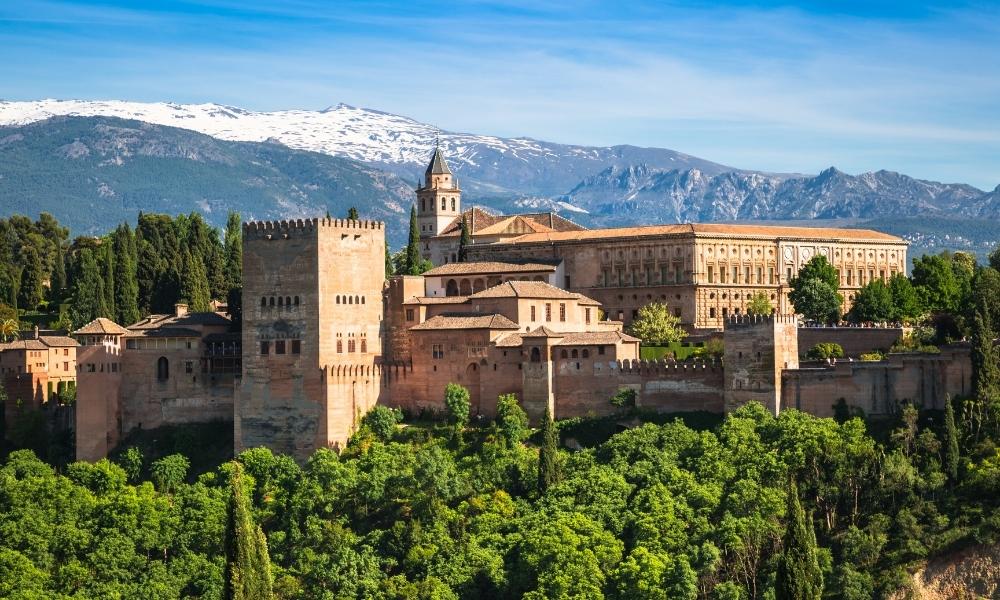 11. Nerja
If you're making this a 14 day southern Spain itinerary, then you should have enough time to spend a few days of the beach at the end of your tour of Andalucia.
Make a detour from your Andalucia travel itinerary and take the gorgeous coastal route from Granada to Malaga. Stop at Nerja and Torre del Mar for some of the best beaches in the region and a perfect end to your Andalucia holiday.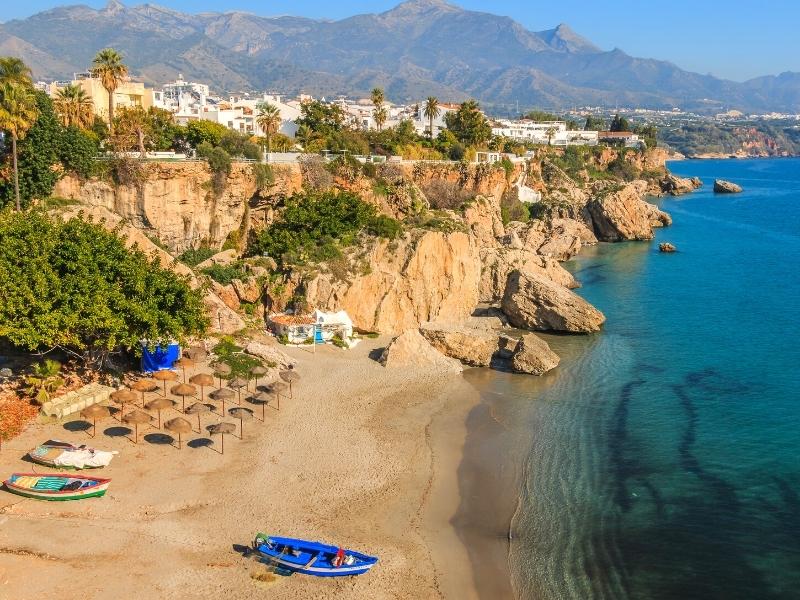 Spain Road Trip Resources
Driving in Spain
Whether you're driving your own vehicle or you're in a rental car, follow our driving in Spain tips;
You must have at least three months remaining on your passport (issued in the past ten years) at your intended date of departure from Spain.
You must have at least 3rd party insurance for your vehicle. Update August 2021 – you no longer require a green card to prove you have vehicle insurance cover when travelling in Europe.
If you're travelling from the UK to Spain, from 28th September 2021, you will have to display a UK sticker on the rear of of your vehicle, even if you have a new style UK numberplate which displays the Union Jack flag.
Your headlights must be adapted for driving on the right.
Your UK licence allows you to drive in all EU countries. If you only have a paper driving licence or a licence issued in Gibraltar, Guernsey, Jersey or the Isle of Man then you will need an International Driving Permit. Citizens from other countries may need an IDP, you can check here.
You must carry two warning triangles for front and rear. These warning triangles are now being phased out and from 1st July 2021 a new law requires that a V16 flashing emergency light is used, although both means of advising other traffic will be legal until the end of 2024.
You must also carry a a reflective jacket (for the driver and all passengers) and a spare wheel and the tools to change a wheel, or a tyre repair kit.
If you wear glasses you must also carry a spare pair in the vehicle.
UK cars will need headlight beam converters to be fitted (unless they adjust automatically).
The use of winter tyres in Spain is regional. Look out for traffic signs indicating that winter tyres or snow chains are compulsory where you are.
Anything with a screen (television, video, DVD etc.) which could distract you when driving should be positioned where you can't see it. This doesn't apply to a sat nav but you must not touch or program your sat nav unless parked in a safe place.
Using radar detection equipment is prohibited under Spanish law and new regulations from January 2021 mean that it will also be illegal to be in possession of such equipment.
Toll roads are pay as you go and are very reasonably priced, with some charges being abolished in early 2020. You can pay with cash or credit card. Due to the huge swathes of nothingness in the interior, tolls are definitely worth taking if you are trekking from one side of Spain to the other. The AP7 on the Costa Blanca and Costa del Sol retains some charges, but they are minimal.
On roads with single carriageways, the speed limit established may not be exceeded by more 20 km/h when overtaking.
RELATED POST: Driving in Europe – Everything You Need to Know
Are you looking for more road trip inspiration? Check out these top posts…
Do you crave the unexpected and want to experience the road less traveled? Are you looking for excitement and adventure on your next vacation? If this sounds like you, we've got a fantastic collection of adventurous road trips around the world to inspire your daredevil spirit. Whether you're traveling in a car, on a bike or in an overland vehicle, these road trip adventures will get your heart pounding and adrenalin racing. Be prepared to be inspired!
Love it? Pin it!