This post may contain affiliate links, from which we earn an income.
How to Spend 24 Hours in Cordoba Spain
Home to the famous and breathtaking Mezquita, Cordoba is a city rich in history, architecture and Spanish charm, perfect for a one day visit. Get lost wandering the streets and alleys, soaking up the heat and atmosphere, whilst stumbling upon hidden corners, gorgeous squares and cool bars.
In this guide, you'll find a complete itinerary of all the most important must see Cordoba attractions, with an interactive map, organised to make the best use of your time.
We also share recommendations for central places to stay, ideas about where to eat local food, and tips about how to make the most of your 24 hours in Cordoba.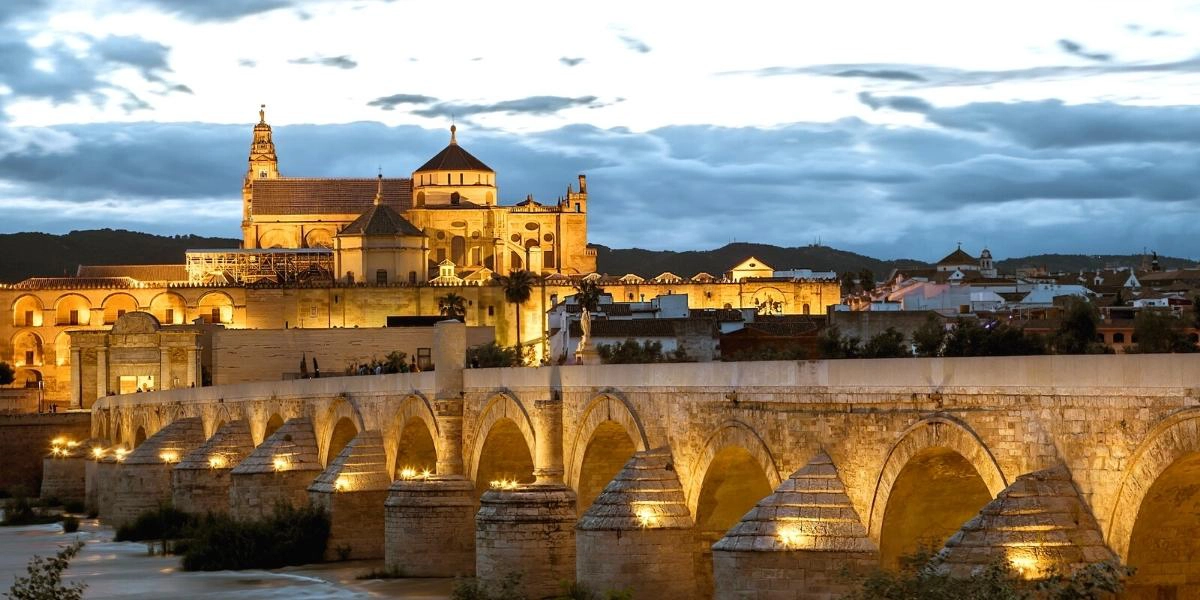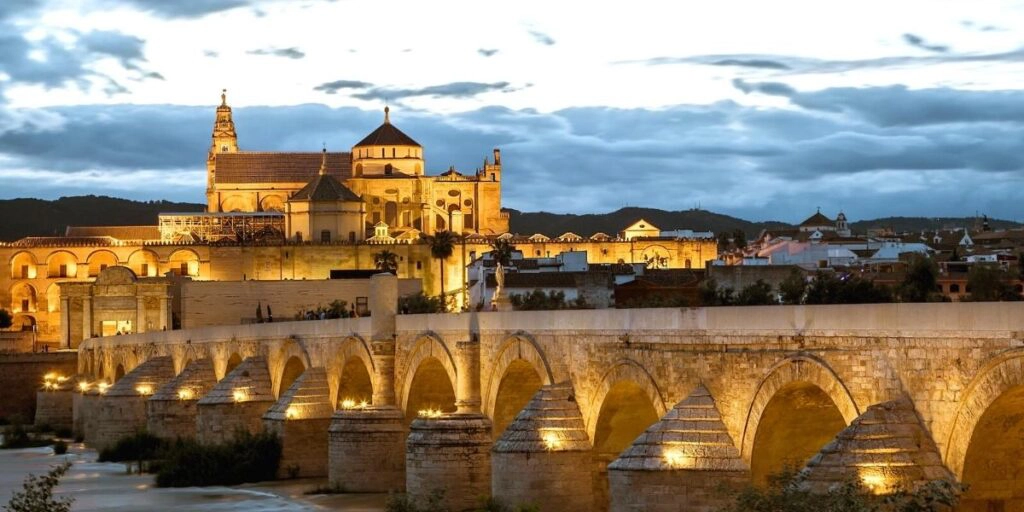 When to Visit Cordoba
You can travel to Cordoba at any time of the year. Cordoba in winter will be mild and it's unlikely to rain, although the evenings will be chilly. Locals tend to wrap up in coats and boots, but a long sleeve top and trainers are enough on all but the worst days, of which there are few.
Avoid summer if possible – you'll find yourself missing things in your quest for shade! Southern Spain is very, very hot and Cordoba even hotter, because of its location in an area known as "the frying pan of Europe". It will also be rammed with day tripping tourists from the coast.
Spring and autumn are the best times to visit. There will be fewer tourists, you are likely to get better deals on accommodation and the weather will be perfect.
Is this your first time visiting Spain? Get all the information you need in our Spain Travel Guide, including what to pack, the best time of year to go, getting there and practical tips to help you have the best trip!
Cordoba Trip Resources
Flying
Fly into Seville, Granada, Malaga or Jerez Airports
Driving
Drive in from Europe or hire a car in Spain
Travel Insurance
Medical costs, delays and lost luggage
Getting to Cordoba
Flying
If you are flying to Cordoba, you can choose to fly to any one of 4 airports, Seville San Pablo Airport is the closest, followed closely by Malaga Costa Del Sol Airport, then Federico García Lorca Granada-Jaen Airport and finally Jerez Airport if you are already in Spain.
You can hire a car at all of these airports and drive through the gorgeous Spanish countryside to Cordoba – probably the quickest and easiest way to get to your destination.
From Seville Airport you will first need to get a bus into the city, which runs often and takes about 35 mins, you can buy your ticket on the bus. Once in the city, you can catch a direct Renfe train, which runs frequently and take anywhere from 42 mins to 1hr 25.
From Malaga Airport you will need to take the train from the airport to Malaga María Zambrano, the train runs every 20mins and takes 8mins, once there you can catch a direct train, again they run frequently and take anywhere from 45 mins to 1hr 05.
From Granada Airport you will need to take a bus from the airport to the city, the buses run approximately 30 mins after every arrival flight from outside the arrivals hall, and take 60 mins, you can buy your ticket on the bus. Once there you can catch a direct train, they run every few hours, with more in the afternoon and take anywhere from just over an hour to 1hr 44.
From Jerez Airport you will need to take a train to Jerez de la Frontera, the trains run frequently in the morning until 12:15, and then there is one additional train in the early evening, the journey takes 9 mins. Once there you can catch a direct train to Cordoba, they are not that frequent, every few hours and take anywhere from 2hr 40 to 3hrs 05.
You can also book a private transfer from the airport with Klook directly to your accommodation in the city. Klook works with a large range of local operators to bring the the best options and prices for your transfer.
Where to Stay in Cordoba
Luxury: Las Casas de la Juderia – Booking.com | Agoda
Mid-Range: Balcón de Córdoba – Booking.com | Agoda
Budget: La Boutique Puerta Osario – Booking.com | Agoda
Hostel: Cordoba Carpe Diem – Booking.com | Agoda
Things to
See & Do

in Cordoba

Cordoba is a wonderfully atmospheric city. Discovering hidden corners and pretty courtyards is a bit of a past-time here and it's easy to just wander for hours, enjoying the vibe and beautiful surroundings.

Compact and intimate, you can see everything in our itinerary on foot. The time spent strolling between attractions will be filled with colour and rich history from the life and buildings of this special city.
Interactive
Map

of Your Cordoba Itinerary

How to use this map – Use your fingers (or computer mouse) to zoom in and out. Click or touch the icons to get more info about a place, and click the arrow in the box top left to open the index. To add to your own Google Maps account, click the star next to the title of the map.
Take a Cordoba in a Day Tour
If you're looking for a Seville to Cordoba day trip, or would prefer a walking tour or half-day guided tour, check out these Córdoba day tours.
You can also book free walking tours of Cordoba, but be aware that you are expected to tip an amount that you consider fair, at the end of the tour. We've had mixed results with these tours, some of them have been superb and others a bit lack-lustre.
Morning
Be Awed by the Mezquita of Cordoba
The UNESCO World Heritage Site of the mosque cathedral of Cordoba is the most awe-inspiring, breathtakingly beautiful building and one of Spain's most famous landmarks.
Entering through the Puerta de las Palmas (Door of the Palms), to see 850 red and white columns standing before you, and the marble floor seemingly disappearing into infinity, is a real show-stopping moment. Take in the sheer scale of the building, the numbers of columns and arches and the vast footprint stretching out in front of you, before you start to explore.
Wander further in to the Mezquita cathedral to see the older and remarkably well preserved, intricate and symmetrical Moorish architecture of the original mosque built by Abd ar-Rahman I and dating from 786. Tiles, gold leaf and beautifully carved wood provide rich colour and texture.
In 1146, during the Spanish reconquista, the conquering Spanish army entered Cordoba and holy mass was celebrated in the mosque by the King of Spain. The mosque officially became a cathedral and many chapels, the choir, transept and tower were added seamlessly to the existing building. The Gothic and Renaissance architecture displayed to all the might and fervent religiosity of the Spanish monarchy.
The courtyard, which was used for purification rituals prior to Muslim prayer became a garden in 1597. Nowadays, the charming Patio de los Naranjos and its orange trees and palms provide shade from the hot Spanish sun to tourists and pilgrims.
Once you've explore the interior and spend a few moments in the patio enjoying the shade, you should climb the bell tower, which stands guard over the building.
Climb to the top for panoramic views of the surrounding landscape and a great opportunity to study the roof of the building, which just reminds you of the immensity of the undertaking. You do need to book a slot for this, so perhaps do that first before entering the Mezquita.
If you do nothing else in your 24 hours in Córdoba, visit the Mezquita. A guided tour will help you understand the fascinating history and architecture of this building. You can get your priority Mezquita Córdoba tickets here.
TOP TIP: The mosque-cathedral opens to visitors at 10am, be there on the dot for the best chance of seeing the building without hordes of other tourists.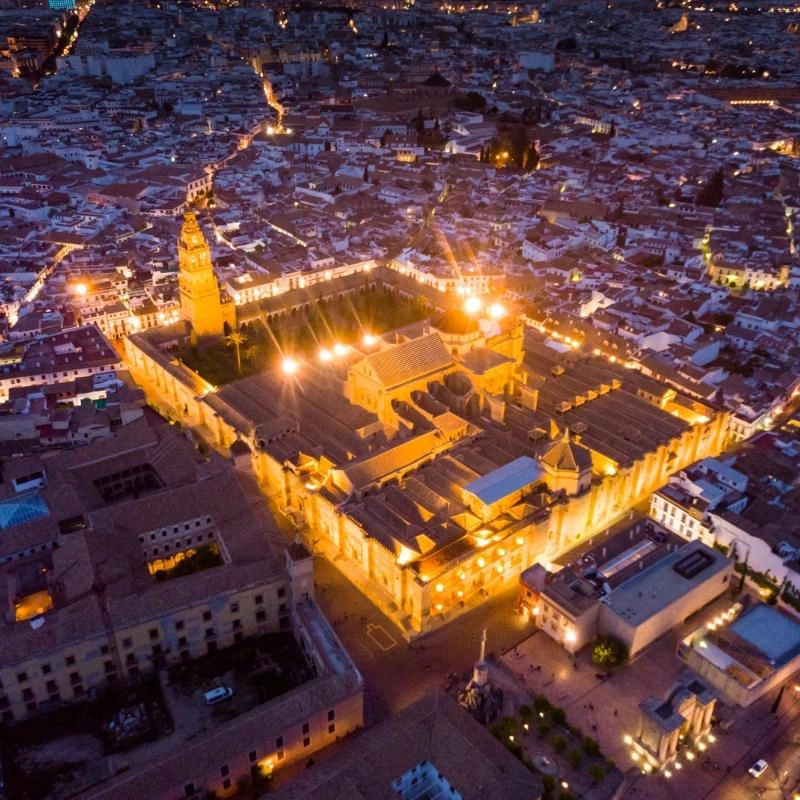 Visit the Alcazar de los Reyes Cristianos
The Alcazar of the Christian Monarchs is another stunning building worthy of a visit, more for the gardens than the interior though.
The Alcazar is a medieval citadel located in the historic center of Córdoba, on the river and very close to the Mezquita. The citadel served as one of the primary residences of Isabella I of Castile and Ferdinand II of Aragon.
It is not possible to visit the whole interior of the Alcázar in Córdoba, although what is open is well worth a look. The first permanent tribunals of the Spanish Inquisition were held here when they began using the Alcazar as a headquarters in the 15th century, converting much of it, including the Arab baths, into torture and interrogation chambers.
But that wasn't the first time this place saw blood spilled in the name of religion. In front of the Alcazar and the 10th century Caliphal Baths, is the Plaza Campo Santo de los Mártires, also known as The Holy Martyrs Field. This is where, in 304 AD, the Roman's executed Córdobans for proclaiming their Christian faith.
The gardens are magnificent, stretching over some 55,000m2 across three levels and laid out with traditional Islamic symmetry. With elegant fountains and ponds, formal walks and a large variety of species, this is a lovely place to while away an hour or so. Get your guided tour priority tickets here.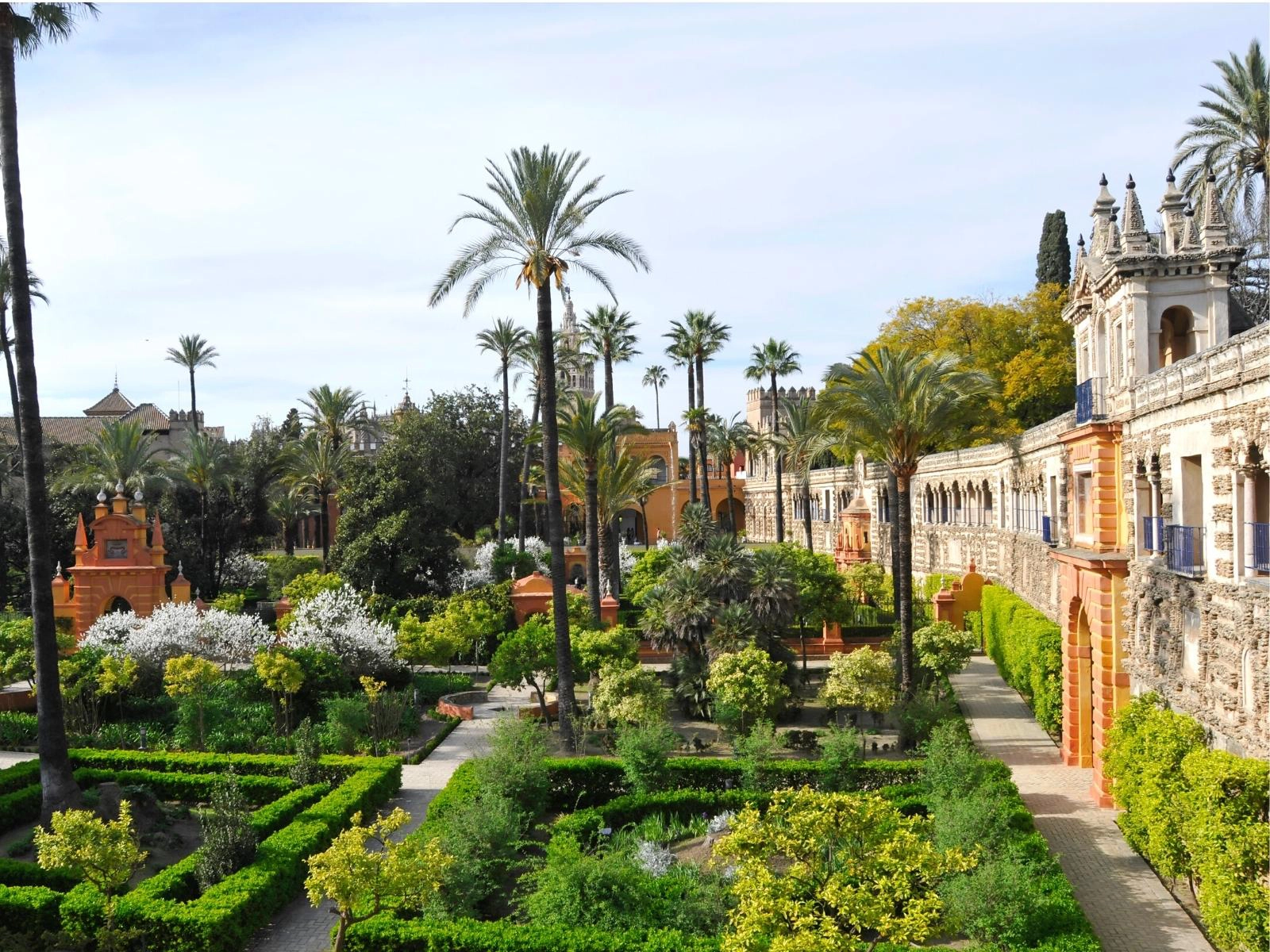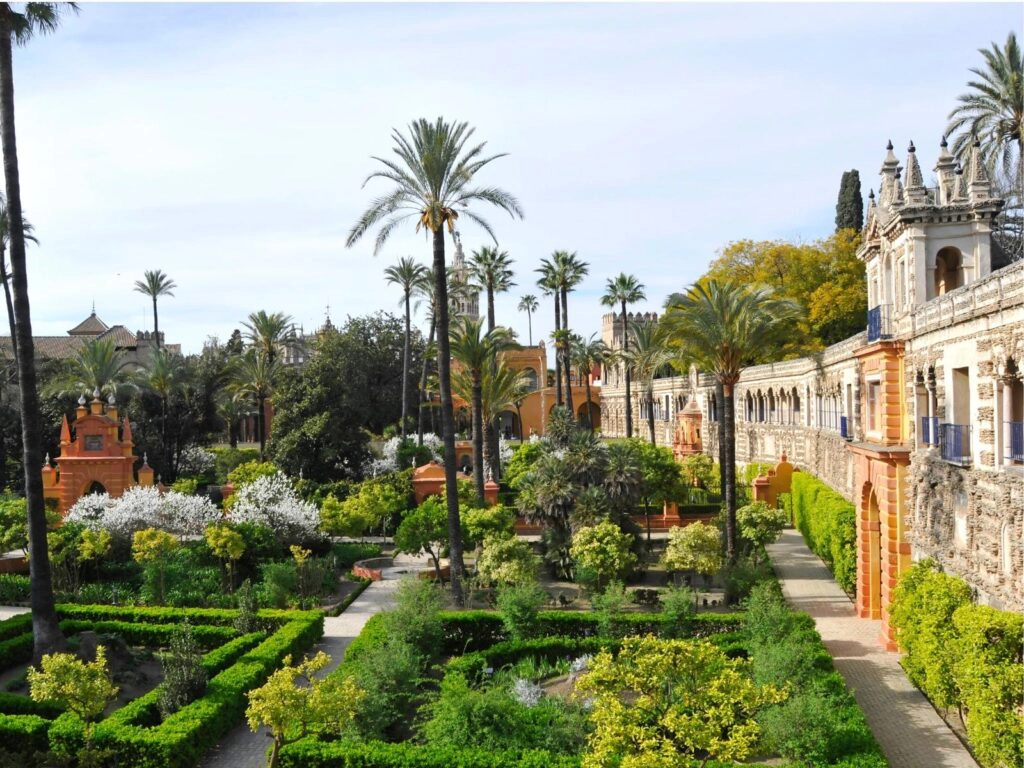 Spain Travel Inspiration
Afternoon
Take a Stroll Around Cordoba's Patios
Cordoba is one of the hottest cities in Europe, regularly reaching temperatures of over 40°c in the summer months. This necessitates finding shady places, and from the days of the Romans and Moors, every house was originally built with an internal courtyard, or patio, filled with plants and water features, to help keep them cool.
As you wander the city, you will often see a pop of colour behind a gate or hear the soft sounds of running water, and you may be able to get a peak at the patio if the door or gate is open.
The best patios though are in the neighbourhood of San Basilio, where the bougainvillea carpeting the walls and pots full of colourful blooms are on display for eveyone to see. Residents are happy for you to pop your head in, and many will ask you to enter for a closer look.
The courtyards are a feast for the eyes with tubs of flowers everywhere, scrambling jasmine and native orange blossom scenting the air, all with a backing track of tinkling water just to set the scene to perfection.
Cordoban patios are at their best between April and early July, before the weather gets too hot and the plants start to suffer.
Palacio de Viana – The Patio Museum
Located on the northern edge of the old city, behind an unassuming entrance, is the ancient Viana Palace, home to a museum of courtyards and patios.
Set in a traditional Andalusian mansion, the museum features twelve hidden patios, all beautifully arranged and planted in the traditional way, bringing together plants, flowers, light and water.
Fiesta de los Patios de Cordoba
So popular were the patios that in 1918 the city council started a patio contest, Fiesta de los Patios. The festival was started to share these hidden treasures with visitors to Cordoba and to honor the residents' hard work in creating these beautiful places. During the Spanish civil war, the competition was interrupted and then reintroduced in the 1950's.
The residents really take this contest seriously and the patios are amazing. Huge palms and shocking pink climbing bougainvillea line the courtyards which are deliciously scented and cool.
The contest takes place for two weeks in May each year, when the city also comes alive with parties, food, flamenco dancing and live music.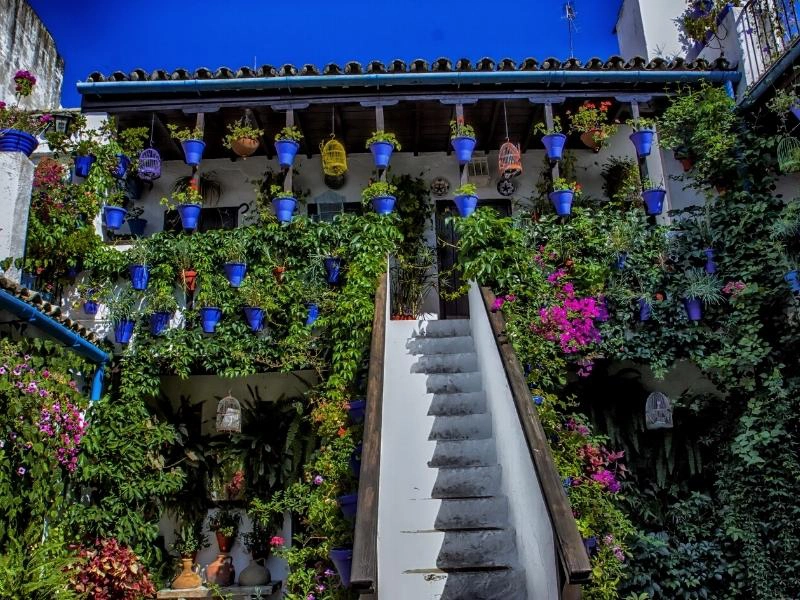 Visit the Ancient Templo Romano
From the San Basilio quarter, take a ten minute walk north through the Juderia (jewish quarter), passing many historical buildings, to Plaza de Santa Victoria, home to the Cordoba Archaeological Museum.
From here, head to the impressive Roman Temple which was discovered in the 1950's. It's eight imposing columns stand alone against the blue skies marking the Roman period in Cordoba's history.
From there, the 17th century Plaza de la Corredera makes a charming place to stop and enjoy the lively atmosphere, perfect for sitting and enjoying a late afternoon beer or glass of cool and crisp Cava, Spain's delicious sparkling wine.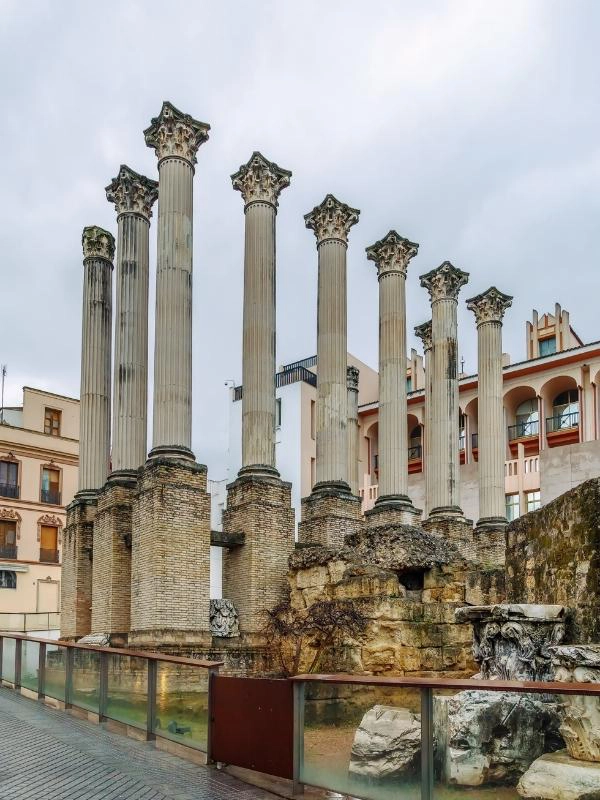 Evening
Cross the Puente Romano
The Puente Romano is the city's famous Roman Bridge, which dates from the 1st century BC and was extensively rebuilt in the 10th century during the Moorish occupation of the city.
This low and distinctive bridge crosses the wide Guadalquivir river, which heads south through Andalucia before reaching the Atlantic Ocean. The bridge is supported by seventeen stone arches, only two are left from the original structure – see if you can spot them.
This is a beautiful bridge to walk across, passing the famous Calahorra Tower (also a museum) before crossing and heading into the old town and Jewish quarter. In the early evening, as the sun sets behind the city, the light is perfect for capturing those iconic images of the bridge and Mezquita in harmony.
TOP TIP: Linger past sunset for the sky to turn a magical shade of deep blue and the honey coloured Mezquita and bridge to be dramatically lit for the night.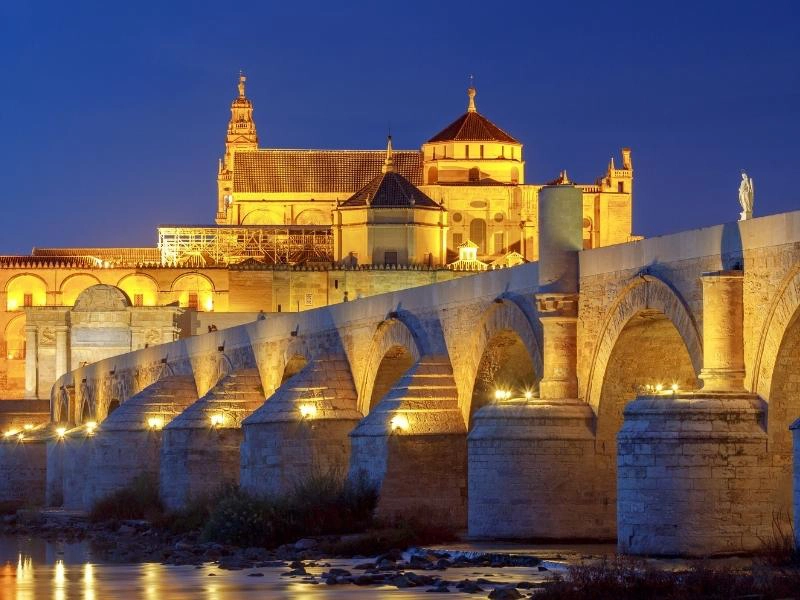 Explore Tapas!
Tapas is a way of life in Spain. Go to any bar or restaurant and you'll find traditional Spanish food served as a tapa (snack) or a racione (small plate).
Tapas is loosely used to describe both those dishes, as well as pintxos (food on a stick) which come from the north of Spain, and montadito (food on bread). Sound good?
True tapas is served and eaten as a snack with a beer or other alcoholic drink, sometimes this comes free with your drink. If not, expect to pay around €3-4 for each tapa when you're in a city like Cordoba.
Raciones are larger plates – usually a half-portion – and tend to be the size used to serve jamon (ham) or cheese, so perfect for sharing.
Raciones will cost a little more, especially if you order Jamon Iberico, usually the most expensive item on any tapas menu. Jamon Ibercio is prized ham from the leg of the Black Iberian pig and has a strong meaty, cured flavour.
If you're a tapas newbie, taking a tapas tour is the perfect way to learn the ins and outs of this very Spanish tradition. Plus, you'll also get to try tapas in the best places in town.
TOP TIP: If you find the stong flavour of Jamon Iberico too much, then try Jamon Serrano, a less intense and lighter flavour, and not quite so punishing on the pocket either.
See a Flamenco Show
The national dance of Spain, flamenco is really more theatre than dance. The passion, rhythm and story at a live flamenco show will get your feet tapping and your heart beating, especially if you take in a show at an historic location like the 10th century Arabian Baths of Santa Maria.
There is even a word for it – 'duende' – which does not have a direct translation but refers to how the performance affects those watching.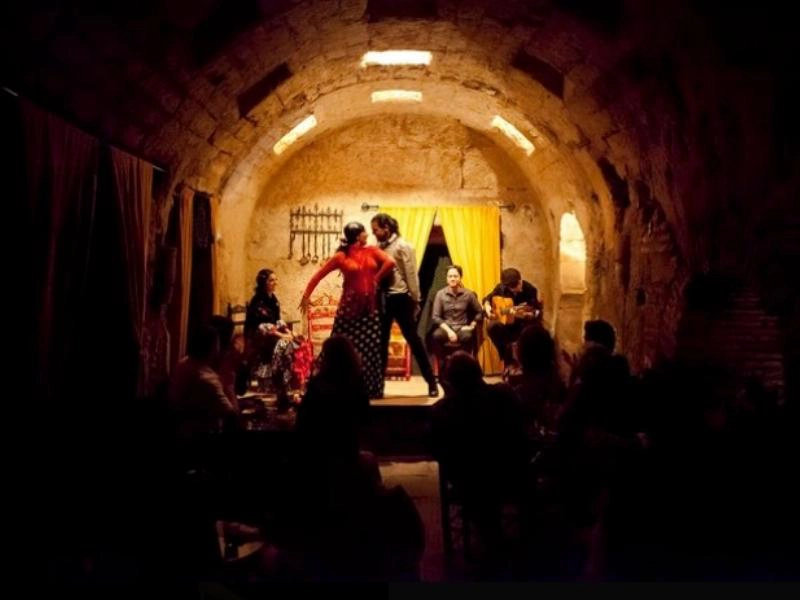 Where to
Eat

in Cordoba
Mercado Victoria
Head to the gourmet food market of Mercado Victoria for lunch. This gentrified food court, where you'll find kiosks showcasing and serving great local Spanish food, is lively and fun.
One of the top things to try is the flamenquin (little flamenco dancer), a deep-fried roll of breaded pork fillet, filled with Gruyere cheese, jamon Serrano, lemon juice and olive oil – you won't regret it
Bodegas Mezquita
Bodegas Mezquita serves delicious tapas and regular menu choices, offering traditional Spanish food. The wine list is reasonably priced – try the silky smooth local montilla with dessert, a type of sticky and sweet sherry (but it's not called sherry because it's not made in the revered 'sherry triangle').
Go after 9pm if you want atmosphere and conviviality. This is the absolute earliest that Andalucian Spain will deign to eat, and Cordoba is renowned for its late restaurant hours. Don't be surprised if families are still arriving for dinner at 11pm.
Top Five Cordoba
Travel Tips
To hang out where the locals do, head for Paseo de la Ribera, or just La Ribera. This is where you'll find the most authentic taberna Cordobesa.
You won't be able to enter the Mezquita if your shoulders are bare or you're wearing hot-pants – make sure to cover up or take a shawl or wrap.
Book your Mezquita tickets before 11am or after 3pm. This gives you the best opportunity to enjoy the architectural masterpiece without hordes of other people around.
Head for Calleja de las Flores in the Juderia. The most Instagrammable spot in Cordoba, this street of flowers with every house displaying colourful and lush pots and hanging baskets, is a truly gorgeous sight.
Don't forget to look up! As you walk along the alleys and squares of the city, look up to fully appreciate the beauty of the architecture, the colours of the ubiquitous window boxes and the traditional materials are still present in many buildings.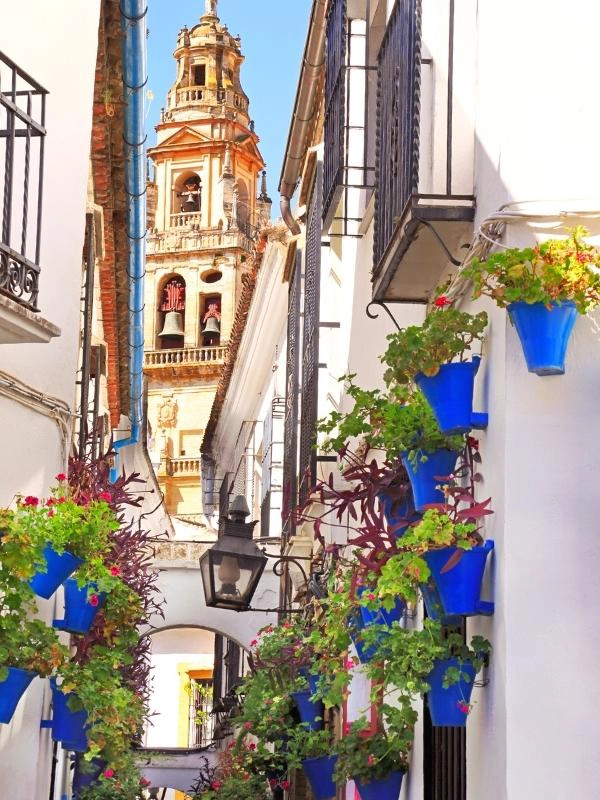 More Than One Day in Cordoba?
Medina Azahara
If you have another day or half a day in Cordoba, take a taxi out to the Medina Azahara, the shining city. This fascinating archaeological site sits on the outskirts of the city and was once a huge and fortified place and city.
Caballerizas Reales
Visit the Caballerizas Reales (The Royal Stables of Córdoba) which were founded by Philip II in 1570, with the aim of creating the purebred Andalucian horse.
Get the train to Sevilla Santa Justa station and in 45 minutes you'll be in gorgeous Seville. There are several services per day starting from around €11, a trip well worth making if you have time.
Are you looking for more Spain travel ideas? Check out these top posts…
Are you desperate for some Spanish sun but don't want to fly? With great routes across Europe, it's easy to drive to Spain from UK by car, arriving refreshed and unstressed from the comfort of your own vehicle. We're sharing the best routes with costs and comparisons plus tips about driving once you're there. Our Spain from UK guide will help you decide which is the best route for your driving trip to Spain, so…
Love it? Pin it!