Home to the famous and breathtaking Mezquita, Córdoba is a sublime city. Rich in history, architecture and Spanish charm, you can easily wander the streets and alleys for hours, soaking up the heat and atmosphere whilst stumbling upon gorgeous plazas and cool bars around every corner. If you're road tripping Spain, then don't miss Córdoba! 
There are affiliate links in this post.  This means if you click on a link and make a purchase, we will (at no cost to you) earn a fee.
You can travel to Córdoba Spain at any time of the year.  Cordoba in winter will be mild and unlikely to rain although the evenings will be chilly. Locals tend to wrap up in coats and boots, but a long sleeve top and trainers are enough on all but the worst days, of which there are few!  Avoid summer if possible, it will be very hot and very busy!
Spring and autumn are the best times to visit.  There will be fewer tourists, you are likely to get better deals on accommodation and the weather will be perfect.   
Our recommened hotel in Córdoba is the Balcón de Córdoba. This luxury boutique hotel at the centre of the historic old town and just a ten minute walk from the city centre, is charming and stylish, perfect for a 1 day in Córdoba itinerary. With lots of original architectural features from the original monastery building, this Córdoba hotel is contemporary and traditional rolled into one. The views or the Mezquita from the roof terrace are spectacular; enjoy a glass of something cool as you gaze across the ancient rooftops. The hotel can arrange private parking in Córdoba, perfect for road trippers. 
For other hotels and places to stay in Córdoba use this search and book function with our partners Booking.com, for the best prices and special deals.

Things to Do in Córdoba Spain in One Day
If you're looking for a Seville to Córdoba day trip, or would prefer a walking tour or half-day guided tour, check out these Córdoba day tours. Otherwise, read on for our Córdoba one day itinerary.
Be Awed of the Mezquita of Córdoba
The mosque-cathedral of Córdoba is the most awe-inspiring, breathtakingly beautiful building and one of Spain's most famous landmarks. Entering THIS UNESCO World Heritage Site is a real show-stopping moment of disbelief at the sheer scale of the building, the numbers of columns and arches and the acres of marbled floor stretching out in front of you.   
Wander further in and see the older, intricate and symmetrical Moorish architecture of the original mosque dating from 786 and marvel at how this has been joined with the more familiar, also intricate, Christian cathedral in 1146.  I would write more but I'm running out of superlatives, you need to see this place for yourself!
Head outside and spend some time in the Patio de los Naranjos (Orange Patio), which sounds so much more romantic in Spanish!  This is a lovely space, tranquil and shaded and in winter every tree will be drooping with heavy, juicy oranges.  
If you do nothing else in your 24 hours in Córdoba, visit the Mezquita. A guided tour will help you understand the fascinating history and architecture of this building, get your priority Mezquita Córdoba tickets here.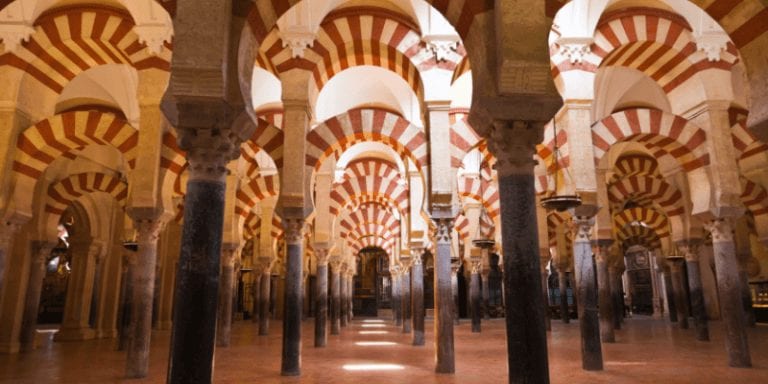 Visit the Alcázar de los Reyes Cristianos
The Alcázar of the Christian Monarchs is another stunning building worthy of a visit, more for the gardens here though. The Alcázar is a medieval citadel located in the historic centre of Córdoba, on the river and very close to the Mezquita. The citadel served as one of the primary residences of Isabella I of Castile and Ferdinand II of Aragon.
It is not possible to visit the whole interior of the Alcázar in Córdoba, although what is open is well worth a look. The first permanent tribunals of the Spanish Inquisition were held here. The Inquisition began using the Alcázar as its' headquarters in 1482, converting much of it, including the Arab baths, into torture and interrogation chambers.
The gardens are magnificent, stretching across some 55,000m2 and across three levels. With elegant fountains and ponds, formal walks and a large variety of species, this is a lovely place to while away a few hours.  Get your guided tour priority tickets here.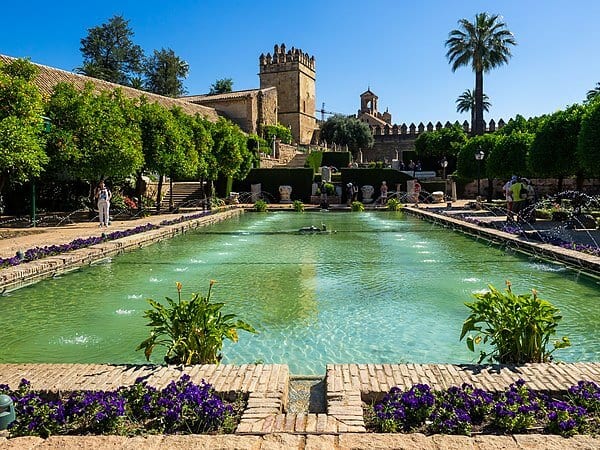 Take a Stroll Around the Feria de los Patios
Córdoba is one of the hottest cities in Europe, regularly achieving temperatures of over 40°c in the summer months.  This necessitates finding shady places and from the days of the Romans and Moors, every house was and is built with an internal courtyard, or patio. These patios are filled with plants and water features, which help keep them cool; in 1918 the city council started a patio contest, which has been going strong ever since!
The residents really take this contest seriously and the patios are amazing. Bright, scented and cool, they are a feast for the eyes with pots of flowers everywhere, climbing jasmine and orange blossom scenting the air with a backing track of tinkling water just to set the scene to perfection!
The contest takes place in May each year, when the city also comes alive with parties, food, flamenco dancing and live music. It's a great time of year to visit but many of the patios are open through the summer if you can't visit Córdoba in May. You can buy tickets for a guided tour by a local here.
If you love flowers, head for Calleja de las Flores just north of the Mezquita, in the old Jewish quarter. As the name suggests, this is a street of flowers with every house having pots and hanging baskets, all seemingly colour coded.  Grab and ice-cream on the way and enjoy the stroll!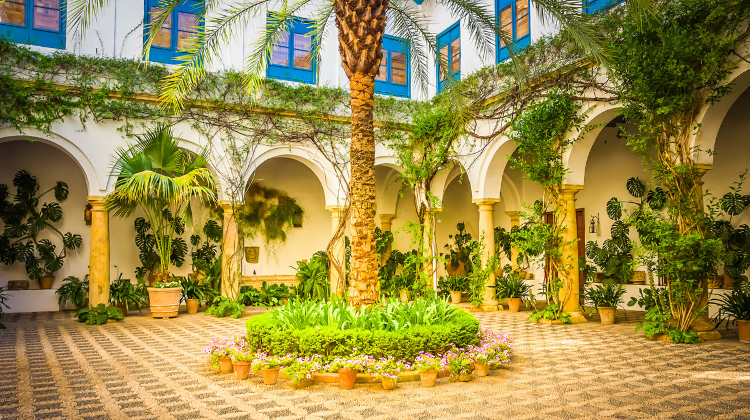 Visit the Ancient Templo Romano
Wander to the Plaza de la Corredera from the Jewish quarter and the lively atmosphere in this large square; with lots going on its the ideal place for a beer of glass of cool vinho verde.
Suitably refreshed, head north towards the impressive Roman Temple which was discovered in the 1950's.  It's eight imposing columns stand alone against the blue skies marking the Roman period in Córdoba's history.
The city's famous Roman Bridge, which dates from the 1st century BC and was extensively rebuilt in the 10th century during the Moorish occupation of the city. This low and distinctive bridge crosses the wide Guadalquivir River, which heads south through Andalucia and Seville before reaching the Atlantic Ocean. The bridge is supported by 17 stone arches, only two are left from the original structure; see if you can spot them.  
This is a beautiful bridge to walk across, passing the famous Calahorra Tower (also a museum) before crossing and heading into the old town and Jewish quarter.  We managed a run along the river and back up to the bridge early on our first morning in Córdoba, the early morning light shining onto the Mezquita and Alcázar was stunning and a promise of the all glorious architecture we would see in Córdoba.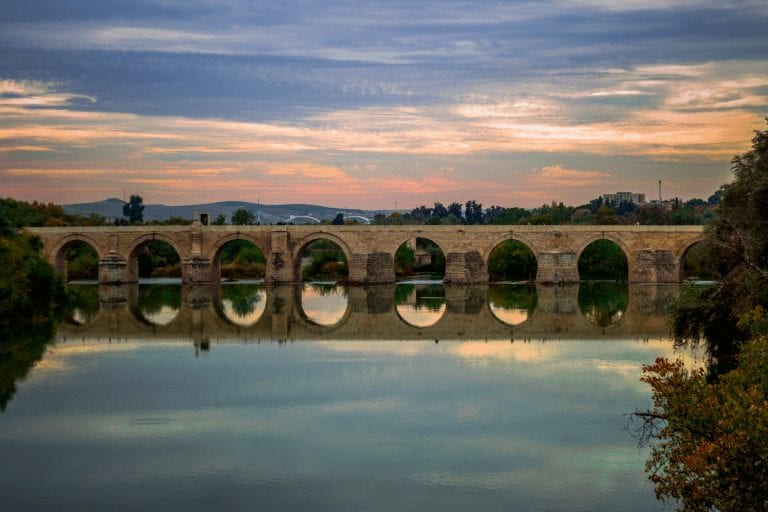 If you stay have a few hours of the day left, take a taxi out to the Medina Azahara, the shining city. This fascinating archaeological site sits on the outskirts of the city and was once a huge and fortified place and city.  
We ate tapas at Bodegas Mezquita. The tapas here is fantastic with many traditional dishes featuring on the menu. Try the trio of puddings, they're to die for! The wine list is very reasonably priced and you must try the silky smooth local montilla, a type of sherry (but it's not called sherry because it's not made in the revered 'sherry triangle').  Nevertheless, my type of sherry; sticky and sweet! If you're interested in sherry and montilla, why not consider a wine tasting evening? 
Go after 9pm if you want atmosphere; we find this a bit late to eat but 9pm is the absolute earliest the Spanish will deign to eat and Córdoba is renowned for it's late restaurant hours. Don't be surprised if families are still arriving for dinner at 11pm.
Alternatively, you could eat at the gourmet food market of Mercado Victoria, a gentrified and classy food court which is a great spot of lunch or an early supper.
If you're a tapas newbie, take a tour with an expert local guide to find out all you need to know about choosing and eating tapas, with tapas and wine included.
Other Córdoba Travel Ideas
NEED MORE CITY TRAVEL INSPIRATION? CHECK OUT THESE TOP POSTS