Seville is hot, steamy and so very Spanish! This quintessential and colourful Andalucian city is perfect for wandering, with cool bars and cafes on every corner. If you are road tripping in Spain, then visiting Sevilla is a must!
There are affiliate links in this post.  This means if you click on a link and make a purchase, we will, at no cost to you, earn a fee.
Visiting Seville is possible all year round. Seville in winter will be mild and it's unlikely to rain. Locals tend to wrap up in coats and boots, but a long sleeve top and trainers are enough on all but the worst days, of which there are few! Avoid summer if possible, it will be uncomfortably hot and very busy!
Spring and autumn are the best times to visit. There will be fewer tourists, you are likely to get better deals on accommodation and the weather will be perfect.   
Christmas is always busy as Seville hosts a number of fabulous Christmas markets, including the famous Feria del Belen, one of the most unique things to do in Seville. This market only sells nativity figures, in all designs, shapes and sizes. The nativity tradition is huge in Spain and at Christmas time every household, church and public building has a nativity scene.
Seville has no shortage of good hotels; from small and intimate to large and businesslike. Find out where to stay and get the best deals using this search and book function with our partners Booking.com.
We recommend the Casa del Poeta in the Santa Cruz district as the best place to stay in Seville for a one day Seville itinerary. There are no flashy signs here, this beautifully renovated 17th century mansion is hidden down a narrow alley in the best and most interesting district, Barrio Santa Cruz, in the city and just a stones throw from all the top attractions. With fantastic service, regular live music and a roof-top view to die for, the is the perfect boutique hotel for one night in Seville. Book the Casa del Poeta now.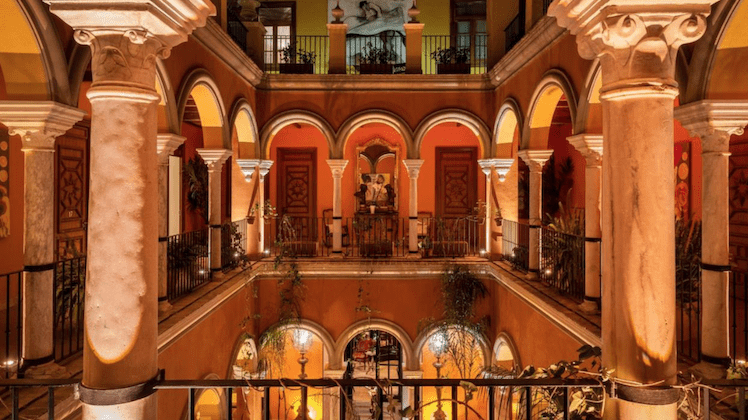 Things to Do in Seville in One Day
Seville is a very walkable city with all the main attractions and city centre being easily navigated on foot following our one day in Seville guide. Arm yourself with a Seville map of tourist attractions and set out into this beautiful city; if you get lost down a winding alley or take the wrong turn from a pretty piazza, then stop for a coffee or beer and enjoy being off the beaten track a little.
If you are looking for an organised day trip of Seville, click here for more information and to book this excellent Seville in one day tour. 
Climb the Metropol Parasol
We loved the huge parasol (Las Setas in Spanish) in La Encarnación square. This ultra-modern wooden structure was erected in 2011; it is stunning and intriguing. It's a  pleasure to photograph, especially against the blue skies so common in Seville.
At five stories high, it is the largest wooden structure in the world, housing an antiquarian, viewing point and numerous bars, markets and cafes. Make your way to the top; wandering around up here is one of the best things to do on a Seville day trip, you have the entire city at your feet. Head for the mirador on the fifth floor (€3) for spectacular views of the city and structure itself. For more information about the project,, click here.
On your way to or from the Metropol Parasol, make sure to visit the El Divino Salvador church, a few minutes walk away. The site of a former mosque, this baroque Roman Catholic church has an elaborate and intricately decorated golden altar with a breathtaking nave above.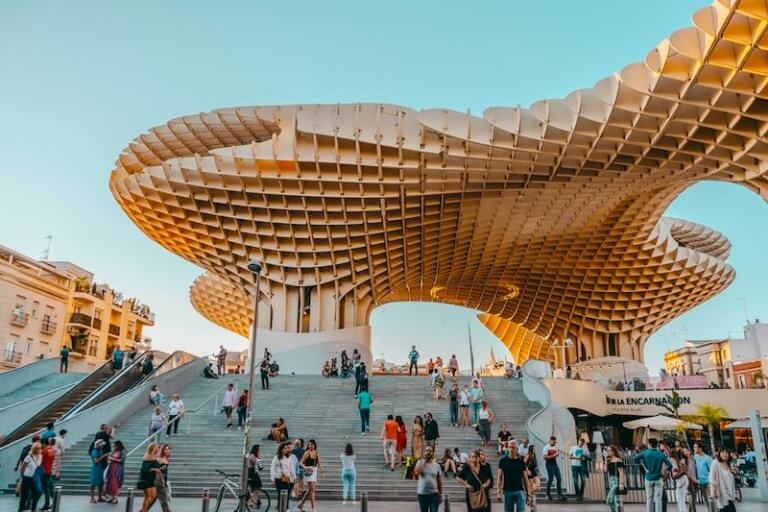 Visit the Cathedral of Seville
Properly named as The Cathedral of Saint Mary of the See, everyone calls it Seville Cathedral. This incredible masterpiece is the largest Gothic cathedral in the world, with the nave stretching to 42m. It is ornate and grand, as you would expect from a Catholic country as powerful as Spain. We are not religious but enjoy churches for their architecture, peace, cool interiors and the knowledge that those that built it, did so for love; this one took over 100 years.
Visit the tomb of the great explorer Christopher Columbus, recently proved through DNA testing to be his authentic last resting place, despite claims from other cities and countries. Head for the Patio de los Naranjos for the heady scent of orange blossom and tinkle of fountains and climb the famous 103m Giralda bell tower (the name Giralda means 'she who turns', after the weather vane on top of the tower) for more spectacular views.  
Sadly, this is one cathedral you have to pay to enter, unless you go on Monday's when it is free, but incredibly crowded. Book your priority tickets with local guide here.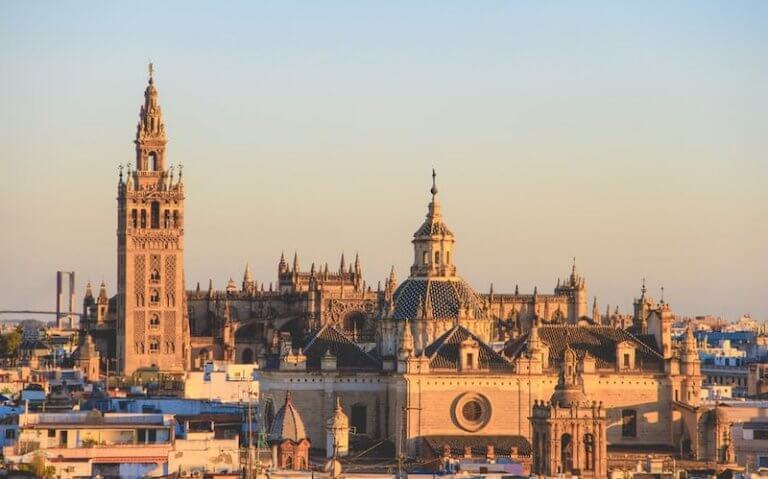 Visit the Real Alcázar of Seville
One of the top attractions in Seville Spain, this glorious royal palace is in the heart of the ancient city and built on the site of a Muslim fortress, by Castilian Christians after their reconquest of Seville. Beautiful patios, courtyards, stunning tiles and mysterious doorways beckon you through this atmospheric building which was used in the filming of Game of Thrones.
The Alcazar gardens are a real treat, with orange, lemon and pomelo trees hanging with fruit. Fantastic Moorish inspired architecture creates symmetry and interest with arches, pavilions and galleries throughout the gardens.  
If you were to have a vision of what a Spanish palace would be, then this is it! Book your Seville Alcazar tickets with a guided tour by a local here and beat the queues.
The Royal Alcazar of Seville Visitors Guide has a more in depth information about this iconic Seville attraction.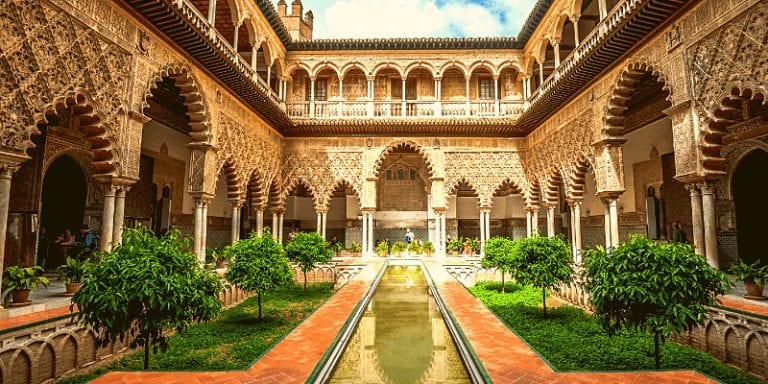 Row Around the Plaza de España
Built for the Spanish-Amercian exhibition of 1929, the Plaza de España is a popular spot with locals and visitors alike. 
You will find a small lake where you can hire a row boat and meander around the plaza enjoying people watching in the inevitable sunshine. Each of the 49 Spanish provinces is depicted around the plaza in colourful tiles. There is usually live music happening somewhere close and often impromptu, and authentic, flamenco dancing, a real treat to watch if you come across it.  
There's not much to actually do here, but the plaza has a great vibe and is definitely worth a visit.
Take a Stroll in the Maria Luisa Park
The Maria Luisa park is a large green space next to the Guadalquivir river just a minutes walk from the Plaza de España, which is actually its' centre-piece. The park is filled with exotic trees and has a umber of gorgeous historic buildings with colourful tiled benches, and Moorish landscaping. 
The park is a delightful place for a quiet stroll or romantic horse-and-carriage ride. Taking a traditional horse and carriage is a great way to see the park; a more energetic option is a bike for four with a sunshade. You can find both in the road opposite Plaza de España.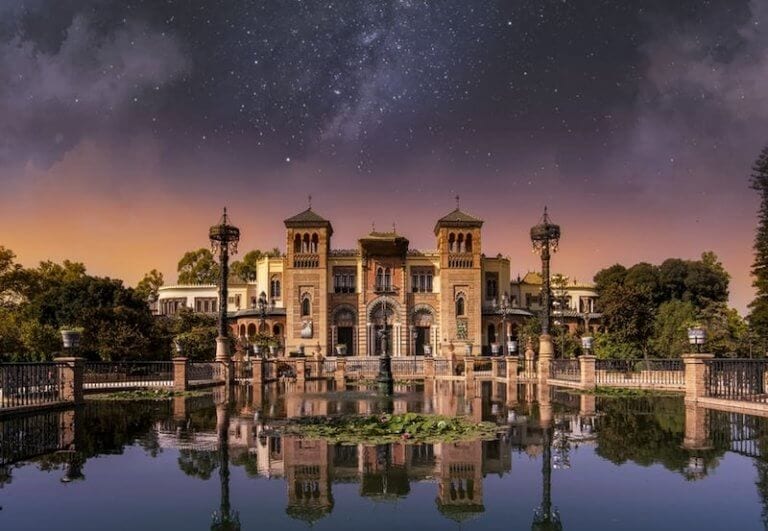 Wander the Barrio Santa Cruz
We loved the old Jewish quarter for its narrow alleys, quirky shops and cool bars and restaurants. It's definately a tourist area, but if you know that before heading there and accept that it's not the most authentic part of Seville, you'll have a great time.
Seville's Jewish population was held here after Ferdinand III took the city from the Moors in 1248. Most of the streets are so narrow that cars are unable to pass, so meander at will; you probably will get lost but keep meandering and you'll find a square or street you recognise within no time…it's all part of the experience.
Head up Calle Mateos Gago which is lined with tapas bars, grab a beer and a raccion (ration) and people watch to your heart's content; that's really what Santa Cruz is about.
Take a tapas and sherry tasting tour if you'r a tapas and sherry newbie, or join a tapas crawl. To really finish your day in Seville with a bang, take in a live Flamenco show at a traditional Flamenco bar; this traditional Spanish music and dance is mesmerising and considered an art form here.
For a perhaps a less touristy evening destination, head for the Triana district of Seville. This area is down-to-earth and home to the Mercado de Triana, a busy and buzzy market hall with food stalls and small eateries serving traditional and local tapas. The riverside street of Calle Betis has excellent restaurants and lively bars with authentic live Flamenco to get your feet tapping!
Things to Know About Seville Oranges
If you've visited Seville, you will know there are an astonishing 25,000 orange tress which line the city streets. In winter they are laden and in spring, the heady scent of orange blossom fills the air. The trees belong to the city, but are not harvested in any way. You are welcome to pick and eat the oranges, but you may get an unpleasant surprise; Seville's oranges are used for marmalade and are incredibly bitter and really quite unpleasant to eat!
Other Seville Travel Ideas
NEED MORE CITY TRAVEL INSPIRATION? CHECK OUT THESE TOP POSTS