This post may contain affiliate links, from which we earn an income.
How to Spend 24 Hours in Seville Spain
Seville is hot, steamy and so very Spanish. More about atmosphere than attractions, the intimate bars at every twist and turn of its medieval lanes, the rich Mudejar history and splendid Baroque churches of Seville will delight and captivate you.
In this one day in Seville guide, you'll find a complete itinerary of all the most important must see Seville attractions, with an interactive map, organised to make the best use of your time in this quintessential Spanish city.
We also share recommendations for central places to stay, ideas about where to eat local food, and tips about how to make the most of your 24 hours in Seville.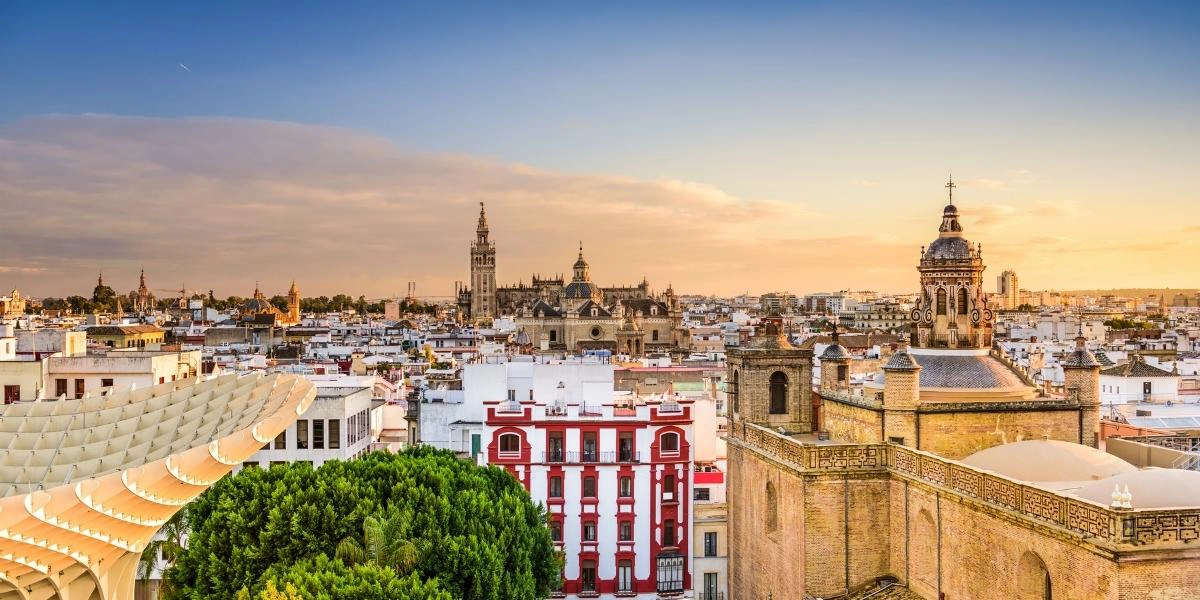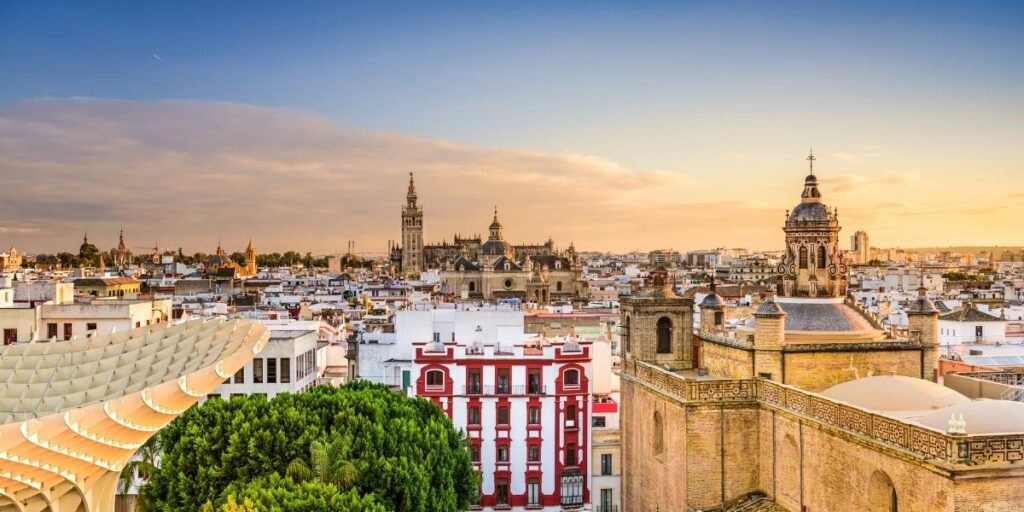 When to Visit Seville
Travel to Seville is possible all year round. Seville in winter will be mild and it's unlikely to rain. Locals tend to wrap up in coats and boots, but a long sleeve top or hoodie and trainers are enough on all but the worst days.
Avoid summer if possible, Seville is the hottest city in Europe and temperatures regularly hit the high 30's and low 40's. Summer will be uncomfortably hot and humid, and incredibly busy.
Spring and autumn are the best times to visit. There will be fewer tourists, you are likely to get better deals on accommodation and the weather will be perfect.
Christmas is always busy (but not as busy as summer) as Seville hosts a number of fabulous Christmas markets, including the famous Feria del Belen, one of the most unique things to do in Seville.
This market only sells nativity figures, in all designs, shapes and sizes. The nativity tradition is huge in Spain and at Christmas time every household, church and public building has a nativity scene.
Is this your first time visiting Spain? Get all the information you need in our Spain Travel Guide, including what to pack, the best time of year to go, getting there and practical tips to help you have the best trip!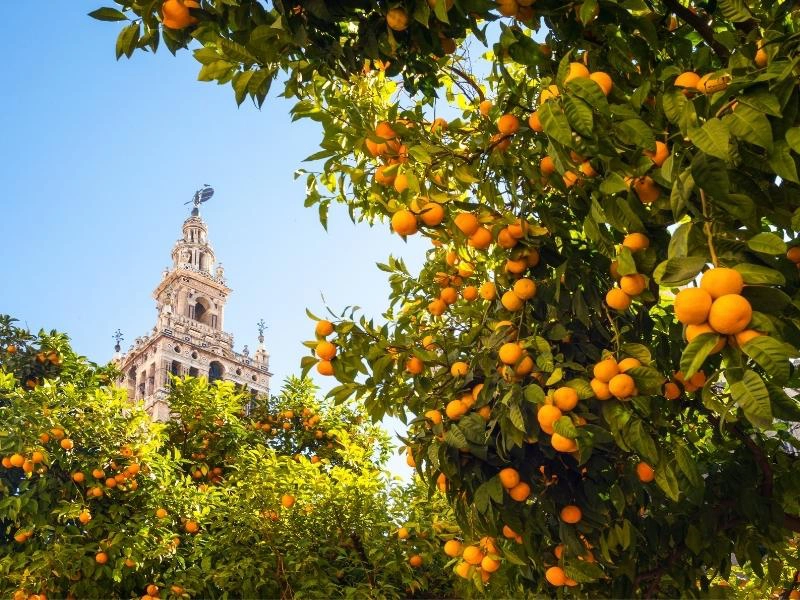 Seville Trip Resources
Flying
Fly into Seville San Pablo Airport
Driving
Drive in from Europe or hire a car in Spain
Travel Insurance
Medical costs, delays and lost luggage
Getting to Seville
Flying
If you are flying to Cordoba, you will fly into Seville San Pablo Airport, the cheapest way to get into the city from the airport is by bus.
At Seville Airport the re an urban bus transport link that connects the airport to the AVE train station and the bus station in the centre of town. The bus stop at the airport is located outside the main terminal. The buses run from 5:20 am-01:15 am and take 35 mins to get to the Plaza de Armas bus station, they run 365 days a year, however, the schedule does change so check before your trip here. The fare is nominal and needs to be paid on the bus.
You can take a taxi which will get you into the city centre in only 15 minutes and there are three flat rates from the airport.
You can find out more about current fares here.
You can also book a private transfer from the airport with Klook directly to your accommodation in the city. Klook works with a large range of local operators to bring the the best options and prices for your transfer.
Where to Stay in Seville
Luxury: Casa del Poeta – Booking.com | Agoda
Mid-Range: H10 Casa de la Plata – Booking.com | Agoda
Budget: Petit Palace Vargas – Booking.com | Agoda
Hostel: The Hostel Triana – Booking.com | Agoda
Things to
See & Do

in Seville

Seville (or Sevilla to the Spanish) is a very walkable city with all the main attractions and city centre being easily navigated on foot following our one day in Seville guide.

Access our interactive Seville map of tourist attractions and set out into this beautiful city – if you get lost down a winding alley or take the wrong turn from a pretty square, then stop for a coffee and enjoy being off the beaten track a little.
Interactive
Map

of Your Seville Itinerary

How to use this map – Use your fingers (or computer mouse) to zoom in and out. Click or touch the icons to get more info about a place, and click the arrow in the box top left to open the index. To add to your own Google Maps account, click the star next to the title of the map.
Take a Seville Day Tour
If you're looking for a Seville day trip, or would prefer a walking tour or half-day guided tour, check out these Seville day tours.
You can also book free walking tours of Seville, but be aware that you are expected to tip an amount that you consider fair, at the end of the tour. We've had mixed results with these tours, some of them have been superb and others a bit lack-lustre.
Morning
Climb the Metropol Parasol
Head north through the vibrant El Centro district to La Encarnación square and the Metropol Parasol, one of Seville's most remarkable sights. Setas de Seville (mushroom of Seville) is an ultra-modern wooden structure, erected in 2011.
It is stunning to look at and fascinating to visit. Photographers will appreciate the contrast of the light wood of the structure, floating against the backdrop of the inevitable azure blue Seville sky.
At five stories high, it is the largest wooden structure in the world, housing an antiquarian, viewing point and numerous bars, markets and cafes. Head for the mirador on the fifth floor for spectacular views of the skyline and structure itself, you'll have the entire city at your feet.
TOP TIP: Make sure to visit the Church of El Divino Salvador, on the way south from the Metropole Parasol. The site of a former mosque, this baroque Roman Catholic church has an elaborate and intricately decorated golden altar with a breathtaking nave above.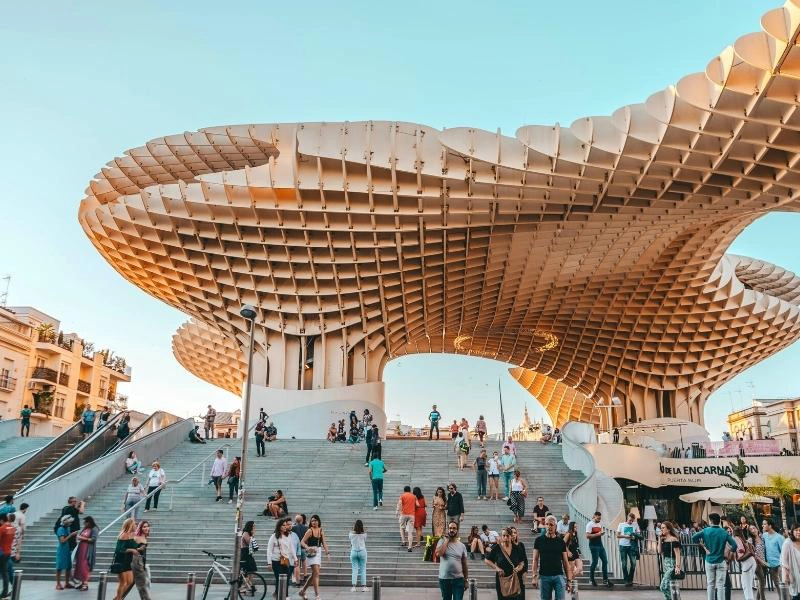 Admire Plaza Nuevo
As you wander towards the historic centre of the city, take in Plaza Nueva, home to Sevill'es town hall and where you can see an equestrian statue of Fernando III who conquered Seville for the Christians in 1248, and later was declared a saint by the Catholic church in 1671.
The plaza is also home to one of Seville's Christmas Markets – this one sells lots of local handicrafts like jewellery, fabrics and handbags.
Visit the Cathedral of Seville​
Properly named as The Cathedral of Saint Mary of the See, everyone calls it Seville Cathedral. This UNESCO World Heritage Site is the largest Gothic cathedral in the world with the vast nave stretching to 42m. Ornate and grand, this masterpiece took over 100 years to build.
Visit the tomb of the great explorer Christopher Columbus, recently proved through DNA testing to be his authentic last resting place, despite claims from other cities and countries.
Sadly, this is one cathedral you have to pay to enter, unless you go on a Monday when it's free, but incredibly crowded.
Climb the Giralda Tower
All that remains of Seville's ancient mosque is part of its intircate minaret, which is now the cathedral's Giralda bell tower, another of Seville's stunning architectural attractions. The name 'Giralda' means 'she who turns', after the weather vane on top of the tower.
You can climb the famous 103 metre high bell tower, for spectacular views of the city. Except for the final section, which features stairs, the route to the top is via ramps – apparently, this is so it can be reached on horseback. We hope this means historically!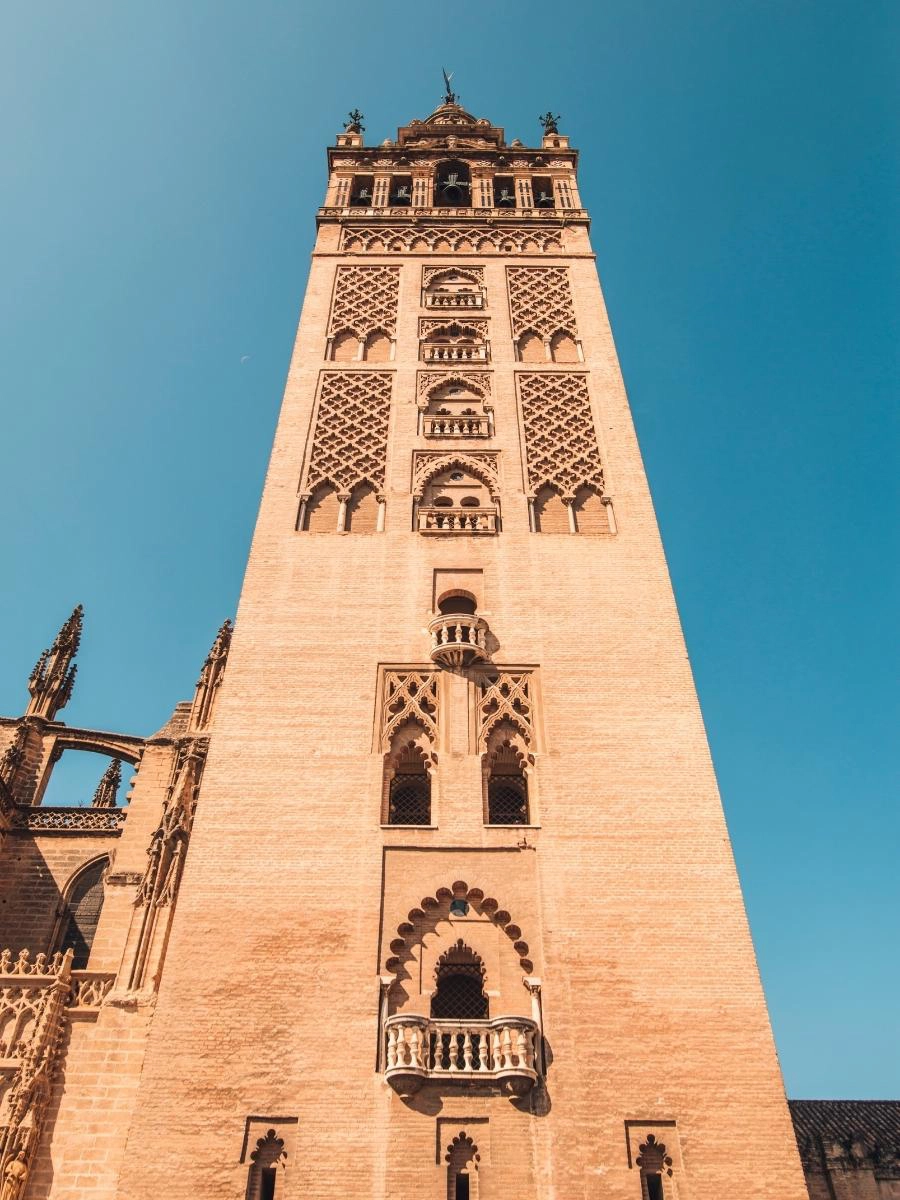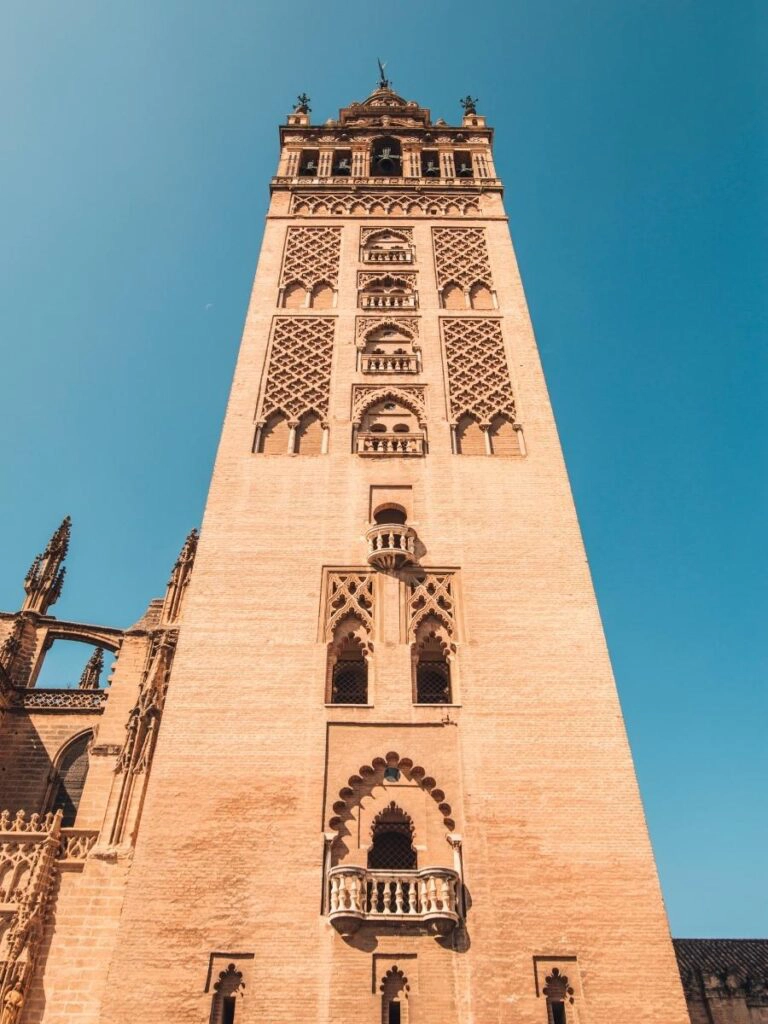 Afternoon
Visit the Real Alcazar of Seville
One of the top attractions in Seville, the Royal Alcázar of Seville is a glorious palace in the heart of the ancient city and built on the site of a Muslim fortress, by Castilian Christians after their reconquest of Seville.
Beautiful patios, courtyards, stunning tiles and mysterious doorways beckon you through this atmospheric building which was used in the filming of Game of Thrones.
The Real Alcázar gardens are a botanists delight, with orange, lemon and pomelo trees hanging heavy with fruit. Fantastic Moorish inspired architecture creates symmetry and interest with arches, pavilions and galleries throughout the gardens. Head to the Patio de Banderas for the best views of the Giralda Tower.
The Royal Alcazar should be at the top of your list of things to see in Seville in one day, the romance and history of the palace are palpable and will set the scene for the rest of your time in the city.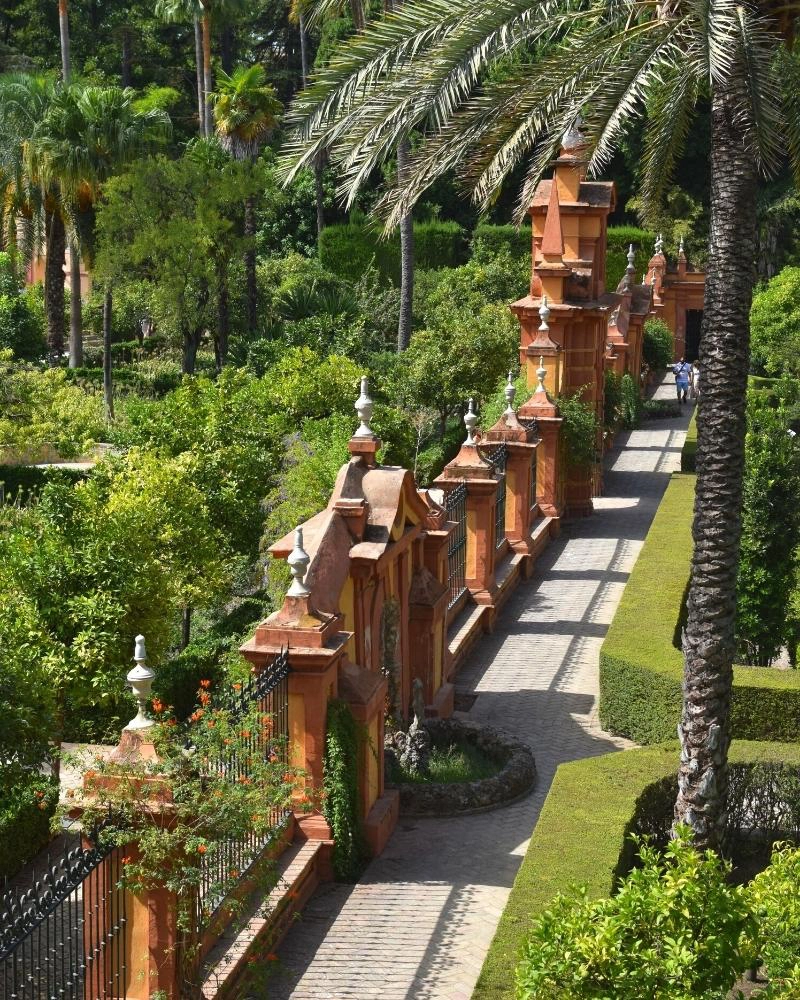 Row Around the Plaza de Espana
Built for the Spanish-American exhibition of 1929, the Plaza de España is the centrepiece of the Maria Luisa park.
A popular spot with locals and visitors alike, there's not much to actually do, but there is a great vibe here with impromptu and authentic live flamenco and Spanish guitar sessions daily. Late afternoon is the best time for this, as siesta comes to an end and the city wakes up for the evening.
You will also find a small lake where you can hire a rowing boat and meander around the lake enjoying people watching in the inevitable sunshine. Each of the 49 Spanish provinces is depicted around the plaza in colourful tiles.
The park itself is a delightful large green space, ideal for a quiet stroll or romantic horse-and-carriage ride, or a slightly more energetic ride on a bike for four, both of which you can find on the road opposite Plaza de Espana. Make sure you agree the cost before getting onboard.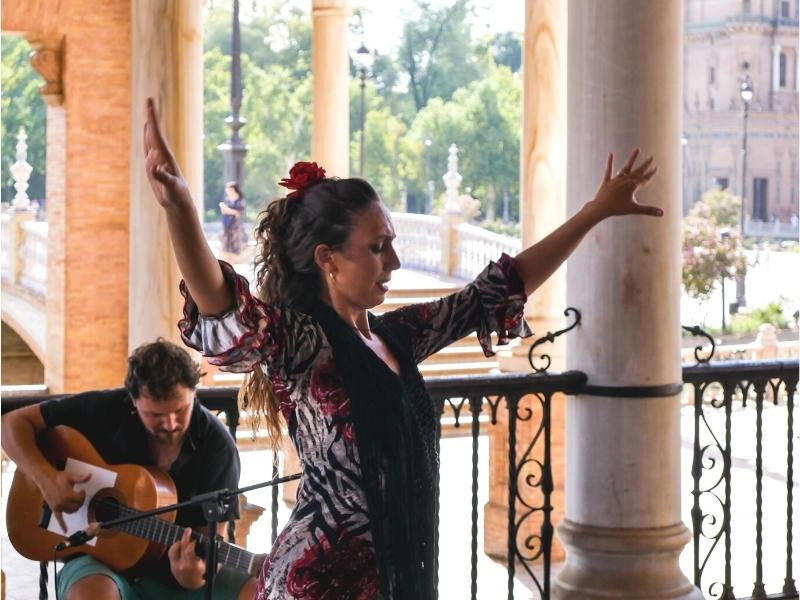 Evening
Wander the Barrio Santa Cruz
Barrio Santa Cruz is Seville's old Jewish quarter, full of narrow medieval alleys, quirky shops and cool bars and restaurants. It's definitely a tourist area, but if you know that before heading there, you'll have a great time.
Seville's Jewish population was held here after Ferdinand III took the city from the Moors in 1248. Most of the streets are so narrow that cars are unable to pass, so meander at will. You probably will get lost but keep meandering and you'll find a square or street you recognise within no time, it's all part of the experience.
TOP TIP: Head up Calle Mateos Gago and which is lined with tapas bars. Find Bar Bodega Las Columnas and grab a beer and a tapa, then people watch to your heart's content, that's really what Santa Cruz is about.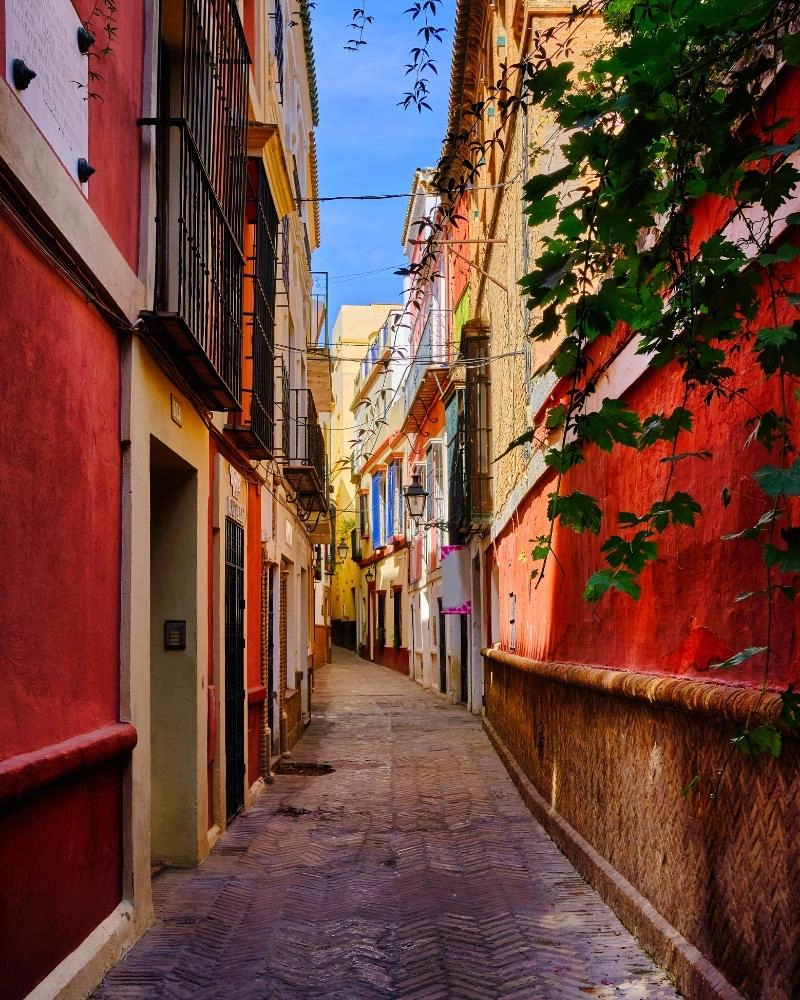 Take in a Flamenco Show
Good flamenco is all about the spirit of the performance and passion of the performers – there is even a word for it – 'duende', which does not have a direct translation but refers to how the performance affects those watching.
Flamenco includes elements of singing, guitar music, clapping and of course, the feisty flamenco dancing and was born in southern Spain between the three great cities of Seville, Cadíz and Granada.
The city has become the home of some of the best flamenco in the world and you should not visit Seville without taking in a show.
Discover Tapas
Tapas is a way of life in Seville and you'll find it being served in all bars in the city. Tapas is loosely used to describe a tapa (snack) and a racione (small plate) as well as pintxos (food on a stick) which come from the north of Spain, and montadito (food on bread).
Tapas is served and eaten as a snack (often whilst standing at the bar) with a beer or other alcoholic drink. Sometimes this comes free with your drink, but in a city like Seville, you'll pay €3-5 for each tapa. Raciones are larger plates – usually a half-portion – and tend to be the size used to serve jamon (ham) or cheese which are perfect for sharing.
If you're a tapas newbie, taking a tapas tour is one of the top things to do in Seville, and is the perfect way to learn the intricacies of this very Spanish tradition. Plus, you'll also get to try tapas in the best places in town.
Spain Travel Inspiration
Where to
Eat

in Seville
Freiduria Puerta de la Carne
The oldest fry shop in Seville is unsurprisingly in the Santa Cruz district. Pescaito frito (fried fish) is a popular dish across Spain and you'll find it on most menus in Seville.
At Freiduria Puerta de la Carne, you'll get the best fried fish in Seville, they've been serving it up daily since 1929. The menu is simple, order a mix of seafood and eat hot from the paper at a table outside.
Bodeguita Antonio Romero
Bodeguita Antonio Romero Origin is right in the historic heart of the city, close to the infamous Plaza de Toros de la Real Maestranza de Caballería, Seville's bull ring.
There are four Antonio Romero bodeguitas in town, but this is the original and has the most authentic Sevillano vibe. You can eat at a table or at the bar with a beer, if you're looking for a quick snack.
Mercado de Triana
For a perhaps a less touristy evening destination, head for the Triana district of Seville. This area is down-to-earth and home to the Mercado de Triana, a busy and buzzy market hall with food stalls and small eateries serving traditional and local tapas.
The nearby riverside street of Calle Betis on the Guadalquivir river has excellent restaurants and lively bars with live (and often impromptu) flamenco to get your feet tapping!
Top Five Seville
Travel Tips
There are an astonishing 25,000 orange trees lining the city streets. In winter they are laden with fruit and in spring, the gorgeous scent of orange blossom fills the air. The trees belong to the city, but are not harvested in any way. You are welcome to pick and eat the oranges, but you may get an unpleasant surprise – Seville's oranges are used for marmalade and are incredibly bitter and really quite unpleasant to eat!
If you're visiting over a weekend, ask your hotel for a non-street facing room. Street noise in Seville at the weekends can be loud as locals fill the streets and squares into the early hours. Unless you want to join them, of course.
There is a high level of petty crime in Seville and pickpockets are rife at all the main attractions and tourist areas. Look after your stuff and leave valuables in your hotel.
For an incredible up-close view of Seville Cathedral, head to the rooftop bar at EME Catedral Terraza, where you can sip a cocktail and admire the Gothic architecture on display.
You can see flamenco for free at La Carboneria but it's lacking in ambiance and intimacy, vital ingredients for great flamenco (and you'll have to buy expensive drinks, so it's not really free at all). If you want to do it properly, then buy a ticket.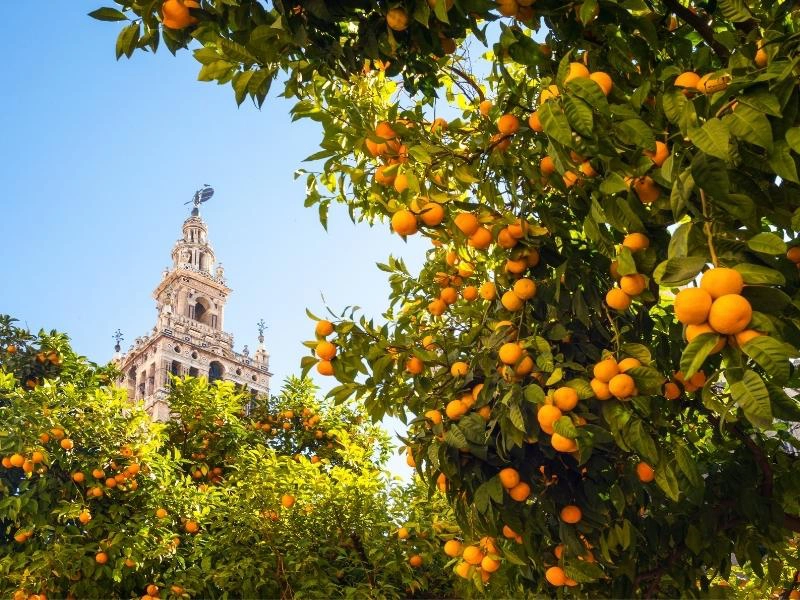 More Than One Day in Seville?
Perhaps you have two or even three days in Seville? If you do, add these Seville attractions to your itinerary…
Casa de Pilatos
Visit the gorgeous Casa de Pilatos, a hidden gem in the centre of Seville. The small 16th century palace and its beautiful gardens are as good as anything you'll see in the Alcazar.
Torre de Oro
The 13th century watchtower of Torre de Oro dominates the riverbank. Known as the 'Tower of Gold', it was built by the Almohad rulers of Seville between 1220 and 1221 and has recently been restored. Today its home to Seville's small Maritime Museum, which explores the importance of the Guadalquivir River and Atlantic to the Andalusian capital's history.
Real Maestranza
Seville's Real Maestranza bullring is one of the most important bull fighting rings in Spain. The Maestranza's excellent museum explores the history of bullfighting, and daily tours of the arena are available.
Road Trip from Seville
This corner of Andalucia is full of stunning scenery and architectual delights. Some places to check out on a road trip from Seville include Ronda, home to the incredible Puento Nuevo, Antequera, where you can find ancient burial mounds and the romantic Lovers Rock and Granada, the most beautiful of them all and home to the wonderful Alhambra.
Córdoba and Mosque-Cathedral Full Day Tour
If you take one day trip from Seville, head to Cordoba on this highly rated and well organized day trip from Seville.
Explore the architectural treasures of Córdoba, former capital of the Islamic Emirate. Get priority entrance to the Mosque-Cathedral of Córdoba, and visit the Jewish Quarter and Alcázar de los Reyes Cristianos.
With a professional guide to offer insights, an organized tour is the perfect opportunity to see more of Spain in less time!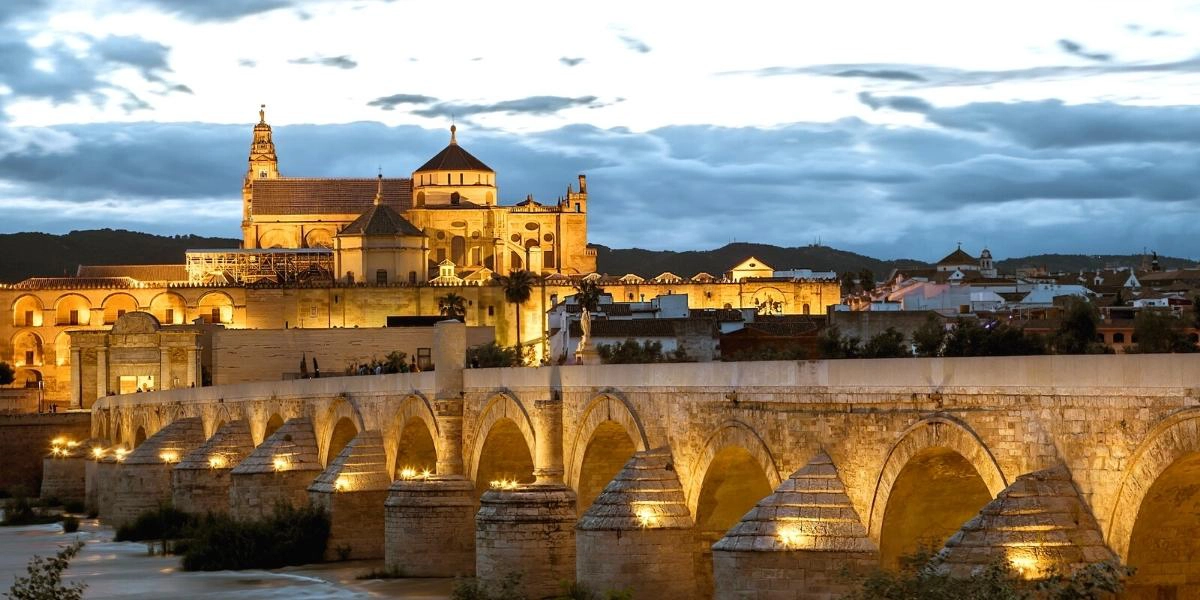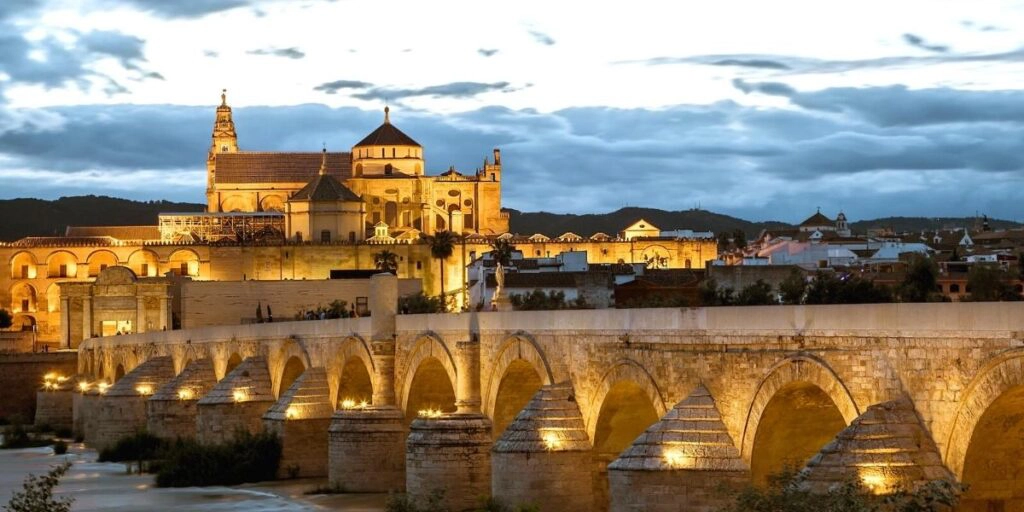 Are you looking for more Spain travel ideas? Check out these top posts…
If you're looking for one of the best day hikes in the Spanish Pyrenees, then this is it! Hiking the spectacular Circo de Soaso and the Ordesa Valley via the famous Faja de Pelay offers steep switchbacks, undulating paths and valley floor woodland, all the while following the crystal clear waters of the tumbling Rio Arazes. The scenery is dramatic, the waterfalls breathtaking – you will not be disappointed!
Love it? Pin it!