This post may contain affiliate links, from which we earn an income.
Northern Spain offers an exquisite coastline, breathtaking natural and architectural sights, numerous world-class museums, and exceptional Spanish food.
This Northern Spain road trip itinerary takes you through some of Spain's most stunning natural scenery, atmospheric coastal towns, and beautiful national parks. You'll also find plenty of opportunities for outdoor activities, cultural experiences at UNESCO World Heritage Sites, and culinary delights.
We traveled from Pamplona to Santiago de Compostela on a motorbike, and in this North Spain road trip guide we share travel tips, the best routes between towns and cities, things to do and see along the way, and hotel recommendations to help you plan your perfect road trip through the north of Spain.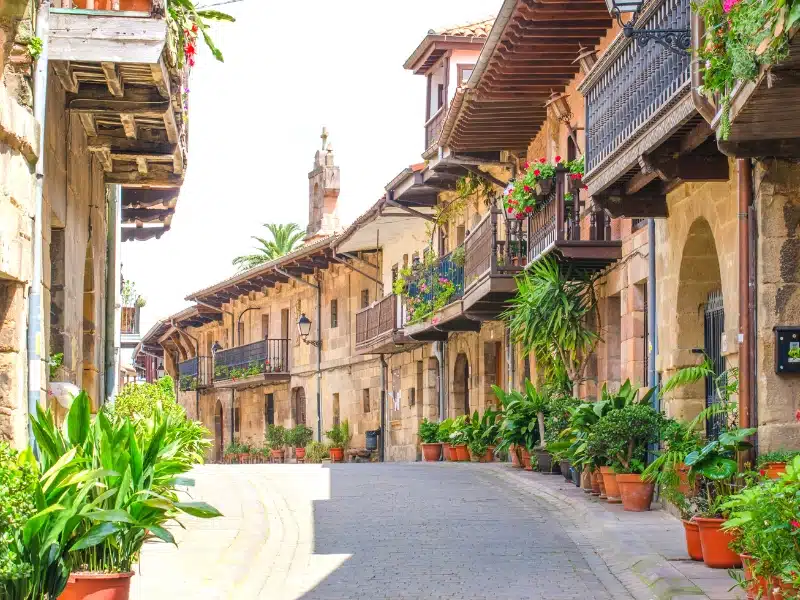 Getting to Spain
Whether you're taking a north of Spain road trip in a car, motorcycle, campervan or motorhome, self-driving is absolutely the best way to explore this spectacular part of the Iberian Peninsula.
You can stop whenever you want, try new activities, visit places you see along the route, and have the freedom to change plans at the last minute.
RELATED POST: Driving from UK to Spain – Routes & Tips
Fly into Pamplona Airport to start your roadtrip in northern Spain. If you're coming from further afield, head to Madrid Barajas International Airport, or Barcelona-El Prat Airport and drive through Spain to Pamplona. It's easy to add stops along the way and extend your road trip to include both these cities. We recommend booking through Skyscanner for live deals and the best prices.
At the end of this linear road trip, you could head south through Vigo into Portugal and fly out of Porto Airport, or take the fast route back to Madrid in 6 hours, or go via León and Burgos to Pamplona, which takes around 7 hours.
Are you planning to rent a car in Spain? As one of the largest car hire aggregator companies in the world, we recommend Rentalcars.com because they have massive purchasing power which enables them to secure the best car rental prices, which benefits you when you're planning a roadtrip in Spain.
For a real adventure, hire a motorhome or campervan in Spain. We recommend Motorhome Republic, an aggregate booking site who pull together all the best deals from a number of rental agencies, to offer you a wide choice of options alongside an excellent English speaking expert motorhome Concierge Team.
Use the Park4Night app to find campsites and places to stay along the route, and park for the night on a mountain pass, flower filled meadow of with a glorious view of the sea.
Best Time for a Northern Spain Road Trip
March to May
Spring is a fantastic time to visit Spain, with temperatures warming up across the country, blooming wildflowers and lush greenery in the mountains, although you can expect a few rainy days – that's why it's called Green Spain! You'll find the roads and cities less crowded, and most attractions will be open.
June to August
In summer, Northern Spain enjoys beautiful weather and the prospect of outdoor adventures and activities. It's not as hot as in southern Andalucia, but still warm enough to swim in the sea and eat al fresco.
September to November
Autumn is a fantastic time for a Spanish trip. The grapes and crops are being harvested, food festivals celebrate the bounty of the land, and you might enjoy an Indian summer, with the fall colors of the vines aflame.
December to February
The winter months in northern Spain can be very cold. Most people travel here during this time for winter sports, with the northern region experiencing the most snow and rain in Spain. It's not the best time for a road trip, as the roads can be challenging to drive.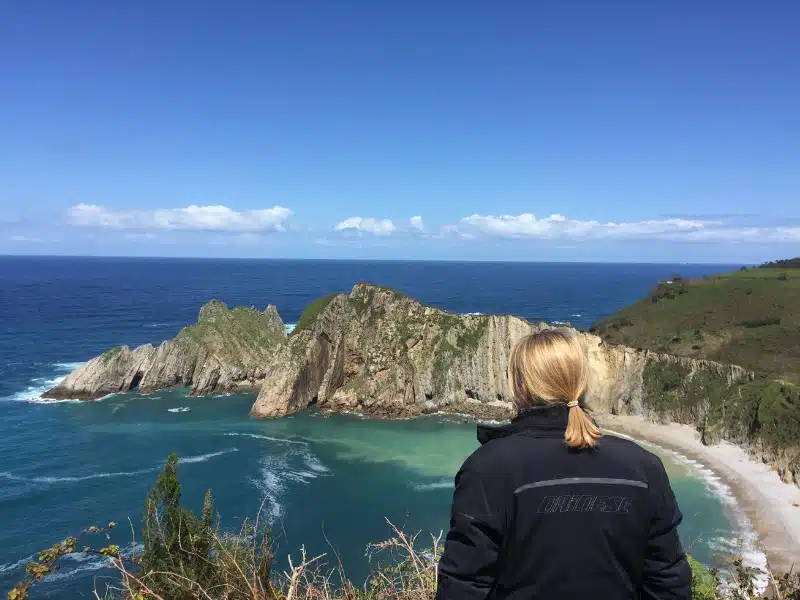 Is this your first time visiting Spain? Get all the information you need in our Spain Travel Guide, including what to pack, the best time of year to go, getting there, and practical tips to help you have the best trip!
North Spain Road Trip Map & Route
The starting point for our eight day Northern Spain ultimate road trip itinerary is Pamplona in Navarre province. The route heads west along the Cantabrian Coast, hitting all the top spots, highlights, and must-sees along the way.
You'll pass through the autonomous communities of the Basque Country, Cantabria, Asturias, and Galicia, each with their own unique history, culture and tradition.
We've added a couple of side trips which need a bit of extra driving, but really enhance this itinerary if you have a few extra days.
Pamplona – San Sebastián – Bilbao – Santander – Llanes – Oviedo – Lugo – A Coruña – Santiago de Compostela
How to use this map – Use your fingers (or computer mouse) to zoom in and out. Click or touch the icons to get more info about a place, and click the arrow in the box top left to open the index. To add to your own Google Maps account, click the star next to the title of the map.
Northern Spain Road Trip Itinerary
Day 1: Pamplona to San Sebastian
The first day of your Basque country road trip starts in Pamplona and ends in the seaside town of San Sebastián.
Pamplona
Start your northern Spain road trip in Pamplona, a charming city known for its rich history, stunning architecture, and lively atmosphere.
Walk along Pamplona's 16th century walls to see breathtaking city views and the adjacent countryside. From there, make your way to the Plaza del Castillo. The square is in the middle of the city, surrounded by historic buildings, cafés, and shops, perfect for buying all those Spanish souvenirs!
A short walk from the square, you can find other landmarks;
Monumento al Encierro: a bronze sculpture depicting participants in Pamplona's iconic annual bull run which takes places during the San Fermín Festival.
Pamplona Cathedral: A magnificent Gothic building with stained glass windows, ornate altars, and a museum that houses some of the cathedral's most precious treasures.
Plaza de Toros de Pamplona: Pamplona's bullring (established 1922) which is currently used for bullfighting and other sporting events.
A great way to see the city is by taking a Pamplona city walking tour. You'll walk the route of the festival of San Fermín, discover Hemingway's favorite places as he wrote The Sun Also Rises, and learn about the historic significance of the city.
Enjoy the local cuisine at Verduarte or Restaurante Kabo for a Michelin-starred lunch.
If you want your Spanish road trip to coincide with Pamplona's annual Running of the Bulls Festival, which takes place on 7th-14th July , you will need to book accommodation at least a year in advance.
San Sebastián
Approximately 51 miles north of Pamplona is the beautiful seaside city of San Sebastián, which boasts stunning beaches, a rich cultural heritage, and exceptional cuisine fresh from the sea. On your way there, stop at Azpirotzeko Behatokia, an observation deck with beautiful views of the mountainous surroundings.
Spend a couple of hours on La Concha Beach. This stunning crescent-shaped beach is close to Santa Clara Island and famous for its clear waters and picturesque architecture. For exquisite views of San Sebastián's old town and the bay, walk up Mount Urgull or take the funicular to the top.
History enthusiasts will appreciate the San Telmo Museum in a beautiful 16th century convent. It features many exhibits, including art, artifacts, and interactive displays.
If you prefer something more hands-on, participate in this highly-rated gastronomy tour and cooking class to learn about the local ingredients and traditional Basque cooking techniques.
Enjoy a twist on traditional Spanish pintxos (tapas on bread with a toothpick piercing the middle to hold it all together) at Mendaur Berria or go to Trikuharri Taberna Jatetxea – don't be fooled by the exterior, the food is amazing!
Upmarket: Akelarre Relais & Châteaux – Booking.com | Agoda
Mid-Range: Boulevart Donostia – Booking.com | Agoda
Budget: Pensión Amara – Booking.com | Agoda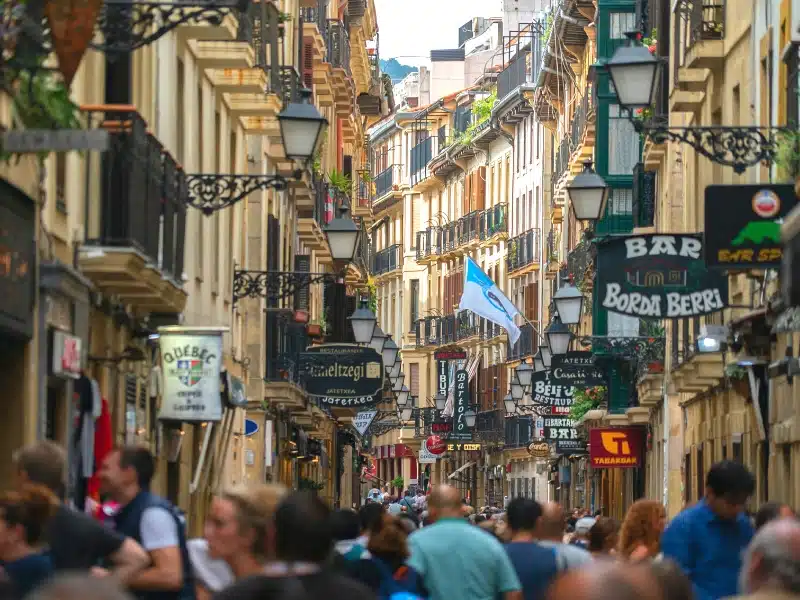 San Juan de Gaztelugatxe Side Trip
Between San Sebastián and Bilbao is the dramatic island of San Juan de Gaztelugatxe, jutting out into the Bay of Biscay. It may remind you of somewhere you've seen before, and you'd be right if you're a Game of Thrones fan – San Juan de Gaztelugatxe doubled as the island fortress of Dragonstone, which featured in season 7 of the blockbuster show.
The island is connected to the mainland by a man-made stone bridge that contains 241 steps and snakes its way to the highest point of the promontory. Once at the top of the island, you will find the chapel with a bell on its facade which you should ring three times and make a wish, although we're not sure it works as our wishes didn't come true!
With a back story which includes being used as a defence against the King of Castile, Alfonso XI, and being attacked by Sir Francis Drake and his pirates, this raw and wild spot deserves its place in history.
To get here will add another hour and 20 minutes onto the drive time for the day, or you can take a Game of Thrones day trip from Bilbao and see this and the other nearby GOT filming sites; Muriola Beach in Barrika which played the part of King's Landing beach, and Itzurun beach in Zumaia, which became Dragonstone beach.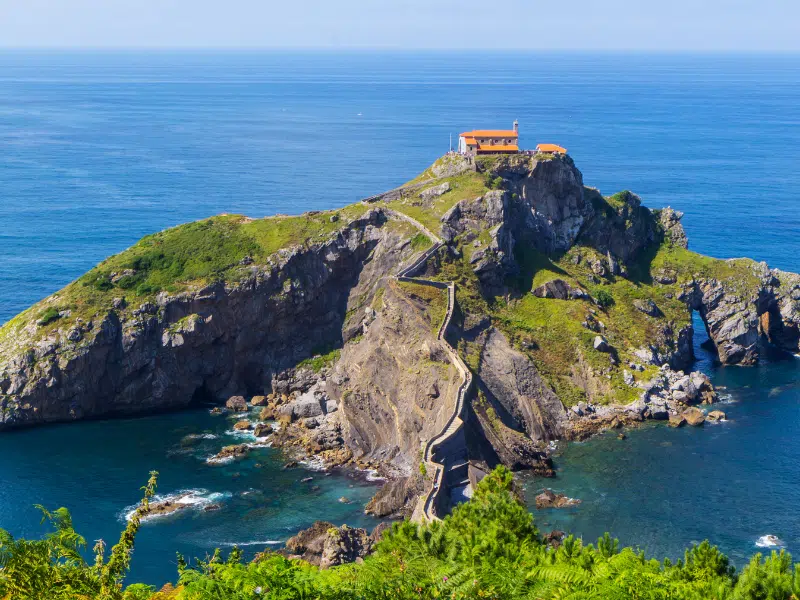 Day 2: San Sebastián to Bilbao
The second day of your eight day itinerary is filled by only one place: the vibrant and exciting coastal city of Bilbao.
Bilbao
About 63 miles west of San Sebastián is Bilbao. You need a full day in this modern, vibrant city known for its outstanding cuisine, marvelous architecture, and world-class museums.
When in Bilbao, explore the iconic Guggenheim Museum with this skip-the-line guided tour. Designed by Frank Gehry, this museum is located by the waterfront in the Abandoibarra district. The city's most iconic landmark boasts an impressively modern and contemporary art collection.
The museum's exterior is something to behold, with its curves and titanium cladding reflecting the light, emulating fish scales, and huge sculptures dotted around, like Puppy by Jeff Koons.
Explore the rest of Bilbao's old town, Casco Viejo. It offers charming squares, shops, and historic buildings. Visit the Gothic Cathedral of Santiago in the city center, replete with stunning stained glass windows and ornate altars.
Take Artxanda's Cable Car, which is actually a funicular railway, up Mount Artxanda, one of Bilbao's most emblematic spots which offers stunning city views and the surrounding countryside.
End the day with a delicious meal at Il Basilico, or if you're die hard carnivore visit Sugarra in the Uribarri neighborhood for their Kamado grilled T-bone steak.
Upmarket: Akelarre Relais & Châteaux – Booking.com | Agoda
Mid-Range: Radisson Collection Bilbao – Booking.com | Agoda
Budget: Casual Arriaga Guest House – Booking.com | Agoda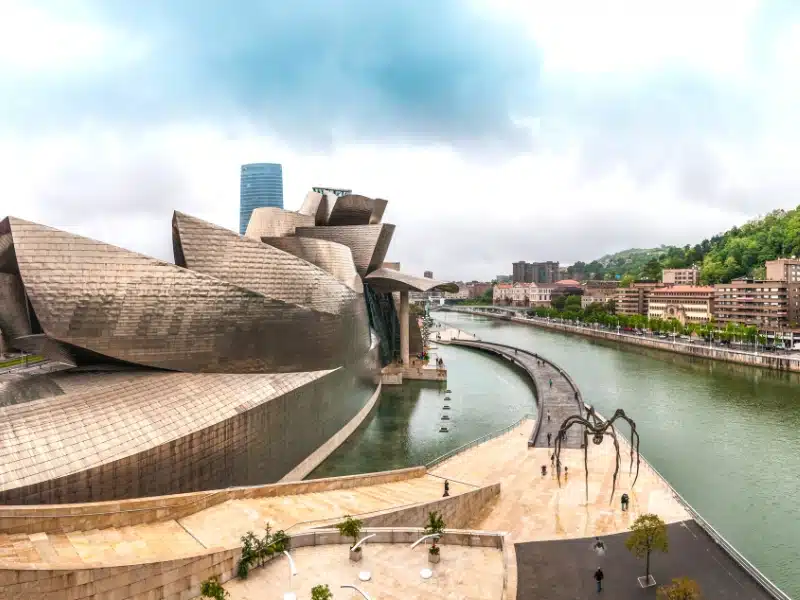 Day 3: Bilbao to Santander
The third day of this northern Spain trip lets you explore Laredo and Santander, as you move into Cantabria.
Laredo
If you made an early start this morning, make a stop at Castro Urdiales, a charming seaside town. Perched on a hill jutting into the sea are the city's main landmarks, the Gothic Church of Santa María, the medieval castle of Santa Ana, and the Hermitage of Santa Ana, all of which are worth a visit.
From here, drive 25 minutes west to the charming coastal town of Laredo, nestled between the Treto estuary and Santoña bay in the province of Cantabria.
Visit the beautiful La Salvé Beach, at 5km it is one of the longest beaches in the region. Here you can enjoy golden sand, clear waters, and activities like surfing and windsurfing, and then take a walk on the Paseo de la Costa promenade for scenic views of the Bay of Biscay.
Explore the narrow streets of Laredo's old town to see historic buildings and landmarks, including the magnificent Gothic church of Santa María de la Asunción. If you travel through Laredo during August you can enjoy the colorful Battle of the Flowers Festival, and in September the Fiestas de la Virgen del Puerto includes parades and live music concerts.
Laredo is known for its traditional seafood dishes, like marmita de bonito (tuna stew) and chipirones en su tinta (squid in ink). Try these for lunch at Restaurante La Viña de Laredo or El Pescador.
Santander
A short drive, 29 miles from Lardeo, is the capital of the Cantabria region, Santander. En route there, stop at Parque Mitológico de Mina Pepita (Mina Pepita Mythological Park). The park offers stunning geological formations and sculpture installations representing Cantabria's most iconic mythological characters.
Once in Santander, visit the Palacio de la Magdalena. This early 20th century palace, built initially for the Spanish royal family, sits atop a hill offering scenic city views.
Other notable architectural landmarks to explore are Santander Cathedral in the city center and the majestic Palacio Real de La Magdalena.
Nature lovers will enjoy walking through the lovely Jardines de Pereda, home to various plant and flower species. Or you can go to Playa del Sardinero, where you can swim, sunbathe, and enjoy the beautiful scenery.
Cantabrian anchovies are famous the world over, and just along the coast from Santander is Santoña, a fishing port that produces canned anchovies in olive oil – those cute colorful little tins you see all over Spain and Portugal.
Spend a delightful morning taking a boat trip to the fishing village of Santoña, learning about the history of fishing here and visiting an anchovy factory, where you get to try this deliciously salty fish.
Explore the traditional market, Mercado del Este, for fresh produce, seafood, and other local specialties, or treat yourself to dinner at La Gruta De Jose with its captivating, cave-like interior, or El Serbal for excellent sea views and a Michelin-star menu.
Upmarket: Hotel Real – Booking.com | Agoda
Mid-Range: Soho Boutique Palacio de Pombo – Booking.com | Agoda
Budget: Plaza Pombo B&B Hostel – Booking.com | Agoda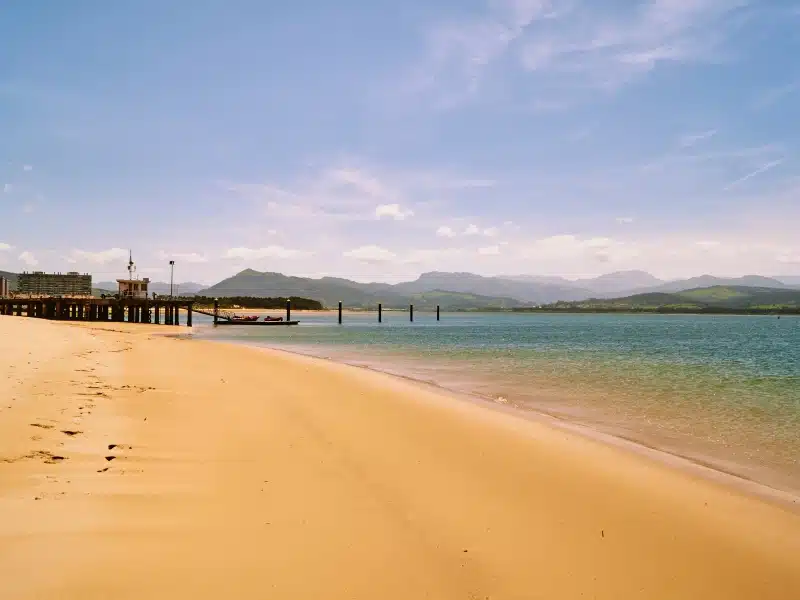 Make sure you have travel insurance you can trust when visiting Spain. We recommend True Traveller for their 5-star TrustPilot reviews, variety of cover options, best activities cover as standard, great prices, and excellent service.
Day 4: Santander to Llanes
The fourth day of the itinerary offers the historic Santillana del Mar and Llanes in Asturias.
Santillana del Mar
Santillana del Mar is a picturesque medieval town less than half an hour's drive from Santander. It is known for its well-preserved historic buildings, charming cobblestone streets, and beautiful surroundings.
Santillana del Mar is often called the town of the three lies or el pueblo de las tres mentiras; it's not holy (santi), flat (llana) nor by the sea (del mar).
The most significant landmark in Santillana del Mar is the Altamira Caves on the city's outskirts. These prehistoric caves are UNESCO World Heritage Sites containing the first human cave paintings.
Due to their delicate nature, access is limited. Still, a cave replica is available to visit at the Altamira Museum. The museum also holds other exhibitions dedicated to the history and culture of the Cantabrian region.
Visit the impressive Romanesque church, Collegiate Church of Santa Juliana, closer to the town center. The church features a stunning abbey and beautiful stained glass windows.
If you are fascinated by the medieval era, plan your trip to Santillana del Mar for July. During this time, the town comes alive with knights, musicians, and medieval performers during the annual Medieval Festival.
End your day with a delicious meal at Restaurante Gran Duque or El Bisonte Rojo.
Llanes
About 31 miles from Santillana del Mar, stop at Bufones de Santiuste. The bufones (blowholes) are a natural phenomenon created by limestone erosion caused by rain and the sea. This erosion forms cracks in the stone, almost like a chimney, through which water shoots up in the air. These jets of water can reach up to 30 meters high!
Upon arrival in Llanes, visit the Basilica de Santa Maria del Concejo or the Llanes Museum – both in the city center. Afterward, walk along the scenic Paseo de San Pedro, which offers stunning coastline views and the town's historic buildings.
Watch the sunset while relaxing on Playa de Toró beach, one of the most popular beaches in Llanes. Enjoy some cuisine, including arroz con bogavante (lobster rice) and fabada asturiana, a hearty bean stew made with chorizo, morcilla, and pork belly, at Mirador de Toro or Restaurante La Marina.
Upmarket: Silken Spa La Hacienda De Don Juan – Booking.com | Agoda
Mid-Range: Don Paco – Booking.com | Agoda
Budget: Hotel Sablón – Booking.com | Agoda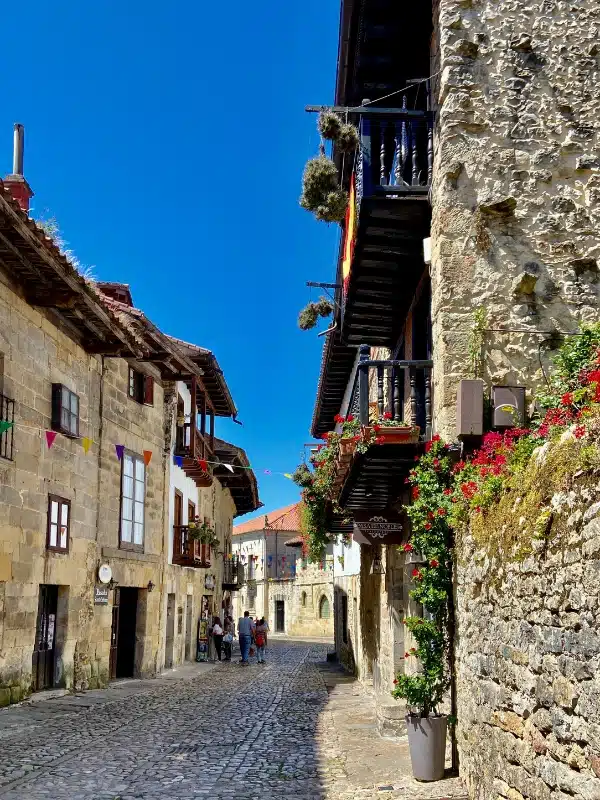 Picos de Europa Side Trip
This is the perfect point in your north Spain road trip to explore the small but perfectly formed Picos de Europa, so called because they were the first landmark to be seen by sailors of old on approaching the continent.
The Picos are a miniature masterpiece wedged between three great river gorges. 40km across with the highest peak of Torre de Cerredo at 2650m, the Picos de Europa National Park is home to fabulous hiking amongst the tortuous landscape, shaped by millennia of ice and water, unique wildlife like the bearded vulture, and breathtaking views everywhere you look.
The drive up to Covadonga is one of the most scenic drives in northern Spain, but if driving into the mountains isn't for you, pick up a Picos Mountains day trip from Cangas de Onís, and relax whilst someone else drives and you admire the scenery!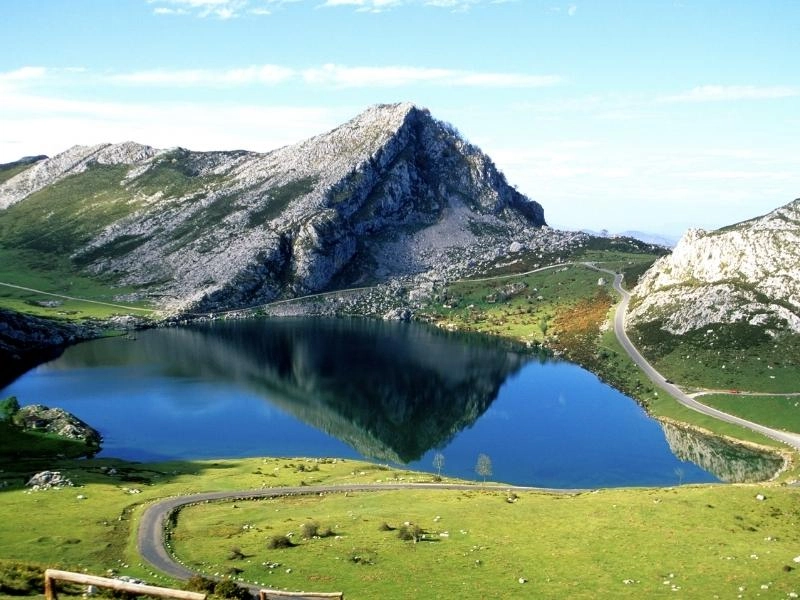 Day 5: Llanes to Oviedo
The fifth day of your Asturias road trip takes you through Colunga and ends the day in Oviedo.
Colunga
About 27 miles west of Llanes is the small town of Colunga, known for its beautiful beaches, charming old town, and striking natural surroundings.
Before arriving in Colunga, make a stop at Ribadesella for the Tito Bustillo Cave, discovered in 1968, which contains 25,000-year-old Paleolithic rock art, perfectly preserved after the cave's original entrance collapsed thousands of years ago, and only discovered in 1968.
Once in Colunga, start by visiting the Jurassic Museum of Asturias to explore the history of dinosaurs through life-size models, fossils, and interactive displays.
Follow it up with a visit to the 17th century Chapel of San Roque and the 13th century Church of Santa Maria, which offers magnificent Gothic architecture. Both churches can be found near the city center.
Venture slightly out of the center to relax on Playa de la Griega beach or take on one of Colunga's several hiking trails.
The Ruta de las Xanas trail, named after the mythical creatures said to inhabit the area, offers stunning views of the surrounding countryside as you hike a gorge cut into the rock where stalactites from old caves are exposed.
If you venture further out, you can explore Sierra del Sueve, an incredible Cantabrian mountain range, on foot or by bicycle to experience breathtaking views.
Oviedo
En route to Oviedo, stop at Restaurante Feleches (just off the A64) for a hearty local lunch.
Oviedo is the capital of the Asturias province and has much to offer visitors. An excellent introduction to the city is a walk along the Oviedo City Walls, dating back to the 9th century, to see incredible views of the town and its surrounding countryside.
Visit the Gothic Cathedral of San Salvador, which features stunning stained glass windows and an impressive altarpiece. Keep to the tune of the arts and explore the Museum of Fine Arts of Asturias, which boasts art from local and international artists, including Pablo Picasso and Salvador Dali.
Explore the beautiful San Francisco Park and see if you can find the statue of Mafalda, created by Argentine graphic humorist Joaquín Salvador Lavado Tejón.
Walk through Oviedo's historic center towards the Plaza del Fontán. Here you will find a lively square with a traditional market where you can sample great local cheeses, cured meats, and other local delicacies.
Alongside all that fantastic produce, Oviedo is also the home of Spanish cider. You'll find traditional sidrerias along Calle Gascona, known as cider boulevard. Visit in September for Fiestas de San Mateo, a live theatre and music spectacular, and if you go in October, you'll be in the middle of the Asturias apple harvest.
Outdoor enthusiasts will love the opportunity to canoe the nearby Nalón river, surrounded by the natural beauty of Asturias. With a little white water to get your adrenalin pumping, and calmer stretches to relax and enjoy, this is the perfect antidote to hours behind the wheel!
If you still have space for dinner, treat yourself to the Michelin-star Cocina Cabal. For a cheaper alternative, yet loved by the locals, try Meson El Viso.
Upmarket: Gran Hotel Las Caldas – Booking.com | Agoda
Mid-Range: Barceló Oviedo Cervantes – Booking.com | Agoda
Budget: Gran Hotel España – Booking.com | Agoda
Day 6: Oviedo to Lugo
The sixth day of the northern Spain itinerary offers Gijón and the historic town of Lugo.
Gijón
Travel 30 minutes to Gijón, a beautiful coastal town with stunning natural landscapes. You can experience the local flora at the Jardín Botánico Atlántico, the Atlantic Botanic Garden, or by hiking in the Monte Deva Natural Park, which offers stunning views of the city and the sea.
Stroll along the Playa de San Lorenzo (San Lorenzo Beach), a beautiful sandy beach with crystal-clear waters and stunning sea views, before continuing to Lugo.
Just after Ribadeo as you head west along the coast, stop at the breathtaking La Playa de las Catedrales, or in the local Galician dialect, Praia das Catedrais.
This natural monument is located on the Cantabrian Ridge, a flat surface located between the Cantabrian Sea and the mountainous foothills, which generates a type of linear coastline where the formation of beaches at the foot of cliffs and sandbanks is common.
The beach is also known as As Catedrais and is a must-see on any Northern Spain road trip itinerary. Try and time your visit with a low tide, so you can explore the narrow corridors between the cliffs, cracks, and caves and pass under its huge arches.
Lugo
The trip from Gijón to Lugo is the longest on this itinerary, covering 153 miles as you cross from Asturias into Galicia. Stop halfway at Restaurante San Miguel in Ribadeo for a great lunch and a view.
After the drive to Lugo, you will appreciate the opportunity to stretch your legs. Walk along Lugo's well-preserved Roman walls, which date back to the 3rd century and are a UNESCO World Heritage Site. From the top of the walls, you can enjoy beautiful city views.
Some other highlights of the old town include the Romanesque 12th century Cathedral of Santa María, the even older 10th century Igrexa de San Pedro, and the busy Plaza Mayor, which is lined with cafés, shops, and restaurants.
Museo Provincial de Lugo, or Provincial Museum, is dedicated to regional archaeology and art. The museum was established in 1932 but has been in its present location, the former San Francisco convents, since 1957.
Afterward, dine at Las Cinco Vigas or La Pizzeria di Toto for the best pizza in town.
If you are in Lugo during June, see if you can experience the annual Arde Lucus festival, which celebrates the town's Roman heritage.
Upmarket: Hotel Monumento Pazo de Orbán – Booking.com | Agoda
Mid-Range: Hotel Forum Ceao – Booking.com | Agoda
Budget: Hotel Mendez Nuñez – Booking.com | Agoda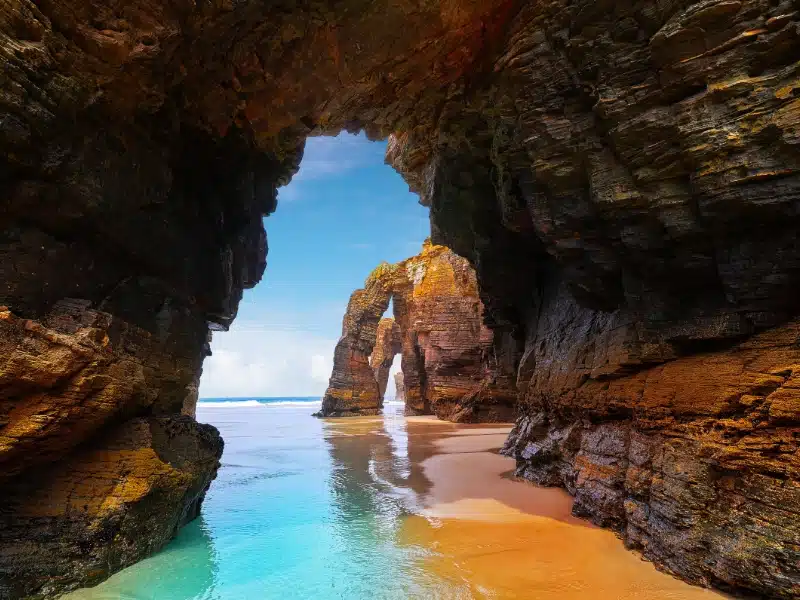 More Spain Travel Inspiration
Day 7: Lugo to A Coruña
The seventh day of your Galician road trip lets you visit Betanzos and the beautiful A Coruña.
Betanzos
Northwest of Lugo is the small town of Betanzos, located in the province of A Coruña.
Betanzos has a charming and historic town center with many narrow streets, old buildings, and historical landmarks such as the Church of Santa María del Azogue. Visit the Museo das Mariñas in an old convent to explore Galician art, crafts, and objects related to the town's history.
Take a relaxing walk along the river Mandeo to see the Ponte Viejo, or old bridge, or stroll through the Jardines del Pasatiempo, a park designed in the 19th century with an exciting layout of hidden paths, sculptures, and fountains. Go for lunch at A Artesa da Moza Crecha.
Betanzos hosts several festivals throughout the year, so see if you can catch the Medieval Festival in July and the Festa de San Roque (patron saint festival) in August.
A Coruña
A Coruña is a beautiful city just half an hour from Betanzos. Start your visit with a trip to the Tower of Hercules, a UNESCO World Heritage Site. It is the world's oldest working lighthouse (built in the 1st century) and offers stunning views of the city and the ocean.
For more scenic views, walk through the tranquil San Carlos Gardens or bike along A Coruña's seafront promenade, the Paseo Marítimo. While at the coast, catch an hour or two of the sun at a beach – both Playa del Orzán and Playa de Riazor are good options.
A Coruña's most famous product is Estrella Galicia, a delicious blonde beer beloved in Spain. Visit MEGA Estrella Galicia, a beer museum within Estrella Galicia's brewery in A Coruña to learn the history, origins, and traditions of this famous beer, and get to pull your own draught beer.
End the day at Pulpeira de Lola la Antigua de Melide (their octopus is a must-try menu item) or Terreo Cocina Casual for a Michelin-starred experience.
Upmarket: NH Collection A Coruña Finisterre – Booking.com | Agoda
Mid-Range: Attica21 Coruña – Booking.com | Agoda
Budget: Hostal La Provinciana – Booking.com | Agoda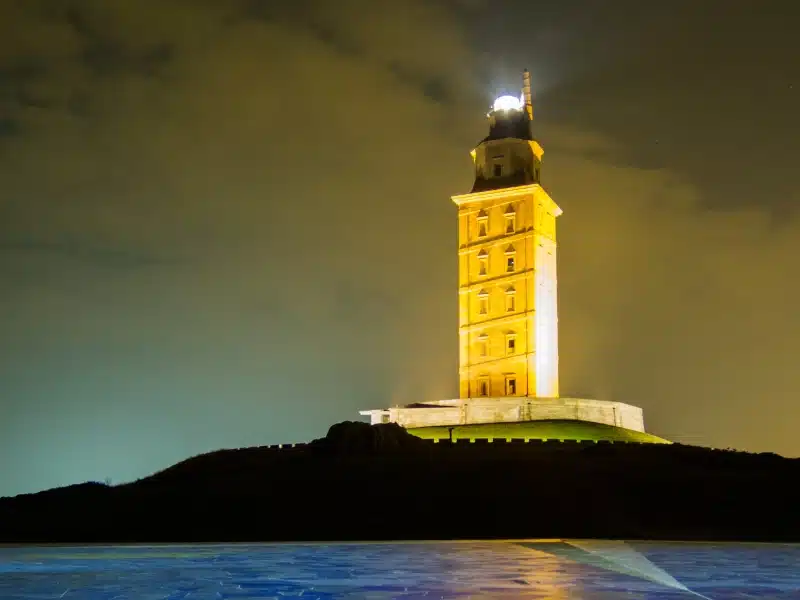 Day 8: A Coruña to Santiago de Compostela
The final day of the northern Spain trip is spent in Santiago de Compostela before you head on to your next destination or set homeward.
Approximately 45 miles south of A Coruña is Santiago de Compostela, a gorgeous city famous for being the end of the Camino de Santiago pilgrimage route. It is thus fitting that it is also the final destination on this northern Spain itinerary.
Even if you're not a pilgrim, you can still walk a section of the Camino de Santiago and become a pilgrim for the day. This highly rated semi-guided walk of the Camino de Santiago takes you lets you experience arriving in Santiago like a pilgrim, seeing your first view of the Cathedral from Monte do Gozo, the Mount of Joy, and walking the last 4 miles / 7km on the French Way, one of the most important pilgrimage routes in Christianity.
Once in the city, you should visit the beautiful Santiago de Compostela Cathedral, the city's most iconic landmark and an important pilgrimage site for Catholics. Anyone can admire the Romanesque and Gothic architecture, with its grand façade, stunning interior, and a crypt containing the tomb of St. James.
Galicia is famous for its delicious seafood, and mussels are a particular specialty. Grab our recommended boat trip and winery tour and explore the south Galician rivers and ancient villages famous for wine, with delicious fresh mussels and local Spanish wine to sample onboard.
Upmarket: A Quinta Da Auga Hotel Spa Relais & Chateaux – Booking.com | Agoda
Mid-Range: Parador de Santiago de Compostela – Booking.com | Agoda
Budget: Hotel A Tafona do Peregrino – Booking.com | Agoda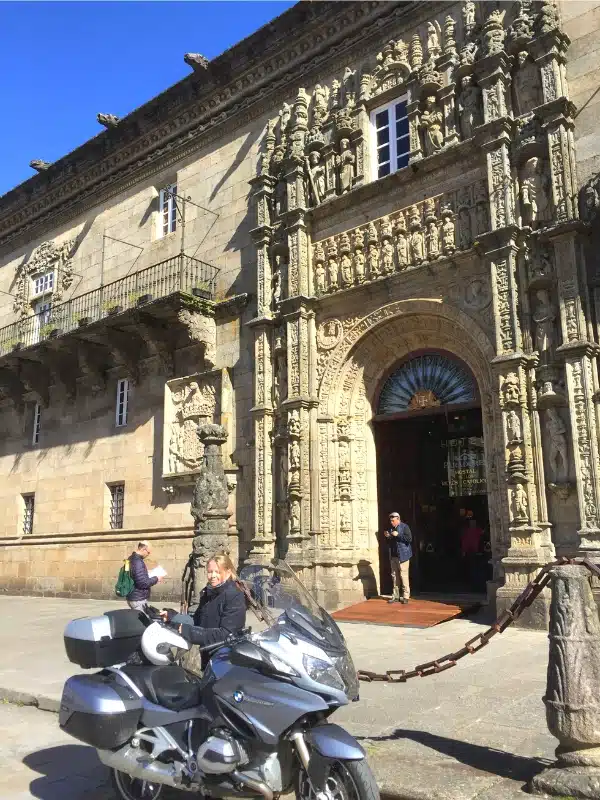 Spanish Road Trip Resources
Here are the websites and services we personally use and recommend for traveling in Spain.
Driving in Northern Spain
Touring northern Spain by car is easy, with a good network of Autovias (A) and Autopistas (AP). The latter were toll roads until 2020 when many (but not all) became toll-free.
Fuel and parking are some of the cheapest in Europe making Spain a really cost-effective place to take a road trip.
Whether you're driving your own vehicle or you're in a rental car for your road trip in northern Spain follow our driving in Spain tips;
You must have at least three months remaining on your passport (issued in the past ten years) at your intended date of departure from Spain.
You must have at least 3rd party insurance for your vehicle.
Citizens of non-EU third countries may require an IDP, you can check here.
You must carry two warning triangles for the front and rear. These warning triangles are now being phased out and from 1st July 2021, a new law requires that a V16 flashing emergency light is used, although both means of advising other traffic will be legal until the end of 2024.
You must also carry a reflective jacket (for the driver and all passengers) and a spare wheel and the tools to change a wheel or a tire repair kit.
If you wear glasses you must also carry a spare pair in the vehicle.
The use of winter tires in Spain is regional. Look out for traffic signs indicating that winter tires or snow chains are compulsory where you are.
Anything with a screen (television, video, DVD, etc.) which could distract you when driving should be positioned where you can't see it. This doesn't apply to a sat nav but you must not touch or program your sat nav unless parked in a safe place.
Using radar detection equipment is prohibited under Spanish law and new regulations from January 2021 mean that it will also be illegal to be in possession of such equipment.
On roads with single carriageways, the speed limit established may not be exceeded by more 20km/h when overtaking
RELATED POST: Driving in Europe – Everything You Need to Know
Are you looking for more incredible road trips? Check out these top posts…
Amongst the beautiful landscapes of Spain, in the mountainous interior and along the gorgeous coasts, you'll find fascinating history, vibrant culture, and incredible cuisine. One of the best ways to experience Spain is by taking a road trip. We base ourselves in Spain when not traveling and have explored much of the country on four wheels and two! Whether you want historic cities, gorgeous landscapes, beaches and sun, or something a bit different, our detailed…
Love it? Pin it!