This post may contain affiliate links, from which we earn an income.
Norway Road Trips Planner
Norway is a wonderful country for a road trip. Starkly beautiful, with glistening deep blue fjords, rugged mountains, and waterfalls at every turn, this is a country to meander through as you gasp at each new landscape.
With dramatic landscapes, fantastic outdoor activities, Viking history, and pretty water-side towns, Norway has something for everyone.
We've spent months road tripping Norway and our top Norway road trip routes, itineraries and tips will help you hit the highlights as you go, making sure to visit all the iconic sights on these three diverse trips, taking in the best that Norway has to offer.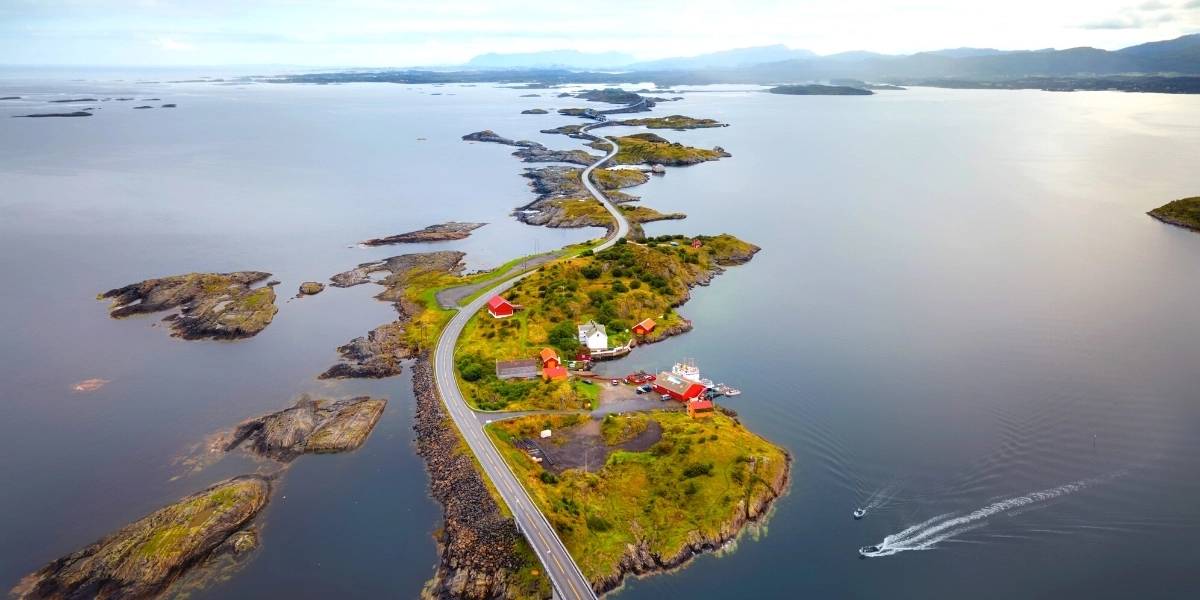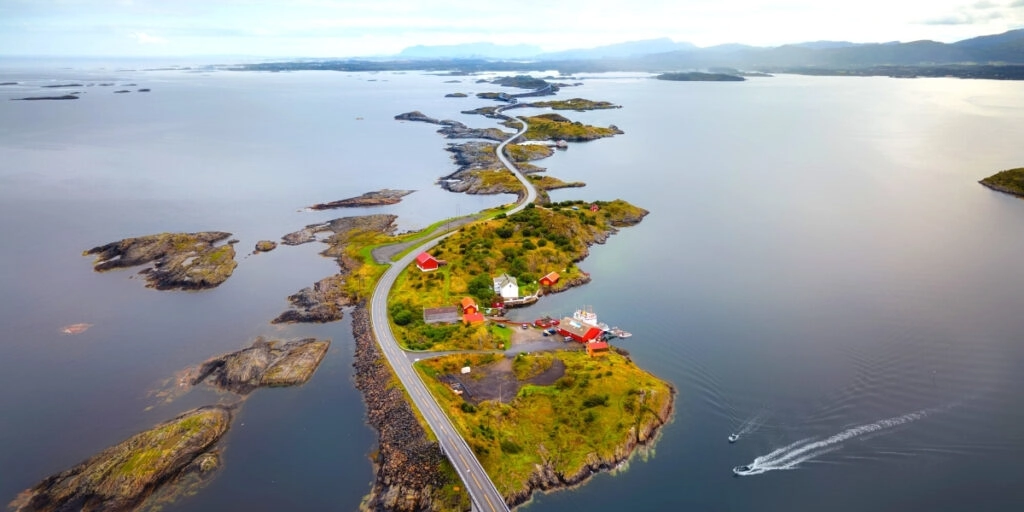 Getting There
Flying
Fly into Oslo, Bergen, Tromsø, Kristiansand or Stavanger airports to start your Norwegian road trip. All of these locations are great start points for the road trip itineraries we have curated. We recommend booking through Skyscanner for live deals and the best prices.
Driving
Why not take your own car, motorbike, or camper to Norway from Europe by ferry? Use Direct Ferries to compare and book the best crossings to Norway from Germany, Denmark, and the Netherlands.
RELATED POST: Driving to Norway from UK – Routes & Tips
Are you planning to rent a car in Norway? As one of the largest car hire aggregator companies in the world, we recommend Rentalcars.com because they have massive purchasing power which enables them to secure the best rental car prices, which benefits you when you're planning your Wild Atlantic Way drive.
For a real adventure, hire a motorhome or campervan in Norway. We recommend Motorhome Republic, an aggregate booking site who pull together all the best deals from a number of rental agencies, to offer you a wide choice of options alongside an excellent English speaking expert motorhome Concierge Team.
Use the Park4Night app to find overnight spots and campsites, and wild camp on the edge of a fjord or with incredible sea views. Find out all you need to know in our guide to campervanning in Norway.
Best Time for Road Trips in Norway
October – April
Can you take a road trip in Norway during winter? Absolutely you can but it will be cold even in southern Norway, and there's likely to be snow …possibly quite a lot of snow (although the Scandinavians are really good at managing it, so most Norwegian roads do stay open).
November, December, and January are dark months in northern Norway and the days are very short but if you're traveling to Norway for winter sports, or to see the Northern Lights, then this is the perfect time – just make sure you and your vehicle are well prepared.
May – September
The weather starts to warm up, with July and August being the warmest months. A summer road trip is the best time for hiking, fjord swimming, and paddling, and you'll be comfortable during the day in shorts and a t-shirt.
It can still be chilly in the evenings for Arctic circle road trippers, where the weather is also more unpredictable. Between (roughly) 14th May and 29th July, you'll experience the midnight sun phenomenon in the far north of Norway.
Is this your first time visiting Norway? Get all the information you need in our Norway Travel Guide, including what to pack, the best time of year to go, getting there, and practical tips to help you have the best trip!
Drive the West Coast from Bottom to Top
Bergen – Loen – Geiranger – Trollstigen – Kristiansund – Trondheim – Jektvik – Bodo – Tromso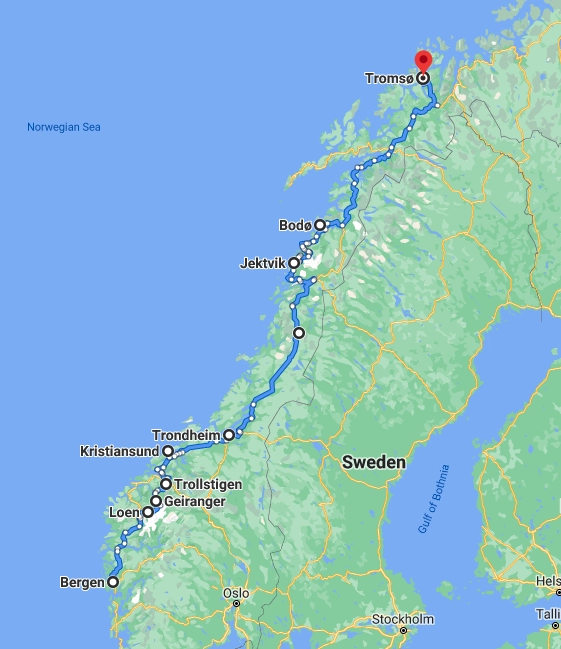 This Norway itinerary is for those that love the journey more than the destination – it's all about the road.
Taking in iconic sights as you drive, this Norway west coast road trip will take you through some of the longest road tunnels in the world, over fjords, along the Atlantic Ocean Road, and up the snaking Trollstigen Mountain Road.
Start in Bergen, Norway's second-largest city which is surrounded by seven fjords and seven hills. There is a lot to do and see here, including visiting the lively Vagen harbor in Bergen's old quarter, Bryggen, which is one of Norway's eight UNESCO World Heritage Sites.
From Bergen, take the E39 motorway north to Loen where you'll find the amazing Loen Skylift which takes you to the top of Mount Hoven for spectacular views of the blue-white Jostedal glacier.
If you prefer to get to the top under your own steam, take the via Ferrata up and the zip-line down.
If sea-level activity is more your thing then head for the very Instagrammable, but glacial, Lake Lovatnet for swimming and kayaking in the summer months.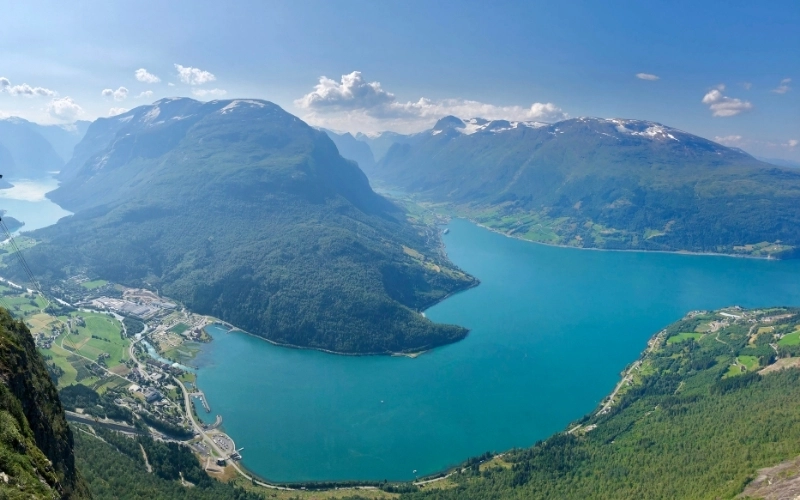 Make sure you have travel insurance you can trust when visiting Norway. We recommend True Traveller for their 5-star TrustPilot reviews, variety of cover options, best activities cover as standard, great prices, and excellent service.
At Hellesylt, take the ferry through the stunning Geirangerfjord to the town of Geiranger itself. Expect the town and ferry to be busy, this area is one of the top road trip destinations in Norway.
As you leave Geiranger for Eidsdal and wind your way up the steepest section of route 63, along its eleven switchbacks hanging 600m above the fjord below, you'll understand why it's called "the Eagle Road".
At the highest bend is the most breathtaking view over the UNESCO-listed Geirangerfjord, and the location of the (must watch before you go) movie, The Wave.
From here, pick up the RV63, the Trollstigen Mountain Road. Incredibly beautiful, this road was opened in 1936 and includes eleven hairpin bends and a 9% incline. Without a doubt, it's one of the best roads in Norway.
Stop at the Ornesvingen viewing point for incredible vistas, and again at the top to admire the Stigfossen waterfall.
Once you reach Andalsnes, head west and then north on the E39 to Vevang, and the start of the Atlantic Ocean Road or Atlanterhavsvegen, which runs across eight bridges and follows the islands between them like a silver ribbon.
If you want to visit picture-perfect Alesund on the way, take a slight detour and head south on the E39 instead of north – if you have a few extra days, you won't regret it!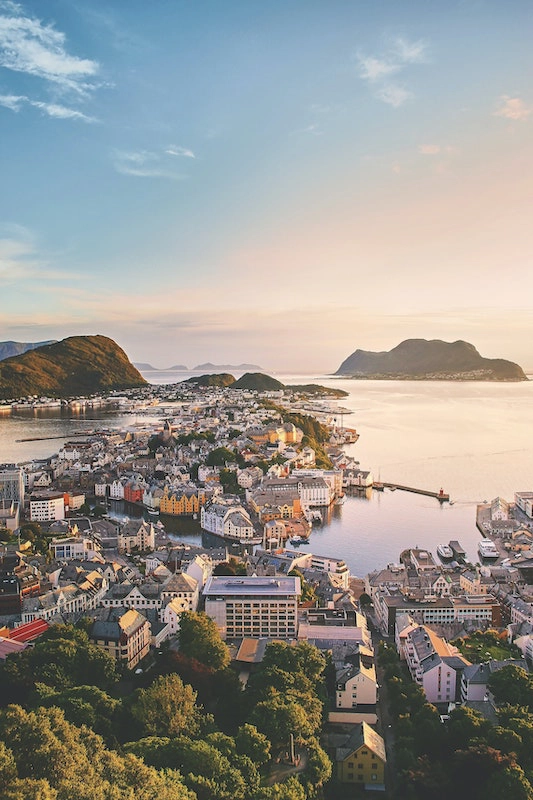 Next up is Trondheim, Norway's original capital city. Trondheim has become a real foodie destination and is known as the "home of Nordic flavors". Spend a day wandering the cobbled streets in the Bakklandet area or rent a bike, the locals' favorite way to get around.
Onwards to Jektvik, you can either take the E6 Arctic Highway all the way or around 80km north of Trondheim, just after Steinkjer, pick up the FV17 and take in the glorious landscape and coastal views from the magnificent Kystriksveien Coastal Route, one of Norway's most scenic road trips and one of the official Norwegian scenic routes.
Taking this Atlantic road route will add quite a few kilometers, two days, and six fjord ferries to your journey, but the detour will be so worth it! You'll cross into the Arctic Circle at 66 degrees, on the boat between Kilborghavn and Jektvik.
At Bodo, you can get a ferry out to the Lofoten Islands if you are making this a longer trip. Ideal for hikers and nature lovers, Lofoten has become Norway's go-to place for adventure. You'll also enjoy perfect lighting for moody shots of big skies and dramatic landscapes, and watching the Northern Lights from Lofoten is a real bucket list experience.
Otherwise, keep on driving to Tromso, one of Scandinavia's most beautiful cities known for its love of a party! Tromso is another great place to catch the aurora borealis as it ripples across the northern sky. You can also go whale watching from Tromso, try your hand at reindeer and dog sledding, and explore the local mountains and fjords, which make a dramatic backdrop to the city.
From Tromso, you could take a ferry to Svalbard to see polar bears, catch the Hurtigruten ferry back to Bergen, take a longer northern Norway road trip, or catch a flight to pretty much anywhere in the world.
Or, if you have time, head north to Nordkapp where the sun doesn't drop below the horizon from mid-May to the end of July. Hauntingly beautiful but surprisingly busy, you may prefer the true northernmost point of continental Europe at Knivskjelodden, an 18km hike away and inaccessible to vehicles.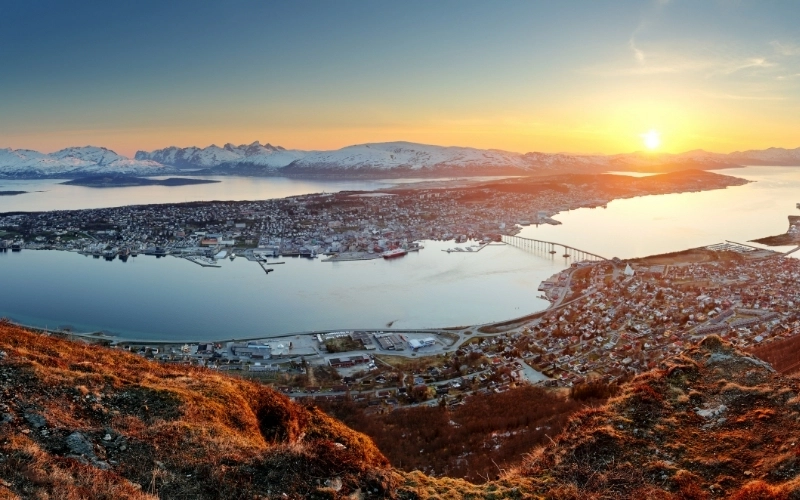 Highlights
Where to Stay
Bergen >> Det Hanseatiske Hotel for its harbourside location, dining options, and cozy decor.
Loen >> Visnes Hotel Stryn for its waterside location, traditional Norwegian food, and fabulous reviews.
Alesund >> Hotel 1904 for its perfect position in the center of town and iconic Scandi decor.
Trondheim >> Britannia Hotel because by this point you deserve a spa!
Narvik >> Narvik Mountain Lodge for its truly spectacular location, traditional log cabin decor, and amazing coastal views.
Tromso >> Scandic Ishavshotel for its harbour location, fabulous breakfasts, and excellent customer service.
Camping in Norway
If you're traveling Norway in a campervan, on a touring bike with a backpack, or you're on a budget, there is a great network of campsites where you can stay in a campervan or car, or bike with a tent.
No tent? Most Norwegian campsites have huts and rooms for rent and often provide a communal kitchen area for people road tripping and backpacking around the country.
If you prefer to be in the wilds, the allemannsrett (all men's rights) law means you can practice free or wild camping in Norway where the land is not owned or cultivated or where there is no signage forbidding it.
Follow the usual free and wild camping good practice and don't overstay your welcome. If you're in a motorhome or campervan use Park4Night to find the best free overnight parking and wild camping spots.
However you wild camp, always follow the "leave no trace" principle, take your rubbish and waste with you and dispose of it in the proper place.
Find Adventure in the Western Fjords
Stavanger – Preikestolen – Kjeragbolten – Trolltunga – Flam – Bergen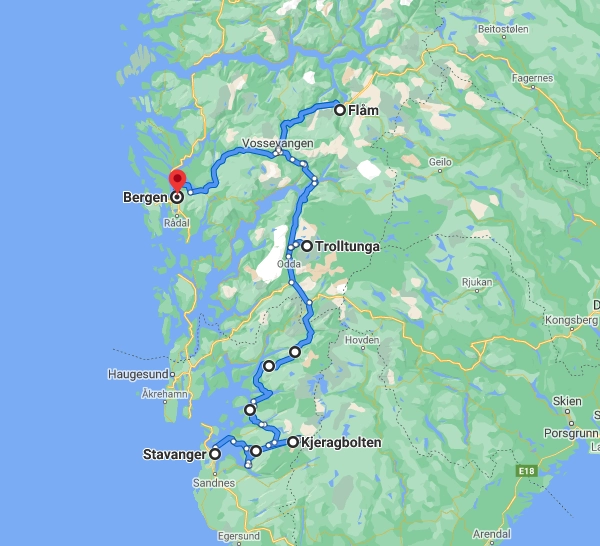 This seven to ten day Norway itinerary is for adventure lovers and those who want to hike, swim and paddle in the Norwegian great outdoors.
If you've ever looked at those amazing images of people perched on tongues of rock, practicing yoga on sheer cliffs, or star-jumping off precipitously balanced boulders whilst gazing out over sparkling blue fjords, then this Norwegian fjord road trip is perfect for you.
Start in the pretty and typically Norwegian city of Stavanger. Stroll Gamle Stavanger, the oldest part of the city, and enjoy the galleries and local craft boutiques before admiring the colorful wharf houses at the harbor.
There's also a handful of great museums, lots of cool street art, and fantastic fresh seafood on offer.
RELATED POST – Adventurous Road Trip – 26 of The World's Most Exciting Routes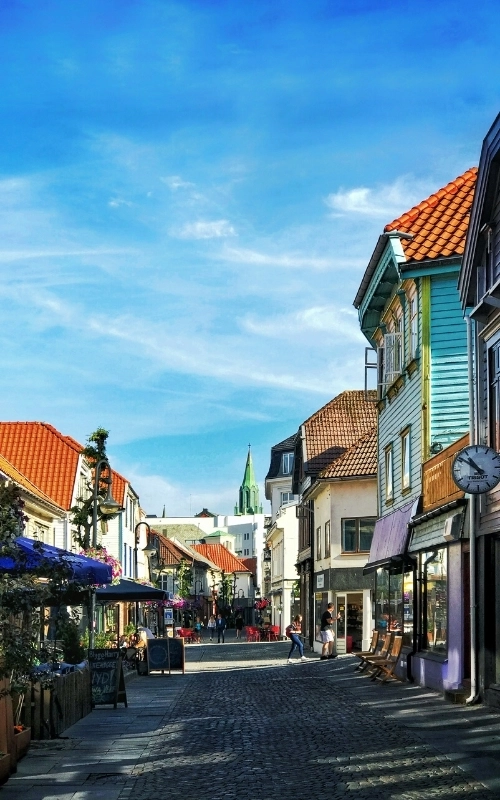 Once you've spent a day in Stavanger, you'll be heading off to hike Pulpit Rock or Preikestolen. This is an easy 7.6km hike and can be done in half a day with an early start, or you can take a guided hike if you're new to hiking and Norway.
Begin the hike at the trailhead in Preikestolenhytta, where you can park easily. There are zero facilities on the Pulpit Rock hike, so make sure to go prepared and take additional clothing as the weather in the fjords can be unpredictable.
With an elevation gain of 334 meters, you don't need any special skills to get to the top of one of Norway's most incredible bits of rock – and there are a few in the country!
The views of Lysefjorden are breathtaking, but in July and August it will be busy at the top and you may have to wait your turn to get out to the tip of the rock for that must-have photo.
From Preikestolen, you'll take the Lysebotn-Forsand car ferry along the Lysefjorden to your next stop, the Kjeragbolten hike. Kjeragbolten is a giant boulder wedged in a crevasse at 1084m on Mount Kjerag, the highest peak in the Lysefjorden. You can also base jump and climb here.
The starting point is at the parking lot at Oygardstol – just getting there involves a pretty spectacular top Norway road with hairpin bends aplenty.
The hike to Kjeragbolten is around 11km long with 800m of altitude gain, and the round trip takes about seven to ten hours depending on your fitness and experience. You need to be in good physical shape and have some hiking experience before attempting this route.
In some places, you have to pull yourself up and slide down with the help of wires, which can be demanding and daunting if you haven't experienced it before. Make sure you're well prepared and allow a full day with an early start.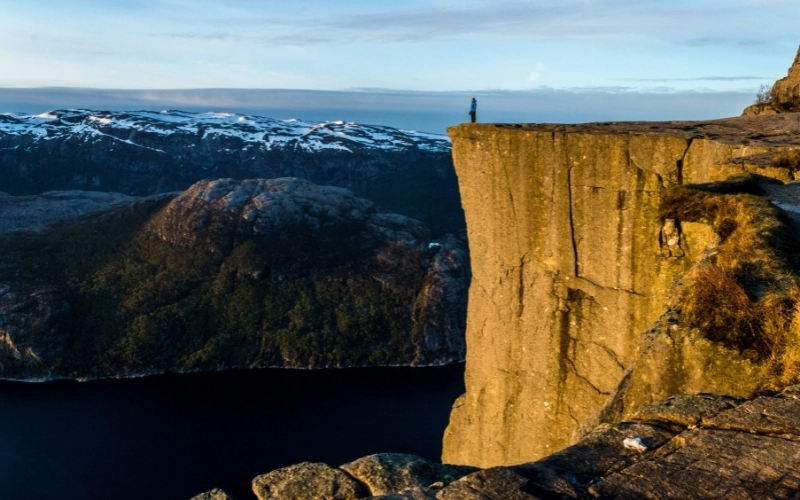 Everywhere you drive in Norway, you are surrounded by mountains, fjords, and waterfalls. The scenery in Norway is simply spectacular, with new thrills around each bend in the road.
Route 13 from Stavanger to Odda is known as the Ryfylke National Scenic Route, one of eighteen official national tourist routes in Norway designated for their stunning scenery and tourist-friendly infrastructure.
Pick up the RV13 just before Ardal as you head north (make sure to add Ardal to your sat nav or you'll be routed east from Kjeragbolten).
On this road, you will drive through incredible tunnels and cross fjords on a car ferry. Allow several hours longer than Google Maps suggests – this is a full days drive and you should start early.
Your next stop is Odda, for the infamous Trolltunga in the glorious Folgefonna National Park. The most challenging of these three famous Norway hikes, the route is 20km across mostly flat terrain, but the path can be tricky underfoot and the weather changeable.
Hiking Trolltunga is not for the faint-hearted or unprepared but is an absolute must-do on your road trip of Norway. Read our post to find out everything you need to know, from where to stay, how to get there, and the hike itself.
RELATED POST – Trolltunga Hike – Plan it Like a Pro
Norway Travel Ideas
Skirt north along the border of the Hardangervidda National Park and take a few days downtime in picturesque Flam, a small village right at the top of the beautiful Aurlandsfjord.
Surrounded by towering mountains, waterfalls, fjords, and rushing rivers, this is a playground for hikers, water sports enthusiasts, and mountain bikers.
From Flam, you can drive to Bergen or take the spectacular Flamsbana railway there, considered one of the most scenic train rides in the world.
Or, if you have a little longer to spend in Norway, follow the magnificent Sognefjord east to the stunning Jotunheimen National Park.
A four hour drive from Flam will take you into the "Giant's Home", a fitting name for this vast and soaring place where there are over 250 mountains of almost 2000m high and some of Norway's very best scenery.
RELATED POST – How to Visit Flåm in the Summer
Highlights
Where to Stay
Stavanger >> Sola Strand Hotel for the breathtaking beachfront location and a modern spa.
Preikestolen & Kjeragbolten >> Preikestolen BaseCamp because it's perfect for the nights before and after your hike.
Odda >> Vikinghaug Apartments for their amazing fjord views and the post-Trolltunga bath!
Flam >> Flåmsbrygga Hotel for its superb central position, cozy traditional decor, and microbrewery.
Bergen >> Det Hanseatiske Hotel for its harbourside location, dining options, and cozy decor.
Slow Down in Southern Norway
Romsviga – Lindesnes – Lista – Egersund – Bore – Stavanger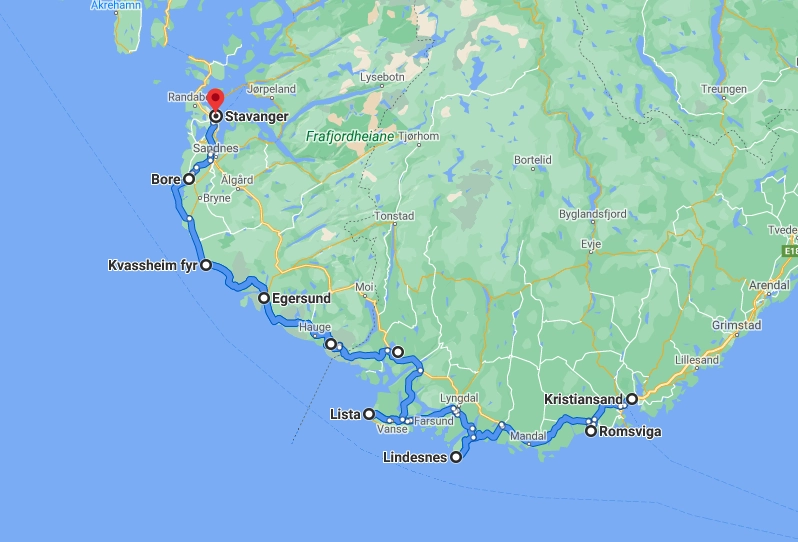 If fjords and drama aren't your thing, head for the gentler landscape of southern Norway, known as Sorlandet in Norwegian. This seven day Norway road trip itinerary is also perfect if you're arriving in Oslo and hiring a rental car for your road trip.
The beaches along the southwest coast are simply stunning, with clear waters lapping against fine sandy shores. You'll also find fantastic lighthouses, World War Two history, and a slower pace of life as the agricultural business of the area supersedes tourist traffic.
If you get the ferry from Denmark to Kristiansand, you might be tempted to stop in the town for a day, although for most it's a gateway to the rest of the coast.
Turn left and head west for Romsviga, a traditional coastal settlement that dates back to the 17th century. Now a protected area which is owned by the local community, it's an interesting place to visit and there are marked trails between here and Helleviga, either along the shore or through the forest.
Lindesnes, the southernmost tip of the country's long coastline, is home to the oldest lighthouse in Norway (where you can actually stay!). The small hamlet is quintessentially Norwegian and there is good coastal walking from here.
RELATED POST – One Day Oslo Itinerary – Map, Guide & Tips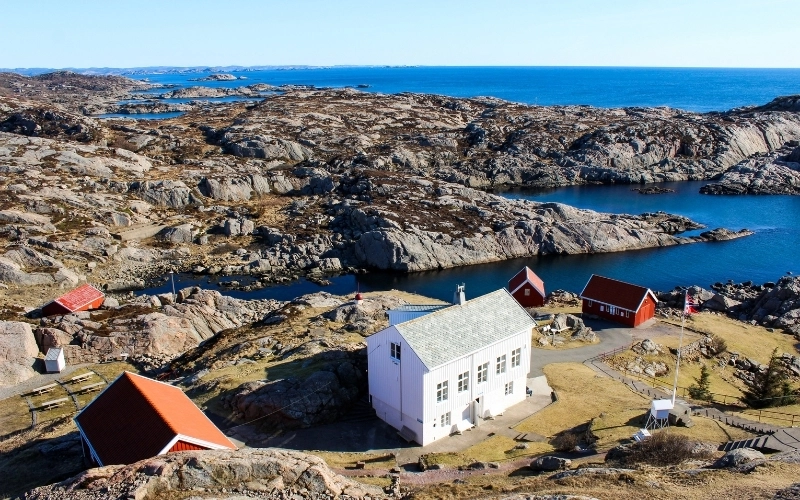 Just under a few hours inland is one of the largest waterfalls in southern Norway, Kvasfossen, with a drop of 36m. When the Lynga river is low, numerous potholes appear which make fabulous hot tubs on a sunny day, so be sure to take your swimmers and a towel!
From here, head northwest for forty minutes to Rafossen waterfall. Take a picnic and sit on the flat granite slabs close to the drop and marvel at the thundering power of this feat of nature.
Lista is next up, with its 34m high lighthouse, Nordberg Fort, and a trio of sandy beaches backed by dunes.
Havikstrand beach is the best known and is popular with kite surfers. Kviljosanden beach is perfect for families, with a gradual shelf and shallow water and Haeustranda beach is on a small peninsula south of Farsund and makes a perfect stop for a day.
Don't miss the fully restored Nordberg Fort and museum, a German bunker that was once part of Hitler's Atlantic Wall and represents a dark period of Norwegian history.
Follow the 444 coast road to Egersund, which is within the fascinating Magma Geopark. To the east is the weird and wonderful rock formation of Trollpikken (troll's penis), created by glacial influences thousands of years ago.
To the east is the Eigeroy lighthouse and the glorious beach of Skadbergsanden.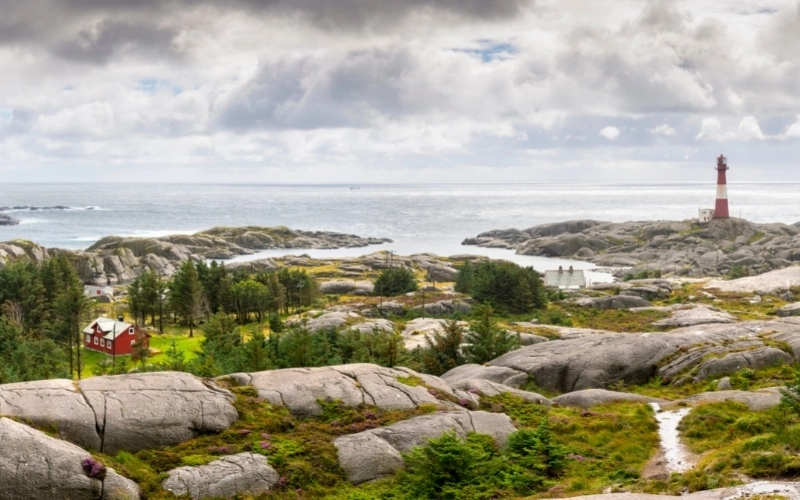 As you continue along the coast road to Bore, make sure to stop at Ogna for more fabulous beaches and the beautiful Kvassheim lighthouse.
Once you arrive in Bore, you'll soon realize that the village is sandwiched between the river Figgjoelva, the lake Orrevatnet, and the seashore, and is surrounded by water!
Your final stop on this Norway road trip route is Stavanger, where you can continue on to another road trip, catch a flight home or get a ferry to northern Norway to continue your Scandinavian adventure.
Highlights
Where to Stay
Lindesnes >> Lindesnes Havhotel for its waterfront location, modern decor, and hot tub!
Lista >> Rederiet Hotel for their amazing views and welcoming staff.
Egersund >> Grand Hotel Egersund for its simple Scandi decor and a great restaurant.
Stavanger >> Sola Strand Hotel for the breathtaking beachfront location and a modern spa.
Norway Road Trip Essentials
Here are the websites and services we personally use and recommend for traveling in Norway.
Are you looking for more road trip inspiration? Check out these top posts…
A road trip in the stunning country of Morocco will take you from the sparking turquoise waters of the coast, through the dramatic snow-capped Atlas mountains. You'll head into some of the craziest cities on earth and take the long road east to the rose gold dunes of the Sahara.  With such a diverse landscape and wonderfully welcoming people, what's stopping you from hitting the tarmac and taking a Moroccan road trip?
Love it? Pin it!