Trolltunga (literally Troll's Tongue) is one of Norway's iconic hikes. Trolltunga is in the Hardangerfjord region of Norway, also home to the Folgefonna glacier and the Vøringsfossen waterfall.  It is an area of outstanding natural beauty and a hub of Nordic activity.  Hiking Trolltunga has to be on your Norway bucket list, we'll show you how!
There are affiliate links in this post.  This means if you click on a link and make a purchase, we will, at no cost to you, earn a fee.
Although hordes of people visit Trolltunga every year, to take their turn on the famous jutting rock, make no mistake that this is an arduous and challenging hike across bleak and inhospitable terrain in a country known for its' changeable weather.   
Preparation is key for this hike; having the correct equipment and taking the right provisions on the day;  understanding the terrain and weather, and the logistics of getting from your motorhome to the start point and back again (arguably the most challenging part!).   
How to Hike Trolltunga (From a Motorhome) will give you all the information you need to successfully complete this rewarding hike in some of Norway's most dramatic and natural surroundings.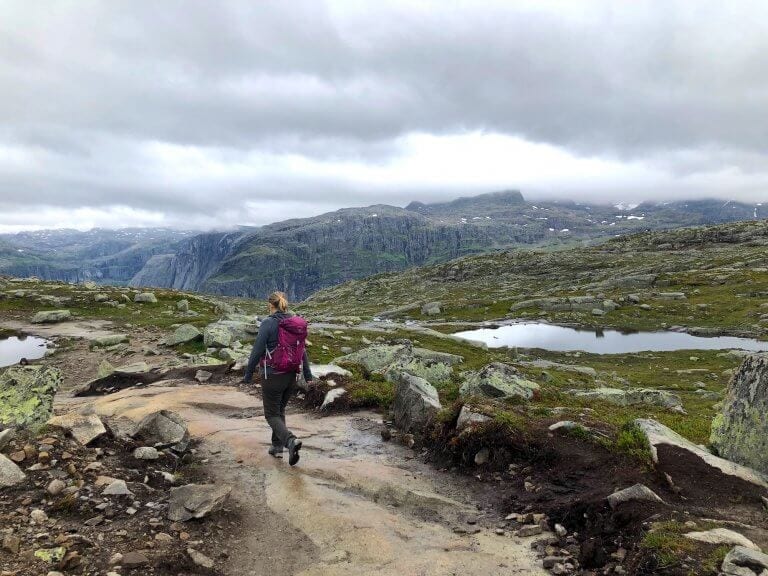 1st June to 30th September   
Recommended season in an average year. Guide recommended but not necessary.
1st October to 1st December       
Recommended only with a guide.                                       
2nd December to 15th February                 
Not recommended. Highly dangerous.                            
16th February to 31st May                                
On snow shoes or skis. Recommended only with a guide.
Trolltunga Motorhome Logistics
The logistics of getting to the start point for the Trolltunga hike from your motorhome are a bit confusing…or maybe we're just a bit dim!  Never fear, we have laid out all the options, prices and contact details below!
Where to Park Your Campervan
Odda Camping in Odda.  This is a basic, backpacker type site with a mix of motorhomes, vans, tents and huts.  It's a bit of a free for all but has a happy vibe, clean showers (NOK20 /5 mins) and loos and all the services you would expect.                                                                                   
Price: NOK300 per night with electric.  Not possible to book, be there by 2pm for best chance of a pitch.
Odda Bobilcamp in Odda.  We didn't stay here, but passed it on our way through town.  No sanitaries.  Hardstanding, with a view across the fjord to the petroleum depot.                        
Price: NOK200 per night including electric.   
Official Trolltunga parking at P1 Tysohallen in Tyssedal. Hardstanding, no services or electric. Follow route 13 to Tyssedal which is  6km from the centre of Odda and pick up the signs for P1.  
Price: NOK500 per night!! 
It is prohibited to take your motorhome to P2 for either day or overnight parking.  
How to Get to the Hike Start Point
Many people start the hike from P2 at Skjeggedal. The first part of the hike is along a switch-back tarmac private road which ends at P3 Mågelitopp (see information below). From P2, the hike to Trolltunga is 28km return with a 1200m elevation gain. The route is clearly signed. 
There are shuttle buses between Odda and P2 Skjeggedal which are operated by two companies, Odda Taxi (OT) and Taxi/Bus Odda (TBO).
Season: 1 June–30 September.
Price: NOK230–250(return ticket, bookable online)
Departs 05:50 (TBO) Arrives 06:24
Departs 06:10 (OT) Arrives 07:00
Departs 07:10 (TBO) Arrives 07.44
Departs 07:30 (OT) Arrives 08:20
Returns from P2 at 16:15 (TBO), 17:00 (OT), 17:30 (TBO), 18:30 (OT), 19:00 (TBO) and 20:00 (OT).
As per Option One, but departing from Odda Bus Station, a two minute walk from Odda Bobilcamp.
Departs 06:00 (TBO) Arrives 06:24
Departs 06:30 (OT) Arrives 07:00
Departs 07:20 (TBO) Arrives 07.44
Departs 07:50 (OT) Arrives 08:20
Returns from P2 at 16:15 (TBO), 17:00 (OT), 17:30 (TBO), 18:30 (OT), 19:00 (TBO) and 20:00 (OT).
As per Option One, but departing from P1 Tyssohallen, right on your doorstep.
Departs 06:14 (TBO) Arrives 06:24
Departs 06:43 (OT) Arrives 07:00
Departs 07:34 (TBO) Arrives 07.44
Departs 08:05 (OT) Arrives 08:20
Returns from P2 at 16:15 (TBO), 17:00 (OT), 17:30 (TBO), 18:30 (OT), 19:00 (TBO) and 20:00 (OT).
From 1st June 2019 it became possible to take a shuttle bus from P2 to P3, saving 8km on the return distance and 400m on the elevation gain.  
The shuttle bus must be booked in advance and costs NOK130.  If you also wish to do the return journey, this will cost NOK70 if you show your initial booking at the ticket office, but the return cannot be booked in advance. 
You can book the shuttle bus from P2 to P3 here. 
Are you reading this and thinking it's all a bit complicated? Do you fancy doing the hike and staying overnight to get the most amazing sunset and sunrise images, when no-one else is around?   Or do you prefer to get up there by via ferret or hike out of season?  You can do all this if you book a guided tour through our affiliate partners.  If you click on the link and book a tour, at no cost to you, we will receive a small fee.
So, you overcame the nightmare logistics of hiking Trolltunga from your motorhome; your bus is booked and you're fired up and ready to go.  Before you head off into the raw wilds of Norway, selfie-stick in hand, make sure you know about the hike, what to expect and how to ensure you make it there and back to your motorhome in one piece! (Information is based on starting at P3).
You don't need to have any technical climbing or mountaineering knowledge for this hike. However, if you've never hiked before then this probably isn't the best 'first' hike to pick! You need to have some degree of fitness and stamina, no respiratory issues and be able to be on the move for at least 7-8 hours. A determined and can-do mindset will help you keep going when you're feeling cold and knackered!
Much of the hike is along level terrain, with almost all the elevation gain in the first quarter.  There are quite large stone steps to climb up, flat and sloping smooth rock, rocky paths and numerous streams to get through, some with stepping stones, others without. The risks here are of slipping, particularly during the descent of the stone staircase.   Being sure-footed would be an advantage, if not bring your walking poles!
Always check the weather before starting any hike.  Trolltunga has an official Facebook page where you can check weather and trail information before you set off.
All the advice is to start early…as in get up at the crack of dawn and get the first bus.  This is great advice in the autumn and spring when  dusk comes early and it gets dark very quickly.  In the summer months, it stays light until 11pm, so starting early is not so critical.    
If you start a little later, you may well miss the big crowds, who generally arrive at Trolltunga around lunchtime and start to queue for their turn; sometimes 60-70 deep and waiting for up to three hours.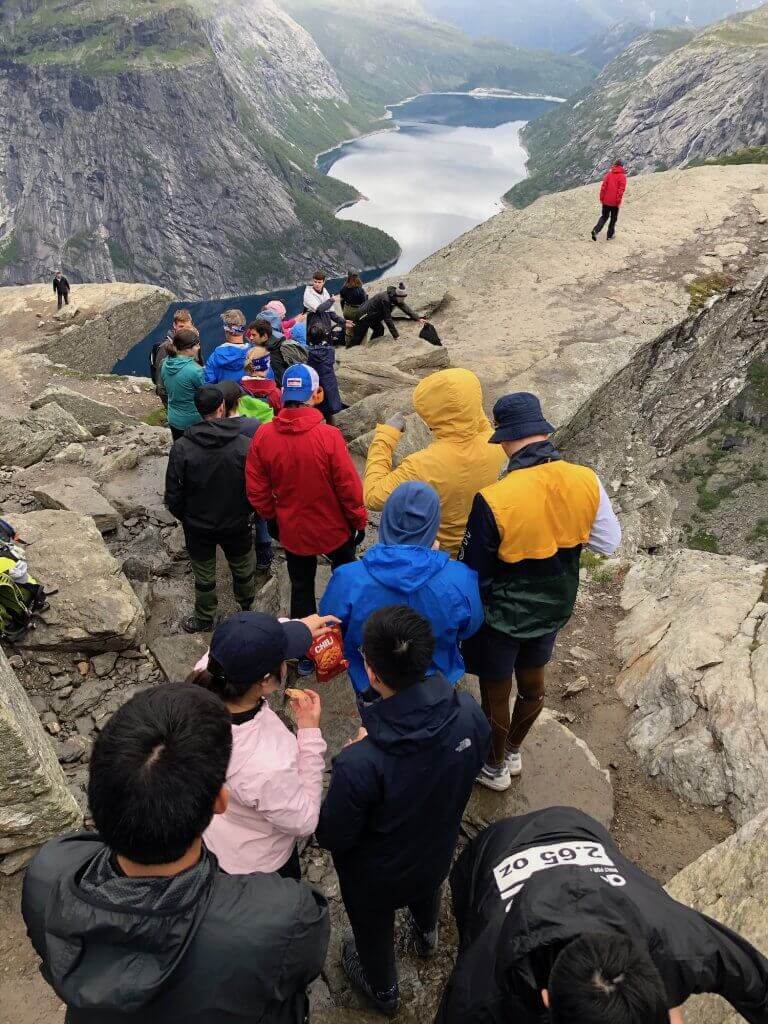 We suggest starting a little later and arriving at Trolltunga after lunch. You will be rewarded with a much shorter queue and quieter hike home in time to catch the last bus from P2 at 8pm, and back to your motorhome for a much deserved beer! 
Alternatively, start much later in the day and carry a tent and overnight supplies.   You can camp (although you must not stray too far from the path) and enjoy Trolltunga at dusk or dawn, for a mostly people free experience.
Sturdy waterproof boots or approach shoes with a grippy sole
Warm clothing; layers are key here as the weather is so changeable.  You will need both waterproof and windproof layers and maybe a spare dry under-layer.  We wore long-sleeved technical tops with windproof / pertex tops over to start.  We carried waterproof coats and down jackets and used both at various times…at one point, I had the whole lot on!
Plenty to eat and drink.  You should not drink from the numerous streams, the water is not potable.
If you are hiking outside of the summer season, a hat, gloves and head torch.
Walking poles.
A simple first aid kit.
A camera!!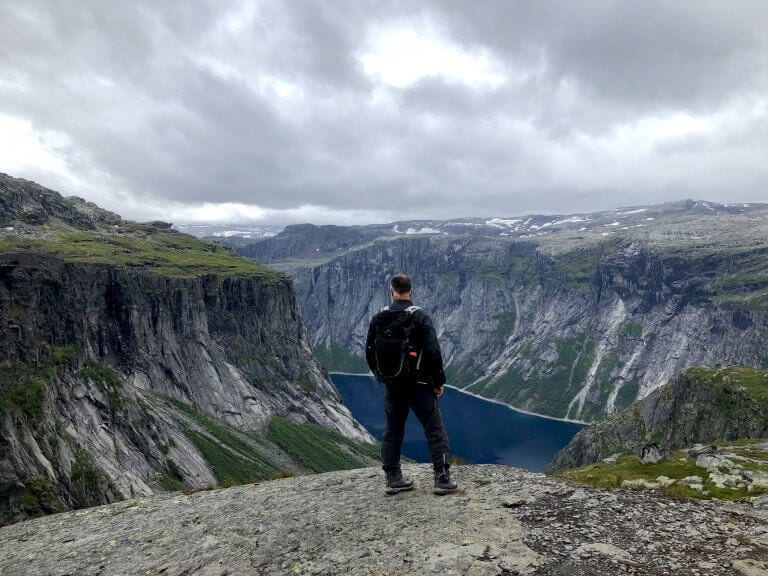 We were in two minds whether to do this hike; the idea of hiking for quite a few hours through the raw, probably wet and cold mountains of Norway to a fairly small, sticky out bit of rock, where there would be lots of other people all taking photos for Instagram seemed a bit…well, odd.  Surely there must be lots of other spectacular hikes in Norway?  What about hiking Preikestolen, the famous pulpit rock, or Kjeragbolten, the balancing boulder hike?  Well, neither are as challenging and both are just as crowded!
In the end, we decided to go because we thought we would always regret it if we didn't; Trolltunga on our motorhome tour of Norway was always a bucket list item! We wanted to take our turn on the tongue and have that special moment that relatively few people in the world will experience.
Was it the right decision?  Absolutely.  As a hike, it was perfect; challenging enough but achievable and through some of the most jaw-dropping and dramatic scenery we have ever seen.  There was camaraderie on the trail,  a common goal and sense of community with our fellow hikers.   
The logistics associated with Trolltunga, especially if you're in a motorhome, have been commercialised as much as they can be and the costs hiked (see what I did there!) to exploit people's social media obsession.  The tongue itself is inaccessible enough to prevent it becoming a Disneyesque attraction, and I pray that it stays raw, wild and undiminished for thousands of years to come, just  as Mother Nature intended.  
You can find out more about other famous Norwegian hikes and road trips in Norway in this post about European road trips.
NEED MORE DESTINATION INSPIRATION? CHECK OUT THESE TOP POSTS