This post may contain affiliate links, from which we earn an income.
Do you crave the unexpected and want to experience the road less traveled? Are you looking for excitement and adventure on your next vacation? If this sounds like you, we've got a fantastic collection of adventurous road trips around the world to inspire your daredevil spirit.
Picked by fellow road trippers and adventurers, our routes span the six continents of Africa, North America, South America, Europe, Asia and Oceania. From daring mountain passes and remote highways, to challenging roads and dramatic landscapes, these are some of the most exciting and best road trips in the world.
Whether you're traveling in a car, on a bike or in an overland vehicle, these road trip adventures will get your heart pounding and adrenaline racing. Be prepared – you're gonna want to go now!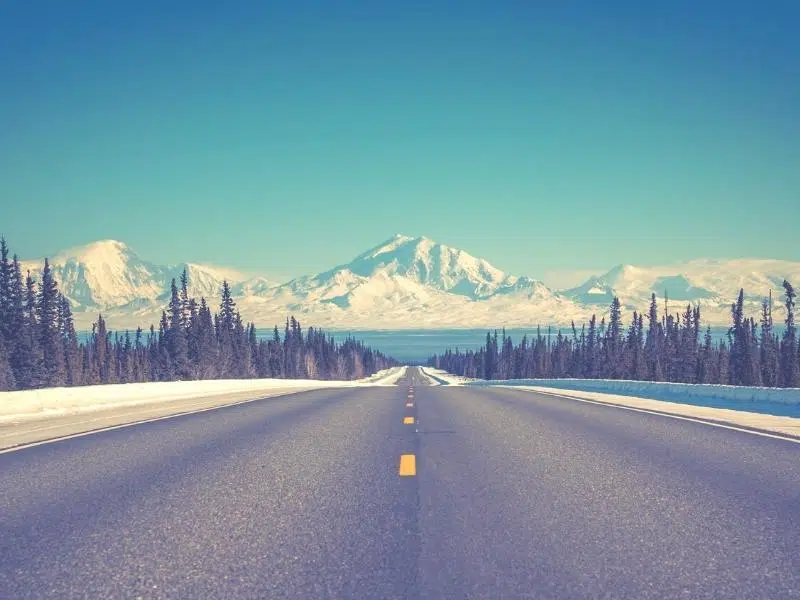 North American Road Trip Destinations
The Cabot Trail, Canada
Driven by the Swartz family of the Every Further Mile YouTube channel
Every year over 100,000 tourists flock to Cape Breton in Nova Scotia, one of Canada's most beautiful islands, to travel for adventure and drive the Cabot Trail. This nearly 300 kilometers (186 miles) long road will have these tourists in awe around every corner.
The Nova Scotia Cabot Trail is a well maintained and paved road with many passing lanes that hugs the gorgeous Cape Breton coastline. Beginning on the eastern side of the trail gives drivers better views of the majestic mountains sweeping up from the shimmering blue Atlantic Ocean. It also gives access to the many scenic stops to stretch their legs and take some breathtaking pictures.
The Cabot Trail gives people easy access to the 26 official trails that lead to breathtaking waterfalls, crystal clear lakes, old growth forests, and even mountain vistas. But what makes the trail mesmerizing isn't just the landscape, it's the abundance of animals that call this place home. Moose, cariboo, seals, Pilot whales and more animals can all be spotted along the Cabot Trail.
The locals will always recommend some must see stops along the way. The Skyline Trail has the best views and animal encounter opportunities. The Usige Ban Falls are the most impressive waterfalls at 15 meters (50 ft) tall. Ingonish Beach is the best known beach, but Black Brook Cove is the most well loved.
Lastly, be sure to take in some Acadian culture at some of the uniquely adorable towns along the way including Cheticamp, Ingonish and Baddeck.
The Cabot Trail can be driven in two to three days, but a five day road trip is even better for those who really want more opportunities for animal spotting. The trail has numerous cabins, inns, lodges and Airbnb's along the route that can get booked up quickly June till October, so always book ahead.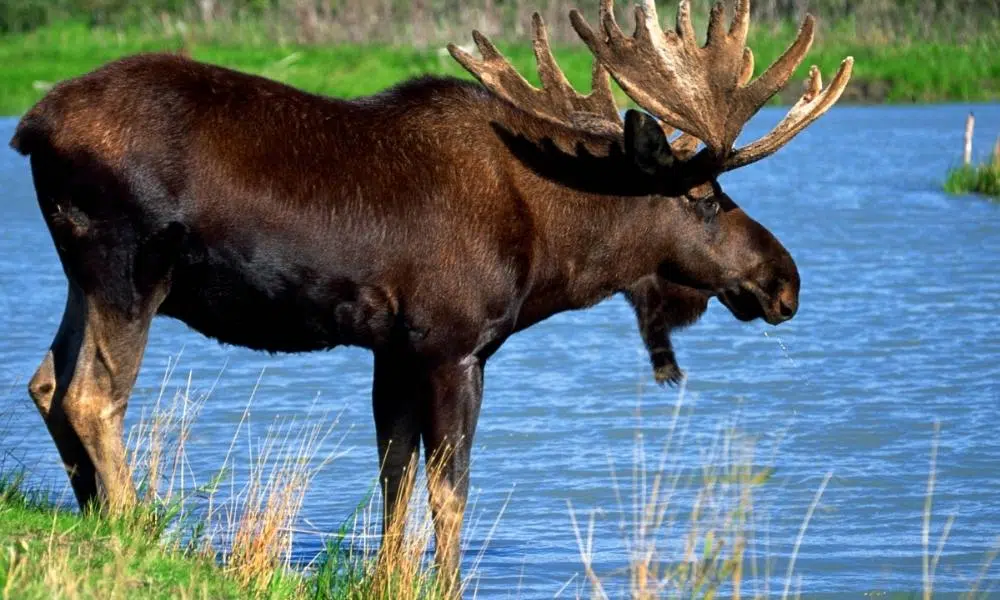 Pacific Coast Highway
Driven by Dhara of Roadtripping California
The Pacific Coast Highway is one of the most iconic road trips in the world. While you can drive the entire stretch along the whole west coast, starting from Seattle in Washington to end in San Diego in Southern California, you can also drive just the California coast along Highway 1 if you have time constraints.
The Pacific coast road trip is known for its exceptional ocean views, the iconic cities and charming towns along the way, and the plethora of things to do for every type of traveler. You can even dip inland for activities at Lake Tahoe and the mighty Yosemite National Park, or how about a spot of white water rafting on the Kern River, or hiking Mount Whitney?
San Francisco, one of California's most vibrant cities, features the stunning Golden Gate Bridge, the Alcatraz prison, and vibrant neighborhoods to explore.
One of the top stretches of the route is the legendary Big Sur. The coastline from Carmel-by-the-Sea to San Simeon is breathtakingly beautiful, with rugged cliffs on one side and the ocean on the other.
The Monterey Peninsula is another charming section of the route. Go whale watching in Monterey, visit Point Lobos for sea lion sightings, and enjoy shopping, dining, and wine tasting in Carmel-by-the-Sea.
Santa Barbara, known as the American Riviera, is a charming city with beautiful beaches and gardens, and lots of activities both on land and in and on the water. Continue south to explore Hollywood, downtown Los Angeles and San Diego, right on the Mexican border.
Ideally, go in spring and fall and allocate two weeks to do this epic road trip, because there's so much to see and do. But you can craft an itinerary for anything from five days to two weeks, tailoring your activities and sightseeing to the time you have available.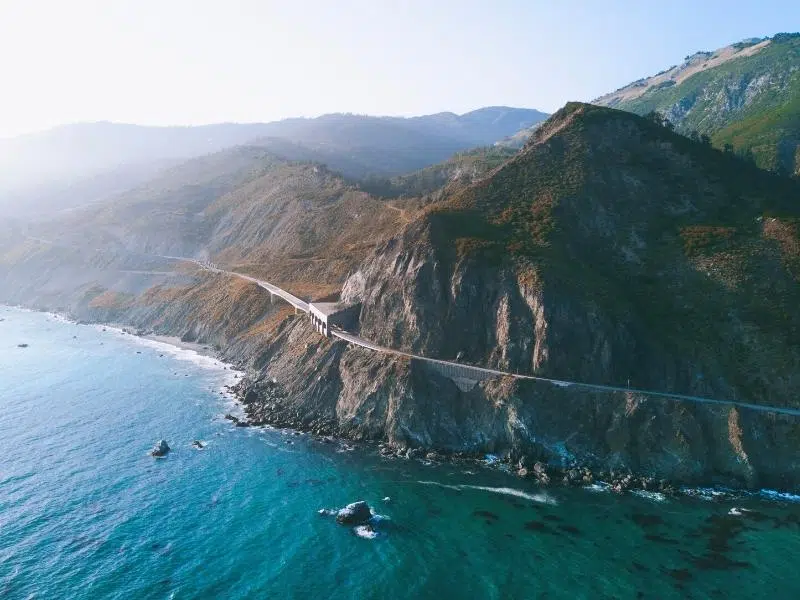 Glacier National Park to Yellowstone National Park
Driven by Stefanie of Open Road Odysseys
If you're looking for a road trip that hits some of the top national parks in the country, consider heading to Glacier, Yellowstone, and Grand Teton National Parks. These three parks have something for everyone – beautiful scenery, excellent hikes, lots of wildlife, and natural and geothermal wonders.
Start in Glacier National Park, where the breathtaking Going-To-The-Sun Road boasts one of the most scenic drives around. Make sure you have plenty of time to enjoy the entire 50 mile stretch and be prepared to take tons of pictures – every turn is photogenic!
This park was also made for hiking, so no matter your fitness level or ability, you'll be sure to find one that works for you. The Trail of the Cedars is a popular choice suitable for everyone, and if you're looking for more of a challenge, add on Avalanche Lake.
Head to Yellowstone next, where natural wonders abound. Marvel at Grand Prismatic Spring, wait in anticipation for the erupting of Old Faithful, and be on the lookout for all the fantastic wildlife, including grizzly bears, bald eagles, bison, wolves, and elk.
End your trip in Grand Teton National Park, which offers stunning views of the Teton mountain range and more amazing hikes. Check out the most photographed barn in the world at Mormon Row, hike up to Inspiration Point for a birdseye view of Jenny Lake, and do some shopping in the nearby town of Jackson.
You should plan for a minimum of seven full days to do this road trip justice, but the ideal amount of time is about ten days. You could easily spend three to four days at each national park and still not see everything, but a week is a good amount of time to whet your appetite and see the highlights.
Late June through early September is the ideal time to do this road trip. Many parts of these national parks are closed outside of this timeframe, and if you want to see the main sights, you'll need to visit in the summer.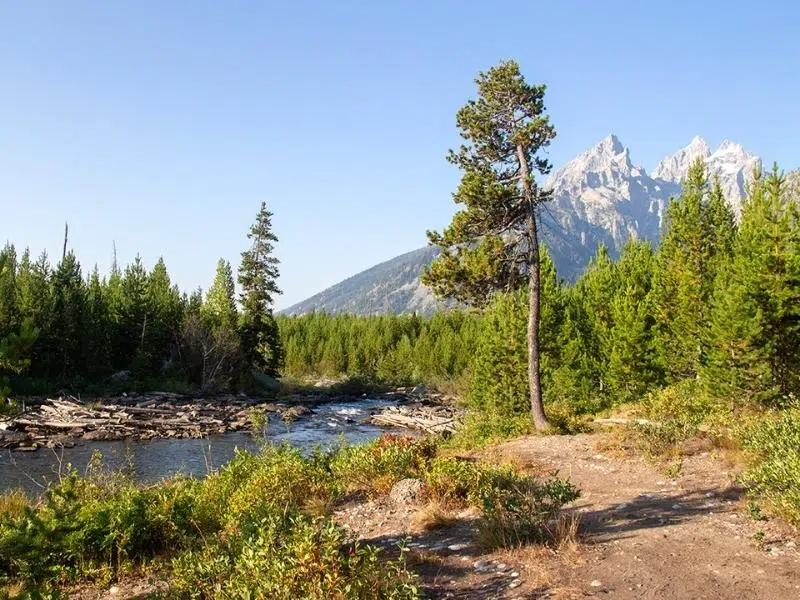 Blue Ridge Mountains
Driven by Victoria of Southern Trippers
One of the most exciting road trips in the world is the Blue Ridge Parkway drive, a massive 469 mile drive which starts in Northern Virginia, just outside of Charlottesville, and continues all the way to North Carolina, just near Asheville along the Blue Ridge Mountains.
Because you're driving along an undivided two lane expressway with a 45mph speed limit, the entire drive could take you around a week to complete, but you could see the main highlights in four days.
If you have longer than a week, extend your road trip at the start by 105 miles, and include the stunning Skyline Drive which runs the length of the spectacular Shenandoah National Park, along the mountain ridge.
Start in Northern Virginia and make a stop at mile post six. It's here that you'll find Humpback Gap and a collection of historic buildings from the 19th century.
You can even hike along a section of the Appalachian Trail before getting back on the road and continuing to Natural Bridge State Park.
Admire this natural stone arch and go for a hike before passing through Roanoke and visiting the historic Mabry Mill at mile post 176. It's a charming water powered mill from the 1900s. Don't leave without ordering some delicious blueberry pancakes before continuing to Galax.
It's here that you'll discover the Blueridge Music Center. You can even catch a live performance in the summer before driving through West Jefferson and Boone.
Eventually, you'll hit Moses Cone Manor at Milepost 294.1. Try and visit first thing in the morning since this historic home is popular because of its awesome views. Move through Blowing Rock and make your way to one of the Linn Cove Viaduct at mile post 304.4.
Then head to Grandfather Mountain and stop at Rough Ridge Overlook before going on an awesome hike to Linville Falls at Milepost 316.4. Finally, explore Craggy Gardens with its stunning exposed rocks and Rhododendron.
Finish your trip off in beautiful Asheville and marvel at the grandeur of the historic Biltmore Estate.
Zion National Park to the Grand Canyon
Driven by Janae of Adventures With TuckNae
Although the drive from Zion National Park to Grand Canyon National Park is only about two hours long, there are so many things to do between the two parks that you could easily spend four to seven days making the roadtrip.
One of the first places you should stop on this drive is Belly of the Dragon. This short hike explores the drain tunnel under Highway 89 near Kanab in Utah. The ominous passageway is fun to explore and makes for great pictures as well.
While driving through Kanab, you may also want to stop over at the Moqui Caves, Coral Pink Sand Dunes State Park, and Peekaboo Slot Canyon. If you are able, plan to spend three to four days in this area alone. There is so much to see and do!
If you have extra time and want to lengthen your trip, Page in Arizona is a great additional stop. This extends your drive time to around 3.5 hours but you will be able to add on the famous Horseshoe Bend, Antelope Slot Canyon, Lake Powell, and more. Plan to spend an additional one to two days in this area.
Other fun things you can do on this roadtrip are the Toadstool Hoodoos, Wire Pass, and The Wave, the infamous hike through red wave-like sandstone formations along the Utah and Arizona border near the Vermilion Cliffs National Monument.
The best time of year to roadtrip between Zion National Park and Grand Canyon National Park is in late fall and early winter. During this time the weather will be much cooler and the crowds and traffic will not be as high as during peak season.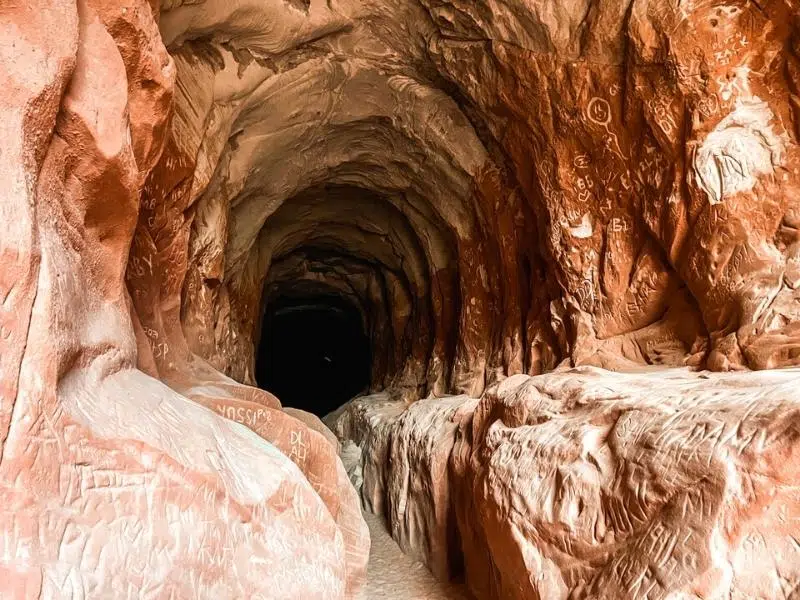 Million Dollar Highway
Driven by Daria of The Discovery Nut
Located in southwest Colorado, the Million Dollar Highway connects Ouray and Silverton, two stunning mountain towns that offer amazing opportunities for recreation.
The Million Dollar Highway is part of the San Juan Skyway and is considered one of the most beautiful drives in Colorado because of its jaw-dropping scenery and fascinating mining history.
Although the entire drive had been called Million Dollar Highway, it's the first twelve miles south of Ouray until the Uncompahgre Gorge to the summit of Red Mountain Pass.
But don't think this drive will be a breeze. The Million Dollar Highway is also dangerous in some parts because of hairpin turns and sharp drop-offs with no guardrails and shoulders.
If you are not used to driving on winding mountain roads where swerving is not recommended, take your time. Some stretches of the road are so narrow and winding, that you should slow down to 10-15 miles per hour.
As you clear the first couple of miles while driving from Ouray to Silverton, the road will get better and you will be able to find some space to pull over and take photos of these magical landscapes.
Also along the way you will be able to see the former mining town and the landscape restoration projects that aim to remédiate former mines.
The Million Dollar Highway stretches for about 25 miles. Since weather can be unpredictable in this part of Colorado, the best time to take this drive is between July and late September when the chances of snow are low. The first snow falls as early as October and it's not uncommon for the Million Dollar Highway to closed during this time.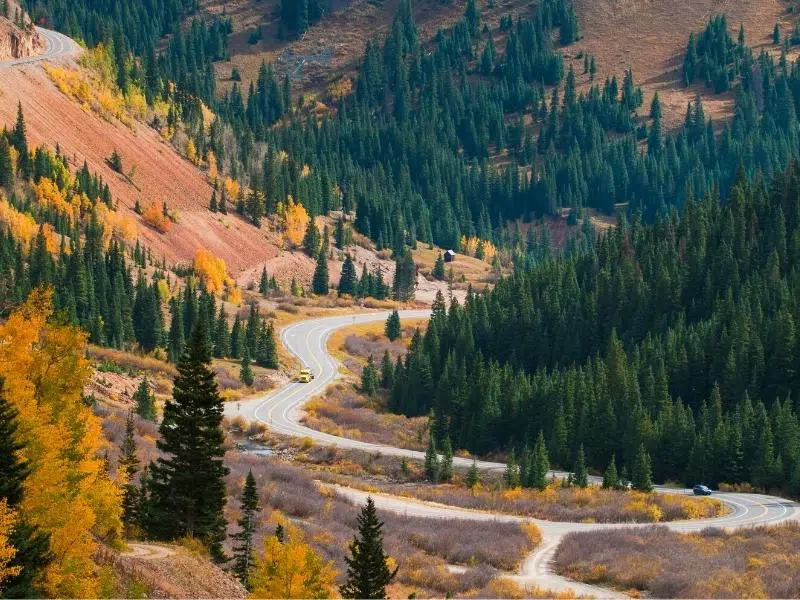 Icefields Parkway, Canada
Driven by Marianne of The Journeying Giordanos
Located in Alberta in Canada the Icefields Parkway is considered one of the most beautiful drives in the country. And with so many places to stop and admire the scenery, an abundance of wildlife and waterfalls, glaciers, and world-class hiking to be enjoyed, the Icefields Parkway makes for the perfect Canadian Rocky Mountain road trip.
Although you could technically drive the Icefields Parkway in approximately 3.5 hours without stopping, two to three days would be the perfect amount of time to fully explore what this incredible area has to offer. And it really doesn't matter if you choose to drive from Banff to Jasper, or the other way around, this adventure road trip is incredible either way.
Although summer is the best time to travel along the Icefields Parkway, it is also the busiest. The spring and fall have fewer crowds, but the weather can be pretty unpredictable in the mountains at those times.
Some must-see sights along the Icefields Parkway include Bow Lake, Peyto Lake Viewpoint, Mistaya Canyon, Sunwapta Falls, the Columbia Icefields, Athabasca Falls and the Valley of the Five Lakes. Many of these places have scenic viewpoints that are available right off the parkway, while others involve a short hike to get to the viewpoint.
One of the downsides to this road trip is that there are actually very few places to stay along the Icefields Parkway. Aside from a few lodges and a handful of hostels, your only other option is to camp at the various sites available. Many of these accommodations become fully booked by high season, so you will need to plan ahead accordingly.
There are also very few places to stop along the Icefields Parkway for food or fuel. And those that do exist, are pretty overpriced. Once again, a little advanced planning will alleviate any stress while travelling this incredible route.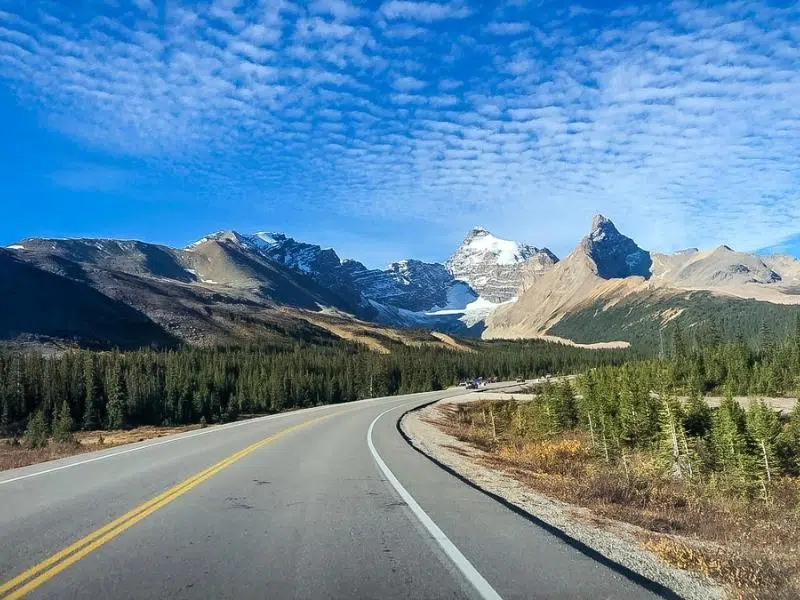 Road to Hana, Maui
Driven by Sarah of Places To Stay Maui
The legendary Hana highway meanders along the east coast of Maui, the second largest of the islands of the state of Hawaii. The Road to Hana starts in lively Paia and ends in remote Hana itself.
Hana itself is not the most exciting place to visit but this road trip is all about the journey rather than the destination. It's a scenic drive that features lush rainforests and spectacular waterfalls on one side, and the most sweeping sea views on the other.
Some of the best Road to Hana stops include Twin Falls, the Garden of Eden arboretum, Wailua Valley State Wayside Park, the Hana lava tubes and the black sand beach of Waianapanapa State Park. You'll find several quaint food stalls along the way, selling everything from sumptuous banana bread to coconut candy. 
With no less than 620 curves and 59 one lane bridges to conquer over a distance of 53 miles, driving the winding Hana highway does require some driving skills. Technically, you could finish this intensive drive in just over two hours but there's so much beauty to behold that it's recommended to stay in Hana for at least one or even two nights.
And it doesn't have to end there because there are several exciting stops past Hana that you shouldn't miss out on.
The lands here are located within the Kipahulu section of Haleakala National Park. The Seven Sacred Pools along the Oheo gulch and the Pipiwai trail leading to Waimoku Falls are the most popular attractions along this section of the Hana highway.
Note that the Road to Hana is located on the windward side of the island, resulting in a climate that's very different from Maui's resort areas. You'll likely encounter an occasional shower during your drive, and perhaps a gorgeous rainbow right after.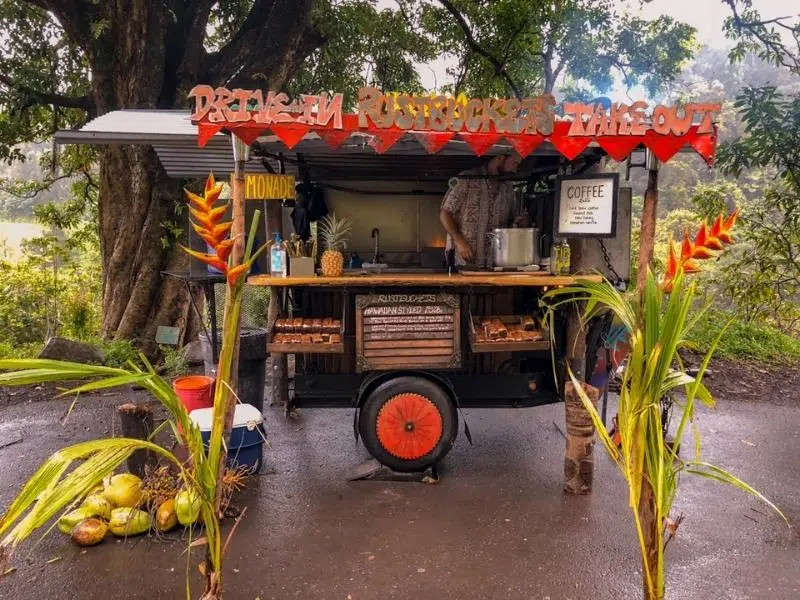 Moab National Park to Zion National Park
Driven by David & Intan of The World Travel Guy
There are so many amazing things to see in the state of Utah, that perhaps one of the best ways to visit is by taking a long and eventful road trip from Moab to Zion (in south Utah), stopping at some great sights along the way.
There are lots of places to see on this route, and it includes some of the best hikes in Utah as well. You'll need to drive a distance of at least 400 miles, and you'll need an itinerary of about seven to ten days, although you could easily spend much longer on this route if you have the time.
For the best weather, you might want to avoid doing this road trip in the mid-summer months (July / August) because of the excessive heat in Utah. However, hot months are doable too as long as you plan your route, hike early in the day, and traveling with lots of water (this is especially important).
Starting in Moab, there are already lots of things to see, including the Arches National Park and a wide variety of canyons, dunes, and hoodoos. Some of the best places to stop between Moab and Zion include the slot canyons in Escalante, including Zebra Slot, Peekaboo Canyon, and Spooky Gulch. These are stunningly beautiful.
If you have time, you can also add some other sights in the Escalante area and then spend a day or two at Bryce Canyon National Park.
Once you reach Zion National Park in the far south corner of Utah, you'll want to spend a few days seeing some of the best hikes like Observation Point, The Narrows, and Angels Landing. These are bucket list quality!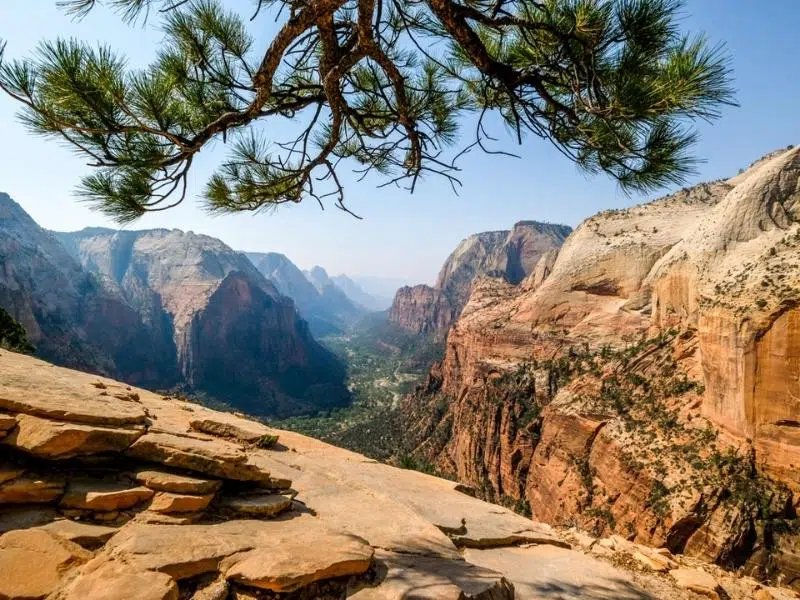 Olympic Peninsula Loop
Driven by Jessica of Uprooted Traveler
The Olympic Peninsula Loop in Washington is a classic Pacific Northwest road trip, a 330 mile loop around the Olympic Peninsula, winding through lush rainforests and along the rugged coastline.
Most road trippers will start in Olympia, slightly east of the peninsula and drive north along Highway 101. Stop at the Hurricane Ridge section of Olympic National Park, near the town of Port Angeles. This area offers a breathtaking hike along Hurricane Hill, across the ridgeline of Mount Angeles, providing spectacular views of the surrounding fields of wildflowers and mountains.
The next stop of your journey should be Forks, known as the setting of the Twilight series. While you probably won't run into any vampires, there's tons of moody beaches nearby, including Rialto, Ruby, and Second Beach, with craggy bluffs and sea stacks towering out of the ocean.
Continuing on, make a stop in the Hoh Rainforest, a UNESCO Biosphere Reserve. Walk along the Hall of Mosses, a trail that will take you past ancient trees that tower 300 feet overhead and drip with moss.
In the western portion of the loop, you'll run into one of the most underrated parts of Olympic, the Quinault Rainforest. This forest sits in an area known as the 'Valley of the Giants' due to the fact that five distinct trees here hold the record for the tallest of their species. One of the best ways to experience the Quinault is along the Enchanted Valley trail. This hike leads you to a breathtaking valley, bordered by a dense forest on one side and a wall of seemingly vertical mountains, with countless waterfalls cascading down its glaciated slopes.
While you could easily drive the Loop in a weekend, it's best savored over approximately a week, so you can get to know Olympic and the incredible rainforests, mountains, and beaches that make its landscape so spectacular.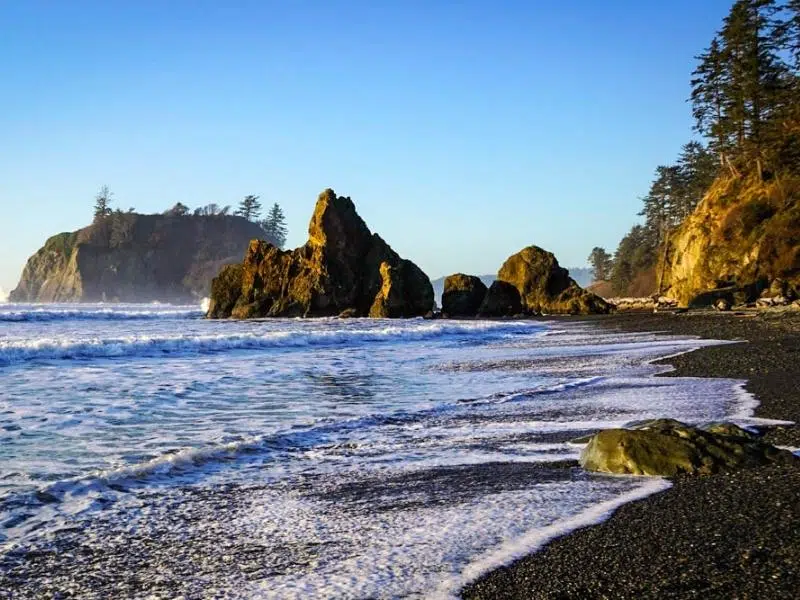 Anchorage Loop, Alaska
Driven by Paula of Paula Pins the Planet
If you're looking for exciting road trips, then you can't miss out on visiting Alaska! It's no secret that this iconic US state is expensive, but you can save money on traveling independently by renting a car – or better yet, hire an RV and your accommodation costs will be covered too.
No Alaska itinerary is complete without road tripping through epic mountains and making plenty of stop-offs along the way, so get ready for the ultimate adventure.
The best place to start your road trip is Anchorage, as this is where the international airport is located. You'll then want to spend some time exploring the city and the Alaska Wildlife Conservation Center, before heading to the scenic Valdez, to catch some stunning waterfalls and incredible hiking trails.
From Valdez, you'll want to drive to Fairbanks but make sure you stop off at the North Pole along the way! Fairbanks also has plenty of things to do, so allow at least two to three days here before heading to the amazing Denali National Park for at least a full day of hiking, spectacular views of Mount McKinley and wildlife encounters.
The last city you'll visit on this epic road trip is Seward, where you can head out on a cruise and spend some time exploring glaciers and marine wildlife at the Kenai Fjords National Park. While in the area, make sure you visit the Exit Glacier for amazing hiking trails and the opportunity to get really close to the glacier. And if you are looking for a challenging hike, Harding Icefield is one of the best in the state. Then, it is time to head back to Anchorage.
To give yourself enough time to see the most popular sites, it's best to allow around ten days for this road trip. This way, you won't have to rush and you've got the flexibility to change your route slightly and make several stops on the side of the road to take on some breathtaking views. The best time to do this road trip is between June and August, as this time of year offers excellent weather conditions and plenty of wildlife watching opportunities.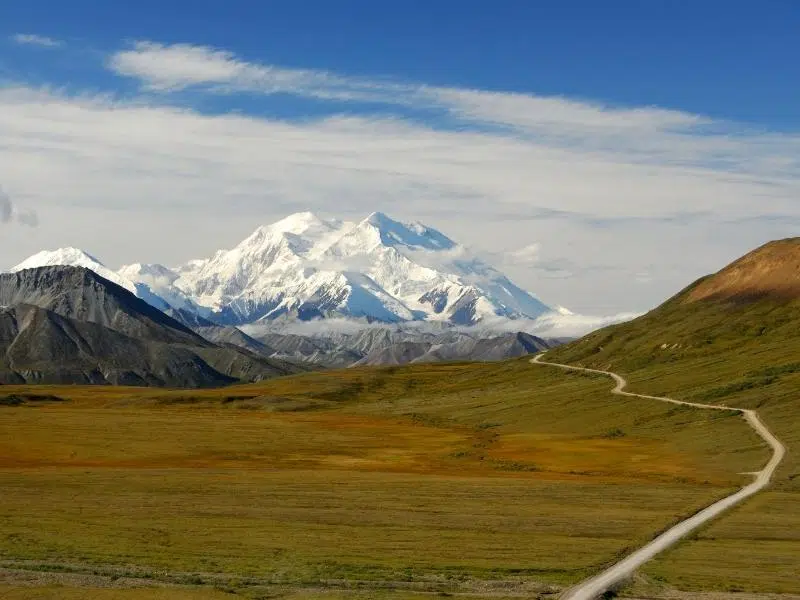 The Great Northern
Driven by Jenifer of The Evolista
The Great Northern road trip is an epic 3,200 mile journey on US Route 2. While it's great in spring, summer or fall, a trip towards the end of September will allow you to catch some incredible fall foliage along the way. Winter has its own unique beauty, but it's probably not worth the difficult driving conditions.
The trip will take around 60 hours of driving so you will need a minimum of a week, but it's worth planning two weeks in order to take advantage of all the amazing things to see and do.
Start your journey in Seattle after exploring some of the highlights like Pike Place Market and the Space Needle. From there, you will drive through the northernmost point of Idaho and Montana, where a stop at Glacier National Park is a must. Spend a day hiking or at the very least drive up the Going-to-the-Sun Road. It's absolutely stunning.
When you drive through Wisconsin and Michigan, make sure to stop at Apostle Islands National Lakeshore or Pictured Rocks National Lakeshore for a kayaking excursion. Both are bucket list experiences and some of the best kayaking trips in the US.
Part of The Great Northern route crosses into Canada where you'll have a chance to take a walking tour of Old Montreal and enjoy some time in Montreal's favorite outdoor spot, Mount Royal Park.
When you dip back into the US, you'll make your way through Vermont and New Hampshire before your final stop at Acadia National Park. Catch the sunrise at Cadillac Mountain. It's the first spot the sun comes up in the USA. Then enjoy a good dinner in Bar Harbor to celebrate the completion of your Great Northern road trip.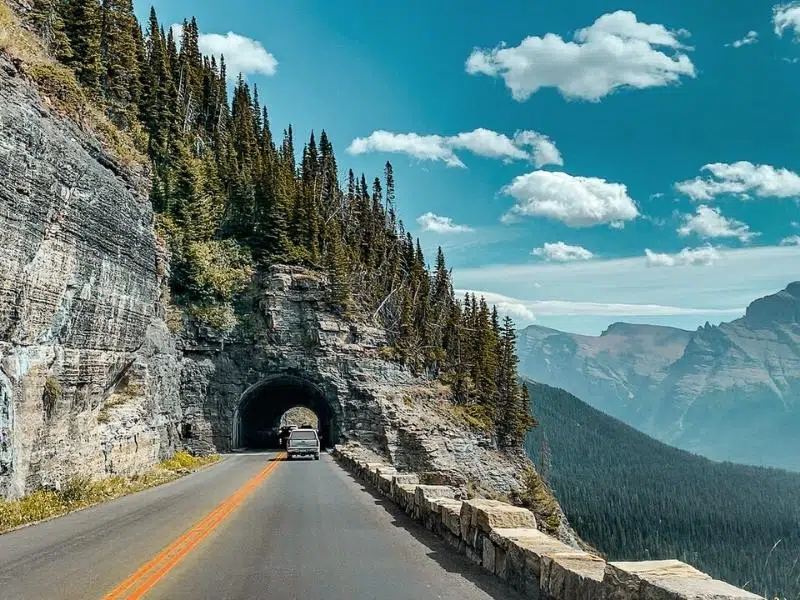 Dalton Highway, Alaska
Driven by Lina of Bucket List Places
Considered to be one of the most dangerous roads in the world, and an incredible road trip adventure, the Dalton Highway is filled with adventure, excitement and stunning landscapes. For those who haven't had the opportunity to venture into the Arctic Circle, you are in for a treat.
As the most northern road in the United States, the Dalton Highway takes you through a number of different geographies and while part of it is paved, be prepared for challenging road conditions especially during snow season or heavy rains.
When planning a road trip in Alaska, there are many choices of where to start in order to venture up the Dalton Highway. Most people fly into Fairbanks and then rent a car. Make sure your car rental allows trips up the Dalton Highway and make sure that you have a spare tire or two with you in case one of yours blows. Make sure to also pay for the extra windshield insurance.
What makes this road especially dangerous is the number of truckers that go up and down on a daily basis, carrying items to and from the oil facilities up north. If you see a truck coming down the highway, be sure to slow down and pull off to give them the right of way.
Sights to see along the way include the Arctic Circle, Gates of the Arctic National Park, the Brooks Range, the Arctic Ocean tour up in Prudhoe Bay and the powerful Yukon river. The entire Dalton Highway is 414 miles but with the road being unpaved a large portion of the way, be sure to give yourself at least three days for the trip.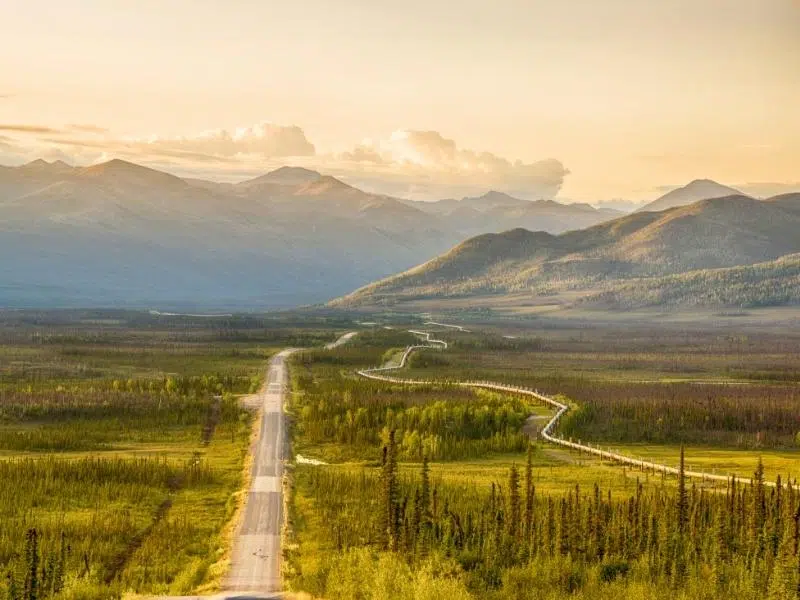 La Huasteca Potosina, Mexico
Driven by Julien Casanova of Cultures Traveled
Journey on a path less traveled via this adventurous road trip through La Huasteca Potosina, Mexico. There are waterfalls to discover, caves to explore, and incredible adventures to be had.
While you only need about a week to fully explore, you could easily spend a month in the region, soaking up the lush tropical landscape and sipping locally grown coffee.
To begin this road trip through La Huasteca Potosina, travel east from San Luis Potosi to Tamasopo where you'll find Puente de Dios, the Bridge of God.
As you swim through the cavern, you'll be mesmerized by the stalactites and stalagmites illuminated by the sun as it filters through the turquoise water.
After exploring Tamasopo, make a detour north towards El Naranjo to find the three main waterfalls of the area – Minas Viejas, El Mecco, and Salto del Agua. These waterfalls are characterized by turquoise waters that flow into gorgeous pools, just perfect for swimming.
On your way back south, spend an afternoon adventuring at Cascadas de Micos which is named for the monkeys that used to inhabit the area.
You won't want to miss the Tamul Waterfalls, at a height of over 100 meters (300 feet) they are the tallest waterfall in the area. More adventurous travelers will prefer to go rafting down the Tampaon River, one of the most beautiful rivers in Mexico where you'll encounter white water with class III rapids, and navigate inside canyons of sheer rock walls.
In the nearby town of Aquismon, arrive at the Soltano de las Golondrinas around dawn to see thousands of birds take flight from the deep cave.
And finally, wrap up this road trip in Xilitla. Here you can walk through a surrealist garden built in the 1960s by a wealthy Englishman with a wild imagination.
Whew! This exhilarating road trip through Huasteca Potosina, Mexico is action packed while at the same time leaving plenty of time to relax in its natural beauty.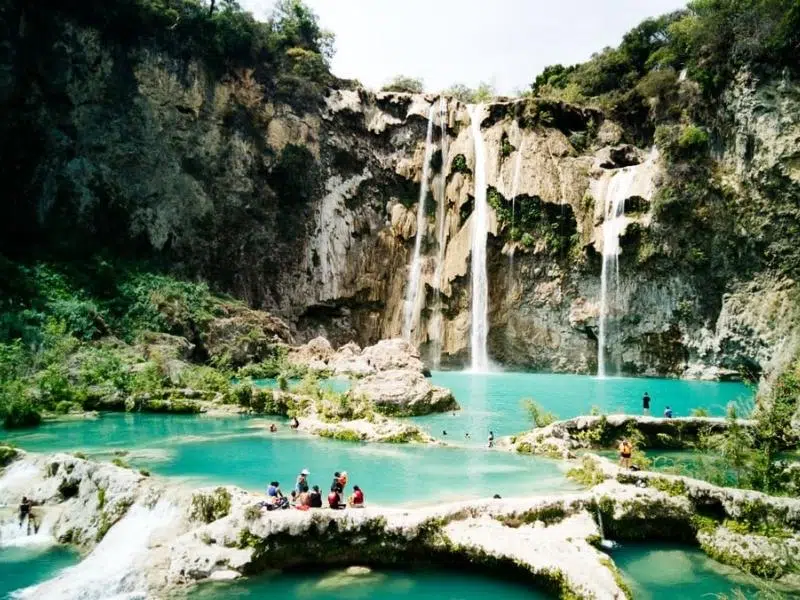 Make sure you have travel insurance you can trust when road tripping. We recommend True Traveller for their 5-star TrustPilot reviews, variety of cover options, best activities cover as standard, great prices and excellent service.
Adventurous Road Trips in South America
Costa Rica National Parks
Driven by Margarita of The Wildlife Diaries
Costa Rica is a rare gem in terms of natural beauty and the diversity of wildlife you can spot on your travels. And one of the best ways to explore Costa Rica's natural wonders is on a National Parks road trip, which also incorporates many of the stops on the shorter San José loop route.
Start your road trip in Liberia and explore the wetlands of Guanacaste in Palo Verde National Park, home to an incredible diversity of water birds. From the lowlands, drive to the top of Costa Rica's dividing range to visit the magical landscape of Monteverde Cloud Forest Reserve. Don't miss the Hummingbird Gallery in Monteverde – your chance to be surrounded by dozens of hummingbirds that congregate in the afternoons around nectar feeders.

From the misty cloud forest, head back to the coast, and follow Costa Rica's Pacific coastline to Manuel Antonio National Park. Not as tranquil as the other parks, Manuel Antonio is great for spotting both two-toed and three-toed sloths.
If you are a keen wildlife watcher, don't miss Damas Island near Quepos. It is the only place in the world where you can reliably see the Silky anteater.

The next park is one of the best wildlife watching destinations in the world – Corcovado National Park. Corcovado is quite remote, and to get to it, leave your car at Sierpe and catch a boat to Drake Bay. Make sure to pre-arrange your guide for Corcovado in advance – you can't access the park independently.
Spend two, or better three, nights in Corcovado, and you'll see tapirs, tent-making bats, four species of monkeys, and maybe even a puma!
Return to Liberia via Poas Volcano National Park (you've got to see a volcano in Costa Rica!), Tirimbina Reserve for the best rainforest and canopy bridges, and La Selva Biological Station to see the adorable white Honduran bats. Depending on how many days you spend in Corcovado, this Costa Rica road trip takes ten to twelve days, and you can take it year-round.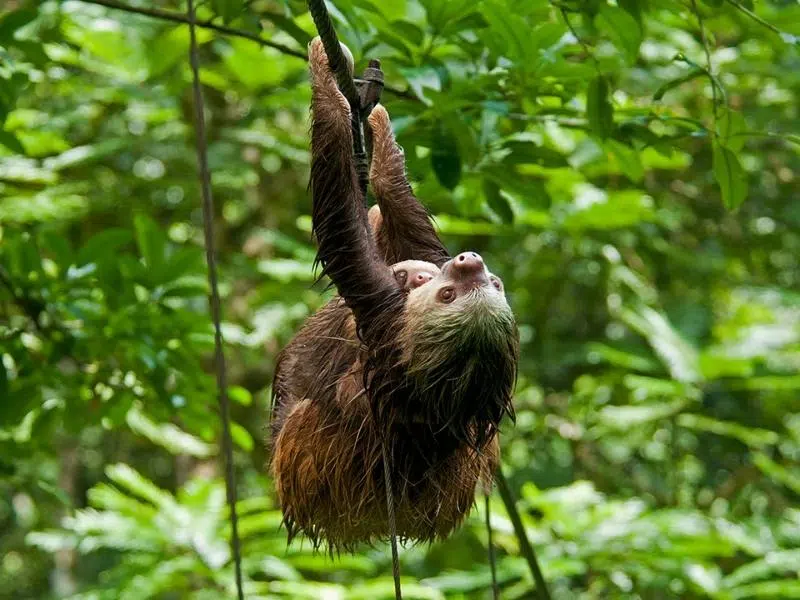 An Adventurous Road Trip in Asia
Karakoram Highway, Pakistan
Driven by Samantha of Intentional Detours
One of the the world's best adventure trips is a drive up the famous Karakoram Highway. The highway, also known as the KKH, is 1300km (810 miles) long and connects Pakistan with Western China.
The true highlights of this cross country journey are all in Pakistan though, namely in Gilgit Baltistan territory, where the highway runs through some of the highest mountains and most picturesque villages in the world. Though the KKH begins way down in Punjab near Pakistan's capital, it will take a while for the magic to reveal itself.
Technically, the highway continues onwards up to Kashgar in China's Xinjiang, though China now calls it China National Highway 314. Typical Karakoram Highway trips will start near Islamabad, Pakistan where it officially begins, and end at the Khunjerab Border, which sits at the very last piece of Gilgit Baltistan.
Major stops include the junction of the world's three highest mountain ranges in Jaglot, Minapin where you can hike to Rakaposhi, a 7788 meter high mountain, as well as many places in Hunza Valley, which encompasses the most incredible parts of the highway.
Places that you should spend stop at in Hunza (in order from south to north) include Karimabad, Altit, Duikar, Attabad Lake, Gulmit, Borith Lake, Passu, Sost, and the Khunjerab Border. To reach the border you'll have to drive through a stunning national park that's home to hundreds of yaks and other unique wildlife!
The best time to go on a Karakoram Highway road trip is from May to September. While it will be cold, you'll find EPIC fall colors all throughout the Hunza portions of the highway come early November.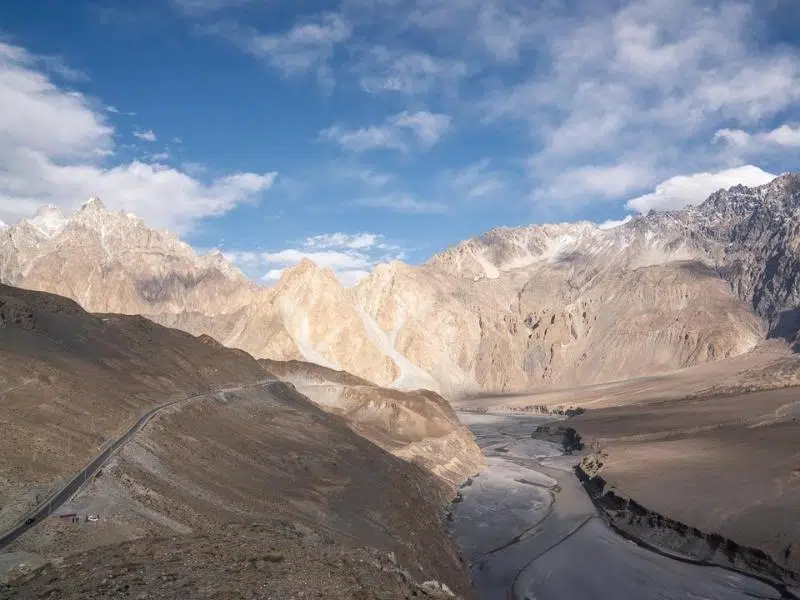 Road Trip Adventures in Africa
Garden Route, South Africa
Driven by Alya of Stingy Nomads
The Garden Route in South Africa is one of the most scenic road trips in the world, as it passes through the Garden Route National Park with its varied and colourful flora and fauna. The route starts in the coastal town of Mossel Bay and ends in the charming village of Stormsrivier. The total distance of the road trip is 300km.
For most of it, the route follows the beautiful coast of the Pacific Ocean. One week is a perfect time for a road trip along the Garden Route, with the spring and summer months from November to February being the best time for the road trip.
The Garden Route is famous for its spectacular scenery which includes unspoiled sandy beaches, majestic indigenous forests, picturesque bays, and lush-green hills with breathtaking lookout points. There are many beautiful places and towns along the route that make perfect day stops.
The highlights of the Garden Route are Mossel Bay, Sedgefield, Wilderness, Knysna, Plettenberg Bay, Nature's Valley, and Tsitsikamma National Park. Every stop on the Garden Route offers a great variety of outdoor and adventure activities from hiking and safari drives, to bungee jumping and diving. Hiking is one of the most popular activities in the area.
There are many coastal trails with stunning scenery such as St. Blaize Trail, Robberg Nature Reserve Trail, and the famous Otter Trail. Safari is another popular activity on the Garden Route. There are several game reserves where visitors can experience a safari drive to see African animals.
Mossel Bay and Plettenberg Bay are famous for their diverse marine life. Snorkeling or diving there one can see seals, dolphins, sharks, and whales. Bungee jumping from Bloukrans Bridge is a not-to-miss activity for adrenaline junkies. Other popular activities on the Garden Route include kayaking, paragliding, canyoning, and ziplining.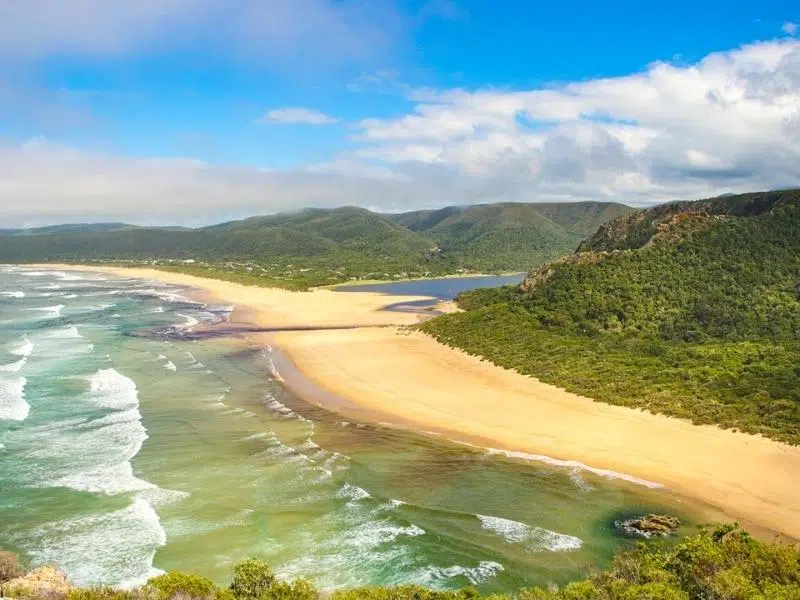 Atlantic Coast to Sahara Desert, Morocco
Driven by Izzy and Phil of The Gap Decaders
A road trip in the stunning country of Morocco will take you from the sparking turquoise waters of the coast, through the dramatic snow-capped Atlas mountains. You'll head into some of the craziest cities on earth and take the long road south to the rose gold dunes of the Sahara. With such a diverse landscape and wonderfully welcoming people, what's stopping you from hitting the tarmac and taking a Moroccan road trip?
You need two weeks minimum, ideally between October and April, to really appreciate this Moroccan road trip, which starts in Casablanca, where there is a large international airport. From hear, you'll head inland to the foodie city of Fez, where the ancient medina is the world's largest car free urban area and home to 70,000 people.
Once you're spent a day exploring this astonishing city, you'll make your way south to the huge sand dunes of Erg Chebbi, where you can spend the night in a Berber tent and race around the dunes in sand buggies. Head west for the famous Dades Gorge and Todra Gorge, for incredible hiking and amazing rock formations.
Next up are the atmospheric valleys of the kasbahs as you follow the old caravan routes in southern Morocco, and stop at UNESCO Ait Ben Haddou, the most famous kasbah of them all, and a filming location for Game of Thrones.
From here the awe-inspiring Tizi n' Tichka pass at 2260m takes you over the Atlas mountains into the red city of Marrakech, one of Morocco's best cities. Spend a few days discovering this vibrant and fast modernising city, where souks and hammams sit alongside contemporary restaurants and hotels. Don't miss eating in Djemaa el-Fna, Morocco's main square, and the wonderful city center Secret Garden.
Your last stop on this road trip adventure is the popular resort of Essouira on the Atlantic coast. Freshly grilled fish, camels on the beach and kite surfing mixes with cool bars, good restaurants and a distinctly Europe meets Africa vibe.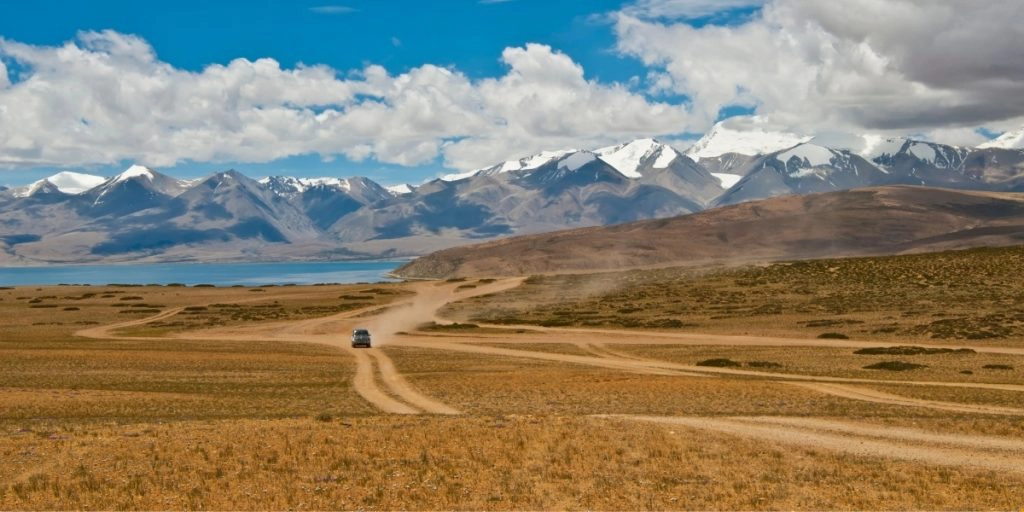 Adventure Road Trips in Europe
Ring Road, Iceland
Driven by Izzy and Phil of The Gap Decaders
The land of fire and ice is a spectacular place for an adventurous road trip. Iceland's volcanic and glacial terrain that has shaped its nature and geography over millennia, as well as heavily influencing the country's culture, is easy to visit as you travel Iceland's famous Ring Road.
To enjoy an unforgettable trip around the Ring Road we recommend taking a minimum of ten days in summer to visit a selection of the top sights. If you only have a few days, or even just a day, you can do the Golden Circle tour from Reykjavik. The Golden Circle is a route that takes in Thingvellir National Park, Haukadalur Geysir Geothermal Area and Gullfoss Waterfall.
Start in the lively city of Reykjavik, which may be small, but makes up for its size with breathtaking views, quirky architecture, and a charming city center with a hip vibe. From here it's easy to spend a day or evening at the famous geothermal waters of the Blue Lagoon on Iceland's south coast.
See the Golden Circle attractions and perhaps go snorkelling at the Silfra Fissure in Thingvellir National Park, where you can see the gap between the tectonic plates of Europe and North America.
From here hit the Ring Road and use our Iceland road trip planner to plot how you'll see the 25+ epic sights and attractions along the route.
From thermal springs, to ice caves, waterfalls and lava fields, adventurers will love this road trip. You'll find ice cave trekking, whale watching, snowmobile treks, volcano hiking, quad biking, and of course, Northern Lights hunting, to satisfy your inner adventurer.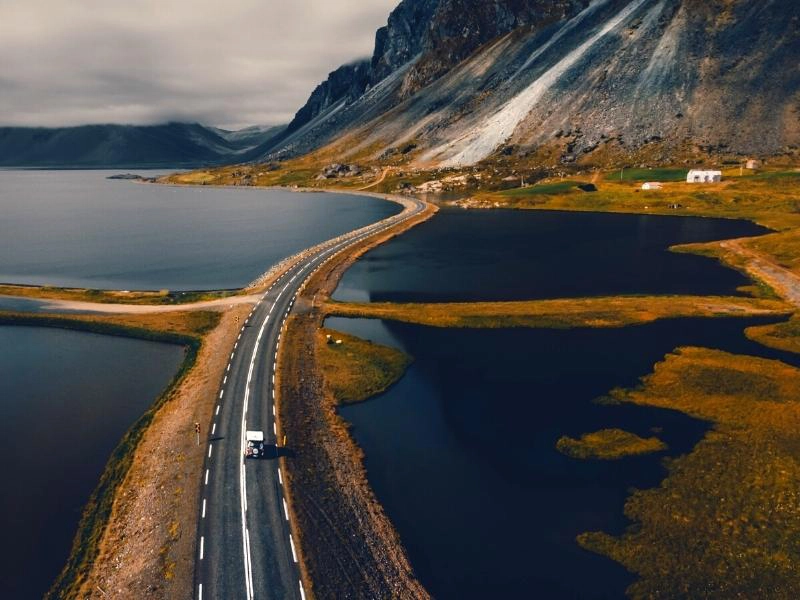 Wild Atlantic Way, Ireland
Driven by Beata & Ela from Stunning Outdoors
The 2500km Wild Atlantic Way winds along the Irish west coast, starting at the northernmost point of Malin Head in County Donegal, and ending in the picturesque town of Kinsale, down south. It takes around two weeks to complete the whole of this incredible road trip, but it can be shortened if you're time restrained.
This drive along the west coast of Ireland offers magnificent scenery with high cliffs, white sand beaches and rolling hills, wildlife watching, lots of outdoor activities and opportunities to enjoy Irish hospitality. You can make many detours based on your interest and hobbies, like climbing Carrauntoohil , the highest peak in the Republic of Ireland, or visiting Achill island.
There are many fantastic landmarks to see along the way; starting north, ensure to explore Inishowen Peninsula, home to some of the finest beaches in Donegal, and then Slieve League cliffs.
Sligo, one of the most picturesque and undiscovered counties will spoil you with views and walk opportunities without the crowds.
Connemara National Park is one of the biggest highlights of the route for those seeking to explore mountains, grasslands and forests.
South-east from the national park lies the lively harbour city of Galway, one of the most charming and colourful cities in Ireland, known for its art and music scene.
Further south, having passed Limerick and Tralee, drive over the Connor Pass to reach Dingle town and explore the peninsula. This small tip of the country is blessed with stunning beaches and a beautiful dramatic coastline.
Two massive additional attractions when driving the Ring of Kerry are the climb of Carrauntoohil and visit to Skellig Michael – a small island with 7th century monk settlement.
The list of attractions along the Wild Atlantic Way is endless and the ones mentioned above are only a small fraction of what is awaiting you during this Ireland country road trip, meant to inspire your travels!
North Coast 500, Scotland
Driven by Izzy and Phil of The Gap Decaders
A 516 mile jaunt around the spectacular north coast of Scotland, the North Coast 500 is an iconic Scottish road trip. Taking in the glorious Scottish Highlands, breathtaking coastlines, lochs and historic towns along the route, this really is one of the world's epic road trips.
The NC500 road trip is not one road or highway, although it is sometimes called 'Scotland's Route 66', but a series of existing roads that form a loop around the stunning Highlands, through rural villages and towns, and along the beautiful coastlines of the country.
Starting and finishing in Inverness, the North Coast 500 route passes through five Scottish counties – Inverness-shire, Easter Ross, Caithness, Sutherland and Wester Ross, each with their own distinct landscapes and cultures.
With castles, Munro bagging, pristine beaches, epic coastal hiking, nature reserves and sea stacks to explore, the North Coast 500 is an adventurers dream. Follow our travel tips and North Coast 500 route planner to organise the road trip of a lifetime!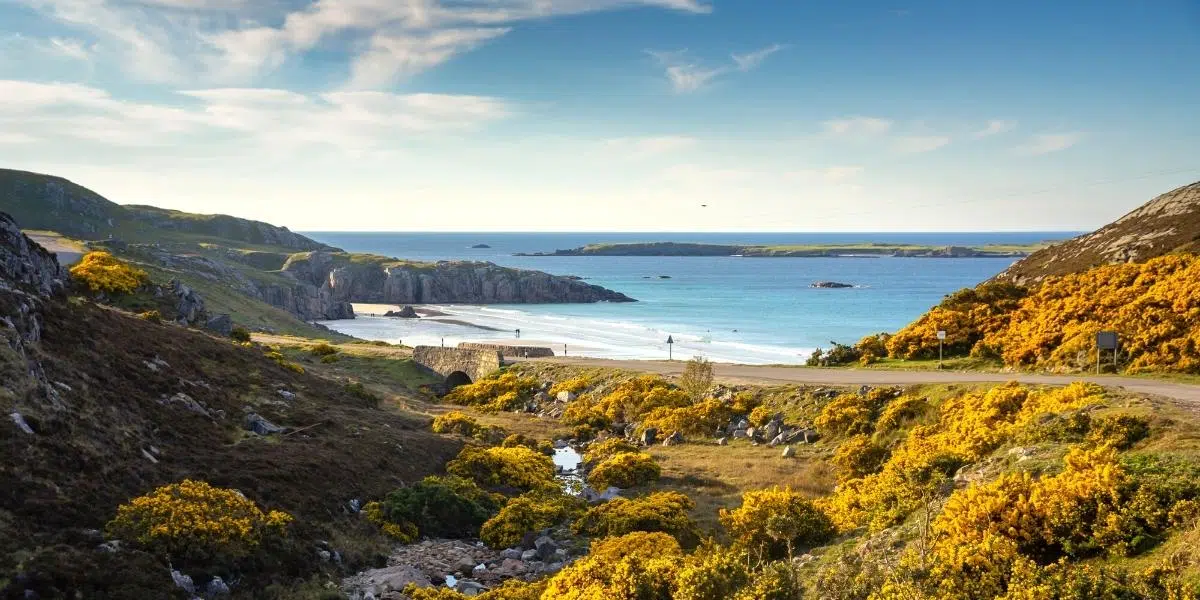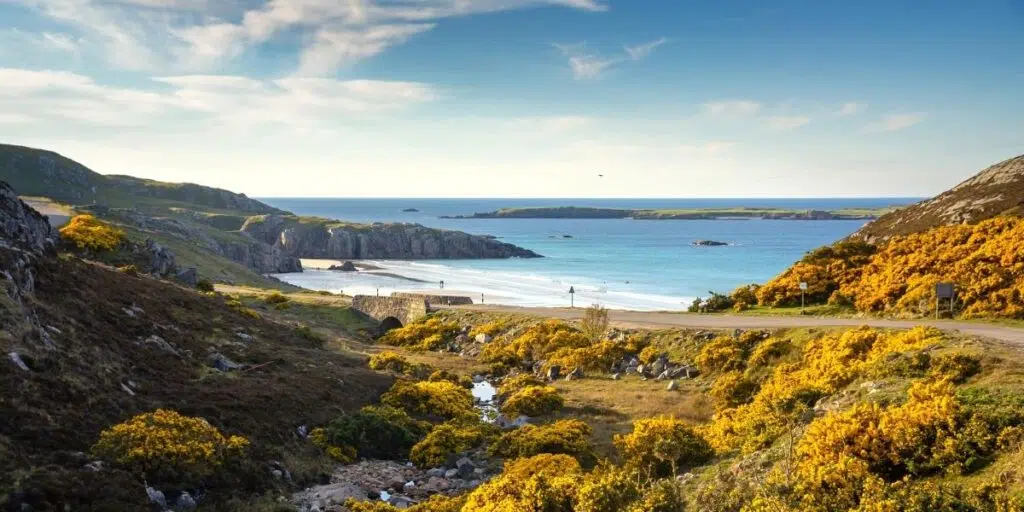 Lofoten Islands, Norway
Driven by Bradley of Dream Big Travel Far
The Lofoten Islands are undoubtedly one of the best places to visit in Norway. With spectacular peaks and breathtaking sea views, a road trip can be a great way to explore all that this archipelago has to offer.
Seven days are generally enough to explore the Lofoten Islands, but most people like to schedule ten days, which allows for enough time to enjoy the attractions and destinations without feeling rushed.
Start your trip in Svolvaer, the capital of Lofoten where there's also an airport and good links to other cities in Norway. This small town is nestled amid spectacular mountains and pristine fjords, and there are many boat trip cruises to try. It's also a great place to try different local dishes like stockfish, wild caught dried and matured Arctic cod.
Don't miss the nearby village of Kabelvåg, where history dates back to the Viking era. It's home to the popular Lofoten Museum, a well-preserved open-air folk museum, and the fun-filled Lofoten Aquarium.
Another must-visit in Lofoten is Henningsvær, a charming fishing village with its own unique character. Discover the art galleries and explore some of its many hip destinations, from cafes and boutiques to bars and restaurants.
If you have extra time, stop by Gimsøy island to witness the most beautiful landscape of seashore and mountains. It has the first settlements in all of Lofoten and has a history that can be traced back to 500 BC! There have been world-famous historical archaeological findings on this island.
Best of all, there's actually no toll road on the islands (and the rest of Northern Norway), which means you won't have to worry about paying toll fees when you road trip this part of the country. And while each season has its own appeal, driving through Lofoten is most popular during summer when the days are warm and bright.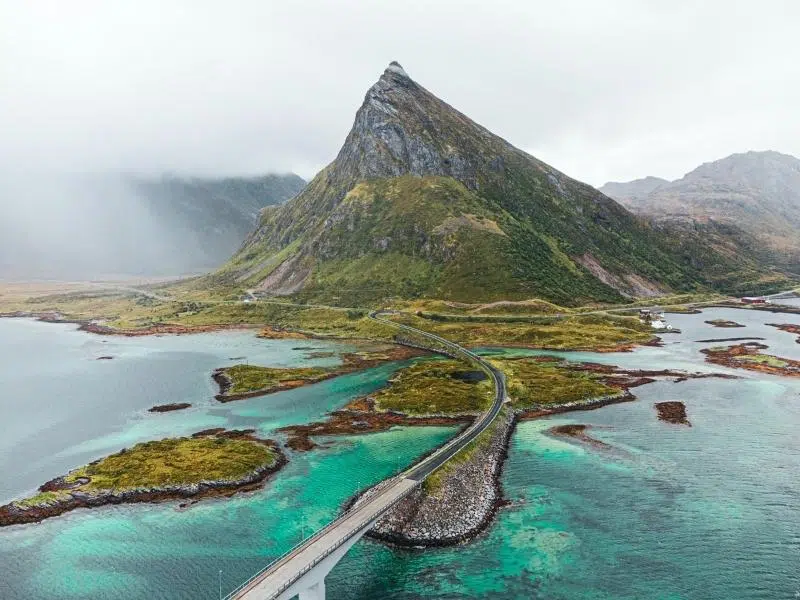 Oceania Adventurous Road Trips
Great Ocean Road Australia
Driven by Lanie of Make More Adventures
Officially, the Great Ocean Road begins in Torquay, though most Great Ocean Road road trips begin 100 kilometers away in Melbourne, Victoria. The entire Great Ocean Road is 240 kilometers long and ends in Allansford, a four hour drive away from Torquay.
Though the Great Ocean Road can be driven on a day trip from Melbourne, it is best seen slowly over the course of a few days. While the Great Ocean Road is accessible year round, it is best seen in the warmer months, especially for those who want to enjoy the beaches.
Memorial Arch, known as the Great Ocean Road Sign, is not located at the beginning of the Great Ocean Road. The arch was built as a memorial and is a popular spot for pictures.
The Twelve Apostles is the most well-known stop on the Great Ocean Road. Currently, there are seven limestone stacks or Apostles, still standing. Unlike most of the stops along the Great Ocean Road, the Twelve Apostles has plenty of parking, a cafe, and a gift shop. The viewing area is an easy one kilometer walk from the parking lot.
Other stunning natural attractions on the Great Ocean Road include Gibson Steps, Loch and Gorge, and London Bridge. Some of the attractions are located right near a parking lot while others include a short hike.
In addition to viewing the beautiful scenery along the ocean, there are hikes and waterfalls worth viewing inland on the Great Ocean Road, such as the hikes to Erskine Falls and Sheoak Falls. Mait's Rest Rainforest Walk is an 800 meter long boardwalk circuit through the rainforest.
Don't rush this adventurous road trip. Take the time to explore the beaches, rainforest, small towns, and unique landscape and enjoy everything there is to do along the Great Ocean Road.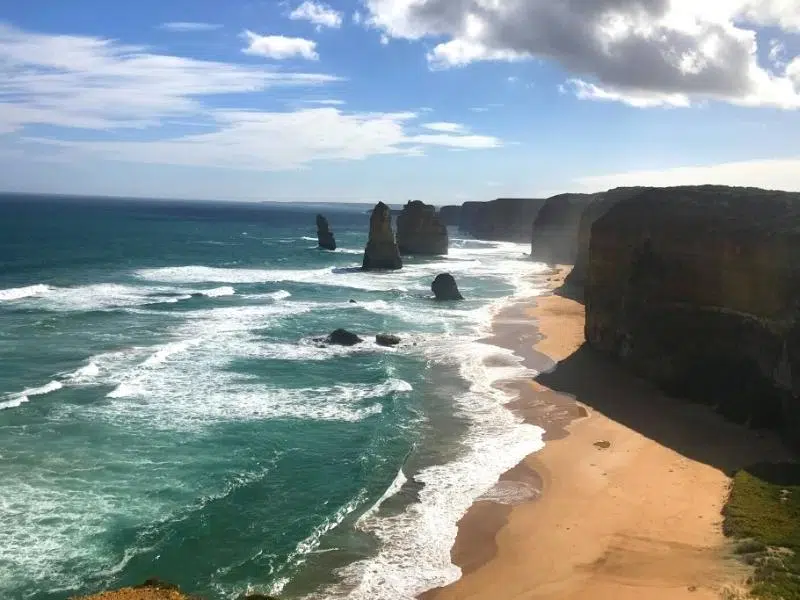 Western Australia Coast
Driven by Natalie and Steve of Curious Campers
The road trip from Perth to Exmouth along the coast of Western Australia is one of the most spectacular drives in Australia. At 1250km, or 780 miles, you'll want 14 days to get the most from this adventure. The road between Perth and Exmouth is sealed so the driving is easy, and a campervan is a fun and good value way to do the trip.
The road trip from Perth to Exmouth takes you along the Coral Coast, to the World Heritage listed Ningaloo Reef. Expect to see a lot of turquoise water, bright white sand, and abundant marine life. Wildlife encounters are a feature of this drive.
You can come face to face with Australian Sea Lions in Jurien Bay, dugongs in Shark Bay, Manta Rays at Coral Bay and whale sharks in Exmouth. When you go snorkelling you'll see plenty of harmless sharks, and turtles too.
This is also a road trip of incredible contrasts. Besides the coastal wildlife and landscapes, you'll see amazing deserts, river gorges and ochre red cliffs dropping into bright blue water. The Pinnacles Desert near Cervantes is a must see and the red cliffs and blue water in Francois Peron National Park is simply stunning.
The best time to drive between Perth and Exmouth is from April to the start of November. Outside of these times, northern Western Australia becomes very hot – over 40 degrees Celsius and monsoonal rains bring high humidity.
July, August and September is a nice time, the days are beautiful and the evenings pleasant and Western Australia's famous wildflowers colour the landscape, with Kalbarri National Park being a great place to see them.
This really is a spectacular road trip, one nature lovers and adventurous travelers should have on their bucket list.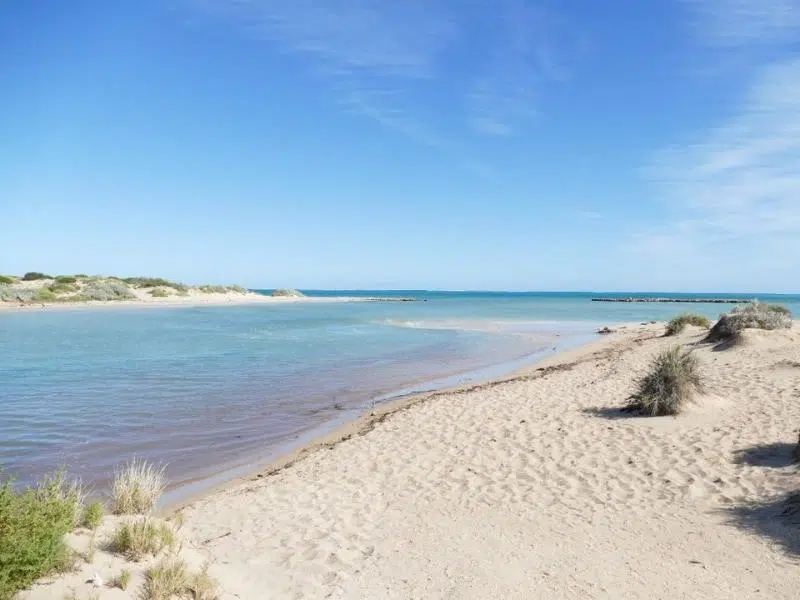 South Island, New Zealand
Driven by Kenny of Knycx Journeying
New Zealand's South Island is one of the most scenic areas on earth, featuring rugged mountain ranges, glaciers, unique landscapes, and green forests.
Christchurch is the biggest city on the island and a wonderful starting point for the road trip. Witness how the city is rebuilding itself after the devastating earthquake in 2011, visit the famous Botanic Gardens, hop on a tram and go punting through the canals.
Afterward, head south to Lake Tekapo and go stargazing in Mount John, one of the best places to do so in the world. The road trip continues to Lake Pukaki, one of the biggest lakes in the South Island that has a different shade of blue color in its water. Take a guided boat tour and get close to the face wall of Tasman Glacier and go hiking on one of the many trails on Mount Cook.
Arrowtown is a historic town in the north of Queenstown, and Queenstown is a small town that attracts millions of tourists every year because of its stunningly beautiful sceneries and wide range of outdoor activities offerings.
It is one of the most popular destinations for extreme sports like bungee jumping and sky diving. For those who are looking for something less exhilarating, ride a horse in Glenorchy or take a boat trip on Lake Wakatipu.
Queenstown is also the starting point of a road trip to Milford Sound, the largest Sound in New Zealand. The Sound features sea lions, dramatic waterfalls, and vertical cliffs that are breathtaking.
The best time to visit the South Island is during summer between November to next year's February, while the other months have a different kind of beauty that is also great to experience. This road trip takes about seven to ten days to cover the highlights of each stop.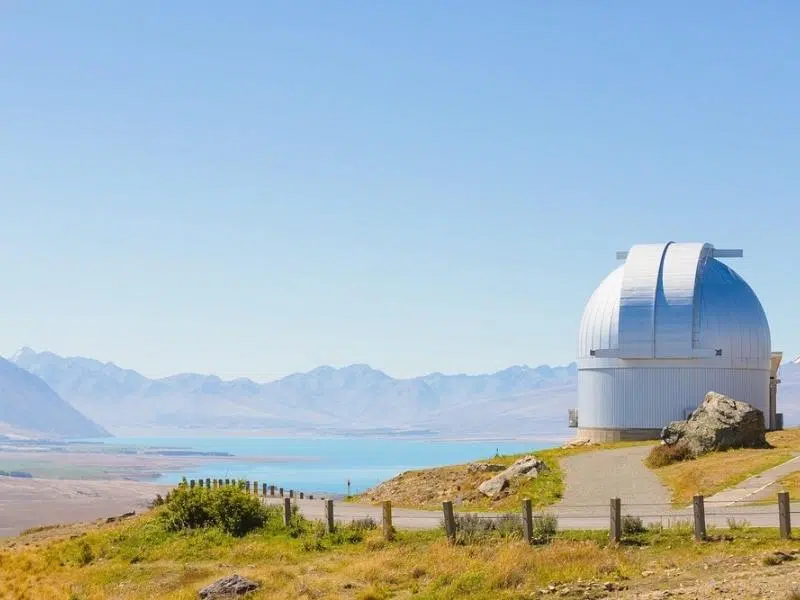 North Island, New Zealand
Driven by Delilah of Our Travel Mix
New Zealand is one of the most picturesque places in the world and the best way to explore it is by road trip. The North Island contrasts the South Island with beautiful beaches, rugged volcanoes and countless hidden gems.

The ultimate 14 day north island road trip starts at Auckland, the largest city in New Zealand and home to the country's international airport. One to two days here is perfect to explore the city center's attractions before venturing onto more exciting destinations.
The next stops should be the vibrant beach spots, Coromandel and Mount Maunganui, which are just a few hours scenic drive from Auckland. Lounging on the beach, hiking up some mountains and dining at delicious restaurants will keep you busy for another one to two days in each of these towns.
From Mount Maunganui it's just a one hour drive to Rotorua, which is essentially the cultural hub of New Zealand. Allow a few days here to experience Maori culture, see a pa site, try a hangi and go to a cultural show. Also allow some time to see the geothermal parks and lie in a mud pool.
Taupo is another one hour drive away and is home to some of New Zealand's most dramatic landscapes. Cycle around beautiful lakes, hike the epic Tongariro Crossing, or ski on the slopes of an active volcano in winter.
The final leg of the road trip is a four hour drive south to Wellington, New Zealand's capital city. Being a bustling city with a hipster-esque vibe, there are heaps of amazing things to do in Wellington. Top picks range from wining and dining, to the Te Papa Museum and huge Zealandia park.
This is the perfect spot to either end your trip or take a ferry over to the South Island to continue exploring New Zealand.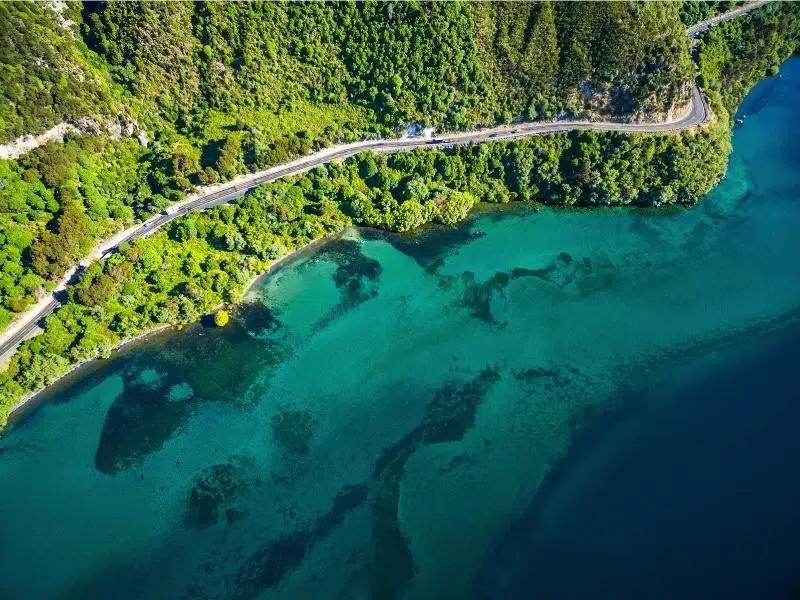 Are you looking for more road trip inspiration? Check out these top posts…
Turkey is a one-of-a-kind country, with a foot in both Europe and Asia. Its dramatic mountains, seemingly infinate grassy steppe and beautiful turquoise coastlines make Turkey a diverse place to road trip, where long stretches of sweeping roads cut through rich history, vibrant towns and incredible landscapes. We asked our favourite bloggers to tell us about the best places they have visited in Turkey, to help you plan your next road trip.
Love it? Pin it!