This post may contain affiliate links, from which we earn an income.
A 516 mile jaunt around the spectacular north coast of Scotland, the North Coast 500 is an iconic Scottish road trip. Taking in the glorious Scottish Highlands, breathtaking coastlines, lochs and historic towns along the route, this really is one of the world's epic road trips.
Whether you want to admire the gorgeous beaches, spot wildlife, climb a few Munros, sample Scottish whiskey and haggis, learn about Scotland's rich history, or just enjoy the drive, you'll find all that and more along the North Coast 500 route.
In this ultimate North Coast 500 planning guide we share;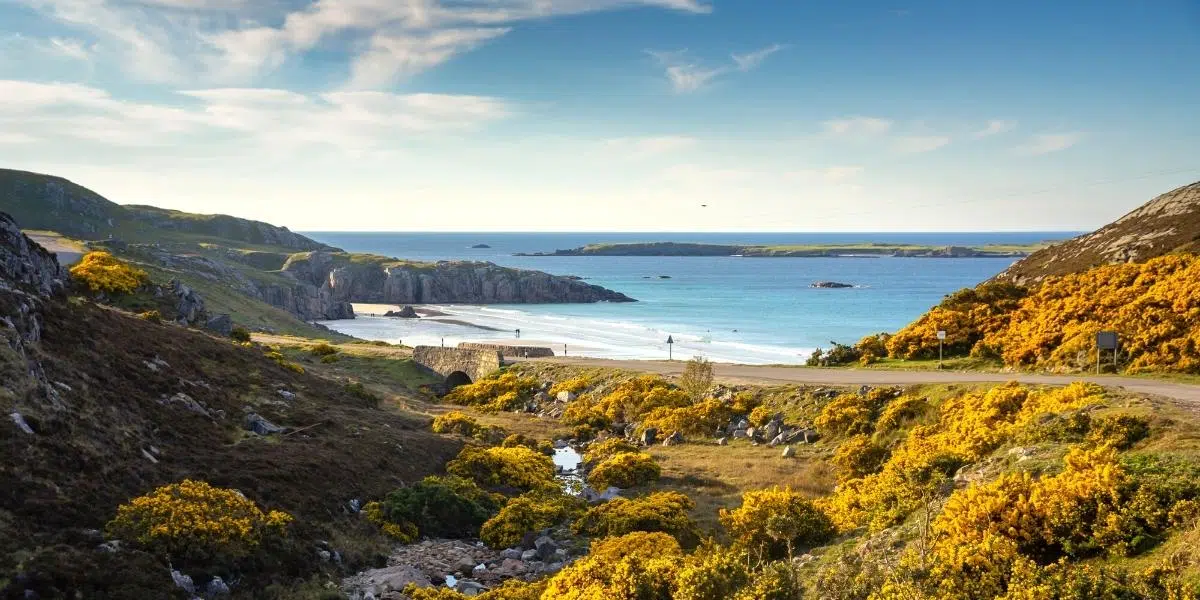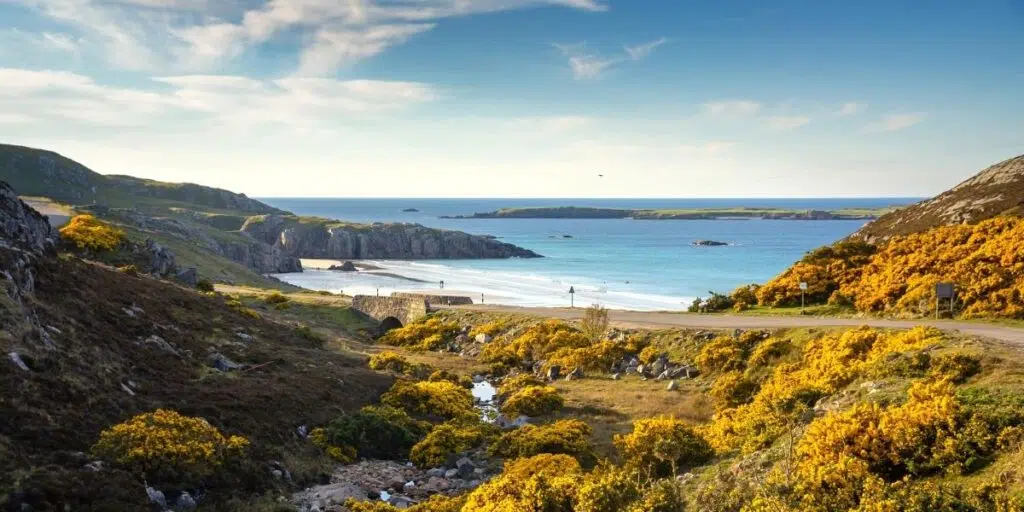 Is this your first time visiting the UK? Get all the information you need in our United Kingdom Travel Guide, including what to pack, the best time of year to go, getting there and practical tips to help you have the best trip!
What is the North Coast 500?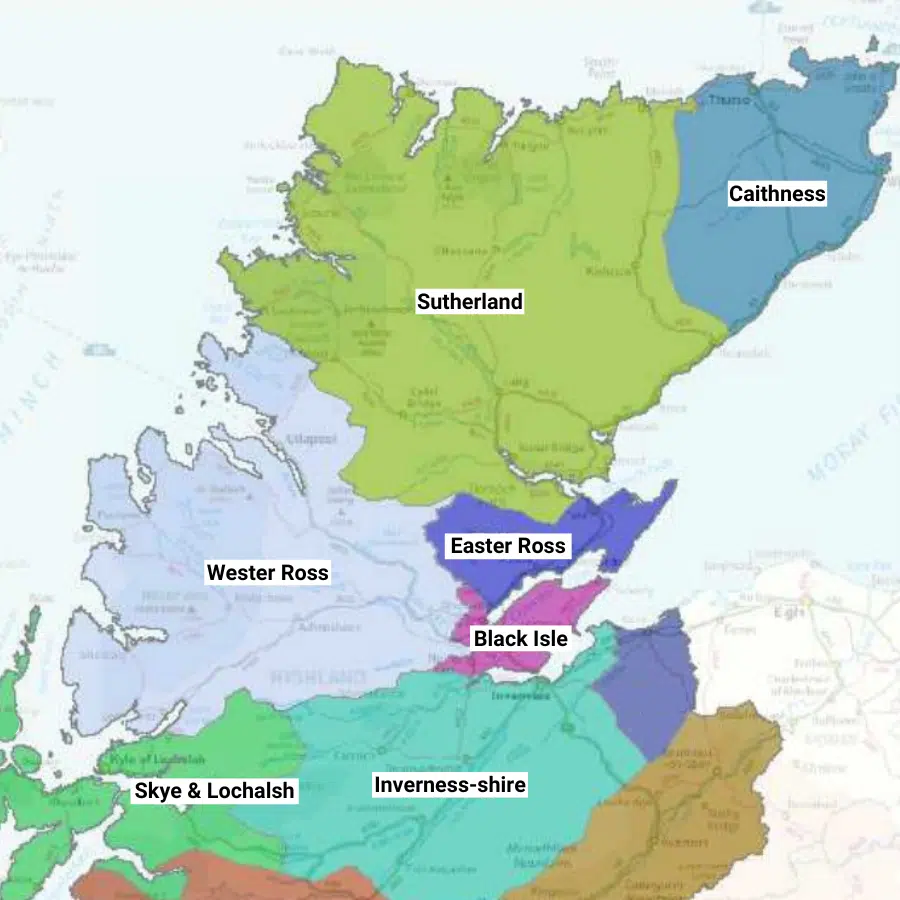 The North Coast 500, often abbreviated to NC500, is a 516 mile scenic tourist route through a number of administrative and historical counties and regions in northern Scotland including Inverness-shire, the Black Isle, Easter Ross, Caithness, Sutherland and Wester Ross.
Developed in 2014 by the North Highland Initiative, a non-profit organization established by Prince Charles in 2005, the North Coast 500 route was designed to promote northern Scotland and the Highlands as a road trip destination and bring investment and tourism income into the region. North Coast 500 Ltd is the official North Coast 500 marketing partner, providing online resources and putting local businesses in touch with visitors.
The NC500 road trip is not an actual single road or highway, although it is sometimes called "Scotland's Route 66", but is a series of existing roads that form a loop around the stunning Highlands, through rural villages and towns and along the beautiful coastlines of the country.
RELATED POST – Adventurous Road Trip – 26 of The World's Most Exciting Routes
North Coast 500 Map
Starting and finishing in Inverness, the North Coast 500 route passes through five Scottish counties – Inverness-shire, Easter Ross, Caithness, Sutherland and Wester Ross, each with its own distinct landscapes and cultures.
Use our NC500 route planner, interactive map and highlights to work out where to visit and what to see and do along the route, and pick out what interests you the most.
How to use this map – Use your fingers (or computer mouse) to zoom in and out. Click or touch the icons to get more info about a place, and click the arrow in the box top left to open the index. To add to your own Google Maps account, click the star next to the title of the map.
Inverness-shire & the Black Isle
Both the start and finish point of your North Coast 500 itinerary, Inverness is one of Scotland's seven cities and sits in the south of the Highlands, on the banks of the pretty River Ness.
Beautifully planted with flowers and crowned by a fabulous castle, Inverness is a thriving and busy city with a rich variety of places to visit and things to do, both in the compact city itself and the surrounding area.
To the north, is the Black Isle peninsula, surrounded on three sides by the sea – Cromarty Firth to the north, Beauly Firth to the south, and Moray Firth to the east. It is thought that the Isle's name is derived from the fact that, as snow does not lie in winter, the promontory looks black while the surrounding countryside is white.
Highlights
Inverness >> The Glenmoriston Townhouse Hotel is just a three minute walk from Inverness center, and enjoys riverside views and an award-winning restaurant.
Black Isle >> Old Drynie House B&B for its Victorian parkland setting, superb hospitality and delicious home-made breakfast.
Culloden >> Ardtower Caravan Park for its beautiful setting, award-winning facilities and spacious hard-standing pitches.
Rosemarkie >> Fortrose Bay Campsite for its waterside position, fantastic views and excellent facilities.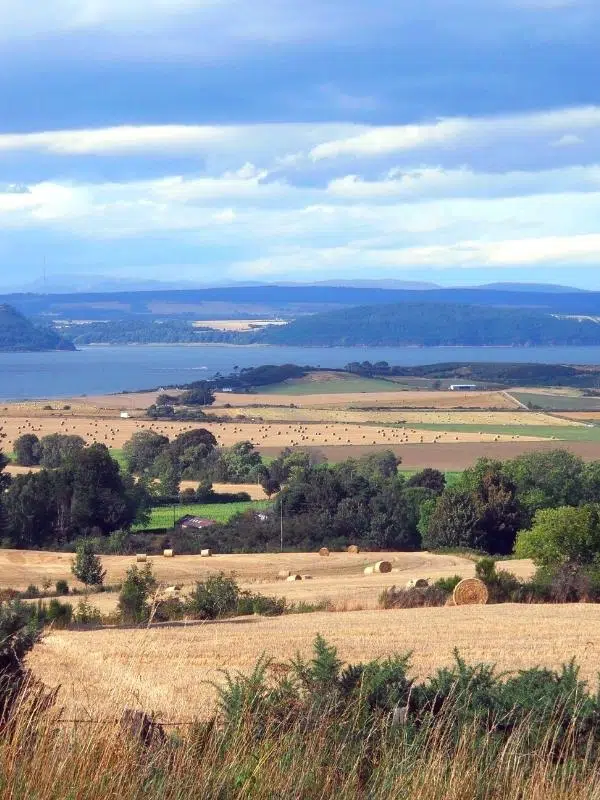 Easter Ross
A small region yet packed with interest, Easter Ross is located north of Inverness and sea-bound by the Moray Firth to the east, the north shore of the Cromarty Firth and the south shore of the Dornoch Firth.
Lined with coastal villages offering fabulous views and plenty of sea life to watch out for, as well as Highland wilderness in the inland forestry areas, there's much to appreciate here. Don't rush through on your way north!
Highlights
Portmahomack >> Caledonian House B&B for its beachfront location, simple and unfussy decor and warm hospitality.
Evanton >> Kiltearn Guest House for its foreshore location, beautiful Victorian building and Scottish charm.
Evanton >> Black Rock Caravan Park for its location close to the A9 North Coast 500 road, and excellent touring pitches and services.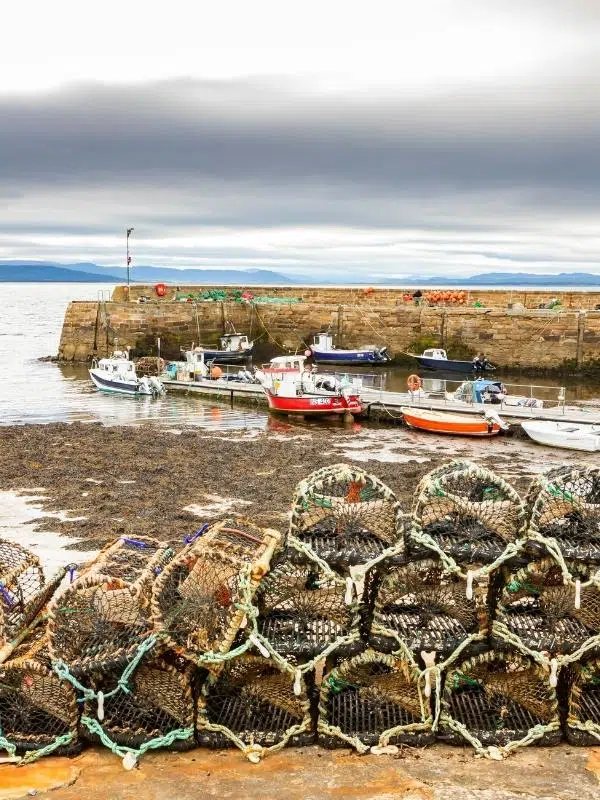 Caithness
Home to John O'Groats and Dunnet Head, the most northerly village and northerly point respectively, Caithness is right at the top of the United Kingdom mainland. It is so far north that in favourable conditions, it's possible to see the Northern Lights from here.
The vast open landscape, also known as the flow country, is rich in the archaeology of ancient times, and the coastline features soaring sea stacks and towering headlands, home to puffins and other sea birds.
Highlights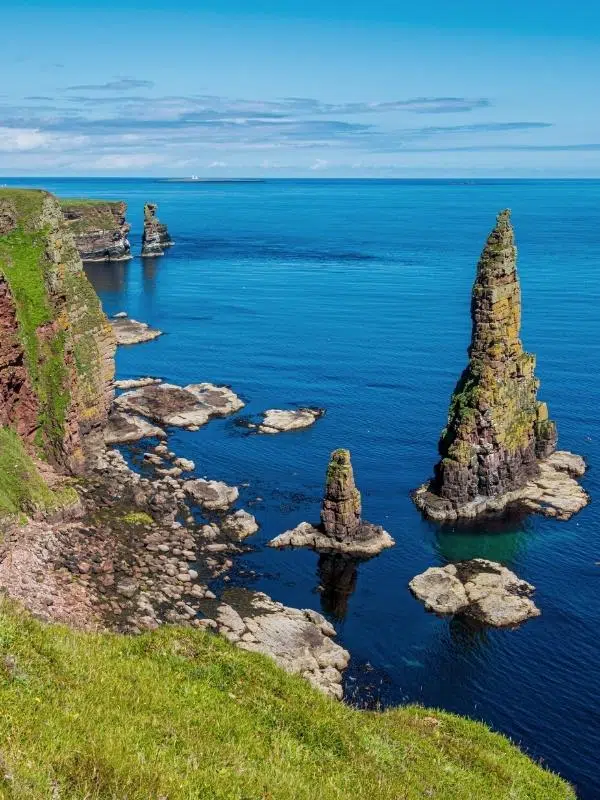 Sutherland
One of the last great wilderness of Europe, a large chunk of the NC500 route passes through this raw and beautiful county.
Sutherland actually stretches across the Highlands of Scotland, from east coast to west, so you'll pass through it twice! With the sea always on your right, the west coast on this part of the route is unspoilt and diverse, with huge sandy beaches and the rugged and aptly named Cape Wrath cliffs.
For many, us included, this is a favourite part of the route, for the spectacular scenery and its rich natural history.
Highlights
Torrisdale >> Borgie Lodge Hotel for its wildlife-filled gardens, Scottish hospitality and super comfortable beds.
Lochinver >> Inver Lodge for its wonderful sea views, award-winning restaurant and traditional Scottish decor.
Durness >> Sango Sands Oasis Campsite for its stunning cliff-top position, nearby beaches and fantastic facilities.
Clachtoll >> Clachtoll Beach Campsite for its beachside location, great facilities and laid-back family-run vibe.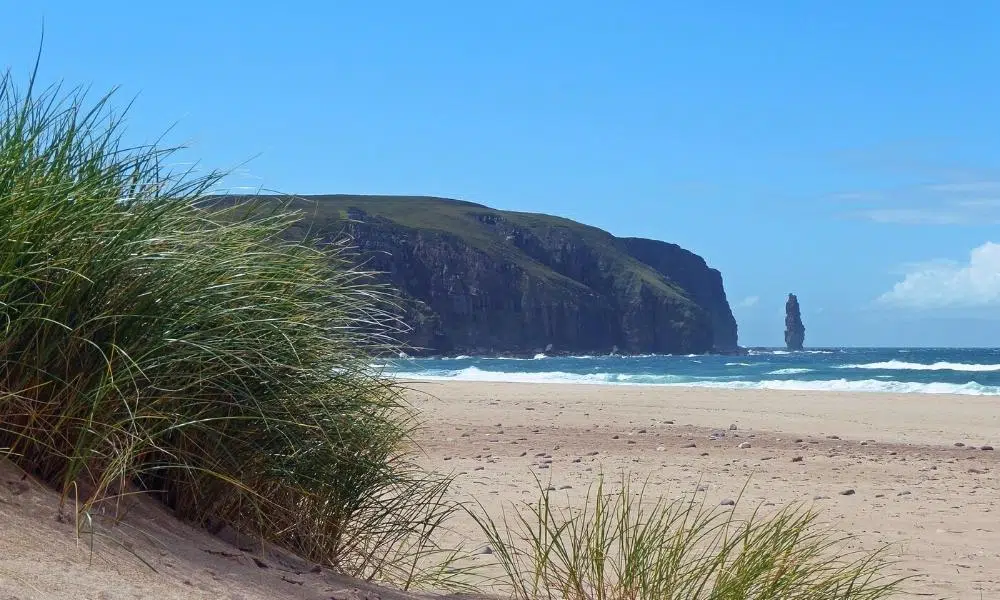 Wester Ross
Wester Ross is an area of breathtaking landscapes – think ancient mossy glens, Caledonian forests full of firs, towering mountain peaks and gorgeous beaches. With iconic roads and dramatic backdrops, driving through Wester Ross is an adventure and a highlight for many NC500 visitors.
From bagging a Munro to whale watching, and exploring castles and gorgeous gardens, there is plenty to keep you busy in this beautiful part of Scotland.
Highlights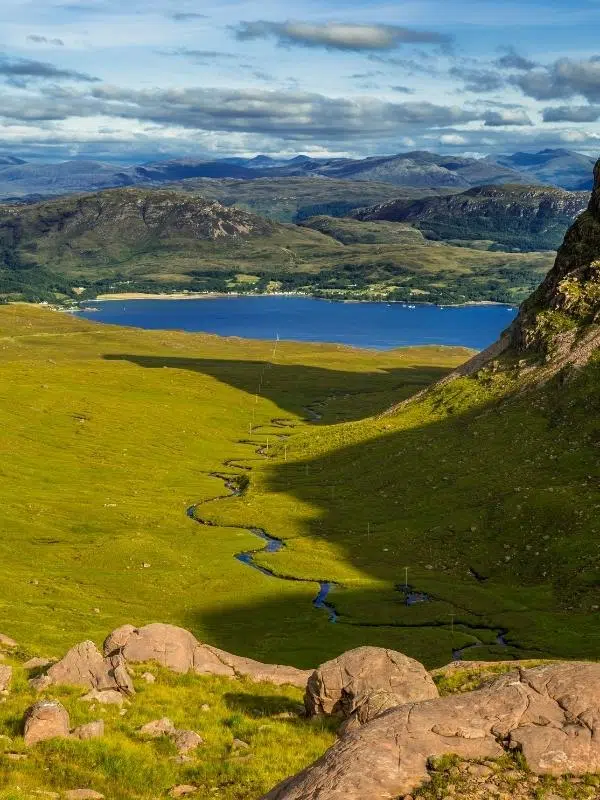 Other UK Road Trips
Scotland is a place made for road trips. Sweeping roads wind their way through dramatic and moody landscapes, past historic castles, gentle lochs and wild seas. Ancient myths and rich history thread through Scotland's fabric, making the country a wonderfully diverse and fascinating place to visit. There are Scottish road trips to suit every itinerary, you can find six of the best of them here, in our Scotland road trip planner.
Small but perfectly formed, the glorious country of Wales is a road trippers dream. With soaring mountains and valleys, miles of golden sands, craggy headlands and some incredible roads, head to Wales for an adventurous and eclectic road trip.
If you want to escape day to day life, explore new destinations and enjoy travel freedom, then take a road trip. And where better than in the glorious isles of the United Kingdom, where landscapes vary from the gentle to the dramatic, and roads thread through the patchwork countryside between quaint villages and historic towns? If you've got wheels, we've got the best UK road trip ideas for you!
North Coast 500 Frequently Asked Questions
When is the best time to drive the NC500?
Spring
Late spring is a great time for planning a road trip to Scotland. The countryside comes alive with wildflowers and baby animals as the warmer weather beats back winter, and summer visitors have yet to arrive. It will be cool though, especially in the evenings, so pack layers and a waterproof.
Summer
With summer averages of around 20° celsius (68° fahrenheit), the summer months are one of the best times for touring Scotland. The downside is that popular routes, attractions and North Coast 500 hotels will be at their busiest, so a road trip of Scotland in summer will require a little more planning and you will need to book in advance.
July and August are the worst months for the infamous biting midges, especially if you're planning on visiting the west coast, where they are generally at their worst. Their bites range from being mildly itchy to causing an allergic reaction, so make sure to pack, and change into, long sleeves and trousers before dusk, use a midge veil or hat, and a good brand of insect repellent.
Autumn
A wonderful time for a road trip to Scotland, the fall colours are some of the most dramatic in the world and much of the tourist traffic will have departed, leaving the roads empty.
Winter
Plan your NC500 road trip during the colder months for winter sporting opportunities, dramatic scenery and the possibility of seeing the Northern Lights, or 'Mirrie Dancers' as they are sometimes called in Scotland. As a rough guide, there are an average of 15-20 snow days a year in the country, which can rise to over 100 snow days in the Scottish Highlands, so some roads may be closed.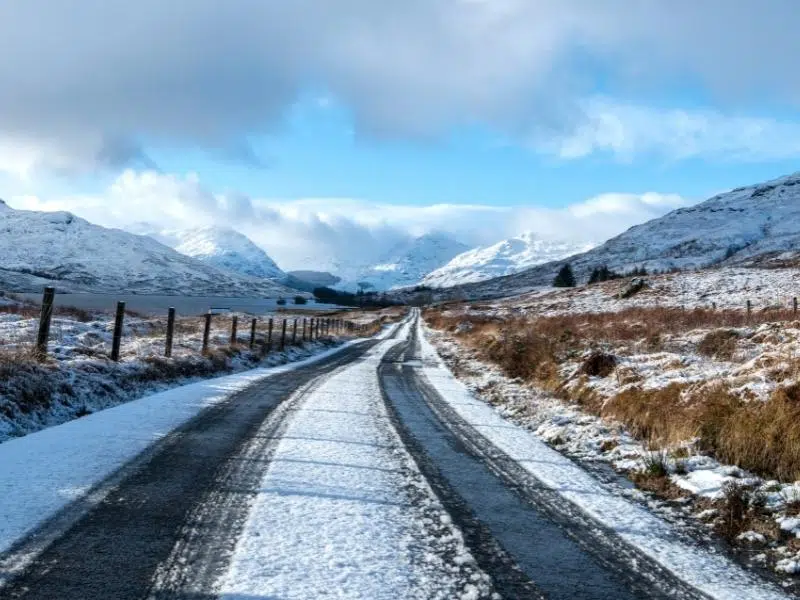 How can I avoid the crowds?
The North Coast 500 has done such a great job of promoting itself and the region that the roads and villages along the route can get very busy in the height of summer. Since the pandemic restrictions have lifted in Scotland, the NC500 has seen more visitors than ever before, and local communities have expressed growing unease about over-tourism and the way the surrounding landscapes are being affected.
To avoid the crowds, and at the same time ease pressure on local services and facilities and help protect the precious landscape, follow our tips;
Visit during the shoulder seasons – April and May or late September and October. There will still be other tourists around, but not at the levels you'll see in June, July and August.
Head off early in the morning. If you start your days driving by around 9am, you will miss the peak times when the roads are busiest.
Whether you stop at NC500 hotels, take a tent to camp, sleep in your campervan, or just stop along the route for a picnic, always follow the Scottish Outdoor Access Code and leave no trace. The code helps to protect the fragile flora and fauna of this beautiful country.
Head for off-the-beaten-path places which are close to the route but not actually on it. Borgie, Nairn, Altnaharra, Cape Wrath (only accessible by boat or minibus), Portmahomack and the Forsinard Flows RSPB Nature Reserve are all worth exploring and don't see the numbers that places located on the route do.
Visit local museums in villages around the route. Many are run by volunteers who have a wealth of local knowledge that they love to share, and many are (sadly) often empty, meaning you get the place to yourselves.
Head inland to the glorious lochs and mountains of the Highlands for a spot of hiking, or even to tackle one of those Munroes!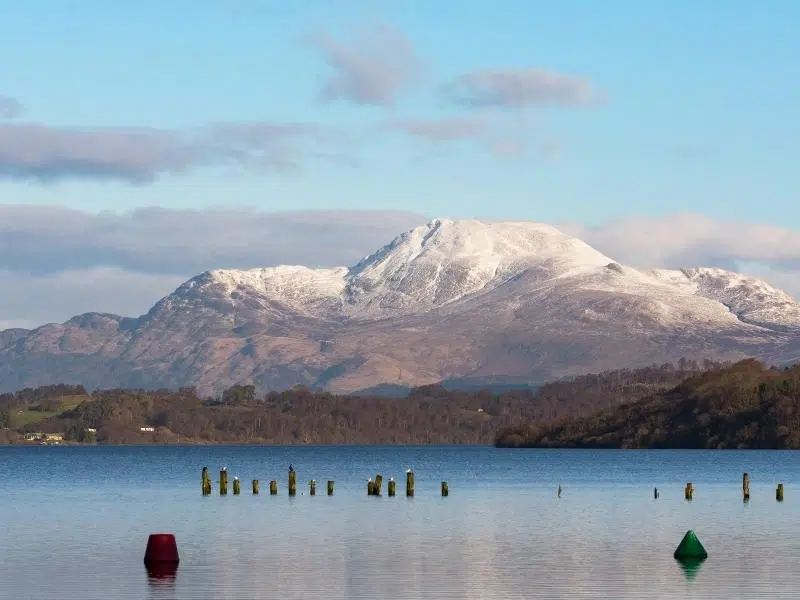 How do I get to the start point in Inverness?
Inverness Airport is just a 20 minute drive from Inverness city centre. Flying in and out of Inverness is the best option if you decide to drive the whole circular route, and there are regular flights from London to Inverness with EasyJet from London Gatwick and Luton, and with British Airways from London Heathrow. we recommend booking through Skyscanner for live deals and the best prices.
You can also get a direct train from London King's Cross to Inverness. The journey takes around nine hours on a day time route, and seventeen hours if you travel on the Caledonian Sleeper from Euston.
What about hiring a car, campervan or motorbike?
Car hire is readily available from both Inverness airport and train station. We always use Rentalcars.com to book hire cars in the UK as they offer the most competitive rates due to their purchasing power. You don't need any special type of vehicle for the NC500, a regular car is fine.
If you fancy doing the route on a motorbike, check out NC500 Moto Experience, a motorbike hire company based in Inverness who provides self-guided touring with motorbike rental and riding equipment to allow you to venture north and experience the NC500 on two wheels. You must have a valid motorbike licence and demonstrate you have had regular riding experience.
Exploring the North Coast 500 by campervan or motorhome is a wonderful way to explore this special part of Scotland. If you do plan to do the route in a campervan or motorhome, then we would recommend Highland Auto Campers for campervan rental and North500 for motorhome hire from Inverness.
If you're starting your motorhome NC500 trip in London or Edinburgh, then Spaceship Rentals have lots of options for motorhome rentals from their depots in these cities.
RELATED POST – North Coast 500 Planner for a Motorhome & Campervan Trip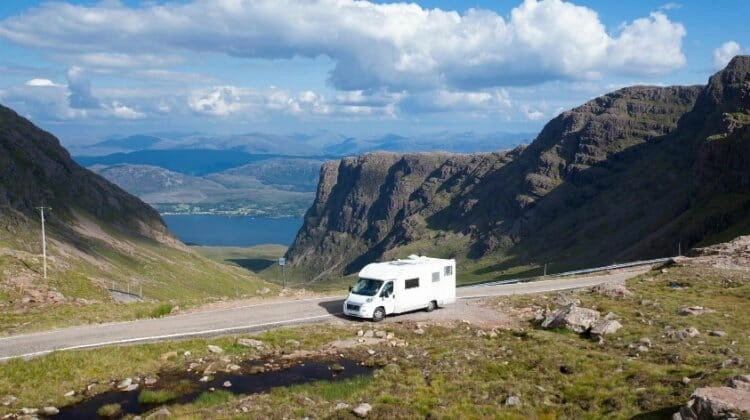 What accommodation options do I have?
The beauty of the North Coast 500 is that you can be totally flexible when planning your itinerary. Stay for just one night, or base yourself for longer where there's lots going on.
Our recommended accommodation ranges from 5-star hotels to simple B&Bs and holiday cottages, and there is a great choice all along the route. Popular hotels, B&Bs and apartments tend to book up months in advance, so factor this in when planning.
A great budget option is to plan a North Coast 500 camping itinerary, and stay on campsites with a tent, or find sites which offer sleeping huts or glamping options if you don't have your own tent. Some sites will require you to take your own sleeping bag, but otherwise, most facilities are provided.
Travelling in a self-contained vehicle like a motorhome or campervan opens up lots of options regarding where to stay. Before you go off grid in your van, make sure you fully understand the rules and regulations of wild camping in Scotland, which are different to the rest of the UK.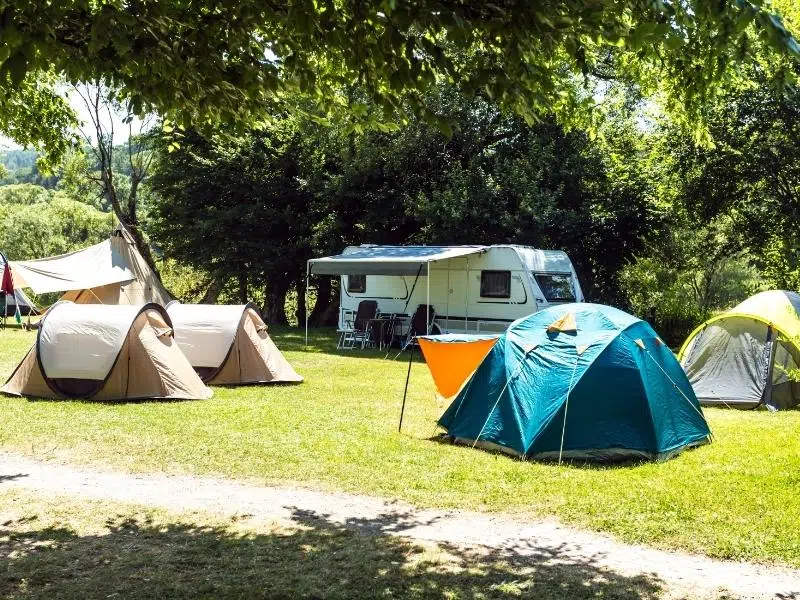 Is the North Coast 500 dog friendly?
Lots of people, especially those travelling from around the UK to Scotland, like to take their dogs on holidays with them – and what better way to enjoy the route than with your faithful friend by your side?
The North Coast 500 has miles of open space for good dog walks. Whether it's along sandy beaches, up mountains or across deserted moorland and glens, you'll find the perfect spot.
All of our recommended North Coast 500 campsites allow dogs on leads or leashes, indeed most do along the route. Shore Caravan Park in Achmelvich is the only site we know that does not accept dogs, due to surrounding croft land.
Most hotels and B&Bs along the route will also allow dogs, but you may have to book a pet-friendly room. Do double check first as there may be an extra cost or restrictions.
Make sure you understand the rules about dog walking in Scotland, which are covered in the Scottish Outdoor Access Code.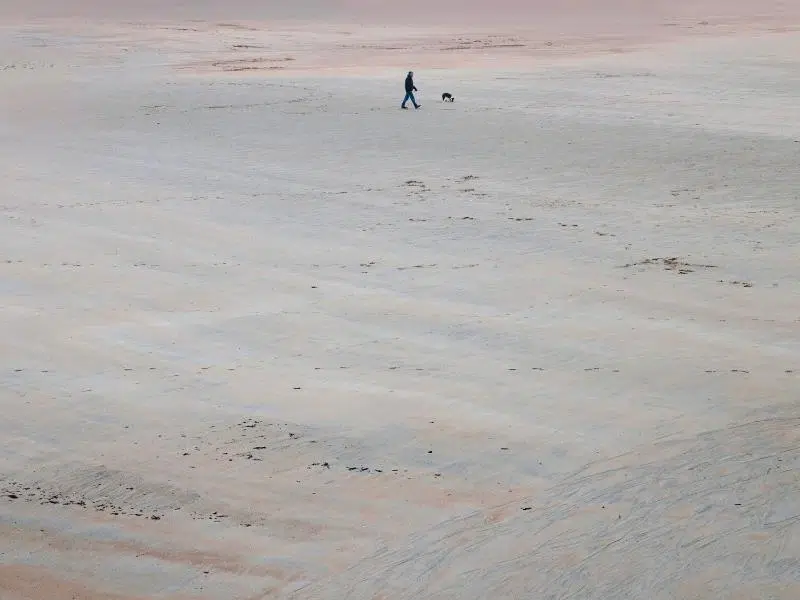 How long does it take to drive the North Coast 500?
That depends! The route is 516 miles, so at a stately average of 40mph it will take around 13 hours. But there are many parts of the route where you'll be driving more slowly, and you'll also need to take into account stopping time each day – we all need to eat and use the loo!
We suggest a seven day North Coast 500 itinerary as the absolute minimum, with a 14 day NC500 itinerary being the sweet spot to ensure you see all the highlights and don't need to rush the journey. A three week North Coast 500 itinerary would allow more time for exploring off-the-beaten path, hiking and really immersing yourself in the route.
If you don't have that amount of time, pick out a section of the route, depending on your likes and interests. For us, the best and most scenic part of the route was Sutherland, where we experienced the real wilderness of Scotland's west coast, with its huge beaches, rock stacks and bottle-green clear seas.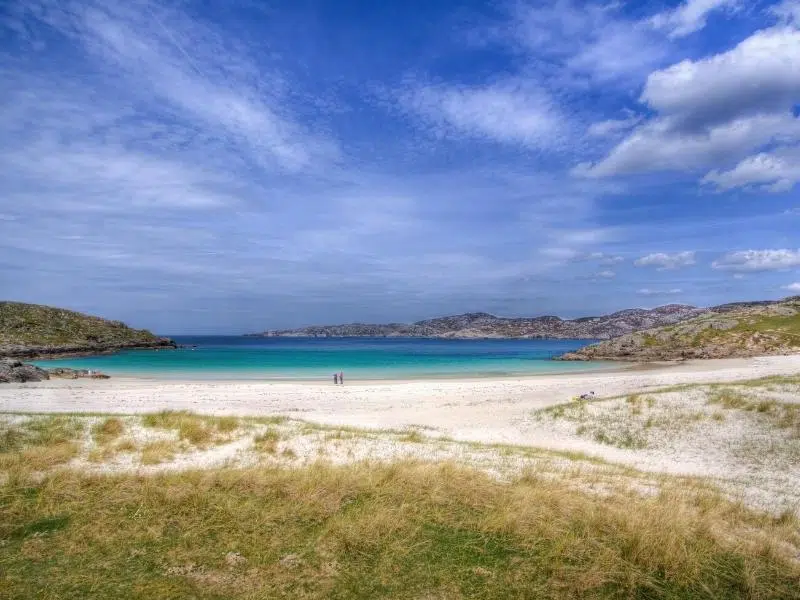 Do I need to do the route anti-clockwise?
Nope. Because the route is a loop starting and finishing in Inverness, you can go in whichever direction you prefer. Our NC500 planner and highlights go anti-clockwise because that's how we drove it.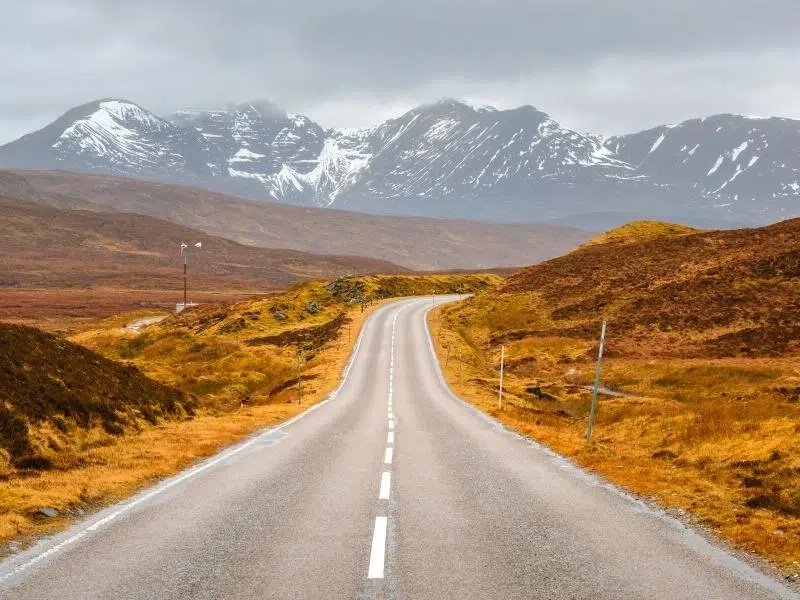 What do I need to know about driving in Scotland safely?
Remember to drive on the left during your Scotland trip!
If you're driving a car along the route, some experience would be good. Lots of the roads are narrow single-track lanes with passing places, and if you meet a bus or large vehicle, you'll be expected to reverse if the passing place is on your side of the road. If you can do this without panicking and driving onto the machair (fertile low-lying grassy plain which is very specific to this part of Scotland), then you'll be fine!
Large parts of the Scottish Highlands surrounding the NC500 have unfenced livestock which includes sheep, cattle, goats, and horses. It's quite common to see animals, especially sheep and cattle, on the road or grazing right next to the road. Although they don't seem phased by moving vehicles, be alert and keep your eyes peeled.
Always stick to the speed limit. Many of the NC500 roads are narrow and pass through villages and small settlements. Every year there are reports of supercars driving at high speed through communities – don't be that person!
If you're driving a larger vehicle like a motorhome, a little bit more experience would be helpful. Reversing along single-track roads and manoeuvring around tight corners and narrow lanes can be challenging. You must feel comfortable reversing the vehicle correctly and safely.
Motorhomes should not drive in convoy, as this can cause obstructions and gridlock on narrow lanes and tracks. Even when there are passing places, they are only designed for one or two small vehicles and a large motorhome can take up the whole space, meaning your mates behind you are still blocking the track.
If your vehicle is larger than a VW campervan, then alternative motorhome routes are available and signed at several points along the NC500. You should not attempt to drive the Bealach Na Ba Applecross pass, but take the A832 instead, or the B869 Drumbeg Road, where you should take the alternative A894.
If your planning a North Coast 500 road trip that's longer than a few weeks and you're going to be using your own vehicle, you may want to consider a service before you go, and breakdown cover is probably a good idea.
Make sure you have travel insurance you can trust when visiting Scotland. We recommend True Traveller for their 5-star TrustPilot reviews, variety of cover options, best activities cover as standard, great prices and excellent service.
What do I need to drive in Scotland?
Whether you're road tripping the NC 500 in a car, camper or motorbike, make sure you've got all your documents handy and your spare tyre is in good condition. There is a limited cell phone signal in some area – it may be easier to print important documents before leaving Inverness, rather than risk having no 4g along the route!
You require a valid driving license.
Drivers from non-EU countries may require an International Driving Permit. The general rule is that if your licence is not in English, then an IDP will be required. Check with your hire company or embassy if you're in doubt.
If you're not a British citizen, you should carry your passport or ID card at all times as you road trip the North Coast 500.
You must have at least 3rd party insurance for your vehicle. If you're hiring a vehicle this is all taken care of by the rental company.
Your car must be considered roadworthy in the country in which it is registered.
Your headlights must be adapted for driving on the right if you're vehicle is registered outside the UK.
Unlike France, the UK does not have laws that require you to carry certain equipment in your car, but that doesn't mean that you shouldn't. Being prepared in the event of an accident or a breakdown is invaluable. Ideally, you should carry a reflective jacket, a warning triangle, a first-aid kit and a fire extinguisher, and key safety equipment which should be provided by the hire company.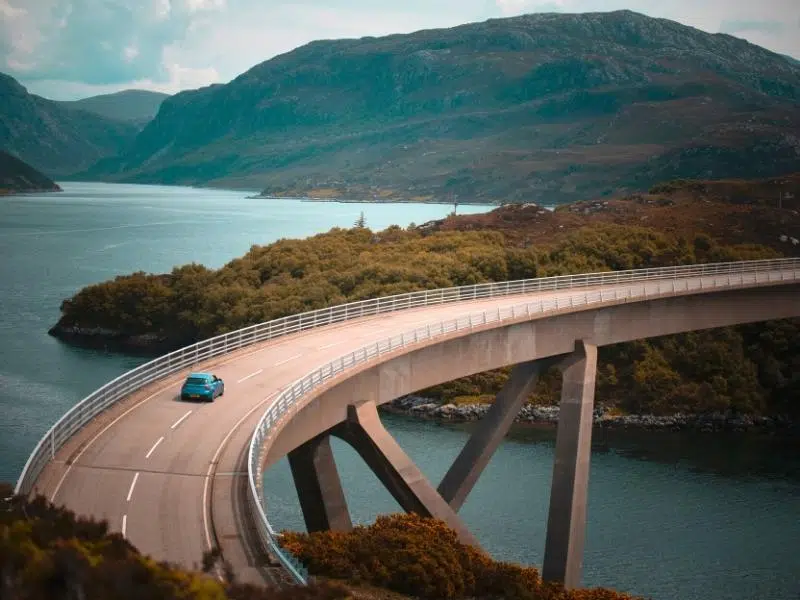 Can I take a North Coast 500 guided tour?
Absolutely. If you prefer not to drive yourself, the best-guided tour of the NC500 is this highly reviewed three day small group tour from Inverness, run by Rabbie's.
You'll get to see a lot of the route as you head for Ullapool on the west coast, including the stunning landscapes the route is famous for, a castle and stately home, and even a Scotch whisky distillery!
If you only have a day or two, there are a few day trips from Inverness which explore parts of the route. Each of these day tours explores different places on the North Coast 500 route;
John O'Groats and the Far North Tour – visit the most northerly point on the British mainland and see Loch Fleet, Dunrobin Castle and enjoy the stunning scenery of Easter Ross.
Torridon, Applecross, & Eilean Donan Castle – a journey through the ancient wilderness of Scotland on a day trip to Torridon, Applecross and Eilean Donan Castle. Discover picture-perfect villages, and delve deep into the gory history of a legendary Scottish fortress.
Northwest Highlands Private Tour with Hike – explore a range of stunning landscapes on a full-day tour through the Scottish Highlands. Experience huge glacial corries, ancient ice age caves, dark ravines, and iconic mountains.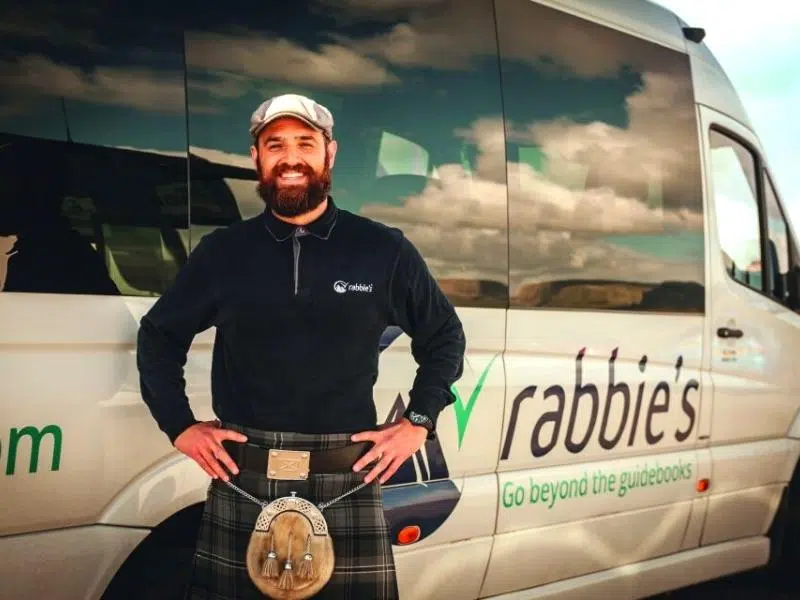 Scotland Travel Tips
Scotland Packing Tips
Scotland Essentials
Here are the websites and services we personally use and recommend for traveling in Scotland.
Are you looking for more road trip inspiration? Check out these top posts…
If you want to escape day to day life, explore new destinations and enjoy travel freedom, then take a road trip. And where better than in the glorious isles of the United Kingdom, where landscapes vary from the gentle to the dramatic, and roads thread through the patchwork countryside between quaint villages and historic towns? If you've got wheels, we've got the best UK road trip ideas for you!
Love it? Pin it!