This post may contain affiliate links, from which we earn an income.
How to Spend One Day in Edinburgh
The capital of Scotland, Edinburgh is a beautiful city, where medieval and neoclassical history and architecture exist in harmony. Full of quirky corners and hidden squares just waiting to be discovered, you'll be enchanted by the city's wonderful hospitality and unique vibe, perfect for a 24 hour visit with our one day Edinburgh itinerary.
In this Edinburgh one day travel guide, you'll find a complete itinerary of all the most important must see Edinburgh attractions, with an interactive map, organised to make the best use of your time.
We also share recommendations for central places to stay, ideas about where to eat local food, and tips about how to make the most of your 24 hours in Edinburgh.
When to Visit Edinburgh
Summer
Edinburgh is known for its cold and windy weather year-round. Despite that, blue skies are not that uncommon during the summer, which makes it a great time to visit the city. At the same time, summer is when Edinburgh comes to life with many festivals taking place.
The most popular of them is the Edinburgh Fringe Festival (also known as the Edinburgh Festival Fringe) which takes place in August every year and is the worlds largest arts festival. There are thousands of performances and shows of all types, from comedies to talk shows to circuses.
This does mean that the city becomes extremely crowded, so if you want to experience the quieter side of Edinburgh, then you should consider visiting during one of the other seasons.
Spring
Spring provides a great spectacle of blossom trees in the parks, while autumn sees the city fill with students from all over the world as they start the new university year.
Fall
Autumn brings wonderful colours to Scotland and some summer heat remains into early October. The city will be quieter as crowds thin out, making hotels and attractions better value for money.
RELATED POST – 14 Stunning Places for Autumn Breaks in the UK
Winter
Winter is the most tranquil time to visit, although note that it is usually very cold, and days are extremely short. Of course, there is the Christmas period (late November to early January), when the city comes to life once again, with the famous Edinburgh Christmas Market, followed by Hogmanay, Edinburgh's New Year celebrations.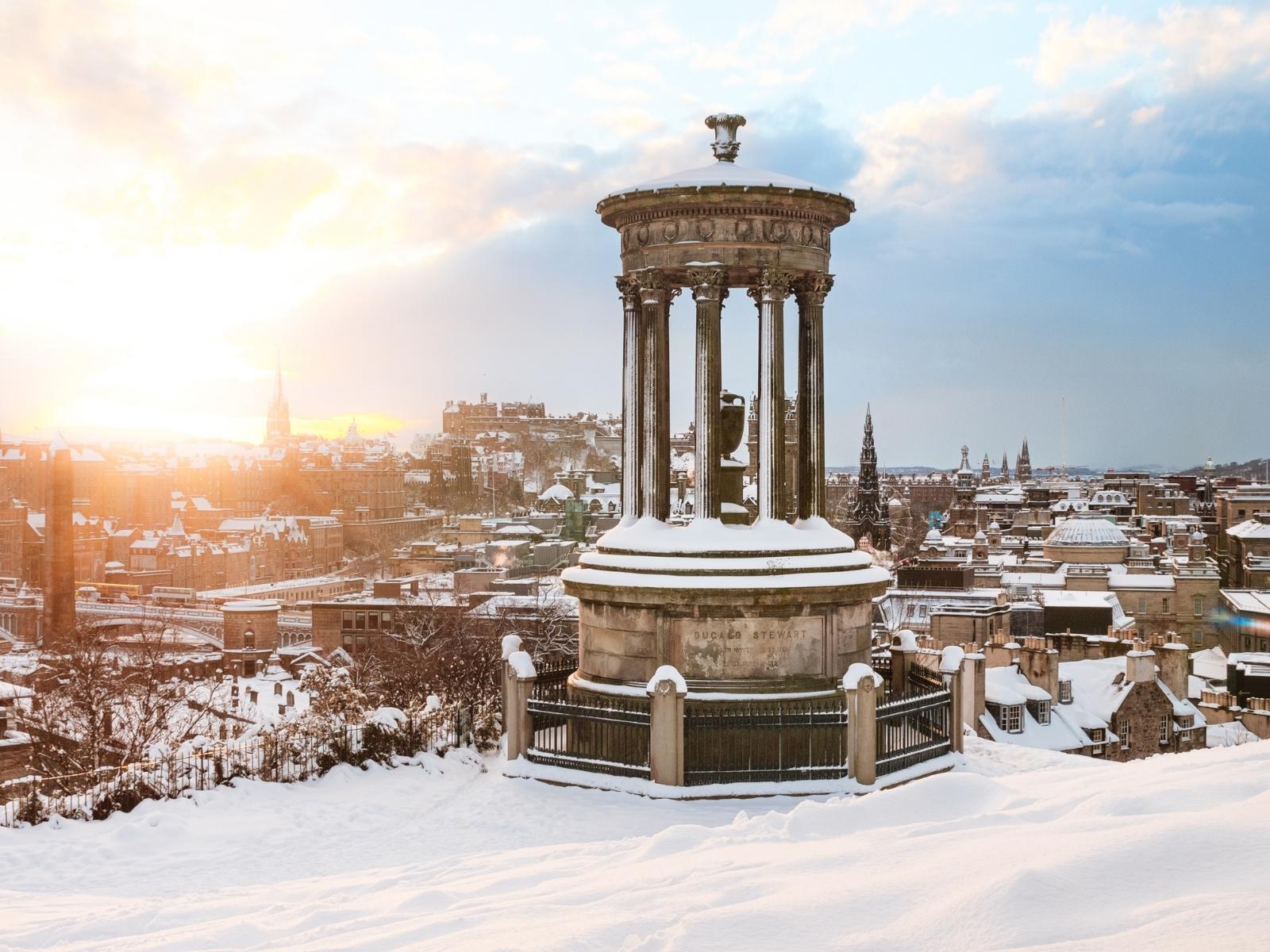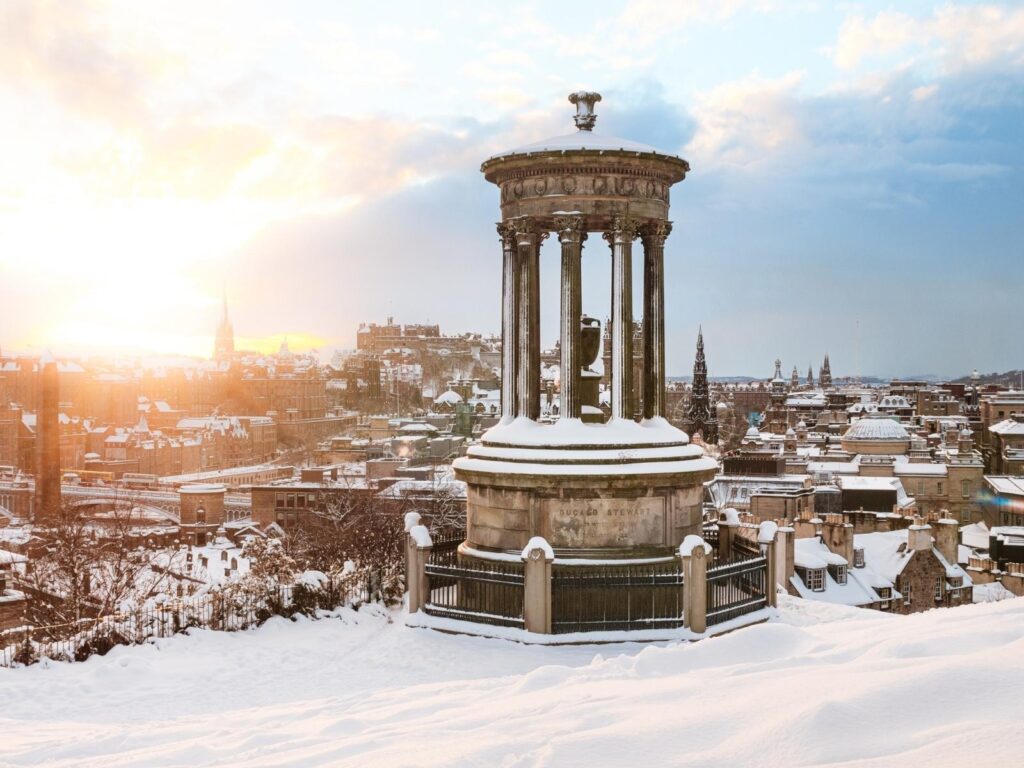 Where to Stay in Edinburgh
For Road Trippers
Edinburgh is a relatively small city and despite being built on a hill, it is easy to walk around. There is an extensive network of buses, along with a tram line to connect the different parts of the city. However, if you are visiting Edinburgh in 1 day, then you may not need to use public transport at all if you choose centrally located hotel accommodation.
Princes Street is the centre of the New Town and is where the main shopping street is located. This street and its parallel ones, Rose Street and George Street have a lot of hotels and restaurants for various budgets.
This area is also convenient for getting in and out of the city as it services the tram which connects the city centre to the airport, and is only a short walk from the main bus station.
Close to both Princes Street and the station is the Market Street Hotel. Sleek and sexy, you'll find fantastic design coupled with really good service, followed up by an excellent breakfast to set you up for your perfect one day in Edinburgh.
On the other hand, the Old Town is where you will find the more historic (and touristy) side of the city, with just as many Edinburgh hotels and other accommodation options.
Stay at budget friendly ibis Edinburgh Centre Royal Mile at Hunter Square for modern and simple rooms with a comfortable bed and functional bathroom, and a lively bar which is open 24/7.
For cheaper accommodation and the best Edinburgh hotel deals, but with great links to the airport and Edinburgh city centre, you should look around the Haymarket train station. The area has many restaurants, and it is only a short bus ride, or a long walk, from the main attractions of the city.
The Haymarket Hub Hotel is a fifteen minute walk from Edinburgh Castle and the New Town, and is over the road from Haymarket Rail Station, a bus and tram stop on the airport to city centre route. The modern decor, great facilities and helpful staff make this an ideal budget option.
For Motorhomers
Things to See & Do in Edinburgh
Is one day enough for Edinburgh? This is a compact city, and you will be surprised by the number of things you'll be able to fit into 24 hours. Follow our itinerary and route to see all the top places to visit in Edinburgh in one day, and get a real flavour of the city's history, culture and cuisine.
Interactive Map of Your Edinburgh Itinerary
How to use this map – Use your fingers (or computer mouse) to zoom in and out. Click or touch the icons to get more info about a place, and click the arrow in the box top left to open the index. To add to your own Google Maps account, click the star next to the title of the map.
Morning
Visit Edinburgh Castle
When people ask what to do in Edinburgh in the morning, there is only one answer – spend your morning revelling in the history of the fortress that is Edinburgh Castle, one of the best known symbols of the city.
The castle is located on the Castle Rock, one of the oldest parts of Edinburgh, at the west side of the Royal Mile. The castle used to be a royal residence during the 12th to 15th centuries and later it became a military settlement and prison.
Today, you can find a combination of museums, exhibitions and themed rooms, along with superb views over Edinburgh. If you want to get an expert's view into the history of the castle, join our highly recommended skip the line guided castle tour.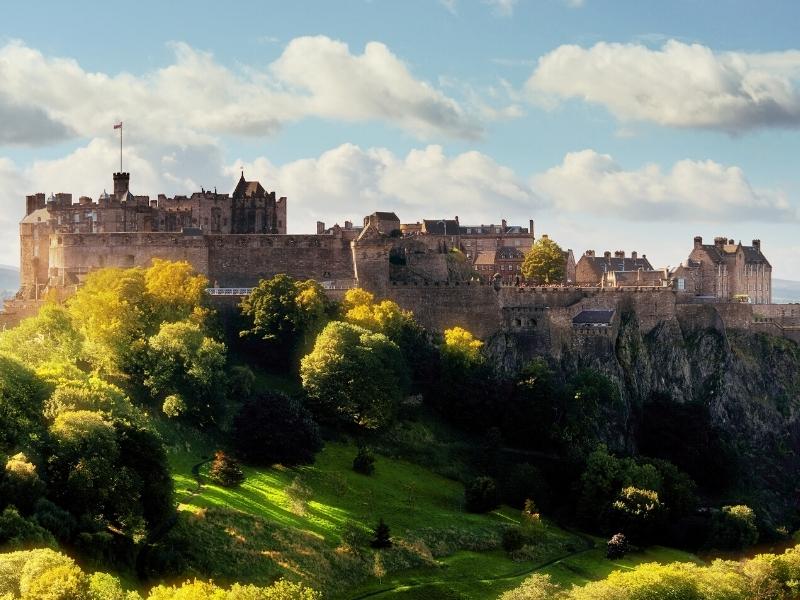 Stroll Victoria Street & Grassmarket
After finishing your castle visit, do a little detour from the Royal Mile and go to Victoria Street, with its cute independent boutiques and shops.
Then, continue to Grassmarket, with its lively atmosphere and outdoor restaurants. If it's market day, then you will be able to find many local products to buy. From Grassmarket, you also have an amazing view of the castle.
TOP TIP: As you wander, take the less obvious streets and alleys for a different Edinburgh perspective – many of the main thoroughfares are connected by steps or pedestrian only winding alleys, where you'll discover hidden squares and corners.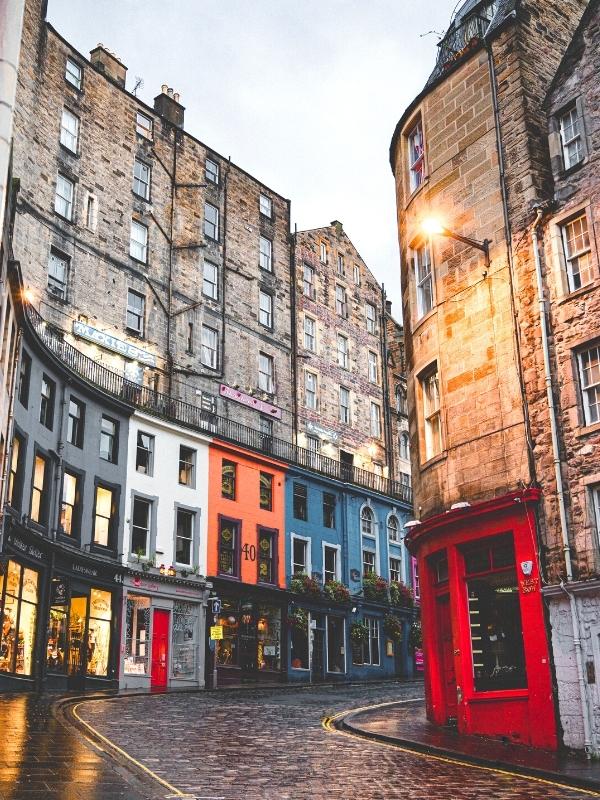 Afternoon
Experience The Royal Mile
It is time to properly explore the Royal Mile, a succession of streets forming the main thoroughfare of the Old Town of the city. Strolling the Royal Mile is one of the top things to do in Edinburgh, as so many of the city's attractions are here.
On your way to Victoria Street you will have already passed some tourist attractions such as the excellent Scotch Whisky Experience (offers virtual tours to a whisky distillery along with some whisky tastings), the Camera Obscura and World of Illusions, and the neoclassical Scottish National Gallery.
There are a few more ahead which you can visit including The Real Mary King's Close, which gives you the chance to learn about life in Edinburgh a few hundred years ago.
Museum-wise you can find the Writer's Museum just off the Lady's Stairs, the People's Story Museum and the Museum of Childhood further down the road.
The last building you will encounter before the next place of interest is the Scottish Parliament, which has a unique and striking design, and offers free entry for anyone who wants to have a peek into the Scot's seat of power.
This entertaining Royal Mile walking tour with a private local guide will help understand and interpret the history of this iconic part of Edinburgh.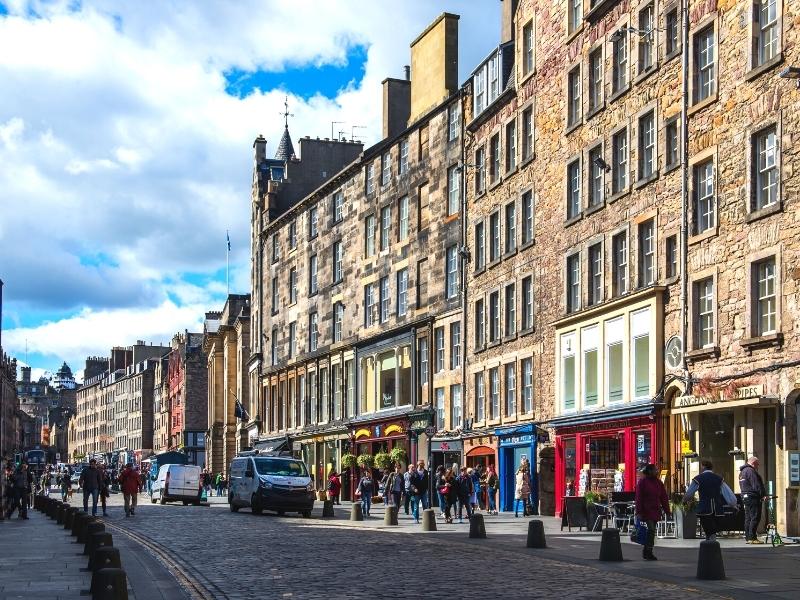 Palace of Holyrood​
At the other end of the Royal Mile, you can find Holyrood Palace. The Palace of Holyrood is the Queen's official residence in Scotland. It dates back to the 16th century and since then it has accommodated many important figures, such as Mary, Queen of Scots.
A visit to the palace will allow you to visit the Throne Room, marvel at the Great Gallery, walk in the ruins of Holyrood Abbey and even come close to some royal gifts. Next to the palace, you will find the Queen's Gallery, which houses different rotating exhibitions.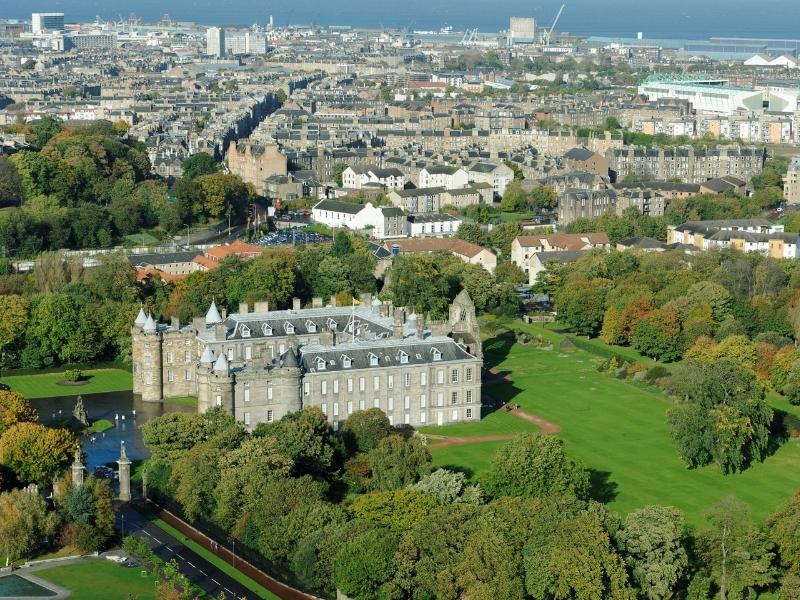 Holyrood Park & Arthur's Seat
If you still have energy and there is still daylight, you can finish your day at Holyrood Park and attempt to climb up to the top of Arthur's Seat, the highest peak in Edinburgh at 251m.
The hike is neither very difficult nor long, but it can get steep in places. Depending on when you visit, the actual top can be very crowded. Nevertheless, the whole hike offers amazing 360o views of Edinburgh, from the nearby castle all the way to the port of Leith and the Pentland Hills.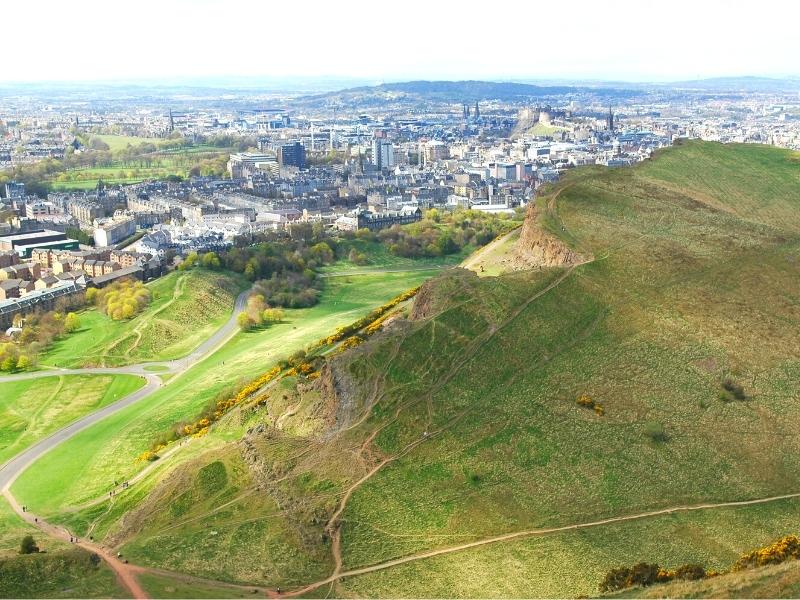 Other United Kingdom City Guides
Evening
Edinburgh is also known as Auld Reekie, meaning Old Smokey – the name emanated from the stench of badly managed sewage in the Middle Age and has stuck!
Down-to-earth and unpretentious, much like the Scots themselves, Auld Reekie comes alive at night, with busy pubs, lively restaurants and late night drinking clubs, full of would-be comedians and story tellers.
With legendary hospitality, you'll be welcomed into the pubs and clubs of the city with open arms, whether you prefer a bawdy comedy club or a tiny, cozy nook.
Go Ghost Hunting
Considered to be one of the most haunted places in Scotland, if not the UK, have the bejesus scared out of you on an evening ghost tour of the Old Town and underground vaults.
Find out about the fascinating history and secrets of of the city and see the dark side of Edinburgh's history.
Visit a Comedy Club
Home of the Fringe Festival, Edinburgh is no stranger to comedy. Stand up takes place all year round in the city, and visiting a comedy club is one of the best ways to end your 24 hours in Edinburgh.
TOP TIP: Our top picks are The Stand Comedy Club for up and coming talent and great nachos, and Monkey Barrel Comedy for Edinburgh's typical alternative approach to comedy and a fab cocktail list!
Where to Eat in Edinburgh
Urban Angel
For breakfast or brunch, head to Urban Angel, a cafe and bistro just a few minutes away on foot from Princes Street, to try some of their healthy dishes made with locally sourced and free range ingredients.
During weekends it can be busy, but their eggs Benedict is worth the wait.
The Fiddlers Arms
Anyone visiting Scotland for the first time should try haggis, a savoury mixture of sheep's pluck (heart, liver and lungs) minced with onion, oatmeal, suet, spices and salt, and served with tatties (mashed potatoes) and neeps (mashed turnip).
For vegetarians, there is a non-traditional version made primarily from beans and mushrooms. You can try either version at many pubs around the city. The Fiddlers Arms at the Grassmarket is one of the best places to try this most Scottish of dishes.
TOP TIP: Across from The Fiddlers Arms, you'll find Mary's Milk Bar, an ice cream shop serving the most unique ice cream flavours and chocolates. During winter, their opening times vary, but if you visit during the summer, stand in line after finishing your lunch to grab a scoop or two of this delicious dessert.
The Elephant House
If Harry Potter is your thing, make sure to have a coffee at the Elephant House, the cafe where the boy wizard was created by writer JK Rowling.
Just 100m from the Elephant House, is a statue depicting the Skye Terrier, Greyfriars Bobby. The little dog is famous for guarding his owners grave in the nearby Greyfriars Kirkyard for fourteen years.
Hemingway's
For dinner, and a more up-scale dining option, head to Hemingway's in Leith. There you should try their delicious small plates, perfect for sharing, while enjoying the quirky interiors and awesome cocktail offerings.
If you have time before or after dinner, you could go for a short walk along the Water of Leith, the main river which flows through Edinburgh to the port of Leith, from where it joins the sea via the Firth of Forth. See if you can spot the Royal Yacht Britannia, which is berthed here.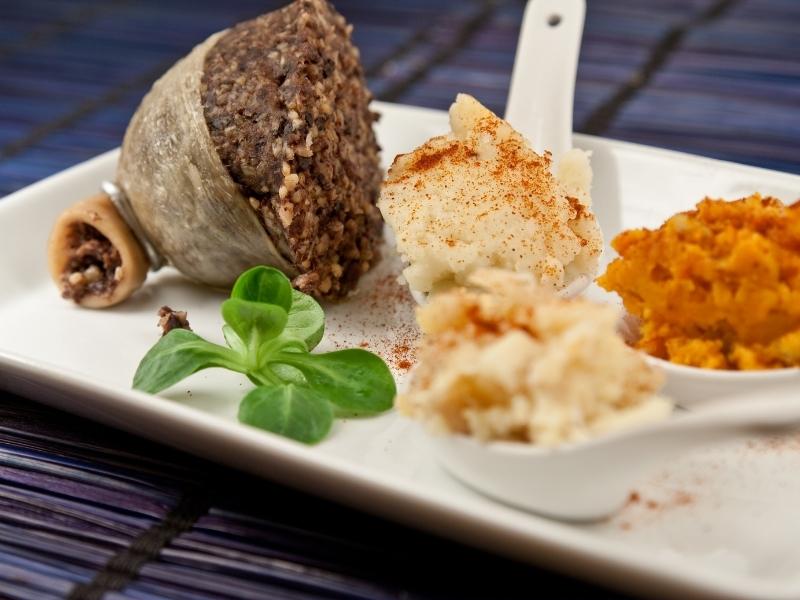 Top Five Edinburgh Tips
Edinburgh is cold and windy, so make sure to dress warm and in layers even in summer – I may have already said that!
Also, remember to pack a pair of comfy shoes or trainers, because the best way to explore this city full of hills is on foot – forget about the Edinburgh bus tour, you'll see much more walking!
If you are coming to Edinburgh from London as part of a longer trip, the quickest (and sometimes cheapest) way to arrive in the city is by train. Of course, you can always choose the plane or the bus, but the trains are in general very comfortable and efficient, although probably not the best option if you only have a day in Scotland – you'd spend all your time travelling!
Avoid the incredibly naff souvenir shops on the Royal Mile, where tartan tat reigns supreme. Items are overpriced and of dubious quality. Give them a miss and do your Edinburgh souvenir elsewhere.
Last but not least, remember to enjoy your time in the city and try some whisky on this excellent whisky history and tasting tour.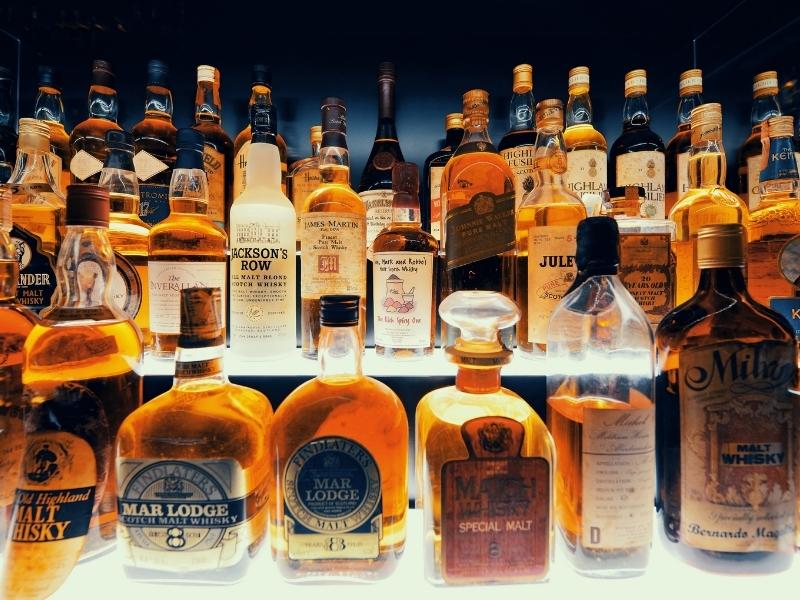 More Than One Day in Edinburgh?
If you have just another half a day in Edinburgh, you could also explore these attractions;
Princes Street Gardens
Take a stroll in beautiful Princes Street Gardens, between the Old and New Towns and in the very centre of Edinburgh's World Heritage Site before visiting the Scott Monument, a much photographed Victorian Gothic spire, built to commemorate Scottish author Sir Walter Scott.
National Museum of Scotland
Visit the National Museum of Scotland and explore Scottish history and culture.
Dean Village
Go for a stroll in Dean Village on the Water of Leith. With historic buildings, art galleries and an olde worlde ambiance, it's east to while away a few hours here.
Calton Hill
Calton Hill, known in the 18th century as 'the Athens of the North', is famous for its collection of historic monuments, which form some of the most important landmarks of the city.
One of the most striking is the National Monument, inspired by the Parthenon in Athens. Intended to commemorate the Scottish servicemen who died in the Napoleonic Wars, it was never completed leaving just the twelve columns you see today.
Also look out for the Nelson Monument, shaped like an up-turned telescope. Completed in 1816 the monument commemorates the death of Admiral Lord Nelson at the Battle of Trafalgar in 1805.
With fantastic views across the city and surrounding countryside, it is also Edinburgh's best spot for watching the sun go down.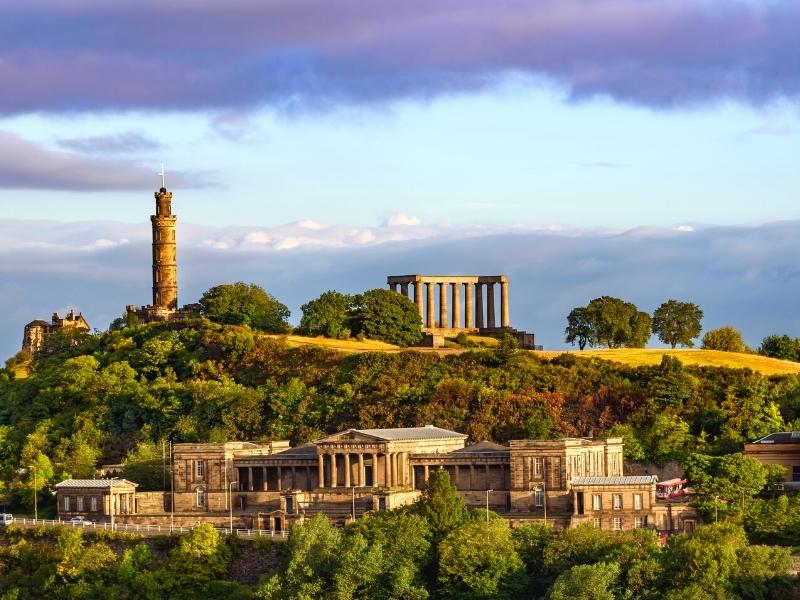 Loch Ness, Glencoe and the Highlands Small Group Day Tour
If you take one day trip from Edinburgh, go north on this highly rated and well organized day trip from Edinburgh.
Explore some of the most famous attractions of the Scottish Highlands, including Glen Coe, Loch Ness, and the stunning Cairngorms National Park.
With a professional guide to offer insights, an organized tour is the perfect opportunity to see more of Scotland in less time!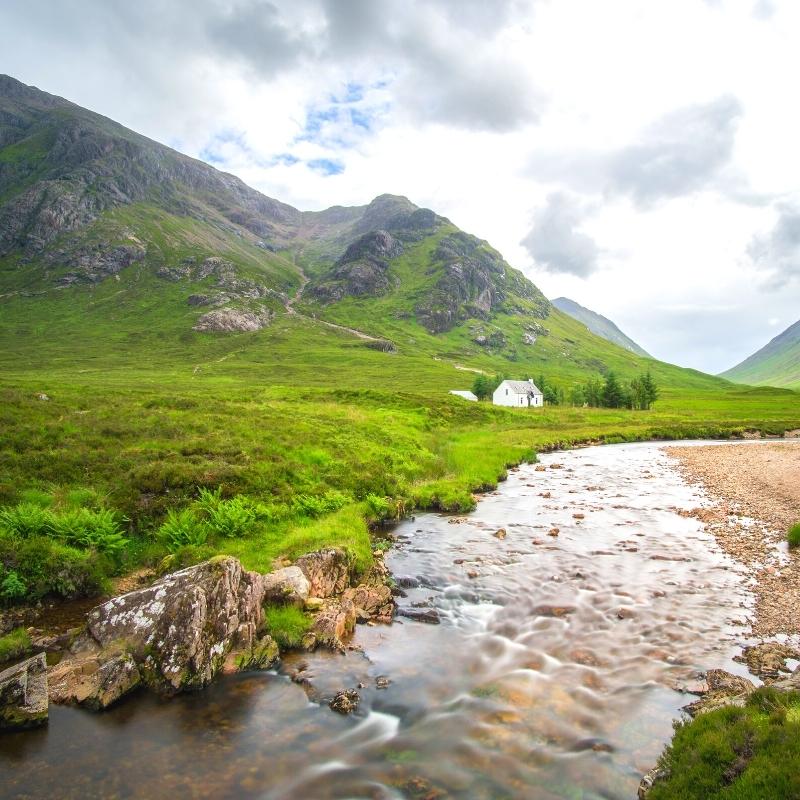 Written for The Gap Decaders by Elina at Empnefsys and Travel.
Are you looking for more United Kingdom travel ideas? Check out these top posts…
Scotland is a place made for road trips. Sweeping roads wind their way through dramatic and moody landscapes, past historic castles, gentle lochs and wild seas. Ancient myths and rich history thread through Scotland's fabric, making the country a wonderfully diverse and fascinating place to visit. There are Scottish road trips to suit every itinerary, you can find six of the best of them here, in our Scotland road trip planner.
Love it? Pin it!