This post may contain affiliate links, from which we earn an income.
How to Have the Best Motorhome Christmas!
Whether you're planning to spend Christmas in your motorhome because it's your happy place, you live there every day, or you're spending festive time with your family in your van, we've got lots of tips and ideas to make it the best motorhome or camper van Christmas possible!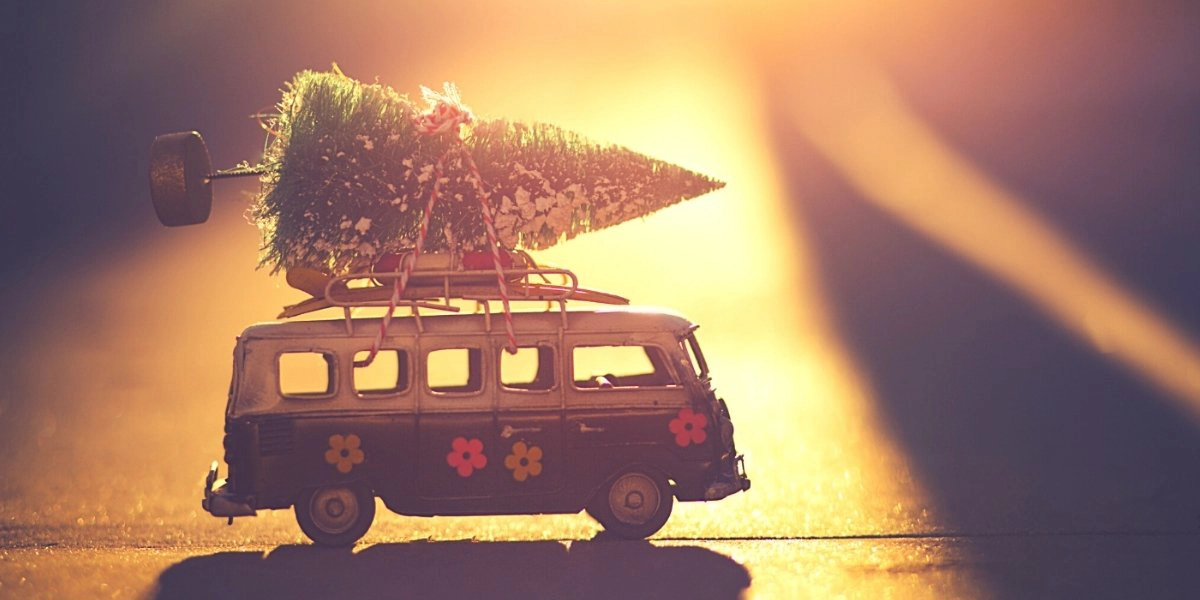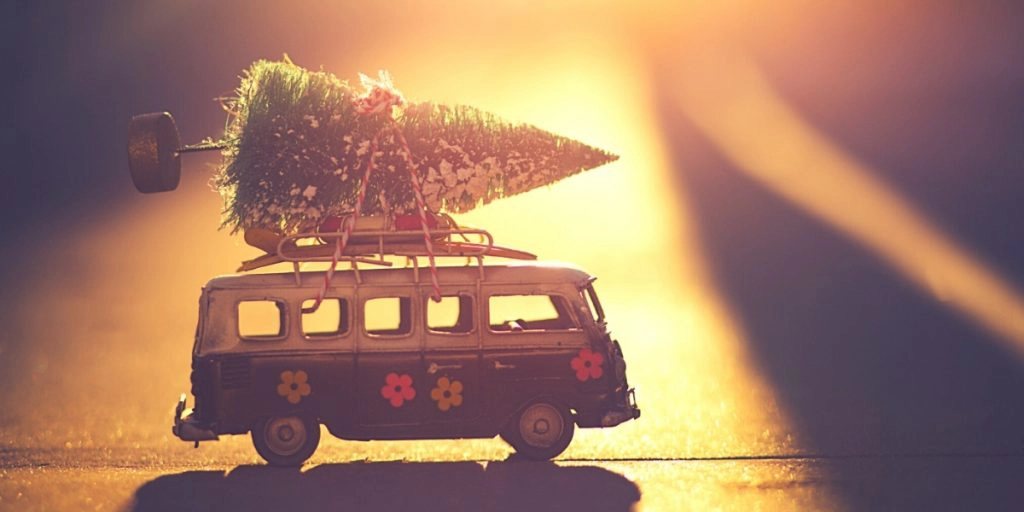 It's All in the Preparation
Christmas in a motorhome takes a little more thought than it does in a 'normal' house. Space is tight all round and it's the wrong time of the year time of year to be outside much in northern Europe (yay if you're in Spain or Portugal in your motorhome!) unless you're skiing from your motorhome, in which case, lucky you!
Book Your Motorhome or Campervan
If you don't have your own van, then you'll need to get your motorhome hire organised sooner rather than later. Although the winter in general is not a busy hire period, there is often a surge in demand over the Christmas period. Shop around and book early for the best price on motorhome and campervan hire.
Be Ready for the Weather
If you're in the United Kingdom (or northern Europe), it's likely to be cold and it might even snow. Make sure that you have a full gas tank wherever you're going. If you're spending more than a few days away, perhaps book a campsite so you know you'll be toasty over the festive period. This post about winter motorhoming has lots of helpful information and tips to help you prepare for winter in a motorhome.
Unless you're got an amazing solar set-up, EHU will also help with Christmas lights, phone power for all those calls home and cooking, as well as giving your heating an extra boost. A 12v blanket or a hot water bottle are great additions for those that like to be extra toasty.
Make sure you have a torch and head torch plus plenty of batteries for the dark evenings, and maybe a festive candle to light up and scent your van.
We all love a cold, frosty day but you should also be prepared for rain. Ideally, park on hard standing over Christmas if it's likely to be wet. You don't want to get stuck on soggy ground and have to be pulled out …that would not make a great end to the festive period!
Sort Out Your Packing!
Packing with winter in mind needs a little more thought! Get our free motorhome packing list to help you remember everything.
Layers are essential so that you can sit out or go for a walk.
Evenings may be chilly, so warm lounge wear is a good idea and helps to keep you comfy.
The walk to the showers will require a nice thick dressing gown.
Don't forget bed socks and thermal nightwear if you're expecting minus temperatures.
A waterproof coat is a good idea for wet wanders to the pub!
Book Your Campsite
Although availability may look good, book your site as soon as you can confirm dates and where you're going. As the festive period gets closer, you'll find it harder to get the site and/or pitch you want. This is especially true if you're in a larger motorhome or you're looking for a pitch with a jacuzzi, hot tub or private facilities.
If your chosen site is close to a famous Christmas Market or popular festive town or city, or you want to stay over Christmas and New Year, you'll also need to book well in advance. On the continent, you'll need to book several months ahead as popular sites fill up for the Christmas period quickly.
Organise Christmas Lunch
If you're planning on Christmas dinner or lunch out, book it as soon as you can after the summer holidays. Otherwise, make sure that you've got all the special things you want ordered, to pick up on the way to wherever you're going, especially if your motorhome location is rural.
A 12v cool box may also come in handy so that you have a little extra space for drinks and so on.
Don't forget the pressies…
Our specially chosen and unique motorhome gift ideas are perfect for motorhome lovers to make them smile on their birthday, at Christmas or whenever you just feel like showing the love!
Our van life gift guide is full of fun, creative and unique gifts for anyone who loves the van life. Whether you're looking for personlalised campervan gifts, funny campervan gifts or throughtful vanlife gifts for a loved one, you'll find the perfect something here.
Make Room For your Tree and Gifts
We didn't have a tree last Christmas, in fact we didn't decorate at all. I really wish we had, and so missed having a tree and a few sparkling fairy lights. I'm not suggesting you go out and get a real tree – although your van would smell gorgeous, can you imagine the pine needles?
Before you head off on your Christmas trip, make some space for the tree and find a good place to hide your campervan Christmas gifts until the big day. Talking of which, have you checked out our top 55 motorhome gift ideas, perfect for the motorhome lover in your life at Christmas?
What to Do on Christmas Day
Being in a motorhome or campervan shouldn't stop you from your usual Christmas traditions, although you might have to adapt a bit! In our family, we always have bucks fizz with breakfast – in the motorhome we put ice in because we don't always have room for the bottles in the fridge.
You could spend Christmas Day just as you would normally, maybe going for a bracing walk to work up an appetite, or work off Christmas lunch, then playing card games or watching some Christmas tv.
If you're on a campsite, there may be site wide activities taking place which can be fun to join and you might meet new friends. Even if you're cooking lunch in your van, a wander to the site bar or local pub for a pre-lunch mulled wine is a must!
If you're abroad over the festive period, check out the Christmas traditions of where you're staying and join in, to find out what the locals do differently at Christmas.
Christmas Lunch
The thought of cooking Christmas lunch in a motorhome can be a bit anxiety provoking. You've got a small oven (or maybe no oven at all), three rings but in all likelihood can only use two at a time, and no space to prep.
Let's be honest, a full turkey just isn't going to happen, but a small crown or turkey joint will work. Remember that motorhome ovens generally take longer to cook anything. For a roast dinner, you probably need to allow at least 20-30 minutes longer than in a domestic oven.
Organisation is the key to making Christmas lunch in your motorhome. Buy as much as you can ready prepared – if you have a freezer in your motorhome, frozen Yorkshire puddings and roast potatoes can save a lot of hassle. Prepared vegetables and ready made gravy make life so much easier.
Alternatively, use a large Cadac or Dutch Oven to roast a chicken and do the rest in the motorhome oven. If you're being really adventurous, don't have a traditional Christmas lunch at all, but go Australian style and enjoy a really good BBQ, cooked right outside your van.
The Best UK Motorhome Christmas Campsites
Permanent motorhome sites offer great facilities all year round and are a popular option for Christmas and New Years Eve, as many have on site bars, club houses and restaurants. If you're planning on camping for New Years Eve it's always worth checking what activities will be taking place before booking.
These are our pick of the best campsites open at Christmas in the UK.
Lady Heyes Holiday Park, Frodsham, Cheshire
Best for Hot Tub Camping
Set in the heart of the Cheshire countryside, Lady Heyes Holiday Park is a privately owned, family run holiday park which offers touring pitches, some with private hot tubs, which are the perfect treat when camping at Christmas! Pitches are generously sized with hard standing and all have EHU and access to fresh water. Some also have drainage facilities. We think this is one of the best Christmas motorhome sites in the UK.
Wells Touring Park, Wells, Somerset
This five star adults only touring park in the heart of Somerset is a great option for motorhomes Christmas camping, offering peace, tranquillity and relaxation of fully serviced hard standing pitches. Wells Touring Park is close to Bath so you'll be able to visit the beautiful city and it's famous Christmas Market, as well as walk into historic Wells for a glass of Christmas cheer.
Edinburgh Caravanning Club Site, Edinburgh
Best for New Year Camping
The Edinburgh Caravan and Motorhome Club Site is the perfect location to spend Christmas and New Year, which Scotland does so well. Set in gorgeous surroundings on the Firth of Forth, you'll be able to take long walks and enjoy (hopefully) crisp, clear days. You're also close enough to Edinburgh to make visiting the city centre and enjoying all its festive season activities, easy.
RELATED POST – Edinburgh One Day Itinerary – Map, Tips & Guide
Cawood Park, Cawood, York
Cawood Park is set in twelve acres of country park with a lake, close to the historic city of York. The site enjoys fantastic facilities, including a club house, bar, live entertainment and a restaurant serving Christmas lunch. Hard standing pitches come with the option of a private bathroom and all have EHU.
Bargoed Farm, Aberaeron, Ceredigion
Best Overall Xmas Camping
Bargoed Farm is an award winning site with great reviews. The site was opened in 2017 and has modern facilities with hard standing motorhome and camper van pitches, some have private hot tubs. Within walking distance of the local village of Llwyncelyn and the Welsh Coastal Path, this is a site for lots of bracing Christmas walks. With their own bistro and farm shop on site though, you might choose just to stay put and enjoy that hot tub!
---
Motorhome Christmas Essentials
---
Are you looking for more motorhome life tips? Check out these top posts…
Selling up to live in a motorhome or campervan is a HUGE step to take, and even if you've spent a long time thinking about it, making the final decision is tough. Having sold up and quit the rat race to spend years living in a motorhome and travelling Europe, we share the good, the bad and our tips for selling up for a life on the road.
Love it? Pin it!