This post may contain affiliate links, from which we earn an income.
Every printable motorhome checklist you need…
If you're a motorhome owner and planning a trip, storing your motorhome or even buying a a new one, you'll find all the motorhome checklists you need to keep motorhome life running without a hitch…(see what I did there?).
I don't know about you, but as we've got older, trying to remember everything we need for a campervan or motorhome trip has got harder and harder. It's not like going on a 'normal' holiday – in a motorhome you have to remember not just your personal stuff, but essentials for cooking, living and managing your motorhome.
Then there's the motorhome trip planning. If you're going away for any length of time, you need a way to keep all the details recorded so they make sense later on!
As motorhomers, we've developed a range of free checklists to help you manage your motorhome life. From packing and planning, to moving off and winter storage, you'll find it all in our free to access resource library. Just download, print, and find a good old-fashioned pen!
Motorhome Packing Checklist
Our motorhome essentials checklist has eight detailed pages. This motorhome packing list will ensure you never forget anything again! From your first aid kit to kitchen essentials, camping chairs and other motorhome accessories, tick off items as they are packed in your motorhome. There is also room for your own special campervan essentials which you just can't travel without.
If you're not sure what to take, check out our motorhome equipment list for ideas and inspiration and all the things you need for a motorhome!
Motorhome Documents Checklist
This single page checklist acts as an aide memoir so you can leave home and rest assured you have all your essential documents, such as your motorhome insurance certificate and logbook with you. Stay safe and legal in your motorhome and never get to the port without your passport again!
Motorhome Trip Checklist
This detailed and comprehensive five page motorhome trip checklist will help you prepare your motorhome set up for a holiday or trip in the UK or abroad. This motorhome trip checklist covers everything from from motorhome basics for beginners, such as heating and habitation to simple DIY servicing and even reminds you about home insurance! Once you have ticked all the boxes you can head off and relax, just as it should be.
Motorhome Touring Guides
Buying a Used Motorhome Checklist
A really useful four page checklist to remind you of what to look for when viewing and buying a used motorhome. There can be lots to take in on a viewing, this checklist will make sure you remember to ask those vital questions. The checklist also includes room for your own notes and observations, as well as a handy reminder of things to know about on the day.
Quick Moving Off Checklist
Ever departed a pitch with your roof light open, or fridge door unpatched? We have and the consequences can be expensive…and messy! With four on each A4 page, print as many of these motorhome departure checklists as you need and use one at each place you stop.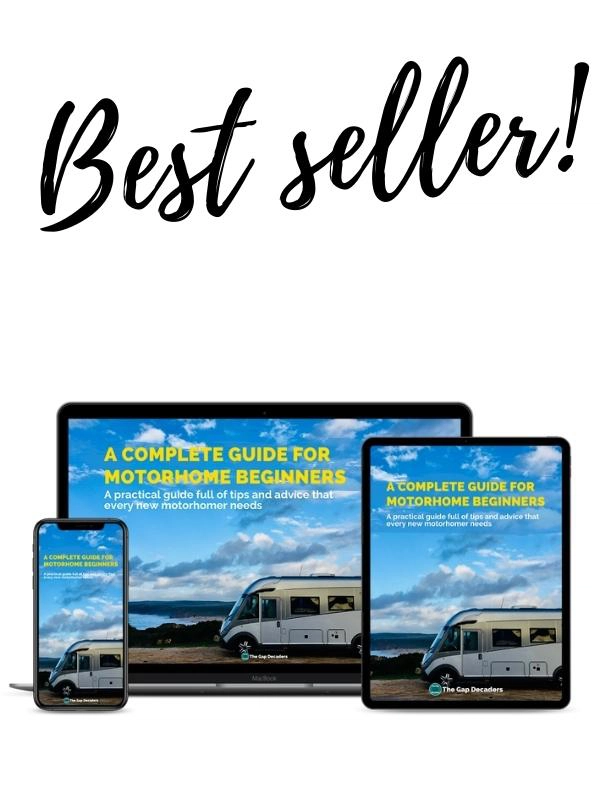 If you want to see all our motorhome beginners tips and advice in one place, plus lots of extra info and support you won't find on the website, check out our ultimate motorhome guide for beginners ebook.
With over 70+ pages packed with helpful knowledge, first hand advice and motorhome basics, this is the ebook every new motorhomer needs in their van.
Motorhome Winter Storage Checklist
When you put your motorhome to bed for the winter (or even in April!), there are a number of jobs you should take care off before locking up for the season. This checklist will prompt you to do all those tasks, making sure you leave your motorhome in the best condition to oversee the storage period.
You'll also find a range or road trip planners, speed guides and tools for your road trips or motorhome travels.
Already subscribed? You'll have the link and password for our resource library in an email from us. If you can't find it, drop us an email and we'll respond as quickly as we can.
Are you looking for more motorhome tips & tricks? Check out these top posts…
New Zealand is an absolute dream for campervan enthusiasts. The breathtaking landscapes, diverse wildlife, and incredibly friendly locals make it the perfect destination for your next campervan adventure. We'll will provide you with all the tips, tricks and insider knowledge to make your vanlife experience in New Zealand truly unforgettable. So, buckle up and get ready for an adventure of a lifetime!
Love it? Pin it!