This post may contain affiliate links, from which we earn an income.
Campervan & Motorhome Travel in Portugal
Portugal is a perfect motorhome and campervan destination. This tiny country packs one hell of a punch; wild coastlines, lively buzzing cities, exquisite wines and one of the hardest languages in Europe to learn!
In this guide, you'll find lots of practical and helpful information about getting around Portugal in a motorhome, and how to manage campervan and motorhome life there.
From tips about driving, where to stay overnight and wild camping, to motorhome services and a round-up of the best motorhome destinations, you'll find all the information you need for an amazing road trip in Portugal.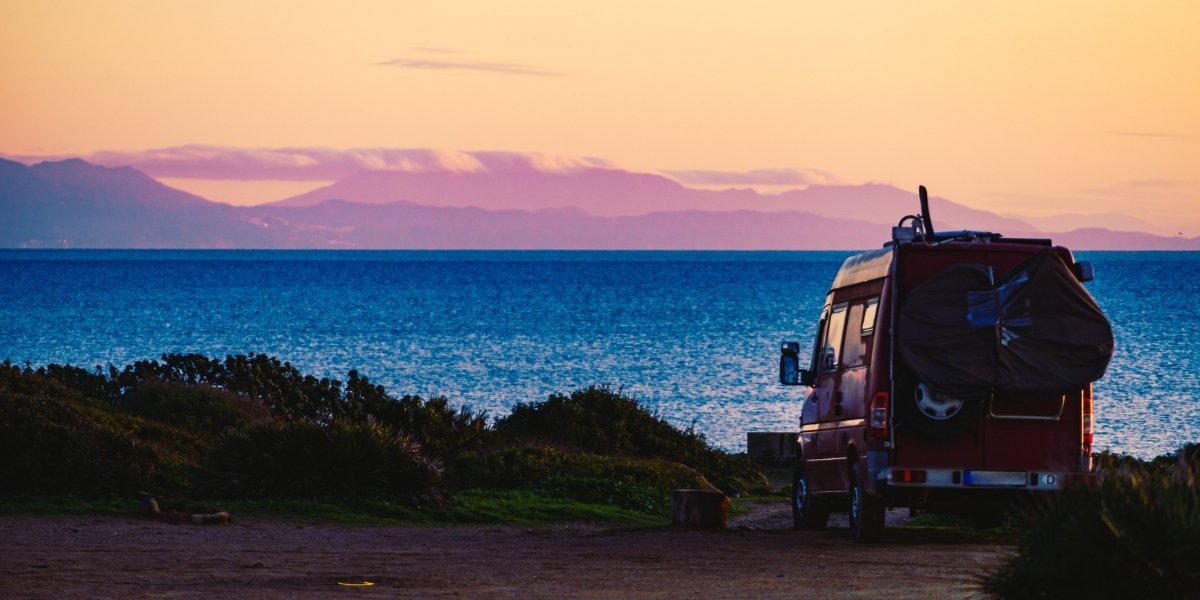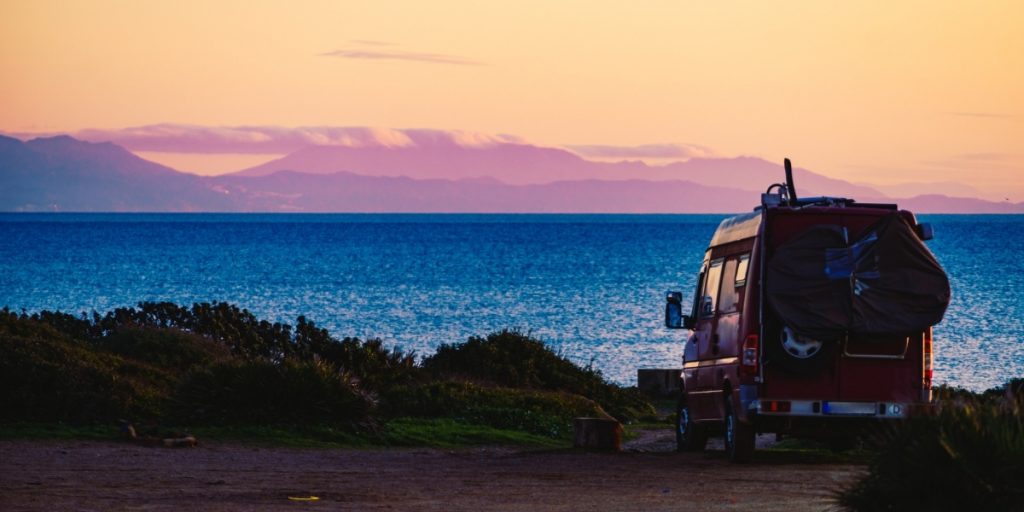 Portugal Campervan Routes
"How long to drive to Portugal?" I hear you ask …the question about the best route to Portugal in a motorhome from the United Kingdom is whether to pay for a long ferry crossing, or pay for fuel and tolls doing long miles in expensive France. Your options for driving to Portugal from UK in a motorhome are these;
Sail to Spain
Sailing from Portsmouth or Plymouth to the northern Spain ports of Santander of Bilbao (depending on which day of the week you want to depart) is the only way to avoid France. From here, its a five to six hour drive into northern Portugal.
It's a long crossing of 24 hours, but does give you the chance to have a proper night's sleep if you book a cabin. Cabins are not mandatory but the alternative reclining seats are uncomfortable and noisy.
This is the best motorhome route to Portugal if time is of the essence, you're travelling with a dog (some boats have pet friendly cabins and some have kennels) but cabins and kennel places book up quickly, or you're in a larger motorhome which will push up fuel and toll costs.
This sailing navigates the Bay of Biscay and can be choppy in autumn and winter.
Drive Through France
Get to France and head down the west side of the country, via Tours, Bordeaux and Bayonne. This is one of the quickest motorhome routes through France and Spain to Portugal, and is the cheapest from a toll perspective (see more about tolls in the driving section below) and lends itself well to ferries which arrive in Caen or Cherbourg.
It is also the best motorhome route from Calais to Portugal as you can travel south on a diagonal route, which is always quicker.
RELATED POST: Driving to Portugal from UK – Routes & Tips
Motorhome & Campervan Hire Portugal
If you don't own your own van, hiring a campervan and road tripping Portugal can be an awesome way to see this incredible country.
Check out Indie Campers Portugal, who have depots in Lisbon, Porto and Faro, and Siesta Campers for the best campervan hire in Portugal.
Expect to pay between £60-£70 per day (plus a security deposit) for a Fiat Ducato type converted van kitted out with a kitchen with running water, a gas stove and small fridge.
On a per trip basis when campervanning Portugal, you'll spend less than you would staying in a hotel, but not much less.
However, the freedom of the open road in your camper and deciding your own Portugal itinerary, where you visit and stay in a van will be priceless.
For lots of rental advice and tips, make sure to read our complete guide to hiring a campervan here.
If you're intending to pop across the border in your hired van for a spot of campervanning in Spain, make sure to let your hire company know.
More motorhoming in Portugal advice and guides;
When to Visit Portugal in a Campervan
December to February – The winter months in the Algarve are usually pleasant and popular with van lifers from Northern Europe, with temperatures topping 20°C. The sea is warm and you'll be able to sit outside for meals, although a long sleeved top may be required in the evening. North of Lisbon, temperatures come down, rain can be frequent and you may see snow north of Porto.
March to May – Spring is a wonderful time for a motorhome trip to Portugal, with temperatures warming up across the country. Markets increase in size, restaurants start preparing different dishes and the countryside is carpeted with wildflowers and grapevines unfurling their leaves. You'll still find the roads and cities less crowded, and most attractions will be open.
June to August – June and July are busier months, with perfect temperatures for campervanning and outdoor activities. The interior can be extremely hot in summer, especially between Lisbon and the Algarve. August will be the busiest time on the coasts as schools across Europe finish for summer and families take their annual trip to Portugal.
September to November – Autumn is a fantastic time to explore Portugal. The coasts will be quieter but still warm, the grape harvest takes place and the glorious colours of autumn bring vibrancy to the countryside.
Driving Motorhomes & Campervans in Portugal
Portuguese roads around cities and major towns are generally well maintained although it's usually a different story in rural areas. Drivers in Portugal have a bad reputation, not always fairly so, although the proper use of roundabouts and indicators seems to elude most! Our driving in Portugal tips will help you stay safe in your van.
Portuguese Speed Limits for Campervans & Motorhomes
Always observe the speed limits when campervanning in Europe. There are speed cameras just as in the UK, and the Portuguese (and other EU) authorities have been known to pursue Brits for non-payment of fines. This has not changed since Brexit as the information sharing agreement with the DVLA continues.
Motorhomes < 3,500 kg
In urban areas: 50 km/h
Main roads: 90 km/h
Motorways and autovías: 120 km/h
Motorhomes > 3,500 kg
In urban areas: 50 km/h
Main roads: 70 km/h
Motorways and autovías: 80 km/
Documents You Need to Drive & Travel in Portugal
You must have at least three months remaining on your passport (issued in the past ten years) at your intended date of departure from Portugal.
You must have at least 3rd party insurance for your vehicle. Update August 2021 – you no longer require a green card to prove you have vehicle insurance cover when travelling in Europe.
Your UK licence allows you to drive in all EU countries. If you only have a paper driving licence or a licence issued in Gibraltar, Guernsey, Jersey or the Isle of Man then you will need an International Driving Permit.
Breakdown cover documentation (not compulsory).
Vehicle V5 logbook (which must show your correct address).
Trailer certification if you are towing.
Personal travel and medical insurance (we recommend True Traveller), EHIC or GHIC card (not compulsory).
Animal Health Certificate if you're travelling with a pet.
Vehicle Safety Equipment for Portugal
Reflective jackets (mandatory to carry in your vehicle and wear if you need to get out the vehicle on the carriageway).
Warning triangle (not compulsory for foreign-registered vehicles from countries where warning triangles are not compulsory).
Spare wheel and the tools to change a wheel, or a tyre repair kit.
First aid kit (not compulsory).
Spare bulbs and fuses (not compulsory).
Fire extinguisher (not compulsory).
Headlight beam converters (unless you can adjust your's automatically).
From 28th September 2021, you will have to display a UK sticker on the rear of of your vehicle, instead of a GB sticker, unless you have a new style UK numberplate which displays the Union Jack flag.
Check here for more information about equipment required when driving in Portugal.
Information About Driving a Campervan in Portugal
It is forbidden to use a dash cam or radar detector in Portugal.
When driving a motorhome in Portugal it is permitted to carry bicycles at the rear provided that they do not project beyond the width of the vehicle.
Campervans or motorhomes and cars with caravans or trailers are not allowed to exceed 18.75m in total length, 4m in height and 2.55m in width.
You will see Portuguese drivers using mobile phones at the wheel frequently but this this is actually illegal, despite appearances to the contrary.
Police can impose on-the-spot fines to drivers of foreign registered vehicles and receipts are given. Most police cars are equipped with portable ATMs to ensure immediate payment.
If you are driving in a large town or city, then 'helpers' will wave you to spaces or car-parks in the hopes of getting a tip. Clearly you do not have to tip them unless you feel it's deserved. When you are hot and stressed and trying to park, having someone waving at you and 'helping' is not always that helpful!
Portugal has one low emission zone (LEZ) in Lisbon, which was introduced in the inner city centre in 2011. In 2012, a large area was added to the LEZ, which now comprises two sub-zones and currently covers 33% of the whole city. Click here for more information.
If you have an accident you'll need to complete the EU Accident Statement, which you can find here to download if your insurer hasn't provided one. Stop safely and use your hazard lights and warning triangle to alert other drivers. Exchange details ( a translate app comes in handy here) and take lots of photos to add to your form when you submit it to the insurers. If the other party won't give details or there has been an injury, you should call the police on 112.
Toll Roads in Portugal
Toll roads in Portugal are complicated! There are a number of different companies requiring different systems, with options to pay electronically or pre-pay. It is often not possible to pay as you go. This site provides a good explanation of them all.
Having spent quite a bit of time touring in Portugal, we think the temporary Via Verde device is the best option. This is an electronic device you can order online in advance. It's valid throughout all the Portuguese highways network, highways with electronic-only tolls and designated lanes on traditional tolls.
Where possible, avoid the tolls and take the scenic route when driving around Portugal, you'll have a much better experience!
Motorhome Services in Portugal
Motorhome service areas in Portugal are generally widely available throughout the country, with a good network of service points around larger towns, mostly totally free. Some garages and supermarkets will also have fresh water and a place for grey water.
You'll often see the typical pictogram sign by the side of the road pointing you to a service point, this may be a dedicated area, within an aire or another facility. The types of built-in services like you find in France are few and far between. Use an app like Park4Night to locate motorhome and campervan services.
LPG for refillable systems is available in many garages, use the myLPG app to search near where you are, although you'll find LPG to be around 25% more expensive than in neighbouring Spain.
Gas bottles are also widely available, with butane generally being more popular because of the climate (butane is more suited to milder weather conditions but propane is better for cold weather as it burns at lower temperatures). For Portuguese gas bottles you will need a different regulator, available from most DIY or camping shops.
Most garages will require you to pay electronically for fuel at the pump, usually you can adjust the instructions to English. Supermarket fuel is generally the cheapest, and rural garages can be quite expensive.
Recommended Reading
Do you want to wild camp in your motorhome? Are you feeling a bit nervous about wild camping for the first time? Then read on for all our top tips and practical advice about how to wild camp in a motorhome and get off the beaten track like an expert!
If you live or travel in a motorhome then you need to know how to stay safe and keep on the right side of the law.  You will find everything you need to know here about staying safe and legal in your motorhome.
Motorhome Stopovers in Portugal
Motorhome Aires in Portugal
Motorhome aires in Portugal operate much like they do in France or Spain. They cannot be booked and operate on a first come first served basis. Municipal aires are generally free and offer motorhome services. Don't outstay your welcome, certainly no more than 2-3 nights.
In Portugal you will find more commercial than municipal aires, although the latter are on the increase. Commercial aires operate in a similar way to a campsite so you can stay there for as long as you wish.
You won't find a swimming pool or other typical campsite facilities though. This is reflected in the price which is usually around €10-12 per night and there may be an extra charge for services such as electricity.
Nights in a camper in Portugal can be noisy. Not only are there often barking dogs but there are usually church bells too. The notion of stopping the bells overnight does not seem to have occurred to many village councils; take ear plugs if you're a light sleeper.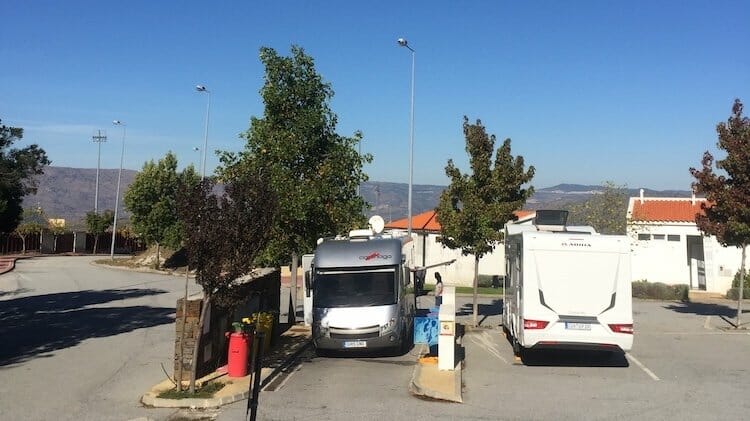 Wild Camping for Motorhomes & Campervans in Portugal
Updated January 2021 & August 2021 to reflect changes in Portuguese legislation regarding motorhome and campervan wild camping.
Every year tens of thousands of motorhomes and camper vans visit the Algarve looking for winter sun. Many people prefer free parking and along the southern coast of the Algarve and the surf spots of the Atlantic, it can often feel like a camper van and motorhome car park next to the beach.
Free camping spots generally have no facilities and lots of campers have no toilets. This leads to human waste, rubbish and other waste being dumped inappropriately which in turn damages the environment. In some popular beach wild camping spots, toilet paper and faeces are often visible.
Is Wild Camping in Portugal Legal?
After years of the authorities tolerating this behaviour, a new law has come into force, so if you're wondering whether it's legal to wild camp in a campervan or motorhome in Portugal, here is your answer:
As of 9 January 2021 (and further updated 25 August 2021) a new Decree-Law no. 102-B / 2020 entered into force, which prohibits overnight stays and parking in all locations that are not expressly designated for motorhomes or camper vans.
This decree amends the Portuguese Highway Code and complementary legislation, transposing Directive (EU) 2020/612. One of the changes affects freedom and the way in which motorhoming and caravanning in Portugal is viewed as follows;
Article 50-A Prohibition of overnight stays and parking of motorhomes and campervans;
1 – Without prejudice to the provisions of articles 49 and 50, the overnight stay and parking of motorhomes or similar are prohibited in areas of the Natura 2000 Network, protected areas and areas covered by the Coastal Plans, except in the places expressly authorised for this purpose. In the rest of the territory and in the absence of municipal regulation for the activity, motorhomes approved by the IMT – Institute of Mobility and Transport are allowed to stay overnight for a maximum period of 48 hours in the same municipality, except in places expressly authorised for this purpose, for which there is no limit on overnight stays.
2 – For the purposes of the preceding paragraph, it is considered:
a) 'Aparcamento' means the parking of the vehicle with more space than its perimeter
b) 'Motorhome or similar' means a vehicle that has a living space or that is adapted for the use of a living space, classified as a 'motorhome', 'special bedroom' or 'caravan' by the Institute of Mobility and Transport
c) 'Overnight', the permanence of a motorhome or similar at the parking place, with occupants, between 9:00 pm one day and 7:00 am the next day.
3 – Anyone who violates the provisions of paragraph 1 shall be sanctioned with a fine of €60 to €300, unless it is an overnight stay or parking in areas of the Natura 2000 network and protected areas, in which case the fine is from €120 to €600.
What does this actually mean for me?
This Portugal campervan ban means that any motorhome overnight parking or camping within national parks or coastal zones is not allowed, unless you are in a designated place like an aire or campsite.
Within two months of the new legislation coming into force, it was reported in the local news that over 60 motorhome and campervan owners were fined in these area.
Inland, outside of protected areas and national parks, you can wild camp for up to 48 hours in a municipality – you can find a list and map here – as long as there is no signage prohibiting it.
You can stay in a municipality for up to 90 days (because that's the maximum time you can spend in Portugal without a visa) if you stay in a campsite or aire.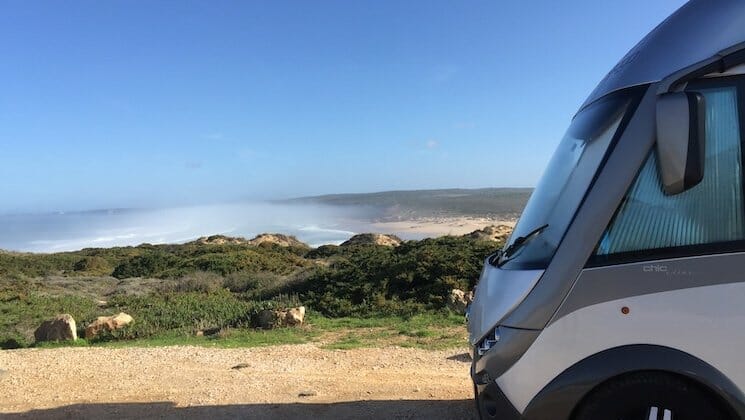 We do not condone anyone breaking the law, and whether you decide to take the risk or not is entirely your choice. Park4Night or another free app are good options to find the best wild camping spots which are authorised for motorhomes.
Hanging out your washing, getting your awning out and leaving your step and chairs out overnight will absolutely ensure a visit from the GNR (National Republican Guard), even in authorised parking (where parking but not camping is allowed), who patrol frequently and in large numbers along the coasts.
For the best chance of going unnoticed, head inland to remote spots away from crowded areas.
Follow our general tips on wild camping to stay safe and have a great nights sleep.
Portugal is a small country with a lot to offer. From the historic towns of the north, to the glowing Algarve, via iconic cities, granite hard mountains and rolling vineyards, these historic and coastal road trips in Portugal will bring the country alive. 
What better way is there to discover a country than meeting the locals, exploring the landscape and enjoying delicious local produce made with tradition and love? Enter Portugal EasyCamp…
Portugal EasyCamp
A new-comer to Portugal and a great alternative to wild camping, Portugal EasyCamp is similar to France Passion but operates in a slightly different way. You go online and buy a product before heading to the farm or vineyard where you can then stay for 24 hours.
These vineyards (quintas) and farms (herdade) are in some of Portugal's most beautiful and unspoilt places. Typically you will stay in a spot amongst vines, trees ad nature with the options of wine and olive oil tasting.
The scheme is growing rapidly and now has 48 farms and vineyards signed up and is certainly worth a try if you are heading to Portugal. We spent a few months in Portugal in 2020, you can read our review of Portugal EasyCamp here.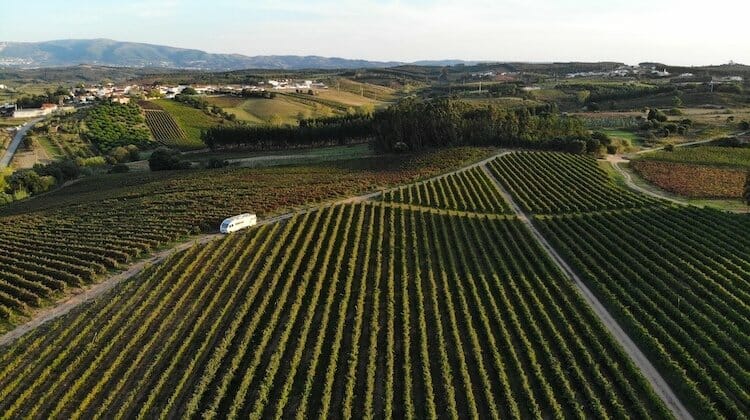 InterMarche Supermarkets
In spring 2021, supermarket chain Intermarche started to offer parking for motorhomes and campervans with drinking water and waste facilities at over 60 of its Portuguese supermarkets.
It is not clear whether you can stay overnight and we have not been in Portugal to check this out for ourselves. We have contacted Intermarche to ask this question, but have yet to receive an answer.
If you're in Portugal, it might be worth having a look see – if you discover the answer, we'd love it if you'd let us know 🙂
Use the interactive store map on their website and tick 'parque para autocaravans' to find stores with dedicated campervan parking.
Motorhome Campsites in Portugal
Portugal campervan campsites vary from very basic with limited facilities to 5* luxury with heated and indoor pools, tennis courts, spas and restaurants, especially in the Algarve. Book with Eurocampings for the best offers on over 100 campsites in Portugal.
CampingCard ACSI is widely accepted when camping in Portugal, although you may find that the ACSI pitches (which are usually smaller and have less on-pitch facilities) are full when you arrive and you have to pay to upgrade to the next level, which negates the discount! This is common on the larger and more commercial sites along the popular Algarve coast.
If you want to camp long-term in a campervan in Portugal then booking your site well in advance is advisable, especially if you're planning on visiting over the Christmas and New Year periods. Many sites offer stepped winter rates; the longer you stay the cheaper the per night cost.
Top Portuguese Motorhome Destinations
Portugal is a fascinating country, from the historic north with it's rich trading and fishing history, to the beaches and good life of the Algarve, Portugal's most popular tourist destination.
Portugal is well set up for motorhome travel, with free service points in many towns and villages. These are our favourite road trip spots in Portugal, with a few tips in our motorhome travel guide about where to stay and what to do when you're there.
Motorhome & Campervan Routes Portugal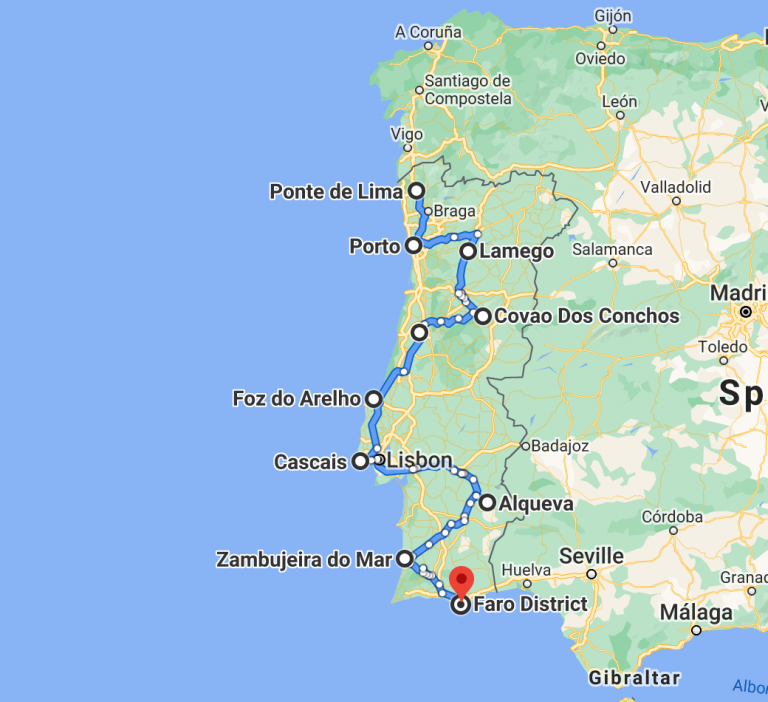 Ponte de Lima
Ponte de Lima is the oldest vila or chartered town in Portugal. Named after the fine medieval bridge (ponte) that passes over the Lima river, this northern Portuguese town holds a huge market, typical of this part of Portugal, every Monday on the riverbank.
This is not a sanitised tourist market, but a full-on local growers, live chickens and rabbits in cages type of market. It's a great stop if you're heading south from Spain.
Like most Portuguese market places, the market place in Ponte de Lima is used for parking when it's not a market. If you take your chances and decide to park overnight here, be mindful of signage. You don't want to be woken in the morning with your van surrounded by traders and no way out!
Ideal for campervan travel, there is a service point just outside town and several spots where wild camping may still be possible. We stayed in this very peaceful car park beside the International Garden Festival grounds (which are beautiful in spring) for two nights and didn't see another soul!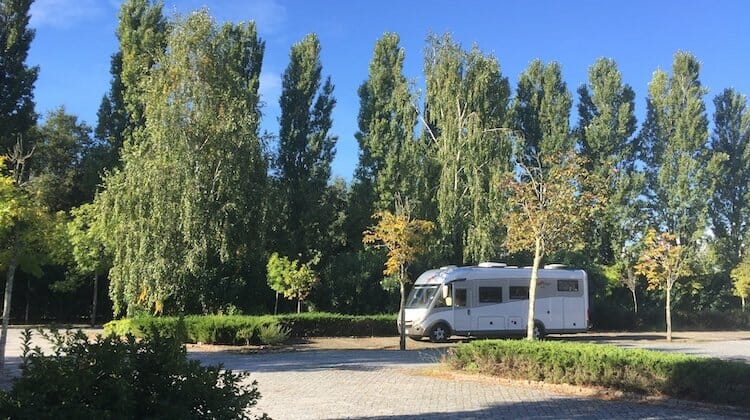 Porto
One of our favourite Portuguese cities, Porto is charming, intimate and bursting with life. A day in Porto is enough to get a flavour of this wonderful city, home to Port wine, trams and beguiling cobbled streets.
Stay at the excellent aire attached to the Gaia Biological Park. There are seven places in this gated and secure spot, with electricity and full services provided.
It's around 20 minutes by scooter into Porto city centre, or get a taxi for around €15, There is a bus from nearby into the Vila Nova de Gaia side of the city centre, Reception at the Bio Parque will be able to give you more info.
RELATED POST – Porto in One Day – Itinerary, Map, Tips & Guide
Passadiços do Paiva, Espiunca
Close to Porto, Passadiços do Paiva is a hike with a difference. A series of wooden walkways suspended from, and built along, the banks of the Paiva allow you to follow the stunning river from Espiunca to Arouca, or vice versa.
The Arouca end of the hike is also home to a pedestrian suspension bridge that claims to be the longest in the world, named 516 Arouca and measuring 516 metres in length, which opened in May 2021.
Built in the Arouca Geopark, the bridge is suspended 175 metres above the Paiva river and links two hills with granite cliff faces we saw it being built when we were last there and it sure is huge!
Take advantage of the large car park at Espiunca right on the river, with a great bar and restaurant, where you can stay overnight in your van and start the hike at that end. The walkway is 8.7km each way, with a punishing 600 steps to be climbed (or descended) at Arouca.
There are buses and taxis at each end if you want to hike one way. It costs €1 to use the passadicos, which you can pay on the day. Start early though, numbers are limited.
The Douro Valley
The stunning Douro Valley follows the mighty river all the way from Porto to the eastern border with Spain. It's a fantastic drive along the N222, especially in autumn when the colours of the vines are spectacular.
Make sure to take the slight detour south to visit Lamego, home to the pilgrimage site of Nossa Senhora dos Remedios and its double flight of nearly 700 steps, recently judged worthy of UNESCO World Heritage Site status.
You'll find lots of Portugal EasyCamp sites along the Douro and some great wild camping spots that are off the beaten path enough that you're unlikely to be detected.
Cavao dos Conchos, Serra da Estrela
The fascinating Covao dos Conchos, high in the Serra da Estrela natural park is called the 'eye' by locals. This incredible man-made hole is actually a bell-mouth spillway and well worth the short hike to get up close to the mesmerising spectacle, set deep in the rugged and glacial mountain range.
The easiest way to get to the hike start point at Lagoa Comprida is by driving from Seia on the N339 or Covilha, on the other side of the Serra da Estrela, on the same road. The N339 is a normal two-way tarmacked road which is regularly driven by tourist coaches, and is a stunning drive across the mountains in itself.
There is plenty of level parking at Lagoa Comprida which makes a great spot to stay overnight where you're unlikely to be disturbed, although there are no services. There is also an excellent Portugal EasyCamp spot in the nearby Dao Valley, Quinta do Escudial, where you can park next to the tiny chapel which overlooks the vineyards.
RELATED POST – Covao Dos Conchos – Getting Up Close
Coimbra
Portugal's medieval capital city is a revelation. Rising above the wide Rio Mondego, Coimbra celebrates a rich history and is home to the country's oldest university. The Moorish historic and stacked centre is perched on the river bank and has a majestic cathedral with lots of atmospheric alleys and squares to explore.
Probably one of the most well known places between Lisbon and Porto, Coimbra is also famous for live music, including the haunting Fado and guitarra, the Portuguese guitar, which you can hear in many of the bars and restaurants in the old town.
There is a dearth of campsites in Coimbra and not much on the wild camping front either. We stayed at Portela do Mondego, an old municipal site, which was actually not bad, despite it's poor Park4Night reviews.
You can walk into the centre of Coimbra in around half an hour from the campsite, a cycle ride will probably take 10-15 minutes.
Foz do Arelho
This west coast spot quickly became a favourite for us – the perfect place for kite-surfing and paddle boarding right from the van, with super little cafes and eateries just a ten minute walk and a great (if basic) aire on the lagoon.
You're also 30 minutes from Nazare to the north if you fancy a spot of big wave surfing (but limited motorhome parking and access) and the same distance from Peniche to the south, and its incredible coastal rock formations.
The beautiful walled city of Obidos, which has easy and convenient parking for large vehicles, is just 25 minutes away.
Foz do Arelho is separated from the sea by a large sandbar, which creates a huge saltwater lagoon. Close to the sea, the water is shallow and clear, further inland there are reeds and lots of bird life.
It's a perfect spot to spend a few days or weeks and the aire, which is basic and sadly not that attractive, is well priced and managed.
If you can get a front row spot overlooking the water, you can ignore the slightly run-down buildings of what was a municipal campsite behind!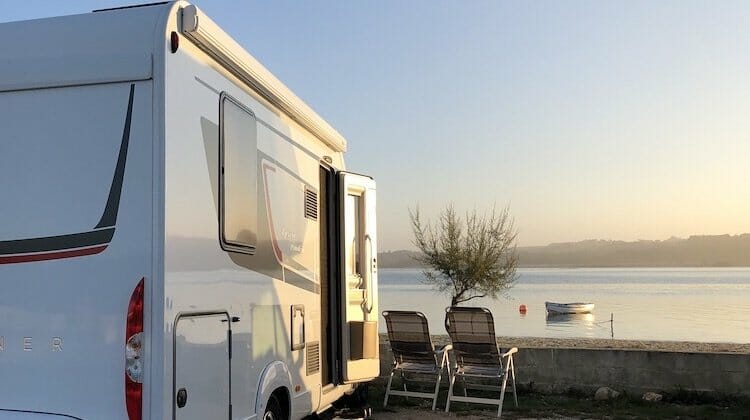 Sintra
This larger than life national park is home to colourful fairy tale castles, whimsical villas and mysterious forests. The long time mountain playground of Portuguese royalty, Sintra is now one of the most popular tourist attractions in the country, and is conveniently close to Lisbon.
It's not motorhome friendly though! The roads are narrow and there is no suitable parking for larger vehicles, although those in a VW size van would be ok. From Sintra town, you'll need a tuk-tuk or other official transport to get to the interesting places such as Pena Palace and Quinta da Regaleira, where you'll find the much-photographed Masonic initiation well.
We suggest staying at a nearby campsite (there are not many) such as Parque De Campismo Orbitur Guincho, and using it as a base to visit Sintra and Lisbon. You're also on the doorstep of lively Cascais, one of Portugal's top coastal resorts, and Cabo da Roca, continental Europe's most westerly point.
If you don't have a scooter or tow car to get around, Lisbon and Sintra are easily accessible by bus from Cascais, with Lisbon also being accessible by fast train in just an hour.
Lisbon
Lisbon has to be one of the most picturesque and atmospheric cities in all of Europe. With stunning architecture from numerous time periods, lively cobbled streets, and a setting right on the Rio Tejo, Lisbon is a dream destination and a must see on your Portuguese road trip.
There are numerous things to see and do in the city. You'll be able to cover many of the main highlights and see lots of Lisbon's hidden gems in a day.
RELATED POST – One Day Lisbon Itinerary with Map & Tips
The Alqueva Dam
We loved the Alqueva Dam for its big landscape, tranquil feel, dark skies status and great roads. There are lots of good wild camping opportunities here, where you're unlikely to be troubled by the GNR – this spot was one of our favourites.
We also spent a very quiet night in the parking field of the Dark Skies Observatory (with the owners permission) near the beautiful walled town of Monsaraz.
On your way to the Alqueva from Lisbon, make sure to stop in Evora for a few days. The capital of the Alentejo region and another lovely Portuguese town, Evora is known for its local gastronomy and has a top wine heritage. You'll find some excellent Portugal EasyCamp stops in the area.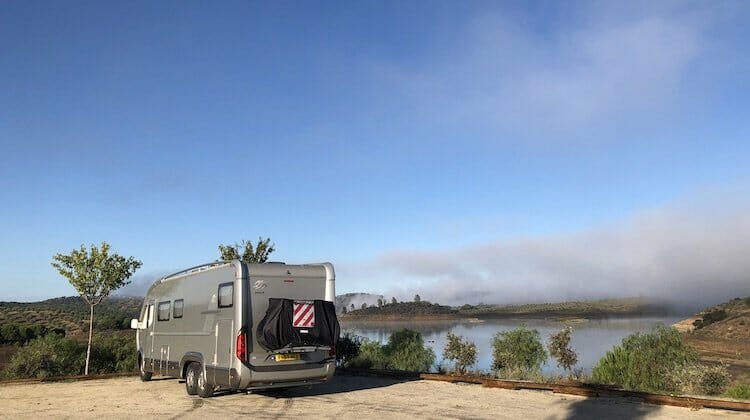 Zambujeira do Mar
Further south, on the wild Atlantic Coast is Zambujeira do Mar, in the Southwest Alentejo and Vicentina National Park. This is a perfect spot to explore this coast, where campervan life in Portugal is so popular but is now definitely not possible due to the change in Portugal motorhome law.
With huge beaches, big seas and the fantastic Rota Vicentina (Fishermans Trail) walking route on the doorstep, Zambujeira is a great base for a few days.
Stay at Camping Villa Mar and enjoy the small, family run sea-food restaurants, live music events in summer and splendid town beaches.
The Algarve
The Algarve is by far the most popular place for Portugal camping, for its year round climate, fabulous beaches and lively coastal resorts.
Pre-Brexit, the Algarve was swamped with over 100,000 motorhomes every winter, now us Brits are unable to spend the whole winter there, the pressure on the region may lessen just a little.
Along with the Atlantic coast of Portugal, this was the most popular places for wild camping and campervanning in Portugal, and every beach car park used to resemble a motorhome site, with people flagrantly camping for months on end in every possible spot.
With the double whammy of Brexit and the clamp down on wild camping, Portugal van life on the Algarve may well change and offer more, and better quality aires and sites.
It will remain a really popular place for winter motorhoming because of it's wonderful winter climate.
Do you want access to our free resource library packed with road trip & motorhome checklists?
Portuguese Life
Culture
Portugal is Europe's oldest nations; proud, conservative and family orientated. Traditional Christian values are held strongly here; family and home is at the core of the social structure, coming before friendships and business loyalties.
Do not make comparisons between Portugal and Spain! Portugal is proud to be a separate and distinct country with rich heritage; their identity as Portuguese is important. Portugal dislikes being overshadowed by their larger neighbours.
Portuguese people speak quite rapidly and loudly; this does not signify anger or displeasure although it can be a little disconcerting at first to hear little old ladies yelling at each other in the street!
Every town and village holds an annual Festa when all but the restaurants and bars close. These events are loud and colourful, usually with different themes around music, dancing, food or religion. Check out the calendar here and be sure to attend if you can, you will be made very welcome; just don't expect to be able to buy a pint if milk or loaf of bread!
Children are welcomed everywhere; there don't seem to be issues with kids in bars and restaurants until late at night. This is testament to the importance of family life but perhaps a little frustrating if you're out for a quiet or romantic meal.
Not many older people in Portugal speak English, especially away from the coast. Learn at least olá (hello), tchau (goodbye), por favor (please) and obrigado/obrigada (thank you male/female). Whoever you're conversing with will appreciate the effort.
Time moves slowly in Portugal; people are happy to wait in line or be bound by red tape. The Portuguese appear endlessly patient and don't stress about officialdom…try it, it feels great!
In rural Portugal, many people keep dogs for security. Be prepared to be barked at by tied up or fenced off attack style dogs. It also means there will be barking at night, wherever you park your motorhome in Portugal. Get used to it and take ear plugs 'cos you can't escape it!
There are also lots of stray dogs, generally well behaved but they poo anywhere and everywhere. Keep your eyes peeled when walking in built-up areas!
Traditional markets are a way of life in Portugal, many people only ever shop at markets and you'll find one in all the best cities in Portugal. The range of produce is huge and stalls range from those clearly professional sellers to farmers with one stool, a few chickens and some walnuts to sell. Buying local and seasonal is so different to the UK experience, it took us a while to get past wanting out of season fruit when we were living in a motorhome in Portugal, but we have really come to appreciate cooking with such fresh ingredients. Make sure you take cash and change and plenty of re-useable bags.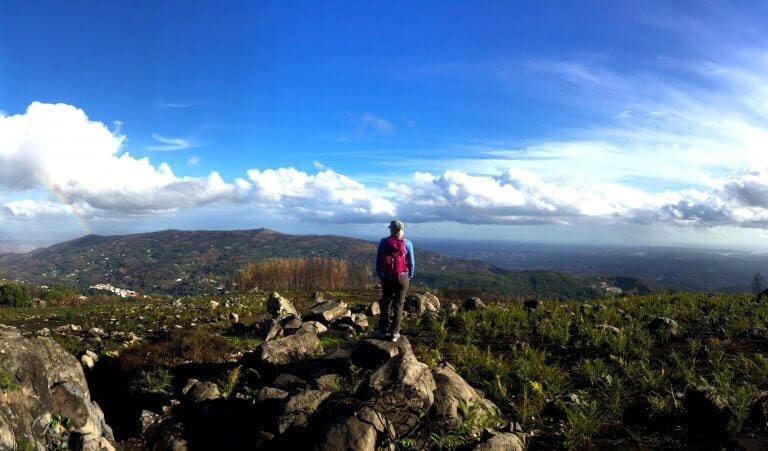 Food & Eating Out in Portugal
Did you know that Portugal introduced hot chiles to Asia and tempura to Japan? Maybe not, but I'm sure you will have heard of Pasteis de Nata, the infamous custard tart which must be tried warm if at all possible.
Coffee is HUGE in Portuguese food culture. Don't expect though to find Costa or Starbucks here; macchiato and latte are unknown words, ask for anything 'skinny' and you'll be laughed at. Coffee comes very strong, very hot and in a very small cup…usually for less than a euro and drunk in less than a minute.
Salt cod or bacalhau is a Portuguese staple. It is stocked in all supermarkets and small food shops, stacked precariously high like pieces of white and grey corrugated cardboard and smelling pretty pungent (understatement!). Apparently there are 101 ways to cook salt cod, try it and eat like a local.
Eat out at least once during your motorhome tour of Portugal. Try a tasca, a small affordable neighbourhood restaurant; you will be served local dishes cooked traditionally, such as suckling pig or grilled sardines.
Portugal's wines are fabulous, from the famous Port, to the fresh and crisp Vinho Verde and sweet Madeira wine, there is something to suit everyone. If you visit Porto, try a tour of a port wine lodge, finishing with a tasting. For our money, Ferreira is the best and has the added bonus of being the oldest house still in Portuguese ownership.
Mealtimes start at around noon for lunch and 7pm for dinner, although this will be later in the cities.
Once seated, you will be served entradas which usually consist consist of pao (bread), azeitonas (olives), tuna or sardine patés and butter. The cost is usually minimal, €1-2, similar to a cover charge. If you're eating on a budget ask for the entrada to be removed and you should not be charged.
Menus, especially in tascas, are simple; it is assumed you will understand that main courses are served all-inclusive with potatoes or rice and vegetables.
If you order water it will be bottled and you will be asked if you prefer it fresca (cold) or natural (room temperature). The Portuguese prefer their water at room temperature, even on a hot summer's day …who knew that about Portugal?
Motorhome Touring Resources for Portugal
Are you looking for more motorhome touring guides? Check out these top posts…
urkey is the perfect post Brexit motorhome escape if you need to spend three months out of the Schengen area. This diverse and seemingly endless country will reward you with breathtaking landscapes, huge skies and mystical cities. Taking a motorhome to Turkey can feel like a big step. A new continent with customs so different from our own can be challenging to negotiate. We'll take you through all the stages of planning your trip, from kitting out your van, understanding legalities and getting there,to how to camp and budget for your trip.
Love it? Pin it!