Portugal is a perfect motorhome and campervan destination. This tiny country packs one hell of a punch; wild coastlines, lively buzzing cities, exquisite wines and one of the hardest languages in Europe to learn! If you're planning on going to Portugal as you tour Europe in a motorhome, then this is a must-read before your trip!
Campervan & Motorhome Travel in Portugal
If you don't own your own van, hiring a campervan and road tripping Portugal can be an awesome way to see this incredible country. Check out Indie Campers Portugal and Siesta Campers; expect to pay between £60-£70 per day for a Fiat Ducato type camper.  On a per trip basis, you'll spend less than you would staying in a hotel, but not much less!  However, the freedom of the open road and deciding your own Portugal itinerary, where you visit and stay in a van will be priceless. Make sure to read our complete guide to hiring a campervan here.
Driving Motorhomes & Campervans in Portugal
Portugese roads around cities and major towns are generally well maintained although it's usually a different story in rural areas. Drivers in Portugal have a bad reputation, not always fairly so although the proper use of roundabouts and indicators eludes most!
You must carry your driving licence and have a minimum of third party insurance cover for your motorhome. When campervanning in Portugal post Brexit you may need a 1968 International Driving Permit and a green card as proof of insurance.
Subscribe to keep up to date with changes regarding motorhome travel in Europe and receive monthly updates and content direct to your inbox
You must also carry photographic proof of ID and a reflective jacket (for the driver and all passengers).  
It is recommended that you carry a warning triangle.  
It is forbidden to use a dash cam or radar detector. Check here for more information about driving in Portugal.
When driving a motorhome in Portugal it is permitted to carry bicycles at the rear provided that they do not project beyond the width of the vehicle.
You will see Portugese drivers using mobile phones at the wheel frequently;  bear in mind that this is actually illegal despite appearances to the contrary. 
If you are driving in a large town or city, particularly in a motorhome or campervan, then 'helpers' will wave you to spaces or car-parks in the hopes of getting a tip.  Clearly you do not have to tip them unless you feel it's deserved.  When you are hot and stressed and trying to park,  having someone waving at you and 'helping' is not always that helpful!
Portugal has one low emission zone (LEZ) in Lisbon, which was introduced in the inner city centre in 2011. In 2012, a large area was added to the LEZ, which now comprises two sub-zones and currently covers 33% of the whole city. Click here for more information.
Toll roads in Portugal are complicated! There are a number of different companies requiring different systems with options to pay electronically or pre-pay.  It is not possible to pay as you go. This site provides a good explanation but we say, avoid the tolls and take the scenic route when driving Portugal by van!
If you're looking for a ready-made tour of Portugal, then check out this perfect Portugal itinerary for 7-10 days.
Motorhome Stopovers in Portugal
Motorhome Aires in Portugal
Motorhome aires in Portugal operate much like they do in France or Spain. They cannot be booked and operate on a first come first served basis. 
In Portugal you will find more commercial than municipal aires, although the latter are on the increase.  
Commercial aires operate in a similar way to a campsite so you can stay there for as long as you wish.  You won't find a swimming pool or other typical campsite facilities though.  This is reflected in the price which is usually around €10-12 per night and there may be an extra charge for services.
Municipality aires are generally free and offer motorhome services.  Don't outstay your welcome, certainly no more than 2-3 nights.
GET OUR FREE EMAIL SERIES – THE FIVE SECRETS TO STRESS FREE MOTORHOMING – AND MAKE LIFE ON THE ROAD A BREEZE
Wild Camping for Motorhomes & Campervans in Portugal
Portugal's relationship with motorhome wild campers, who contribute millions to their economy annually is confused.  Every year tens of thousands of motorhomes and camper vans visit the Algarve looking for winter sun. Many people prefer free parking and along the southern coast of the Algarve, it can often feel like a motorhome car park next to the beach. 
Wild camping spots generally have no facilities. This leads to rubbish and waste being dumped inappropriately which in turn damages the environment. The matter is frequently in the news and locals are becoming more vocal about their views of wild campers. The Police and  GNR (National Republican Guard) sometimes move people on and at other times appear to tolerate wild camping; this sends mixed messages and so wild camping continues. 
Is wild camping in Portugal legal? Wild camping in Portugal is prohibited, even with the land owners permission.  
Update 2020 – in May 2020, Portugese authorities decided to start properly enforcing rules and regulations regarding wild camping in national parks and also anywhere with direct access to any beaches.  The GNR and Police have been rigorous in moving people on and have handed out record numbers of fines this year.  It seems that wild camping is no longer as tolerated as it was.
Use Park4Night or another free app to find the best wild camping spots. Often reviews will mention when the GNR last visited, this may help you plan your visit if you decide to take the risk.
Hanging out your washing, getting your awning out and leaving your step and chairs out overnight will ensure a visit from the GNR who patrol frequently and in large numbers along the coast.  
Nights in a camper in Portugal can be noisy. Not only are there often barking dogs but there are usually church bells too.  The notion of stopping the bells overnight does not seem to have occurred to many village councils; take ear plugs!
Follow our general tips on wild camping to stay safe and have a great nights sleep.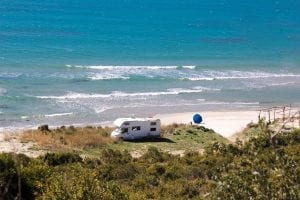 Do you want to wild camp in your motorhome?  Already wild camping in your motorhome?  Then read on for top tips and advice about how to wild camp in a motorhome and get off the beaten track like an expert!
Read More
A new-comer to Portugal and a great alternative to wild camping, Portugal EasyCamp is similar to France Passion but operates in a slightly different way.  You go online and buy a product before heading to the farm or vineyard where you can then stay for 24 hours.  The scheme is growing rapidly and now has 48 farms and vineyards signed up and is certainly worth a try if you are heading to Portugal.  Read our review of Portugal EasyCamp here.
Motorhome Campsites in Portugal
Portugal campervan campsites vary from very basic with limited facilities to 5* luxury with heated and indoor pools, tennis courts, spas and restaurants.  
ACSI is widely accepted although you may find that the ACSI pitches (which are usually smaller and have less on-pitch facilities) are full when you arrive and you have to pay to upgrade to the next level. This is common on the Algarve coast.
If you want to stay long-term then booking well in advance is advisable. Many sites offer stepped winter rates; the longer you stay the cheaper the per night cost is.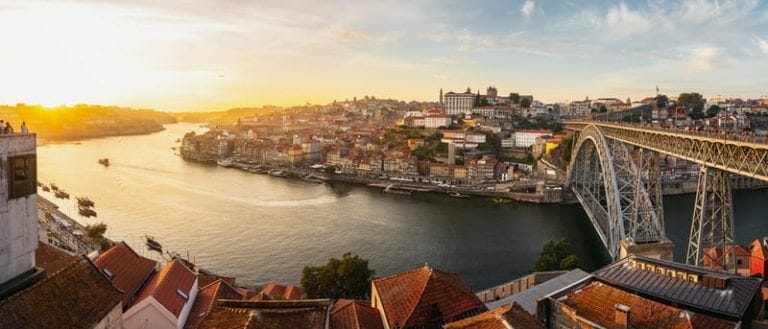 Portugal is Europe's oldest nations; proud, conservative and family orientated.  Traditional Christian values are held strongly here; family and home is at the core of the social structure, coming before friendships and business loyalties. 
Do not make comparisons between Portugal and Spain!  Portugal is proud to be a separate and distinct country with rich heritage; their identity as Portuguese is important.  Portugal dislikes being overshadowed by their larger neighbours.
Portugese people speak quite rapidly and loudly; this does not signify anger or displeasure although it can be a little disconcerting at first to hear little old ladies yelling at each other in the street!
Every town and village holds an annual Festa when all but the restaurants and bars close.  These events are loud and colourful, usually with different themes around music, dancing, food or religion.  Check out the calendar here and be sure to attend if you can, you will be made very welcome; just don't expect to be able to buy a pint if milk or loaf of bread!
Children are welcomed everywhere; there don't seem to be issues with kids in bars and restaurants until late at night. This is testament to the importance of family life but perhaps a little frustrating if you're out for a quiet or romantic meal.
Not many older people in Portugal speak English.  Learn at least olá (hello), tchau (goodbye), por favor (please) and obrigado/obrigada (thank you male/female). Whoever you're conversing with will appreciate the effort.
Time moves slowly in Portugal; people are happy to wait in line or be bound by red tape. The Portugese appear endlessly patient and don't stress about officialdom…try it, it feels great!
In rural Portugal, many people keep dogs for security.  Be prepared to be barked at by tied up or fenced off attack style dogs.  It also means there will be barking at night, wherever you park your motorhome in Portugal.  Get used to it and take ear plugs 'cos you can't escape it!
There are also lots of stray dogs, generally well behaved but they poo anywhere and everywhere.  Keep your eyes peeled when walking in built-up areas!
Traditional markets are a way of life in Portugal, many people only ever shop at markets.  The range of produce is huge and stalls range from those clearly professional sellers to farmers with one stool, a few chickens and some walnuts to sell.  Buying local and seasonal is so different to the UK experience, it took us a while to get past wanting out of season fruit, but we have really come to appreciate cooking with such fresh ingredients.  Make sure you take cash and change and plenty of re-useable bags.  Be mindful of signage in big open areas in towns, it is likely that the weekly market will be held here and on other days it will become a car-park.  You don't want to be woken with your motorhome surrounded by traders with no way out!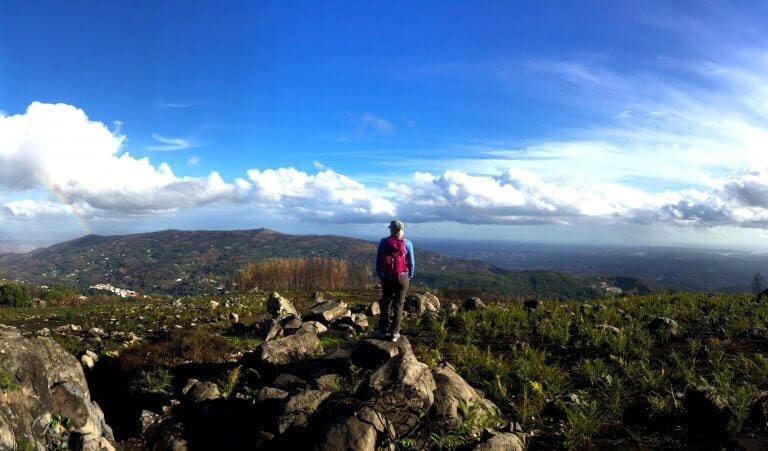 Food & Eating Out in Portugal
Did you know that Portugal introduced hot chiles to Asia and tempura  to Japan? Maybe not but I'm sure you will have heard of Pasteis de Nata, the infamous custard tart which must be tried warm if at all possible. 
Coffee is HUGE in Portugese food culture.  Don't expect though to find Costa or Starbucks here; macchiato and latte are unknown words, ask for anything 'skinny' and you'll be laughed at.  Coffee comes very strong, very hot and in a very small cup…usually for less than a euro and drunk in less than a minute.   
Salt cod or bacalhau is a Portugese staple. It is stocked in all supermarkets and small food shops, stacked precariously high like pieces of white and grey corrugated cardboard and smelling pretty pungent (understatement!). Apparently there are 101 ways to cook salt cod, try it and eat like a local.
Eat out at least once during your motorhome tour of Portugal..  Try a tasca, a small affordable neighbourhood restaurant; you will be served local dishes cooked traditionally, such as suckling pig or grilled sardines.  
Portugal's wines are fabulous, from the famous Port, to the fresh and crisp Vinho Verde and sweet Madeira, there is something to suit everyone. If you visit Porto, try a tour of a port wine lodge, finishing with a tasting.  For our money, Ferreira is the best and has the added bonus of being the oldest house still in Portugese ownership.
Mealtimes start at around noon for lunch and 7pm for dinner, although this will be later in the cities.
Once seated, you will be served entradas which usually consist consist of pao (bread), azeitonas (olives), tuna and sardine  patés and butter.  The cost is usually minimal, €1-2, similar to a cover charge.  If you're eating on a budget ask for the entrada to be removed and you should not be charged.
Menus, especially in tascas, are simple; it is assumed you will understand that main courses are served all-inclusive with potatoes or rice and vegetables.
If you order water it will be bottled and you will be asked if you prefer it fresca (cold) or natural (room temperature).  The Portuguese  prefer their water at room temperature, even on a hot summer's day…who knew?
Looking for ideas for beautiful city and coastal destinations in Portugal?  Check out this Portugal itinerary post. You'll also find lots of useful information and tips about travelling in your motorhome or campervan in Europe in this complete guide.
LOOKING FOR MORE MOTORHOME TOURING GUIDES? CHECK OUT THESE TOP POSTS