This post may contain affiliate links, from which we earn an income.
Campervan & Motorhome Travel Portugal
Portugal is a perfect motorhome and campervan destination. This tiny country in western Europe packs one hell of a punch; wild coastlines, beautiful natural parks, picturesque cities, exquisite wines and one of the hardest languages in Europe to learn!
We spent months campervanning in Portugal and loved the laid-back vibe and diversity of this stunning country. With fabulous winter weather perfect for all-year-round touring, Portugal has to be at the top of the campervanner's bucket list!
In this ultimate guide, we share our own lived experience and travel tips about driving, where to stay overnight and wild camping, motorhome services and a round-up of the best motorhome and campervan destinations. In fact, you'll find all the information you need to help you plan an amazing campervan trip in Portugal!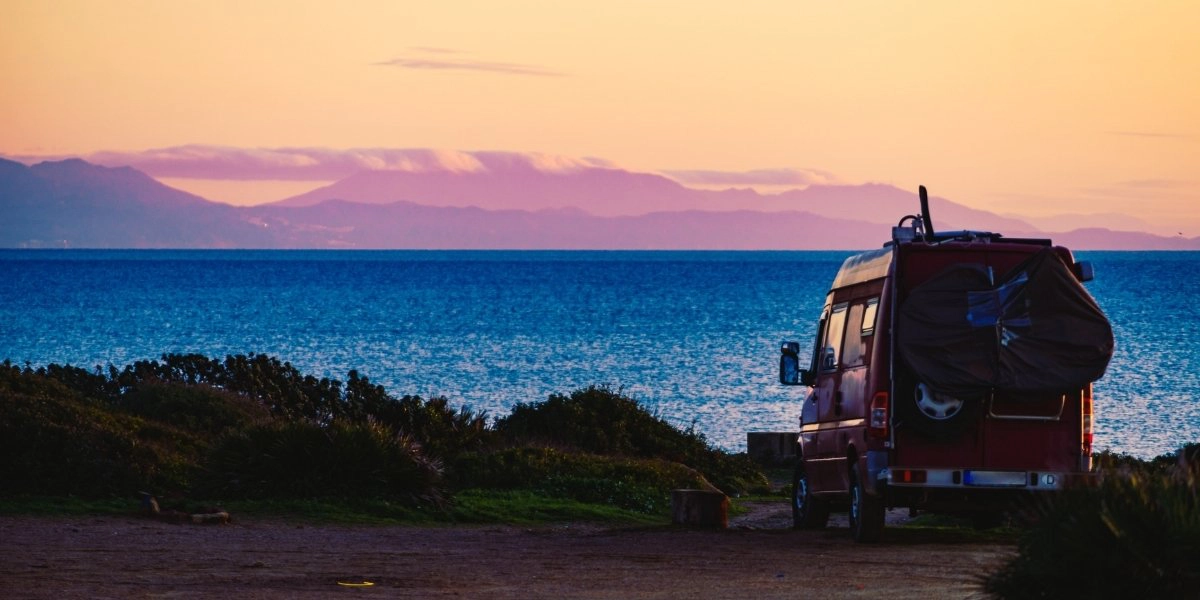 Portugal Campervan Routes
"How long to drive to Portugal?" I hear you ask. The question about the best route to Portugal in a motorhome from the United Kingdom is whether to pay for a long ferry crossing or pay for fuel and tolls doing long miles in expensive France. Your options for driving to Portugal from the UK in a motorhome are these;
Sail to Spain
Sailing from Portsmouth or Plymouth to the northern Spain ports of Santander of Bilbao (depending on which day of the week you want to depart) is the only way to avoid France. From here, it's a 5-6 hour drive into northern Portugal.
It's a long crossing of 32 hours and the sailing navigates the Bay of Biscay which can be choppy in autumn and winter, but it does give you the chance to have a proper night's sleep if you book a cabin. Cabins are not mandatory but the alternative reclining seats are uncomfortable and noisy.
This is the best motorhome route to Portugal if time is of the essence, you're travelling with a dog (some boats have pet-friendly cabins and some have kennels at extra cost) but cabins and kennel places book up quickly, or you're in a larger motorhome which will push up fuel and toll costs.
Make your booking for the ferry to Spain with Direct Ferries, where you can compare routes and prices to ensure you get the best deal.
Top Tip: Even if you book a standard class cabin, it's possible to book into the Commodore C-Club lounge, where free hot drinks, water and wine are served, along with generous snacks, meaning you don't need to pay for expensive food on board.
Is this your first time visiting Portugal? Get all the information you need in our Portugal Travel Guide, including what to pack, the best time of year to go, getting there and practical tips to help you have the best trip!
Drive Through France
Get to France and head down the west side of the country, via Tours, Bordeaux and Bayonne. This is one of the quickest motorhome routes through France and Spain to Portugal, is the cheapest from a toll perspective (see more about tolls in the driving section below) and lends itself well to ferries which arrive in Caen or Cherbourg.
It is also the best motorhome route from Calais to Portugal as you can travel south on a diagonal route, which is always quicker.
Motorhome & Campervan Hire Portugal
Campervan & Motorhome Rentals Portugal
If you don't own your own van, hiring a campervan and road tripping Portugal is a great way to see this incredible country. On a per-trip basis when campervanning Portugal, you'll spend less than you would staying in a hotel.
For the best campervan hire in Portugal, check out Indie Campers Portugal and Siesta Campers. Both rental companies have depots in Lisbon, Porto and Faro. Expect the price range to be between €75-120 per day (plus a security deposit) for a Fiat Ducato-type converted van kitted out with a kitchen with running water, a gas stove and a small fridge.
For motorhome hire Portugal – best if you're travelling with a family or need more room – check out Motorhome Republic, who have over 40 pick-up and drop-off locations in Portugal, meaning you can plan a one-way drop-off, or access the bit of Portugal you want to see really easily.
An aggregate motohome and campervan rental company, Motorhome Republic pull together all the best deals from a number of renters, to offer you a wide choice of options alongside an excellent English speaking expert motorhome Concierge Team.
If you're intending to pop across the border in your hired van for a spot of campervanning in Spain, make sure to let your hire company know.
You can also hire a motorhome in the UK and drive it across to Portugal. Most hire companies allow their motorhome rentals to be taken overseas, including our recommended hirer, Spaceship Rentals. With a depot in London, top-notch customer service and all the equipment you need for an easy holiday, Spaceship offers the best deals for Europe.
Campervan Portugal & Brexit
Although the UK left the EU at the beginning of 2020, because the pandemic came swiftly on its heels, many of us are still realising the repercussions and getting used to how it affects travelling in a van.
You can find out all the details you need in our guide to motorhoming in Europe after Brexit. In the meantime, here are a few frequently asked questions and answers:
Do I need a visa for Europe?
Nothing changes with your passport, but from 2025, the EU will introduce the ETIAS (European Travel Information and Authorisation System), which will be an additional entry requirement for visa-exempt travellers and will involve the traveller registering their details online before travelling, mainly for security purposes.
How long can I stay in Europe?
UK citizens can only stay in the Schengen Area (a zone in Europe where countries have no internal borders and allow the free and unrestricted movement of people) for 90 days in every 180 days in the Schengen Area.
The 90 in 180 day rule works on a rolling basis and it can be difficult to work out whether you are within the rules or not, especially if you have visited the Schengen area on several occasions in the preceding 180 days.
What food can I take in my campervan to Portugal?
The European Commission says the following:
Can I use my mobile data in Portugal?
It very much depends on who your mobile phone contract is with and when you started the contract. All UK providers now limit data usage in the EU in some way or another, and it's best to check with your provider to make sure you don't run up a big bill.
You can find lots of information in our guide to the best SIM cards in Europe, especially if you're planning to be away for more than a few weeks or use a Wifi hotspot, which can make it difficult to keep track of data usage.
We have been using and recommend ConnectPls for cloud SIM connectivity in the UK and Europe. You can choose from unlimited data packs to just single days, depending on your needs. The device is no larger than a slimline smartphone, connects with up to ten devices, is charged easily with a USB and can be delivered within a few days of ordering. Use the code 'thegapdecaders' at checkout to get 50% off in the first month!

Can I take a pet to Portugal in my motorhome?
Yes, you can take dogs, cats and ferrets to Portugal. You'll need to book a pet-friendly cabin or kennels on the ferry or travel via the tunnel. Your pet will need a microchip, a valid rabies vaccination and an animal health certificate (AHC).
It can take some time to get all the documents together and the vaccines organised, so make sure you start the process well in advance. You can find out more about travelling with pets on the Gov.UK website.
More Portugal campervan travel advice and guides;
When to Camper Van Portugal
Winter
The winter months of December to February in the Algarve are usually pleasant and popular with van lifers from Northern Europe, with temperatures topping 20°C. The sea is warm and you'll be able to sit outside for meals, although a long-sleeved top may be required in the evening. North of Lisbon, temperatures come down, rain can be frequent and you may see snow north of Porto.
Spring
The months of March to May are a wonderful time for a motorhome trip to Portugal, with temperatures warming up across the country. Markets increase in size, restaurants start preparing different dishes and the countryside is carpeted with wildflowers and grapevines unfurling their leaves. You'll still find the roads and cities less crowded, and most attractions will be open.
Summer
The summer months of June and July are high season, with perfect temperatures for campervanning and outdoor activities. Portugal's interior can be extremely hot in peak season, especially between Lisbon and the Algarve. August will be the busiest time on the coasts as schools across Europe finish for summer and families take their annual trip to Portugal.
Autumn
September to November is a fantastic time for motorhoming in Portugal. The coasts will be quieter but still warm, the grape harvest takes place and the glorious colours of autumn bring vibrancy to the countryside.
Driving Motorhomes & Campervans in Portugal
Portuguese roads around cities and major towns are generally well maintained although it's usually a different story in rural areas.
Drivers in Portugal have a bad reputation, not always fairly so, although the proper use of roundabouts and indicators seems to elude most! Go at your own pace and follow uur driving in Portugal tips to stay safe in your van.
Portuguese Speed Limits for Campervans & Motorhomes
Always observe the speed limits when campervanning in Europe. There are speed cameras just as in the UK, and the Portuguese (and other EU) authorities have been known to pursue Brits for non-payment of fines. This has not changed since Brexit as the information-sharing agreement with the DVLA continues.
Motorhomes < 3,500 kg
In urban areas: 50 km/h
Main roads: 90 km/h
Motorways and autovías: 120 km/h
Motorhomes > 3,500 kg
In urban areas: 50 km/h
Main roads: 70 km/h
Motorways and autovías: 80 km/
Documents You Need to Drive & Travel in Portugal
Make sure you have travel insurance you can trust as you motorhome Portugal. We recommend True Traveller for their 5-star TrustPilot reviews, variety of cover options, best activities cover as standard, great prices and excellent service.
Vehicle Safety Equipment for Portugal
Information About Driving a Campervan in Portugal
Toll Roads in Portugal
Toll roads in Portugal are complicated! Travel on all Portuguese motorways is subject to tolls, which fall into two categories – conventional tolls with booths and those that are exclusively electronic.
Toll Booths
On motorways with toll booths, payment is made with cash or card, or through the Via Verde system. Via Verde is an electronic toll system where the toll fee is debited directly from the registered debit or credit card. To use the scheme you must get a Via Verde identifier tag, which can be obtained through the Via Verde Visitors visitors portal.
On some motorways, there are no toll booths but a collection system that is entirely electronic, and your vehicle is detected as it passes the electronic gateways along the motorway.
Electronic Systems
To make the corresponding payment, vehicles with foreign number plates may use the forms of payment listed at www.portugaltolls.com. There are several possibilities that are intended specifically and solely for the electronic lanes, whose purchase may also be done online:
The Easytoll system associates the payment card to the vehicle's license plate and the fee is debited directly from the credit or debit card. This is the easiest option for foreign-registered vehicles. A Tollcard is a pre-paid card with a fixed prepaid amount that is linked to the licence plate and is valid for one year. You can purchase a prepaid Toll card here.
Having spent quite a bit of time touring in Portugal, we think the temporary Via Verde device is the best option. It's the only option that is valid throughout the Portuguese highways network, highways with electronic-only tolls and designated lanes on traditional tolls.
Multi-Country Toll Tags
Spanish Via-T devices, Emovis and Bip & Go tags all work on both types of Portuguese motorways.
Low Emission Zones in Portugal
Portugal has one low emission zone (LEZ) in Lisbon, which was introduced in the inner city centre in 2011. In 2012, a large area was added to the LEZ, which now comprises two sub-zones and currently covers 33% of the whole city. Click here for more information.
Many other city centres in Portugal have limited traffic zones which you can find out about here.
Motorhome & Campervan Services in Portugal
Motorhome service areas in Portugal are generally widely available throughout the country, with a good network of service points around larger towns, mostly totally free. You will find the odd petrol station and supermarket will also have fresh water and a place for grey water.
You'll often see the typical pictogram sign by the side of the road pointing you to a service point, this may be a dedicated area, within an aire or another facility. The types of built-in services you find in France are few and far between. Use an app like Park4Night on your camper trip to locate motorhome and campervan services.
LPG for refillable systems is available in many garages, use the myLPG app to search near where you are, although you'll find LPG to be around 25% more expensive than in neighbouring Spain.
Gas bottles are also widely available, with butane generally being more popular because of the climate (butane is more suited to milder weather conditions but propane is better for cold weather as it burns at lower temperatures). For Portuguese gas bottles, you will need a different regulator, available from most DIY or camping shops.
Most garages will require you to pay electronically for fuel at the pump. Usually, you can adjust the instructions to English. Supermarket fuel is generally the cheapest, and rural garages can be quite expensive.
Recommended Reading
Do you want to wild camp in your motorhome? Are you feeling a bit nervous about wild camping for the first time? Then read on for all our top tips and practical advice about how to wild camp in a motorhome and get off the beaten track like an expert!
Are you desperate for some Portuguese sun but don't want to fly? With great routes across Europe, it's easy to drive to Portugal by car, arriving refreshed and unstressed from the comfort of your own vehicle.
Campervan Stopovers in Portugal
Motorhome Aires in Portugal
Motorhome and campervan aires in Portugal operate much like they do in France or Spain. They cannot be booked and operate on a first come first served basis. Municipal aires are generally free and offer motorhome services. Don't outstay your welcome, certainly any more than 2-3 nights.
In Portugal, you will find more commercial than municipal aires, although the latter is on the increase. Commercial aires operate in a similar way to a campsite so you can stay there for as long as you wish.
You won't find a swimming pool or other typical campsite facilities though. This is reflected in the price which is usually around €10-12 per night and there may be an extra charge for services such as electricity.
Vanlife Portugal can be noisy! Not only are there often barking dogs but there are usually church bells too. The notion of stopping the bells overnight does not seem to have occurred to many village councils; take earplugs if you're a light sleeper.
Use the Park4Night or CamperContact apps to find the best aires, or buy All the Aires Spain and Portugal from Vicarious Media.
Wild Camping for Motorhomes & Campervans in Portugal
Updated January 2021 & August 2021 to reflect changes in Portuguese legislation regarding motorhome and campervan wild camping.
Every year tens of thousands of motorhomes and camper vans visit the Algarve looking for winter sun. Many people prefer free parking and along the southern coast of the Algarve and the surf spots of the Atlantic, it can often feel like a camper van and motorhome car park next to the beach.
Free camping spots generally have no facilities and lots of campers have no toilets. This leads to human waste, rubbish and other waste being dumped inappropriately which in turn damages the environment. In some popular beach wild camping spots, toilet paper and faeces are often visible.
Is Wild Camping in Portugal Legal?
After years of the Portuguese government tolerating this behaviour, a new law has come into force, so if you're wondering whether it's legal to wild camp in a campervan or motorhome in Portugal, here is your answer:
As of 9 January 2021 (and further updated 25 August 2021) a new Decree-Law no. 102-B / 2020 entered into force, which prohibits overnight stays and parking in all locations that are not expressly designated for motorhomes or camper vans.
This decree amends the Portuguese Highway Code and complementary legislation, transposing Directive (EU) 2020/612. One of the changes affects freedom and the way in which motorhoming and caravanning in Portugal is viewed as follows:
Article 50-A Prohibition of parking and overnight stays of motor caravans;
1 – Without prejudice to the provisions of articles 49 and 50, the overnight stay and parking of motorhomes or similar are prohibited in areas of the Natura 2000 Network, protected areas and areas covered by the Coastal Zone Management Plans, except in the places expressly authorised for this purpose. In the rest of the territory and in the absence of municipal regulations for the activity, motorhomes approved by the IMT – Institute of Mobility and Transport are allowed to stay overnight for a maximum period of 48 hours in the same municipality, except in places expressly authorised for this purpose, for which there is no limit on overnight stays.
2 – For the purposes of the preceding paragraph, it is considered:
a) 'Aparcamento' means the parking of the vehicle with more space than its perimeter.
b) 'Motorhome or similar' means a vehicle that has a living space or that is adapted for the use of a living space, classified as a 'motorhome', 'special bedroom' or 'caravan' by the Portuguese authorities.
c) 'Overnight', the permanence of a motorhome or similar at the parking place, with occupants, between 9:00 pm one day and 7:00 am the next day.
3 – Anyone who violates the provisions of paragraph 1 shall be sanctioned with a fine of €60 to €300, unless it is an overnight stay or parking in areas of the Natura 2000 network and protected areas, in which case the fine is from €120 to €600.
What does this actually mean for me?
This Portugal campervan ban means that any motorhome overnight parking or camping within national parks or coastal zones is not allowed unless you are in a designated place like an aire or campsite, where the overnight stay of motor caravans is permitted.
Within two months of the new legislation coming into force, it was reported in the local news that over 60 motorhome and campervan owners were fined in these areas.
Inland, outside of protected areas and national parks, you can wild camp for up to 48 hours in a municipality – you can find a list and map of each municipaltiy here – as long as there is no signage prohibiting it.
You can stay in a municipality for up to 90 days (because that's the maximum time you can spend in Portugal without a visa) if you stay in a campsite or aire.
We do not condone anyone breaking the law, and whether you decide to take the risk or not is entirely your choice. Park4Night or another free app are good options for finding the best legal overnight stays which are authorised for motorhomes.
The important thing to remember is that hanging out your washing, getting your awning out and leaving your step and chairs out overnight will absolutely ensure a visit from the GNR (National Republican Guard), even in authorised parking (where parking but not camping is allowed), who patrol frequently and in large numbers along the coasts.
For the best chance of going unnoticed, head inland to remote spots away from crowded areas and follow our general tips on wild camping to stay safe and have a great night's sleep.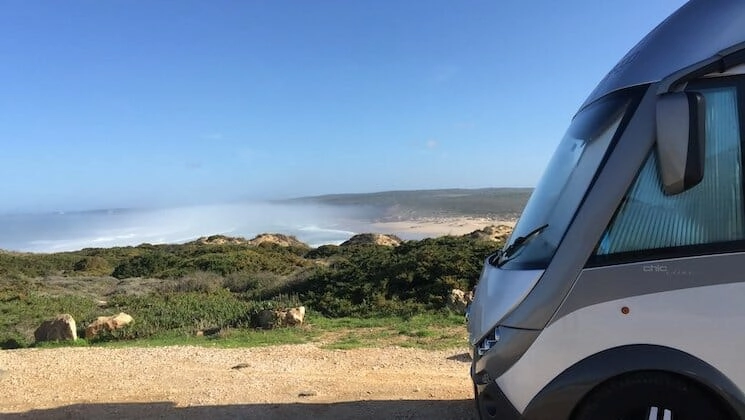 Portugal EasyCamp
A newcomer to Portugal and a great alternative to wild camping, Portugal Easy Camp is similar to France Passion but operates in a slightly different way.
With this Portugal motorhome stopover scheme, the first step is to idientify where you want to stay on their website, then book for your chosen date and finally buy a product from the producer, before heading to the location where you can then stay for 24 hours.
Your Portugal EasyCamp host may be a winery, olive oil producer, rural tourism attraction, agricultural farmer or artisanal producer and these vineyards and farms, or quintas e herdade, are in some of Portugal's most beautiful and unspoilt places, and often on scenic routes. Typically your camp spots will be amongst vines, olive trees and nature with the option of olive oil, produce and wine tastings.
The scheme is growing rapidly and now has 60 farms and vineyards in various locations and is certainly worth a try if you are heading to Portugal. We spent a few months touring Portugal in a motorhome and staying with a dozen Portugal EasyCamp hosts, and had the most amazing experience!
RELATED POST: Motorhome Stays with Portugal EasyCamp – Our Review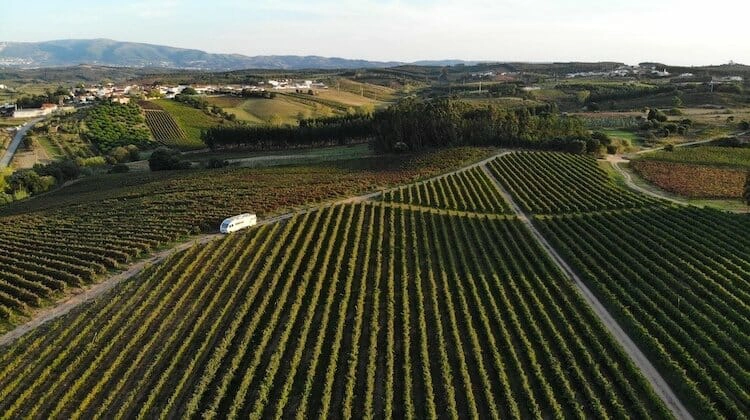 Other Alternatives
There are several other new projects popping up across Portugal that offer alternatives to off grid camping.
HomeCamper, Camperland and Evazion all offer camping pitches on private land managed by private hosts, from a simple plot to more luxury experiences.
We have not tried any of these schemes, but would love to hear about your experience if you do!
InterMarche Supermarkets
In the spring of 2021, supermarket chain Intermarche started to offer parking for motorhomes and campervans with drinking water and waste facilities at over 60 of its Portuguese supermarkets.
Use the interactive store map on their website and tick 'parque para autocaravans' to find stores with dedicated campervan parking.
Portugal Motorhome Campsites
Portugal campervan campsites vary from very basic with limited facilities to 5* luxury with heated and indoor pools, tennis courts, spas and restaurants, especially in the Algarve. Book with Eurocampings for the best offers on over 100 campsites in Portugal or us the Turismo de Portugal site to search for smaller and locally run sites.
CampingCard ACSI is widely accepted when camping in Portugal, although you may find that the ACSI pitches (which are usually smaller and have fewer on-pitch facilities) are full when you arrive and you have to pay to upgrade to the next level, which negates the discount! This is common on the larger and more commercial sites along the popular Algarve coast.
If you want to camp long-term in a campervan in Portugal then booking your site well in advance is advisable, especially if you're planning on visiting over the Christmas and New Year periods. Many sites offer stepped winter rates; the longer you stay the cheaper the per night cost.
Portugal Travel Books
Top Portuguese Motorhome Destinations
Portugal is a fascinating country, from the historic north with its rich trading and fishing history to the beaches and good life of the Algarve, Portugal's most popular tourist destination.
Portugal is well set up for campervan and motorhome travel, with free service points in many towns and villages. Below are some our favourite Portugal road trip spots, along with motorhome specific tips about where to stay and what to do when you're there, for the best campervanning in Portugal.
Portugal Campervan Itinerary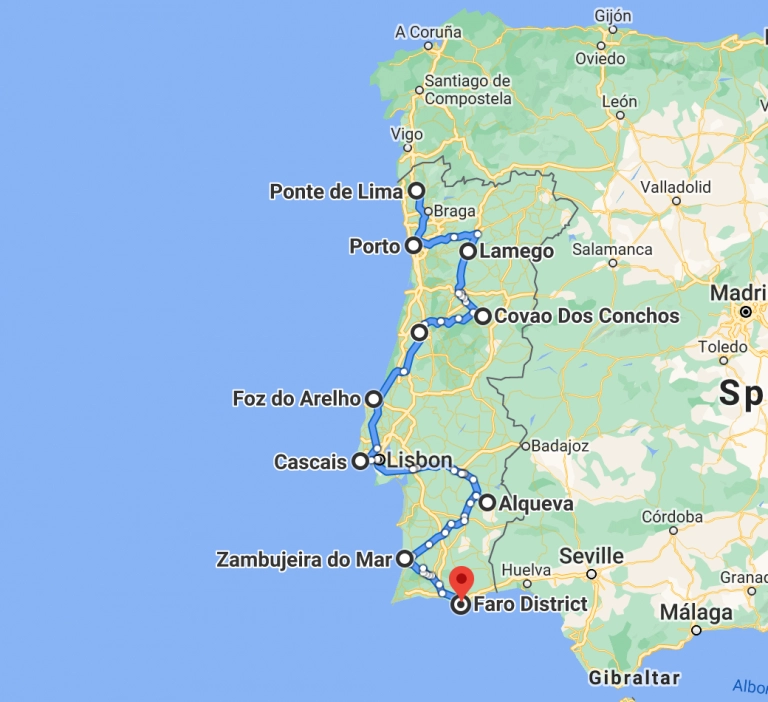 Ponte de Lima
Ponte de Lima is the oldest vila or chartered town in Portugal. Named after the fine medieval bridge (ponte) that passes over the Lima River, this northern Portuguese town holds a huge market, typical of this part of Portugal, every Monday on the riverbank.
This is not a sanitised tourist market, but full-on local growers, live chickens and rabbits in cages type of market. It's a great stop if you're heading south from Spain.
Like most Portuguese marketplaces, the marketplace in Ponte de Lima is used for parking when it's not a market. If you take your chances and decide to park overnight here, be mindful of signage. You don't want to be woken in the morning with your van surrounded by traders and no way out!
Ideal for campervan travel, there is a service point just outside town and several spots where wild camping may still be possible. We stayed in this very peaceful car park beside the International Garden Festival grounds (which are beautiful in spring and well worth visiting) for two nights and didn't see another soul!
RELATED POST: Road Trip Portugal – Two Incredible Itineraries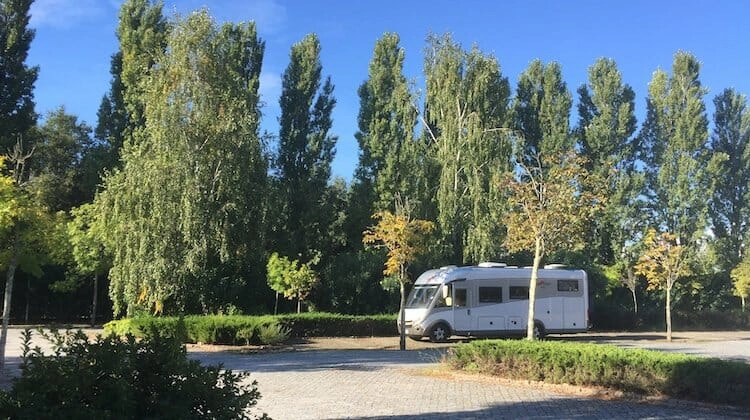 Parque Nacional Peneda-Gerês
The Peneda-Gerês National Park, located in northern Portugal near the Spanish border, is boasts rugged hills that provide a habitat for deer, wolves, and golden eagles. It is the oldest protected area and the only national park in Portugal.
You can explore trails, including a Roman road adorned with milestones. Nearby, the spa town of Gerês and the traditional village of Lindoso with its medieval castle and stone granaries are well worth a visit. Just to the north, the 19th century Shrine of Santuario de Nossa Senhora da Peneda overlooks a stairway in Peneda village.
Porto
One of our favourite Portuguese cities, Porto is charming, intimate and bursting with life. A day in Porto is enough to get a flavour of this wonderful city, home to Port wine, trams and beguiling cobbled streets.
Stay at the excellent aire attached to the Gaia Biological Park. There are seven places in this gated and secure spot, with electricity and full services provided.
It's around 20 minutes by scooter into Porto city centre, or get a taxi for around €15. There is also a bus from nearby to the Vila Nova de Gaia side of the city centre, Reception at the Bio Parque will be able to give you more info.
RELATED POST: Porto in One Day – Itinerary, Map, Tips & Guide
Passadiços do Paiva, Espiunca
A short trip from Porto, Passadiços do Paiva is a hike with a difference. This unique experience offers a series of wooden walkways suspended from, and built along, the banks of the Paiva allowing you to follow the stunning river from Espiunca to Arouca, or vice versa.
The Arouca end of the hike is also home to a pedestrian suspension bridge that claims to be the longest in the world, named 516 Arouca and measuring 516 metres in length, which opened in May 2021.
Built in the Arouca Geopark, the bridge is suspended 175 metres above the Paiva River and links two hills with granite cliff faces we saw it being built when we were last there and it sure is huge!
Take advantage of the large car park at Espiunca right on the river, with a great bar and restaurant, where you can in the late afternoon and stay overnight in your van and start the hike at that end. The walkway is 8.7km each way, with a punishing 600 steps to be climbed (or descended) at Arouca.
There are buses and taxis at each end if you want to hike one way. It costs €1 to use the passadicos, which you can pay on the day, or book online – the best option as numbers are limited on the day.
The Douro Valley
The stunning Douro Valley follows the mighty river all the way from Porto to the eastern border with Spain. It's a fantastic drive along the N222, especially in autumn when the colours of the vines are spectacular.
Make sure to take the slight detour south to visit Lamego, home to the pilgrimage site of Nossa Senhora dos Remedios and its double flight of nearly 700 steps, recently judged worthy of UNESCO World Heritage Site status.
You'll find lots of Portugal EasyCamp sites along the Douro and some great wild camping spots that are off the beaten path enough that you're unlikely to be detected.
Cavao dos Conchos, Serra da Estrela
The fascinating Covao dos Conchos, high in the Serra da Estrela natural park is called the 'eye' by locals. This incredible man-made hole is actually a bell-mouth spillway and well worth the short hike to get up close to the mesmerising spectacle, set deep in the rugged and glacial mountain range.
The easiest way to get to the hike start point at Lagoa Comprida is by driving from Seia on the N339 or Covilha, on the other side of the Serra da Estrela, on the same road. The N339 is a normal two-way tarmacked road which is regularly driven by tourist coaches and is a stunning drive across the mountains in itself.
There is plenty of level parking at Lagoa Comprida which makes it a great spot to stay overnight where you're unlikely to be disturbed, although there are no services. There is also an excellent Portugal EasyCamp spot in the nearby Dao Valley, Quinta do Escudial, where you can park next to the tiny chapel which overlooks the vineyards.
RELATED POST: Covao Dos Conchos – Getting Up Close
Coimbra
Portugal's medieval capital city is a revelation. Rising above the wide Rio Mondego, Coimbra celebrates a rich history and is home to the country's oldest university. The Moorish historic and stacked centre is perched on the river bank and has a majestic cathedral with lots of atmospheric alleys and squares to explore.
Probably one of the most well-known places between Lisbon and Porto, Coimbra is also famous for live music, including the haunting Fado and guitarra, the Portuguese guitar, which you can hear in many of the bars and restaurants in the old town.
There is a dearth of campsites in Coimbra and not much on the wild camping front either. We stayed at Portela do Mondego, an old municipal site, which was actually not bad, despite its poor Park4Night reviews.
You can walk into the centre of Coimbra in around half an hour from the campsite, a cycle ride will probably take 10-15 minutes.
RELATED POST: Driving from Lisbon to Porto: Itinerary, Route & Tips
Foz do Arelho
This west coast spot quickly became one of or favorite places and was one of the best places we visited for kite-surfing and paddle boarding right from the van, with super little cafes and eateries just a few minutes walk or bike ride from good (with basic facilities) aire on the lagoon.
You're also 30 minutes from the long sandy beaches of Nazare to the north, home of big wave surfing (but limited motorhome parking and access) and the same distance from Peniche to the south, and its incredible coastal rock formations.
The beautiful walled city of Obidos, which has easy and convenient parking for large vehicles, is just 25 minutes away.
Foz do Arelho is separated from the sea by a large sandbar, which creates a huge saltwater lagoon. Close to the sea, the water is shallow and clear, further inland there is plenty of natural beauty to discover.
It's a perfect spot during your Portugal campervan trip to spend a few days or weeks, and the aire, which is basic and sadly not that attractive, is well priced and managed.
If you can get a front-row spot overlooking the water, you can ignore the slightly run-down buildings of what was a municipal campsite behind!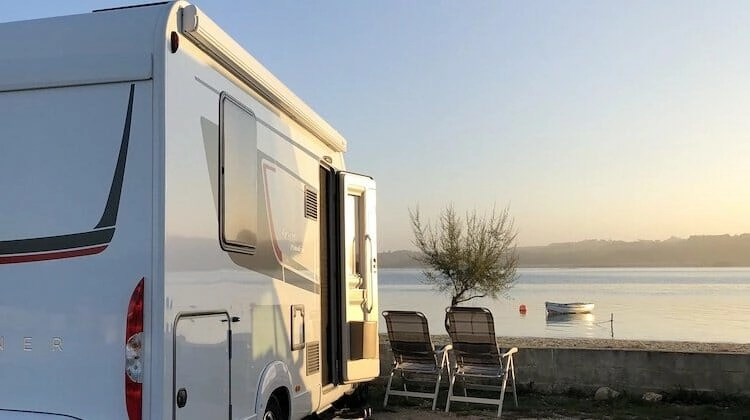 Sintra
This larger-than-life parque natural is home to colourful fairytale castles, whimsical villas and mysterious forests. The long-time mountain playground of Portuguese royalty, Sintra is now one of the most popular tourist attractions in the country and is conveniently close to Lisbon.
It's not motorhome friendly though! There are narrow roads and no suitable parking for larger vehicles, although those in a VW size van would be ok. From Sintra town, you'll need a tuk-tuk or other official transport to get to the interesting places and medieval castles such as Pena Palace and Quinta da Regaleira, where you'll find the much-photographed Masonic initiation well.
One of the best ways to explore the area is to stay at a nearby campsite (there are not many) such as Parque De Campismo Orbitur Guincho, and using it as a base to visit Sintra and Lisbon if you have enough time. You're also on the doorstep of lively Cascais, one of Portugal's top coastal resorts, and Cabo da Roca, continental Europe's most westerly point.
If you don't have a scooter or tow car to get around, Lisbon and Sintra are easily accessible by bus from Cascais, with Lisbon also being accessible by fast train in just an hour.
Lisbon
The city of Lisbon has to be one of the most picturesque and atmospheric cities in all of Europe. With stunning architecture from numerous time periods, lively narrow streets, and a setting right on the Rio Tejo, Lisbon is a dream destination and a must-see on your Portuguese road trip.
There are numerous things to see and do in the city. You'll be able to cover many of the main highlights and see lots of Lisbon's hidden gems in a day.
RELATED POST: One Day Lisbon Itinerary with Map & Tips
The Alqueva Dam
We loved the Alqueva Dam for its big landscape, tranquil feel, dark skies status and great roads. There are lots of good wild camping opportunities here, where you're unlikely to be troubled by the GNR – this spot was one of our favourites.
We also spent a very quiet night in the parking field of the Alqueva Dark Skies Observatory (with the owner's permission) near the beautiful walled town of Monsaraz. Visiting the observatory was one of the best things we did in Portugal – there is no light pollution in the area and the weather meant our 'class' was held outside!
On your way to the Alqueva from Lisbon, make sure to stop in Evora for a few days. The capital of the Alentejo region and another lovely Portuguese town, Evora is known for its local gastronomy and has a top wine heritage. You'll find some excellent Portugal EasyCamp stops in the area.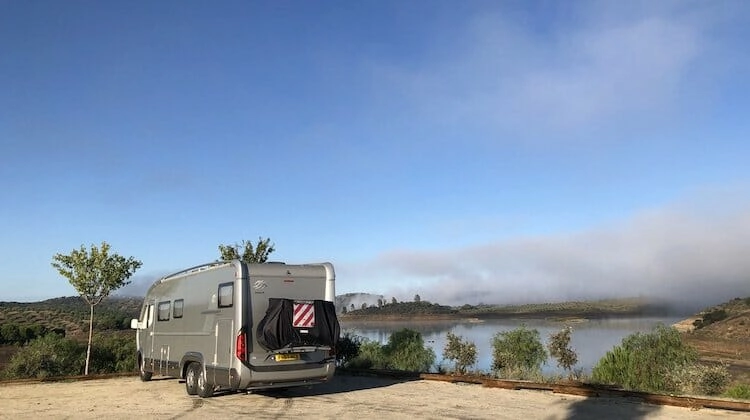 Zambujeira do Mar
Further south on the wild Atlantic Coast is the small village of Zambujeira do Mar, in the Southwest Alentejo and Vicentina National Park. This is a perfect spot to explore this coast with its empty beaches beaches, big seas, rocky cliffs and the fantastic Rota Vicentina (Fishermans Trail) walking route on the doorstep, Zambujeira is a great base for a few days.
Stay at Camping Villa Mar and enjoy the small, family-run seafood restaurants, live music events in summer and splendid town beaches.
The Algarve
The Algarve is by far the most popular place for motorhoming in Portugal, for its year-round climate, beautiful beaches and lively coastal resorts.
Pre-Brexit, the Algarve was swamped with over 100,000 motorhomes every winter, now us Brits are unable to spend the whole winter there, so the pressure on the region may lessen just a little.
Along with the Atlantic coast of Portugal, the south coast was the most popular place for wild camping and campervanning in Portugal, and every beach car park used to resemble a motorhome site, with people flagrantly camping for months on end in every possible spot.
With the double whammy of Brexit and the clamp down on wild camping, Portugal van life on the Algarve has changed and the region now offers more and better quality aires, and some of the best campsites in Portugal.
Portuguese Life
Culture
Portugal is Europe's oldest nation; proud, conservative and family-orientated. Traditional Christian values are held strongly here; family and home are at the core of the social structure, coming before friendships and business loyalties.
Do not make comparisons between Portugal and Spain! Portugal is proud to be a separate and distinct country with a rich heritage; their identity as Portuguese is important. Portugal dislikes being overshadowed by their larger neighbours.
Portuguese people speak quite rapidly and loudly; this does not signify anger or displeasure although it can be a little disconcerting at first to hear little old ladies yelling at each other in the street!
Every town and village holds an annual Festa when all but the restaurants and bars close. These events are loud and colourful, usually with different themes around music, dancing, food or religion. Check out the calendar here and be sure to attend if you can, you will be made very welcome; just don't expect to be able to buy a pint of milk or a loaf of bread!
Children are welcomed everywhere; there don't seem to be issues with kids in bars and restaurants until late at night. This is a testament to the importance of family life but perhaps a little frustrating if you're out for a quiet or romantic meal.
Not many older people in Portugal speak English, especially away from the coast. It's a great idea to learn a few words: olá (hello), tchau (goodbye), por favor (please) and obrigado/obrigada (thank you male/female). Whoever you're conversing with will appreciate the effort.
Time moves slowly in Portugal; people are happy to wait in line or be bound by red tape. The Portuguese appear endlessly patient and don't stress about officialdom…try it, it feels great!
In rural Portugal, many people keep dogs for security. Be prepared to be barked at by tied-up or fenced-off attack-style dogs. It also means there will be barking at night, wherever you park your motorhome in Portugal. Get used to it and take earplugs 'cos you can't escape it!
There are also lots of stray dogs, generally well-behaved but they poo anywhere and everywhere. Keep your eyes peeled when walking in built-up areas!
Traditional markets are a way of life in Portugal, many people only ever shop at markets and you'll find one in all the best cities in Portugal. The range of produce is huge and stalls range from those clearly professional sellers to farmers with one stool, a few chickens and some walnuts to sell. Buying local and seasonal is so different to the UK experience, it took us a while to get past wanting out-of-season fruit when we were living in a motorhome in Portugal, but we have really come to appreciate cooking with such fresh ingredients. Make sure you take cash and change and plenty of re-useable bags.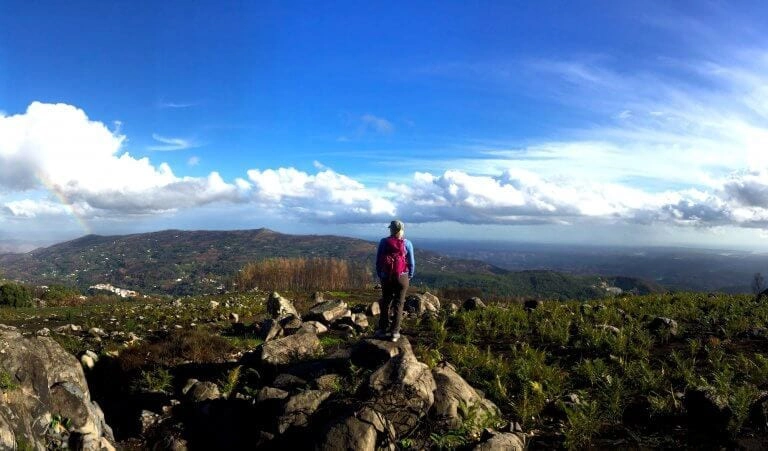 Food & Eating Out in Portugal
Did you know that Portugal introduced hot chiles to Asia and tempura to Japan? Maybe not, but I'm sure you will have heard of Pasteis de Nata, the infamous custard tart which must be tried warm if at all possible.
Coffee is HUGE in Portuguese food culture. Don't expect though to find Costa or Starbucks here; macchiato and latte are unknown words, ask for anything 'skinny' and you'll be laughed at. Coffee comes very strong, very hot and in a very small cup…usually for less than a euro and drunk in less than a minute.
Salt cod or bacalhau is a Portuguese staple. It is stocked in all supermarkets and small food shops, stacked precariously high like pieces of white and grey corrugated cardboard and smelling pretty pungent (understatement!). Apparently, there are 101 ways to cook salt cod, try it and eat like a local.
Eat out at least once during your motorhome tour of Portugal. Try a tasca, a small affordable neighbourhood restaurant; you will be served local dishes cooked traditionally, such as suckling pig or grilled sardines.
Portugal's wines are fabulous, from the famous Port to the fresh and crisp Vinho Verde and sweet Madeira wine, there is something to suit everyone. If you visit Porto, try a tour of a port wine lodge, finishing with a tasting. For our money, Ferreira is the best and has the added bonus of being the oldest house still in Portuguese ownership.
Mealtimes start at around noon for lunch and 7pm for dinner, although this could well be a couple of hours later in the cities.
Once seated, you will be served entradas which usually consist of pao (bread), azeitonas (olives), tuna or sardine patés and butter. The cost is usually minimal, €1-2, similar to a cover charge. If you're eating on a budget ask for the entrada to be removed and you should not be charged.
Menus, especially in tascas, are simple; it is assumed you will understand that main courses are served all-inclusive with potatoes or rice and vegetables.
If you order water it will be bottled and you will be asked if you prefer it fresca (cold) or natural (room temperature). The Portuguese prefer their water at room temperature, even on a hot summer's day …who knew that about Portugal?
Are you looking for more motorhome touring guides? Check out these top posts…
New Zealand is an absolute dream for campervan enthusiasts. The breathtaking landscapes, diverse wildlife, and incredibly friendly locals make it the perfect destination for your next campervan adventure. We'll will provide you with all the tips, tricks and insider knowledge to make your vanlife experience in New Zealand truly unforgettable. So, buckle up and get ready for an adventure of a lifetime!
Love it? Pin it!