This post may contain affiliate links, from which we earn an income.
Find the Best Motorhome Holidays in Europe
Are you planning a motorhome holiday in Europe but don't quite know where to go? With so many countries, cultures and even climates to choose from, it can be difficult to decide which destination in Europe is right for you.
Check out our destination ideas and plan your European road trip with our helpful guides and motorhome travel tips.
Hiring a van for your Europe trip?
If this is your first motorhome trip abroad, or you're hiring a van to explore Europe, make sure that you have all the right documentation and read about the post-Brexit travel rules (if you're from the UK).
Documentation You Need for a Campervan Road Trip in Europe
You must have at least three months remaining on your passport (issued in the past ten years) at your intended date of departure from Europe. Your passport is valid for travel until expiry in the Republic of Ireland. If you're a Brit, you can no longer use the EU/EEA passport lanes.
You may be asked at the border or airport to provide evidence of a return or onward ticket and to prove you have enough money for your stay. If you can't provide such evidence, border control are within their rights to refuse you entry to the country.
Update August 2021 – if you're travelling from the UK to Europe by campervan (whether your own or hired), you no longer require a green card to prove you have motorhome insurance cover when travelling in Europe.
Non-EU citizens will require an International Drivers Permit to hire a vehicle in the UK and Europe. UK citizens who have a driving licence do not require an IDP for Europe unless the licence held is paper only, or was issued in Gibraltar, Guernsey, Jersey or the Isle of Man.
You will require an Animal Health Certificate to take your pet to the EU or Northern Ireland from Great Britain. Your pet must be microchipped and have received a rabies vaccination before the AHC can be issued by a vet.
From 28th September 2021, you will have to display a UK sticker on the rear of of your vehicle (if registered in the UK) instead of a GB sticker, unless you have a new style UK numberplate which displays the Union Jack flag.
Your headlights must be adapted for driving on the right when you travel Europe.
Medical insurance, travel insurance and breakdown cover are not mandatory, although highly advisable when you take a European motorhome trip. We recommend True Traveller for insurance purposes, alongside an existing EHIC, or new GHIC, for UK travellers,.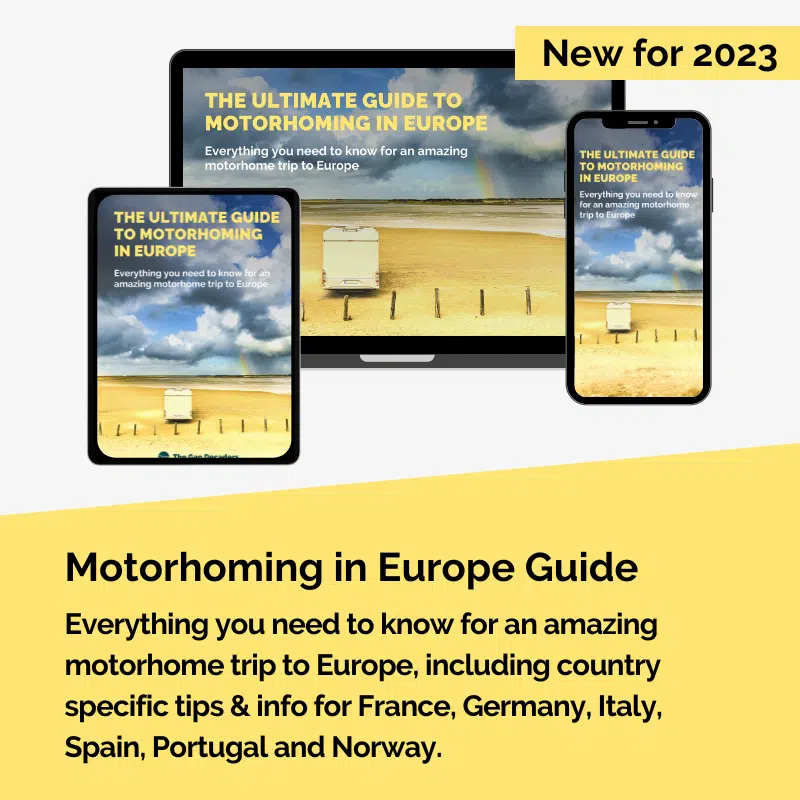 The Ultimate Guide to Motorhoming in Europe
If you're planning a motorhome trip to Europe for the first time, our guide has tips, advice and information to help you plan your European tour.
Don't struggle trying to plan your Europe trip, find out everything you need to know before you go + loads of motorhoming tips for when you arrive.
Getting to Europe
If you're flying in to Europe from elsewhere in the world, you can collect your motorhome rental and head off on your road trip.
Remember to let your hire company know if you're planning on taking your motorhome or campervan out of the country in which you hired it – some hire companies won't allow their vehicles to be driven across Europe, or may charge extra.
Driving to Europe from UK
If you're coming from the UK, then you have to get onto the continent – there's no way round it! There are a number of ways of getting to mainland Europe from the UK;
Dover to Calais ferry – the popular ferry takes around one hour thirty minutes to cross, chances are you'll be through and on the road within a few hours.
Channel Tunnel – the train between Folkestone and Calais is probably the quickest and most regular route to Europe, but as with the ferries, the queue can be horrendous in peak season and at peak times.
Check out the slightly more obscure motorhome and campervan travel routes, which may be a little longer but often have great special offers. Try departing from Newhaven for example or arriving at Dieppe or Le Havre.
The crossings from Portsmouth and Poole to St Malo and Cherbourg are convenient for western France, and there is a choice of the fast catamaran, which takes around three hours, or an overnight crossing which arrives early in the morning.
There are longer (and more expensive) crossings from Portsmouth to the northern Spanish ports of Bilbao and Santander, which should also be considered if you're heading south. You may find that the added ferry costs are covered by the savings in fuel, tolls and less driving time.
For those living in on the island of Ireland, the ferries from Cork and Rosslare to Roscoff may be a good alternative, and mean only one crossing.

Driving a Motorhome in Europe
All European countries have their own driving laws and legislation covering motorway tolls, low emission zones and wild camping for motorhomes.
You can find specific information on these laws, what you need to carry in your vehicle, and what you should be aware of as a motorhomer in our motorhome touring guides, which are country specific.
We would strongly advise either a specific motorhome sat nav when you're travelling Europe in a large vehicle. Don't hire one with the motorhome unless it's capable of being configured for a large vehicle. If it's not, then it's a waste of money and you're better using a free navigation app like Google Maps on your phone or tablet.
If it's your first time driving abroad, it can feel a little daunting, especially if you're in a right hand drive vehicle. Take your time and stick to motorways and A (national) roads until you find your feet. Try not to spend too many hours behind the wheel every day, or share the driving.
Did you know… we have a series of one day city itineraries, perfect for road trippers. We also include recommended and secure motorhome stops for each city, with handy tips and info on how to get into the centre. Find them here.
Popular Motorhome Holiday Destinations in Europe
France
Without doubt the most popular motorhome destination in Europe, France has really embraced the culture and has a fantastic network of municipal and commercial motorhome aires, as well as superb coastal and inland campsites, and some amazing wild camping opportunities.
France is a great country for touring from place to place, but also has some of the best campsites in Europe, along both the south west wild and unspoilt Atlantic coast and the more gentle shores of the Mediterranean.
The latter will guarantee you good sunshine in the summer months, the former is perhaps a tad more exciting and perfect for families with teenagers.
Outside of the coasts, France is a huge and diverse country, offering something for everyone planning a French road trip. From hiking in the mighty Alps to the rolling countryside of Provence, and a handful of really iconic cities, whatever your holiday style you'll find it in France.
If there are any downsides, it's the high cost of fuel and toll roads, and the sometimes volatile nature of France's population, who like to protest in the summer months and block roads and access to fuel.
Are you fed up of reading the same tired destination ideas for France? Do you crave the road less travelled? Check out our top, less touristy and off the beaten track France spots for your next holiday.
Motorhome Itineraries for Europe
Spain
Further away from the UK, but easily accessible via the Portsmouth to Santander or Bilbao routes, Spain is a favourite of motorhomers looking for sun when northern Europe is suffering the cooler months.
But there's so much more than sun and beaches in Spain. It's the second most mountainous country in Europe (after Switzerland), shares one half of the Pyrenees and is home to the small, but perfectly formed, Picos de Europa.
There's a lot of culture here too, from the castles and religious palaces of the north to the the Moorish architecture and white towns of Andalucia, in the south.
If it's beaches and sun you're after, stick to the eastern coasts of the Costa Brava and Costa Blanca for bearable summer heat (although air con would be advisable in July and August), lively resorts and cities, great campsites and friendly aires.
Or head inland for a taste of more authentic Spain, heart-pumping activities such as hiking and climbing, and free camping opportunities in abundance.
Spain is one of the cheapest countries in Europe in which to take a campervan trip, with fuel and LPG around a third cheaper than France and most toll roads now free.
Sadly, the coastal areas are starting to restrict where motorhomes can park overnight making wild camping much harder, and pushing people taking motorhome holidays into fee-paying sites and aires.
With one of the best winter climates in Europe and friendly locals, Spain is a perfect country for a motorhome road trip. With the colourful traditions, good food and wine and fabulous architecture, you have all the ingredients for an amazing tour. We share all you need to know about touring Spain in a motorhome or campervan here.
Are you desperate for some Spanish sun but don't want to fly? With great routes across Europe, it's easy to drive to Spain by car, arriving refreshed and unstressed from the comfort of your own vehicle.
Spain is a fantastic country for road tripping. From the green north and the mountainous interior to the gorgeous coasts, you'll find all the best road trips in Spain here.
Andalucia epitomises southern Spain for most visitors; vibrant, colourful and passionate. This road trip itinerary will take you to the major cities and best places to visit in Andalucia Spain, bringing the country alive. If you're looking for a longer holiday, just throw in some beach time!
Italy
Head for Italy if you're feeling a tad more adventurous. It will take at least 15 hours one way from Calais, whether you choose to head down through toll free Germany or more expensive scenic France, so in reality you probably need a few weeks to do this trip justice.
But, it's so worth it once you get there! You'll be blown away by this sublimely beautiful country, with Renaissance cities, gorgeous landscapes and amazing gastronomy. Historic Florence, foodie Bologna, unique Venice, and even Rome are within reach.
Those with a few weeks will be able to explore the beautiful Italian lakes and dramatic Dolomites, the rolling hills of Tuscany and Umbria, or the Italian Riviera to the east.
With even longer, Sicily and Puglia become attractive (and much quieter) spots for a motorhome road trip, making the most of the Italian sosta motorhome parking network as you travel.
The further south you go, the worse the roads become, so be mindful of this if you intend to move around a lot. Italy also has some of Europe's most expensive fuel and campsites, which can be basic away from busy tourist areas, are expensive and you usually have to pay extra for your shower!
Taking a motorhome to Italy is an experience not to be missed. This gorgeous country, full of beautiful light, fabulous food and landscapes straight from a film set, will not disappoint. In this post, you'll find all you need to know about touring Italy by motorhome.
Are you desperate for some Italian culture but don't want to fly? With great routes across Europe, a road trip from UK to Italy is easy, leaving you arriving refreshed and unstressed, ready to enjoy la dolce vita from the comfort of your own vehicle.
Sicily is a gem of an island. Rich in Greek and Roman architecture, with stunning Baroque towns dotting the landscape, incredible natural wonders and fantastic outdoor adventures, a Sicilian road trip is the best way to see this eclectic Italian island. Our Sicily road trip route and itinerary with interactive map is a coastal trip around the island, hitting all the top spots on the way to ensure you discover the very best of Sicily.
The beautiful region of Puglia in southern Italy is just perfect for a road trip. Puglia has it all; rolling countryside, miles of gorgeous beaches, vibrant towns and delicious local produce. This cool, laid-back and unspoilt part of Italy is an awesome road trip destination.
Rome is a gorgeous city, high on any bucket-list and full of love, life and romance. With fabulous architecture bathed in the unique light of the eternal city, incredible Roman ruins and delicious Italian food, what's not to love? Our guide will show you how to visit Rome in 36 hours, seeing all the essential sights. Make sure you read it before you go!
Bologna is our top pick for incredible and delicious Italian food; foodies out there will love our tried and tested Bologna food tour! We will take you to all the best places to watch, sample, smell and eat the finest foods Bologna and the Emilia-Romagna region has to offer.
Portugal
A perfect companion when visiting Spain, Portugal is also a wonderful country to visit in its own right. Tiny, but packing a punch, Portugal's coasts are chock full of incredible beaches, from the sultry and sheltered south facing Algarve to the the huge seas of the Atlantic, where the biggest waves in the world have been surfed at Nazare.
Inland, you'll find granite mountains, dark skies and huge lakes, alongside rolling swathes of countryside planted with vines to support the emerging world-class wine culture. With a fascinating history of sea faring and world exploration, and some of the best sea food in Europe, don't pass Portugal by on your way south.
If there are any downsides to this tiny country, it is that all wild camping, unless in authorised motorhome places, is now banned, since a new law was passed in January 2021. This means sites and aires will become full more quickly, and camping prices will rise.
Portugal is a small country with a lot to offer. From the historic towns of the north, to the glowing Algarve, via iconic cities, granite hard mountains and rolling vineyards, these historic and coastal road trips in Portugal will bring the country alive. 
Portugal is a perfect motorhome and campervan destination. This tiny country packs one hell of a punch; wild coastlines, lively buzzing cities and exquisite wines. If you're planning on going to Portugal as you tour Europe in a motorhome, our Portugal tips are a must-read before your trip.
What better way is there to discover a country than meeting the locals, exploring the landscape and enjoying delicious local produce made with tradition and love? Enter Portugal EasyCamp…
The fascinating and very cool Covao dos Conchos, high in the Serra da Estrela natural park in Portugal is called the 'eye' by locals. This incredible man-made lake hole is actually a bell mouth spillway and well worth the short hike to get up close to the mesmerising spectacle, set deep in the rugged Portuguese mountains. 
Germany
Germany is a wonderful country in which to tour. With a large network of stellplatz (aires) and superb roads, you'll love the ease of road tripping here. The locals are friendly, the food wholesome and the beer is pretty good too!
Germany is a surprising country, full of fairy tale castles and half-timbered medieval villages, alongside cutting edge industrial cities. Avoid the middle bit and head for romantic Bavaria and the Alps, or go north for the sea city of Hamburg and the beguiling and beautifully quiet northern coast, with islands that will tempt you to stay.
More adventurous motorhomers will head east, for Berlin and the gateway to the lesser travelled, yet fascinating, countries of eastern Europe. The roads will certainly be quieter as you head east, away from the busy and densely populated industrial belt, which you need to suffer to get to anywhere of interest in the country!
A motorhome tour of Germany offers incredible adventures. From the stunning Alps, the Black Forest with it's gorgeous romantic road, to medieval cities, fairytale castles and magical Christmas markets this surprising and interesting country is a must-see road trip destination for campervans and motorhomes.
Germany is an incredible country in which to road trip. From the drama of Bavaria to the soft beauty of the Mosel Valley and the fairytale castles and towns in between, explore this often overlooked country on the road trip of a lifetime.
Hamburg is a modern and progressive port city with a fascinating history. Explore the historic districts, edgy culture and extraordinary commercial past with our one day Hamburg itinerary.
At 2962m high, the Zugspitze is Germany's highest peak. And what a mountain it is; standing at the northern edges of the mighty Alps, home to three glaciers and with views of 400 mountain peaks in four countries, the Zugspitze is primal, raw and breathtakingly beautiful.
Norway
A hugely popular destination with campervanning road trippers, Norway is simply stunning. But, it's a huge country and you'll need time to see even a fraction of it. If you want to go the whole hog to Nordkapp in the Arctic Circle, and visit the Lofoten Islands on route, you'll need a minimum of four weeks.
The most beautiful part of Norway is without doubt the Western Fjords. The sheer scale of the fjords and the surrounding mountains and waterfalls is breathtaking. If you love adventure and being outdoors, this is the place for you. With hiking, cycling and water sports opportunities everywhere, Norway is a great destination for families with active teenagers.
Very different to most of Europe, road tripping in Norway can feel like being on another continent. Getting to Norway takes a bit of effort, and inevitably adds to the cost of your trip, in what is widely recognised as being one of the most expensive countries in Europe. Budget wisely though and you won't regret motorhoming in Norway.
Trolltunga (literally Troll's Tongue) is one of Norway's iconic hikes. In an area of wild and dramatic outstanding natural beauty, hiking Trolltunga has to be on your Norway bucket list. Our Trolltunga hike guide has all the information and tips you need to tackle this epic hike.
Flåm is a small village situated in Western Norway, surrounded by steep mountains, thundering waterfalls, turquoise fjords and truly spectacular scenery. Visit in summer and use our travel guide to find outdoor adventures and activities, for an exhilarating stop on your tour of Norway.
Europe is perfect for an epic road trip. From the rolling fields of Tuscany and the soaring mountains of the Sierra Nevada to the beaches of the South of France and the mighty Alps, you can find a European road trip route to suit your taste and travel style. No flying required! Our top eighteen bucket list Europe road trip itinerary ideas will give you plenty of inspiration to get on the road.
Norway is one of the most beautiful countries we have ever visited and a real bucket list destination. If you love adventure and raw nature, then Norway is for you! Our essential guide to visiting Norway in a motorhome will provide you with all the information you need…what are you waiting for?
More motorhoming in Europe advice and guides;
Are you looking for UK road trips instead? Check out these top posts…
If you're looking for a scenic road trip that will take your breath away, look no further than the Atlantic Highway. The A39 winds its way through the stunning coastal landscapes of Devon and Cornwall, offering some of the most breathtaking views in the UK. In this five day Atlantic Highway road trip guide we share travel tips, a fantastic route that hits all the top spots, things to do and see along the way…
Belfast, the capital city of Northern Ireland, is a vibrant and historic city that has something to offer for everyone. Whether you're a history buff, a foodie, or just looking for a fun day out, Belfast has plenty of activities to keep you entertained. In this one day in Belfast guide, we'll take you through an itinerary of how to spend a day in Belfast, highlighting the top attractions and hidden gems that you won't…
The Causeway Coastal Route is a spectacular road that hugs the Antrim coast between Belfast and Londonderry in Northern Ireland. Offering breathtaking views, must-see stops and legendary hospitality, driving this route is an unforgettable experience. But is the Causeway Coastal Route the best road trip in Ireland? In our guide we'll share the route and map, insider tips, must-see destinations, and practical advice to help you plan your own epic adventure and decide for yourself…
The most southwesterly county in England, Cornwall is famous for its fabulous beaches, picturesque villages, Celtic heritage, and rich inland history. Wrapped together in a breathtaking landscape and almost surrounded by sea, Cornwall is packed with activities and days out, making it one of the best UK road trips. In this ten day Cornwall road trip guide we share travel tips, a fantastic route that hits all the top spots, things to do and see…
A 516 mile jaunt around the spectacular north coast of Scotland, the North Coast 500 is an iconic Scottish road trip. Taking in the glorious Scottish Highlands, breathtaking coastlines, lochs and historic towns along the route, this really is one of the world's epic road trips.
The tiny country of England is famous for its long history, the Royal family and quaint traditions. It is also known for impossibly pretty villages, hedgerow lined country lanes and a wonderfully diverse landscape and coastline, all of which make England a must for travelers. We share the top England road trip routes to help you see the very best of this amazing country.
Love it? Pin it!