This post may contain affiliate links, from which we earn an income.
One Day Bologna Food Walking Tour
Bologna is our top pick for incredible and delicious Italian food; foodies out there will love our tried and tested Bologna food tour!
We will take you to all the best places to watch, sample, smell and eat the finest foods Bologna and the Emilia-Romagna region has to offer.
In this Bologna food guide, we'll share with you a detailed map and itinerary for a one day Bologna food tour, alongside ideas for lunch, tips for visiting Bologna, and lots of information about the food of the Emilia-Romagna region.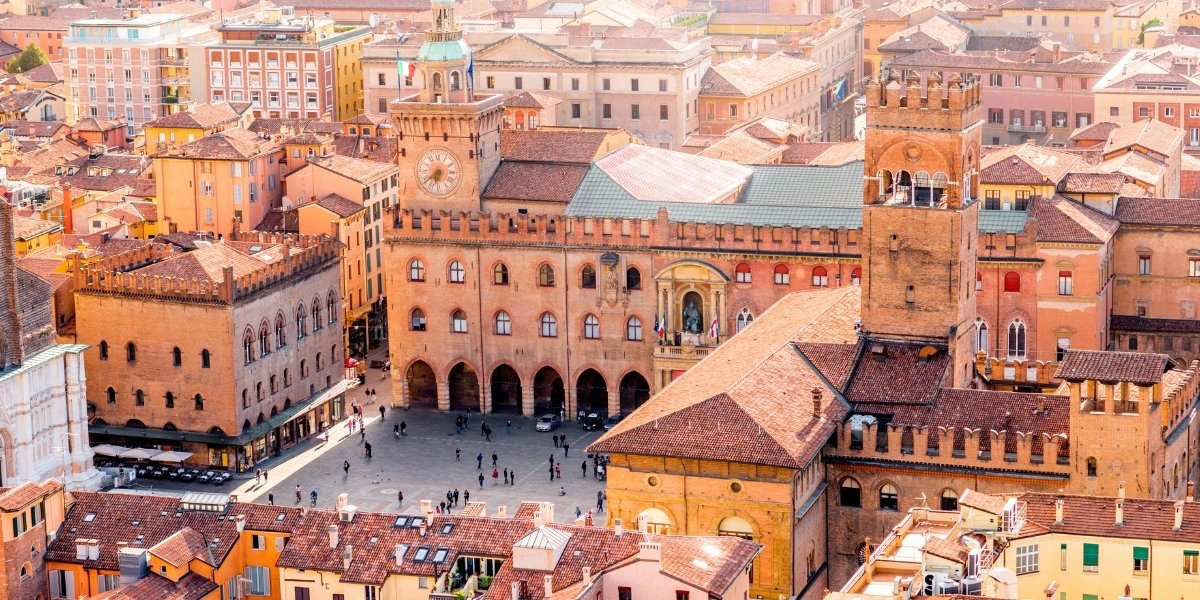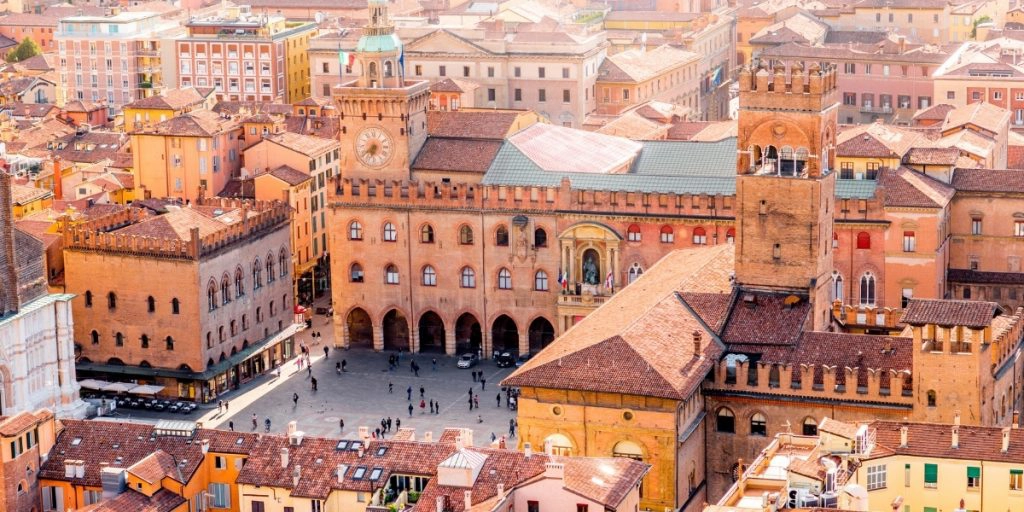 Free Food Tours Bologna v. Paid?
This is a self-guided FREE classic Bologna food tour, perfect for just you or a small group of friends to discover all of Bologna's food secrets as you travel around Italy, one of the best gastronomic countries in the world.
In every cafe, shop, and hostelry we visited food tasting was offered gladly by people who love to show off the amazing and delicious array of local foods. 
With any Bologna food tours, paid or private tours, day trips or even so-called ' secret food tours', you risk being taken to a place because the tour operator gets a commission, not because it's the best, or indeed, secret!
Every place on our list is there because we have visited ourselves and been impressed with the food and hospitality.
Is this your first time visiting Italy? Get all the information you need in our Italy Travel Guide, including what to pack, the best time of year to go, getting there, and practical tips to help you have the best trip!
Where to Stay in Bologna
Stay at the beautiful Al Cappello Rosso. Located on the doorstep of Piazza Maggiore in the city center, the hotel has the perfect location for your food tour, shopping, and nightlife. 
With quirky rooms, bags of history, and a great restaurant, this hotel is the perfect pick for a few days in Bologna, whether you're road tripping in Italy or flying in.
Bologna Resources
First-time Bologna visitors might find these two food guides helpful in terms of additional information, learning about Bologna and cooking some of the foods you might want to buy along the way.  
In a Hurry?
If you're heading between the two great cities of Florence and Venice on a northern Italy road trip and don't have time to spend a day finding and tasting the best food in Bologna, then check out FICO Eataly World. FICO is an Italian food theme park and one of the largest food halls in the world, featuring artisanal foods from every region in Italy.
Just a ten minute drive from the center of Bologna, you can park just outside and pop in as you pass the city. Although it's no substitute for a food walking tour of Bologna, it comes a good second and you will experience some amazing food here.
The Ten Best Foods to Eat in Bologna
Spaghetti Bolognese
Bologna restaurants always make spaghetti bolognese with tuna and a fresh tomato sauce. If you want ragu alla bolognese with a meat sauce, it will only be served with tagliatelle, flat thin strips of pasta. Try either dish and taste Bologna in every delicious mouthful!
Mortadella
This silky smooth ham is made with ground pork meat. Bologna's mortadella is famous for the fineness of the ground meat, which gives its wonderful, fine texture.
Sometimes flavored with pistachio or pepper and studded with fat, make sure you buy this fresh and sliced thinly. This is such a local food and the sandwich filling of choice in Bologna.
Prosciutto Crudo
Prosciutto crudo or Parma ham comes from pigs fattened by whey left over from the making of Parmesan cheese; the techniques to produce the best prosciutto crudo have been passed down and perfected from generation to generation.
Make sure you buy products marketed as DOP. This is short for Protected Designation of Origin; as the name suggests, this certification ensures that products are locally produced to exacting recipes and standards.
Parmigiano Reggiano Cheese
This is the superior Parmesan cheese and one of the most famous Italian cheeses, made using techniques that have barely changed in centuries.
This cheese is so versatile and can be used in many dishes – try it when cooking pasta or risotto, sprinkled over your salads, or eat as a nibble with a glass of dry white wine.
Tortellini & Tortelloni
Both stuffed pasta, the latter being the larger of the two. The dough is known as sfog, and the shops where you can buy them handmade as sfogline, although the direct translation is 'the lady who makes the sfog'.
Traditionally filled with ricotta and parsley or minced pork, eat them in a chicken broth or slather them with melted butter and parmesan. Delicious!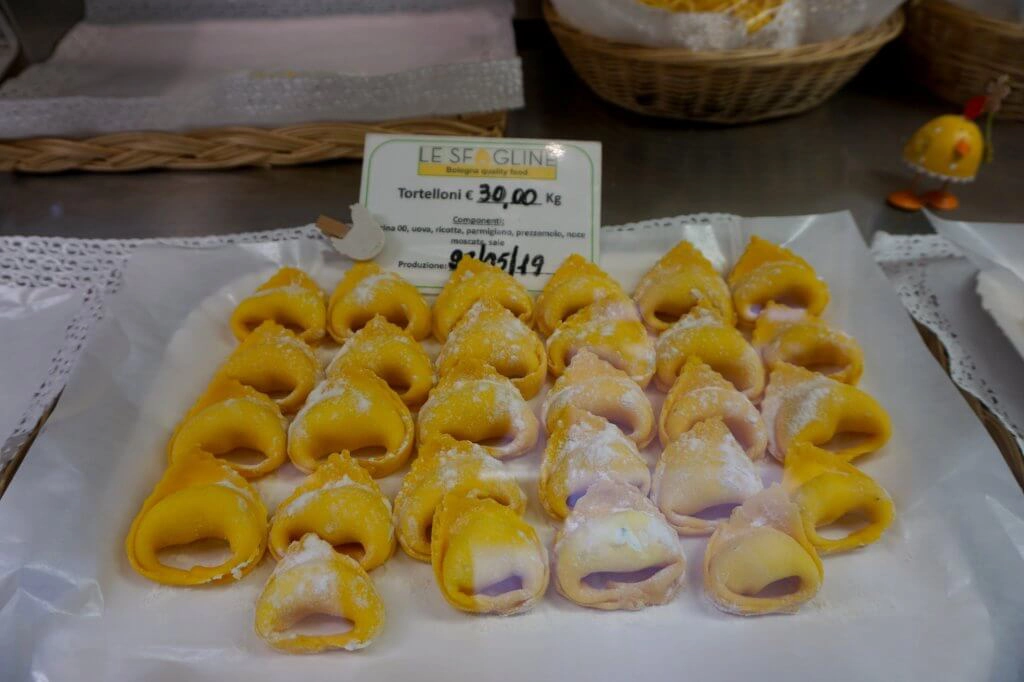 Balsamico di Modena
Authentic DOP Balsamic di Modena can be 25 years in the making. Rich, thick, and smooth, this vinegar goes with virtually anything Italian! Like a fine wine, it is complex with layers of flavor and comes to life on your palate.
Take a food tour in Modena (just 50 minutes away by car) and try authentic balsamic vinegar with some chunks of Parmigiano Reggiano or fresh ripe strawberries; it blends perfectly and tastes incredible.
Culatello
Culatello is the most expensive ham in the world, currently selling for over €110 per kilo! It is only produced in a very specific place near the Po river, close to Parma. The mists that roll off the river Po provide the perfect environment to produce this king of cured meats.
Truffles
The hills in the Emilia Romagna region are home to the most prized ingredient, the truffle. Black truffles are sought from March to November; the more expensive white truffle can only be found during October and November when the annual truffle festival is held.
Squacquerone Cheese
Great for dipping your piadine bread, this cheese tastes like cream cheese, yogurt, and sour cream mixed together and it's delicious!
Gelato
Gelato is perhaps not a specific food of Bologna, however, there is an important connection. Bologna actually has a Gelato University (really!) and the region manufactures the best gelato-making machines in the world.
Try gelato from a shop with big sunken steel pots with lids on display; this maintains a consistent temperature for each batch and you know the vendor is serious about the quality of his gelato.
If you're visiting Bologna with kids, sampling the amazing array of flavors of gelato, with bright and colorful toppings, is a must!
Cooking Classes
If you feel inspired by all these delicious ingredients and the food in Bologna, cooking classes are a great way to learn about local food and cook and eat Bologna's traditional dishes. Our recommended pasta-making class is a hands-on home cooking experience where you'll learn to cook like a local in a typical Bologna home.
Bologna Food Walking Tour Map & Itinerary
Piazza Maggiore
Our start point for your self-guided tour of Bologna is one of two central squares in Bologna, the other being Piazza Nettuno.
Admire the distinct brick architecture and beautiful facades of the palaces and churches flanking the square then head for Via Ugo Bassi to the north of the square.
Before you head west towards breakfast and tour Bologna, take a moment to look east and admire the view of the spectacular Le Due Torri – Torri degli Asinelli e Garisenda dominating the skyline.
These colossal towers are two of only 20 medieval towers remaining in Europe. One looks like it's going to topple over, the other is not so far behind but, remarkably, you can still climb to the top of the latter!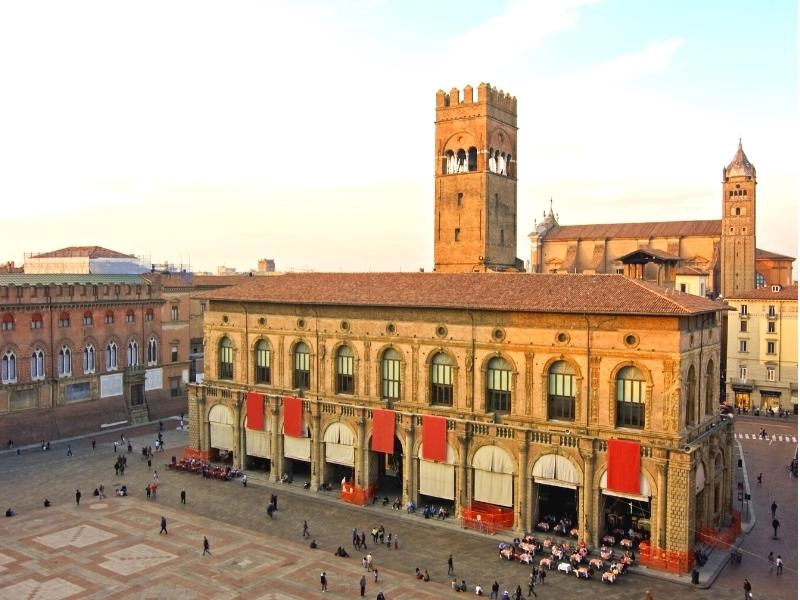 Cafe Gamberini
Breakfast is our favorite meal of the day! There is a multitude of cafes in which you can enjoy breakfast; this was our choice and it didn't disappoint. Sit inside or have breakfast al fresco; the coffee is superb and the pastries melt in the mouth.
Mercato Della Erbe
This popular and large market in the city center sells fresh fruit and vegetables, meat, pasta, fish, and bread. The produce here is local and seasonal and is displayed with pride and passion.
The smells of whatever is in season will hit you as you enter…for us it was strawberries, the smell reminding me of hot summer days, picking our own as kids.
There is a fabulous fish restaurant here; pick your fish in the market, whatever was caught that morning, and the restaurant will cook it for you whilst you wait.
Le Sfogline
Exit at the back of the Mercato Delle Erbe, look to your right and there is Le Sfogline the most unassuming shop ever! All the famous chefs have cooked here and the owners, Dani and Monica, have made egg pasta all over Europe.
We bought the traditional Italian food of tortelloni stuffed with ricotta cheese and were given a detailed description of how to cook and serve this wonderful fresh pasta by the lovely Dani, almost like a private food consultation!
You can also watch the sisters making the tortelloni, a labour-intensive task, but clearly done with love and passion. It was absolutely delicious and by far the best tortelloni we have ever eaten – an amazing Italian food experience.
The British chef, Rick Stein visited La Sfogline and took a cooking class with Dani when he was making the TV show of the book 'Long Weekends'. Buy your pasta here and follow one of his delicious recipes.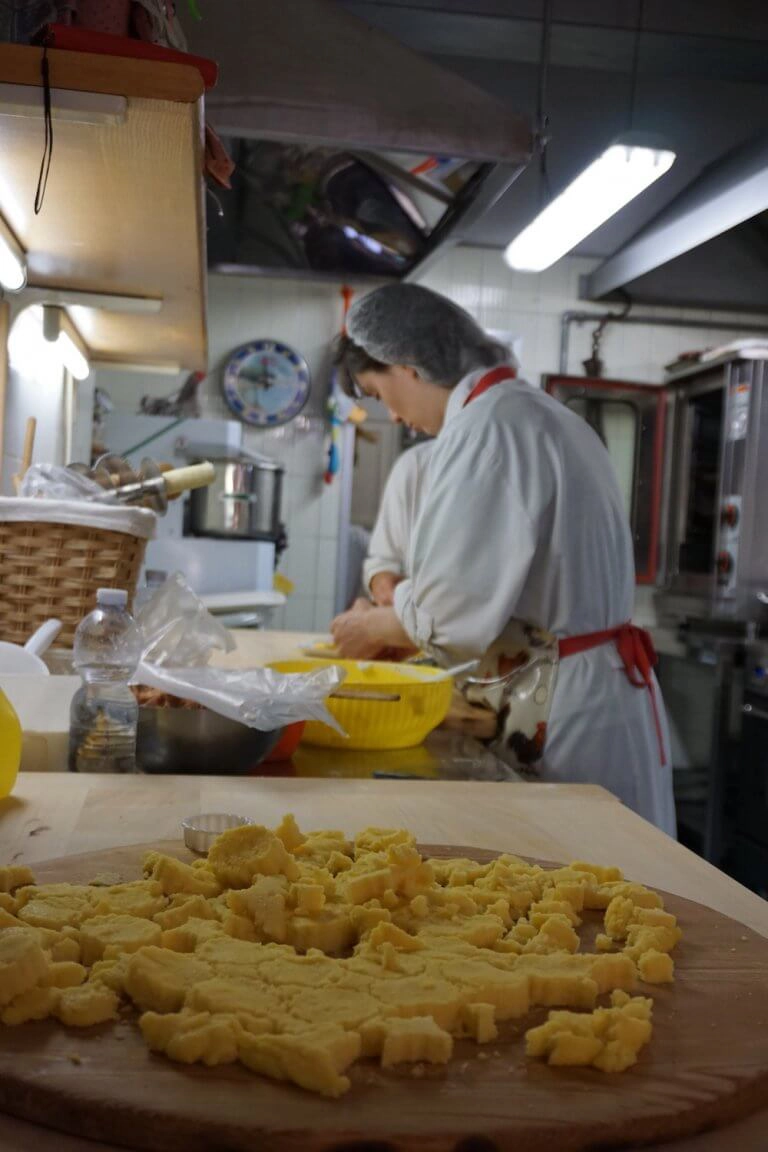 From here, your self-guided Bologna walking tour will take you southeast, back towards Piazza Maggiore and the Quadrilatero, the old town of Bologna and the heart of the city.
In the Quadrilatero you will find modern shops, adjacent to old-fashioned delis, gelaterias, and medieval architecture.
You have a choice for lunch; pick one of the many good restaurants serving reasonably priced pasta and platters of local antipasti, meats, and cheeses or buy your own at one of the many gastronomia or salumerias (delicatessen) and enjoy a picnic in the square, or utilize the long trestle tables at Osteria del Sole, where you can buy a drink at the bar and strike up a conversation with your fellow diners.
If you decide on the buy-your-own option, don't forget to also buy plastic cutlery!
Tamburini
This salumeria has been on this very spot since 1932. They stock an amazing array of hams, cheese, and antipasti; you can also buy Culatello, the most expensive ham in the world here.
In the area around Tamburini there are many restaurants and salumerias, all selling a huge choice of hams, cheeses, and too many other local goodies to mention.
Simoni Laboratorio
Pop round the corner to this salumeria, with hams swinging from the ceiling and fat cheeses stacked against the wall, it is everything a salumeria should be! Try tasting some of the meats and cheeses before you buy to find out what you like the most.
---
The Perfect Bologna Lunch
You might be feeling a bit overwhelmed by now if you're buying your lunch from a salumeria, there is so much to choose from. Here's our perfect (and typical) 'menu' for two;
4 thin slices of mortadella (flavored if that takes your fancy)
6 slices prosciutto crudo
100g parmigiano reggiano
100g squacquerone cheese
small tub of roasted tomatoes
small tub of rosemary-roasted potatoes
bread – piadine is the delicious Bologna flatbread plastic
cutlery and wipes
bottle of water or wine!
---
Osteria del Sole
Osteria del Sole is one of the oldest standing osterias alive today. Dating back to 1465, everything in the place is over 500 years old and there is history in every brick. The osteria is hard to find – it is situated halfway along via Ranocchi on the right as you come from Piazza Maggiore. There is no signage, just literally a hole in the wall leading to a door …look for the hole in the wall! 
There is no kitchen here, only a bar. You bring your own food, condiments, and cutlery (there is no loo or place to wash your hands which will get greasy eating Italian ham!!) and settle at a place on one of the long trestle tables to enjoy your meal.
Drinks are available at the bar; bottled beer, and a vast selection of wines including the delicious traditional Italian Prosecco and champagne, all very reasonably priced. The atmosphere is kicking, the chatter loud; this is an amazing experience, go once and you'll be hooked!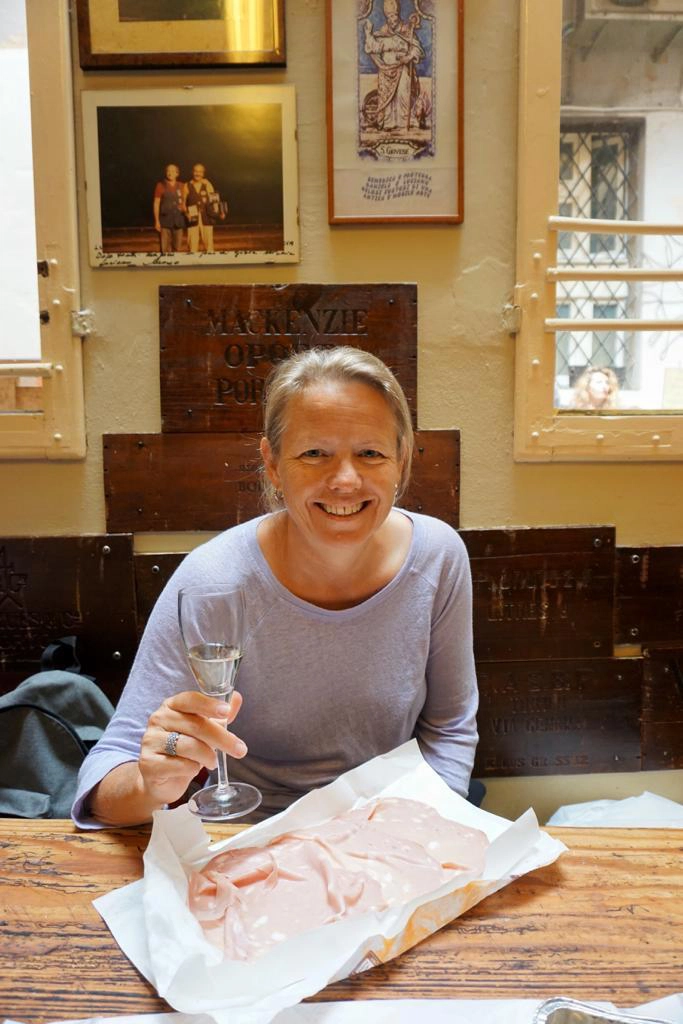 Enoteca Storica Faccioli
Full from lunch and perhaps ready for another glass of wine, head over to Enoteca Storica Faccioli a genuinely local wine bar at the northern end of the Quadrilatero.
The owner, Stefano, will guide you on a wine tour and through your choices with interest and knowledge.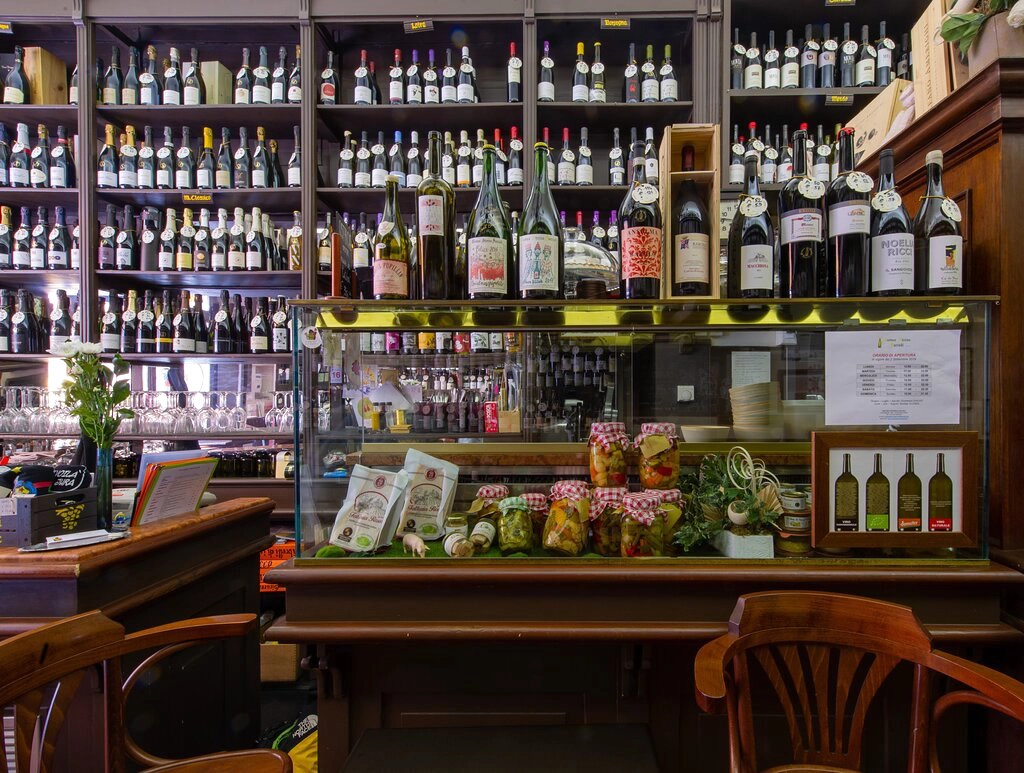 Majani Cioccolato Boutique
A ten minute walk south will clear your head and restore your appetite. What food tour is a food tour without chocolate? Majani have been making chocolate in Bologna since 1796. This is a beautiful shop where you can sample the different types of chocolate on offer, including the iconic Fiat chocolate. Not to be missed!
Caffe Zanarini
Reward yourself, it's time for a coffee break! Sit and relax for a few moments enjoying your surroundings and admiring the stunning desserts and delicious Italian biscuits, you really have to try something!
Cremeria Cavour
Our final stop on your walking tour of Bologna! You've made it…give yourself a big pat on the back. By now you've covered around 8 miles and 18,000 steps; I think this means you deserve a gelato! A two minute walk east will bring you to this very pretty cremeria where the gelato is creamy and bursting with flavor; have it in a pot and you get a meringue on top!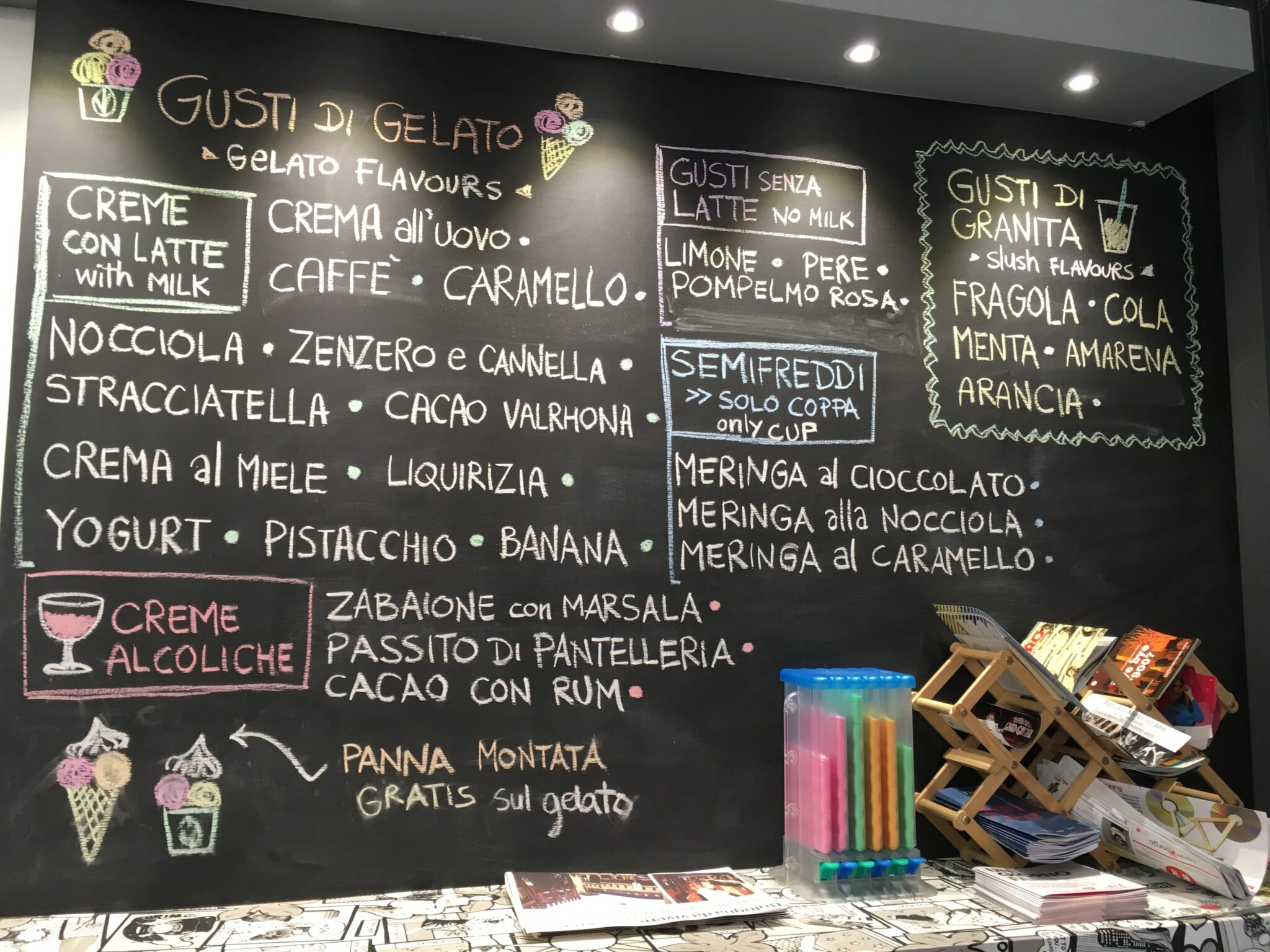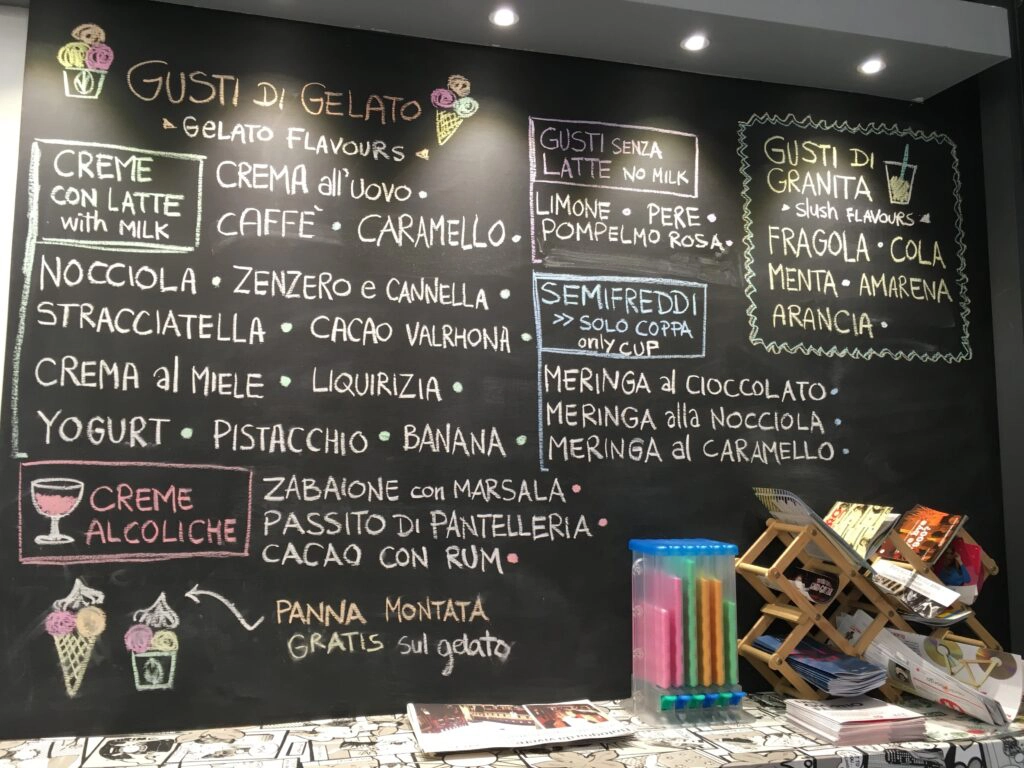 This foodie walking tour of Bologna has really been all about the food, learning about where it comes from, how it's produced, and where to eat and buy it.
Known as la Rossa la Grassa e la Dotta, meaning the red, the fat, and the learned, Bologna has much more to see than food! Red is in reference to the terracotta red rooftops of the historic center, fat refers to the delicious food and produce found in Bologna and the wider Emilia-Romagna region, and learned refers to Bologna university, founded in 1088, which is one of the most ancient and prestigious of the world.
So, as you walk around Bologna on your quest for the perfect pasta or the creamiest cheese, remember to look up and around, admire the architecture of this historic medieval city – there are so many things to do in Bologna other than eat!
Are you looking for more Italian travel inspiration? Check out these top posts…
Rome is a gorgeous city, high on any bucket-list and full of love, life and romance. With fabulous architecture bathed in the unique light of the eternal city, incredible Roman ruins and delicious Italian food, what's not to love? Our guide will show you how to visit Rome in 36 hours, seeing all the essential sights. Make sure you read it before you go!
Love it? Pin it!