This post may contain affiliate links, from which we earn an income.
How To Spend 36 Hours in Rome
Rome is a gorgeous city, high on any bucket-list and full of love, life and romance. With fabulous architecture bathed in the unique light of the eternal city, incredible Roman ruins and delicious Italian food, what's not to love?
From historic and ancient architecture, fantastic cuisine and beatiful churches, to cobbled streets perfect for ambling and some of Europe's most famous attractions, Rome is a quintessential Italian experience.
Even if you only have a short time in Rome you can pack a lot in if you follow our Rome itinerary, which includes the best things to see and do in this fabulous city.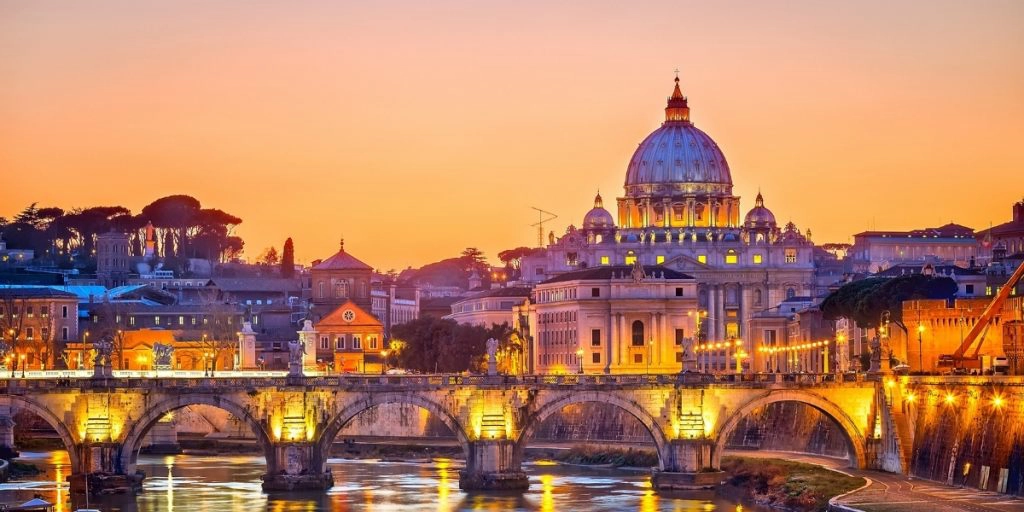 When to Visit Rome
Rome has a beautiful Mediterranean climate with hot and sticky summers and cool winters. Temperatures in July and August can easily exceed 30°c with high humidity levels but these are also the busiest times for tourists to visit.
Spring and autumn are by far the best times times to visit, for kinder temperatures and quieter attractions. Try for April or May (avoiding Easter) or September and October when the light is at its most luminescent. Visit Rome in winter and and you'll get the best deals on places to stay and attractions, with cheaper flights too.
Is this your first time visiting Italy? Get all the information you need in our Italy Travel Guide, including what to pack, the best time of year to go, getting there and practical tips to help you have the best trip!
Rome Trip Resources
Flying
Fly into Fiumicino Leonard da Vinci or Ciampino Airport
Driving
Drive in from Europe or hire a car in Italy
Travel Insurance
Cover medical costs, delays and lost luggage
Getting to Rome
Flying
When flying to Rome you will land at either Fiumicino Leonard da Vinci or Ciampino Airports. Fiumicino is the biggest of the two airports slightly further out of the city, both airports offer great transport links.
From Fiumicino Airport the quickest way to get to the city is by train, the Leonardo Express takes just 32 minutes to get to Rome Termini and runs every fifteen minutes from the Station conveniently located in the terminal, check timetables and buy your tickets here.
You can also take the airport shuttle bus from Fiumicino the journey takes about 55 minutes to get to Roma Termini and runs regularly throughout the day, you will find the bus stop outside Terminal 3 Arrivals, adjacent to exit 6, bus stand no 12.
From Ciampino Airport the bus journey takes about 45 mins to Roma Termini, you will find the bus stop opposite the international departures hall. Check timetables and buy your tickets online here. You can also take a bus for the Airport to Campiano town and then catch a train from there to Rome. The bus leaves from the square opposite the airport, stall no 6, every twenty minutes. The whole journey takes roughly 40 minutes. Check times and buy your tickets here.
You can also book a private transfer from the airport with Klook directly to your accommodation in the city. Klook works with a large range of local operators to bring the the best options and prices for your transfer.
Where to Stay in Rome
Luxury: Casa Fabbrini – Booking.com | Agoda
Mid-Range: Tree Charme Augusto Luxury Suites – Booking.com | Agoda
Budget: Viminale View Hotel – Booking.com | Agoda
Hostel: Hostel Mosaic – Booking.com | Agoda
What to See & Do in Rome
If you're road tripping to Italy, then 36 hours in Rome is just enough time to see all the important sights, get a flavour of the city and leave feeling like you know Rome, even if just a little bit.
You will be busy and on your feet a lot, make sure you take water and tissues (restaurant and cafe loos don't always provide toilet paper) and wear comfortable shoes! Check out this post if you're wondering what to buy in Italy or want to take souvenirs home with you.
---
Rome Travel Essentials
---
Day One Afternoon
Visit The Colosseum
Our first stop was to the city of ancient Rome to visit the unmissable Colosseum, just one of the reasons why you should visit Rome. The sky was blue and it was 2pm, were were in Rome!
As we came along the Via Del Serpenti, the Colosseum rose in front of us and really, words fail me; it was enormous, imposing and really old, how was it still standing? The stone was washed in the late afternoon sunshine and glowed, beckoning us in.
We bought tickets in advance as we had read the queues were huge, and they were, even late in the afternoon. We wanted to see the colosseum in full so chose tickets that gave us access to areas you can't otherwise see and we were in a small group. It was well worth the little bit extra as we observed large groups struggling to keep up with and hear their guide.
You only do this stuff once, so it's worth doing it as well as you can afford to. Do not use the touts outside the Colosseum, they will sell you every story in the book to get you to buy a ticket for €30 which is a total rip-off. You will not skip the line and be provided with a rushed and uninformed tour.
The Colosseum is vast and when you understand the history, terrifying. As you walk in through one of the entrance arches, the sheer scale of the ancient building becomes apparent. The Romans built such a civilised building and used it in the most uncivilised of ways.
The architecture is breathtaking, huge blocks of stone and marble juxtaposed with delicate decorations and carving. Imagine how the Colosseum must have felt full of bloodthirsty locals; like a modern day football stadium with fans chanting and singing, but for death, not goals.
Head for the Roman Forum
If you have enough time after the Colosseum, visit the Roman Forum, an hour is sufficient. This quintessential Roman ruin is perhaps the most Roman thing in Rome and is one of the top historic sights in Europe. It evokes visions of toga'd philosophers and evil emperors discussing matters of state and law. Many online tours and tickets include the Colosseum, Roman Forum and Palatine as a package.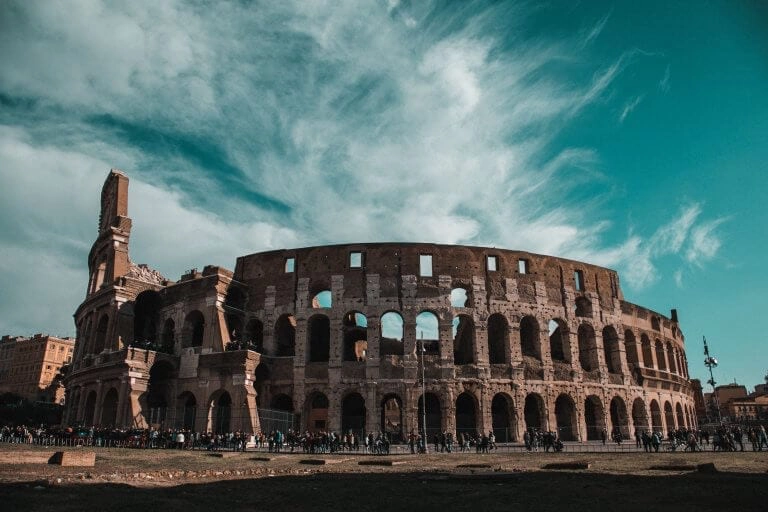 Day One Evening
Cruise the River Tiber
The Tiber River wends it way through Rome, under at least five bridges as it heads from the Apennine mountains, through Tuscany, Umbria and Lazio to the Tyrrhenian Sea. Take a Tiber river cruise and enjoy a glass of Italian wine with 360° panoramic views of the city at dusk.
This is one of the best things to do in Rome at night, living la dolce vita and admiring the city without having to move from your chair!
Enjoy a Romantic Meal (or just eat some pasta or pizza with your mates!)
We had dinner at a small restaurant called Pasqualino, off one of the side streets Via Dei Santissimi, behind the Colosseum. We stumbled upon the restaurant without doing any research, we were passing and it was dinner time. We thought it might be a bit of a tourist trap, but the food and wine were excellent and the service laid back yet attentive.
We paid €50 for two pasta mains, a dessert, large beer and half bottle of wine with a bread basket. We thought this was good value and left a €5 tip which, believe me, does not happen often!
If you're looking for more recommendations for Italian food to tempt your tastebuds, check out the best restaurants in Rome.
Italian Travel Inspiration
Day Two Morning
Admire the View from Viale Trinita Dei Monti
On the Viale Trinita Dei Monti, which sits above the city, you will find incredible views of the rooftops of Rome. We just had to go for the incredible view and take some photos. Surely one of the most iconic skylines in the world, the view is spectacular with all the domes of Rome, from the Vatican City to the Pantheon, shimmering in the very distinctive Rome light, that just makes everything look so Roman!!
You can walk up to this area from Piazza Popolo if you're up for a few stairs! (head into the Piazza from the Porto del Popola and take a left, you will see the stairs in front of you).
Wander the Villa Borghese
Villa Borghese is a delightful landscaped garden right in the centre of Rome. The gardens cover an area of 80 hectares and were developed in 1606 by Cardinal Scipione Borghese, who wanted to turn his former vineyard into the most extensive gardens built in Rome.
The gardens are known as the green lung of Rome and you can easily spend hours wandering them. Calm, peaceful and quintessentially Italian, there is lots to see and do here. The gardens themselves are free and open to the public, the museums and historic buildings will require a ticket or perhaps try a small group tour.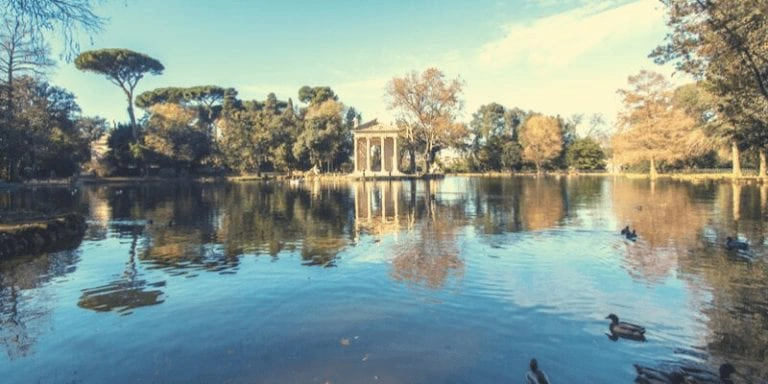 Day Two Afternoon
Take a Walking Tour
This was absolutely the best thing we did in Rome, it's such a great way to see the city and appreciate its' history, culture and architecture. If you can, book a tour with a local like the one below, as they live in the city, they are really immersed in the culture and can give you Rome insider tips and recommendations for food, places to go and other activities which will be off the beaten tourist track.
We started at stunning Piazza del Popolo and moved on to the ancient and gravity defying Pantheon, then the beautiful airy square of Piazza Navona. We wandered through Rome's old town with it's traditional trattorias and bohemian atmosphere before passing the imposting Castel Sant'Angelo and finishing at the fascinating Vatican and sublime Sistine Chapel. We were given history and information about each of these places as well as all the numerous other churches, ancient buildings and squares we passed through on our tour. Our guide was great at answering questions, he was funny and really easy to spend a few hours with.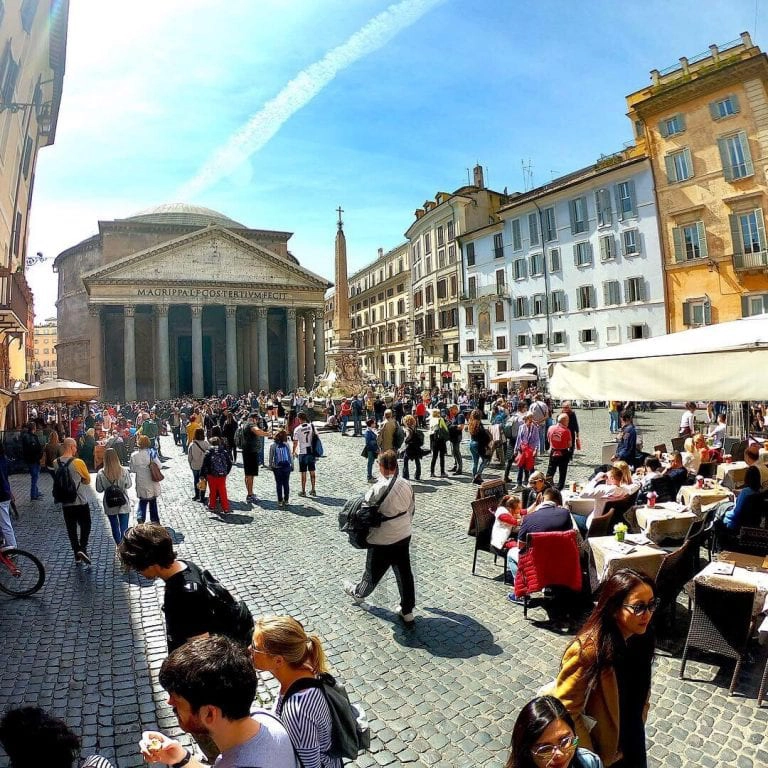 Climb the Spanish Steps
We continued our wandering and headed over to see the Spanish Steps via the immense and very, very white Monumenta Vittorie Emanuele. The Spanish Steps were hard to distinguish due to the number of people sitting on them, but hey, we went, we saw and took the obligatory photos and even managed a selfie!
Visit the Trevi Fountain
Standing in the Piazza Trevi (where else?) is the magnificent Trevi Fountain. Standing over 26m tall and 49m wide, it is the largest Baroque fountain in the city and one of the most famous fountains in the world. Be warned though, it can get very busy and you'll have to be patient to get a good view.
By now, you'll have walked for miles and tens of thousands of steps. It's time to enjoy some of the best ice-cream in Rome (known as gelato in Italy), or perhaps a coffee and a bit of people watching, such a rewarding past-time in this fascinating and vibrant city!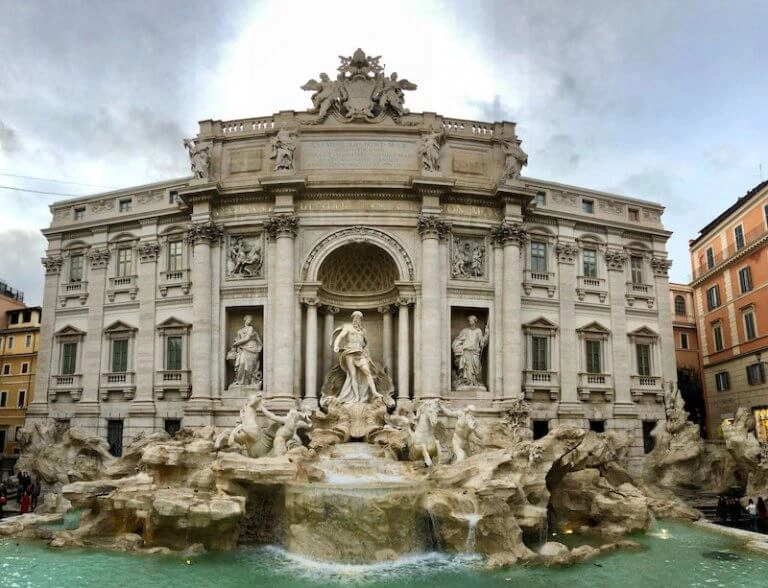 Day Two Evening
Explore Foodie Rome
You have to explore foodie Rome, it's such an important part of life in the city. Take an evening tour to Rome's foodie neighbourhoods and enjoy 20 different tastings of Italian and local food and wine, with the opportunity to meet chefs and food producers. No dinner required, all those delicious nibbles will fill you up!
Just a little longer?
If you have just another half a day or full day in Rome then you should consider the following attractions and day trips;
New in 2021 – The Mausoleum of Augustus, resting place of some of Rome's most iconic leaders, and open to the public for the first time in its long 2,000 year history.
Pompeii & Mount Vesuvius – just a few hours away, it is possible to see both Pompeii and Vesuvius in one day.
Ostia Antica – Once the harbour city of ancient Rome, Ostia Antica is now a vast archeological site, located near the city of Rome. The town was abandoned and buried for over ten centuries until it was rediscovered.
Looking for more city guides? Check out these tops posts…
Rich in culture, history and stunning architecture, the City of a Thousand Spires is one of Europe's most fascinating places. Today, the vibrant Czech capital thrives as a part of the EU and attracts tourists from around the globe. You could spend weeks exploring the city and still leave things undiscovered, but if you only have 24 hours, this one day Prague itinerary and guide will show you all the highlights.
Love it? Pin It!