This post may contain affiliate links, from which we earn an income.
Where Are the Warmest Countries in Europe for Winter Sun?
If you're craving winter sun and wondering where's hot in January in Europe, then look no further – this is the only European winter sun destination list you'll ever need!
If you're planning your Europe winter sun holidays to escape dreary weather, you're in the right place! But we have to let you know that there are only a handful of truly hot places in January in Europe on a short-haul flight.
Most places only get warm, it's still winter after all, so we've included a few mid-haul destinations from western Europe to help you keep your options open and snag the hottest places for the best winter weather.
Our travel guide has been compiled with the help of travel bloggers who have visited the best warm winter destinations in Europe, and they share their top tips for your best holiday, with all the climate information you need to decide where to go for your winter sun holiday in Europe.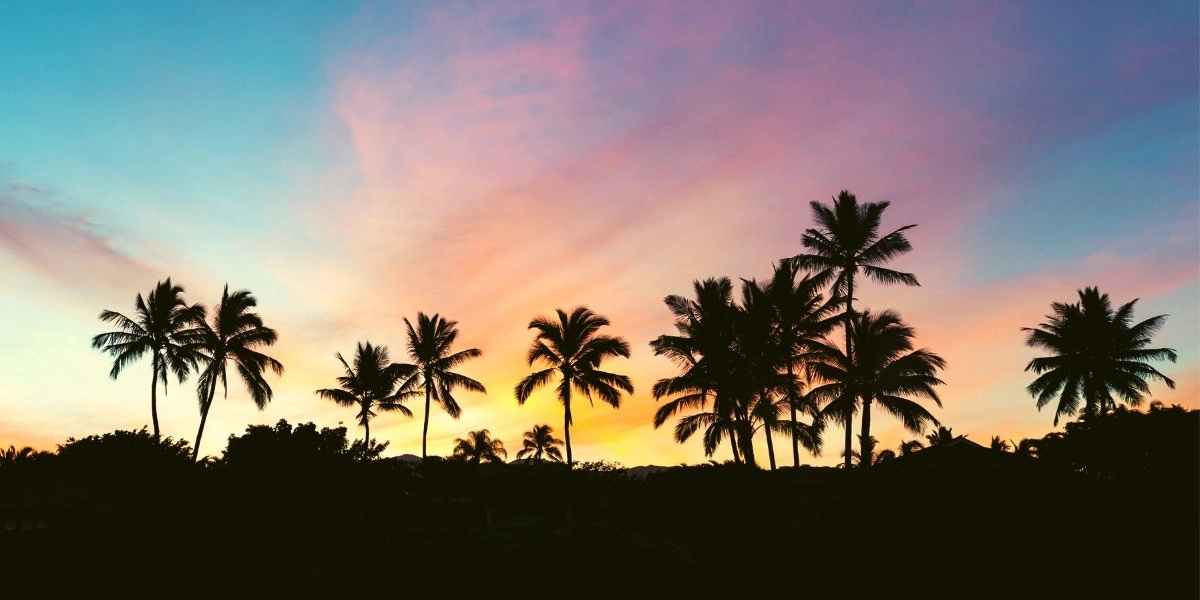 Quick Overview of Where is Hot in January Europe
If you just want to know the answer to the question "where is the warmest place in Europe in January?", it's the Canary Islands.
Spain's archipelago off the north-west coast of Africa has an average January temperature of a whopping 20.8° celcius | 70° fahrenheit, and the best weather in Europe in winter.
And just in case you're really curious, during the coldest months of the European winter, the places with the lowest temperatures (like -50 °C | -58 °F) are Oymyakon in Russia and Bergen in Norway!
TL;DR – just want to know the best Europe destinations for winter sun?
Warm Countries in January Map
How to use this map – Use your fingers (or computer mouse) to zoom in and out. Click or touch the icons to get more info about a place, and click the arrow in the box top left to open the index. To add to your own Google Maps account, click the star next to the title of the map.
Winter Sun Destinations Europe this Winter
Almeria, Spain
Explored by Sonja of Migrating Miss
Looking for hot countries in January? Look no further, Spain is the warmest European country in winter and the southern city of Almeria is located in the driest area in Europe, with clear skies and very little rain throughout the year. This makes it a fantastic place for a Spanish winter sun road trip!
There are plenty of things to do in Almeria too. You can visit the Alcazaba, a Moorish fortress perched above the city that was featured as a Game of Thrones filming location. The nearby Tabernas Desert was also a popular filming location in the 1960s, and the beautiful beaches of Cabo de Gata nature reserve are featured in Indiana Jones.
Andalucia is known for its tapas, and Almeria is no exception. In fact, I would argue the tapas in Almeria are the best in the region. You often get to choose your tapa from an extensive menu of traditional and modern fusion tapas, usually made from local ingredients.
Almeria is only two hours from Granada and the Sierra Nevada, so you can have the best of both worlds in the winter with access to the sunny beach and the snowy mountains within the same day.
During the Spanish Civil War Almeria was targeted by bombers, and an extensive network of tunnels and shelters were built under the city. These were forgotten about and rediscovered in 2001, and you can now take a tour of the tunnels to learn more about this period in the history of the city.
Almeria is a little off the beaten track when it comes to places to visit in Spain, so don't expect as many people to speak English or for there to be English menus in all of the cafes and restaurants. However, people are friendly and it's easy to visit the city and the surrounding areas without speaking Spanish.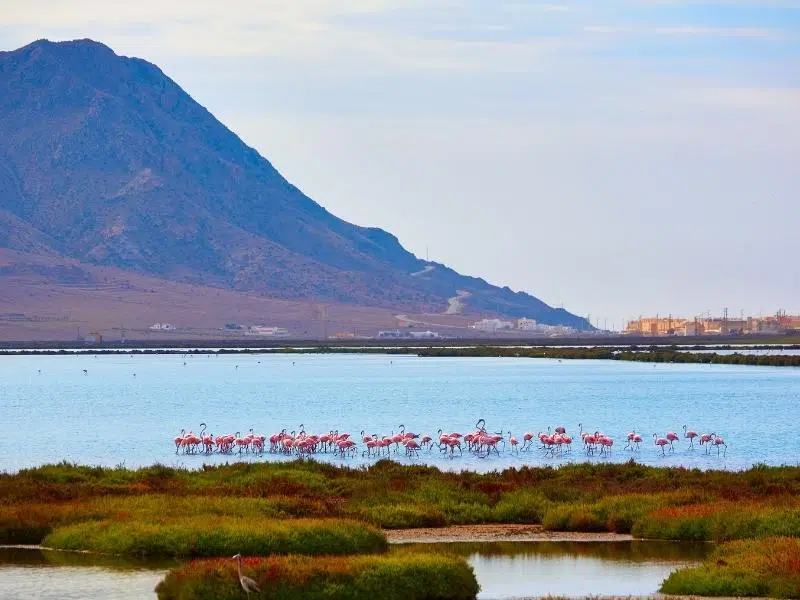 Athens, Greece
Explored by Allison of Sofia Adventures
If you're looking for warm places in Europe in January but still want to get your culture on, Athens is a fantastic destination and one of Europe's warmest winter city breaks.
Sure, you won't be enjoying the Greek beaches the country is known for in summer, but you also won't be sweating it out at the Acropolis with thousands of other tourists in high season!
Athens has very mild weather in winter, with the average daily temperature around 15° C, making it the ideal time for sightseeing! Add to the fact that Athens is a dry destination – most winter months have only five days of rain a month, giving you plenty of sunshine in between – and you've got a fantastic winter destination that isn't your average sun holiday.
Flights to Athens are plentiful year round and often quite affordable, so you won't struggle to get here. Once you arrive, you can enjoy the best of what Athens has to offer with a fraction of the summer crowds and none of the summer heat!
Some of the best things to do in Athens in winter include visiting the Parthenon and other sites of the Acropolis, visiting the excellent Acropolis Museum and National Archaeological Museums, checking out the local street art, enjoying delicious Greek coffee at hip Athens cafes, indulging in all the delicious Greek food at cozy tavernas, and visiting the Athens Christmas Market.
Or take a Greece road trip to ancient Delphi and the Peloponnese for a taste of ancient Greek history.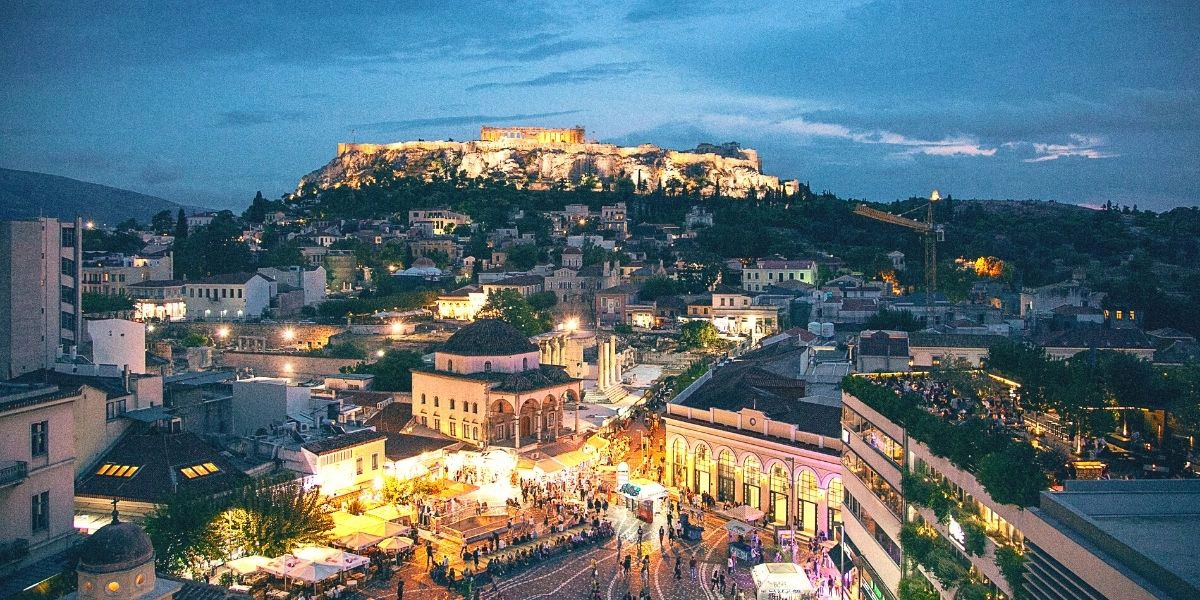 Barcelona, Spain
Explored by Vicki of Vicki Viaja
Barcelona is an absolutely unique city. With its modernist architecture, narrow medieval streets, open and relaxed culture, luxury hotels and varied and tasty food, the Catalan city on the Mediterranean simply enchants every visitor. Many travellers choose to visit because of the great weather and many hours of sunshine the city offers.
The temperatures here don't drop as much in winter, as is the case in most European cities. That's why you can enjoy your coffee on one of the many bar terraces, which are a large part of the Mediterranean way of life, even during the cold months.
There are also other advantages to visiting Barcelona in winter. The lines in front of the city's sights are shorter and move faster, so you save a lot of time. Accommodation prices also tend to fall, and its the perfect party city in which to spend New Year.
If you are travelling to Barcelona during the Christmas season, you should definitely visit one of the city's Christmas markets. Even if these are not the typical Central European Christmas markets as we know them from other countries, the Barcelona Christmas markets have their very own charm. They are full of Catalan culture and typical local souvenirs and traditions.
As you can see, a visit to Barcelona is not only worthwhile in summer, but in winter too.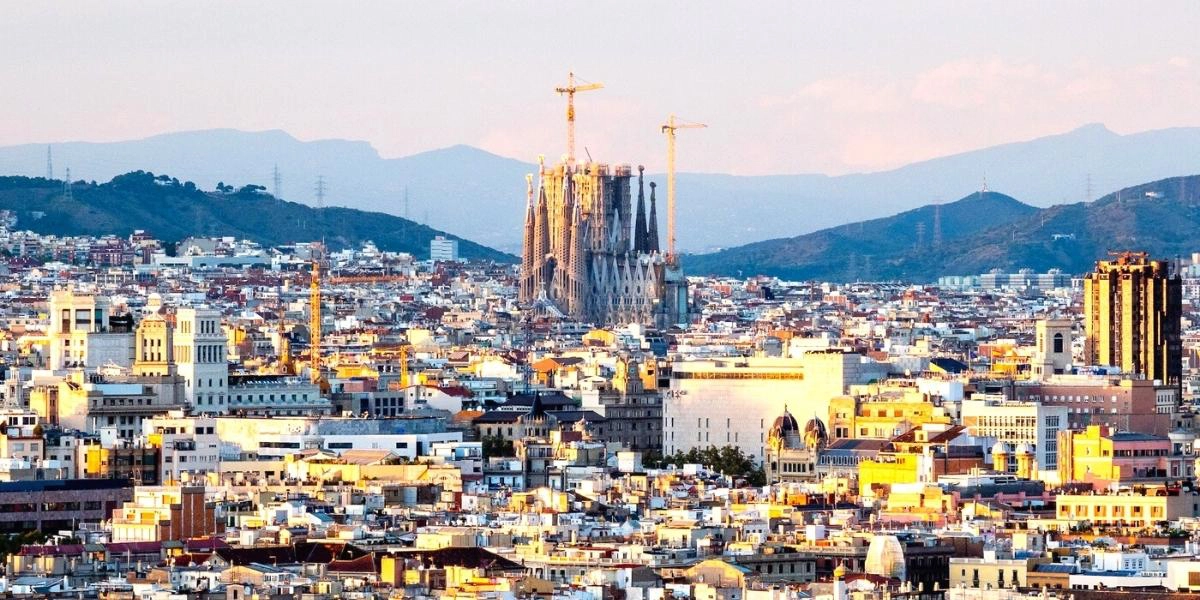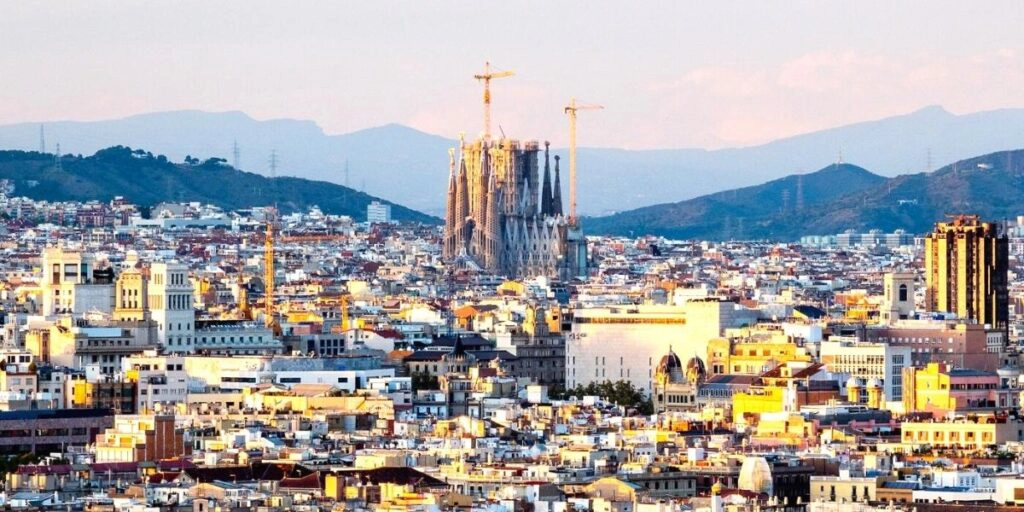 Bari, Italy
Explored by Wendy of The Nomadic Vegan
Bari is the capital of beautiful Puglia, one of the most southern regions of Italy, down in the heel of Italy's 'boot'. Whilst most visitors view it as a transit hub for getting to destinations elsewhere in Puglia, this compact city is a worthy destination in its own right.
Its medieval core is quite well-preserved and is a joy to wander around and get lost in. Be sure to visit the Basilica di San Nicola, which serves as the final resting place of St. Nicholas. And yes, I'm talking about Santa Claus! If you're here at Christmas time, visiting his tomb will be especially meaningful.
Locals are very friendly and welcoming, perhaps because they don't see foreign tourists that often. Despite being a modern city, old traditions are still alive and well here. Take a stroll down Arco Basso, and you're bound to see Italian mothers and grandmothers rolling out orecchiette pasta by hand, deftly creating the dimpled shape with their thumbs.
You'll definitely want to taste the local Puglian food while you're here, as orecchiette is just one of many delicious local specialties.
While it's not warm enough to swim, Bari's weather stays pretty mild in winter and the mercury rarely drops below freezing. As the regional capital of Puglia, Bari is well-connected by train to other parts of Italy, and its international airport also receives flights from various European cities.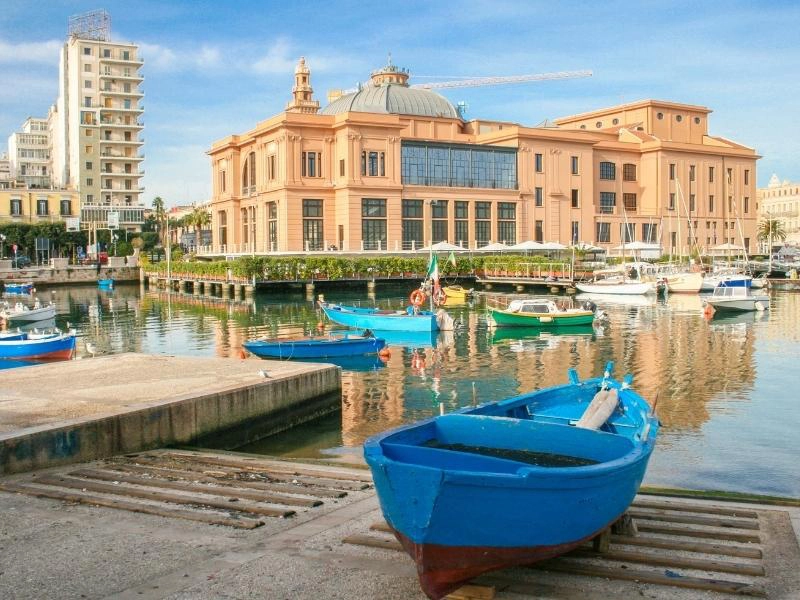 Cagliari, Sardinia
Explored by Claudia of Strictly Sardinia
One of the hidden gems of Europe and lesser visited compared to many other destinations in Italy, Cagliari is one of the best places for winter sun in Europe. When countries like Sweden or Norway are suffering from frigid temperatures, Cagliari typically (save from cold fronts that occasionally hit the city) enjoys mild winters with a balmy sun during the day, and colder nights that are still pleasant.
Cagliari can be easily reached by plane from mainland Italy as well as many other cities in Europe, via either main or budget flights. The city is easy to explore on foot and using public transportation, but should you wish to visit the surroundings on day trips, you are probably better off renting a car (or joining guided tours).
There are many things to do in Cagliari. Make sure to hit the historical quarter of Castello, where you will find the well curated Museum of Archeology, the two watchtowers, and the beautiful Cathedral. From Via Santa Croce you will enjoy one of the best views of the city, over the roofs of Stampace, another historic quarter.
Scattered around town you will find several archaeological sites. The most famous one is the Roman Amphitheater; but you should also visit the Necropolis of Tuvixeddu and walk by Villa Tigellio.
If you fancy a bit of air, go for a walk along Poetto, the main urban beach which you can easily reach by bus from the centre of town. From there you can also access Molentargius Nature Reserve, a great place for birdwatching and where pink flamingos nest and live.
For incredible views of the Gulf of Cagliari, hike to the Sella del Diavolo. This easy to follow trail departs from the second urban beach – Calamosca – and within 30 minutes takes you to a fabulous viewpoint.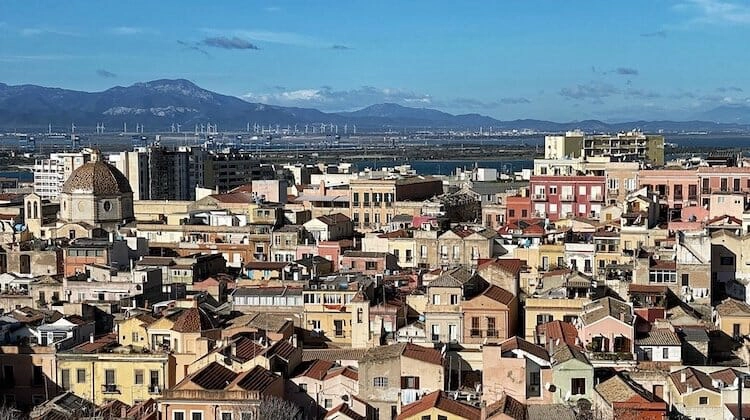 Cadiz, Spain
Explored by Sally of Loving Life in Spain
Cádiz is one of the best places for winter sun in Europe. Cádiz has 313 days of sunshine a year with the winter months (December through February) having almost 200 hours of sun each month. However, many people love it because it is mild, not hot nor cold.
The port city of Cádiz is located within the province of Cádiz in the southwest coast of Spain. If it was not for a very narrow strip of land, it would be an island. Cádiz makes a great stop on an Andalucia road trip, when you can also visit the winter sun cities of Seville, Cordoba and Malaga.
Being almost completely surrounded by water, there are countless spots for sailing, surfing, kite surfing, fishing, diving, and numerous beach activities. The city has one main promenade that stretches from one end to the other end. It is flanked with countless tapas bars, restaurants, and cafés with dishes to appease every palate.
Being one of the oldest continuously inhabited cities in western Europe, Cádiz has over 100 watchtowers. Archaeologists have found remains in the area dating back approximately 3,124 years, meaning Cádiz was first inhabited around 1104BCE. The old city is a delightful maze of narrow winding streets full of history, shops, museums, and squares, perfect for wandering.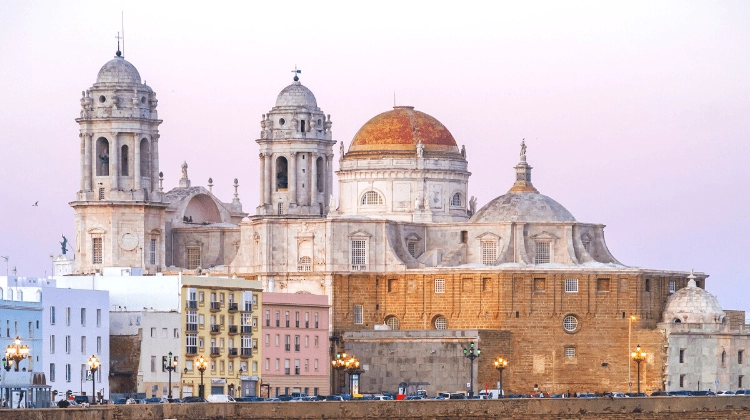 Cefalu, Sicily
Explored by Kezzy of So Today We Found
Popular due to its Mediterranean coastline and balmy temperatures all year round, Sicily is one of the best European destinations for winter sun, especially when the warm African winds blow north. More specifically, the north of Sicily offers a lot to travellers wishing to escape the bleak, cold winters back home, and one town in particular stands out for us.
Cefalu, located just a few hours drive away from the capital city of Palermo, is the perfect spot to settle into for a winter break in Europe. Known for its historic buildings, 12th century cathedral, typically Sicilian winding streets, boutique hotels and picturesque beaches, the town is a haven for those seeking a winter getaway.
We road tripped Sicily in February when the United Kingdom was in the midst of back-to-back storms, and to feel the sun on our faces and warm temperatures was very much appreciated and we had lots of time to soak in the atmosphere with a glass of local wine and fantastic food in the town square or lounging on the beach.
If you're feeling more active you can hike up to the top of the Rocca, an unmissable hill looming up above the town from behind the cathedral. It's a steep but rewarding climb, with incredible views out across the town and the ocean beyond. Rumour has it, it's the place to be to watch the sun go down.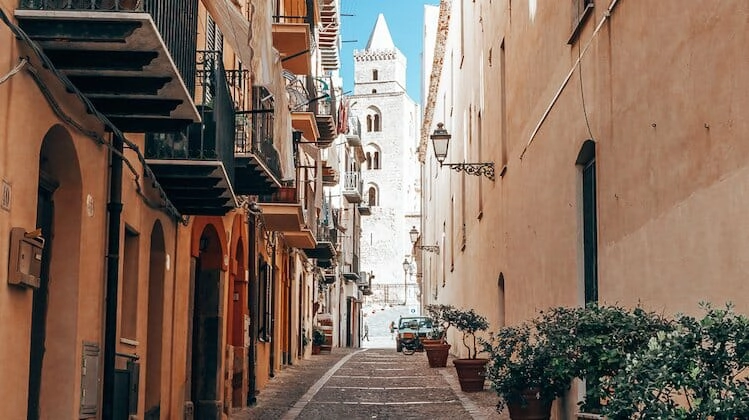 Crete, Greece
Explored by David of Delve Into Europe
Greece's largest island, Crete is one of the most beautiful places in Greece. Crete is as far south as you can go in Europe, and it stays warmer there longer than anywhere else on the continent, making it one of the best European winter sun destinations.
Winter temperatures on the island are also much higher than on the mainland, so it's a great place to head for if you're looking for a dose of Mediterranean sun.
The island is almost deserted in comparison with the summer peak season, and you get such a different perspective of it when you have it almost to yourself. Chania, the main city in western Crete, is open year-round, and makes an ideal base for exploring the island.
The west of the island has many of the best beaches in Crete, and it's possible to visit them in winter – you'll just need your own transport. Falassarna beach is around 90 minutes from Chania, and the pink sand beach at Elafonissi two hours drive away.
Crete in winter can reach daily average highs of 16°c, with occasional days around 18°c or 19°c, with sunny weather prevailing around half the time. There's also a chance of wet, even stormy weather, and the White Mountains in the west of the island are often snow-capped.
Getting to Crete in winter requires a bit more legwork than the rest of the year. Many of the airlines stop serving the island between November and March, so a connecting flight from Athens to Chania may be necessary.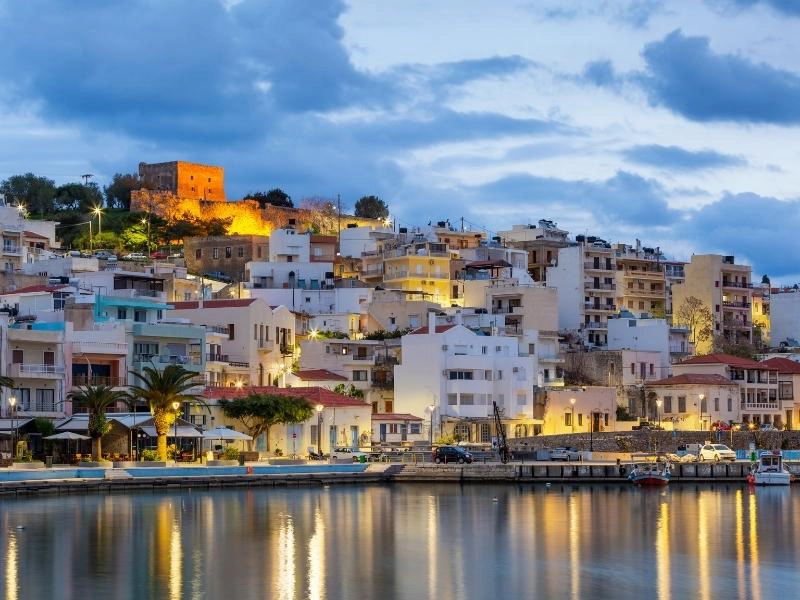 Dubrovnik, Croatia
Explored by Constance of The Adventures of Panda Bear
Spend a few days in the Croatian city of Dubrovnik for some of the best winter sight-seeing in Europe. Though there are rainy days during the winter, the weather tends to be mild and more often sunny rather than not.
With fewer crowds during the cooler weather, the city is more easily explored during the winter low season. Dubrovnik hotels, flights and attractions will also be cheaper, making this a good budget destination in the low season.
Walk along the old city walls for amazing views of all the orange roofs in the city and the Adriatic Sea. The city walls of Dubrovnik are a UNESCO World Heritage Site and have been considered to be among the best fortification systems of the Middle Ages.
Be sure to check out Fort Lovrenjac, a fort located just outside the western walls of the city of Dubrovnik. Famous for resisting Venetian rule, the fort was built and rebuilt over time, playing a crucial role in Dubrovnik's line of defence.
Within the city's walls, visit one of the oldest pharmacies in Europe. Founded in 1317, it is still in operation and located inside the Franciscan Monastery.
The city is easily reached by plane or as a stop on a road trip of Croatia. Dubrovnik is full of history, and things to do, making it the perfect place to visit in January (or indeed any winter month!).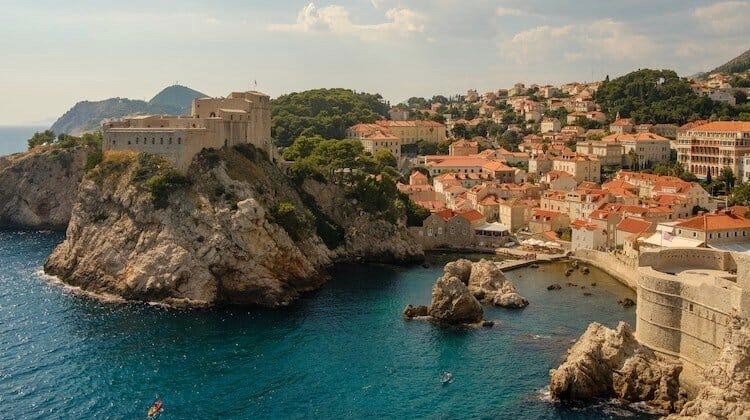 Estepona, Spain
Explored by Paulina of Paulina on the Road
Estepona is one of Europe's top winter sun destinations! Situated on the Mediterranean coast in the region of Malaga, this little yet socially vibrant town is a great winter holiday spot on the Costa del Sol. It is undoubtedly an excellent place for winter sun and is one of the warmest places in mainland Europe in winter.
From Estepnoa's captivating culture to archaeological attractions and splendid Mediterranean wintertime sunshine, you can explore the town, including the Botanical and Orchid Gardens, Santaverde Cosmética Natural, the charming Centro Historico and the Teatro Auditorio Felipe VI.
There are numerous other things to do in Estepona, with a focus on outdoor activities like boat trips, water sports, fishing and playing golf. Additionally, you can attend carnivals and events, like Flamenco, go shopping and taste the seafood.
Estepona has warm and mellow weather because of the Mediterranean warm breezes during winters. So, the climate is another inevitable reason to visit for winter sun. You can appreciate a lot of daylight throughout the winter season and there is almost no rain.
Estepona is easily reached by bus from Malaga. If you're flying to Spain, pick up a hire car in Malaga and head down the coast, perhaps visiting Estepona as part of a wider Andalucia road trip.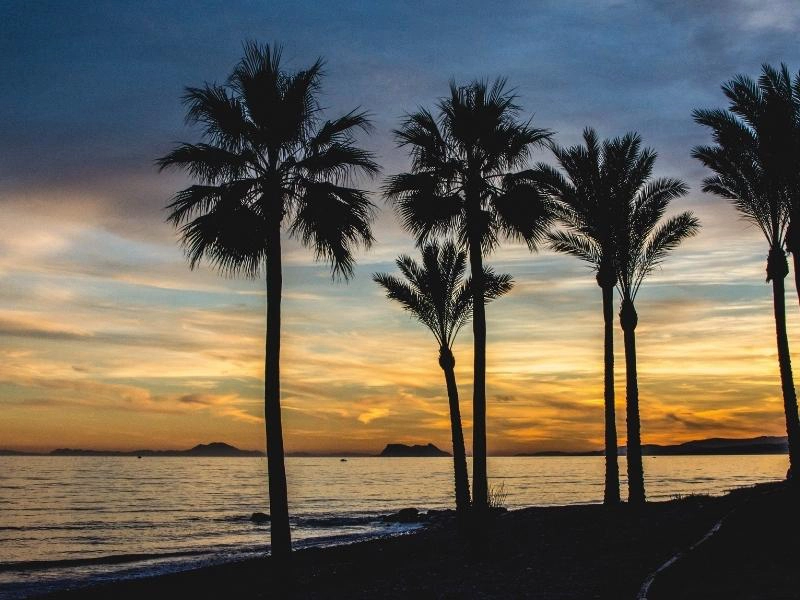 Funchal, Madeira
Explored by Nichola of Globalmouse Travels
Banish all thoughts of Madeira as a destination for older folk, the island is the perfect location for a family break at all times of the year and delivers the perfect mix of beach breaks and cultural activities for all ages. Madeira in winter is the best time too visit when the island really shines though.
Madeira sits 350 miles from the coast of Morocco and enjoys a subtropical climate with daytime temperatures in double figures and delightful sunny days throughout the winter months. Start your visit in the capital city of Funchal where the islands Portuguese influences are on show in the old town. Take the cable car high above the streets for a spot of people watching, before exploring the historic tropical gardens.
Adventurous types can enjoy a spot of street tobogganing, a 100-year-old tradition on Madeira, where you are steered down steep hillside roads in a land sledge.
Out of the capital, head for the centre of the island where you can enjoy long treks in tropical surroundings along ancient paths, or explore the craggy north coast line near Seixal and Porto Moritz, where you can discover secluded inlets where the locals enjoy a dip in the sea.
Stop in at the impressive São Vicente caves formed hundreds of thousands of years ago by volcanic activity and end your day watching the sun setting over the sea at the breath taking Cabo Girão Skywalk, a glass platform perched on a cliff edge 580 metres above the crashing waves beneath your feet.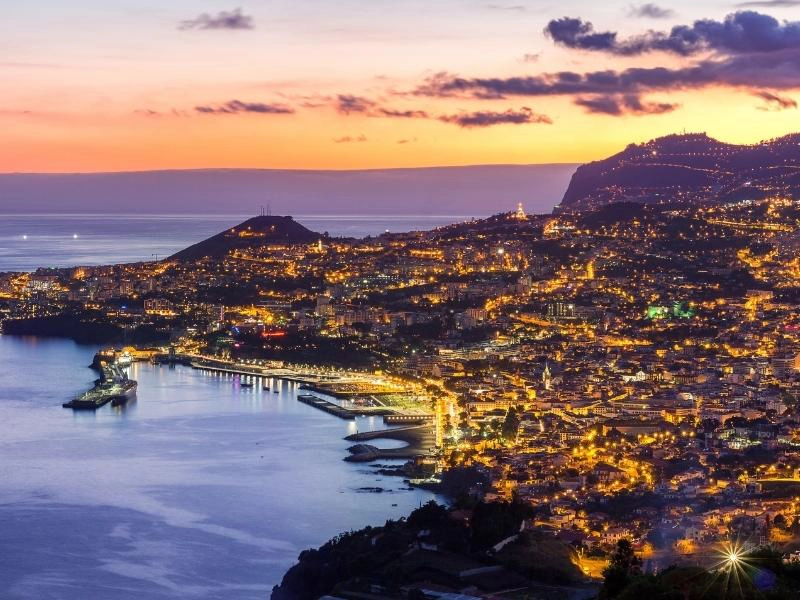 Fethiye, Turkey
Explored by Phil & Izzy of The Gap Decaders
The Aegean region of Turkey where Fethiye is located is actually further west than Istanbul and located close to the Greek islands, making it a great mid-haul winter – December to January sun destination.
But, don't come to Fethiye with the mistaken view that it will be hot, hot, hot. The further east you go through Europe, the more unpredictable the weather becomes.
It never snows in Fethiye, although you'll see it on the peaks of nearby Babadag Mountain, but it can be rainy and chilly, although this does come and go, so you're unlikely to face a protracted spell of poor weather,
Fethiye is a wonderful destination if you like mooching around interesting old towns, visiting ruins and grabbing the odd beach day, or boat trip, when weather allows. Nearby is good hiking, ancient ruins and the fabulous beach at Oludeniz, a small town to the east, where you can also go paragliding.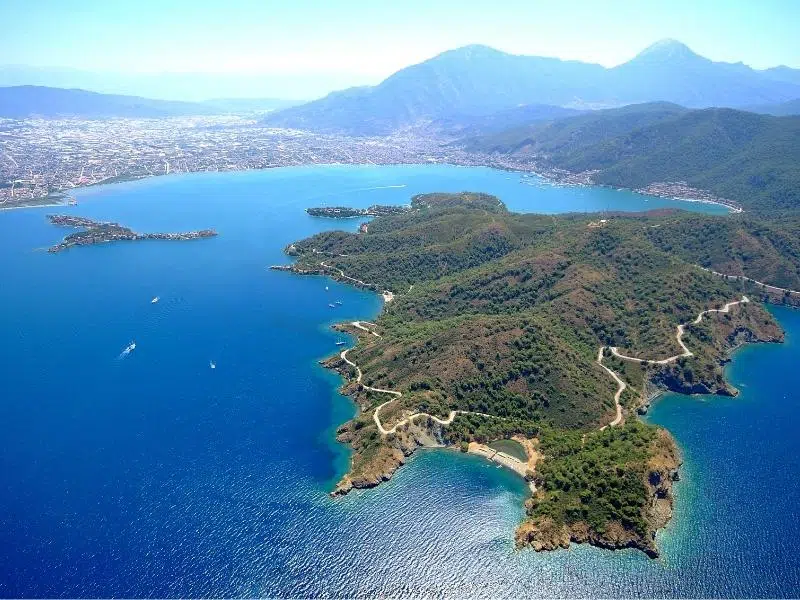 Gibraltar, Spain
Explored by Izzy & Phil of The Gap Decaders
Known simply as 'the Rock', Gibraltar is a tiny six square kilometre British Overseas Territory at almost the southernmost tip of continental Europe, only pipped to the post by Tarifa, just down the coast in Spain – one of the the hottest European countries in January.
A literal point of contention for centuries, Gibraltar has, at various times in history, been under the control of the Moors, the Spanish, and now the British. Each of these cultures have left their mark, and give the peninsula a unique culture of its own.
With average high temperatures around 15°c in January, the weather is perfect for hiking around the rock and along the suspension bridge, or taking the cable car to the top, for fabulous views across to Morocco and North Africa. Alternatively, go subterrenean and explore over 150 caves and 50km of World War II tunnels, or visit the Barbary macaques that Gibraltar is famous for.
You'll also be a stones throw from Spain, from where it's easy to hop across from Spain to Tangier in Morocco and add another warm winter destination to your trip!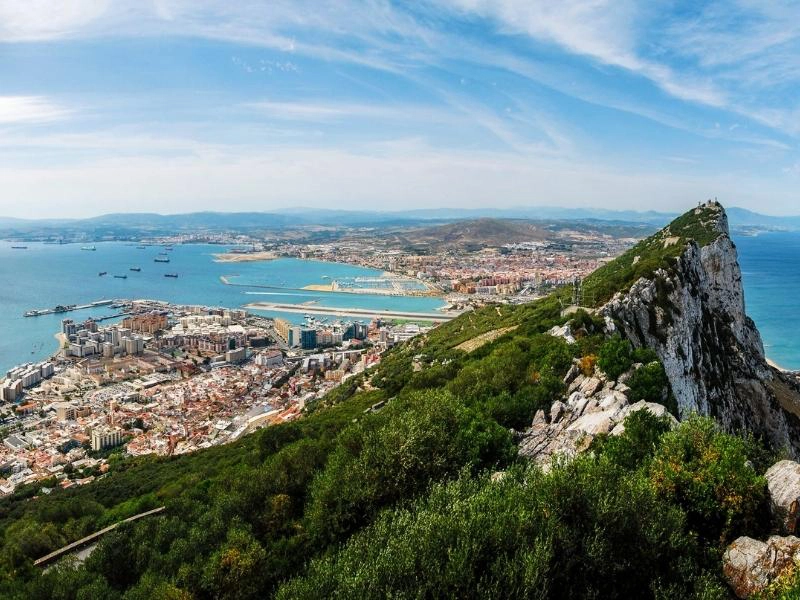 Ibiza, Spain
Explored by Sylvie of Travels With Eden
Ibiza is the perfect option for a winter break in Europe, located in the Balearic Islands, a cluster of beautiful Spanish islands. The island is famous for its world-class nightclubs but during the winter season there is a different opportunity to see the beauty of the island. From mid-October to mid-May, the clubs shut for the winter, the crowds leave and Ibiza sinks into a peaceful winter.
There are 57 perfect beaches to explore in Ibiza, many boasting white sand and crystal clear waters making Ibiza perfect for families to visit in the low season. Even in the winter months, the beaches are great to walk along, and the sea stays relatively warm all year round.
The town of Santa Eulalia is thriving most of the year in comparison to the resorts of San Antonio and Playa d'en Bossa which are more geared towards the clubbing crowd. One of the best things to do during winter is walk to the nearby Es Cana along the coastal path where you'll see stunning views and plenty of other beaches. Santa Eulalia marina is also lovely to take a walk around where you can spot super yachts, or watch the sunrise.
The best way to reach Ibiza is to fly to Ibiza airport where you can get a taxi to anywhere on the island. Regular ferries run to Ibiza from the mainland port of Denia in Spain as well as from the neighbouring islands of Majorca and Formentera.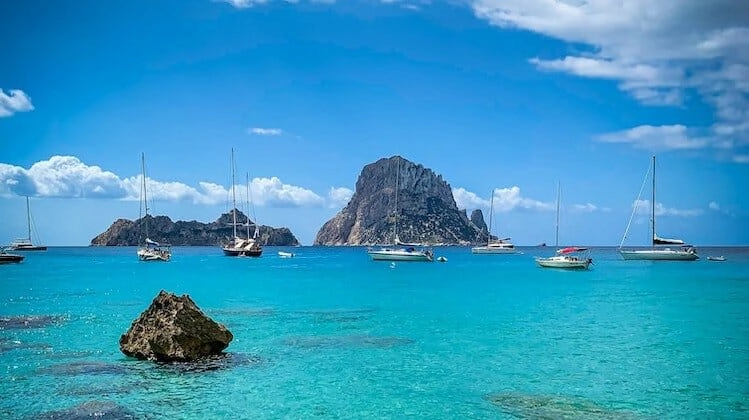 Istanbul, Turkey
Explored by Vaibhav of The Wandering Vegetable
Istanbul is one of the best places in Europe to take a winter sun city break. The city, in the on the European side of Turkey, is a delight to explore in the winter as it's the off-season and you won't find hordes of tourists at important historical sites. It is also the cheapest time to visit Istanbul, so a vacation here during winter is more pocket-friendly.
Because of it's vibrant Turkish culture that extends to both European and Asian continents, spending a few days in Istanbul during winter is a delightful experience, with temperatures being pleasantly mild. You usually see the sun shining but once in a while, you may experience snow!
The best things to do in Istanbul include visiting the Hagia Sophia, Blue Mosque, Suleymaniye Mosque, Galata Tower, Topkapi Palace, Basilica Cistern, Grand Bazaar and Spice Bazaar.
The one hidden gem that not many people know about is the Pierre Loti Hill. From here, you can enjoy the ultimate panoramic view of the Golden Horn, a major urban waterway and the primary inlet of the Bosphorus, shaped like a horn. Nothing's better than sipping a hot Turkish coffee on a nice winter morning at the Pierre Loti Cafe and admiring the view.
If you feel like experiencing the buzzing party scene of Istanbul, then head to Istiklal Avenue in the Taksim Square area. My personal recommendation to you, however, would be to do the Bosphorus night cruise.
Sailing over the calm waters of the Bosphorus Strait, you get to enjoy the sights of the dazzling monuments at night. Feeling the winter breeze in your face, while sipping Turkish wine and admiring the sight of the spectacular Bosphorus Bridge, is an experience that you'll cherish for life.
All in all, I can say that a winter vacation to Europe is incomplete without exploring Istanbul.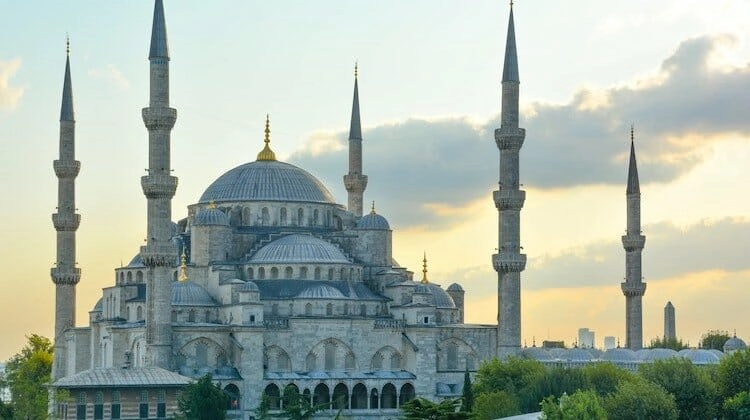 Jerez de la Frontera, Spain
Explored by Linn of Brainy Backpackers
One of the best places for winter sun in Europe is the underrated Andalusian city of Jerez de la Frontera. In the shadow of Seville and the rising popularity of Cadiz, the city is mainly visited by Spanish which means you get an authentic local experience when visiting Jerez de la Frontera.
With more than 300 days a year of sunshine, it is perfect for a sunny city break and if you want an escape to the beach, it isn't too far to the little vibrant beach town El Puerto de Santa Maria.
Jerez has a lot of great attractions, though. Being the sherry capital of Spain, you can enjoy numerous sherry tours and experience the famous bodegas to learn more about its sherry culture. Stroll around the charming streets getting lost between medieval buildings, visit the stunning cathedral which is a perfect fusion of Baroque, Neoclassical, and Gothic from the 17th century.
The separately built bell tower stands on top of the minaret of an old mosque. Go on a guided tour of the Alcazar and stroll around Alameda vieja. If you like to visit astounding churches and convents, Jerez is the perfect place to be. With more than 20 of them spread around the city, it's the perfect place to get lost in the streets discovering these astounding structures one by one.
Jerez de la Frontera has its own international airport and is well served by train and bus from both Cadiz and Seville.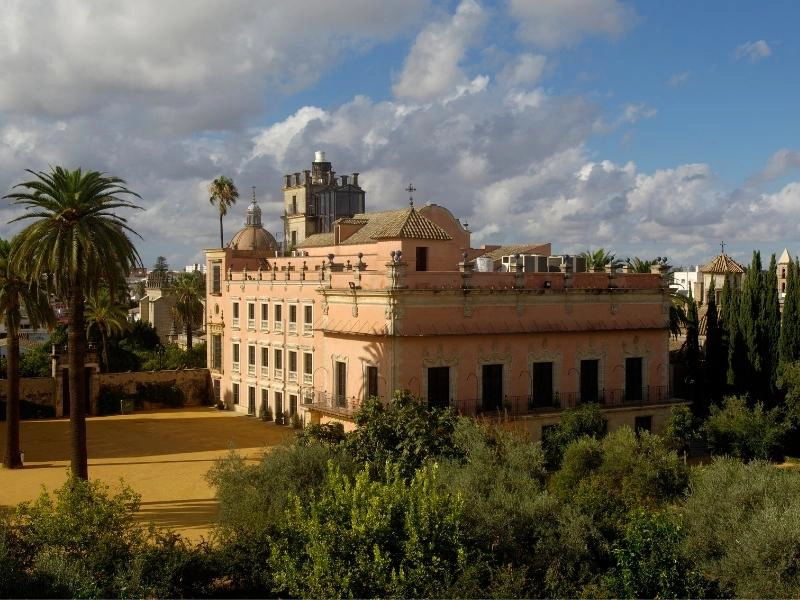 Lagos, Portugal
Explored by Anisa of Two Traveling Texans
Portugal's Algarve Coast is one of the prettiest warm places for the winter sun in Europe. While it may not be swimming weather, it will be pleasant to be outside as in the balmy climate thanks to its westerly position on the continent.
The winter is the off-season in the Algarve, so hotels will be more affordable and places will be less crowded. Don't worry there are still plenty of fun things to do in the area, and if you base yourself in Lagos, you're within easy reach of the whole Algarve coast.
If you want to see the famous caves, it's best to take a boat tour. There are also several small towns worth visiting. Silves has a castle and Loule has a famous Saturday Market. You can also go to a nature reserve like Ria Formosa Natural Park or do a coastal walk like the Seven Hanging Valleys hike.
If you like to golf, there are plenty of golf courses. Be sure to try some of the local seafood. There are also some wineries worth checking out. To get to the Algarve, you can fly into the airport in Faro.
Alternatively, it is about a 3 bus ride from Lisbon, or easily included in a Portuguese road trip. It will be easiest to explore the area if you have a car or even a campervan, the perfect way to see the Algarve in winter!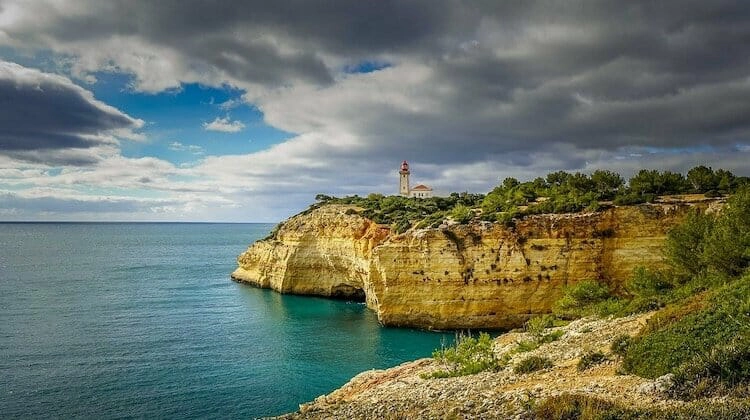 Lecce, Italy
Explored by Paul of The Two That Do
The historic city of Lecce located in the heel of Italy lies 150 km south of Bari, the region's largest city and major port linking Italy with Greece and the Balkans.
Visitors driving from Rome some 600km and a six hour drive north west should not miss the opportunity to experience the unique cave city of Matera, one of southern Italy's top attractions.
Lecce is also a perfect base from which to explore other delightful Puglia towns such as Polignano a Mare, Alberobello and Otranto.
Winter in Lecce with its Mediterranean climate is a delight. These are the wetter months with a little more rainfall, but with an average temperature in the mid to high teens it is a perfect winter destination.
Known as the 'Florence of the South' due to the many stunning examples of Baroque architecture in its central pedestrianised old town Lecce is a city to experience, rather than do.
Walking its centuries old cobbled streets and narrow lanes you will be treated to some of Italy's most fabulous and well preserved buildings. The remains of a 2,000 year old Roman Amphitheatre, the stunning Piazza del Duomo with its striking Cathedral and the Basilica di Santa Croce are just a few of the many highlights.
Once you've finished exploring, find a seat at one of Lecce's charming restaurants and enjoy a glass of two or the local red wine and one of the region's many traditional dishes.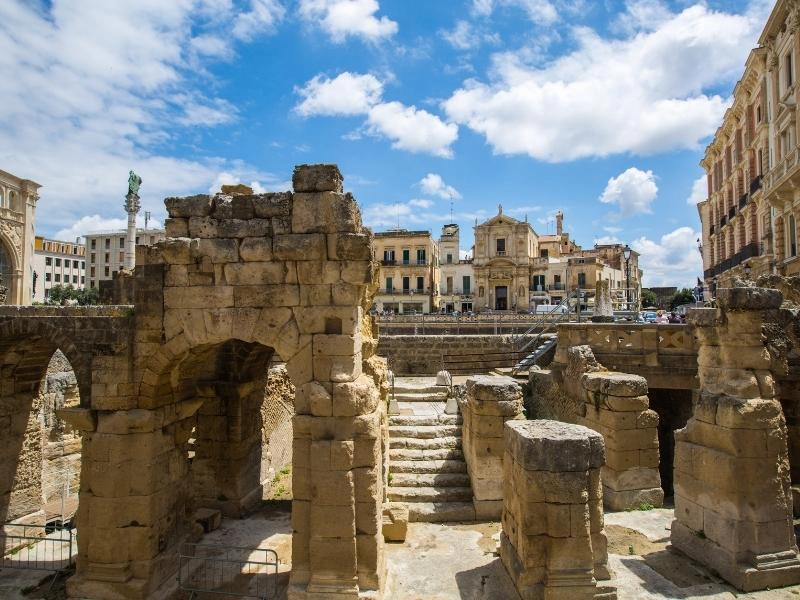 Lisbon, Portugal
Explored by Amanda of A Dangerous Business
When it comes to sunny destinations where you can escape the European winter, look no further than Portugal, possibly the warmest country in Europe in January. And not just Portugal's famous coastal regions, either; if you're looking for warm cities in January the capital city of Lisbon also makes a great option for winter sun in mainland Europe.
Lisbon enjoys a year-round Mediterranean climate, with more than 290 days of sunshine per year. And while the city can get downright hot and uncomfortable during the summer months, average winter high temperatures generally stay in the late teens, making it a pleasant time to visit.
In the winter, Lisbon sees fewer tourists (and few cruise ships), but still has regular flight service from just about everywhere in Europe. And since you can enjoy all the must-dos Lisbon has to offer any time of year, winter really is a great time to visit.
Some of the top things to do in Lisbon include wandering the steep, historic streets in the Alfama neighbourhood; riding on historic trams and funiculars; catching a sunset from one of the city's famous miradouros; listening to Fado music; and eating as many pastéis de nata as you can stomach.
If you manage to hit one of Lisbon's non-sunny winter days, there are also some cool museums to visit like the National Azulejo Museum, the Mosteiro dos Jerónimos (Jerónimos Monastery) in Belem to explore, and the Time Out Market to eat your way through.
If you want to see a bit more of Potugal, you can hire a car in Lisbon and drive to Porto, seeing lots of Portugal's top historic sights and beautiful coastal landscape along the way.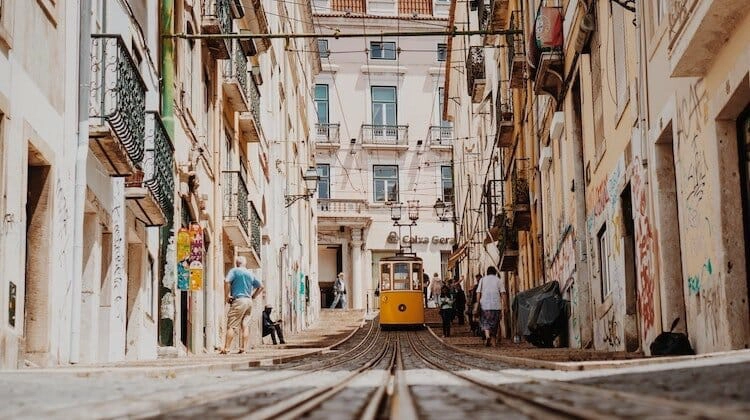 Mahon, Menorca
Explored by Nadine of Le Long Weekend
The Balearic Island of Menorca is a nature-lovers paradise. Thid part of Spain us relatively unscathed by the overdevelopment that has scarred some parts of its bigger sibling Mallorca, Menorca, in contrast, remains magnificent in its natural beauty.
A joy to visit at any time of the year, in winter it benefits from a mild Mediterranean climate. Days linger in the mid-teens, but the bright, sunny skies and longer daylight hours than many of its European neighbours mean it's the perfect place to escape the winter blues.
While your accommodation options will be more limited in the cooler months (but subsequently much cheaper), it's a great time to take advantage of the pristine beaches that dot the island's coast, many of which you can reach via the ancient Cami de Cavalls walking trail.
Other winter activities include warming up with a gin tasting at a local distillery, or marvelling at the island's many megalithic sites that date back to the bronze age. Daily life in the towns still hums with quiet activity in winter and you'll gain an untarnished view of what life in Menorca is really like, when not swarming with visitors.
Due to decreased demand in winter, direct flights are hard to come by. But you can reach the island via many of the main Spanish cities, or from Mallorca via plane or ferry.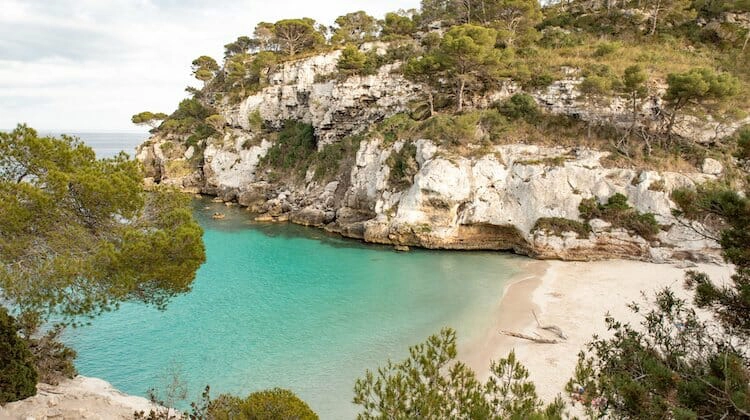 Marrakech, Morocco
Explored by Phil & Izzy of The Gap Decaders
The jewel in the Morocco crown, Marrakech is a magical jumble of tradition and modernity and a wonderful place for a city break in January.
Known as the Red City, for its beaten clay buildings and ramparts, Marrakech is a fantastic city for a January city break and the best option for warmer temperatures if you're considering mid-haul.
Underlying what feels like pandemonium in the souks is a laid-back vibe and a growing contemporary scene with lots on offer for every type of visitor. The medina is a feast for the senses and will leave you reeling as you struggle to comprehend the different smells, sounds and tastes that are unique to Morocco's ancient walled quarters.
You can even visit the Sahara Desert from Marrakech, although you'll need a minimum of three days to get to the Sahara, so make sure to factor this in if you decide to take a Moroccoan road trip to see the vast rose coloured sand dunes.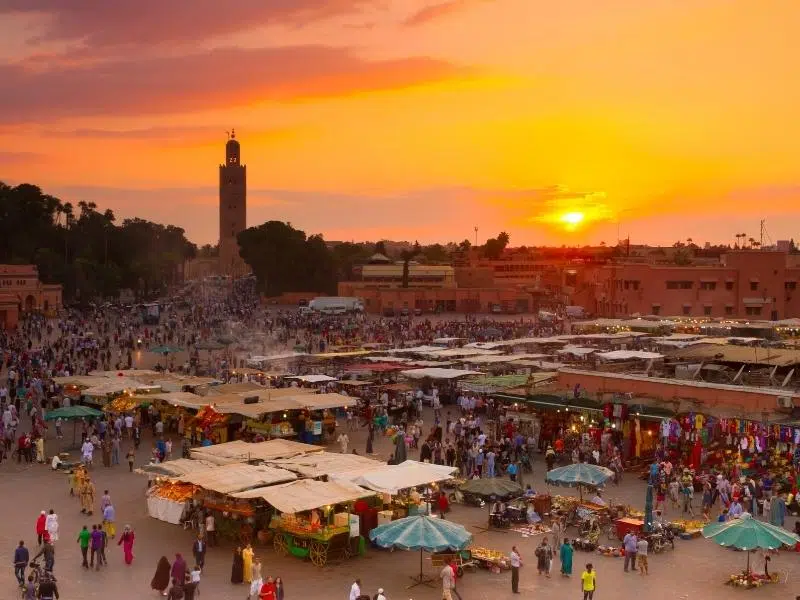 Nice, France
Explored by Elisa of France Bucket List
Nice, one of the most captivating cities in France, is a popular destination to spend a winter sun break in Europe. Not quite in Northern Europe, but the most northerly destination in this guide, Nice is located on the French Riviera of southern France and an eight hour drive south from Paris.
Nice is bathed by the Mediterranean Sea and winter temperatures in Nice are always mild, making it a perfect destination for a French road trip.
Nice is a great place for sightseeing and I recommend spending at least 2 days in Nice to get a taste of what the city has to offer and visit the main sights. The city has beautiful Baroque architecture, interesting museums, and a delicious local cuisine.
The historical centre of old Nice is a wonderful place to get lost, especially in late autumn and winter when the crowds are gone and it feels a little more off the beaten path.
Walk the little streets and wide avenues of Nice but also try to see the city from other points of view: from the water, perhaps on a cruise, and from one of the hills of Provence that surround the city.
People with longer holidays won't be disappointed. Nice is a great base for fantastic day trips along the French Riviera, to neighbouring Monte Carlo or to the hilltop villages inland. In most cases you will need a car but there is also a big variety of guided tours for people without four wheels.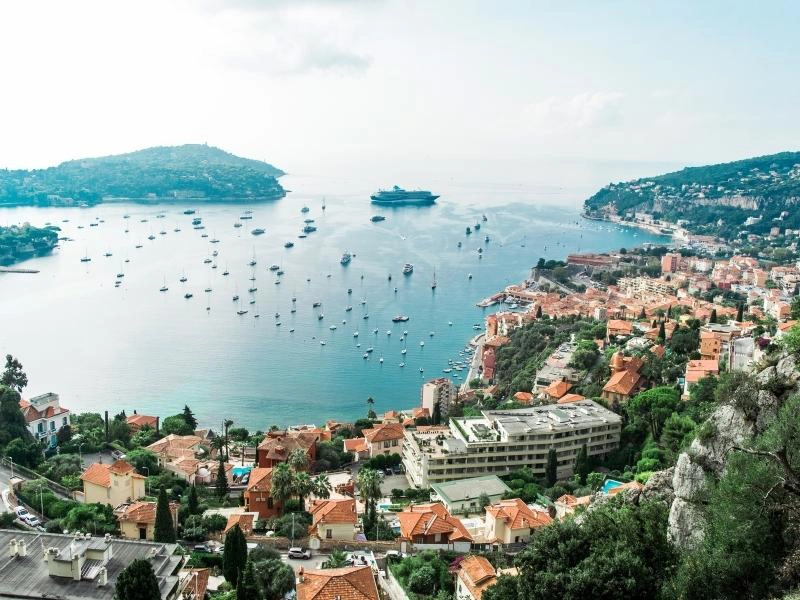 Palermo, Sicily
Explored by Tom of The Travelling Tom
If you're thinking of heading to somewhere in Europe which has a bit of sun during the bleak winter months, Palermo is one place you should consider. The city isn't the most visited destination in Europe, but there are lots of flights to this beautiful city on the island of Sicily from all over the continent.
Due to its southern location, the weather remains temperate throughout winter. It won't be hot, but you won't be freezing cold either. One reason to visit Palermo is to check out the architecture. The city is renowned for its impressive buildings, some of which date back thousands of years.
Quattro Canti is a unique intersection in the middle of the city, which has buildings with prominent statues on all four corners. You can visit La Zisa, a former Royal Palace, built in an Arabic style and check out the grand Cathedral in the middle of the city.
Perhaps the most intriguing place to visit in Palermo is the Capuchin Catacombs. Here you will find the mummified remains of friars and vicars from as far back as the 12th century.
Don't forget about the famous food market held daily, where you can pick your fish or meat and have it prepared in the traditional way. My advice is to spend 3 days in Palermo to get the most from your trip. This will allow you to see the amazing buildings and head to the beach at nearby Mondello while seeing everything this beautiful Italian city has to offer!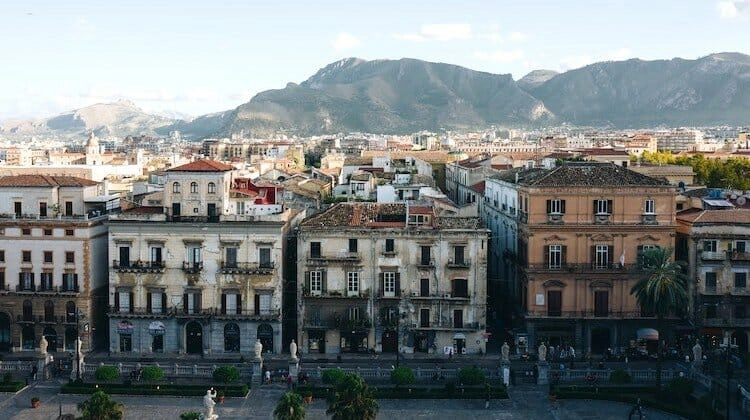 Paphos, Cyprus
Explored by Maggie of The World Was Here First
On the cusp of Europe and the Middle East, the Mediterranean nation of Cyprus is a hot country in January, boasting more than 300 days of sunshine a year.
The island is also blseed with historic cities, beautiful beaches, ancient sites and perennial warm weather, making it one of the top winter sun holiday destinations in Europe.
The city of Paphos itself is a perfect place to visit in the wintertime as the daily high rarely dips below 16 degrees in January, the coldest month. There are also lots of things to see and do in Paphos that are sure to keep you entertained.
Arguably, if you're interested in all of the historic sites and being outside, visiting Paphos in winter is a better bet as there are fewer tourist crowds and you won't have to contend with the oppressive heat of summer.
Some of the best things to do in Paphos include wandering through the incredible Kato Paphos Archaeological Park and gazing in awe at the Hellenistic-era mosaics and countless other Greek ruins, visit the nearby Aphrodite's Rock (Paphos claims to be the birthplace of the mythical goddess of love and beauty) or explore the fascinating Tomb of the Kings.
Paphos is an excellent place to visit any time of the year, but the winter provides an excellent time to soak up the sun and avoid the tourist crowds, making Cyprus one of the best destinations for hot holidays in January.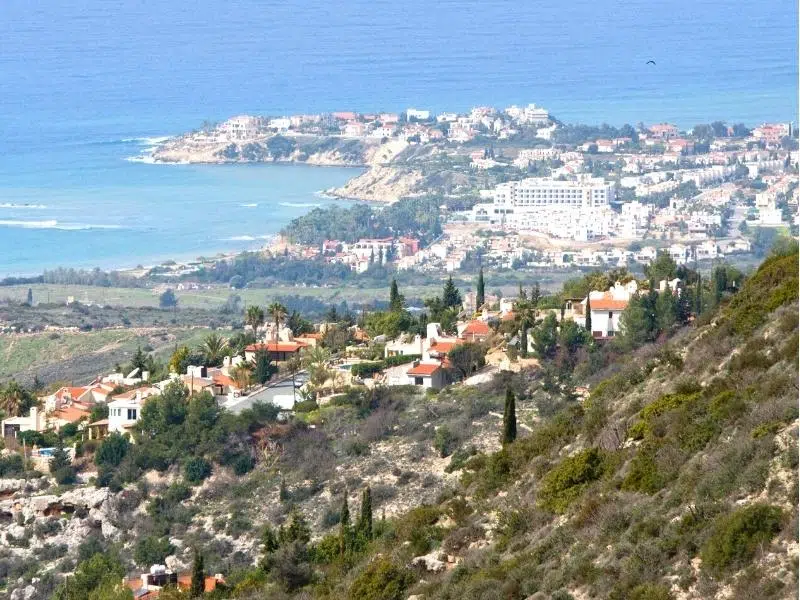 Positano, Italy
Explored by Lori of Travlinmad
Positano is one of Italy's most iconic destinations, even in winter. Getting to the Amalfi Coast is easy by train from anywhere in Europe to Naples or Sorrento. From there, it's a short ride to the Costiera Amalfitana. Even easier is to arrange private transport and leave the driving to the professionals.
Positano sits perched on the cliffs overlooking the deep turquoise blue Mediterranean Sea, and the colourful buildings appear set to tumble into the water. Winding through the village is a maze of narrow streets and alleyways that are a joy to explore.
The scene is one of Italy's most famous landscapes to behold. While the water might be a bit too chilly for swimming, the winter sun is the big draw in colder months, and it's even warm enough to get out on the water for a boat tour up and down the coast.
There are lots of fun things to do in Positano from dining in amazing restaurants to strolling the narrow streets for some serious shopping. Limoncello, ceramics, and handmade leather sandals (made while you wait) are some of the best items to look for.
Winter is also a good time of year to hike the hills above the Amalfi Coast. Whether you choose to walk the Path of the Gods, or hike the upper mule paths between the small towns, the warm sun is a welcome break from the winter blues, making this one of the best winter sun destinations in Europe.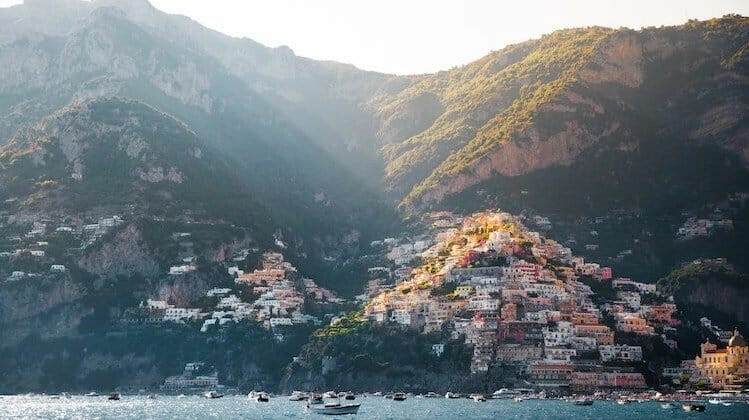 Other Low Season Holiday Ideas…
Rhodes, Greece
Explored by Maria of Europe Up Close
If you are planning a winter getaway to Europe, but don't want to lug around heavy winter clothes, I suggest you add Rhodes to your list of winter sun Europe destinations as Greece is definately a hot country in January!
Rhodes is one of the most stunning Greek Islands that is perfect for beach and culture lovers. Home to one of the historic Seven Wonders of the World, the Colossus, you will find an island rich in history and culture.
During the winter months, the destination is very off the beaten path, and you might not find many other tourists making it one of the best places to visit in January in Europe if you want to get away from it all.
Some of the top sights are the old town of Rhodes City, a UNESCO Heritage Site and the Acropolis in the cute village of Lindos.
Rhodes City is the largest city on the island, but with only 50,000 residents, it still has a small-town feel. Definitely add a visit to this city and the Citadel of Rhodes to your itinerary.
The fortification of the old town was built in the 14th century and is one of the best preserved medieval towns in the world.
Lindos on the other hand is beautiful small fishing village with narrow cobble-stone streets and alleys, white washed houses and an Acropolis perched on top of the hill. It is also known for its beautiful beaches and a favourite tourist spot – for a very good reason.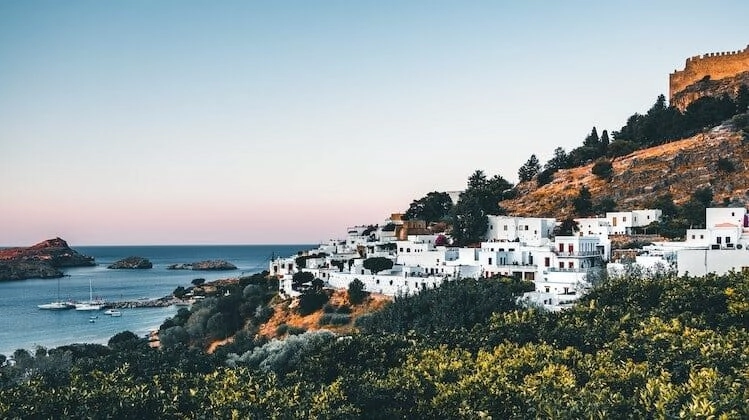 Rome, Italy
Explored by Anya of Unexpected Occurrence
Rome is a wonderful destination to get a little bit of winter sun. It's not so busy during the winter season, and the winters are extremely mild and it's warm enough to stay outside and explore. If it does get a little cold, hop into a bar for a cafe.
Winter in Rome is the perfect time to explore all of the main sights, as the lines will be much shorter than the peak summer season. I highly recommend exploring Trastevere, a charming area of Rome that has plenty of restaurants and bars. It really comes alive during the wintertime, where you can cozy up in a wine bar for an aperitif.
On particularly sunny winter days, there are so many amazing parks and gardens to check out – some have ancient Roman aqueducts, others have insane views of the Colosseum!
To get to Rome, you can fly into one of two airports. Most European budget airlines will fly into Ciampino and most major carriers will fly into Fiumicino. From the airport, you can take a bus or train to Roma Termini.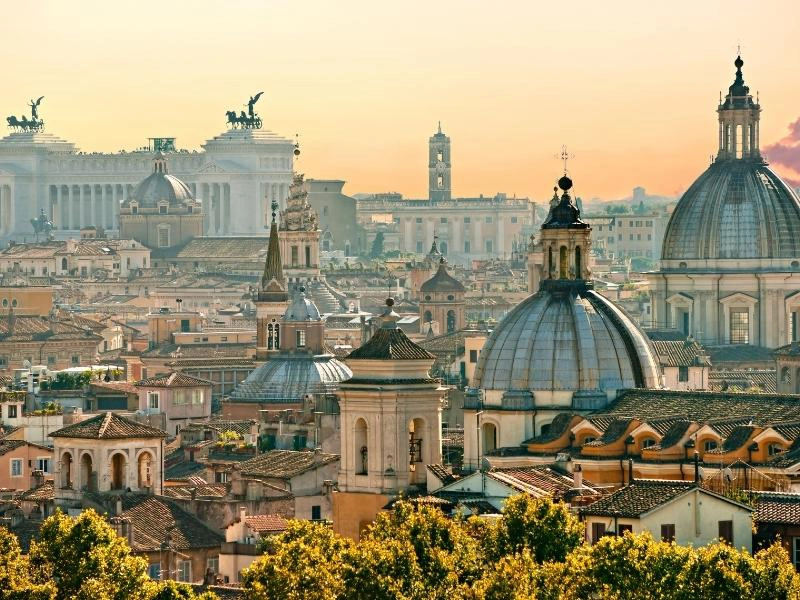 Sal, Cape Verde
Explored by Phil & Izzy of The Gap Decaders
Officially the Republic of Cabo Verde, Cape Verde is an archipelago and island country in the central Atlantic Ocean, consisting of ten volcanic islands. Cape Verde is considered part of the African continent, but has close ties to Europe through its history as a colony of Portugal from the initial settlement of the islands in 1462 until the independence of Cape Verde in 1975.
It's a perfect spot for a winter sun holiday from Europe, offering travellers a whopping eleven daily sunshine hours along with wonderful hospitality in a landscape of mountains, blue seas dotted with islands and and windswept beaches.
Sal is the most popular island and the best bet mid-haul destination for January sun, and the main town of Santa Maria is a beach lovers paradise. With stunning clear turquoise waters great for snorkelling, and powdery white sandy beaches, relaxing in the heat will be easy! Boa Vista is another similar island, also popular with travellers.
Other islands in the archipelago offer volcano experiences, fabulous hiking and a taste of Cape Verde's diverse culture.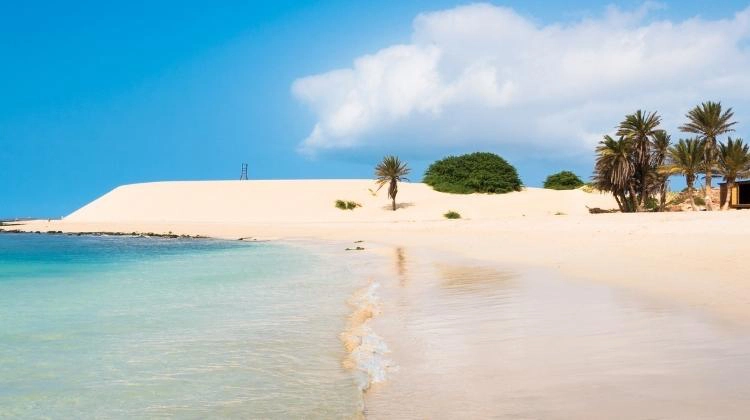 Sao Miguel, Azores
Explored by Alexandrina of Earthosea
The main island of the Portuguese Azores, Sao Miguel is the perfect destination for spending winter days in a place with a mild climate. The temperature is always warm and it offers lots of stuff to do when you're there. It is usually sunny in the Azores during the winter, but there is also a chance also might be overcast with lots of rain. Thus, it is good to be prepared for this too.
While in Sao Miguel, it is best to hike to Boca do Inferno in Sete Cidades village, which is the most well-known spot in the Azores. Another spot you should not miss is the Lagoa do Fogo, the most beautiful lake in the Azores providing one of the best vistas over the Atlantic Ocean.
Furthermore, the lake provides a beautiful beach that is usually uninhabited and you can relax peacefully. If you prefer a more serene place which is less crowded, Lagoa do Congro surely offers that. It is a beautiful emerald lake set deep in the tropical forests of the island.
Going further into the island of Sao Miguel, it is best to check out the hot springs of the island. They are for sure a place you should visit in the winter. Most of the thermal pools on the island are around 30-40 degrees, which is quite normal. Some of the most well-known thermal pools are the Dona Beija and Terra Nostra.
However, if you prefer a more serene place to take a dip in and relax, then you should head to Caldeira Velha. It is close to the hiking trail for Salto do Cabrito and is surrounded by a lush tropical forest.
Last but not least, make sure to check the Gorreana Tea Factory in the north of the island and try the nicest green and black tea Then, make sure to walk around the plantation and take a few pictures of the breathtaking landscapes!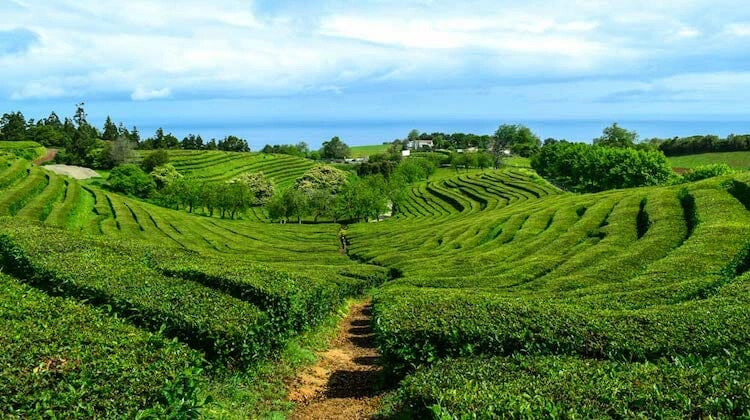 Seville, Spain
Explored by Jiayi of The Diary of a Nomad
If you're looking for a beautiful place to enjoy the winter sun, look no further than Seville ⁠- one of the hottest cities in Europe! Located in the stunning region of Andalucia, Seville's weather averages at a pleasant 11°c – 17°c in the winter months, and the city is known to be sunny all year round. In fact, it only has about 80 days of rain per year!
You can do a lot in Seville in three days, which is typically enough to cover all the important places in town. Start your trip at Plaza de España, a magnificent square with gorgeous architecture and a canal in the middle. It's an awesome place for photography and relaxation!
From there, you can take a walk to the colourful Barrio Santa Cruz for some delicious tapas, and then head over to Casa de Pilatos, a beautiful civil palace. Not far from there is the unique contemporary structure of the Metropol Parasol, and the famous restaurant El Rinconcillo (it's a must-try!).
Some of the other unmissable spots in Seville are the Royal Alcázar, the Cathedral, the Giralda Tower, and the best tapas bar in town, Espacio Eslava. I also highly recommend watching a flamenco show during your time there!
Getting to Seville is very easy. You can either fly into Seville Airport or take a high-speed train if you're coming from other Spanish cities such as Barcelona, Granada, Cordoba, or Madrid.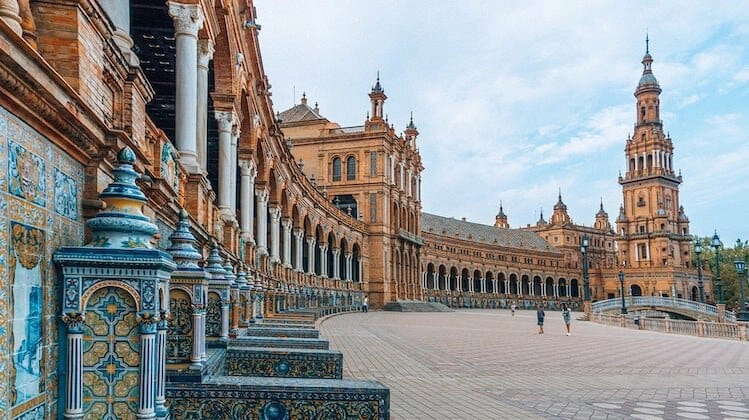 Sharm El-Sheikh, Egypt
Explored by Phil & Izzy of The Gap Decaders
The Rea Sea resorts of Egypt are the best places for guaranteed January sunshine, certainly warm enough for sea swimming and snorkelling – and none more so than Sharm El Sheikh, the original and arguably the best resort in this mid-haul destination.
Known for its sheltered sandy beaches, clear waters and coral reefs, this is a great destination if you love being active whilst grabbing a bit of beach time.
Diving is the big activity here, and many people come to learn. If you're not a diver, then there are also amazing snorkelling spots in the clear waters, and places like Ras Mohammas National Park, Egypt's premier location for marine life. You can get a boat trip there, jump in and snorkel or dive the day away!
Feeling energetic? A couple of hours drive north is Mount Sinai, located deep in the South Sinai Desert. You can hike to the top of this holy mountain, where, according to the Bible's Old Testament, God handed down the ten commandments to Moses.
You can even take a two day trip from Sharm to Cairo and Luxor, although it does involve getting on another plane!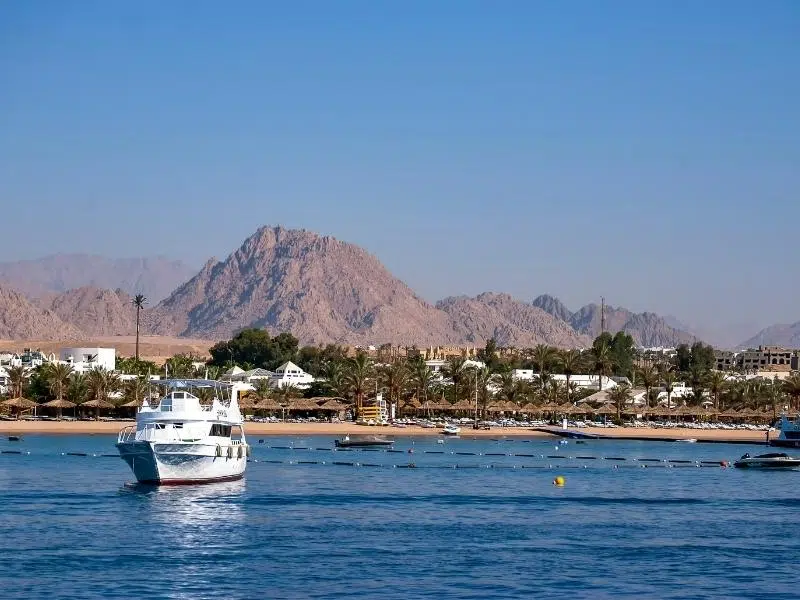 Taormina, Sicily
Explored by Derek & Mike of Robe Trotting
The charming hilltop town of Taormina is one of the best destinations in Europe for winter sun. Taormina is located in view of Mount Etna, along the east coast of Sicily. In Taormina you'll discover dramatic cliffs sweeping to the sea below and a picturesque old gate to enter the medieval walls of the city.
There are so many things to do in Taormina but the biggest draw is the surrounding beaches. Taormina's most incredible beach is Isola Bella, a nature reserve just off the coastline. Reaching Isola Bella requires hiking down a footpath but you can also take a bus or buy a ticket for the funicular.
Once you reach the shoreline you can set up your blanket or rent a sun chair on the shore. In order to reach the island and nature reserve you will have to walk along a sandbar. Depending on the time of day, you may have to wade into the water because the sand bar is submerged during high tide.
When in Taormina, make a trip to the gorges of Alcantara. They are a natural canyon carved into black lava flows. The tallest are 50m tall tall and you can wade into the cold water running through the canyon.
Other attractions include the Teatro Antico di Taormina, an ancient Greco-Roman theatre. It's still in use today and a great place for a winter sunset.
While it's great all year long, the winter in Taormina is full of sun and things to do without the crowds.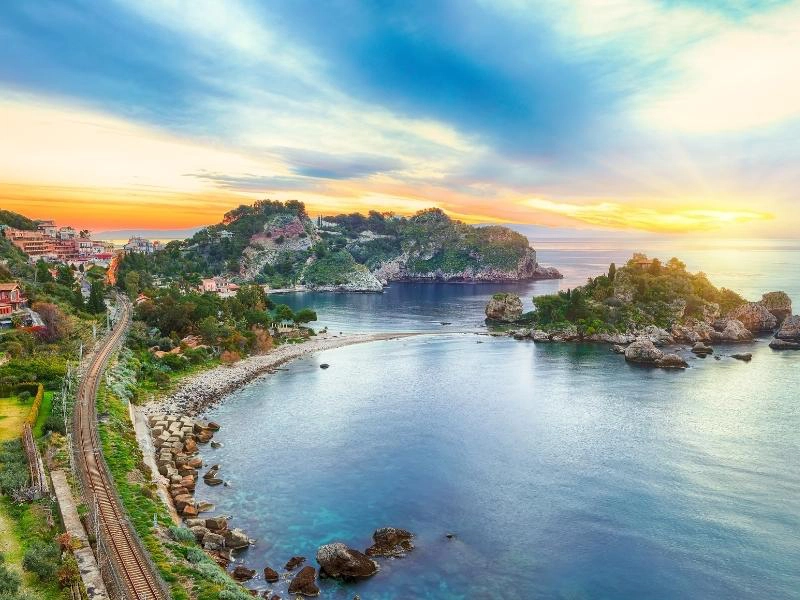 Tarifa, Spain
Explored by Joanna of The World in My Pocket
Tarifa is probably one of the best places to travel to in winter. With mild temperatures in the cold months and gorgeous beaches, Tarifa is known as the capital of windsurfing and kite surfing in Spain. Getting to Tarifa is very easy, no matter which southern Spanish airport you use. The closest airport is in Gibraltar, with Malaga and Jerez following.
Tarifa is a lovely small town, with a very laid-back character and a rural atmosphere. You won't find any big chains here, just small businesses run by locals.
In winter, even if it may not be warm enough to sunbathe, you can still take advantage of the sunny weather and learn how to windsurf or kite surf. There are over 60 schools which can teach you how to tackle waves on a board, and have fun doing acrobatic tricks in the air.
Tarifa is one of the windiest places in Spain because of its location, between the Mediterranean Sea and the Atlantic Ocean and this is why water sports lovers come here year round. You can actually walk on on the island bridge that divides the Mediterranean Sea from the Atlantic Ocean and notice how the color changes from one side to another.
At the southernmost point of continental Europe, Tarifa is a great place to spend time in a campervan over winter.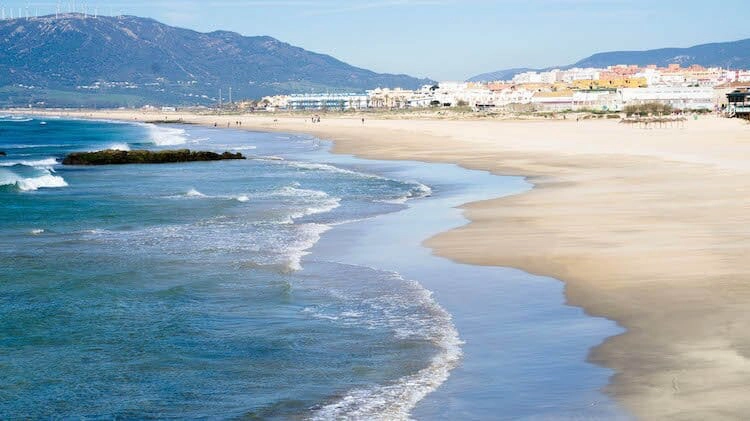 Tenerife, Canary Islands
Explored by Izzy of The Gap Decaders
Wondering where is hot in January in Europe? If you're looking for the warmest place in Europe in January (or December or February even!) then the Canary Islands are the best of the hot winter holiday destinations in Europe, averaging temperatures in the high teens to low twenties.
A large archipelago off the north-west coast of Africa, the Canaries are rugged volcanic isles. The best know islands are Tenerife (the largest), Fuerteventura, Gran Canaria, Lanzarote, La Palma, La Gomera, El Hierro and La Graciosa.
The Canary Island seas are temperate enough to swim in all year round, the winter sunshine hours longer than most of Europe and they have less rainfall than Spain and Portugal. The islands can be windy in the winter months, but if you enjoy sailing, wind-surfing and kiting, then so much the better!
Visit Tenerife for a lively atmosphere and great night life. Gran Canaria is best for hiking, national parks and huge beaches, whilst Lanzarote is ideal for a family holiday, with unique volcanic landscapes and natural wonders, typified in the imposing and dramatic Timanfaya National Park.
Head for Fuerterventura if you're looking for the best wind and water sports, and La Palma for fabulous snorkelling and local wildlife. La Gomera is a hidden gem and the most authentic of the larger islands and perfect for getting away from it all.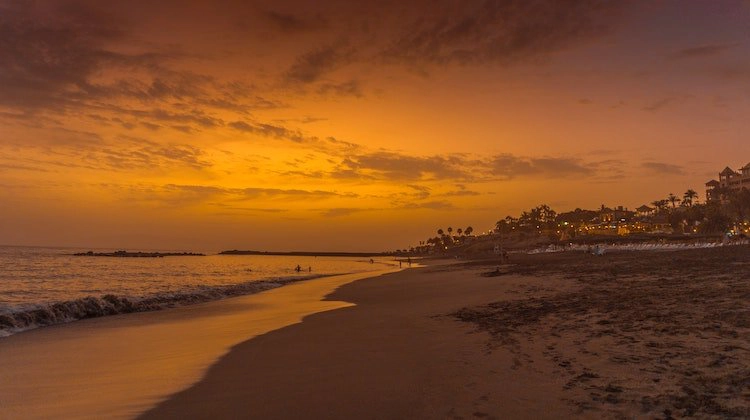 Valencia, Spain
Explored by Sonia of The Littlers Travel
The world-famous song 'Valencia' by Padilla goes a little something like this: Valencia is the land of flowers, light and love… He didn't fall short because Valencia has almost everything.
From the outside, Valencia is undoubtedly one of the most charming destinations of eastern Spain, and one of the most beautiful cities of the entire Spanish geography. You can catch a suntan on its idyllic beaches, visit the Arts and Sciences Museum, tour the rice paddies of the Albufera, walk among sharks in the Oceanografic, feel like royalty at Museum of the Marqués de Dos Aguas and take a stroll through its streets while you delight yourself with its stunning architecture.
But what's inside is what matters, and for you to fall in love with everything this city has to offer. Try a tasty paella by the Mediterranean and get lost in the neighbourhood of El Carmen, buy a horchata drink from a traditional artisan, shop for local produce in the Central Market, party at the Umbracle, enjoy its traditional festivities, the Fallas Festival, and become a hipster for a day in Ruzafa.
We stand corrected, Valencia has everything! Want to come and visit?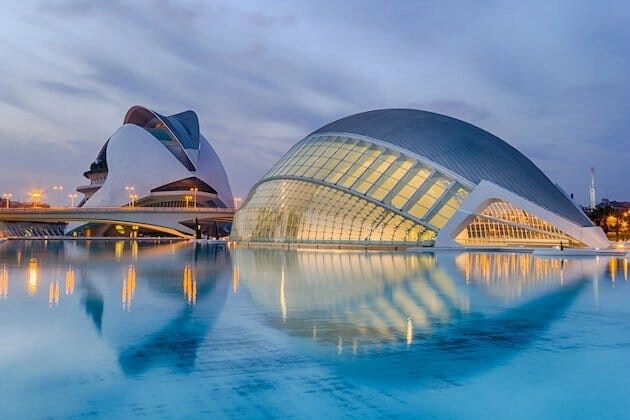 Valletta, Malta
Explored by Stephanie of History Fangirl
If you want to get away and enjoy some sun in winter, fly to sunny Malta. The temperatures and warm, and while you may not want to swim (though some will) it's still worth it to visit the beaches just to enjoy walking on them.
In the winter, you can also enjoy the highlights of Valletta, Malta's capital, including going on a city tour and visiting St. John's Co-Cathedral.
The best part of visiting Malta in the off-season is getting to tour popular spots like Dwerja and Mdina without the typical crowds. This means you can visit some of Malta's best photography spots without competing with throngs of tourists.
Even sunny Gozo, which isn't as busy as Malta, is still lovely when things are a bit more closed down. Book your accommodation early and find out what will be open near you since restaurants might be closed in the off season.
Getting to Malta is relatively easy since budget carriers offer discounted airfares. You can also visit by taking a ferry from Sicily, which is handy if you want to keep your own car with you during your trip. Driving is one of the best ways to get around Malta, especially if you want to travel between Malta and Gozo.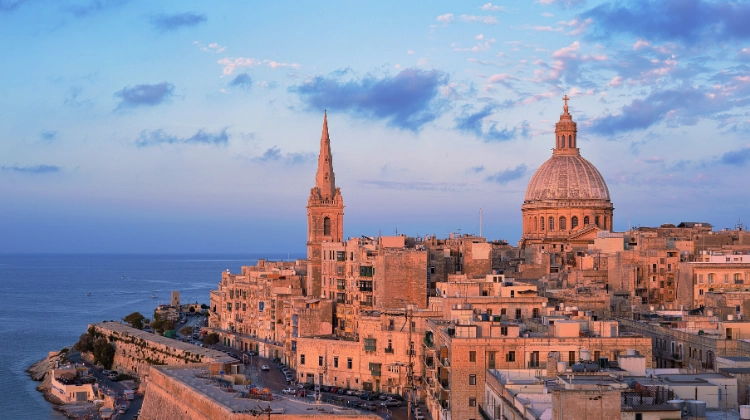 Are you looking for more Europe travel inspiration? Check out these top posts…
Are you desperate for some Spanish sun but don't want to fly? With great routes across Europe, it's easy to drive to Spain from UK by car, arriving refreshed and unstressed from the comfort of your own vehicle. We're sharing the best routes with costs and comparisons plus tips about driving once you're there. Our Spain from UK guide will help you decide which is the best route for your driving trip to Spain, so…
Love it? Pin it!