Spain's capital is a beautiful and cultured city with stunning architecture, tranquil parks and some of the best art museums in Europe. This cosmopolitan and capital city has contemporary and historic attractions galore and is packed with character on every street corner – come with us and spend a perfect day in Madrid.
Stay at Palacio Plaza Conde de Miranda for its luxe feel, versatility and location in old Madrid. If you want to have breakfast at home or cook your own dinner using fresh local produce, then these apartments tick that box. 
Palacio Plaza Conde Miranda is also situated in one of the best neighbourhoods in Madrid in which to stay, Madrid de los Austrias. This historic area is atmospheric and central to most things you'll want to do, and only a minutes walk from the San Miguel food market, making it perfect for a one or two day Madrid itinerary.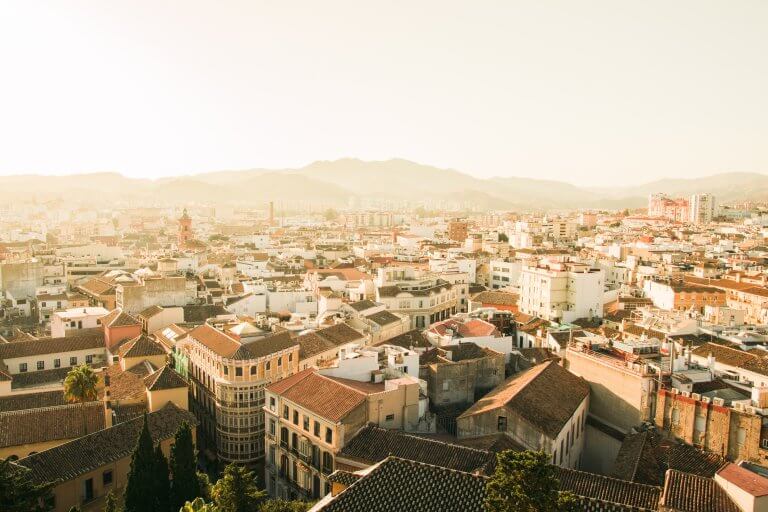 What to Do in Madrid for One Day
Madrid is an elegant city, full of wide boulevards, pretty parks and beautiful buildings. Many of Madrids top spots are within walking distance of each other. The metro also makes the city centre easy navigable, meaning you can see all the top attractions easily, especially if you follow our one day Madrid guide.
Take a Madrid in a Day Tour
If you prefer to have your day organised (and who doesn't?) then take a guided tour of Madrid. There are lots of Madrid day tours on offer and we have selected three Madrid tours that are well rated and a little bit different. Whether you have just a few hours in Madrid or want to take a one day tour with a local there's something here for you. Whatever you decide to do, you can be sure that you'll come away from your time in Madrid richer in knowledge and experiences.
You cannot go to Madrid and not visit the Prado, it is an absolute Madrid must see.  The Prado is widely recognised as one of the best art museums in the world and whilst not all the art will be to everyone's taste, to be in the presence of such masterpieces is pretty awe-inducing. The building itself is pretty special too!
You will see works by artists such as Spain's own Velázquez, Goya and El Greco. Representing the low countries are Rembrandt, Brueghel, van Dyck and Rubens, while Titian, Caravaggio, Botticelli and Tintoretto form the Italian contingent.  There is a dedicated exhibition of Hyronemus Bosch art, with which most people have a real love or hate relationship.
Join a guided tour to fully understand the history and symbolism of the paintings, it will beworth the cost for the knowledge and insight shared and gained. 
You can visit the Prado for free between 6-8pm Mondays to Saturdays and from 5-7pm on Sundays and holidays, although expect a long queue for the privilege. Otherwise, book tickets in advance to avoid the queues, which can be monstrous!
Other One Day City Guides
Visit Museo Thyssen-Bornemisza
It's not all about the Prado. The Museo Thyssen-Bornemisza houses what was Europe's largest private art collection until 1992, when it was bought by the Spanish state and moved to Madrid.  
The museum holds an eclectic collection of world and European art from the 13th to 20th century  including works by  Duccio, Van Eyck, Carpaccio, Dürer, Caravaggio, Rubens, Sargent, Monet, Van Gogh, Gauguin, Kirchner, Mondrian, Klee, Hopper and many more.   We enjoyed the more modern art on display, especially after several hours in the Prado.
On Mondays between 12 and 4pm you can visit the permanent collection free of charge, you may find the queues a bit shorter here!  
Save time and  take a walking tour of the Prado, Thyssen-Bornemisza and the Reina Sofia museum together, which includes skip-the-line tickets for all three.
Enjoy Churros y Chocolate at Chocolateria San Gines
Typical Spanish hot chocolate is thick, creamy, gloopy and sweet…put together with churros (a sort of long fried dougnut) and you have an irresistible combination of deliciousness! San Gines, just off Puerta del Sol, is absolutely the only place to go in Madrid for churros y chocolate, made just as they should be in the traditional Spanish way.
If you're heading from here to the Royal Palace, swing by the Teatro Real (Theatre Royal) on Plaza de Oriente.  If you're short on time, there's no need to enter, you can grasp the grand design and importance of this building for the outside.
If you're in Madrid on a Sunday, catch the Metro to La Latina (line 5) and head for Ribera de Coritodores and Plaza de Cascorro, where you will find the enormous and very busy El Rastro flea market. You can buy anything at El Rastro, from tourist tat (more so around Plaza de Cascorro) to handmade items and antiques. For the latter, head down the side streets and away from the Plaza for the best bargains and a flavour of the real Madrid.
It does get very busy, so get there early; Spaniards are not known to be early risers but will make an exception for El Rastro. Most stalls will be open from 9am and the market generally shuts up at around 3pm. Make sure you have cash as cards are generally not accepted.
We highly recommend breakfast or brunch (with good vegetarian choices) at Pan Adore (Plaza Cascorro 20), just what a Spanish breakfast should be and at around €8 per head, great value for money. Pan Adore is just outside La Latina metro entrance.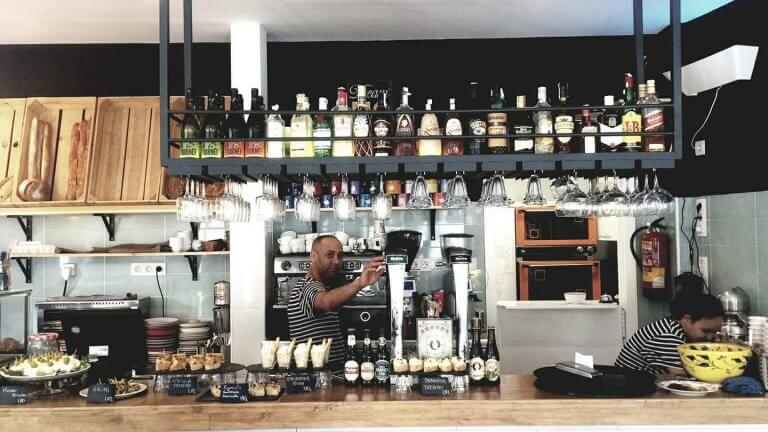 The 18th century Palacio Real is famous for its history, the baroque and neoclassical architecture and the stunning views across the gardens to the campo beyond. This is the largest royal palace in Europe with 135,000 square metres of floor space and 3,418 rooms so there is loads to see. The gardens are also beautiful and well worth a stroll around.
Citizens of the EU can visit for free from Monday to Thursday between 4-6pm (October to March) and 6-8pm (April to September). Expect to queue for at least 30 minutes if you decide to buy your ticket at the door. Otherwise book a priority ticket with tour included and learn about the Royal Palace from an expert.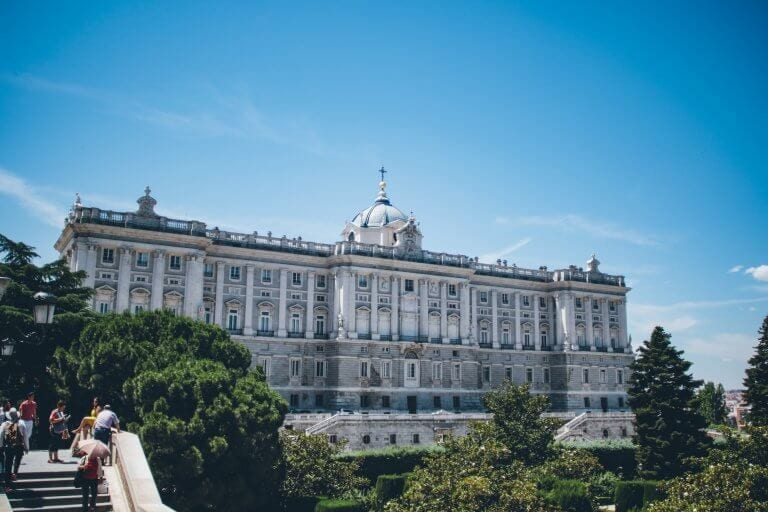 Take a Stroll in Retiro Park
Retiro Park is a gorgeous and tranquil bit of greenery literally next to the Prado and a welcome respite from the hustle and heat of the city in the summer; it is one of the most beautiful places to go in Madrid.
You could easily spend a whole day in the tranquility of  Retiro Park. Covering over 125 hectares, with more than 15,000 trees this is a large and fascinating space.  Make sure to visit the all the different gardens and the Parterre Francés, which is home to a Mexican conifer that is nearly 400 years old and is believed to be Madrid's oldest tree.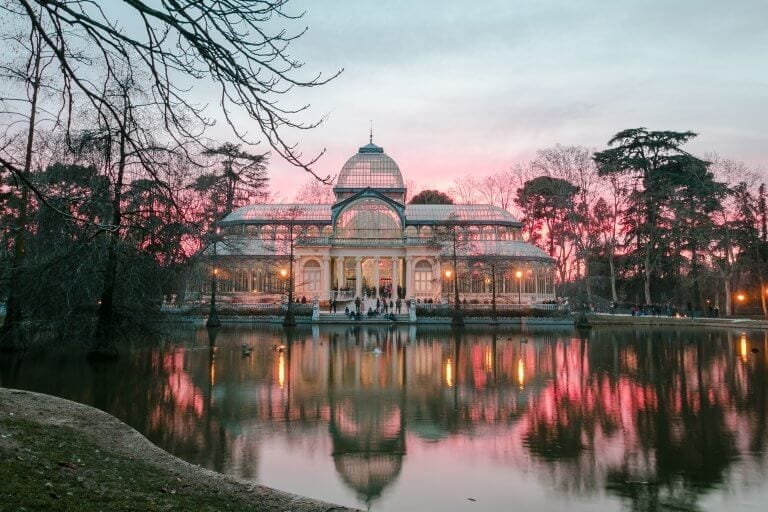 Gran Vìa is Madrid's premier shopping street, lined with boutiques, chain stores, independent shops, cafes and restaurants.  
The Gran Vìa is alive and buzzing almost 24 hours a day; locals and tourists alike come here to socialise and shop.  By night, clubs and bars open their doors and people throng onto the street creating a party atmosphere.
Be mindful of your bags here, in fact be mindful anywhere, but where people gather, as they do on Gran Vìa, the risk is always increased.  The hop-on hop-off tourist buses pass slowly along Gran Vìa if you'd rather see it that way.
Indulge at Mercado San Miguel
A favourite place in Madrid for many, this art nouveau covered market dates from 1916 and is just off the main thoroughfare of Calle Mayor. 
This is not so much a fresh produce market, more of a gastronomic collection of the best of Spanish food.  You will find tapas, cheese, jamon and cava all ready to be served as you sit on a stool at the bar.  Don't think about going here for a pre-dinner 'snack'; there is no such thing!  You could do it the Spanish way and have a nibble (called a merienda) at 6pm, then eat dinner at 11pm but frankly, most tourists are usually exhausted by then and well on their way to bed.
The atmosphere is alive and the food and wine delicious but it is not cheap to eat here and it's probably a bit of a tourist trap but the ambiance and easy chatter makes it a must do in Madrid.
Try a tapas tour, Madrid has some excellent bars and restaurants and a tour will take you to the best of them. It's an ideal way of understanding and trying tapas if you've never eaten it before, which done well is a thing of beauty.
Other Madrid Travel Ideas
NEED MORE SPANISH TRAVEL INSPIRATION? CHECK OUT THESE TOP POSTS