This post may contain affiliate links, from which we earn an income.
What To Do in One Day in Madrid
Spain's capital city is a beautiful and cultured city with stunning architecture, tranquil parks and some of the best art museums in Europe. This cosmopolitan city boasts contemporary and historic attractions and is packed with character on every street corner – come with us and spend a perfect day in Madrid.
In this guide, you'll find a complete itinerary of all the most important must see Madrid attractions, with an interactive map, organised to make the best use of your time.
We also share recommendations for central places to stay, ideas about where to eat local food, and tips about how to make the most of your 24 hours in Madrid.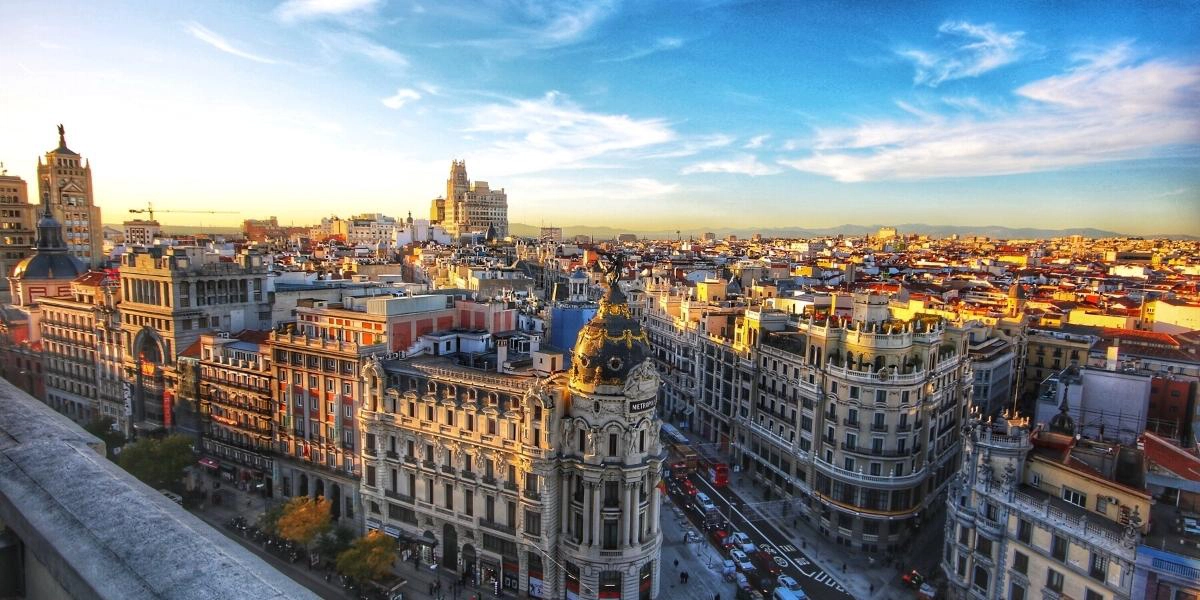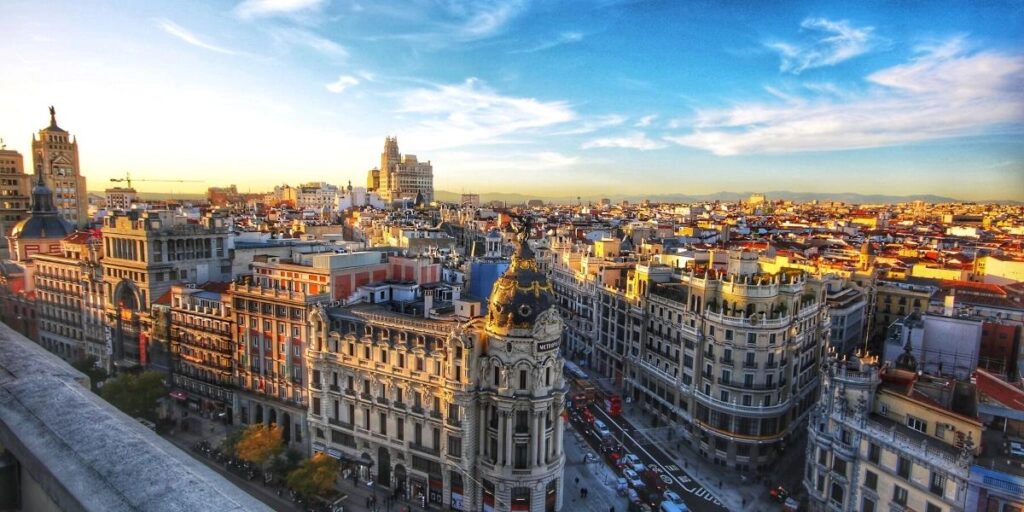 When to Visit Madrid
Madrid sits on a high plateau right in the centre of Spain. It is scorchingly hot in summer and blisteringly cold in winter.
Visit Madrid for a day in autumn or spring, for the best weather and smaller crowds. You will need to wrap up warm in the evenings and might be unlucky with rain, especially in autumn.
Winter offers the best hotel deals, quieter attractions and easily booked tours.
Bizarrely, summer is the most popular time to visit, when the city centre is packed with tourists and so hot, all anyone really wants to do is lie by a pool!
Is this your first time visiting Spain? Get all the information you need in our Spain Travel Guide, including what to pack, the best time of year to go, getting there and practical tips to help you have the best trip!
Madrid Trip Resources
Flying
Fly into Adolfo Suárez Madrid Barajas Airport
Driving
Drive in from Europe or hire a car in Spain
Travel Insurance
Medical costs, delays and lost luggage
Getting to Madrid
If you are flying to Madrid, you will land at Adolfo Suárez Madrid Barajas International Airport.
From Adolfo Suárez Madrid Barajas International Airport the best way to get to the city centre is by train. There are two lines which go to the city centre, the C1 which goes to Principe Pio and C10 which goes to Principi Pio and beyond to Villalba. The trains run regularly and get to Principe Pio in about 40 minutes, all the trains leave from T4, if you are in another terminal there are buses between to get you to the train station at T4. Buy your tickets online here.
There is also the Metro, which starts at T4, but also stops at T1, T2 & T3 before heading to Nuevos Ministerios, from here you will need to get a train to Principe Pio. Tickets can be bought at the airport ticket machines
You can also go by bus. The Express Aeropuerto leaves every 15-20 minutes and takes 30 minutes to go directly to the Atocha. Buy your tickets online before you go, they are not restricted to a particular time, so no problem if your flight is delayed.
You can also book a private transfer from the airport with Klook directly to your accommodation in the city. Klook works with a large range of local operators to bring the the best options and prices for your transfer.
Where to Stay in Madrid
Luxury: CoolRooms Palacio de Atocha – Booking.com | Agoda
Mid-Range: Pestana Plaza Mayor – Booking.com | Agoda
Budget: 7 Islas Boutique Hotel – Booking.com | Agoda
Hostel: OK Hostel Madrid – Booking.com | Agoda
Things to
See & Do

in Madrid

Madrid is an elegant city, full of wide boulevards, pretty parks and beautiful buildings, and many of the top spots are within walking distance of each other, making it easy to see all the top sights when you spend one day in Madrid. 

If you need longer in Madrid, check out this ultimate 4 day Madrid itinerary.
Interactive
Map

of Your Madrid Itinerary

How to use this map – Use your fingers (or computer mouse) to zoom in and out. Click or touch the icons to get more info about a place, and click the arrow in the box top left to open the index. To add to your own Google Maps account, click the star next to the title of the map.
Take a Madrid in a Day Tour
If you prefer to have your day organised (and who doesn't?) then take a guided tour of Madrid.
There are lots of Madrid day tours on offer, whether you have just a few hours in Madrid or want to take a one day tour with a local, there's something here for you and you'll be sure to bag all the top things to do in Madrid in one day.
Whatever you decide, you can be sure that you'll come away from your time in Madrid richer in knowledge and experiences.
Morning
Visit the Prado
You cannot go to Madrid and not visit the Prado Museum, it is one of the absolute Madrid must sees. The Museo del Prado is widely recognised as one of the best art museums in the world and whilst not all the art will be to everyone's taste, to be in the presence of such masterpieces is pretty awe-inducing. The building itself is pretty special too!
You will see works by artists such as Spain's own Velázquez, Goya and El Greco. Representing the low countries are Rembrandt, Brueghel, van Dyck and Rubens, while Titian, Caravaggio, Botticelli and Tintoretto form the Italian contingent.
There is a dedicated exhibition of Hyronemus Bosch art, with which most people have a real love or hate relationship. Join a guided tour to fully understand the history and symbolism of the paintings, it will be worth the cost for the knowledge and insight shared and gained.
TOP TIP: You can visit the Prado for free between 6-8pm Mondays to Saturdays and from 5-7pm on Sundays and holidays, although expect a long queue for the privilege. Otherwise, book tickets in advance to avoid the queues, which can be monstrous!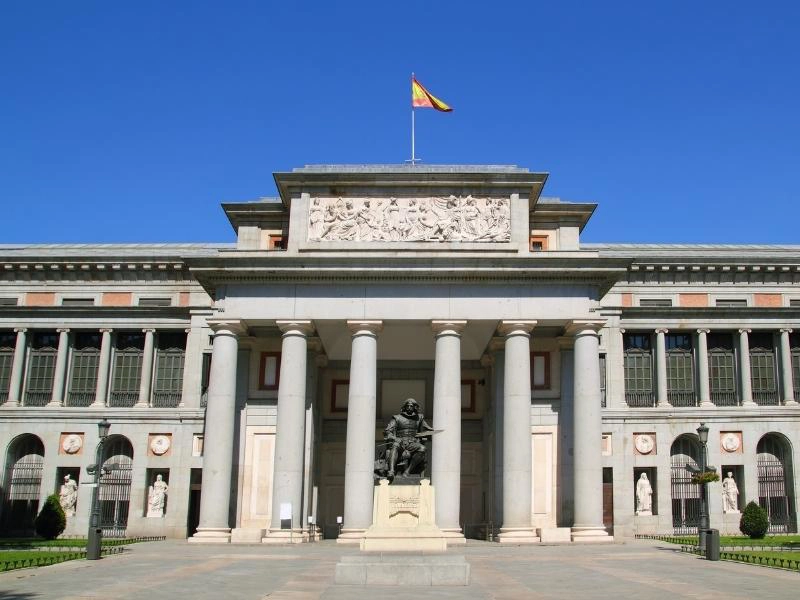 Visit Museo Thyssen-Bornemisza
It's not all about the Prado. The Museo Thyssen-Bornemisza houses what was Europe's largest private art collection until 1992, when it was bought by the Spanish state and moved to Madrid.
The museum holds an eclectic collection of world and European art from the 13th to 20th century including works by Duccio, Van Eyck, Carpaccio, Dürer, Caravaggio, Rubens, Sargent, Monet, Van Gogh, Gauguin, Kirchner, Mondrian, Klee, Hopper and many more. We enjoyed the more modern art on display, especially after several hours in the Prado.
On Mondays between 12 and 4pm you can visit the permanent collection free of charge, you may find the queues a bit shorter here!
Save time and take a walking tour of the three museums, known as the Golden Triangle of Art – The Prado, Thyssen-Bornemisza and the Reina Sofia Museum – which includes skip-the-line tickets for all three.
Take a Stroll in Retiro Park
Retiro Park is a gorgeous and tranquil bit of greenery, literally next to the Prado, and a welcome respite from the hustle and heat of the city in the summer. It is one of the most beautiful places to go in Madrid city.
You could easily spend a whole day in the tranquility of Retiro Park. Covering over 125 hectares, with more than 15,000 trees, this is a large and fascinating space.
Make sure to visit the all the different gardens and the Parterre Francés, which is home to a Mexican conifer that is nearly 400 years old and is believed to be Madrid's oldest tree.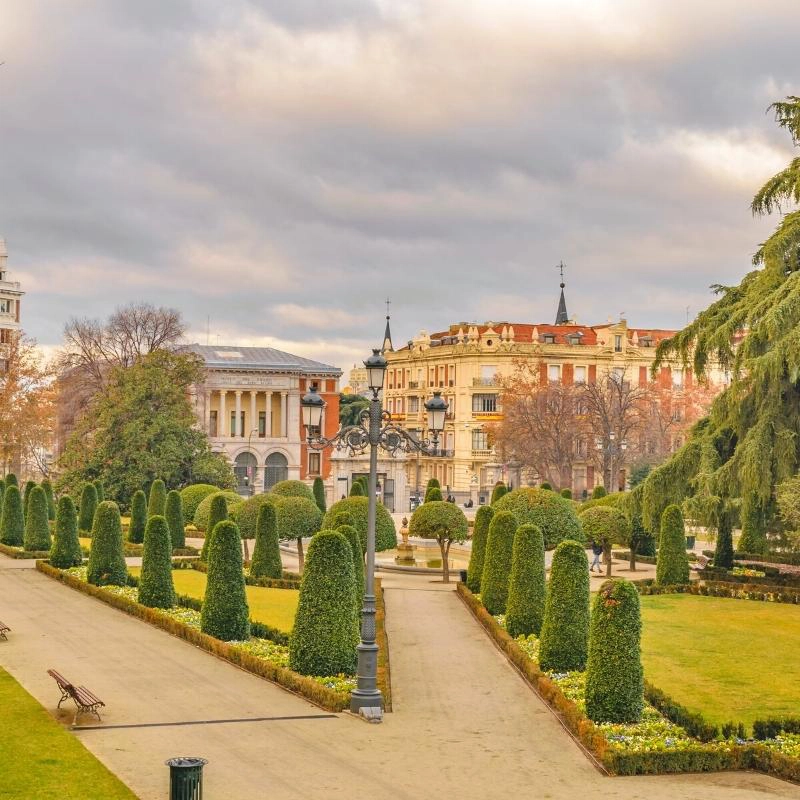 Afternoon
Take in Puerta del Sol
Start your afternoon in Madrid by walking between the Paseo del Prado and the Royal Palace. Stop on the way at the Puerta del Sol, one of the busiest and best known places in Madrid.
In days gone by, Puerto del Sol was an important meeting point for people arriving into the city. Today, the square is always busy as people mingle, grab the Metro or just hang our to enjoy the lively atmosphere.
The square is famous as being literally at the centre of Spain, and the point, known as Kilometer Zero, is marked in the paving stones of the square – this is the starting point for all major Spanish roads.
Puerta del Sol is also home to the the famous clock whose bells mark the hour and the traditional eating of the Twelve Grapes at the beginning of a new year.
A popular meeting spot in the square for locals, look out for the 20th century bronze statue of the Bear and the Strawberry Tree or El Oso y el Madroño. The sculpture represents the coat of arms of Madrid and is found on the east side of the Puerta del Sol, between Calle de Alcala and Carrera de San Jerónimo.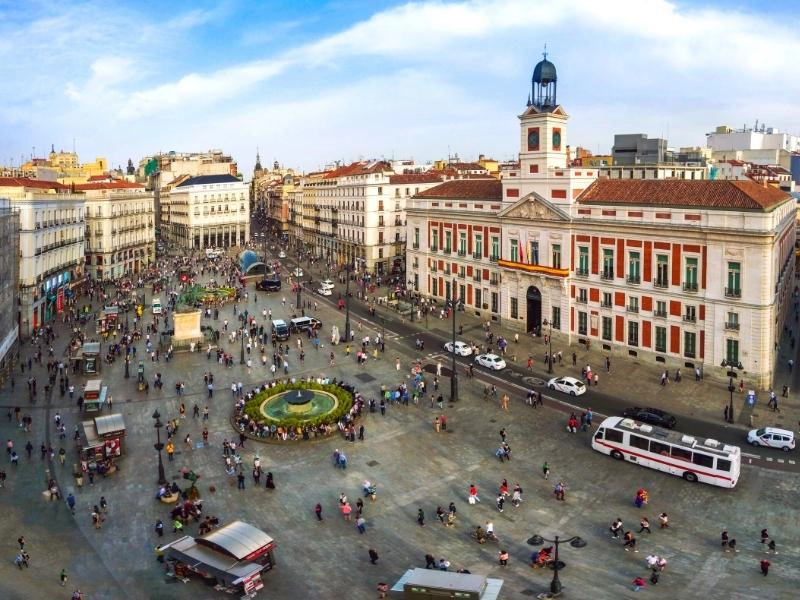 Visit Plaza Mayor
Pop over Calle Mayor to Plaza Mayor, one of the must sees in Madrid, and the most important public square in the city.
Started by Philip III in 1617, the four storey porticoed buildings which line the square dominate the space, which is full of history and fascinating plaques and symbols.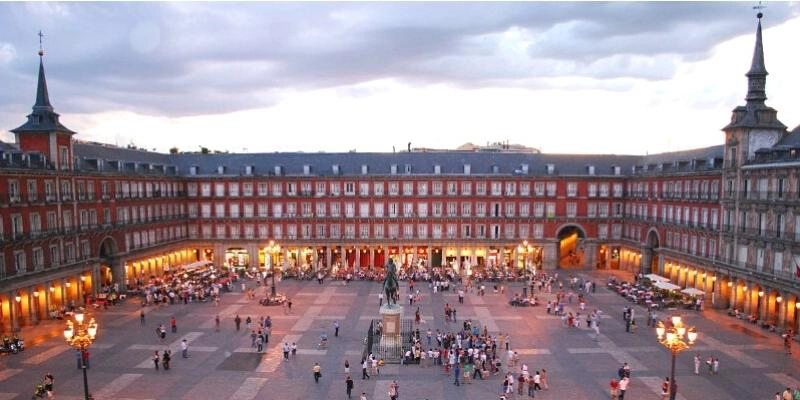 See Almudena Cathedral
Catedral de la Almudena is a prominent Catholic church located on the Plaza de la Armería, directly south of the Royal Palace.
Madrid's Cathedral, consecrated by Pope John Paul II in 1993 is the most important religious building in the city and is the seat of the Roman Catholic Archdiocese of Madrid.
Built on the site of a medieval mosque destroyed in 1083, construction began on the cathedral in 1879, but work was delayed by the Spanish Civil War, until the 1950's.
The structure you see today is an elegant Neo-Gothic cathedral with a blend of classic and modern elements that make it truly unique. The crypt, in the neo-Romanesque style, houses a 16th century image of the Virgen de la Almudena.
TOP TIP: Make sure to climb the Dome for an amazing view of the city and mountains beyond, and the oversized statues of saints perched on top.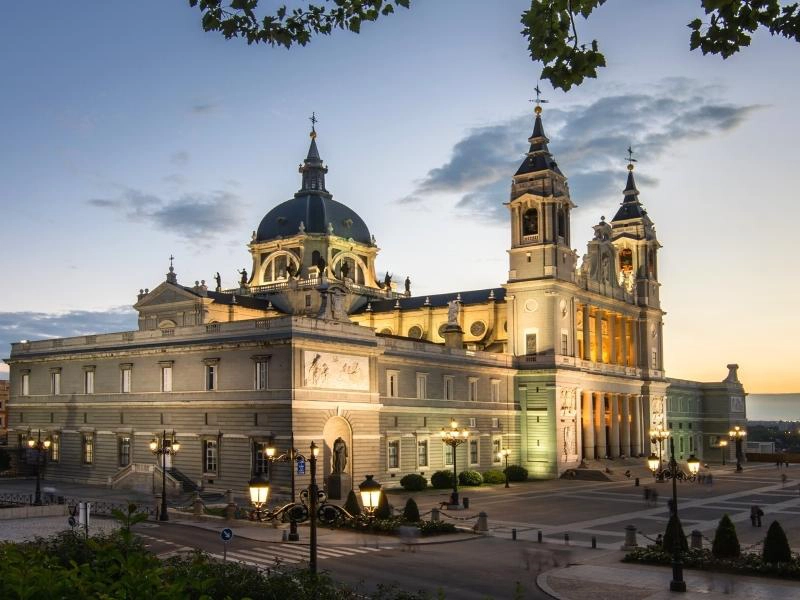 Visit the Royal Palace
The 18th century Palacio Real is famous for its history, the baroque and neoclassical architecture and the stunning views across the Sabatini Gardens to the campo beyond.
This is the largest royal palace in Europe with 135,000 square metres of floor space and 3,418 rooms so there is loads to see.
Citizens of the EU can visit for free from Monday to Thursday between 4-6pm (October to March) and 6-8pm (April to September). Expect to queue for at least 30 minutes if you decide to buy your ticket at the door.
Otherwise book a priority ticket with tour included and learn about the Royal Palace from an expert.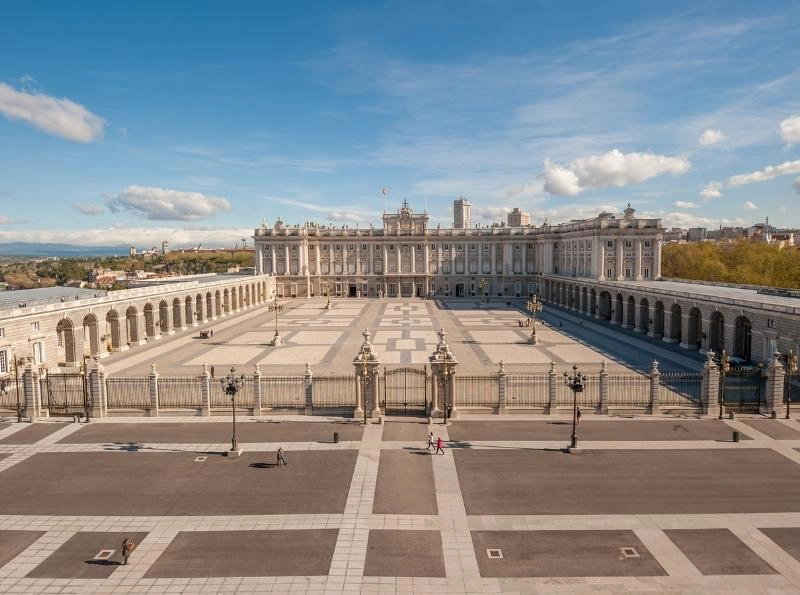 Spain Travel Inspiration
Evening
Watch the Sunset at the Temple of Debod
On a small hill in Cuartel de la Montana Park, located a fifteen minute walk from the Royal Palace is the Temple of Debod.
Slightly out of kilter with elegant and historic Madrid, this Egyptian temple dates from the 2nd century BC and was donated to Spain by the Egyptian government to save it from floods following the construction of the great Aswan Dam.
Visit at sunset to watch the light from the sinking sun play across the Royal Palace to the south and the Sierra de Guadarrama mountains to the north. It has to be one of the most romantic spots in Madrid, a city more know for its culture than romantic opportunities.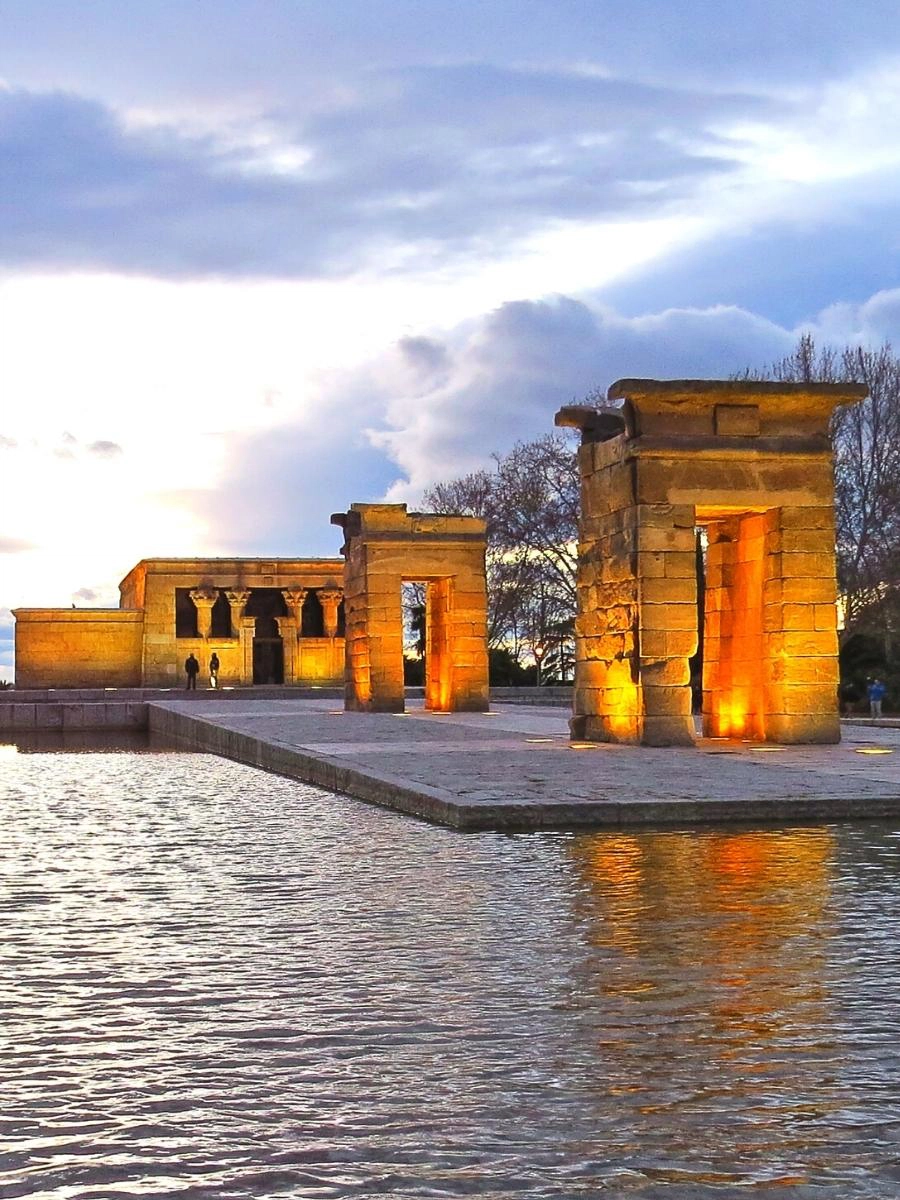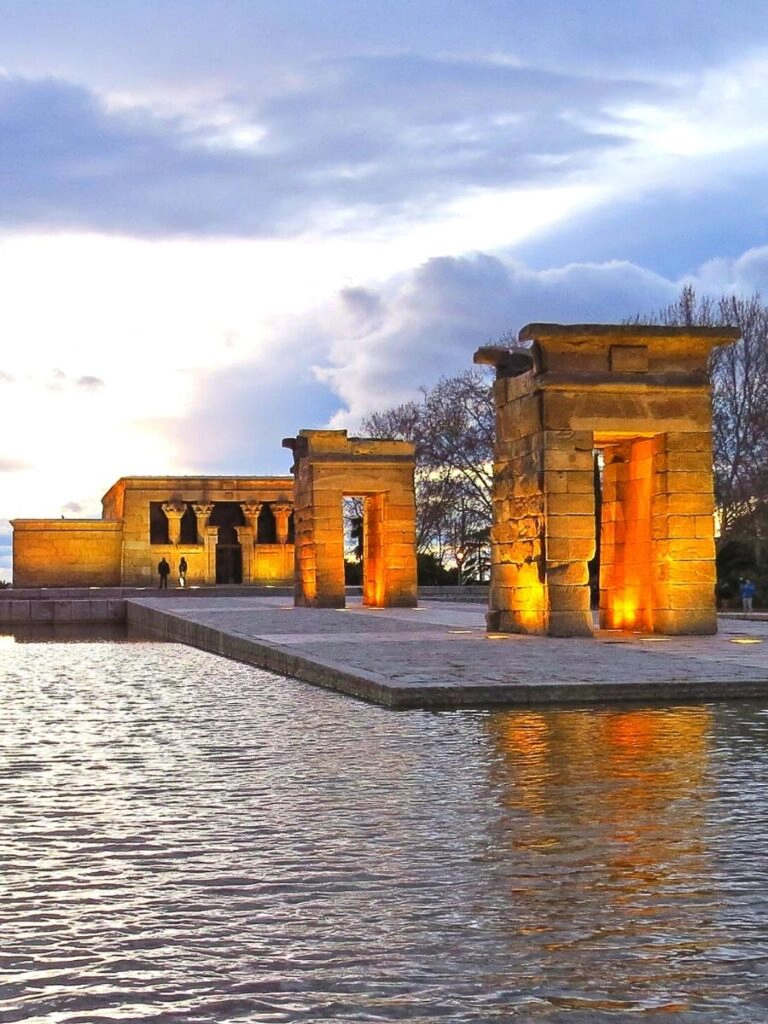 Shop the Gran Via
Gran Via is Madrid's premier shopping street, lined with boutiques, chain stores, independent shops, cafes and restaurants.
The Gran Vìa is alive and buzzing almost 24 hours a day; locals and tourists alike come here to socialise and shop. By night, clubs and bars open their doors and people throng onto the street creating a party atmosphere.
Be mindful of your bags here, in fact be mindful anywhere, but where people gather, as they do on Gran Via, the risk is always increased. The hop-on hop-off tourist buses pass slowly along Gran Via if you'd rather see it that way. As with any city visit, make sure you have adequate travel insurance, should the worst happen.
Take in a Flamenco Show
Flamenco was traditionally found in southern Spain, but nowadays you can watch Flamenco all over the country. Good flamenco, which has elements of singing, guitar music, clapping and of course, the feisty dancing, is all about the spirit of the performance and passion of the performers.
There is even a word for it – 'duende' – which does not have a direct translation but refers to how the performance affects those watching.
Where to
Eat

in Madrid
Explore Local Tapas
Madrid's local cuisine is best represented with tapas, small plates enjoyed by locals and tourists alike. A great way to explore this Spanish food is to go to different tapas bars or tabernas, order the best tapas they have, pair it with a beer or red wine, and do the same in all the other bars you visit! There are our top three…
Bodega de la Ardosa
Head to Bodega de la Ardosa here for 127 years of atmosphere and traditional tapas which includes fabulous artichokes when in season, battered ortiguillas (sea anemones), rich braised beef cheeks, and their award winning tortilla or Spanish omlette.
Casa Revuelta
Casa Revuelta is a lively old bar, just two minutes from the Plaza Mayor. Head here for herby vermut and crispy battered bacalao (salt cod) croquettas on a tapas crawl through Madrid's old town.
Casa Gonzales
Casa González is a cheese lovers delight. With an excellent selection of quesos, charcuterie and conservas (canned seafood), this gourmet delicatessen come tapas restaurant is a great place to linger over a good bottle of Spanish Rioja and a constant flow of delicious tapas.
Head to Pan Adore for Breakfast or Brunch
We highly recommend breakfast or brunch (with good vegetarian choices) at Pan Adore. There menu is a perfect example of just what a Spanish breakfast should be, and at around €8 per head, its great value for money.
Pan Adore is just outside La Latina metro entrance and perfect for a Sunday morning if you're visiting El Rastro.
Enjoy Churros y Chocolate at Chocolateria San Gines
Typical Spanish hot chocolate is thick, creamy, gloopy and sweet…put together with churros (a sort of long fried doughnut) and you have an irresistible combination of deliciousness!
San Ginés, just off Puerta del Sol, is absolutely the only place to go in Madrid for churros y chocolate, made just as they should be in the traditional Spanish way.
TOP TIP: If you're heading from here to the Royal Palace, swing by the Teatro Real (Theatre Royal) on Plaza de Oriente. If you're short on time, there's no need to enter the opera house, you can grasp the grand design and importance of this building from the outside.
Indulge at Mercado San Miguel
A favourite place in Madrid for many, this art nouveau covered market dates from 1916 and is just off the main thoroughfare of Calle Mayor.
San Miguel is not so much a fresh produce market, more of a gastronomic collection of the best of Spanish food. You will find tapas, cheese, jamon (ham) and sparkling cava all ready to be served as you sit on a stool at the bar.
Don't think about going here for a pre-dinner 'snack'; there is no such thing! You could do it the Spanish way and have a nibble (called a merienda) at 6pm, then eat dinner at 10pm to make the most of your one evening in Madrid.
The atmosphere is alive and the food and wine delicious but it is not cheap to eat here and it's probably a bit of a tourist trap but the ambiance and easy chatter makes it a must do in Madrid.
Take a Madrid Food Tour
If you prefer to have an expert on hand, try a food or tapas tour. Madrid has some excellent bars and restaurants and a tour will take you to the best of them. It's an ideal way of understanding and trying tapas if you've never eaten it before, which, done well, is a thing of beauty!
Top Five Madrid
Travel
Tips
Plan your specific route and Madrid one day itinerary in advance with our interactive map, where we have suggested a route for you. It's possible to see all the major attractions in the city center on foot, without ever having to walk more than 30 minutes or so.
If you don't want to walk use the metro, it's convenient and cheap. Alternatively, try BiciMAD, Madrid's electric bike service, or get the Madrid hop-on-hop-off bus.
Book major attractions in advance whatever time of year you visit. Don't spend your precious time in a queue.
Unless it's included, don't pay extra for breakfast in your hotel. Get out, explore the neighbourhood and enjoy a traditional Spanish breakfast of tostada con tomate, aceite, y jamón (toast with tomato, olive oil and cured ham), pincho de tortilla (a slive of Spanish omlette on a stick) or, if you have a sweet tooth, chocolate con churros.
Madrid never sleeps – at least not the bits you want to see. Siesta in Madrid does not last the whole afternoon like it does in some smaller Spanish towns. Cafes and bars might shut at 4pm for a few hours but generally places stay open throughout the day and on Sundays too.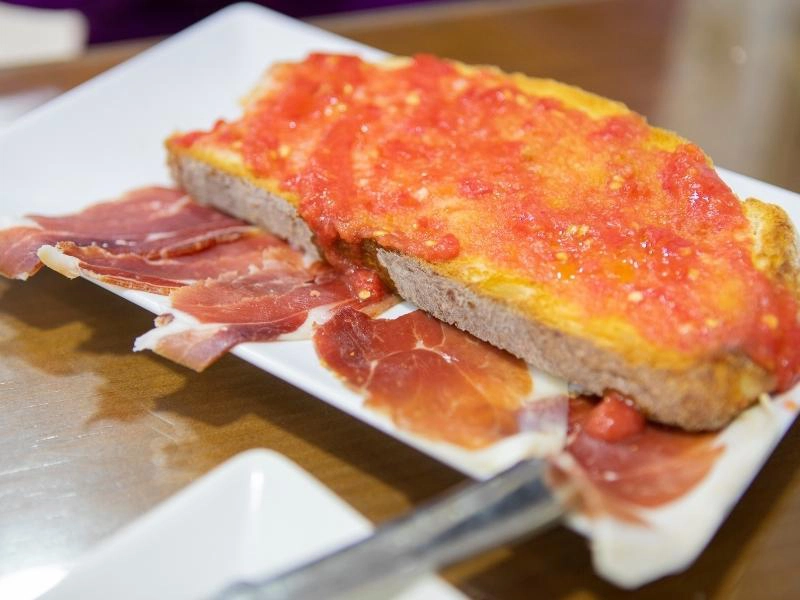 More Than One Day in Madrid?
Parque de Atracciones de Madrid
What was once a royal hunting estate is now home to Parque de Atracciones de Madrid, a 20 hectare amusement park in the Casa de Campo. Even though it's one of the oldest theme parks in Spain, it still has the most up to date rides for thrill seekers!
El Rastro Market
Visiting on a Sunday or public holiday? Then check out El Rastro, Madrid's spectacular and eclectic flea market. Catch the Metro to La Latina (line 5) and head for Ribera de Coritodores and Plaza de Cascorro, where you will find the enormous and very busy El Rastro flea market.
You can buy anything at El Rastro, from tourist tat (more so around Plaza de Cascorro) to handmade items and antiques. For the latter, head down the side streets and away from the Plaza for the best bargains and a flavour of the real Madrid.
It does get very busy, so get there early; Spaniards are not known to be early risers but will make an exception for El Rastro. Most stalls will be open from 9am and the market generally shuts up at around 3pm. Make sure you have cash as cards are generally not accepted.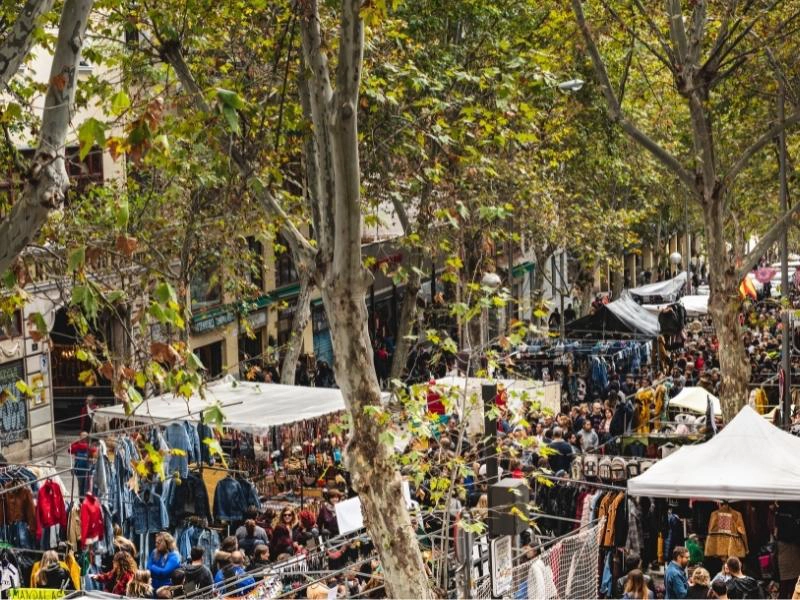 Madrid Cable Car
Take the Madrid Teleferico for the best views of the city. Madrid's cable cars run between Estacion de Rosales and Casa de Campo station.
Toledo, Segovia, & Alcázar Small Group Guided Tour
If you take one day trip from Madrid, take highly rated and well organized day trip to see three of Spain's most historic cities.
Immerse yourself in the history, architecture, and cultural delights of Toledo, the UNESCO city of Segovia and beautiful Alcázar. Your professional guide will provide deep insightsand share details about each city. This organized tour is the perfect opportunity to see more of Spain in less time!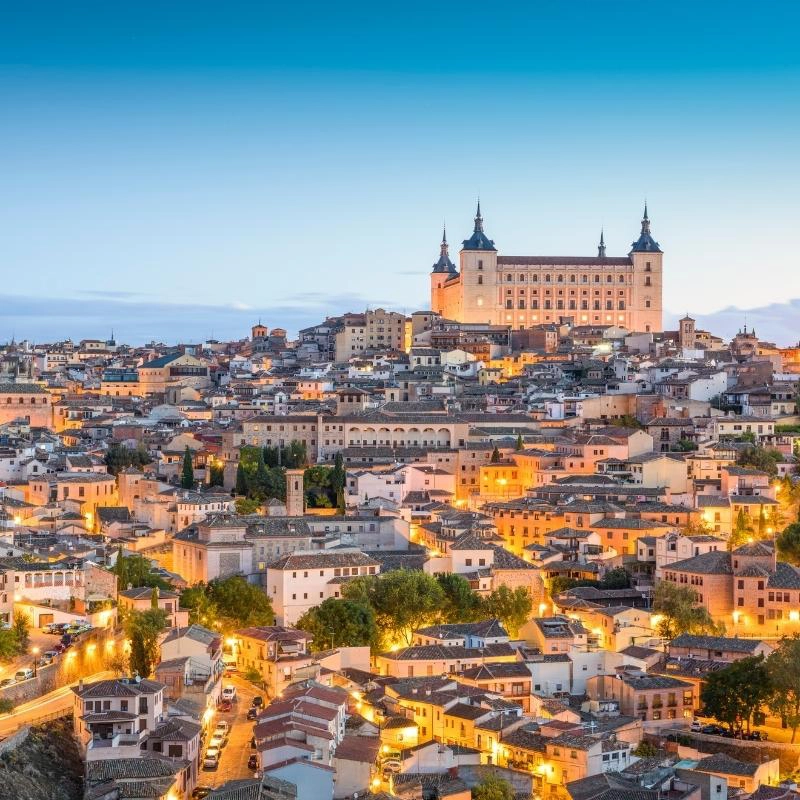 Are you looking for more Spain travel ideas? Check out these top posts…
Are you desperate for some Spanish sun but don't want to fly? With great routes across Europe, it's easy to drive to Spain from UK by car, arriving refreshed and unstressed from the comfort of your own vehicle. We're sharing the best routes with costs and comparisons plus tips about driving once you're there. Our Spain from UK guide will help you decide which is the best route for your driving trip to Spain, so…
Love it? Pin it!