This post may contain affiliate links, from which we earn an income.
Motorhoming & Campervanning in Spain
With one of the best winter climates in Europe and friendly locals, Spain is a perfect country for a motorhome road trip. With the colourful traditions, good food and wine and fabulous architecture, you have all the ingredients for an amazing tour.
Spain's fabulous climate will seduce you and its' people charm you. This is a generous and joyous country, full of colour and extremes. Andalucia is our favourite place for motorhome holidays in Spain, full of life and dramatic contrasts between sparkling turquoise seas, verdant green mountains and arid desert landscapes.
We've spent over 18 months travelling in a motorhome in Spain, and in this campervanning and motorhoming guide you'll find lots of practical and helpful information. From tips about driving, where to stay overnight and wild camping, to motorhome services and a round-up of the best motorhome destinations, you'll find all the information you need for an amazing motorhome road trip in Spain.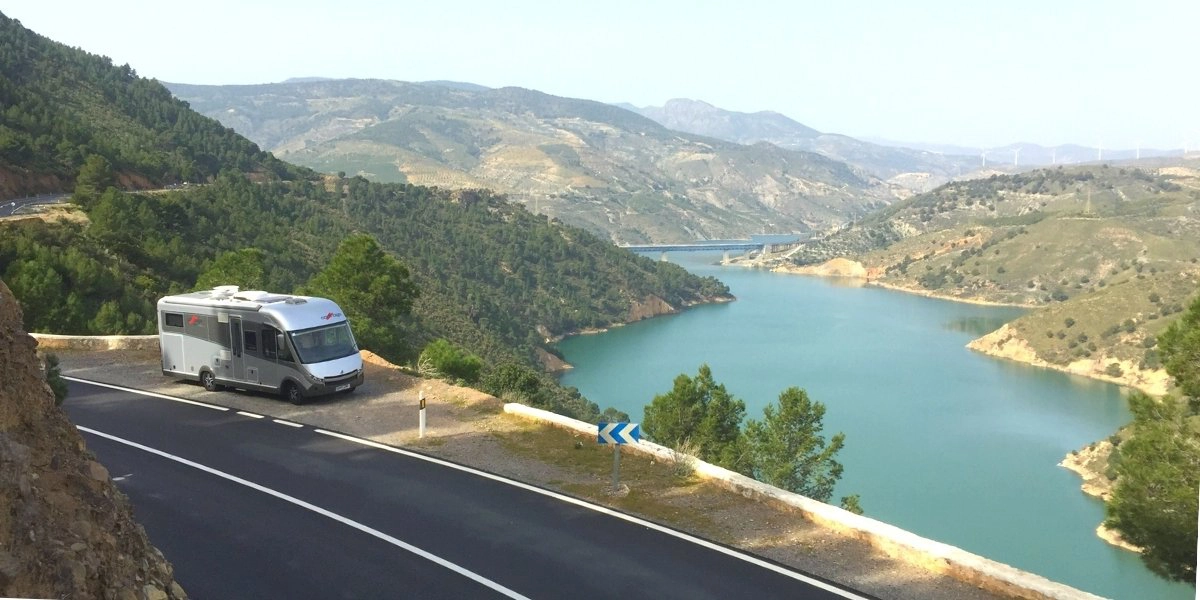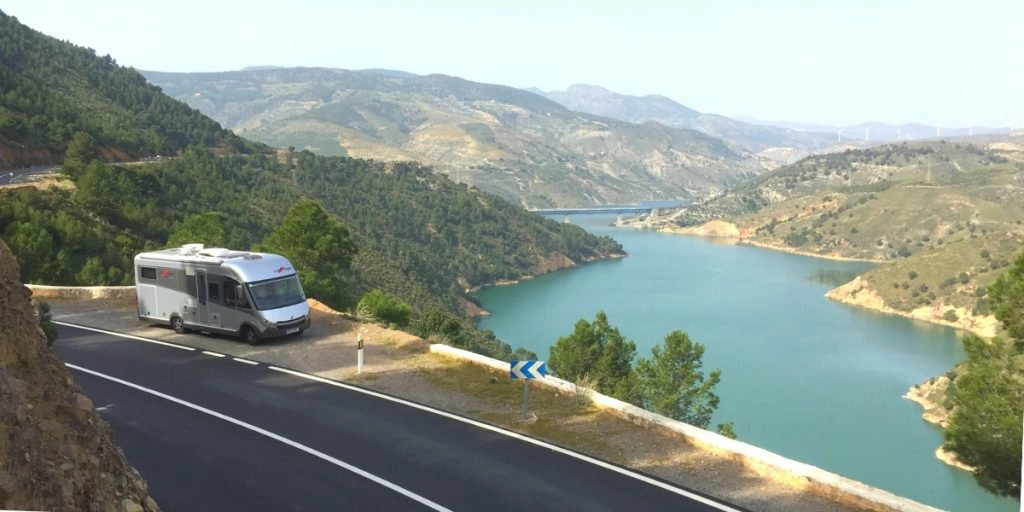 Spain Motorhome Routes
The age-old conundrum about the best route to Spain in a motorhome from the United Kingdom is whether to pay for a long ferry crossing or pay for fuel and tolls doing long miles through expensive France. Your options for driving to Spain from the UK in a motorhome are these;
Sail to Spain from the UK
Sailing from Portsmouth or Plymouth to the northern Spain ports of Santander of Bilbao (depending on which day of the week you want to depart) is the only way to avoid France. This sailing does navigate the Bay of Biscay and can be choppy in autumn and winter, but in our experience, it's more cost-effective than driving through France.
It's a long crossing of 32 hours, but does give you the chance to have a proper night's sleep if you book a cabin. Cabins are not mandatory, but the alternative reclining seats are uncomfortable and noisy.
This is an ideal crossing if time is of the essence, or you're travelling with a dog (some boats have pet-friendly cabins and some have kennels) but cabins and kennel places do book up quickly.
Make your booking for the ferry to Spain with Direct Ferries, where you can compare routes and prices to ensure you get the best deal.
Top Tip: Even if you book a standard class cabin, it's possible to book into the Commodore C-Club lounge, where free hot drinks, water and wine are served, along with generous snacks, meaning you don't need to pay for expensive food on board.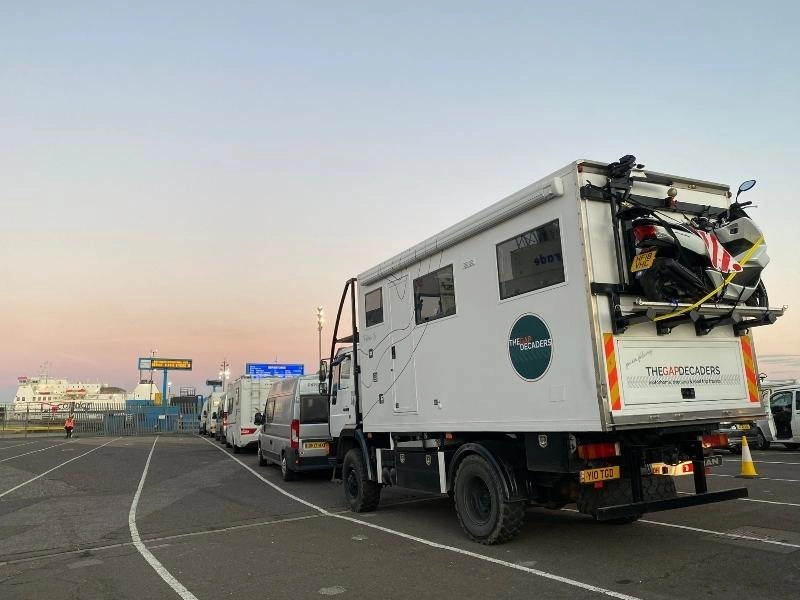 Drive Through France
Take a road trip to Spain from UK by driving through France. Once in France, head down the west side of the country, via Le Mans, Tours, Poitiers, Bordeaux and Bayonne, crossing the Spanish border at Irun.
This is one of the quickest motorhome routes through France to Spain and is the cheapest from a toll perspective. This route lends itself well to ferries which arrive from the UK into Caen or Cherbourg.
The driving time from Caen to Irun is around nine hours in a motor home, and tolls will cost somewhere in the region of €170 in tolls, although expect more if you weigh over 3,500kgs.
Or, get to France any way you like and take a slow meander south using non-toll roads and spend some time exploring France as you travel. This is an ideal option if you have plenty of time and are planning a few months or more for your motorhoming in France and Spain trip. Check out our post about driving from the UK to Spain for scenic routes and destination ideas.
Remember if you're driving across France, you'll need to observe the French driving laws and road rules, which do differ from the rules in Spain. You can find out more information here.
Fly & Hire a Motorhome
Motorhome Spain & Brexit
Although the UK left the EU at the beginning of 2020, because the pandemic came swiftly on its heels, many of us are still realising the repercussions and getting used to how it affects travelling in a motorhome. You can find out all the detail you need in our guide to motorhoming in Europe after Brexit. In the meantime, here are a few frequently asked questions and answers;
Do I need a visa for Europe?
Nothing changes with your passport, but from 2024, the EU will introduce the ETIAS (European Travel Information and Authorisation System), which will be an additional entry requirement for visa-exempt travellers and will involve the traveller registering their details online before travelling, mainly for security purposes.
How long can I stay in Europe?
UK citizens can only stay in the Schengen Area (a zone in Europe where countries have no internal borders and allow the free and unrestricted movement of people) for 90 days in every 180 days in the Schengen Area.
The 90 in 180 day rule works on a rolling basis and it can be difficult to work out whether you are within the rules or not, especially if you have visited the Schengen area on several occasions in the preceding 180 days.
What food can I take in my motorhome to Spain?
The European Commission says the following;
Travellers are not allowed to bring in meat, milk or their products.
There is an exemption for powdered infant milk, infant food, and special foods or special pet feed required for medical reasons if weighing less than 2kg and provided that:

such products do not require refrigeration before opening.
that they are packaged proprietary brand products for direct sale to the final consumer, and
the packaging is unbroken unless in current use.
For fishery products (including fish and certain shellfish such as prawns, lobsters, dead mussels and dead oysters), travellers are allowed to bring in up to 20kg or the weight of one fish if this is higher.
For other animal products, such as honey, live oysters, live mussels and snails, travellers are allowed to bring in up to 2kg.
Can I use my mobile data in Spain?
It very much depends on who your mobile phone contract is with and when you started the contract. All UK providers now limit data usage in the EU in some way or another, and it's best to check with your provider to make sure you don't run up a big bill. You can find lots of information in our guide to the best SIM cards in Europe, especially if you're planning to be away for more than a few weeks.
We have been using and recommend ConnectPlus for cloud sim connectivity in the UK and Europe. You can choose from unlimited data packs to just single days, depending on your needs. The device is no larger than a slimline smart phone, connects with up to ten devices, is charged easily with a USB and can be delivered within a few days of ordering. Use the code 'thegapdecaders' at checkout to get 50% off in the first month!

Can I take a pet to Spain in my motorhome?
Yes, you can take dogs, cats and ferrets to Spain. You'll need to book a pet-friendly cabin or kennels on the ferry or travel via the tunnel. Your pet will need a microchip, a valid rabies vaccination and an animal health certificate (AHC).
It can take some time to get all the documents together and the vaccines organised, so make sure you start the process well in advance. You can find out more about travelling with pets on the Gov.UK website.
When to Visit Spain in a Motorhome
Spring and autumn are wonderful times for a Spanish road trip – from March until June will get you wildflowers and near-perfect temperatures, warm enough to swim in the sea from May onwards from the Costa Blanca south, and only a light top needed in the evenings.
In the height of summer it can be blisteringly hot and wild camping can be a challenge without air conditioning.
September and October offer warm sunshine, with the earth and sea still warm from the heat of August.
Motorhoming in Spain in winter offers many benefits but be prepared as you may need to use your heating and will find it cools down as soon as the sun sets. Inland and in the Spanish mountains, nights can be chilly and in the north, you may well see snow.
The Spanish Costas can feel crowded with touring motorhomes over winter, as Northern Europeans seek a milder climate. For a more authentic Spain, head to inland rural areas away from the Costas and enjoy everything the mountains and gorgeous interior cities have to offer.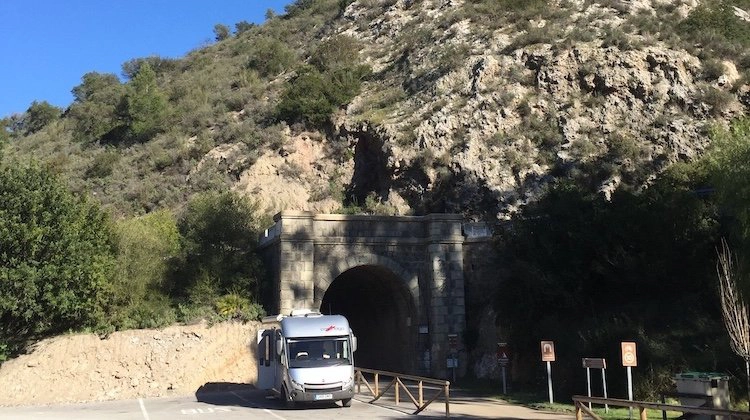 Driving a Motorhome in Spain
Spanish roads are typically well-maintained, and the drivers are considerate and relaxed.
In the interior of Spain in your motorhome, you may well have long stretches of sweeping autopista (motorway) and autovía (dual carriageway) to yourself. The trade-off is the Costas where traffic ramps up and tailbacks are frequent.
Driving around Spain in a campervan is generally safe and easy, but be mindful of smaller towns without by-passes if you're in a longer vehicle.
You may want to consider a sat nav or satellite navigation app which can be configured to your motorhome camper size and weight.
Spanish Speed Limits for Motorhomes
Always observe the speed limits when campervanning in Europe. There are speed cameras just as in the UK, and the Spanish (and other EU) authorities have been known to pursue Brits for non-payment of fines. This has not changed since Brexit as the information-sharing agreement with the DVLA continues.
Motorhomes < 3,500 kg (also relevant for those touring Spain by car or campervan)
On roads where there is no pavement so that vehicles and pedestrians share the road: 20 km/h
In urban areas: 30 km/h
Outside urban areas: 80 km/h
Main roads: 90 km/h
Motorways and autopistas: 100 km/h
Motorhomes > 3,500 kg
On roads where there is no pavement so that vehicles and pedestrians share the road: 20 km/h
In urban areas: 30 km/h
Outside urban areas: 80 km/h
Main roads: 80 km/h
Motorways and autopistas: 90 km/h
On roads with single carriageways, the speed limit established may not be exceeded by more 20km/h when overtaking.
Documents You Need to Travel & Drive in Spain
You must have at least three months remaining on your passport (issued in the past ten years) at your intended date of departure from Spain.
You must have at least 3rd party motorhome insurance cover for your vehicle. Update August 2021 – you no longer require a green card to prove you have vehicle insurance cover when travelling in Europe.
The minimum driver age for campervan and motorhome hire in Spain is 21.
Your UK licence allows you to drive in all EU countries. If you only have a paper driving licence or a licence issued in Gibraltar, Guernsey, Jersey or the Isle of Man then you will need an International Driving Permit.
Breakdown cover documentation (not compulsory).
Vehicle V5 logbook or vehicle registration document (which must show your correct address).
Trailer certification if you are towing.
Personal travel and medical insurance along with an EHIC or GHIC card (not compulsory).
Animal Health Certificate if you're travelling with a pet.
Vehicle Safety Equipment in Spain
Two warning triangles for the front and rear. These warning triangles are now being phased out and from 1st July 2021 a new law requires that a V16 flashing emergency light is used, although both means of advising other traffic will be legal until the end of 2024.
Reflective jacket (for the driver and all passengers).
Spare wheel and the tools to change a wheel, or a tyre repair kit.
If you wear glasses you must carry a spare pair.
First aid kit (not compulsory).
Spare bulbs and fuses (not compulsory).
Fire extinguisher (not compulsory).
Headlight beam converters (unless you can adjust yours automatically).
From 28th September 2021, you will have to display a UK sticker on the rear of your vehicle when travelling in Spain, even if you have a new style UK numberplate which displays the Union Jack flag.
If you are driving a motorhome or campervan in Spain and towing, and the overall length is more than 12m (which would be one large motorhome and trailer!), you must have one (130cm x 25cm) or two (50cm x 25cm) yellow reflectors at the rear.
You may carry a load, such as bikes on a rack, extending by up to 10% of the length of the vehicle to the rear. The load must be indicated by an aluminium panel with diagonal red and white stripes, manufactured to ECE70 standard.
The use of winter tyres in Spain is regional. Look out for traffic signs indicating that winter tyres or snow chains are compulsory where you are.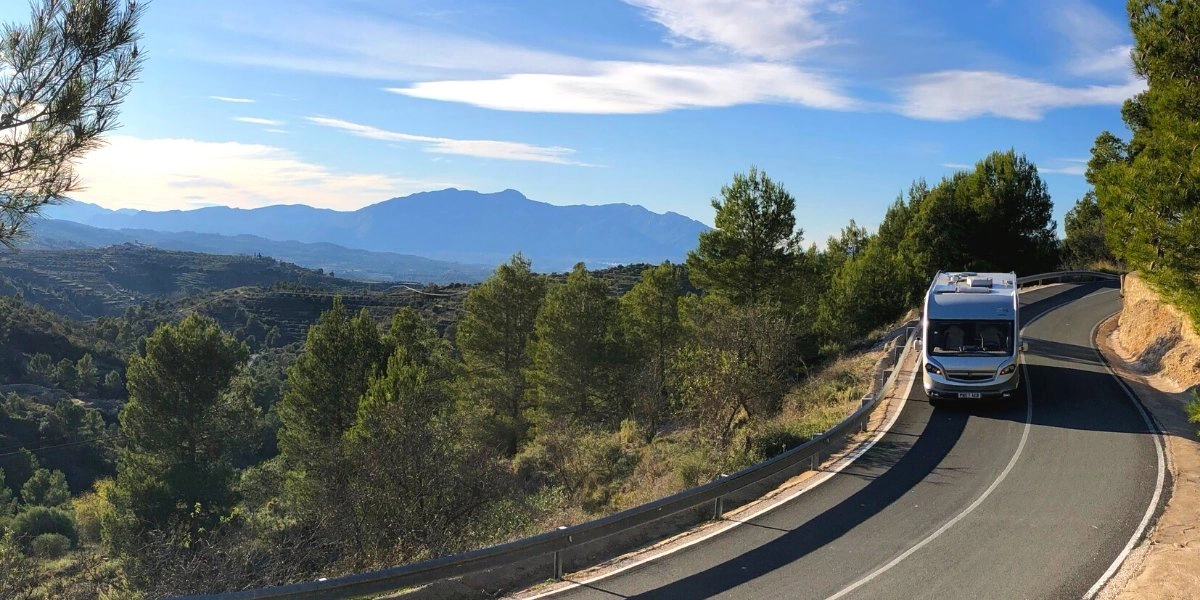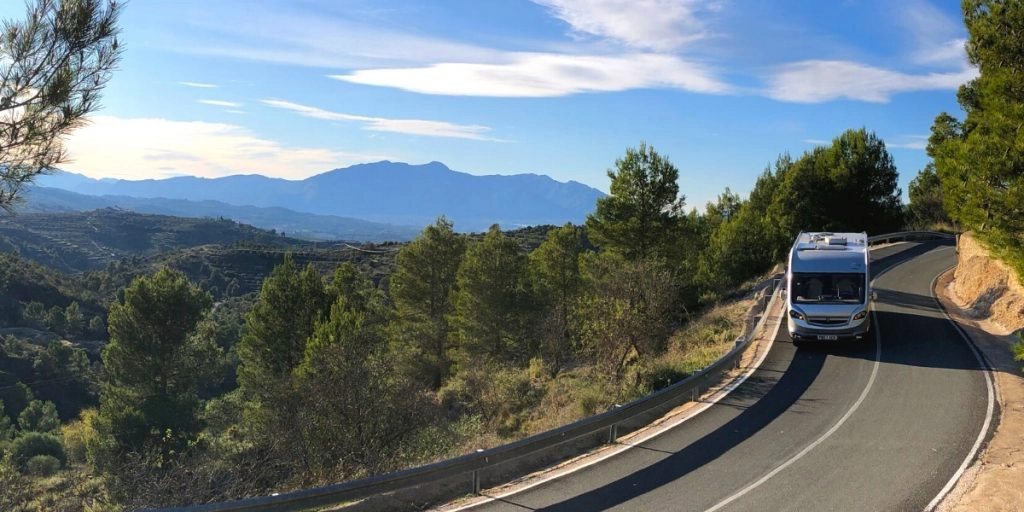 Driving a Motorhome in Spain Tips
The Spanish drive on the right.
The UK Department for Transport advises that A-frames are not legal for use by UK motorhomers abroad. In practice, this could mean towing your car while it's fixed to a trailer, although there is ambiguity around this and differing advice can be found on the internet.
Campervans or motorhomes and cars with caravans or trailers are not allowed to exceed 18.75m in total length, 4m in height and 2.55m in width.
Anything with a screen (television, video, DVD etc.) which could distract you when driving should be positioned where you can't see it. This doesn't apply to a sat nav but you must not touch or program your sat nav unless parked in a safe place.
Using radar detection equipment is prohibited under Spanish law and new regulations from January 2021 mean that it will also be illegal to be in possession of such equipment.
It is allowed to park a motorhome during the day anywhere that parking is allowed (as long as there are no signs specifically banning motorhome parking, which will say something like "no hay estacionamiento para autocaravanas") and as long as you aren't overhanging a space or blocking the road.
If you have an accident you'll need to complete the EU Accident Statement, which you can find here to download if your insurer hasn't provided one. Stop safely and use your hazard lights and warning triangle to alert other drivers. Exchange details (a translate app comes in handy here) and take lots of photos to add to your form when you submit it to the insurers. If the other party won't give details or there has been an injury, you should call the police on 112.
Toll Roads in Spain
Low Emission Zones in Spain
At the start of 2023, there are 16 low emission zones in Spain and municipalities with more than 50,000 inhabitants have to implement a LEZ by the end of 2023.
Spanish registered cars will be registered and receive a sticker, but currently, foreign vehicles can't buy stickers although they have to meet the required standards.
If you are stopped, you may be able to do this with your V5C, Certificate of Conformity or LEZ sticker from another country.
The only exception is in Barcelona, where you will need to register your vehicle in order to drive within the LEZ here.
Recommended Reading
Motorhome & Campervan Services in Spain
Motorhome services are generally widely available, especially along the coast. Some garages and supermarkets will have fresh water and a place for grey water.
You'll often see the typical pictogram sign by the side of the road pointing you to a service point, this may be a dedicated area, within an aire or another facility.
The types of built-in Flot Blu services like you find in France are few and far between. Use an app like Park4Night to locate motorhome and campervan services.
Motorhome LPG & Gas Bottles in Spain
LPG for refillable systems is available in many garages, use the myLPG app to search near where you are. In Spain, as in most of Europe, LPG is known as GPL, and both are a mix of butane and propane.
In Spain, LPG is grade C, which means the percentage mix of propane to butane is approximately 30/70. Between 1st November and 31st March every year, the mix changes to 35/65 to account for the colder weather.
You may find that if you're in the mountains in winter, this mix causes your boiler to sound like a freight train unless you have a specific altitude setting which some models of Alde boiler have as an extra. You can find out more information here.
Gas bottles are also widely available, with butane generally being more popular because of the warmer climate (butane is more suited to milder weather conditions but propane is better for cold weather as it burns at lower temperatures).
The Spanish government caps the price of gas, and you should expect to pay around €15-18 for a replacement bottle. For Spanish gas bottles, you will need a different regulator, available from most DIY or camping shops.
Gas in bottles and at the pump is much cheaper in Spain than in France or Portugal (in fact, people often drive their motorhomes from Portugal to fill up!).
Motorhome Fuel in Spain
Most garages will require you to pay electronically for fuel at the pump, usually you can adjust the instructions to English. Pump colours are green for petrol and black for diesel.
Sin Plomo 95 is Regular Unleaded, Sin Plomo 98 is Premium Unleaded and Gasoleo (sometimes called Gasoil A) is Diesel – and sometimes it's also called diesel in Spain!
Gasoleo B or Gasoil B is the equivalent of red diesel for agricultural vehicles – do not put this in your motorhome!
Diesel in Spain is some of the cheapest in Europe, especially if you fill up at the supermarket, with Cepsa and Repsol garages being the most expensive.
Motorhome Stopovers in Spain
Motorhome Aires
Motorhome aires in Spain are not as plentiful as in France but they are out there! As in France, sometimes there is a fee per night but often there is no charge and basic services are provided.
Bear in mind that you are more likely to find Spanish camping aires inland than on the coast. You can read more about aires, how to find them and road trip planning here.
You cannot book aires for camping in Spain, it is advisable in the holidays and in popular places to try and get there early in the morning or just after lunchtime.
If you arrive at 6pm expecting a place, then you will probably be disappointed. Always have a second choice in reserve, one of the best resources to use is All the Aires Spain and Portugal.
RELATED POST: Motorhome Aires in Spain – All You Need to Know
Campsites in Spain for Motorhomes
Spanish campsites range from very basic camping spots in fewer tourist areas to full-on touring stops where people pitch up for six months and want entertainment every night, direct access to a sandy beach, three different bars to choose from and a covered, heated pool.
Whichever is your bag (and there is a lot of choice), if you're heading south in your camper in Spain for several months of the winter and a long site stay, make sure you book in advance! Book with Eurocampings for the best deals on over 520 campsites in Spain.
For more information about over-wintering, check out our post about whether you should take your motorhome to Spain for winter.
In the southeast of the country, water is in very short supply. Many camping sites will provide desalinated water instead of potable water.
In the short term, this is fine but you may want to clean out your fresh water tank with a high-pressure hose once you have moved away from this part of Spain due to the sediment found in desalinated water.
Utilise the campsite bar – a glass of wine and a beer will typically cost €3, a bargain!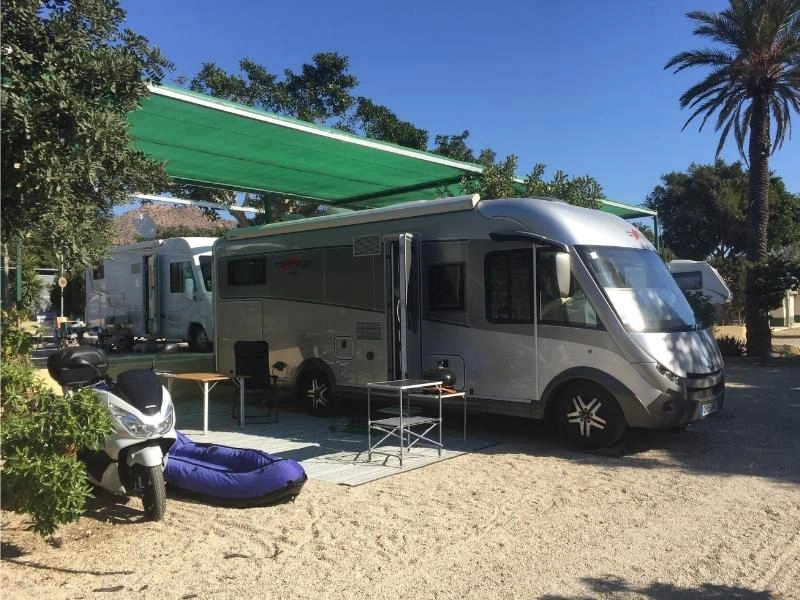 Do I need an ACSI card?
In Spain, your ACSI CampingCard will come into its own if you're planning on touring and stopping for less than seven nights at sites. Out of season, you can get over 60% discount on ACSI sites.
If you are staying longer, then it is likely that the site's own rate will be better value – the longer you stay the cheaper it becomes. If you are stopping for over 30 nights it is possible to stay at a good quality site for €10 a night including electricity.
Some larger sites or those run by corporates will have a fixed number of ACSI pitches which will have EHU but no water or drainage.
They will probably be smaller than other pitches and perhaps not as favourably placed. If you want a different pitch, you will be charged a supplement which often wipes out the benefit of the ACSI card, so pick smaller sites for the best experience.
Wild Camping in Spain for Motorhomes
Wild camping for motorhomes in Spain (sometimes called free camping or wild parking) is generally tolerated away from busy beaches, town and cities, and outside of national parks.
Free motorhome parking in Spain is easy and safe as long as you follow a few basic guidelines. Make sure your wild camping spot is not on private property and that you have parked respectfully of residents and other wild campers nearby.
The main thing to know about wild camping in Spain is that you must not display any signs of 'camping', such as leaving chairs out or having your step out when you go to bed. Thus you are 'parking' not 'camping' which is allowed and considered a legal activity, even if you intend on sleeping in your van.
Before motorhome overnight parking, do your usual checks and add an extra one – look for Pine Processionary Caterpillars in Spain, which make their nests in those lovely shady pine trees we all like to park under. These caterpillars can kill dogs and small children, and will most definitely spoil your motorhome trip if you bump into one!
Check out our post on wild camping for more rules and tips for camper vans and motorhomes in the UK and Europe, and for information on where to find the best camping locations and motorhome stopovers in Spain.
Motorhome wild camping in the Valencia Community is no longer permitted. The Valencia region passed a new law which came into effect on 8th May 2021, which prohibits motorhomes from parking or camping, unless in designated areas. The new decree aims to level the rules whether you're in a motorhome or tent but there is some acknowledged ambiguity around the wording, you can find out more in this article.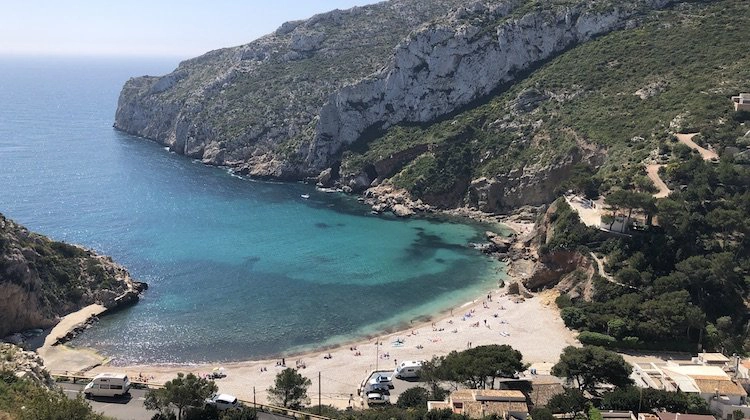 España Discovery
A similar scheme to France Passion, Espana Discovery provides motorhomers with stopovers at over 206 off-the-beaten-path farms, bodegas (vineyards) and producers.
Buy the guide online and get full access to 24-hour stays. There is no obligation to buy any produce, but our experience when we have bought has been really positive.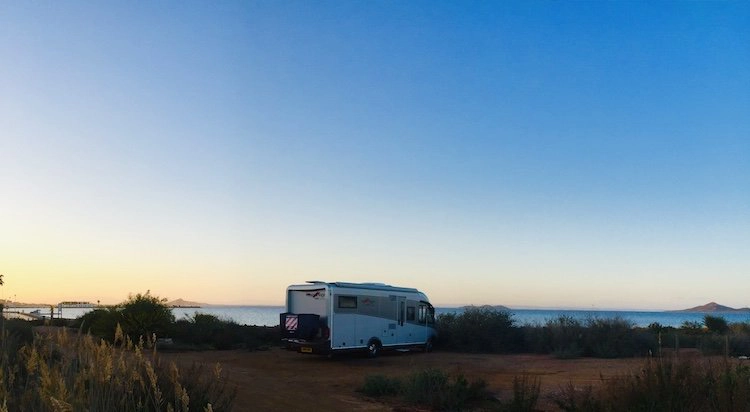 Spain Motorhome Travel Books
Top Motorhome Destinations in Spain
The Pyrenees
The Spanish Pyrenees are absolutely stunning. Look out for Ainsa, a beautiful medieval hilltop town in Aragón, with incredible mountain views.
If you like to hike, head for the Ordesa y Monte Perdido National Park, to hike the famous Circo de Soaso. This is one of our favourite Spanish national parks, for its dramatic landscape and fantastic hiking. Read our blog post about hiking in the Ordesa Valley here.
The Pyrenees is best visited between May and October, unless you want to ski, as outside these times you will definitely encounter snow.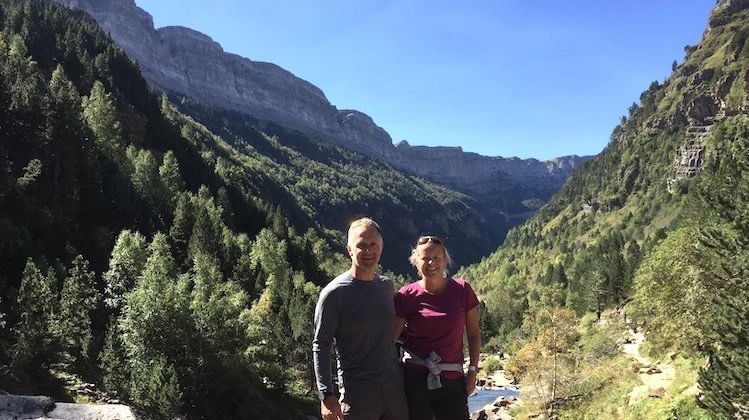 Picos de Europa
Halfway between San Sebastian and Santiago de Compostela, the Picos are a miniature masterpiece, 40km across and wedged between three great river gorges, the Picos are a natural paradise.
The Peaks of Europe, so called because they were the first landmark to be seen by sailors of old on approaching the continent, are well worth a visit. There is a lot of diverse hiking here but the weather can be unstable and the terrain unforgiving.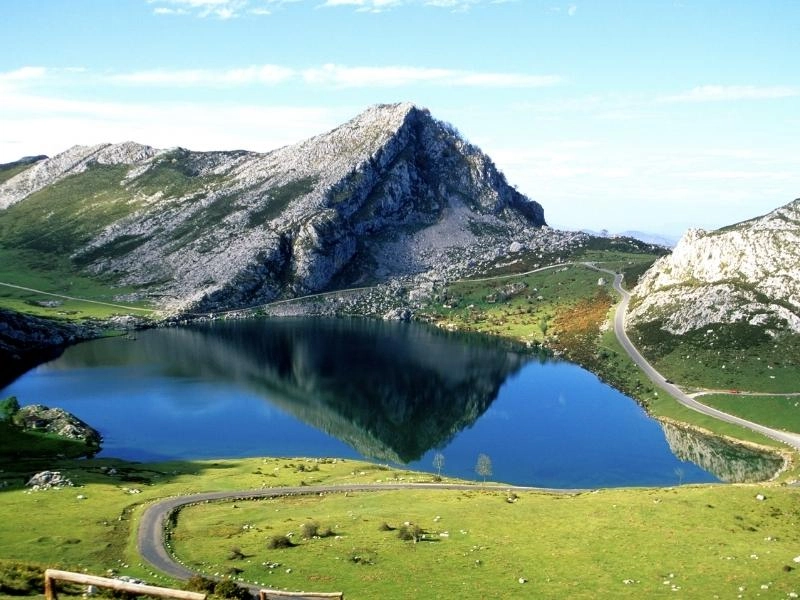 León
A prosperous and cosmopolitan city with a great vibe. The aire here is on the banks of the river Bernesga, which affords some good running routes along level paths. You will also be within easy walking distance of the Casco Antiguo, the old town.
Wander here for a day and see the cathedral, Plaza's Mayor and Santa Domingo and the Basilica de San Isidoro. All that walking demands you sample the tapas scene, arguably the best in Spain, with regular live music and tapas that are a bit more inventive than the normal tourist offering.
Order a Cerveza pequeña (small beer) for €1 and get a free tapa, you can do this in all the bars in León and literally have your dinner for nothing!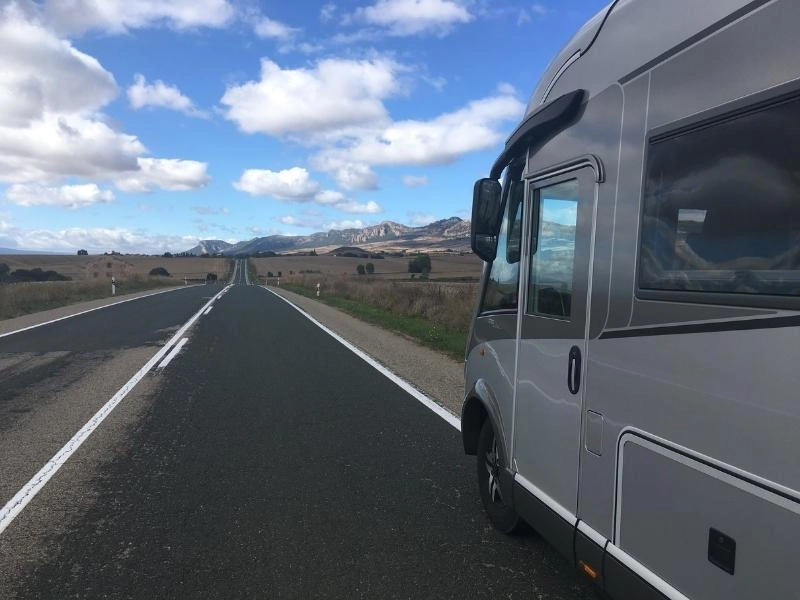 Santiago de Compostela
This corner of Spain, including Galicia, is known as Green Spain because it rains so much! It's probably best visited in Spring or September/October on your way to sunnier climes. Stay at Camping As Cancelas for easy access by bike or foot into the historic centre.
Santiago de Compostela is a stunningly beautiful city full of twisting alleys, elegant squares and historic religious buildings, with interesting nooks and crannies everywhere.
The medieval centre of Santiago de Compostela is almost entirely pedestrianised, in keeping with its UNESCO World Heritage status. If you only see one thing, it must be the Cathedral, where all roads seemingly lead, including the famous Camino.
Madrid
The beautiful capital city of Spain has to be visited. Packed with great museums and atmospheric squares and quarters, Madrid is a great city in which to spend a day or so.
We stopped at Camping Osuna in the east of the city, close to the airport. At €35 a night, this is without doubt, the poorest value-for-money motorhome campsite site we have ever stayed on, although our research suggests it's the best motorhome site in Madrid!
However, in common with most cities, the choice of where to stay in a motorhome is not great. The roads within the site are deteriorating badly and the showers and sanitary facilities are poorly designed (although clean and with plentiful hot water) but this is all surmountable if you want to see Madrid!
What this site does have though, is great access to the Metro. The nearest metro station is Canillejas, about a ten minute walk and on the same line as all the major tourist destination stops, so no changes are required.
Reception at the campsite will give you more information about the Metro and explain the different types of tickets.
Huelva
Visit La Rábida to see the amazing full-scale models of the three ships in which Columbus and his crew sailed across the Atlantic to discover the New World. We stood looking at these tiny vessels in awe of the courage and belief it must have taken to start that famous voyage.
We parked for the night at the top of the hill by the Franciscan monastery where Columbus met Queen Isabella of Spain to successfully seek funds for his journey to the new world.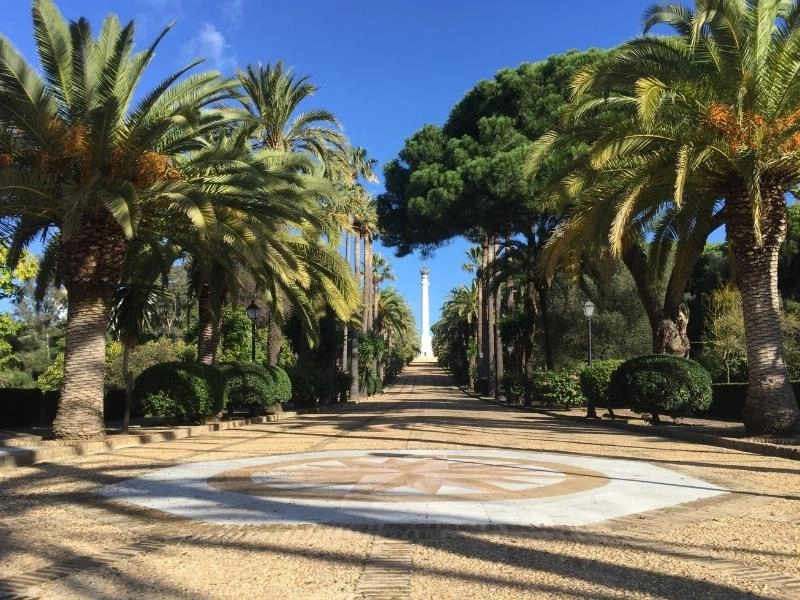 Tarifa
We loved Tarifa with its laid-back surfer dude feel and abundant opportunities for activity.
We found some of the best hiking in Spain here and were able to kite-surf, cycle and run, all in the balmy winter temperatures that southern Spain is known for.
Seville
You will fall in love with this captivating and romantic city. Spend a few days wandering the old town and Barrio Santa Cruz; admire the architecture and enjoy the typical Spanish ambience.
There are a number of must-sees including the Plaza de España, the Real Alcázar, the Giralda Tower and the Cathedral. We stayed at the Port of Gelves just outside the city but accessible by scooter or public transport.
---
---
Córdoba
Another beautiful city to fall in love with! Córdoba is full of Moorish treasures. The most famous of these is the Mezquita; the grandest and most beautiful mosque ever built by the Moors which is now a stunning Cathedral.
We parked and stayed at the Municipal Camping Car Parking (1 Av. del Corregidor). This is designated motorhome parking, well-lit and manned with CCTV and services but no EHU. Not all spaces are level and the majority were originally designed for cars so have kerbs in what is now the middle of the space!
When visiting Córdoba in a motorhome, this is the only designated parking allowing overnight stays; we found it to be great value for money, with security being important.
You are literally over the road from the old town and within 5 minutes, you will be at the Mezquita.
Ronda & Grazalema
From here, drive south towards Ronda and the Parque Natural de la Sierra Grazalema. This dramatic and wild space is iconic Andalusia; it seems like every hillside cradles a pueblo blanco.
Ronda is surrounded by mountains and is split in half by the gaping gorge of the river Tajo. This gorge is spanned spectacularly by an 18th century arched bridge and tall houses perch precariously along its edges.
Head to Zahara de la Sierra and follow the spectacular CA-9104 road to Grazalema, which climbs to the Puerto de Las Palomas (Pass of the Pigeons), at 1180m it's a spectacular drive and worth the fuel to get there – this is what motorhoming in southern Spain is all about!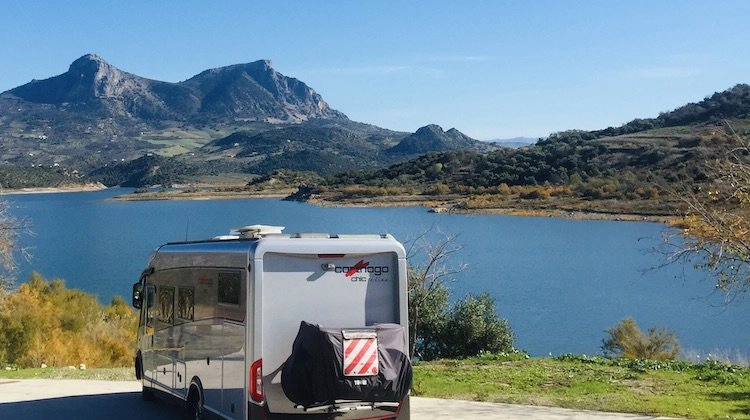 Caminito del Rey
Further to the east, you'll find El Chorro and the famous Caminito del Rey, one of the most dangerous hikes in the world until the H&S experts got hold of it!
Not only is this a noteworthy hike along the route of the river Guadalhorce, but it is also in an area of outstanding natural beauty worth exploring further. Book this hike well in advance and go with a guide, for an extra few euros you will learn so much.
We stayed several nights at this great spot, perfect for getting the bus to the start of the hike and then walking back from the end, via the bar of course!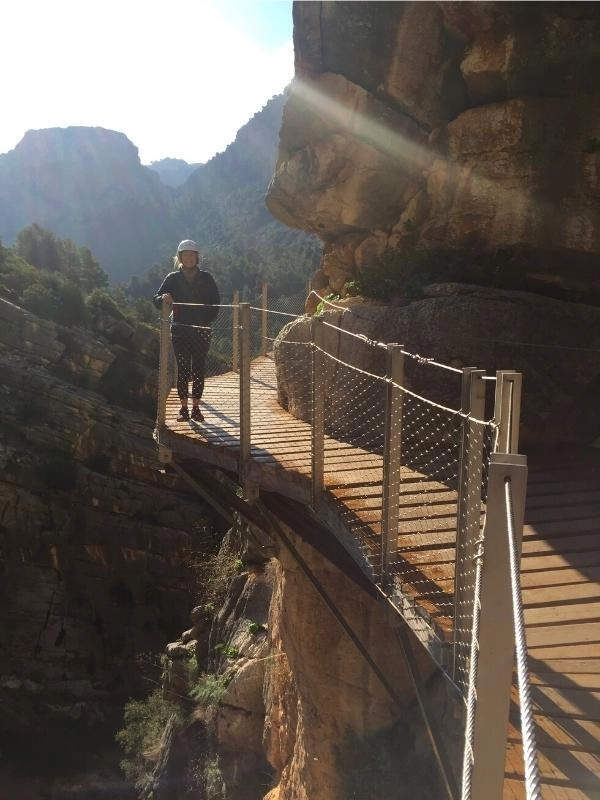 Sierra Nevada
The mighty Sierra Nevada is home to the highest point of continental Spain and the third highest in Europe after the Caucasus Mountains and the Alps; Mulhacén peaks at 3,479m above sea level.
Head for the romantic city of Granada, and the whitewashed villages of the High Alpujarras, Pampaneira and Trevélez, the highest village in Spain.
In both Pampaneira and Trevélez, we were the only motorhome in their car park, here and here respectively. Although this was in late February, we found all the bars and restaurants open and welcoming.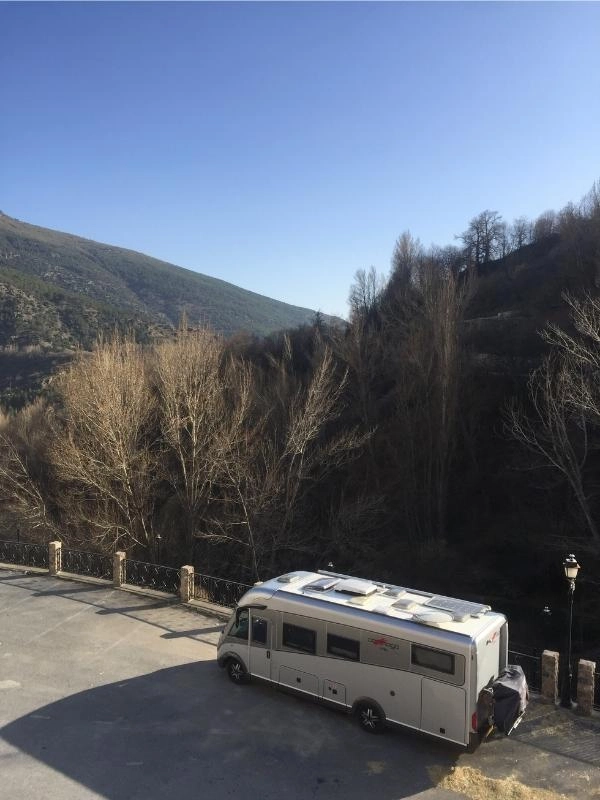 Almeria
Heading east, stop in the pretty and modern city of Almeria for an afternoon lunch along the promenade. Continue to the arid and wild Cabo de Gata national park, 71,500 acres of protected land since 1987.
This is a fascinating and ecologically diverse part of Spain with over 80 species of birds living and breeding here.
Go out along the coast in a kayak, canoe or stand-up paddle board if you can, and marvel at the crystal clear turquoise water, an abundance of sea life, wired rock formations and hidden sea caves.
Camping Los Escullos is a great site, which is situated in the national park, close to Los Escullos beach ( a good spot for wild camping on the beach in Spain) and a couple of really good hikes.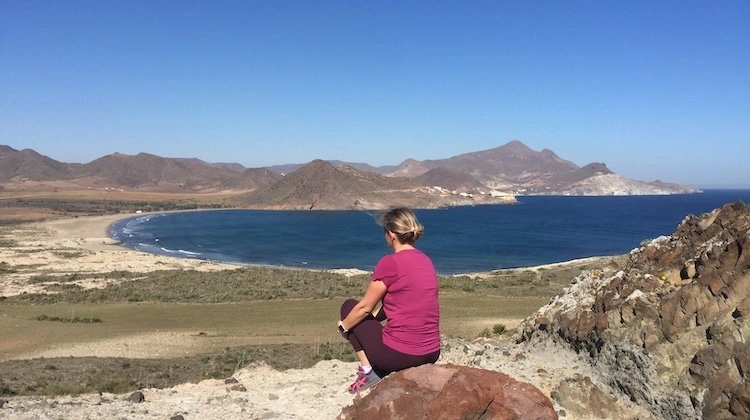 Cartagena
Cartagena is a city we really enjoy for its' eclectic architecture and unexpected cosmopolitan feel. Founded by the Carthaginians around 220 B.C., the city boomed during the Roman period.
Among its many Roman ruins are a 1st-century B.C. theatre and Casa de la Fortuna, a villa with murals and mosaics.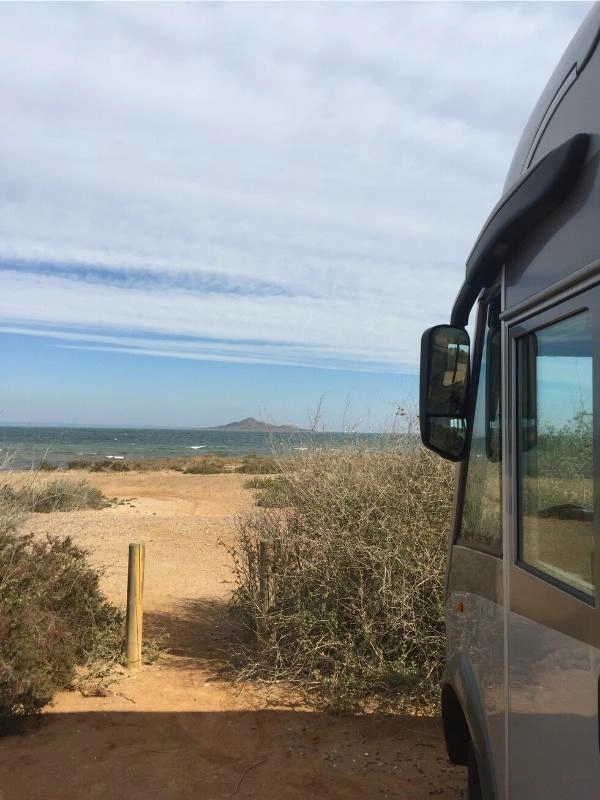 Valencia
Valencia is a green and vibrant city, with great nightlife. Visit the very modern science museum with contemporary architecture and wander the old river bed which runs right around the city.
If you're feeling brave, go to Valencia during Las Fallas, the famous fire festival. The festival commemorates San José, the patron saint of carpenters and is held from 15th-20th March every year.
If you're coming from the south, make sure to stop at the wetlands of La Albufera and try the traditional paella which originated here.
There is limited motorhome parking in Valencia, especially during the festival; we would suggest staying here.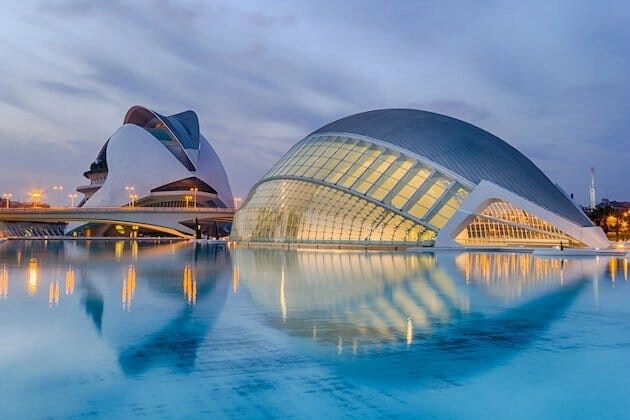 Serra d'Irta
This tiny national park nestled between Alcossebre and Peniscola is gorgeous for hiking with stunning sea views.
Stay at the lovely Camping Ribamar (although be aware that getting there requires a few km of unmade road) and hike into Peniscola along the coastal path.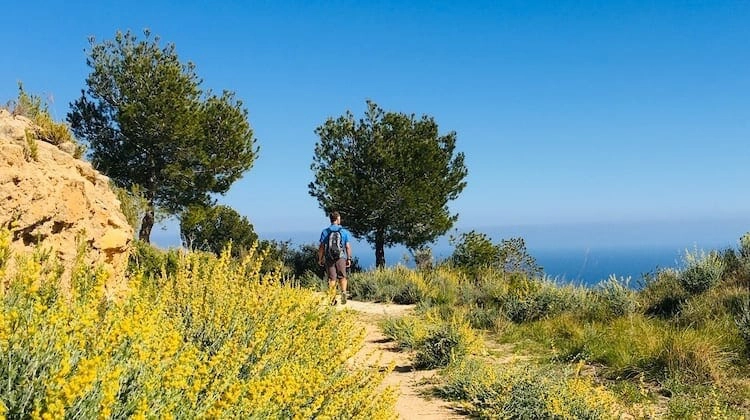 Parc Natural del Delta de l'Ebre
This tranquil and beautiful nature wetland nature reserve is known for its birdlife and encompasses rivers, dunes & beaches. You'll find great hiking and bird-watching trails here.
Stay here on the north of the l'Encanyissada lagoon and if you're lucky you'll spot flamingoes migrating. On the way, stop at Sant Carles de la Rapita, a charming Spanish town with lots of great seafood restaurants.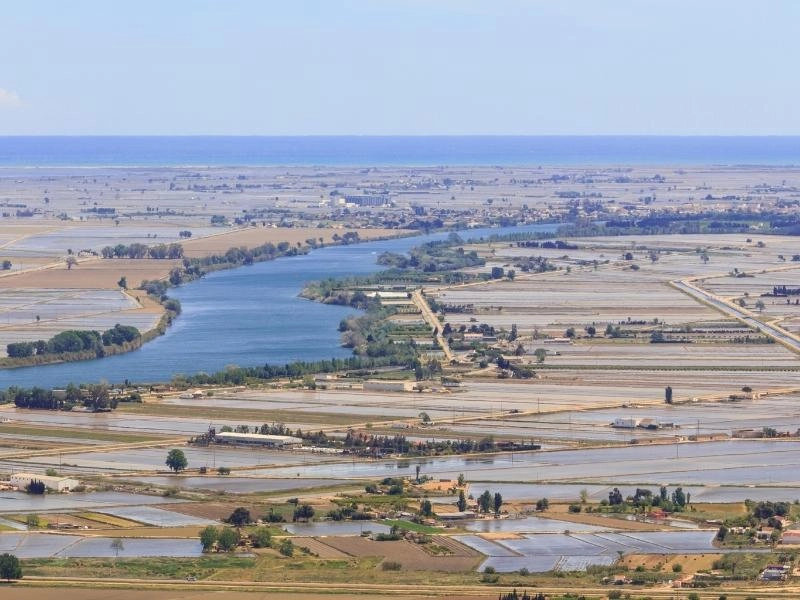 Barcelona
Continue north from here to the cosmopolitan and must-see city of Barcelona. With the fantastic beaches of the Costa Brava and a beautiful old town, this makes a great final stop on your motorhome tour of Spain.
Barcelona is a real foodie city, with a great central market and lots of fantastic tapas bars and seafood restaurants, check out the best restaurants in Barcelona for an authentic gastronomic experience when you visit the city.
Motorhome camping in and around Barcelona is challenging. Try your luck and risk a break-in at the free parking spots, park underground safely and overheat, or try this campsite, who provide a reasonably priced shuttle into the city.
Resources for Motorhome Travel in Spain
Can't decide? Our ready-made Spanish road trips are here to help…
Spanish Life
Culture
Spanish life is all about family, religion, food and tradition. Spanish people live a more relaxed life than perhaps any other country in Europe and this is reflected in the organisation of the day.
Spain has a number of different languages. Castilian (or Spanish) is the main language, with Catalan being spoken in Catalonia, Valenciano being spoken in Valencia (both being more like the French language), Galician belonging to the northern region and Basque belonging to the Basque Country. If you want to learn a few works, Castilian is the one to pick as it is the most widely spoken.
Many businesses close between 12.30 or 1pm until 5pm and then open again until 8pm. This can vary a little from town to town but fundamentally the afternoon is for relaxing and spending time together as a family; if you can't beat 'em, join 'em!
Spain celebrates fourteen public holidays a year, many religious in origin; you can check out the dates here. There are a whopping 32 regional holidays, and every town and village has its' own annual fiesta, religious in origin, but really all about the music, dancing and sometimes bullfighting. Some of these fiestas have become internationally recognised, such as La Tomatina in Bunol (yep, chucking tomatoes at each other) and Pamplona's Festival of San Fermin (Running of the Bulls), and are incredibly popular with tourists. This guide has all the information you need.
Sundays are truly sacred days in Spain. Many people will go to church but it is the extended family lunch, hosted by the matriarch, which is the most important part of the day. Very few, if any, shops are open on Sundays so make sure you've stocked up!
Following on from Sundays, many shops and restaurants will also close on Mondays with a sign on the door stating 'cerrado por descanso del personal' (closed for the rest of the personnel). So make sure you stock up for Mondays too!
Dog poo is a real issue across Spain. It looks horrible, smells disgusting and it's a real bummer when you tread in it. Some towns are making real efforts to combat this issue (one traces the poo and posts it back….how??) but in others it seems to be accepted as the norm. You may find that Spanish people are not as friendly towards dogs as you are used to, and you'll often see dogs tied up or confined within rural properties.
Spanish people talk LOUDLY and over each other constantly. It is not a fight breaking out or a lover's tiff, it's just everyday conversation! How four people together all talking at the same time can ever take in what the other is saying is a mystery to me, but they seem to manage it!
Spanish supermarkets are generally ok, all offering the basics and some a bit more upmarket, such a Carrefour. Mercadona, SuperCor and Eroski are similar in price and quality but do not carry the range of goods you would expect in a UK supermarket. Fruit and vegetables are seasonal; if you want something exotic you will have to search it out and it will be expensive. Lidl carries a good basic range and has by far the best value wine in Spain. Lidl and Carrefour have great parking facilities for motorhomes, the others less so as they are often more centrally situated in towns.
Spain is not as 'finished' as you might be used to. There are lots of failed projects around and many, many half built houses and buildings. This is because of the financial crash in 2008 and the subsequent bursting of Spain's property bubble.
Whether you like it or not, bullfighting is a huge part of Spanish life and culture. Bullfighting is seen as heroic, a test of wills involving courage, intelligence, and elegance; matadors are national heroes. The bullfighting season runs from March to October with fights usually taking place on Sunday afternoons.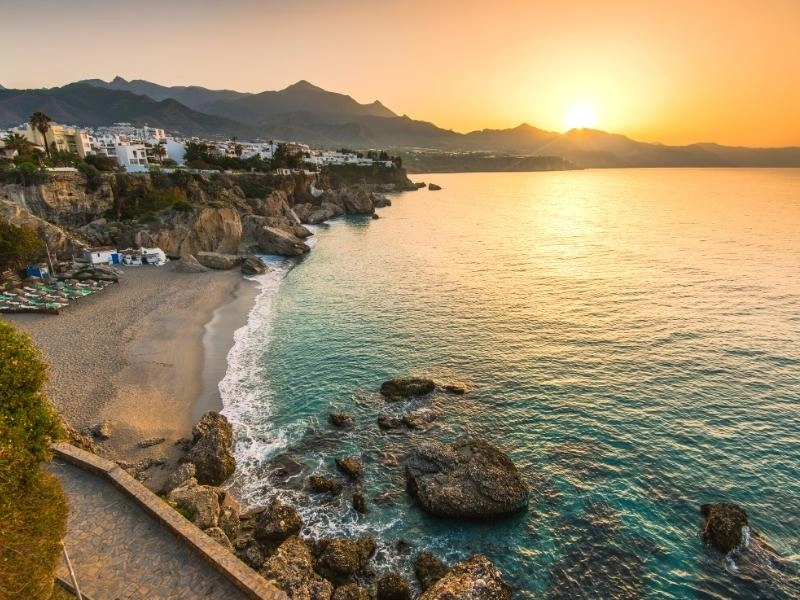 Food & Eating Out in Spain
Mealtimes are revered in Spain, as much about the time spent socialising at the table, as the food.
Mealtimes in Spain are noticeably different to the rest of Europe. Lunch, which is the main meal of the day, is eaten between 2 and 3pm. Traditionally it was followed by a nap, the famous siesta, a sacred art in rural Spain. Walk around any Spanish village or town in the early afternoon and you will clearly hear the sounds of cutlery on crockery, amid laughter and loud chatter as families lunch together.
Spain is one of the cheapest countries to visit in Europe and it's possible to eat out on a budget.

Many restaurants will serve a

menu del dia

or menu of the day. These are usually exceptionally good value and will give you a taste of the local and seasonal flavour and cooking style. Try a dish like

berenjenas rellenas

(stuffed aubergine) when this mediterranean vegetable is in season and you'll be blown away. Service is usually included in the fixed price, which can range from €10 to €18 or possibly more if you're in a big tourist city.
La cena (dinner or supper), a lighter meal, is also taken late, between 9 and 10pm, or even later during the hot summer months. Often restaurants will not open their doors until 8pm, this is considered early!
Tapas is famous in Spain; traditionally it was an appetiser and a small portion of anything on the menu. Like all good things, tapas has evolved and can now be combined to make a whole meal. In some bars, you will get a bowl of pattatas bravas or tortilla with your drink; these portions can be large and we have been known not to finish our meal because of too much beer and tortilla!
Desayuno (breakfast) is simple and usually sweet. Hot chocolate with churros is a favourite, the chocolate thick gloop and the churros freshly cooked. The Spanish have even invented a takeaway cone with cup holder for chocolate y churros!
Spanish cooking is very regional, with fish, shellfish and pork featuring heavily on most menus. Vegetarian or vegan food can be hard to find outside of bigger towns and cities. Often 'vegetarian' means made from vegetables, not vegetarian in the true sense of the word. You might get parmesan cheese in a 'vegetarian' dish for example, or prawns in a 'vegetarian' salad. If in doubt, double check with the chef or waiting staff.
If you're planning on dinner, expect the restaurant to be quiet and soulless before 9pm. If you're going later and you're in a popular town or city, expect to wait for a table or book.
Unless you are in an absolute dive or the service is dreadful, it is expected that you will leave a tip, usually around 5%.
If you are ordering a chicken dish in Spain, be very careful with your pronunciation of pollo. If you ask for polla, it is unlikely to be served to you as it's the Spanish word for penis!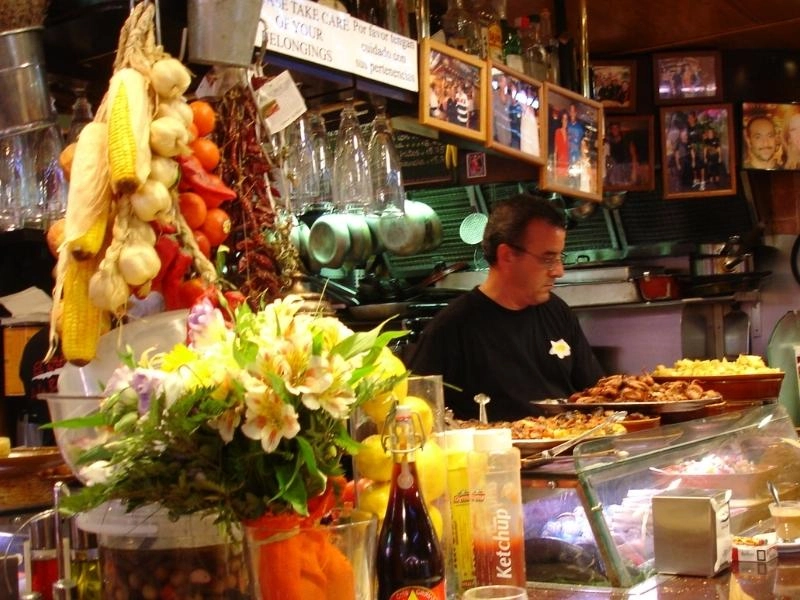 Are you looking for more motorhome touring guides? Check out these top posts…
Love it? Pin it!