This post may contain affiliate links, from which we earn an income.
Planning Your Moroccan Motorhome Adventure
Morocco is the perfect post-Brexit motorhome escape if you're looking to spend three months out of the Schengen Area. This diverse and seemingly endless country gives so much more than it takes; with breathtaking landscapes and huge skies, Morocco will delight and mystify you in equal measure.
To enjoy your motorhome or campervan tour, planning and preparation is critical. Read on to find out all you need to know about van life in Morocco.
This is an excerpt from an ebook. To access and download the entire 50+ pages of detailed and up to date information about visiting Morocco in a motorhome, you will need to purchase the ebook by clicking the link at the end of the excerpt.
Things to Know About Morocco
Morocco has a multi-cultural influence from France and Africa alongside it's own Arab and Berber culture. Morocco was a French protectorate from 1912 until 1956 and the effect of this can be seen widely across the country in use of the spoken and written language and architecture.
But Morocco is not a European country and does not look, feel, smell or behave like a European country! Don't go to Morocco expecting the same standards of civic cleanliness, food hygiene or road maintenance for example, as you would back home.
Morocco is one of the most accessible countries in Africa, but you still need to manage your expectations about motorhome life in Morocco so that you are not disappointed, only delighted by the friendliness of the people and their beautiful country.
Religion
Morocco is an Islamic country with 99% 0f the population identifying as Muslim. It is unlikely that this will affect you much as a traveller. You may be awoken by the call to prayer from the local mosque but we find it quite a soothing sound. Take ear plugs like these if you think this might bother you.
Infrastructure
It is evident over the last ten years of our travels to Morocco that the infrastructure is improving year on year and significant investment is taking place in the country. That is not to say that you won't drive through the most dilapidated towns and villages and be appalled by the rubbish and squalor but be surprised by modern city life in Morocco just a few hours later. In the most rural parts of Morocco, life is tough and remains a hand to mouth existence.
Dress
There are no dress laws in Morocco but you should be mindful of where you are and the context in which your dress should be considered.
In conservative areas such as the country and in medinas, both men and women should avoid short shorts, sleeveless tops and clingy clothing. At the beach or in resorts there are less restrictions and clearly, lying fully clothed to sunbathe isn't going to work!
Weather
The best months to tour Morocco in a motorhome are December, January, February and March. During these months the extremes between night and day are marked, with temperatures in the low to mid 20°c during the day to freezing at night, depending on where in the country you are. As a general rule, the further from the coast, the more extreme the temperatures. Pack some thermal nightwear like this for the evenings and to wear in bed.
Language
Many Moroccans speak fluent French and some fluent English. In some rural areas, neither will be spoken at all. Use an app such as Google Translate or iTranslate to help you. The latter can be used off-line for a small monthly fee.
A few words of Arabic go a long way, we use these daily and always get a smile;
naäam = yes
laa = no
min faDlik = please
shukran = thank you
As-salāmu ʿalaykum = peace be upon you and widely used as a greeting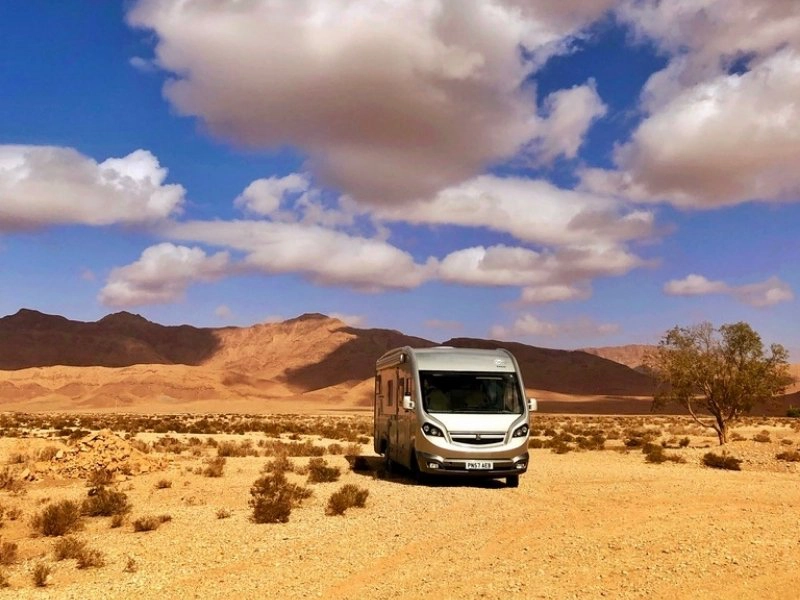 Begging
You will encounter begging at some point, especially in Morocco's cities. This might take the form of overt begging, which is usually confined to cities and bigger towns or from traders or faux guides (not registered) who descend to begging when you decline their wares or services.  
It can be difficult to know how to respond, especially when the beggars are children. The Lonely Planet Morocco Guide (which we have found invaluable) suggests that giving money (or sweets) to children shames their families and perpetuates the problem. Several of our guides have suggested giving notebooks and pens to children which seems like a better option to us.
Is it Safe to Road Trip in Morocco?
Local Laws & Customs
There are a number of local laws and customs that travellers to Morocco should be aware of;
Morocco is a Muslim country which follows Islamic laws and customs. Be aware of your actions to ensure they don't offend, especially during the holy month of Ramadan or if you intend to visit religious areas.
Avoid public displays of affection, particularly outside the main tourist areas and near religious places.
Sexual relations outside marriage are punishable by law. If you decide to stay in a hotel, you may need to produce a marriage certificate, especially if your surnames differ.
Homosexuality is a criminal offence in Morocco. Be sensitive to local laws and customs and avoid public displays of affection. Complaints can lead to prosecution.
Women, especially when travelling alone, may receive unwanted attention from men. To minimise hassle, you may choose to wear loose-fitting clothing which cover the arms, legs and chest.
Alcohol is served in licensed hotels, bars and in tourist areas. However, drinking alcohol in the street and anywhere other than a licensed restaurant or bar isn't allowed and can lead to arrest.
Possession, use or trafficking in illegal drugs is a serious offence and can result in a lengthy prison sentence and a heavy fine.
It's illegal in Morocco to send passports through the post. British passports sent to or through Morocco by post or courier companies will be confiscated by the Moroccan authorities.
It is against the law to carry bibles in Arabic, to attempt to distribute any non-Muslim or evangelical literature, or to be involved in any such activity.
Avoid taking any photographs near sensitive political or military sites.
You'll need permission from the authorities to fly a drone. Don't take a drone with you if you don't have permission to fly or it will be confiscated on entry at customs.
It's illegal to possess pornographic material.
Check the Foreign Office website for more information and up to date guidance.
Vehicle Insurance
The matter of motorhome and campervan insurance in Morocco is one of the most asked questions on any Morocco motorhome forum. Many insurers have now stopped providing a green card for Morocco and those that do, will charge for it. You are required by Moroccan law to have, at a minimum, third party insurance.
Our latest research shows that only Comfort and Saga 'may' offer fully comprehensive cover for Morocco. Note the 'may' which is a catch-all get out should they wish to change their mind after you have taken out a policy based on getting a green card. At the time of writing, both are charging upwards of £50 a week for a fully comprehensive green card. Whether this may change when Morocco increases in popularity for people long-term motorhoming in Europe post-Brexit, remains to be seen.
You could shop around and try and get cover from a UK underwriter for the period of your trip, but our own recent research has shown that most only offer third party cover and those that were willing to discuss fully comprehensive cover would be charging a prohibitive amount.
Your final option is to purchase third party insurance at the port in Morocco. It's a very simple process; you arrive, hand over your V5 (original not copy) for a cursory inspection, pay around €200 for three months and be on your way. We were unable to buy for less than three months but other travellers have reported being able to buy for a month. You will get a document with a number to call in case of an accident but this is basic insurance which remember, will not cover you for theft or any damage to your motorhome that you cause yourself. Only you can decide if you are willing to take the risk.
Breakdown Cover
If your green card is being provided by your insurer and you have breakdown cover as part of your package then any costs you incur due to a breakdown will be covered. This means you will need to manage the breakdown, organising recovery and any repairs yourself, pay the bill and submit it to your insurer for payment. We strongly advise that you check with your insurers before departure to ensure that this is still the case.
If you are not covered in this way, then your options are very limited. There is no national breakdown service in Morocco and you will have to use a local recovery service and garage to resolve your vehicle problems. If you do break down, undoubtedly, a passing local will stop to check if you're ok (this has happened to us several times) and if you need assistance, it will be provided. As mentioned earlier, Moroccans are incredibly resourceful and everyone seems to know someone who can help.
Do you want to keep reading?
Get 50+ pages of up-to-date essential tips and information to help you plan your Moroccan motorhome adventure.