This post may contain affiliate links, from which we earn an income.
Morocco Driving & Road Trip Travel Tips
Moroccan roads are made for driving, it's the perfect country for road trips and longer tours. Driving in Morocco is not like driving back home though, and at times being on the road in Morocco can be challenging.
We've been driving and traveling in Morocco for years, and spent three months road tripping in Morocco several years ago. We share all you need to know about driving and road rules in Morocco, so that touring is fun and you stay safe on the road.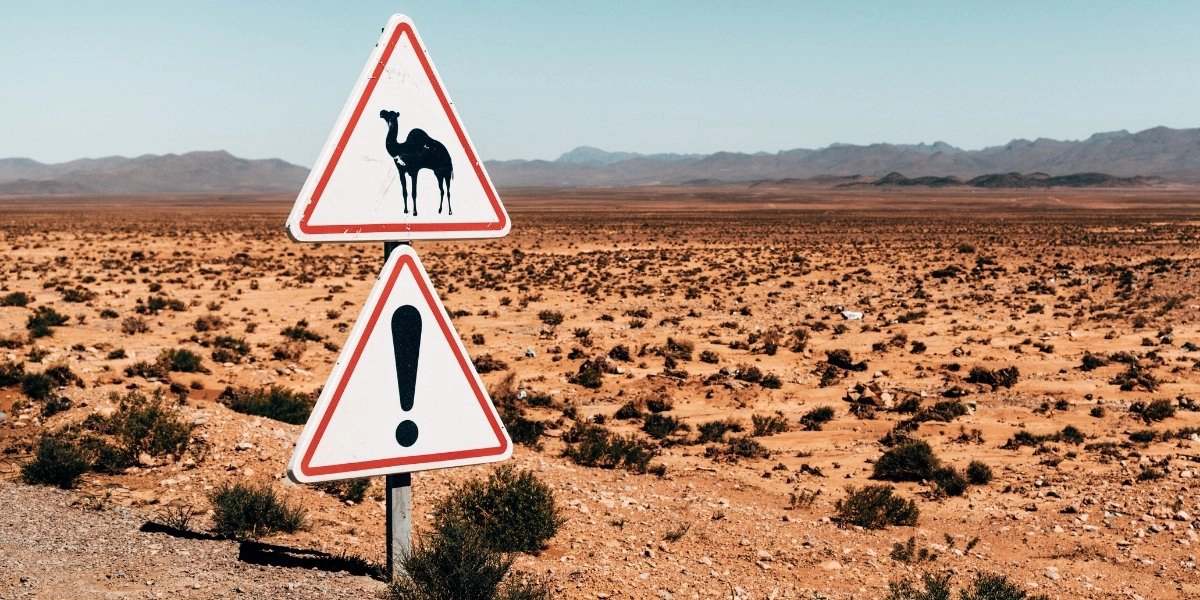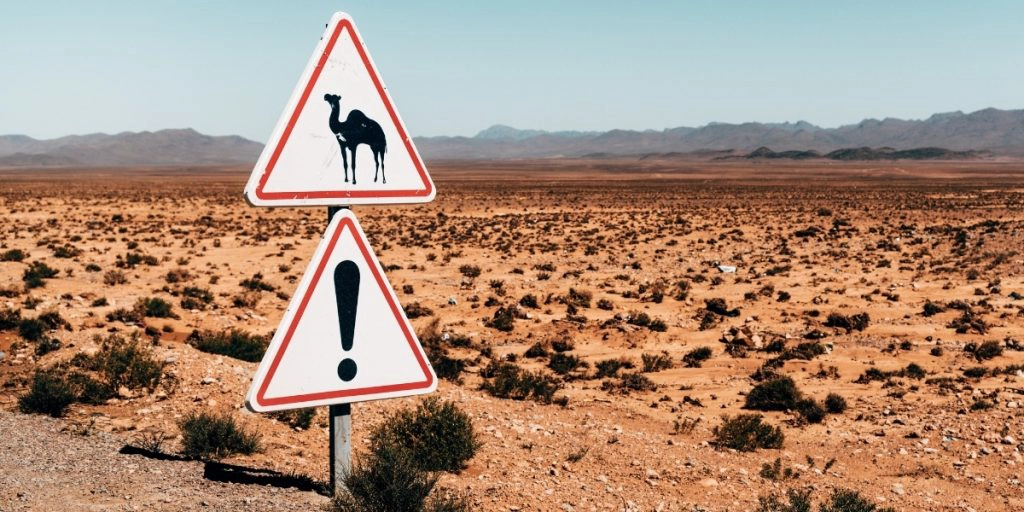 Is it Safe to Drive in Morocco?
Whilst there are more road traffic accidents in Morocco than the UK, it is safe to drive in Morocco as long as you pay attention and drive carefully especially in cities and off the beaten track rural areas. Follow our top tips about driving in Morocco to stay safe and have an amazing trip.
Is this your first time visiting Morocco? Get all the information you need in our Morocco Travel Guide, including what to pack, the best time of year to go, getting there and practical tips to help you have the best trip!
Renting a Car in Morocco
Even if you hire a car for your Morocco road trip from a reputable and highly recommended national or international chain, there may be language barriers and opaque practices when you get to the car rental depot. These are some common issues;
Not all marks and scratches (inside and out) have been noted.
You are not given the opportunity to inspect the vehicle or asked to do this in the dark.
Fuel marked as full on paperwork but gauge showing empty.
You are asked to purchase further insurance with vague suggestions that what you have already purchased is insufficient. Many online hire car companies are just brokers, but can provide you with CDW (collision damage waiver) cover. This means that if you do have an accident, the deductible or excess (usually a hefty sum) will be covered by the insurer and not you. It is common practice for the hire car company to try and sell this product to you again on collection; often they will imply that the product you have bought is invalid or not very good.
The car is not what you ordered; manual not automatic, no air conditioning, not 4WD etc.
Sometimes you have to accept the local ways; only you can decide what you're comfortable with and how much you'll willing to concede at this point in your trip.
Take photos of anything under dispute (make sure they're dated) and record discussions regarding important things like insurance. You may also wish to video the inside and outside of the car clearly stating verbally where there are scuffs, marks and scratches.
It won't make for a great relationship with the car hire staff, but you need to protect your interests first and foremost.
Taking Your Own Vehicle to Morocco
Driving to Morocco in a motorhome or car from the UK or EU is pretty straightforward. Some Spanish hire companies may also agree to you driving a rental car in Morocco but check first. You need the following documentation;
Your passport should be valid for the proposed duration of your stay in Morocco. However, the Moroccan Consulate General in London advise that your passport should be valid for at least three months on your date of entry to Morocco. If your passport does not meet this requirement you may face difficulties and you should check with the Moroccan authorities and your travel provider before travelling.
Vehicle registration document. You must take the original document as you are required to temporarily import your vehicle into the country. You will also need this document if you're buying insurance at the border and when you buy your ferry ticket.
Import document you will receive at the port. Keep this safe as you will be required to surrender it on exit and may be asked for it if stopped by the police.
Vehicle green card or proof of insurance purchased in Morocco (third party insurance is the legal minimum). Check with your insurance company about whether they will issue a green card for Morocco, you may need to pay extra for this.
Driving License. You do not need an International Driving Permit (IDP) for Morocco as long as your license is in English.
Make sure you have travel insurance you can trust when visiting Morocco. We recommend True Traveller for their 5-star TrustPilot reviews, variety of cover options, best activities cover as standard, great prices, and excellent service.
Rules of the Road
Drive on the right side of the road. Just remember to keep the steering wheel closest to the kerb and take it slow for the first few days.
Give way to traffic entering a roundabout on the right when you are already on the roundabout.
You and your passengers must wear a seatbelt.
In the event of an accident, you are legally required to remain at the scene and not move your vehicle until the police arrive.
The speed limits are 120km/h on motorways and between 100 and 40 km/h on all other roads, dictated by signs.
Some motorways have tolls, mainly in the north and coastal areas. Toll costs are much cheaper than those in Europe and have to be paid in cash.
Don't drink and drive, or take drugs and drive unless you want to end up in an unpleasant Moroccan prison!
Road Etiquette
Moroccan drivers vacillate between driving painfully slowly and overtaking you on a blind bend. They will often not stop at pedestrian crossings, drive down the middle of the road and park in the most inappropriate and thoughtless places.
Expect the unexpected, pay attention and understand that Moroccan drivers don't know how to use their mirrors or indicators and you'll be fine!
Language
In tourist areas you will see road signs in Arabic, Berber and French. If you're off the beaten track, it will be Arabic only. Lots of Moroccan people speak a little French, if you don't speak it make sure you download a translation app before you go.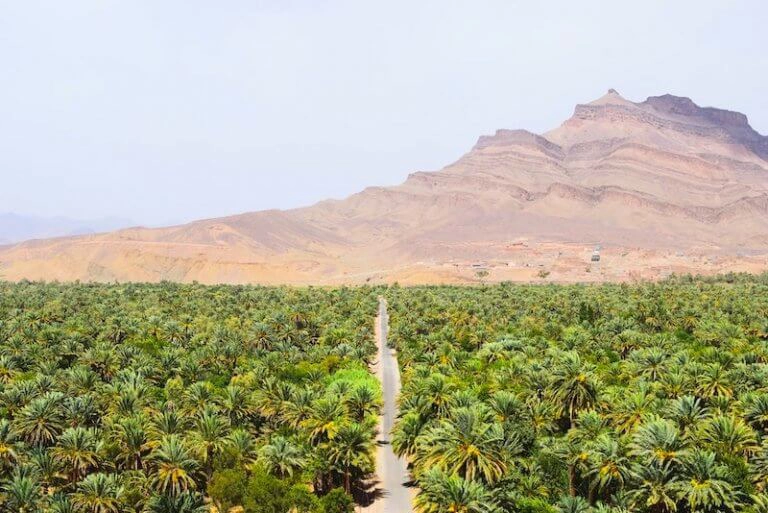 Road Quality
Expect pot holes, dangerous verges and lots (and lots) of hair-pin bends, along with spectacular views, Top Gear style driving and enough adventure to satisfy even the biggest of thrill seekers!
There are broadly two types of roads in Morocco, sealed roads and pistes (track), which are basically gravelled unsealed roads. All main routes are tarmac'd with motorways and N (national) roads maintained in generally good condition.
The quality of R (regional) and P (local) roads is mixed and not all will be sealed, although regular upgrading does take place.
The most up to date road map of Morocco is the Michelin 742 National Morocco Travel Map 2015 and the only map to show the different road surfaces.
Pistes do not necessarily need a 4WD vehicle. You can road trip the whole of Morocco in a 2WD vehicle, as long as you deploy common sense! Ground clearance, robust tyres, good suspension and confident driving are more important for pistes.
RELATED POST: What Do I Need to Know Before Going to Morocco?
Road Works
Morocco is heavily investing in infrastructure which means that many of the roads are being upgraded and sometimes on a large scale.
Roadworks are not always well managed, often with no mechanism for two-way traffic to pass and no traffic management to control the flow. This can mean a lot of manoeuvring to get through; you may have to be bullish about this, or you'll be hanging around for hours at busy sections.
Road Hazards
Driving in Morocco is safe if you are aware and prepared. You will undoubtedly come across lots of hazards when driving in Morocco. Awareness cannot compensate for the unexpected, so drive cautiously in unfamiliar surroundings.
It's common for pedestrians, cyclists, donkeys, camels and mopeds to wander into the road, often without looking. Pedestrians and cyclists are a particular hazard when passing through towns and villages, especially on souk (market) days or at times when school is finishing.
You will come across vans and lorries with ridiculous loads perched and balanced on their roofs. Give them a wide berth, they have been known to topple over.
Sometimes the tarmac just disappears, leaving raw piste, large pot holes and craters. Damage is often passable with a little caution but if you're unsure get out and have a good look around, checking the road surface carefully.
Driving at Night
Driving in Morocco at night is particularly hazardous. Leave enough time to get to your destination (and it will take longer than you think!).
There is usually no road lighting on R and P roads and Morocco driving laws state that it's legal for cars driving under 20km/h at night to drive without lights…yep, really!
At night, your's may be the only light on the road but there will be wild animals, other cars and people that you just can't see. On mountain roads, you will encounter rock falls (which are common) and debris across the roads.
If you cannot avoid driving after dusk, be very cautious and ready to brake at all times.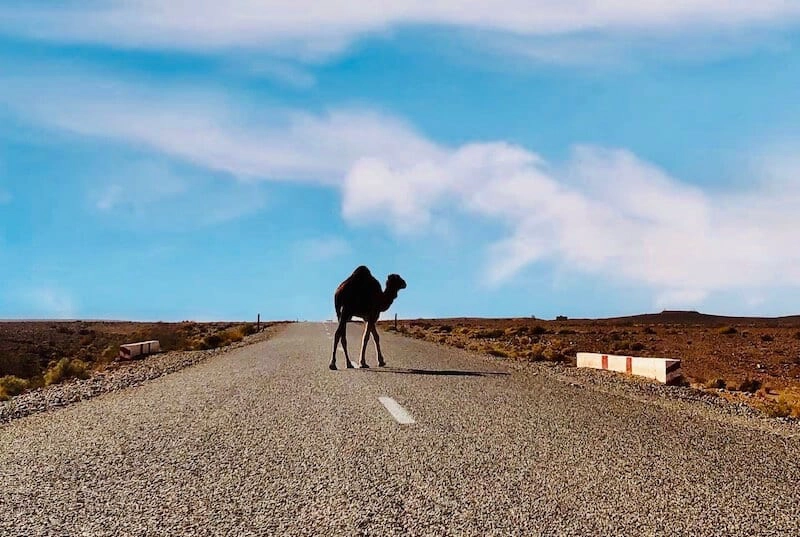 Navigation
There are a number of options to help you navigate in Morocco. We used the Michelin 742 National Morocco Travel Map 2015 for bigger picture planning and to understand the types of roads on our planned route.
Maps.me was our go-to sat nav app. Download the app and free Morocco maps before your trip for offline access and navigation where there is no signal. Maps.me also provided routes where Google Maps was unable to or inexplicably stopped routing part-way through a journey.
Driving in Cities
Do not attempt to drive through any large Moroccan town or city. Use the ring road or park outside and head in on foot, get a petit taxi or use public transport.
Medinas and older parts of Moroccan towns and cities are not designed for cars; the streets are too narrow for most cars and you'll find yourself stuck with no way out.
Driving in the Marrakech medina may be a great dinner story a few years down the line, but hugely embarrassing and potentially costly at the time!
Most cities have a multitude of roundabouts on the main roads in and out. Often two lanes can become four or five lanes of traffic as vehicles jostle with each other for supremacy.
There are often no lane markings on the roundabout itself so be cautious as you enter and exit, checking in both side mirrors for vehicles and cyclists who will cut across you without a thought.
If you are driving a foreign plated or rental car, you may find that you are harassed by Moroccan men on mopeds as you enter the city outskirts. They are trying to direct you to parking or accommodation, for which they receive a commission.
Ignore them (not easy when they're banging on your window) and they will move on to the next foreigner with money to spend.
RELATED POST – Adventurous Road Trip – 26 of The World's Most Exciting Routes
Parking
Almost all city and town parking is guarded and will have a guardien who will direct you to a space and charge you for parking and looking after your vehcile. Expect to pay around 5MAD to 30MAD depending on how long you stay and where about you are in the country.
It can be easy to resent this, but this service is well worth paying for and provides much needed employment for people.
We would not park without paying a guardien because a) its such a small amount of money and b) not having one makes your vehicle vulnerable to break-in. Always remove valuables though and don't leave your stuff on display.
More Morocco Travel Guides
Selling and Begging
As you pass through the more picturesque (and therefore busier) parts of Morocco, people will try and sell you things on the side of the road; fossils, crystals, local handy-crafts or food.
On the roads to Marrakech there is a trader on every corner holding up their rock crystals and waving you down as you drive pass. If there are traders on the road and you stop to take pictures, they will harass you to buy, even standing in front of your car or in front of the door so you are unable to close it.
Be polite but firm (unless you want to buy of course). Sometimes selling can descend into begging, moving on to a poverty story and outright asking for money or items such as clothing for their family.
In some places, where there are likely to be tourists, children will beg for food at the side of the road. This is difficult to see and it's tempting to stop and provide food.
However, giving food to children shames their families (even if they are hungry) and perpetuates the problem. Sweets are particularly bad as access to state provided dental care in Morocco is non-existent.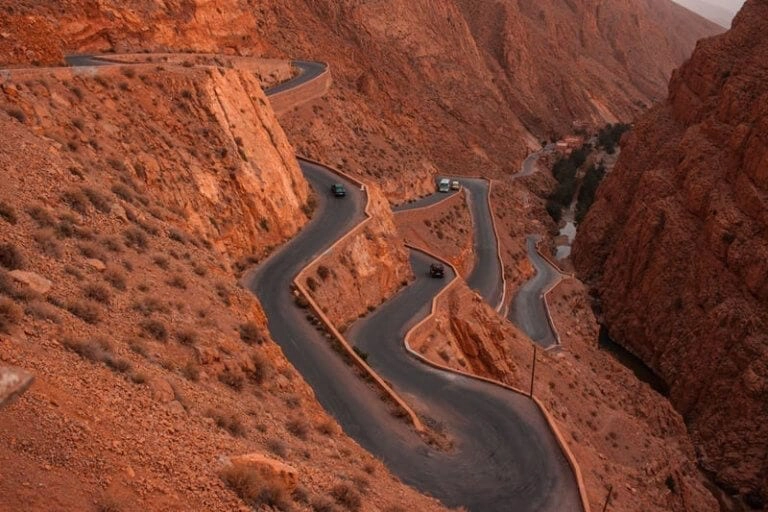 Weather
Morocco is a country of extreme weather. Huge temperature differentials by day and night, monster sandstorms and raging rivers during the rains. All of this has an effect on the roads which can often be damaged by such forces of nature.
There is often little warning that damage may have occurred, particularly if it's recent. Be aware and don't allow yourself to be distracted by the scenery whilst driving into a large pothole!
If there is a strong chergui (easterly wind) forecast, its advisable not to drive. Chergui carry a lot of sand and dust which can be damaging to your vehicle engine and limit visibility. Wait it out inside somewhere with a pot of mint tea!
If you're travelling in winter, the High and Middle Atlas passes are often closed due to weather. Check before heading off into the Atlas mountains; if the snow gates are closed then the road is impassable.
Fuel
Fuel stations are plentiful, even in the most remote areas. It is considerably cheaper to fill up in Morocco than anywhere in Europe with gazole (diesel) at 10MAD per litre and sans plomb (unleaded) at 11MAD per litre.
Most Moroccan fuel stations are serviced and it's customary to give a few dirhams to the server. You often cannot pay with a debit or credit card so make sure you have enough cash.
Breaking Down
If you are taking your own vehicle to Morocco, check whether any breakdown cover you have can be extended to cover the country. If the cover can be extended, it is highly likely to be on a reimbursement basis, where you manage the process and claim the money back.
Check with your breakdown provider before leaving and ensure you know who to call in the event of a breakdown.
If you are hiring a vehicle, ask on collection what the process is if you break down.
There is no national breakdown service in Morocco and you will have to use a local recovery service and garage to resolve your vehicle problems. If you do break down, passing locals will generally stop to make sure you're ok and and give a hand.
Most towns will have a mechanic or car workshop where basic repairs can be managed and support from further afield can be drafted in if necessary. Moroccans are incredibly resourceful and everyone seems to know someone who can help
Police
On every road into every city and town you will see police stationed at roundabouts. This allows them to monitor the comings and goings into each town. Sometimes they will also have a radar gun to check for speeding.
You will know there is a checkpoint coming up as temporary speed signs will be displayed at the side of the road cautioning you to reduce speed to 60, 40 and then 20km/h, often in very quick succession.
If you are stopped and pulled over you will be asked for your passports and sometimes your vehicle importation or hire car documents. The police will want to know where you have been and where you are travelling to; the more specific you can be the happier they are!
People do report being stopped by the police and fined for unspecific traffic misdemeanours. The police are either unable to state the crime or will not produce a receipt for payment, which always must be in cash!
A good way to find out if you are being scammed is to say that you will pay at the nearest police station. If no ticket is forthcoming, you know it's a con and you must decide whether to refuse to pay and hope to be waved on, or pay up knowing it's going into the policeman's pocket.
Plan Your Route
Morocco is a vast country and it will always take you longer to get to places than you think and long distance driving is a feature of any Moroccan road trip. If you don't plan and arrive late, you may find yourself sleeping in your car on a garage forecourt (yes, it's happened!).
Map out and plan your road trip route in advance and book your accommodation, particularly where the choices are limited. Leave plenty of time for breaks and stops to take pictures en-route, as well as any unexpected road damage or roadworks.
Plan to arrive in the light where at all possible. It will be easier to find your accommodation and you'll arrive stress free.
Be Prepared
If we haven't scared the bejesus out of you and you're still heading to Morocco for a road trip, make sure you're prepared with all the important stuff before you hit the road.
Alongside your documents, suitcase full of harem pants and flip-flops, at the top of your car packing list should be loo paper (most restaurant and public loos don't provide this), lots of water and huge amounts of snacks.
Morocco on the road can be hard work!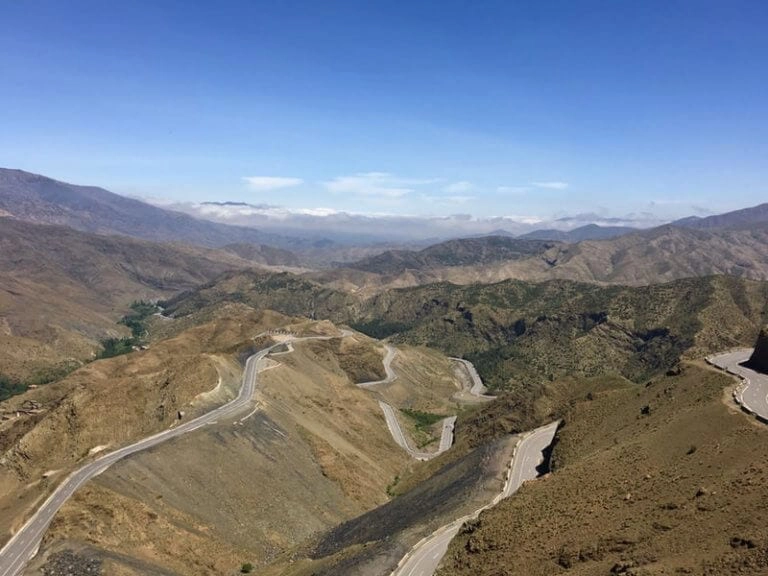 Should I Take a Road Trip in Morocco?
Despite the challenges and differences to our usual road trip modus operandi, we loved Morocco for it's beauty, friendly people and yes, it's roads!
Much of the above is worst case scenario stuff and chances are you won't encounter any damaged roads, kamikaze camels or sand storms. We felt perfectly safe in Morocco for the eight weeks we spent there and enjoyed testing ourselves in a new driving environment.
Getting stuck in and doing it for ourselves was so much more rewarding than taking a guided tour or bus trip. Instead of looking on through a coach window, we were submersed in the noise, smells and culture of this amazing country. We were able to stop where and when we wanted and could play our playlist as load as we liked!
Are you looking for more road trip resources? Check out these top posts…
Are you desperate for some Spanish sun but don't want to fly? With great routes across Europe, it's easy to drive to Spain from UK by car, arriving refreshed and unstressed from the comfort of your own vehicle. We're sharing the best routes with costs and comparisons plus tips about driving once you're there. Our Spain from UK guide will help you decide which is the best route for your driving trip to Spain, so…
Love it? Pin it!