This post may contain affiliate links, from which we earn an income.
Visiting Tangier Morocco
A Tarifa to Tangier day trip is a must if you're staying in Tarifa and getting from Tarifa to Tangier is so simple – an hour on the boat and you're in the vibrant Moroccan port city, and on a completely different continent!
Morocco is so totally different to Spain and Europe that it can be hard to acclimatise quickly. In our Tarifa to Tangier guide you'll find information about the best ways to get to Tangier from Tarifa, where to stay and what to do there. We also share tips about about what to expect and how to manage the culture shock!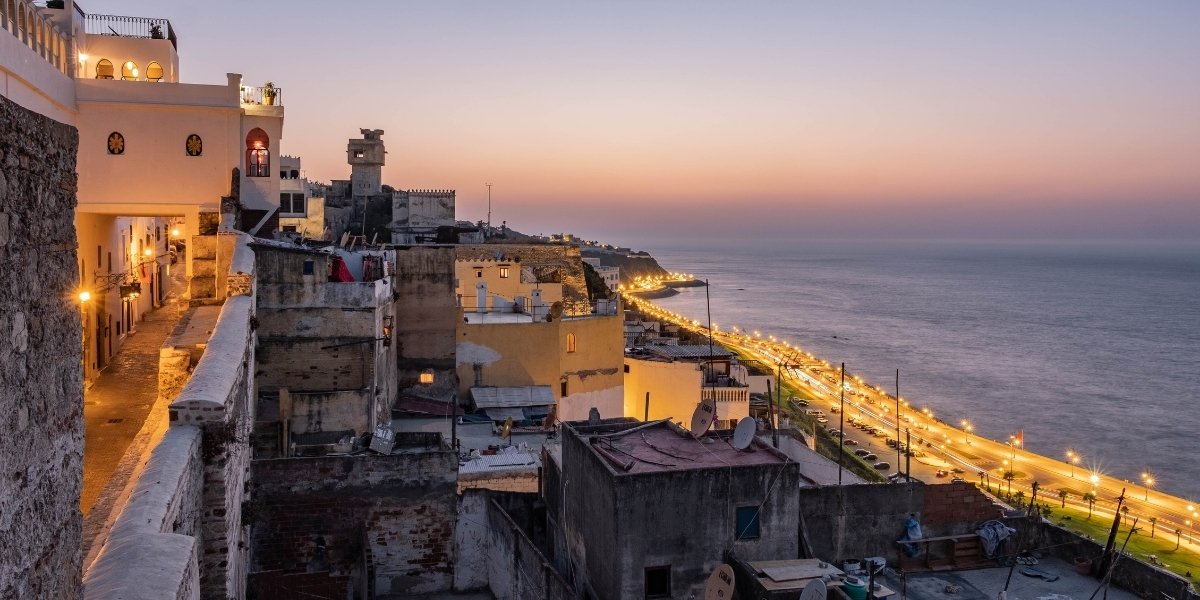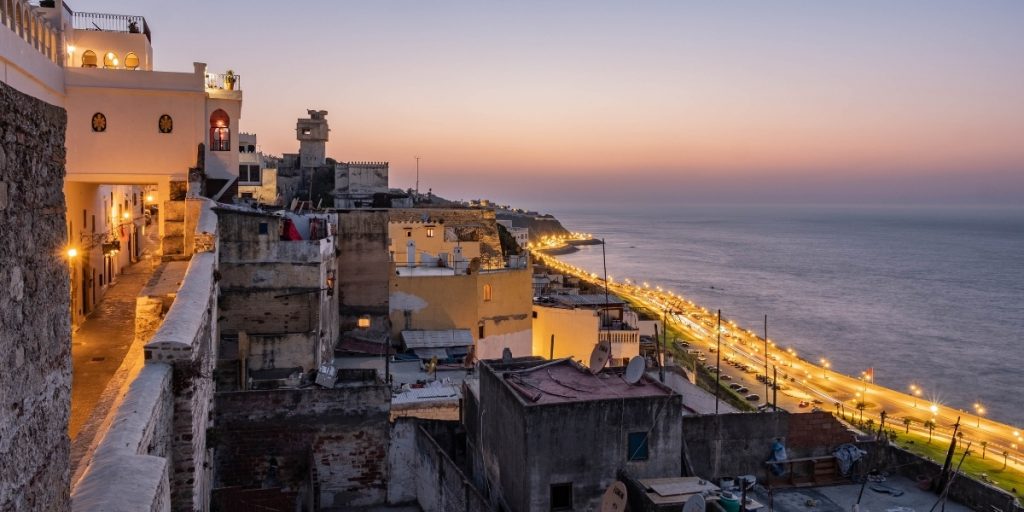 How to Get from Tarifa to Tangier
There are a number of ferries from Spain to Tangier, but the best way is to travel across the Strait of Gibraltar on the Tangier ferry from Tarifa port. The journey takes an hour and leaves regularly.
The main ferry companies are Inter Shipping and FRS Ferry. An open return is generally cheaper than buying two one way tickets.
Park in the car park next to Tarifa port. There were no height barriers but there were entry barriers and CCTV, so we think the port would be a safe place to leave a vehicle.
There is a bus service which heads along the main N-340 road from Tarifa, so you may be able to get there by bus from your campsite or hotel rather than leaving a vehicle in the port car park.
You must get your embarkation document (which the ferry company ticket office will give you) stamped on the boat. If you don't do this you will be denied entry at Tangier Ville (not to be confused with Tanger-Med [sometimes referred to to as Tangier Med] which is the main route from Algeciras to Tangier) and have to go back on the ferry to get your document stamped.
Is this your first time visiting Morocco? Get all the information you need in our Morocco Travel Guide, including what to pack, the best time of year to go, getting there and practical tips to help you have the best trip!
Day Tours to Tangier
Your hotel or accommodation may also offer tours, day trips and excursions to Tangier, as do some companies along the road to the port in Tarifa.
You can also book one online in advance, like this best selling Tarifa to Tangier full day tour, which gets great reviews and includes your round trip ferry and walking tour of all the main sights.
If you want a milder taste of Africa, try a day trip to Cueta, a Spanish enclave on the African continent, just a boat ride from Algeciras.
What to Expect on Arrival in Tangier
Tangier Morocco is a raw, noisy, disorganised and in your face city! You will be harassed as you come through the port by locals who say they are tour guides, taxi drivers, restauranteurs, hoteliers and so on.
Many will try to enter into conversation and become your 'friend'. They will often follow you for some distance, then demand money for guiding you. Be firm, stop, look them in the eye and say that you have arrangements in place and don't need their help. Then move on.
If you do want a day tour guide, it is far better to book one through a recognised organisation, or your hotel if you're staying overnight. This means your tour guide will be accredited, knowledgeable and will speak English.
We recommend this highly rated Tangier Full Day Grand Tour, where you'll explore the old and new city of Tangier with an expert guide, and learn about the civilizations that have helped shape the port city. You'll also get to visit the fantastic Caves of Hercules, inhabited since Neolithic times and wander the maze like streets of the Medina.
Check out our Morocco travel tips for more advice on what to expect when you visit Morocco.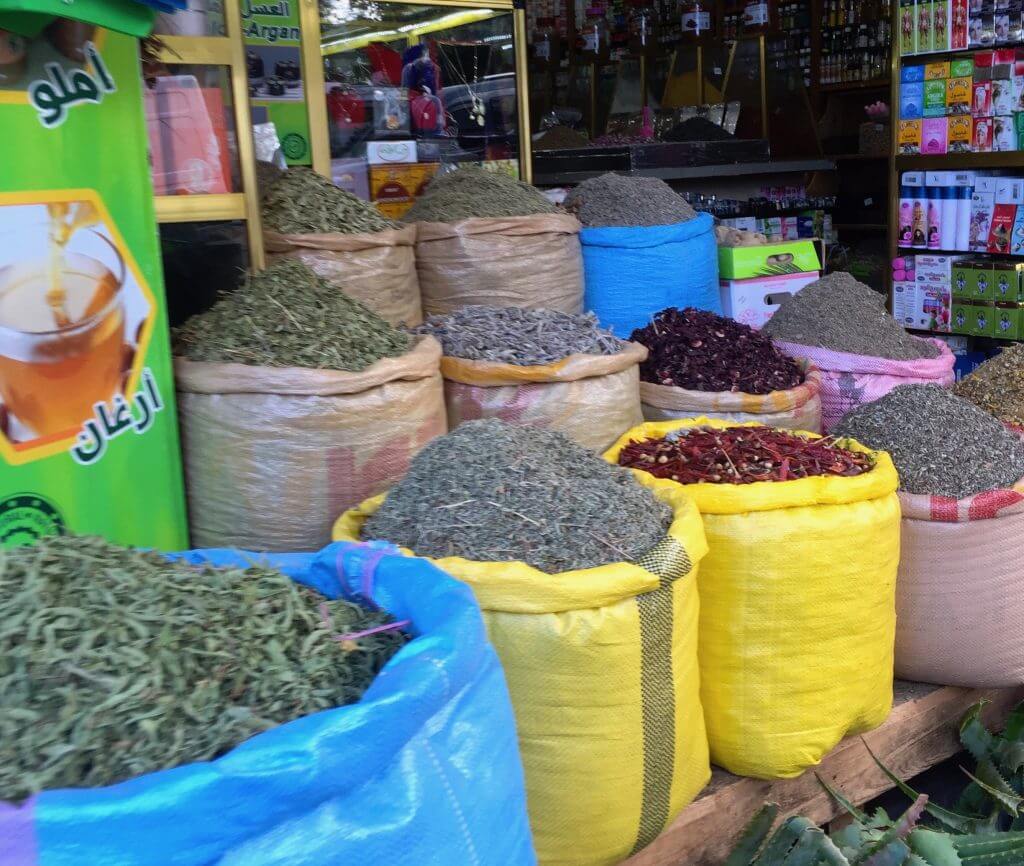 Where to Stay in Tangier
If you decide to stay in Tangier, we highly recommend Mimi Calpe, a European style boutique hotel with a Moroccan vibe.
The hotel is stylish but retains a Moroccan feel. There is a stunning pool on the roof terrace, with fantastic views of the city and ocean. Breakfast is a little sparse, as is the Moroccan way, but more will be provided if you ask.
The hotel is ideally situated for both the Medina, marina and new town, and it's about a 15 minutes walk from the port.
What to Do in Tangier
Tangier is a very walkable city, with most things you will want to see within a 30 minute stroll. Use a navigation app to help you find your way around, or a paper map from your hotel. Be prepared to get lost, it's all part of the fun!
If you've got a bit longer then you can head to the beach for an extra day, if you've got one week to spend in Morocco then take day trips to Chefchaouen and Casablanca.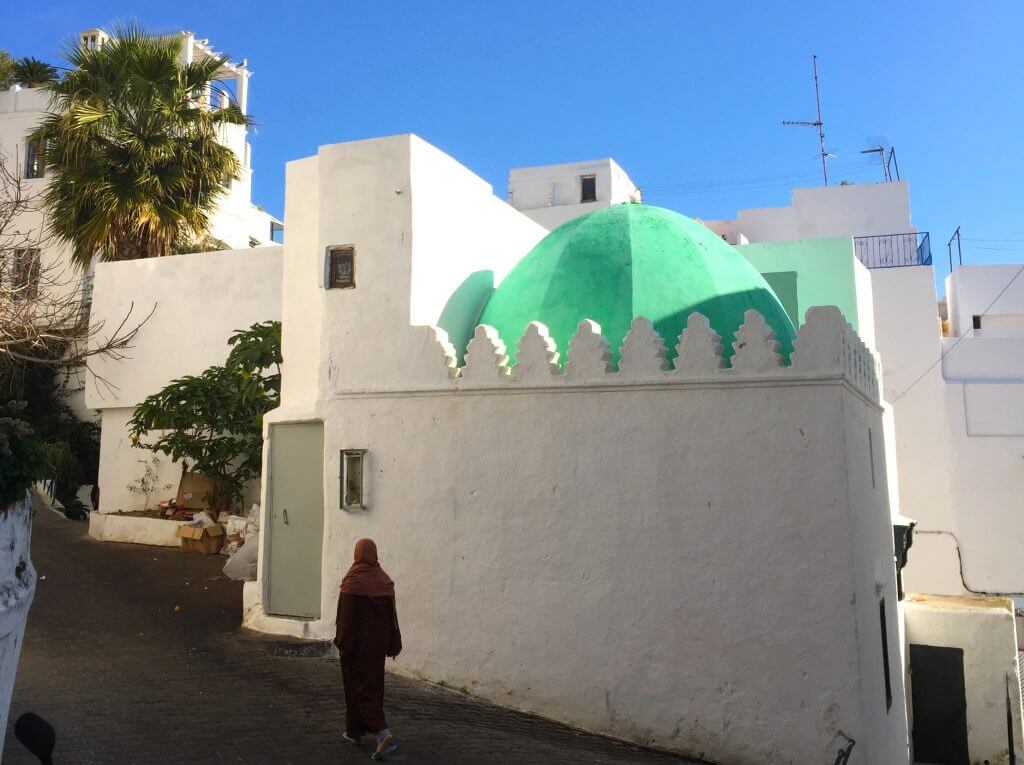 Wander The Medina
Head for the walled Medina where you will find shops and cafes lining the twisting alleys and small squares. This is a great place to wander and observe local life. Mopeds are often driven at speed down the narrow streets so be aware of your surroundings and keep to the sides where possible!
The atmosphere in the Medina is friendly but this is essentially a souk, a huge marketplace, and you will be asked to purchase if you show any interest – it is easier to only look at things you really want to buy!
Haggling is expected here, so if you do want to buy something enter into the spirit of it and enjoy. Don't haggle for something you don't really want only to walk away, this will not be appreciated.
After a bit of shopping, head for Place Petit Socco where you can drink mint tea and while away a few hours people watching in the square.
You should also visit the marvellous American Legation in the Medina, It's the only American national historic landmark on foreign soil and has served as a symbol of American engagement with the Islamic world and North Africa since the early days of the republic.
The building is beautifully preserved and well worth a visit for around €2. Find the letters from the Ambassador home about being given lions as a gift, it really highlights the different cultures and what life might have been like in Tangier several hundred years ago.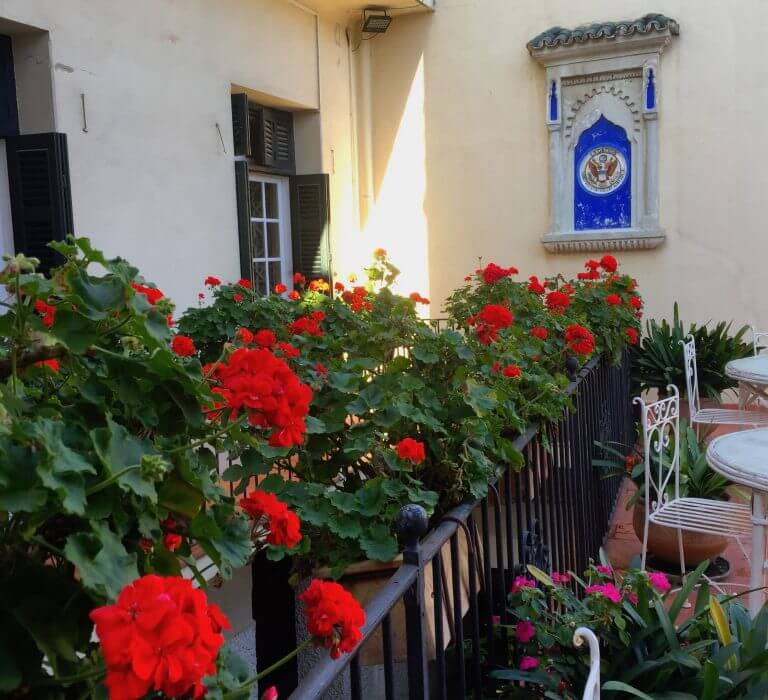 Just outside the eastern walls of the Medina is Place April 9, 1947 (or Grand Socco to locals) where you can buy a chicken pastilla, a sort of delicious chicken pie encased in sweet and sticky pastry like a combination of puff and filo with nuts and spices. Eat your Moroccan lunch sitting on bench in the small park and watch the colourful and noisy Tangier life go by. Two pastillas and two bottles of water will cost the equivalent of around €2.
Head for the Kasbah
At the other end of the Medina and at the highest point of the old town is the Kasbah, a lovely little maze of streets, small boutique style shops and cafe's. Much of this area has been renovated and there are some incredible sea views from the old battlements.
If you prefer a sit down lunch, then head for the terrace of El Morocco Club where you can eat in the shade of the trees planted in the small square. This area has a laid back vibe and has clearly been developed to appeal to tourists.
Visit the Kasbah Museum which was the residence of Portuguese governors in Tangier between 1471 and 1661. It is now home to a collection of archaeological artefacts and work a visit. Open every day except Tuesdays.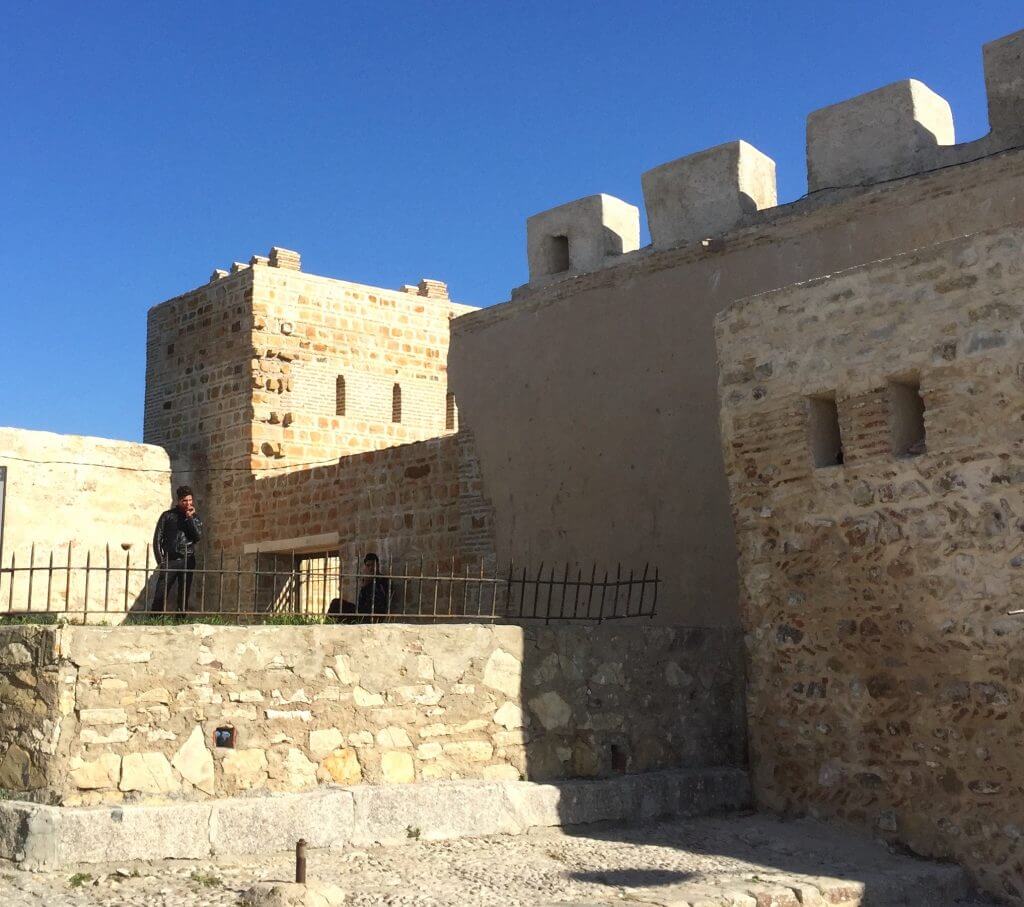 Take a Ride on the Bus
Try the relatively new Tangier hop-on hop-off sightseeing bus which will take you to the Kasbah, the Medina, the modern part of the city as well as the famous caves of Hercules and Cape Espartel, where the Atlantic meets the Mediterranean.
Sip a Coffee at the Gran Cafe de Paris
The Gran Cafe de Paris in Place de France is one of the oldest cafes in Tangier and is part of Tangier's bohemian history. The cafe opened in 1927 and was a place of inspiration for many known artists and writers like Jack Kerouac and Tennessee Williams. They gathered and enjoyed coffee and smokes whilst discussing literature and life.
It is also known as a meeting place for spies, predominantly during WWII, where secrets and information would be shared. It's unlikely that it's been decorated since then though and is a bit grubby and tired with odd loo arrangements. Nevertheless, you should go and people watch!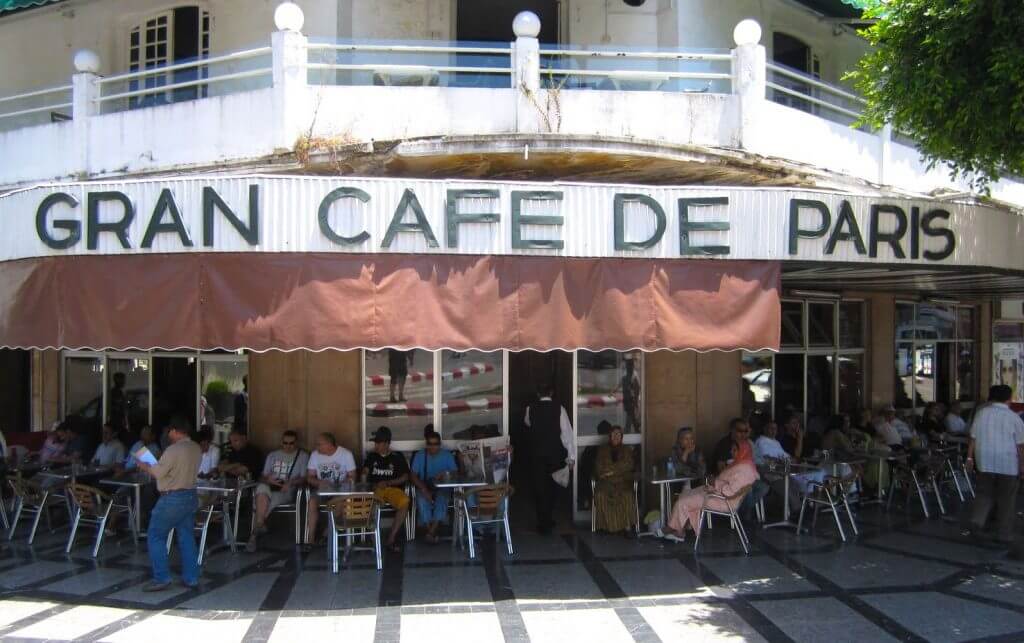 Where to Eat in Tangier
Eat at Anna a Paulo a cosy Italian restaurant in the new town. The food is excellent, with a number of dishes having a Moroccan fusion feel and the wine list extensive. Expect to pay close to European prices for dinner and drinks.
For a more budget option, eat at La Table du Marche, an upmarket cafe at the new marina. The food is excellent, with particularly good burgers and salads. Don't expect alcohol to be served here dinner will cost around €25 for two with bottled water.
Should You Take a Day Trip to Tangier?
Tangier is a city of many facets. To enjoy the vibrant and colourful city you have accept the less than palatable aspects of rubbish and poor hygiene, some harassment and begging along with visible poverty.  It is worth it though to experience a culture so different from our own and to meet the overwhelmingly warm and friendly Moroccan people.   
 
To take a trip from Tarifa to Tangier, you need no longer than two days and could easily see most of Tangier in a day trip (although it would be a long and tiring day). We would heartily recommend a trip if you're staying in Tarifa.
Are you looking for more Morocco travel inspiration? Check out these top posts…
Do you crave the unexpected and want to experience the road less traveled? Are you looking for excitement and adventure on your next vacation? These road trip adventures will get your heart pounding and adrenaline racing. Be prepared to be inspired!
Love it? Pin it!