This post may contain affiliate links, from which we earn an income.
Van Life in Tarifa, Spain
Tarifa, Spain is one of our favourite places for living the van life. Why? Hiking, cycling, kite surfing, incredible beaches and views, all with the sun shining down on us. If you love an active and adventurous lifestyle, then van life in Tarifa, Spain is for you!
Tarifa is at the most southerly point of continental Europe, just nine miles across the Straits of Gibraltar from North Africa; we headed there on our way south from Portugal.
Tarifa's location brings the wind for which it is famous, making it it perfect destination for all kinds of sports, including kite surfing. We loved the balmy winter temperatures, access to great hiking trails and being able to get in the water (albeit in a wetsuit) in January!
Along with a laid-back vibe and easy access to Morocco, we fell in love with Tarifa and all it has to offer to van lifers.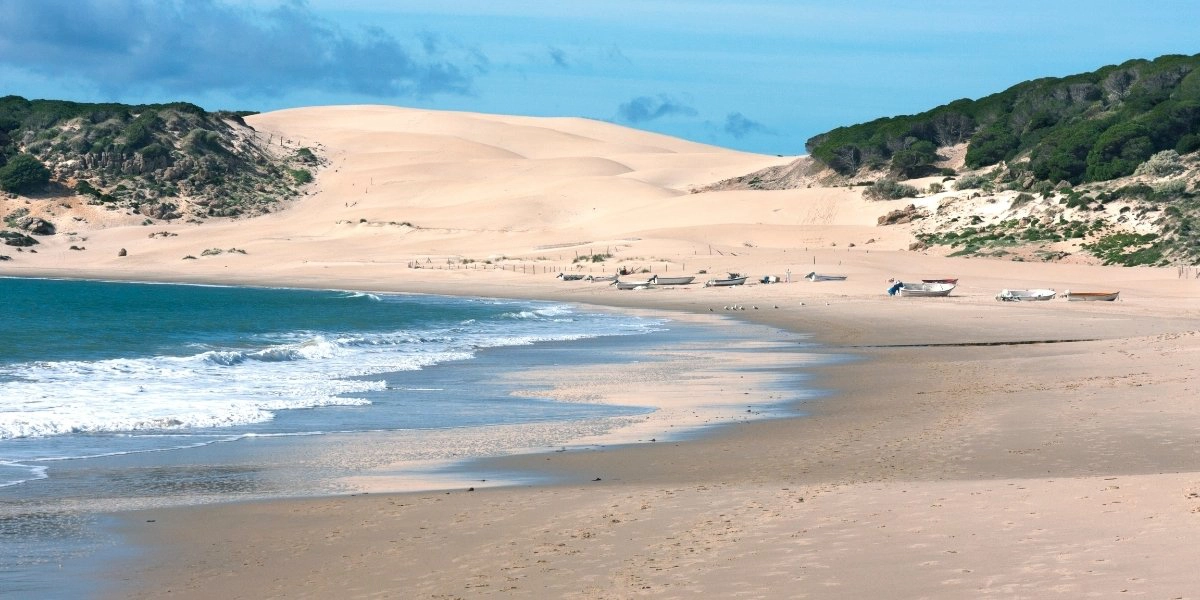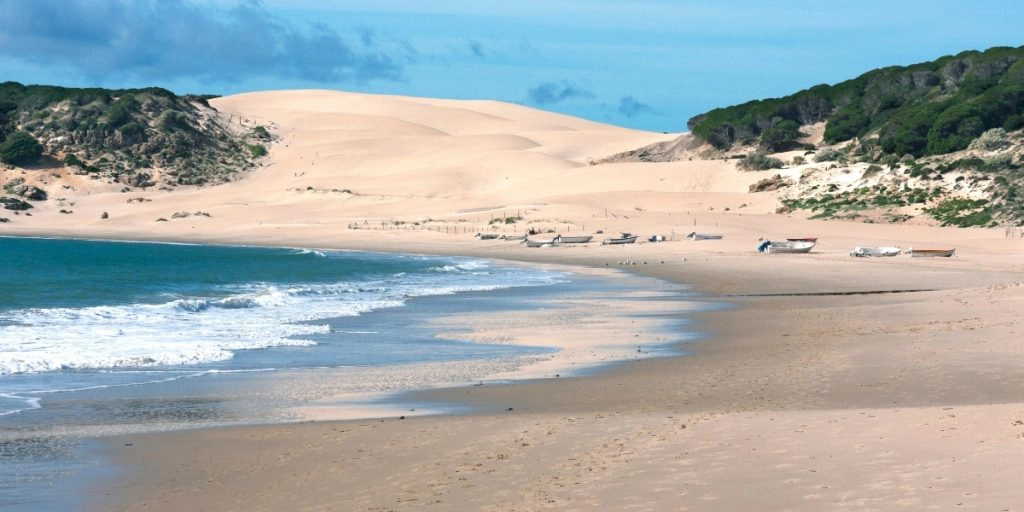 Where to Stay in a Van in Tarifa, Spain
As you would expect from a laid-back surfer dude kind of place, there are lots of free and wild camping spots dotted around Tarifa. Most have direct access to the beach and are mainly used by the kite and wind surfers who flock here year round in their campers and vans.
People often stay for a while, waiting for the right wind conditions and this wild camping does seem to be tolerated. Tarifa is a digital nomads heaven; great 4g and an opportunity to work between activities and waiting for the wind!
Search Park4Night or Campercontact and you will see there is no shortage of free camping spots or motorhome aires. Our favourite van spot was here, literally on the edge of Playa Valdevaqueros, looking across to Punta Paloma and the Atlantic beyond.
For most of the time we were in Tarifa in our van, we stayed at Camping Valdevaqueros, situated over the road from the long sandy stretch of Playa Valdevaqueros.
The site is friendly with adequate clean facilities, a busy bar and a tennis court, a big draw for us. Load up your beach wagon (you'll find the best here) and take the five minute stroll to one of the best beaches in Spain!
However, we paid just over €10 a night including electricity, so thought this was good value for money. The site is ACSI accredited, but as with most sites in Spain, their own long-term offers are much better than the ACSI rate.
The site is six miles from the centre of Tarifa, so an alternative means of transport would be required. Camping Valdevaqueros can organise care hire in Tarifa if you need their assistance but you may not get the best price (see below for a recommendation).
Campsite Tarifa is closer to town, only four miles to the centre. This may be a better option although the facilities are not as good.
Is this your first time visiting Spain? Get all the information you need in our Spain Travel Guide, including what to pack, the best time of year to go, getting there and practical tips to help you have the best trip!
Practicalities of Van Life in Tarifa, Spain
Tarifa is well used to campers and vans. Van life in Tarifa, Spain is easy with all you need on your doorstep.
Tarifa Supermarkets
There are four large supermarkets in Tarifa. Lidl is just outside of town (the second turn-off signed for Tarifa if heading south)and a popular place for motorhomes as there is no height-restriction to their well-sized car park. We also observed vans and motorhomes using the car-park to stay overnight with no issues…it does have a pretty good view!
On the main road into Tarifa (the first turn-off signed for Tarifa if heading south) there is a Dia and Mercadona, both with parking. In town there is a SuperSol which is harder to park at but has a good fruit and vegetable section. We found ourselves shopping at all of them depending on what we needed!
Tarifa Van & MotorhomeServices
There is a van and motorhome service point situated in the fuel station, Tarifuel. You can find details here. Fresh water, grey and black waste services are all available for around €4 to fill and empty.
Tarifa Car Rental
There are a number of places to rent a car in Tarifa, we would recommend weekendtarifa.com who generally have the best prices and are conveniently based in town.
Tarifa Fuel & LPG
Tarifuel are obviously keen to capture the motorhome and van market in Tarifa, as they also are the only providers (at the time of writing) to provide LPG, or GPL as it's known in Europe.
It is a little tight manoeuvring larger motorhomes, if thats you, be prepared to wait until the area is clear.
Data
Data in Tarifa
We have been using and recommend ConnectPlus for cloud sim connectivity in the UK and Europe. You can choose from unlimited data packs to just single days, depending on your needs. The device is no larger than a slimline smart phone, connects with up to ten devices, is charged easily with a USB and can be delivered within a few days of ordering. Use the code 'thegapdecaders' at checkout to get 50% off in the first month!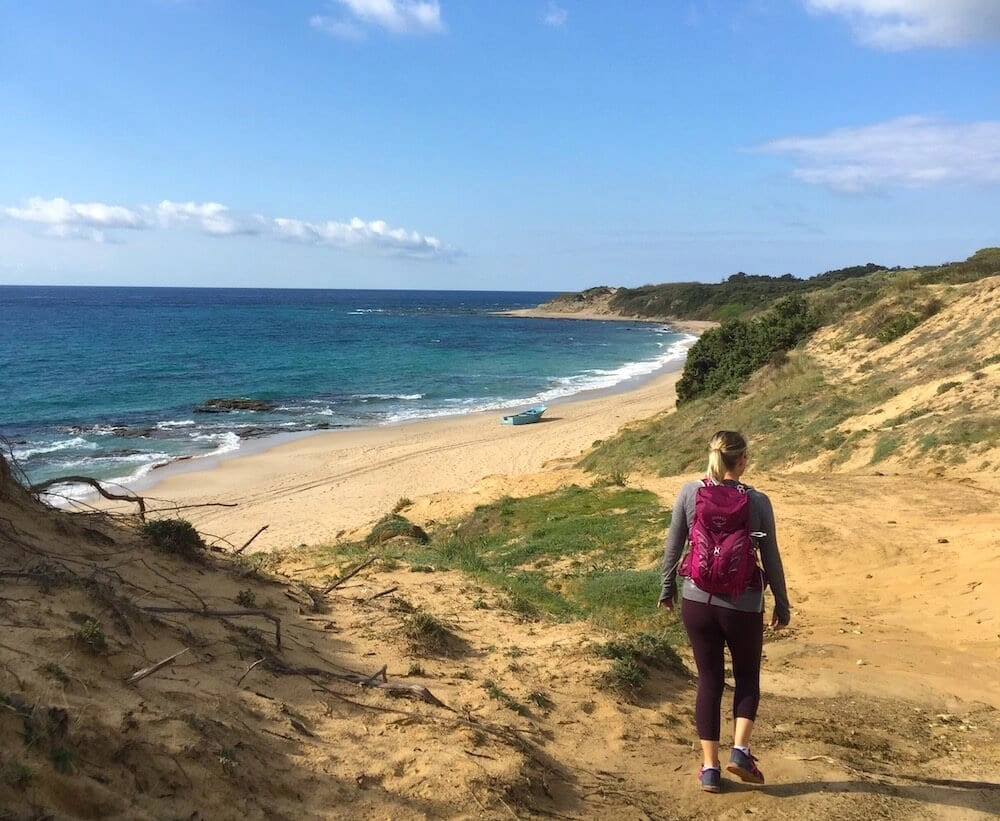 Hiking in and Around Tarifa, Spain
We had no idea before we went how much good hiking there would be in the area. We had found Spain a challenging place to hike due to a lack of advertised or signed trails; you really have to work at finding them!
Tarifa is not really any different but when you research on the internet, there is a wealth of information. We also used View Ranger to help us plan our hikes.
Everywhere we went, we would look up and around and work out how we could get up to whichever mountainous spot had caught our eye. The views here are incredible; west to the mighty Atlantic and east to the gentler Mediterranean, south to North Africa and north to the mountains of Andalucia…hiker's heaven!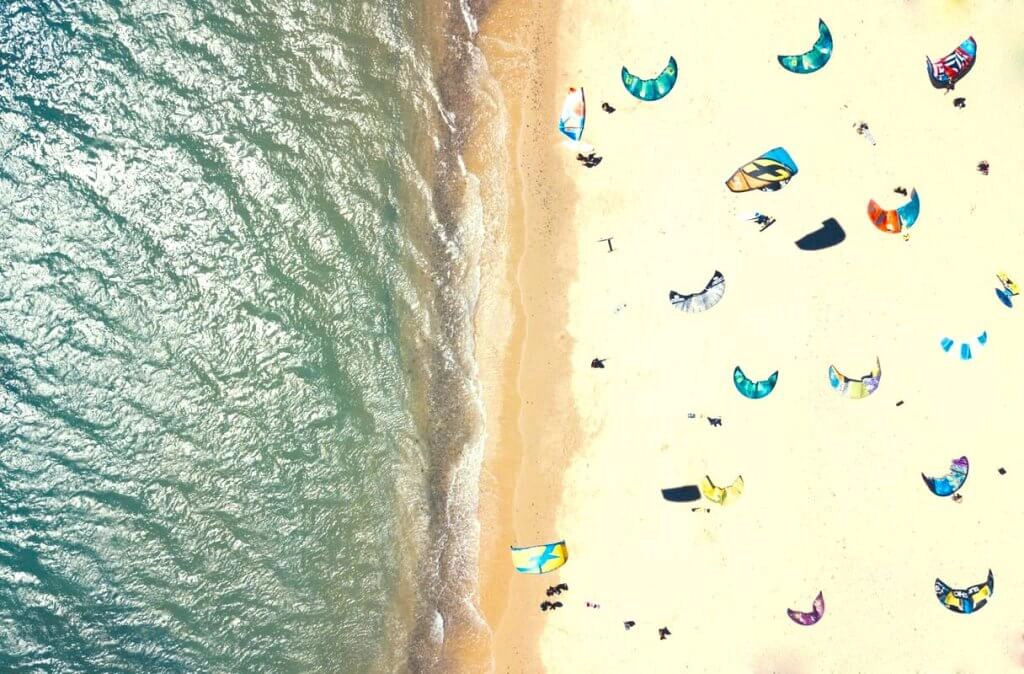 Learning to Kite Surf in Tarifa, Spain
During our van life adventure in Tarifa, Spain Phil learnt to kite surf, something he had always wanted to do. Tarifa is probably not the best place in the winter, due to the gusty winds but with a little determination and a willingness to spend a lot of time in the water, the dream was achieved!
Phil took eight lessons, staying for a month was ideal as we had time to hike, cycle and chill whilst waiting for the wind to be right for a day on (and in!) the water.
Lessons cost around €100 for two hours of one to one tuition, this usually includes equipment. The lessons were in English and the instructor was knowledgeable and patient. Be prepared to be hooked, this is an adrenalin inducing and addictive sport!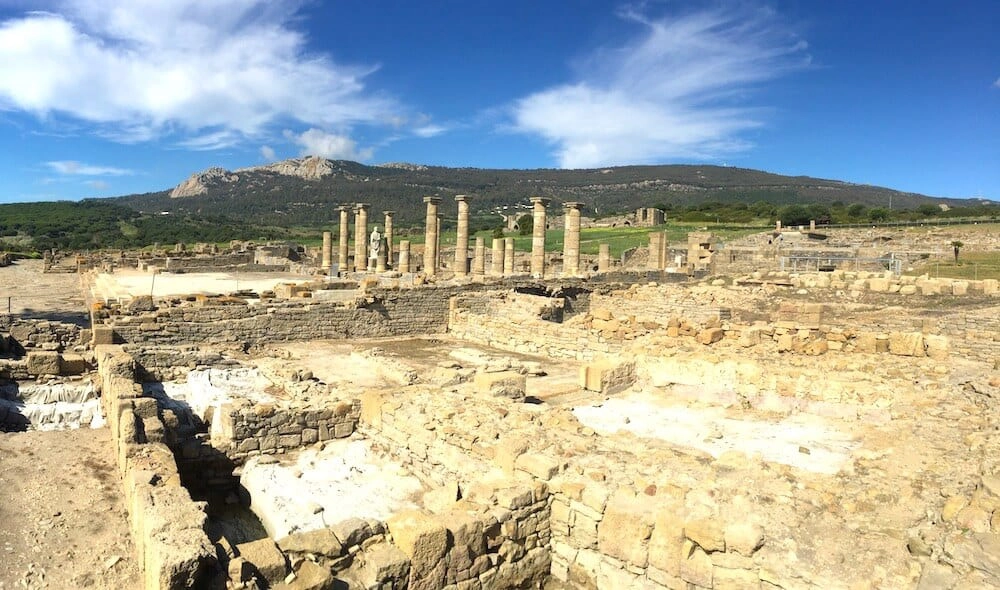 Visit Baelo Claudia
When you're in Tarifa, you must visit these incredible Roman ruins by the sea.
There is a great cycle ride, up to Betis and on to Bolonia where Baelo Claudia is sited. Head north on the N-340 and take the road signposted to Betis. There follows a steady climb of around 250m over one mile to the village before descending all the way to Bolonia, with gorgeous mountain and sea views all the way.
The Roman ruins are fascinating and the surrounding area is beautiful. It's not surprising that the Romans chose to build and live there for five centuries. Like much antiquity in Andalucia, the ruins are free to enter and well worth the effort to get there!
There is also a fabulous free and wild camping spot literally on the beach in Bolonia and next to the ruins if you fancy taking your van from Tarifa.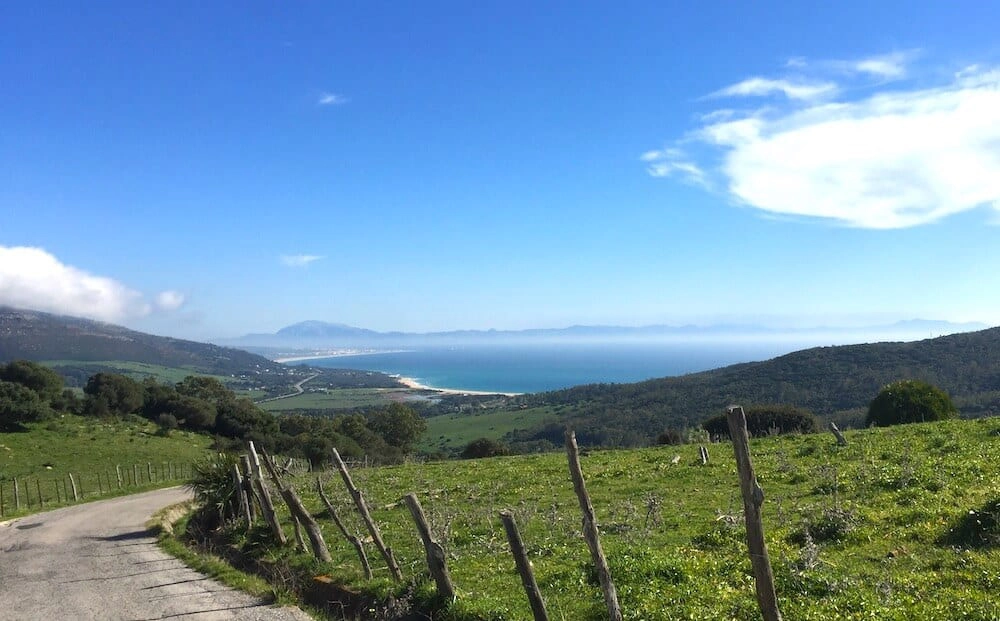 Head to Tangier, Morocco from Tarifa, Spain
Just nine miles across the water lies Morocco and the vibrant port city of Tangier. Take the fast catamaran from Tarifa port and be there in an hour; spend a day or maybe two exploring this noisy and colourful city, but be prepared for a culture shock!
Read our post about visiting Tangier from Tarifa here, with all the information you need about boats, immigration, where to stay and what to do.
Most of the campsites around Tarifa will allow you to leave your van on site for the few days you are away, we managed to negotiate a reduced rate for the two nights we spent in Tangier.
Go For a Bike Ride!
There are loads of tracks and trails around Tarifa, depending on what type of cycling you want.
Downhill mountain biking is HUGE here, if you fancy a go but don't have the right gear try googling to find an activity provider who can take you on a tour. Otherwise, head for the hills and trails using routes from Bikemap.
The Best Beaches in Tarifa, Spain
Tarifa has incredible beaches, long with fine white sand and mostly Atlantic facing. Spend a day in the sun watching the kite surfers perform amazing tricks, chill closer to town and indulge in a bit of people watching or just kick back and read one of these books set in Spain, they will all encourage you to explore this fabulous country more. These beaches are one of the reasons we loved vanlife in Tarifa, Spain so much!
Playa de Los Lances
The six miles of white sandy paradise for which Tarifa is famous. Located north of the town as far as a small headland on which sits Torre de la Peña. The beach and the pines behind it are officially protected as a Natural Area.
The beach is well-equipped with public toilets, showers with changing rooms, lifeguards (in high season), first aid points, flags to signal the state of the sea, several restaurants and beach bars. Some of these will be closed in winter. There are parking areas which will be mostly empty in winter apart from the wind junkies setting up their equipment. There are two camp sites at this beach Camping Rio Jara and Camping Tarifa.
Playa Valdevaqueros
This is the beach that defines windy Tarifa. Playa Valdevaqueros stretches three miles from a small headland (on which sits Torre de la Peña) near the famous Hurricane Hotel (worth dropping in for a beer one evening) all the way to the stunning Playa Punta Paloma.
Packed with kite surfers when the wind is right, this is a great beach on which to while away a coupe of hours.
Heading north from Tarifa, the beach is signposted to the left and accessed via a dusty track. There is a small network of carparks, which cost 5€ for the day, but which are unmanned and free in winter.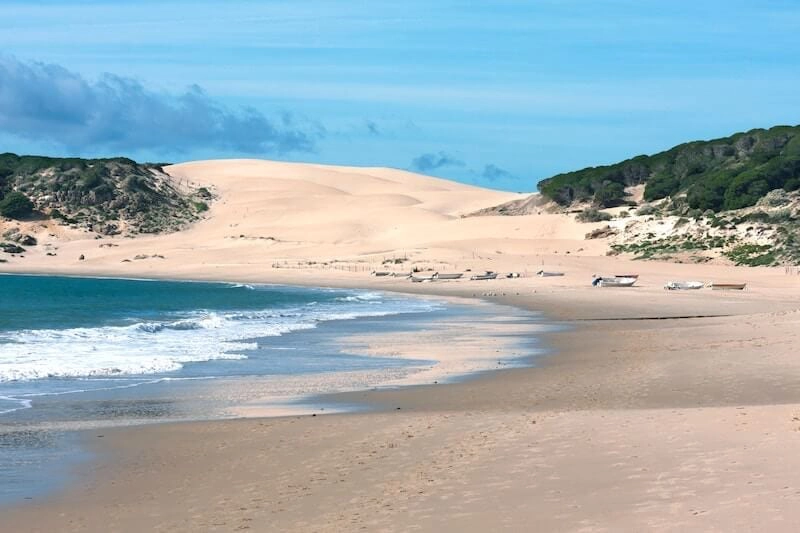 Playa Chica
A small family beach, very popular with local residents. It is one of the only beaches in Tarifa that is sheltered from the strong winds. Playa Chica can get very crowed on particularly breezy days!
Located in a small cove to the west of town by the causeway Calle Segismundo Moret, between the port and Isla de las Palomas, this beach is definitely worth a visit. Enjoy a hot chocolate y churros at one of the chiringuitos (beach restaurant) and enjoy the view.
Walk out to Isla de las Palomas and stand at the most southerly point in continental Europe, with the Atlantic to your right and the Mediterranean to your left…it's definitely one of those moments!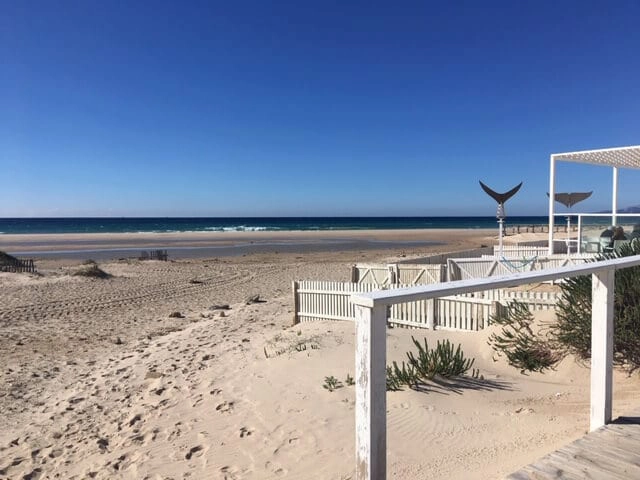 La Caleta
This is a different beach, with small coves and rocky platforms located just to the east of the town and on the Mediterranean side. Less popular with tourists, this is a great beach for a peaceful afternoon.
This beach can be reached by following the track along the coast starting at the east end of Plaza Miramar where it turns into Calle Independencia.
Where to Eat in Tarifa
Our favourite breakfast haunt was on the main road into Tarifa, called the Element Cafe, serving healthy (mainly!) and tasty breakfasts. Try the banana, peanut butter, walnut and chocolate toast!
Or head for the lively old town of Tarifa where you will find a great variety of cafes and bars, chocolate y churros and tostada is big on the breakfast menu here.
Later in the day, try some tapas with a glass of chilled dry white wine or a cold beer for lunch. There are so many cafes in Tarifa town its hard to pick out a favourite …in fact, we didn't have a meal here we didn't enjoy and we thought all our eating our experiences were excellent value for money.
If you're heading our for dinner, don't forget that it will be very quiet until 9pm at the earliest, most Spanish don't eat until at least 10pm.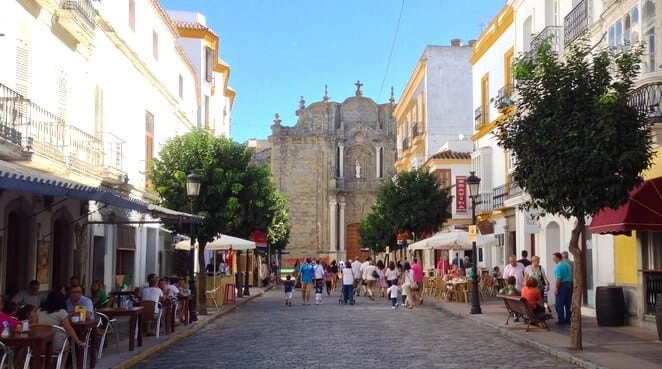 Is Tarifa for You?
You could live the van life in Tarifa Spain for a whole summer or winter, there is so much to see and do! Sporting activities mostly centre around the water and wind but you can also snorkel and scuba dive in the Mediterranean, stand up paddle and kayak, wind surf and surf.
If you're in Tarifa in your van from April to October, also check out ecotourism whale watching opportunities, which you can find here.
Are you looking for more Spain travel inspiration? Check out these top posts…
With one of the best winter climates in Europe and friendly locals, Spain is a perfect country for a motorhome road trip. We've spent over 18 months travelling in a motorhome in Spain, and in this campervanning and motorhoming guide you'll find lots of practical and helpful information. From tips about driving, where to stay overnight and wild camping, to motorhome services and a round-up of the best motorhome destinations, you'll find all the information…
Love it? Pin it!