This post may contain affiliate links, from which we earn an income.
Our Pick of the Best Road Trips in Spain
Amongst the beautiful landscapes of Spain, in the mountainous interior and along the gorgeous coasts, you'll find fascinating history, vibrant culture, and incredible cuisine. One of the best ways to experience Spain is by taking a road trip.
With the lively attractions of Barcelona, UNESCO World Heritage Sites, the historic medieval cities of the interior, and endless summer days in Andalucia, Spain is an eclectic place to take a road trip.
We base ourselves in Spain when not traveling and have explored much of the country on four wheels and two! Whether you want historic cities, gorgeous landscapes, beaches and sun, or something a bit different, our detailed guide has the best Spanish road trip routes plus itineraries and travel tips, to help you plan the perfect trip.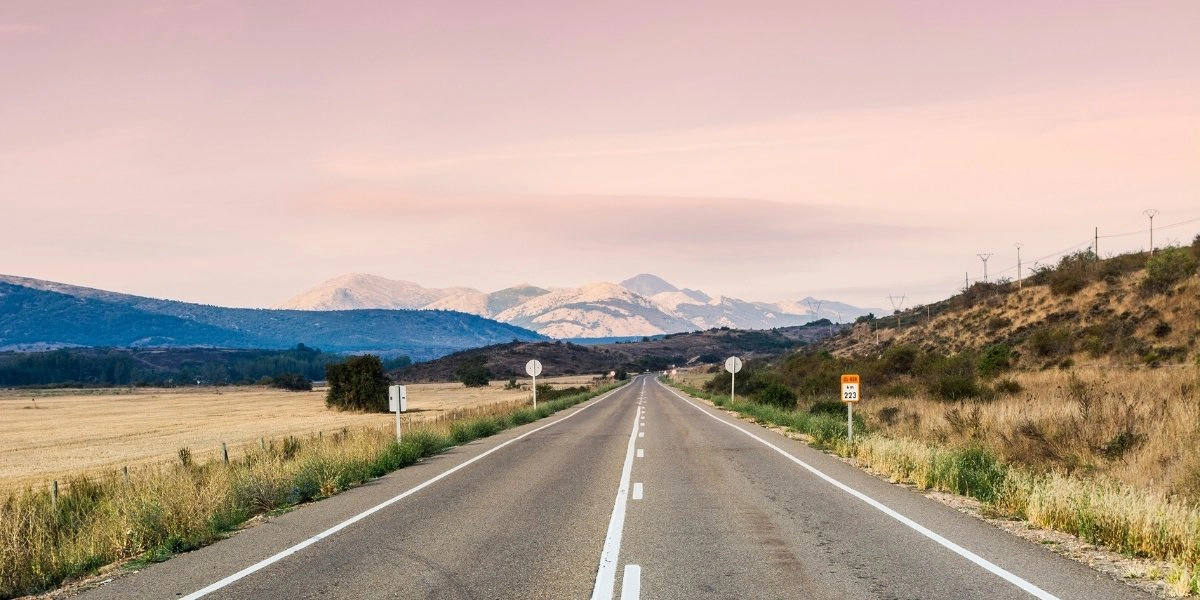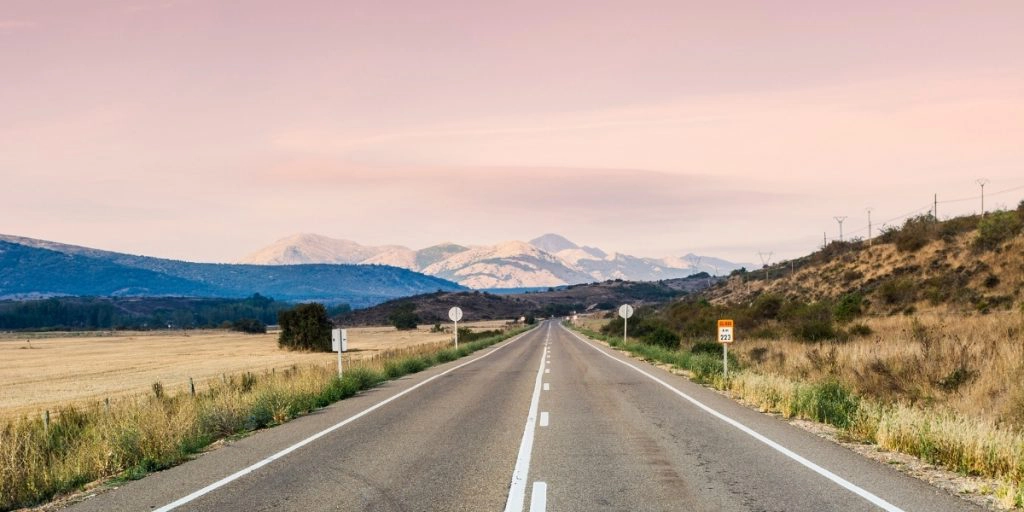 Getting to Spain
Whether you're taking a Spain road trip in a car, motorcycle, campervan, or motorhome, self-driving is absolutely the best way to explore this spectacular part of the Iberian Peninsula.
When you road trip Spain you can stop whenever you want, try new activities, visit places you see along the route, and have the freedom to change plans at the last minute.
Spain is an easily accessible country from the UK and most of Europe, with a direct ferry route from England to Santander or Bilbao, and an established network of autovias to help your road trip across the country. Plan on getting to Spain as part of your trip and enjoy an epic road trip to Spain, followed by one in the country itself!
RELATED POST: Driving from UK to Spain – Routes & Tips
Book with Skyscanner and fly into the well-located international airports of Madrid, Malaga, and Barcelona are ideal starting points your Spanish road trip – you can be anywhere in the country within a day and that's the beauty of a viaje por carretera, or road trip in Spanish!
Are you planning to rent a car in Spain? As one of the largest car hire aggregator companies in the world, we recommend Rentalcars.com because they have massive purchasing power which enables them to secure the best car rental prices, which benefits you when you're planning a roadtrip in Spain.
For a real adventure, hire a motorhome or campervan in Spain. We recommend Motorhome Republic, an aggregate booking site who pull together all the best deals from a number of rental agencies, to offer you a wide choice of options alongside an excellent English speaking expert motorhome Concierge Team.
Best Spanish Road Trips Map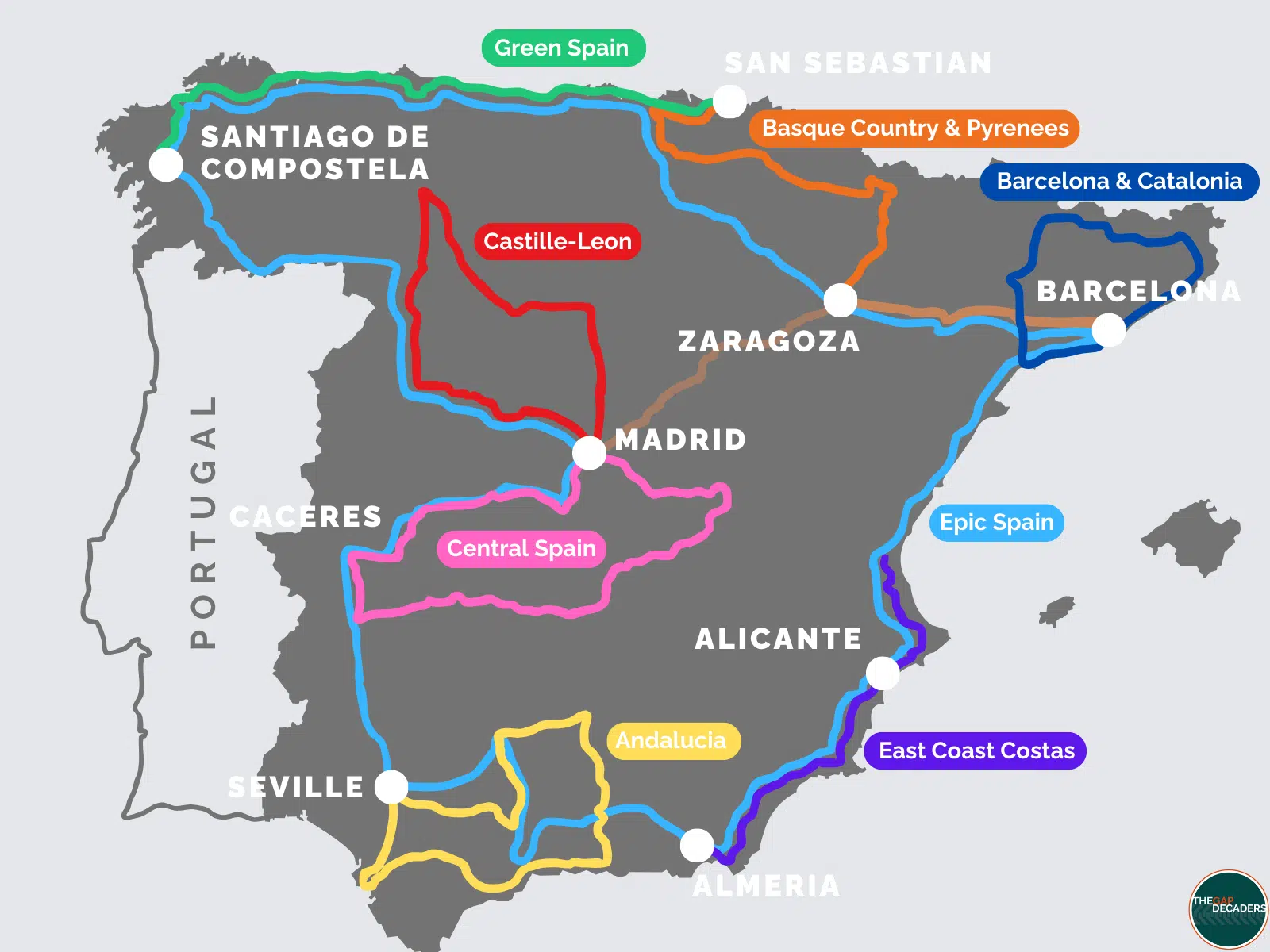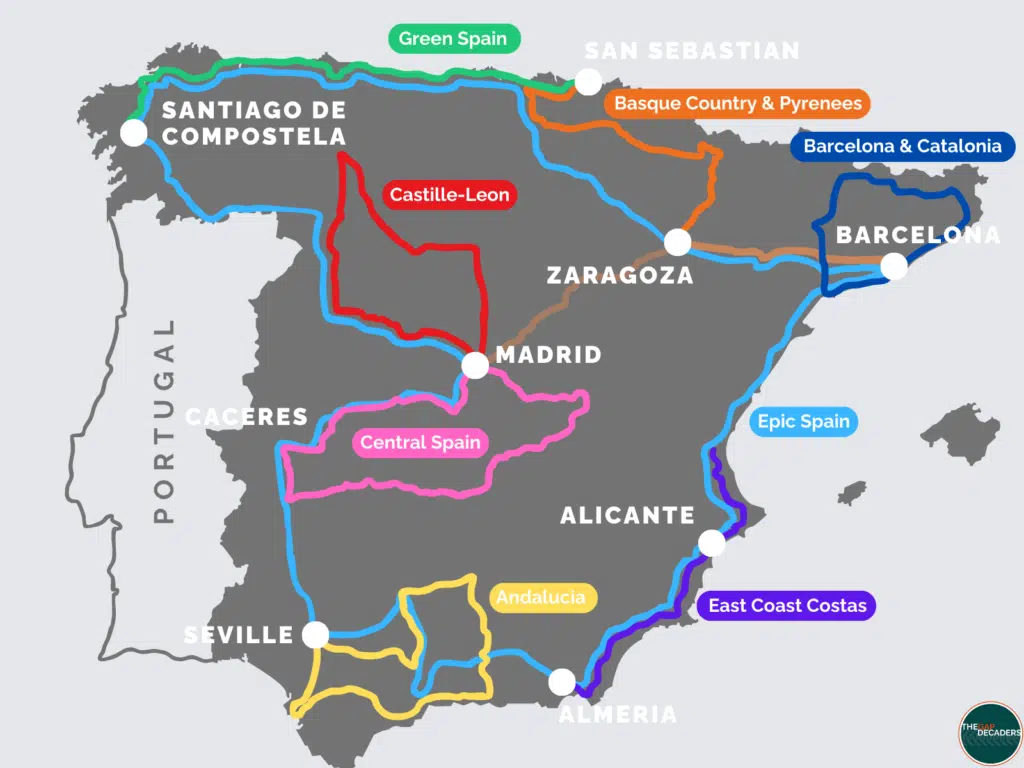 Which is the best road trip in Spain?
Is this your first time visiting Spain? Get all the information you need in our Spain Travel Guide, including what to pack, the best time of year to go, getting there, and practical tips to help you have the best trip!
Castille-Leon
Madrid – Segovia – Salamanca – Zamora – León – Valladolid – Penaranda del Duero – Madrid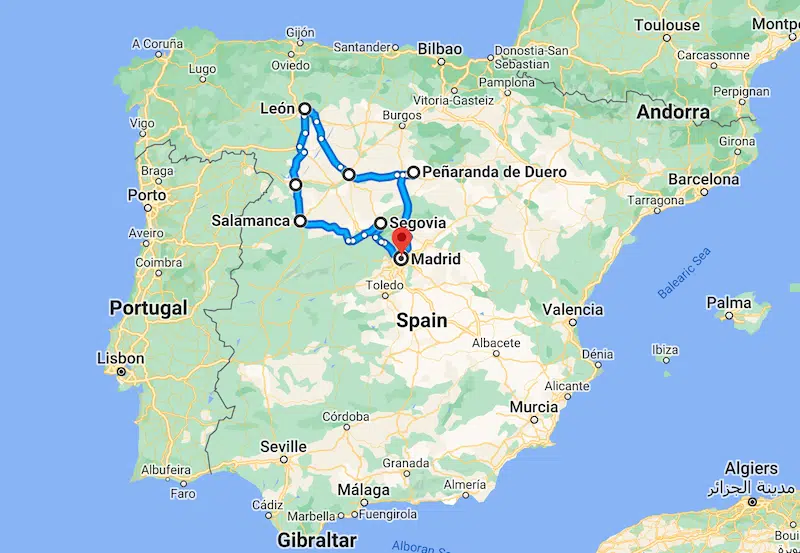 This fantastic seven to ten day Spain road trip itinerary through the land of frontier castillos and roads that stretch into the distance for miles will take you across the high plateaus and rugged mountains of central Spain. This is a road trip for those who want the real Spain.
It will be unbearably hot in summer and bitterly cold in winter in this part of Spain. This road trip in Spain should be taken in spring when the fields are carpeted with colorful wildflowers, or in autumn/fall for the late summer sun and the beautiful ochre and red of the Duero vines.
Pick up your hire car at Madrid airport and spend a day in Madrid, the largest city in Spain, seeing the most important attractions, including Plaza de España, the Prado Museum, Plaza Mayor, and the nearby Baroque Royal Palace before heading to the UNESCO World Heritage Site of Segovia, a walled city with grand squares and mansions from its days as a royal holiday resort, and one of the most distinctive medieval castles in Europe.
Next up, visit Salamanca, known as the Golden City because of the prolific use of honey-colored sandstone in the civic and religious buildings of the city. Salamanca is beautifully graceful, with learning at its heart, and the most elegant Plaza Mayor in Spain.
Zamora is your next destination. With its Romanesque churches and charming streets and squares of the old town, this makes a great stop for an overnight stay. Onwards to Leon, a sociable city with a fabulous casco antiguo, packed with great architecture and atmosphere, and a notable Gothic cathedral.
Valladolid, your next stop is high on the mesta (plateau) and has been lived in by many of Spain's famous historical figures. Despite that, it is a more modern town than its neighbors. You'll find restored plazas and churches along with some excellent museums.
To the east, the small town of Penaranda del Duero is deep in the lush rolling vineyards of La Rioja, where some of the best wines in Spain are produced. This gorgeous town, on the Ribera del Duero Wine Route, sits beneath an impressive castle and is a popular weekend getaway for Madrilenos.
Spain is famous for its history and if you have an extra day at the start or end of your road trip, visit Toledo, an hour's drive to the south of Madrid. Known as the Imperial City, this UNESCO World Heritage Site has one of the most well-preserved old towns in Spain and more historical sites per square meter than Rome!
Highlights
Where to Stay
Madrid ⇒ Only You Hotel Atocha for its hip vibe, contemporary luxe decor, and fantastic public spaces.
Leon ⇒ Hotel Real Colegiata San Isidoro for its superb location, complete uniqueness, and fabulous history.
Valladolid ⇒ Abadia Retuerta LeDomaine for sheer luxury, fabulous restaurants, and an incredible spa. A fabulous hotel for the perfect end to your road trip.
RELATED POST – Madrid in One Day – Itinerary, Map, Tips & Guide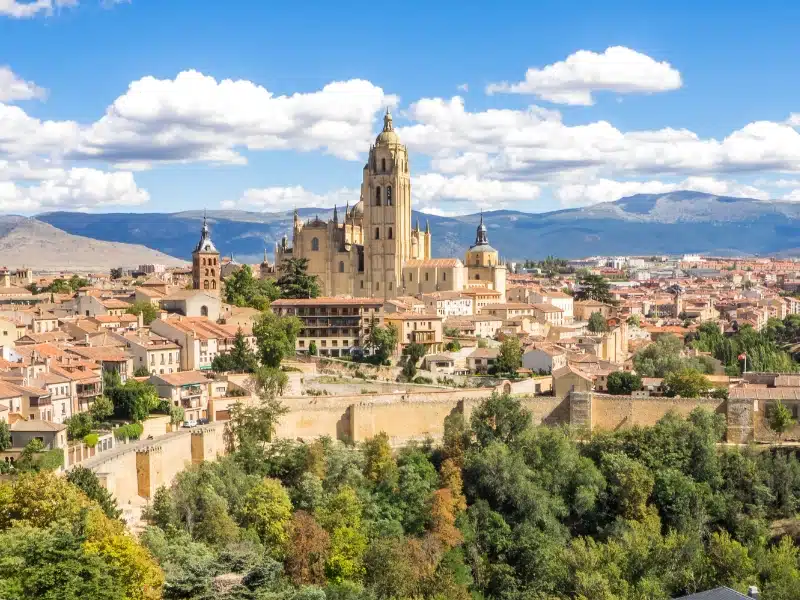 Make sure you have travel insurance you can trust when visiting Spain. We recommend True Traveller for their 5-star TrustPilot reviews, variety of cover options, best activities cover as standard, great prices, and excellent service.
Barcelona & Catalonia
Barcelona – Sitges – Tarragona – La Seu d'Urgell – Figueres – Calella de Palafrugell – Tossa de Mar – Barcelona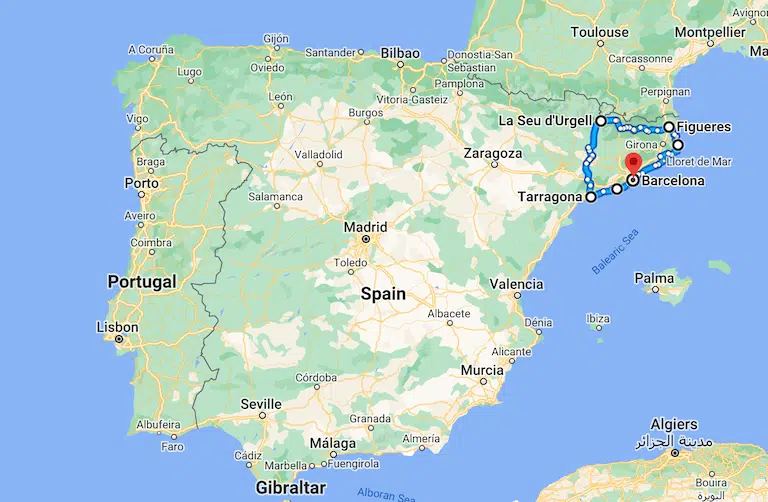 This seven day Costa Brava road trip from Barcelona takes you through one of Spain's most distinctive regions. Catalunya is fiercely independent with a unique identity, and like nowhere else in the country. With its own language, Catalan, the region has long been an intersection of cultures and influences.
We start on the Costa Brava in the second biggest city in Spain, Barcelona. This is Gaudi's city and home to the sublime but unfinished La Sagrada Familia cathedral. Once you're done admiring his masterpiece, head for the Gothic quarter, a great spot to while away an evening bar hopping in this most lively of cities.
If you have enough time, try hiking in Montserrat, just a short drive from the city. Famous for the cliff-hugging monastery and distinctive serrated rocks, you don't even have to hike, you can get a cable car to the top!
Head south along the coast to beautiful Tarragona, stopping at Sitges if partying is your thing …but be prepared to party hard, the town is famous for its nightlife.
Tarragona is situated on a rocky hill above the sparkling Mediterranean Sea. With a fine historic centre and a scattering of Roman ruins, this is a great place to spend the day visiting the must-see 2nd century Amfiteatre Romà, Necropolis, and Forum before wandering the Passeig Arqueològic for sweeping views of the city. Or you could just relax on one of the many beaches.
From here it's inland and north to the Pyrenean medieval town of La Seu d'Urgell, overlooked by the Sierra de Cadí mountains. Replete with the Romanesque style architecture of Catalonia in the 11th and 12th centuries, this is a town for meandering.
From La Seu d'Urgell, it's a hop and skip to Andorra, the sovereign landlocked country that crowns the Pyrenees. We're on the fence about this tiny microstate, which we thought was a little… odd. But, if you want to tick another European country off your list, now is the time!
From here, a spectacular drive through the foothills of the Pyrenees takes you to Figueres, via La Garrotxa Natural Park, known for its many extinguished volcanoes. Figueres, the birthplace of artist Salvador Dalí, houses the Teatre-Museu Gala Salvador Dalí, which is worth a visit if you like Surrealism.
You're heading south now, bypassing Girona (which is worthy of a visit all of its' own if you have time) in favor of the Costa Brava beach resorts of Calella de Palafrugell and Tossa de Mar.
Calella de Palafrugell is one of the most beautiful coastal villages in Spain, with cute white houses, colorful wooden boats on the beach, and rocky inlets and hidden coves, and makes a perfect spot to stop and relax for a couple of days.
Tossa de Mar has a beautifully preserved old town, complete with cobblestone streets and fortifications and a fine beach, at total odds with its near neighbor, Lloret de Mar, which was one of the first places to Spain offer package holidays in the post-Franco tourist boom in the 1970s and has the highest concentration of hotels in the Mediterranean.
Highlights
Where to Stay
Barcelona ⇒ B Hotel for its handy location between the airport and the city, glitzy rooftop terrace with pool, and welcoming staff.
Tarragona ⇒ Plaça De La Font for its excellent old town location, lively vibe, and superb breakfast.
Tossa de Mar ⇒ The Hotel Delfín for its beachside location, supremely stylish decor, and pool with a view.
RELATED POST – One Day in Barcelona – Itinerary, Map, Tips & Guide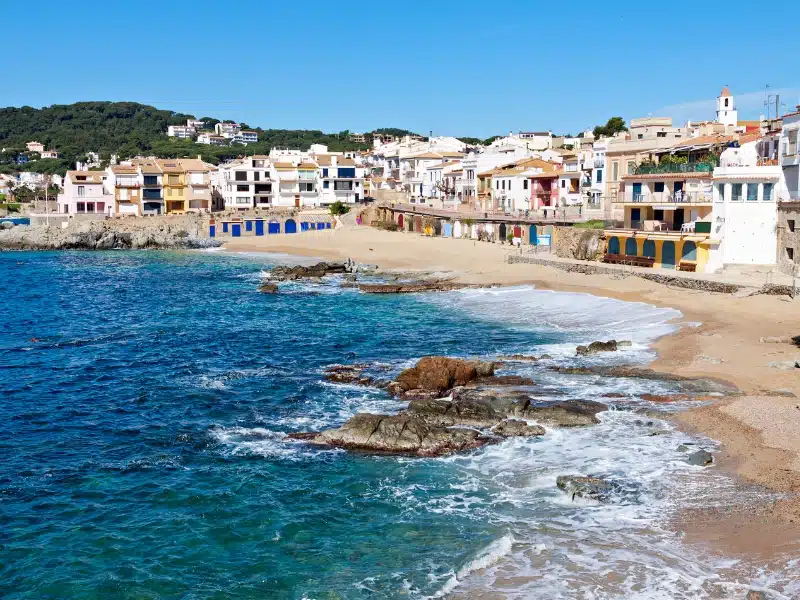 Basque Country & Pyrenees
San Sebastián – Bilbao – Pamplona – Torla Ordesa – Ainsa – Zaragoza – Barcelona or Madrid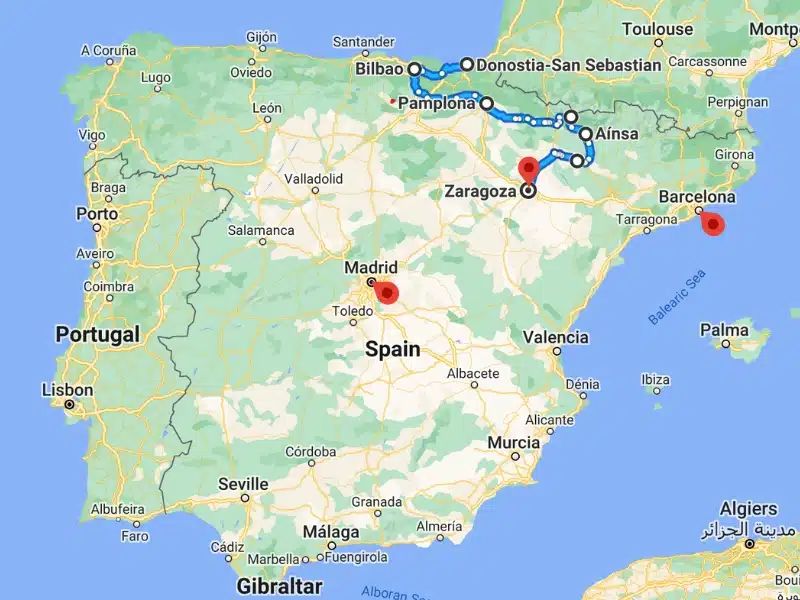 This northern Spain itinerary takes in the cities and coasts of the Basque Country, and the magnificent Pyrenees mountains that extend for more than 400 kilometers between Navarre, Aragon, and Catalonia, and create a natural barrier between the Iberian Peninsula and the rest of continental Europe.
Start in Donastia-San Sebastian, the jewel in the crown of the Basque resorts. A picturesque city with fabulous beaches, San Sebastian is perhaps best known as a foodie town, with some of the finest restaurants in Spain gracing its leafy boulevards and squares of the city center.
Bilbao makes a natural next stop and now rivals Donosti, as it's known locally, as one of the top coastal cities in Spain. The beautifully curved and sweeping architecture of Museo Guggenheim and the fine Basque cuisine and freshly caught seafood served in its lively restaurants and bars make Bilbao a worthy stop.
In the northern Spain foothills of the Pyrenees, Pamplona is a town with a compact and enticing casco antiguo and a hulk of a citadel to visit. From its powerful fortress city history to the modern-day Fiestas de San Fermin (Running of the Bulls festival), this city is as swashbuckling and red-blooded as they come.
Visit in early July for the festival and nine days of riotous partying and entertainment, but book early as thousands of visitors descend and everything gets booked up at least nine months in advance.
From Pamplona, the mountains are enticingly close. Torla-Ordesa is the nearest village to the breathtaking Ordesa y Monte Perdido National Park where you can explore lush meadows, gushing waterfalls, and incredible gorges formed by glaciers millions of years ago.
The best way to see all this natural beauty is to hike the Circo do Soaso, a Pyrenean cirque that surrounds the vast Ordesa Valley. With sheer walls stretching up and the 3,355m peak of Monte Perdido looking down, and over twenty cascades along the tumbling Rio Arazes to accompany your hike, this will undoubtedly be the highlight of your Pyrenees road trip.
Capital of the old kingdom of Sobrarbe, which became part of the kingdom of Aragon in the 11th century, Ainsa is a fantastic example of medieval city design and has the best views back to Monte Perdido from the preserved citadel.
From here, it's south to Zaragoza, famous for the Baroque Nuestra Señora del Pilar basilica, a pilgrimage site with a shrine to the Virgin Mary and the Mudéjar-style Aljafería Palace, an 11th-century Moorish palacio. Together with La Seo Cathedral, the Mudéjar architecture of Aragon forms a UNESCO World Heritage Site.
And now you have a choice! From Zaragoza, it's almost equidistant to Madrid or Barcelona, give or take 10km. So, Spain is now your oyster and you can go south for the museums and classical architecture of Madrid, or east for the laid-back vibes of Barcelona.
Highlights
Where to Stay
San Sebastian ⇒ Zenit Convento San Martin for its central location, stylish decor, and rooftop pool.
Pamplona ⇒ Pamplona Catedral Hotel for its beautiful design, friendly customer service, and very comfy beds.
Zaragoza ⇒ Hotel Sauce for cozy rooms, great location, and exceptional homemade breakfast in their bakery.
RELATED POST: How to Hike the Circo de Soaso and Ordesa Valley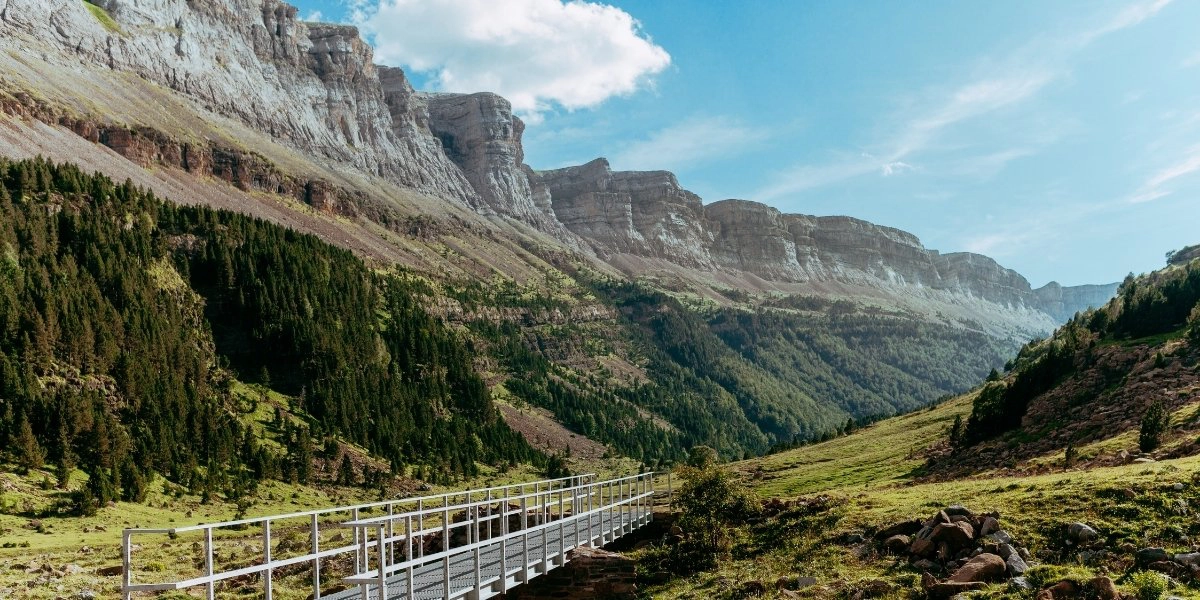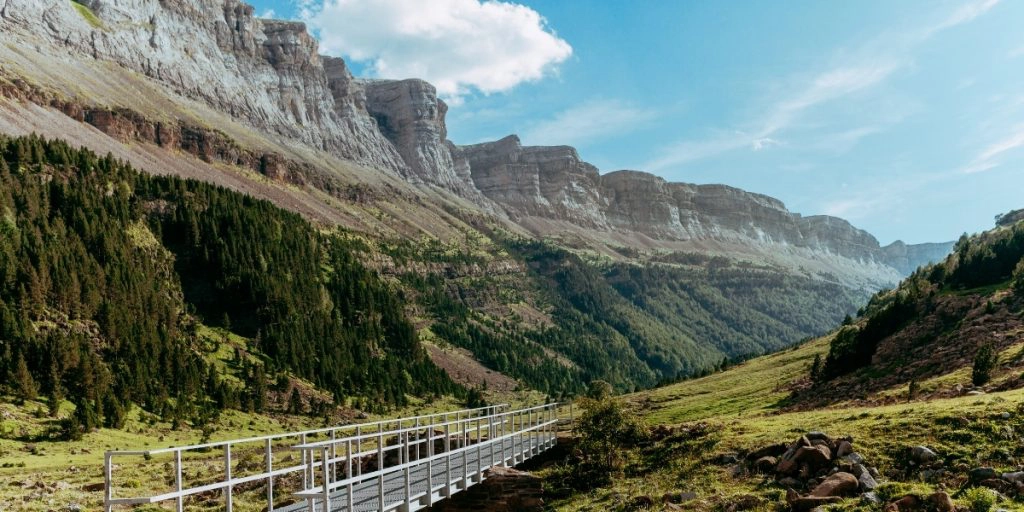 Andalucia
Malaga – Marbella – Ronda – Cadiz – Jerez de la Frontera – Seville – Antequera – Cordoba – Granada – Malaga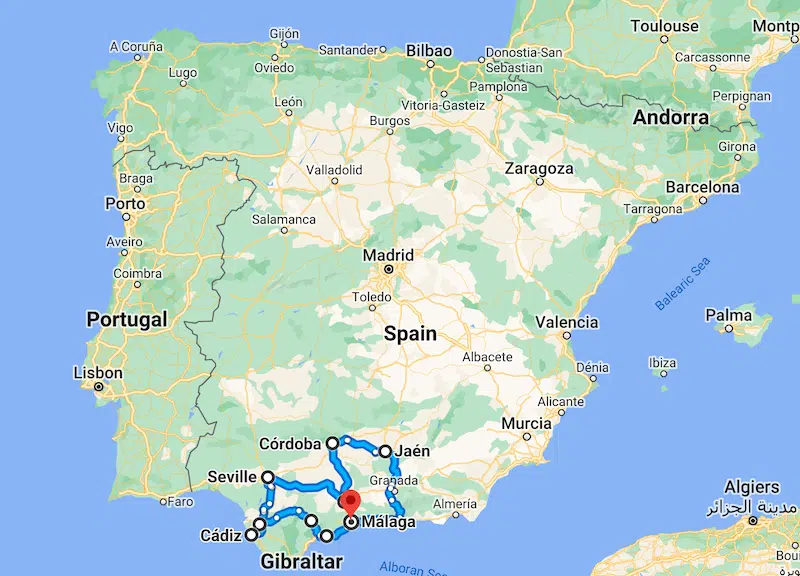 Andalucia in the south of Spain is the quintessential Spanish region and is home to some of the most colorful and vibrant cities in the whole of the country. Heavy with Moorish influence, evident in the fantastic food and historic architecture, the cities of Andalucia are a feast for the senses.
This south Spain road trip starts on the Costa del Sol, in the lively coastal city of Malaga, which comes to life on the seafront. A favourite place for Malaguenos to go for a stroll post siesta, a fiercely protected custom in the south of Spain, the seafront comes alive after 5pm. You'll find whole families out, enjoying the sunshine and stopping for a beer and tapa along the paseo.
From Malaga, the seaside resort of Marbella beckons, where you can spend a day soaking up the sun on one of the three immaculately kept sandy beaches and enjoying the people-watching before visiting the charming old town. Head for Plaza de los Naranjos at the center of the Casco Antiguo and enjoy a coffee whilst watching the world go by. For lunch, find Taberna Casa Curro Marbella where you'll enjoy great tapas and fruity Spanish wine.
Up next is beautiful Ronda, surrounded by the dramatic mountains of Sierra de Grazalema and Sierra de las Nieves. The drive from Marbella to Ronda is simply stunning, with white villages on every hillside and spectacular views as the road dips and swoops between lakes, valleys, and peaks.
Known for its Ronda its arched bridge of Puente Nuevo which spans the 120m deep river gorge of El Tajo, the bridge is best seen from the beautiful La Casa del Rey Moro, where you'll find lush and fragrant gardens and a spectacular view. There's also a spectacular bullring here, and whatever your views about the divisive sport of bullfighting, you should visit Plaza de Toros.
Just north of Ronda are the Pueblo Blancos of Zahara de la Sierra and Setenil de las Bodegas. Both are worth visiting, and the latter is known for its whitewashed houses built into the surrounding cliffs and that image, the one with the rock covering half the narrow street and its houses.
The faded splendor of the sea city of Cadiz, one of the oldest cities in Europe, will beguile you. Just across the water in the famed sherry triangle is Jerez de la Frontera, the home of sherry since the 14th century. The nearby towns of Sanlúcar de Barrameda and El Puerto de Santa María are the other points of the triangle.
Make sure to stop for a tour of a sherry bodega for a taste of Spain's most famous alcoholic drink. Whatever you think you know about sherry, think again!
As well as sherry, Jerez is also famous for its flamenco tradition and is one of the best places to watch the steamy and seductive dance whose name literally means 'hell-raising'!
Next is hot and steamy Seville, one of the most popular places in Andalucia, if not Spain! Seville boasts the Gothic Seville Cathedral, the imposing Giralda Tower, and the stunning Alcazar, all conveniently clustered together in the historic center, and located right next to the narrow streets of the Barrio Santa Cruz, the heart of Seville's lively tapas culture offering some of the best plates in Andalucia.
Past the ancient dolmens and lover's rock of Antequera is Cordoba, known for the UNESCO Mezquita mosque cathedral, which will literally take your breath away when you step inside for the first time. Meander through the nearby Jewish quarter where you'll find narrow lanes and pretty squares where many of the whitewashed houses are covered in blooms from window boxes providing the perfect images of this gorgeous city. 
Next up is one of Spain's most underrated cities. Well off the beaten path, Jaén is known for its olive oil production, and for its medieval fortresses, including Santa Catalina Castle. The Renaissance Jaén Cathedral houses the Holy Veil which is said to have been used to wash Christ's face.
From Jaén, it's a beautiful drive south to Granada, in the Sierra Nevada mountains and very possibly Spain's most romantic city. The Alhambra, the spectacular Moorish palace sits high on a hill overlooking Albaicin, the old town of Granada, and is the jewel in Andalucia's crown.
Finish this southern Spain road trip by hitting the Costa Tropical and the seaside resorts of Almuñécar, Salobreña, La Herradura, and Nerja.
Highlights
Where to Stay
Malaga ⇒ Hotel Molina Lario for its perfect location, buzzy rooftop bar, and incredible cathedral views.
Seville ⇒ Case del Poeta for its perfect Santa Cruz location, live Spanish guitar gigs, and stunning roof terrace views.
Granada ⇒ the Hotel Santa Isabel la Real for cozy rooms, spectacular Alhambra views, and an exceptional cooked breakfast.
RELATED POST – The Perfect Andalucia Road Trip: Itinerary, Map & Tips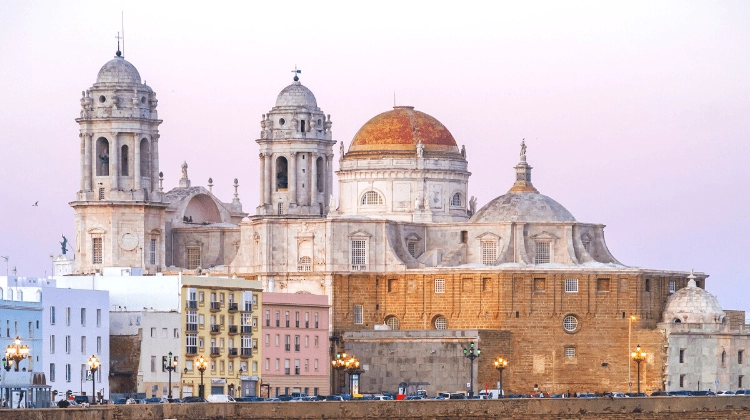 East Coast Costas
Valencia – Denia – Xabia – Altea – Alicante – Cartagena – Almeria
This delightful and easy seven day trip down Spain's eastern Mediterranean coast bypasses the worst of the high-rise excesses and explores the best of the Spanish Costas, including some you've never heard of! Costa de Valencia, Costa Blanca, Costa Calida and Costa de Almeria.
Valencia is a seriously underrated city and is preferred by many Spaniards to Barcelona. The city is much less touristy than Barcelona but has the cultural variety of Madrid and the charm of Seville. Alive with noise and color, the city will surprise and delight you.
Visit Valencia during the fabulous Las Fallas when the city erupts with bonfires, music, and life. Don't forget to sample a traditional drink of horchata (made from tiger nuts) when you're in Valencia, it's not to be missed!
Head south and make for La Albufera, a huge lagoon separated from the sea by a sandbank and surrounded by rice paddy fields, still irrigated by systems installed by the Moors.
An important wetland and the stopping-off point for thousands of migratory birds, the area is also where paella originated, due to the perfect growing conditions for rice. You can take a guided tour through the lagoon on a boat trip, and check out the 'paella' villages, including Perel-Lonet, the best place to get a taste of the real thing, not with seafood but with chicken, rabbit, and snails.
Next up is the old port town of Denia, less touristy and ex-pat, and the closest departure point in Spain for the Balearic Islands. From here, you can sail to Ibiza, Formentera, and Palma, to start your Mallorca road trip (if you have a few extra days!).
There's more to Denia than the port though. Home to a modern marina surrounded by cool bars and an old town lined with fish restaurants and Spanish fusion food, this is a wonderful place for an overnight stop. Check out our favorite, Els Magazinos, for street food Spanish style.
Javea, or Xabia in the local dialect of Valenciano, is a pretty seaside resort close to Cabo de la Nao, a beautiful rocky promontory where you'll find hidden coves and beaches. Lively in the evenings in summer, you'll also find a beautiful sandy beach and a pretty old town.
For the best beach in the area, head south by around 5km to Playa la Barraca, a shingle beach with perfect turquoise water and a fantastic seafood restaurant.
Altea is your next stop, a small resort that sits below a historic hilltop village, which has incredible views. The old village is gorgeous with bougainvillea and jasmine in bloom, alongside alleys lined with alfresco dining and interesting boutiques and gift shops.
Bypass built-up Benidorm and head for the very Spanish city of Alicante, with its wide and spacious esplanades and seafront paseo. The renovated old town is a perfect place to stroll and people-watch, especially in the early evenings. You'll also find good tapas restaurants and bars in this area.
Swing by the pink lake at Torrevieja. Las Salinas Torrevieja is a real sight, with its bubblegum pink water and fascinating history of salt production.
Head south, ignoring the outskirts of Cartagena, and make for the medieval narrow and twisting streets of the old town. The city will surprise you with its eclectic architecture, historic sites, and modern feel.
It's quite a long drive down this part of the coast but the unspoiled and undeveloped resorts of Aguilas and El Puerto de Mazarron make good stopping points before arriving in the wild and beautiful region of Almeria, one of the driest places in Europe and home to some weird and wonderful landscapes and coastal rock formations, both on dry land and in the surrounding sea.
The Cabo de Gata particularly is a scuba diving hotspot and a kayaker's and hiker's paradise, and whales are sometimes spotted along these shores.
Highlights
Where to Stay
Valencia ⇒ One Shot Mercat 09 for its historic location, rooftop pool, and hip vibe.
Alicante ⇒ Melia Alicante for its stunning views, casual style, and excellent service.
Cartagena ⇒ NH Cartagena for its central location, contemporary style, and welcoming feel.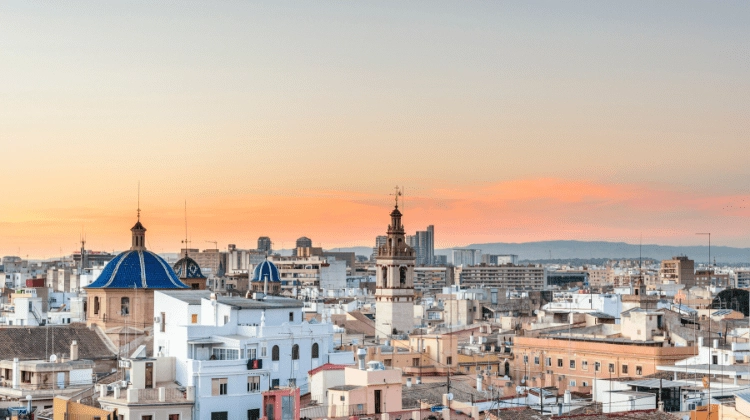 More Spanish Travel Inspiration
Central Spain
Madrid – Toldeo – Cáceres – Ciudad Real – Consuegra – El Toboso – Cuenca – Madrid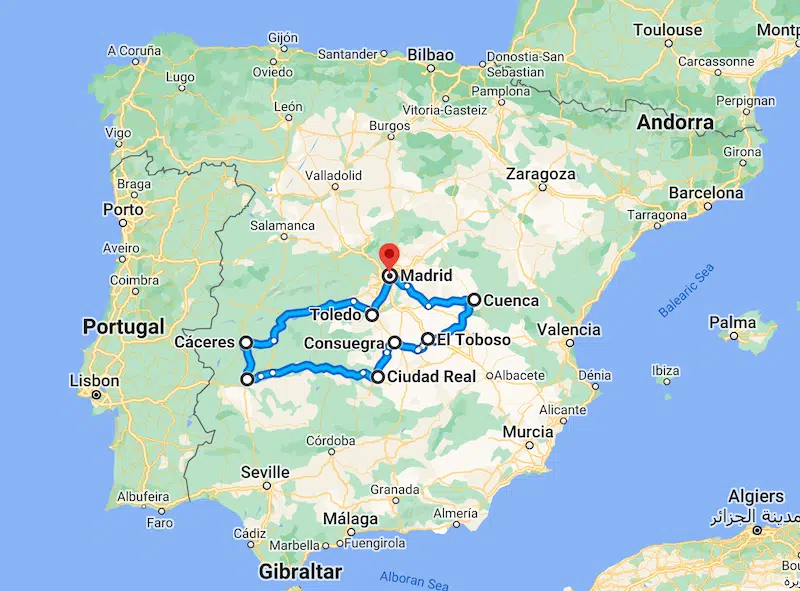 This road trip from Madrid explores the wild and windswept plateau of Castilla-La Mancha and Extremadura, parts of Spain's interior that are really on the road less traveled. Amongst the hidden gems and architectural surprises expect abandoned villages and huge swathes of, well, nothingness.
For us, the the rolling steppe and vast plains, rich with birdlife and craggy outcrops more than compensate for its remote nature and long hours on the road.
Toledo is up first, and what a start to your road trip! An ancient city set on a hill above the plains, Toldeo is known for the medieval Arab, Jewish, and Christian monuments in its walled old city, giving rise to its name 'City of the Three Cultures'. There's also a connection with Hannibal who used extra-hard Toledo steel for his swords in the Punic Wars.
It's a gorgeous drive through forests and rolling plains to medieval Cáceres, a UNESCO jumble of narrow alleys, castles, palaces, and squares, where it's easy to while away a few days eating tapas and admiring the olive trees growing in serried ranks across the rolling lands which surround the town.
Ciudad Real is a quick stop to admire the 14th century Puerta de Toledo, one of the city's original Mudéjar-era gates, and visit the Quixote Museum, dedicated to Miguel de Cervantes' classic Spanish novel, Don Quixote.
Next up, riding the Cerro Calderico mountain and with the 12th century Castle of La Muela as a backdrop, are the Consuegra windmills, a line of twelve tower mills described in the story of Don Quixote, that are one of the most iconic landmarks in Spain.
Initially built to grind grain, the mills were modeled on the Dutch windmills of the 16th and 17th centuries. These tower mills were passed down through the generations until being retired in the 1980s when twelve of the original thirteen mills were restored and opened as a tourist attraction.
El Toboso is your next stop. Famous for being the hometown of the fictitious Dulcinea, lover of Don Quixote, El Toboso has a great many pretty corners and traditional buildings of masonry and whitewashed walls. Don't miss the House of Dulcinea, a traditional La Mancha structure from the 16th century, which has been beautifully renovated.
Your final stop before returning to Madrid is Cuenca. Founded by Moors, Cuenca is perched on a limestone spur above the Júcar and Huécar rivers and has a historic Walled Town with steep cobbled streets and medieval castle ruins. Cueunce is most famous for its well-preserved casas colgadas, or hanging houses which are dramatically cantilevered over the Huécar gorge as they cling to the cliffside.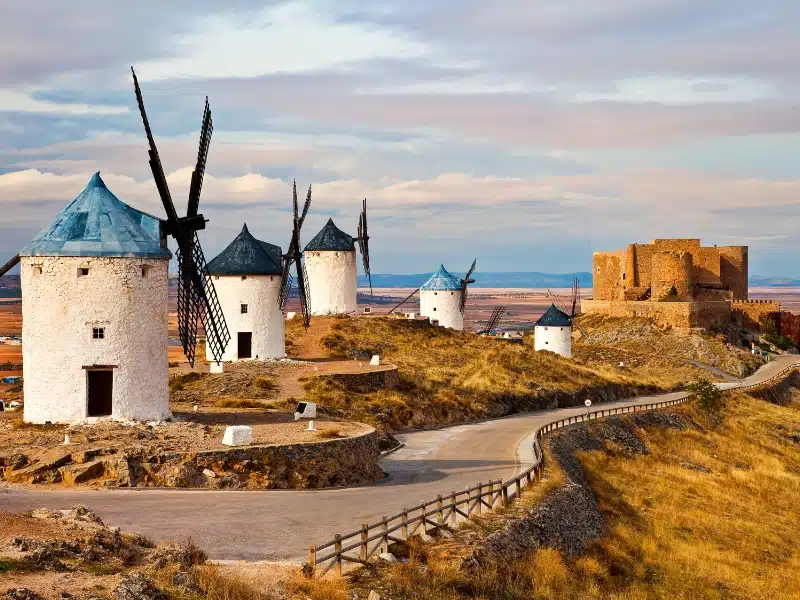 Green Spain
San Sebastian – Bilbao – Comillas – Oviedo – A Coruna – Santiago de Compostela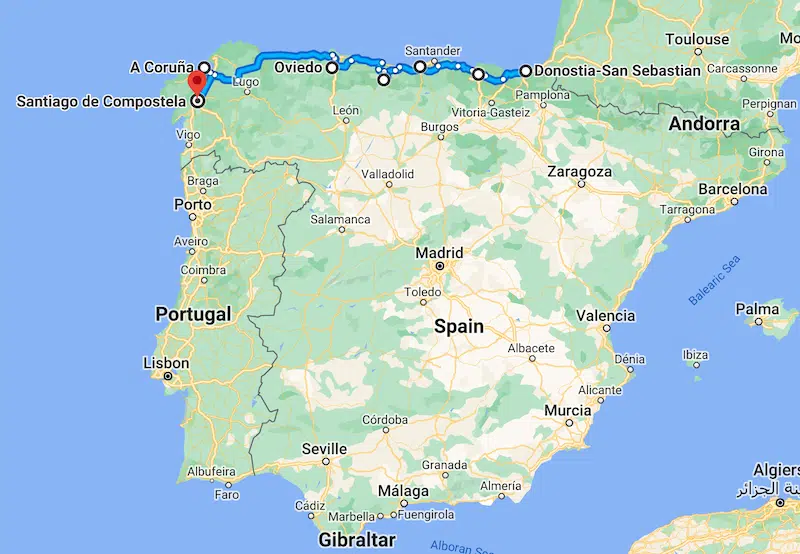 This north of Spain road trip will take you through the beautiful and lush, aptly named Green Spain, hugging the north coast along the Atlantic Ocean.
From San Sebastian through Cantabria, Asturias, and Galicia, you'll see some of the most picturesque landscapes in Spain, enjoy amazing food, and crisscross the famous Camino de Santiago.
Start in gorgeous Donastia-San Sebastian, the most well-known of the Basque resorts. A picturesque seaside resort with fabulous sandy beaches, San Sebastian is known as a foodie town, and deservedly so. There is a great collection of fine restaurants and authentic pintxo bars here, serving world-class food produced from local ingredients.
Next is Bilbao, home of the incredible Museo Guggenheim and backed by beautiful green mountains. The museum itself is a work of art, with beautifully curved and sweeping architecture.
Bilbao now rivals San Sebastian as one of the top coastal cities in Spain, with its vibrant restaurant and bar scene, and offers fine Basque cuisine and freshly caught seafood in its atmospheric restaurants and bars.
Head west to the stunning Santillana del Mar, known as the town of the three lies. Not holy (santi), not flat (llana) nor by the sea (del mar). This medieval town is well-preserved and worth a meander before you make your way to Comillas, further along, the coast.
Traditionally low-rise, you'll find a lovely beach, a tiny fishing port, and a charming cobbled casco antiguo here. If you have a few extra days, head into the Picos de Europa National Park for excellent hiking in the beautiful peaks of this small, but perfectly formed mountain range.
Oviedo is the next stop and the starting point of the lesser-known Camino Primitivo (the oldest Camino). This compact and elegant city is another foodie delight, with a vibrant gastronomic scene.
Home to Spanish cider, you'll find traditional sidrerías along Calle Gascona, known as Cider Boulevard. Visit in September for Fiestas de San Mateo, a live theatre and music spectacular. If you go in October, you'll be in the middle of the apple harvest in Asturias, a region in which you could easily spend several weeks.
A Coruña is up next, passing by the spectacular Playa de Las Catedrales en route. The 'beach of the cathedrals' is one of Spain's top natural landmarks and is best visited at low tide, when its possible to walk on the beach and get up close to the fabulous rock formations.
A Coruna is a dynamic city that is home to a busy port, a relaxed beachfront resort, and an atmospheric old town. The seafood here is some of the freshest and most delicious in Spain, with seafood tapas being a specialty. Take a walk out to the Tower of Hercules, a lighthouse that looks nothing like a lighthouse!
Finally, you'll reach Santiago de Compostela, the end point of the famous Camino de Santiago, and your last stop. As you enter the city, you'll see pilgrims covering the final few miles and proudly displaying their Vieira, the scallop shell badge that you'll have seen along your route.
The UNESCO World Heritage Site of Santiago de Compostela is undoubtedly one of the most beautiful cities in Spain, full of labyrinthine alleys, dramatic squares, and historic religious buildings.
There are too many must-sees to list, but consider a walking tour with a local guide if you don't have much time, you'll get to see the most important things and learn about the history of the city too.
It's a hop and a skip from here into tiny Portugal, via fascinating Vigo. Portugal packs a powerful punch with incredible coastlines and vibrant cities and a Portuguese road trip makes the perfect complement to your Spanish road trip.
Highlights
Where to Stay
Bilbao ⇒ Hotel Tayko for its minimalist style, hip location, and excellent restaurant.
Oviedo ⇒ Barcelo Oviedo Cervantes for its laid-back vibe, modern decor, and smooth service.
Santiago de Compostela ⇒ Parador De Santiago de Compostela for its history, traditional decor, and HUGE breakfast buffet.
RELATED POST – North Spain Road Trip: Itinerary, Route & Tips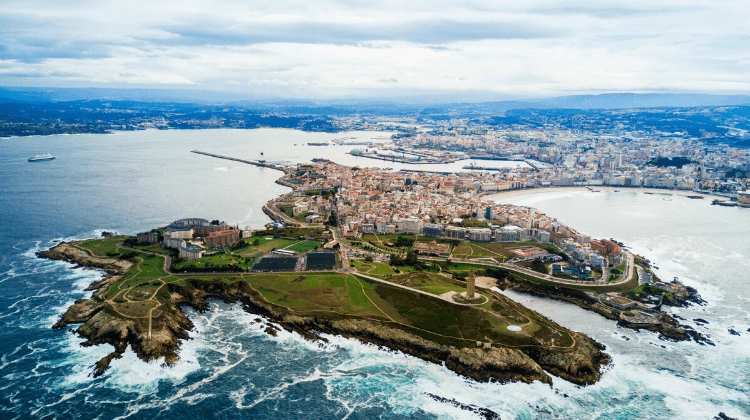 Epic Spain
Madrid – Salamanca – Santiago de Compostela – San Sebastián – Barcelona – Valencia – Alicante – Almeria – Granada – Malaga – Cordoba – Seville – Cáceres – Toledo – Madrid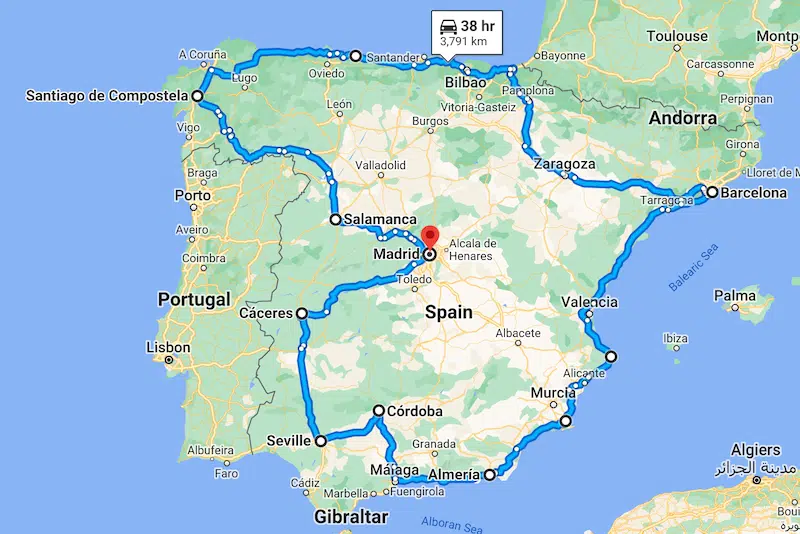 If our seven great driving tours of Spain have whet your appetite but you have a bit more time and want to experience all that Spain has to offer, why not try this combination of all our Spain road trips together?
Stop in the major cities on this eclectic itinerary, and take day trips as you go to see the main attractions along the route. Enjoy local gastronomy, learn about regional customs, and marvel at the variety that Spain has to offer.
From coast to mountains and taking in all the major cities and must-see places, this ultimate Spain road trip will give you the drive of your life and show you the best of Spain in all its wonderful guises.
Planning Your Spain Road Trip
Spain Road Trip Resources
Here are the websites and services we personally use and recommend for traveling in Spain.
Best Time to Visit Spain
Spain has varied weather and different climate systems, depending on where you are in the country.
Spring
The weather of Spain in spring is just perfect for those who want to enjoy the beautiful climate and it's no wonder that this is also considered to be one of the peak seasons for travelers in Spain.
From March to May, the weather is pleasantly warm and you definitely won't need your winter woolies! You may need a long-sleeve top for the evenings, and if you're visiting the north of Spain, it's a good idea to pack a cozy fleece or jumper and a waterproof.
A visit in spring also offers the opportunity to experience Easter or Semana Santa. Catholics in Spain celebrate Holy Week through traditions that commemorate the crucifixion and resurrection of Jesus and each day has its special traditions, like processions on the streets and bringing olive branches to church. It really is a spectacle, and best seen in Seville or Granada.
Summer
Summers in Spain can be punishingly hot, especially in the south, and there will be a greater influx of European tourists heading to the popular beach resorts and historic cities, although most Spaniards will stay at home during these months.
Lower temperatures in the green north make it a great option during the summer, but be aware that prices for flights, accommodation, car hire, and activities increase everywhere.
Autumn
Similar to spring, fall sees milder temperatures and fewer visitors, making it a good option for a post-summer break. Spain turns the most beautiful shades of russet and yellow during fall and hotels and other accommodation are reasonably priced at this time.
Winter
Winter temperatures are where the extremes really show. Northern Spain may see snow and Madrid in winter can be super cold, just as Malaga is one of the hottest winter destinations in Europe with the sea warm enough to swim in!
This is also a good time for budget travelers to plan Spain trips as prices tumble and there are real bargains to be had. Avoid the north and Pyrenees though, which regularly see snow in winter.
RELATED POST – Autumn in Europe: 23 Stunning Destinations for Fall
Fiestas in Spain
Right across Spain, from the largest cities to the smallest villages, fiestas or parties, are an important annual marker and a great excuse to celebrate life.
Usually held to mark a religious day, these riotous parties are one of the greatest pleasures of traveling in Spain.
The streets are adorned with decorations, street food is prepared, wine flows, and live music is played as people come together. Everyone is welcome; to visit Spain and not join a fiesta is to miss the ethos and spirit of this country entirely.
You can find a fiesta calendar here to help you plan your trip and coincide your visit with the best of them.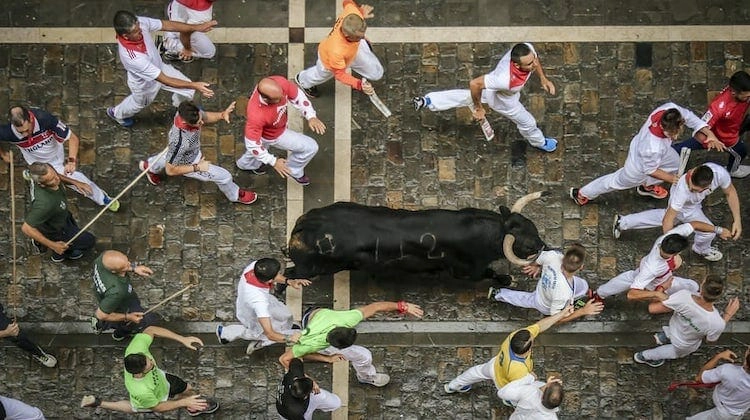 Driving in Spain
Car travel in Spain is easy, with a good network of Autovias (A) and Autopistas (AP). The latter were toll roads until 2020 when many (but not all) became toll-free.
Fuel and car hire are some of the cheapest in Europe making Spain a really cost-effective place to take a road trip.
Touring Spain by car in rural and mountainous areas can take longer than you think although the standard of non-motorway roads in rural areas is generally good. Allow time to get off the beaten track and experience the real Spain as you tour this fabulous country.
Whether you're driving your own vehicle to Spain or you're in a rental car, follow our driving in Spain tips;
You must have at least three months remaining on your passport (issued in the past ten years) at your intended date of departure from Spain.
You must have at least 3rd party insurance for your vehicle when you roadtrip Spain.
Citizens of non-EU third countries may require an IDP, you can check here.
You must carry two warning triangles for the front and rear. These warning triangles are now being phased out and from 1st July 2021, a new law requires that a V16 flashing emergency light is used, although both means of advising other traffic will be legal until the end of 2024.
You must also carry a reflective jacket (for the driver and all passengers) a spare wheel and the tools to change a wheel or a tire repair kit.
If you wear glasses you must also carry a spare pair in the vehicle.
UK cars will need headlight beam converters to be fitted (unless they adjust automatically).
The use of winter tires in Spain is regional. Look out for traffic signs indicating that winter tires or snow chains are compulsory where you are.
Anything with a screen (television, video, DVD, etc.) that could distract you when driving should be positioned where you can't see it. This doesn't apply to a sat nav but you must not touch or program your sat nav unless parked in a safe place.
Using radar detection equipment is prohibited under Spanish law and new regulations from January 2021 mean that it will also be illegal to be in possession of such equipment.
On roads with single carriageways, the speed limit established may not be exceeded by more than 20km/h when overtaking.
Free parking is almost impossible to find in Spanish cities. A better way is to book a hotel or accommodation with its own parking.
Are you looking for more incredible road trips? Check out these top posts…
One of the best ways to explore the beautiful country of Croatia is by taking a road trip, where you can drive along winding coastal roads, visit charming towns and villages, and discover off-the-beaten-path hidden gems. In this Croatia road trip guide, we'll share some of our favorite road trip routes and destinations in Croatia, along with tips for planning your own adventure on the open road. Get ready for an unforgettable journey through one…
Love it? Pin it!