This post may contain affiliate links, from which we earn an income.
Full of lush rolling hills, more sheep than people, a stunning coastline, and the nickname 'The Emerald Isle', it's no secret that Ireland is beautiful. This small country has something for all travelers whether you are looking for a romantic getaway or to hit the pubs in the old cobbled streets of Ireland's cities.
With a rich history involving Vikings, subjugation, rebellion, and famine, the cities of Ireland tell the country's story in their world-class museums, traditional Irish culture, local cuisine, and their historic architecture.
As Phil's home country, we know Ireland well, and we've spent a lot of time exploring and visiting its beautiful cities and towns as we travel Europe. We've put together this list of the best cities in Ireland to visit that offer traditional Irish charm, history, and culture to help you plan your perfect Ireland itinerary.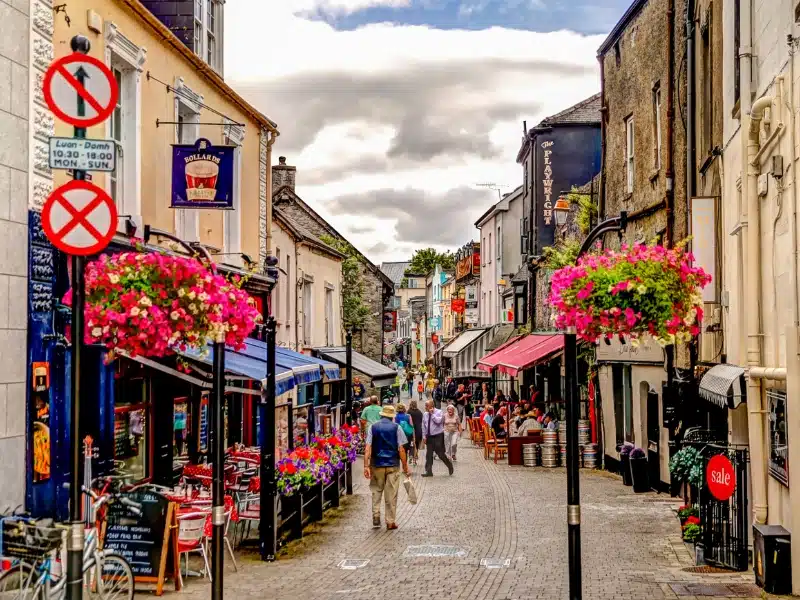 Best Cities To Visit in Ireland
Dublin
Straddling the River Liffey, Dublin is Ireland's largest city and it is also the capital city, making it one of the most important cities in the Republic of Ireland.
Dublin city is a global hub for multinational companies like Google, so parts of the city lack the charm of the rest of Ireland. If you want to spend your time in small Irish towns and see beautiful greenery and historical sites, Dublin may not be the best for you. However, it is a stop that all travelers should (and most likely will have to!) make, so lean in and experience Dublin like you mean it!
Dublin has a complex history full of Vikings, famines, and wars, and much of the city center still has a historic feel, with streets of cobblestone, castles and ancient churches. One of the best ways to see Dublin is by wandering and meandering along the river, down interesting streets and past architectural splendours and reminders of this intimate city's character.
Where to Eat in Dublin and What to Try
We can personally recommend the Brazen Head. This Irish Pub is a bit of an institution among locals and tourists alike so you'll have to search for a table at all times of the day, but it's worth it.
This very lively spot is known for its Guinness and stick-to-your-ribs Irish Stew and the person sitting next to you will likely strike up a conversation with you here. This is just the Irish way! If you're looking for a quiet, romantic dinner this may not be the spot for you.
Things to Do in Dublin
Where to Stay in Dublin
We stayed in the Parkway Guesthouse and it was the perfect place from which to explore. It is clean, walkable to downtown, has friendly staff, and is a reasonable price considering accommodation in Dublin can be expensive.
RELATED POST: One Day in Dublin – Itinerary, Map, Tips & Guide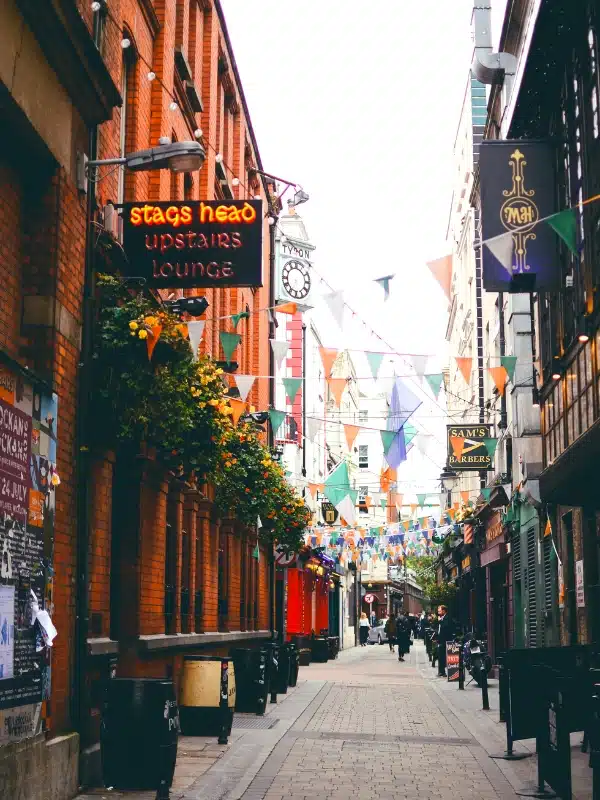 Make sure you have travel insurance you can trust when visiting Ireland. We recommend True Traveller for their 5-star TrustPilot reviews, variety of cover options, best activities cover as standard, great prices, and excellent service.
Belfast
The capital of Northern Ireland, Belfast is a vibrant city and the second largest city on the island of Ireland. A vibrant and historic city, Belfast has something to offer for everyone. Whether you're a history buff, a foodie, or just looking for a fun day out, Belfast has plenty of activities to keep you entertained.
A very walkable city, much of what you'll want to see can be reached on foot. A walking tour with a local guide will help you understand the complex history of the Troubles and the complex relationship between Northern Ireland and the Republic of Ireland.
Where to Eat in Belfast and What to Try
Whenever we're in Belfast we head to our nearest Maggie Mays (there are three; Malone Road, Botanic Avenue and Castle Street) for a traditional Ulster Fry, a cooked breakfast with thick back bacon, fried eggs, local pork sausage, black pudding and the key ingredients of potato bread and soda bread.
Things to Do in Belfast
Where to Stay in Belfast
The Malmaison Belfast is an urban haven in the city centre, and combines historic charm with modern amenities and comfortable rooms.
RELATED POST: Belfast in A Day: Itinerary, Map & Tips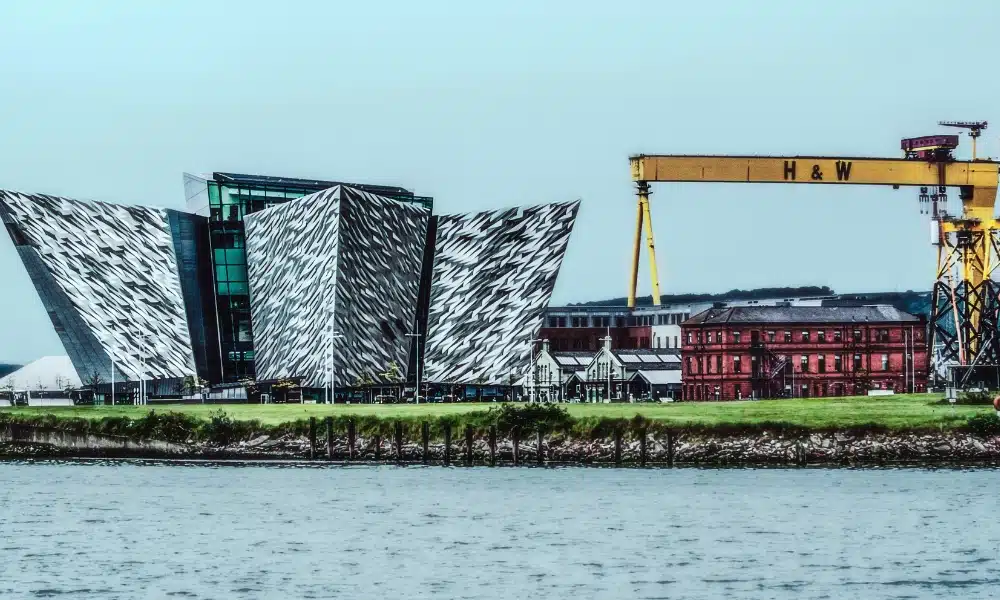 Cork
Ireland's second-largest city, and the capital of County Cork, Cork city is home to one of the top universities in Ireland and is popular wih international students, so its no surprise that the city has a hip and eclectic vibe, with a bit of a rebellious streak.
Cork city sits on an island between two branches of the River Lee, and this beautiful setting makes it one of the most popular cities in Ireland!
Cork is known as the food capital of Ireland and has a diverse offering of food choices from homey, traditional Irish food to artisan cheese and beautifully smoked fish. If you want a great experience and the best Irish food culture, Cork is where you want to be!
Like much of Ireland, Cork also enjoys incredible nightlife. However, it also offers a tranquill riverside escape for those wanting to get out of the hustle and bustle of the busy downtown area.
Where to Eat in Cork and What to Try
With so much great food in the city, there are no wrong choices. However, Gallagher's Cork is a local pub that's signature dish of beef and Beamish ale pie, braised beef with vegetables and puff pastry, is a must-try.
Things to Do in Cork
Where to Stay in Cork
The Imperial Hotel Cork City is a hotel that feels like a palace upon walking in. It is in the heart of downtown and has an excellent breakfast included in many of the booking options.
RELATED POST: Wild Atlantic Way: Exploring Ireland's West Coast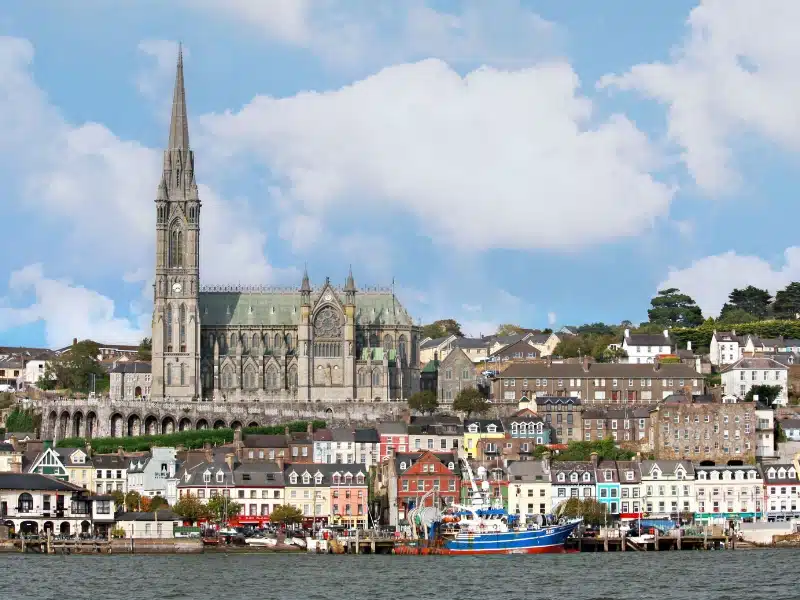 Kinsale
While Kinsale is less of a city and more of a small town it is worth a stop as you travel through Ireland, and is located at the start or finish of the Wild Atlantic Way, just outside of Cork. What once was an old fishing port, this adorable Irish town is known for its cobblestone streets lined with brightly colored buildings.
The mix of color among the medieval buildings of the rest of the town is what we thought made Kinsale special and one of the most beautiful cities in Ireland, and why it's included on this Irish cities list!
Where to Eat in Kinsale and What to Try
The Black Pig Winebar serves local and seasonal, modern European food with a cozy atmosphere. The most popular menu items are their oysters and amazing charcuterie.
Things to Do in Kinsale
Where to Stay in Kinsale
The Kinsale Hotel and Spa is in a great location and is also surrounded by water and forest so it has something for all travelers.
RELATED POST: Best Things to Do in Ireland: 34 Amazing Highlights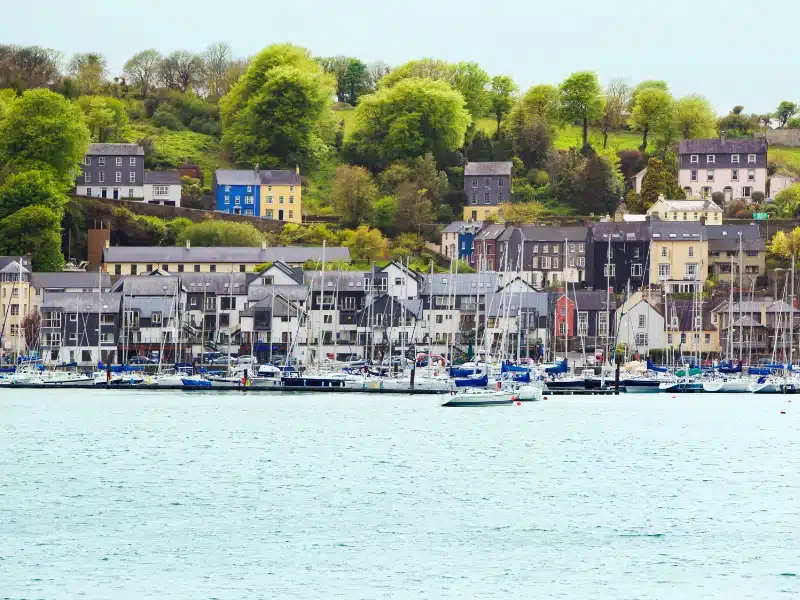 Kilkenny
Kilkenny, a medieval city located in Ireland's Ancient East is known as the 'Marble City' due to the many buildings constructed with the local Kilkenny stone.
The city has an incredible vibe and feels like the quintessential Irish city built along its Medieval Mile street of shops, pubs, restaurants, and more. The Mile stretches from Kilkenny Castle to St. Candice Cathedral and, along with its medieval history, it is one of the highlights of this small city that feels larger than it really is.
Because the main attractions are on one street, Kilkenny is one of the most walkable cities in Ireland. Travelers can spend time eating Irish food, stroll between the traditional pubs, explore the shops, or wander along the River Nore.
Where to Eat and What to Try in Kilkenny
Matt The Millers Bar and Restaurant is a local favorite with great live music and an incredible Guinness and beef stew, served with colcannon – basically mashed potato with spring onions, known as scallions in Ireland.
Things to Do in Kilkenny
Where to Stay in Kilkenny
We recommend the Club House Hotel for those who want to watch their budget while still being downtown. It's clean and has an incredible breakfast included. Note that there are a lot of stairs and no elevators.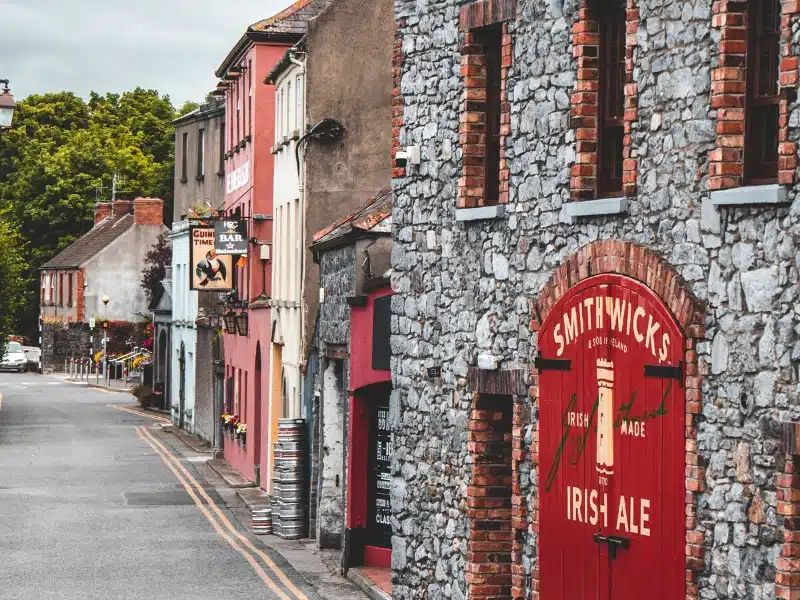 Galway
Fans of Ed Sheeran may have heard of this cute city in Ireland from his song Galway Girl. One of our favorite Irish cities, Galway is another university city with an old town of medieval buildings on the dramatic and wild west coast of Ireland.
In 2020, this medieval city by the sea was voted the European Capital of Culture due to its bohemian, artsy vibe and plenty of festivals!
When wandering through the narrow lanes visitors will hear traditional Irish music from the many buskers and vibrant pubs, but there are also plenty of cozy and quiet cafes if you're looking for a more peaceful experience! No matter what you prefer, Galway City is one of the best cities to visit in Ireland!
Where to Eat in Galway and What to Try:
Galway's most famous seafood, you must try the oysters straight from the Atlantic Ocean at the Seafood Bar at Kirwans.
Things to Do in Galway
Where to Stay in Galway
We had an incredible stay at The Huntsman Inn. It is on top of an old bar but the rooms are surprisingly spacious, modern, and beautiful. It's a 10 minute walk from the center of downtown but provides a nice respite from the noise of sleeping.
RELATED POST: Beautiful Ireland: 22 Most Scenic Places To Visit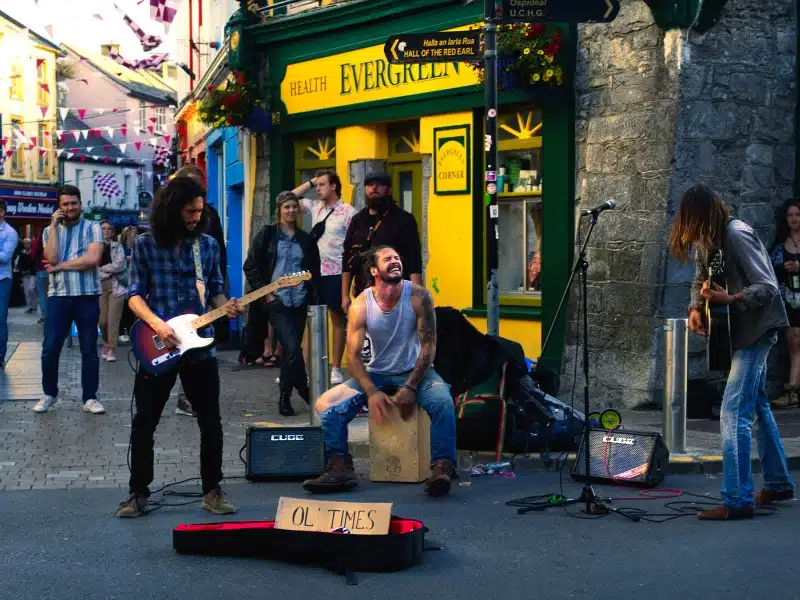 Limerick
Think of Limerick as the 'Portland, Oregon' of Ireland with its street art, awesome restaurants, and great craft beer scene. It has a rougher reputation than other Irish cities, but this should not stop you from visiting the first-ever Irish European City of Culture.
Whether you prefer medieval or more modern architecture, more traditional and homey food, or more upscale fine dining, or want to drink Guinness or local, craft beer, Limerick city has something for all travelers.
Where to Eat in Limerick and What to Try
The Locke Bar is on the River Shannon and has live traditional music and Irish dancing in the summer months. For the adventurous traveler, try the fisherman's pie which is like a shepherd's pie, but with fish.
Things to Do in Limerick
Where to Stay in Limerick
The Absolute Hotel Limerick is right in the city's medieval quarter with an incredible view of the Abbey River. It's clean, chic, and very central with an option to include breakfast in your stay.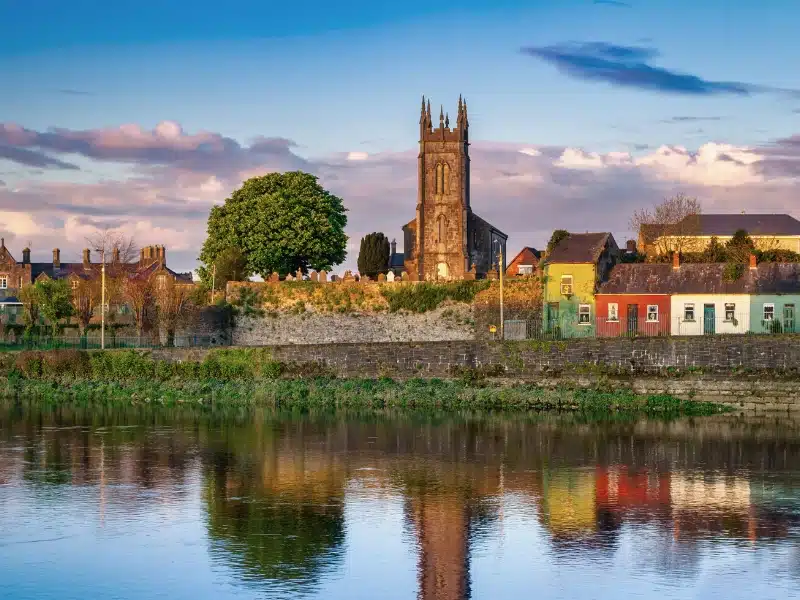 Waterford
Waterford is a hidden gem in Ireland as most tourists stop at large cities like Dublin or Cork and pass by, but Waterford is definitely worth visiting. Known for its Waterford Crystal, Waterford is Ireland's oldest city, founded by Vikings in the 9th century. The city's name comes from a Viking word that means 'windy Fjord'.
The beautiful city is home to many museums and historic buildings within walking distance, making Waterford a great place to stop for those who want to get into the history of Ireland.
Where to Eat in Waterford and What to Try
Take a break from hearty Irish food and head over to Emilianos for some incredible Italian foods that rival what you'll find right in Italy.
Things to Do in Waterford
Where to Stay in Waterford
The Granville Hotel is a high-class hotel that feels very old-world European inside. It overlooks the River Suir and is in a central location, walkable to all the main attractions.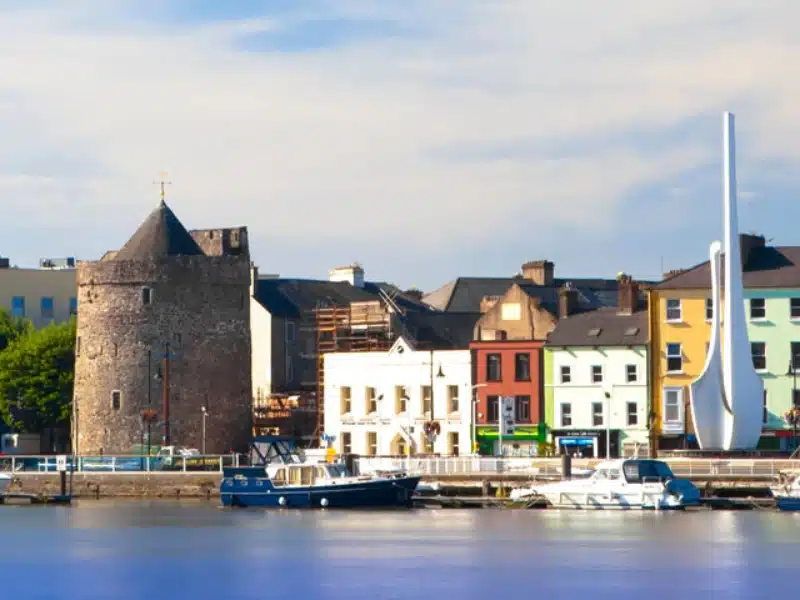 Derry-Londonderry
Derry-Londonderry is fast becoming a popular destination in Northern Ireland. One of the finest examples of a fortress city in Europe, Derry is the only remaining completely walled city in Ireland.
Derry is the last stop on the Causeway Coastal Route, which encompasses the whole of the Antrim Coast from Belfast and takes in top attractions like the Giant's Causeway, Carrick-a-Rede rope bridge, and the Bushmills Distillery.
Close to the border with County Donegal and on the shores of Loch Foyle, Derry enjoys some of Ireland's best beaches in the Binevenage Outstanding Area of Natural Beauty and is in a great position for exploring Malin Head and the Wild Atlantic Way.
Where to Eat in Derry and What to Try
The Walled City Brewery in Ebrington Square has a classic gastropub menu showcasing locally sourced and produced ingredients alongside an eclectic mix of flavors from around the world. We vote for the McAtamney's sirloin, from a local Coleraine butcher.
Things to Do in Derry
Where to Stay in Derry
Positioned within the walls, the listed Bishop's Gate Hotel is well-situated and offers a boutique vibe with luxury rooms.
Killarney
Situated in County Kerry's scenic southwest region of Ireland lies the busy town of Killarney. One of Ireland's top tourist destinations Killarney is on the edge of Killarney National Park and Lough Leane, and is the starting point for the Ring of Kerry Coastal Route around the Iveragh Peninsula.
Killarney is surrounded by pretty lakes and spectacular vistas of Ireland's highest mountain ranges and offers plenty of opportunities for outdoor activities, especially hiking and mountain biking.
For cultural activities, visit Derrynane, the ancestral home of the 'great liberator' Daniel O'Connell, where you can find out more about Irish political history at Derrynane House.
Where to Eat in Killarney and What to Try
We loved Bricín Restaurant and Boxty House for its cozy traditional decor, but mostly for its amazing boxty, an Irish specialty made with mashed potato and grated raw potato, bacon fat, and sometimes cheese. An old Irish rhyme tells the importance of this historic staple dish; "Boxty on the griddle, boxty on the pan; if you can't make boxty, you'll never get a man."
Things to Do in Killarney
Where to Stay in Killarney
The Great Southern Killarney stands in six acres of beautiful gardens in the heart of Killarney with easy access to the town and a ten minute drive to Killarney National Park.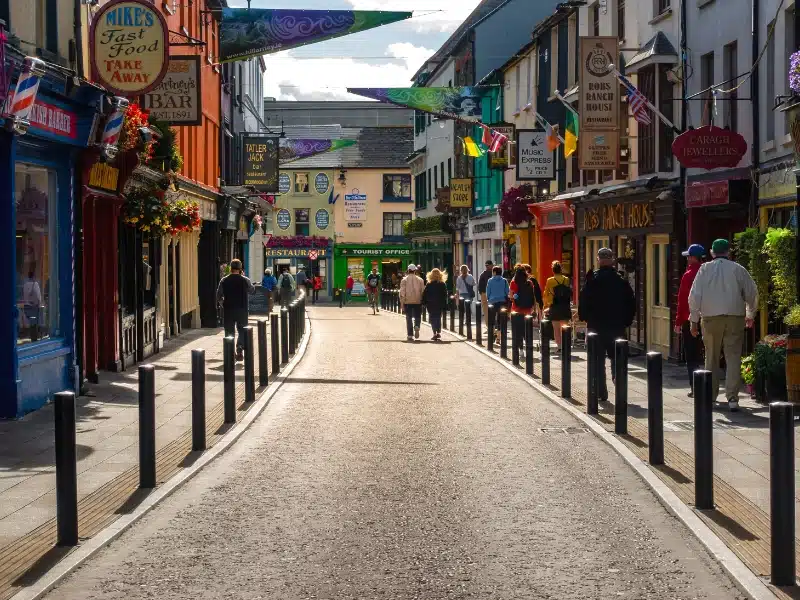 The Island of Ireland
The Republic of Ireland is officially described as the Republic of Ireland and is a member state of the European Union. There is no such country as Southern Ireland, although it is often incorrectly used to differentiate between Ireland and Northern Ireland.
Northern Ireland (or 'Norn Iron' as it is affectionately known by residents) is a part of the United Kingdom of Great Britain and Northern Ireland, also known as the UK. The other countries in this sovereign state are England, Scotland and Wales.
Together, the two countries make up the island of Ireland. Upon the partition of Ireland in 1921, the 32 counties were split, with Ireland encompassing 26 and Northern Ireland, six.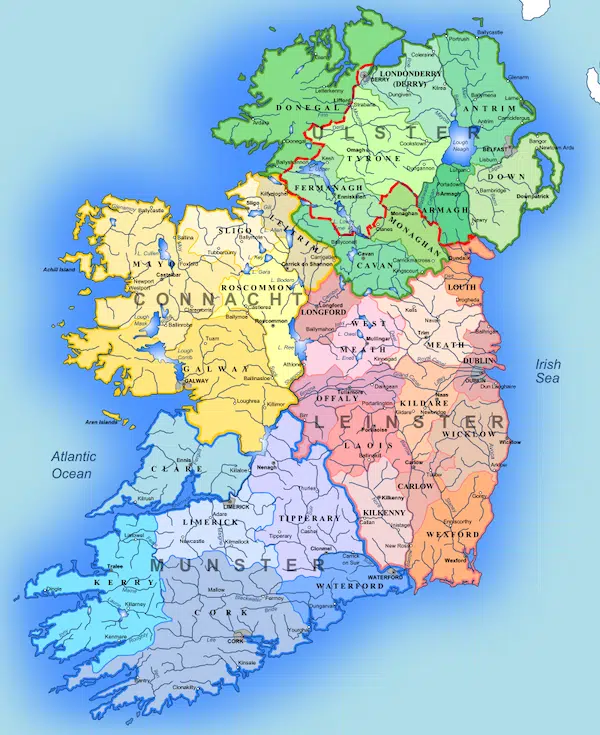 Best Time To Visit Ireland
While there is no bad time to visit Ireland, but planning a visit in late spring or early fall is best. During the shoulder seasons, you will find fewer crowds at popular attractions, cheaper accommodation prices, and mild temperatures without too much rain – although this is Ireland, so make sure to pack your umbrella and a waterproof.
To experience a true Irish party, visit for St Patrick's Day on March 17th. The anniversary of St Patrick's death in the 5th century, this is a global celebration of Irish culture, and no more so than in Ireland itself. Known in Ireland as Paddy's Day, there are public parades and festivals, céilithe (a traditional Irish gathering with music and dance), the wearing of green and orange outfits and shamrocks everywhere!
Another popular festival in Ireland is Halloween, which is celebrated with great enthusiasm. This is possibly because the roots of Halloween can be traced back to pagan Ireland over 2,000 years ago when the ancient festival of Samhain was celebrated to mark the beginning of winter. Head to the birth Púca Festival at Athboy in County Meath said to be the birthplace of the festival for folklore, fun, and feasting.
Ireland Travel Tips
Planning a trip to Ireland will be a better experience if you use some of these top tips: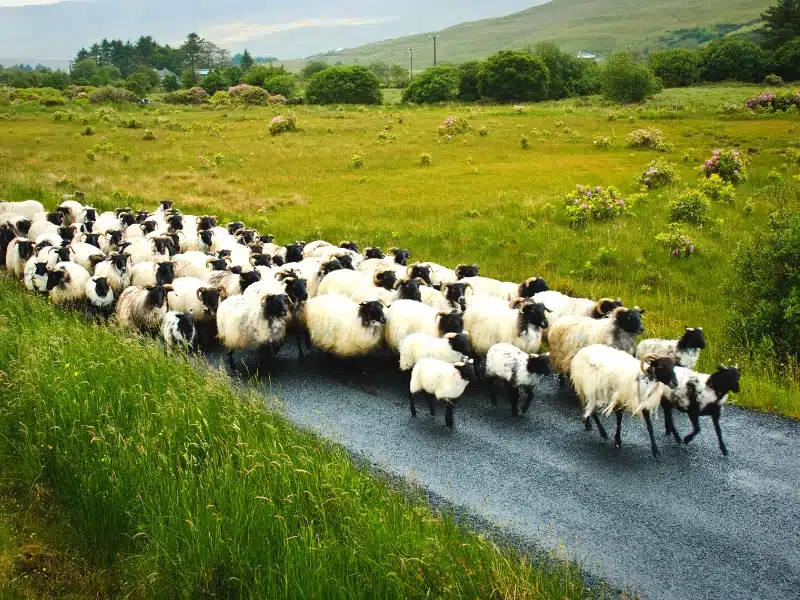 Frequently Asked Questions about Irish Cities
What is the most walkable city in Ireland?
All of the cities in Ireland are quite walkable but Kilkenny, with all of its main shops, pubs, and restaurants on one street, is the most walkable city in Ireland.
What is the most touristy city in Ireland?
Being the largest capital city of Ireland, the most touristy city in Ireland is Dublin. Although this means it will be busier, Dublin is also home to some of the best attractions in Ireland.
What are the ten largest cities in Ireland?
The ten largest cities in Ireland by population are Dublin, Belfast, Derry-Londonderry, Cork, Limerick, Galway, Craigavon, Waterford, Drogheda, and Dundalk.
What is the nicest part of Ireland?
While all of Ireland is beautiful, the Wild Atlantic Way is a must-see on a tour of the Emerald Isle. At 1,600 miles, it is one of the longest-defined coastal routes in the world and winds from County Donegal in the north to County Cork in the south, following the gorgeous west coast of Ireland.
Ireland Trip Resources
Here are the services we use and recommend for traveling in Ireland;
Looking for more travel inspiration? Check out these top posts…
Are you desperate for some Spanish sun but don't want to fly? With great routes across Europe, it's easy to drive to Spain from UK by car, arriving refreshed and unstressed from the comfort of your own vehicle. We're sharing the best routes with costs and comparisons plus tips about driving once you're there. Our Spain from UK guide will help you decide which is the best route for your driving trip to Spain, so…
Love it? Pin it!