This post may contain affiliate links, from which we earn an income.
Belfast, the capital of Northern Ireland, is a vibrant and historic city that has something to offer for everyone. Whether you're a history buff, a foodie, or just looking for a fun day out, Belfast has plenty of activities to keep you entertained.
In this one day in Belfast guide, we'll take you through an itinerary of how to spend a day in Belfast, highlighting the top attractions and hidden gems that you won't want to miss. You'll find information and tips for visiting Belfast, with an interactive map, organised to make the best use of your one day in Belfast.
We also share recommendations for central places to stay, ideas about where to eat local food, and tips about how to make the most of your 24 hours in Belfast.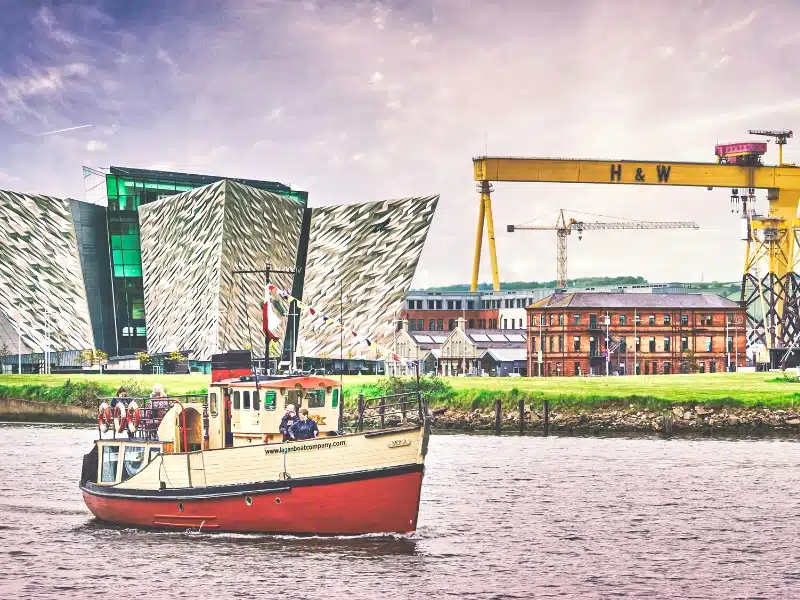 When to Visit Belfast
Spring
Spring can start off quite cold, wet, and windy, especially on the coast, but as April progresses the weather gets warmer and the outdoors comes to life, making this a perfect time for sightseeing in Belfast. Average temperatures by the end of spring hover around 14 °C / 57 °F), although you can still expect plenty of showers.
If you visit in early spring, you'll also catch St Patrick's Day on 17th March, the annual riot of all things Irish and green, when there is craic, and a shamrock, to be had literally on every street corner.
Summer
Summer is a fantastic time to visit Belfast. It is unusual for this part of the British Isles to enjoy a full-on heat wave, but there are subtle improvements with less rain and wind, and temperatures range from 18-24 °C / 64-75 °F with the odd hotter day. Evenings remain cool so a warm coverup with long sleeves will be needed.
Fall
By the end of September, the amount of daylight hours reduces and it starts to get dark in the late afternoon. Temperatures tend to stay mild at 16-18 °C / 61-65 °F but the skies are often full of grey clouds and there is frequent rain. This weather becomes progressively worse as winter approaches.
Visit in late autumn for Hallowe'en, which in Belfast is a vibrant and lively celebration with a wide range of fancy dress, festivals, events, and attractions that are incredibly popular with people from this world, and of course, other realms!
Winter
Rain, snow, wind, and fog make Belfast an indoor city in winter. Although it rarely drops below freezing it can feel colder because of windchill from the nearby Irish Sea. Cold-weather clothing and a waterproof are essential if you visit Belfast in winter.
Is this your first time visiting the United Kingdom? Get all the information you need in our UK Travel Guide, including what to pack, the best time of year to go, getting there and practical tips to help you have the best trip!
Belfast Trip Resources
Flying
Fly into Belfast International Airport or George Best Belfast City Airport
Driving
Drive to Northern Ireland on a ferry from the UK or hire a car in Belfast
Travel Insurance
Cover medical costs, repatriation, activities, delays and lost luggage
Getting to Belfast
Flying
Fly into Belfast International Airport or George Best Belfast City Airport, both of which have direct flight connections with the United Kingdom and most of Europe.
To get into the city from Belfast International Airport, catch the Translink Airport Express 300 service which operates 7 days a week and terminates at the Europa Buscentre right in the city centre. At peak times on Monday to Friday, services run every 15 minutes and take 50 minutes.
To get into the city from George Best Belfast City Airport, catch the Translink Airport Express 600 service which operates 7 days a week and terminates at the Europa Buscentre. At peak times on Monday to Friday, services run every 20 minutes and take 15 minutes.
You can also book a private transfer from the airport with Klook directly to your accommodation in the city. Klook works with a large range of local operators to bring the best options and prices for your transfer.
Where to Stay in Belfast
Luxury: The Merchant Hotel – Booking.com | Agoda
Mid-Range: Malmaison Belfast – Booking.com | Agoda
Budget: House Belfast Hotel – Booking.com | Agoda
Hostel: Vagabonds Hostel – Booking.com | Agoda
What to See & Do in Belfast
Our one day Belfast itinerary is easily walkable, taking you to all the best sights in this compact city.
If you prefer a guided tour then we recommend this best of Belfast walking tour. Taking three hours you will discover the top things to see and do in Belfast with a local guide who speaks English and will share tips on the best places to eat and drink for the rest of your stay.
Belfast in a Day Interactive Map
How to use this map – Use your fingers (or computer mouse) to zoom in and out. Click or touch the icons to get more info about a place, and click the arrow in the box top left to open the index. To add to your own Google Maps account, click the star next to the title of the map.
Morning
St. George's Market
If you visit Belfast between a Thursday and Sunday, begin your day in Belfast with something unique, something that most Belfast tourists miss out: Victorian St. George's Market. It's an old-fashioned, traditional market selling everything you could think of from arts and crafts and bric-à-brac to fresh fruit and veg, homemade cakes, and delicious Irish food.
The atmosphere in the market is also really lively, as is the atmosphere in Belfast in general. Even if you don't end up buying anything, it's worth spending a bit of time walking through the market in the morning. Maybe spend around one hour here, as it opens pretty early, 8am on most days.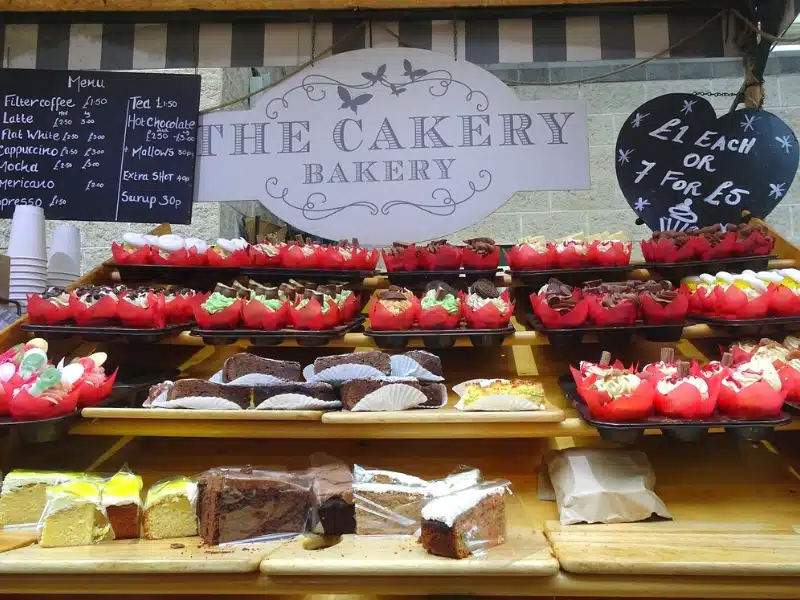 Albert Memorial Clock
Admire the Albert Memorial Clock as you pass by, one of the famous landmarks in Belfast. Located in Queens Square, the clock tower, more commonly referred to as the Albert Clock was completed in 1869 and is one of the best-known landmarks of Belfast.
Designed as a memorial to Queen Victoria's late Prince consort, Prince Albert, the tower stands 113 feet / 34 meters tall and is designed in a mix of French and Italian Gothic styles.
Being situated close to the docks, the tower was once infamous for being frequented by ladies of the night plying their trade with visiting sailors. However, in recent years regeneration has turned the surrounding Queen's Square and Custom's House Square into attractive, modern public spaces with trees, fountains, and sculptures.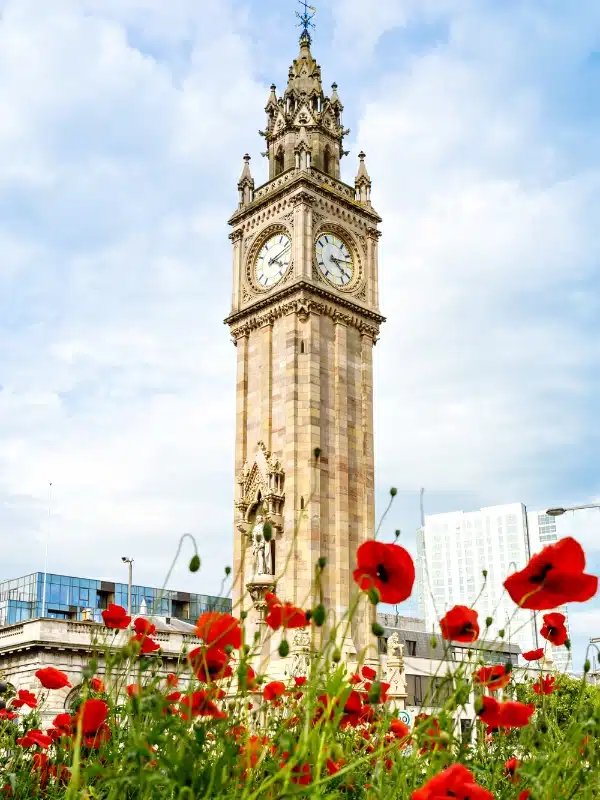 Donegall Quay
Donegall Quay on the banks of the River Lagan is known for three famous sculptures; The Big Fish, Seal 1, and the Red Bouy. It's a nice spot to stop for a coffee as you watch river life from the Lagan Lookout.
From here, take the Lagan Wier Footbridge to the Titanic Quarter. On the other side of the river you'll see the first of six Glass of Thrones on the waterfront Maritime Mile – these giant, stained glass windows depict some of the most iconic scenes from Game of Thrones and make up the Glass of Thrones walking trail in Belfast.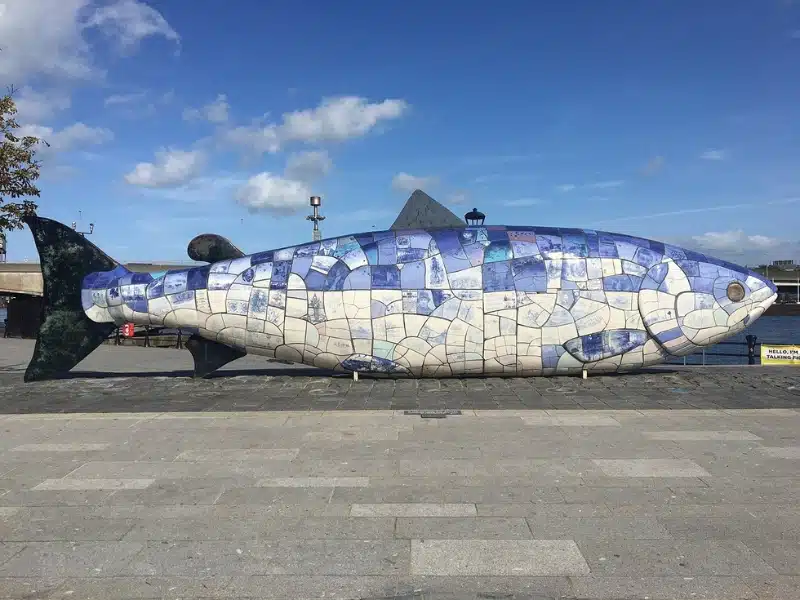 Titanic Museum Belfast
Wander through the beautiful Titanic Quarter, which is where, you guessed it, the Titanic was built! The Titanic Museum is the main attraction in the area, but you might also spot the yellow Harland and Wolff Cranes, one of the most Instagrammable spots in Northern Ireland.
The shipbuilding gantry cranes on Queen's Island,are known as 'Samson and Goliath'. The twin cranes, which were named after the Biblical figures Samson and Goliath, dominate the Belfast skyline and are landmark structures of the city that have rapidly came to symbolise Belfast in a way that no building or monument had done before.
Hundreds of thousands of people visit the Titanic Museum each year, and once you visit for yourself, you'll understand why. It's an incredible museum, and really modern too. It even has an amusement ride inside!
Lots of people come to Belfast because of the Titanic's history, so visiting the museum is a great way to learn about the story of the infamous ship, and you can even step onto the SS Nomadic tender to the Titanic, the last remaining White Star Line ship in the world.
You could easily spend a full day here, but since you are limited to one day in Belfast, two hours or so is enough. We highly recommend booking your skip-the-line Titanic Belfast Museum tickets online in advance, as this is a hugely popular attraction.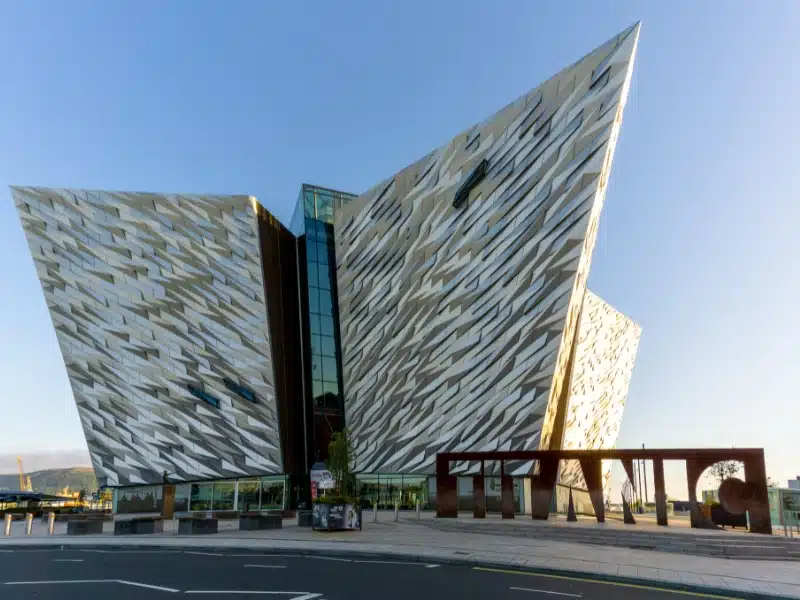 Black Cab Tour
There are lots of Belfast tours to choose from, but by far the best are the black cab taxi tours. By the time you visit St. George's Market and the Titanic Museum, it's probably late morning, between 11 and 12 most likely.
This highly rated Belfast Political Black Taxi Tour takes you on a political tour of Belfast, teaching you about the complicated history of the city and the The Troubles period, also called the Northern Ireland conflict.
Between 1968 and 1998 violent sectarian conflict took place between the overwhelmingly Protestant unionists (loyalists), who desired the province to remain part of the United Kingdom, and the overwhelmingly Roman Catholic nationalists (republicans), who wanted Northern Ireland to become part of the Republic of Ireland.
The black taxi tour tour lasts for an hour and you'll visit the most important Troubles sights in Belfast. The driver will share history and take you to the best murals in the city, as well as the peace walls in the Falls and Shankill, which perfectly summarise Belfast's past.
It's one of the most insightful things you can do in Belfast, the tours are really eye-opening and are a must-do when visiting the Northern Irish capital.
After finishing your Black Cab Taxi tour of Belfast, grab a bite to eat in one of the many restaurants and cafes in Belfast.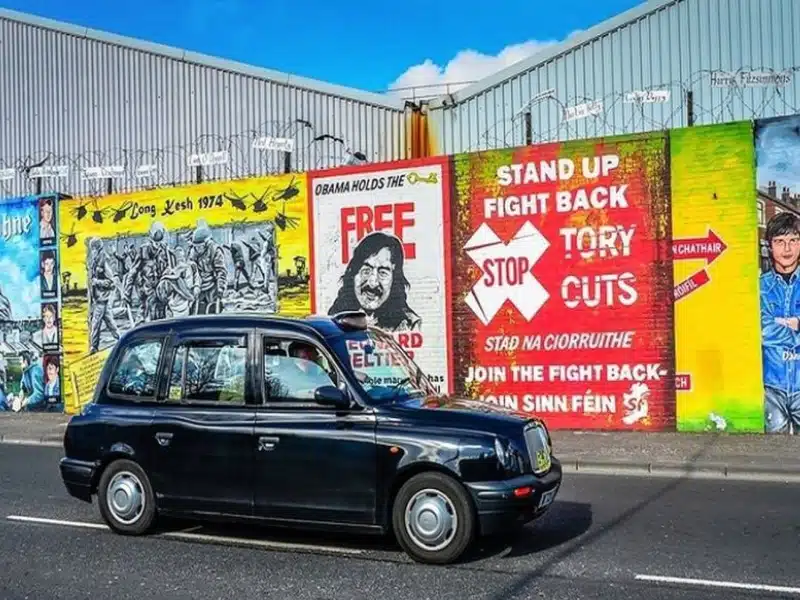 Afternoon
Crumlin Road Gaol
Another must-visit attraction in Belfast is Crumlin Road Gaol. It's an iconic landmark and one of the top Belfast highlights, attracting thousands of visitors each year. The old jail – which is obviously no longer in use – held some of Northern Ireland's most famous criminals, and also plays a key role in the history of Belfast and beyond.
When you visit the Crumlin Road Gaol, you can journey through Northern Ireland's only remaining Victorian-era prison and hear the stories of the murderers, suffragettes, Loyalists, and Republican prisoners who were jailed here, and learn about the births, executions, hunger strikes, and riots that have taken place within the prison walls.
What you will realize from your day in Belfast is that the history of the city is fascinating, and has completely shaped the city to be what it is today. Visiting Crumlin Road Gaol offers a glimpse into the life of prisoners during the Troubles and like the taxi tour, is an eye-opening experience. Most people will spend an hour or two at the jail-turned-museum.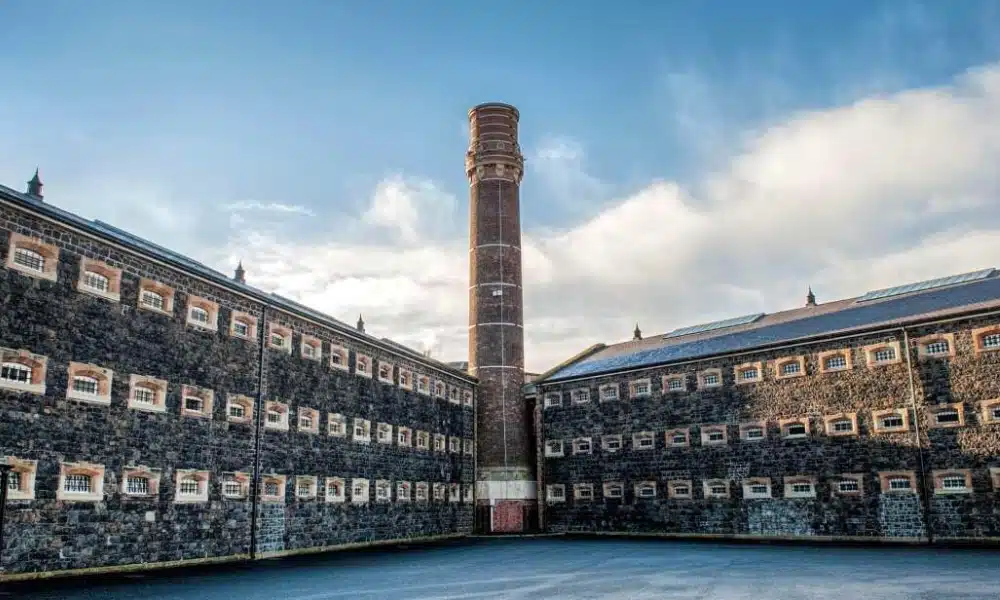 Belfast City Hall
Walk across the city past the Cathedral Church of St Anne's, a Cathedral of the Church of Ireland, part of the Anglican Communion (Episcopalian), at the heart of the Cathedral Quarter. It's foundation stone was laid on 6th September 1899, and the great walls were raised around the smaller church which had originally stood in this spot.
Belfast's Catholic cathedral is St Peter's, located in the Divis Street area of the Falls Road. With distinctive sandstone twin spires, you'll need to make a detour to visit this Grade A-listed building.
Move on to Donegall Square in Belfast city centre to admire the splendid Baroque Revival architecture of Belfast City Hall. You can take a free guided tour of City Hall, and see areas that are not normally open to the public, the grand staircase, domed whispering gallery, and the marble-clad rotunda.
The grounds at Belfast City Hall have memorials to the history, people, and events associated with the city. The grounds comprise two lawns, the Titanic Memorial Garden, the Cenotaph, and the Garden of Remembrance.
Donegall Square with its central Belfast BT1 postcode is also where Belfast's Christmas Market is held from late November to late December every year. This enormously popular event draws people from all over Northern Ireland and Europe, and with over 120 exhibitors from 30 counties, local artisan crafts, gifts, and delicious food and drink, it's no surprise!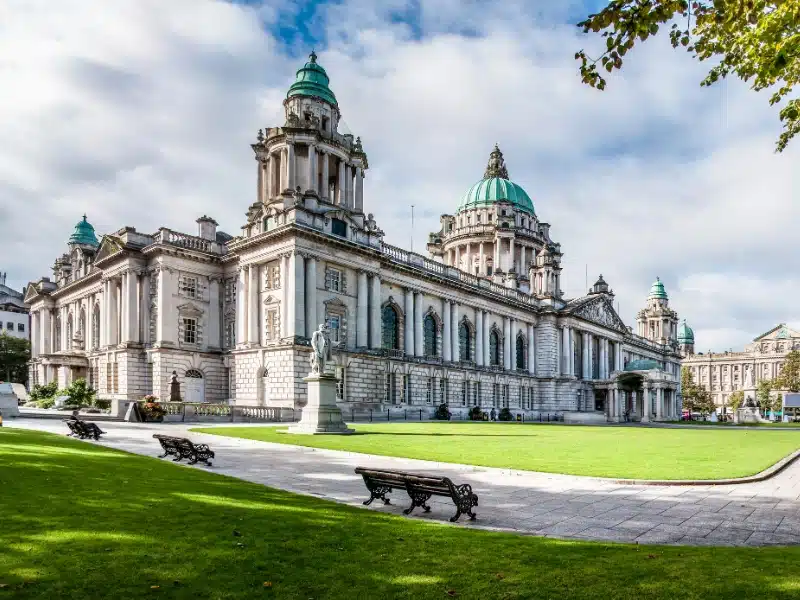 Botanic Gardens
Enjoy a walk through Belfast's Botanical Gardens run by Queens University Belfast. They offer a really nice break from the rest of the city, and there are lots of nice places to sit down and relax. You can also check out the Palm House if it is open and have a look at some exotic plants that you wouldn't normally find in Northern Ireland's climate!
And if you have time, in the area is the Ulster Museum which is also worth checking out, and is completely free too. On the way there, make sure to take a very slight detour and see the Lanyon Building of Queens University, which is one of the most beautiful buildings in Belfast.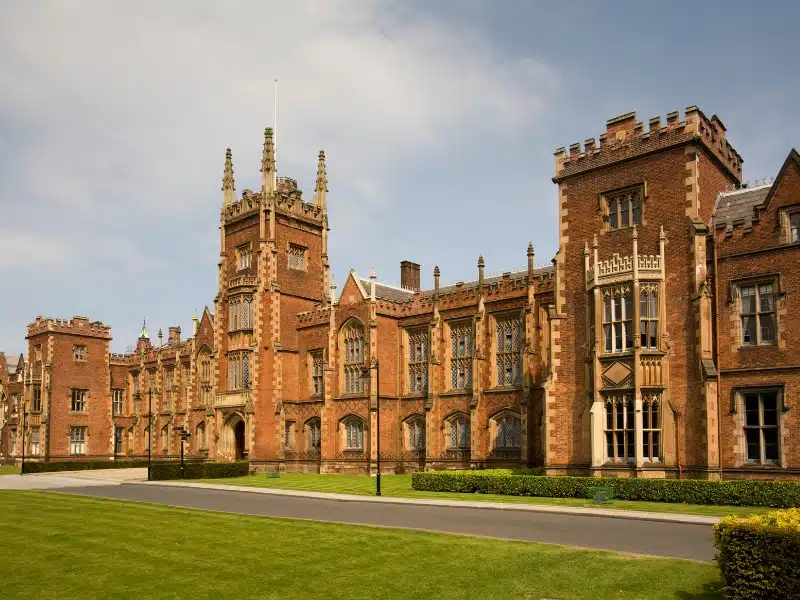 Evening
Cathedral Quarter
Belfast's Cathedral Quarter is the place to go for the best restaurants, bars, and clubs. It's got such a vibrant atmosphere and it's the perfect place to enjoy a pre-dinner drink or after-dinner pub crawl. You can even hop on a Belfast beer bike tour to visit all the best places!
It's up to you whether you choose to spend the rest of your night here, listening to live music, drinking, and dancing until the end of the day, or whether you choose to make your way to the Crown Bar.
Crown Liquor Saloon
The Crown Liquor Saloon in Belfast is Belfast's equivalent of the Temple Bar in Dublin. It's a famous pub with attractive architecture on the outside and a warm atmosphere on the inside.
It's pretty expensive so you probably won't stay for more than one, but you can't visit Belfast without having a pint of Guinness in the Crown Bar.
Belfast has been voted as having one of the best nightlife in the UK, so wherever you choose to spend the rest of your night, you're guaranteed to have a good time.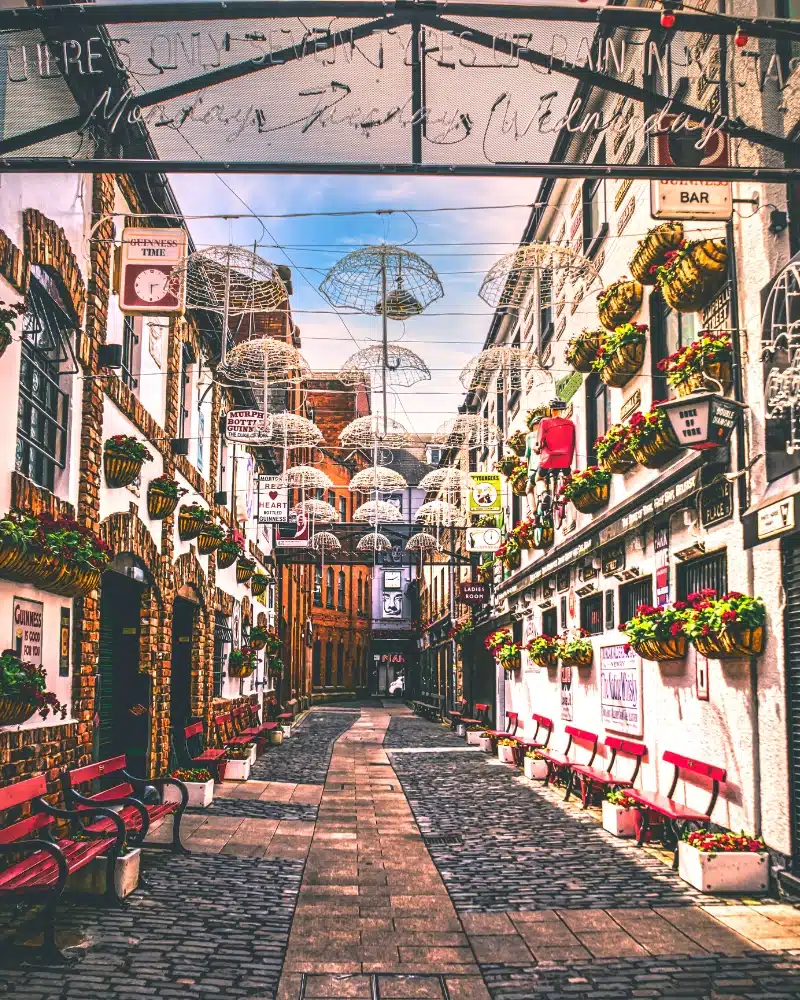 More Island of Ireland Travel Ideas
Where to Eat in Belfast
Food in Northern Ireland is simple and hearty. Make sure to enjoy an Ulster Fry at some point during your trip. This traditional Northern Irish cooked breakfast includes sausage, bacon, eggs, black pudding, tomatoes, potato farls, and soda bread alongside a strong cup of tea!
Hope Street Restaurant
The Hope Street Restaurant is centrally located and serves up fresh, high-quality Northern Irish ingredients creating a varied menu with a focus firmly on great seasonal produce. This is a BYO (bring your own) restaurant as they don't have a license to serve alcohol. Take your wine or beer and they'll provide glasses and open your bottles for you.
Holohans Pantry
Indulge in the best of Irish culinary tradition at Holohan's Pantry, where they serve freshly cooked authentic local dishes. Think fish and chips, Sunday roast, champ (NI's answer to mashed potato), and colcannon, bacon and soda bread in a friendly pub atmosphere.
Darcy's Belfast Bistro
Darcy's serves classic Belfast dishes made from quality traditional food made with the most local of ingredients. Situated in the heart of Belfast, the classic and traditional interior is as characteristic of the city as you will find anywhere. Favorites on the menu include Irish stew and Beef and Bushmills homemade pie.
Top Five Belfast Travel Tips
Belfast is a small city, so walking is easy but if you prefer to ride, the Metro bus services run throughout the day, with major pick-up points at either side of City Hall. Taxis are cheap and safe, and one of the best ways to get around at night.
Belfast has changed and developed rapidly since the time of The Troubles and the signing of the Good Friday Agreement. You may see some areas display the UK Union Jack or the Irish Tricolour flag and paint kerbstones to match, but Belfast is a very safe city to visit.
If you're planning on visiting attractions outside Belfast, grab Northern Ireland Railways' brilliant Sunday Day Tracker ticket which allows for unlimited train travel anywhere in Northern Ireland, all day Sunday at £9 per adult.
The Belfast Visitor Pass is a great way to get about with minimal fuss while exploring the Belfast city. Available for 1, 2, or 3 days, this pass offers unlimited travel on Metro, Ulsterbus, and NI Railways within the pass zone.
Pack a waterproof – this is Northern Ireland and it rains a lot!
More Than 1 Day in Belfast
Stormont Park
Known as 'Parliament Buildings', Stormont is the official home of the Northern Ireland Executive, the devolved government of Northern Ireland, and an administrative branch of the legislature, the Northern Ireland Assembly.
Unlike many other houses of parliament around the world, Stormont Parliament Buildings is built in a beautiful area outside the city center that is surrounded by trees and perfectly mown grass, with no other buildings in sight.
Free public tours are available Monday to Friday at 11am and 2pm, where you can learn about the history and heritage of Parliament Building, and find out about the work of the Northern Ireland Assembly. You need to book a ticket online in advance.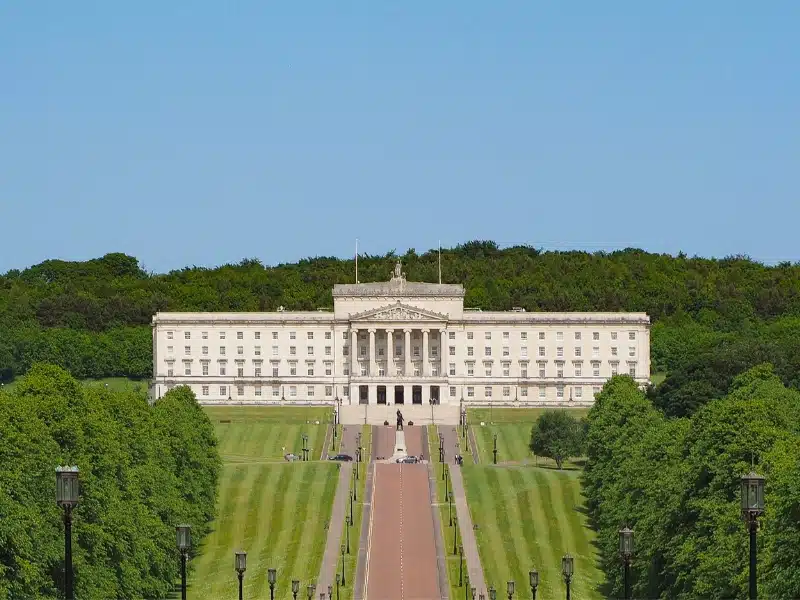 The Ridge Walk
For panoramic views of the city, look no further than Divis Mountain and Black Mountain in the heart of the Belfast Hills, which provide a dramatic backdrop to the city skyline.
This beautiful trail along the ridge of Belfast's Hills starts at the main car park on Divis Road, near Cave Hill County Park, and takes approximately three hours to complete in total. On a clear day, you can see as far as the Mourne Mountains and even Scotland.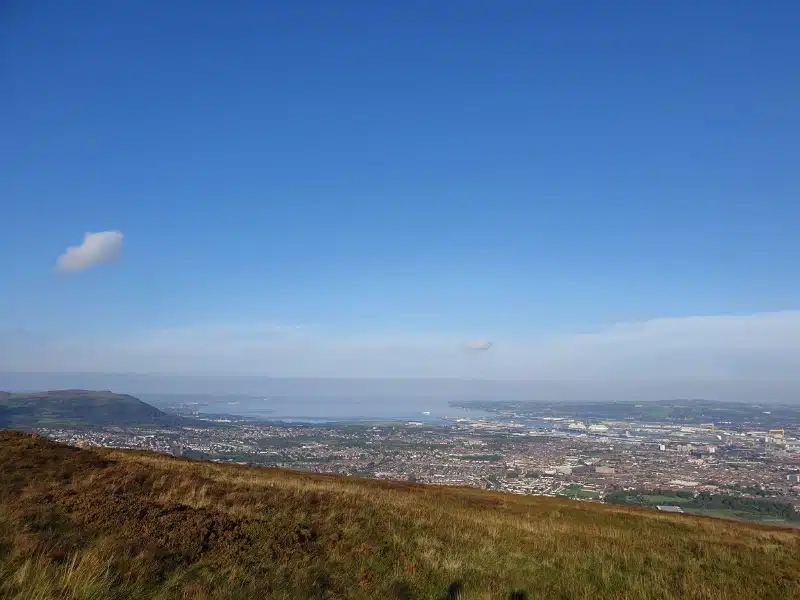 Giant's Causeway and Game of Thrones Day Tour
If you take one day trip from Belfast, make it this highly recommended day trip to see at least nine of Northern Ireland's most important visitor attractions.
Visit the legendary Giant's Causeway and test yourself on the Carrick-a-Rede Rope Bridge, before visting some of Northern Ireland's most iconing Game of Thrones filming locations, like the Dark Hedges, Cushendun Caves and Ballintoy Harbour.
With a professional guide to offer insights, an organised Causeway Coastal Tour is the perfect opportunity to see more of Northern Ireland in less time!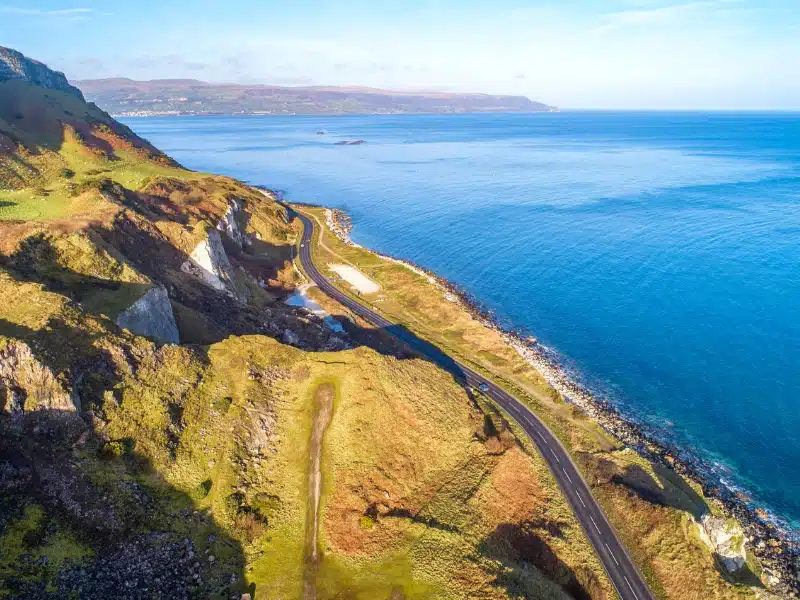 This post was written by Josh Band from A Backpacker's World.
Are you looking for more one day city itineraries? Check out these top posts…
Munich is the capital of Bavaria and Germany's third largest city, famous for its annual Oktoberfest celebration! In our Munich travel guide, you'll find tips for visiting all the most important must-see Munich tourist attractions, organised to make the best use of your one day in Munich.
Love it? Pin it!