This post may contain affiliate links, from which we earn an income.
The Wild Atlantic Way is a road trip route that winds along the untamed and intricate west coast of Ireland between lively towns, diverse landscapes and natural wonders, all perched right on the edge of Europe.
Taking in such icons as Malin Head, the Killarney National Park, the Cliffs of Moher, the Ring of Kerry, and the Dingle Peninsula, this is a truly epic Ireland road trip. Along the way, you'll experience so much legendary Irish hospitality and rich Gaelic culture that you won't want to leave!
In this ultimate Ireland Wild Atlantic Way planning guide we share;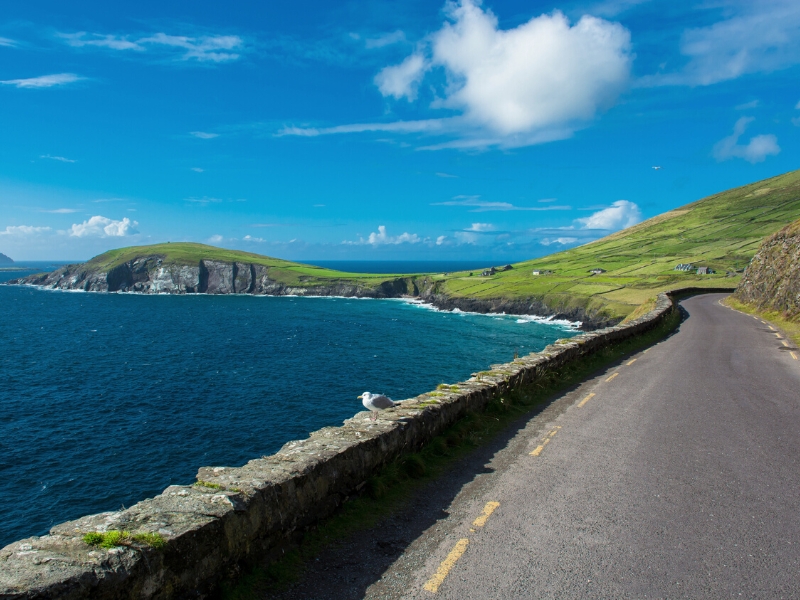 What is the Wild Atlantic Way in Ireland?
The Wild Atlantic Way is a 1600 miles / 2600km route along the west coast of Ireland and is one of the world's longest defined coastal routes.
Staring in County Donegal end ending in County Cork, and passing through counties Leitrim, Sligo, Mayo, Galway, Clare, Limerick, and Kerry, the Wild Atlantic Way has been named one of the most scenic drives in the world.
The route hugs the coast and is marked by the distinctive brown road signs with an inset blue wave on a white background, and the words Slí an Atlantaigh Fhiáin, which means Wild Atlantic Way in Gaeilge or Gaelic.
The Wild Atlantic Way is economically important to the rural places in Ireland which is passes through, with Tourism Ireland calculating that the route attracts more than 3 million visitors and year and generates €1.9b of revenue annually.
Make sure you have travel insurance you can trust when visiting Ireland. We recommend True Traveller for their 5-star TrustPilot reviews, variety of cover options, best activities cover as standard, great prices, and excellent service.
Getting There
The Wild Atlantic Way officially starts in Muff on the dramatic Inishowen Peninsula in Donegal, although you could do the route in reverse and start in Kinsale in Cork, the official finish point of the Wild Atlantic Way.
To start in Muff, fly into Derry-Londonderry Airport from London Stansted, Manchester, Glasgow, and Liverpool in the United Kingdom, and Majorca in Spain, or into Donegal Airport from Dublin and Glasgow.
To start in Kinsale, fly into Cork Airport, which has direct flight connections with most of Europe.
Alternatively, fly directly into the international airports of Dublin and Belfast, and drive cross country to the start point.
We recommend booking through Skyscanner for live deals and the best prices.
Alternatively, you can take your own car, motorbike or camper to Ireland from Europe or the UK by ferry. Use Direct Ferries to compare and book the best crossings to Ireland from;
Liverpool and Holyhead to Dublin
Pembroke, Fishguard, Cherbourg, and Roscoff to Rosslare
Bilbao to Rosslare
Roscoff to Cork – the perfect start for doing the route in reverse!
Fancy a day exploring Dublin? Get our one day Dublin itinerary complete with map, recommendations & Dublin travel tips to help plan your trip to Ireland's vibrant capital city.
How to Travel the Wild Atlantic Way
Self-Drive
Whether you're in a car, motorcycle, campervan, or motorhome, self-driving is absolutely the best way to explore Ireland's Wild Atlantic Way, meaning you can stop whenever you want, try new activities, visit places you see along the route, and have the freedom to change plans at the last minute.
Are you planning to rent a car in Ireland? As one of the largest car hire aggregator companies in the world, we recommend Rentalcars.com because they have massive purchasing power which enables them to secure the best rental car prices, which benefits you when you're planning your Wild Atlantic Way drive.
For a real adventure, hire a motorhome or campervan in Ireland. We recommend Motorhome Republic, an aggregate booking site who pull together all the best deals from a number of rental agencies, to offer you a wide choice of options alongside an excellent English speaking expert motorhome Concierge Team.
Use the Park4Night app to find overnight spots and campsites, and wild camp surrounded by fields, on the edge of a beach or with incredible sea views.
Wild Atlantic Way Public Transport
It is possible to travel the Wild Atlantic Way without a car using Bus Éireann, Ireland's national bus network and TFI Transport for Ireland.
You won't be able to follow the whole route with public transport, but you will be able to get between towns, cities, and attractions along the route.
In Donegal and the Northern Headlands, there is a TFI local link bus route that follows parts of the Wild Atlantic Way and also stops at Donegal Airport. Along the Surf Coast, the Bay Coast, and Cliff Coast, Bus Éireann runs services and on the Southern Peninsula and Haven Coast services are run by a combination of both providers.
Transport for Ireland has a really helpful interactive map that you can use to search for bus routes by region along the Wild Atlantic Way.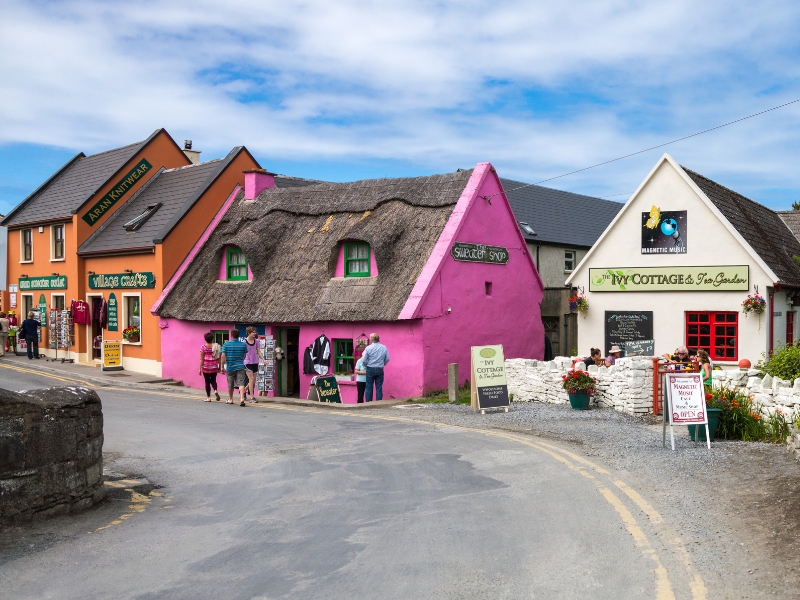 Wild Atlantic Way Tours
There isn't a single guided tour that covers the Wild Atlantic Way from start to finish – most of the multi-day trips cut across the country from Dublin and start the route in Galway. If you're ok with that, we recommend Tourradar, who have a good selection of escorted 7-10 day Wild Atlantic Way itineraries.
There are also lots of multi-day and day trips from Dublin to the most scenic and interesting parts of the route, which are well worth doing if you're short of time. These are our picks of the top recommended Wild Atlantic Way trips from Dublin.
Wild Atlantic Way Map & Route
Our 11 day Wild Atlantic Way itinerary starts in Muff in County Donegal and heads south, hitting all the top spots, highlights and some of the best things to do in Ireland along the route. This is a packed itinerary and does mean you'll be driving every day, but it's easy make the route work for you and cut down on time behind the wheel by taking national roads between the destinations you really want to visit.
Muff – Malin Head – Letterkenny – Fanad Head – Dungloe – Adara – Slieve League – Donegal – Bundoran – Ballina – Downpatrick Head – Westport – Killary Harbour – Galway – The Burren – Cliffs of Moher – Loop Head – Ballybunion – Dingle – Ring of Kenny – Kenmare – Beara Peninsula – Mizen Head – Old Head of Kinsale
How to use this map – Use your fingers (or computer mouse) to zoom in and out. Click or touch the icons to get more info about a place, and click the arrow in the box top left to open the index. To add to your own Google Maps account, click the star next to the title of the map.
Wild Atlantic Way Itinerary
Day 1: Muff to Letterkenny
The first day of the road trip starts in Muff in Donegal County, only a stone's throw from the border of Northern Ireland, which together with the Republic of Ireland, makes up the island of Ireland.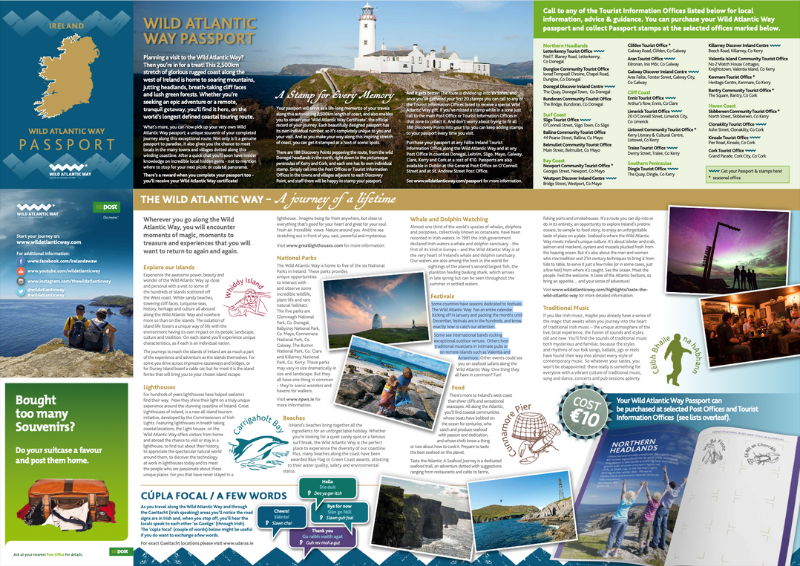 Remember to grab your Wild Atlantic Way passport which can be picked up and stamped at Tourist Information Offices and Post Offices en route.
The passport will be a memorable trip record with lots of information about discovery points, must-see attractions, and exciting adventures to help you as you travel.
Muff
Arriving in Muff a few days before your Wild Atlantic Way road trip allows you to do some horse riding at Lenamore Stables, visit the IOSAS Centre which celebrates the 'island of saints and scholars' and is home to the Celtic Prayer Garden, a sacred 'thin' place where the Celts believed that heaven and earth met, or take up rock climbing with Donegal Climbing.
If you want to tick another country off your list, head across the border to visit Derry/Londonderry, just seven miles away over the Foyle Bridge, and you'll be in Northern Ireland, part of the United Kingdom.
Derry is one of the finest examples of a walled city in Europe and the only remaining completely walled city in Ireland. The walls, which are around 1.5km in circumference, form a walkway around the inner city and provide a unique promenade to view the layout of the original town.
To understand more about the troubled history of Derry and its successful emergence as a tourist destination, take this highly rated Bloody Sunday and Bogside murals walking tour with a local guide.
Malin Head
Malin Head lies about 27 miles / 43km north of Muff and is the most northerly point of mainland Ireland. This wild and rugged place is somewhere to come and marvel at the raw power of nature, breathe in the clean air, and revel in the peace and solitude.
Make a stop at Quigley's Point first to see the sunflower 'Field of Hope', a beacon of hope borne out of tragedy on the banks of Lough Foyle. A short distance further is the beautiful St. Columba's Church Drung, with its well-kept grounds and hilltop views.
Inishowen Head Lighthouse and Inishowen Head Loop offer stunning views of a landscape that is full of history and drama. From a World War Two Lookout Tower, you'll pass the point where St Columba left Ireland on his way to Iona, and arrive at a viewing point from where you can see Scotland on a clear day.
Continue your journey to Kinnagoe Bay and then to Pólifreann or Hells Hole, a subterranean cavern into which the tide explodes with a huge force.
Enjoy the sight from Malin Head's viewpoint and then have a bite to eat at Farren's Bar near Captain Cove. If you have time, take the guided Star Wars tour to explore the locations featured in episode 8, Star Wars: The Last Jedi.
Letterkenny
On your way to Letterkenny, stop at Five Finger Strand – a word often used for 'beach' in Ireland. The strand is backed by sand dunes which at 98 feet / 30 meters high are some of the highest Marram grass dunes in Europe.
After taking in the breathtaking views, continue to the Gap of Mamore. One thing to note is that the drive to Mamore Gap is along a steep single track with passing places, so it's not suitable for large vehicles like motorhomes, or beginner drivers!
Dunree Bay has a fort and lighthouse worth visiting, with Lisfannon Beach less than 10 miles / 16km from Dunree. This beach is a natural heritage area and is a popular spot for views of Lough Swilly, Inch Island, and Rathmullan. A final site to visit is Burt Castle, before ending in Letterkenny.
Enjoy dinner at The Brewery Bar and Restaurant or The Lemon Tree for a Michelin-star experience.
Upmarket: Castle Grove Country House Hotel – Booking.com | Agoda
Mid-Range: Radisson Blu Hotel Letterkenny – Booking.com | Agoda
Budget: Woodview Bed & Breakfast – Booking.com | Agoda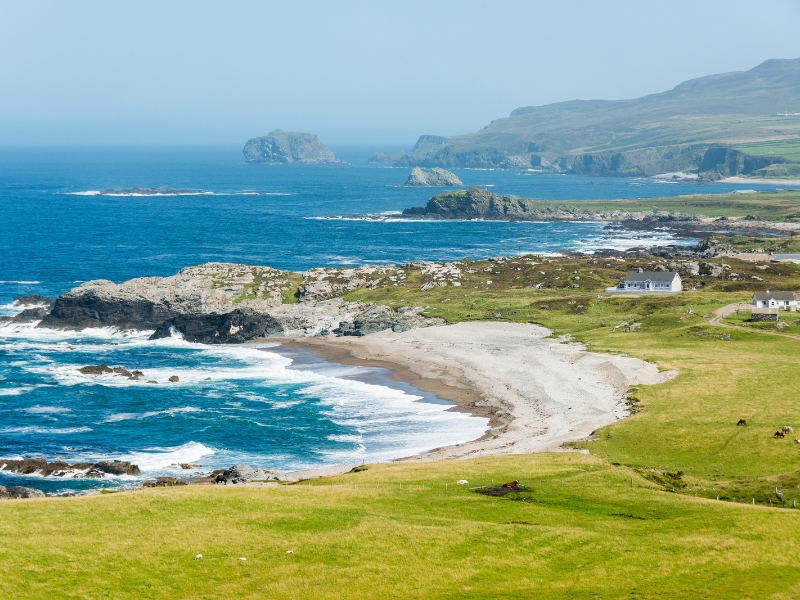 Day 2: Letterkenny to Dungloe
The second day of the road trip starts with a trip to Fanad Head and Dungloe.
Fanad Head
Drive north to Lennon River Waterfall and enjoy a walk through the woodlands to the scenic cascade, and then head to the Mulroy Drive viewpoint and picnic area for scenic views of Mulroy Bay.
Once at Fanad Head, visit the iconic working lighthouse at the mouth of Lough Swilly before stopping for a coffee at the Lighthouse Tavern.
Dungloe
Drive to Doe Castle, 17 miles / 27km southwest of Fanad Head, to explore the early 15th century architecture of this waterside citadel nestled in beautiful Sheephaven Bay.
Continue to Tory to get the passenger ferry to Toraigh or Tory Island, internationally important for its rare cliff-nesting seabirds. The name means 'place of steep rocky heights' which becomes apparent when you arrive!
When you get back to the mainland, take a walk along Bloody Foreland beach or Cnoc Fola, which takes its name from the natural red of the granite cliffs which glow a deep red when the sun sets.
About half an hour's drive south is the town of Dungloe. See if you can get a table at the famous McCafferty's Bar, a traditional Irish pub.
Upmarket: Waterfront Hotel Dungloe – Booking.com | Agoda
Mid-Range: The Midway Bar & Guesthouse – Booking.com | Agoda
Budget: Donegal Wild Atlantic Hostel – Booking.com | Agoda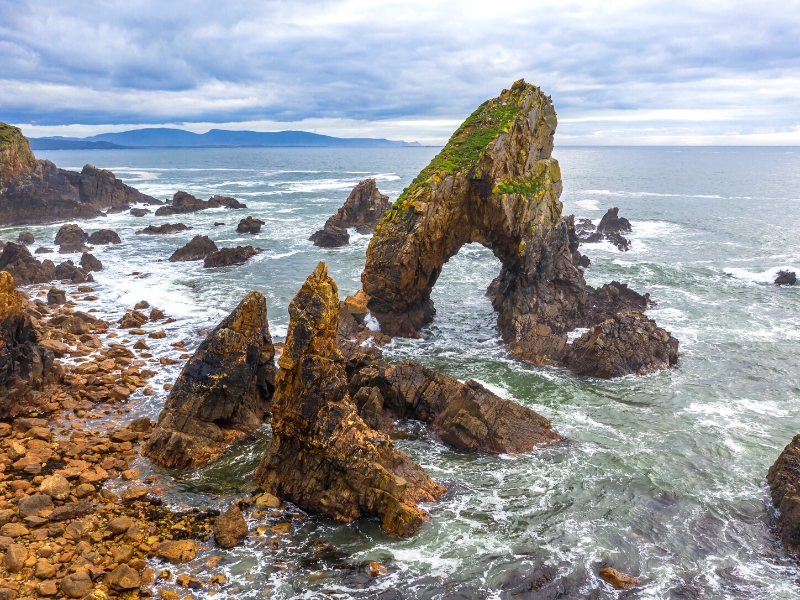 Day 3: Dungloe to Donegal
On the third day, you will explore Ardara and Slieve League – it's a busy day so make an early start!
Ardara
Drive south to the festival town of Ardara to visit the Heritage Center, where you can pick up Irish souvenirs, artisan crafts, and edible goodies as well as organize a tour of nearby Desmond Castle. You'll also find the Ardara Distillery, home to the Sliabh Liag Distillers who make An Dúlamán Irish Maritime Gin and the Ardara and Sliabh Liag whiskeys.
From Ardara, head to Maghera beach and the Caves of Maghera, which can only be explored when the tide is out. This is a serious warning – the tide can come in quickly and people can and do get stranded, so check tide times here first.
There's a lot to discover here, with more than 20 caves, eight arches, and five tunnels carved out of the Dalradian quartzite rock. It is the erosion of this rock over millennia that has created the soft, almost white sand which forms the beach and nearby dunes.
From the beach, head back the way you came, stopping to admire the roadside Assaranca Waterfall before driving to Glengesh Viewing Point for excellent mountain views and a cuppa from the refreshment van that is often parked there.
If your day is going well and you have time, continue to Malin Beg, where you can visit Silver Strand or the Napoleonic Signal Tower, built in 1804 in response to the impending threat of a French invasion during the Napoleonic Wars.
Slieve League
Head to the Slieve League, or Sliab Liag, viewing platform to take in the magnificent coast and Slieve League cliffs, which stand at a whopping 1,972 feet / 601 meters, nearly three times the height of the more famous Cliffs of Moher!
They're one of the most impressive natural attractions in Donegal and the raw power of the heartstopping and dramatic landscape is what this Irish road trip is all about.
Donegal
About 30 miles east of Slieve League lies Donegal. En route, visit Studio Donegal in Kilcar to experience traditional hand-weaving by taking a mill tour or shopping for unique Irish crafts, which make wonderful gifts, souvenirs and mementos of your trip.
Continue east to the famous tourist attraction, Largy Waterfall, known as the secret waterfall, because it's in a cave! You can only visit at low tide, and you may need to do a bit of scrambling on slippy rocks. If that doesn't put you off, make sure you check the tides times here and wear decent walking shoes with a good grip.
Visit the sandy Fintra Beach down the road for gorgeous seascapes before driving half an hour to Eire 70 at St John's Point. During WWII, several of these large white signs were created along the Irish coastline, stating 'Eire' (Irish for Ireland) and the number of the lookout station, to show Ireland's allies they were entering neutral airspace.
Head for Donegal, with enough time left of the day to enjoy some foot-tapping Irish music and a pint of Guinness, known locally as 'the black stuff'.
RELATED POST: Beautiful Ireland: 22 Most Scenic Places To Visit
Upmarket: Lough Eske Castle – Booking.com | Agoda
Mid-Range: The Gateway Lodge – Booking.com | Agoda
Budget: The Gap Lodge B&B – Booking.com | Agoda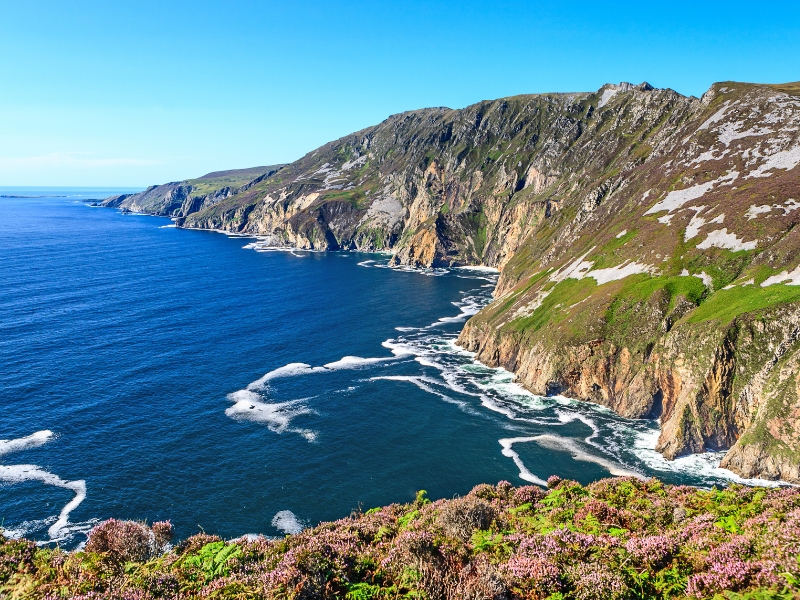 Planning on doing the Wild Atlantic Way in a motorhome or campervan? Get all the tips and info you need with our complete motorhoming in Ireland guide, including wild camping, driving, and getting gas.
Day 4: Donegal to Ballina
Spend a few hours exploring the charming town of Donegal, visiting Donegal Castle and The Abbey of the Four Masters, or heading out on a whale watching tour, where you can spot minke whales, common dolphin, bottlenose dolphin, basking sharks, the harbour porpoise, and the fascinating sunfish.
Bundoran
From Donegal town, drive south to the surf and seaside town of Bundoran and the beautiful Tullan Strand. Take the Roguey cliff walk to the mysterious Fairy Bridges, eroded sea stacks that are thousands of years old and Bundoran's original tourist attraction back in the 1800s.
While you're there, sit on Bundoran's Wishing Chair, a natural seat created by rocks. Pause to enjoy the stunning scenery – Donegal Bay to your left, Tullan Strand straight ahead, and the Dartry Mountains to the right, before making your wish and tapping the seat twice before you stand, and your heart's desire will come true… apparently!
Have lunch at Maddens Bridge Bar & Restaurant in Bundoran, where you can sample local Donegal oysters fresh from Traigheanna Bay.
After lunch, cross the border into County Sligo towards Mullaghmore Beach. More scenic are Bishop's Pool and Paul's Pool, a few miles further along the peninsula road from the beach. These shallow inlets created by the natural rock formations act as natural swimming pools, offering protection from the open sea.
Ballina
Stop at Streedagh Point, a 1.8 miles / 3km stretch of beach that connects the area to Connor's Island. You can walk along this narrow strip of the Atlantic coastline where you'll spot rocks embedded with fossils, as well as the famous 1588 Spanish Armada shipwreck site, to Connor's Island. It will take a couple of hours there and back.
Then drive south to County Sligo, known for its literary heritage and rugged countryside. The ruined medieval Sligo Abbey has carved tombs and a 15th century altar, and Sligo County Museum displays memorabilia of W.B. Yeats, widely considered to be one of the greatest poets of the 20th century.
Nearby Tobernalt Holy Well is a historic religious site with holy statues and a tranquil place for reflection, or you can enjoy the natural surroundings from the water by taking a guided tour with Sligo Kayak Tours.
Next up is County Mayo and Ballina, known as Ireland's salmon capital because of the quality of angling available on the river Moy. There are dedicated walkways along the river where visitors can observe anglers at the world-renowned pools, beats, and weirs.
Enjoy dinner at Dillons Bar and Restaurant or Poacher Restaurant, where local Ballina salmon will definitely feature at the top of the menu.
Upmarket: Belleek Castle – Booking.com | Agoda
Mid-Range: The Loft Bar, Restaurant & Guesthouse – Booking.com | Agoda
Budget: The Lodge Ballina – Booking.com | Agoda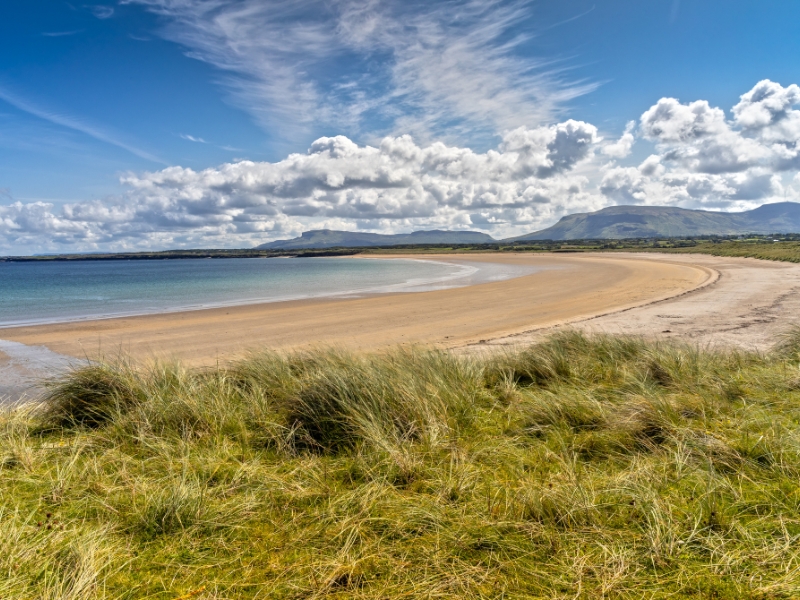 Day 5: Ballina to Westport
The fifth day of the road trip takes you through Downpatrick Head to Keem Bay and Westport.
Downpatrick Head
Explore the medieval Franciscan Moyne Abbey ruins on the drive to Downpatrick Head. Drive through Killala town, known for its role in the Irish Rebellion of 1798, and stop at the quay for views of Killala Bay.
Drive to the vast and unspoiled Lacken Strand by going north on the R314, or take a slight detour and visit the architectural ruins of the Dominican Rathfran Abbey, founded in 1274.
Lacken Strand, nestled between Killala and Ballycastle, combines beach and marshland and offers breathtaking views of Mayo, Sligo, and Donegal.
At Downpatrick Head, you won't be disappointed by these must-sees;
a WWII stone aerial marker
the enormous Pul Na Sean Tinne blowhole
the sea stack of Dún Briste, known as the Broken Fort
the Eire 64 sign
the Staggs of Broadhaven, a group of five steep rock islands off Benwee Head
If you have time, make a short detour to Céide Fields in the wild boglands of Mayo, said to be the oldest-known field system in the world where you can see dramatic rock formations and megalithic tombs which together make up the most extensive Stone Age monument in the world.
Finally, Cross the Michael Davitt swing bridge onto Achill Island, Ireland's largest island. You can visit the Irish American Achill Island Distillery for a tour, and the contemporary and controversial Achill-henge before continuing to the gorgeous Keem Beach to take in the stunning landscape.
Westport
As you follow the N59 from Achill to Newport, and then Westport, look to your right and admire Clew Bay, a natural ocean bay that contains Ireland's best example of sunken drumlins, and is home to 141 named islands and islets.
En route to Westport, stop at The Grainne Uaile in Newport for drinks and dinner.
Upmarket: Westport Woods Hotel and Spa – Booking.com | Agoda
Mid-Range: The Mariner Westport – Booking.com | Agoda
Budget: The Old Mill Holiday Hostel – Booking.com | Agoda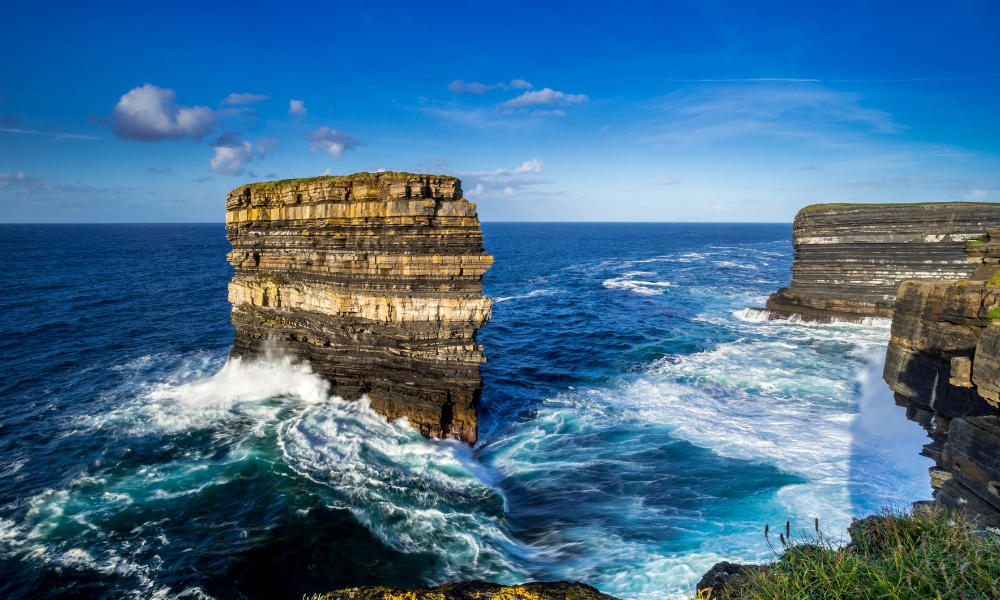 Day 6: Westport to Galway
On the sixth day of the road trip, you will drive from Westport through Killary Harbor and end in Galway city.
Spend some time in the morning exploring Westport, a quintessential Irish town with a Georgian town center that offers a dose of nature, culture, and a pretty tree-lined promenade on the banks of the Carrowbeg River.
You should also visit the nearby National Famine Memorial at the foot of Croagh Patrick, a ten minute drive west of Westport. A moving experience, the memorial marks the Great Famine which took place between 1845 and 1849.
The potato famine was a historical social crisis that had a major impact on Irish society, with over one million people dying of hunger and 2.1 million leaving Ireland, one of the greatest exodus from a single island in history.
Killary Harbor
Head to Boheh Stone, also called St Patrick's Chair, one of the finest examples of Neolithic rock art in Ireland, believed to have been carved as long ago as 3800 BCE. Drive through the pretty Errif Woods, following the river Errif to the single-arch Glennacally Bridge, built in 1826 to Aasleagh Falls.
En route to Killary Harbour stop at picturesque Aasleagh Falls, where the river Erriff plunges into Killary Fjord, famous for featuring in David Attenborough's BBC A Life on Our Planet television series, where he presented a segment on an eel's life.
Take a boat tour in Killary Harbour to marvel at the breathtaking views of the North Connemara landscape. The sea loch is actually a glacial fjord, and the flooded valley is 9.9 miles / 16km long and over 148 feet / 45 meters deep. On your trip through this sheltered waterway, you may see otter, grey and harbour seals, dolphins and sharks.
Galway
Lively Galway has a slightly wild and bohemian feel which belies its culture, artistry, fabulous local food, and music. It's a wonderful city in which to spend a few days or use as a base to explore Connemara, Clifden and Kylemore Abbey if you have time, and marks the halfway point of the Wild Atlantic Way.
The city's hub is the busy 18th century Eyre Square, a popular meeting place full of modern sculptures and trees, and surrounded by shops and traditional pubs that often offer live Irish folk music.
Enjoy a stroll around stone-clad cafés, independent boutiques, and local art galleries in the winding lanes of the Latin Quarter, which retains portions of Galway's medieval city walls, before a visit to Galway Cathedral, constructed in the 1950s and the youngest of Europe's great stone cathedrals.
Go for dinner at The Dough Bros if you are craving delicious wood-fired pizza or The Quay Street Kitchen for locally caught seafood. Afterward, head to the Tigh Coili Pub for traditional live music and Irish craic, which means fun and enjoyment in its simplest form, but is really an expression that encompasses the abstract Irish culture – true craic requires great company and lively conversation where everyone is involved.
Upmarket: Glenlo Abbey Hotel – Booking.com | Agoda
Mid-Range: The Huntsman Inn – Booking.com | Agoda
Budget: The Nest Boutique Hostel – Booking.com | Agoda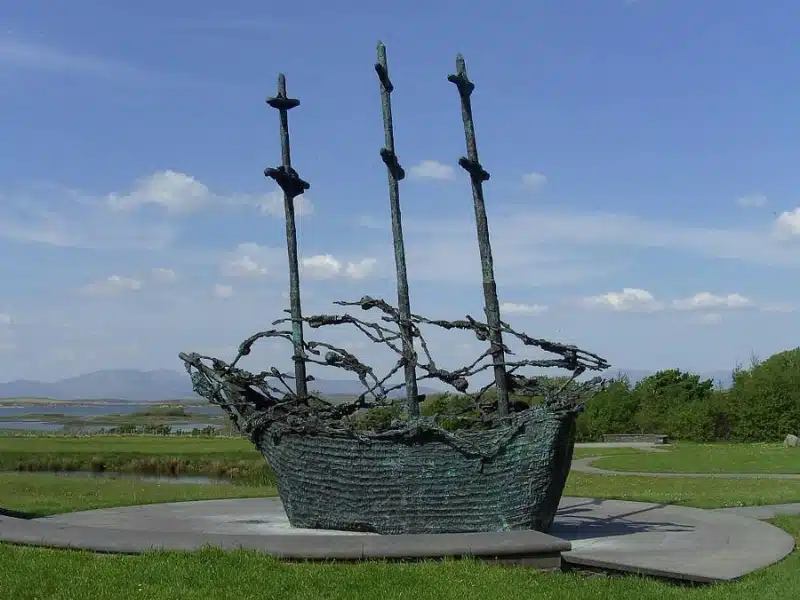 Day 7: Galway to Loop Head
The seventh day of the road trip explores the journey towards the Cliffs of Moher and Loop Head.
The Burren
This road trip offers its fair share of architectural marvels, with yet another being the 16th century Dunguaire Castle, named after the Dun of King Guaire, the legendary king of Connacht.
Cross the border into County Clare and head to Flaggy Shore – art lovers should stop at Russell Gallery, which specializes in Irish art, on the way. Flaggy Shore is a secluded beach famous for its embedded limestone pavements, fossils, sculptured bio karst rocks along the shore, and views of the nearby Aughinish Island across the narrow inlet.
From here, crest Corkscrew Hill as you head into The Burren, a curious karst landscape within a circle made by the villages of Lisdoonvarna, Corofin, Gort, and Kinvara. The area includes such natural features as the 330 million-year-old Ailwee cave and Ailladie cliffs and historic monuments such as Poulnabrone dolmen and Caherconnell stone fort.
The Burren National Park is the smallest of the six National Parks in Ireland and sits adjacent to The Burren and Cliffs of Moher Geopark.
Cliffs Of Moher
Finally, experience fantastic views of the Aran Islands and the entirely vertical Cliffs of Moher from Pollboy Lookout point or O'Brien's Tower, the latter of which marks the highest point of the cliffs.
The Cliffs of Moher are one of the absolute must-sees on the Wild Atlantic Way, blessed with a wide range of flora and fauna with as many as 20 different species of birds. The cliffs have also been featured in many movies including Harry Potter & The Half-Blood Prince, The Princess Bride, and Leap Year.
Loop Head
An hour and a half south is Loop Head, one of the Wild Atlantic Way's most dramatic headlands. Caught between the Shannon Estuary and the mighty Atlantic Ocean, Loop Head has deep links with the sea. As you drive south from Kilkee and start the famous Loop Head Drive, you'll discover dramatic cliffs, wild seascapes, and historic sites.
It's no surprise that Loop Head has been used as a film set, most notably for Star Wars: The Last Jedi, one of a handful of places along the Wild Atlantic Way used in this movie.
Make for the very tip of the peninsula and you'll come to the imposing Loop Head Lighthouse which dates from 1854 and is open to the public. On the guided tour you'll find yourself on the balcony, 75 feet / 23 meters above the sea, watching as the waves crash against the cliffs below, and looking for the Twelve Bens mountains of Connemara to the north and the Blasket Islands to the south, which can be seen on a clear day.
Enjoy a bistro-style dinner at Keatings Bar and Restaurant in Kilbaha.
Upmarket: Loop Head Lightkeeper's House Kilbaha – Booking.com | Agoda
Mid-Range: Glencarrig Farmhouse B&B Carrigaholt – Booking.com | Agoda
Day 8: Loop Head to Dingle
The eighth day of the road trip includes Ballybunion and Dingle. From Loop Head pick up the N67 to the Killimer Ferry Terminal and catch the Tarbert Ferry, across the Shannon estuary to County Kerry. The small ferry takes 20 minutes and departs from Killimer every hour on the hour between 7am and 7pm Monday to Saturday. This shortcut will save you around two hours of driving, missing the fairly unremarkable city of Limerick.
Ballybunion
On the way to Ballybunion, gardeners will want to visit Vandeleur Walled Garden & Woodland Bistro, a picturesque botanical garden in the middle of 170 hectares of woodlands.
When you get to the seaside resort of Ballybunion, walk up the cliffs north of town to find Druid's Layer, or Scolt Na Dhrida, which is steeped in folklore and legend when Druid worship saw human sacrifices made to the Celtic god Mananann.
It is said that centuries ago sacrificial offerings were made on this spot, which involved placing the victim at the abyss near the lair facing the Shannon Estuary. Once the gruesome deed was done, the body was cast over the cliffs into the raging ocean below.
For lunch, if that hasn't put you off, go to The Marine or Bunker Bar.
Dingle
Stop in Tralee to enjoy the Tralee Bay Wetlands Eco and Activity Park, and visit the Kerry County Museum and Blennerville Windmill, authentically restored and the largest working windmill in Ireland.
Carry on going southwest on the N86 for about 9.5 miles. Just after you pass Junction Bar, keep right at the fork onto the R560 rather than continuing with the N86. This road will get you to Conor Pass. It can be quite a magical drive, with beautiful landscapes and waterfalls to observe.
In Dingle, visit the ancient ruins of Gallarus Oratory, Dingle Oceanworld aquarium, or the historic site of Kilmalkedar Church.
For dinner, head to The Fish Box for seafood from their own trawler or, if you prefer a Michelin-star experience, Land to Sea, although you will need to book ahead for a table.
Upmarket: Milltown House Dingle – Booking.com | Agoda
Mid-Range: Dingle Bay Hotel – Booking.com | Agoda
Budget: The Grapevine Hostel – Booking.com | Agoda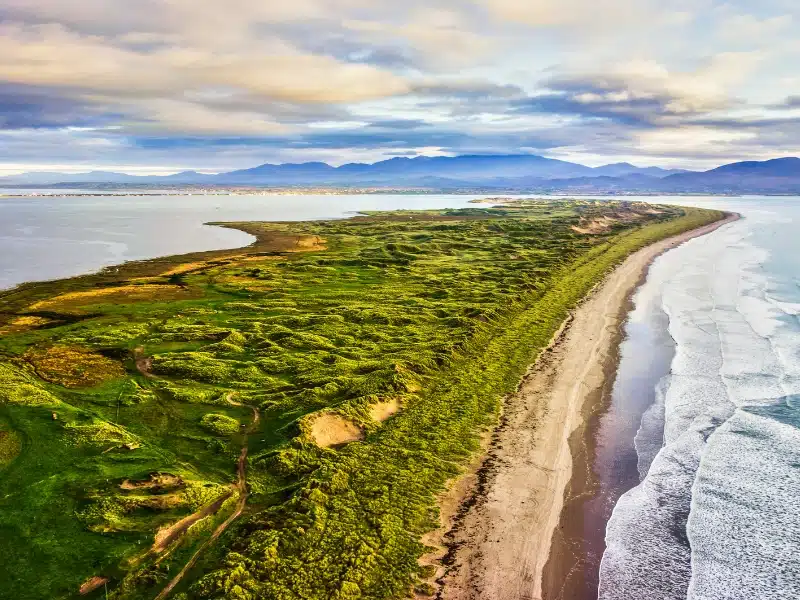 Day 9: The Ring of Kerry
The ninth day of the road trip takes you along the Ring of Kerry, a 111 mile / 179km scenic drive around the Iveragh Peninsula, which will take around 3.5 hours of driving. The circular route takes in rugged coastal landscapes and rural seaside villages, with fantastic views of the Atlantic Ocean and Skellig Michael, a rocky island with an abandoned 7th century Christian monastery.
Stop in Killorglin to meet King Puck, the Lord Goat of Killorglin statue. This monument is as historical as quirky, celebrating the country's oldest festival, the Puck Fair, held in August every year.
From there, pick up the N70 and head west to Kells, a charming fishing village with a mountainous backdrop. Continue on to Cahersiveen, from where you can take the bridge over the river Ferta to visit Cahergall Stone Fort and Leacanabuaile Ring Fort, built around 600 CE.
Catch the chain ferry from Reenard Point to Valentia Island and explore the pretty red and white Valentia Island Lighthouse and the Valentia Transatlantic Cable Station, from where the first transatlantic telegraph cable was laid to Heart's Content in Newfoundland.
Follow the Tetrapod Trackway to see 365 million years old fossilized footprints or take a boat trip to discover Skellig Micheal, where thousands of puffins breed during the warmer months, and Little Skellig, home to a large colony of gannets.
The seafront village of Waterville makes a great stop for lunch before you drive on to Caherdaniel, in the lush Valley of Glenmore. The unspoiled village is best known for its imposing stone fort, which dates from 600 CE, the gorgeous Derrynane beach, and Derrynane House and National Park, once home of the 'great liberator' Daniel O'Connell.
Derrynane beach is a beach lovers paradise! Sweeping around the small bay and divided by a narrow land bridge to Abbey Island (also worth exploring), the beach is fine sand with clear turquoise waters, backed by craggy rocks, perfect for swimming and snorkeling in summer, and you can also explore by kayak, which you can hire on the beach.
17th century Derrynane House is a museum and the ancestral home of Daniel O'Connell, one of Ireland's most famous historical figures. Born in 1775, he was a lawyer who fought for Catholic emancipation after the Act of Union in 1801 abolished the Irish Parliament, before becoming the first 19th century Irish nationalist leader to hold a seat in Westminster.
From here, drive onto colorful Sneem and pick up the R568 up to Molls Gap, where you can stop at the Avoca Mill shop for handwoven gifts. From the gap, head south to Kenmare, or north to Killarney and the remaining Ring of Kerry sights, including Muckross House, Ross Castle, the Gap of Dunloe, and Ladies View.
If you do head north to Killarney, you'll need to retrace your route south again to Kenmare, a detour of 28 miles / 45km.
Kenmare
From Molls Gap drive south on the N71 to traditional Kenmare, located between the Ring of Kerry and the Beara Peninsula. Spoil yourself with dinner at the Michelin-star Boathouse Bistro Dromquinna Manor or head to Poffs for a more modest yet tasty meal.
Don't forget to pop your head out after dark, Kerry is an International Dark-Sky Reserve, and on a clear night, the stars are fantastic.
Upmarket: Sheen Falls Lodge – Booking.com | Agoda
Mid-Range: The Happy Pig – Booking.com | Agoda
Budget: Davitts Guesthouse – Booking.com | Agoda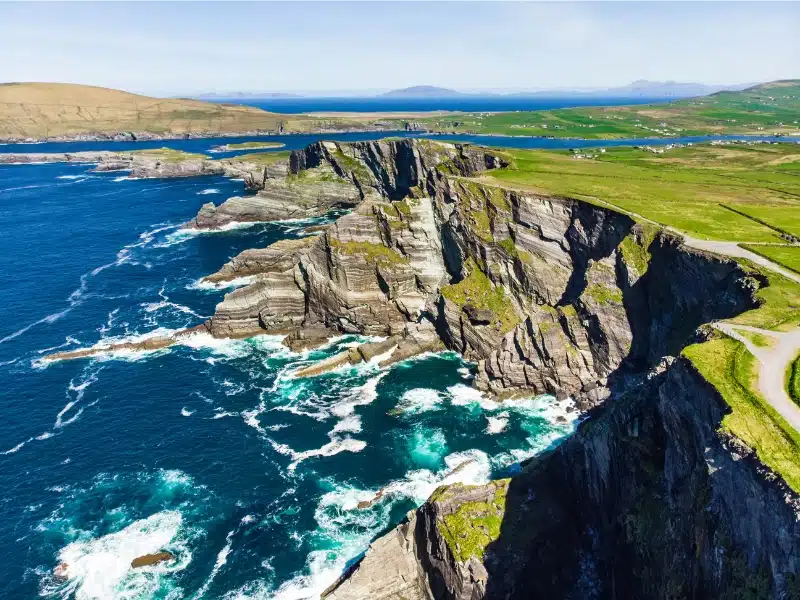 Day 10: Kenmare to Mizen Head
Today sees you exploring the Beara Peninsula before heading south to Mizen Head, Ireland's most southwesterly point.
Beara Peninsula
From Kenmare, head west on the R569, otherwise known as the Ring of Beara, a wild and unspoiled route.
Stop and visit the 19th century Derreen Garden, famous for its collection of rhododendrons and subtropical plants.
A few minutes further west, take the trail through Lauragh Woods up the hill to the Bronze Age Cashelkeelty Stone Circles – it's a bit of a hike though, so only go if you're really interested in stone circles, and sheep!
Continue on the peninsula road to flower-filled Eyeries, and stop to sample the complex and delicate Milleens cheese, made from the milk of Friesian cows that graze the mountains and pastures of Beara.
Continue on to Dursey Point for magnificent views of the ocean and Ireland's only cable car, that connects Dursey Island to the mainland, before heading up the south side of the peninsula to Castletownbere, the peninsula's main town, and the largest fishing port in Ireland. The natural harbor of Berehaven is the second largest in the world and is ideal for all water sports, from sea angling to windsurfing.
Visit the majestic Victorian-Gothic Puxley Manor and then drive through the scenic village of Adrigole and continue to the busy market town and fishing port of Bantry to explore the historic Carriganass Castle.
Mizen Head
Before reaching Mizen Head, stop at Dunbeacon Pottery to browse or shop for gorgeous tableware inspired by the West Cork landscape. Once at Mizen Head, cross the pedestrian Mizen Bridge over dramatic cliffs and a deep chasm to reach Mizen Head lighthouse and signal station.
The signal station is now a museum housing displays relating to the site's strategic significance for transatlantic shipping and communications, and the "99 steps" which formed part of the original access route to the island have been supplemented by a series of paths and viewing platforms, which provide fantastic views of the frothing sea below.
Upmarket: Liss Ard Estate Skibbereen – Booking.com | Agoda
Mid-Range: PK Lodge B&B Skibbereen – Booking.com | Agoda
Budget: Goleen Harbour – Booking.com | Agoda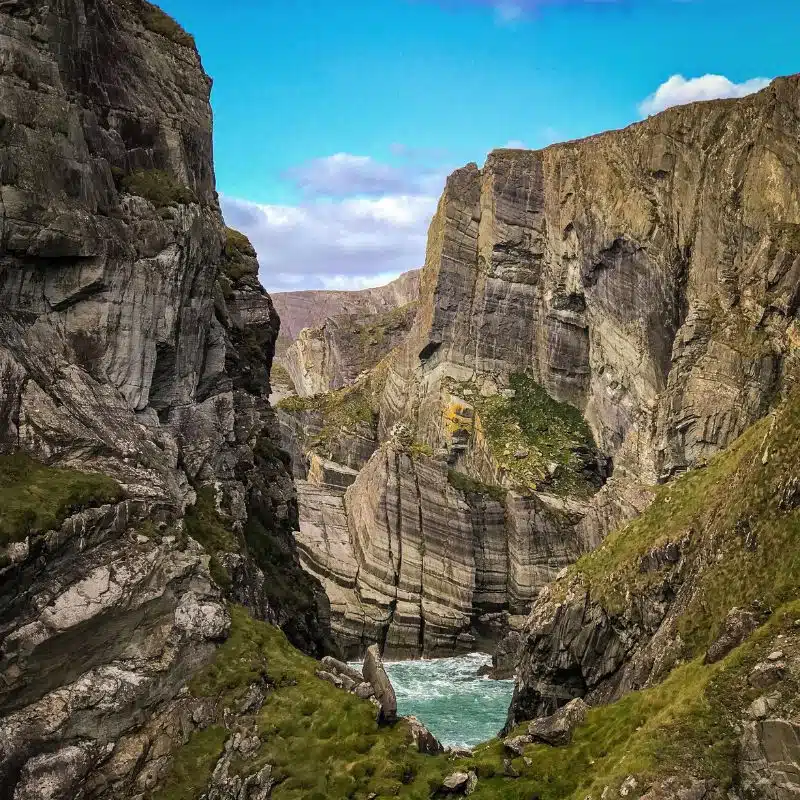 Day 11: Mizen Head to Old Head of Kinsale
Old Head of Kinsale
The final stretch of the Wild Atlantic Way to the Old Head of Kinsale includes various stops, including Roaringwater Bay, the southernmost bay in Ireland, Carrigfadda Hill walk, and Warren Beach.
The Old Head itself occupies a unique headland that reaches out over two miles into the Atlantic Ocean. One of the few landmarks in Northern Europe shown on a map by the Greek historian Ptolemy in 100 CE, the Old Head was occupied by the Vikings from 820 CE to 918 CE before the first Norman invasion occurred in 1169.
Nowadays, the Old Head of Kinsale is known for its breathtaking scenery, unique flora and fauna, world-class golf course, and icon black and white striped Old Head Lighthouse.
The best way to explore the Old Head is by foot. The Old Head of Kinsale Loop is a gentle 3.7 miles / 6km hike that takes in a circular route around the head. You'll pass the mysterious ruins of a fort, which is said to have been built by the Celts around 100 BCE, get up close to the iconic lighthouse, and look out to the point where the RMS Lusitania was sunk by a German u boat in World War Two.
Drive north to Kinsale, where you can dine at The Speckled Door Bar & Restaurant to celebrate finishing the Wild Atlantic Way!
From Kinsale, Ireland is your oyster, with the vibrant city of Cork, full of hip coffee shops, vibrant art galleries, off-beat museums and seriously good pubs and restaurants, just an hour's drive north. But that's a whole other story!
Upmarket: Hayfield Manor – Booking.com | Agoda
Mid-Range: The River Lee Hotel – Booking.com | Agoda
Budget: Sheilas Tourist Hostel – Booking.com | Agoda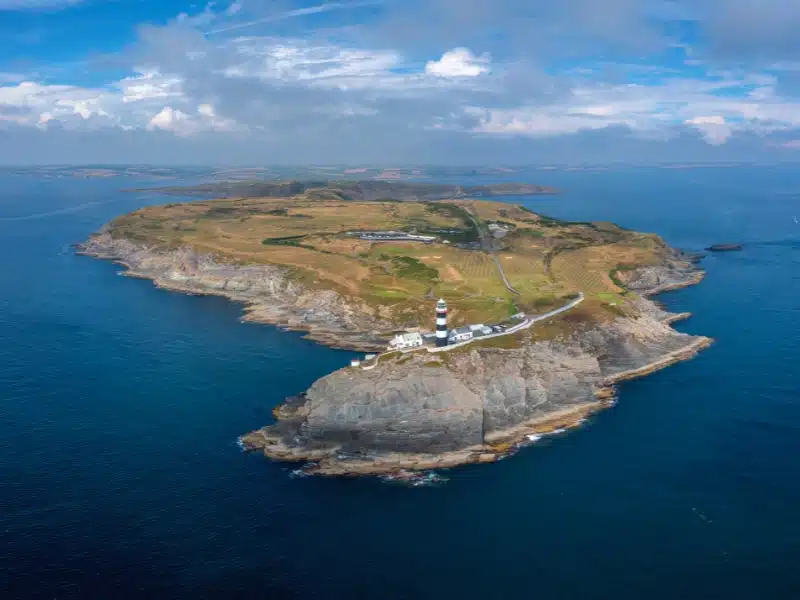 Wild Atlantic Way FAQs
When is the best time to drive the Wild Atlantic Way?
Peak tourist season in Ireland is June to early September and although it will be busier, you'll get the benefit of the longer days and warmest weather, perfect for a road trip.
There are some stretches of the Wild Atlantic Way around Galway and Kerry that are affected by higher tourist traffic in summer. Don't let this put you off traveling in the peak season though – when you're traveling by car it's easy to get off the beaten path and away from the tourist hotspots.
Plan your Ireland trip from mid-April to May, and late September to October for quieter roads, good weather, and better deals on accommodation, activities and car hire.
In the winter months between November and March, you won't see many visitors, the weather may well be cold and dreary and lots of tourist attractions will be closed. City sightseeing continues as always, but the atmosphere in pubs and bars may be lacking during the week.
Especially to brighten the dark months, the Irish hold some of their biggest and best festivals in winter. Think St Patricks Day on 17th March, the Galway food festival in April, Cork Jazz Festival in October, Derry's annual Halloween party and the Galway Oyster Festival and Lisdoonvarna Matchmaking Festival in September. Why not plan your trip to coincide with a traditional Irish festival, where you'll be sure to have an amazing time!
How long does it take for the Wild Atlantic Way?
The Wild Atlantic Way is roughly 1600 miles / 2600km long and takes, according to Google Maps, 32 hours to drive. But this is a simple equation of miles divided by speed and doesn't take into account the topography of the road, which avoids national roads, and hugs the coast following the contours of inlets and estuaries as they cut into the land.
To truly enjoy the incredible scenery, which passes through nine counties, three provinces, and by 31 islands and five national parks, we recommend a minimum of eleven days if you want to do the whole route. If you head across from Dublin, you can do the southern half of the route in five days.
If you can manage a couple of weeks or longer, then you'll be able to stop and enjoy activities and tours, and fully discover one of Europe's best road trips.
Is the Wild Atlantic Way a dangerous road?
The route is not one road but a series of Irish roads which link to create the route, and there are plenty of places where the road is single track, crests a mountain pass, squeezes through a narrow village, or plummets down a steep incline to the sea.
But for most drivers, these challenges add to the excitement and exhilaration of driving the Wild Atlantic.
Where does the Wild Atlantic Way start?
As we already mentioned, the route can start at Muff in County Donegal in the north of Ireland or at Kinsale in County Cork, in the south of the country.
If you start in Muff, head out of town and pick up the R238 north to Malin Head. From Kinsale, pick up the R600, then the R604 heading south to the Old Head of Kinsale.
Ireland Road Trip Resources
Here are the websites and services we personally use and recommend for traveling in Ireland.
Tips for Driving in Ireland
Ireland is like the United Kingdom and drives on the left.
In some rural areas, roads are very narrow, so you need to be confident in reversing and using passing places.
When driving in the countryside, expect slow-moving agricultural vehicles and animals like sheep and cows being herded along roads. Follow the Irish way and take it slowly – this is not a country in a hurry!
You must not carry or use a radar detector and if caught you could be fined and the device confiscated by the Garda.
There are no low-emission zones in Ireland.
Dublin is the only Irish city with an Urban Access Scheme in place, however it only applies to vehicles with more than five axles – if that's you, find out more here.
There are eleven motorways in Ireland with tolls. Some toll stations don't take credit cards but the M50, which you will use if you head south from Dublin Airport, is electronic and requires you to pay online if you don't have an electronic toll tag. Some car rental companies will include toll charges in your bill, others will require you to pay toll charges yourself.
The Garda can issue fixed penalty notices, in person or attached to your windscreen, which you will have to pay within 28 days or choose to go to court. Fines not paid within 28 days increase by 50%.
The legal limit is 50 milligrams of alcohol per 100 milliliters of blood, which may be lower than you're used to at home. Random breath testing is in force throughout Ireland, with severe penalties including fines, imprisonment, and disqualification for drink drivers.
If you have an accident you'll need to complete the EU Accident Statement, which you can find here to download if your insurer hasn't provided one. Stop safely and use your hazard lights and warning triangle to alert other drivers. Exchange details and take lots of photos to add to your form when you submit it to the insurers. If the other party won't give details or there has been an injury, you should call the Garda on 112.
Are you looking for more road trip inspiration? Check out these top posts…
One of the best ways to explore the beautiful country of Croatia is by taking a road trip, where you can drive along winding coastal roads, visit charming towns and villages, and discover off-the-beaten-path hidden gems. In this Croatia road trip guide, we'll share some of our favorite road trip routes and destinations in Croatia, along with tips for planning your own adventure on the open road. Get ready for an unforgettable journey through one…
Love it? Pin it!