This post may contain affiliate links, from which we earn an income.
The Emerald Isle is top of many a bucket list and despite its small size, there is a wealth of things to do and see in Ireland including vibrant cities, incredible landscapes, hidden gems, and cultural experiences.
In fact, there's so much to do and see in Ireland that it can feel a little overwhelming, but it doesn't have to be complicated. With our help and some careful planning and preparation, a trip to Ireland could fast become the trip of a lifetime.
Ireland is Phil's home county and my adopted one, and we've spent a fair bit of time visiting the top attractions and exploring the best things to do on the beautiful island of Ireland. In this guide, we'll share with you our favorite places and the best things to do in Ireland so you can plan the perfect trip.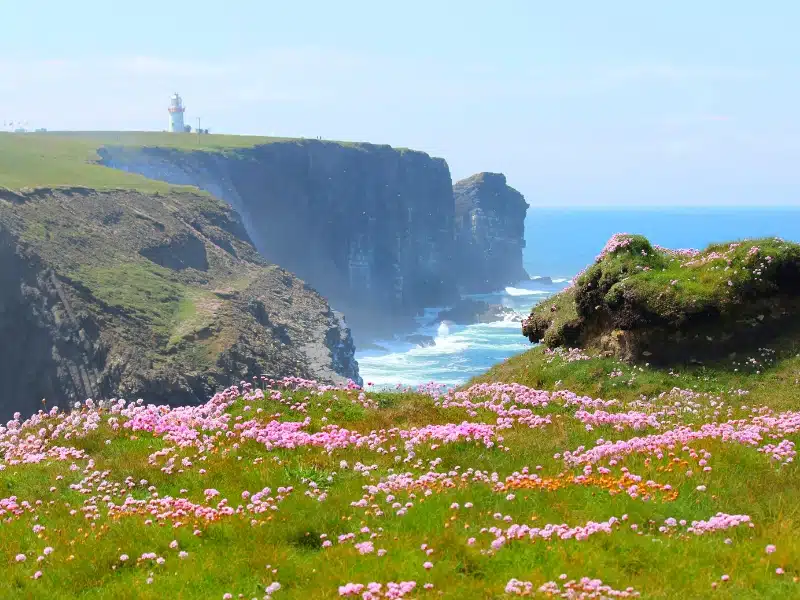 Ireland Trip Resources
Here are the services we use and recommend for traveling in Ireland;
Visit Ireland's Cities
Some of the best attractions to see in Ireland are located in its cities. From Dublin to Cork, Waterford, and Belfast, the main Irish cities have plenty for avid travelers.
Dublin
The Irish capital is no exception. As well as having plenty of accommodation options, bars and restaurants, the city has lots of attractions to keep visitors busy.
Among the ten best things to do in Dublin, three of the most popular are Kilmainham Gaol, the Book of Kells and Library of Trinity College, and the Guinness Storehouse.
Kilmainham Gaol is a former prison that has close links to Irish history and the fight for independence from Britain. It is hugely popular with visitors to Dublin and tickets sell out quickly so make sure to book well in advance.
The 18th century site can only be visited via a guided tour through the maze of cells and corridors while learning about former inmates. There is time after the tour to visit the museum and learn about Irish history and the roles some of the inmates played.
Trinity College Dublin offers visitors a glimpse into the 18th century with its stunning Old Library building and Long Room, home to 200,000 of the Library's oldest books in its oak bookcases. The highlight of the library is the Book of Kells, a 9th century gospel manuscript that is renowned worldwide.
The Guinness Storehouse is where visitors can learn about the famous 'black stuff', from the brewing process to the marketing behind the brand. There is also a tasting session, and visitors can enjoy 360-degree views across the city from the rooftop Gravity Bar.
As one of the must-see places in Dublin, it can get crowded especially during peak summer times, but it is worth visiting.
Whether visitors have one day in Dublin or more, the city has so much to offer that fitting it all in will be challenging.
Waterford
Outside of Dublin, another city worth visiting is Waterford, the first city in Ireland established by the Vikings.
Waterford is smaller than Dublin and most of its attractions are in the city center in an area known as the Viking Triangle, including Bishop's Palace, an 18th century townhouse museum, and Reginald's Tower, a remnant of Waterford's medieval urban defense system.
If you want to splash out, I can recommend staying at Waterford Castle, one of the top castle hotels in Ireland. The lodges are usually cheaper than staying in the castle itself, but you still have access to the entire resort.
Galway
Lively Galway has a slightly bohemian feel that's at odds with its culture, artistry, fabulous local food, and music. It's a fantastic place to spend a few days or use as a base to explore Clifden Castle, Kylemore Abbey and the nearby Aran Islands, the largest of which is Inishmore.
The city's hub is the busy 18th century Eyre Square, a popular meeting place full of modern sculptures and trees, and surrounded by shops and traditional pubs that often offer live Irish folk music.
Enjoy a stroll around stone-clad cafés, independent boutiques, and local art galleries in the winding lanes of the Latin Quarter, which retains portions of Galway's medieval city walls, before a visit to Galway Cathedral, constructed in the 1950s and the youngest of Europe's great stone cathedrals.
Cork
Cork is a charming and cosmopolitan location in the southwest of Ireland. Despite its status as a city, Cork retains a small-town feel, with a relaxed and easy-going lifestyle.
One of the reasons for this is its location on an island in the River Lee, which adds to its vibrant atmosphere. The city is home to independent cafés, art galleries, museums, and pubs, all of which contribute to its feel-good vibe.
In addition to its friendly and compact nature, Cork is known for its unique character and sense of humor. Visitors can enjoy a range of experiences, from attending a concert in a converted church to exploring its historic jail and indulging in the traditional flavors of the local (and excellent!) gastronomic scene.
Kilkenny
Kilkenny, a medieval city located in Ireland's Ancient East is known as the 'Marble City' due to the many buildings constructed with the local Kilkenny stone.
During the day, visitors can immerse themselves in Viking and medieval history by visiting the Medieval Mile Museum, 16th century Rothe House, and the forbidding Black Abbey, established in 1225.
A guided tour of Smithwick's Brewery and a taste of Ireland's oldest ale will refresh you before you go on to admire the local artisan designs and crafts at Kilkenny Design Centre and Kilkenny Art Gallery.
As the day ends, Kilkenny comes alive with lively trad music sessions and historic pubs full of Irish craic. Whether you're seeking culture, history, or a lively atmosphere, Kilkenny has it all.
RELATED POST: 10 Best Cities in Ireland for an Amazing Visit!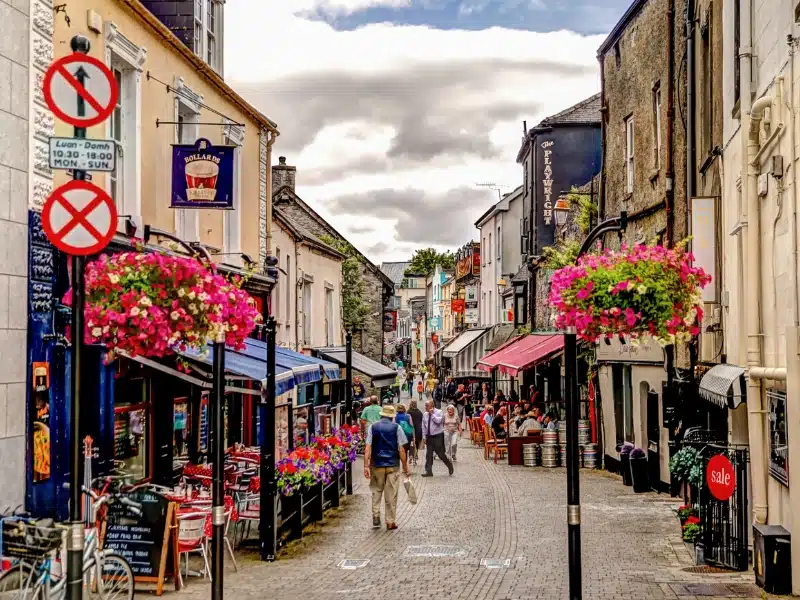 Make sure you have travel insurance you can trust when visiting Ireland. We recommend True Traveller for their 5-star TrustPilot reviews, variety of cover options, best activities cover as standard, great prices, and excellent service.
Explore Ireland's National Parks
Some of the top places to see in Ireland are its six national parks, and visiting one or more is among the best things to do in southern Ireland.
Killarney National Park
Encircled by the Ring of Kerry and a must-stop on the Wild Atlantic Way, Killarney National Park is located near the town of the same name and is popular with visitors who come to explore the park, visit Muckross House and Abbey, Ross Castle, see the Gap of Dunloe and Ladies View, and hike to enjoy the wonder of the Torc Waterfall.
Despite being a stone's throw from Killarney town – the gateway to the park, Killarney National Park feels a world away from the hustle and bustle.
The park's stunning beauty makes it one of the top destinations for visitors to Ireland, and one of the best ways to get around is by bicycle, which allows you to soak up the sights and nature at a slower pace.
Connemara National Park
Connemara National Park is in County Galway and is home to beautiful scenery including the Twelve Bens peaks, long sandy beaches, and more.
Hiking and walking are popular activities in the national park and visitors may stumble upon some megalithic tombs or the resident Connemara ponies.
At the edge of the park is the famous Kylemore Abbey and nearby is the beautiful Killary Harbour, Ireland's only fjord.
The fabulous Wild Atlantic Way road trip also skirts along the southern edge of the Connemara National Park.
The Burren National Park
County Clare's Burren National Park is a breathtaking location that is considered one of the most beautiful places in Ireland. What sets it apart from other regions is its karst landscape, which gives it an otherworldly and mystical feel.
The area is famous for its rich history, with many archaeological discoveries having been made here. It is also home to a diverse range of flora and fauna, making it a popular destination for locals and tourists.
Due to its unique features and ecological significance, the European Union has designated the Burren National Park as a Special Area of Conservation. This recognition is well-deserved, as the park remains one of the most stunning and awe-inspiring places in all of Ireland.
Wild Nephin National Park
The least explored of Ireland's national parks, Wild Nephin is a vast and pristine wilderness located on the Western seaboard in northwest Mayo.
The park spans an impressive 15,000 hectares and is dominated by the Nephin Beg mountain range. To the west of the mountains lies the Owenduff Bog, which is one of the few remaining intact active blanket bog systems in Western Europe.
Aside from the bog, the national park also safeguards other vital habitats and species, such as alpine heath, upland grassland, lakes, and river catchments, and is home to a diverse range of wildlife, including Greenland white-fronted geese, golden plover, red grouse, and otters.
Wild Nephin National Park is a remarkable and unique destination that offers visitors a chance to experience the natural beauty and diversity of Ireland's wilderness.
Glenveagh National Park
Located within the untamed and rugged terrain of the Derryveagh Mountains, Glenveagh National Park is a natural wonder located in the heart of County Donegal, our favorite place on the whole of the island of Ireland.
We have spent many happy hours on Glenveagh's walking trails, winding our way through the Victorian castle and gardens route along Lough Veagh, enjoying the unspoiled habitats and glimpses of local wildlife.
Whether you're interested in learning about Ireland's unique biodiversity or simply want to explore one of the most awe-inspiring landscapes in the country, Glenveagh National Park has something for everyone.
Wicklow Mountains National Park
Wicklow Mountains National Park is a vast expanse of nearly 23,000 hectares that lies to the south of Dublin.
As Ireland's largest and only National Park in the east, Wicklow boasts expansive views, winding mountain roads, and fast-flowing streams that cascade down into the deep lakes of the wooded valleys.
One of its most notable features is Glendalough monastic city founded by St Kevin in the 6th century, widely regarded as one of the top attractions in Ireland's Ancient East
Immerse Yourself in Ireland's Culture
One of the top things to do in Ireland is to get immersed in the culture. Whether that is enjoying a pint of Guinness, catching a live session of some traditional Irish music, or simply knowing some funny Irish slang to chat with the locals, Irish culture and craic (enjoying social activity and having a good time) are world-famous.
Traditional Irish Music
Wherever you are in Ireland, you can be sure that there will be a pub nearby! Often you can find live trad music sessions taking place. Tap your feet, enjoy a pint and some home-cooked food, and immerse yourself in a true Irish tradition.
Whilst there, get to know the locals. The Irish are a friendly bunch and love talking, so visitors shouldn't be afraid to strike up a conversation. You never know what you might discover!
Dancing
Irish dancing is an important part of Irish culture and if possible, visitors should try and watch a feis (Irish dance competition) or even take an Irish dancing class. There is no better way to dive into the Irish culture.
If you're lucky, you may stumble on a cèilidh (pronounced kee-ley), a traditional Irish social gathering that involves Gaelic folk music and dancing.
Food
Irish cuisine is a blend of the cooking styles, traditions, and recipes that have developed over time on the island of Ireland and have been shaped by centuries of social and political change, as well as the influence of different cultures, particularly those from nearby Britain and other European regions.
Ireland's food is rooted in the crops and animals that thrive in the island's temperate climate, as well as the abundance of fresh fish and seafood from the Atlantic Ocean.
Well-cooked and locally sourced traditional Irish cuisine is a thing of beauty, with hearty and flavorsome comfort food at the heart of every Irish kitchen.
Irish stew, bacon and cabbage, potato and soda breads, champ (mashed potatoes with spring onions called scallions), and colcannon (champ with added cabbage), are all staple recipes that satisfy appetites and pack big flavors.
Drink
Guinness tops the list as the most consumed Irish alcoholic drink, and with a reported 8,000 years left on the lease of the Guinness Brewery at St James' Gate in Dublin, we don't see this changing anytime soon!
Ireland is also home to over 40 whiskey distilleries distilling over 100 million liters of whiskey spirit every year, with over 3.5 million casks of Irish whiskey maturing across the island at any given time.
Jameson is the world's leader in Irish whiskey, selling 31 million bottles annually. Maintaining its 'pure pot still' distilling tradition, Jameson is produced in Cork and vatted in Dublin.
Poitín or potcheen is a traditional Irish distilled drink, known as Irish moonshine or mountain dew. Made usually from potatoes, sugar beet, or fruit, potcheen was traditionally distilled in a small pot still.
If you're offered potcheen, be prepared. It has a high alcohol content and is incredibly potent. One sip will literally take your breath away! Funnily enough, the Irish word for a hangover is póit.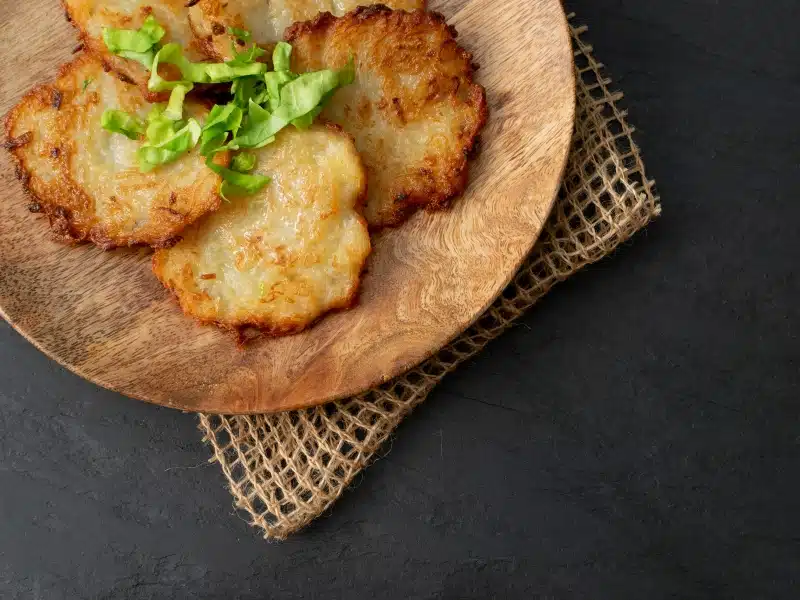 Get Off the Beaten Track
While there are plenty of iconic tourist attractions to visit and famous cities to wander, some of the best of Ireland lies away from the main tourist trails and on the road less traveled.
What better way to reach these hidden gems than exploring Ireland by motorhome? Whether in your own or one you've hired, exploring off the beaten track in a motorhome is a truly unique way to discover Ireland.
Achill Island
Off-the-beaten-path Achill Island not only boasts Croaghaun Cliffs, the highest sea cliffs in Ireland and the third highest in Europe at 688m / 2,257 ft, but the beaches, the historic sites, and the wildlife roaming free make this one of the most magical places in Ireland.
Off the coast of County Mayo, Achill offers stunning views, and top spots to visit include Keem Bay, Keel Beach, and Slievemore deserted village near Dugort, where the remains of almost 100 traditional stone cottages are arranged on either side of an ancient pathway.
Achill is a popular spot for those who enjoy camping, hiking, and cycling, and the local thatched pubs and houses make for a great Irish photo opportunity.
Achill's raw nature, white sand beaches, and sheer cliffs make this a tranquil retreat for those who love to soak up natural Irish surroundings and learn about the culture.
Glenbarrow
Glenbarrow is a picturesque part of the remote Slieve Bloom area that features stunning waterfalls and a steep-sided valley where the River Barrow has cut its way through the deposits of an ancient glacier.
The nearest town is Mountmellick in little-known County Laois, but despite its distance from many tourist attractions, there are amazing waterfalls to visit and the trails are gentle and easy through the beautiful natural forest.
Skellig Michael
Skellig Michael, a UNESCO World Heritage Site, dates back 370 million years. Along with its inaccessible twin island, Little Skellig, it is home to abundant wildlife like puffins, grey seals, and razorbills.
The island is only accessible by boat during the summer months, and you must climb 618 steep and uneven cliffside steps to reach the 6th century St Fionan's monastery and ancient beehive-shaped huts made of stone.
Once at the top, enjoy the solitude, magnificent scenery, and views of this historic pilgrimage island.
Hook Lighthouse
The iconic blue and white striped Hook Lighthouse of County Wexford is one of the oldest lighthouses in the world and the second oldest operating lighthouse in the world, after the Tower of Hercules in A Coruña, northwestern Spain.
The 13th century lighthouse exudes a unique mysticism and magic that enchants all who visit. Climb the 115 well-worn spiral stairs into the thick-walled tower, where every step is a reminder of the daily rituals of the light keepers who served at this historic landmark.
The view will take your breath away as you reach the four-story high balcony at the top of the tower. The mesmerizing steely blue seas are the graveyard of hundreds of ships, and home to dolphins, seals, and even the occasional humpback whale.
Ring of Beara
The Beara Peninsula in Cork is a must-see for wild, rugged nature with sweeping views. This stunning area is one of the most overlooked places in Ireland since the nearby (and more famous) Ring of Kerry tends to attract the crowds. Yet this charming peninsula offers some of Ireland's most beautiful landscapes.
As one of Ireland's most mesmerizing locations, the Ring of Beara which circles the peninsula is an unmissable route for nature lovers, wildlife enthusiasts, and, most importantly, those who want to get off the beaten path and see a slice of authentic Ireland.
The peninsula has two jaw-dropping mountain ranges running down its center, the Caha Mountains and the Slieve Miskish Mountains, ending in the Atlantic Ocean, making this an excellent location for hikers and cyclists alike.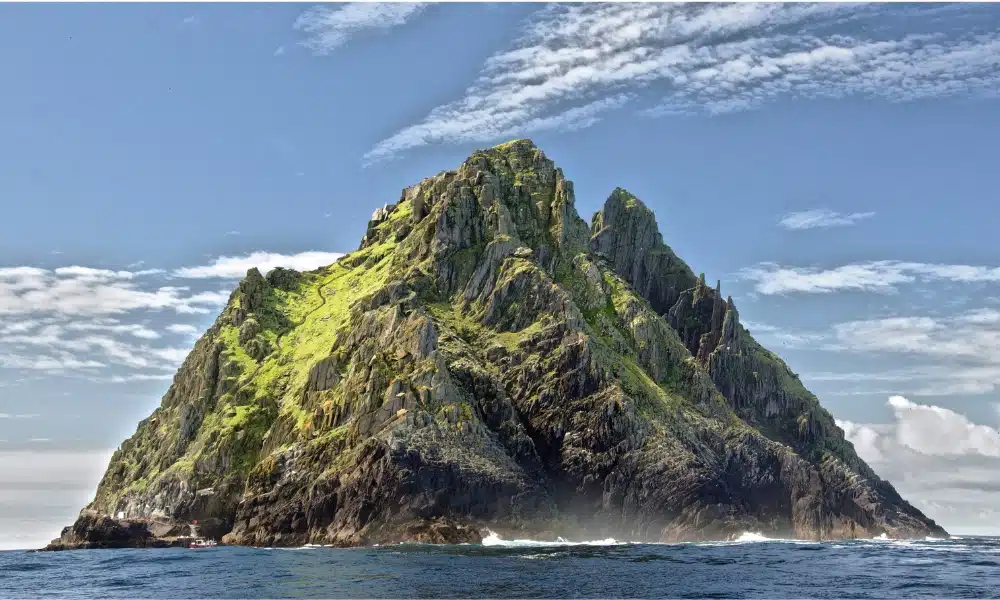 Enjoy Ireland's Spectacular Landscapes
Getting out in nature and enjoying the landscape is often voted one of the best things to do in Ireland, and there's definitely no shortage of places to do that!
Even in the midlands and centre of the country visitors will be astounded by the beauty that surrounds them and the lush green landscape everywhere. It is not called the Emerald Isle for nothing.
Cliffs of Moher
Located in County Clare along the west coast, these famous sea cliffs rise to 120 meters / 390 feet out of the Atlantic Ocean and run for approximately 14 kilometers / 9 miles.
These are a natural haven for sea birds and visitors can enjoy walks along the top or choose to see the cliffs from one of the boat tours that run from nearby Doolin.
There is a visitor center where you can learn about the flora and fauna of the cliffs and their link with the nearby Burren National Park.
Ring of Kerry
The Ring of Kerry is undoubtedly one of the most beautiful places in Ireland and features an array of stunning locations along its route.
It is one of the most famous drives for people to undertake in Ireland, and many come from all over the world just to tick this off their Ireland bucket list.
Along this 111 miles / 179km route, there are plenty of scenic coastal towns to visit, like Portmagee, the gateway to Valentia Island; Waterville, Charlie Chaplin's holiday destination; Derrynane House, the birthplace of Daniel O'Connell, one of the great figures in modern Irish history; and Kenmare, known for its fresh and locally caught seafood.
The Ring of Kerry also features wildlife, sparkling lakes, incredible coastal views, and jaw-dropping cliffs, which make it an unmissable place to explore.
West Cork
The west of County Cork is well known for its stunning beauty, scenic and colorful villages, gorgeous beaches, old harbors, and idyllic islands like Garnish Island and Dursey Island.
The terrain is wild and untamed, featuring a rugged landscape of mountains and a patchwork of verdant pastures. The area is dotted with inlets, coves, and spruce plantations, as well as an archipelago of mostly unwooded offshore islands.
It would be easy to spend weeks here, exploring the intricate coastline with its many peninsulas, visiting the pubs and artisan craftspeople in the picture-perfect villages, and enjoying the slow pace of life that dominates this beautiful county.
Slieve League Cliffs
The Slieve League cliffs are one of the things you must see in Ireland if you enjoy the coast. They are located not too far from Donegal Town and are the second-highest sea cliffs in all of Western Europe.
As well as sea cliffs, the coastline of Ireland offers visitors plenty of beautiful beaches and coves, caves, and prehistoric rock formations. Many of these can be found along the 2600km / 1600 miles of the Wild Atlantic Way, one of the world's longest coastal driving routes.
Slea Head
Slea Head, on the Dingle Peninsula, is a stunning place in County Kerry. While many people drive this route or take a bus tour, others cycle or ride a motorbike since the road is ideal for a two-wheel adventure. Ireland is well known for its windy coastal roads, and Slea Head Drive is one of the island's most enchanting and scenic drives.
The drive starts and ends in the fantastic town of Dingle and takes 1-2 hours to complete; however, this can be a little longer with photo stops. Along the way, you will witness places like Dunquin Pier, Dunmore Head Viewpoint, and Ventry Beach. Plus, you can take a boat out to explore the Blasket Islands from here.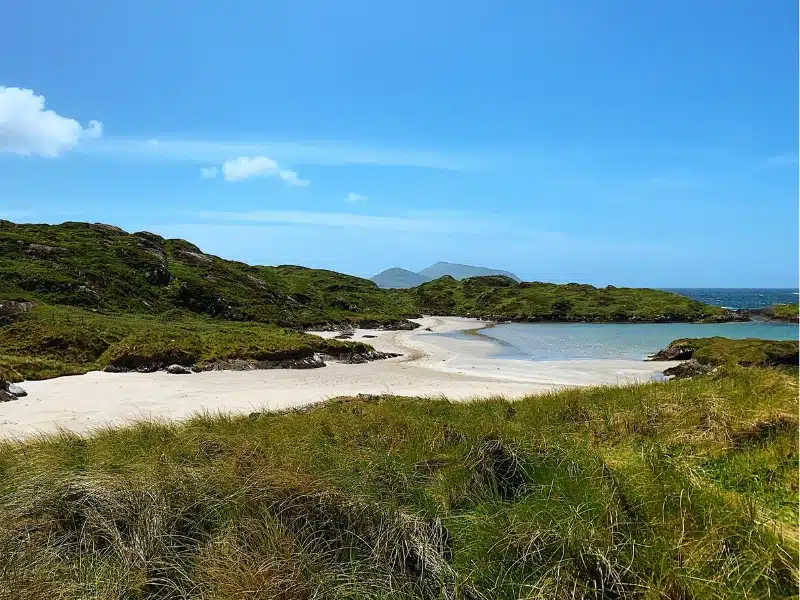 Other Irish Travel Ideas
Navigate Ireland's History
Many of Ireland's attractions for tourists center around its long and varied history. Around every corner of Ireland, there is something historical to discover and explore.
Kilkenny Castle
Kilkenny Castle is one of the most popular and is a medieval castle in the center of the town with the same name, which offers visitors both guided and self-guided tours.
From ornate tapestries to portraits and antique furniture, it is a peek into the past of Ireland and its famous historical families.
Blarney Castle
Other great castles to visit include Blarney Castle where visitors come to kiss the Blarney Stone and be bestowed with the gift of the gab, Dublin Castle which was the seat of the Lord Lieutenant of Ireland during British Rule over Ireland, and Dunluce Castle in Northern Ireland along the Causeway Coastal Route.
When visiting Blarney Castle, arrive as soon as it opens and head straight to the top of the castle before you explore the grounds. You will miss the worst of the crowds and tour buses this way.
Rock of Cashel
Among other famous landmarks in Ireland is the Rock of Cashel, situated on a dramatic outcrop in the Golden Vale of County Tipperary. According to local legends, the Rock of Cashel originated in the Devil's Bit, a mountain 20 miles north of Cashel when St. Patrick banished Satan from a cave, resulting in the Rock landing in Cashel.
The Rock of Cashel holds immense historical significance and boasts the most impressive collection of medieval structures in all of Ireland.
Today, the Rock, silhouetted against the sky and rising above the lush green fields of the surrounding countryside, is an iconic and beautiful Irish landmark.
Newgrange
The UNESCO World Heritage Site of Newgrange in the Brú na Bóinne Valley in County Meath is accessible only via guided tours.
The sites of Newgrange and Knowth are Neolithic Passage Tombs that are historically important and date before the time of the Great Pyramids of Giza.
Visitors can see Neolithic stone carvings along the kerbstones at Knowth, while visitors can enter the passage at Newgrange to see the burial chamber up close. There are also museum and audio-visual exhibitions that tell visitors more about the passage tombs, their construction, and history.
Around every corner of Ireland, there is history to be found and an abundance of museums in towns and cities that delve deeper into the history of Ireland and its people.
Whether you are a history buff or not, visiting the castles, museums, and monuments is almost unavoidable but hugely interesting and informative at the same time.
Hill of Tara
One of the most mystical places in Ireland, the Hill of Tara is an ancient ceremonial and burial site that was the inauguration place and seat of the High Kings of Ireland in the Early Christian Period. In fact, 142 kings were crowned on this spot, from where you can see half the counties of Ireland on a clear day!
Tara is home to a range of monuments and earthworks dating from the Neolithic to the Iron Age, including a passage tomb called the 'Mound of the Hostages'.
There is also a standing stone believed to be the Lia Fáil or 'Stone of Destiny', one of the four legendary treasures of the Tuatha Dé Danann (a supernatural mythological race thought to represent deities of pre-Christian Gaelic Ireland) which stands proudly on the monument known as An Forradh.
It is known that St Patrick himself went there in the fifth century, but as Christianity achieved dominance over the following centuries, Tara's importance waned and became purely symbolic. The halls and palaces have now disappeared and the only part of this ancient landscape to remain are the rolling earthworks covered in lush green grass.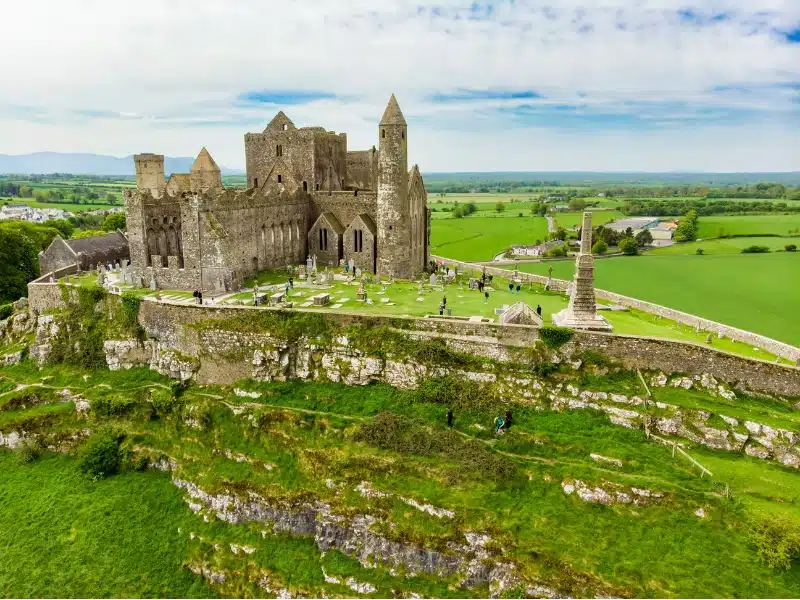 Don't Forget to Go North
Visitors planning a trip to Ireland should remember there are two parts to the country and should try to incorporate a visit to Northern Ireland.
Created in 1922 during the partition of Ireland, Northern Ireland was separated from the Republic of Ireland and became a part of the United Kingdom of Great Britain and Northern Ireland.
Northern Ireland contains six of the thirty-two counties that make up the island of Ireland: Antrim; Armagh; Down; Fermanagh; Londonderry and Tyrone.
While the southern half of the country has plenty to see and do, Northern Ireland is also rich in beautiful landscapes, vibrant cities, and historical places to visit.
Giant's Causeway
Topping the list of the best things to do in Northern Ireland is the UNESCO Giant's Causeway. This stretch along the Causeway Coastal Route contains over 40,000 interlocking basalt columns which are mostly hexagonal in shape and have become one of the most visited places in Northern Ireland.
Causeway Coastal Route
The wild and unspoiled Antrim Coast in Northern Ireland is made for a road trip. Peppered with fascinating places to see and exciting things to do, this route will appeal to outdoor adventurers.
If you are a Game of Thrones fan, there are lots of places along this route which featured in the show, including the Dark Hedges, Cushenden Caves, and the tiny harbor at Ballintoy.
Other attractions on the Causeway Coastal Route include the Carrick-a-Rede rope bridge, Bushmills Distillery, and of course, the magnificent Giant's Causeway, Northern Ireland's first UNESCO site.
Belfast
Belfast is the vibrant capital city of Northern Ireland. One of the best things to do in Belfast is visit the Titanic Quarter, a museum and dockland dedicated to the ill-fated liner that was built in the city.
Other must-see attractions include the historic Crumlin Road Gaol, a political taxi tour to see the famous murals around the city, and the buzzing nightlife of the Cathedral Quarter.
Derry-Londonderry
Derry-Londonderry is the other popular city to visit in Northern Ireland and is one of the finest examples of a walled city in Europe and the only remaining completely walled city in Ireland.
The city's historic 400-year-old walls are magnificent, and no visit would be complete without a walk around them. History buffs will enjoy the ornate Guildhall and fans of Derry Girls will love to spot the giant mural from the walls.
After exploring the walls, take a stroll across the contemporary Peace Bridge to Ebrington Square which was once a British Army barracks.
You can also take a tour of the Bogside to see the political murals and learn about Derry-Londonderry's recent history, which has shaped how the city has developed in the last century.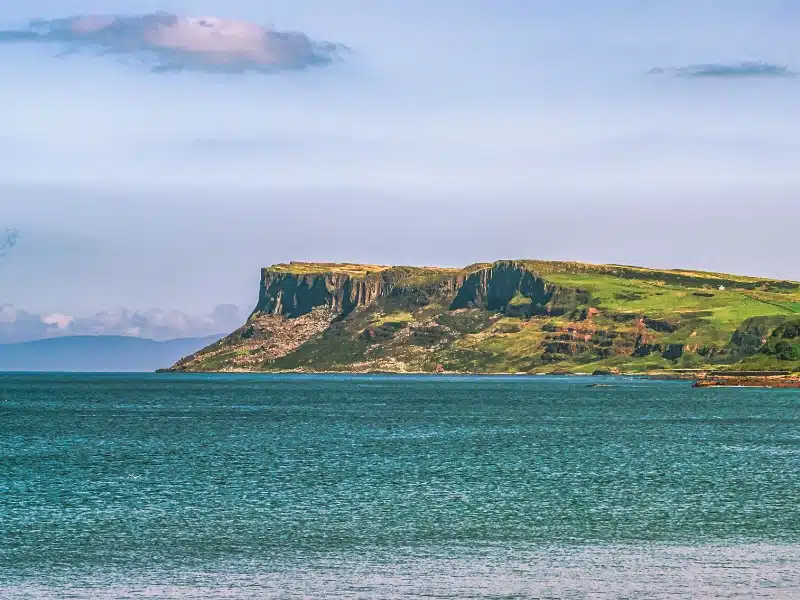 Things to Do in Ireland FAQs
What is the #1 thing to see in Ireland?
By visitor numbers, the top attraction in Ireland is the Guinness Storehouse in Dublin with 1.7 million visitors every year. It's certainly an awesome place to visit and a pint of the black stuff in the bar at the top of the storehouse is hard to beat, but it's not our number one thing to see in Ireland.
Our #1 thing to see in Ireland is Slieve League Cliffs in County Donegal for their slightly under-the-radar status because they're actually bigger and more impressive than the Cliffs of Moher but way, way less visited.
What should you not miss when visiting Ireland?
History buffs should definitely visit the big hitters of the Ancient East: The Hill of Tara and Newgrange at Brú na Bóinne.
Outdoor adventurers should head for any or all parts of the Wild Atlantic Way for hiking, surfing, and dramatic landscapes to explore.
If you're planning a city break, the lively cities of Cork and Galway will deliver live music, a vibrant atmosphere, and fantastic cuisine.
How many days do I need in Ireland?
Seven days will allow you to see quite a lot, especially if you plan carefully and are a little bit ruthless about what to see! Start in Dublin and make a circular route around the bottom third of Ireland to see all the best bits.
What is the best month to go to Ireland?
Ireland's weather is notorious for being unpredictable, but to have the best chance of sunny and dry days, it is best to visit in the summer months of June, July, and August.
To beat the crowds, however, consider visiting Ireland in the shoulder seasons of May or September, when the weather is still good but the peak season has not set in.
Looking for more travel inspiration? Check out these top posts…
Are you desperate for some Spanish sun but don't want to fly? With great routes across Europe, it's easy to drive to Spain from UK by car, arriving refreshed and unstressed from the comfort of your own vehicle. We're sharing the best routes with costs and comparisons plus tips about driving once you're there. Our Spain from UK guide will help you decide which is the best route for your driving trip to Spain, so…
Love it? Pin it!