This post may contain affiliate links, from which we earn an income.
Discover Coastal Denmark
Denmark, a nation known for its captivating history, Viking legacy, and stunning design, is equally celebrated for its picturesque coastline. The Danish coast, with its stretching sandy shores, rugged dunes, and quaint harbor towns, is a mesmerizing display of natural beauty and cultural richness.
While the landscapes here promise a soothing retreat, it's the Danish coastal towns, each with its unique charm, that pull travelers with tales of ancient history, architectural wonders, and magnificent seafood feasts.
From vibrant marketplaces buzzing with life to tranquil stretches where time seems to stand still, these towns, all encapsulate the essence of true Danish 'hygge' — that unparalleled sense of warmth, coziness, and sharing moments.
Embark on a journey with us to explore the beautiful Denmark and the eleven best coastal towns and destinations of Denmark, unveiling the distinctive essence that sets the Danish coast apart.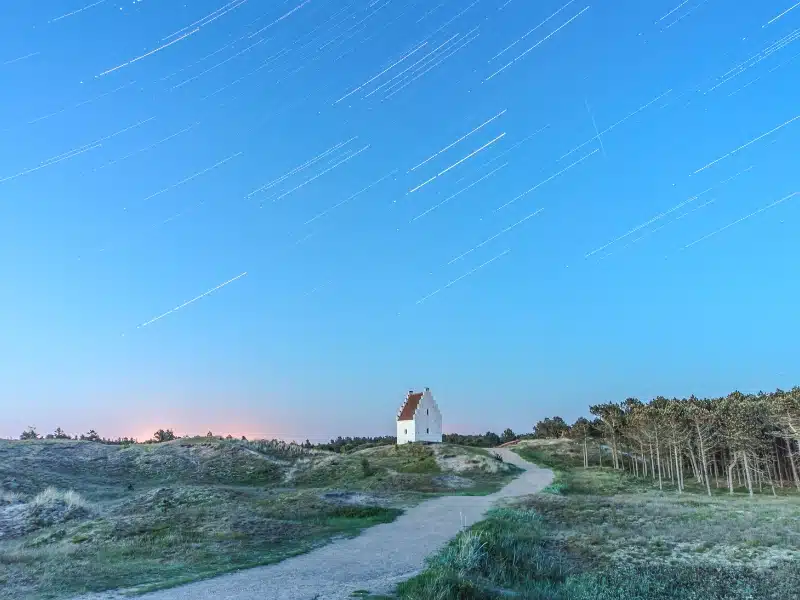 Denmark Travel Resources
Here are the services we use and recommend for traveling in Denmark;
About Denmark: The Coastal Jewel of Northern Europe
Denmark is characterized by its unique geography as a peninsula and an archipelago comprising of over 400 islands. The country stands as a testament to the unparalleled beauty of Northern European coastlines.
This nation, surrounded by the North and Baltic Seas, offers endless coastal views that have been an ingrained part of its cultural and economic fabric for centuries.
At its heart, Denmark's traditions are deeply rooted in its maritime heritage. Quaint harbors dotting the coastline tell tales of fishermen setting sail at the break of dawn, their boats casting silhouettes against the morning sun. 
The aroma of freshly caught seafood, sizzling away in local eateries, is a sensory experience that captures the essence of Danish coastal life.
As you visit the country, from the bustling harbors of Copenhagen's old town to the serene beaches of Jutland, you're transported to a world where the symphony of crashing waves and the allure of maritime traditions blend seamlessly.
RELATED POST: Denmark Road Trip: The Best Itinerary + Tips & Map
Make sure you have travel insurance you can trust when visiting Denmark. We recommend True Traveller for their 5-star TrustPilot reviews, variety of cover options, best activities cover as standard, great prices, and excellent service.
Skagen and Råbjerg Mile: The Majestic Wonders of Nordjylland
The allure of Nordjylland is not one to be understated when discussing Denmark's magnificent natural spectacles. It offers experiences so grand and overpowering that they imbed themselves deep within the soul, constantly reminding us of the enormity and wonder of the world beyond our existences.
Such overwhelming encounters with nature should not merely be viewed as privileges but considered an essential experience, emphasizing the vastness and wonder of the world around us.
Skagen
A visit to Skagen is a journey into a captivating realm where two seas clash in a passionate embrace. Here, you'll witness the unique natural phenomenon at Grenen on the Skagen Odda peninsula, where the waters of Kattegat meet those of Skagerrak, sending wave after wave crashing onto the shoreline.
But amidst this tempestuous dance, there is a serene beauty that captivates the senses. Stand still, breathe in the unique light, and watch as the sea creatures and raptors become visible to the observant eye.
In addition, the town of Skagen is a cultural heritage and embraces the essence of Danish culture. Each summer, the region fills up with happy tourists, foreigners, and locals alike, enjoying the stunning views, ambiance, and seafood. While it gets quiet in winter, this season provides the ability to witness the northern lights.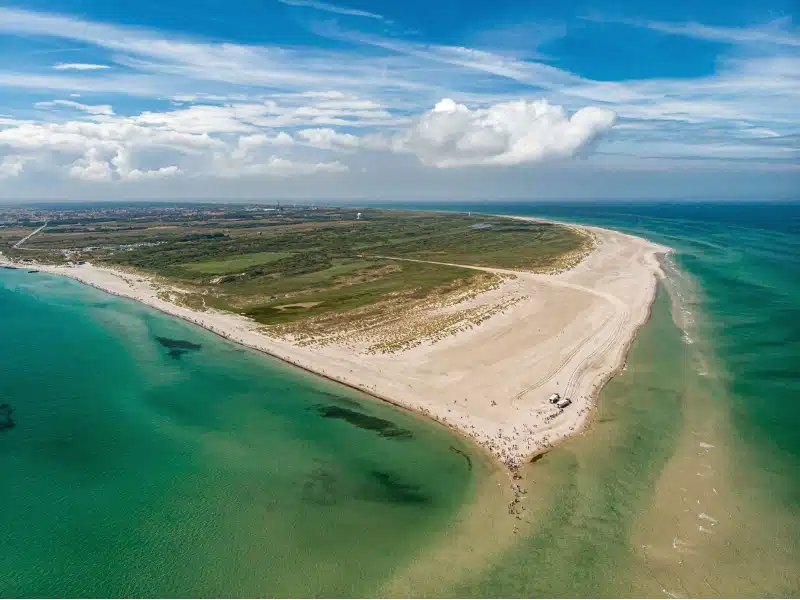 Råbjerg Mile
This place stands as a poignant reminder of nature's relentless force. An almost surreal desert landscape spanning nearly a square kilometer, Råbjerg Mile showcases the wonders of shifting sands.
Close your eyes, listen to the whispers of the winds, and you'll understand the sheer power of unbridled nature.
The dune landscape, characterized by sand mountains that rise 30-40 meters high, encourages visitors to climb and enjoy the stunning views and endless landscapes.
For anyone interested in some dark history, you find monuments and sights from WW2 close to this area.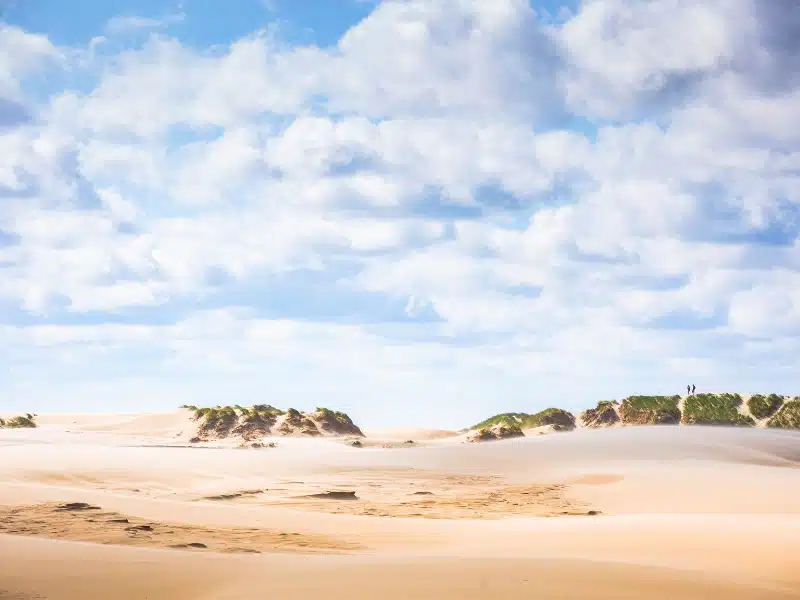 Mandø and Vadehavet: Denmark's Prestigious Natural Wadden Sea
Vadehavet stands as perhaps Denmark's most significant contribution to the world's natural wonders. Stretching from Esbjerg to Holland along the Western coast, Vadehavet offers a distinctive landscape that few places on Earth can rival. Large expanses of its beaches become submerged during high tides, creating something truly unique.
Bird enthusiasts and casual observers alike would find it hard to resist Vadehavet, especially during spring and autumn. It's during these seasons that the area comes alive with a flurry of activity as millions of waterfowl traverse its skies, embarking on their seasonal migrations. A true haven for birdwatchers, the sights and sounds during this period are nothing short of mesmerizing.
Meanwhile, Mandø, nestled within Vadehavet, is a treasure trove of biodiversity. The foreshores of this region are teeming with a rich amount of flora and fauna.
As spring segues into summer, the land is carpeted with vibrant blooms, attracting bees that dance from one flower to the next.
This combination of raw natural beauty and bustling wildlife makes Mandø and Vadehavet not just a unique Danish gem, but a global one.
Most importantly, this area is a unique spot for collecting and trying local oysters, as the conditions of the tides create a natural hub for this delicatessen.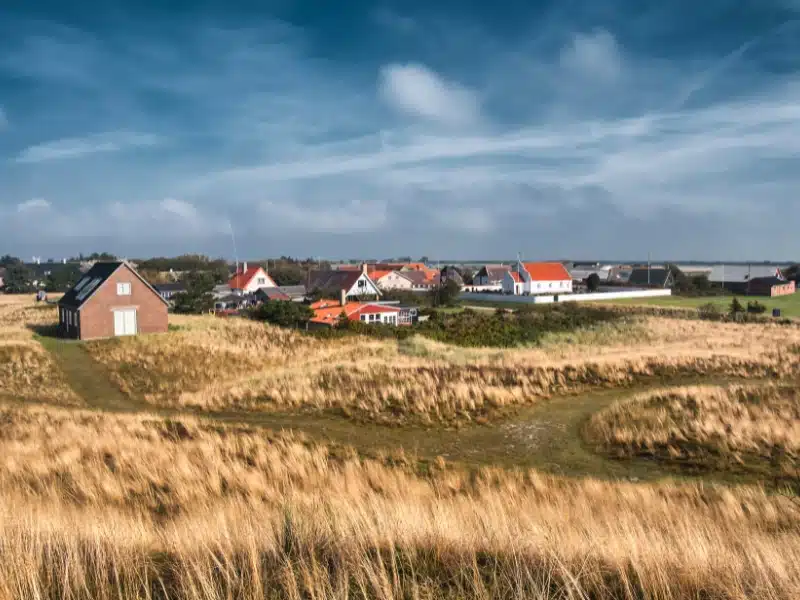 Røsnæs: Denmark's Natural Zen and Sunniest Town
Røsnæs, nestled by Kalundborg and extending 15 kilometers into the ocean around Storebælt, is a testament to Denmark's raw, untamed beauty. Here, dramatic cliffs and rugged stony shores intermingle, offering explorers a chance to delve into its myriad natural wonders.
With origins at Vågehøj near Naturskolen, the beckoning Røsnæs Lighthouse, or the wild embrace of Helles Klint, every corner of Røsnæs promises a unique encounter.
Located in Denmark's driest and sunniest climatic zone, the peninsula teems with flower-rich meadows and hosts a plethora of rare species, many of which thrive on its sun-warmed southwestern slopes.
In 2018, Røsnæs was recognized among the nation's 15 most exquisite nature spots. The peninsula's very existence narrates a tale of ancient glaciers from the Baltic Sea, which 17-18,000 years ago, shaped its terrain, leaving behind crescent-shaped moraines stretching from Zealand to Funen.
Offering 100 more hours of sunshine than the national average and significantly less rainfall, Røsnæs doesn't just offer pleasant weather but an ecosystem shaped by its unique climate.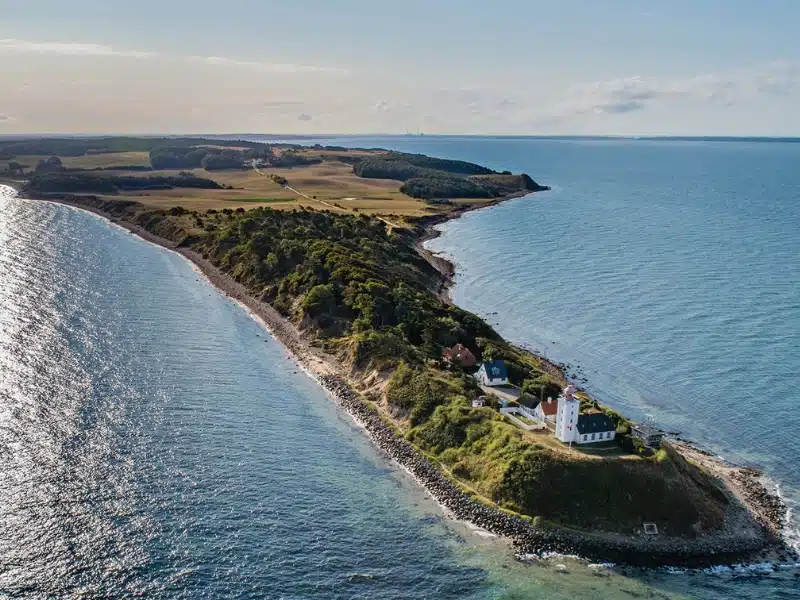 Møns Klint: A Geographical and Magnificent Wonder
A UNESCO World Heritage Site, Møns Klint stands as a testament to Denmark's natural beauty, an iconic national treasure that draws countless visitors each year. And it's not hard to see why. 
Majestic white chalk cliffs rise an impressive 128 meters above the turquoise waters, creating a breathtaking seven-kilometer stretch unique to Danish and global landscapes.
Strolling atop these cliffs, there are several points from which one can descend to the beach below, immersing themselves in the vertical expanse that seems to bridge the heavens and the earth. 
One of the most popular descent points is the Maglevandstrappen located near Geocenter Møns Klint, though it requires navigating a steep 497 steps – a journey that, of course, must also be made on the ascent.
But for those seeking a panoramic view without the descent, a 267-meter-long wooden promenade has been constructed atop Møns Klint. 
Møns Klint's origins date back some 70 million years to a time when a tropical sea, filled with creatures like squids, sea urchins, mussels, and algae, occupied present-day Denmark.
Over many years, the fossil remains of these microscopic algae settled to the sea floor, slowly forming the vast chalk layers that much of Denmark rests upon today – the very same chalk that composes the magnificent Møns Klint.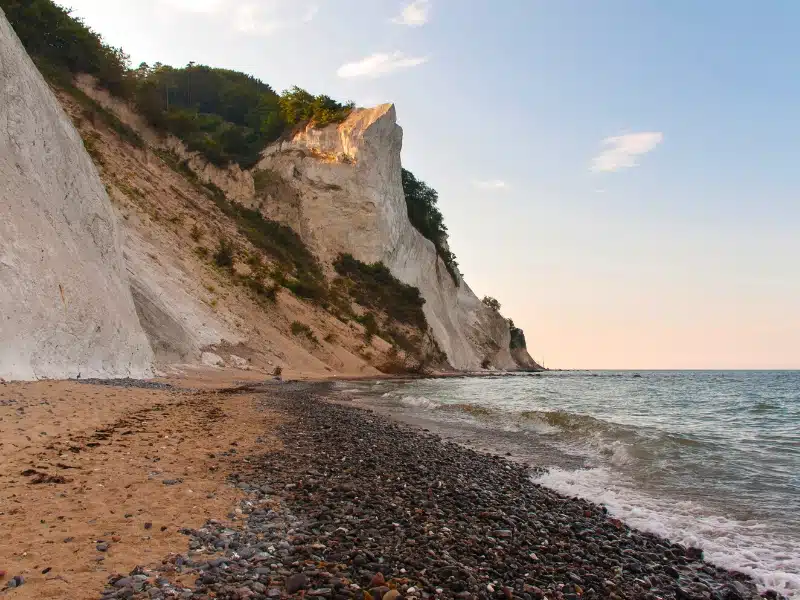 Vestamager and Øresund: A Peaceful Getaway in Copenhagen
Just a stone's throw from the heart of the capital lies the distinctive natural landscape of Vestamager and Øresund. For those seeking a refreshing nature escape without straying far from activity-packed Copenhagen, this region offers an idyllic getaway from the city.
Vestamager can be compared to a Nordic version of the African savannah, its origins tracing back to World War II when it was created. Initially utilized for military purposes, nature gradually reclaimed the area after the war, fostering the growth of Denmark's largest birch forest.
Nestled right up to Øresund, Klydesøen emerges as a prime spot for birdwatchers, home to a variety of rare species.
One of Copenhagen's distinguishing features is its pristine surrounding waters. Not only does this result in natural havens like Vestamager and Øresund, but it also means that the canals running through Copenhagen are remarkably clean.
So much so, that locals and tourists can often be seen taking refreshing dips right in the heart of the city. Forget Nyhavn and the kitsch Tivoli Gardens, the harmony between city life and nature that Copenhagen has uniquely mastered is where it's really at!
RELATED POST: One Day Copenhagen Itinerary – Map, Tips & Guide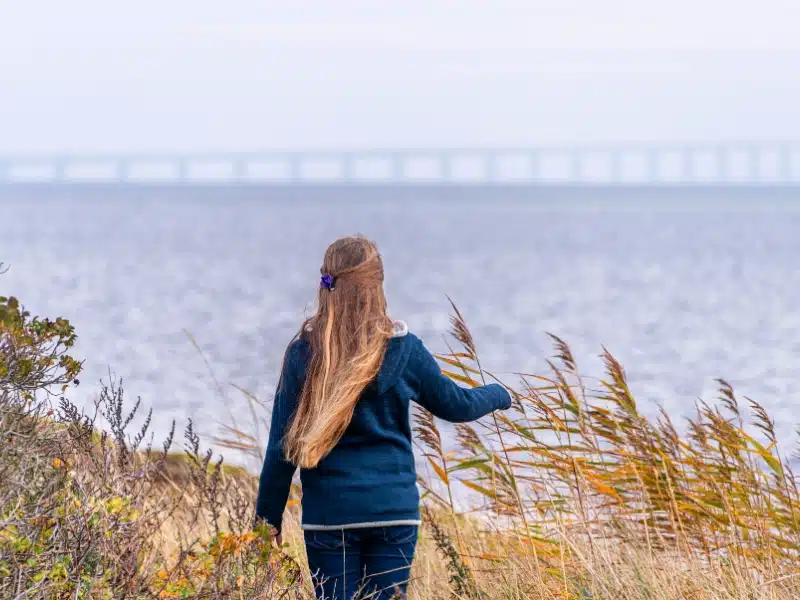 The Northern Coast of Copenhagen: A Danish Coastal Gem
Just a stone's throw from the hustle and bustle of Denmark's capital, the northern coast beckons with its tranquil charm.
Famous for its pristine sandy beaches, quaint seaside towns, and traditional streets, this region offers a serene contrast to urban life.
From the whispers of waves to the colorful beach huts, the northern coast is a display of Denmark's maritime legacy. Here, time seems to move slower, allowing visitors to savor every sun-kissed moment.
Hundested
Nestled at the mix of Kattegat, Isefjord, and Roskilde fjord, Hundested thrives as a harmonious blend of cultural port and active commercial hub.
The town is proof of the region's maritime history, where modern breweries and avant-garde workshops coexist seamlessly with the traditional harbor.
Don't miss the historic home of polar explorer Knud Rasmussen, with its panoramic views of the surrounding seascape.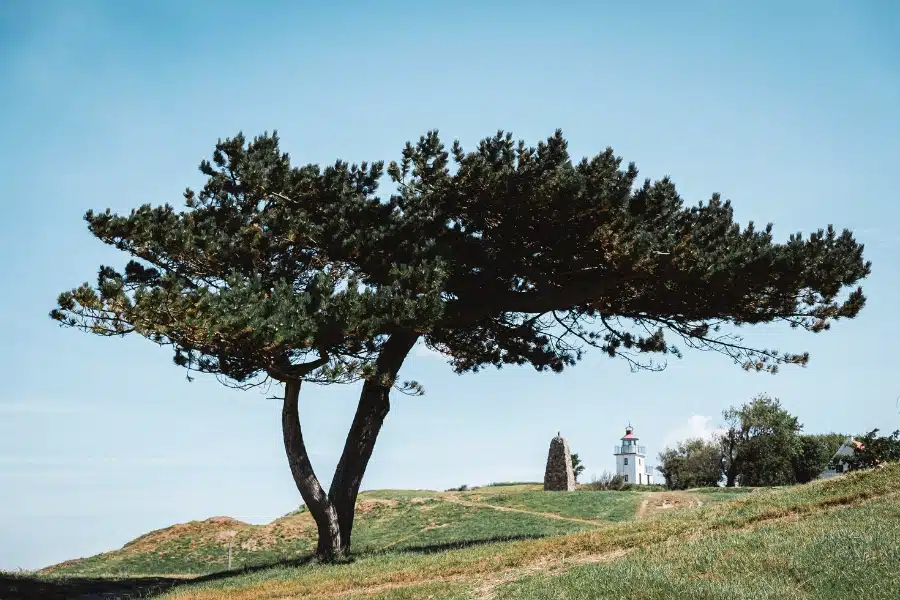 Tisvildeleje
A cute and charming beach resort town, Tisvildeleje has long been the retreat for Copenhagen's bohemians. The town, with its kilometer-long sandy stretch, offers a mix of historical charm and contemporary flair.
Walk down the main street and you're greeted with a picturesque view of colorful 20th-century beach huts setting the tone for a relaxing day by the shore.
In summer Tisvildeleje fills up with locals heading for the annual festival Musik i Lejet. While this festival provides a lot of fun, it becomes a hassle for those not joining the festivities. Also, prices skyrocket and accommodation gets full.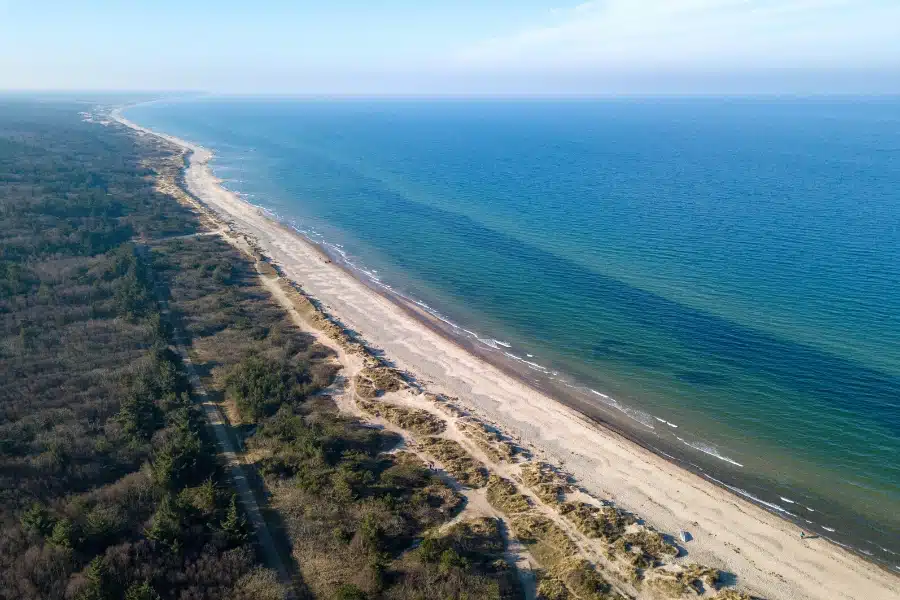 Dronningemølle
Dronningmølle's beach is a family favorite and for good reason. The fine-grained sands, shallow waters, and playful tide pools offer endless hours of fun for kids, while the accessibility makes it inclusive for all.
The backdrop of the beach is framed by serene summer homes, inviting visitors to immerse themselves in the idyllic Danish beach life.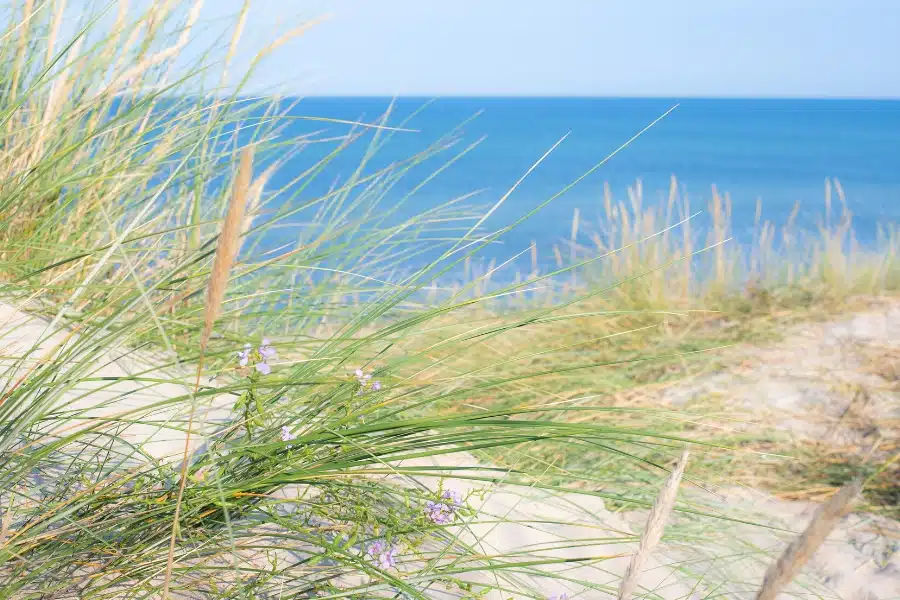 Rågeleje
Rågeleje is a testament to the northern coast's honored bathing culture. With its iconic striped beach huts and majestic summer homes perched on cliffs, the town offers some of the best seaside views.
The diverse landscape, from heather-covered hills to scenic sea-facing slopes, is a playground for both nature lovers and adrenaline seekers.
A must in this town is to visit the harbor for some traditional and fresh seafood. Try servings like a fiskefillet, a breaded white fish, or fiskefrikadeller, butter-fried fish cakes, with a generous amount of remoulade.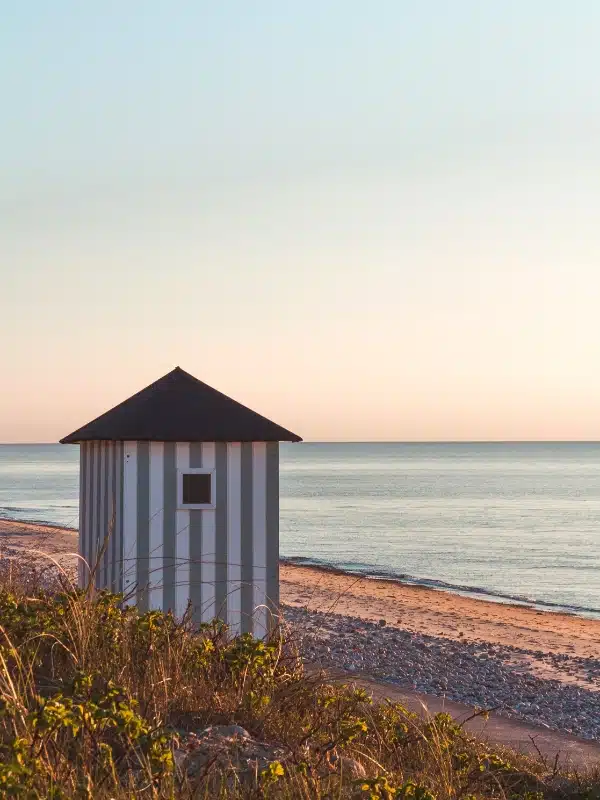 Thy National Park: Wilderness & Solitude
The vast unspoiled dunes, rugged coastal wilderness, fairy tale forests, and charming seaside villages of Denmark's beautiful national park are perfect for seekers of gentle adventure and tranquility.
Thy National Park has been shaped by the enduring influence of the North Sea, with places like the surf paradise of Cold Hawaii and the fishing village of Stenbjerg embodying the local rhythms and traditions, both old and new.
Thy National Park offers a rare opportunity to not only enjoy the hiking and cycling tracks and trails but also immerse yourself in the traditional coastal way of life, where resilience and adaptation are key to survival in a landscape shaped by the elements.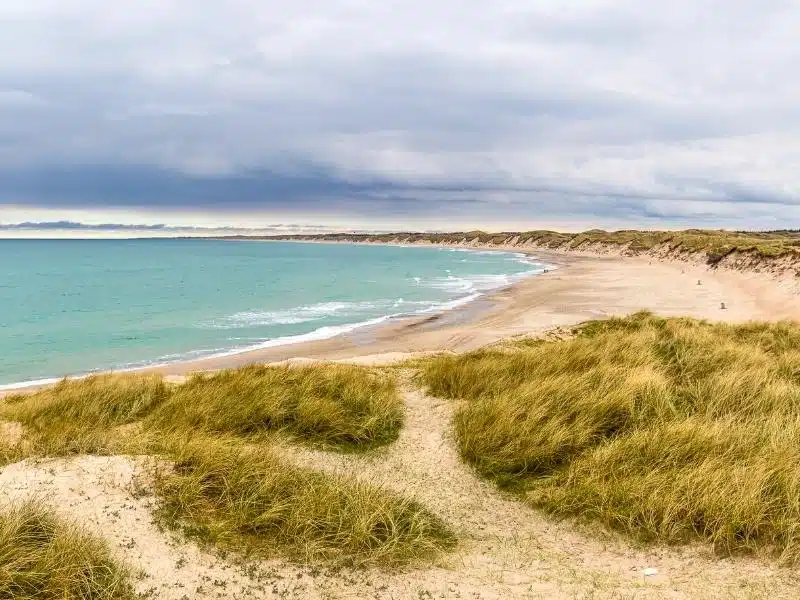 In Conclusion: Embracing Denmark's Coastal Charms
Denmark's coastline is not merely a geographical boundary but a mixture of stories, traditions, and natural wonders.
As we've journeyed through the country's most picturesque coastal towns, from the vibrant harbors of Copenhagen to the relaxing shores of Nordsjælland, we've encountered a world rich in maritime heritage and beautiful nature.
The Danish Riviera, with its golden sands and historic bathing towns, provides travelers with promises of sun-kissed experiences. 
Towns like Hundested and Tisvildeleje paint vivid pictures of a life intertwined with the sea, where ancient traditions meet modern comforts. Dronningmølle's family-friendly beaches and Rågeleje's iconic striped bathing houses symbolize the unique Danish experiences awaiting visitors. 
Whether you're a history enthusiast, a nature lover, or simply seeking the perfect seaside holiday, Denmark's coast offers a plethora of experiences. As the sun sets over the North Sea, casting a golden glow over the horizon, one can't help but be enchanted by the magic of Denmark's coastal towns.
Looking for more travel inspiration? Check out these top posts…
Are you desperate for some Spanish sun but don't want to fly? With great routes across Europe, it's easy to drive to Spain from UK by car, arriving refreshed and unstressed from the comfort of your own vehicle. We're sharing the best routes with costs and comparisons plus tips about driving once you're there. Our Spain from UK guide will help you decide which is the best route for your driving trip to Spain, so…
Love it? Pin it!