Copenhagen, the capital of Denmark, is an easy city to navigate, filled with old world charm and plenty of sightseeing opportunities including canals, towers, castles and amusement parks, making one day in Copenhagen an amazing experience.
The main sights are all located within a relatively compact area so it is easy to walk or cycle from one to another and maybe add in a boat ride to reach a few outliers, making it possible to see Copenhagen in a day. As an added bonus, even though Copenhagen is a notoriously expensive place – especially when it comes to eating and drinking – there are still a surprising number of fun and fascinating things that can be done very affordably or, in some cases, even free.
This post contains affiliate links. If you click on a link and make a purchase, we will, at no cost to you, earn a fee.
The best time to visit Copenhagen is from March to September. The summer has the best weather and the most events, but the spring and fall can still be mild and have fewer tourists. At any time of the year it is best to be prepared for a wide variance in temperatures and the chance of rain. A tip is to always dress in layers and carry an umbrella!
Where to Stay in Copenhagen
If you only have 24 hours in Copenhagen it is best to stay in the Indre By neighbourhood, Copenhagen's old city centre, so that you are close to the main attractions as well as the best shopping streets, great nightlife and interesting restaurant choices. 
Stay at Ibsens Hotel on Nansensgade, a boho street that's home to independent cafés and shops. A twenty minute walk to Nyhavn, this hotel is pleasantly off the main tourist trail and feels like a home from home. Artists working in the local community have contributed to the eclectic decor of the hotel, making the surroundings interesting and contextual. The bar is lively and the staff laid-back and friendly.  This is one of our top hotels for a perfect day in Copenhagen.
The Best Things to See in Copenhagen in One Day
This is definitely the most popular tourist area in Copenhagen; a sublime canal lined with brightly-coloured buildings, boats of every type and description, and about a dozen places to eat or drink your fill. Throw in some nice bridges where you can pledge your undying love by leaving behind a cheap padlock, and you've really got something to work with.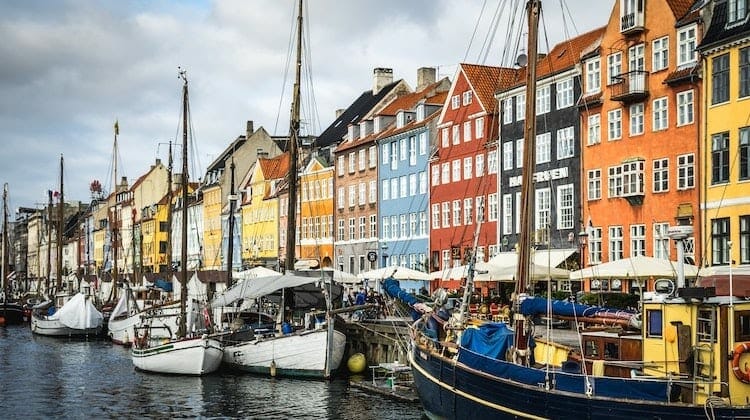 Opposite city hall, Tivoli Gardens are a famous and exhilarating amusement park slash recreation and relaxation area. They has been around since 1843 and were supposedly the inspiration for Disneyland.
This is, in fact, a very round tower. Well worth 25 kr (roughly 3 euro). Other unique features include – but are not limited to – an extremely gradual circular walkway that leads visitors to the top rather than the standard "steep, narrow tower stairs", a series of stamps to fill out a round tower passport and a rivetingly eclectic art gallery.
There is also a small collection of seemingly random books including what appears to be the Danish version of the popular children's book, Curious George. Except, in Denmark, for some reason, his name is Peter Pedal and, apparently, we aren't completely sure if he's curious or not. There are excellent views of the city in all directions from the top.
Watch the Changing of The Guard
Every day the Danish Royal Guard parades from Rosenborg Castle, leaving at 11:30, to Amalienborg Palace, arriving for the Changing of the Guard ceremony that takes place at 12:00. The ceremony is filled with plenty of pomp and circumstance and is very entertaining to watch. 
The same square has the Amalienborg Museum where you can see the private interiors of the most recent kings and queens of Denmark and information about the present royal family, with its many traditions.
Just a short walk from here is the Danish seat of power, the Christiansborg Palace, which is actually on the tiny island of Slotsholmen, right in the middle of the city.
Based on the Hans Christian Andersen fairy tale, this statue is over a century old, quite small and underwhelming, yet incredibly popular. In fact, while the actual statue is barely worthy of the small detour required, the chaotic bustle of tourists jockeying for photos, close-ups and group shots is kind of worth your time, too, in a weird sort of way.
This is a basic European default. With its impressive churches and big, fancy plazas – usually with a cool fountain in the middle – some pedestrian streets and good Instagram spots like Snaregade Gammel Strand between Knabrostraede and Nytorv, Copenhagen ranks right up there with some of the most photogenic cities in Europe. Copenhagen has more than its share of these pleasant areas and some of the churches, in particular, are pretty unique and, occasionally, even a bit frightening, such as the Church of our Saviour with its tall serpentine spire that you can climb for amazing views of the city.
Consider a walking or bike tour of the city with a local guide, to see all the top attractions and learn about the city's history. If you want to see the best of Copenhagen in a day, tours like this are ideal.
This "alternative" neighbourhood is a former hippie commune where otherwise illegal drugs are seemingly tolerated. Apparently, the drug history is long and complicated, but there are still lots of places to buy strange drug paraphernalia and overpriced drinks, and the ramshackle buildings are wildly decorated with a wide variety of graffiti, from obscurely political to cleverly amusing to idiotically vulgar. One of the best was a creatively painted public urinal that makes it look like your head is on a cartoon body while you are using said facility. It is an interesting place to wander through, but be aware that the locals do not want you taking any photos or videos.
This large 17th century Dutch Renaissance palace includes a museum where they literally hide the crown jewels. There are guided tours and an audio tour that you can upload to your phone. The impressive gardens are worth wandering and you can feed the fish and ducks in the lake and moat near the castle. It is entertaining to learn about the history of the palace and royalty through the formal displays.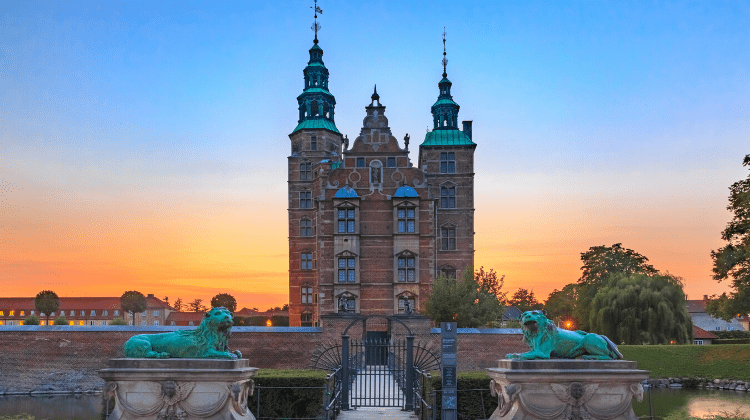 Where to Eat in Copenhagen
Lunch at Café Gammel Torv
This basement restaurant will give you the opportunity to try some Danish food such as the highly recommended traditional smørrebrød (open-faced sandwiches). The atmosphere is quite casual but it is very popular with locals, so you should probably reserve a table if possible.
The scenic public ferry cruise across to this slightly off-the-beaten-path neighbourhood is cheap and worth the journey itself to the somewhat bizarre graffitied, cool and kitschy cluster of food stalls offering everything from Danish hot dogs to Mexican tacos to kebabs or fish and chips. This food market is also a terrific place to recharge after a fully packed day. You can choose between outdoor picnic benches and a sheltered, heated beer garden to suit whatever weather you may be having. The food stalls in Refshaleoen are also reasonably priced – in the 50-100 kr range (7-15 euro).
How to Get Around Copenhagen
The Copenhagen Card, which you can buy here, not only gives you access the the public transport network (including to and from the airport) in the whole of the Copenhagen region, but gives you entry into 87 museums and attractions, including castles, boat trips and the excellent Danish National Museum.
Copenhagen bicycle culture is something to behold, as popular and widespread as anywhere in the world. Seemingly everybody rides a bike – from the youngest child to oldest and grumpiest fisherman – and the city is brimming with clearly-marked bike lanes, which is probably why they don't seem to suffer from the same traffic congestion and air pollution as many other big cities. To the outsider it appears that bikes go wherever they want, whenever they want – cars, pedestrians and inattentive pigeons beware. There are many bike rental shops and inexpensive public bike rental stations which allow you to take one from anywhere you happen to be (once you have an account set up).
However, it is also possible to walk to all the main sights of Copenhagen and you can often find beautiful squares, buildings, canals, streets and parks along the way that don't make it onto the must-see lists but are still very worthwhile. Walking a city is where you can really get a feel for the flavour of the place.
Clean, organized and friendly, Copenhagen routinely exceeds expectations and leaves people wishing they had stayed longer. Nonetheless, if time is of the essence, it also makes a perfect quick stop destination. 
With a wide range of attractions to choose from, all within close proximity to each other, it is one of the few European capitals that can be significantly explored in a visit as short as 24 hours. A few hours spent on a rented bicycle, combined with a return ferry trip and maybe a couple bus rides and you'll soon have covered all the main highlights. 
Filled to the brim with culinary delights and architectural anomalies, both foodies and photo-enthusiasts will be endlessly entertained, and if you happen to be a big fan of Little Mermaid, well, Copenhagen is the perfect place for you.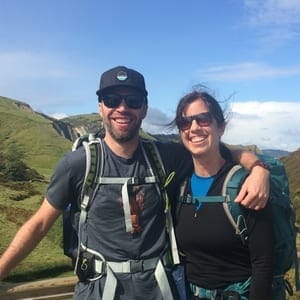 Dean and Laynni quit their day jobs in Canada back in 2008 and have been travelling the world ever since, visiting every continent and 76 different countries and counting, together they blog at Routinely Nomadic. You can also find and follow them Instagram and Facebook.
NEED MORE CITY TRAVEL INSPIRATION? CHECK OUT THESE TOP POSTS