This post may contain affiliate links, from which we earn an income.
How to Spend a Day in Dublin
Dublin is the capital of Ireland, a city with a huge reputation which has managed to retain the quaint and lively charm that you will find throughout the country. Dublin has a complex history full of Vikings, famines, and wars, and much of the city still has a historic feel, with streets of cobblestone, castles and ancient churches.
In this Dublin travel guide, you'll find a complete one day itinerary of all the most important must see Dublin attractions, with an interactive map, organised to make the best use of your time.
We also share recommendations for central places to stay, ideas about where to eat local food, and tips about how to make the most of your 24 hours in Dublin.
When To Visit Dublin
Late spring is the best time of year to visit Ireland. Dublin in May is glorious, with the best weather and only handfuls of tourists.
Summer is also lovely for visiting Dublin, as there are many city parks and scenic coastal walks but there are also lots of tourists, so there may be line ups and higher hotel prices.
Dublin in winter can be chilly, but the city rarely gets snow. Common sense says to wrap up warm and focus on indoor attractions including all the pubs.
If you're up for a party, visit for St. Patrick's Day on the March 17th. The Irish have celebrated St Patrick, the patron saint of Ireland, for over 1000 years. This has become a global celebration of Irish culture – wherevere there are Irish there will be a Paddy's Day celebration!
Flying
Fly Into Dublin Airport
Driving
Drive in from Ireland or hire a car in Dublin
Travel Insurance
Medical costs, delays and lost luggage
Getting to Dublin
Flying
When flying to Dublin you will land at Dublin Airport, only 10km north of the city centre. The quickest and cheapest way to get into the city is by bus, Dublin Express has coaches that go between Dublin Airport and 15+ stops across the heart of Dublin City centre, including Temple Bar, Trinity College, O'Connell Street, and Heuston Station.
Departing from immediately outside the doors of Terminals 1 & 2. Dublin Express operates from Zone 1 at Terminal 1 and Zone 21 at Terminal 2 and travels directly into Dublin via the Port Tunnel, making it the fastest coach to Dublin City centre. It is recommended to pre book your tickets, which you can do here.
You can also book a private transfer from the airport with Klook directly to your accommodation in the city. Klook works with a large range of local operators to bring the the best options and prices for your transfer.
Planning a Wild Atlantic Way road trip? Get the route map, faqs/tips + places to see/things to do in our Wild Atlantic Way guide so you don't miss a thing on Ireland's dramatic west coast.
Where to Stay in Dublin
Luxury: Merrion Hotel – Booking.com | Agoda
Mid-Range: The Wilder Townhouse – Booking.com | Agoda
Budget: Harding Hotel – Booking.com | Agoda
Hostel: Jacobs Inn Hostel – Booking.com | Agoda
What to See & Do in Dublin
Dublin city center is relatively compact and much of this Dublin one day tour can be managed on foot, and if you don't want to walk, there's always a tram!
But, the best way to see Dublin is by wandering and meandering along the river, down interesting cobbled streets and past architectural splendours and reminders of this intimate city's character and wit.
If you prefer to have your day in Dublin organised for you, why not consider one of these highly recommended Dublin tours? You'll have a knowledgeable guide and commentry, get tips about the city and learn about Dublin's history, architecture and character.
Dublin One Day Itinerary Interactive Map
How to use this map – Use your fingers (or computer mouse) to zoom in and out. Click or touch the icons to get more info about a place, and click the arrow in the box top left to open the index. To add to your own Google Maps account, click the star next to the title of the map.
Morning
National Museum of Ireland
Kildare Street in Dublin houses all the government buildings and many of the large museums. The best one is the National Museum of Ireland which showcases the archeology of the island and relics from ancient history and archeological finds, from the Viking and medieval ages.
Some of the most interesting artefacts are bodies of people that have been preserved in bogs from thousands of years ago, and you can learn about what their daily lives might have been like. This is a true must for any history fan, or anyone that wants to learn about the history of Ireland, and all for free.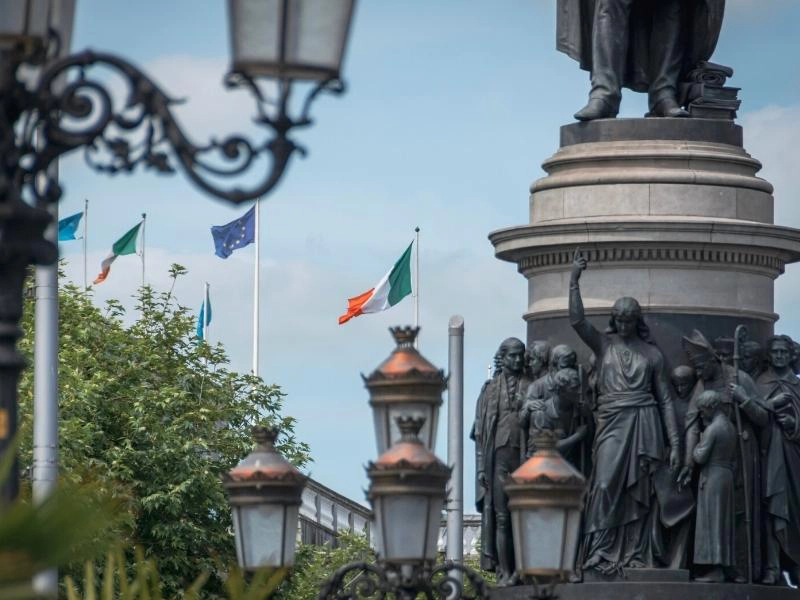 Trinity College & the Book of Kells
Trinity College Dublin is a magnificent campus that sprawls gardens, squares, sports fields and libraries amongst the Georgian architecture.
The University of Dublin is the oldest and most prestigious in Ireland, dating from 1592 and modelled after Oxford and Cambridge in Great Britain. Walking around the main gates and interconnected walkways is a beautiful and free experience.
Inside is the magnificent 18th century Long Room, the 65 metre main chamber of the Old Library of Trinity College, and one of the most beautiful (and photographed) libraries in the world, often mistaken for a Harry Potter set (which it's not!).
One of the main attractions inside the Old Library is the Book of Kells. The Book is an illuminated manuscript of the Bible's New Testament in Latin, illustrated by monks in the 9th century. It is an historic piece of Celtic religious art that is one of Ireland's finest treasures. Each day a page is turned under the glass to show the detailed text and illustrations to visitors.
Alongside the Book of Kells, the Long Room is also home to 200,000 rare and ancient books. This is a popular attraction that can get quite busy on weekends or in the summer, so make sure to book your tickets in advance.
RELATED POST: Beautiful Ireland: 22 Most Scenic Places To Visit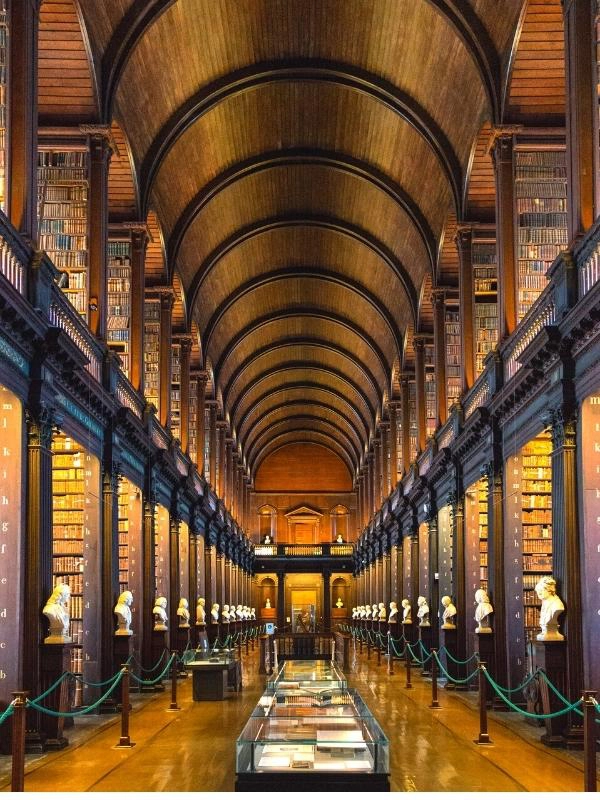 Statue of Molly Malone
Just before you turn into Grafton Street, take a moment to keep going along Suffolk Street to see the Molly Malone statue, in front of St Andrew's Church. Known locally as 'the tart with a cart', Molly was the subject of an Irish folk song of the same name, also known as 'Cockles and Mussels'.
Molly was a young and beautiful fishmonger who sold her produce from a cart on the streets of Dublin, and, according to the song, haunts the city after dying of fever.
Grafton Street
Grafton Street is about a ten minute walk from Temple Bar and is a wide cobblestone street. However, instead of being lined with pubs, this is a shopping street that is full of flower stalls, musicians and buskers.
At any time of day you will find a handful of street performers, and it is well worth the stroll to people watch and buy some Irish souvenirs.
If you have time, pop into Bewley's for a coffee, they've had a shop in Grafton Street since 1927 and are a bit of a Dublin institution!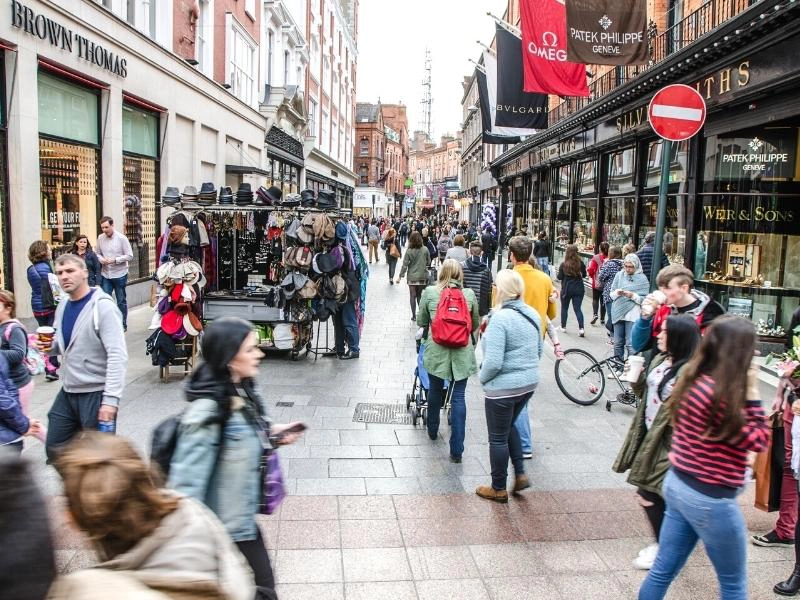 Little Museum of Dublin
The Little Museum of Dublin is a brilliant way to learn about Dublin's turbulent history. Located in an elegant Georgian townhome near St. Stephen's Green, the museum is tiny, but packs a lot of information into its small building.
Everything you see in the museum is donated by the Irish people. All the exhibits, memorablia and artifacts tell the city's story, and you'll find lots of unique tresaures here.
There best way to learn about some of these lesser known events and points in history, the Little Museum of Dublin includes a tour in the price of admission, which takes place on the hour, every hour during opening.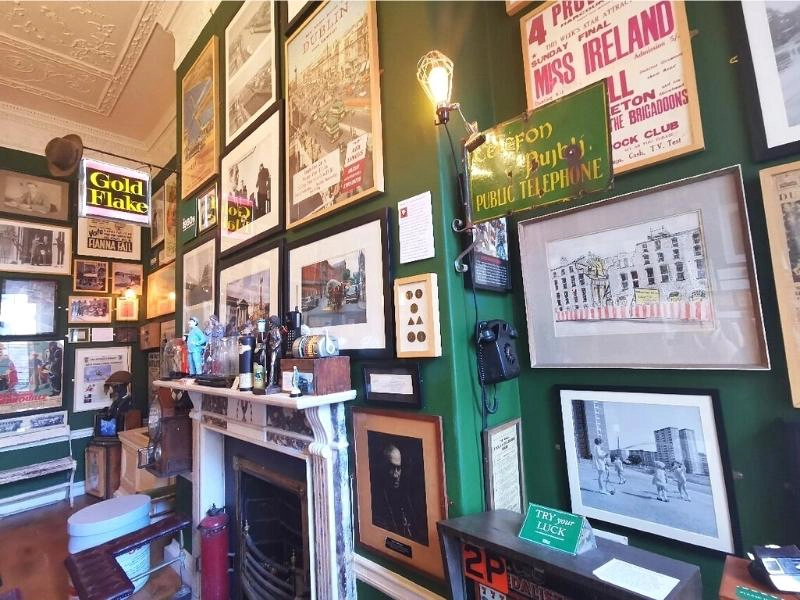 St Stephen's Green
Continue walking to the end of Grafton Street and you will be at St. Stephen's Green, one of many beautiful and green Dublin city centre parks. Spend some time in this Victorian park, exploring the paths that criss-cross around the large green space and see if you can spot the sculptures of Henry Moore, James Joyce, Robert Emmet, and other famous sons of Irish history.
There are also several memorials worth seeking out in St. Stephen's Green, including for the Great Famine, and the respected Irish writer and poet William Butler Yeats. At the Fusiliers' Arch entrance, on the corner opposite Grafton Street, you can also still see bullet marks from the Easter Rising, an Irish republican insurrection against the British government in Ireland, which began in Dublin on Easter Monday 1916.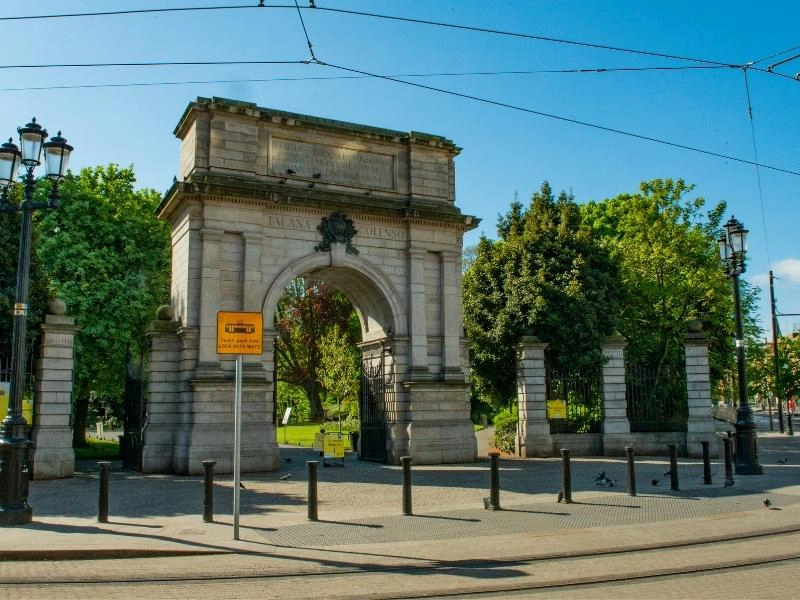 Afternoon
Dublin Castle
Located not far from Temple Bar and in the centre of the city, Dublin Castle is an original stronghold dating back to 1204 which has been important to Ireland's history ever since.
It still has one tower from the original fortification built by England's King John and sits at the long gone location of "dubh linn" meaning black pool, where Dublin got its name.
The complex itself is a fascinating sight and offers information about Dublin's history since the Vikings and English rule. There are also lots of fun events and things happening throughout the year, so be sure to check the calendar for historically themed days.
RELATED POST: 10 Best Cities in Ireland for an Amazing Visit!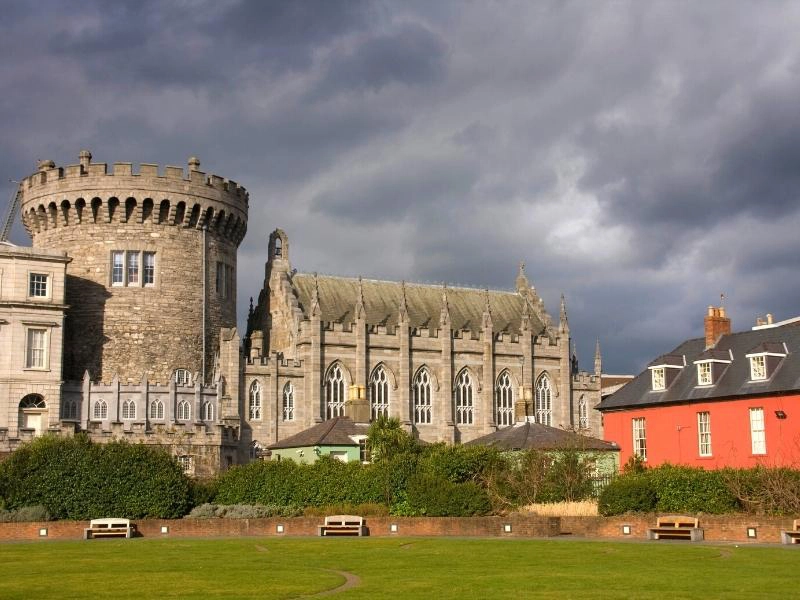 Christ Church Cathedral
Located in the heart of Dublin city, medieval Christ Church Cathedral, or more formally the Cathedral of the Holy Trinity, is almost 1000 years old and was originally a Viking church, built by Sitric Silkenbeard. Today, it is claimed as the seat of both the Church of Ireland and Roman Catholic archbishops of Dublin.
Rebuilt in stone by the Normans in the 12th century, the cathedral has gone through a number of renovations to arrive in its current form, the history of which tells the religious and political story of Ireland. Get your ticket and self-guided tour here.
Although Christ Church Cathedral is designated as the local cathedral of the Diocese of Dublin and Glendalough, St. Patrick's Cathedral, founded in 1191, is the national cathedral of the Church of Ireland. Built between 1220 and 1260 in honour of Ireland's patron saint, Saint Patrick's Cathedral is one of the few buildings left from medieval Dublin.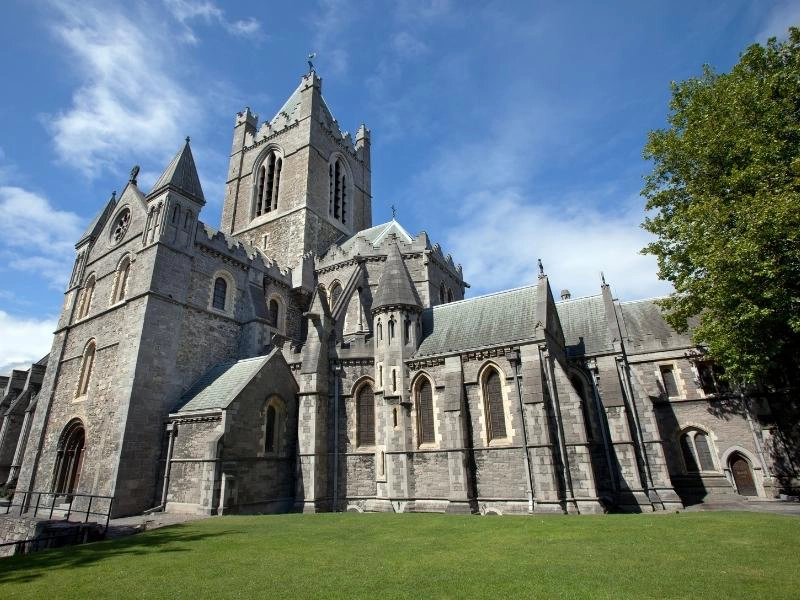 Ha' Penny Bridge
From the cathedral, cross the Liffey by the famous Ha' Penny Bridge (pronounced hay-penny). Opened in 1816, and called the Liffey Bridge then, you did indeed have to pay a half penny toll to cross the river.
For the 30,000 or so people who cross every day now, the distinctive iron bridge is free.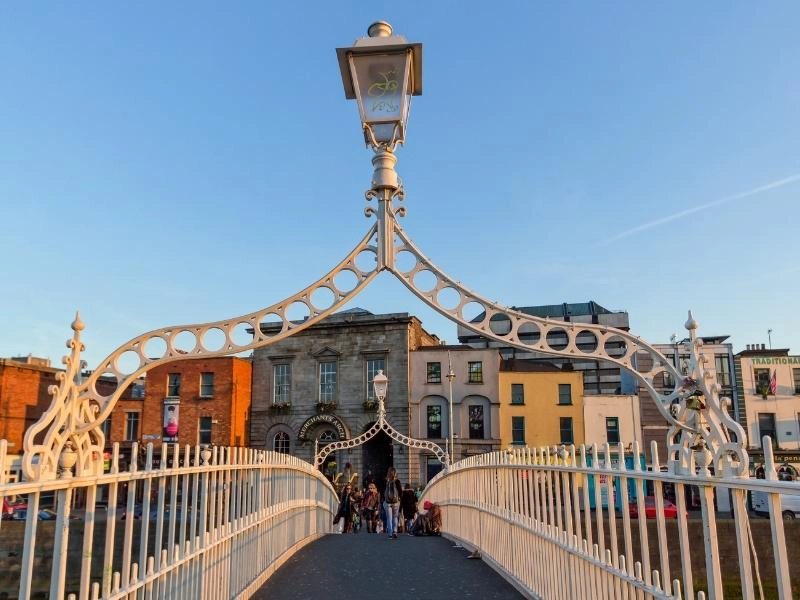 O'Connell Street
The other main commercial thoroughfare, and Dublin's grandest ceremonial street, is O'Connell Street, named after Daniel O'Connell, who was the political leader of Ireland's Roman Catholic majority in the first half of the 19th century.
Known as The Liberator, O'Connell helped secure Catholic emancipation in 1829 and took a seat in the United Kingdom Parliament where he championed reform causes but failed to restore a separate Irish Parliament. O'Connell's last stand in the UK Parliament was in 1847, on the eve of the catastrophic Irish Famine, to plead for relief.
He failed and the starving were told to abandon their land and go to the workhouses. His statute and memorial stands at the southern end of O'Connell Street.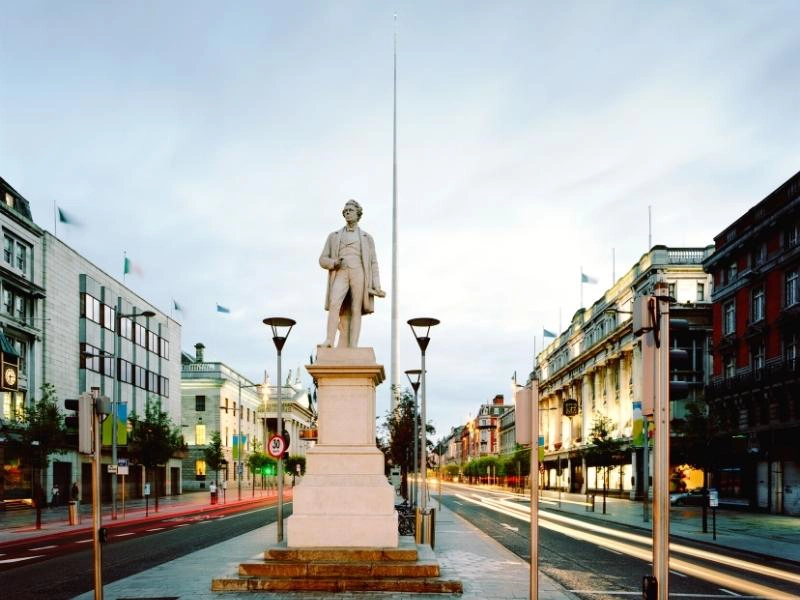 Spire of Dublin
You'll find the Spire of Dublin in the middle of O'Connell Street, sometimes called the Monument of Light. The Spire, installed in 2003, is a slender metal structure which stands 120m high and is just 15cm in diameter at the apex.
At dusk, the Spire's stainless steel surface is gently lit by the ambient lighting of the street, and the tip is illuminated to provide a beacon in Dublin's sky line at night.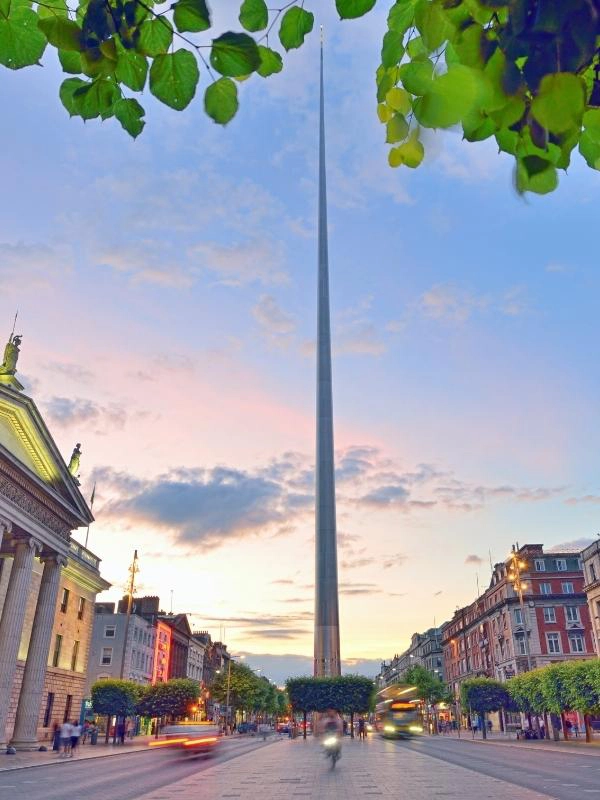 GPO Museum
One of Ireland's most famous buildings sits at the centre of O'Connell Street. The General Post Office is known not only for its architecture but for its role in the Easter Rising in 1916. The GPO Museum is a must see for anyone interested in Ireland's difficult and turbulent modern history.
If the history of Ireland fascinates you, a guided tour led by history graduates of Trinity College Dublin is highly recommended. This is an award winning walking tour with highly knowledgeable guides who can help you navigate Ireland's complex story.
Evening
Guinness Storehouse
The Guinness Brewery is the main attraction for many people coming to Ireland. After all, Guinness is the country's most recognizable and iconic product!
The brewery still sits at its original location at James's Gate but has now transformed into a modern museum, restaurant, shop and events venue.
The whole site takes time to visit as you learn about the brewing process, see interactive advertising through the years, learn to pour the perfect pint and then enjoy a free Guinness at the top in the Gravity Bar, with incredible views all over the city.
It is an essential experience that takes a few hours, and is best timed so you hit the Gravity Bar at sunset. To beat the queus, book your tickets well in advance.
Jameson Distillery
If you haven't filled up on Guinness, there is still more Irish alcohol to be had. Irish whiskey is known around the world and Jameson Irish Whiskey is probably the most popular.
Whisky tasting at the old Jameson Distillery on Bow Street is a real treat, with insights into the process, history and science behind how to make a great Irish whiskey. You'll get to taste the good stuff too!
Why not do both?
Combine your tours with a visit to the Jameson Whiskey Distillery and Guinness Storehouse on this highly recommended skip-the-line tour, with a local Dublin guide, for a true Irish experience with plenty of craic!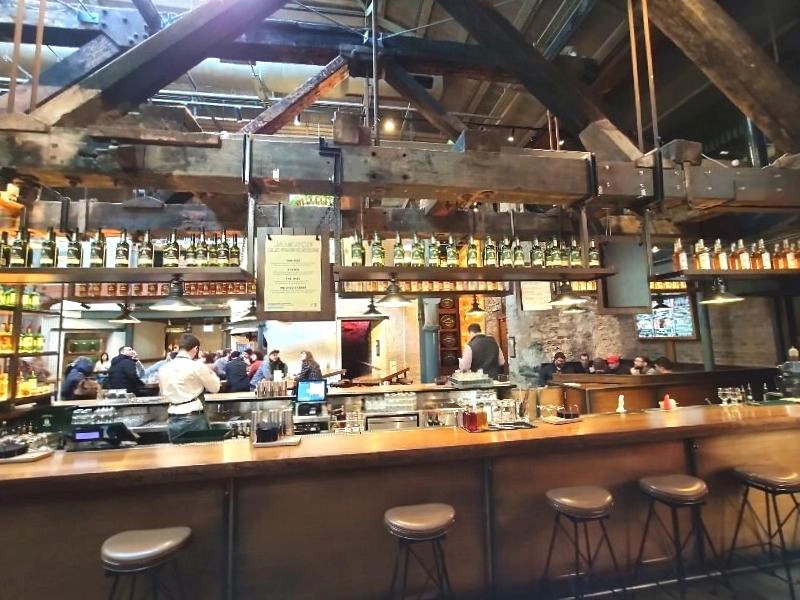 Temple Bar
If you only have time for one stop in Dublin, the Temple Bar district is where you need to go to experience the city. It consists of five to six cobblestone streets in between the River Liffey and Dame Street and has the highest pub concentration in Dublin, a city with over 1000 of them!
These pubs are some of the oldest in town, with The Temple Bar public house being the main attraction. Every establishment will serve traditional Irish meals, Guinness and other local favourites from lunch time to early in the morning.
This area is a tourist mecca, so you may find hen do's or bachelor parties going on during the weekend, and it is a little more pricey than other areas, but it's well worth it for the craic (pronounced crack, which is an oft-used word for having a great time, but means much more than that in Irish culture).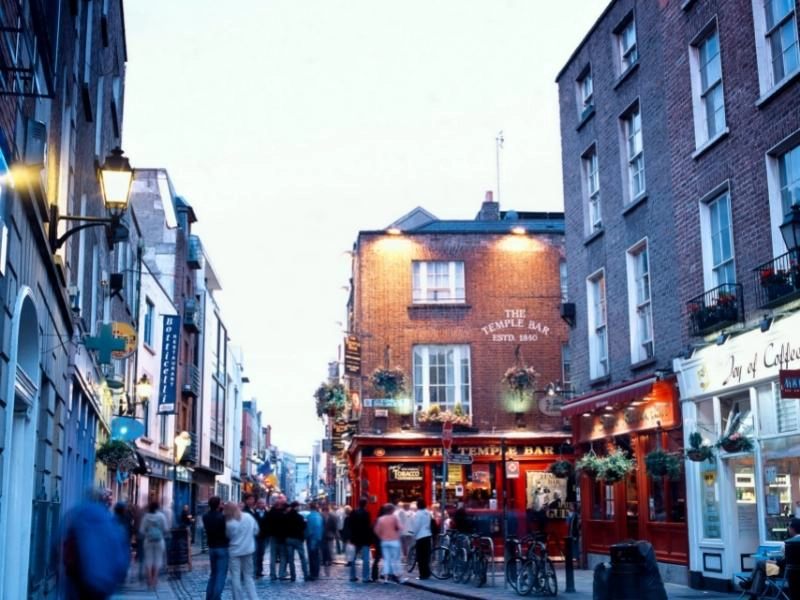 Where to Eat in Dublin
The best place to eat in Dublin for traditional Irish food is the pub. Irish pubs often serve all the classics like a hearty Irish breakfast complete with potato bread, homemade soups with soda farls (bread) for lunch, along with bacon and cabbage, fish and chips, Guinness stews, Irish lamb and colcannon (mash potato with cabbage), one of Ireland's best vegetarian foods.
Along with the great food and eclectic decor, you will often find traditional Irish music, known as a 'trad', going on in the evening. Fiddles, penny whistles and other foot-tapping traditional Irish instruments are played, which adds to the atmosphere and brings in locals, known as 'Dubs', as well as the tourist crowd.
If the tastes of Dublin appeals but you don't know where to start, book this highly rated Dublin food tour with an expert for an introduction to Irish food, the history of food in Ireland and the opportunity to try Irish fare at top Dublin restaurants.
The Hairy Lemon
The Hairy Lemon is conveniently located in the centre of Dublin and is famous for its role in the 1991 film 'The Commitments'. Today the pub is also well known for its pretty spectacular Guinness pie!
The Brazen Head
A large pub with an outdoor space, live music and good traditional food. The Brazen Head is rumoured to be the oldest pub in Ireland, but it pays the price for infamy by being recommended everywhere, so gets really, really busy.
The Pig's Ear
If you prefer a restaurant, The Pig's Ear is an Irish restaurant serving good, honest, Irish fare with a modern touch, in a stylish and cosy space close to Merrion Square.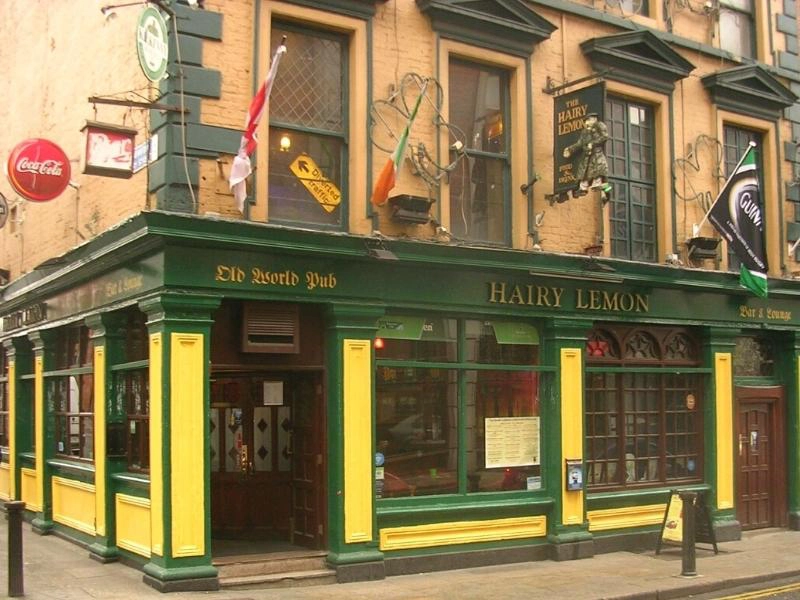 Top Five Dublin Travel Tips
The Leap Visitor Card makes it easy to travel between Dublin's many public transport systems. By buying a prepaid €10 card for 24 hours will save you time and money and includes the Airlink bus within the cost.
You may want to consider the Dublin Pass which you can buy online. The pass gives you skip-the-line access to 35 attractions and includes a bus tour. Check carefully that the attractions you want to visit are covered so the pass does actually save you money.
It is customary to tip 10% for waiting staff and tour guides. They don't depend on your tips, but it is welcomed.
Even though Ireland can experience lovely summer days, the weather here is always unpredictable and showers are not uncommon. Wear layers and carry a waterproof just in case!
The Gaelic word for cheers is slainte (pronounced slancha) and will be a good one to know as you enjoy the inevitable sampling at pubs and breweries!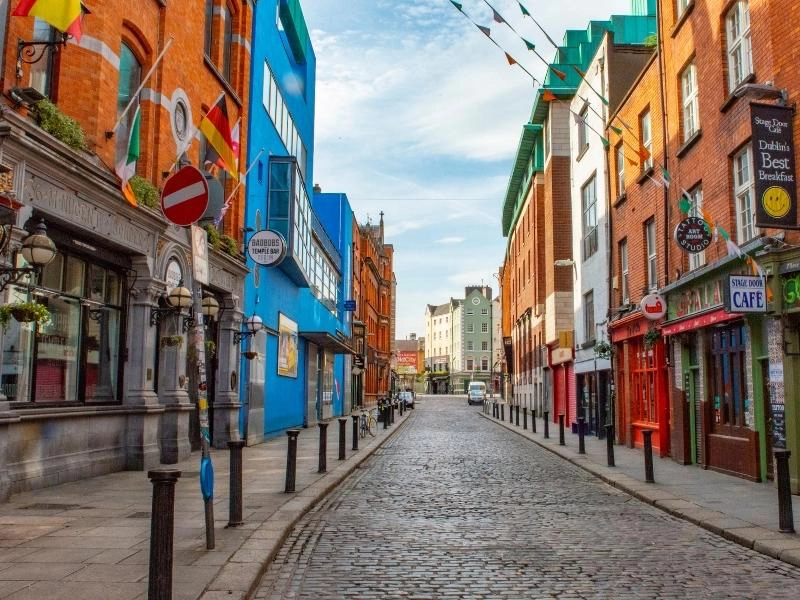 More Than One Day in Dublin
Ireland is an artistic country, having a musical instrument for its icon, and has an endless amount of museums, architecture and live music, theatre and comedy to fit anyone's taste.
As Dublin sits on the River Liffey that flows into Dublin Bay, there are lots of scenic walks and day trips available for anyone with a bit more time.
If you have another half a day in Dublin, or even longer, here are a few more attractions that could easily be added to the list above.
Howth Coastal Walk
Howth is the peninsula just North of Dublin, but still reachable on the DART commuter train. Walking around the coast is a scenic and rugged walk that takes about two hours and passes by lighthouses and marinas. If you start your journey from the Baily Lighthouse and walk towards Howth, you can and your journey among a small fisherman's village with great local restaurants before heading back into the city.
RELATED POST: Best Things to Do in Ireland: 34 Amazing Highlights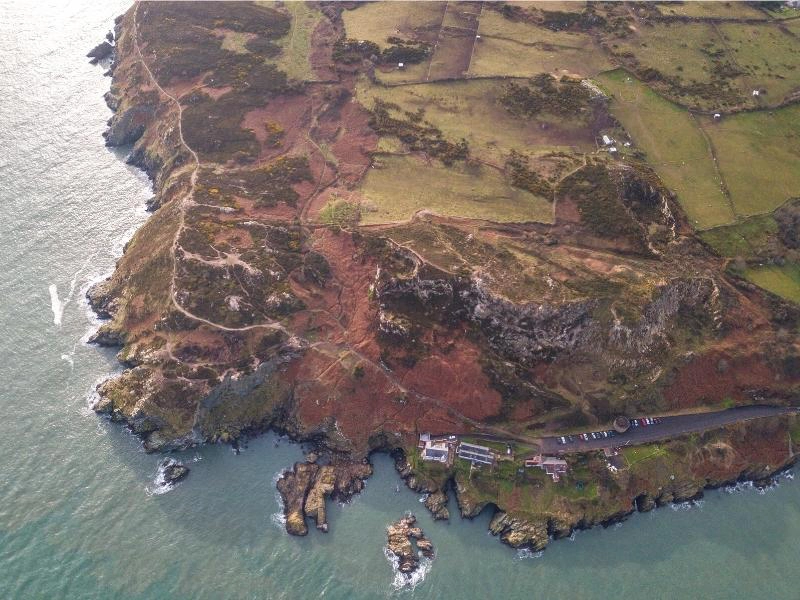 Learn About Irish History
If you still want to know more about the story of Ireland, visit the Irish Emigration Museum and nearby Jeanie Johnson tall ship, a replica of a 19th century vessel which took Irish immigrants to America.
Watch Hurling at Croke Park
Hurling or Gaelic football is the national sport of Ireland and known as the fastest game on grass. Players wear helmets and carry a hurley or wooden stick to hit around a small fast ball from end to end. It is exciting to watch in person and be part of the crowd at the modern Croke Park.
Explore Chester Beatty Library
Right next door to Dublin Castle is the award-winning Chester Beatty, a museum described by Lonely Planet as one of the best in Europe. Hidden in the castle grounds, the museum was established in 1950 house the rich and diverse collection of mining magnate, Sir Alfred Chester Beatty, which are today displayed in two atmospheric galleries. The museum is free to visit.
Visit Kilmainham Gaol
Kilmainham Goal was the county gaol for Dublin. Opened in 1796, the goal closed its doors in 1924. Today the building symbolises the tradition of militant and constitutional nationalism from the rebellion of 1798, to the Irish Civil War of 1922-23. Many Irish revolutionaries, including the leaders of the 1916 Easter Rising, were imprisoned and executed in the prison by the orders of the UK Government.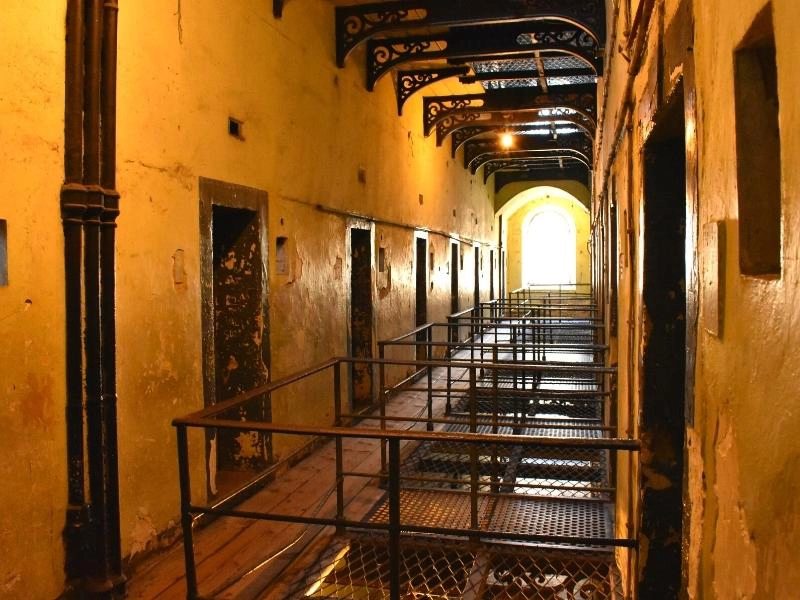 Cliffs of Moher, Kilmacduagh Abbey & Galway Day Tour
If you take one day trip from Dublin, make it this highly recommended and well organized multi-stop tour.
Explore the historic ruins of Kilmacduagh Monastery and its roundhouse before discovering the iconic Cliffs of Moher as they meet the Atlantic Ocean.
See the lunar landscapes of The Burren and visit lively Galway, full of old-world charm and cobblestone streets that evoke an authentic Ireland of times gone by. Drive along the coastal route of the spectacular Wild Atlantic Way to Kinvara, passing Dunguaire Castle and the 12 Bens mountain range before returning to Dublin.
With a professional guide to offer insights, an organized tour is the perfect opportunity to see more of Ireland in less time!
Written for The Gap Decaders by Tara of Tara's Travels.
Are you looking for more one day city itineraries? Check out these top posts…
Rich in culture, history and stunning architecture, the City of a Thousand Spires is one of Europe's most fascinating places. Today, the vibrant Czech capital thrives as a part of the EU and attracts tourists from around the globe. You could spend weeks exploring the city and still leave things undiscovered, but if you only have 24 hours, this one day Prague itinerary and guide will show you all the highlights.
Love it? Pin it!