Hamburg is a modern port city with a fascinating history. It is the second city of Germany, criss-crossed with canals and boasting more bridges than London, Venice and Brugge combined! Follow our Hamburg one day itinerary and travel tips to spend one day in this city steeped in history, shipping and trade and find out more about Hamburg's must-see sights.
There are affiliate links in this post.  This means if you click on a link and make a purchase, we will, at no cost to you, earn a fee.
Hamburg is a perfect city in which to spend a day.  Follow our Hamburg itinerary and travel guide to this easily walkable city, which can be navigated on foot, with all the key sights being close to each other.  If you don't fancy walking then the public transport in Hamburg is superb with buses and the u-bahn running regularly.  Spend just one day in Hamburg and you will leave understanding  the essence of the city and it's history.
Looking for somewhere to stay in Hamburg?  Check out all the best deals and special offers on Hamburg hotels at 
Booking.com
.
A guided tour is always a good place to start; it will give you a flavour of the city. You will learn loads of interesting things about Hamburg and you will have time left in the day to re-visit or act on your guide's recommendations for other places to see and Hamburg must see sights.  Alongside the general walking tours, there are also specialist tours of St Pauli and the Reeperbahn, Hamburg street art, Beatles tours, culinary tours and many more.  
Hamburg is a city state and is one of 16 German states; the Rathaus, or town hall, is the seat of the government of Hamburg.
Constructed between 1886 and 1897, it is a huge icon of a building with a fantastic verdisgris copper roof and ornate detailing and statues along the frontage.  This large and imposing building dominates the Rathausmarkt and Hamburg town centre.
The Rathaus was constructed on 4,000 wooden poles drilled into the muddy shores of the Alster lake.  There is a rich history in Hamburg of building on mud and marshland, bought to Germany by their neighbours the Dutch, who of course excel in this building method.  A fine example can be seen in the old town along Nikolaifleet and the Cremon, where some of the oldest houses  in Hamburg drunkenly lean on their neighbours.  These houses, built backing onto a canal which was a port, survived the great fire of 1842 and date back to the second half of the 17th century….they were built by, you've guessed it, the Dutch!
If you have time, take a tour of the Rathaus and learn about the fake document which gave Hamburg it's 'free city' status and meant it paid no trade taxes until 2003!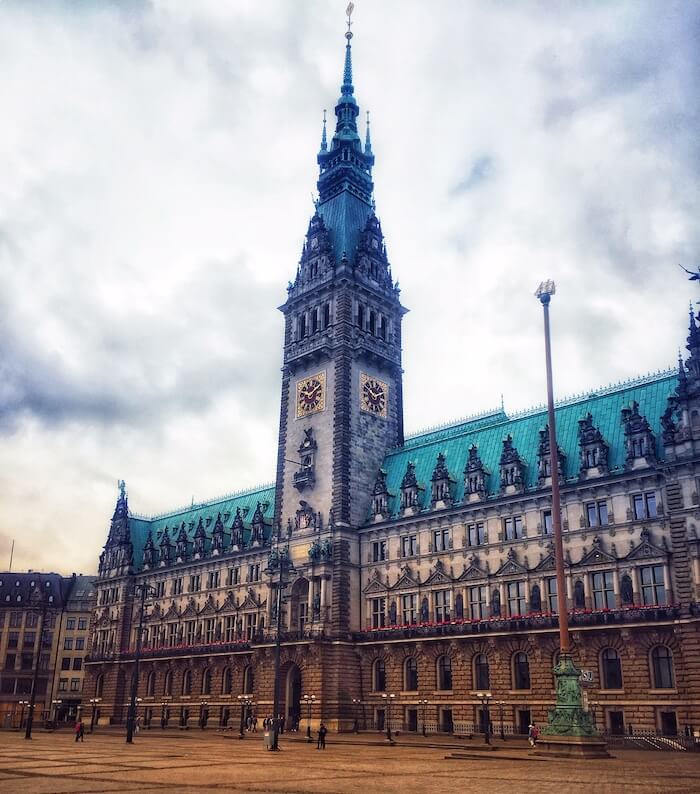 Look out for Stolperstein
Stolperstein, literally stumbling blocks, are sett-size (10x10cm) concrete cubes bearing a brass plate inscribed with the names and life dates of victims of Nazi extermination or persecution. Since 1992, there have been more than 70,000 such stones laid by artist Gunter Demnig, across 1,200 cities in 24 countries, in Europe and Russia.  
Seeing the stones and reading the inscriptions was an incredibly moving experience, knowing they had been laid outside the last known place of residence of the individual's choice.  They shine up from the drab (and often wet, this is Hamburg!) paths and pavements of the city, telling the story of the person they commemorate; making sure they, and the genocide of six million people is not forgotten.  One particularly poignant grouping is those stolperstein laid outside the Patriotische Gessellschaft on Trostbrucke, an organisation developed in 1765 for the good of Hamburg, epitomising working together as a society.
Not everyone in Germany agrees with the concept of stolperstein, this excellent article in The Guardian explains why and shares more insight into the project.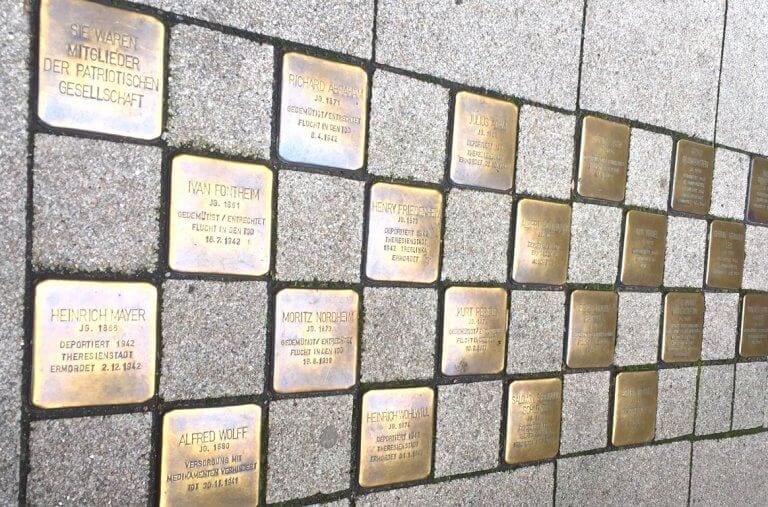 Visit the Memorial of St Nikolai
Destroyed in Allied bombing raids in 1943, this Gothic church is now a museum and observation deck. It was decided after the war to not return St Nikolai to a parish church as it had been before, but to make it into a memorial where Hamburg could remember their dead and the atrocities of the war.
The air-raids were known as Gomorrah because the locals felt as though fire and brimstone was raining down from the sky. Over one week, the fatal combination of using high explosive and incendiary bombs resulted in unprecedented devastation. First 'blockbusters' were dropped which cracked open houses, then incendiaries containing phosphorus raised a firestorm which at times reached an altitude of 6,000 metres.  The entire city turned into a volcano, a vent, a gigantic stack in which hurricane-like winds drew the hot air upwards causing low pressure on the ground which in turn sucked in oxygen, thus acting as an accelerant.  The air-raids annihilated the city and left over 34,000 Hamburgers dead.  
There are two very different, modern, sculptures by Edith Breckwoldt; one predicts the struggle of Hamburgers to pull themselves back to humanity after the Allied bombings.  In perfect irony, the other depicts a prisoner of war in despair.  
The second sculpture, aptly called 'The Ordeal', is set atop a pile of bricks, representing the factory close to Hamburg where prisoners of war died in the production of bricks.  It was not realised until many years after rudimentary repairs were made to the remains of St Nikolai, that the bricks used were from the very factory where German citizens were detained and worked to death. 
This is a deeply moving place where the lose-lose outcome of any war are palpable.   St Nikolai really is a must-see on your tour of Hamburg.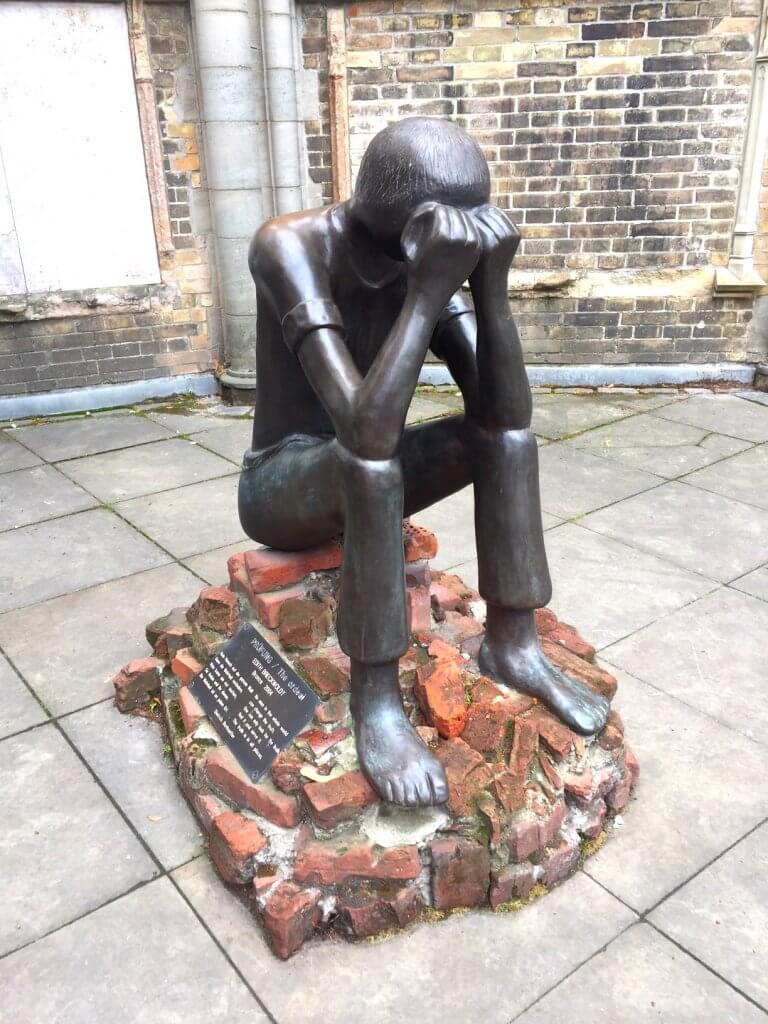 Wander Through the Speicherstadt
In 2015, Hamburg's 19th century warehouse district (speicherstadt means city of warehouses) became a UNESCO world heritage site.   The area is well-known landmark and symbol of the rich Hanseatic history of the city.  The entire district is built on thick oak piles, which create a warehouse complex of over 300,000 m2 and stored goods shipped to  Hamburg from the rest of the world.  
In close proximity, Europe's first ever office district emerged to manage the growing import and export market.  Built in 1883, the original, charming buildings have been preserved and along with the canals, bridges, museums and coffee shops scattered amongst them, make this an interesting and vibrant place to visit.  
As you wander south from here you will come to the regenerated dock area, which gradually became redundant due to the increase in size in ships visiting the harbour city.  There are some interesting modern buildings here and a nod to the past with the old cranes remaining in situ.   It would seem that Hamburg is now on it's fourth port iteration; from the tiny Dutch build 'drunk' houses in the old town to the current vast (and growing) modern container port on the Elbe.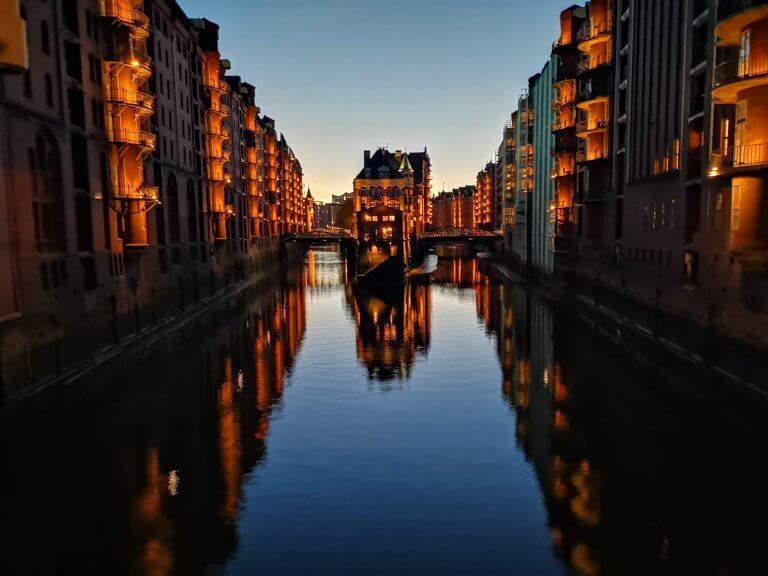 Visit the Elbphilharmonie
The Elbphilharmonie sits proudly on the banks of the Elbe river. This ultra-modern landmark and concert hall has divided Hamburg.  Not only because of its' striking architecture but because of the cost and complete mismanagement of it's build!
Not only is Hamburg the second city of Germany, it is the second wealthiest too.  We all know that wealthy cities are such because they manage their money well, so the shock and anger at the cost of building this landmark was felt far and wide.  With an original budget of €86m, a lengthly (two years) row with the contractors, frequent changes of design and spec and a total lack of oversight, the final cost was…….drumroll….. €886m.   Yep, you read that right, 10 times as much as the original, signed off, costs.  
Hamburg was in uproar, being a state of Germany there was no money forthcoming from elsewhere, so Hamburger tax-payers have had to suck-up the additional costs, with a calculation of 150 years before the building pays for itself! If you are a resident of Hamburg, you can see the special concerts played to mollify the locals, for only €5 a seat.  For the rest of us, grab your free ticket (ignoring the touts trying to sell the free tickets) and go up to the observation deck for un-rivalled views of the harbour and city sky-line, whilst admiring this most expensive of buildings and wandering how on earth it cost so much!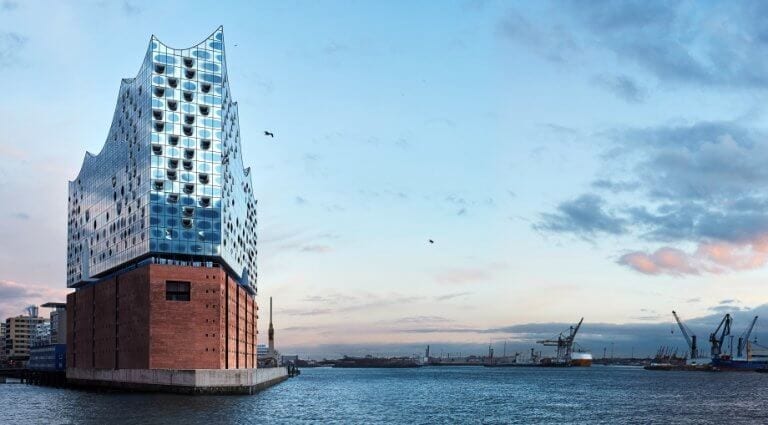 No trip to Hamburg is complete without a foray onto the water.  How could it be? Hamburg is the biggest seaport in Germany and has one of the largest harbours in the world.  Their maritime trading past is the bedrock on which Hamburg has grown and developed over the centuries.  
There are a number of boat trips available; you can cruise the Alster Lake on a historic steamboat, take a tour of the canals or head out onto the Elbe for a tour of the harbour to marvel at the enormous container ships carrying up to 10,000 containers and see the historic sailing ships in permanent dock.  You'll have by far the best view of the Elbphilharmonie for here too!
For lunch in Hamburg, the thing to do is a fischbrotchen (fish roll), you are after all in sea city, famous for fish!  The humble fischbrotchen is a simple snack, typically made with pickled herring, onion, pickles and remoulade sauce. However, in modern day Hamburg there are many options; you can choose which fish, how it's prepared, the type of roll and so on.  Don't pay any more or less than €4-6; you will either be ripped off or be served a fischbrotchen of dubious quality.  Best eaten sitting on a sea wall out of a paper bag…you won't have time for much else if you follow our Hamburg one day trip itinerary!
If you've found our post about Hamburg in a day helpful, then check out our other European city guides for more ideas and suggestions.
NEED MORE CITY INSPIRATION? CHECK OUT THESE TOP POSTS