This post may contain affiliate links, from which we earn an income.
Motorhome Travel in Belgium
A motorhome road trip to Belgium is ideal for a quick get away from the UK and is a tiny yet fascinating country. Belgium is often overlooked and passed through en-route to elsewhere but if you make Belgium a motorhome destination, you'll be glad you did!
Motorhome Stopovers in Belgium
Belgium is an incredibly welcoming country, particularly accessible to UK visitors, with designated motorhome and RV parking in most towns and cities.
Aires
Like France, Belgium has a great aire system. There are approximately 100 aires in Belgium for motorhomes although most are located within the north (north of Brussels) of the country, while the southern areas of Belgium are more sparsely populated.
Use Park4Night or All The Aires to find overnight stops in your motorhome or campervan. You can find more information on these and other road trip resources here.
Aires are often free of charge, particularly in smaller towns and villages, although you may have to pay a nominal fee for services.
There are a very limited, if at all, selection of aires around the big cities; you will need to stay in campsites or further afield and utilise public transport if you want to visit.
Wild Camping
It is not clear whether wild or free camping in Belgium in a motorhome is illegal or not, after years of travelling through Belgium we have never managed to get a straightforward answer. But, we have wild camped and been passed by Police vehicles without any issues.
Use the resources mentioned above to find places for wild camping in Belgium. Read others reviews, be mindful of where you are and not having equipment outside your van or making any noise. We have found Park4Night consistently returns the most search results.
Look for signage to see whether there is any specific information on motorhomes, parking or camping.
If you are uncomfortable or worried about being fined, move on.
Always follow our general tips on wild camping which you can find here.
With such a great network of often free aires in rural and peaceful locations, wild camping is maybe not the best choice of camping in Belgium.
Campsites in Belgium
If you are looking to stay on camping sites in Belgium, ACSI have over 60 member motorhome sites in Belgium. Usually the standard is very high, with modern and clean sanitary facilities and well managed restaurants and site shops.
Try Tripadvisor for the ten best Belgian campsites.
Driving a Motorhome in Belgium
Belgian drivers are considerate behind the wheel; the road system here is well maintained.
Click here to see the AA's information about what you need to carry when driving your motorhome or campervan in Belgium.
You must have at least 3rd party insurance for your vehicle. Update August 2021 – you no longer require a green card to prove you have vehicle insurance cover when travelling in Europe.
Your UK licence allows you to drive in all EU countries. If you only have a paper driving licence or a licence issued in Gibraltar, Guernsey, Jersey or the Isle of Man then you will need an International Driving Permit.
Belgium's roads are lit 24/7 along almost 100% of it's network, it's so bright you can see it from space!
The diesel price in Belgium is usually 10-15p cheaper per litre than the UK.
Although toll's are required for all commercial vehicles over 3,500kg this does not apply to motorhomes and RV's who can fully utilise the road system free of charge.
If you are driving in a city, trams have priority over cars, as do passengers getting on and off.
Priority is given to the right; drivers must stop for traffic joining from the right. Marked by an inverted "yield" sign with a red "X" in the middle, the "priority from the right" rule means that cars coming from the right always have priority, unless a yellow diamond sign or other priority road sign has been posted. This does not apply on motorways, roundabouts, and roads sign-posted with an orange diamond within a white background.
There are Low Emissions Zones (LEZ) in Antwerp, Brussels, Ghent, Mechelen and Willbroek. You must register for LEZ access prior to entering the zone. Click here for more information.
Make sure you know the spelling of your destination in both French and Flemish or you may well miss a sign; did you know that Antwerp is Anvers in French? Better yet, use a sat nav on your motorhome tour of Belgium!
If you are stationery, do not start and leave your engine running, you can be fined.
If you're looking to hire a campervan or rent a motorhome in Belgium, check out Indie Campers for special deals and the best prices.
Belgian Life
There are two distinct communities in Belgium; Dutch-speaking Flemish and French-speaking Walloons. Belgians tend to think of themselves as Europeans first, Walloons or Flemings second, and Belgians third. Belgium is one of the most urbanized and densely inhabited countries in the world with about 97 percent of the 11.4 million inhabitants living in cities.
Belgium has more castles per m2 than anywhere else in the world. It's hard to track down the specific figure, but it is somewhere in the region of 3,000…yep, that right, 3,000 in this tiny country. The variety of castles here is just one of the many reasons to visit Belgium!
Belgium does not have its own language; the main languages are Dutch (Flanders) and French (Walonia), they are also the joint official languages. Just to confuse matters, German is also recognised as the third national language. Thankfully, English is widely spoken!
Belgian borders are complicated; the town of Baarle-Hertog is so intertwined with the Dutch town of Baarle-Nassau, that some buildings and homes are divided between the two countries!
Belgian's tend to be rather reserved or introverted in their first contacts with other people, but are genuinely warm and friendly once you get to know them better.
To outsiders, Belgium seems to lack a clear national identity. On the basis of language, Wallonia seems to fit in with the neighbouring France and Flanders with the neighbouring Holland, although there has never been any suggestion that the country should be broken up.
All Belgian's are happy when they can enjoy a safe and comfortable lifestyle, the best of everything life has to offer and be together with their family and friends.
Belgian's place a high value on privacy and will not interfere in other's disputes; 'live and let live' is a strong mantra here.
Shopping in Belgium is much as it is a home. Shops in bigger towns and cities often do not open until 10am but will stay open all day. There is no specific law against Sunday opening, but it is not yet common for all shops to be open on Sundays.
There are two strict sale periods every year, in January and June with dates controlled by central government. This is a great time to find a bargain as shops need to shift their un-sold stock pretty quickly!
Start your beginners journey to life on the road with exclusive checklists, free downloads, tips & more
Food & Eating Out in Belgium
Belgium seems to have snuck up on the rest of Europe as a gastronomic powerhouse. Belgium is a nation of food lovers and has over 140 Michelin starred restaurants. Its chocolate and waffle heaven and serves some of the best coffee in the world.
Eating out in Belgium is much as it is at home in the UK, with meal times mirroring our own.
Tipping your waiter in Belgium is not required nor expected. Waiting staff are paid adequately. Belgians will generally only tip when they consider the service exemplary.
Beer is the drink of choice in Belgium and it's taken so seriously that most beers demand to be drunk from a different shaped glass (much like wine in neighbouring France). Most beers in Belgium are produced by small local breweries and can be found in any restaurant or bar. Bruges has a beer wall with more than 1250 real ales on display!
Fries (frites in French) or chips to us, are a particular speciality and are served with many different types of sauces, although the favourite is mayonnaise. If you are a chip aficionado, you can find more information here. Do NOT make the mistake of calling them 'French fries'!
In Belgium, legend says the Prince of Liège's chef made a thick waffle coated with caramelised sugar sometime in the late 18th century, reputed to be the first Liège waffle. This type of waffle is one of Belgium's most popular varieties today; who even knew there were different varieties?  You can buy them made to order on every street corner, in every Belgian town and city with hundreds of toppings. Yum!!
No visit is complete without sampling some delicious Belgian chocolate, which must be made in the country to be labelled as such. Sampling chocolate in Brussels is a must if you're visiting the city, where there is a great selection of independent and artisan chocolatiers from which to choose.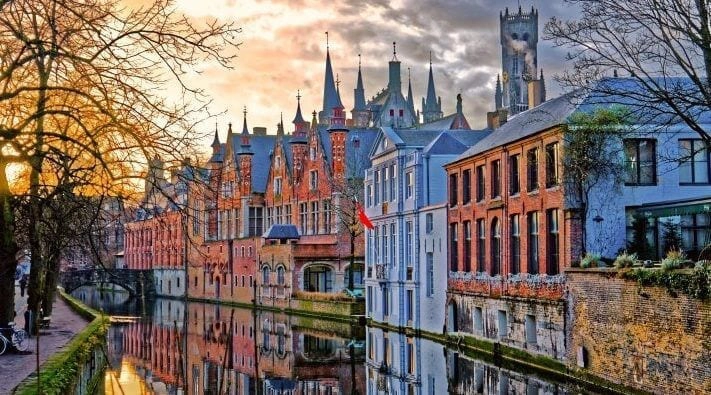 Are you looking for more motorhome touring guides? Check out these top posts…
New Zealand is an absolute dream for campervan enthusiasts. The breathtaking landscapes, diverse wildlife, and incredibly friendly locals make it the perfect destination for your next campervan adventure. We'll will provide you with all the tips, tricks and insider knowledge to make your vanlife experience in New Zealand truly unforgettable. So, buckle up and get ready for an adventure of a lifetime!
Love it? Pin it!