This post may contain affiliate links, from which we earn an income.
CampingCard ACSI – All You Need to Know
If you want to motorhome in Europe, then the chances are you'll want to stay on a campsite at some point. The ACSI camping card provides low season discount on thousands of campsites across Europe. We share all our top tips to help you get the most from your ACSI card.
Whether you're a dedicated motorhome wild camper, lover of aires or are looking for a long term campsite to make the most of the winter sun, then an ACSI card can help you save money in the low season. But, getting to the money saving bit can be complicated as there are so many add-ons and additions on the ACSI websites!
Our guide outlines all the options and explains how to use the card in Europe to get the best savings.
What is ACSI?
ACSI and their campsite guides have been around since 1965. That's a few years before my Mum and Dad started carting us off round Europe with a massive orange canvas tent on the top of the car!
Back then they were called Auto Camper Service International. Now they're known Europe-wide as just ACSI – pronounced Aksee, and are considered European campsite specialists.
Their initial offer was their green camping book, but now they have a number of arms to their organisation, offering discount cards, memberships or camping carnet, campsite holidays and campsite finding and booking services – all of which are available online.
What are the different ACSI services?
CampingCard ACSI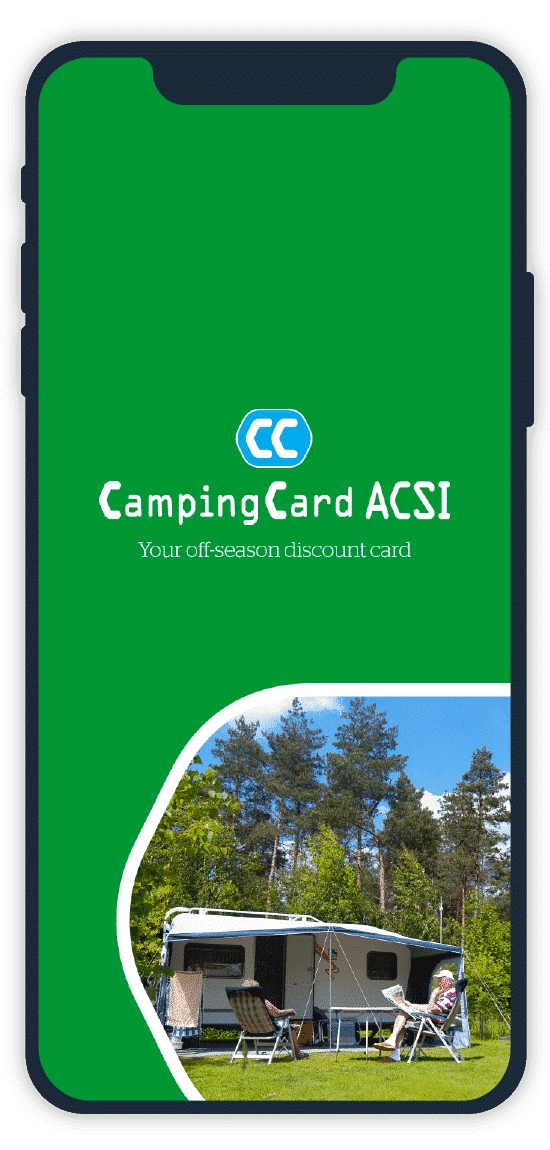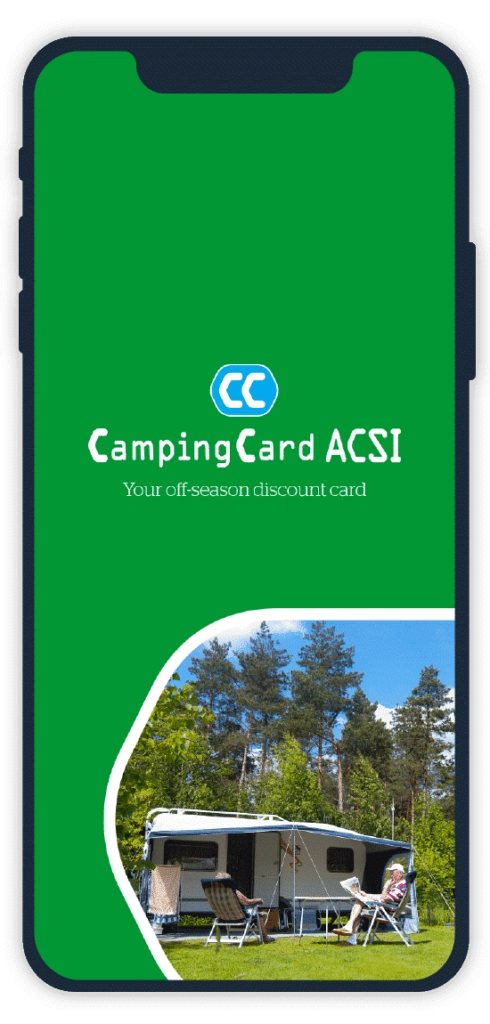 Today, Camping Card ACSI is probably ACSI's best known product. This card provides up to 60% discount at more than 3,600 campsites across Europe and the United Kingdom during the low season.
ACSI have a couple of combi-packages depending on your needs;
Subscription
With the subscription package, you get the ACSI UK guide, and of course, the all important ACSI discount card.
There is a minimum two year subscription. No renewal is necessary and you'll get your annual pack in the post in December, before Christmas, every year. There is a small discount if you're a Club ID member (more of that in a mo!).
The 2023 ACSI subscription cost for your first year is €20.94 if you have ACSI Club ID membership, or €21.94 without. In year two, this may rise, and ACSI will notify you if this is the case. Shipping costs €3.50 to the United Kingdom.
This price includes the cost of the ACSI app, but if you prefer not to have that, just untick the green box and you'll see the prices reduce to €16.95 and €17.95 respectively.
One-Off Purchase
The one-off purchase option gives you the books and the card, whenever you choose to buy them. Access to the app costs a few euros more.
But, be aware that the card and app are only valid until 31st December every year, so if you order your CampingCard ACSI in September, you'll only get access for the remainder of the year.
The ACSI card 2023 cost is €24.94 if you have ACSI Club ID membership, or €25.94 without, including the cost of the app.
If you prefer not to have the app, just untick the green box and you'll see the prices reduce to €20.95 and €21.95 respectively.
It's worth keeping an eye open for the special offers ACSI sometimes have if you buy later in the year. But, whenever you buy, the card and access to the app always expire on 31st December.
Even if you stay in the (normally) top priced participating campsites, you'll save enough money within a week for the ACSI CampingCard to pay for itself several times over.
Step-by-Step Guide to Accessing the App
Go to the App Store for iphones and ipads or Google Play for Android devices. Search for 'CampingCard ACSI Campsites', making sure to select the app with the blue CC logo. Download the app.
Open the app and log in using the details you supplied when you purchased the package.
Select the country packages you want to use and download. Do this at home so you don't use all your precious (and limited) data abroad!
Repeat for another two devices if required (we find a tablet a bit easier to use – it's an eyesight thing!).
You're all set for a fantastic motorhome holiday!
ACSI Club ID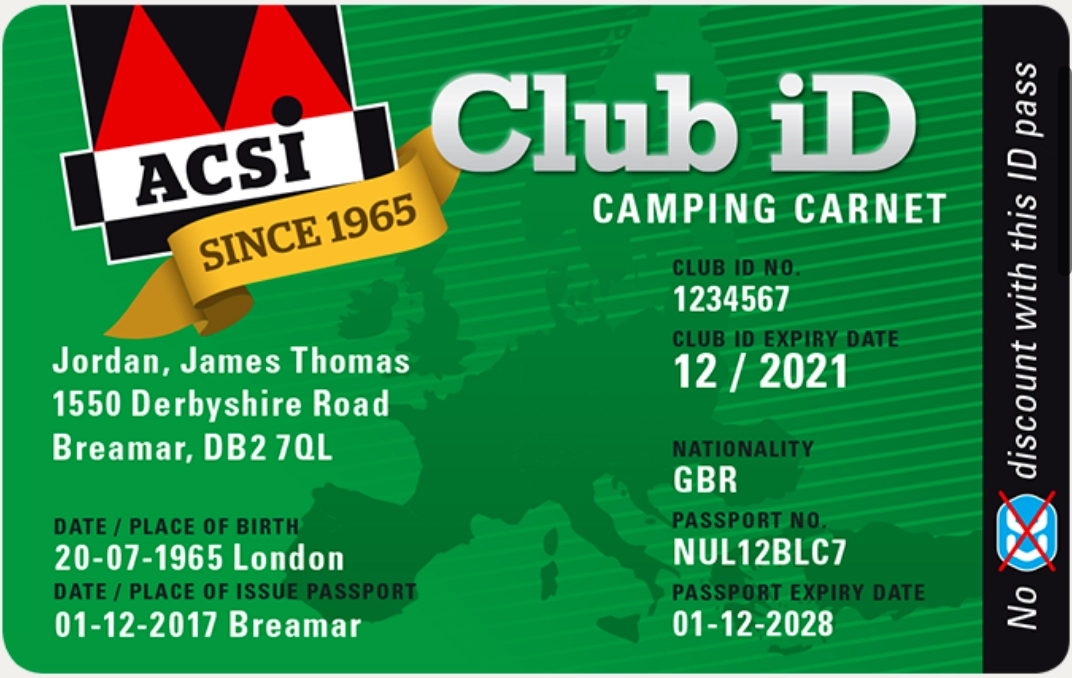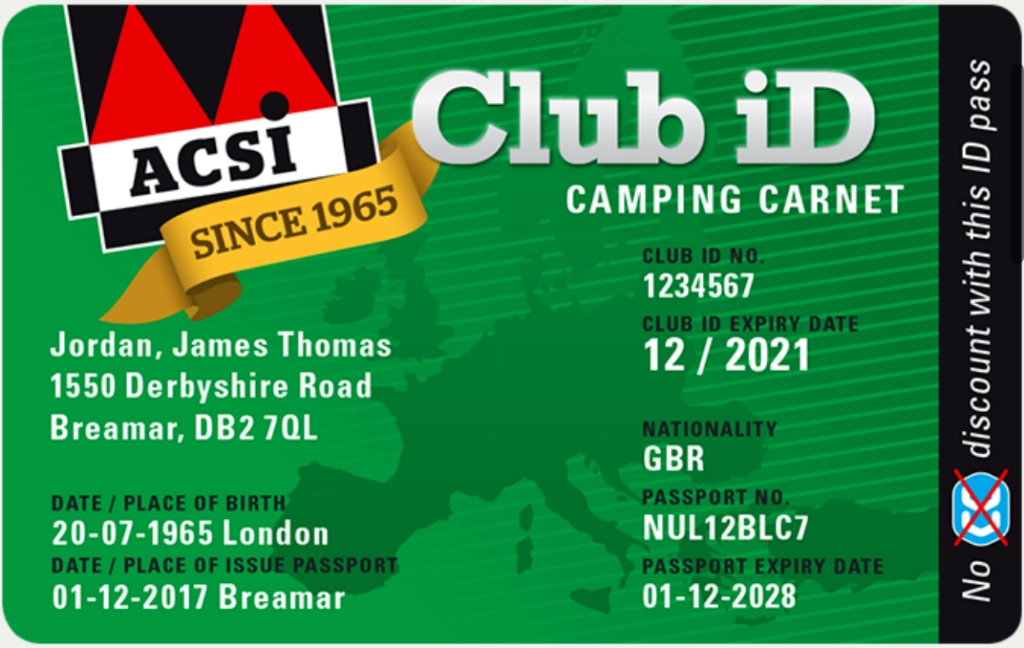 Lots of people ask whether they need ACSI Club ID. For an annual fee of €4.95, these are the ACSI membership benefits;
A €1 discount on your first years subscription or one-off purchase.
Insurance against third party claims on campsites for you and eleven party members. We've never heard on anyone on a campsite being sued for anything, but I guess there's a first time for everything!
Replacement ID – the card can be used as an alternative identity card when checking in, meaning your passport can stay safe wherever you hide it! In our experience, at least 50% of sites will want your passport anyway (especially in Portugal where it's a legal requirement).
ACSI Club ID is an ongoing membership automatically renews every year, unless you cancel the automatic extension at least one month before the expiry date.
ACSI Campsites Europe App
The ACSI Campsites Europe app provides information on over 7,950 ACSI inspected leading European campsites in 30 different countries.
You can find sites and filter by location using GPS services in your phone and by price, style, average rating, facilities, and lots more, such as whether the site has a swimming pool. You cannot filter to find sites which only accept the ACSI CampingCard, which is a real drawback.
Each camp site has its own page showing information gathered by the ACSI facilities inspection team, meaning you'll get up to date and reliable campsite information. There are also reviews from people who have stayed there, and detailed information about everything you might want or need to know about the site.
Once you've found your perfect site, you can save in your favourites list and book online – this is a relatively new feature and needs the chosen campsite to also use the app, currently there are 1080 sites that are bookable.
You can also get extra information about motorhome pitches, such as size, nearest drinking water outlet and substrata, but this costs extra and we didn't find it particularly helpful.
The app can be used without an internet connection on up to three different devices, making it a great addition to your overnight stop toolbox.
It is this app that the ACSI CampingCard pack above gives you access to, but it's also possible to buy this as a stand-alone product if you only travel in school holidays and don't need the ACSI discount card.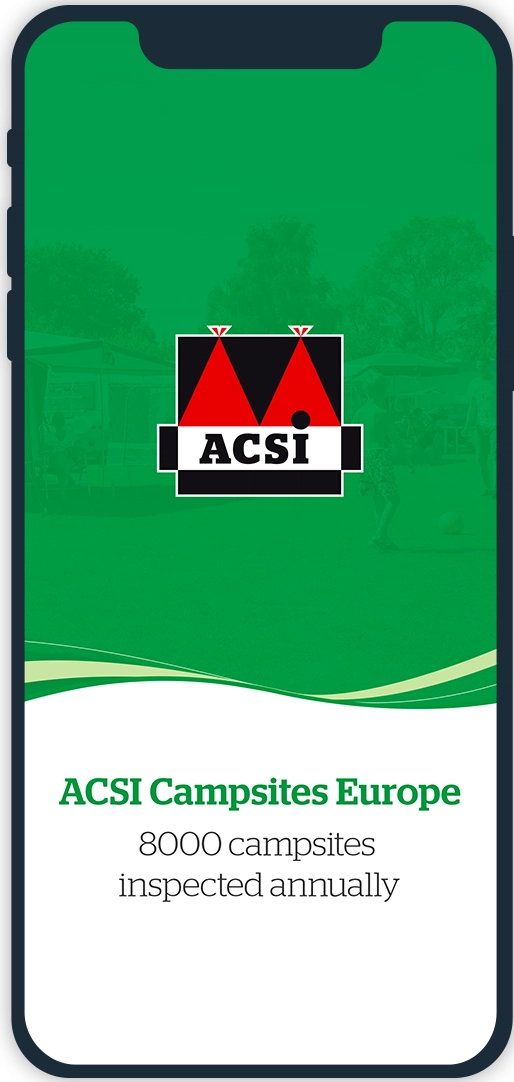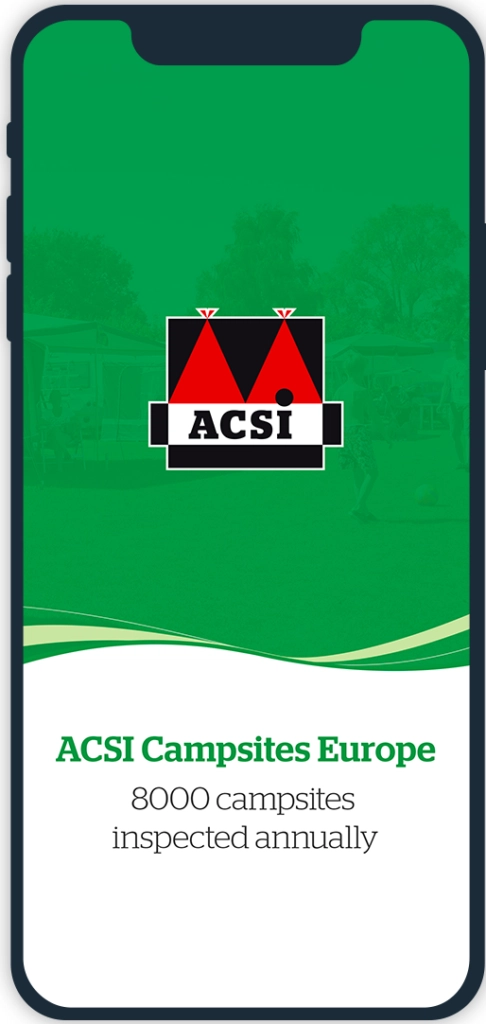 The ACSI Campsites Europe app allows you to find a suitable campsite or motorhome pitch in Europe quickly and easily.
The app gives you access to 9,300 campsites inspected by ACSI and 9,000 motorhome pitches that have been checked, as well as real-time user reviews.
The app can be used without an internet connection, and on three devices at the same time.
The app costs €1.99 for a one month subscription, €4.99 for a three month subscription and €9.99 for an annual subscription.
It's worth noting that all the information available in the app is also available free on the Eurocampings website. The advantage of the app is that you don't need an internet connection to use it and the website can be a little tricky to use on a mobile phone, and not everyone wants to carry a laptop around on their motorhome holidays!
ACSI also hold awards every year, with various categories of prizes. In the ACSI Awards 2023, the best motorhome pitches included sites in the Netherlands, Croatia, Italy, Germany, Austria, Spain, France, Belgium, Luxembourg and Denmark. You can find the winning sites here – perhaps they'll inspire your next trip!
ACSI Great Little Campsites App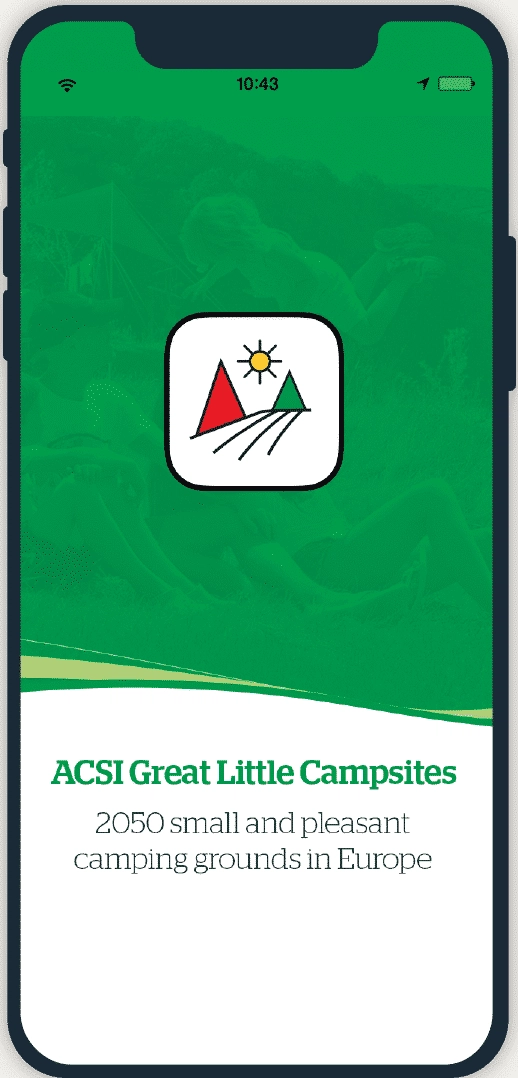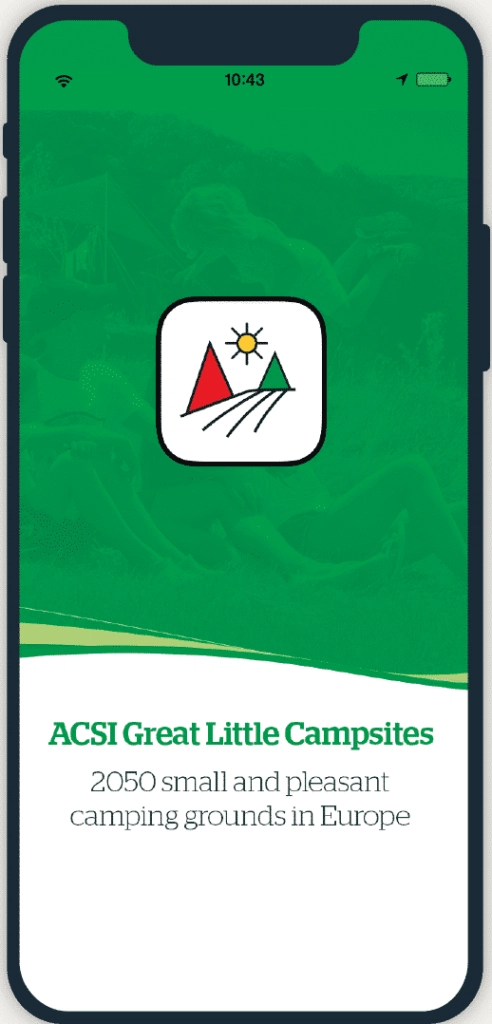 The Great Little Campsites app specialises in smaller camping holiday sites across Europe and has over 2,000 on the app. From naturists to wintersports campsites, the holiday themes on this small campsites app offer lots of choice!
As with the Campsites Europe app, it's free to download with 25 selected Dordogne campsites included. If you like how it works, you can then purchase the full database for €3.49 a year.
You can use the app across three different devices and without internet.
For €9.99 you also get access to the same 9,000 motorhome sites across Europe as shared in the Campsites Europe app.
ACSI Frequently Asked Questions
Is an ACSI CampingCard worth buying?
If you're planning to travel in the low seasons, then absolutely the ACSI card is worth purchasing.
You only need to stay a couple of nights at a campsite in the UK or Europe and you'll have saved the cost of the book and app with the Campingcard ACSI discount of up to 60% per night.
What does the ACSI rate include?
In 2023, the top ACSI rates are €13, €15, €17, €19, €21 and €23. Usually, the rates go up by €1 every few years.
The rate covers the following;
A standard pitch for a motorhome with awning or caravan with awning.
Two adults and up to three children under 5.
EHU to a maximum 6 amps with a maximum consumption of 4 kWh per day.
A hot shower for each person per day (if the site uses tokens these will be supplied on check-in).
One dog (if the site is dog friendly).
VAT.
The rate does not include any tourist tax, environmental surcharges, hot water for washing up (why? but in any case, we have never been denied), and any administration charges.
Some sites offer additional discount in the form of extra nights for free. You can pay for 6 nights and stay for 7, 12 nights and stay for 14 or 18 nights and stay for 21.
Does the ACSI rate apply to all pitches?
If you stay on a smaller site where all the pitches are the same, usually without on-pitch services, you can often have a drive around and take your pick.
Larger, more commercial sites, found on the coasts, often have luxury or premium pitches which include fresh water and drainage. These may not be (probably won't be!) offered at the ACSI rate.
Is the ACSI rate always the best rate?
If you're staying for less than a week, the ACSI rate is usually the lowest, unless the site offers the additional nights for free discount. Any longer and sites start to offer their own discounted rates in increments for long stayers.
One year, we were learning to kite surf in Tarifa. We stayed for a month at a site near the beach. The ACSI rate was €14 a night, but the site rate was €10.50 a night if you stayed for more than 30 nights.
If you're looking at rates like this, make sure they also include electricity and showers, as some sites add this cost on, making their rate less attractive in comparison.
Can I book an ACSI pitch in advance?
The ACSI Campsites Europe app has recently developed to allow you to book a pitch at sites which also use the app. But, you are unable to book at the ACSI CampingCard rate.
However, as all ACSI rates only apply out of high season, booking is not really necessary. If you know the site will be busy because of a rally, local holiday or some other such event, it's always worth a call to book with them – we've done this a couple of times and on production of the ACSI card at check-in we have been provided with the discounted rate.
When is the ACSI rate valid?
The exact dates can differ from site to site and are always shown in the book and on the app. Generally if schools are off then the normal rate will apply! From mid-July to mid-September to high-season rate will kick in, and on some sites (although we've never seen it), Easter is also excluded.
Are ACSI sites open all year?
That depends on the site! In Spain and the Algarve almost all sites will be open all year. In France, many will close for the winter. Opening dates for each site are shown in the books and app.
Do ACSI offer customer service?
They do, but we have found it to be a bit patchy. In some years, there have been delays sending the books out, and if you only have a small window for delivery because you full-time for example, this can be frustration.
One year, we were unable to enter a Spanish address into the system and found it very difficult to get through to ACSI customer services.
Do ACSI sell just the books?
You can check what books are available in the ACSI Webshop. If you want to buy the ACSI Camping Card without the app, choose the one-off purchase option and don't click to include the app.
If you're looking for the Suncamp app, this is no longer affiliated with ACSI, but you can find it here.
I'm already abroad, how can I get the card?
It depends where you are. You're in luck if you're in Spain as a number of motorhome and caravan outlets sell the card, you can find a list of them here.
Otherwise you can order through Amazon and have the card sent to your campsite address, but this does not include the app. Find the book on Amazon UK and then locate the same one for the Amazon in whichever country you are, open an Amazon account in that country and order for (usually) next day delivery to your campsite. If you do this on a laptop or tablet, Google will translate the page for you 🙂
What happens on arrival?
To get the ACSI rate you must show the card. Showing the app or book does not work, the physical card is what you need to secure the rate.
Once the card has been seen, if the site isn't busy, Reception will usually suggest a drive or walk around to find a pitch you like.
Often, you can drive onto the pitch, get your motorhome set up and then go to Reception to check in.
If you're only staying for a night, it's normal to pay in advance, otherwise you pay when you leave. It's not necessary to specify how many nights you want to stay at check-in, Reception know that people often change their minds and stay longer if they like the place!
Where are the best ACSI sites?
We spend more time wild camping than we do on sites, but sometimes you just need to check-in to a site for services, clothes washing or just a really good, long shower!
We have loved these ACSI sites – click the link for more info.
Are you looking for more motorhoming tips & tricks? Check out these top posts…
New Zealand is an absolute dream for campervan enthusiasts. The breathtaking landscapes, diverse wildlife, and incredibly friendly locals make it the perfect destination for your next campervan adventure. We'll will provide you with all the tips, tricks and insider knowledge to make your vanlife experience in New Zealand truly unforgettable. So, buckle up and get ready for an adventure of a lifetime!
Love it? Pin it!