This post may contain affiliate links, from which we earn an income.
Campervan & Motorhome in Touring Europe
Do you want to explore Europe in your motorhome or campervan? There is enough culture, nature and diversity to last a lifetime. Taking a motorhome across Europe seems like an awesome idea, especially with our ultimate guide to help you work it all out!
We're Phil and Izzy and we've been touring and travelling in a motorhome in Europe for nearly five years. In this post, we share everything we've learned on the road in Europe.
Find out how you can travel Europe in a motorhome with practical motorhome advice, Europe motorhoming itineraries, travel tips and hints about living in a motorhome full time and loads of other useful stuff!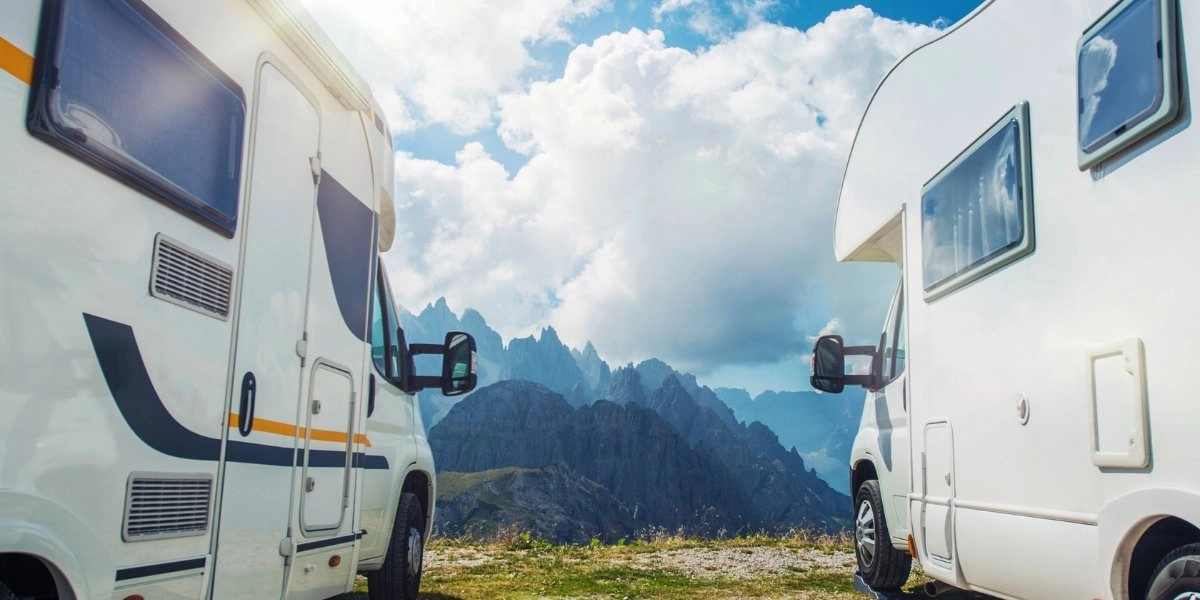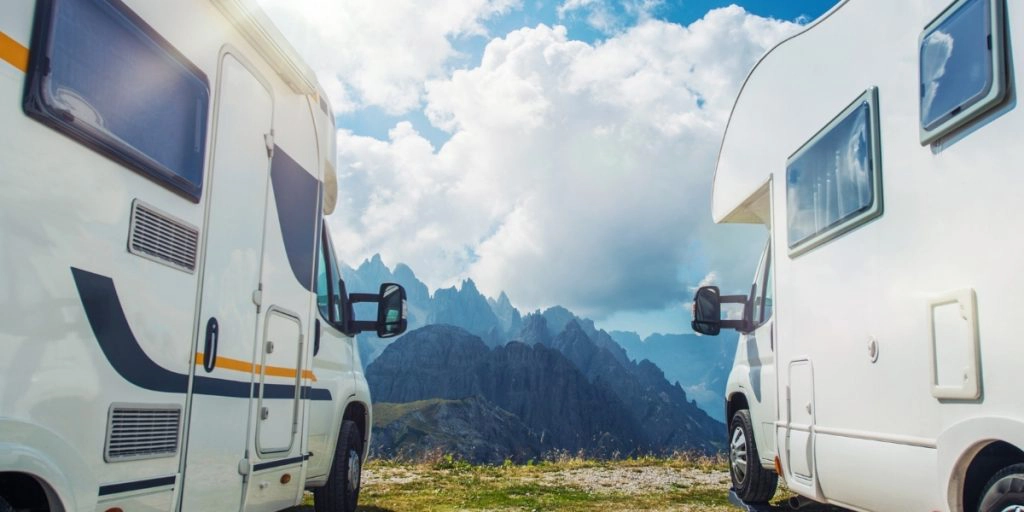 Basic Requirements for Europe Motorhome Travel
This section has been updated to reflect the post-Brexit agreement between the UK and EU on 24th December 2020. It's boring, but spend just one day doing the research before you head off, and you'll be glad you did. If you do get stopped you'll have all the correct equipment and documentation to show. Follow our advice and travel tips covers the basics;
You must have at least three months remaining on your passport (issued in the past ten years) at your intended date of departure from Europe. If you're traveling in a motorhome in Ireland, you passport only needs to be valid for your stay (UK citizens do not need a passport to travel to Ireland which is in the Common Travel Area).
From 2024, all visa-free travellers to the European Union will need to register online with ETIAS (European Travel Information and Authorisation System), pre-screen travellers from visa-exempt countries before they enter the Schengen Area.
A UK driving licence is needed for touring in a camper van in Europe. Your UK licence allows you to drive in all EU countries. If you only have a paper driving licence or a licence issued issued in Gibraltar, Guernsey, Jersey or the Isle of Man then you will need an International Driving Permit.
You must have at least 3rd party motorhome insurance for your vehicle. Update August 2021 – you no longer require a green card to prove you have vehicle insurance cover when travelling in Europe.
From 28th September 2021, you will have to display a UK sticker on the rear of of your vehicle, instead of a GB sticker, unless you have a new style UK numberplate which displays the Union Jack flag. If you're travelling in Spain you will need a UK sticker even if you have the new style UK number plates.
Headlights adapted for driving on the right.
You may need evidence of a return ticket and that you have enough funds to cover your stay – there is no fixed amount that a customs official might ask for, but you need to be able to show that you can maintain your motorhome lifestyle. Having said that, in the two years since Brexit, we don't know anyone who has been asked to produce either a ticket of evidence of their financial position.
Brits should get a GHIC or EHIC (Global or European Health Insurance Card) – not a legal requirement, but free so why not?
We would also recommend your own travel insurance and Europe motorhome or campervan breakdown cover, but these are not legal requirements. We like True Traveller backpacking insurance if you need cover for more than three months. American's traveling and RVing in Europe should look at World Nomads for cover.
Any country specific requirements for your vehicle – the AA's country by country guides contains for up-to-date information about what you need to carry in Europe.
Motorhome Europe After Brexit
Although the UK left the EU at the beginning of 2020, because the pandemic came swiftly on its heels, many of us are still realising the repercussions and getting used to how it affects travelling in a motorhome. You can find out all the detail you need in our guide to motorhoming in Europe after Brexit, and in our guide to motorhoming in Ireland, which due to being in the common travel area (CTA) has some different rules.
In the meantime, here are a few frequently asked questions and answers;
Do I need a visa for Europe?
Nothing changes with your passport, but from November 2023, the EU will introduce the ETIAS (European Travel Information and Authorisation System), which will be an additional entry requirement for visa-exempt travellers and will involve the traveller registering their details online before travelling, mainly for security purposes.
How long can I stay in Europe?
UK citizens can only stay in the Schengen Area (a zone in Europe where countries have no internal borders and allow the free and unrestricted movement of people) for 90 days in every 180 days in the Schengen Area.
The 90 in 180 day rule works on a rolling basis and it can be difficult to work out whether you are within the rules or not, especially if you have visited the Schengen area on several occasions in the preceding 180 days.
Long-term traveling by motorhome in Europe is still possible, you just need to be organised and have a plan to ensure you don't overstay. This comprehensive post about motorhome travel in Europe post Brexit explains all the details and offers advice and insight into how long-term motorhome touring in Europe is still possible.
What food can I take in my motorhome to Europe?
The European Commission says the following;
Travellers are not allowed to bring in meat, milk or their products.
There is an exemption for powdered infant milk, infant food, and special foods or special pet feed required for medical reasons if weighing less than 2kg and provided that:

such products do not require refrigeration before opening.
that they are packaged proprietary brand products for direct sale to the final consumer, and
the packaging is unbroken unless in current use.
For fishery products (including fish and certain shellfish such as prawns, lobsters, dead mussels and dead oysters), travellers are allowed to bring in up to 20kg or the weight of one fish if this is higher.
For other animal products, such as honey, live oysters, live mussels and snails, travellers are allowed to bring in up to 2kg.
Can I use my mobile data in Europe?
It very much depends on who your mobile phone contract is with and when you started the contract. All UK providers now limit data usage in the EU in some way or another, and it's best to check with your provider to make sure you don't run up a big bill. You can find lots of information in our guide to the best SIM cards in Europe, especially if you're planning to be away for more than a few weeks.
We have been using and recommend ConnectPlus for cloud sim connectivity in the UK and Europe. You can choose from unlimited data packs to just single days, depending on your needs. The device is no larger than a slimline smart phone, connects with up to ten devices, is charged easily with a USB and can be delivered within a few days of ordering. Use the code 'thegapdecaders' at checkout to get 50% off in the first month!

Can I take a pet to Europe in my motorhome?
Yes, you can take dogs, cats and ferrets to Europe. You'll need to book a pet-friendly cabin or kennels on the ferry or travel via the tunnel from the UK. Your pet will need a microchip, a valid rabies vaccination and an animal health certificate (AHC).
When pets are travelling to Norway from countries in the EU/EEA (such as Germany or Denmark) the animal and necessary documentation must be presented to Norwegian Customs for checking. Walk or drive through the red zone in the Customs area to present your paperwork and pet.
When travelling to Norway from Sweden, the animal and documentation need not be shown to the Norwegian Customs if the animal has been kept legally in Sweden and meets all requirements for entry.
It can take some time to get all the documents together and the vaccines organised, so make sure you start the process well in advance, and find out more about travelling in Europe with a dog before you set off with your fur baby!
Europe Campervan Hire or Taking Your Own?
Taking your own motorhome to Europe is relatively simple. There's no need to temporarily import your vehicle, even if you're touring and you don't need to have a left hand drive van. Just make sure you have the right documentation and required safety equipment, and you're good to go.
If you're new to motorhoming, or campervanning on the continent for the first time, then a two week holiday in western Europe is a great way to start, especially if you rent a motorhome.
Your rental company will ensure your campervan hire for Europe will come equipped with everything you need to enjoy a few weeks across the channel in July or August, and you'll enjoy a great taste of European motorhome life.
For campervan Europe hire check out Indie Campers and for motorhome rentals in Europe go to Motorhome Republic, both reputable rental companies who get consistently good reviews.
If you're coming from across the pond and used to traveling in an RV, motorhomes in Europe are a little different from RV's in the States. Styled differently and significantly smaller (even if it feels large to us Brits!), we generally don't have slide outs, full sized appliances or beds in our motorhomes. Most European motorhomes use cassette toilets, rather than having a black or black and grey waste tank, but you'll be please to know that European motorhomes are usually left-hand drive, so just like traveling in an RV at home 🙂
RELATED POST: Everything You Need to Know About Motorhome Hire
Preparing Your Van for Europe
When planning and taking a motorhome or campervan road trip across Europe you'll need to consider whether you have the right accessories in and on your motorhome for touring.
If you're heading off on a short two week campervan trip in Europe, then you may already be well set up for this type of holiday and won't need any special preparations to have a fantastic trip.
New motorhome owners or those planning a longer tour may want to make some changes or additions. What you change or add will depend on how you want to travel Europe in a motorhome.
Which countries will you visit?
Will you wild camp or stay on sites? How off-the beaten track do you want to be?
Will you be travelling Europe in a campervan across seasons, or sticking to summer or winter?
Are you intending to leave Europe and/or the Schengen area for different regions of the continent?
What's your budget?
RELATED POST: Motorhome Accessories, Equipment & Options
For us, we have found the additions below to be invaluable when spending more than a month or so on the continent. If you intend to travel long-term or regularly in Europe, then these extras will pay for themselves.
Heating
If you're planning on spending winter in mainland Europe then you may need heating in your motorhome. Some areas in countries like Spain and Portugal are warm enough year round for you to not need heating, but if you head into the mountains, then you could well be facing freezing temperatures.
RELATED POST: Winter in a Motorhome – Tips, Tricks & Essentials
Gas and LPG
You can't take a UK gas bottle to Europe and exchange it. This means if you run out of gas, you'll have to carry your empty bottle and buy a bottle in whichever country you are, as well as a suitable regulator. This is not difficult, but it is a hassle and an added expense.
Disposing of your empty bottle is illegal, and it's also illegal to re-fill Calor gas type bottles at the pump, so there really is no easy way round getting gas if you're not prepared.
If you're touring for more than a month or so, we would highly recommend a refillable Gaslow or Gasit system which can be filled in any EU country (including the United Kingdom) at the pump using a set of special adaptors.
You'll save money every time you fill, LPG (called GPL in Europe) from the pump is around 70% cheaper than buying it in a bottle.
The down-side with a refillable system is that in the UK lots of garages have stopped selling LPG at the pump as the take-up of gas driven vehicles has ben surpassed by electric technology. A good compromise is to have one bottle on a refillable system and one UK bottle, and we hear about more and more people doing this.
If you're planning to visit Morocco in your motorhome, gas at the pump isn't available (nor in Finland) so this does need careful planning.
RELATED POST: An Easy Guide to Motorhome Gas & LP in Europe
Solar
If you are planning on free camping in aires or wild camping in Europe (if you've a wild camping newbie, it's the ideal place to start) then you will need equipment to ensure you have electricity when you're overnight parking off grid.
This might include a solar panel and you may want to upgrade your leisure batteries. You could also consider a solar generator, which is totally portable and will provide you with enough power to wild camp as much as you like, as long as the sun is shining!
RELATED POST: An Easy Guide to Motorhome Electrics
Air Conditioning
With summer temperatures regularly getting into the early 40s in Europe, air conditioning can literally be a life saver. One summer in France, despite being dyed in the wool wild campers, we spent every night in a campsite or aire, just so we could plug in and have air con!
If a roof mounted a/c unit is too expensive, take a look at portable air conditioning solutions – the technology has advanced in recent years, and some of them are pretty good. Make sure to check the size though, as they can be large!
Awning
If you're travelling in summer, then an awning of some description is an absolute must. Having one fitted retrospectively can be expensive, but a drive away awning, simple gazebo or even a collapsible umbrella can do the trick.
Sat Nav
There are hundreds, if not thousands, of motorhome routes through Europe. Make sure you have a motorhome sat nav that has European mapping, or use a satellite navigation app such as Google Maps.
Yes, it's possible to use a paper map but ideally you want up to date information and be able to set your dimensions in the sat nav if you're in a larger van. This helps to avoid routes with weight or height constraints, like low bridges, and allows you to set your route to miss toll roads, if you prefer to take the more scenic route.
RELATED POST: Top 16: Best Motorhome Sat Navs
Water Filter
If you're planning on visiting countries where the quality of potable water is questionable, or you don't want to drink de-salinated water (common in southern Spain), then a water filter is a great option. We have a Nature Pure filter fitted, a job a competent DIY'er could manage. We love not having to buy bottled water and then having to cart the empty bottles around until we find a recycling point.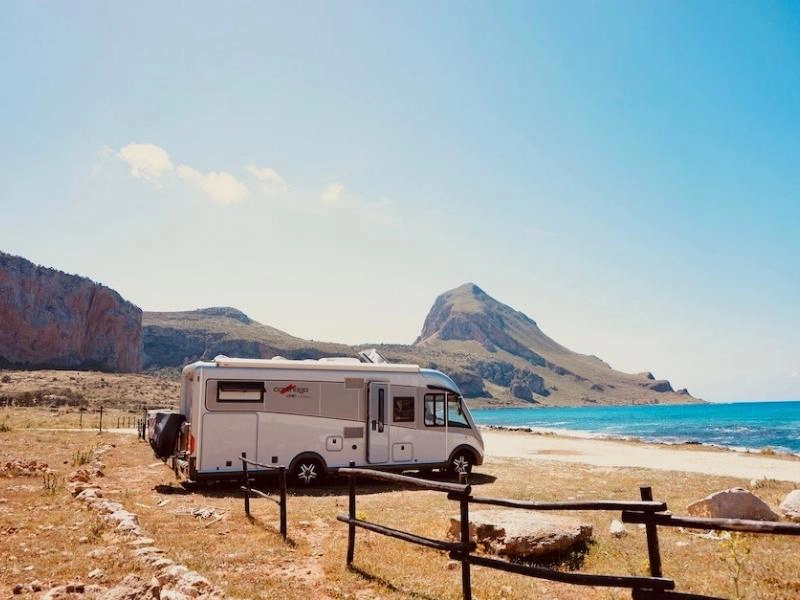 What Kit Do You Need In Your Motorhome?
Are you taking a 2 week campervan trip in Europe or longer? Will you be travelling Europe in a camper van across seasons and into different regions of the continent?
Packing List
Have a look at our essential motorhome kit list for an idea of what kit and gear we think is important when taking a motorhome to Europe. You'll also find links to a free motorhome packing list covering kitchen, garage, gadgets, safety equipment and personal essentials.
RELATED POST: 101+ Motorhome Essentials You Need + Packing Checklist
Motorhome Internet & Wifi
Connectivity is important if you want to stay in touch with loved ones, post on social media and keep up with what's happening in the world.
We know that information regarding European roaming on a UK contract changes frequently so we keep our post about motorhome internet and wifi up to date, so you can check the best equipment and European sim card options for your needs.
RELATED POST: An Easy Guide to Motorhome Wifi & Internet
Motorhome TV
We all like a bit of tv, and being in Europe doesn't change that. There are lots of ways of getting tv in a motorhome, and when you're abroad there are a few things to be aware of if you want to watch UK television.
RELATED POST: Motorhome TV – Five Ways to Watch in Your Van
Bikes
You also need to consider how you'll get out and about, especially if you intend to remain static on a site or an aire for more than a few days.
If you're in an urban area, the public transport may work, it's defiantly the best way to get into cities. More remote and you'll want to be able to get to the nearest village or head off for a day out.
We take bikes and a scooter in our garage, some people use e-bikes and others tow a car or motorbike. If you're touring Europe in a VW campervan or similar pop up camper, then you can use this vehicle to get out and about too.
RELATED POST: The Best Motorhome Bike Racks & Bikes
Make sure you research thoroughly if you want to tow a car – the law regarding A-frames in Europe is often mis-quoted and not always clear. You may find some helpful information on various Facebook forums for motorhome owners, and on the UK Government website.
Gross Vehicle Weight
What and how much you pack will also depend the gross vehicle weight (GVW) of your motorhome and how much storage space you have.
As a general observation, if you fill your storage space you are likely to be overweight – just because you have loads of cupboards doesn't mean you should fill them all!
Read our guide to understand how motorhome weights work and don't forget to include your toys – bikes, kayaks, gadgets and so on when thinking about weight.
RELATED POST: An Easy Motorhome Weight Guide
Europe Motorhome Destinations
How on earth do you choose where to go when touring Europe by campervan? How do you fit it all in?
You could spend literally years in a camper in Europe and not see it all. If you don't have years, you need to decide what to prioritise when route planning.
Is this a break from work to chase the sun and chill? Are you a culture vulture looking for Roman ruins and ancient worlds? Do you love hiking in the amazing national parks of Europe? Or, like most of us, looking for a bit of both?
Check out our motorhome touring guides for the most popular European countries, where you'll find information about driving, motorhome services, camp sites, wild camping spots and top destinations. Be inspired by stunning landscapes, mountains and coasts and incredible road trips.
Europe is your oyster, you just need to go and grab it!
Motorhome Touring Guides
Motorhome Germany – A Complete Touring Guide
The Complete Guide to Motorhome Touring in France
How to Tour Spain in a Motorhome – A Complete Guide
Top Tips for Touring Portugal in a Campervan & Motorhome
How to Tour Norway by Campervan
The Complete Guide to Touring Italy by Motorhome
Motorhome & Campervan Greece – Complete Guide
Planning Your Morocco Motorhome Adventure
Motorhome Stopovers & Travel in Belgium
Motorhoming in Ireland – A Complete Guide
The Best Motorhome Holidays in Europe
Motorhome Route Planner Europe
Ok, so now you've got some ideas about where to go on your motorhome trip of Europe, you need to actually plan your Europe travel route.
RELATED POST: How to Plan a Europe Road Trip – The Complete Guide
Planning a route for touring Europe in a campervan can be as complex or as simple as you want. Some people like a clear plan and a short amount of driving time per day with overnight stops booked or planned in advance, others like to just go with the flow and see what happens.
It's why we fall out every time we look at a map or start any road trip planning!
Overnight Stops for Motorhomes in Europe
When it comes to where to stay overnight in a motorhome or campervan, Europe has lots of great options;
Motorhome Campsites
Campsites are a great option if you have a family or you like to stay out for more than a few days at a time. They also make great pit-stops if you've been on the road for a while, and facilitate things like clothes washing and cleaning your van.
We love a good campsite after a month off-grid. Suddenly, everything seems effortless – no worries about whether there will be enough sun to top-up the leisure batteries and no issues about how long it takes to rinse the conditioner from my hair in the shower! If there's also a bar, we look forward to meeting fellow motorhomers for a good chinwag!
One way to save money on your trip is to get an ACSI card. This discount card is invaluable if you're planning to use campsites, with the scheme giving you up to 60% off per night prices out of high season. This can mean a site for as low as €12 a night.
It's worth getting this sorted before your camping trip to Europe as ACSI need a couple of weeks to post out the card and books to you.
RELATED POSTS
If you're going on a camping holiday, you'll find some of the best campsites in Europe listed here, by campers who have actually stayed in them. Whatever your camping style, leave the urban life behind and enjoy the great outdoors in one of these fantastic European campsites.
If you want to motorhome in Europe, then the chances are you'll want to stay on a campsite at some point. The ACSI camping card provides low season discount on thousands of campsites across Europe. We share all our top tips to help you get the most from your ACSI card.
Motorhome Aires
Motorhome aires are a great way to stay overnight for very little money, often in out of the way spots. Motorhome aires in France have paved the way for other countries to set up similar schemes, where the aire is funded by the local municipality to encourage motorhome visitors into the area. There are now in excess of 10,000 aires across Europe.
The costs and arrangements at each aire differ, so make sure to read the rules when you arrive. Aires cannot be booked and work on a first come, first served basis, so you need to make sure you have a back-up plan in case the aire if full.
Use Park4Night or All The Aires books to identify where you want to stay.
RELATED POSTS
Wild Camping
Another popular option, motorhome wild camping is widely accepted across Europe (with the exception of Portugal, who have really cracked down on this in 2021).
If you've only ever motorhomes in the UK, you might be surprised at the ease of which you can wild camp your way across the continent, without raising eyebrows or upsetting the locals. Much of Europe is much less densely populated than the UK and there are vast areas of land which are not populated at all.
There are some rules (and a few unwritten ones too) which will help you find the right spot and stay safe when wild camping – enjoy the freedom and hopefully a stunning view!
RELATED POST:
Alternatives to Wild Camping
If you're not a wild camper at heart but don't always want to stay on a site, there are lots of schemes to help motorhomers stay overnight in interesting places, and are easy to build into your road trip itinerary if you want to get off the beaten path.
From France Passion to Portugal Easycamp, In Camper Con Gusto in Italy and Espana Discovery, all these schemes offer a place to stay overnight in a motorhome.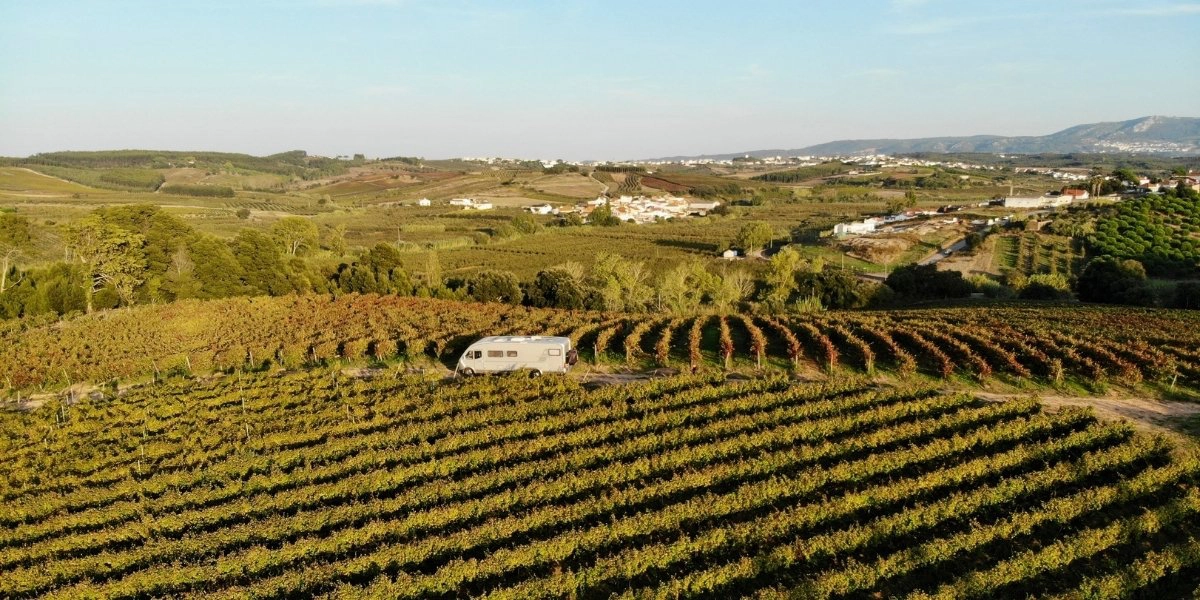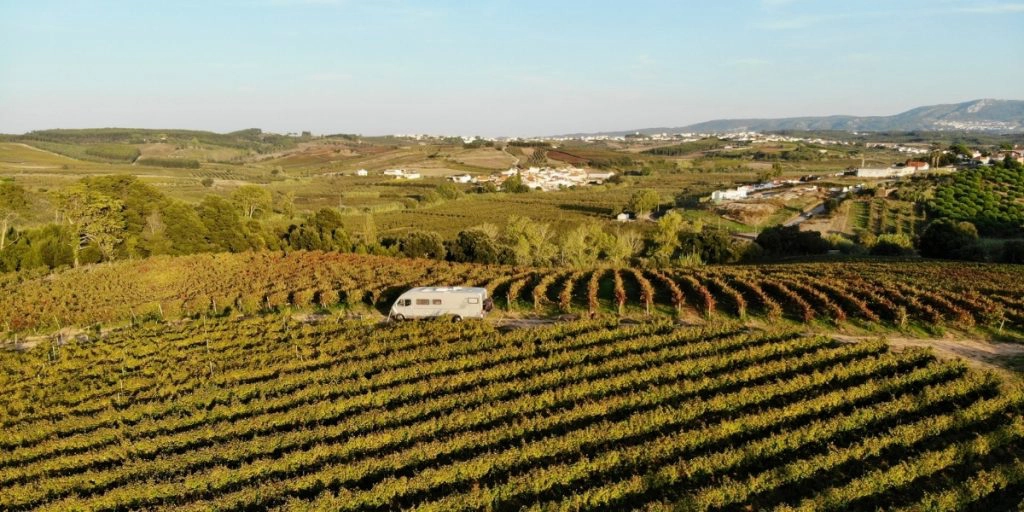 Motorhome Services in Europe
Another surprise to UK motorhomers is just how easy it is to find services in Europe. Right across western Europe you'll find services on a regular basis, almost in every town.
Many are free, some have to be paid for, but it's usually no more than a few euros to empty your toilet cassette and grey waste, and fill up with fresh water. This makes the idea of camping off-grid so much easier.
Services can be found in aires, fuel stations, motorway services, supermarkets and on the outskirts of towns and villages. Use Park4Night to find services near you.
Van Life Europe
You've done it… you're on the road and starting your European motorhome tour, although adventure is probably a better word!
RELATED POST: Living in a Motorhome in Europe – Your Complete Guide
Frequently Asked Questions
Whilst we all have views about van life in Europe, there are some topics that crop up time and time again. See our post about the questions we always get asked – if your burning question is not there then feel free to email us. We're always happy to give an honest answer if we can and we love questions.
What do you do if something goes wrong?
Things can, and do, go wrong. At the time, it can be very anxiety provoking, especially if you don't speak the language. We drove around France for three weeks (it was August and EVERYWHERE was close) with our over-cab bed held up with acro props and it was really stressful.
A good first place to ask for help is our Facebook group – remember to share the make and model of your vehicle plus when asking for help.
Search in Google for a motorhome workshop near you. Most of these places are run by motorhomers themselves and they will help if they possibly can.
You will also find a list of top 20 motorhoming FAQ's here – from why your fridge isn't cooling to why you tap doesn't work.
How much does it really cost to tour Europe in a motorhome?
Lots of people ask us how much it costs to live in a motorhome in Europe. Our answer is always the same – it depends on how you want to live.
Make sure you have emergency funds accessible to you, whether that's cash stashed in a secret place (not our recommendation) or an emergency credit card. Read more about general safety in our motorhome security guide.
RELATED POST: What Is the True Cost of Touring Europe in a Motorhome – A breakdown of weekly, monthly and annual costs + tips to help save money on the road
How do you manage preventative maintenance on the road?
Prevention is always better than cure as far as motorhomes are concerned. In our experience, water and condensation are the two areas where people have most problems.
Often it's a simple issue, but the first time something goes wrong can be challenging and if you don't know, you don't know.
RELATED POSTS
How do you make sure your relationship survives?
Being with your other half 24/7 in a small tin box may not be quite as romantic as you imagine! Motorhome life may come as a shock if you're both used to rushing in from work at 6pm, collapsing in front of the tv before bed and then repeating for five days of the week.
RELATED POST: Ten Truths of Travelling Together
Wherever you decide to go in Europe, happy and safe motorhome travels!
Are you looking for more useful motorhome advice? Check out these top posts…
Love it? Pin it!