This post may contain affiliate links, from which we earn an income.
How To Tour Greece in a Motorhome & Campervan
Greece is a wonderful country to tour if you like the road less travelled. Packed with ancient sites, beautiful beaches and turquoise seas, historic towns and cities, and majestic mountains, Greece is a country just waiting to be explored.
The landscape of mainland Greece is dotted with ancient Greek monuments and temples, UNESCO World Heritage sites, hot springs, roadside churches, lemon trees overhanging the roads, and traditional tavernas where you'll be welcomed with open arms.
From the breathtaking scenery of the Peloponnese to the ancient history of Athens and Delphi, Greece makes for a remarkable and diverse motorhome tour.
In this guide, you'll find lots of practical and helpful information about getting to Greece in a motorhome, and how to manage campervan and motorhome life there.
From tips about driving, where to stay overnight and wild camping, to motorhome services and a round-up of the best motorhome and campervan destinations, you'll find all the information you need for an amazing road trip in Greece.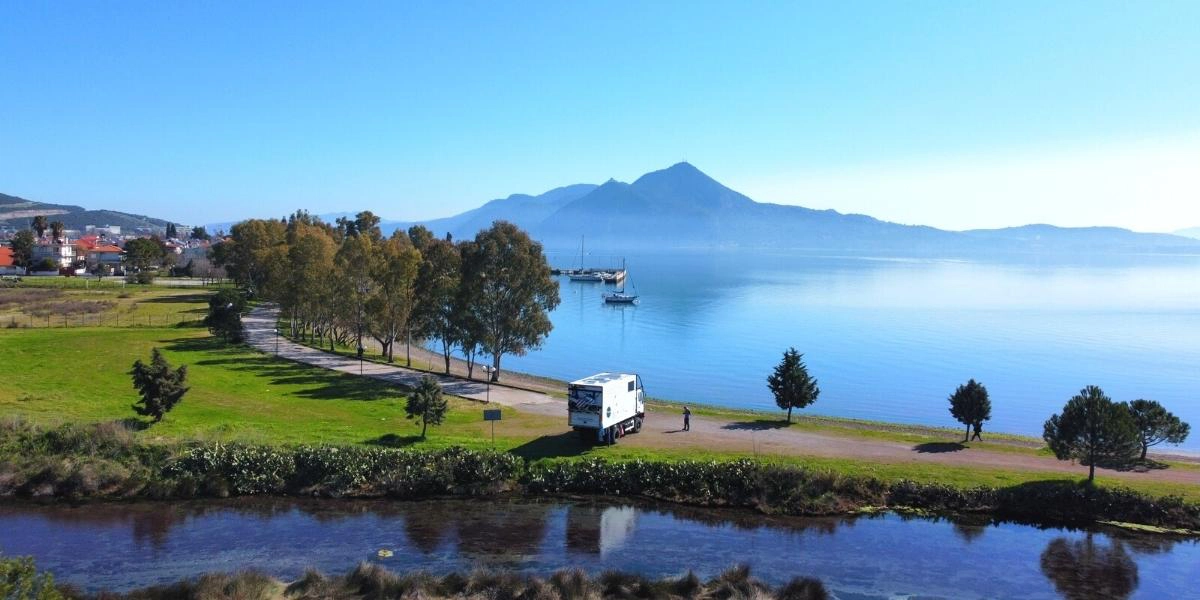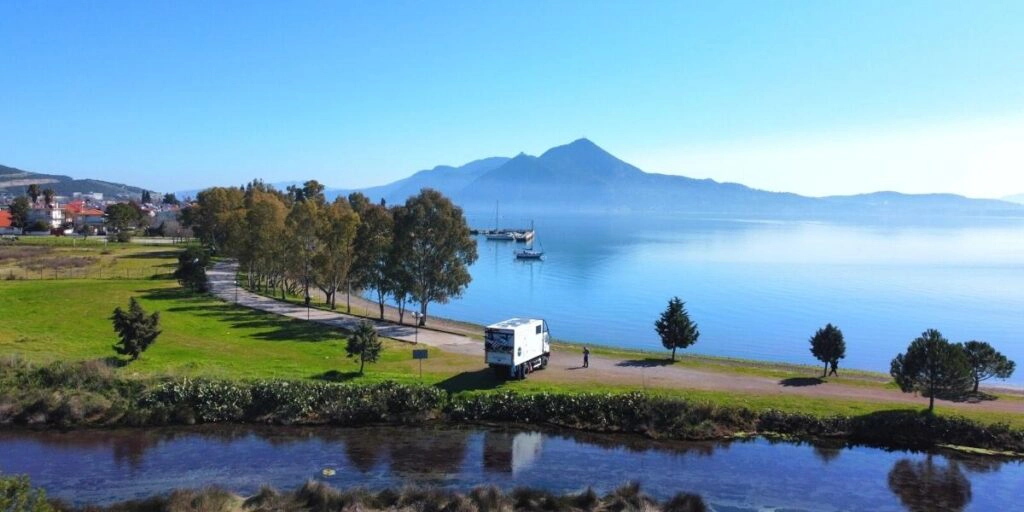 Driving a Motorhome to Greece
There are many, many road routes to Greece by motorhome or camper van, each with its own merits. The best motorhome route to Greece depends on how much you want to spend on tolls and fuel and how quickly you want to get there.
Motorhome Routes from United Kingdom to Greece
Through Italy
This is the most popular route to Greece, with the least amount of driving hours and no requirement to buy or arrange insurance for non-EU countries.
From Italy, you will need to get a ferry to Greece. You can sail from from Venice, Ancona, Bari or Brindisi to either Igoumenitsa or Patras – what routes are available depends on the season, with fewer routes operating in the winter months.
RELATED POST: Driving to Italy from UK – Routes & Tips
The shortest crossing is from Brindisi to Igoumenitsa and takes ten hours. Facilities on board are limited and cabins are expensive, although reclining seats are provided free of charge. Some companies allow you to sleep in your motorhome on deck – this is a good way to save on costs.
The top companies offering crossings from Italy to Greece are Grimaldi Lines, Minoan Lines and Anek Lines.
Tips for Getting the Ferry
Getting a ferry from Italy to Greece is nothing like catching the P&O from Dover, or even Brittany Ferries from Portsmouth to Santander!
When you arrive at the port, you need to get out of your motorhome and go into the reception area to check in.
Take your passport, any other travel documents that are required, and your email with ticket details. You'll be issued with a paper ticket, and your documents will be checked.
There is little to no direction in the port itself, with everyone just drivng straight up to the boat and boarding.
Once on board, you will be directed where to park.
There is often no direction for disembarkation – if you don't want to be last, you need to assert your position and get in the queue to get off.
Through The Balkans
The quickest and most direct driving route into western mainland Greece is through the Balkan states. From Slovenia, follow the coast road south through Croatia, into (briefly) Bosnia and Herzegovina, Montenegro, Albania and then Greece.
Your motorhome insurance will provide third-party cover for Slovenia, Croatia and Bosnia and Herzegovina, and your insurer may also be happy to cover you comprehensively in these countries.
You will need to purchase insurance for Montenegro and Albania, which can be done at the border (although usually only third party), or through a specialist company in the UK.
Other routes include going through Hungary into Serbia and then North Macedonia, although this is a slightly longer route and still requires you to purchase insurance for North Macedonia.
Fly & Hire a Campervan or Motorhome
Flying and hiring a motorhome is the best way to tour Greece if you don't own one, or don't fancy the long drive south. There are a few well-reviewed companies offering motorhome rental and campervan hire in Greece.
Our top recommendation is Motorhome Republic which has depots in Athens, Igoumenitsa and Thessaloniki. An aggregate motorhome and campervan booking site, they pull together all the best deals from a number of renters, to offer you a wide choice of options alongside an excellent English-speaking expert motorhome Concierge Team.
Lunartrip has pick-up points in Athens and Crete and offers both motorhomes and campervans.
Nomad by CoolDrive has pick-up depots in Athens, Igoumenitsa and Thessaloniki.
Odyssey Campers specialises in campervans and has a depot in Thessaloniki.
Camper Club specialise in motorhome rentals in Greece and has pick-up locations in Athens, Crete and Araxos Airport on the Peloponnese.
Motorhome Greece & Brexit
Although the UK left the EU at the beginning of 2020, because the pandemic came swiftly on its heels, many of us are still realising the repercussions and getting used to how it affects travelling in a motorhome. You can find out all the details you need in our guide to motorhoming in Europe after Brexit. In the meantime, here are a few frequently asked questions and answers;
Do I need a visa for Europe?
Nothing changes with your passport, but from 2024, the EU will introduce the ETIAS (European Travel Information and Authorisation System), which will be an additional entry requirement for visa-exempt travellers and will involve the traveller registering their details online before travelling, mainly for security purposes.
How long can I stay in Europe?
UK citizens can only stay in the Schengen Area (a zone in Europe where countries have no internal borders and allow the free and unrestricted movement of people) for 90 days in every 180 days in the Schengen Area.
The 90 in 180 day rule works on a rolling basis and it can be difficult to work out whether you are within the rules or not, especially if you have visited the Schengen area on several occasions in the preceding 180 days.
What food can I take in my motorhome to Greece?
The European Commission says the following;
Travellers are not allowed to bring in meat, milk or their products.
There is an exemption for powdered infant milk, infant food, and special foods or special pet feed required for medical reasons if weighing less than 2kg and provided that:

such products do not require refrigeration before opening.
that they are packaged proprietary brand products for direct sale to the final consumer, and
the packaging is unbroken unless in current use.
For fishery products (including fish and certain shellfish such as prawns, lobsters, dead mussels and dead oysters), travellers are allowed to bring in up to 20kg or the weight of one fish if this is higher.
For other animal products, such as honey, live oysters, live mussels and snails, travellers are allowed to bring in up to 2kg.
Can I use my mobile data in Greece?
It very much depends on who your mobile phone contract is with and when you started the contract. All UK providers now limit data usage in the EU in some way or another, and it's best to check with your provider to make sure you don't run up a big bill. You can find lots of information in our guide to the best SIM cards in Europe, especially if you're planning to be away for more than a few weeks.
We have been using and recommend ConnectPlus for cloud SIM connectivity in the UK and Europe. You can choose from unlimited data packs to just single days, depending on your needs. The device is no larger than a slimline smartphone, connects with up to ten devices, is charged easily with a USB and can be delivered within a few days of ordering. Use the code 'thegapdecaders' at checkout to get 50% off in the first month!

Can I take a pet to Greece in my motorhome?
Yes, you can take dogs, cats and ferrets to Greece. You'll need to book a pet-friendly cabin or kennels on the ferry or travel via the tunnel. Your pet will need a microchip, a valid rabies vaccination and an animal health certificate (AHC).
It can take some time to get all the documents together and the vaccines organised, so make sure you start the process well in advance. You can find out more about travelling with pets on the Gov.UK website.
More motorhoming in Greece travel advice and guides;
When to Visit Greece in a Motorhome
Greece can be blisteringly hot in the height of summer and freezing in the winter when the weather can be unpredictable.
April and May will bless you with perfect weather if you stay out of the mountains. July and August are the hottest and most crowded months, especially in Athens and the islands, when Greeks also take their annual holidays.
We think the late spring and autumn are the best times for a Greece road trip. It will be warm in the day, with little rain, but you will need a fleece for the cooler evenings.
October and November may be OK in the south but the mountains will have snow and evenings will be cold. December and January may be warm but unpredictable in Greece – if the warm African winds blow north, you'll have lovely sunny days, but if they don't, it will be pretty chilly.
Visit in February for carnival (apokriátika) season. The celebrations span three weeks, ending during the seventh weekend before Easter. Patras Carnival is one of the largest and most flamboyant in the Mediterranean, and the third largest of its kind in the world!
RELATED POST: Should I Take My Motorhome to Spain for the Winter?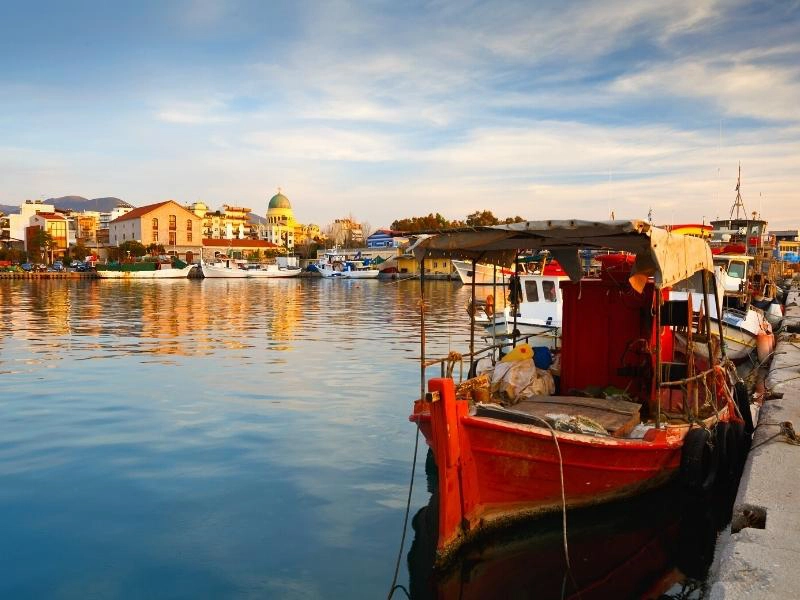 Driving a Motorhome in Greece
The quality of the roads and the abilities of Greek drivers are mixed. Motorways in Greece have received a lot of EU investment in recent years, and on the whole, are in good condition. The same cannot be said of other roads, even the national road network.
Expect potholes, uneven surfaces and the occasional time when the road just becomes a track, before becoming a road again!
Greek Speed Limits for Motorhomes
Always observe the speed limits when campervanning in Greece. There are speed cameras just as in the UK, and the Greek authorities have been known to pursue Brits for non-payment of fines. This has not changed since Brexit as the information-sharing agreement with the DVLA continues.
Motorhomes < 3,500 kg
In built-up areas: 50 km/h
Ordinary roads: 90 – 110 km/h
Motorways: 130 km/h (less if indicated by signage)
Motorhomes > 3,500 kg:
In built-up areas: 40 km/h
Ordinary roads: 80 km/h
Motorways: 80 km/h (less if indicated by signage)
Documents You Need for a Greek Road Trip
You must have at least three months remaining on your passport (issued in the past ten years) at your intended date of departure from Greece.
You must have at least 3rd party insurance for your vehicle. Update August 2021 – you no longer require a green card to prove you have vehicle insurance cover when travelling in Europe.
Your UK licence allows you to drive in all EU countries. If you only have a paper driving licence or a licence issued in Gibraltar, Guernsey, Jersey or the Isle of Man then you will need an International Driving Permit.
Breakdown cover documentation (not compulsory).
Vehicle V5 logbook (which must show your correct address).
Trailer certification if you are towing.
Personal travel and medical insurance (we recommend True Traveller), EHIC or GHIC card (not compulsory).
Animal Health Certificate if you're travelling with a pet.
Vehicle Safety Equipment for Greece
Warning triangle.
First Aid Kit.
Fire Extinguisher.
Headlight beam converters (unless you can adjust yours automatically).
Reflective jacket (not compulsory, but why wouldn't you?).
Spare wheel and the tools to change a wheel, or a tyre repair kit (not compulsory).
Spare bulbs and fuses (not compulsory).
A UK sticker on the rear of your vehicle, unless you have a new style UK numberplate which displays the Union Jack flag.
Tips for Driving a Motorhome in Greece
Remember to drive on the right during your Greek campervan road trip!
The Greek alphabet will appear totally nonsensical to you (unless you speak Greek, of course!). Most road signs translate the Greek alphabet into Latin and all major and secondary roads and motorways have road signs in both Greek and English.
The UK Department for Transport advises that A-frames are not legal for use by UK motorhomers abroad. In practice, this could mean towing your car while it's fixed to a trailer, although there is ambiguity around this and differing advice can be found on the internet.
Trailer loads mustn't exceed 13 tonnes at the driving axle and 7 tonnes at a single axle.
Camper vans and cars with caravans are not allowed to exceed 18 metres in length, 4 metres in height and 2.55 metres in width.
You must not carry or use a radar detector and if caught could be fined and the device can be confiscated.
Greece has one low emission zone (LEZ) in Athens. If you use any of the motorhome campsites or parking places in Athens, you won't enter the LEZ. Find out more about it here.
In urban areas, sounding the horn is not allowed at any time, except in an emergency.
If you have an accident you'll need to complete the EU Accident Statement, which you can find here to download if your insurer hasn't provided one. Stop safely and use your hazard lights and warning triangle to alert other drivers. Exchange details (a translate app comes in handy here) and take lots of photos to add to your form when you submit it to the insurers. If the other party won't give details or there has been an injury, you should call the police on 112.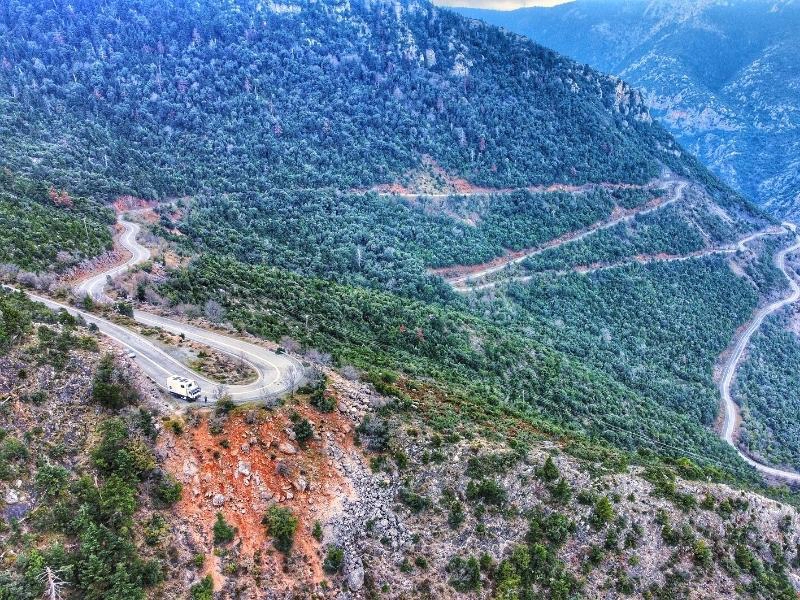 Toll Roads in Greece
Tolls are more expensive than in Spain but cheaper than in France. Tolls are levied for most motorways, the Rio-Antirrio Bridge and the Aktio-Preveza Tunnel. In Greece, you pay a fixed amount in advance to access to motorway, there are no payment booths as you exit.
If you have a specific destination you need or want to get to, it is far cheaper, easier and quicker to take the toll roads due to the sometimes poor construction of lesser roads and the price of fuel. Otherwise, slow travel and get off the beaten path, and you'll see some spectacular sights.
Most motorhomes and campervans will generally be classed as Category 3, which covers vehicles with two or three axles, with or without trailers, and over 2.2m high. You can find out more about categories and rates here.
Tolls can be paid by cash or card, or with an electronic toll tag, depending on where you are in the country. Motorway toll tags are fully transferable between the six toll operators in Greece. You can't buy these online outside of Greece, but you can stop at a customer service point on one of the motorways. You can find out more about Greek tolls and providers here.
Fuel in Greece
The price of diesel in Greece is around 10p per litre cheaper than in the UK. Prices vary across the country, from town to town, and from garage to garage – even when they are literally just up the road from each other!
You'll always find fuel to be cheaper if you buy away from large cities and off the motorways, so shop around using an app like PetrolPrices, to find the best deal.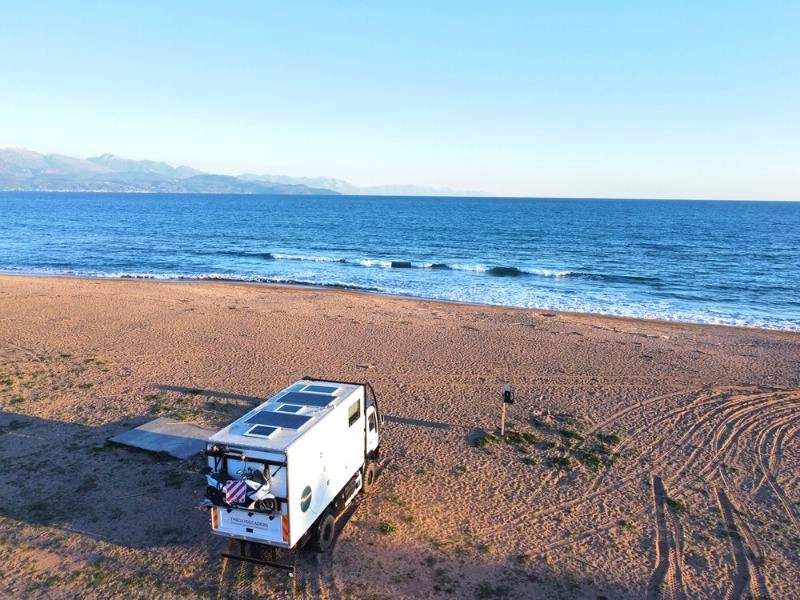 Motorhome Services in Greece
Fresh Water & Waste
Motorhome services in Greece are mostly confined to campsites, many of which are closed out of season.
However, there is fresh water available in many places, including garages, boat yards and picnic areas, and often you'll find random taps along main roads where you can stop and fill up.
Most beaches have showers with a fresh drinking water tap attached. There is no issue with filling up using any of these methods, Greek people understand the need for water and are happy for you to fill up in this way.
Tap water in Greece is potable, although does contain higher levels of chlorine than UK tap water, so you may prefer to buy bottled water. Use Park4Night to find fresh water points.
In terms of disposing of grey waste, the negative connotations in the UK just do not exist in Greece. Greece is less populated than the UK and outside of cities and large towns, you'll find lots of places where you can stop and dispose of grey waste safely.
Black waste is harder to dispose of out of season, as many public toilets are closed. If you plan on touring Greece, you should consider carrying a spare cassette or fitting a compost toilet.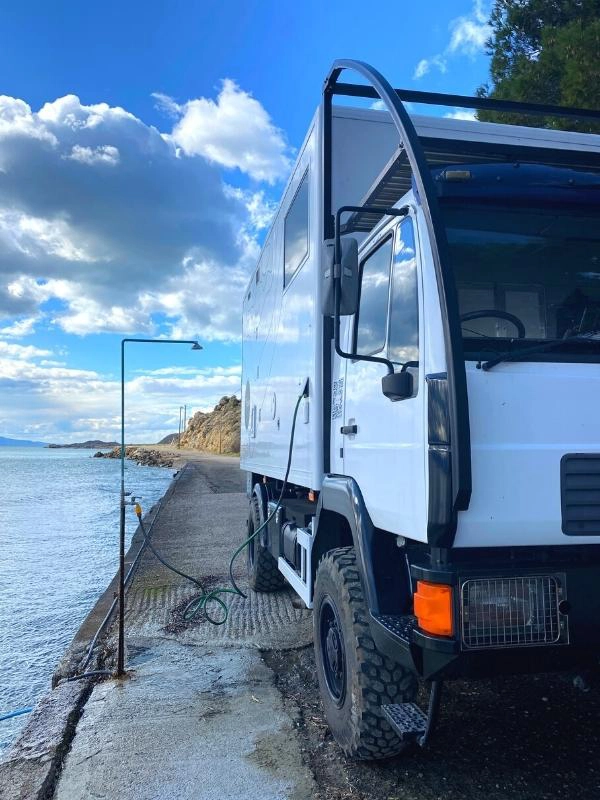 LP& & Bottled Gas
LPG (called GPL in most European countries) for refillable motorhome gas systems is available in many garages – use the myLPG app to search near where you are. The adaptor for your refillable system in Greece is the dish adaptor, the same one as for France and Italy.
Gas bottles are also widely available, with butane generally being the more popular because of the climate – butane is more suited to milder weather conditions but propane is better for cold weather as it burns at lower temperatures.
For Greek gas bottles, you will need a different regulator, available from most DIY or camping shops.
Motorhome Stops in Greece
Motorhome Aires
There are only a handful of motorhome aires in Greece, where you will find a full suite of services and a place to park for the night.
Wild Camping in Greece for Motorhomes
Greece is a dream if you love wild camping in your motorhome. In Greece, a motorhome is treated the same as a car as far as parking is concerned, so wherever you can park a car, you can park a motorhome.
There are the usual caveats about 'parking' and not 'camping', which is illegal, and in the summer months, you will find that this is upheld and the Polis may move you on, especially in popular tourist destinations and on the Greek Islands.
Outside of peak season, we found it possible to park wherever we wanted and get out our chairs and BBQ. Even in the most stunning destinations, there were few other motorhomes and campervans. Unless there is a huge influx of motorhomes over the winter months, I think Greece welcomes us as visitors and is happy for the trade during the low season.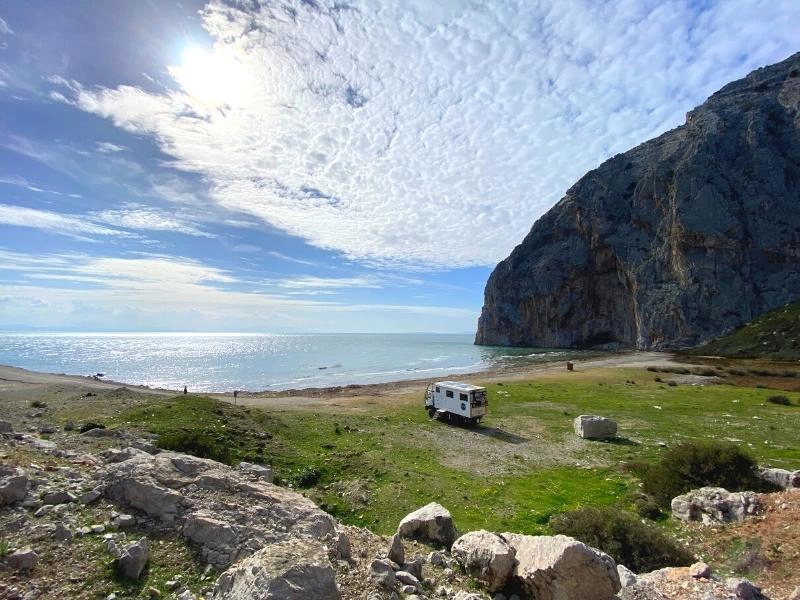 Campsites in Greece
Campsites in Greece are often only open between April and September. They are wonderful (and a necessity) in the summer months when people will want EHU for air conditioning.
Some campsites open across the winter but only have limited facilities. You may find just one sanitary block open, and the bar, shop and restaurant will be closed. The only staff will be a security guard manning the gate. This can work well if you need to plug in to top up batteries, or find a washing machine for the inevitable laundry!
Even though a campsite may be affiliated with ACSI and accept the rate during the low season, this will only be within their stated opening period in the ACSI guide, so you're unlikely to benefit between October and March.
If you're looking for campsites during the winter months, Park4Night is the best place to check whether a site is open or not.
Life in Greece
The ancient Greeks were known for their sophisticated sculpture and architecture and made important and long-lasting contributions to philosophy, mathematics, astronomy, and medicine. Today, family solidarity, generosity and hospitality remain deeply rooted in Greek culture.
Siesta is a long-held Greek tradition, and although modern life has had an impact on the post-lunch nap, in the less touristy parts of the country, towns and villages are often deserted between 3pm and 5.30pm during the summer months. Large tourist cities like Athens and Thessaloniki are less affected, but in the midday heat of Greece in the summer, spending a few hours in a cool place is never a bad idea!
Sundays are mandated in law as public holidays and all the shops are closed. You may find mini-markets and newsagent type shops that remain open every day, especially those situated in tourist regions.
If you are planning to visit places of worship and monasteries you must cover your torso, ankles and upper arms and wear closed-toe shoes. Ladies will need a shawl to cover their hair.
In most of Greece, you will see a lot of rubbish wherever you go. Some of this has to do with infrastructure and lack of proper services coupled with self-perpetuation that leads to acceptance. 
Greeks love their food and eating out in a traditional Greek taverna is a great experience. Rather than sticking to three meals a day, Greeks tend to graze, which means that eateries are open all day. Look out for restaurants that locals dine in – not only will the food be much better, but it'll be better for your budget too.
If you do eat out, follow these three tips – ask for tap water not bottled, order wine by the carafe and you'll get delicious local barrelled wine, and finally, don't expect your food to come together, it arrives at the table when it's ready!
At the end of the meal, the owner will probably offer you a complimentary shot of tsipouro or raki, both names for Greek moonshine, a powerful spirit made from pomace grapes. To refuse would be considered rude – bottoms up!
Make sure to try a Greek speciality, Tyropita or cheese pie. Made with salty sheep's cheese and filo pastry, sometimes with added ingredients like meat, tyropita is a staple Greek snack and you can buy them everywhere. Be warned – they are a bit addictive!
Lidl is a great place to shop for basics and they have stores across the country, in most towns. You'll find familiar offerings as well as local fruit and veg and typically Greek produce. Most stores have places where you can park a motorhome too.
Data and SIM Cards in Greece
If you need more than your UK roaming allowance, you can buy a data-only SIM card from a number of Greek providers. There are three main providers, Cosmote, Vodafone, and Wind. The first two offer the best coverage, but Wind tends to have the best deals.
Vodafone has shops in most towns, and you can pop in, with your passport, and find out their offers. We were able to buy a couple of 40GB SIMs for €20 on two occasions. The final shop we visited would not allow us to buy those, and we had to pay €12 for 8GB. Shop around and you may get a better deal at the time but don't expect data to be cheap.
RELATED POST: An Easy Guide to Motorhome WiFi & Internet (2022 Update)
Greece is a wonderful country for a road trip if you like the road less travelled. Packed with ancient sites, beautiful beaches and turquoise seas, historic towns and cities, and majestic mountains, a road trip is the best way to travel around Greece and explore all the country has to offer.
If you're on the quest to uncover the most beautiful places in Greece, you've come to the right place. Greece is a tapestry of stunning landscapes and rich history just waiting to be discovered. In this guide, we'll share the most beautiful places in Greece to visit, from the prettiest Greek islands to historic landmarks and the most beautiful beaches in the country. 
Top Greece Motorhome Destinations
Athens
We loved Athens. Undoubtedly, it helped that the sun shone, but this city is vibrant and alive with street culture and dominated by the incredible Acropolis, whatever the weather. Visit the ancient citadel as early as you can in the morning, for the opportunity to take photographs without hordes of people.
Secure places to stay for motorhomes in Athens are limited. We stayed here – a bus parking depot – but they are very accommodating, have good stable electricity and as much water as you need. It was surprisingly quiet at night, although the odd bus does come and go.
We travelled in by scooter but you can get a taxi into the centre of Plaka, the old part of Athens, in around fifteen minutes.
RELATED POST: One Day in Athens – Itinerary, Map, Tips & Guide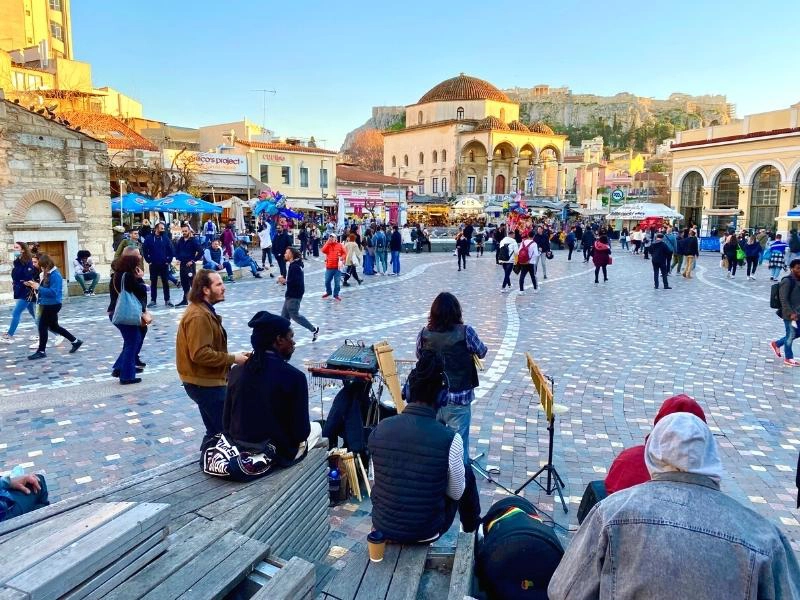 Peloponnese
The Peloponnese is the furthest south you can go on the Greek mainland. Connected to the rest of Greece by the magnificent Rio-Antirrio Bridge, which crosses the Gulf of Patras, and a road bridge which crosses the fascinating Corinth Canal, the Peloponnese is technically an island – just a large one!
You could spend months touring around the coast in a campervan – weeks devoted to each of the three fingers to the south wouldn't go amiss, such is the depth of history and breadth of culture here.
The island is the stuff of legends and many civilisations have called the Peloponnese home, from the ancient Minoans and the riches of the Mycenaean and Byzantine eras to the Ottomans and everything in between, you'll find it here.
Highlights of the Pelopponese include the birthplace of the Olympic Games, Ancient Olympia; the tower houses of the Mani, deep in the south of the middle finger; hiking the dramatic Vouraikos Gorge; the breathtaking Langada Pass from Kalamata to Sparta, and the pretty lovers town of Nafplio.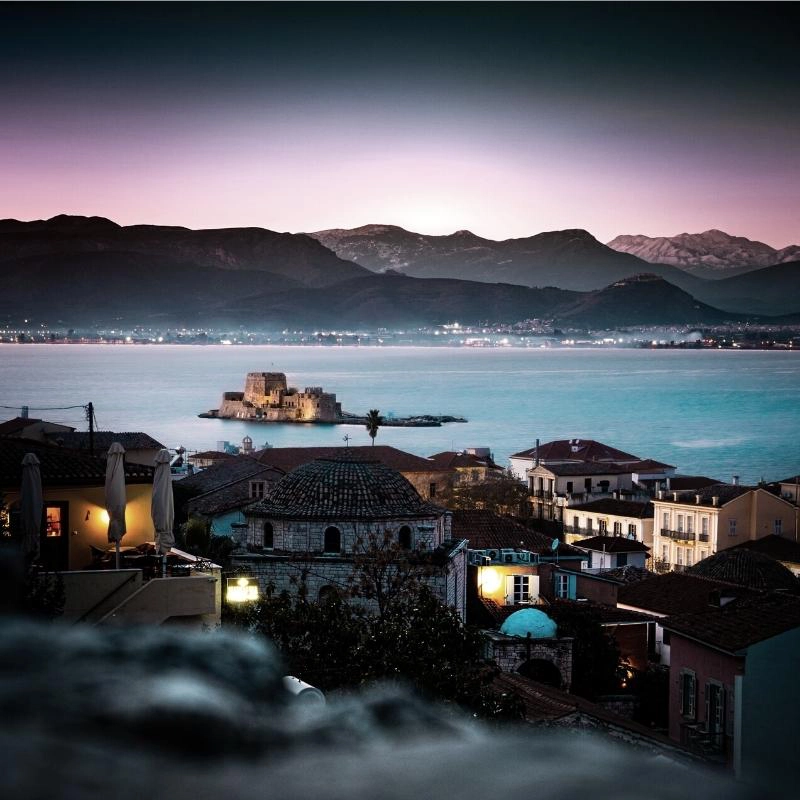 Central Greece
Central Greece is full of ancient sites, towering mountains, hot springs and Alpine-like valleys. Don't rush through on the way to elsewhere, but stop and savour the diverse landscape, wonderful hospitality and gastronomic delights.
Ancient Delphi, one of the most important archaeological sites in Greece is here. Delphi was the centre of the ancient Greek world and is now a magical place to visit, surrounded by stunning scenery.
The Meteora region is just as magnificent, with towering rocky outcrops topped with impossibly positioned Byzantine monasteries – although don't expect it to look like the pictures from beneath!
We also loved the Thermopylae hot springs, where there was also a bloody battle between the Persians and Greeks in 480 BCE, the pretty resorts of Galaxidi and Nafpaktos on the Gulf of Corinth, and the Ambracian Gulf for its slow and peaceful holiday vibe, and perfect position if you're heading south from Igoumenitsa.
Northern Greece
Northern Greece stretches across more terrains and cultures then anywhere else in the country and will be on your rite if you're hreading from Greece to Turkey. The mighty civilisations of the Macedonians, Thracians, Romans, Byzantines, Slavs and Turks have all helped to shape this region.
Here you'll find lively cities like Thessaloniki and Xanthi, the stunning beaches of the Aegean coast, the mighty Mount Olympus, and one of Europe's largest canyons, the Vikos Gorge.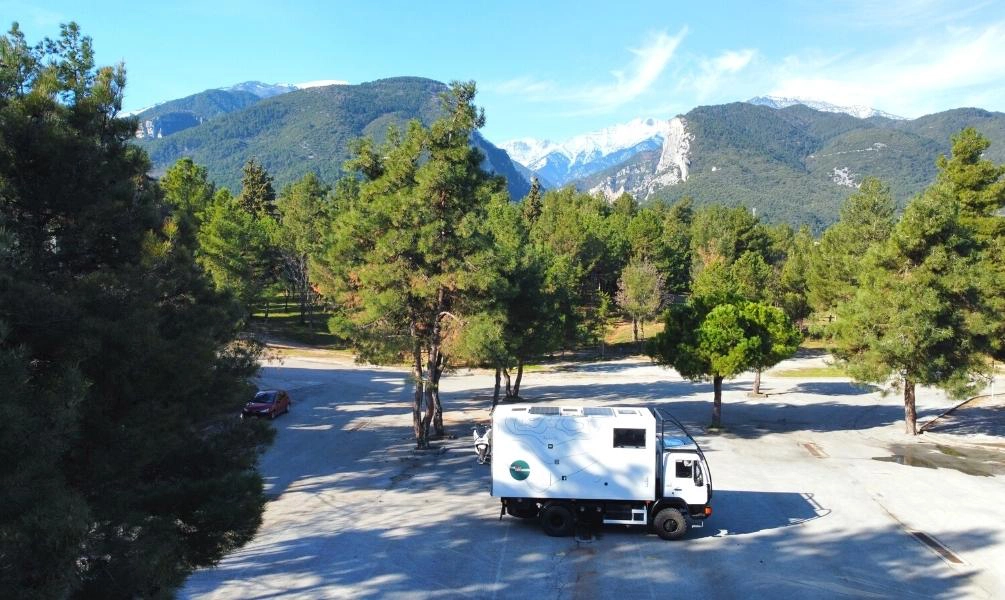 The Greek Islands
If you want to visit the islands, then you'll need to do a bit of research to find the best routes, wild camping spots and campsites. We tried but found it quite hard work, especially for out-of-season island visits.
In the end, we found the costs associated with getting there outweighed the being there and stuck to the Greek mainland, which is just as beautiful. As our distant Greek relatives (aunt of my brother-in-law) told us, "you won't see the real Greece on the islands".
But, if you do want to experience a Greek island, you can get to Crete from Athens, and to Corfu from Igoumenitsa. Some of the smaller islands do not have ferries large enough for a motorhome, but a campervan may be possible.
Lots of car ferries do not run in winter, so if you visit out of season, it will not be possible to visit many of the islands. Ferry fares for motorhomes tend to be quite expensive, so take this into consideration when you're budgeting.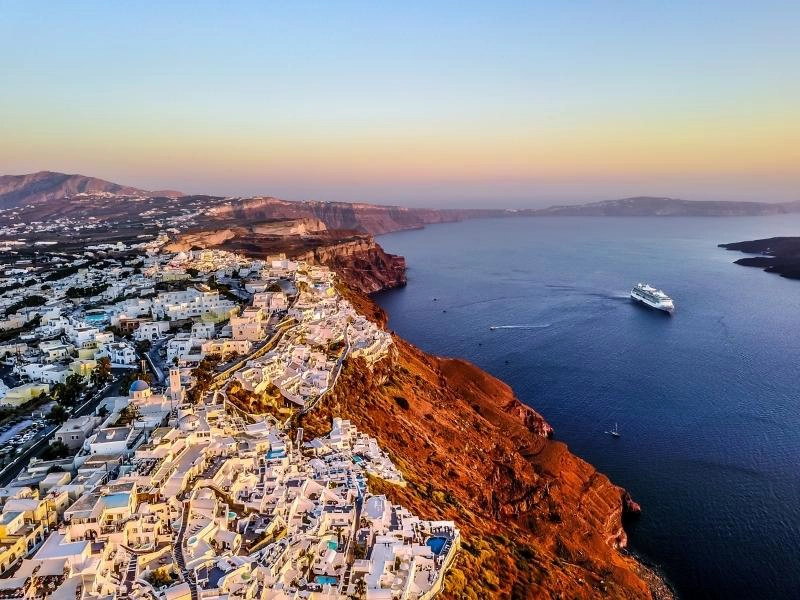 Are you looking for European motorhome touring guides? Check out these top posts…
Taking a motorhome to Italy is an experience not to be missed. This gorgeous country, full of beautiful light, fabulous food and landscapes straight from a film set, will not disappoint. In this post, you'll find all you need to know about touring Italy by motorhome.
Love it? Pin it!