This post may contain affiliate links, from which we earn an income.
Are you ready for an unforgettable adventure? Pack your bags and join us on an Albanian road trip, where breathtaking scenery, Ottoman architecture, exceptional food, and off-the-beaten-path places await.
From the stunning Albanian Alps to the turquoise waters of the Ionian Sea, our journey will take you through charming villages, ancient ruins, vibrant cities and UNESCO sites. Get ready to taste delicious local cuisine, meet friendly locals, and discover hidden gems along the way.
In this Albania road trip planner, we'll share the best Albanian road trip itinerary, insider tips, must-see destinations, and practical advice to help you plan your own epic adventure. Whether you're a seasoned traveler or a first-time explorer, a road trip in Albania is an experience you won't want to miss.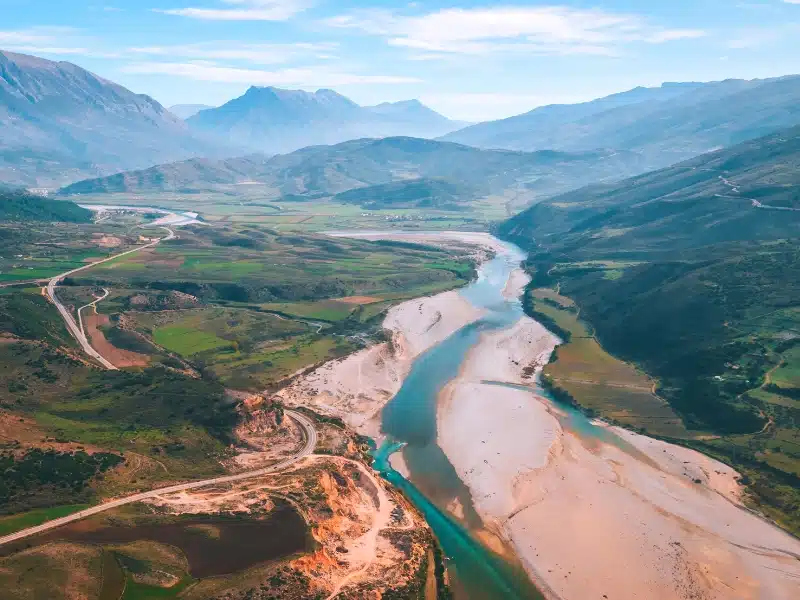 Where is Albania?
The Republic of Albania is a small, mountainous country in south-eastern Europe's Balkan Peninsula, bordering the Adriatic Sea to the west, the Ionian Sea to the south, and with land borders to Greece in the south, the former Yugoslav Republic of Macedonia in the east and Montenegro and Kosovo in the north.
Albania's landscape ranges from the snow-capped mountains in the Albanian Alps and the Korab, Skanderbeg, Pindus, and Ceraunian Mountains, to the almost tropical hot and sunny beaches and turquoise waters of the Mediterranean.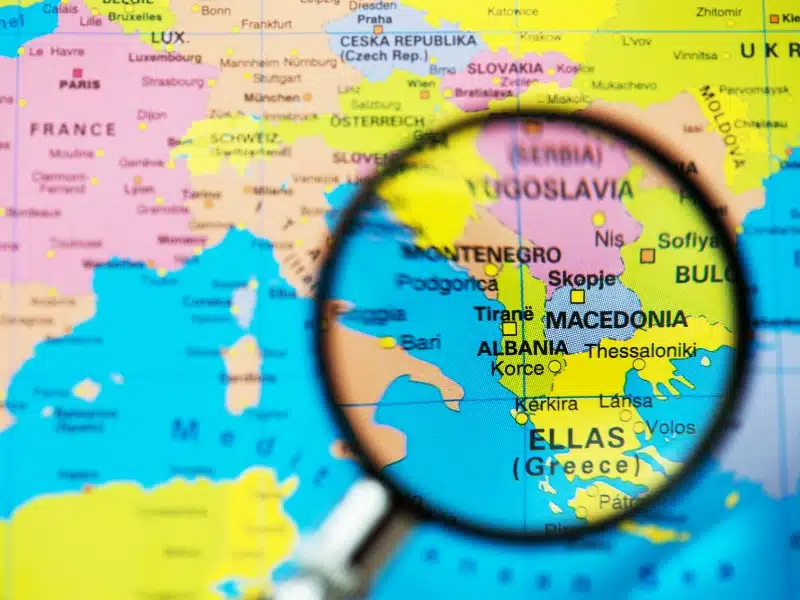 Is It Safe to Visit Albania?
Albania is geographically in Europe but not in the EU, and a bit off the beaten track. This makes the country a great place for adventure and a you'll still find a real sense of wilderness.
Unfortunately, Albania has gained a somewhat unfair reputation as a crime-ridden nation but ub fact, it's relatively safe to travel in Albania. There are mild threats, but nothing that should stop you from visiting and having an amazing time..
Do pay attention to personal and vehicle security and avoid any political rallies or demonstrations, which can flare up quickly. Crime and violence does occur in some areas but is not typically targeted at foreigners.
Getting to Albania
Whether you're traveling to Albania in a car, motorcycle, or campervan from Europe, or picking up a hire car, self-driving is absolutely the best way to explore this fantastic Balkans country.
You can stop whenever you want, try new activities, visit places you see along the route, and have the freedom to change plans at the last minute.
Fly into Albania's Tirana International Airport (Nënë Tereza). With direct flights from Europe, it's easy to connect with the States, Middle East and the UK. We recommend booking through Skyscanner for live deals and the best prices.
Are you planning to rent a car in Albania? As one of the largest car hire aggregator companies in the world, we recommend Rentalcars.com because they have massive purchasing power which enables them to secure the best rental car prices, which benefits you when you're planning a road trip.
For a real adventure, hire a motorhome or campervan in Albania. We recommend AutoEurope for their large range of fully equipped vehicles, competitive pricing and great customer service. Use the Park4Night app to find overnight spots and campsites along the route.
Best Time for Visiting Albania
Spring
Spring in Albania lasts from mid-February until mid-April. The early spring weather is mostly rainy and cold, with temperatures starting to warm up from mid-March. The wildflowers begin to bloom and the mountain landscape comes alive, making late spring one of the best times to visit Albania.
Summer
Summer months in Albania often bring heat and drought. During the summer the sky is usually very clear and rain is pretty much non-existent except for some mountain areas, where the average July temperatures are a pleasant 23ºC / 73ºF.
Fall
Autumn in Albania is quite short and begins in late October, lasting little over a month. It often rains in the fall, but it's not cold, with the average temperature being a mild 18ºC / 64ºF. The fall colors will be spectacular and Albania's autumn fruits and nuts are at their peak during this harvesting season.
Winter
Winters in Albania are seriously cold and wet. It snows and rains right across the country and the coldest month of January only manages average daily temperatures of 7ºC / 45ºF at sea level and between minus 12-20ºC / 10 to -4ºF in the mountains! Winter is definitely not our favorite time to road trip Albania!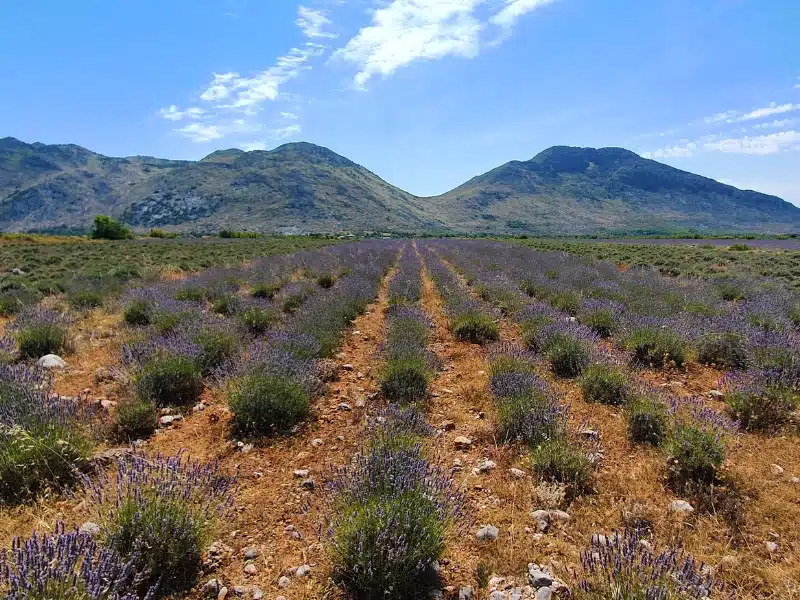 Road Trip Albania Map & Route
This 7 day road trip from Tirana hits all the highlights, with charming towns and cities, communist and Ottoman history, castles and palaces, and natural wonders on the itinerary.
This Albanian itinerary will easily stretch to two weeks if you prefer to slow travel and take in more sights as you go. Why not spend longer in your favorite places, and check the interactive map for attractions and landmarks nearby?
Tirana – Kruje – Theth – Shkodër – Durrës – Berat – Vlorë – Porto Palermo – Sarandë – Ksamil – Muzinë – Përmet – Pogradec – Tirana
How to use this map – Use your fingers (or computer mouse) to zoom in and out. Click or touch the icons to get more info about a place, and click the arrow in the box top left to open the index. To add to your own Google Maps account, click the star next to the title of the map.
Albania Road Trip Itinerary
Day 1: Tirana to Kruje
Tirana
Tirana is the capital of Albania, a city known for its Ottoman, Fascist and Soviet-era architecture, recent communist history, and lively social scene, and is the perfect start point for your Albania road trip itinerary.
It is best to start your visit to Tirana in Skanderbeg Square. You can walk here to the National History Museum, Et'hem Bey Mosque, and Bunk'Art 2 Museum. The latter is a museum housed in a former nuclear bunker and offers a fascinating insight into Albania's communist past.
From the main square, you can also see the clock tower and the statue of Albania's national hero, Skanderbeg, a medieval Albanian feudal lord and military commander who led a rebellion against the Ottoman Empire in 1450, which made him a saviour in the Western world.
Visit the Enver Hoxha Pyramid. This pyramid-shaped building was built as a mausoleum for Albania's former communist leader, Enver Hoxha. It currently serves as a cultural center and popular tourist attraction.
Go shopping at the Pazari I Ri, Tirana's primary market. Here you can find everything from fresh produce to crafts and souvenirs.
Take a cable car to Mount Dajti. It offers stunning views of Tirana and the surrounding countryside. Enjoy lunch on the edge of Dajti Mountain at Restaurant Ballkoni Dajtit which offers superb food, excellent service, and exceptional views at over 3,280 feet / 1,000 meters above sea level.
Kruje
About an hour north of Tirana is the historic city of Kruje. It is known for its castle, bazaar, and association with Albania's national hero, Gjergj Kastrioti, commonly known as Skanderbeg.
Visit the impressive 5th century Kruje Castle for stunning views of the surrounding area. It is one of Albania's most visited historical sites, housing a museum dedicated to Skanderbeg and the resistance against Ottoman rule.
Head to the Ethnographic Museum on the castle grounds to learn more about Albania's traditional lifestyle and architecture.
Explore the Old Bazaar and Dollma Teqe at the foot of Kruje Castle. The bazaar offers a glimpse into traditional Albanian life through handmade crafts and souvenirs like hand-woven carpets and hand-thrown ceramics, and traditional Albanian food.
The Dollma Teqe is a Bektashi shrine known for its beautiful architecture and peaceful atmosphere.
Try traditional Albanian cuisine at Rooms&Restaurant Emiliano (Kruje Castle) or Restaurant Bardhi and eat byrek, a meat and cheese-filled pastry, tave kosi, a lamb and yogurt dish, and baklava, a sweet treat made with honey, filo pastry, and nuts.
Upmarket: Tirana Marriott Hotel – Booking.com | Agoda
Mid-Range: Rogner Hotel Tirana – Booking.com | Agoda
Budget: Lot Boutique Hotel – Booking.com | Agoda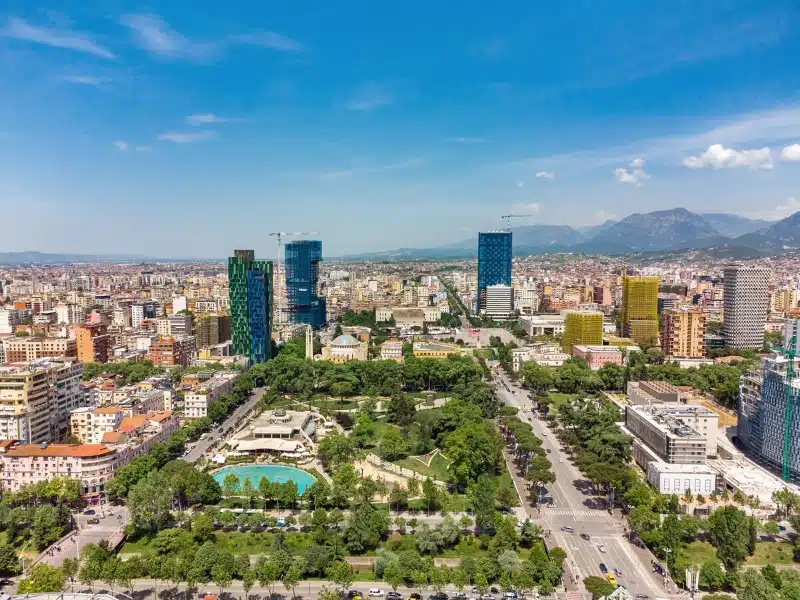 Make sure you have travel insurance you can trust when visiting Albania. We recommend True Traveller for their 5-star TrustPilot reviews, variety of cover options, best activities cover as standard, great prices, and excellent service.
Day 2: Kruje to Theth
Theth
Theth is about three hours from Kruje, high in the Albanian Alps, known as the Accursed Mountains. Stop in Lezhë to take a break and explore Lezhë Castle or the Skenderbeg Mausoleum.
The drive to Theth from Shkodër is dramatic and picturesque. You no longer need a 4×4 to take this journey, as the new road is asphalt all the way, but you will need to take it slowly as this mountain route has many twists and turns, switchbacks and steep drops.
Due to poor weather conditions during the winter months, the road to Theth is closed between November and May each year. If you are planning a trip to Theth make sure you go during the summer or early autumn.
Once in the small village of Theth, the Blue Eye waterfall and swimming hole is a must-see. The water is crystal clear and has a stunning blue-green hue, making it incredibly photogenic.
Most hikers do the 9.7 mile / 15.6km hike to the famous waterfall, which takes approximately six hours there and back, following the nearby river as you go. It is not a difficult route with little elevation gain, but it is long, so make sure to stop regularly and grab a drink at the café at the Blue Eye.
The hiking trail is not well signed, so use the Maps.me app to help with directions, and make sure to check the weather before you leave and dress appropriately for the conditions.
You can also hire a taxi from Theth to Nderlysaj instead. From there, it is only a 30 to 40 minute hike to the Blue Eye one way.
Back in Theth, visit the well-preserved Lock-in Tower of Theth. It is a traditional 17th century Albanian tower that offers visitors a glimpse into the local culture and life and is known for having imprisoned all of those who had committed serious crimes against the Kanun of Lekë Dukagjin, a set of oral traditional Albanian laws coded in the 15th century.
Afterward, visit the Church of St. John, which dates back to the 1700s. It is known for its beautiful frescoes and traditional architecture.
Try some local cuisine at Villa Gjecaj Restaurant or Jezerca Restaurant for food with an Italian flair.
RELATED POST: Beautiful Albania: 16 Most Scenic Places to Visit
Upmarket: Hotel Kulla e Bajraktarit, Bogë – Booking.com | Agoda
Mid-Range: North Alpine Villas, Bogë – Booking.com | Agoda
Budget: Molla Guest House – Booking.com | Agoda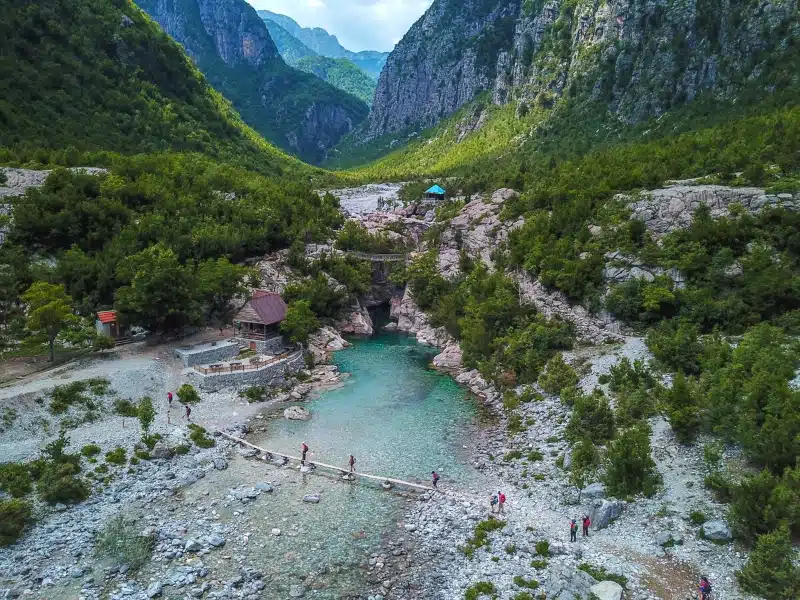 Day 3: Theth to Durrës
Shkodër
The historic city of Shkodër is 47 miles south of Theth and you will have already passed through on your way to Theth. Shkodër is known for its rich culture and beautiful natural surroundings.
Explore Shkodër's historic center and admire the beautiful Ottoman-era architecture. From there, visit attractions like the Ebu Beker Mosque and the Marubi National Museum of Photography. The latter has over 500,000 photographs on exhibit, including many historical images of Albania.
Head to St. Stephen's Catholic Cathedral, known simply as Shkodër Cathedral, to admire its impressive neoclassical architecture.
Afterward, visit Rozafa Castle, a fortress on a hill overlooking the surrounding area. The castle is named after Rozafa, who, according to legend, agreed to be buried alive inside the walls – you can find out more about the bizarre legend when you visit and see the statue of Rozafa erected on site.
Enjoy lunch at Bar Restaurant Elita or Puri for local cuisine.
Durrës
Less than two hours south of Shkodër is Durrës, a coastal city known for its beautiful beaches, historic landmarks, and lively atmosphere.
First on your list of places to explore should be the Durrës Amphitheater. This historical landmark dates back to the 2nd century CE and is one of the largest theaters in the Balkans, with 20,000 seats.
The impressive 5th century Venetian Tower of Durrës Castle is near the theatre. This historic fortress is a great place to explore and offers beautiful views of the city and the sea.
Follow it up with a visit to the Archaeological Museum, home to a collection of artifacts from the ancient city of Dyrrhachium, including pottery, jewelry, and statues.
Enjoy the seaside promenade in Durrës, a popular place to walk, jog, or bike. Or relax on the beach for an hour or two. Durrës Beach extends over six miles and boasts soft sand and crystal-clear waters.
Treat yourself to dinner at Cosmo Restaurant or Restaurant Arberia for great beach views.
Durrës is known for its cultural events, including the Durrës International Film Summer Festival, which takes place every August – it's worth planning to be in Durrës for the festival if you're traveling in summer.
RELATED POST: Things to Do in Albania: 18 Amazing Highlights
Upmarket: Hotel Villa Pascucci – Booking.com | Agoda
Mid-Range: Hotel Kloest – Booking.com | Agoda
Budget: Old Town Villa – Booking.com | Agoda
Day 4: Durrës to Vlorë
Berat
Berat is a historic UNESCO World Heritage Site city 60 miles south of Durrës, known as the 'Town of a Thousand Windows'.
Explore the Mangalem and Gorica neighborhoods in Berat on either side of the Osum River. They are known for their historic architecture, narrow streets, and colorful houses which give rise to the towns nickname.
Go to the National Ethnographic Museum located in the historic Mangalem neighborhood to learn about the traditional way of life in the region, including traditional clothing, tools, and household items.
Visit Berat Castle, a historic fortress on a hill in the city's center. It dates to the 4th century and offers beautiful city and countryside views. Explore the Onufri Museum inside the Berat Castle. It houses a collection of icons and religious artifacts dating from the 1500s.
Afterward, walk along the Osum River to see the 18th century Gorica Bridge, a historic Ottoman-era bridge in the Gorica neighborhood that offers beautiful views of the river and the city.
Vlorë
En route to Vlorë, make a stop to see the ancient Apollonia Archaeological Park. Apollonia was an ancient Illyiran city set on rolling hills on the right bank of the Vjosa River. Surrounded by olive groves, the highlights in this off-the-beaten path place include the theatre and the elegant pillars of the restored facade of the city's 2nd century BCE administrative centre.
Once in Vlorë, visit the Independence Museum. This historical landmark commemorates Albania's independence from the Ottoman Empire in 1912. Here you can learn about the country's struggle for freedom and the prominent figures that played a vital role in the liberation.
Afterward, head to Muradie Mosque. This ancient mosque, built in the 1500s, is an important religious site for Muslims and non-Muslims and features intricate design and glorious architecture.
Another notable landmark is the 4th century Kanina Castle. Visit this historic site on the outskirts of Vlorë to learn about its vital role in the country's history and enjoy the panoramic views of the surrounding countryside.
Back in Vlorë, take a walk along the promenade that stretches along the coastline or enjoy the sunset at one of the famous beaches, like Radhima Beach, Orikum Beach, or Dhërmi Beach.
Visit Flag Square, a large square in the center of Vlorë that houses a giant flagpole with the Albanian flag. It's a popular spot for taking pictures and watching the sunset.
Afterward, dine at Te Fabio or Les Amis Restaurant for the best coast views.
Upmarket: Hotel Aross – Booking.com | Agoda
Mid-Range: Mazarine Hotel – Booking.com | Agoda
Budget: Maxi Room – Booking.com | Agoda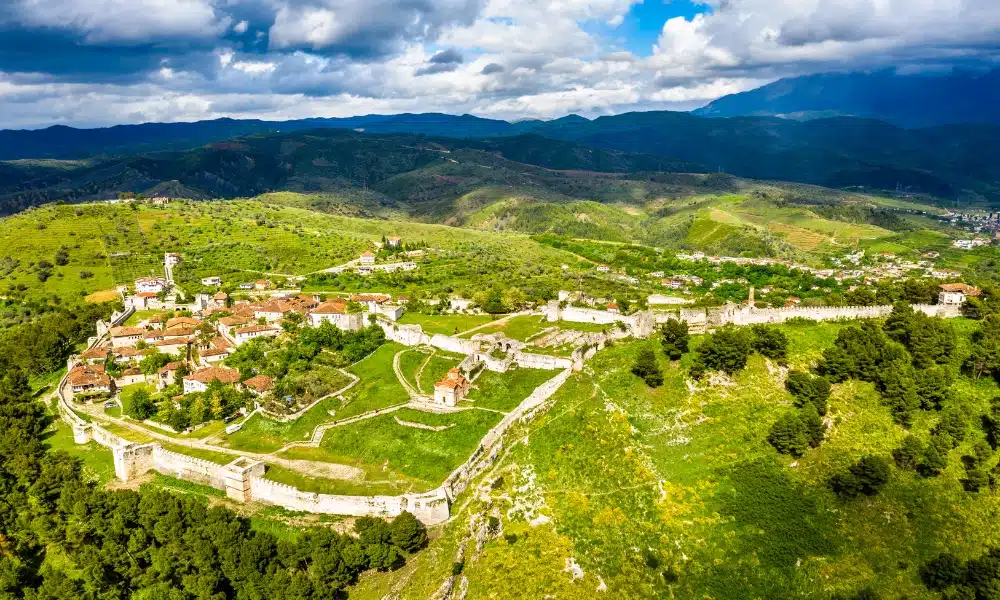 Other Nearby Road Trips
Day 5: Vlorë to Sarandë
Porto Palermo
Drive to Porto Palermo via the Llogara Pass, a famous Albania coastal road that connects the Dukat Valley in the north with the Albanian Riviera in southern Albania. The pass sits within the Ceraunian Mountains and runs along the Albanian coast, peaking at 3,422 feet / 1,043 meters above sea level.
A Top Gear favorite, the Llogara Pass is widely held to be the most scenic road in Albania and one of the best driving roads in Europe and is on many travelers' bucket lists.
The SH8 road is now fully paved but requires caution as the road is narrow in places, needs constant braking and frequent gear changes due to steep ramps at 11% gradient, and there are tight hairpin bends and a lack of barriers in some areas.
Porto Palermo is a small village with a beautiful bay and a historic castle. Upon arrival, visit the 19th century Porto Palermo Castle. This historic landmark is on a small peninsula overlooking the bay. The castle was initially used as a military base during World War II. Today, it is a popular attraction and offers stunning views of the surrounding area.
You can visit two bunkers that have survived the Cold War, the Old Submarine Bunker, and the Porto Palermo Tunnel.
The beautiful beach at Porto Palermo is secluded and rocky with clear blue water. It is a great place to swim and sunbathe, and there are a few small bars and restaurants nearby where you can grab a drink or a bite to eat.
Take a boat tour from Himarë, about twelve minutes from Porto Palermo. Most tours will take you to the bay, beaches, and coves. This is a great way to see the area from a different perspective and explore some of the hidden gems only accessible by boat.
Afterward, enjoy lunch at Porto Palermo Restaurant before heading to Sarandë.
Sarandë
Sarandë is a beautiful coastal town an hour from Porto Palermo, known for its pebbly beaches, vibrant nightlife and ancient archaeological sites.
Catch some afternoon sun at Mango Beach or Gjiri I Midhjeve Beach, or stroll through Sarandë town and explore the Synagogue Complex, a historic site showcasing the region's Jewish heritage. It includes a synagogue, a Jewish cemetery, and a museum.
Next, visit the Sarandë Archaeological Museum to learn more about the region's history and culture. It features artifacts from the ancient city of Butrint in the Butrint National Park and other nearby sites.
Another historical landmark worth visiting is the Lekursi Castle. This medieval castle is on a hill overlooking Sarandë, offering breathtaking views of the sea and the surrounding countryside.
Afterward, dine at Hera Restaurant or Balbi 34.
Upmarket: Hotel Butrinti & Spa – Booking.com | Agoda
Mid-Range: ArtNest Luxury Hotel & Suites – Booking.com | Agoda
Budget: Sunset Suites – Booking.com | Agoda
Day 6: Sarandë to Muzinë
Ksamil
Ksamil is a picturesque village a 20 minute drive south from Sarandë, known for its beautiful beaches and crystal-clear waters.
Start your exploration of the area by visiting the Ksamil Islands, a group of four small islands located off the coast of Ksamil. Here you can enjoy pristine beaches, translucent waters, and stunning views.
In Ksamil, you can sunbathe or swim on Pasqyra Beach, Puerto Rico Beach, or Lori Beach where you can also enjoy watersports like swimming, snorkeling, and kayaking. There are quite a few places to rent equipment and take lessons.
Visit the Ali Pasha Castle, a 19th century fortress on a hill overlooking Ksamil. It offers visitors stunning views of the sea and the surrounding countryside.
Another notable historical landmark is the Butrint Ancient Theater. It dates back to the third century and includes several inscriptions carved on its stones.
Walk in the charming village with narrow streets and traditional houses to better understand local life.
Ksamil is known for its seafood, so treat yourself to some on the beachfront at Abiori Bar Restaurant Pizzeria or The Mussel House Restaurant.
Muzinë
Muzinë is a small village at the foot of the Gribe Mountains. En route there, stop at the Manastiri I Shën Nikollës monastery to admire its impressive exterior and interiors.
The most popular tourist destination in Muzinë is the Blue Eye water spring or Syri i Kaltër – not to be confused with the one in Theth, there are two official Blue Eyes in Albania!
The blue water of the river forms part of the Blue Eye Nature Preserve and is over 164ft / 50m deep. It is about an hour's walk from the Blue Eye parking lot and back, so put at least two or more hours aside for the hike and time spent in the spring.
While Muzinë is a small village, several restaurants still serve traditional Albanian dishes. Try Taverna Mouzina for Greek and Mediterranean dishes.
Mid-Range: Margaret's Guest House, Mesopotam – Booking.com | Agoda
Budget: Hotel Mesopotami – Booking.com | Agoda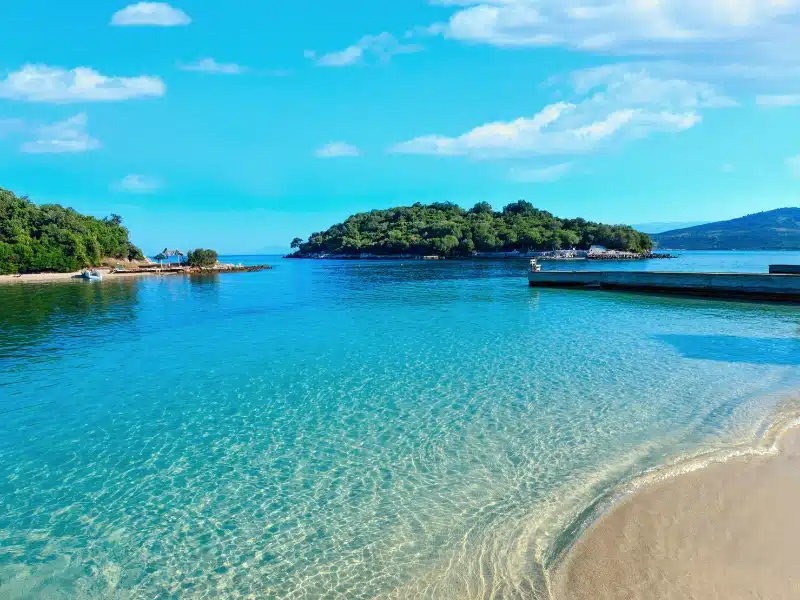 Day 7: Muzinë to Pogradec
On route, make a stop at Gjirokastër Castle and prepare to be transported in time! Perched above the town of Gjirokastër, this majestic fortress not only offers panoramic views of the surroundings but also allows you to immerse yourself in centuries of history.
The intricate architecture and the stories that echo within its walls make this castle a must-visit. Don't miss the local delicacy tavë kosi, a mouthwatering baked dish of lamb and yogurt that's unique to Gjirokastër.
Përmet
Përmet, nicknamed 'The Hero City', is a charming town 55 miles north of Muzinë. It is known for its beautiful natural scenery, hot springs, and one very large stone!
The City Stone is a prominent rock formation that measures 138 feet / 42 meters high with a top surface of 650 square meters, upon which is an archeological site that is thought to date back as far as the 4th century.
Stories about the City Stone have been passed down in Përmet from between generations and many believe that the town of Përmet was named after a hero from Middle Ages who was called Premt.
According to legend, Premt was the ruler of the fortress on top of the City Stone and when the town was invaded Premt threw himself from the Stone rather than suffer death at the hands of the enemy.
A popular activity among visitors is the Bënja thermal baths, located a few kilometers outside town near the bridge. The natural hot springs are known for their healing properties and are surrounded by stunning mountain views.
Back in Përmet, explore the Old Bazaar. This is a great place to discover the town's traditional culture and crafts and purchase souvenirs. You can find jewelry and textiles and try traditional Albanian delicacies and snacks here.
The magnificent Kisha e Shën Kollit or St Nicholas Church is a stone's throw from the old city. Admire its stonework and stunning views.
Enjoy lunch at Bar Restaurant Sofra Permetare or Villa Permet Restaurant for local cuisine.
Pogradec
Pogradec is a beautiful town located just over 100 miles from Përmet. On your way there, stop at Villa Teo for a break and refreshments.
The lakeside promenade is a great place for a walk to enjoy the view of Lake Ohrid. Afterward, you can explore Pogradec's history by visiting one of the 13th century Saint Naum Monastery or The Monumental Tombs Of Lower Selca, about an hour's drive from Pogradec center.
Finally, stroll on the beach or hike up to Pogradec Panoramic Viewpoint for breathtaking views of the town and its surroundings.
You can decide whether to remain in charming Pogradec or head back to Tirana, about 78 miles northwest of Pogradec.
Upmarket: Hotel Hymeti's Palace – Booking.com | Agoda
Mid-Range: Hotel Millennium – Booking.com | Agoda
Budget: Rosa's Home – Booking.com | Agoda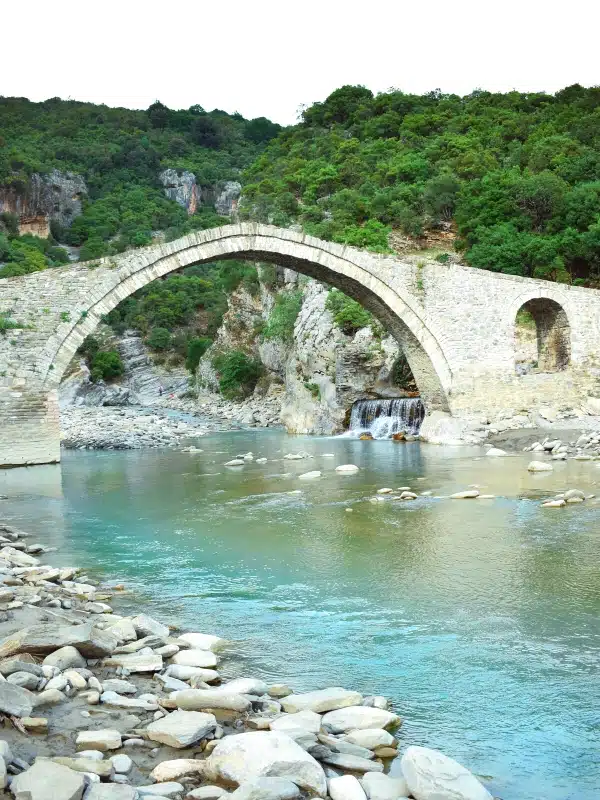 Albania Road Trip Essentials
Here are the websites and services we personally use and recommend for traveling in Albania.
Traveling & Driving in Albania
If you are a confident driver, you shouldn't find it too difficult to drive in Albania. However, you should be aware that Albanian drivers can be quite erratic, and not all of the roads are paved or kept in good condition, especially in rural areas, although their motorway network is reasonably well maintained.
Whether you're traveling in your own car, touring Albania in a motorhome, or flying in and renting a car for a driving tour, you need to follow these rules on your Albania roadtrip.
Documents
You must have at least three months remaining on your passport at your intended departure date from Albania.
British and EU citizens can enter and remain in Albania for a maximum of 90 days in every 6 month period without a visa. American citizens are generally allowed to stay in Albania for up to one year without a visa.
You must have at least 3rd party insurance for your vehicle. Not all insurers cover driving in Albania so check before you go and make sure you're covered.
Citizens of non-EU third countries may require an International Driving Permit for driving in Europe. You can check whether you need an IDP here.
Rules of the Road
Albania drives on the right and overtakes and passes on the left.
You must carry a warning triangle and first aid kit by law. We also recommend that you carry at least one reflective jacket within the passenger compartment of your vehicle and a fire extinguisher.
Snow chains are compulsory to carry if you're driving between 1st November and 30th April.
Vehicles from the right and emergency vehicles have priority.
If you drive at night, watch out for unmarked roadworks, potholes, and unlit vehicles on the roads.
Speed limits vary across Albania, so always check the signposts for maximum speeds. In urban areas, the limit is usually 40km/h unless otherwise signposted and 80km/h – 90km/h outside these areas. On the motorway, the limit is 110km/h.
If you're involved in any sort of collision, you must wait until the police arrive.
There are no toll roads or low-emission zones in Albania.
RELATED POST: Driving in Europe – Everything You Need to Know
Are you looking for more incredible road trips? Check out these top posts…
Amongst the beautiful landscapes of Spain, in the mountainous interior and along the gorgeous coasts, you'll find fascinating history, vibrant culture, and incredible cuisine. One of the best ways to experience Spain is by taking a road trip. We base ourselves in Spain when not traveling and have explored much of the country on four wheels and two! Whether you want historic cities, gorgeous landscapes, beaches and sun, or something a bit different, our detailed…
Love it? Pin it!