This post may contain affiliate links, from which we earn an income.
The Most Beautiful Places In Albania
Albania is an often underrated European gem situated in the Balkan Peninsula. This captivating destination offers a unique blend of beautiful mountainous landscapes, historical towns dating back to the Byzantine times, and scenic beaches.
The best time to visit depends on your interests: summer is ideal for beach towns, while spring and autumn offer comfortable temperatures for sightseeing and a cross-country road trip.
Let us share beautiful Albania with you, and inspire you to visit this picturesque country and fall in love with its beauty.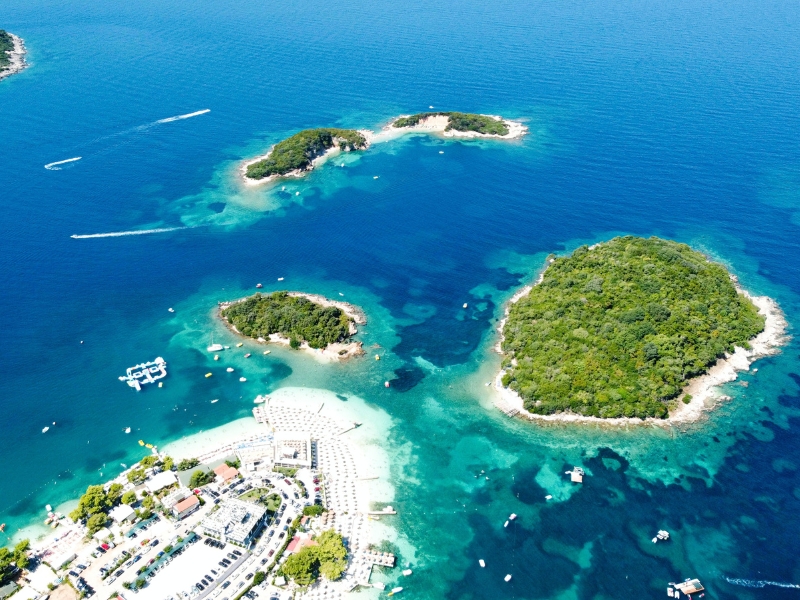 Albania Travel Tips & Resources
Here are the services we use and recommend for traveling in Albania;
1. Himare
Situated along the Ionian Sea, Himare is one of the best places on the Albanian Riviera to experience the local charm and hospitality. Here, you will also find fantastic holiday amenities and historic sites worth exploring.
And let's not forget the beaches. Livadi Beach is a highlight, with its golden sands calling you for a day of sunbathing and water sports.
At sunset time, stroll Himare's lively beach promenade, packed with souvenir vendors and various yummy street food options. If you have a sweet tooth, Nutella and banana crepes are a must-eat.
If you're looking to dive a bit deeper into local history, Himare Castle is a great place to visit, offering not only historical intrigue but also panoramic vistas of the sea.
RELATED POST: Albanian Road Trip: Epic One Week Itinerary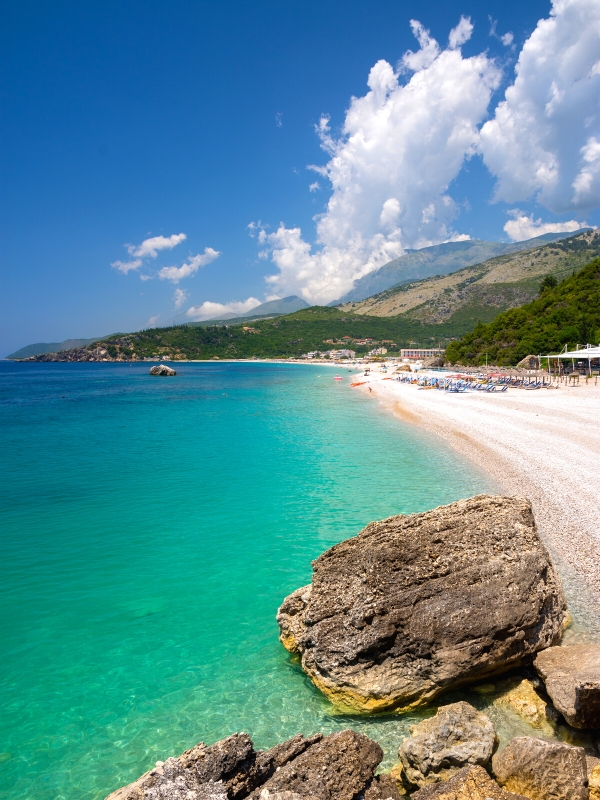 Make sure you have travel insurance you can trust when visiting Albania. We recommend True Traveller for their 5-star TrustPilot reviews, variety of cover options, best activities cover as standard, great prices, and excellent service.
2. Sarande
Sarande, located in the southwest, is another coastal haven that really showcases the beauty of the Albanian Riviera. Perched on the slopes of rolling hills, the city nestles elegantly within a picturesque bay.
Unlike Himare, Sarande brings a bit more of a city vibe to your beach vacation. Here, holidaymakers can enjoy a lively nightlife scene with bars and cafés lining the main beach promenade.
Sarande is also a great base for visiting the most beautiful beaches in this part of Albania, such as Pulebardha or Monastery Beach, as well as the beaches of Ksamil.
But it isn't just the sparkling blue waters that steal the show, the historical landmarks add an additional layer to your visit. One must-see is the Lekuresi Castle, perched on a hilltop, offering a bird's-eye view of the city and the sea.
Sarande is renowned for its seafood, with daily catches from local fishermen sold each morning on the promenade, as well as a diverse array of restaurants offering fresh seafood dishes.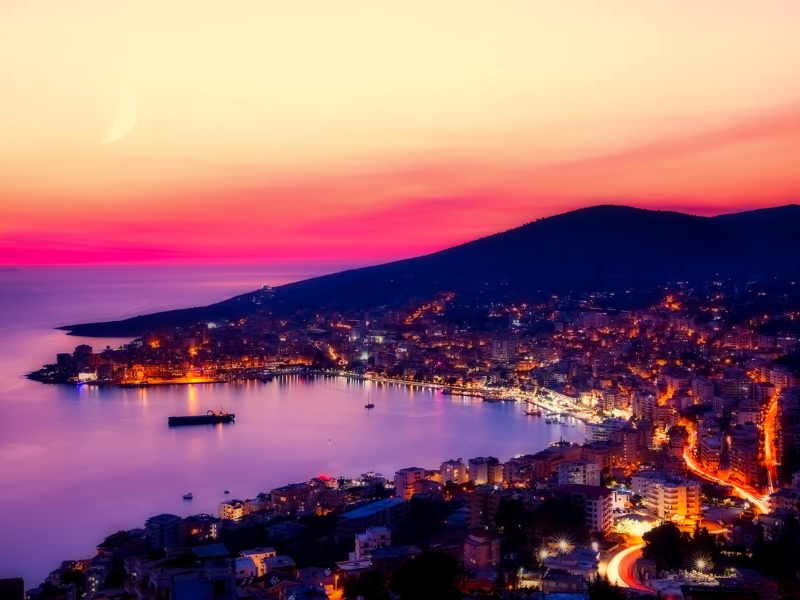 3. Kruje
Kruje is a pivot from the coastal charm, transporting you into the rich tapestry of Albanian history. Nestled among mountainous terrain, Kruje is about an hour's drive north of the capital city Tirana.
You can almost feel the historical weight of the place as you wander through the castle's stone corridors. But it's not all about history. The Old Bazaar in Kruje offers some of the best shopping for traditional Albanian goods. It's a labyrinth of stalls selling everything from colorful textiles to local crafts.
The culinary scene is equally traditional, with Restaurant Emiliano serving up some delectable local flavors like Tavë Kosi, and boasting panoramic views of the entire region.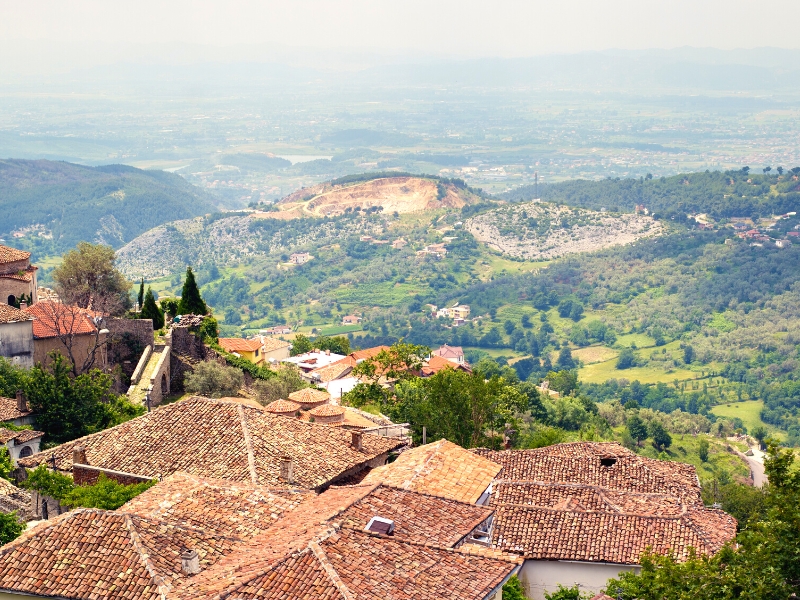 4. Theth
Tucked away in the Albanian Alps, this mountain village is basically a playground for hikers and outdoor enthusiasts. The stunning natural features like the Blue Eye of Theth and the Grunas Waterfall are nothing short of a spectacle, offering fantastic photo opportunities and a moment to connect with nature.
Make sure you visit the Church of Theth (Kisha e Thethit), which is an architectural gem that, with its dramatic mountain backdrop, creates an idyllic view you won't soon forget!
Renting a car in Albania and driving into the Accursed Mountains through Theth National Park is one of the best ways to experience the place.
Accommodation and dining options in Theth are rustic and authentic, often in the form of family-run guesthouses and taverns that serve homemade mountain food.
RELATED POST: Things to Do in Albania: 18 Amazing Highlights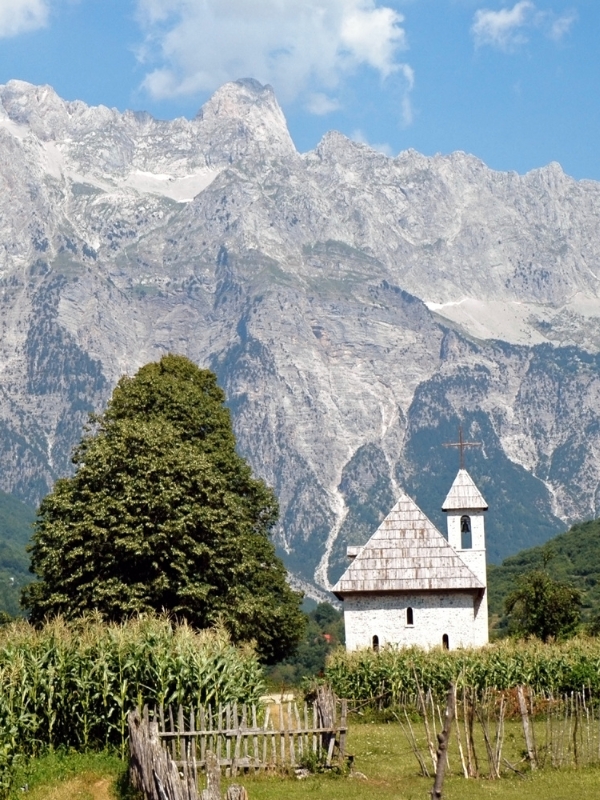 5. Shkodër
Shkoder is a city that effortlessly blends the old with the new. Rich in history, the city serves as a cultural epicenter in northern Albania. One of its standout landmarks is Rozafa Castle. Perched on a hill, this ancient fortress offers sweeping views of the city and the surrounding Lake Shkodër.
Down in the city, the pedestrian-friendly streets are bustling with cafes, and shops and often are a place where local musicians and artists show off their skills.
For an unusual thing to do, head to the Venice Art Mask Factory, which will give you a taste of Venetian culture right in the heart of Albania. Yes, you read that right- a Venetian experience in Albania!
When it comes to food, you've got to visit Fisi Restaurant. This place specializes in traditional Albanian fare, giving you a true taste of the local cuisine. It's an excellent place to try tave kosi, a baked lamb and rice dish that's comfort food at its best.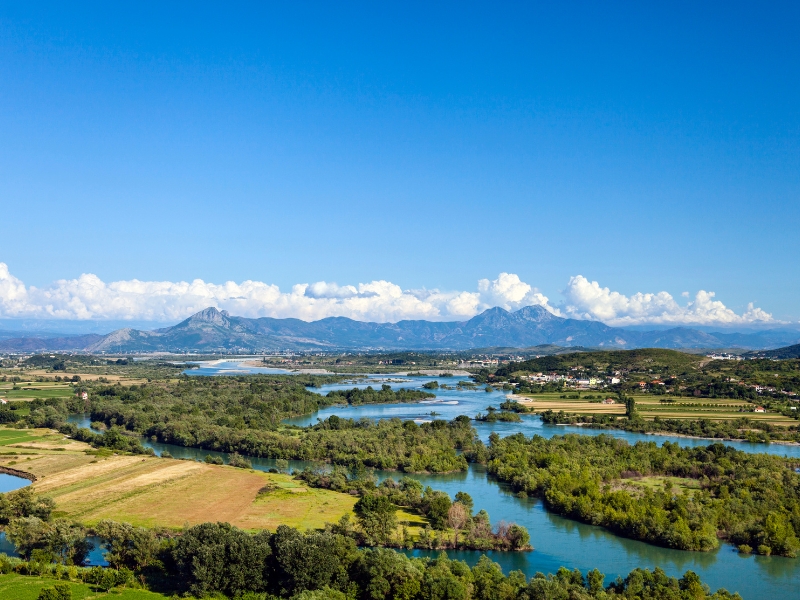 6. Dhermi
Dhermi is another coastal jewel but with a bit more of an edge, thanks to its bustling nightlife. During the day, you can go for a more secluded beach experience at Gjipe Beach or hit Dhermi Beach for a beach day in style in one of the chic clubs.
When the sun goes down, the town comes alive with music and dancing, creating a vibrant atmosphere that goes on until the early hours.
But Dhermi isn't just about beach vibes and nightlife. It also boasts a charming old town packed with history. Venture away from the coast, and you'll find yourself walking through a maze of narrow alleys, a labyrinth of the past featuring classic Byzantine architecture.
At the top of the hill, you'll find the Monastery of Our Lady that's worth every step of the climb. Not only is it a serene place for some introspection, but it also boasts jaw-dropping views of the surrounding area.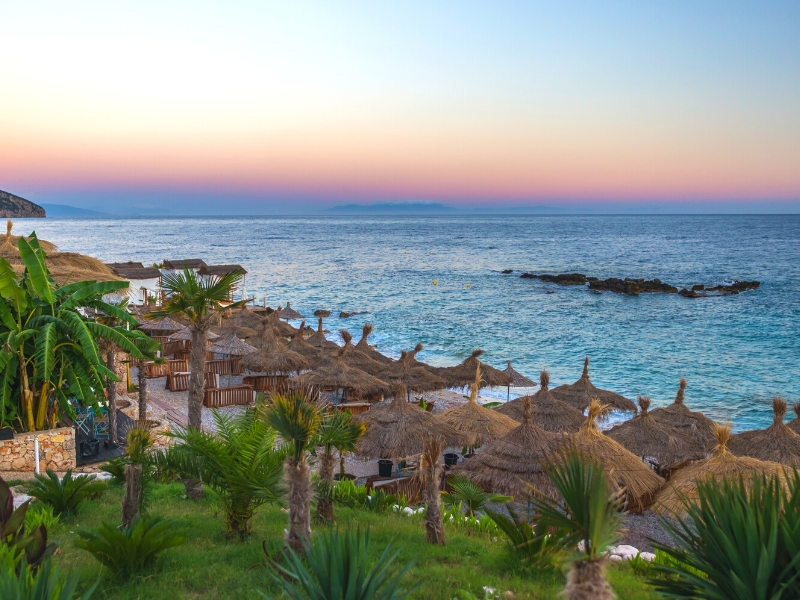 7. Syri I Kalter
Also known as the Blue Eye (there are two in Albania – this one and Theth), this natural spring is a gem with its clear, cobalt-blue waters surrounded by lush forests and an astonishing depth of 10 meters!
But it's not just a sight to see. It is also an experience to dive into – literally! The brave-hearted can take a thrilling jump into the spring. Be prepared, though, the water hovers around a chilly 10 degrees Celsius, which makes for a refreshingly brisk swim.
Trust me, you won't want to stay in for too long, it's that cold. Yet, the experience is so invigorating it's hard to resist the allure of this unique spring.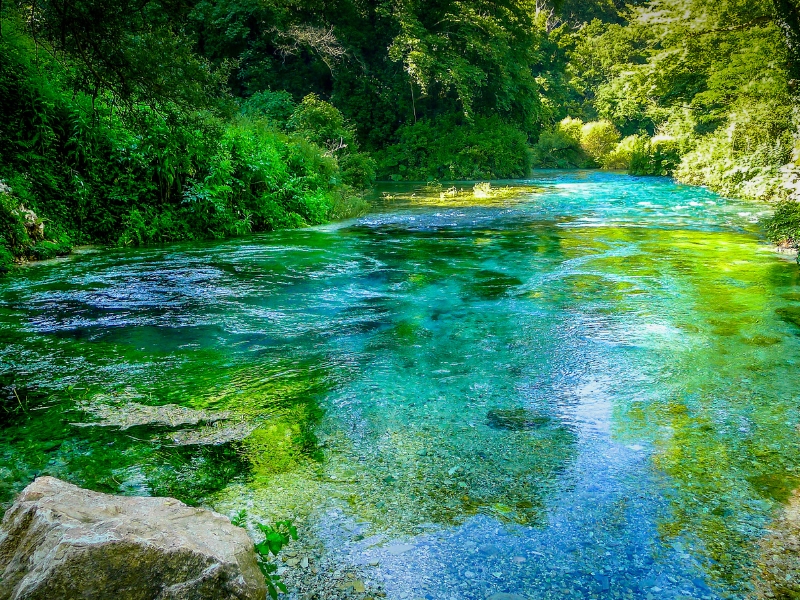 8. Butrint
Butrint National Park is a UNESCO World Heritage site where history aficionados will feel like they've hit the jackpot.
This archaeological park is jam-packed with ancient ruins dating back to various periods, including Greek, Roman, and Ottoman. Key sites to explore are the Roman theatre, the Baptistery, and the ancient city walls.
We highly recommend also making some time to visit the ruins of Ali Pasha Castle, majestically situated on the opposite bank of the river.
Butrint is located a few kilometers outside of Ksamil, and you can get here by a local bus that operates between Sarande, Ksamil, and Butrint.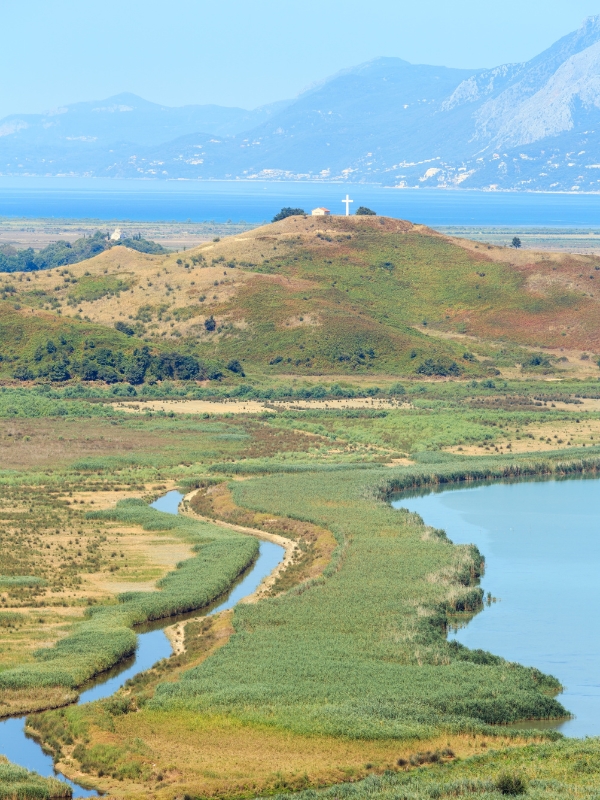 9. Ksamil
There is a good reason why Ksamil has been nicknamed 'The Maldives of Albania'. Located conveniently close to Sarande, Ksamil boasts turquoise waters and white-sanded beaches that look like they've been lifted straight from a travel brochure.
It's not just about lounging on the beach. The place is a haven for water sports enthusiasts. You can rent pedalos or kayaks for a delightful time on the water. If you're up for some light adventure, consider kayaking to the nearby Ksamil Islands.
Ksamil doesn't disappoint when it comes to dining, either. With a range of restaurants offering mouthwatering seafood and authentic Italian and Greek cuisine, your taste buds are in for a treat.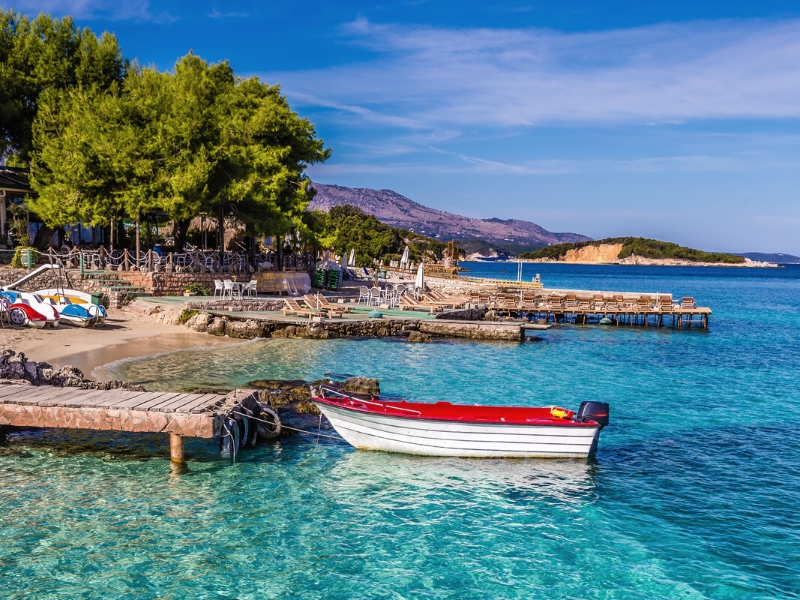 10. Gjirokaster
Gjirokaster isn't just known as the 'Stone City' for its aesthetics. It's a living, breathing museum. This UNESCO site is a marvel of well-preserved Ottoman architecture that literally makes you feel like you've time-traveled. Between the cobblestone streets and the slate-roofed houses, it's a history buff's dream come true.
The crown jewel of the city has to be the Gjirokaster Castle, a fortress offering panoramic views of the entire area!
But there's more. No visit to Gjirokaster is complete without a stroll through the Old Bazaar. The bazaar is brimming with local crafts, colorful textiles, and handmade goods.
Take an afternoon to lose yourself among the market stalls. The Old Baazar is also a fantastic spot to gorge on the local food, make sure you try Albanian rice balls called qifqi.
And let's not forget the Zekate House, an 18th century Ottoman residence that offers a glimpse into the lifestyles of Gjirokaster's elite from days gone by. The house is open to the public, and here you'll find traditional textiles and historic photographs.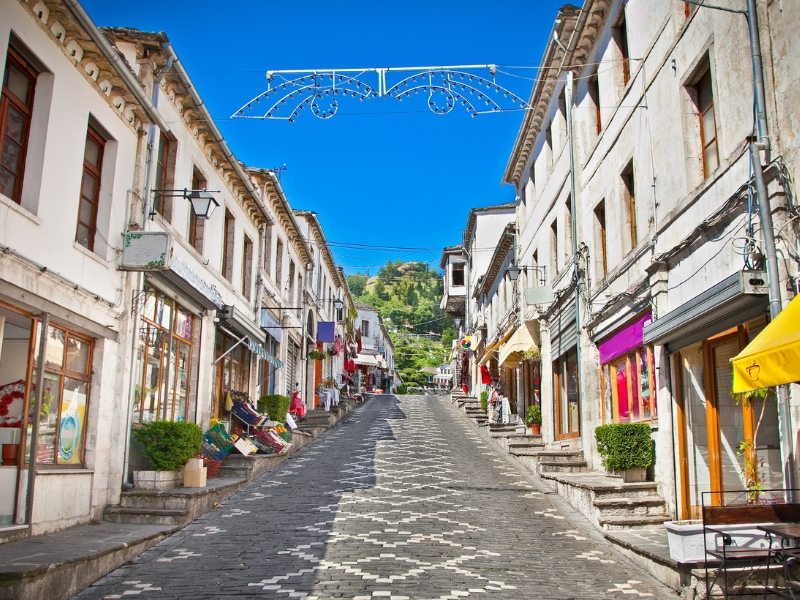 11. Berat
Berat, also known as the 'City of Thousand Windows', lives up to its name with its stunning Ottoman architecture. The hillside houses, with their multitude of windows, create a unique aesthetic that makes Berat one of the most beautiful places to visit in Albania.
The main attraction here is Berat Castle, which served as a fortified city and dates back to the 13th century. It's a living museum with some locals still living within the castle walls. As the castle is perched on a hilltop, it also boasts panoramic views of Berat and the Osum River below.
Don't forget to check out the Onufri Museum, situated within the castle grounds. Housed in the Church of the Dormition, this museum is named after Onufri, a 16th century icon painter known for his distinctive use of color.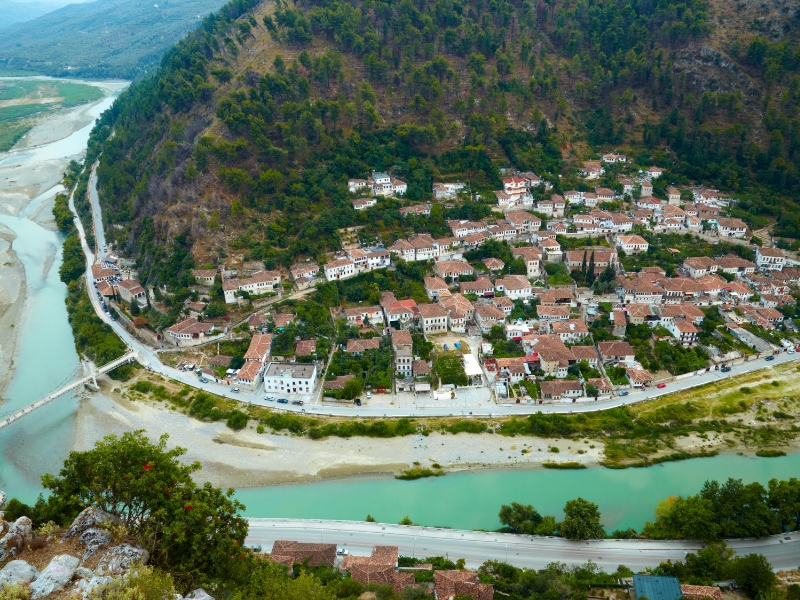 12. Valbona
Valbona is another destination for those seeking beautiful places in Albania and who love the great outdoors. Located in the Albanian Alps and protected by a National Park status, it's a haven for hikers and nature enthusiasts. The scenic Valbona River and numerous hiking trails offer plenty of opportunities for adventure.
A wonderful way to get to Valbona is by the Lake Koman ferry, which means you can do a round trip from Skhoder and include the day hike from Valbone to Theth.
For those who want to take their hiking game up a notch, Valbona offers the ultimate challenge: conquering Maja Jezerce, the highest peak in the Albanian Alps at 2,694 meters above sea level. This trek is not for the faint-hearted, but the rewards are unparalleled – a panoramic view that stretches as far as the eye can see.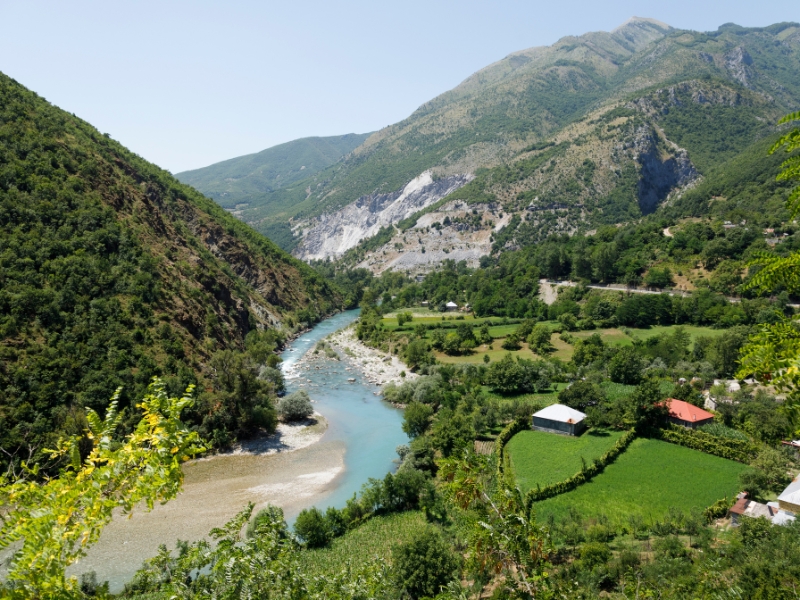 13. Korce
Surrounded by the Morava Mountains and boasting a mix of Byzantine and more modern architecture, the city of Korce is another beautiful place in Albania not to be missed. And for all beer lovers, Korce is the birthplace of the popular Korce beer!
Must-visit sites include the Resurrection Cathedral, one of the largest Orthodox cathedrals in the Balkans. Its majestic architecture and mesmerizing frescoes are a testament to the area's rich religious heritage.
The National Museum of Medieval Art deserves special attention for its extensive collection. With over 7,000 icons and more than 100 codices, the museum provides a deep dive into Albania's medieval cultural heritage.
The Old Bazaar should also be on the itinerary. This bustling market area is rich in atmosphere, filled with cafes and shops offering unique Albanian crafts.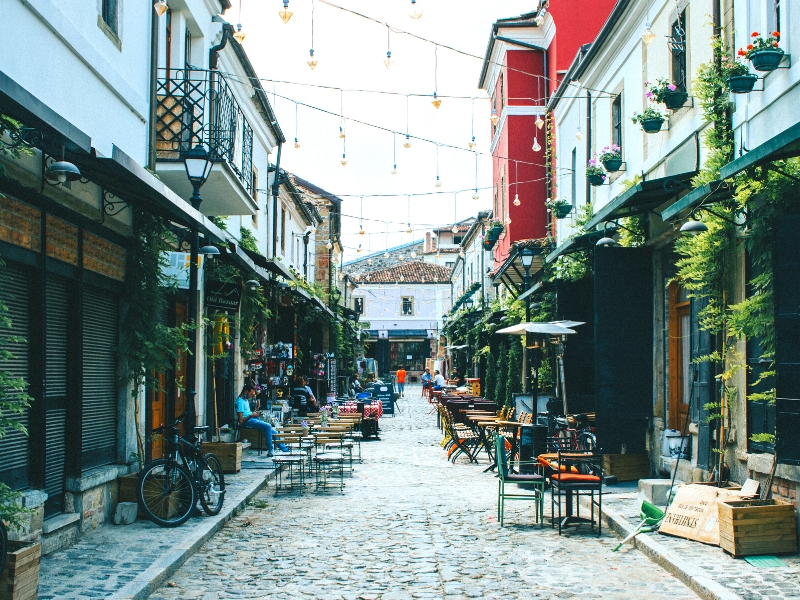 14. Pogradec
Pogradec sits by the magnificent Lake Ohrid, which is shared with North Macedonia, and offers a tranquil setting perfect for those looking to unwind. Boating and fishing are popular activities, but simply taking in the breathtaking views is rewarding in itself.
The promenade along the lake is an inviting space for leisurely strolls, especially during the sunset hours.
Not far from the town center, the Drilon Springs serves as an oasis of natural beauty. Verdant gardens, charming footbridges, and clear waters create a picture-perfect setting for leisurely strolls and picnics.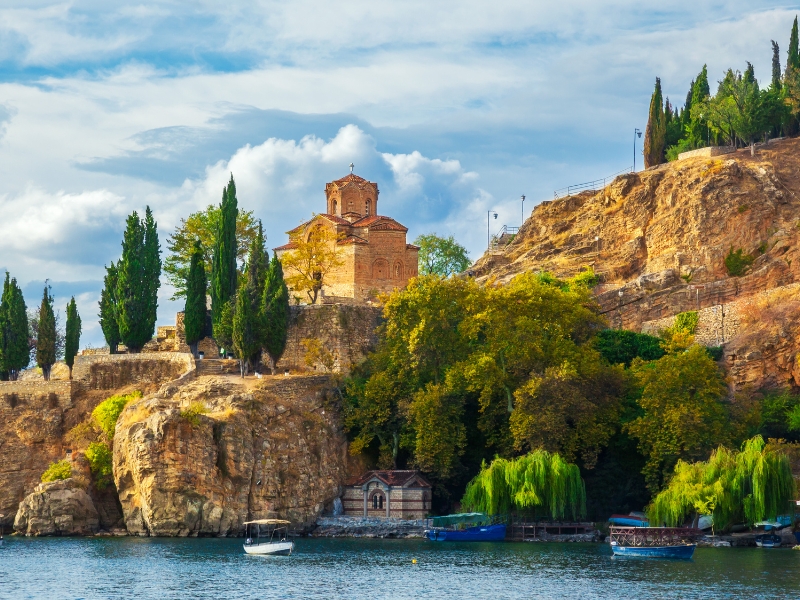 15. Llogara Pass
The Llogara Pass is a mountain pass through the Llogara National Park, that connects Vlore in the north with Porto Palermo in the south. It serves as a gateway to the Albanian Riviera when traveling from the north on your Albania tour.
Situated at an elevation of over one thousand meters above sea level, the pass offers some of the most awe-inspiring views you'll find in Albania. The road winds through dramatic cliffs and lush forests, providing panoramic vistas of the Ionian Sea and the coastline below.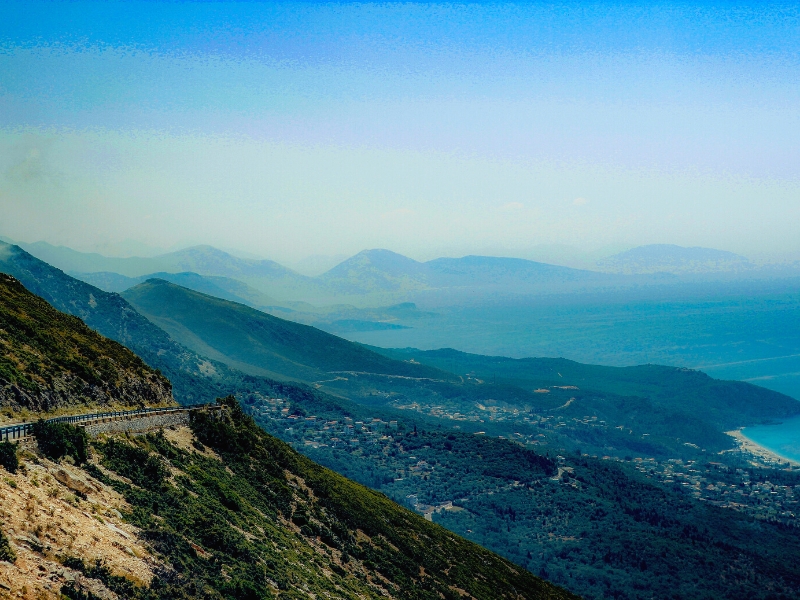 16. Tirana
Tirana is the capital of Albania, a city known for its Ottoman, Fascist, and Soviet-era architecture, recent communist history, and lively social scene.
Skanderbeg Square, named after Albania's national hero Skanderbeg, is at the heart of the city, and from here you can walk to the National History Museum, Et'hem Bey Mosque, and Bunk'Art 2 Museum.
The latter is a museum housed in a former nuclear bunker and offers a fascinating insight into Albania's communist past. You should also visit the Enver Hoxha Pyramid. This pyramid-shaped building was built as a mausoleum for Albania's former dictator Enver Hoxha. It currently serves as a cultural center and popular tourist attraction.
A walking tour is a great way to see all the important bits of Tirana and learn about its diverse ancient and more recent history.
The cable car to Mount Dajti offers stunning views of Tirana and the surrounding countryside and is probably the most scenic aspect of this slightly chaotic city!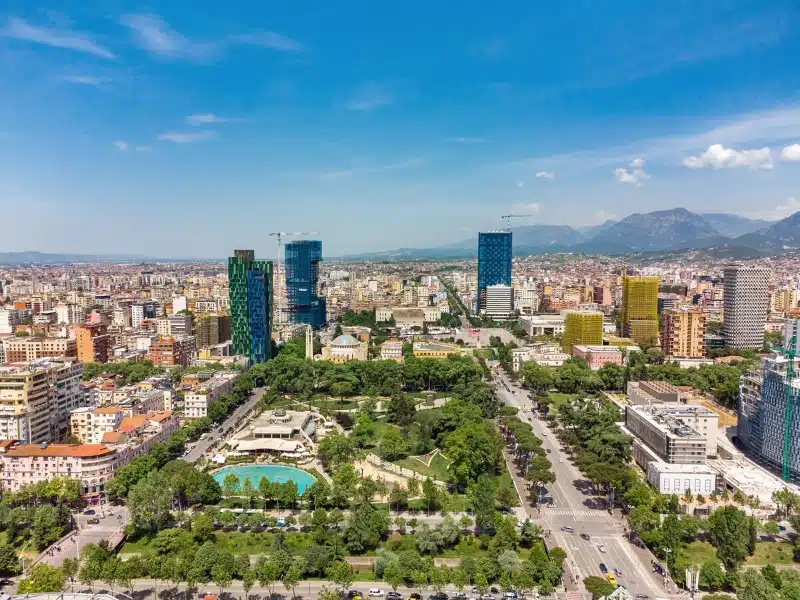 Final Word
Albania offers an astonishing array of natural wonders, historical landmarks, and culinary delights that are often overshadowed by its more frequented European neighbors.
From the tranquil beaches of Himare and the bustling nightlife of Dhermi to the cultural richness of Gjirokaster and the adventurous trails of Valbona, Albania is a hidden gem waiting to be explored.
Looking for more travel inspiration? Check out these top posts…
Croatia is home to a variety of beautiful landscapes, including rugged mountain peaks, stunning islands, enchanting waterfalls, incredible beaches, vibrant cities, and charming historic towns. There are so many beautiful places to visit, it can be difficult to decide where to go. We've pulled together all our favorite most beautiful places in Croatia to visit to inspire you and help plan your next trip.
Love it? Pin it!