This post may contain affiliate links, from which we earn an income.
One of the best ways to explore the beautiful country of Croatia is by taking a road trip, where you can drive along winding coastal roads, visit charming towns and villages, and discover off-the-beaten-path hidden gems.
Known for its picturesque coastline, stunning national parks, and rich history, Croatia is full of surprises. From the Ventian-inspired architecture of the Istrian Peninsula, and the rivers and lakes of the mountainous interior, to its gorgeous islands, Croatia is well worth exploring.
In this Croatia road trip guide, we'll share some of our favorite road trip routes and destinations in Croatia, along with tips for planning your perfect Croatia road trip. Get ready for an unforgettable journey through one of Europe's most captivating countries!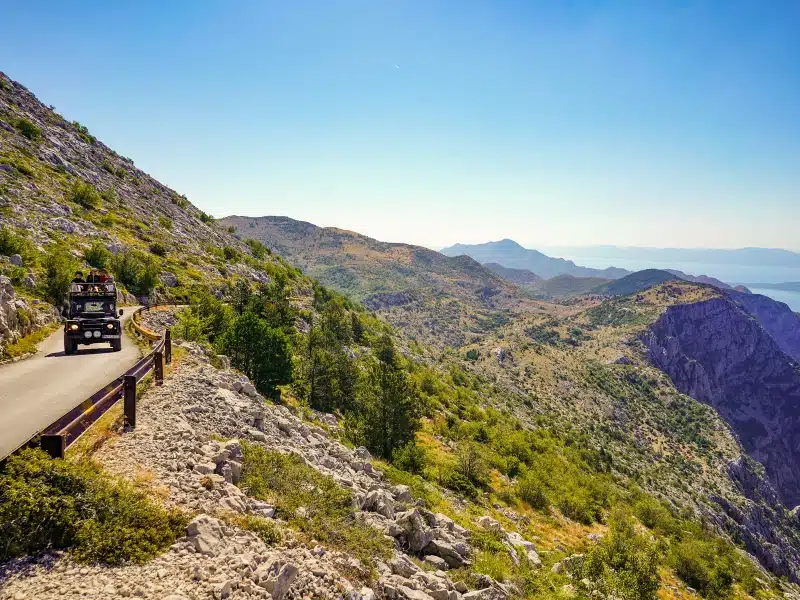 Where is Croatia?
Croatia is situated in Central and Southeast Europe, on the coast of the Adriatic Sea. Hungary is to the northeast, Serbia to the east, Bosnia and Herzegovina and Montenegro to the southeast, and Slovenia to the northwest.
The crescent-shaped country features low mountains and highlands near the Adriatic coastline, flat plains that hug the Hungarian border, and a multitude of islands. The Croatian archipelago has 1,244 natural formations, of which 78 are islands, 524 are islets, and 642 are cliffs and reefs.
Croatia joined the Schengen area on 1 January 2023, and at the same time swapped the official currency from the Croatian kuna to the euro.
You may notice the letters HR being used in website domains and on car number plates. This is because HR stands for Hrvatska, the country's name in Croatian.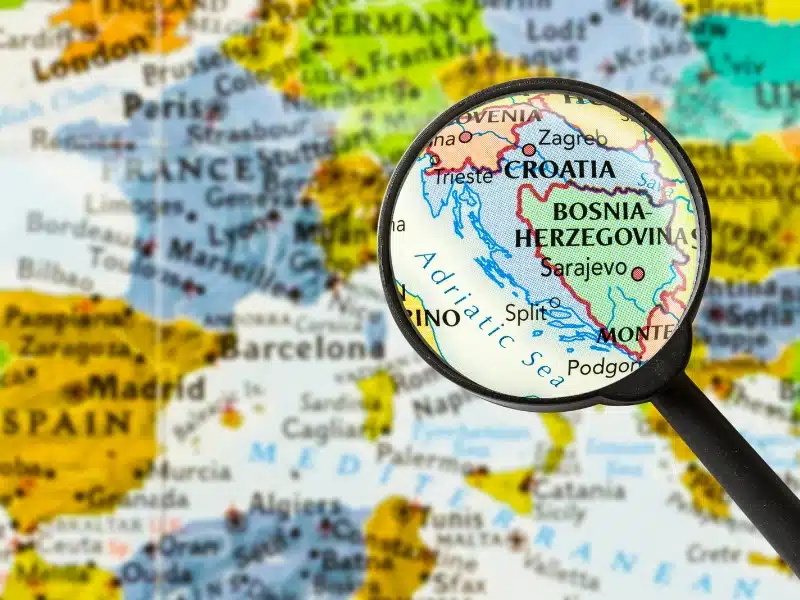 Getting to Croatia
Whether you're traveling in Croatia by car, motorcycle, or campervan from Europe, or picking up a hire car, self-driving is absolutely the best way to explore this fantastic Balkans country.
You can stop whenever you want, try new activities, visit places you see along the route, and have the freedom to change plans at the last minute.
Fly into Zagreb, Dubrovnik or Split airports. With direct flights from North America, Europe, and the UK, we recommend booking through Skyscanner for live deals and the best prices.
Are you planning to rent a car in Croatia? As one of the largest car hire aggregator companies in the world, we recommend Rentalcars.com because they have massive purchasing power which enables them to secure the best car rental prices, which benefits you when you're planning your Croatia driving tour.
For a real adventure, hire a motorhome or campervan to road trip through Croatia. We recommend Motorhome Republic, an aggregate booking site who pull together all the best deals from a number of rental agencies, to offer you a wide choice of options alongside an excellent English speaking expert motorhome Concierge Team.
Best Time for Visiting Croatia
Croatia's climate is continental and gets more Mediterranean towards the Adriatic and equator. The sea has a big influence on the coast's weather and in the north, the Pannonian Plains are responsible for the weather patterns. The central Dinara mountains are always cooler than the coast and it rains less as you go east due to the low-lying Danube valleys.
Spring
The weather generally improves as spring moves into April, however, the notorious Bura winds also blow along the coastline through spring, making it an unpredictable time weather-wise.
May is a much better time to plan a Croatian road trip when the sea becomes warm enough for swimming and there are many more warm and sunny days than not, and the wind risk reduces.
Summer
A Croatia summer trip promises heat, warm water, and sea breezes. In August coastal temperatures can be in the high 30s, making it uncomfortably hot without air conditioning.
Summer is also the busiest and most expensive time to visit, and cities like Dubrovnik and Split can feel very crowded as cruise ships pull in and disgorge their passengers for the day.
Fall
Autumn is generally warm, with September being our favorite time to road trip Croatia, although temperatures stay in the low 20s well into October. Everywhere is quieter, hotels actually have free rooms and flights, and accommodation and tours are much less expensive than in the summer season.
RELATED POST: Autumn in Europe: 23 Stunning Destinations for Fall
Winter
Winters in Croatia are seriously wet, but coastal areas can be warm and the sea water in winter is slightly warmer than the air. Although it will be quiet, this would be our least favorite time to roadtrip in Croatia!
Make sure you have travel insurance you can trust when visiting Croatia. We recommend True Traveller for their 5-star TrustPilot reviews, variety of cover options, best activities cover as standard, great prices, and excellent service.
Croatia Road Trip Map
These five routes through Croatia can be as flexible as you need them to be. Take a long weekend and road trip the Istrian Peninsula, or go island hopping on the Dalmatian coast.
If you have longer, string a few of the road trips together for a one or two week Croatia road trip itinerary, or connect Krka to Split to create a Zagreb to Dubrovnik road trip.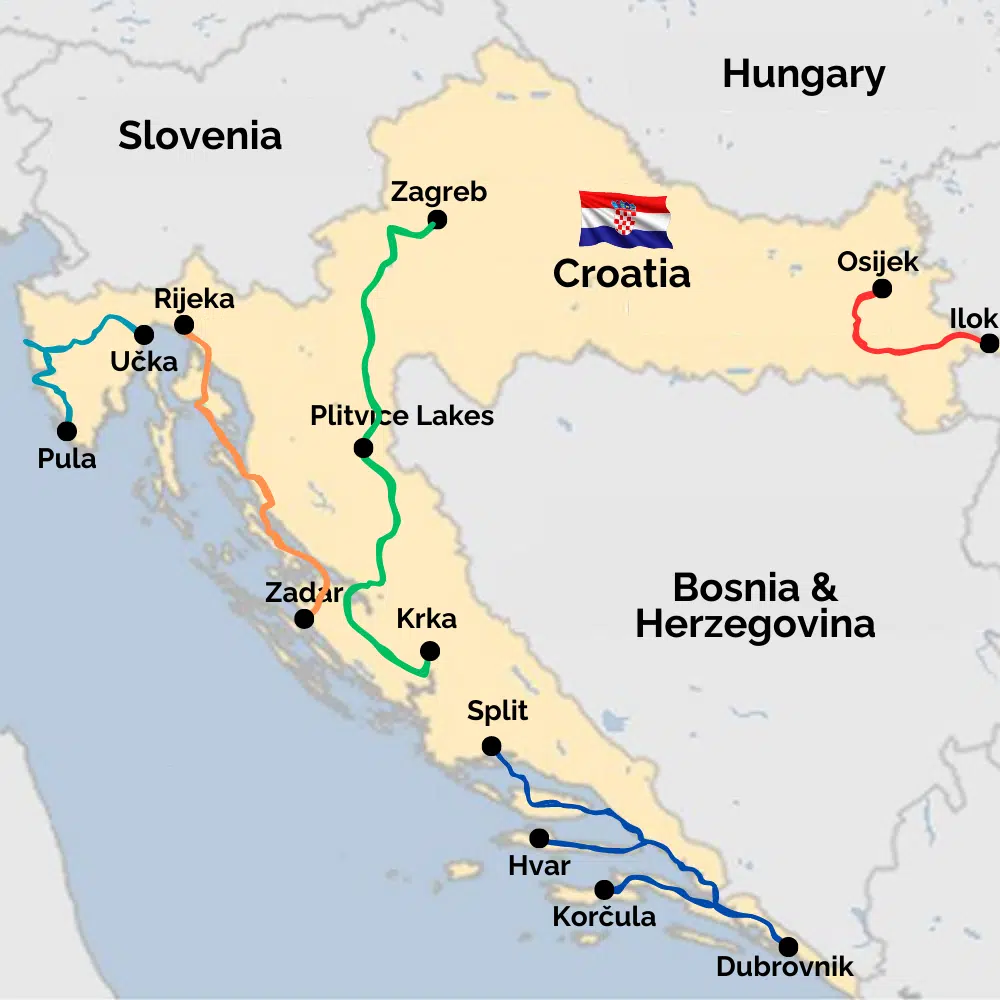 Best Road Trips in Croatia
Zagreb to Krka National Park Road Trip
This 5-7 day Croatia road trip starts in the capital fiesty capital of Zagreb and covers the northwestern part of Croatia, as well as two famous national parks.
Zagreb – Samobor – Rastoke – Plitviče Lakes National Park – Krka National Park
Zagreb
Zagreb, the capital of Croatia, is a vibrant and charming city with a mix of historical landmarks, cultural attractions, and modern amenities.
The city's history dates back to the Middle Ages, and it has been influenced by various cultures and empires throughout the centuries. Today, Zagreb is a cosmopolitan city that blends its traditional charm with modernity and innovation.
One of the most notable aspects of Zagreb is its architecture. The city boasts a diverse range of building styles, with 18th and 19th century Austro-Hungarian architecture taking prominence. Some of the must-see buildings in Zagreb include the Croatian National Theatre, the 13th century Church of St. Marks, Lotrščak Tower, the Gothic Zagreb Cathedral, and the Museum of Contemporary Art.
We loved exploring the city's historic districts of Gradec or Gornji grad and Kaptol, which are filled with charming narrow streets, colorful buildings, and picturesque squares, or head north for a spot of tombstone tourism and explore the wonderful tree-lined Mirogoj Cemetary at the foot of Medvednica.
Zagreb is also known for its vibrant culture, which is reflected in its museums, galleries, theaters, and festivals. Some of the top cultural attractions in the city include the Museum of Broken Relationships, the Zagreb City Museum, the Museum of Illusions, and the Zagreb Film Festival.
For sustenance, head to Dolac Market and try traditional Croatian dishes like Ćevapi, grilled kofta-style meat, Pašticada, beef in a sweet and sour sauce, and Kremšnita, a sweet custard cake, or grab a local beer or glass of Croatian wine at one the city's many bars.
RELATED POST: Best Cities in Croatia for an Amazing Visit!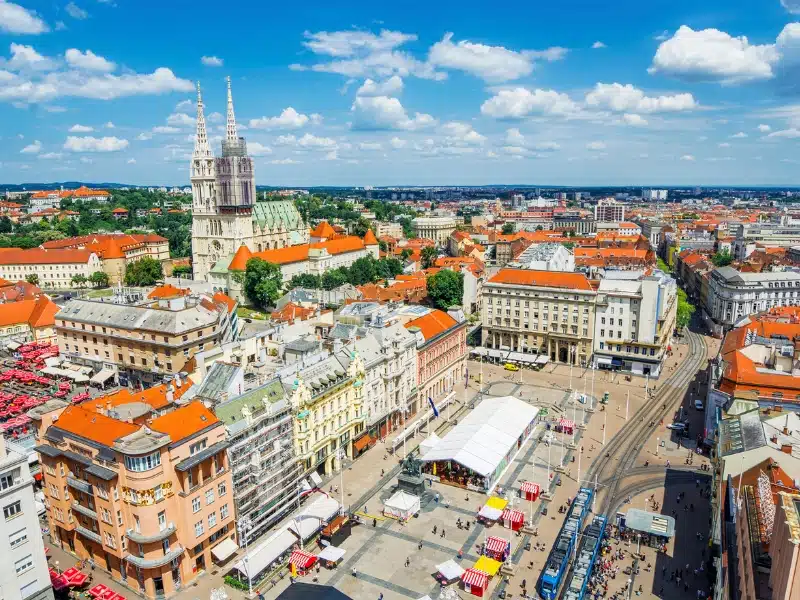 Samobor
Samobor is a historic town to the west of Zagreb's city center and makes a nice change from the always busy capital.
Samobar has a long and fascinating history that dates back to the Roman Empire and visitors can explore ruins of ancient settlements. A slightly newer ruin is Samobar Castle, although it's still well over 750 years old!
A stone fortress, Samobar Castle was originally built for the Czech king Ottokar II of Bohemia in the 13th century before Croatian-Hungarian forces retook the castle for their own. If you're interested in Croatian history, Samobor Museum is set in a beautiful location and well worth a visit, and the Samobor Open Air Museum has traditional Croatian houses and buildings from the 19th and 20th centuries.
To the east is the Žumberačko-Samoborsko Gorge Nature Park, where there are plenty of easy scenic hikes, which are all accessible from Samobor. If you don't have much time, the hike from Smerovišće to the Cerinski waterfall will only take a couple of hours.
Wine lovers will enjoy the abundance of wine cellars in the town, which is close to the Plešivica Hills, a large wine-producing area, where Portugizac, a young and fruity red, is the signature variety.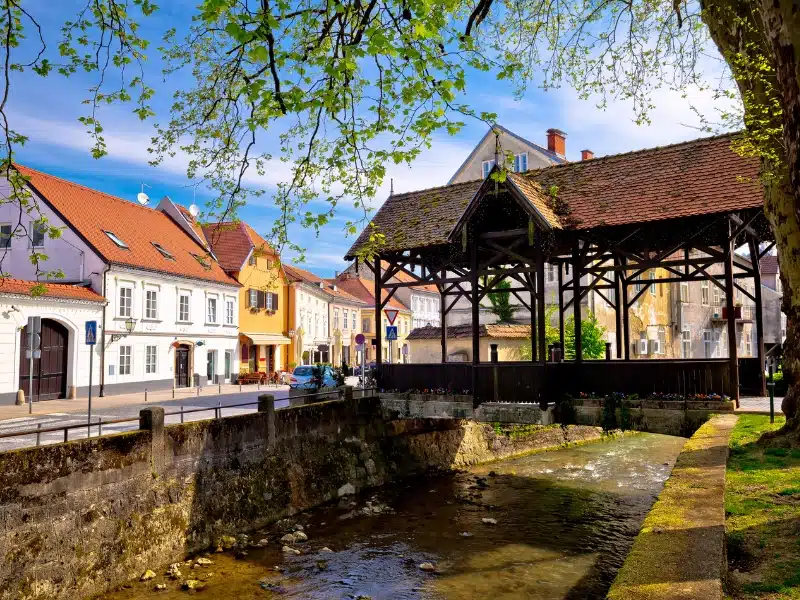 Rastoke
Rastoke is a small village south of Samobor, famous for its picturesque waterfalls and traditional wooden houses and watermills. This watery paradise sits on the Korana, a crystal clear river that flows south to create Plitviče Lakes, and is perfect for a spot of wild swimming or kayaking.
In the village of Rastoke itself, you can admire the Rastoke Waterfalls, which are a collection of small waterfalls over a large surface of water, explore the traditional wooden houses, which have both Croatian and Ottoman influences, and visit Stari Mlin or Old Mill to learn about the traditional milling process.
Top Tip: Make sure to visit Restoran Petro, a traditional Croatian restaurant situated over the water where you can enjoy delicious grilled trout from the river.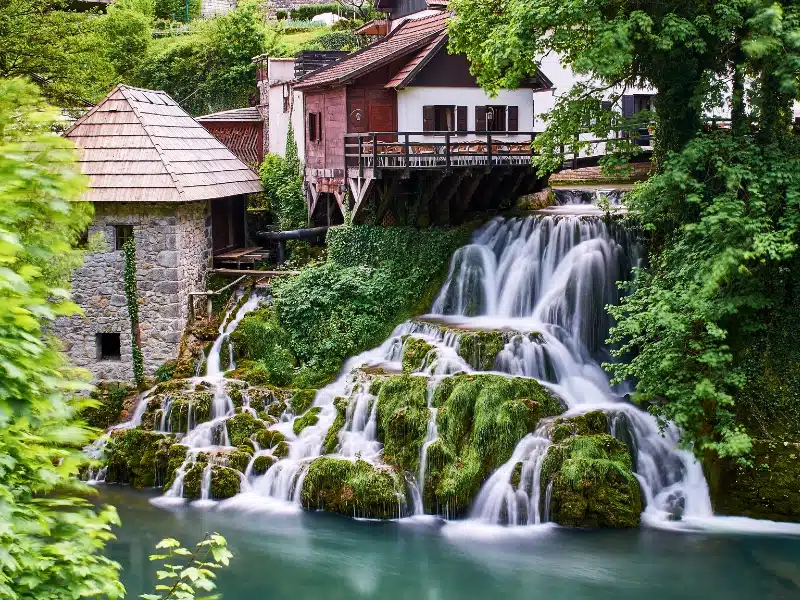 Plitviče Lakes National Park
Plitviče Lakes National Park is Croatia's most beautiful natural attraction, where a series of sixteen interconnected lakes drop over an altitude of 636 to 503 meters (2,087 to 1,650 ft) and create many waterfalls.
The pristine lake system is surrounded by lush forests and a boardwalk weaves between the lakes and waterfalls to create paths from the upper to lower lakes, or vice versa, depending on your start point.
There are 8 different routes, which can take from two to eight hours to complete, and you can go from the upper lakes down, or the lower lakes up, but all routes have a similar amount of elevation gain. On each route you will also take a boat trip at some point, to transport you over Kozjak, the largest lake.
Plitviče National Park gets very, very busy in the summer months and the sheer number of people can mar the experience a little. If you do visit in summer, we recommend buying your tickets online in advance and starting from car park 2 at 7am when the park opens.
Top Tip: We chose route H, which involves getting a bus to the start point (many of the routes use buses due to the topography of the park), and managed to get off the bus first. We upped the pace for the first 10 minutes and then enjoyed 90 minutes of absolute peace and tranquility before we met the hordes coming the other way from Car Park 1!
RELATED POST: Most Beautiful Places in Croatia: 17 Scenic Places to Visit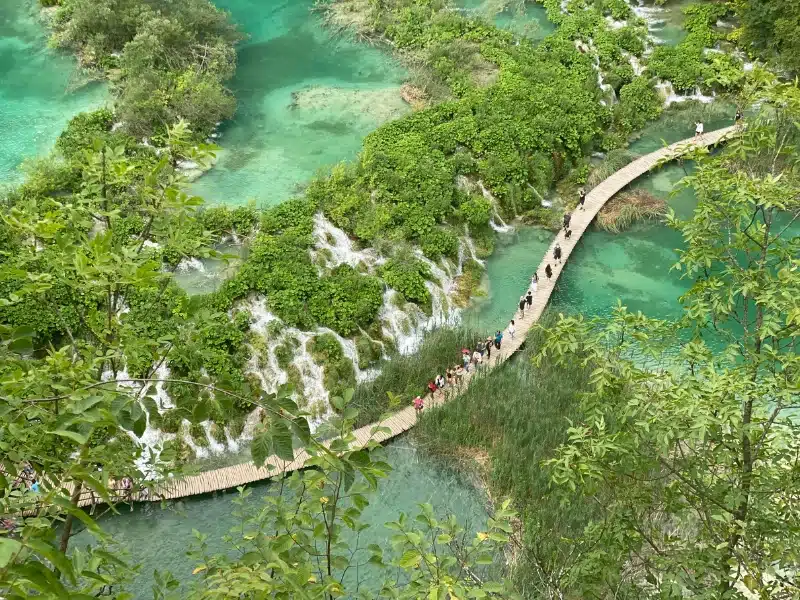 Krka National Park
Krka National Park rivals Plitviče Lakes for its waterfalls, but luckily you don't have to make a choice, as Krka is the next stop in this itinerary!
The Krka National Park is centered around the jade-green Krka River and offers more than just waterfalls to explore, with bike trails, five medieval fortresses, and the small island of Visovac, which was settled in 1445 by Franciscan monks and features a monastery with a library and preserved artifacts.
The Krka waterfalls are formed in a series of terraces, as the Krka and Čikola Rivers cascade over seventeen travertine steps into deep pools before flowing into the next set, creating Skradinski Buk that stands tall at 45 meters (148ft) high and helped power the world's second oldest hydro-electric plant.
You can take a boat trip to see the Roski Slap waterfall, which is made up of twelve separate falls flowing over 450 meters (1,476ft), including one that's an impressive 60 meters (197ft) wide and 22 meters (72ft) high.
Top Tip: There are ten different entrances to the park, with the Skradin entrance the best if you want to take the boat ride through the canyon to Skradinski Buk. Note that although it was possible to swim here, in 2021 a ban on swimming was introduced to protect the national park.
Split to Dubrovnik Road Trip
This 7-10 day Dalmatian Coast road trip from Split heads south along the coast, exploring several of the beautiful islands that Croatia is famous for before ending in iconic Dubrovnik.
Split – Brac – Hvar – Korčula – Dubrovnik
Split
Split is a vibrant coastal city in Croatia founded by the Roman Emperor Diocletian in the 4th century BCE, and his palace still stands as the heart of the city. The Palace of Diocletian is now a UNESCO World Heritage Site and is one of the best-preserved examples of Roman architecture in the world.
Explore the palace, its peristyle and underground cellars, and the bell tower of St Dominus Cathedral for a stunning view of the city before hitting the old town. A maze of narrow streets, courtyards, and ancient buildings, it's the perfect place for wandering and soaking up the history to your heart's content.
The city's modern architecture is also worth exploring, with new buildings like the Croatian National Theatre and the St. Francis Church adding to the city's rich cultural heritage.
After all that culture, the beach might be calling! Split is known for its beautiful beaches, which are among the most popular attractions in the city. One of our favorites is Bačvice Beach, a sandy beach located just a short walk from the city center, closely followed by Žnjan Beach, a long pebble beach with plenty of facilities, and Kasjuni Beach, a secluded beach located at the foot of Marjan Hill.
Top Tip: If you can't find accommodation in Split or you're on a budget, look for somewhere to stay in nearby Trogir, a UNESCO World Heritage Site known for its well-preserved Romanesque and Renaissance architecture. There is a regular ferry from Trogir which takes 30 minutes to arrive in Split – the journey is all part of the adventure!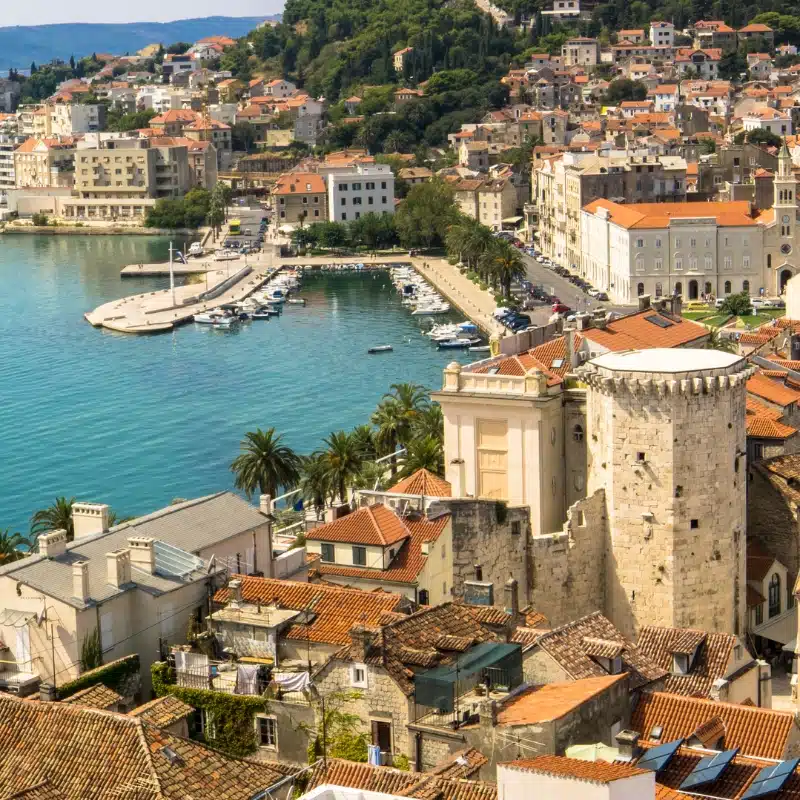 Brac
A picturesque island near Split, Brac is known for its stunning beaches and crystal-clear waters. To get there, hop on the Split to Supetar ferry, which takes around 50 minutes.
Brac is a paradise for nature lovers and adventure seekers, with plenty of things to do and see. Hiking is a popular activity with the trails to the top of Vidova Gora, the highest peak on the island, and UNESCO Blaca Monastery, which can only be reached by hiking through a narrow canyon, being amongst the best.
Brac is known for its beaches, with Zlatni Rat near Bol, being one of the most famous. The beach is a great place to swim, sunbathe, or enjoy water sports like windsurfing and kiteboarding. Other popular beaches on the island include Lovrečina Bay, which is a secluded sandy beach with crystal-clear waters, and Supetar Beach, which is a sandy beach located near the town of the same name.
Once you're beached out, head to one of the most famous sites on the island, the Dominican Monastery in Bol, which features stunning Gothic and Renaissance architecture. Other popular attractions include the Parish Church of the Assumption of Mary, which features beautiful Baroque architecture, and the Olive Oil Museum in Skrip, which offers a unique look into Brac's olive oil industry.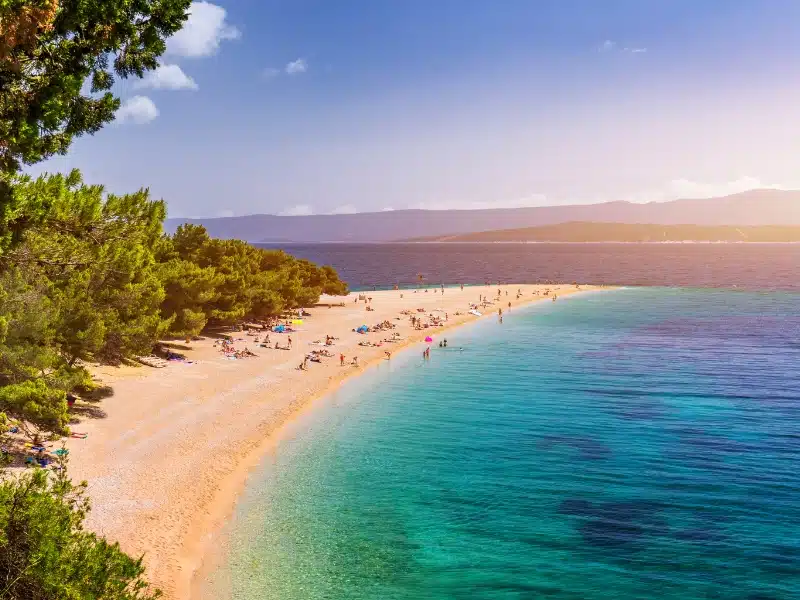 Hvar
There is no car ferry from Brac to Hvar, so head back to the mainland on the Sumartin to Makarska boat and then cross to Hvar on the Drevenik to Sućuraj ferry.
One of Croatia's best-loved islands, Hvar is the longest and sunniest island in Croatia and is considered one of the most beautiful islands in the world.
Part of the central Dalmatian archipelago, the island's bustling hub and most popular destination is Hvar town surrounded by 13th century walls and beautifully ornamented Gothic palaces. With stunning architecture, natural beauty, and mild climate it's the perfect place to stop for a few days of rest and relaxation on your road trip.
Hvar town also loves a party and many come here for the town's reputation as Croatia's premier party destination, but if that's not for you, or you want to escape the town for a day, head out to discover the fragrant flower-filled island.
Make time to visit white-washed towns and historic cobbled streets of Stari Grad, Vrboska, and Jelsa, swim from the numerous beaches, explore the Pakleni Islands by boat, and take a Blue Cave tour.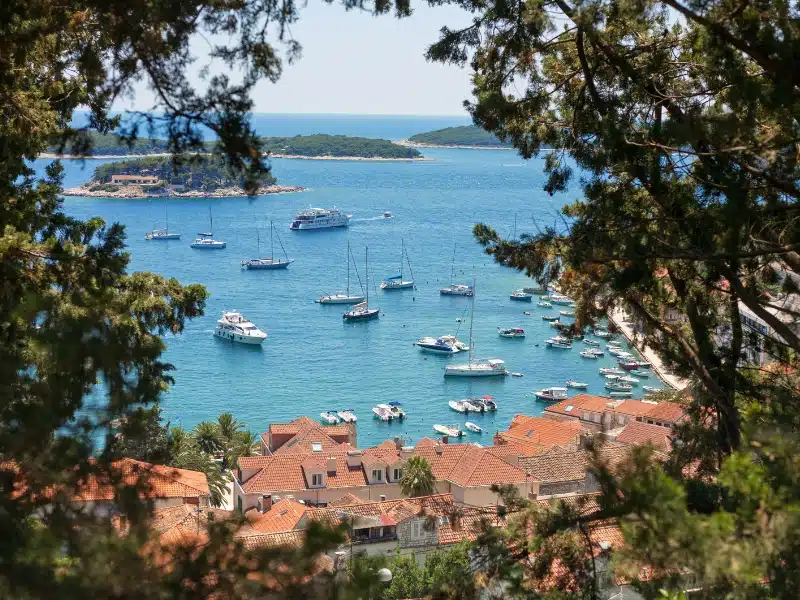 Korčula
There is no car ferry between Hvar and Korčula so you need to get the ferry back to the mainland and drive south along the coast to Ploče. From here, either catch the 60 minute crossing to Trpanj or take our preferred route over the newly built Pelješac Bridge.
Pelješac Most was built to enable people to drive from the northern to the southern part of Croatia without having to cross the thin strip of coastal land that belongs to Bosnia and Herzegovina. From the bridge, make for Orebić on the Pelješac peninsula and catch the car ferry to Korčula town on the island of Korčula, also known as the Emerald Isle.
The gorgeous Dalmatia town of Korčula, with its labyrinth of cobbled streets, incredible restaurants, wine bars, and eclectic stores is famous for being the birthplace of the renowned explorer Marco Polo and is affectionately nicknamed 'Little Dubrovnik' due to its similar architecture and Old Town structure.
Korčula island tends to be quieter and more couples-oriented than Hvar and nearby Vis, and is known as a wine island with unique varietals – perhaps that's why we loved it so much!
Renting a bike and cycling around the island between wineries is a popular activity, as is hiring a boat to explore the islands of Mljet and Lastovo. You should also make time to see a performance of the Moreška, a traditional Croatian sword dance that tells the folk tale of two kings fighting for the love of a kidnapped princess.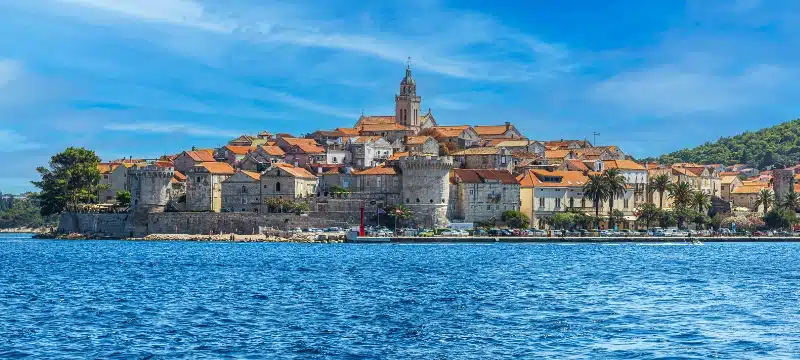 Dubrovnik
The jewel of the Adriatic coast of Croatia, known as the 'Pearl of the Adriatic', Dubrovnik is known for its medieval architecture, crystal-clear waters, and its history, which dates back to the 7th century.
One of the top things to do in Dubrovnik is to walk around the 13th century city walls, which offer fantastic views of the old town's terracotta rooftops and the sea. The complete 2km (1.2 miles) circuit is a must-do that will take you back in time to the city's medieval past.
From here, it's easy to dive into the maze that is Dubrovnik's UNESCO old town, featuring beautiful squares and historical landmarks such as the Rector's Palace, the Franciscan Monastery, the Church of St. Blaise, Baroque-style Dubrovnik Cathedral, and the Large Onofrio Fountain built in 1438 as part of a water-supply system that involved bringing water from a nearby spring.
Just outside of the old town you can take the scenic cable car ride to Mount Srd and visit the War Museum and the Imperial Fort. Game of Thrones fans will also want to visit the nineteen filming locations in the city, which doubled as King's Landing in the show.
Plan to spend a few days in Dubrovnik and once you've explored the city, head for Lapad and explore the beaches or discover the breathtaking Elafiti Islands, perfect for kayaking, paddleboarding, and snorkeling.
Top Tip: The old town of Dubrovnik is car-free. We recommend staying outside and taking public transport or walking into the old town. Make sure to book accommodation with free parking, as it's super-expensive in the city.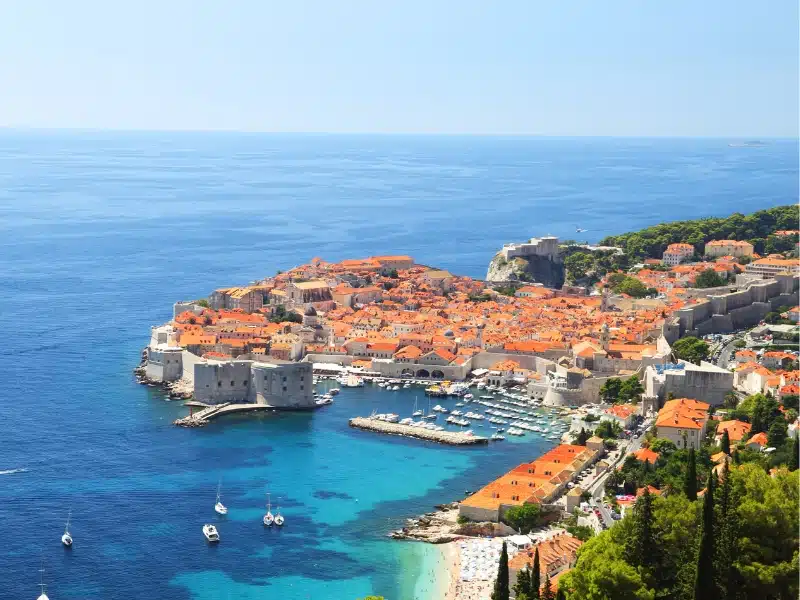 Other Nearby Road Trips
Rijeka to Zadar Road Trip
This road trip in Croatia explores the Hapsberg-era port city of Rijeka and the islands of the north Dalmatian archipelago before ending in the gorgeous city of Zadar.
Rijeka – Krk – Rab – Pag – Zadar
Rijeka
Rijeka is the third-largest city in Croatia, located on the northern coast of the Adriatic Sea. A bustling port city, Rijeka is known for its rich cultural heritage and lively atmosphere, as well as being the gateway to Croatia's Kvarner Bay islands.
Culture vultures will enjoy the contemporary art museums, historic palaces, and historic Trsat Castle perched on a hill above the city. Rijeka's busy promenade of Korzo and the lively central market provide retail therapy and the chance to try local foods, and if you happen to be visiting between late January and early February, the city's annual carnival is considered to be one of the liveliest in Croatia.
Rijeka is also a perfect destination for swimming, snorkeling, diving, and sailing, and if you're looking for an adrenaline rush, you can try windsurfing, jet skiing, and parasailing.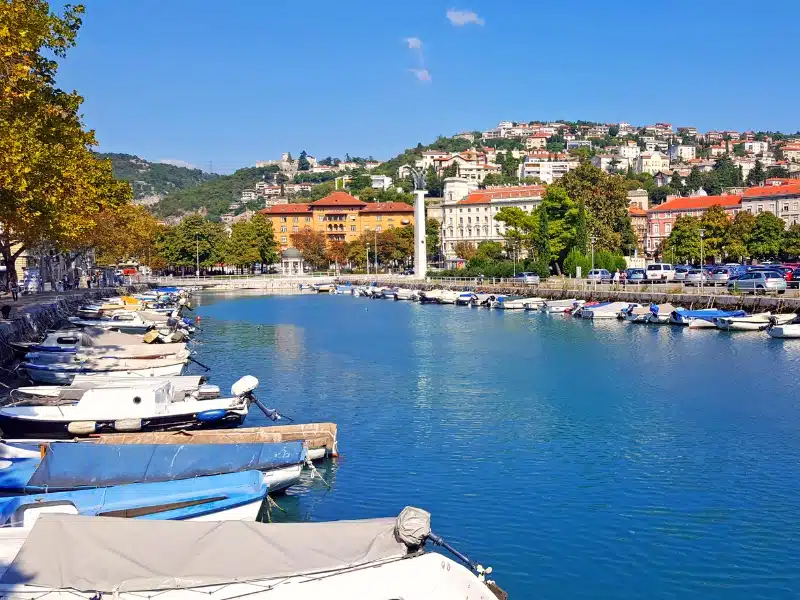 Krk
Head south and cross the Krk Bridge onto the island of Krk, the largest island in the Adriatic and a historic center of Croatian culture.
A treasure trove of attractions and experiences, Krk offers something for everyone, be it culture, nature, or lively tourist hotspots. This diverse island boasts a wealth of options, from ancient towns like Omisalj, Vrbnik, and Krk town, to charming rural villages like Brzac, secluded swimming bays, olive groves, and your choice of restaurants, bars, and cafés.
Krk town is famous for the 12th century St. Mary's Cathedral, the Frankopan Castle that was finished in the 14th century and guards the town against attacks from the sea, and the unique 11th century Church of St Quirinus and is probably the best place to stay for a few days – unless you want a sandy beach. If you do, head for Baška, which is famous for its sandy Vela plaža beach.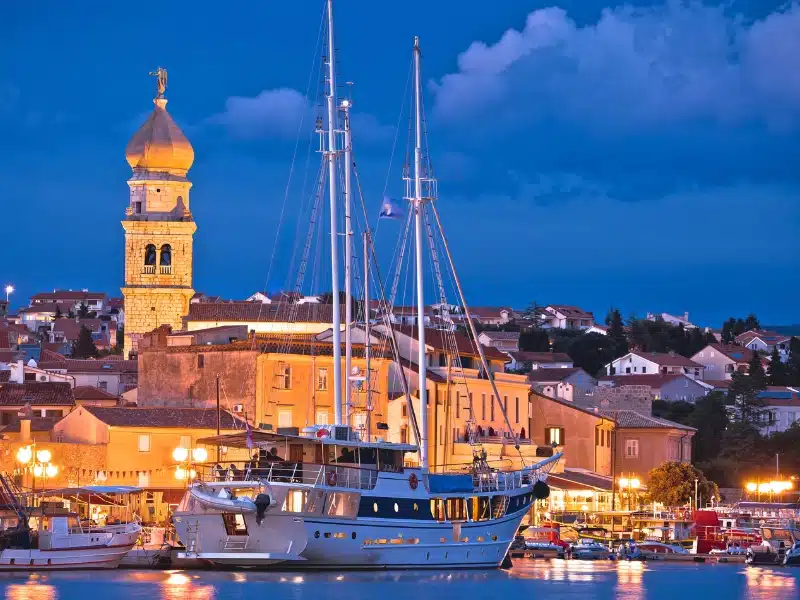 Rab
From Krk, it's a 90 minute crossing to Rab on the Valbiska to Lopar ferry, which sails four times a day in the high season and twice a day in the low season.
Rab is one of Croatia's greenest islands, covered in fragrant pine forests, the smell of which reminds me of childhood summer holidays in the south of France.
The main resort on the island, Rab town, is where most of the island's sights are located. You'll find medieval buildings dating back to the 13th century, the 11th century Romanesque Rab Cathedral, old town walls that are still visible in some places, several Medieval churches, and the town loggia (a type of portico) that was built in 1509.
Elsewhere, Rab is home to some fabulous beaches, including a group of sandy beaches around the town of Lopar, including Paradise Beach, popular for its shallow waters and soft sand. If you fancy a spot of nude sunbathing, check out Sahara Beach, the best-known naturist beach on the island.
If you're ready for a bit of activity, hire a bike or go hiking in Kalifront Forest, Kamenjak Hill, and the Dundo Forest, or rent a boat and explore Goli Otok Island, a nearby island once used as a political prison during the communist era.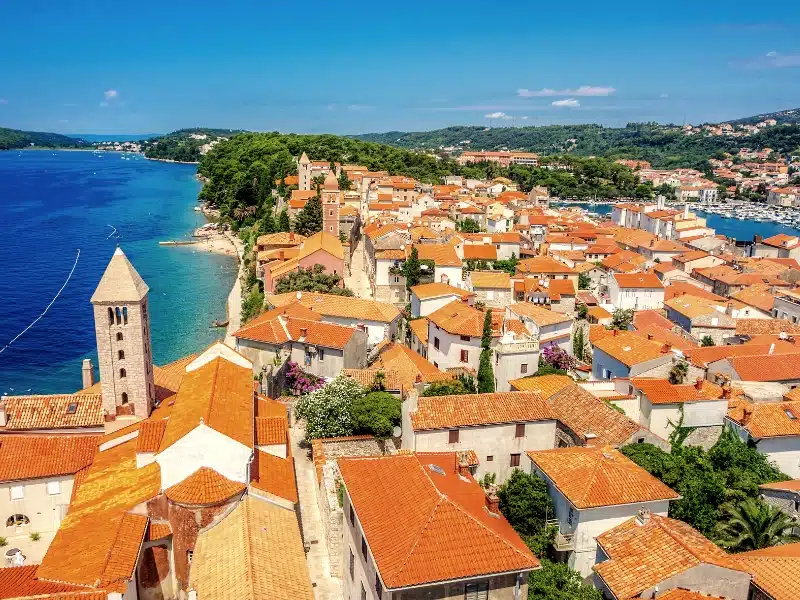 Pag
There is no car ferry from Rab to Pag, so you need to head back to the mainland, drive south and catch the ferry from Prizna to Zigljen or take the E65 to Posedarje (which will take around 90 minutes) and then pick up the 106 over Paški Bridge to Pag island.
Pag is a captivating island with unique geographical features shaped by the Bura winds, a vibrant community, and a rich cultural heritage including the famous Pag cheese, or paski sir, made from sheep's milk, and UNESCO-listed Pag lace.
The main resorts on Pag are Novalja in the north, one of Croatia's premier party destinations, and Pag town, in the center of the long and skinny island. Unless you're a real party animal and relish the noise and all-nighters of the open-air clubs, we suggest heading for Pag town.
Other things to see and do on Pag include visiting the fascinating Salt Museum, wandering in the old town of Pag, hitting the beaches of Zrće, Simuni, or Mandre, exploring the Pag Triangle, a curious land formation, and visiting some of the world's oldest olive trees at the Lun Olive Grove, which you can explore by bike.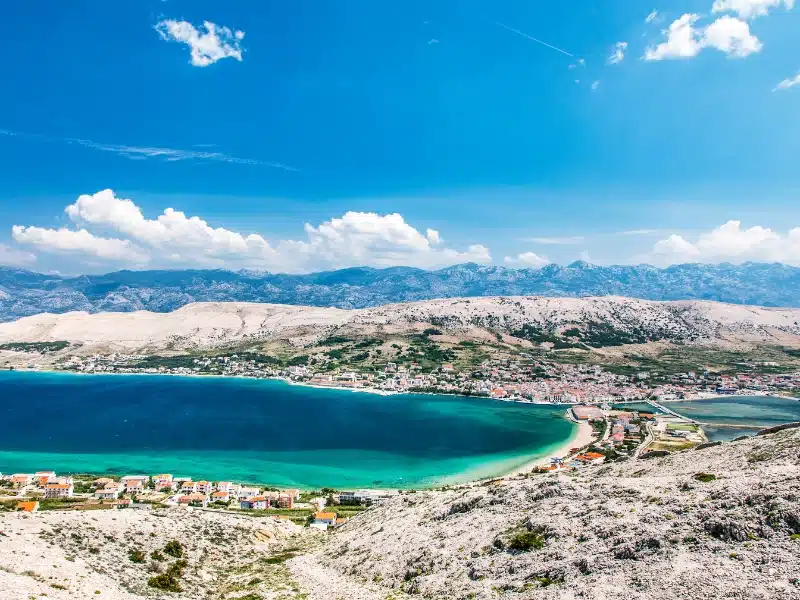 Zadar
Zadar is a beautiful coastal city known for its maritime history, stunning architecture, and breathtaking sunsets, best seen from the extraordinary Sea Organ whose subterranean pipes give song to the tide.
Zadar is also home to an old town crisscrossed with Roman streets, the ancient Roman Forum, St. Anastasia's Cathedral, and St. Donatus Church, an early-Byzantine church that was built in the year 800 and remains in a near-perfect state of preservation. Over time, St. Donatus' tall, rounded outline has become a symbol and a source of pride for Zadar.
Another must-see attraction is the Museum of Ancient Glass, which houses one of the largest collections of ancient glassware in the world. You can see glass artifacts from the Roman and Medieval periods, as well as contemporary glass art. We highly recommend taking one of the workshops where you can learn the art of glassblowing.
Make sure to try the seafood here – think octopus steeped in garlic and wine and bluefin tuna, sustainably farmed around Ugljan Island. Both work superbly well with the zesty and full-bodied Pošip wine made in Korčula. Finish with Maraschino, the local cherry liqueur served on ice, a popular tipple in the bars of Zadar's old town.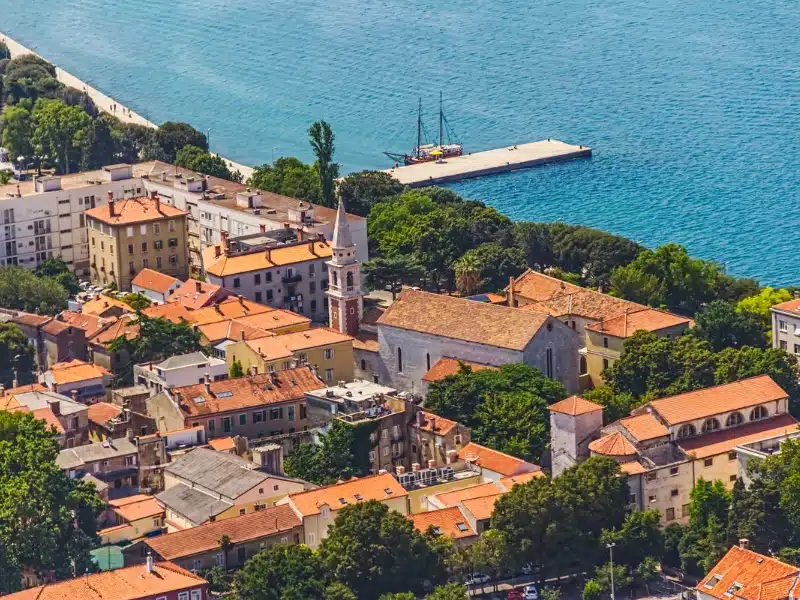 Pula and Istria Road Trip
This northern Croatia road trip explores the Ventitian-inspired Istrian Peninsula, which is actually shared between Croatia, Italy, and Slovenia.
Pula – Rovinj – Poreč – Nature Park Učka
Pula
Pula is the largest city of Croatia's Istria County, located at the southern tip of the peninsula. Conquered by the Romans in 177 BCE, Pula's architecture is mainly Roman-inspired, and many travelers visit to see the famous Roman amphitheater, the Pula Arena, and the 1st century CE Temple of Augustus.
Another popular attraction is the Brijuni Islands, a group of fourteen islands off Pula's coast that form the Brijuni National Park. You take a boat ride from Pula and rent a bike on the islands to explore undiscovered beaches and Byzantine settlements and hunt for dinosaur footprints.
Head to Pula Market Hall for our favorite, burek, a flaky pastry with savory fillings like meat or cheese, and all things truffle. The forests of Istria have three types of black truffles and one of the world's most prized white truffles, making Pula the ideal place to buy truffle-based Croatian souvenirs!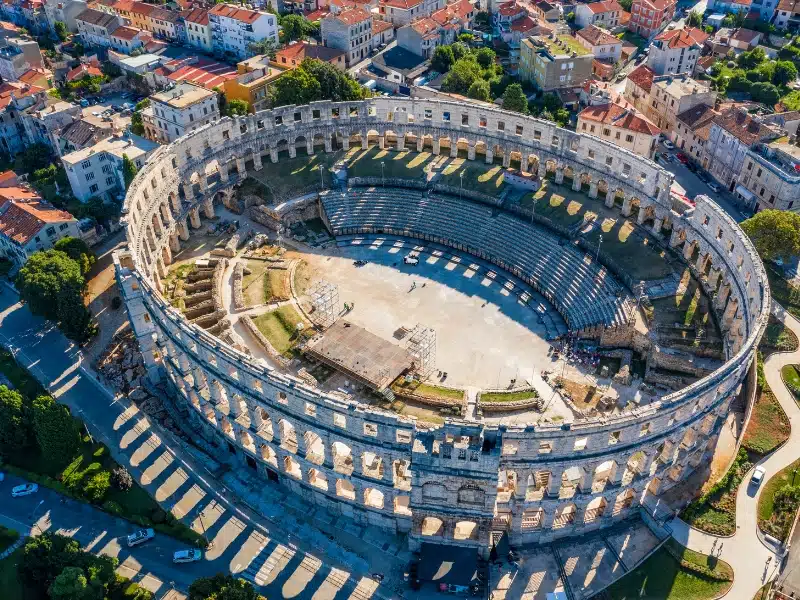 Rovinj
Located on the west coast of Istria, Rovinj is one of the most popular tourist destinations in Croatia with an old town that is situated on an island only connected to the mainland in the 18th century.
Rovinj is renowned for its picturesque setting and romantic atmosphere. The town's cobbled narrow streets provide a glimpse into the past, and the traditional spacio taverns offer a fish-focussed gastronomy scene. We loved Revera for its waterside location, fantastic cocktails, and delish Croatian tapas.
The area around the Church of St. Euphemia is a favorite gathering place for artists from all over the world, as well as being an epic sunset spot! Art galleries and studios line the streets, and in August every year, the largest open-air exhibition on the Adriatic coast takes place on Grisia, one of the main streets of the old town.
Top Tip: If it's a hot day, wear your swimmers and take a towel. There's a perfectly protected swimming spot, Plaža Balota, on the west of the old town island.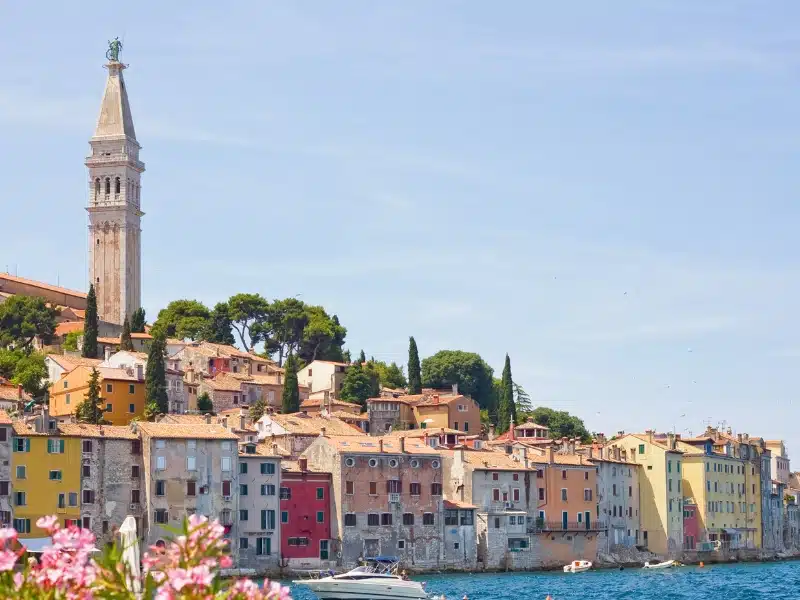 Poreč
Poreč is a charming seaside town and popular thanks to its beautiful beaches and cultural treasures. One of the most popular things to do in Poreč is to visit the UNESCO World Heritage Site of Euphrasian Basilica. This stunning 6th century church is home to some of the most impressive mosaics in the world and is a good starting point from which to explore the maze of cobbled streets and pretty squares that make up the old town.
Another must-visit attraction in Poreč is the Baredine Cave. An underground cave system, Baredine is home to a variety of stalactites and stalagmites, as well as an underground lake, and a guided tour to learn about its geological history makes a great option for a really hot day!
Foodies will also love Poreč, which is home to a wide range of restaurants serving up delicious Croatian cuisine and authentic pizza.
Top Tip: There are also a couple of great gelato places, with Il Gelato di Salvatore being our favorite – make sure to try the citrus carrot flavor.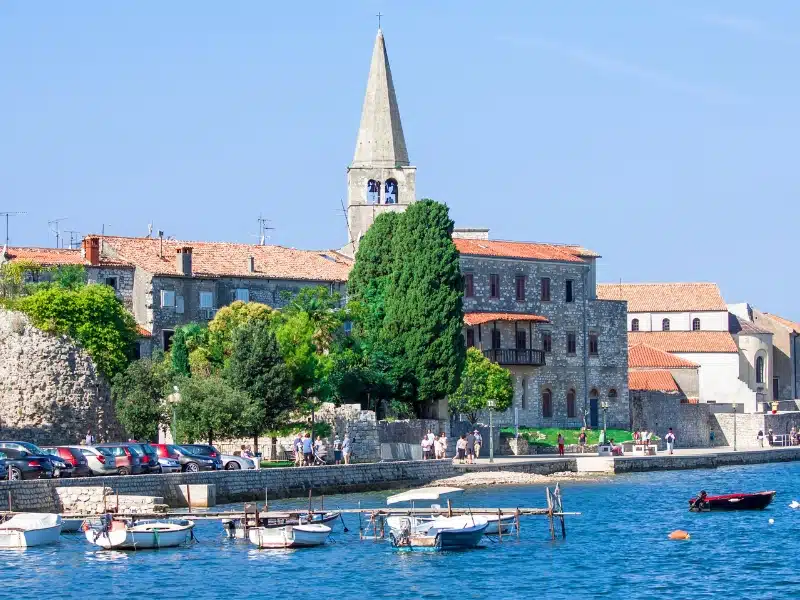 Nature Park Učka
The Učka Nature Park is a sprawling protected area with hiking routes leading to canyons, waterfalls & historic sites, on the hilly Ćićarija plateau. The beauty of the mountains of Učka and Ćićarija are a popular destination for hikers and nature lovers, and a great antidote to the hustle and bustle of the coast.
There is a host of educational, hiking, and biking trails enabling access to the highest peak of Vojak at 1,396m (4,580ft) above sea level and the stunning Poklon Pass, as well as opportunities for climbing the limestone towers and rocks on the 67 climbing routes in the park.
Head for the Poklon Visitor Centre where you can pick up maps with trail routes and information about the park.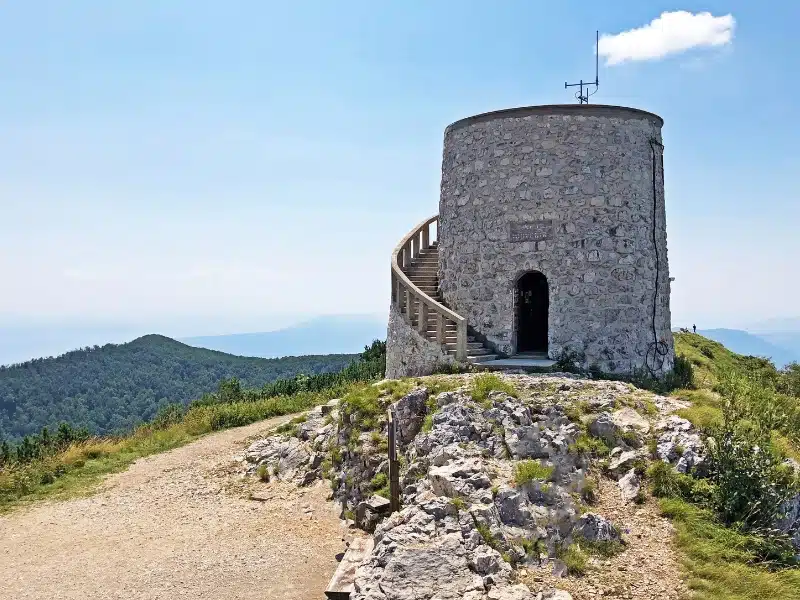 Osijek to Ilok Road Trip
This 4-5 day Croatia itinerary takes you to a part of the country that is less traveled, but no less beautiful than the popular coast.
Osijek – Kopački Rit – Vinkovci – Ilok
Osijek
Osijek is Croatia's fourth-largest city and the most extensive in the eastern part of the country. Located in the historic region of Slavonia, Osijek is known for its culture, beautiful architecture, and friendly locals.
One of the most popular attractions in Osijek is the Tvrđa Osijek, a well-preserved 18th century fortress that is now home to a variety of museums, galleries, and restaurants. Visitors can explore the fortress walls, admire the Baroque-style buildings, and learn about the city's history at the Museum of Slavonia.
Another popular attraction in Osijek is the Cathedral of St. Peter and Paul, a stunning 19th century Baroque church that is considered one of the finest examples of neo-Gothic architecture in Croatia with intricate stained glass windows, ornate altars, and beautiful frescoes that adorn the interior of the church. The nearby pedestrian bridge that spans the Drava River, known as the Suleiman the Magnificent Bridge, is a popular spot for selfies.
For those looking for outdoor activities, Osijek has plenty to offer. The Copacabana complex is a popular spot for swimming and sunbathing during the summer months, while the parks along the Drava offer opportunities for hiking, cycling, and picnicking. Visitors can also take a stroll down Osijek's European Avenue and wander Ante Starčević Square, colorful and lively places full of cafés, restaurants, and shops.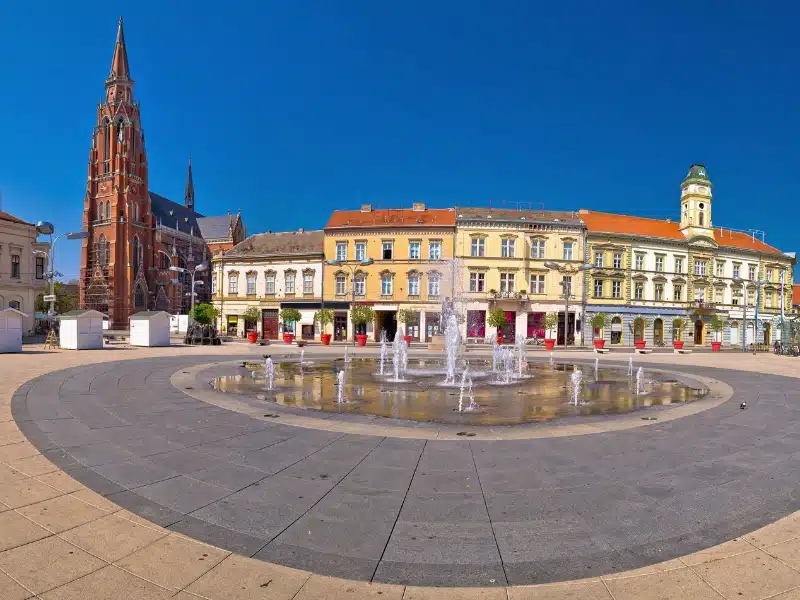 Kopački Rit
Kopački Rit is a stunning nature park situated at the border with Serbia. The park is home to over 2,300 species, many of which are endangered, and is known for its many backwaters and ponds along the Danube making it a popular destination for nature lovers and bird watchers.
One of the main attractions at Kopački Rit is the chance to see the park's incredible birdlife. During the winter months, the park is home to over 20,000 water birds of 267 different species.
Visitors can take guided tours of the park to learn more about the birds and their habitats or explore on their own along the many hiking trails. Other popular activities at the park include cycling, fishing, and boating.
In addition to its natural beauty, Kopački Rit also offers visitors a glimpse into the area's rich cultural heritage. The park is home to several traditional villages, where visitors can learn about local customs and traditions and you can also rent a boat to explore further or try your hand at fishing for carp and pike.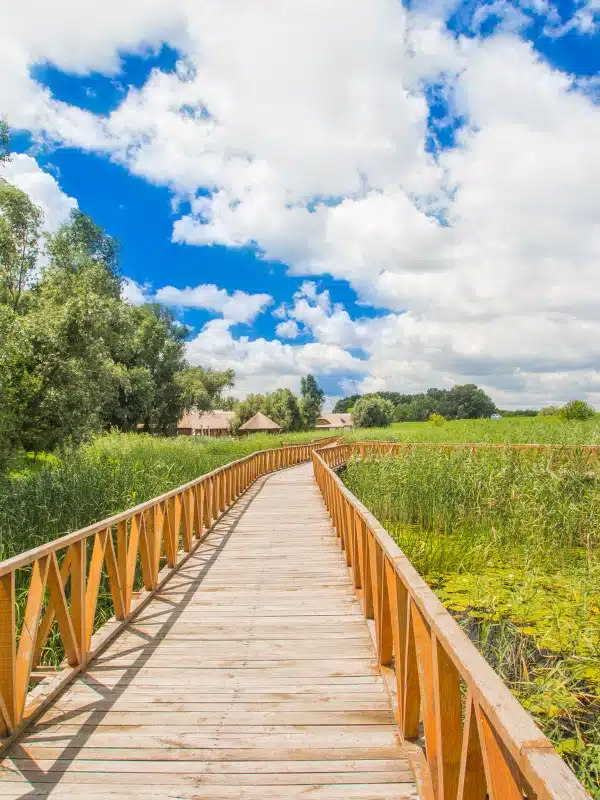 Vinkovci
Vinkovci is a charming town and one of the oldest continuously inhabited towns in Europe, dating back to the 5th century BCE, and the Roman thermal bath is still preserved along with several other Roman buildings near the center of today's Vinkovci.
Although not a touristy town, you should make time to explore the well-preserved old town to see the 18th century Baroque Church of St. Eusebius and the 19th century Town Hall before climbing to the top of the water tower, an iconic landmark of the town. A visit to the Vinkovci Municipal Museum will help you learn about the town and region's history.
In nearby Vukovar is the Church of St. Philip and St. James, a beautiful Baroque-style church that is over 300 years old on the bank of the mighty Danube River. The church, built by Franciscan monks was badly damaged in the Croatian War of Independence when Serbian forces occupied the town.
Foodies will also love Vinkovci, as the town is known for its delicious cuisine. Local specialties include Kulen, a spicy sausage made from pork, and Čobanac, a hearty stew made with various meats and vegetables.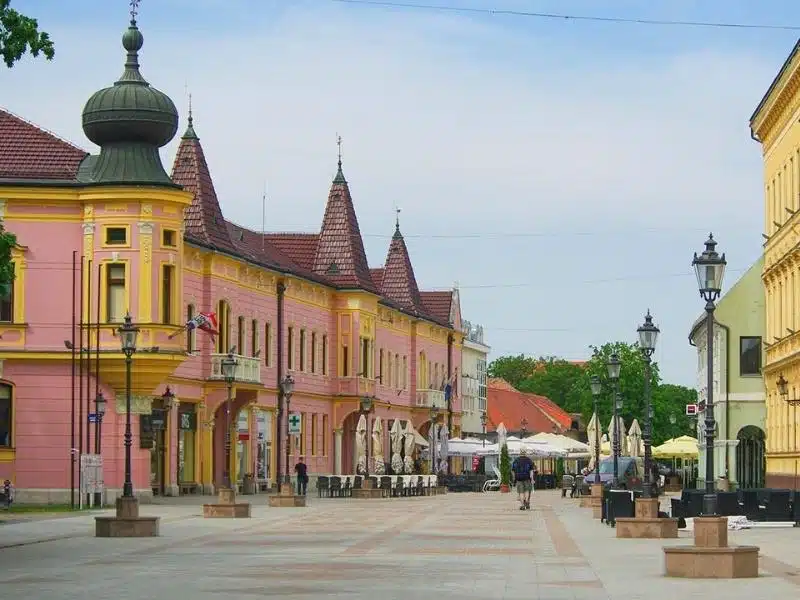 Ilok
Ilok is Croatia's easternmost town, near the border with Serbia. The picturesque town sits on a hill called Fruška Gora above the Danube and has impressive wine cellars and a rich cultural heritage.
Ilok is home to several historic sites, including the Medieval Ilok Castle, which dates back to the 14th century. Visitors can explore the fortress and learn about the town's past, including its time under Ottoman rule. Additionally, the Sanctuary, Church, and Friary of St. John of Capistrano is a beautiful religious site that is worth a visit.
For wine lovers, Ilok is a must-visit destination. The town is home to some of the best wineries in Croatia, and visitors can sample local wines like Graševina and Chardonnay and learn about the winemaking process.
Top Tip: One of our highlights was a visit to Principovac Country Estate, a beautiful park that is home to an excellent restaurant and winery in the restored castle of the princely family Odescalchi, with stunning views of the Danube River and the surrounding countryside.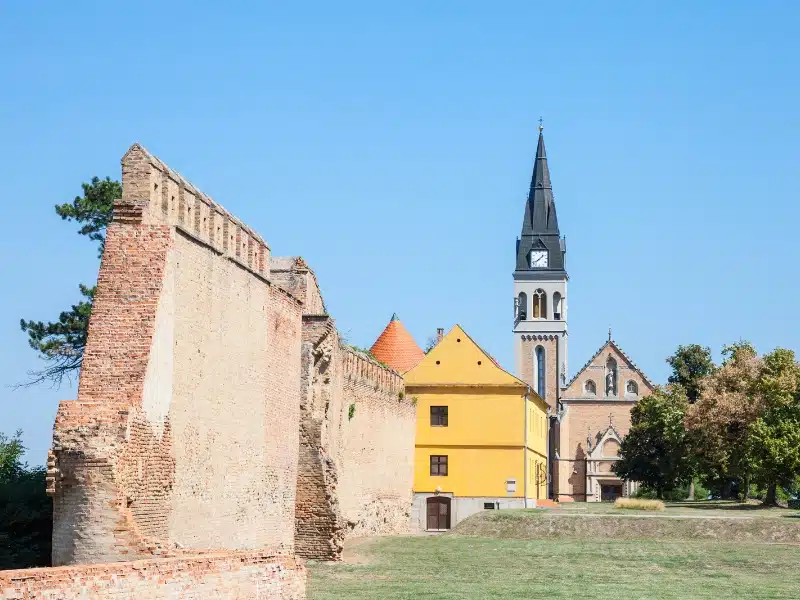 Croatia Road Trip Essentials
Here are the websites and services we personally use and recommend for traveling in Croatia.
Traveling & Driving in Croatia
If you are a confident driver, you shouldn't find it too difficult to drive in Croatia. However, you should be aware that Croatian drivers can be quite erratic, overtaking on bends and speeding at every opportunity, and this can be a little disconcerting on the mountain roads!
Whether you're traveling in your own car, touring Croatia in a motorhome, or flying in and picking up a rental car, you need to follow these rules on your Croatia roadtrip.
Documents
You must have at least three months remaining on your passport at your intended departure date from Croatia.
Croatia joined the Schengen zone on 1st January 2023, so counts towards your 90 days if you are a non-EU citizen,
You must have at least 3rd party insurance for your vehicle.
Citizens of non-EU third countries may require an International Driving Permit for driving in Europe. You can check whether you need an IDP here.
Rules of the Road
Croatia drives on the right and overtakes and passes on the left.
You must carry a reflective jacket, warning triangle, and first aid kit by law. We also recommend that you carry at least one reflective jacket within the passenger compartment of your vehicle and a fire extinguisher.
Drivers must not use mobile phones without a special hands-free system, but you can use a smartphone in a fixed position to navigate with Google Maps for example.
You can't drive with two headphones in your ears.
The taking and use of radar detection equipment is prohibited. As far as is known, the use of equipment with signaling for fixed speed cameras or route checks (such as navigation equipment and telephones) is permitted.
It is illegal to drive without headlights on during winter (late October-April) and all cars must have snow chains and a shovel onboard in snow 2 inches thick or more, or in black ice conditions.
Like many other European countries, Croatia has motorways and other highways with tolls. You can pay for them at toll booths with cash or a credit card.
There are currently no low emission zones in Croatia.
RELATED POST: Driving in Europe – Everything You Need to Know
Are you looking for more incredible road trips? Check out these top posts…
Croatia is home to a variety of beautiful landscapes, including rugged mountain peaks, stunning islands, enchanting waterfalls, incredible beaches, vibrant cities, and charming historic towns. There are so many beautiful places to visit, it can be difficult to decide where to go. We've pulled together all our favorite most beautiful places in Croatia to visit to inspire you and help plan your next trip.
Love it? Pin it!