This post may contain affiliate links, from which we earn an income.
What are the Best Cities in Croatia to Visit?
With its stunning coastline along the Adriatic Sea, rich history, and vibrant culture, Croatia has become an increasingly popular travel destination in recent years. Not only for Europeans looking for a quick getaway but also for international travelers in search of a new experience.
This Balkan's country has come to rival the top European tourist destinations such as Italy, France, and Spain. Croatia has so much to offer, with a lot of interesting coastal towns, villages, and islands to explore – it's a total treasure trove for holidaymakers.
But deciding on the best cities in Croatia to visit is a difficult decision; you really are spoilt for choice. A better plan is to spend a couple of weeks visiting the most popular cities in Croatia and exploring all the exciting activities that each one has to offer.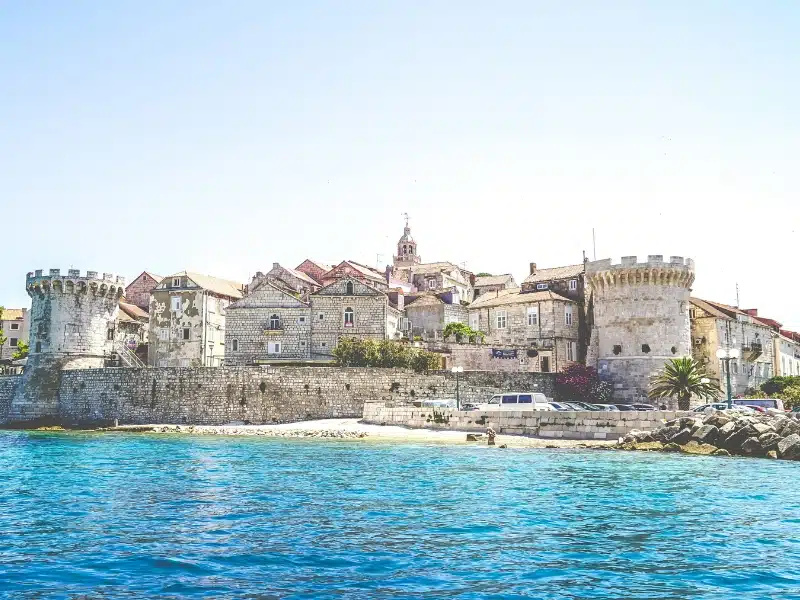 Croatia Travel Resources
Here are the services we use and recommend for traveling in Croatia;
Travelling around Croatia
It's relatively easy to travel from the top to the bottom of Croatia or vice versa. The country has solid public transportation options. There are comfortable bus coaches that are reliable and punctual and a train system that works well too.
Of course, taking a road trip along the stunning Adriatic coastline and its beautiful cities and islands would make for an unforgettable adventure and is the best option to take if possible.
RELATED POST: Croatia Road Trips: Five Incredible Routes
Make sure you have travel insurance you can trust when visiting Croatia. We recommend True Traveller for their 5-star TrustPilot reviews, variety of cover options, best activities cover as standard, great prices, and excellent service.
What are the Best 5 Cities in Croatia?
This Croatia travel guide will look at five of the best cities in the country and what to do there. What makes these cities better than the rest is of course subjective, but they are each amazing places in their own right.
Each of these five cities are uniquely different from one another; Zagreb is packed full of museums, Zadar is small and idyllic, Pula is known for its Roman architecture, while Split and Dubrovnik are Croatia's most popular tourist cities but for differing reasons.
Zagreb – The Capital with Character
Zagreb is the capital of Croatia and has the country's largest population. It is arguably the most interesting city and less touristy than Split and Dubrovnik can be.
With its Eastern European city vibe, Zagreb is not too dissimilar to the likes of Budapest, Prague, or Warsaw. It's more cosmopolitan and multicultural than the other cities on this list but still has a strong sense of history and charm about it.
Traveling around the city is not too difficult; Zagreb has an efficient tram system that is super cheap. Some of the trams are modern while some are quite outdated and graffiti ridden, which makes for a fun experience.
Depending on whether you prefer city breaks or not, one to three days here would suffice to take in the cultural highlights of this lovely city, but add more time if you want to take some day trips from Zagreb too.
Zagreb is without doubt one of the best cities to visit in Croatia, so let's take a look at some of the top things to do in this exciting, lively capital:
Explore the Historic Upper Town of Zagreb
Zagreb's Upper Town, also known as Gornji Grad is the city's historical district and is based on a hillside overlooking Donji Grad, the city's center. There are some beautiful views of the rest of the city to be seen here, and it's a lovely, picturesque place to visit for a nice stroll to take in the cityscape on show.
At Gornji Grad, you'll find charming cobblestone streets, colorful buildings, and plenty of cafes, restaurants, and boutiques. St. Mark's Church, with its iconic tiled roof, is the highlight here and is one of the city's oldest monuments.
Discover Zagreb's Museums
You'll soon discover that Zagreb has an absolute abundance of museums to visit; if you're even a remote fan of museums then you will absolutely love your time in the city! There are signposts all over the place giving directions to multiple museums everywhere you look.
Choosing the best ones to visit is not easy as this is very subjective of course, but three museums to consider would be:
The Museum of Broken Relationships
This quirky and emotionally resonant museum features a collection of items from failed relationships along with their often heartbreaking stories. The Museum of Broken Relationships is a unique and thought-provoking concept and not your typical museum you'd find elsewhere.
Nikola Tesla Technical Museum
Nikola Tesla was one of the most fascinating forward-thinking inventors and engineers to ever live, and he originates from modern-day Croatia. He was born in an ethnic Serbian village that is now considered a region in Croatia, so he's very much considered a Croat by many locals.
The Nikola Tesla Technical Museum celebrates his life and work, showcasing many of his inventions in an interactive way which is great fun for youngsters.
Croatian Museum of Naive Art
This is a charming little art museum based just down the road from St. Mark's Church in Gornji Grad and is well worth checking out if you're a fan of art.
The museum features a captivating display of historical and more contemporary Croatian art, giving you a glimpse into the country's history via some of its most celebrated artists.
Relax in Maksimir Park
And to finish your time in Zagreb, a visit to Maksimir Park is perfect for a walk in nature to escape city life for a couple of hours. This is one of the oldest public parks not only in Croatia but all of Europe, dating back to the 18th Century.
It's considered one of the most beautiful urban parks in Europe as well, so definitely worth a visit when in Zagreb. You could also visit Zagreb zoo as well, which is located within the park.
Take a Day Trip to Plitvice Lakes
Plitviče Lakes National Park is Croatia's most beautiful natural attraction, where a series of sixteen interconnected lakes drop over an altitude of 636 to 503 meters (2,087 to 1,650 ft) and create many waterfalls.
The pristine lake system is surrounded by lush forests and a boardwalk weaves between the lakes and waterfalls to create paths from the upper to lower lakes, or vice versa, depending on your start point.
There are 8 different routes, which can take from two to eight hours to complete, and you can go from the upper lakes down, or the lower lakes up, but all routes have a similar amount of elevation gain. On each route you will also take a boat trip at some point, to transport you over Kozjak, the largest lake.
Plitviče National Park gets very, very busy in the summer months and the sheer number of people can mar the experience a little. If you do visit in summer, we recommend buying your tickets online in advance and starting from car park 2 at 7am when the park opens.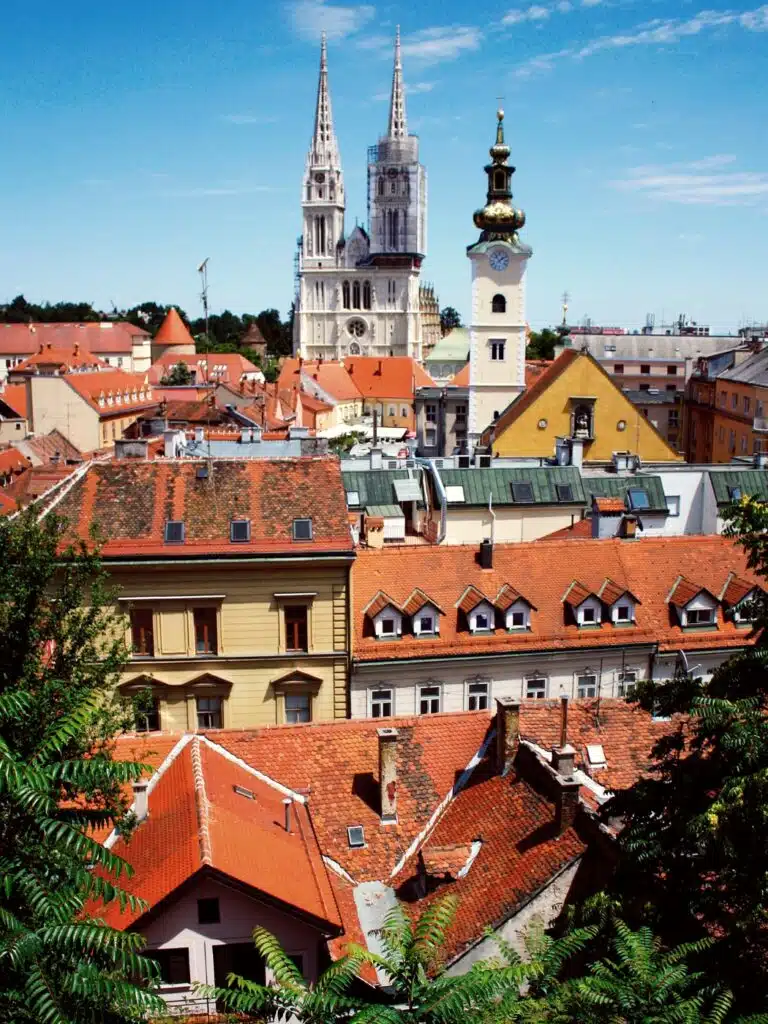 Zadar – A Coastal Gem
Based on Croatia's Dalmatian coast, Zadar is a delightful city that's full of Venetian and Roman ruins. Spending a couple of days here to explore the Old Town and all of its wonderful sights is a must when visiting Croatia.
It's similar to Dubrovnik in some respects but on a smaller scale and no less interesting. It has plenty of churches, monasteries, and ancient museums worth your time.
And Zadar also features some fascinating modern-day art installations that are discussed below, so it really is a city that mixes both the ancient and modernity.
Wander the Beautiful Old Town of Zadar
Zadar's Old Town dates back to the 9th Century when it was taken over and rebuilt by the conquering Romans. It is without a doubt the main attraction of Zadar, with its many mazy narrow streets and historical landmarks.
The main square of the Old Town, Narodni trg, is full of outdoor cafés and restaurants, making it the perfect place to relax and enjoy a bit of people-watching.
Climb the Bell Tower
The best view in Zadar is at the top of the Bell Tower, which is unmissable in the center of the Old Town and a part of the Cathedral of St. Anastasia, often called Zadar Cathedral.
You can climb the bell tower for just a few Euros. You'll need to be considerably fit as there are plenty of steps to ascend – 180nto be exact – but the panoramic views of the city and beyond once you reach the top cannot be matched.
Enjoy the Sea Organ & Sun Salutation
Zadar is famous for its innovative Sea Organ and Sun Salutation installations. The Sea Organ is an experimental musical instrument on the edge of the Old Town. It comprises of several tubes under large slabs of marble steps which you can sit on as you take in the sounds of the waves.
As the waves crash against the steps it produces a constant chiming effect, which is unusual but quite a clever invention that was installed in 2005 and it attracts a lot of tourists.
Right next to the Sea Organ is the Sun Salutation. This is another original installation that is made up of solar panels within a 22m wide diameter circle in the ground. It lights up in a mesmerizing display as the sun sets, which is unique when combined with the tubular sounds of the waves from the Sea Organ.
Explore Dugi Otok
Dugi Otok is the seventh largest island in the Adriatic Sea and its name literally means 'long island'. Dugi Otok is known for its vineyards and orchards, Saharun Beach in the north, and Telascica Nature Park which covers the southern part of the island.
A day trip by boat from Zadar is easy, with tours taking place daily in the summer months. Or, if you're looking to escape the hustle and bustle, this island blessed with Caribben-like beaches and swimming spots is a great option.
RELATED POST: Most Beautiful Places in Croatia: 17 Scenic Places to Visit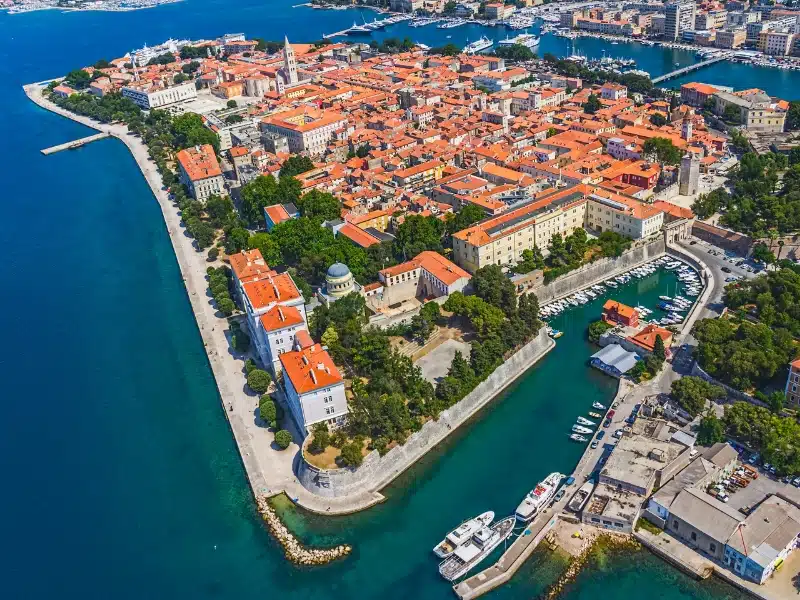 Split – Where History Meets the Coast
Continuing south down the Dalmatian Coast, and just a couple of hours from Zadar is Split, another beautiful city full of history and charm.
It is the second largest city in Croatia after Zagreb and is more touristic. It has a relaxed Mediterranean vibe about it compared to the capital, with its own harbor and several beautiful beaches which are definitely worth visiting.
Explore Diocletian's Palace
Similar to Zadar, Split has its own Old Town, which is known for its well-preserved Roman architecture. Diocletian's Palace is the crown jewel of these historical sites. The palace is the focus of Split's Old Town and it is totally free to roam around in.
Within the palace is where you'll find the Cathedral of St. Domnius, which is both the oldest and smallest Catholic cathedral in the world.
Peristyle is the palace's central courtyard which is a perfect place to stop for coffee or lunch. And outside the Old Town's Golden Gate is the impressive statue of Gregory of Nin. It's said to bring good fortune if you rub his toe!
Take a Boat Trip to the Islands
Croatia has so many islands along its coast, over a thousand in total! These range from archipelagos to villages, and Split is the perfect place from which to visit some of the most popular.
It's easy and relatively cheap to hop on one of the many ferries that leave Split every day. Each island offers its own unique charm, from beautiful beaches to historic sites. These are our favorites:
Hvar Island
One of Croatia's best-loved islands, Hvar is the longest and sunniest island in Croatia and is considered one of the most beautiful islands in the world.
Part of the central Dalmatian archipelago, the island's bustling hub and most popular destination is Hvar Town surrounded by 13th century walls and beautifully ornamented Gothic palaces. With stunning architecture, natural beauty, and mild climate it's the perfect place to stop for a few days of rest and relaxation on your road trip.
Make time to visit white-washed towns and historic cobbled streets of Stari Grad, Vrboska, and Jelsa, swim from the numerous beaches, explore the Pakleni Islands by boat, and take a Blue Cave tour.
Brač
A picturesque island, Brač is known for its stunning beaches and crystal-clear waters and is a paradise for nature lovers and adventure seekers, with plenty of things to do and see.
Hiking is a popular activity with the trails to the top of Vidova Gora, the highest peak on the island, and UNESCO Blaca Monastery, which can only be reached by hiking through a narrow canyon, being amongst the best.
Brač is also known for some of the best beaches in Croatia, with Zlatni Rat near Bol, being one of the most famous. The beach is a great place to swim, sunbathe, or enjoy water sports like windsurfing and kiteboarding.
Other popular beaches on the island include Lovrečina Bay, which is a secluded sandy beach with crystal-clear waters, and Supetar Beach, which is a sandy beach located near the town of the same name.
Other than beaches, popular attractions include the Dominican Monastery in Bol, which features stunning Gothic and Renaissance architecture, the Parish Church of the Assumption of Mary, which features beautiful Baroque architecture, and the Olive Oil Museum in Skrip, which offers a unique look into Brač's olive oil industry.
Korčula
Korčula island, also known as the Emerald Isle, tends to be quieter and more couples-oriented than Hvar and nearby Vis, and is known as a wine island with unique varietals – perhaps that's why we loved it so much!
The gorgeous Dalmatia town of Korčula, with its labyrinth of cobbled streets, incredible restaurants, wine bars, and eclectic stores is famous for being the birthplace of the renowned explorer Marco Polo and is affectionately nicknamed 'Little Dubrovnik' due to its similar architecture and Old Town structure.
Renting a bike and cycling around the island between wineries is a popular activity, as is hiring a boat to explore the islands of Mljet and Lastovo. You should also make time to see a performance of the Moreška, a traditional Croatian sword dance that tells the folk tale of two kings fighting for the love of a kidnapped princess.
Vis
Vis stands out as the most intriguing of this group of Croatian Islands in many ways. Its uniqueness stems from being off-limits to foreigners during Yugoslavia's era, serving as a naval base and the island was only opened for visitors in 1989. You can still explore the tunnels used in WWII today.
The larger towns of Vis Town and Komiža are worth exploring, while a visit to the smaller nearby island of Bisevo, famous for its Blue Cave or Modra Spilja, is a must!
Vis produces some of Croatia's most exclusive wines, including Plavac and Vugava and there are lots of places to try these beautiful wines.
Enjoy a Day Trip to Krka National Park
Croatia is a country populated with national parks and stunning waterfalls. One of the most popular parks to visit is Krka National Park. It's about an hour away from both Split and Zadar, and there are tour operators that arrange day trips to the park.
Krka Park is famous for its series of seven waterfalls, lakes, and abundance of wildlife. Spending several hours here is a wonderful, memorable experience and a nice break from city life.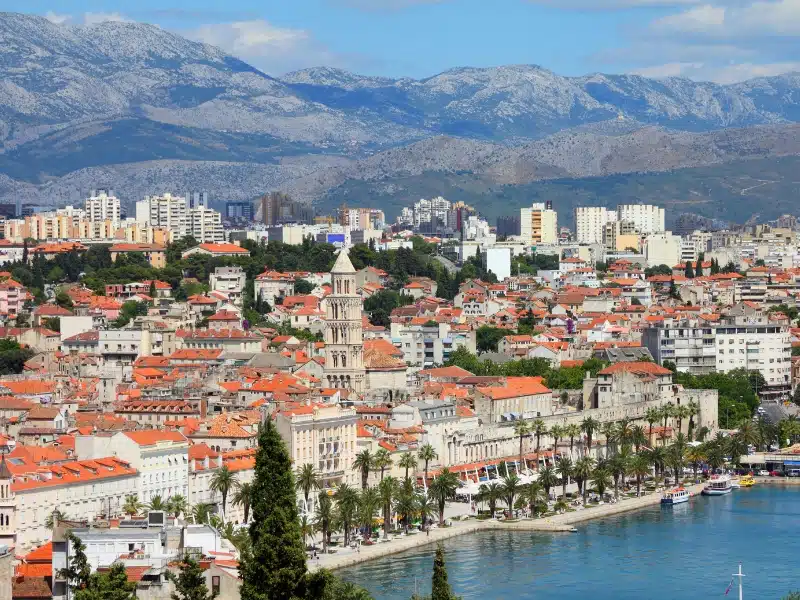 Should I go to Split or Dubrovnik? We get asked that a lot! We would always choose Split, because even though it's busy, it's quiet compared to Dubrovnik! Split's Old Town is arguably more interesting than Dubrovnik and you'll be able to easily see all the interesting bits without being crowded out by hoards of cruise ship passengers and other tourists.
Dubrovnik – The Pearl of the Adriatic
Just a few hours' drive south from Split is undoubtedly Croatia's number one tourist city to visit, Dubrovnik. A lot of people say that Dubrovnik is too pricey and too touristy, and yes, both of those are true most of the time.
However, if you schedule your visit to the city outside of peak summer months then you'll have a much more pleasant experience, with fewer crowds and cheaper accommodation offers.
There's a reason why the UNESCO World Heritage site of Dubrovnik is so popular; it's an impressive, gorgeous place full of history, with plenty of attractions and activities to experience.
Walk the City Walls
Dubrovnik's city walls are its most iconic feature. You can pay to walk around the ancient fortifications and enjoy the most breathtaking views of the Old City, where you'll see endless roofs with orange tiles dating back to the Venetian era.
The views of the Dalmatian coast from the city walls are unbeatable too, with Lokrum Island visible on the ocean horizon.
Discover the Cable Car to Mount Srd
For even more incredible views of Dubrovnik, you can take a cable car from just outside the Old City to the top of Mount Srd. It's a quick ride that takes just a few minutes, but the views are absolutely amazing here.
You can hike it up and down Mount Srd if you're not a fan of cable cars, but this is only for those who are in good shape. At the top of Mount Srd, there are a few gift shops and a really nice restaurant, which is unsurprisingly overpriced.
Take a Game of Thrones Tour
A lot of scenes from the popular fantasy TV series Game of Thrones were filmed in the Old City, which doubled as King's Landing, and surrounding areas. So it shouldn't come as a surprise that Game of Thrones tours are in abundance in Dubrovnik.
If you're a fan of the series then this is a great opportunity to visit several instantly recognisable locations where scenes were filmed.
Relax on Dubrovnik's Beaches
Dubrovnik has so many beaches to visit that you really are spoilt for choice. There are beaches super close to the Old City such as Banje Beach, and more secluded and less populated beaches such as Bellevue Beach and Lapad Beach.
Both of the latter are situated fairly close to the Old City and perfect for unwinding after a busy day of exploring Dubrovnik.
Discover the Elafiti Islands
The nearby Elafiti Islands, a small archipelago consisting of several islands stretching northwest of Dubrovnik, are really special and perfect for a day or two of kayaking, paddleboarding, and snorkeling.
There are actually six islands in the archipelago, but the three main ones to visit are Sipan, Kolocep, and Lopud, with the latter two being car-free. There are daily ferries from Dubrovnik to the islands.
For complete relaxation, head for Mljet Island. The island is not part of the Elafiti Islands but nearby, and is known as Croatia's greenest island. Mljet boasts a clear and clean sea, gentle sandy shoreline, and a wealth of underwater sea life, and the northern half of the island is one of Croatia's national parks.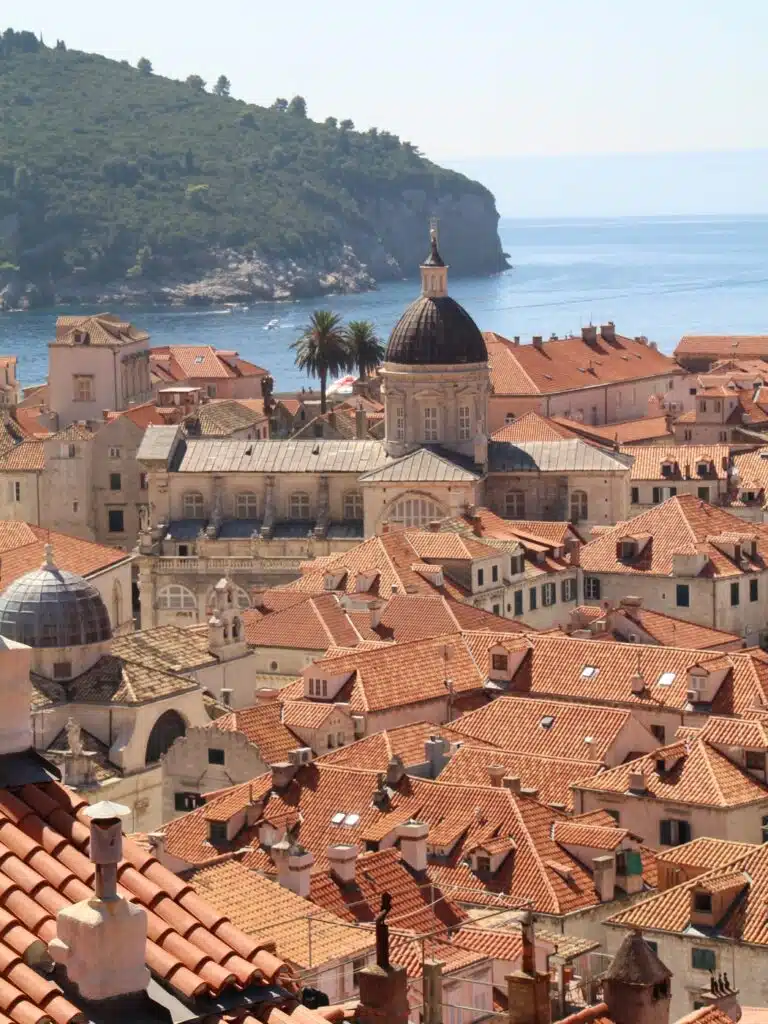 Pula – A Classical Istrian City
Pula is the largest city of Croatia's Istria County, located at the southern tip of the peninsula. Conquered by the Romans in 177 BCE, Pula's architecture is mainly Roman-inspired, and many travelers visit to see the famous Roman amphitheater, the Pula Arena, and the 1st century CE Temple of Augustus.
Discover the Brijuni Islands
Another popular attraction is the Brijuni Islands, a group of fourteen islands off Pula's coast that form the Brijuni National Park.
You take a boat ride from Pula and rent a bike on the islands to explore undiscovered beaches and Byzantine settlements and hunt for dinosaur footprints.
Enjoy the Local Cuisine
Head to Pula Market Hall for our favorite, burek, a flaky pastry with savory fillings like meat or cheese, and all things truffle.
The forests of Istria have three types of black truffles and one of the world's most prized white truffles, making Pula the ideal place to buy truffle-based Croatian souvenirs!
Explore Istria's Venetian Architecture
North of Pula is Rovinj, one of the most popular tourist destinations in Croatia with an old town that is situated on an island only connected to the mainland in the 18th century.
Rovinj is renowned for its picturesque setting and romantic atmosphere. The town's cobbled narrow streets provide a glimpse into the past, and the traditional spacio taverns offer a fish-focussed gastronomy scene.
Poreč is a charming seaside town north of Rovinj and popular thanks to its beautiful beaches and cultural treasures. One of the most popular things to do in Poreč is to visit the UNESCO World Heritage Site of Euphrasian Basilica.
This stunning 6th century church is home to some of the most impressive mosaics in the world and is a good starting point from which to explore the maze of cobbled streets and pretty squares that make up the old town.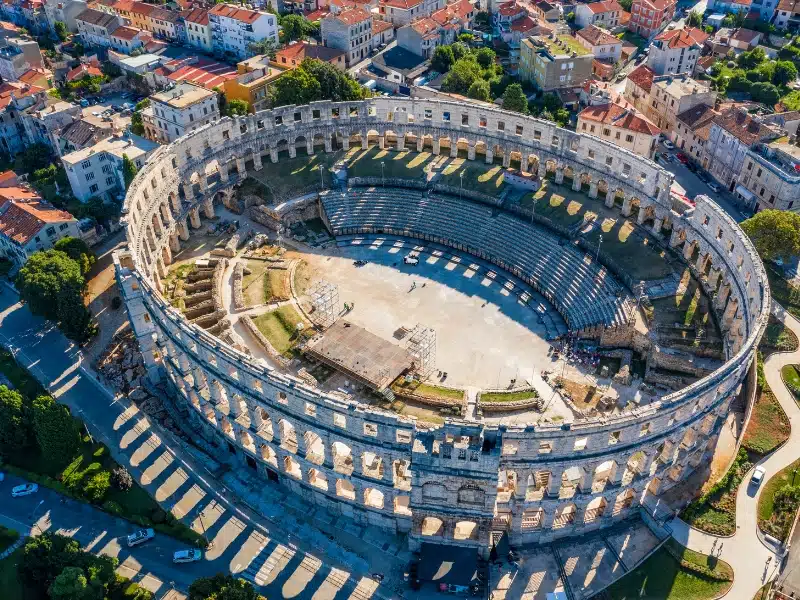 Conclusion: Best Cities to Visit in Croatia and Things to Do
Croatia really is a beautiful country to visit and you'll soon realize why it's now considered a top European destination.
The five places covered in this post are definitely the best cities to visit in Croatia. They all offer a diverse range of experiences, from historical and cultural exploration to seaside relaxation.
Whether you're a fan of ancient history and nature, or simply enjoying the Mediterranean lifestyle, these cities are charming in a country that is fast becoming a favorite destination for many.
Looking for more travel inspiration? Check out these top posts…
Are you desperate for some Spanish sun but don't want to fly? With great routes across Europe, it's easy to drive to Spain from UK by car, arriving refreshed and unstressed from the comfort of your own vehicle. We're sharing the best routes with costs and comparisons plus tips about driving once you're there. Our Spain from UK guide will help you decide which is the best route for your driving trip to Spain, so…
Love it? Pin it!