This post may contain affiliate links, from which we earn an income.
Top Things to Do and See in Bruges Belgium
If you're wondering about the best things to do in Bruges, you've landed in the right place. Bruges, or Brugge in Dutch, is often dubbed the 'Venice of the North' because of its many canals that wind through the city.
Bruges offers a rich tapestry of experiences, from its medieval architecture to its mouthwatering Belgian cuisine.
Whether you're a solo traveler, a couple, or a family on a road trip, we've got you covered. In our Bruges travel guide we're sharing the best places to stay, must-try foods, and the ultimate things to do in Bruges, and beyond.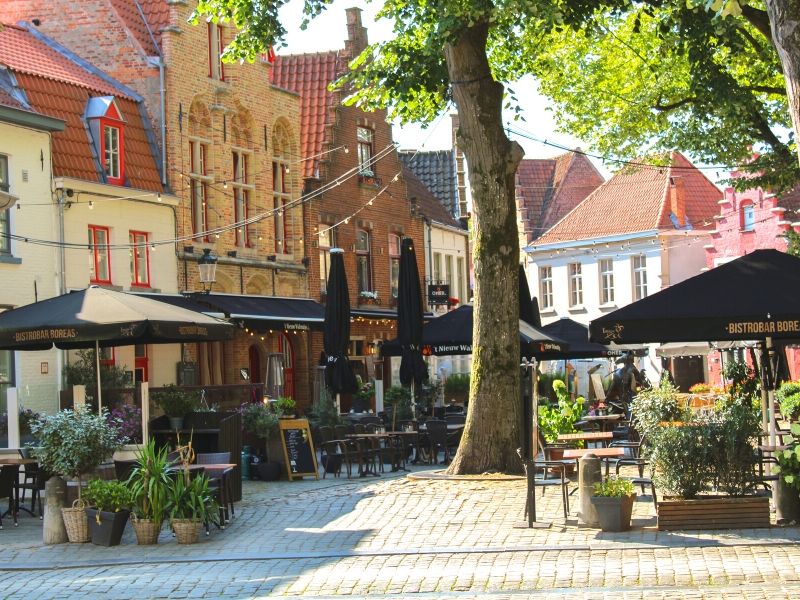 Belgium Travel Resources
Here are the services we use and recommend for traveling in Belgium;
Best Things to Do in Bruges
1. Rozenhoedkaai (Quay of the Rosary)
Rozenhoedkaai, or Quay of the Rosary, is a top contender on any list of things to see in Bruges.
As the most photographed location in the city, it's a living postcard framed by historic buildings and charming canals.
More than a photo opportunity, Rozenhoedkaai allows you to step back and enjoy the medieval architecture that everyone loves about Bruges.
Whether you're an amateur photographer, a history buff, or someone simply looking to appreciate the city's romantic atmosphere, Rozenhoedkaai is an essential stop that encapsulates the timeless beauty of Bruges.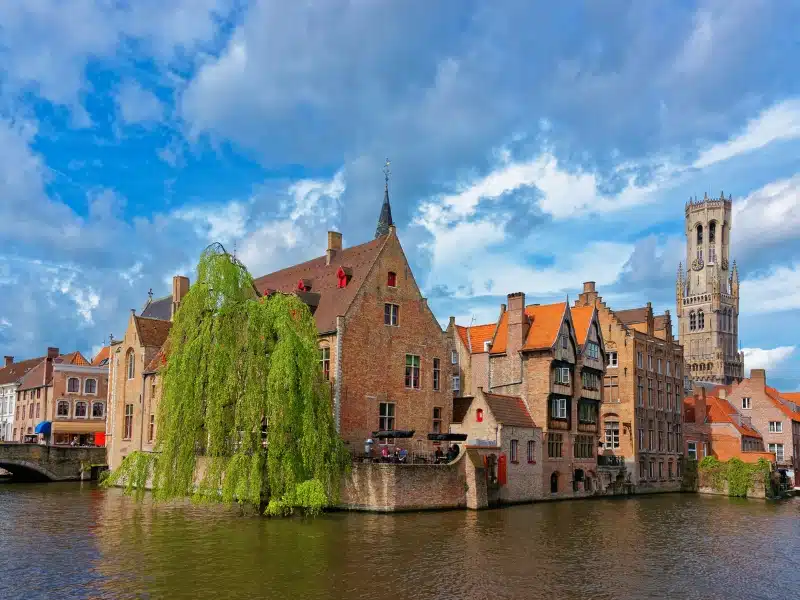 Make sure you have travel insurance you can trust when visiting Belgium. We recommend True Traveller for their 5-star TrustPilot reviews, variety of cover options, best activities cover as standard, great prices, and excellent service.
2. Climb the Belfry of Bruges
Climbing the Belfry of Bruges is a must do in Bruges. One of Bruges' most prominent landmarks, the medieval bell tower formerly housed a treasury and the municipal archives, and served as an observation post for spotting fires and other dangers.
At 83 meters high, the towering structure offers a panoramic view that's second to none, providing a bird's-eye perspective of the city's red rooftops, winding canals, and bustling squares.
The climb is an experience, with each of the 366 steps on the narrow spiral staircase taking you back in time.
Once you reach the top, the reward is a breathtaking vista and a newfound appreciation for Bruges' intricate layout and historic charm.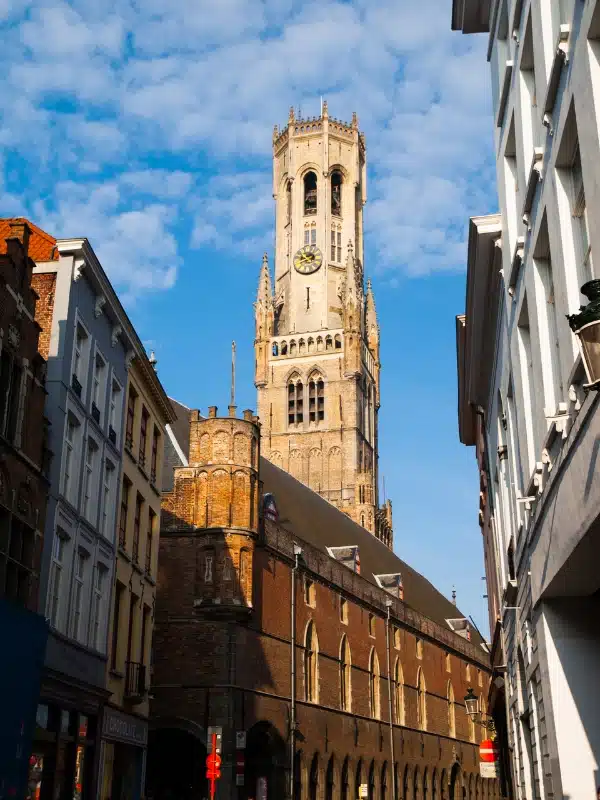 3. St. Salvator's Cathedral
St. Salvator's Cathedral is not just another church; it's a cornerstone of Bruges' rich history and a must-see when pondering what to do in Bruges.
The cathedral's towering spire has been a part of the city's skyline for over 700 years, and its interior is a treasure trove of art and architecture.
Every element tells a story, from the intricate tapestries to the stunning stained glass windows.
Whether you're spiritually inclined or simply appreciate historical architecture, visiting St. Salvator's Cathedral offers a serene break from the bustling city.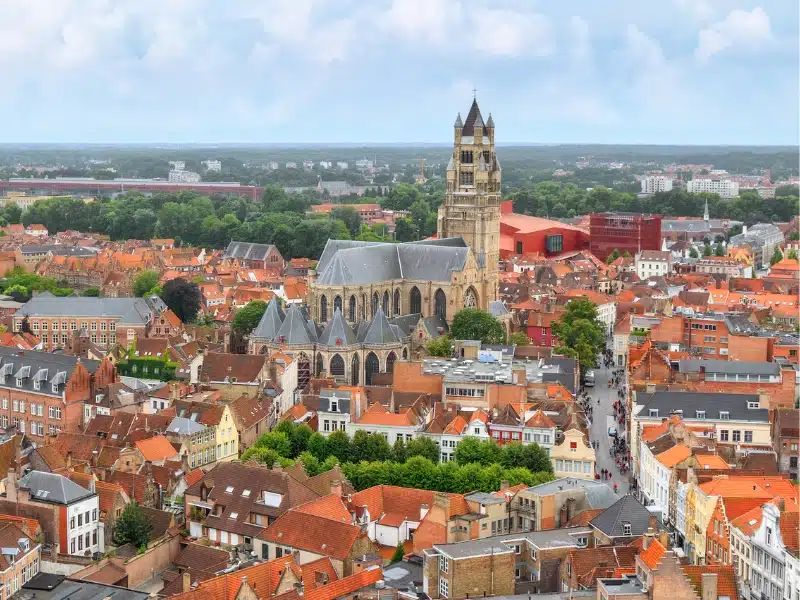 4. Groeningemuseum
Art enthusiasts and history buffs alike should make a beeline for the Groeninge Museum.
This museum is a sanctuary of Flemish and Belgian art, housing an impressive collection that spans several centuries.
From the works of early Flemish primitives to modern pieces, the museum offers a comprehensive look at the region's artistic evolution.
It's not just a walk through an art gallery; it's a journey through time that enriches your understanding of Bruges and its cultural significance.
Tip: If you're planning to visit a few of Bruges museums, it's a good idea to get the Musea Brugge Card. The card is valid for 3 days and gets you skip-the-line entry to eleven of Burges's top museums.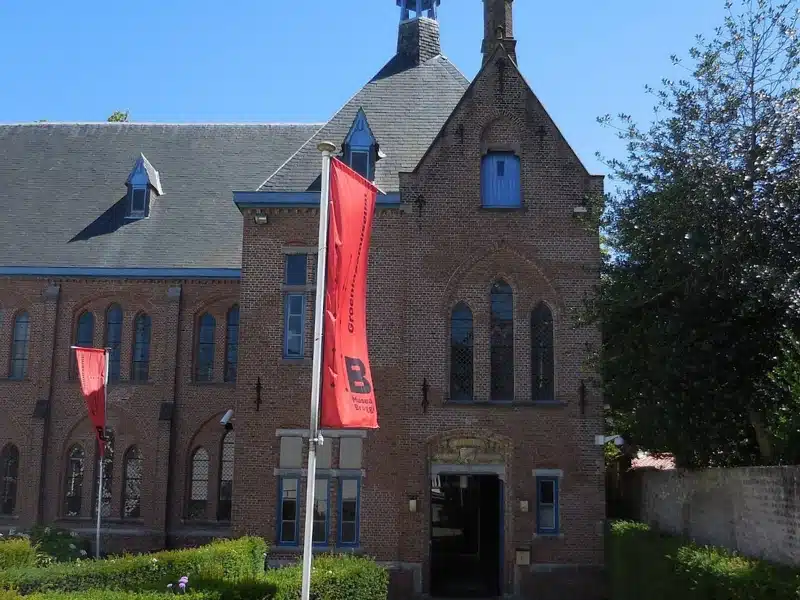 5. Minnewater Lake (Lake of Love)
For those wondering what to do in Bruges that allows for a moment of tranquility, Minnewater Lake, commonly known as the Lake of Love, is your answer.
This serene lake offers a perfect escape from the city's hustle and bustle. It's not just a feast for the eyes; the lake is steeped in local legends of romance and heartbreak, adding a layer of mystique to its natural beauty. The lake even has a quaint little bridge, the narrowest in the city, known as the Lovers Bridge.
Whether you're a couple seeking a romantic backdrop or a solo traveler looking for a peaceful retreat, Minnewater Lake is a must-visit spot that enriches any Bruges itinerary – just watch out for the swans!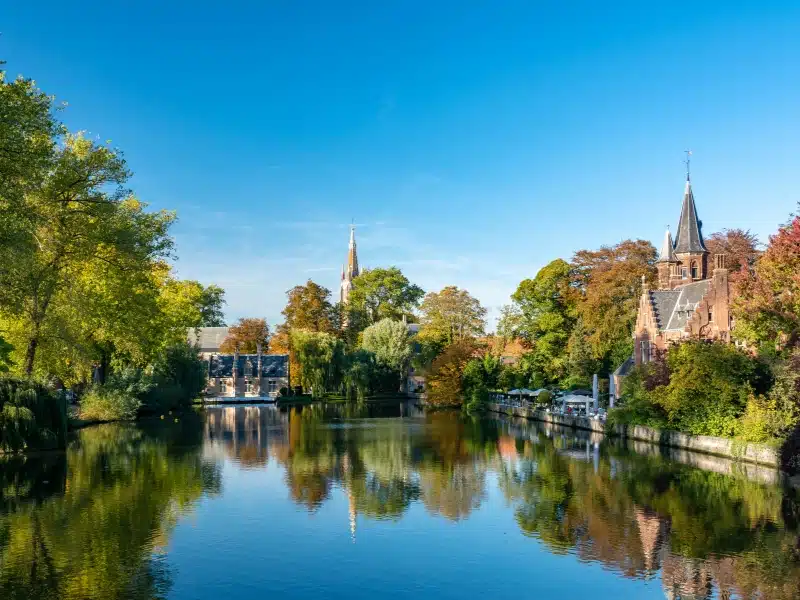 6. Burg Square
Burg Square is the heart of Bruges historic center and a place you'll likely visit more than once during your trip to Bruges.
As one of Bruges' oldest squares, it serves as a grand stage for some of the city's most significant architectural wonders, including the Gothic-style Bruges City Hall and the Basilica of the Holy Blood.
Ornate chambers and sacred relics tell tales of the city's rich past within these historic walls.
The square is also a hub for local life, featuring charming cafés perfect for people-watching and regular markets offering a range of local crafts and delicacies.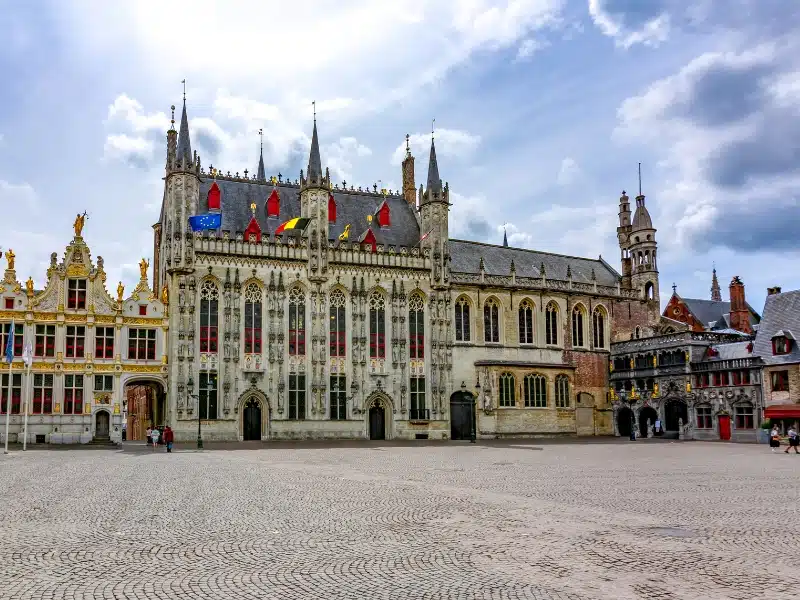 7. Markt Square & Food Delights
Markt Square is not just the geographic center of Bruges; it's also the epicenter of culinary delights the city offers.
Surrounded by colorful, historic buildings with gabled roofs and the iconic Belfry Tower, the square is a feast for the eyes and the palate.
Markt Square is a food lover's paradise, from mouthwatering Belgian waffles to world-renowned chocolates.
Take the chance to try some authentic moules-frites (mussels and fries) at one of the many inviting restaurants that line the square.
Whether you're a foodie or simply someone who appreciates a good meal, Markt Square (Market Square) is a must visit that adds flavor to your Bruges experience.
If you're not sure about what to eat or where to eat it, we recommend this highly rated private Bruges food tour with a local, where you get to try a combination of savory and sweet specialities and see city highlights in between food stops.
Tip: If you want to take a horse-drawn carriage ride through the streets of Bruges, Markt Square is the best place to start. You'll find the horses and their carriages lined by the square – there is no need to book or pre-plan, just hop in the next available carriage and agree on the price.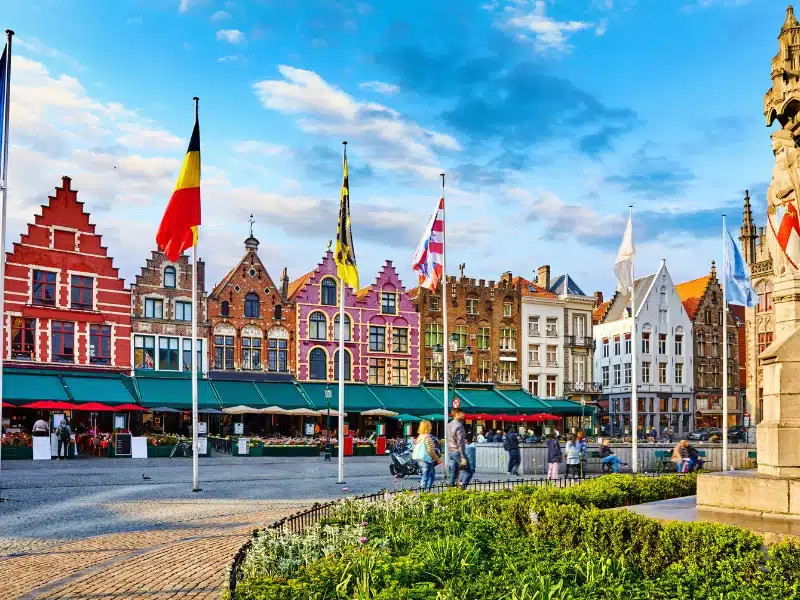 8. Basilica of the Holy Blood
The 15th century Basilica of the Holy Blood is a spiritual cornerstone in Bruges' historic Burg Square.
Famous for housing a relic believed to be the blood of Christ, the basilica captivates visitors with its stunning interior adorned with stained glass, intricate carvings, and gold accents.
A visit to the Basilica offers a serene moment for reflection and provides a unique window into the city's spiritual and cultural heritage, enriching your overall experience in Bruges.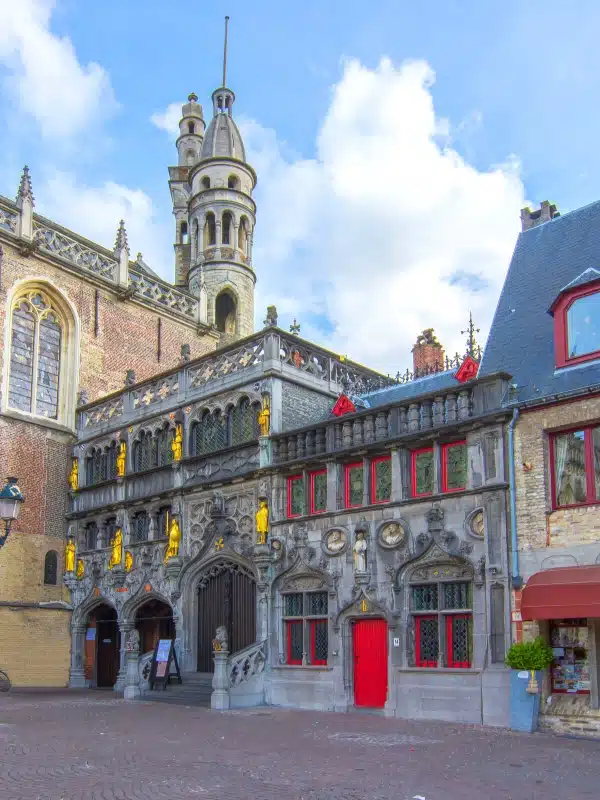 9. Windmill Walk and Jan van Eyck Square
For those looking to escape the city's touristy center without venturing too far, the Windmill Walk and Jan van Eyck Square are perfect for you and are amongst the top things to do in Bruges.
The Windmill Walk takes you along the city's remaining windmills, providing a glimpse into Bruges' agricultural past.
It's a scenic route perfect for a leisurely stroll or a romantic picnic. For us, the best way to see the windmills and lots of other city highlights is by bike. We recommend this Bruges bike tour, where you'll visit the Beguinage, almshouses, and windmills as you learn about the city's medieval past from your local guide.
Jan van Eyck Square, named after the famous Flemish painter, is not far from this pastoral setting. The square is a hub of artistic activity, often hosting outdoor exhibitions and performances.
These spots offer a blend of history, art, and natural beauty that enriches any Bruges itinerary.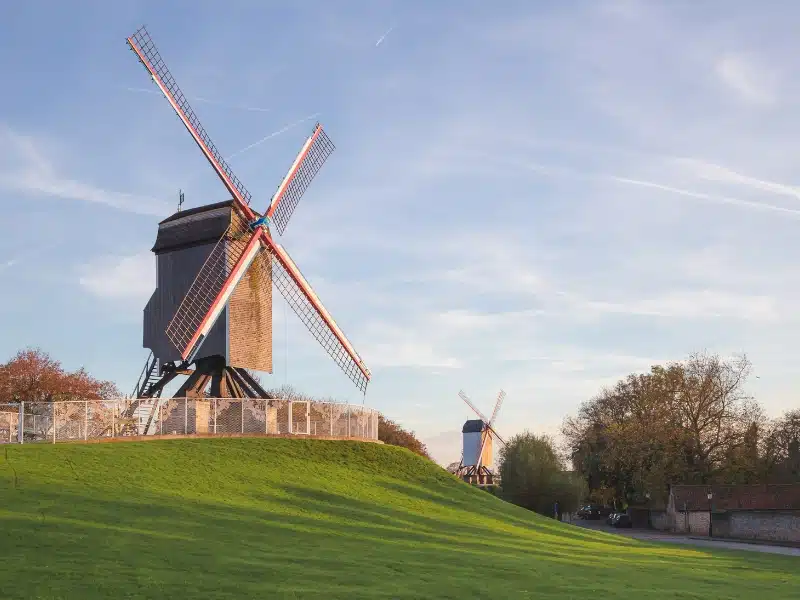 10. Canal Boat Tour
Taking a canal boat tour offers a different perspective of Bruges' from the ancient waterways.
Gliding along the canals, you'll pass under quaint stone bridges and beside medieval buildings that seem to rise directly from the water.
The tour provides a unique vantage point to appreciate the city's hidden gardens and architectural marvels. Knowledgeable guides often accompany these tours, adding historical context to the stunning views.
For those keen on uniquely capturing the essence of Bruges, a canal boat tour is an unforgettable experience that enriches any visit to this Belgian treasure.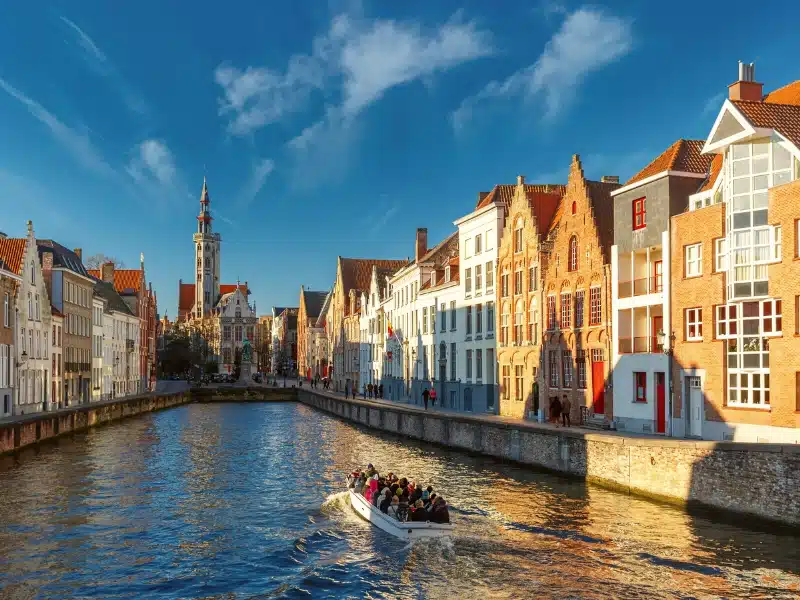 11. Explore Bruges Old Town
Wandering through Bruges' Old Town feels like stepping into a fairy tale no matter how often you visit the city.
Cobblestone streets, historic facades, and charming squares create an atmosphere of timeless elegance.
The whole area is a UNESCO World Heritage site and is home to some of the city's most iconic landmarks, including the Markt Square and the Basilica of the Holy Blood.
But it's not just about the big-ticket sights; the Old Town is also a treasure trove of hidden gems including quaint shops, artisan boutiques, and cozy cafés.
Exploring the Old Town offers a deep dive into Bruges' rich history and vibrant culture, making it a must visit for anyone seeking the whole Bruges experience.
A walking tour is a fantastic way to see the Old Town and learn about Bruges' history, architecture, and culture. We recommend this popular private historical highlights walking tour with your personal local guide and hear the stories, legends and facts of Bruges, as well as visiting all the important historic landmarks of the city.
12. 2be Beer Wall and Bruges Beer Festival
The 2be Beer Wall and the Bruges Beer Festival are things to do in Bruges for beer aficionados.
The Beer Wall is a unique bar that showcases over 1,200 Belgian beers, each with its own glass. It's a beer lover's dream and a fantastic place to sample the country's rich brewing heritage.
You're in for a treat if you visit during the Bruges Beer Festival. This annual event gathers brewers from all over Belgium, offering tastings, workshops, and a festive atmosphere.
The Beer Wall and the festival provide an immersive experience of Belgium's celebrated beer culture, and if you're a real beer fan you can also visit Bruges' three working breweries; Bourgogne des Flandres; Fort Lapin and De Halve Maan, which have been brewing since 1856.
13. Beguinage Ten Wijngaerde
The 'Princely Beguinage Ten Wijngaarde' with its white-painted facades and tranquil monastery garden was founded in 1245 to house beguines: lay religious women who lived in community without taking vows or retiring from the world.
A group of Beguines used to live in this piece of world heritage, emancipated women who, although they were laymen, nevertheless led a pious and celibate life. Today the Beguinage is inhabited by sisters of the Order of Saint Benedict and single women from Bruges.
The square around which the Beguinage is built is incredibly tranquil, a real haven of peace from the activity and excitement of Bruges' busy Old Town. In spring, it's full of daffodils, in summer, the area is carpeted with wildflowers, and in fall, beautiful grasses are in abundance.
RELATED POST: Autumn in Europe: 23 Stunning Destinations for Fall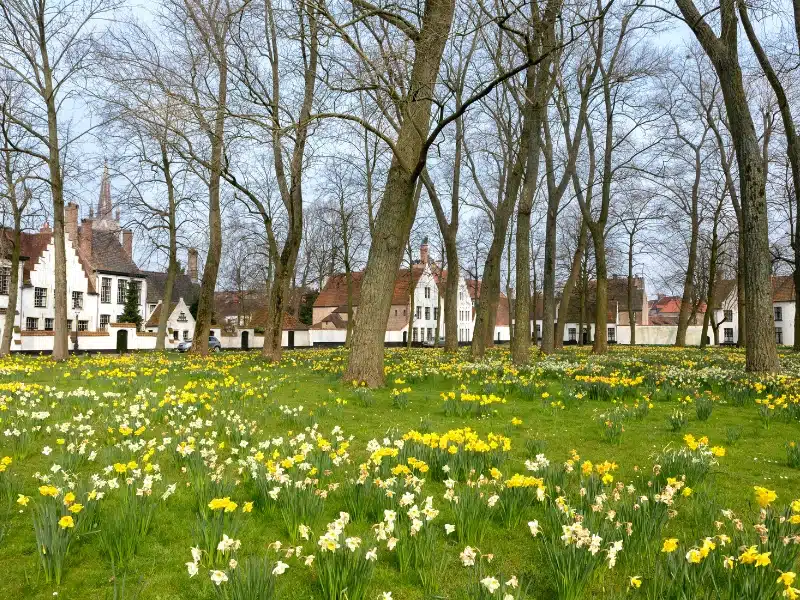 14. Torture Museum
The Torture Museum in Bruges offers a haunting yet fascinating look into the darker aspects of human history.
Housed in a medieval building that once served as the city's first prison, the museum showcases various instruments used for torture and execution throughout the ages.
While it may not be for the faint of heart, the museum provides valuable insights into the evolution of justice and human rights.
It serves as a stark reminder of the lengths society has come in terms of morality and law.
Visiting the Torture Museum adds a thought-provoking dimension to your Bruges experience, making it a compelling stop for those interested in history and social justice.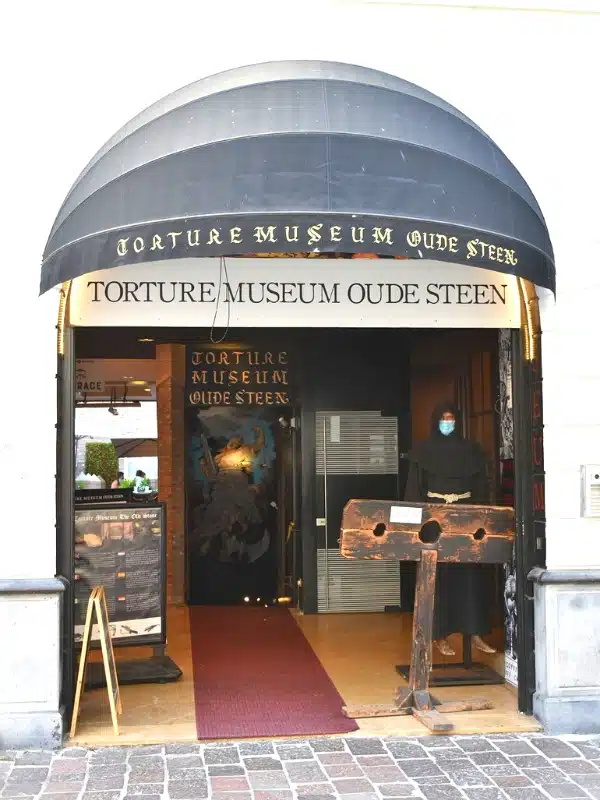 15. ChocoStory Chocolate Museum
Belgium and chocolate go hand in hand! Located in a historic building, the museum takes you on a journey from the beginnings of cocoa to the fine art of Belgian chocolate-making.
The museum is filled with Interactive exhibits and live demonstrations by chocolatiers to give you a more hands-on experience.
Don't worry – there are plenty of opportunities to taste some chocolate!
For families, couples, or anyone with a sweet tooth, the ChocoStory Chocolate Museum is a delightful way to indulge in Belgium's chocolate culture, and it's also one of the best things to do in Bruges in the rain!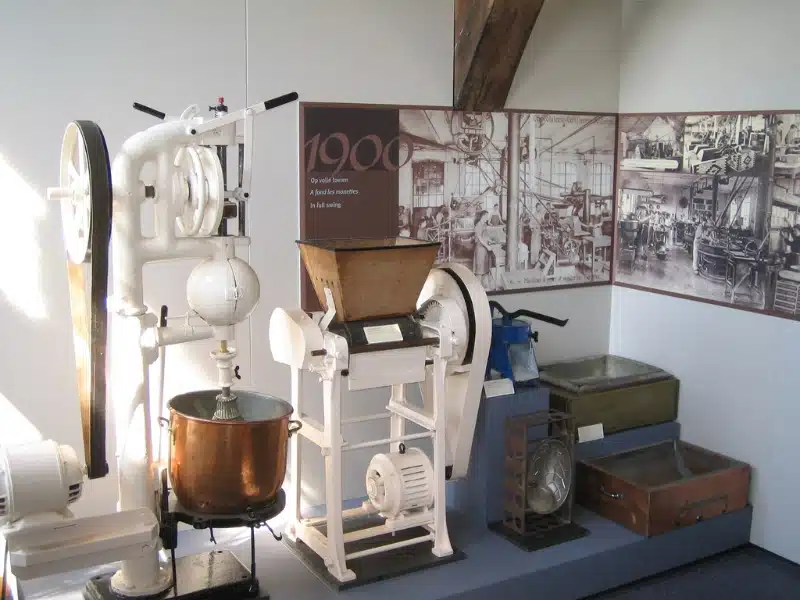 16. Loppem Castle and Kasteel van Loppem Maze
Take a day trip to Loppem Castle and Kasteel van Loppem Maze. This trip offers a unique blend of history and adventure.
The neo-Gothic castle is a marvel of 19th century architecture, with ornate interiors and an impressive art collection.
But what sets this attraction apart is the intricate hedge maze in the castle grounds. It's one of the few mazes in Belgium and offers a fun, interactive way to explore the estate.
Loppem Castle and its maze make for an active day trip from Bruges for those looking to combine cultural enrichment with a dash of outdoor excitement.
17. Hot Air Balloon Ride
One of the most unique things to do in Bruges, a hot air balloon ride will truly elevate your Bruges experience.
Floating high above the city and surrounding countryside offers unparalleled panoramic views, capturing the essence of Bruges' medieval architecture and scenic landscapes.
It's a magical experience, perfect for special occasions or simply making your trip unforgettable.
Most Bruges balloon rides occur during sunrise or sunset, adding a layer of beauty to the journey.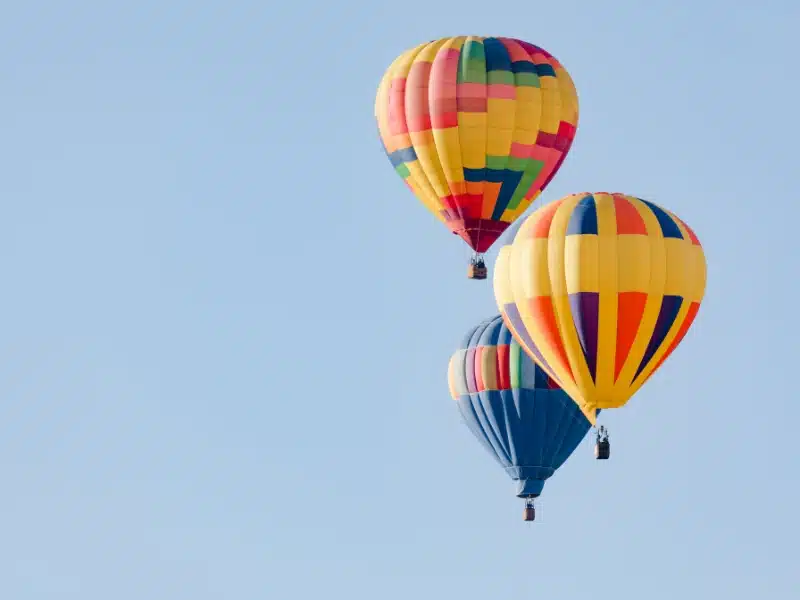 18. Kitesurfing Lessons
If you're an adventure seeker looking to add a splash of adrenaline to your Bruges trip, kitesurfing lessons are just the ticket.
While Bruges may be known for its medieval charm, its proximity to the Belgian coast offers a different thrill.
Local kite schools at Knocke-Heist provide lessons for all skill levels, ensuring a safe and exhilarating experience.
Catching the wind and gliding over the waves offers a physical challenge and a unique perspective of the coastline.
For those eager to mix cultural exploration with outdoor excitement, kitesurfing adds an unexpected yet unforgettable layer to your Bruges experience.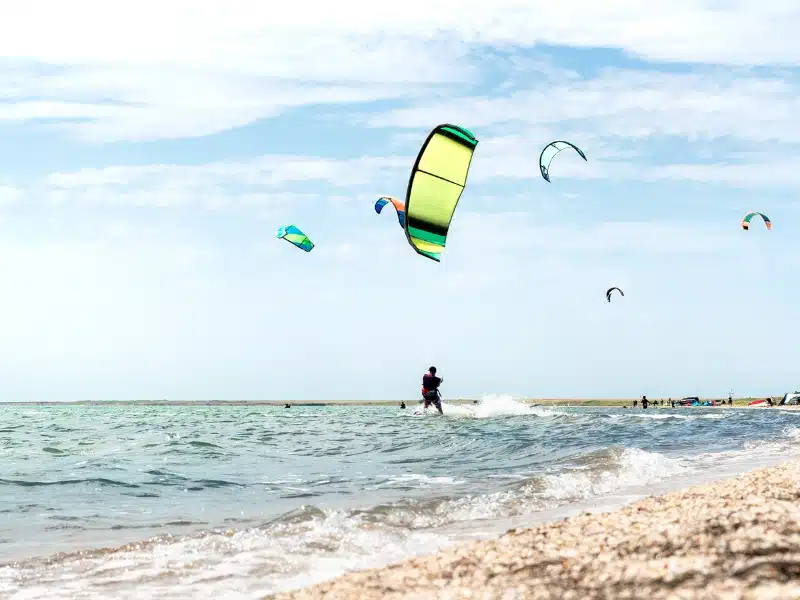 19. Photo Tour of Bruges
Capturing the essence of Bruges through a lens can shine a new light on the city.
These tours with Photo Tour Brugge are led by local photographers who know all the hidden gems and the best angles and places from which to shoot.
You'll explore iconic landmarks, quaint streets, and secret spots while learning tips and techniques to improve your photography skills.
It's a fantastic way to see the city and create lasting memories.
For budding photographers or anyone who loves to document their travels, a photo tour is a captivating way to deepen your connection with Bruges.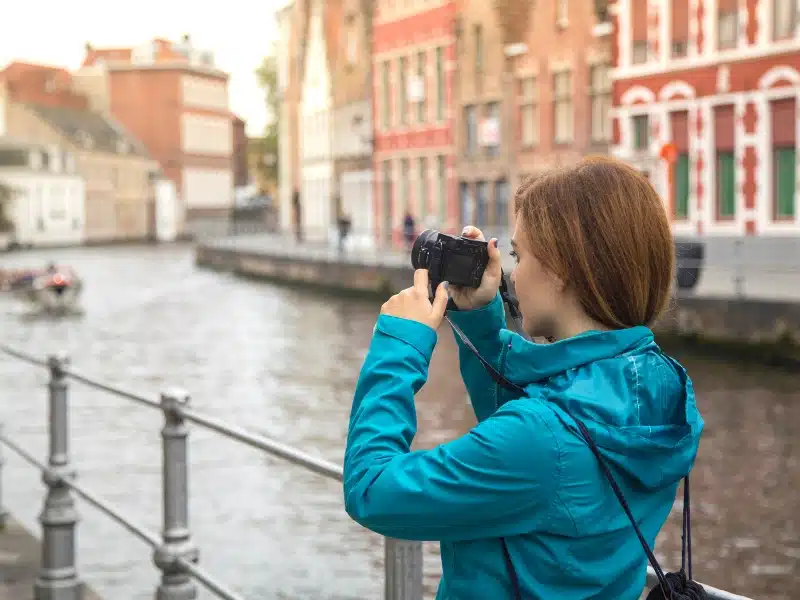 20. Frietmuseum
Just like Bruges and chocolate go together, so do Bruges and frites. The Frietmuseum takes this beloved snack to a whole new level.
Dedicated entirely to the history of potatoes and the production of Belgian fries, this museum is the first in the world.
You'll trace the potato's journey from the Andes to the fryer through interactive exhibits.
And, of course, your visit would only be complete with tasting some freshly made Belgian fries at the museum's fry shop.
For foodies and curious travelers, the Frietmuseum adds a flavorful twist to your Bruges adventure.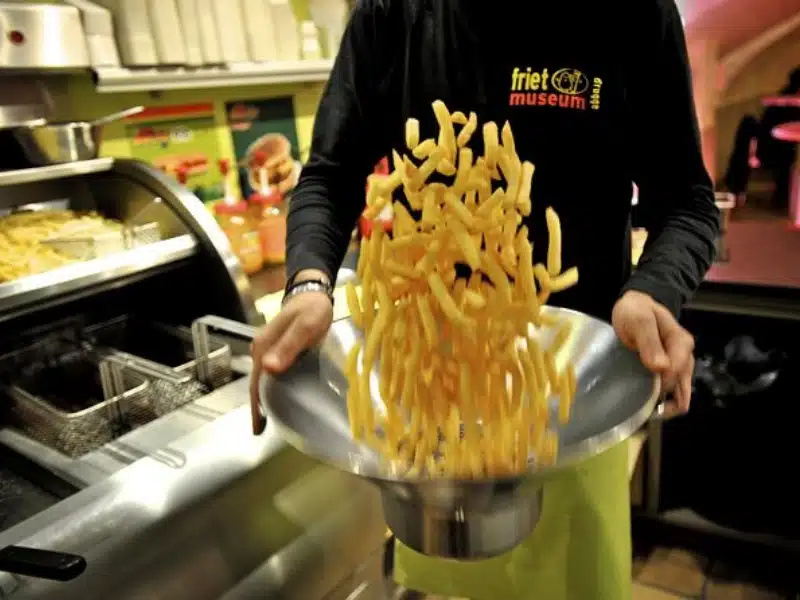 21. Saint John's Hospital Museum
The 12th century Museum Sint-Janshospitaal is home to some of the most remarkable sights in Bruges. The impressive canal-side building has been transformed into an art museum that offers a glimpse into the early days of hospital life.
The museum still retains its original timber roof and wooden beams and features an impressive collection of medical instruments and art pieces, as well as a pharmacy and herb garden, where you can find plants used in treatments from the mid-17th century.
One of the highlights of the museum is the golden oak reliquary, a masterpiece created by Hans Memling. The reliquary tells the story of Saint Ursula's marriage to a pagan prince, and her subsequent murder, along with 11,000 virgins, by the King of the Huns as they journeyed to Rome.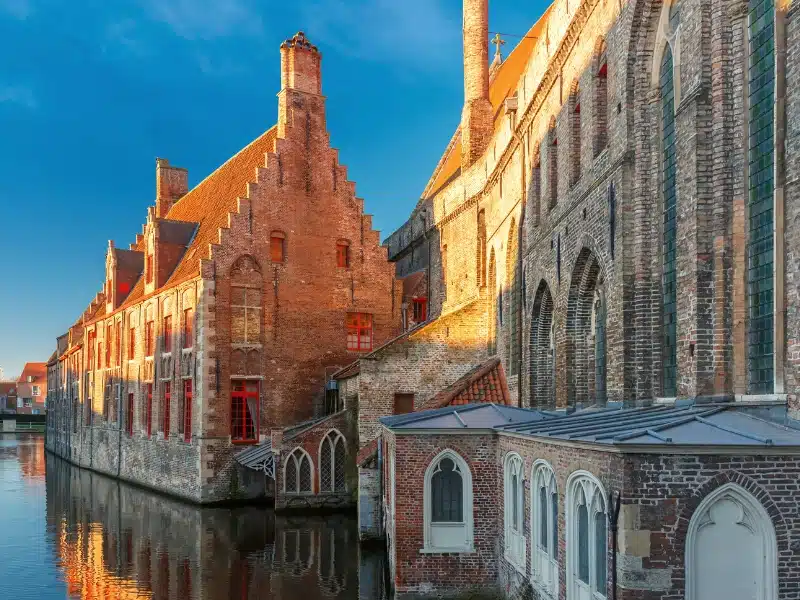 22. Jeruzalemkerk
Located in the northeastern city center of Bruges, the Jerusalem Church is a stunning example of late Gothic architecture. The church's most notable feature is its tower, which has an oriental appearance.
Constructed in the 15th century, the church on Peperstraat was later renovated by Anselm Adornes, an Italian merchant who was inspired by his pilgrimage to the Church of the Holy Sepulchre in Jerusalem in 1470. The two-story interior of the church contains the tombs of Adornes and his wife.
Although the church remains privately owned, visitors can explore the Kantcentrum Lace Centre and Museum in the former foundation houses and family home nearby.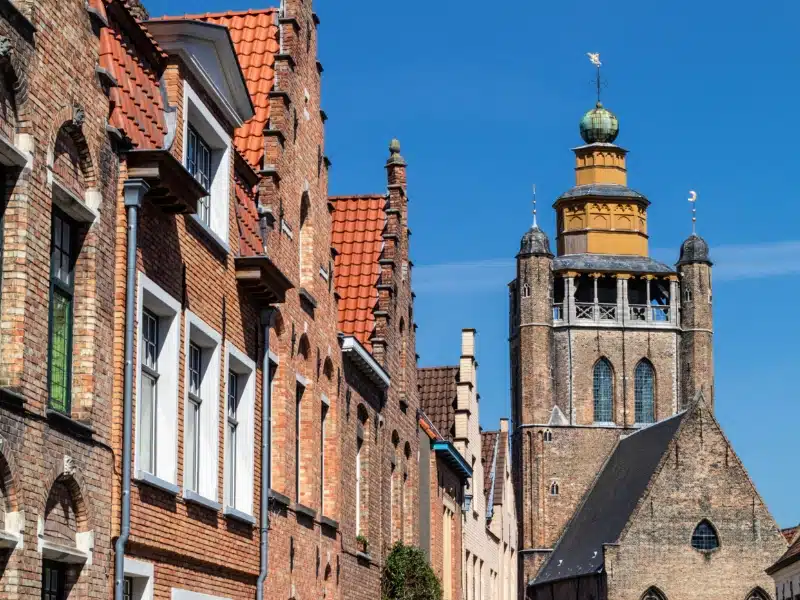 23. Day Trip to Flanders
Take a trip of historical discovery on a day trip from Bruges that takes you through West Flanders to the Belgian town of Ypres, now called Leper.
It was at Ypres that the Germans invaded Belgium during WWI. The defence of Ypres was key to the British hold on this sector of the Western Front and the town was an important strategic landmark blocking the route for the Imperial German Army through to the French coastal ports.
During the three Battles of Ypres, fought between 1914 and 1917, led to the loss of 600,000 men, and the severe casualties suffered in the area made Ypres a focus for post-war remembrance.
You will see the remaining artifacts and places of the city as you discover restored trenches, stroll among war graves in Passchendaele and Polygon Wood, explore over craters and bunkers on the preserved battlefield and visit key war memorials, surrounded by the iconic poppy fields of Flanders.
You will also visit the imposing Menin Gate Memorial to the missing soldiers, complete with 55,000 names, erected on the spot where the soldiers left the city for the battlefront.
We recommend this excellent full-day Great War Flanders Fields tour from Bruges to visit the WWI battlefields and find out about the history of Ypres.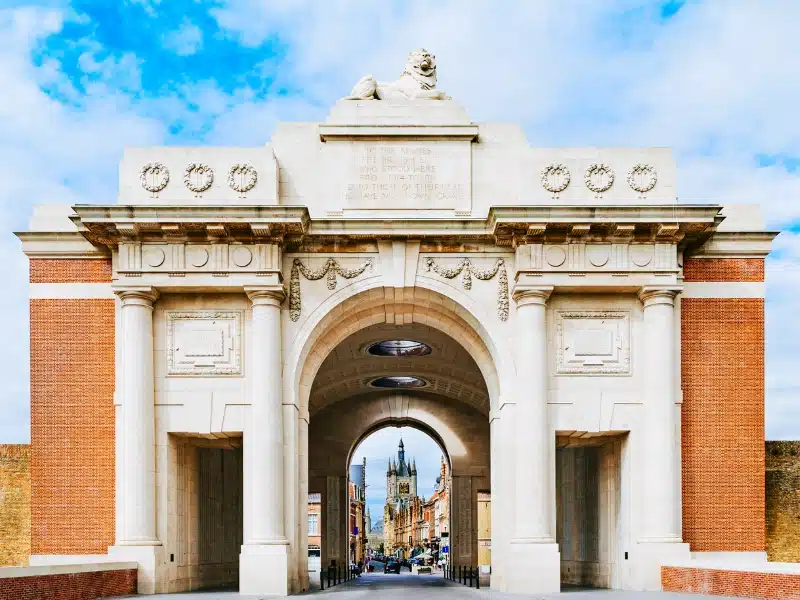 How to Get to Bruges
Plane
The closest international airport to Bruges is Brussels Airport. Several airlines operate flights to Brussels from many international destinations.
Brussels Airport is located approximately 100 km from Bruges, which is located in the Flemish Region of Belgium. You can reach Bruges by train or car from the airport, which will take around an hour and a half.
Train
Taking the train to Bruges is one of the most convenient and eco-friendly options. Trains are frequent, comfortable, and offer free Wi-Fi.
Brugge Railway Station is well-connected to major Belgian cities like Brussels, Antwerp, Ghent, and other European cities.
The train station is just under a 20-minute walk to the city center or a short bus ride. If you walk from the train to the city center, be mindful of the cobblestones you must navigate – this can be challenging if you have a rolling suitcase.
Bus
The bus is a cost-effective way to reach Bruges, but it is slower than the train.
Several bus companies operate routes to Bruges from various European cities. The main bus terminal is near the train station, providing easy access to the city center.
Remember that bus travel might take longer due to stops and potential traffic.
Car
Driving to Bruges is a good option if you prefer the freedom to explore at your own pace and the city is easily accessible via well-maintained highways and roads.
However, parking in the city center can be challenging and expensive. Many hotels offer parking facilities, so checking in advance whether parking is available is advisable.
Be aware that some parts of Bruges are pedestrian-only, so plan your routes accordingly.
Make sure to read our guide to motorhoming in Belgium if you're traveling in a 'van. You'll find lots of information about visiting Belgium and ideas for places to stay.
Best Time to Visit Bruges
The city is a year-round destination, but each season offers its unique charm.
Spring and summer bring mild temperatures and blooming flowers, perfect for canal tours and outdoor activities, but the height of summer will be very busy.
Autumn offers fewer crowds and a beautiful display of autumn foliage, and the days can still be quite warm.
Winter, especially during December, transforms Bruges into a magical Christmas wonderland with markets and festive lights.
If you have time and don't mind when you travel, the shoulder seasons of April to June and September to October are the perfect time to visit. There are way fewer tourists, prices are often cheaper and the weather is still lovely.
RELATED POST: Europe Winter Destinations: 22 Amazing Wintry Places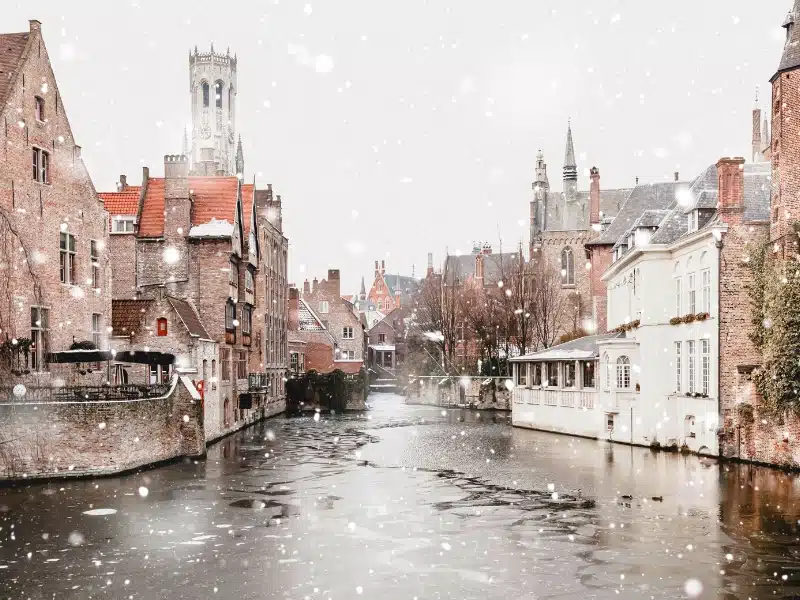 Where to Stay in Bruges
Dukes' Palace Residence
If you're looking for a stay that combines luxury with exceptional service, Dukes' Palace Residence is your spot. The hotel exudes elegance, offering top-notch amenities that ensure a comfortable stay.
Guests rave about the friendly and accommodating staff who go above and beyond to make your stay memorable.
Grand Hotel Casselbergh Brugge
Grand Hotel Casselbergh Brugge is another excellent choice, known for its friendly, helpful staff and sumptuous breakfast spread.
The bar area is a cozy spot to unwind after a day of sightseeing. The hotel's central location makes it convenient for exploring Bruges, and the atmosphere is warm and inviting, making you feel right at home.
Relais Bourgondisch Cruyce
Location is everything at Relais Bourgondisch Cruyce. Situated in the city center, this hotel is within walking distance of many must-see attractions.
Guests are greeted warmly upon arrival and treated like honored guests. If you're looking for a hotel that combines convenience with exceptional service, this is the place for you.
Dukes' Academie
Dukes' Academie offers the best of both worlds: a central location and top-notch amenities.
Situated in the heart of Bruges, the hotel is just a short walk from the Belfry and Market Square. Its location in the city center makes it an ideal base for exploring Bruges.
Where to Eat in Bruges
't Bagientje
If you're craving authentic Belgian cuisine, look no further than 't Bagientje.
This cozy spot is located within a hotel and offers indoor and outdoor seating. Their stoverij beef stew is a must-try, capturing the essence of Belgian comfort food.
The steak tartare is another standout dish, prepared to perfection. It's an ideal place for a hearty meal after a day of exploring Bruges.
L'Estaminet
This eatery doesn't take reservations, making it perfect for walk-ins. Their Lasagne Diabolo is a crowd-pleaser featuring a spicy blend of goat's cheese, olives, and sun-dried tomatoes.
It's an excellent spot for a casual yet delicious meal.
Eetkroeg In't Nieuw Museum
Meat lovers, rejoice! Eetkroeg In't Nieuw Museum is a grill restaurant that takes its meat seriously.
You can expect perfectly cooked Belgian beef with a charcoal grill at the restaurant's center.
They even offer an optional beer-pairing menu, allowing you to enjoy local brews that complement your meal.
Café Vlissinghe
Step back in time at Café Vlissinghe, the oldest tavern in Bruges, boasting a history of 505 years.
This charming establishment modernized its beer taps in the 1960s, retaining an authentic, old-world atmosphere.
It's the perfect place to enjoy a drink and soak in the rich history of Bruges – you are likely to see locals playing a card game while enjoying tapas-style food.
Wrap-Up: What Do in Bruges
I hope this fantastic list of things to do in Bruges helps to plan your next trip.
From the iconic Rozenhoedkaai and the towering Belfry to the Belgian cuisine and cozy stays, Bruges is a city that offers something for everyone.
Whether you're a history buff, a foodie, or an adventure seeker, there is something you are bound to love.
Looking for more travel inspiration? Check out these top posts…
Croatia is home to a variety of beautiful landscapes, including rugged mountain peaks, stunning islands, enchanting waterfalls, incredible beaches, vibrant cities, and charming historic towns. There are so many beautiful places to visit, it can be difficult to decide where to go. We've pulled together all our favorite most beautiful places in Croatia to visit to inspire you and help plan your next trip.
Love it? Pin it!