This post may contain affiliate links, from which we earn an income.
France hosts more guests than any other country and the south of France is favored for its breathtaking coastal scenes, fresh produce, wine, and medieval towns.
By far the best way to explore this wonderfully diverse region is by renting a car and taking an east-to-west road trip across this iconic part of France.
We've spent years touring and road tripping in France, and spent all our holidays in Provence as kids. Get all the information you need, including routes, attractions, places to visit and lots of tips, to help you plan the perfect south of France road trip itinerary.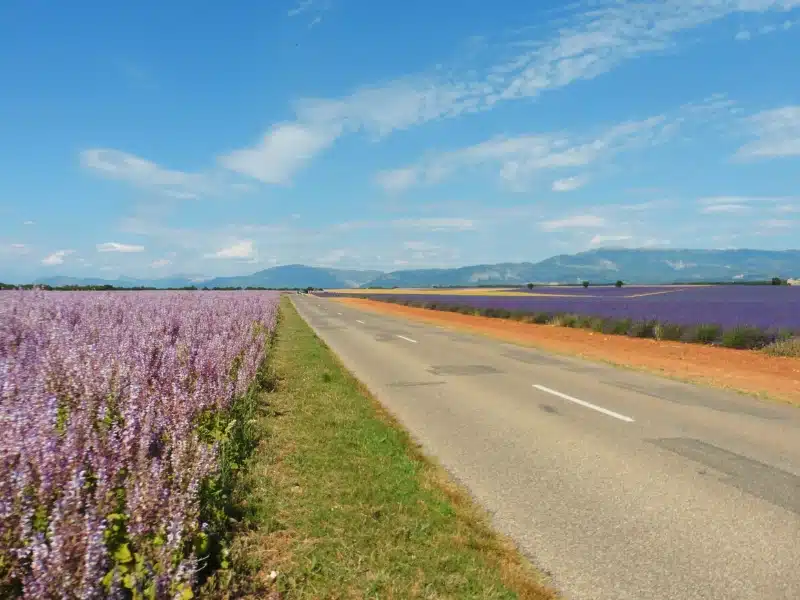 Where is the South of France?
The south of France, also known as southern France and in French as le Midi, is a defined geographical area consisting of five regions of France.
Those regions are southern Nouvelle-Aquitaine in the west which borders the Atlantic Ocean, Occitanie in the centre and Provence-Alpes-Côte d'Azur in the southeast, which borders the Mediterranean Sea, and the most southern parts of Auvergne-Rhône-Alpes in the northeast.
Our road trip to the south of France starts in lively Nice in Provence-Alpes-Côte d'Azur and ends in the pink city of Toulouse, in northern Occitanie.
Is this your first time visiting France? Get all the information you need in our France Travel Guide, including what to pack, the best time of year to go, getting there and practical tips to help you have the best trip!
Getting There
Whether you're driving to the south of France in a car, motorcycle or campervan, self-driving is absolutely the best way to explore this fantastic southern France road trip route.
You can stop whenever you want, try new activities, visit places you see along the route and have the freedom to change plans at the last minute.
Fly into Nice Côte d'Azur International Airport, called Aéroport Nice Côte d'Azur in French. With direct flights from America, Europe, and the UK, we recommend booking through Skyscanner for live deals and the best prices.
Are you planning to rent a car in France? As one of the largest car hire aggregator companies in the world, we recommend Rentalcars.com because they have massive purchasing power which enables them to secure the best rental prices, which benefits you when you're planning a road trip.
For a real adventure, hire a motorhome or campervan in France. We recommend Motorhome Republic, an aggregate booking site who pull together all the best deals from a number of rental agencies, to offer you a wide choice of options alongside an excellent English speaking expert motorhome Concierge Team.
Use the Park4Night app to find overnight spots and campsites, and sleep on a high mountain pass, next to a beautiful lake, or in a wildflower meadow.
Best Time to Take a French Road Trip
March to May
Spring is a wonderful time to visit the south of France, with temperatures warming up across the country. Food markets increase in size, restaurants start preparing different dishes and the countryside is glorious. You'll still find the roads and cities less crowded, and most attractions will be open.
June to August
June and July are the busiest months for south of France road trips. With perfect temperatures for camping and outdoor activities, as well as the legendary Provencal lavender and sunflowers in bloom June is probably the best month, as schools have yet to break up across Europe and the family rush to the coasts has not yet started.
August brings the French annual holidays when many businesses close for the duration. If you're planning on road tripping in the south of France, you'll have perfect holiday weather, but the coasts and beaches will be busy.
September to November
Autumn is a fantastic time for French road trips, especially in the south of France. The coast will be quieter but if you're lucky, you'll enjoy an Indian summer amongst the grape harvest and the changing colours of the fall countryside.
December to February
The winter months in France can be very cold, but in the south of the country, they remain mild although rain is quite common at this time of year. But, the roads and cities will be quiet and less crowded, although not all attractions will be open.
South of France Road Trip Map & Route
This bucket list one week road trip across the south of France hits all the highlights and key sights, including the iconic lavender fields, ancient Roman architecture, Provencal villages and Mediterranean beaches. We think it has to be one of the best road trips in Europe!
The route will easily stretch to two or even three weeks if you prefer to slow travel and take in more sights as you go. If this is your preference, we suggest adding accommodation for every two stops shown in the itinerary.
Nice – Gorge du Verdon – Saint-Tropez – Cassis – Marseille – Aix-en-Provence – Arles – Montpellier – Narbonne – Carcassonne – Toulouse
How to use this map – Use your fingers (or computer mouse) to zoom in and out. Click or touch the icons to get more info about a place, and click the arrow in the box top left to open the index. To add to your own Google Maps account, click the star next to the title of the map.
South of France Road Trip Highlights
Nice to Verdon Gorge
Nice
It is best to arrive in Nice, one of the most captivating cities in France, one to two days earlier to explore the biggest city on the French Riviera. Stroll along the promenade and browse for fresh produce and local snacks at the Cours Saleya market. To see several elite artworks, visit MAMAC (Musée d'Art Moderne et d'Art Contemporain) for some art history.
If you have a few extra days, day trips from Nice can help you see more of this gorgeous part of France. This highly rated day trip to glitzy Monte Carlo in the nearby principality of Monaco makes a fantastic day trip from Nice.
Or, why not squeeze another country into your trip and take this wonderful day trip to the Italian Riviera? Breathtakingly beautiful (and that's just the drive!), the towns of Menton and San Remo offer spectacular scenery, delicious food and open-air Italian markets.
Once you've thoroughly explored Nice, the first day's itinerary is the longest, so it's best to get on the road early. The trip starts from the coast and heads inland towards the interior to explore a medieval town, lavender fields, and Europe's largest canyon.
Entrevaux
1 hour 45 minutes from Nice
Head from Nice to Entrevaux, a medieval village founded in the 11th century. Visitors can enter on a drawbridge that leads the way into the old town, with its narrow cobblestone streets and Gothic cathedral.
Go up the hilltop citadel for the best panoramic views of the Var valley below. If it's July, plan the road trip to coincide with the annual Entrevaux Medieval Festival.
Valensole Plateau
1 hour 45 minutes from Entrevaux
About four minutes into the journey from Entrevaux, beautiful river scenery will appear as you cross the Var Bridge (Ponte Sur Le Var). Don't miss the small Napoleon Bonaparte statue, about 27 miles from Entrevaux, that will appear on the right-hand side – this road is part of the famous Route Napoleon, one of the best driving roads in Europe, which follows the footsteps of the famous General on his return from exile in Elba, as he headed north for Waterloo.
Once on the Valensole Plateau, stop at the many roadside sites to appreciate the most magnificent lavender fields in the Provence region, which are at their best in June and July. In the small town of Valensole itself, go to Comptoir de Valerie or Brasserie du Plateau to enjoy a nice lunch.
Verdon Gorge
1 hour 20 minutes from Valensole
From Valensole, take the D6 toRiez, and then the D952 to the stunning Gorge du Verdon, the 765-yard-deep river canyon. If you have time, stop on the way in Moustiers-Sainte-Marie, a charming Provencal village with a tiny monastery high in the hills behind the town. It's a bit touristy, but beautiful nonetheless and on most days they have a great farmers market here.
Spend the rest of the day making the most of the Verdon Regional Natural Park, which offers various recreational activities like swimming, hiking, and water sports.
Upmarket: Hotel & Spa des Gorges du Verdon – Booking.com | Agoda
Mid-Range: Hôtel Le Colombier – Booking.com | Agoda
Budget: Lou Paradou – Booking.com | Agoda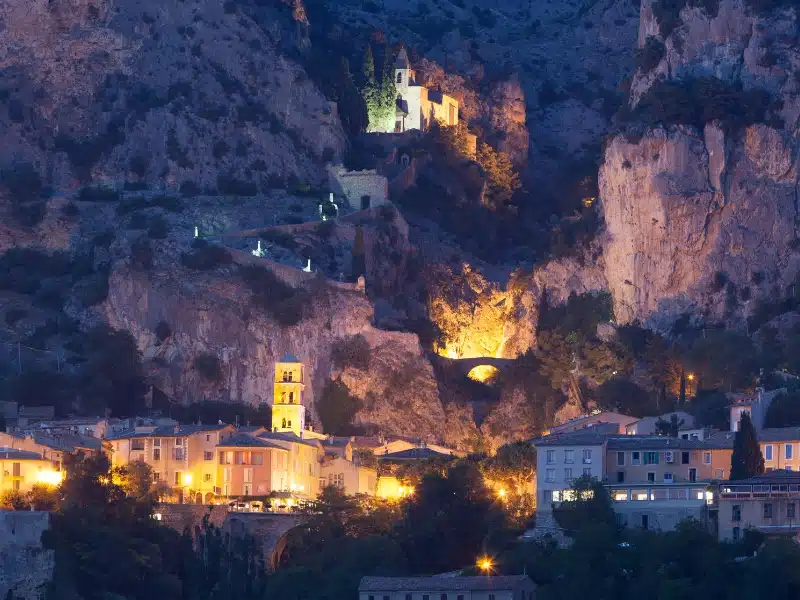 Make sure you have travel insurance you can trust when visiting France. We recommend True Traveller for their 5-star TrustPilot reviews, variety of cover options, best activities cover as standard, great prices, and excellent service.
Verdon Gorge to St Tropez
The second day's itinerary requires driving for just over four hours, starting inland and heading toward the coast to explore perfume, art history, and gorgeous beaches.
Grasse
1 hour 45 minutes from Verdon Gorge
Drive east towards Grasse, which has UNESCO's Intangible Cultural Heritage status as the perfume capital of the world, and produces more perfume than any other city in the world. Ensure to visit the three leading perfume houses of Fragonard, Galimard, and Molinard, and spend an hour designing your own fragrance with an expert.
Follow the old town's cobbled streets and visit the Cathédrale Notre Dame du Puy or one of the many museums, like the Villa Musée Jean-Honoré Fragonard. The latter is dedicated to the works of artist Fragonard, not to be mistaken for the perfumer.
Antibes
35 minutes from Grasse
Make your way southeast towards the coast to Antibes. This ancient, walled beach town was home to Pablo Picasso and is one of the largest marinas in Europe. July is a busy month in Antibes as it hosts the annual Feasts of Our Lady of Bon Port, Bastille Day, and the pottery market.
Visit the Pablo Picasso Museum or the Provencal market. For a hearty lunch, stop by Bistro Chez Jules. If you prefer a more upmarket venue with a scenic view overlooking the ocean, try Maison de Bacon.
Cannes
25 minutes from Antibes
A short drive down the coast will bring you to Cannes, one of the more popular spots on the French Riviera. This town is famous for its private beach clubs, luxury shops, gourmet restaurants, and the International Film Festival.
For those that enjoy people-watching in the hopes of spotting a celebrity, take a walk along the La Croisette promenade. Otherwise, take a stroll through one of Cannes' oldest neighborhoods, Le Suquet, which dates back to Roman times.
Saint-Tropez
1 hour 25 minutes from Cannes
Saint Tropez, like Cannes, is a playground for the rich and famous. One can't believe that it was once merely a humble fishing village. It's now home to the uber-wealthy, with numerous superyachts and supercars scattered around town. Petrol heads will be delighted to spot a few rare beauties.
There are so many things to do on the French Riviera, and Saint-Tropez is one of the places to visit. 40 splendid beaches, an atmospheric and Instagrammable old town, a lively port and plenty of great dining spots make Saint-Tropez a wonderful place to spend a day mooching and exploring.
If you have time, head up to the breathtaking hilltop village of Gassin, a few miles south on the Saint-Tropez peninsula. The pretty streets, cute houses, gorgeous boutiques and fabulous restaurants have the most amazing view over the gulf of Saint-Tropez.
Upmarket: Villa Cosy, hotel & spa – Booking.com | Agoda
Mid-Range: Hotel le Mandala – Booking.com | Agoda
Budget: Lou Cagnard – Booking.com | Agoda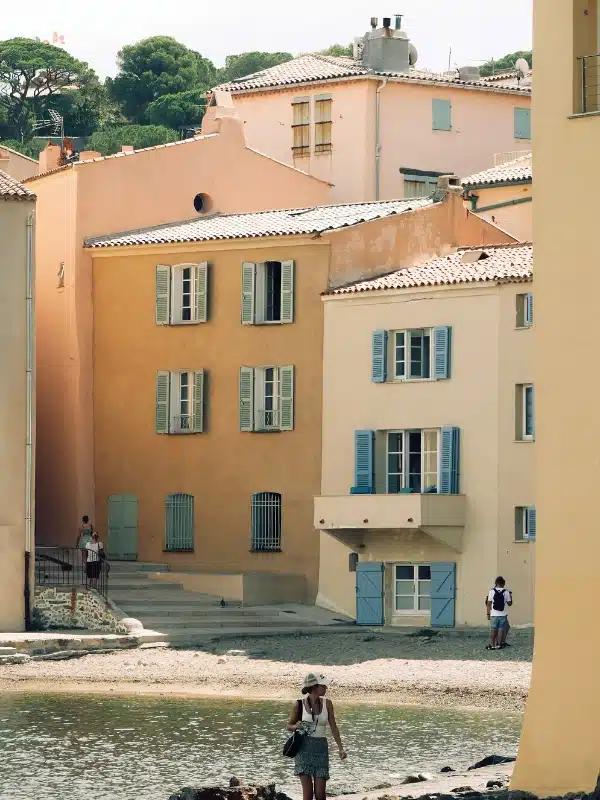 St Tropez To Marseille
The third day of the South France itinerary makes up the last stretch of the Côte d'Azur, also known as the French Riviera, which ends in Marseille. The total driving time for the day is approximately 3 hours.
Toulon
1 hour 15 minutes from St Tropez
The route to Toulon includes a great stop, about 30 minutes outside of Saint-Tropez, where you can explore the beautiful winery of Domaine Clos Du Noyer Mistinguett. It might be too early in the day for a tasting tour – is it ever too early? – but shopping for wine is a must.
Toulon is the third largest city on the coast of southern France, after Nice and Marseille. Take the cable car up Mount Faron for stunning views of the peninsula. Once there, it is worth visiting the Musée Mémorial du Débarquement, a WWII fortress commemorating the allied landing of 1944.
Bandol
20 minutes from Toulon
Only a 20 minute drive from Toulon is Bandol, a small seaside town known for its cruise port, wineries, and superb restaurants.
Walk down the Charles de Gaulle pier to enjoy lunch at Auberge Du Port. They make great cocktails and serve traditional French cuisine. Or, for something different, eat right on the sands at Le Sana'beach.
Cassis & Calanques National Park
1 hour from Bandol
Cassis is a beautiful pastel-painted town which was once a fishing village and now has a gorgeous harbour and small beach.
Cassis is most famous for the Calanques National Park. The Calanques themselves are huge gashes into the cliffs which create incredible deep coves and beaches, full of diverse flora and fauna and perfect for exploring by kayak or boat.
The park has some of the best hiking trails, but one can also tour the area by sea. There are multiple boat trips from Cassis to choose from and a 90 minute excursion will be plenty to enjoy the sights.
If you're feeling energetic, pack a picnic, hire a sea kayak or paddleboard then head for the sublime Calanque d'En-Vau which is blessed with turquoise waters, a small beach and fantastic snorkelling.
You don't need any special skills other than being able to swim and move your arms – the 60 to 90 minutes of paddling each way are so worth it!
Marseille
30 minutes from Cassis
En route to Marseille, about 3.4 miles outside the national park, make sure to stop at the famous Unite d'Habitation. This modernist residential housing complex was designed by Le Corbusier and is a must-see for any architecture enthusiast.
A 15 minute drive further brings you to Marseille, the biggest port in France. Visit the Notre Dame de la Garde basilica and the Palais Longchamp, which boast beautiful gardens and architecture, along with two museums on the grounds. For something a bit different, an e bike tour of Marseille means you can discover a lot of the city without getting tired.
For dinner, go to Grand Bar des Goudes, which overlooks the harbour. For a unique experience, find the Chez Ge pizza truck on Boulevard de la Blancarde. A former chef who worked at the Michelin-star restaurant Le Petit Nice owns it and will serve a pizza that will be hard to forget!
Upmarket: Suite privée du balcon du vieux port Marseille – Booking.com | Agoda
Mid-Range: Maisons du Monde Hôtel & Suites – Marseille Vieux Port – Booking.com | Agoda
Budget: Les Appartements du Vieux Port – Booking.com | Agoda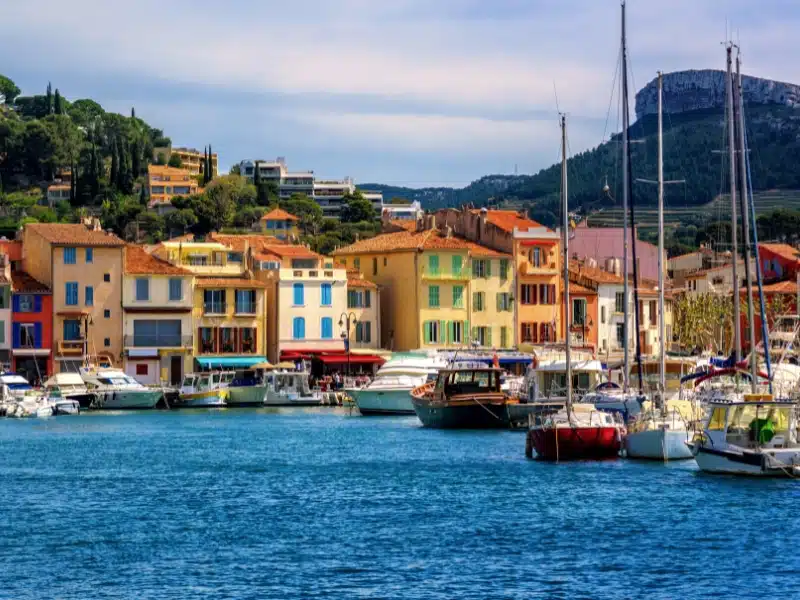 Other France Travel Ideas
Marseille To Arles
The fourth day's itinerary requires driving for about 3 hours and 20 minutes. It will offer a glimpse into art history, olive oil production, and idyllic old towns with cobblestone roads.
Aix-en-Provence
35 minutes from Marseille
Going back into the interior is the town of Aix-en-Provence. You'll be charmed by the leafy boulevards and public squares, which are lined with elegant 17th and 18th century buildings. There are fountains everywhere, leading to Aix being known as the "City of a Thousand Fountains".
Experience some of the best products from the open markets, stroll down the lively Cours Mirabeau, a scenic tree-lined street, or go and see the Saint-Savior Cathedral.
For art lovers, there's the Tapestry Museum or Atelier de Cézanne to get a first-hand experience of the space Paul Cezanne occupied while creating his masterpieces.
Gordes
1 hour 15 minutes from Aix-en-Provence
Deeper inland lies the town of Gordes, one of Provence's most picturesque small towns. For a unique experience, stop ten minutes before you approach Gordes at Clos des Jeannons, an olive oil mill, for a tasting and to see how olive oil is made.
Upon arrival, dine on an open terrace at L'Artegal or La Trinquette for stunning views. After lunch, stroll through the old town's cobbled lanes and admire the Gordes Castle and several interesting churches.
Avignon
45 minutes from Gordes
Avignon offers many activities, especially in the arts and culture scene. During July, the town welcomes the annual Jazz Festival and the Avignon Festival, one of the most significant international contemporary live performance events.
The sites to explore in Avignon include the UNESCO World Heritage Site, the fortress of Palais des Papes, and Les Halles food market. Finally, go to the town square to see the stunning city hall and opera house.
Arles
45 minutes from Avignon
Art lovers can only think of Arles and be reminded of Vincent Van Gogh, which makes a Van Gogh self-guided walking tour a must-do. Visitors can explore sites seen in his paintings, including Cafe du Forum and the Rhone river embankment from where he painted Starry Night over the Rhone.
If you have time, make a trip to the Camargue Regional Natural Park, south of Arles. The Camargue is a unique place situated between two forks of the Rhône River and is known for its migratory birds, flamingoes, and wild bulls and horses.
Upmarket: L'Hôtel Particulier – Booking.com | Agoda
Mid-Range: Mas de la Chapelle – Booking.com | Agoda
Budget: Hostellerie De La Source – Booking.com | Agoda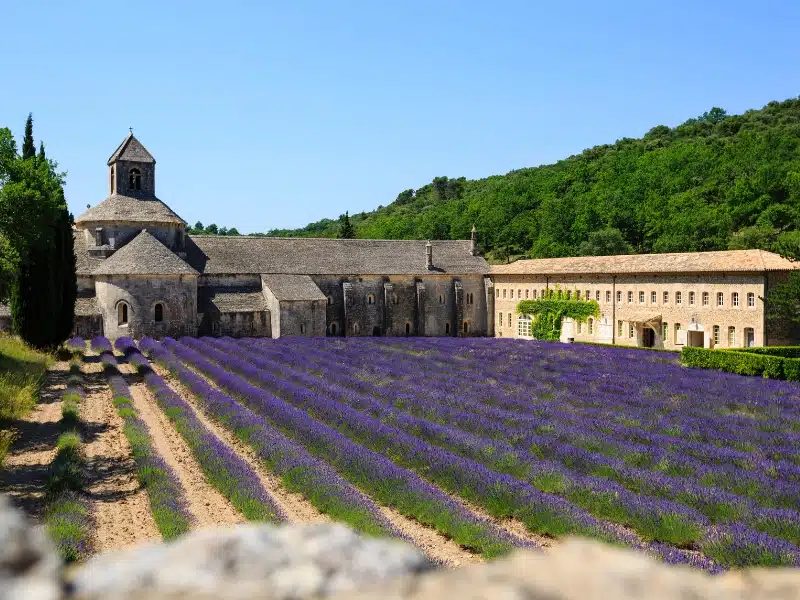 Arles To Montpellier
The fifth day of the southern France itinerary requires little driving, only 2 hours 15 minutes. It will showcase Roman architecture, exquisite gardens, and medieval ruins.
Saint-Gilles du Gard
25 minutes from Arles
Once in Saint-Gilles-du-Gard, visit the UNESCO World Heritage Site of The Abbey of Saint-Gilles. Saint Gilles founded it in the 7th century, but after restorations, it resembles 12th century Romanesque architecture.
Nîmes
30 minutes from Saint-Gilles du Gard
Once in Nîmes, step back in time at the Les Arènes Roman amphitheatre, which is still used for concerts and celebrations. An open plane is next to the theater showing the breathtaking marble Fontaine Pradier erected in 1851.
Afterwards, walk through the scenic 18th century garden, Jardins de la Fontaine, before heading to L'Atelier du Sandwich for some sophisticated street food.
To the northeast of Nimes between Remoulins and Vers-Pont du Gard is the Pont du Gard, a famous Roman aqueduct bridge built in the first century CE over the Gardon River, to carry water over 50km to the Roman colony of Nîmes, then called Nemausus.
Sommières
35 minutes from Nimes
Visitors entering Sommières cross the Vidourle River using an old Roman bridge, the subject of many a tourist photograph. This quaint town has ancient origins seen in its medieval castles and ruined walls.
Be sure to visit the Château de Sommières, the beautiful Eglise Saint Pons church, and the Courtin Chocolatier for a tasty souvenir.
Montpellier
45 minutes from Sommières
Southwest of Sommières is Montpellier, a town that is a mix between modernity and historic charm. Visit the Promenade de Peyrou, the highest part of Montpellier. Other noteworthy sites are the Cathedrale St. Pierre and the arch of Porte du Peyrou.
For dinner, head to Le Réfectoire or Restaurant Ébullition for a Michelin-star experience. Bourbon lovers should also not miss Le Pat'Daniel's.
Upmarket: Mas de Lafeuillade – Booking.com | Agoda
Mid-Range: Boutique Hotel Maison Bayard – Booking.com | Agoda
Budget: Hotel d'Aragon – Booking.com | Agoda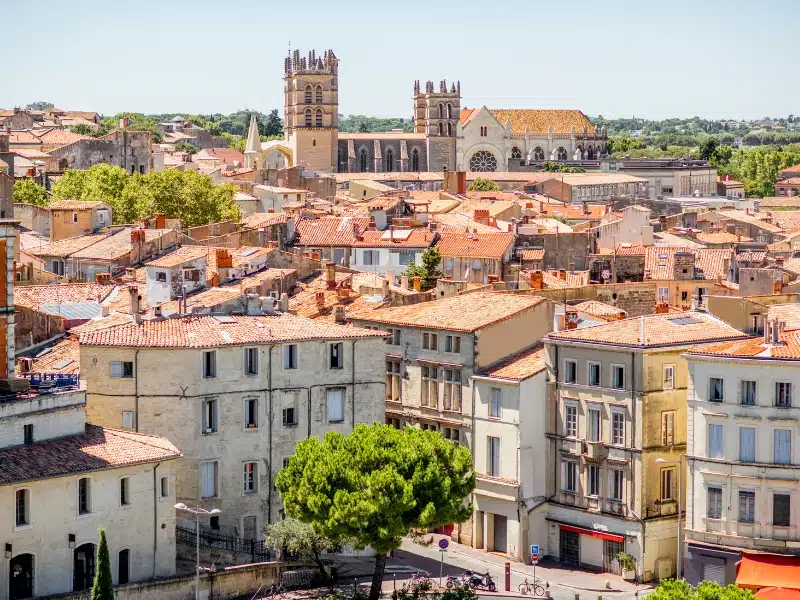 Montpellier To Narbonne
The second last day of the road trip will take you further west along the coast of southern France into the Haut-Languedoc. The day includes a 3 hour drive packed with a splendid port, beautiful gardens, and architectural wonders.
Saint-Guilhem-le-Désert
45 minutes from Montpellier
While on the A750, stop at Domaine Croix de Saint-Privat à Aniane for good affordable wine right from the vineyard. This gem is located just over 22 miles from the center of Montpellier.
Stop at Le Pont Du Diable or Devil's Bridge on the way, for a spot of wild swimming or paddle boarding in the crystal clear Herault River.
Probably the only stop in Saint-Guilhem-le-Désert that is an absolute must is visiting the abbey, the Abbaye de Saint-Guilhem-le-Desert. Forget pictures; this marvel must be experienced in person to take in all its splendor.
Just up the D4 northbound is the spectacular Gorges d'Heric. Criss-crossing the gushing river Orb as you head north, you'll pass through small villages where you should stop and visit a cellar or two. Once at the gorge, you can follow the river along the gorge, where you'll find enormous boulders, small sandy beaches and deep pools of crystal-clear water in which to cool off.
Sète
1 hour from Saint-Guilhem-le-Désert
Sète might not be one of the more popular towns in France, but it is worth a stop. Overlooking the Etang de Thau, a string of lagoons that stretch along the French coast from the Rhône River to the foothills of the glorious Pyrenees mountains, Sete boasts a beautiful old port, and the tradition of jousting which makes this town so unique. There is even an annual festival in Sète that celebrates this pastime.
For lunch on an open terrace with a view, dine at L'Essentiel or La Consigne for excellent local cuisine, especially locally caught seafood like squid, mussels and octopus.
Béziers
45 minutes from Sète
Take a break 36 miles outside of Sète at the Aire de Loupian – Georges Brass rest stop on the A9, an intriguing space with artistic sculptures.
Once in Béziers, it's a quick stop to explore the Museum du Biterrois to learn more about the town's history and the Bishops' Garden, which offers stunning views of the Orb plain.
If you have time, visit the famous Les Neuf Écluses de Fonseranes, the famous staircase of nine locks on the Canal du Midi, a fantastic feat of engineering and fascinating to watch in action.
Narbonne
35 minutes from Beziers
Narbonne is a treasure trove for architecture enthusiasts, with the Archbishop's Palace, the Fontfroide Abbey, and Gilles Aycelin Donjon to admire. Within the Archbishop's Palace, you can visit the new Archaeology Museum, which contains artifacts from Narbonne's medieval, ancient and prehistoric past.
Treat yourself to dinner at Brasserie du Moulin or Bistro Bourget for delicious French cuisine.
Upmarket: Hôtel Le Mosaïque – Booking.com | Agoda
Mid-Range: Hôtel Le C – Boutique Hôtel – Booking.com | Agoda
Budget: Fasthotel Narbonne – Booking.com | Agoda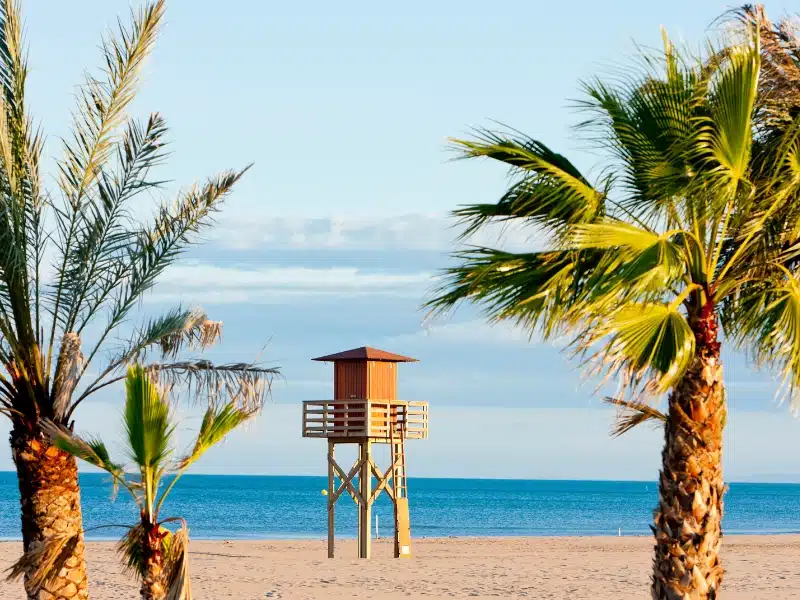 Do you love getting off-the-beaten path? Our secret France guide has ideas for exploring the road less traveled, with alternative destinations to some of France's most popular places.
Narbonne To Toulouse
The final day of the south France itinerary requires only 2 hours of driving. It has two stops, leaving travelers time to arrive at Toulouse in good time to catch a flight or take a full day for sightseeing.
Carcassonne
45 minutes from Narbonne
Upon arrival in La Cité, it will feel like one is transported 2,500 years back! Visitors should explore the medieval citadel of Carcassonne, a UNESCO World Heritage Site. Take an hour to admire the fortifications, museum, and basilica or book our recommended small group Carcassonne guided tour.
Toulouse
1 hour 15 minutes from Carcassonne
Keep traveling on the A61 for about 39 miles and stop at Écluse de Gardouch, a quaint little village to stretch one's legs, taking a walk along the canal. Afterwards, head onwards to Toulouse.
What to do there will depend on your travel itinerary: either continue traveling 15 minutes northwest toward Toulouse Airport or check into your hotel and explore the city.
Some famous tourist sites include the Japanese Gardens, Science Museum, and the beautiful basilica. If time is plenty, why not take a private walking tour with a local guide?
Toulouse also has many dining options, including Michelin-star fine dining at Michel Sarran and Troika Royal for something out of the norm.
Upmarket: Appart Hôtel Clément Ader – Booking.com | Agoda
Mid-Range: The Social Hub Toulouse – Booking.com | Agoda
Budget: Residhome Toulouse Ponts Jumeaux – Booking.com | Agoda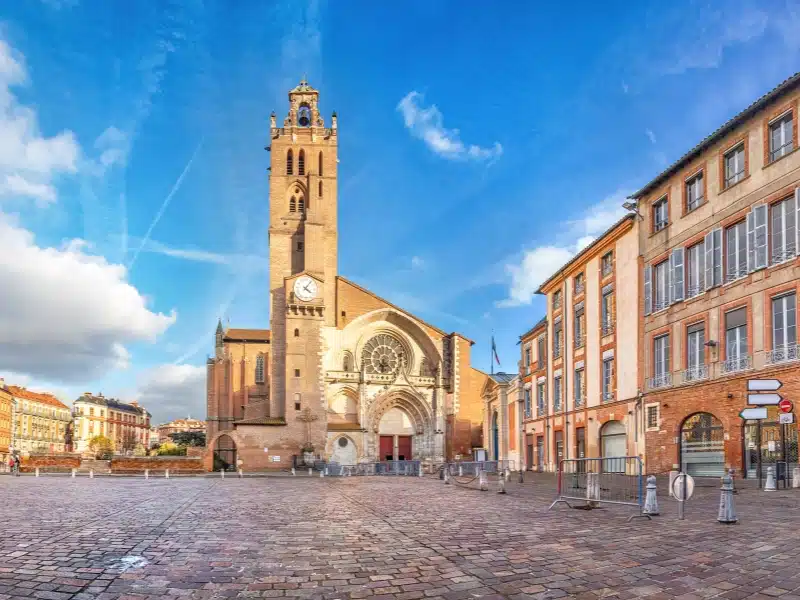 France Essentials
Here are the websites and services we personally use and recommend for traveling in France.
Driving in France Tips
Road trips in France are usually pleasurable, thanks to their extensive and well-maintained autoroute network, and generally good local roads. French drivers can be impatient and are dreadful tailgaters and really, really dislike being overtaken, but, c'est la vie, this is France!
Whether you're traveling in your own car, touring France in a motorhome or flying in and renting a car, you need to follow these rules when you drive and travel in France;
You must have at least three months remaining on your passport (issued in the past ten years) at your intended date of departure from France.
You must have at least 3rd party insurance for your vehicle.
Citizens of non-EU third countries may require an International Driving Permit for driving in Europe. You can check whether you need an IDP here.
You must carry at least one reflective jacket within the passenger compartment of your vehicle and must put it on before you get out in an emergency or breakdown situation. You must also carry a warning triangle.
You may require a Crit'Air sticker which is placed in the windscreen of your vehicle to provide a visible way to identify the level of emissions produced. If you're renting a vehicle, the Crit'Air sticker should already be on display in the windscreen. Find out more and purchase Crit'Air stickers from the official certificat-air.gouv.fr website.
On 1 November 2021 the Loi Montage II or 'mountain law II' came into force in 48 French mountainous departments within the Alpes, Massif Central, Jura, Pyrénées, and Vosges regions. Anyone travelling in a car or motorhome or through one of these areas between 1 November and 31 March will be obliged to fit four approved winter tyres or carry at least two snow chains or socks in the vehicle.
French motorways are privately managed and you're not allowed to request your own assistance company to attend to you if you break down. If you do break down use the orange emergency telephones that are situated every 2km along French motorways to call the police or the official breakdown service operating in that area or dial the emergency services on 112. You will be towed to a safe designated area where you can make onward arrangements for your own breakdown insurer to assist you if you have it. Otherwise, the towing company will be able to provide support or signpost you.
You do not need to carry a breathalyser, the law requiring that you do has been repealed.
RELATED POST: Driving in Europe – Everything You Need to Know
Are you looking for more incredible road trips? Check out these top posts…
Amongst the beautiful landscapes of Spain, in the mountainous interior and along the gorgeous coasts, you'll find fascinating history, vibrant culture, and incredible cuisine. One of the best ways to experience Spain is by taking a road trip. We base ourselves in Spain when not traveling and have explored much of the country on four wheels and two! Whether you want historic cities, gorgeous landscapes, beaches and sun, or something a bit different, our detailed…
Love it? Pin it!