This post may contain affiliate links, from which we earn an income.
A Comprehensive Guide to Motorhome Reversing Cameras
Do you need a motorhome reversing camera? How do backup camera systems work and how do you choose the right one for your motorhome?
As full-time motorhomers, we use our reversing camera 365 days of the year. Having owned three motorhomes and a truck, we've tried and tested a number of different backup cameras!
We'll answer all your rear view reversing camera questions in our comprehensive guide and help you find the best motorhome reversing camera for your needs.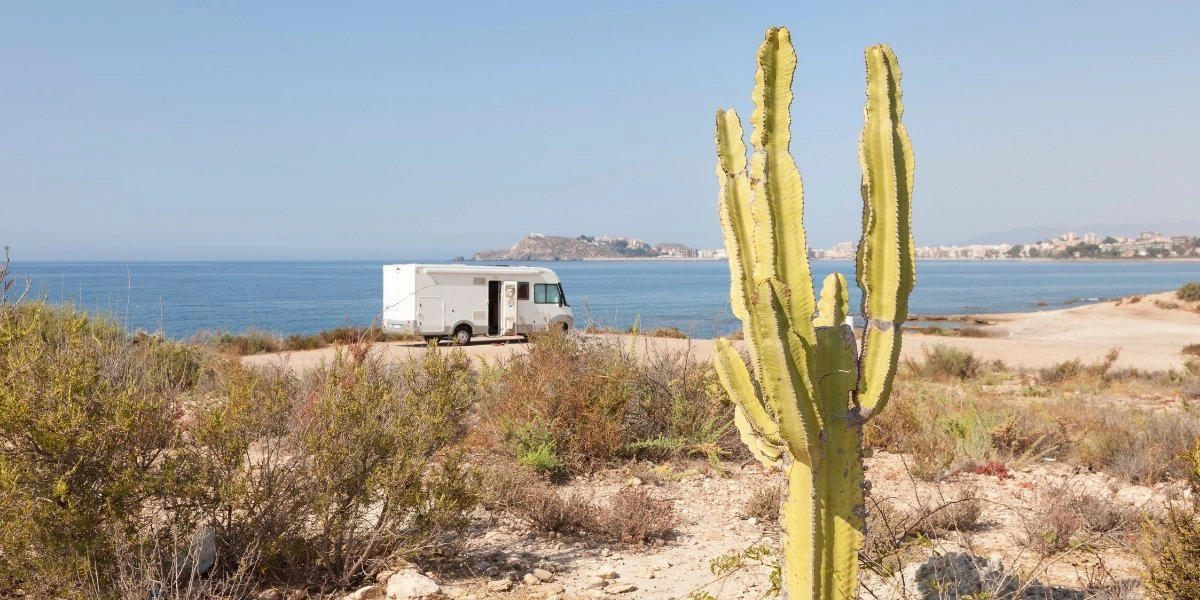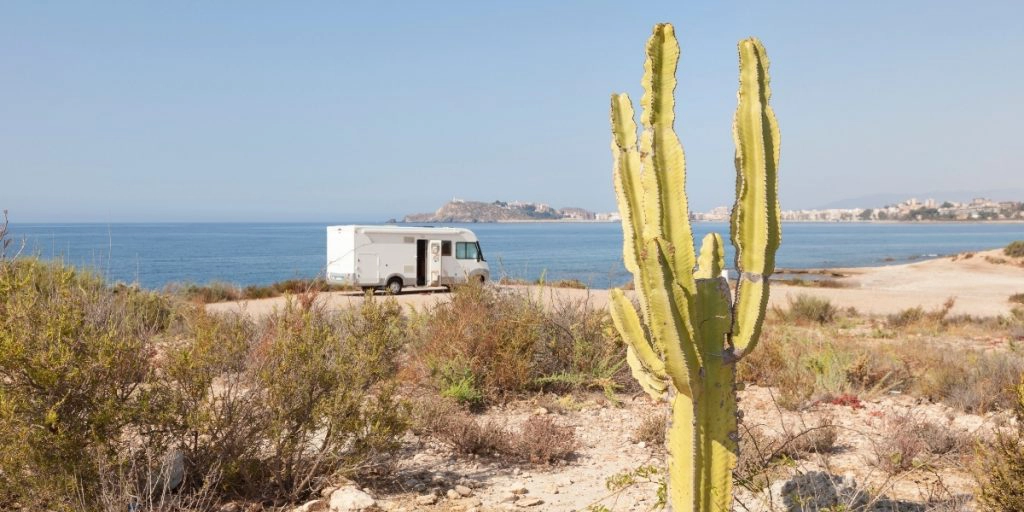 Do I Need a Rear View Camera For My Motorhome?
As with any large vehicle, manoeuvring a motorhome can be a challenge. Reversing is particularly tricky as you have no visibility at the rear. Although your side mirrors offer some visibility behind, they don't give you a direct view of the back of the motorhome.
If you're reversing into a tight driveway, parking space, or pitch you will be hampered by this blind spot. This blind spot is exacerbated if you tow a car or trailer behind your motorhome. If you're anything like us, your motorhome is your pride and joy, and you really won't want to damage it.
On a recent trip, our motorhome rear view safety camera (which was ancient) died and although I was able to hop out and give directions, it was fraught with stress. We had a new camera fitted as soon as we found a motorhome repair garage!
So, in answer to the original question, we would say a reversing camera system is a motorhome essential. For a relatively small amount of money, you will have complete peace of mind when manoeuvring and reversing your motorhome.
Types of Motorhome Reversing Cameras
Wired Backup Camera Systems
Pick a wired backup camera if you;
want longevity
need great image quality and reliability
have a large motorhome or tow a trailer or car
travel frequently and move around a lot
could fit it yourself or are happy to pay a specialist to do so
If you are planning on buying an off-the-shelf wired reversing camera and fitting it yourself, the standard cable supplied with these kits is usually 6-7m long. If you are in a vehicle much longer than 5m, you won't have enough cable to reach from the rear to the dash by the time you account for cable routing. Check the cable length with the manufacturer if you're unsure and look for a reversing camera setup where you can buy a cable extension.
Wireless Reversing Camera Systems
Pick a wireless backup camera if you;
are budget conscious
have a smaller motorhome or are a caravan user
don't mind the odd glitch or interference affecting image quality
can't fit a wired camera yourself and don't want to pay someone
tend to stay in one place in your motorhome so don't need to reverse very often
Motorhome wireless reversing cameras use two types of technology to transmit the signal – analogue and digital. Analogue systems are usually the cheapest option but they are prone to interference and poor picture quality. Digital wireless backup cameras with a long operating range are a far better option and can minimise signal interference from external sources.
Brake Light Reversing Cameras
Model-specific brake light reversing cameras (designed to replicate a third brake light) are unlikely to work on motorhomes as the back is coach built. If fitted with a third brake light, this will be bespoke to the motorhome manufacturer rather than the base vehicle.
Mirror Monitors
The same can also be said of mirror monitors as the vast majority of motorhomes do not have a review view mirror and these monitors are designed to fit over or replace an existing rear view mirror.
How to Fit a Reversing Camera to a Motorhome
Specialist Fitting
If you're not keen on DIY or nervous about making holes in your motorhome for wiring, then have your camera fitted by a specialist. Just search for 'motorhome reversing camera fitting near me' on the internet or talk to your usual motorhome repair garage.
DIY Fitting
If you are a confident DIY'er then fitting a reversing camera to a motorhome is not a difficult job. Things to consider before starting;
How will you route the cables? Are there already cable runs through your motorhome you could use or will you take the cable under the van or over the top, perhaps using the same inlet as a solar panel cable?
How will you affix the camera and ensure any holes for cables are watertight and there is absolutely no risk of water ingress?
Can you manage the electrics? Can you find and connect to a 12v power source for both camera and monitor and to the reverse light to trigger the camera coming on?
Is your motorhome still in its warranty period? Any DIY work such as making holes may well invalidate the warranty and any insurance claims for future water damage.
Important Key Features of Motorhome Reversing Cameras UK
Viewing Angles
A wide-angle view is essential to assist with distances and the width of your motorhome so you can see both corners. Look for a wide viewing angle of at least 120 degrees or a combined horizontal and diagonal angle, the wider you go the better your field of vision will be.
At 170 degrees, for example, you would be able to see obstacles sooner when reversing around a corner and therefore take quicker action to avoid them.
Tilting
If you want to use a roof mount to place your camera high up on your vehicle ( a must for most motorhomes) you will need the camera to tilt downwards to at least a 30-degree angle so you can see what's on the ground behind you and have the ability to judge distances. A tilting reversing camera is also vital if you are towing a trailer or car.
Screens & Monitors
There are a number of ways of viewing the image from your campervan reversing camera;
A complete stand-alone system with a separate LCD screen on the dash, usually 4.3 or 7 inches.
Wired into a GPS or multimedia system, which may be integral or dash mounted.
Use a wireless camera which is compatible with a smartphone or tablet which you can mount on your dash, perfect if you already use this option with an app for satellite navigation.
If you are looking to wire into an existing sat nav or multimedia system, be aware of the following;
If you have an existing reversing camera fitted in the last ten years or so, then the connections (which happen at the dash end) are likely to be compatible. Anything much older than that, and you'll find that the connections are not universal and may need to upgrade your whole system.
If your reversing camera was factory fitted or fitted on an EU (not UK) manufactured vehicle then you may find that a universal jack connection has not been used and you will not be able to link the two.
Some sat navs will only be compatible with their own brand reversing camera. If you're intending to wire into an existing system, check your sat nav system manual to see if your set-up will accept video input from an external source.
Image Resolution
Look for a reversing camera with a resolution of at least 720 pixels, which is the minimum resolution required for viewing tv images.
The higher the resolution, the better the image quality which will help when reversing into tighter spots. Less than 720 pixels will still give you a good image but it may be harder to distinguish small details.
If you buy a separate reversing camera to link to an existing screen or smartphone, ensure the existing screen has a 720-pixel resolution and is wide enough for you to see the image, ideally at least five inches wide.
IP Ratings
Your reversing camera needs to be protected from water and often you'll see the manufacturer state that the camera is waterproof. Ideally, it should be IP (ingress protection) rated.
The first digit of an IP rating shows the level of protection from intrusion, so dust or sand. IP6 means your camera is totally dust tight and is the highest rating that can be achieved.
The second digit shows the level of moisture protection as follows;
A number 6 means the camera is protected from direct high-pressure jets.
A number 7 indicates protection against full immersion for up to 30 minutes at depths between 15 cm and 1 metre.
A number 8 means protection against extended immersion under higher pressure.
An IP67 rating means your reversing camera will not be affected by high winds, dusty or sandy conditions or prolonged rain. An IP68 rating means that truly torrential downpours will not affect your reversing camera. Get IP69 and you're totally waterproof.
Illumination
Unless you have upgraded your motorhome reversing lights, you may find that they do not give enough illumination for you to see the reversing camera image clearly.
If you often arrive at your destination after dark or you find reading in dim light difficult, an illuminated reversing camera may be helpful.
Dual Lens & Twin Camera
If you choose the reversing camera option on a new motorhome, it will likely have a dual-lens. Waeco permanent rear view cameras are the most popular factory-fitted option and many motorhomes are pre-wired for this brand.
Dual lenses enable one lens to be angled to 45 degrees for reversing and the other to be angled directly backward for a continuous view, like a rearview mirror. Another option for a twin reversing camera for a motorhome is a system which comes with two (or even four) individual camera units which can be wired to a single monitor.
The Best Reversing Cameras for Motorhomes
Best Reversing Camera Kits – Wireless
AUTO-VOX Solar Reversing Camera Wireless Kit –

Our Choice
We fitted this solar powered system to our 7.5m overland truck because running cables was just too complicated. We had to make a few adaptations to mount the camera high on the rear, but it was relatively easy to do. We love the clarity of the images the system provides and its ability to remain charged with minimal sun. A highly recommended product.
solar rechargeable 2800mAh battery requires just 30 minutes of sun a day to remain fully charged
5″ monitor which charges from cigarette lighter
camera activation button on the charger
digital signal transmission with PC1058 sensor giving high quality and stable video
range signal strength of 9.7 metres or 32 feet
30-degree tilting camera
six reversing pattern options
0.1 lux camera for night viewing
IP68 rating
one of Amazon's bestsellers
Update December 2023: We recently installed and tested the most up-to-date Autovox Solar 4 Truly Wireless Back Up Camera over several weeks and share our findings on our YouTube channel. Did we prefer it to our best buy, the original Autovox solar camera? Watch our video to find out!
Auto-Vox CS-2 Digital Wireless Reversing Camera Kit
built-in transmitter for longer range and improved reliability
30-degree tilting camera
170-degree viewing angle
six reversing pattern options
0.1 lux camera for night viewing
IP68 rating
smaller monitor than other Auto-Vox models t 4.3 inches
Boscam K7 Digital Wireless Reversing Camera Kit
built-in transmitter for longer range and improved reliability
30-degree tilting camera
5″ TFT-LCD monitor for clear video
110-degree horizontal and 140-degree diagonal angles for better viewing
six reversing pattern options
night viewing
IP68 rating
Best Reversing Cameras Kits – Wired
Dallux RCS7000B

Heavy Duty Back Up Camera System
supplied with 20m connecting cable
130-degree viewing angle
7″ analogue monitor with HD screen
infrared camera diodes for excellent night vision
camera bracket, cover and visor made of stainless steel with an IP69 rating
fully tilting camera and fixings
Podofo Motorhome Rear View Camera Kit
supplied with 20m of connecting cable
120 degree viewing angle
7″ analogue monitor with HD screen
night viewing
IP68 rating with metal camera housing
fully tilting camera and fixings
Best Twin Lens Reversing Camera
Sniper Automotive Motorhome Rear View Twin Reversing Camera Kit
supplied with 20m of connecting cable
120-degree viewing angle
7″ analogue monitor with HD screen
night viewing
IP68 rating with metal camera housing
fully tilting dual lens camera and fixings
Best Reversing Camera for a Smartphone
UZone Wireless Wifi Motorhome Reverse Camera System
works wirelessly with a smartphone or tablet up to a 50m distance
120-degree viewing angle
single camera which can be tilted to suit
IOS and Android compatible
IP69 rated
720 px images
Best Reversing Camera Without Monitor
Are you looking for more motorhome accessories? Check out these top posts…
As long-term motorhomers, we've experienced a few different sat navs along the way! We've reviewed the top 18 on the market today, so you can compare and work out what suits you and your motorhome.
Love it? Pin it!