This post may contain affiliate links, from which we earn an income.
Internet & WiFi in Your Motorhome
WiFi and internet access has become essential for everyday life. Living in a motorhome is no different – researching, blogging, social media, keeping in touch and even smart motorhome equipment means wifi and internet is critical. If you're wondering how to get internet in a motorhome, this easy and definitive guide to getting internet and wifi in your motorhome is for you.
In this guide, we'll help you to work out your mobile internet needs and find out how to set up a basic wifi system in your motorhome or campervan, enabling one or more devices to access the internet, just like you do at home.
We'll explain how to set up your system for the strongest signal, and talk you through the different mobile internet options.
We'll recommend products we have tried and tested ourselves, and explain how they work and how they can enhance your motorhome wifi experience.
We have lived and worked as digital nomads in our motorhome for over three years, so have a lot of practical, real-world advice and tips to share about how to get campervan WiFi and mobile internet in the middle of nowhere!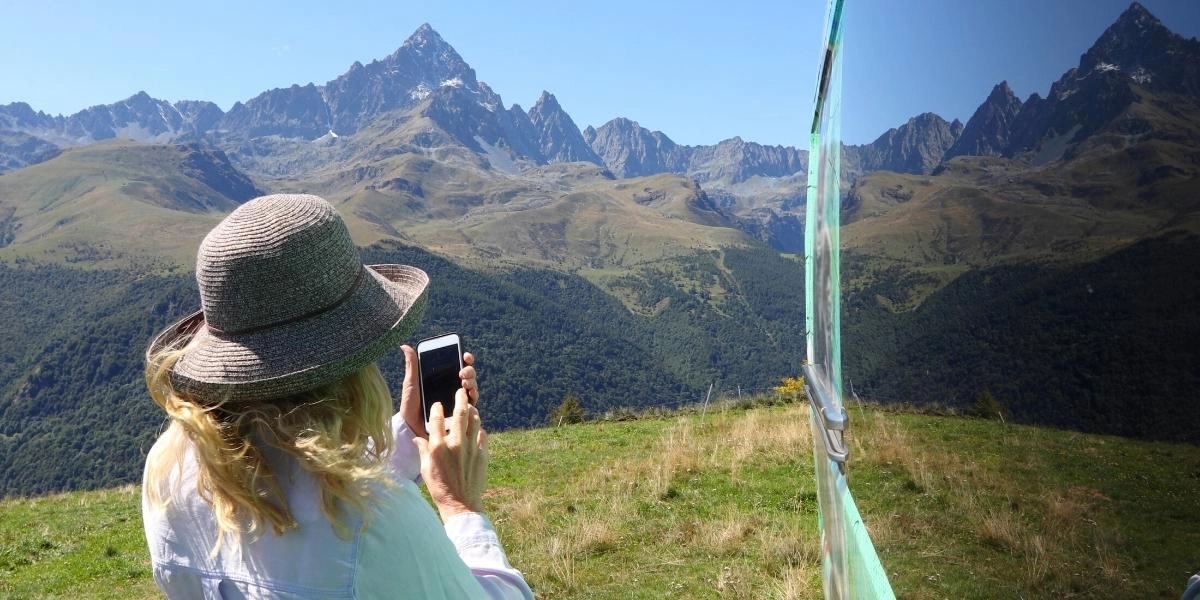 What's the Difference Between Internet, WiFi, 4G & Broadband?
The internet is what you access through Google (or any other search engine), the sites you visit, the data you read and images you view.
WiFi is provided by a wireless network that a PC, laptop, mobile phone, or tablet use to connect to the internet, via a router, without the need for a physical wired connection. This is also sometimes called wireless internet access.
4G (also 3G and 5G) are signals which float around in the air, generated from a cell tower. Your mobile device picks up the cell phone signal and uses it to access the internet. This is also sometimes called mobile internet or mobile broadband.
Broadband is the hard-wired cable provision that pipes data to your home. Once that cable ends, in your router, it is then distributed using WiFi.
Motorhome Internet & Wifi Set Up
How you get mobile internet in your camper van is a major consideration if you want to stay connected and like using social media or surfing, want to stream tv and films, or work from a laptop.
As you cannot have a fixed broadband line coming into your motorhome or caravan like you do in a house or office, you have to access the internet in one of four ways.
Through a smartphone, tablet or other mobile device like a MiFi, travel router or dongle using 3G, 4G and possibly 5G.
Via a nearby broadband connection which shares the WiFi signal via a router, like a campsite or cafe.
Using a cloud SIM device with pre-loaded data as a mobile hotspot.
Satellite internet through a tv satellite dish with a subscription plan. It's worth checking the cost of this as an extra if you're buying a new motorhome or van conversion. If you own a used motorhome check, you may find you have this already installed. Find more information about motorhome internet satellite systems here.
What you then do with your incoming signal depends on how you travel and what you use the internet for. There are many different motorhome internet solutions, read on to find out more.
RELATED POST – Motorhome Tips for Beginners – Essential Know How for Motorhome Life
Using Your Smarthphone to Tether and Hotspot
In the Apple world, it's called a personal hotspot, if you use Android it's called tethering. But what is it?
Basically, it's using your smart phone or tablet with a SIM, as a motorhome wifi router, taking the incoming 4G signal and sharing it with other devices, and even smart tv's, to create a motorhome wifi system. You can only tether or hotspot with 4G, not with a WiFi signal.
If you have a good signal this works well for browsing, with the typical limit being up to five devices per tethering or hotspot device. Obviously, if everyone's trying to watch a video at the same time, it will affect the signal quality and strength.
Some contract services limit the amount of data you can use when tethering or using a hot spot device, so it's worth checking before you take out a new contract if you anticipate setting your motorhome wifi up in this way.
This is the simplest way to get internet for campers, with no additional equipment required, but it does have limitations, especially if the signal is weak and you need a more reliable internet connection.
Make sure you have adequate motorhome or travel insurance you can trust to cover all your devices. We recommend True Traveller for their 5-star TrustPilot reviews, gadget cover as standard, and have tailored add-ons for special gear, and excellent service.
Internet for Motorhomes Using a MiFi Device
A MiFi is a portable, battery-powered wireless device that taps into 3G, 4G or 5G mobile phone networks using a SIM card, to create a mini WiFi hotspot. It doesn't have a screen and can't make or receive calls – it's purely to distribute an incoming 4G signal.
A MiFi can also be powered from your 12v leisure battery, usually via a USB, and can be fixed using a quick mount docking station in your motorhome (some can also be removed to be carried with you). The MiFi has an inbuilt battery and can usually last for around 6-8 hours without being charged, making it ideal for taking out and about, or charging when you're driving.
A MiFi device can also have an optional roof mounted antenna Wi-Fi kit fitted to boost the quality of the existing signal, like the Kuma MiFi Kit.
The compact motorhome MiFi device then pushes out the 4G signal like a router, making your motorhome a wifi hotspot where a number of devices can access the internet. You can also use the MiFi to generate a hotspot when you're out and about.
The benefits of this system are that you only need one data only SIM card to provide WiFi for a number of devices. The Huawei E5577 mobile MiFi hotspot can have up to ten connections, and a speed test will show up to 150 mbps. If your MiFi is unlocked then you can purchase a data only SIM in any country.
Although this is one of the best motorhome WiFi options for getting internet in the middle of nowhere, you might still want a mobile phone for calls and texts, unless you rely solely on services such as WhatsApp and FaceTime.
RELATED POST – 101+ Motorhome Essentials You Need + Packing Checklist
Using a Dongle for Internet Access
An internet dongle signal booster is a less versatile alternative to a MiFi but perfect if you just want to access 4G from your laptop. Data is generally limited in the same way as other devices but not all dongle contracts will include EU roaming so check this before you start your motorhome travels in Europe.
The E8372h-320 is the best dongle to buy for reliability and has given us literally thousands of trouble free hours of internet.
Should I Use a MiFi, Dongle or Wingle?
A MiFi (sometimes called a WiFi hotspot) is a pocket-sized wireless modem which provides internet access to multiple devices by emitting a wifi signal. This is the best mobile wifi for motorhomes if you need a reliable signal to share with several devices.
A dongle is a very small modem which plugs into a USB port in your PC or laptop and connects it to 4G. This is the best choice if you want to maintain a contract on your existing phone but need extra data for work. Some WiFi dongles are described as a dongle signal booster, but they don't all actually boost signal, despite the name!
A wingle is the bigger brother of the dongle. It's a dongle but with the ability to share Wi-Fi with up to five other users, and is connected to a USB port on your laptop.
We use various combinations of smartphones, a MiFi with rooftop antenna and a dongle. We can spread our choice of SIM cards and providers and manage our data use in the most efficient way by not tying ourselves to one device.
When choosing your devices, unless you are purchasing them as part of a contract, always choose unlocked devices so that you have choice as the market changes. If you have a locked device you want to take away with you, make sure it is unlocked before you head off on your travels.
Using a Travel Router for Motorhome Wifi
A travel router, or mobile broadband router, is a new generation of router-MiFi hybrid.
The traditional router you have at home is unable to accept a SIM card and can only use a hard-wired cable to access the internet.
A travel router can accept a SIM card, meaning you can access the internet wherever there is a 3g or 4g signal. A travel router differs from a MiFi device in a number of ways.
Travel routers are more powerful, may be able to deliver faster speeds, and can have a VPN (virtual private network) added. Their reach tends to be much greater, with some offering up to a 50 metre range.
Some don't have an inbuilt battery and require constant power to work. Some travel routers aimed at the motorhome market, like the Teleco Router WFT402, can also be powered from a 12v socket and come with a roof-mounted antennae.
Some travel routers, like the Avtex motorhome WiFi option below, can also act as a WiFi booster for existing networks, so whether you're on a site with free WiFi, or you're out in the boonies, you'll be able to toggle between the options.
The downsides are that these routers are much larger than a MiFi, are more power-hungry, are not portable, and tend to be more expensive.
We think the Netgear Nighthawk M1 is the best motorhome wifi router – it is super reliable, gives speeds of up to 1Gbps making it suitable for streaming, gaming and pretty much everything else, and is really easy to set up and use. It's what we use to manage our blogs, You Tube channel, watch tv and stay connected with loved ones back home.
How to Get Mobile WiFi Using a WiFi Booster
A motorhome WiFi booster can pick up an existing WiFi signal via a directional external antenna from over 1.5km away, just like a WiFi extender at home. This means you can get campervan internet access for free from your camp site or BT hotspots in UK. Free WiFi sounds good to us!
We would recommend this motorhome Kuma WiFi Kit Internet Hotspot Booster for the best quality and extra long cable, enabling you to get a close as possible to the campground WiFi signal source. This sytem works much like a wireless repeater or WiFi extended which you might have at home, to ensure the signal reaches all areas.
A SIM card is not required to use these plug and play ready motorhome WiFi boosters, which are compatible with any smartphone, tablet or laptop and will extend the WiFi to up to five devices, including your smart tv.
Be aware that cheaper models will need a laptop to download a driver and access the free internet.
RELATED POST – Motorhome TV – Five Ways to Watch in Your Van
Get Mobile Internet with a Cloud SIM Device
New technology means that you can now access the internet using a pocket WiFi hotspot without the need for a SIM.
A smart cloud device (which can be a phone or MiFi) automatically selects the strongest mobile signal wherever you are, and transforms it into a private WiFi network connecting your different smart devices.
We have been using and recommend ConnectPlus for cloud sim connectivity in the UK and Europe. You can choose from unlimited data packs to just single days, depending on your needs. The device is no larger than a slimline smart phone, connects with up to ten devices, is charged easily with a USB and can be delivered within a few days of ordering. Use the code 'thegapdecaders' at checkout to get 50% off in the first month!

Connect to Satellite Internet
Roof Mounted Satellite Internet
The well known motorhome satellite tv systems, like Oyster and Teleco, all offer internet accessibility as an extra with their roof-mounted satellite dishes.
If you're purchasing a new motorhome and intend to add a dish for television, then the additional cost for the hardware to provide internet connectivity is negligable.
You will still require an ISP (internet service provider) to provide a satellite internet service, and they will charge an activation fee as well as a monthly fee depending on how much data you need.
Mobile Satellite Internet
You can also get satellite internet via a portable dish that can be manually set up whenever you stop. The EZ-NET satellite internet system allows you to get online within minutes from unpacking your kit, works across Europe and has scaled packages depending on your needs.
There are some drawbacks. It's a faff to set up every time you stop, the data is expensive in comparison to buying a local sim card, and the dish and modem will use your precious power.
Keep an eye on Elon's Musk's Starlink, which is starting to roll out across Europe and is already providing WiFi for Rvers in Amercia, who use the system to get internet across the USA. Currently, Starlink covers almost all of western Europe and most of the UK, apart from norther Scotland.
Their portability option is now available to UK customers and can be ordered online. The system offers high speed and low latency unlimited satelitte internet wherever you are, as long as a signal and space at the location is available.
If you order the portability option, you are also able to pause and un-pause service and will be billed in one month increments making the service flexible for full time motorhomers and those that just want internet for their holidays.
There are a couple of downsides to consider;
The hardware uses power over ethernet and needs way more juice than any of the other equipment mentioned in this post, so there may be an issue from a leisure battery perspective, and you will need an inverter – is your campervan electrical system up to the job?
As it stands right now, the system cannot be used whilst you're on the move unless you spend more than £2k on a special dish, so if you need data for satelitte navigation apps or anything else whilst actually on the road, you will still need a SIM card.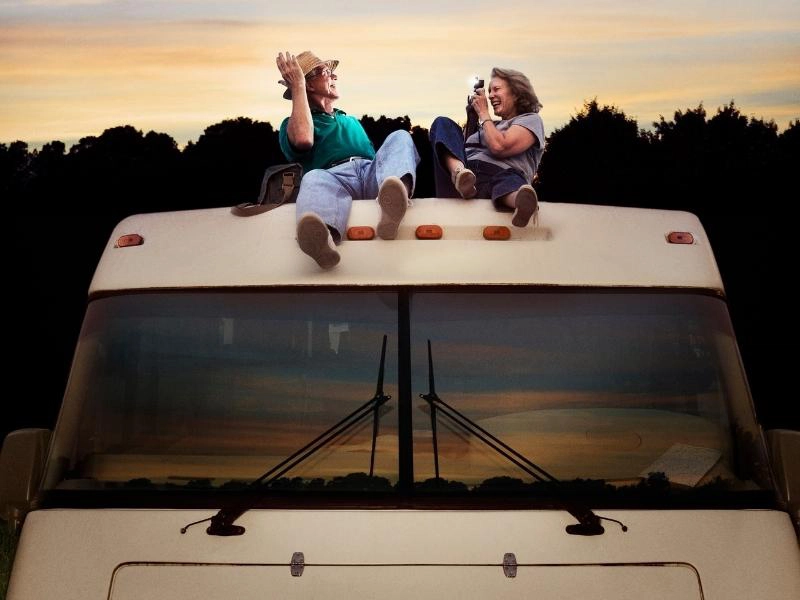 Mobile Data & SIM Cards
Mobile Data Usage
How much mobile data do you need per month? Unless you are going to be using free campsite WiFi, public WiFi or a mobile hotspot service like BT Fon in the UK, then you need data to power your devices and motorhome internet set-up.
If you're holidaying for less then a few months then you should be able to utilise your any UK contract minutes and 4G data for your motorhome wifi and internet set-up whilst on a quick motorhome tour of Europe.
If you are going to use your cell phone to stream tv then check with each service how much data an hour of tv uses. There is a surprising difference between providers, and then another jump if you want to stream in HD. You can usually change how you stream in the app settings.
When we moved into our motorhome full time and left our unlimited wireless network behind with our house, it was a real shock just how many gigabytes of date we used – I didn't even know what a gigabyte was!
We have needed to double our data since we started travelling due to website work and social media posting. Between us we use over 150gb of data a month to run the blog, use various motorhome apps for research, use navigation apps when driving, stream a bit of tv and manage social media.
This is a really good guide to using cellular data and what you will need when using WiFi and internet in your motorhome. According to the Mobile Internet Resource Center, 10gb is roughly enough data for any one of the following…
500 hours of browsing
Listen to 2500 music tracks
64 hours of streaming music
32 hours of Skype VoIP calls
80 app downloads
10 SD movie downloads
5000 emails
Be smart and connect to free wifi whenever you can if you're travelling abroad. Many European supermarkets and almost all cafes and bars offer this, we can usually download an episode or two of whichever Netflix or Amazon Prime boxset we are watching whilst doing the shopping or stopping for a coffee.
SIM Cards Explained
Whether you use a contract plan, pay monthly or PAYG option (regardless of which country you are in and buy the SIM in), there are three types of SIM card.
A 'normal' SIM in a phone allows you to use data for an internet connection, make calls and send text messages. You can turn off both roaming and data elements in your phones settings.
A data only SIM gives internet access only and is predominantly for use in a MiFi or wingle type device, or a tablet that is not 4G enabled, although they can be used in a phone. They are ideal if you make your calls using VoIP (VoiceOver internet protocol) using WhatsApp, Skype, Messenger and so on.
An eSIM is a virtual SIM found in newer phones. The benefit of an eSIM is that you can use it alongside a traditional SIM and flip between the two. Use an app like Truphone to buy data on the go for your eSIM, which works especially well if you're transiting through different countries and don't want to search for a retailer to buy a traditional SIM.
Some phones, called dual phones, now accept two SIM cards. You might have one SIM card for calls and texts, while the other has a great data plan. This could work well if you frequently move between the UK and Europe for example.
Travelling to Europe in your motorhome? Get our FREE country specific motorhome touring guides to help you plan your trip!
UK Phone & Data Contracts in Europe
Almost all 4G providers have reintroduce extra fees after Brexit and now set data limits on EU roaming, even with unlimited data plans.
For all the providers mentioned below, fair usage policies have taken the form of limiting you to how many days in a rolling period (usually four months) you can use your SIM in Europe, to ensure you're not a permanent traveller.
From 2022, most of the big providers will cap your data and charge you every day for using it, as well as monitoring your whereabouts to ensure you use your phone and data more in the UK than in Europe.
Vodafone
From January 2022, for new customers from 12th August 2021, Vodafone will charge £2 a day for European roaming, using data within your existing plan, and capped to 25gb a month. There are exceptions depending on your plan, so check with Vodafone if you're not sure.
EE
EE have a similar change coming in from 3rd March 2022 for those who took out a contract after 7th July 2021. You pay £2 per day and can use all your monthly data allowance.
Three
From 23rd May 2022, Three customers who have taken out a new contract from 1st October 2021 will pay a charge of £2 per day and will be limited to using 12gb of data a month when roaming within the European Union.
Virgin
Virgin Mobile phone users will not face roaming charges in the EU and your full data allowance can be used.
O2
O2 imposes a roaming limit of 25gb in Europe. You can still use data if you reach the limit, but it costs an expensive £3.50/gb.
Make sure you thoroughly check the terms and conditions regarding roaming in Europe when taking out a new contract or upgrading, if you're planning to use a UK phone when you travel abroad.
Superdrug Mobile
Until early 2022, Superdrug Mobile were the only provider we are aware of who had absolutely no caps or limits on data or time on their £20 a month unlimited plan.
However, from 23rd February 2022 Superdrug will be capping the data you can use abroad to 12gb, so we no longer recommend them for EU travel.
Best SIM Cards for Europe
For short term EU travel, we recommend these two data only PAYG SIM cards which can be used in any unlocked phone, tablet, WiFi or wingle device. Both give excellent EU coverage but offer slightly different deals so make sure you check the offer in detail before buying.
For our money, Three offers a slightly better deal on their EU roaming SIM card, which is capped at 19gb in the EU every month. Their internet with legs SIM's are valid for 24 months but need activating in the UK.
Voxi looks good on the surface and may well be if you don't need much roaming data. Deep in the Voxi small print is a term that says if you use more than 50% of the SIM allowance in the EU over a rolling two month period then you will receive a text and speed will be throttled. In reality, on a 60gb data SIM this means an average of 15gb a month for EU roaming unless you use the card on a short term basis.
They key with both of these deals is to buy more than one and rotate them. Three does not limit how many SIM's you can buy but Voxi does.
Local Pay As You Go SIM Cards
Now that most UK providers are capping or otherwise limiting data usage in the EU, the best solution for long term travel is to buy a pre-paid data only SIM in whichever country you are visiting.
This might mean buying a number of SIM's over a long trip to several different countries. We use a little bit of our contract data when we enter a new country until we find a place to purchase data.
If you are goint to buy pay as you go SIM cards in each country you visit, then you will need to ensure your mobile phone, tablet or MiFi is unlocked so it is able to accept a European SIM card.
Use a dual SIM phone, or use a MiFi device for a second local SIM so you can maintain your UK number, if that's important to you.
If you mainly keep in touch via WhatsApp, Messenger or FaceTime, or are buying a data only SIM, then this is less of an issue.
All European counties have their own popular cell phone providers. You will see familiar brands such as Vodafone and Orange and EU brands such as MoviStar and Telefonica.
A little internet research will provide you with all the information around price, cell coverage and likely cell signal strength that you need to make a choice of European prepaid SIM card provider.
It's almost impossible (and really expensive) to buy an unlimited data PAYG SIM card in most European countries. Your best bet is to buy a country specific SIM when you arrive in each country, which can then be topped up as and when you need more data. Expect to pay and average of around €1 for one gigabyte.
Most EU providers offer similar deals to the UK in terms of 4G, cost and data usage outside of their country. This means if you are travelling to maybe two or three EU countries in a two or three month period, you may be able to roam with a SIM from one EU country, depending on your data usage.
We did recommend Spain based Tiekom if you wanted a Europe wide SIM and need a good amount of data. They offered 300gb for €39.90, or 400gb for €59.90, with unlimited roaming to other EU countries (no calls or texts), but in April 2023, they are starting to cap their roaming to 18gb a month outside of Spain. Their customer services staff speak excellent English, they will post the SIM to wherever you are and the coverage is very good, utilising the Vodafone network.
If you don't need quite so much data, check out Spain based Lobster, which offers unlimited calls and texts and fixed data packages (18, 40 or 70gb) which include roaming in the UK, Denmark, Germany, Gibraltar, Ireland, Netherlands, Norway, Portugal and Sweden.
In most counties, you will need to produce a passport or ID before you can buy a SIM card.
Find out everything you need to know about SIM cards for long-term travel in Europe, including portable WiFi devices, eSIM cards, local SIM cards and monthly contracts which don't have a data cap!
Using an eSIM in Europe
An eSIM is a virtual data SIM and is a good option if you're travelling between a lot of different European countries over a long period of time, and don't want the hassle of buying a local SIM for each one. The other benefits of eSIMs are multiple;
An eSIM works in your phone in conjunction with your normal SIM – you can move between using one or the other, meaning you can keep your usual number.
You buy your eSIM online, making them extremely convenient.
eSIM providers work with lots of networks, meaning you'll connect to the best one wherever you are.
An eSIM can cover multiple locations and not tie you to one country, perfect for travelling a whole continent or region.
No data roaming fees – you know the costs upfront.
You can organise your eSIM at home and activate it on arrival.
These data-only SIM cards mean you're not paying for minutes and texts you don't need and won't use.
Your device needs to be unlocked. e-SIMs don't work with all mobile devices – you can check whether your phone is compatible here.
These are some of the best SIM cards in Europe, but you do have to pay for the convenience. Holafly offer excellent unlimIted data packs with no throttle on speed (but you can't tether or hotspot) and Airalo and Nomad offer various data pack sizes which are valid from 7 to 90 days.
We recommend both these companies because they offer the most options and have consistently good coverage and connectivity, piggy-backing off whichever network offers the best service wherever you park up.
RELATED POST: Airalo Review: The Best eSIM Card for Travel?
RELATED POST: Holafly eSIM Review: The Best Unlimited eSIM for Travel?
RELATED POST: Nomad eSIM: The Best eSIM for Europe?
Virtual Private Networks
A virtual private network, or VPN, is a service that protects your internet connection and privacy online. It creates an encrypted tunnel for your data, protects your online identity by hiding your IP address, and allows you to use public Wi-Fi hotspots safely.
If you want to work safely online or watch UK television abroad, then you may need a VPN. Check providers like
Some UK providers, like Superdrug and Vodafone have servers in the UK, so their SIM cards are not geo-locked, meaning you can watch UK that's licensed for the UK in Europe. If you're not with them, or using a locally purchased SIM card, you will need a VPN to watch television.
You can add a VPN to your phone or laptop, but you can't add a VPN to a MiFi device. If you need to use a MiFi and a VPN together, then consider a travel router like the ones mentioned above.
We have used Nord VPN seamlessly for years, which is why we recommend them. They have over 440 servers in the UK, so you can hop around if you need to. Occasionally BBC and All 4 have a purge and one of the server locations will not work, just move to another.
Going Off Grid
If you're intending to motorhome wild camp or hike you need a power bank or power to ensure you can stay connected. There's nothing worse than running out of power at the top of a mountain when you need to access ViewRanger to work out how to get down, or struggling with solar on a cloudy day!
We use this Anker Power Core 20100, which gives up to seven full charges on an iphone 8, perfect for motorhome wild camping.
Are you looking for more motorhome tips and tricks? Check out these top posts…
Being a first time motorhomer can be daunting, so we're sharing our top motorhome tips and hints for beginners so you can learn how to motorhome with confidence. This guide includes tips for new motorhome owners, practical motorhome advice and easy guides, top travel tips from years in a van and free downloadable checklists to get you motorhoming like a pro!
Love it? Pin it!