This post may contain affiliate links, from which we earn an income.
Motorhome LPG Systems – Everything You Need to Know
All modern motorhomes have an onboard leisure gas system fitted to fuel the water boiler, heating, fridge, gas hob and oven. There are several different ways that motorhome gas can be supplied and lots of confusing terminology – we're here to take you through how motorhome gas systems work and which are the best options for your van.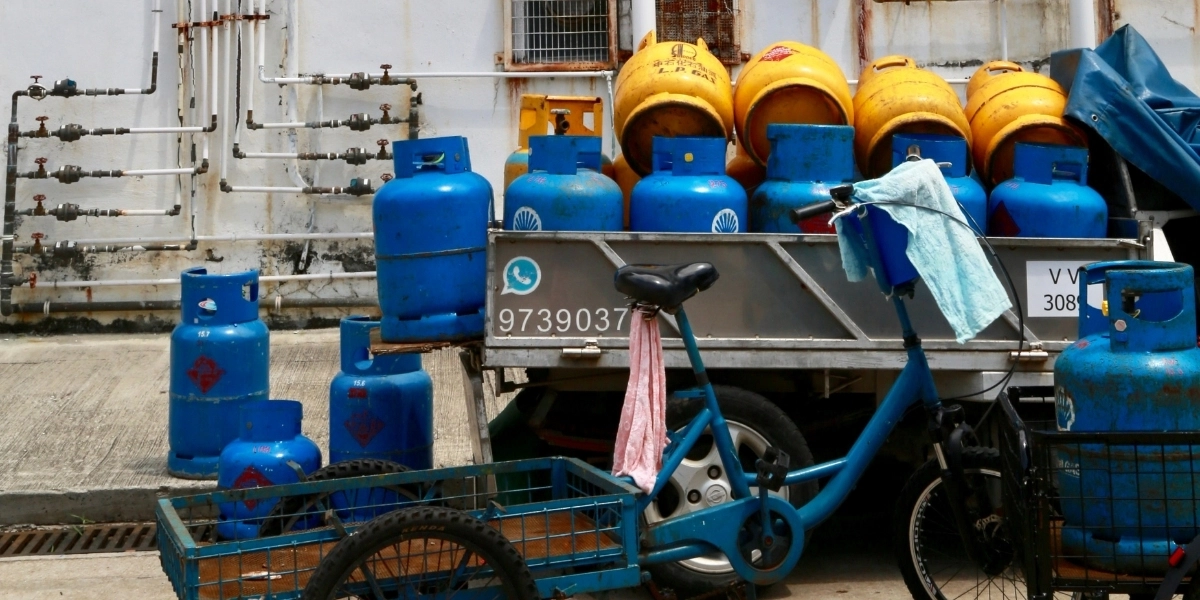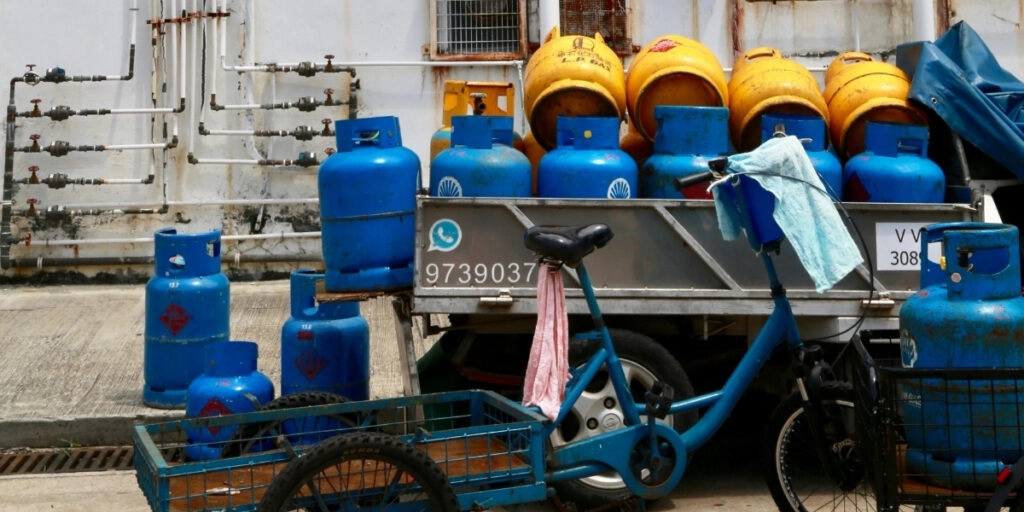 Gas or LPG?
The correct term is LPG which means "liquefied petroleum gas". Propane, butane and Autogas (the brand name of LPG when dispensed via a pump) are all types of LPG.
In Europe LPG is known as GPL, either gas di petrolio liquefatto in Italy, gaz de pétrole liquéfié in France or gas de petróleo licuado in Spain.
What is LPG?
LPG is a hydrocarbon gas that exists in a liquefied form. LPG is a colourless, low carbon and extremely efficient fuel. Supplied in two main forms, propane and butane, it boils at a low temperature and to avoid it evaporating due to its low boiling point, it is typically stored in pressurised steel vessels such as gas bottles or LPG tanks.
Propane and butane power appliances in the same way and are supplied as one or the other in a rented gas bottle – you pay an upfront fee for the bottle and gas, and then exchange the bottle when empty, just paying for the gas at each exchange.
If you buy Autogas from the pump for a refillable system (more on that later) it will be 100% propane in the UK – that is because propane has a low boiling point of -42°C and isn't affected by cold conditions.
In Europe, depending on which country you are travelling in, Autogas at the pump will be a mix of both fuels, and sometimes this mix is changed in the winter and summer months to account for changes in temperature – you can find the specific mixes for each EU country here.
Motorhome Gas Lockers
All modern motorhomes come with a gas locker – a lockable external cupboard vented to the outside, which is sealed from the inside of the motorhome. You'll usually find room for either two large LPG bottles, a large and small bottle or a single cylinder – but there are probably many other configurations!
The LPG gas bottles are stored upright and secured in the locker with straps. They are connected with rubber hoses into your van and the various appliances which they power. There may be an external valve to turn-off the whole system and inside the motorhome, there will be a manifold with separate valves for various appliances.
For some van conversions, large motorhomes and RV's, the set-up might be different, with permanent gas tanks being underslung, or the gas locker being stand alone and mounted rather than an integral part of the van.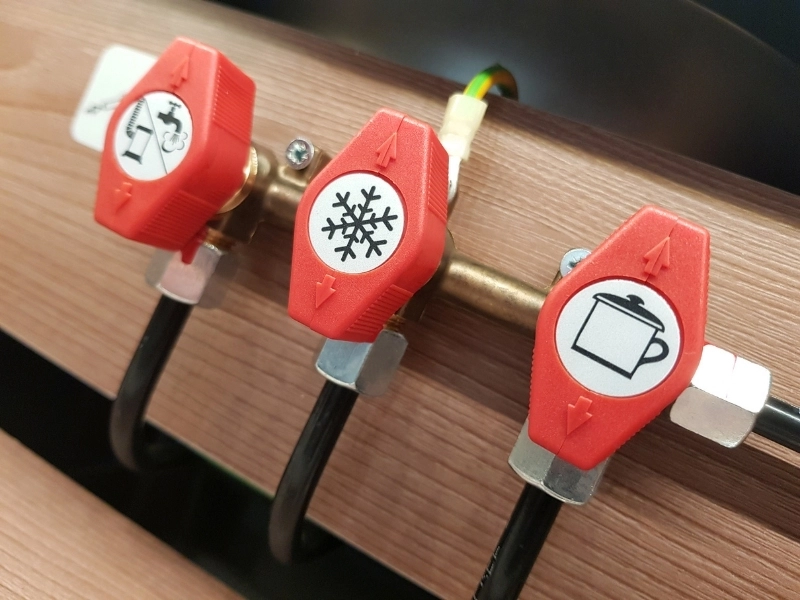 Gas Bottles
Should I use propane or butane gas bottles for my motorhome?
Butane is slightly more efficient but propane offers year round capabilities and can deal with the cold if you like to motorhome through the seasons.
In Europe, you may find that you can only get one type of bottled gas easily because of the prevailing climate in the country. For example, butane is widely used in Spain because of the warm temperatures and in the south, it's generally all you can buy.
Both gas types will fuel your appliances, but if you're camping in the mountains in winter, you will find that butane is not effective below -2°C, the temperature at which it boils. If you're in a country where cold weather is common or you're heading into a colder area of a warm country – the Italian Alps for example – you'll find a ready supply of propane available.
Do I need a different regulator in Europe?
If you want to use gas bottles from the country you're visiting, you will need a country specific regulator, which you can buy in all DIY stores and some larger supermarkets. You may also need a different regulator connection (pigtail) between the tank and regulator, this is called a flexible connector.
Can I exchange my UK bottles abroad?
If you're planning a trip for a few weeks in warm weather and intend to use mainly campsite facilities with EHU (electric hook up) then you would probably be able to manage with one 12kg gas bottle which you could bring from the UK.
For longer touring, or wild camping where you're relying on gas for hot water and your fridge, then you'll probably need to buy a gas bottle abroad. You cannot exchange your UK gas bottle for a European one, so you must ensure you have room in your van to hold onto the empty bottle until you can dispose of it properly in the UK. You will also have the up-front costs of buying your first bottle overseas to budget for as well as a new regulator and possibly connector.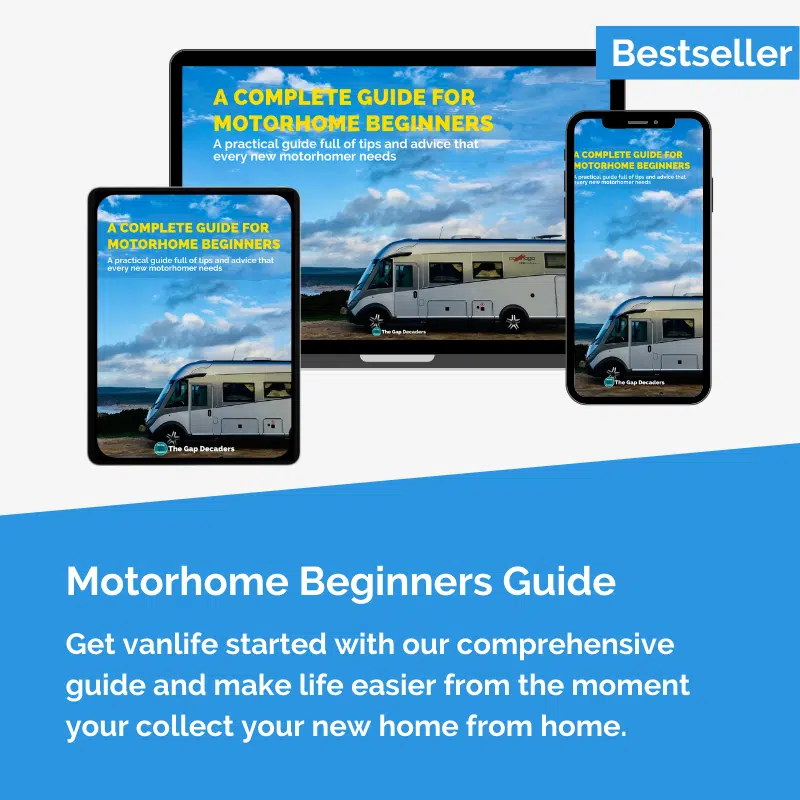 If you want to see all our motorhome beginners tips and advice in one place, plus lots of extra info and support you won't find on the website, check out our ultimate motorhome guide for beginners ebook.
With over 70+ pages packed with helpful knowledge, first hand advice and motorhome basics, this is the ebook every new motorhomer needs in their van.
Refillable Gas Systems
Refillable LPG systems are designed to be filled directly from any Autogas pump and are impossible to overfill, making them safe and compliant with gas legislation.
The refillable gas system bottles look very similar to normal gas bottles and come in similar sizes, but are not designed to be removed from your gas locker and do not need to be exchanged. They are refilled at an Autogas pump at the fuel station through a filling nozzle fitted in the gas locker door, or maybe just inside the door.
If you are travelling in Europe, the systems come with a set of adaptors meaning you can fill your gas in any European country and not have to carry different fittings and regulators for your UK supplied bottles, or carry empty bottles around that cannot be exchanged.
The cost of filling at the pump compared to exchanging bottles is around 70% cheaper, but you do have to pay the upfront cost of the cylinders and fitting, currently between £500-£600. A competent DIY'er should be able to fit a system themselves, but should get the work signed off by a gas technician.
In 2021, some fuel companies, notably Shell, stopped serving Autogas at their fuel stations in the UK, due to the lack of take-up of LPG fuelled cars, and the move to electric vehicles. For that reason, if you don't intend to tour in Europe, then we wouldn't recommend a refillable gas system.
But, in our view, if you're heading abroad for any length of time, then a refillable system will save you money and hassle. The best known systems are Gaslow and Gasit.
Refillable Gas Bottles
Refillable gas bottles are designed to be removed from your motorhome and refilled at the pump. They are impossible to overfill making them a safe alternative to regular rented bottles.
Safefill bottles are bought, not rented, and come in at around £170 for a 10kg bottle, and you can buy additional adapters so you can fill from the pump abroad. In the UK, Safefill have an agreement with Morrisons as a refilling partner, meaning forecourt attendants have been trained and understand how Safefill bottles work.
Motorhome LPG Frequently Asked Questions
Are LPG refillable bottles and systems safe?
Motorhome LPG containers are designed to supply gas vapour to appliances rather than the liquid LPG used to power a vehicle. If a container is filled to full there's a chance that liquid LPG will be supplied to your appliances. As LPG in its vapour form has a volume 270 times greater than the liquid form, any liquid reaching a gas appliance will expand dangerously when released to the atmosphere.
That's why all motorhome LPG refillable cylinders are constructed to limit the amount of liquid gas that can be filled to 80% of the gross capacity of the cylinder. The 20% void space at the top of the cylinder enables the liquid to boil off and convert to gas vapour before leaving the cylinder.
We occasionally hear people say they are denied filling at the pump. About ten years ago a person trying to re-fill regular gas bottles overfilled one and caused a huge explosion, killing several people in Europe. As a result of this, new European and UK legislation was introduced forbidding the filling of non-refillable bottles.
Not all petrol station attendants understand how LPG gas for motorhomes and refillable systems work, and it can be difficult to explain in a foreign language.
We have been full-timing in Europe for three years and never encountered this with our Gaslow system, but Autogas filling points are easily found in the EU, so we would just move on to the next fuel station if this ever happened.
Can I drive my motorhome with the gas on?
Motorhomes manufactured from 01/01/2007 must have a safety shut-off device fitted that prevents gas from inadvertently escaping if a line breaks in the event of an accident, if liquid gas is in operation whilst driving.
For vehicles manufactured before 01/01/2007 there are no restrictions for operating the gas system while driving but we would strongly urge you to turn off your gas at the main valve or regulator if you're in a van manufactured before that date.
Truma and GOK gas pressure regulators with integrated crash sensors, in combination with high-pressure gas hoses with integrated hose rupture protection (HRP), comply with all of the relevant standards, regulations and directives which allow the gas system to be used whilst driving in Europe, and can be fitted with all gas systems and bottles.
You should always turn off your gas at the main valve or regulator when taking your motorhome on a boat or the channel tunnel train.
Start your beginners journey to life on the road with exclusive checklists, free downloads, tips & more
Do I need a carbon monoxide alarm?
You should fit a CO alarm inside your motorhome to warn of any build-up of potentially lethal carbon monoxide, a side-effect of burning gas.
You should also consider having a smoke alarm fitted, and carry an appropriate fire extinguisher and fire blanket.
How can I check my gas levels?
Some gas cylinders come with a built-in indicator and you can also buy handy devices to help you work out how much gas you've got left in the bottle. You can always try lifting and testing the weight, feeling the side of the bottle for a change of temperature or pouring hot water down the side of the gas bottle, but these methods are not always reliable. Otherwise these are our recommended accessories;
Truma Gas Fill Level Check
Hold horizontally to the gas tank for ultrasound measurements as you move it up and down. Green shows there's gas at the measuring point, red means no gas, and while it's determining the level it flashes orange.
LPG Cylinder Gauge
Fits propane gas cylinders between the valve and regulator and provides an indication of the pressure in the gas cylinder, as well as alerting you to any inline leaks.
How do I find motorhome LPG filling stations?
Use the quick and easy myLPG.eu app which includes a map of Europe and UK showing filling points, and is updated daily. Currently, they have over 46,000 garages serving Autogas across the continent.
Do I need an external gas point?
It depends. If you use a gas BBQ regularly, an external gas point is a really useful feature and can be fitted retrospectively. Never use an external gas point in an enclosed awning.
Do I need an annual service by a Gas Safe engineer?
There is no requirement from your motorhome insurance for this and there is no legal requirement either, unless you rent your motorhome commercially.
A gas safe inspection is usually included as part of an annual habitation check if you choose to have one completed – it may also be required as a condition of your warranty on a new motorhome.
You can do a habitation check yourself if you have an older van, or don't want to part with the cash, but we would always advise having the gas part of the check done by a professional.
If you're buying a used motorhome, you should arrange for a full habitation check, including a gas safe inspection before you commit.
Should I replace rubber hoses?
Rubber gas hosing should come with a date of manufacture stamped on it. It is recommended that they are replaced within every five years of the stamped date.
Do I need an LPG sticker on my gas locker?
There is no legal requirement for a private vehicle to display a gas locker sticker. The emergency services will expect gas cylinders to be present in motorhomes and caravans if they are called to an accident in which one is involved.
Are you looking for more motorhome advice? Check out these top posts…
Do you know how much your motorhome weighs? After a shock at the weighbridge as motorhome beginners, we decided to do some research into motorhome weights, how they are calculated and what it all means. In our easy guide to motorhome weights, we break down motorhome weights language, show you how to find the information you need and share how to calculate what you can carry in your motorhome so you can hit the road safely!
Love it? Pin it!