This post may contain affiliate links, from which we earn an income.
Top Camper Hacks & Tricks – Tried & Tested
We've learnt a few tricks in the past couple of years about motorhome life and how to make things just a little bit easier. From money-saving storage ideas to sanity-saving hacks, there's something here for you!
Freeze Your Fridge
If you get fed-up waiting for your motorhome fridge to cool down before a trip, try this easy hack. Freeze a couple of large bottles of water in your house freezer and pop them into the fridge when you turn it on.
You'll shave 12 hours off the usual 24 hour cooling process.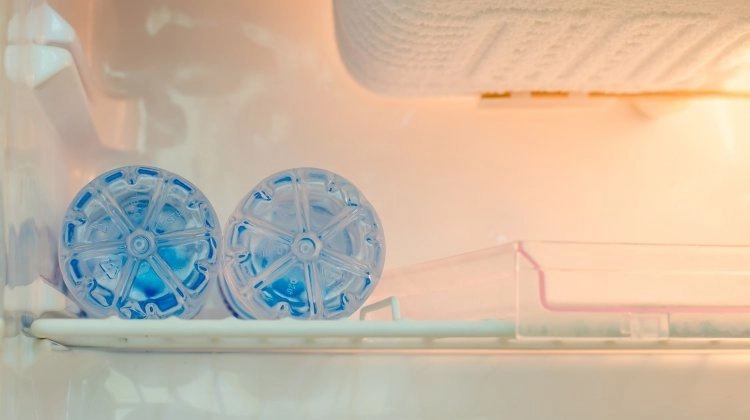 Stuff Your Cushions
If storage space is really limited, take out cushion stuffing and use non-crease work-out gear, underwear and socks to stuff them instead – one of our best free DIY camper hacks.
Get Acquainted with Command Tape
One of our best campervan hacks is to use Command Tape – it's amazing stuff and can hold up to 7.2kg in weight, comes in a variety of sizes for pretty much any job, and won't damage the surface it's stuck to.
You can even buy Command Hooks, which are ready made for you!
Utilise Your Shower
Keep a spring loaded suspension rod handy to use in your shower – no fixings require, it stays put through tension.
Use it to drip dry damp clothes or to create an extra wardrobe, and just lift it out when you want a shower. Smaller tension rods can be used to keep things in overhead cupboards. An awesome campervan storage idea!
Get Cushions for your Skylights
If you like to travel outside the summer months, then chances are your skylights will be letting out lots of hot air as it rises.
Insulated cushions fit neatly into the space, stopping much of the precious heat being lost – they also work in reverse and help to keep your camper cooler in summer.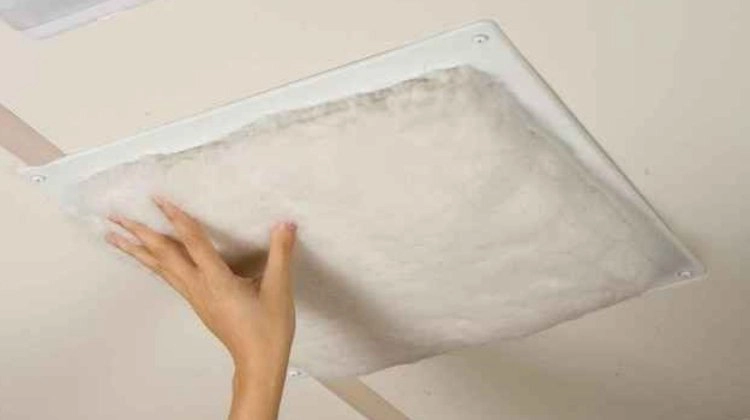 Pad Your Bed Steps
I hate those wooden stairs up to bed, especially when I have to get up in the night – they hurt my feet! Buy a length of pipe insulating foam tube and cut to size – no more sore feet!
Get Grippy
Non-slip rubber matting can be used under anything you don't want to move around. All our kitchen cupboards are lined with them and we even cut them into squares to put between places, saucepans and so on.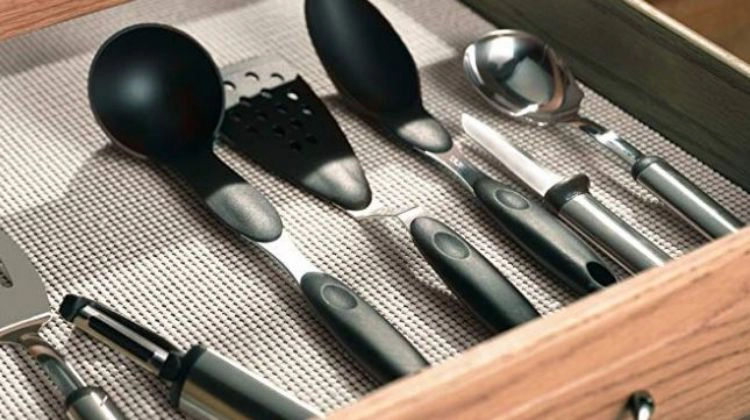 Maximise the Corners
If you've got awkward corner cupboards, use a small lazy susan (on rubber matting) for all your knick-knacks.  One of the best campervan storage hacks for small bathroom cupboards, or to use as a spice rack in your campervan kitchen.
Banish Smelly Loos
Try using a bio wash tab (like the one you put in your washing machine) in your toilette cassette, instead of expensive chemicals. Your motorhome bathroom will smell like a spa!
Hang Everything
Try one of the most utilised camping hacks in your motorhome. Where ever you have somewhere to hang an S shaped hook or butchers hook, you can save space.
Buy plastic coated ones if you'r worried about damage to your surfaces. Hang bananas, fruit bags, fairy lights, coats, flip flops …pretty much anything you can think of really. Where the thing you want to hang doesn't have somewhere for the hook, use a bulldog clip.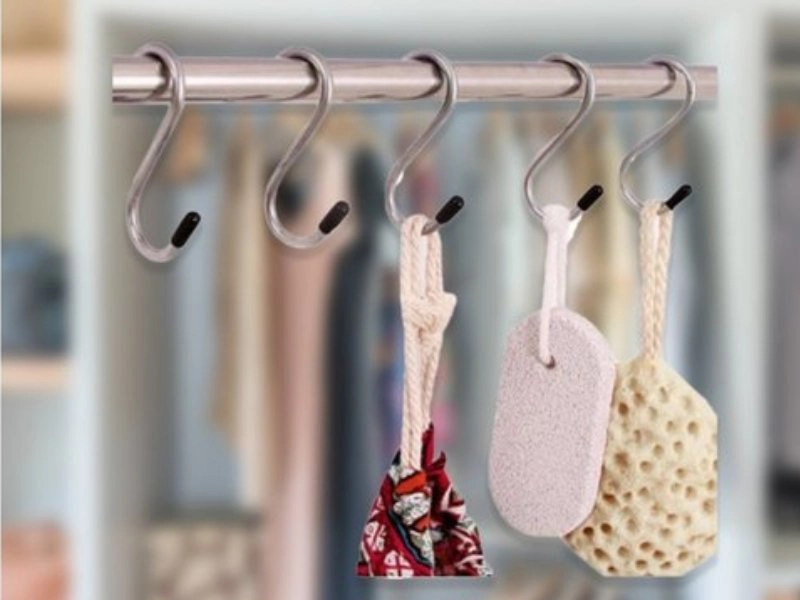 Collapse Eveything
You can get collapsible everything these days, from buckets, to kettles and colanders, and even mugs. We love this collapsible bin, which expands when you're cooking, perfect for campervan life.
Utilise Your Kitchen Space
Overdoor storage containers are a genius camper hack. Use on your kitchen doors to keep things handy when you're cooking and then pop it back inside again when you're finished.
Map Your Table
Re-cover your motorhome table with a map and you've got an instant lift to your interior decor, plus a place where you can easily plan your next trip without the hassle of a fold out map.
Screw Your Spices – Top Camper Van Hacks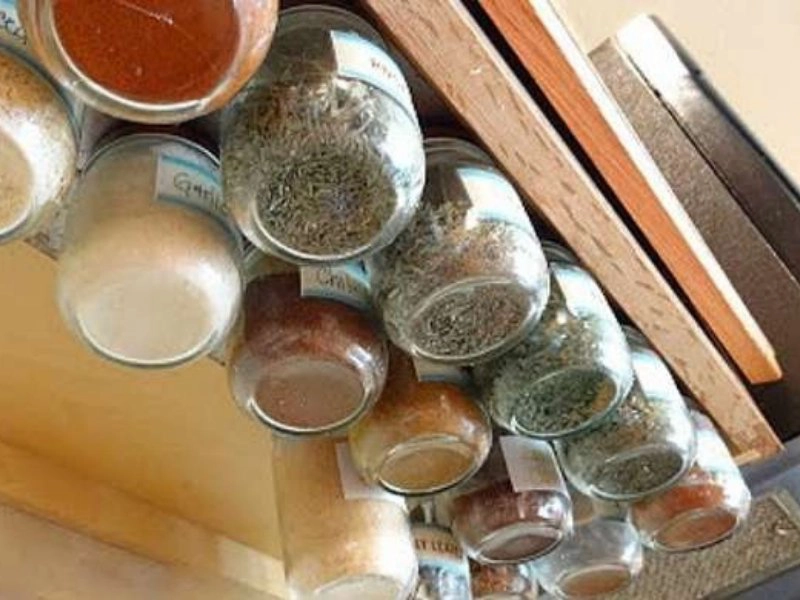 Screw the metal lid of a spice jar like this to the underside of your overhead kitchen cupboards. Fill the jars and screw into place – a handy spice rack, utilising space you didn't even know you had!
Digitise Your Documents
Scan or photo all your important documents and save to Google Docs or Dropbox (both free unless you need mega amounts of space).
There are some things you must carry in your vehicle, such as your passport and green card (if travelling abroad), your V5 and driving licence. Bulky insurance documents can be digitised, as can bookings and tickets.
You Can Never Have Enough Storage Pockets
Storage pockets are AMAZING. They help to organise, keep stuff together and don't need to be dismantled when you're on the move. Whether it's shoes, bits and bobs, bedside stuff, maps or anything else you can think of, these really are storage magic.
Compartmentalise Your Cupboards – One of the Best Camper Organization Hacks
To stop your cupboards becoming a hot mess, compartmentalise everything. Felt storage boxes are the absolute best, they don't rattle when you're driving and don't scratch the insides of your cabinetry. Having tried lots, we think Ikea's Raggisar range is the best.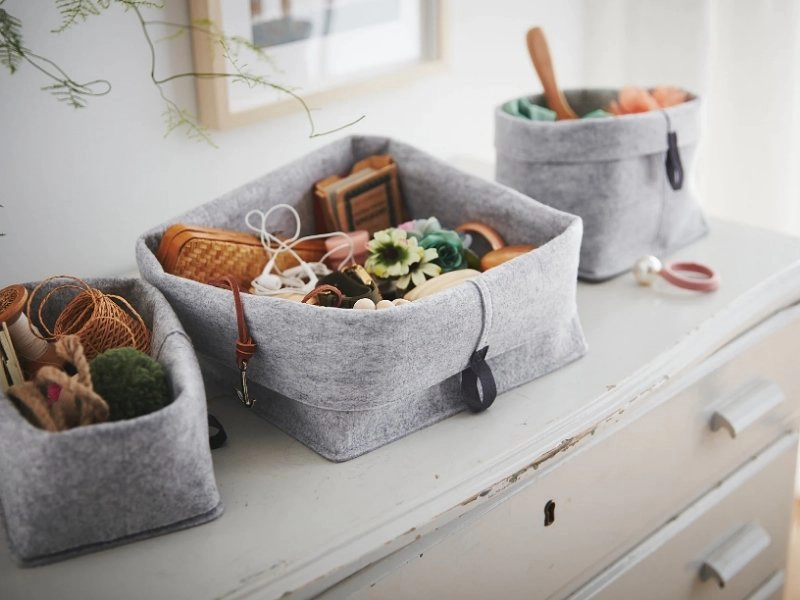 Get Clever With Storage
Magazine holders are the perfect size and shape for tin foil, cling film and plastic bag boxes. If you have a cupboard with a few inches to spare on the inside, fix one using Command Tape and you've got a whole new storage solution.
Keep Your Tank Clean
Always wipe your plates and cooking equipment down before washing up in your motorhome. Oil and food debris will make your grey waste tank stink and over time, can damage the lining.
Keeping your tank as clean as possible means you won't have to clean it out as often – not a pleasant job!
Use a Checklist
If you're a motorhome owner and planning a trip,storing your motorhome or even buying a a new one, you'll find all the motorhome checklists you need to keep motorhome life running without a hitch…(see what I did there?).
Are you looking for more motorhome tips & tricks? Check out these top posts…
New Zealand is an absolute dream for campervan enthusiasts. The breathtaking landscapes, diverse wildlife, and incredibly friendly locals make it the perfect destination for your next campervan adventure. We'll will provide you with all the tips, tricks and insider knowledge to make your vanlife experience in New Zealand truly unforgettable. So, buckle up and get ready for an adventure of a lifetime!
Love it? Pin it!