This post may contain affiliate links, from which we earn an income.
Top Kitchen & Dining Accessories for Your Motorhome
When you're preparing and cooking meals in a small motorhome or campervan kitchen, you need to make the most of the limited storage and work space – everything you use needs to be lightweight, multi-purpose, space saving and easy to store. Our top motorhome kitchen accessories deliver all that and more.
We have scoured the internet for the most ingenious motorhome and RV kitchen accessories and motorhome housewares, so you don't have to! Whether you love to cook full-on three course meals in your motorhome or prefer no-cook camping meals, we've got the accessories you need.
These are our favourite tried and tested campervan kitchen accessories, many of which are available through Amazon Prime with free delivery, usually within 24-48 hours – perfect to shop from the safety and comfort of your home, or even motorhome!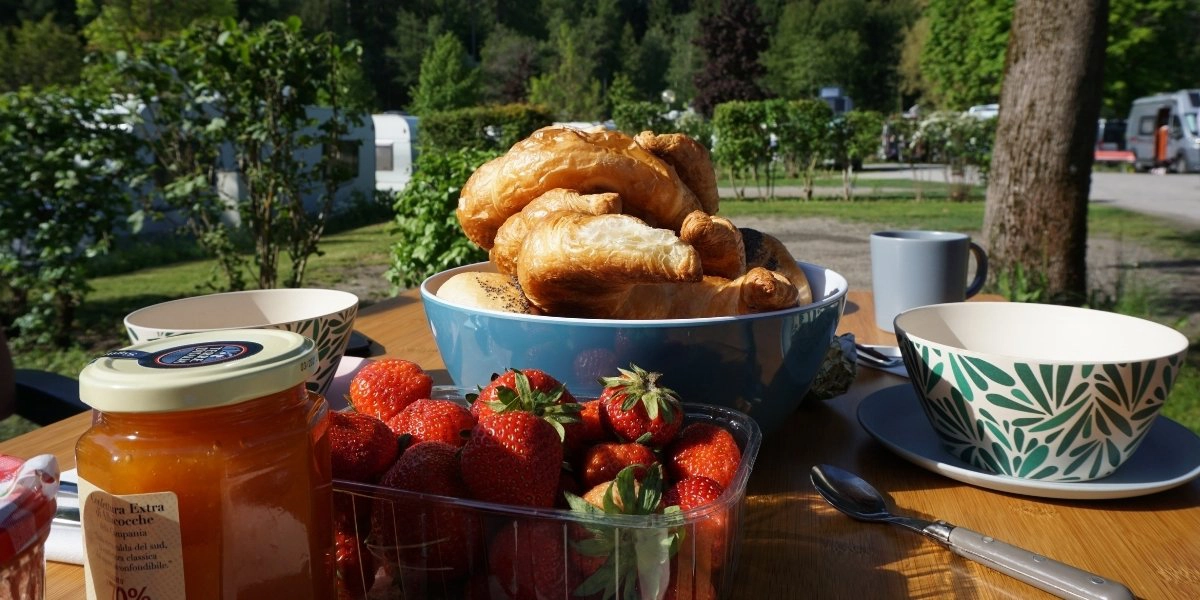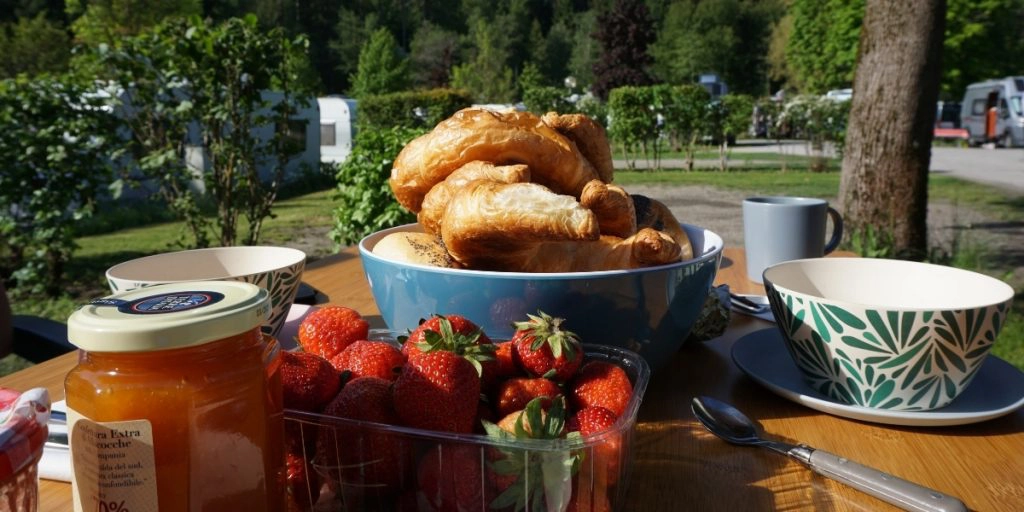 Food Preperation Accessories & Gadgets
Prepping food in a campervan or motorhome kitchen requires organisation, and making the most of your small amount of workspace. All the motorhome kitchen equipment here is multi-purpose and will make life in the kitchen just a little bit easier.
We love this 8 in 1 high-quality plastic bottle, which contains a funnel, squeezer, spice grater, potato masher, cheese grater, egg separator, can opener and measuring cup. It's lightweight and easy to store too.
These heat-resistant flexible silicone chopping boards are lightweight and can also be used as a pot stand.
This nested set of kitchen utensils gives you two spatulas, a cooking spoon, a pasta server and a masher and you don't even need a camper utensil holder as the masher doubles up!
Sieves and colanders take up an annoying amount of space, but are so necessary. After trying a few of the folding varieties, we realised that you really need a handle – you can drain and then pop the colander in your pan without having to free up the sink.
These plastic nested bowls can be used for prep, storage and serving – although you may decide to leave the largest one at home! They come in square or round to suit your space.
The Tefal Ingenio range of pans are perfect for your small kitchen and easy to store, thanks to only having one detachable handle. You can also buy frying pans separately, which fit neatly under the stack.
Campervan & Motorhome Cooking Equipment
We've done lots of research into motorhome cooking – not a hardship as we love to eat!
We've made bread on our Cadac whilst enjoying an amazing view, cooked Christmas lunch in a Remoska in the snow covered mountains of Spain, and made many a cheese and tomato toastie in our Ridge Monkey.
However you like to cook, whether you're a full on baker or an easy camp one pot master, there's a bit of equipment that will make cooking in your van easier. You can find them all in this helpful buyers guide.
If you like a full roast or are partial to banana bread, whatever your motorhome cooking style you'll find all the information you need on motorhome and campervan cooking options here.
Motorhome Tableware
I'm a sucker for pretty tableware and over the years, have seen big improvements in what is available for motorhomers, in both design and materials. Outdoor living and dining has never been so popular and this extends to motorhomes and campervans – all the better for us!
Melamine used to be the only option if you wanted unbreakable tableware, now there are dinner sets made from plant based materials including Bamboo, metal, wheatstraw (yes, really) and Vitrelle (a tempered glass branded as Corelle). Each has their pros and cons – bamboo can be a bit noisy to eat from and Corelle might be a bit heavy, and the price point tends to be a bit higher. These are our favourites….
Some motorhomes come with special storage areas for glasses, meaning you can sip you wine or G&T from an actual glass. For everyone else, the options these days are plastic which can feel deceptively like glass, silicon (not for me!) or stainless steel.
And what about cutlery? Well, we prefer good old fashioned metal, but you can buy plastic, bamboo, wheat straw and ultra-lightweight titanium if you need to keep weight (and rattles) to a minimum.
The Big Clean Up
Meal over, someone has to wash up! Whether you do this in your van, or use the site facilities, we've got the perfect camper kitchen accessories for you.
Everyone needs a washing up bowl, for all sorts of jobs. But, the jury's out for us about whether it needs to be collapsible or not. Generally, ours stays in the sink and the fruit bowl fits nicely inside when we're on the road, so there's no need for it to collapse. You can find a selection of collapsible and non-collapsible ones here, to suit your every need.
If you wash up in your motorhome, you do need some sort of drainer, unless you have a ninja dryer-up with you! This flip-up one is lightweight, easy to store and drains excess water into your sink – we prefer this to the mat type, which just collects water and then contributes to condensation.
This collapsible basket is perfect for carrying your dirty dishes to the wash up point, and doubles up as a laundry basket too.
And don't forget the all important whistling kettle, to make your evening cuppa once all the washing up is done!
Helpful Motorhome Resources
Being a first time motorhomer can be daunting, so we're sharing our top motorhome tips and hints for beginners so you can learn how to motorhome with confidence. This guide includes tips for new motorhome owners, practical motorhome advice and easy guides, top travel tips from years in a van and free downloadable checklists to get you motorhoming like a pro!
Motorhome Kitchen Storage Solutions
Whatever your choice of cutlery, crockery and glassware, things will rattle unless you become an expert packer! These are our top picks and motorhome kitchen storage ideas to make life on the road rattle (and breakage) free!
Foam shaped drawer or cupboard inserts mean that you can take proper glasses, cups, crockery and even your wine stash in your caravan or motorhome overhead cupboards without fear of breakages.
A drawer liner will stop things moving around and rattling, and also stop the insides of your cupboards getting scratched.
We often get asked how to store plates in a motorhome. One option is to use padded plate storage with felt protectors to separate each plate, or get one of these nifty Fiamma plate holders to keep them from moving around. If you're using unbreakable plates, then a paper plate or layer of kitchen roll in-between each one will do the trick.
Storage boxes stop things getting muddled in your cupboards, drawers and fridge, and make packing much easier. Choose boxes with straight sides like the ones below, they help to maximise the storage space in your motorhome kitchen units. Always measure before buying, some kitchen storage containers may be too deep for your campervan storage, especially the fridge.
Butchers hooks are great for when you park up and can make your van home again. Perfect for hanging bananas or a mesh fruit basket, they're a quick and easy trick to get stuff off your precious worktop space, and one of our most used motorhome kitchen items. 
Pan protectors stop rattles when your pans are stacked and prevent damage to the non-stick coating.
Double your drawer space with this compact cutlery organiser and knife holder. Double check the depth of your drawers before ordering – if your cutlery drawer is very shallow, this solution won't work.
Looking for more motorhome accessories? Check out these top posts…
As full time motorhomers for the past five years, we've experienced a few different motorhome sat navs along the way! We've compiled a guide to the top 18 on the market today, so you can compare and work out what suits you and your motorhome. Our motorhome sat nav buying guide has tips and information about satellite navigation systems, multimedia players and using a smartphone with a sat nav app, to help you choose the best…
Do you need a motorhome reversing camera? How do they work and how do you choose the right one for your motorhome? We'll answer all those questions in our comprehensive guide and help you find the best motorhome reversing camera for your needs.
If you love motorhoming then you'll know that having the right kit makes all the difference. Check out our pick of the best and most useful motorhome and campervan gadgets and essential accessories, tried and tested by us over three years of full time motorhome life.
Our specially chosen and unique motorhome gift ideas are perfect for motorhome lovers to make them smile on their birthday, at Christmas or whenever you just feel like showing the love!
WiFi and internet access has become essential for everyday life. Living in a motorhome is no different – researching, blogging, social media, keeping in touch and even smart motorhome equipment means wifi and internet is critical. If you're wondering how to get internet in a motorhome, this easy and definitive guide to getting internet and wifi in your motorhome is for you.
Whether you holiday or full-time, tv in your motorhome is probably a necessity. You may not watch much, but when it's raining or you fancy a duvet day, being able to curl up with a great film is one of life's pleasures. Our guide has all the information you need on how to get tv in a motorhome.
Love it? Pin it!